Are you planning a wedding ceremony? If so, it's entirely possible that you're considering an unplugged wedding. 
These days, many couples are choosing to have their entire ceremony without any electronic devices: no cameras, no phones and not even the use of a microphone. In this blog post, we'll give you some tips on how to plan your perfect day! Too busy with life to really plan your wedding in detail? Have someone else do it for you and check out our list of Wedding Planners in Melbourne to help take the stress away.
You wouldn't believe how many gorgeous wedding photos we see, which are ruined by an aunty with an iPad or an aisle lined with guests who have phones covering their faces! 
This is why we're pretty chuffed that more and more couples are asking us about how to have an unplugged wedding. 
For some couples, this means a photo-free ceremony, and for others, it's more about the use of social media, but either way, the ethos behind this wedding trend is to encourage your guests to put down their phones and be more engaged in your day.
There was a time when only Uncle Harry and his camera wandered into the frame at your wedding ceremony – now even Grandma's whipping out her phone for your walk down the aisle! 
Some couples are happy for their guests to snap and share as they please, but what if the paparazzi experience isn't your style?
What Is an Unplugged Wedding Ceremony?
An unplugged wedding ceremony is a ceremony in which the couple requests that guests put away cell phones, cameras, and any other devices for them to be present at the moment.
Pros of an Unplugged Ceremony
People are more present for your ceremony

Nothing obstructs your photographer's view for the shots you are paying for

A tad less frightening because you know you're every move isn't being recorded and subsequently shared with who in God's name knows
Cons of an Unplugged Ceremony
An unplugged ceremony is difficult to enforce; you almost have to scold guests into obliging your request. 

You might not get to see any photos of your ceremony for quite some time, depending on the turnaround time of your photographer and what sneak peeks they send you 

Any guests who couldn't attend won't be able to watch your ceremony 
Simple right? Either you want people to pay attention to your ceremony, or it doesn't bother you. Not so simple: enforcing an unplugged wedding ceremony. Here are a few ways that you can sternly encourage guests to hop on board the compliance train.
How to Have an Unplugged or Technology Free Wedding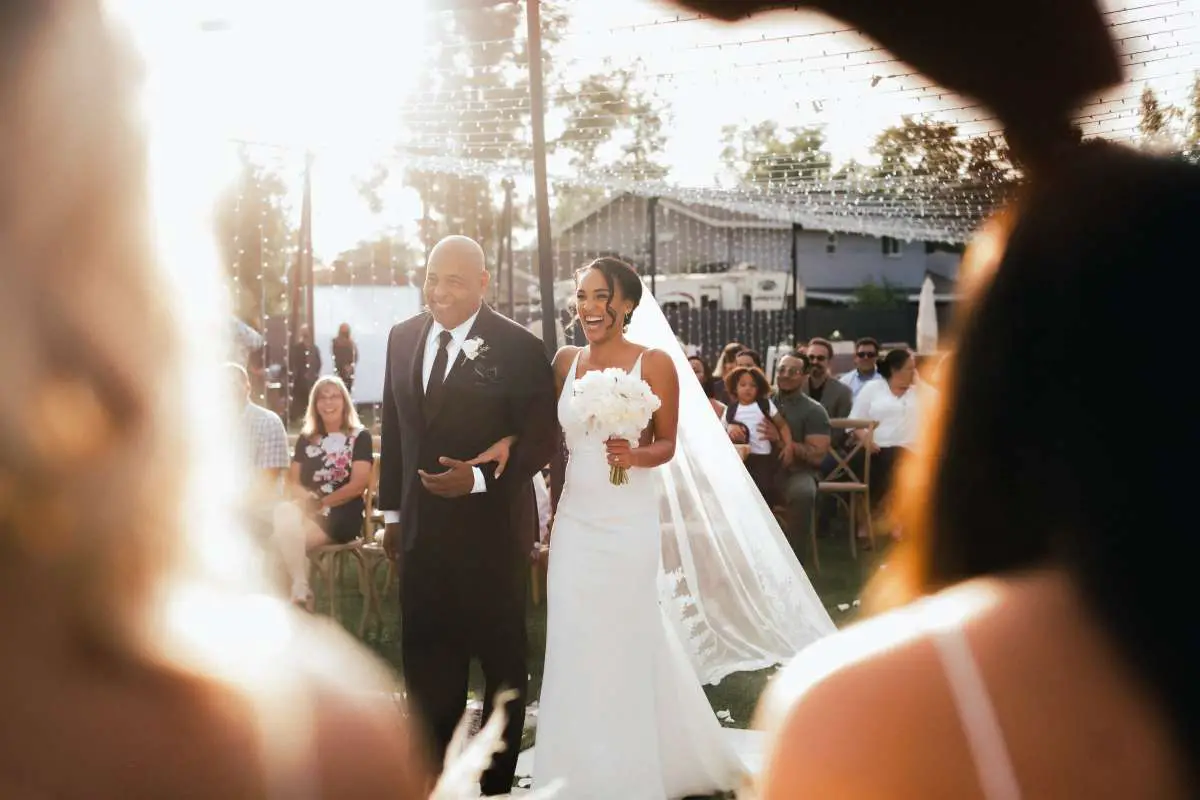 But how do you ask your guests to skip the Insta Stories and leave their phones and iPads at home? 
In most cases, asking your friends and family to go technology-free (phone, camera, iPad) for your entire wedding won't work. Still, it is entirely reasonable to ask your guests to switch off for the ceremony. 
However you want your unplugged wedding to work, we've come up with some tips for requesting an unplugged wedding without seeming too demanding, as well as significant advice for guests to follow too!
Include Your Unplugged Wedding in Your Invites or on Your Wedding Website
Early notice is always a good idea! Give your guests a warning and politely point out that you'd love it if all guests could get a phone, camera and iPad free for the ceremony or the reception.
Ask Your Officiant to Make an Announcement
Perhaps the most effective way to nip technology use in the bud, your guests are more likely to listen to an authority figure like your celebrity than to your subtle requests!
Put it in Your Wedding Program.
Whether you have or haven't listed your tech preferences on your invite, it's no harm to include it again in your wedding program or mass booklet. 
A line explaining that you want your guests to relax and enjoy the ceremony phone-free will work perfectly.
Signage & Chalkboards
Signage or chalkboards are the prettiest way to encourage your guests to stop using their phones or iPads, particularly if you want the rule to apply throughout your day. 
Likewise, if you want them to take photos, you can always include your wedding hashtag and let them know you'd like them to hold off posting on social media until the next day. 
You'll find lots of these on sites like Etsy, check out our stationery suppliers for something custom made, or if you're creative, wedding signage can be a fun, simple DIY.
Be Specific
To avoid misunderstanding, be clear with your guests about what you mean by no technology. 
Do you want no photos at all, no photos during the ceremony, or no social media posts on the day or no posts at all? When your guests know the rules, they're easier to follow!
Share Your Professional Photos With Everyone Afterwards
Most of your guests mean no harm whatsoever by taking out their phones and cameras; they want a souvenir. 
Assuring everyone, they'll get a few snaps will make putting down their technology so much easier. Make sure to chat to your photographer about this beforehand and ask for lots of guests shots.
Have a Photobooth or a Polaroid Station
If you're going the whole hog and don't want any technology throughout the entire day, a photo booth is an excellent option that allows guests to have some photos of their own.
Do think carefully before having no photos at all, though – sometimes the best snaps are the ones taken by friends throughout the day that you get to pore over on WhatsApp or Instagram the following day!
Some Tips for Guests on Using Phones at Weddings
Whether you're at an unplugged wedding or not, these tips are worth keeping in mind for any wedding!
Always respect a couple's wishes if they want an, even if it's not something you'd go for yourself!

Adhere to any religious or cultural rules of the ceremony – don't use your phone during mass, for example, and refrain from taking photos during any sacred elements of a wedding ceremony.

If you share photos from a wedding – whether it's unplugged or not, only post flattering shots of the wedding party. They've probably gone to a lot of effort to look their best, so no drunk/resting face/awkward angled shots, please!

Avoid taking a shot as a bride or groom walks down the aisle; they want to see your smiling faces, not the back of your phone!

If you are taking a photo during the ceremony or the speeches, take a snap, then put down your phone – you don't need to film the entire thing, no one will watch it back, we promise!

Likewise, no couple wants to look around their wedding and see everyone buried in their phone. If you must post a pic to Instagram or send a shot of the bride to your work WhatsApp group, do it quickly, then put away your phone and enjoy the party!

Cameras and phones are okay, but please refrain from bringing an iPad to a wedding! Tablet screens are too big and only end up blocking everyone else's view of what's going on.

Last but not least, be mindful of professional photography. The wedding is their workplace, and they're trying to do their job and capture all the special moments of a couple's big day. The last thing they need is you getting into their shot to grab it for yourself!
How to Announce
Professional Photography
Welcome family and friends! We've hired a photographer to capture how this moment looks with their camera, so you can grasp how it feels with your hearts.

We've asked a professional photographer to capture this special moment so that you can sit back, relax and enjoy it with us. Our beautiful images will be available after the wedding.

There's a pro here taking pictures – we asked them to come. Please rest your cameras as our ceremony only needs one!

As we tie the knot, please be our guest. Our photographer will take care of the rest!
In the Moment
Welcome to our unplugged wedding. We invite you to be fully present with us during our ceremony, so please turn off all phones and cameras. Thank you!

The bride and groom kindly request an unplugged ceremony. Please turn off all devices and enjoy being fully present at this moment with us.

The greatest gift you can give us today is to be truly present, so please turn off all phones and cameras and enjoy this special moment with us. 
Sea of Smiles
The bride and groom request the joyful sight of your smiles without the distraction of electronic devices.

Please turn off your cameras and devices until after the ceremony. We want to see your lovely faces and happy smiles!

Please switch off your devices and stow them away; we'd love to see your smiles aiming our way.
Plugged-In Reception
Please turn off all phones and cameras as we exchange our vows. Photos welcome at our plugged-in reception!

We're so glad you're here! Please stow away your phones and cameras until reception. We promise to share the beautiful pictures taken today.

Please honour our wishes with no photos until we're announced as Mr and Mrs!

Thank you for coming! We have but one plea. Please keep our ceremony camera-free. Through our I Do's are unplugged, our reception is not. Once our vows are exchanged, you're free to take a shot!
Why Go Unplugged?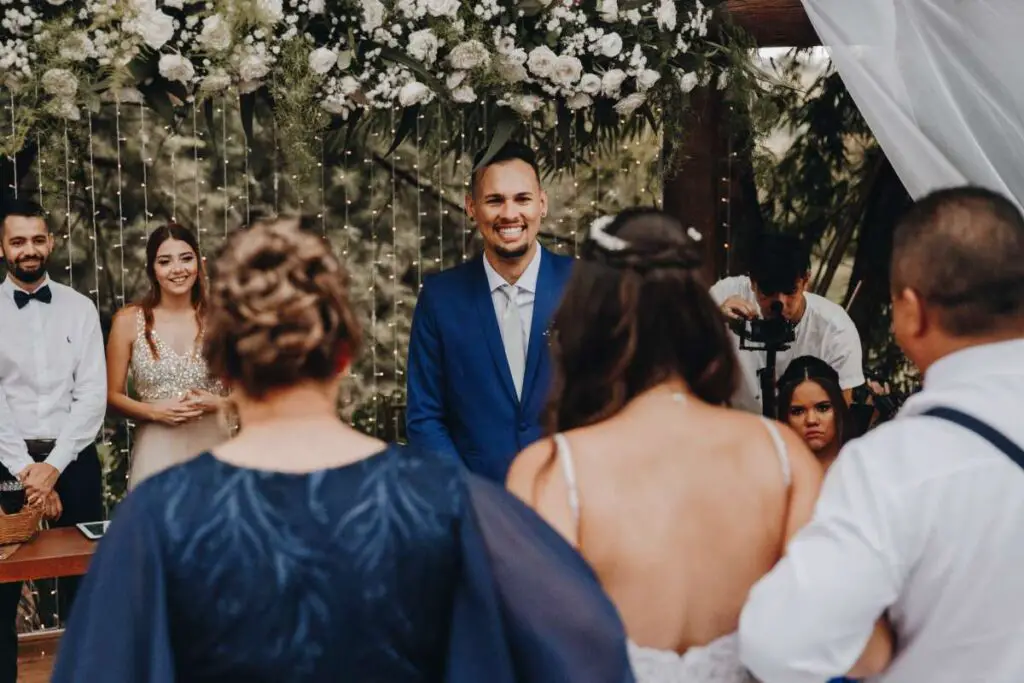 When guests aren't fixated on texting or capturing the money shot of the bride walking down the aisle, the event immediately grows in intimacy. 
For the couple, it focuses the entire energy of the whole ceremony onto what's happening and that sacred moment of the actual wedding, which is, you know, the reason your nearest and dearest have gathered together in the first place.
Plus, with wedding attendees fully present instead of nose-deep in their Instagram feeds, the to-be-weds get a greater sense of emotion (All. The. Feels.) from the crowd. 
The couple can look out at their guests and see smiling faces and their grandmother tearing up, and their parents holding hands.
Eliminating phones and cameras is also a blessing from a photographer's perspective. It gives us clear shots, which is fantastic. 
We don't have to struggle to find an angle, and it's a more visually appealing look than phones in the air because no couple should have extended limbs obstructing their professional pics. 
And, let's be honest—of the snippets from each guests' unwarranted photoshoots, one or two might make it to Facebook or Instagram, while the rest will merely live on their phones, out of sight, for all eternity. Check out our ultimate list of Wedding Planners in Melbourne to help you organise a stress free wedding.
Know that, with this fad, you're not obligated to restrict technology for the entire celebration (unless you're so inclined). As long as guests remain respectful of the photographer at the reception, there's no reason why everyone can't resume their normal phone activities after the ceremony. After all, that wedding hashtag content won't create itself.
Your Professional Photos Will Not Be Disrupted.
Photographers' jobs are made more difficult if they are fighting for a shot against your family and friends. 
Despite the technological advances, most of your family and friends are not professional wedding photographers. 
By enforcing an unplugged ceremony, you ensure that our photographers can do their job, capturing every special moment. 
You are spending hundreds of dollars on a professional photographer to capture your wedding day. When not enforcing an unplugged wedding, many guests will more than likely have their phones out trying to capture your day, as well. 
We can all agree that your photographer will have a better idea of what the perfect shot looks like, and that doesn't include random cell phones (or pads) in the way!
More Engaged Guests
Now we all know how much our cellular devices can be a distraction. Respectfully asking guests to put their phones away will ensure all attention is on you and your soon-to-be hubby. 
This small request is not too much to ask for considering why everyone is there, and that is to be in the moment with you and your fiancé!
By encouraging your guests to unplug during your ceremony, they will be more engaged and involved in your special day. 
They will listen better and likely remember your ceremony for years to come. Looking out and seeing your guests with their faces on their phones will only hurt your ceremony.
How to Go Unplugged
First things first—send out a heads-up before the wedding…and then a few more. If you're going to do it, make it clear in advance, and also repeat it. Saying it another couple of times somehow helps. 
Spread the word through your save the dates, wedding website, and day-of ceremony program for one final reminder.
Leave a quick message in your wedding communications (be it funny or formal, depending on your style) to reiterate the fact that you want guests to remain present at the moment and that you've hired a professional to document the big day (read: amateurs, step down).
However, some guests may think they're exempt from the no-phone rule (i.e. the groom's aunt who MUST get a photo from the aisle). 
Signs spaced throughout the venue can quickly help spread the word, but they have become a bit commonplace, meaning attendees may not acknowledge them. 
For a more effective method, have your wedding officiant gently mention it during his/her welcome speech. They're an authority figure, so people tend to listen to that.
If you prefer a more hands-on method of separating your guests from their phones, try providing a cell phone storage station or baskets where attendees can individually tag and stow their devices safely, labelling the space with a quirky sign stating, "Hold the Phone!" or "Call It a Day!".
Let Your Guests Know Ahead of Time.
It doesn't hurt to include a statement on your invitation mentioning that your ceremony will be unplugged. 
This allows you to make your expectations apparent. Guests will know ahead of time and give them more time to understand what that means truly. 
By expressing your concerns early, your guests are more likely to respect your wishes.
Have Signage.
You can get custom wedding signage everywhere. When ordering your stationery and name cards, order a simple sign mentioning your unplugged ceremony. 
This sign can be placed upon entry to your ceremony and tell guests to put their phones and cameras away until the reception. 
Make an Announcement.
Have your officiant mention before the start of the ceremony that it will be unplugged. Your officiant can respectfully ask guests to put their devices away so that they can be truly present in the moment.
You've spent months planning your wedding, and it all leads up to this moment. Your officiant is about to declare you as husband and wife, and your wedding photographer and videographer are ready to capture the moment…except your guests pull out their cellphones and block the professional's shots. 
This is every newlywed's worst nightmare; that's where having an unplugged ceremony comes in.
With the increasing technology of smartphones and our social media addiction, it is hard for some to unplug, even for a few hours. 
However, you may be thinking about forcing them to open for the duration of your ceremony, so your moment walking down the aisle doesn't get photobombed by phones!
Conclusion
Above all, make sure your guests don't feel compelled to fork over their phones if the device is essential (say, for urgent business matters or a family emergency), and refrain from jumping into punishment mode if a guest sneaks a selfie or two.
Ultimately, banning phone and camera use at wedding ceremonies fosters a stronger bond between newlyweds and their guests. Check out our Top Wedding Planners here to help make your special day as smooth as possible.
Our culture has gone to a place where everything is so instant and connected, to a point where we're not connected; it's nice to slow down—two thumbs up for this refreshing movement.