There are many things to consider when picking a makeup artist for your wedding day. Some of the most important factors to think about include cost, availability, and experience. 
A lot of thought and research goes into your wedding day. 
While trying to find the perfect venue, photographer, entertainment, and, of course, wedding dress, you're constantly researching, relying on recommendations, and stalking the social media accounts of potential vendors. 
Selecting the right makeup artist should be no different. However, putting your big day beauty in the hands of a stranger can often be nerve-racking. 
Being secure in your choice and trusting your selected artist can make all the difference in the world. 
With all the makeup artists out there, it might be hard to narrow it down, especially if you're not sure what your wedding day look will be. Looking for the ultimate Wedding Reception Venue in Melbourne? Look no further, Cosmopolitan events are here.
The following blog post will help you make an informed decision about which makeup artist is best for you!
How to Choose a Wedding Makeup Artist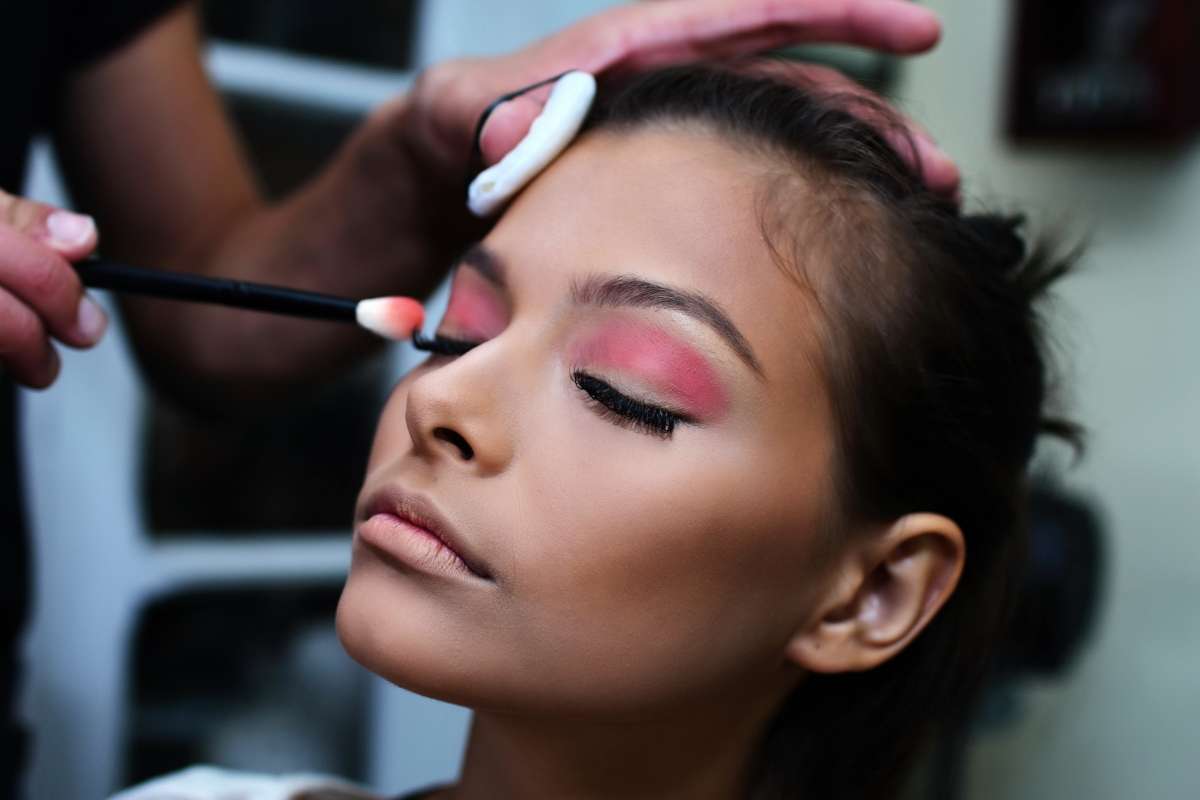 How exciting – you're on the search for the perfect makeup artist for your wedding day!  
Someone who will help tie together your bridal look, make you look and feel the best that you ever have. 
They'll help you feel confident to walk down the aisle to the partner of your dreams.
It's just a matter of finding a Makeup Artist available for your date and booking them in. 
Actually, no, there's so much to consider when choosing a Makeup Artist. So, here are some expert tips for finding the perfect wedding makeup artist.
Do Your Research
What so many brides don't realise is that anyone can call themselves a makeup artist in Australia. 
You don't need any formal training, just a few brushes and some makeup, and off you go! Scary, right? 
Unlike hairdressing, you don't need a license, formal training, insurance, a contract, or a certificate to start working as a makeup artist. 
Those who say they're 'certified' or 'professional' could have taken as little as a 3-hour course in makeup. 
Tip: Check their portfolio, work experience, how long they've been in business, their reviews on Google and Facebook. Do they even have a website, or do they have an Instagram account?
Get Referrals
Word of mouth is often the most reliable way to secure a makeup artist whose skills and talents match your beauty goals. 
When looking for a makeup artist, referrals are a great way to start! It's always great to find a makeup artist that comes with an excellent recommendation from someone you know.
Check out your friends' Instagram pages to view their results, browse reviews online, and familiarise yourself with the artist's portfolio before calling to book a consultation or trial.
Find Bridal Makeup Styles You Like
When finding bridal makeup styles you like, start with Google. 
Collect, screenshot and save pictures of makeup that you like and try to identify what you want about the makeup in the image. 
Be sure to consider the features and skin tone of the person in the image – would the makeup look similar on you? 
If it doesn't, it's probably not a good example.
Then, once you've found and chosen your makeup artist, it's their job to bring your vision to life.
Have a Vision
Once you begin considering options for bridal beauty, gather any photos that speak to you from magazines, social media, and even screenshots of people you know. 
It's OK not to know precisely what you want, but having some idea will help guide conversations with your potential artist and make your makeup trial more successful.  
Discuss your vision for your makeup and the details of your wedding with the artist upfront. 
Whether you want a soft, natural look or a more dramatic look, makeup artists ask many questions to understand the client's vision and ensure that they create the look their clients have always dreamed of.
Relay Your Details
Before you book a trial and fall in love with an artist, it's essential to ensure their availability for your wedding date, as well as their ability to accommodate the number of bridesmaids and family members who will also need professional makeup. 
This will affect pricing, timing, and how many artists are needed. So, having your details in order and sharing them from the outset will prevent any hiccups or conflicts in the future.
Know Your Look
Your wedding makeup should enhance your natural beauty, and you should go with a similar look to what you usually wear. 
But it's important to remember that for the majority of brides, you're going to want a bit "more" for your wedding day. 
Your wedding makeup is always going to look more than what you usually wear. This is because the camera doesn't pick up pigment like the naked eye. 
This goes with brows and lashes, too, so don't be wary of your artist filling in your brows or wearing false eyelashes.
Find Makeup Artists Near Your Venue
Start by searching for makeup artists based near where you plan to get ready. Then, look at their websites and social media profiles to see their previous work. 
They should have plenty of examples of brides they've worked with – look for bridal makeup photographs, not just occasional makeup. 
You need to see past bridal looks from real weddings and make sure they have wedding makeup experience.
Read the Reviews
When brides take the time to thank their makeup artist after their wedding, you know that they have done a great job. 
Look through the website to see if they have a testimonial page and their social media at any posts or reviews. 
There are no hiding from Facebook or Google reviews – they're from real people and can't be taken down, so it's an excellent place to start.
Create a Shortlist and Reach Out
Create a shortlist of your favourite makeup artists and reach out to them to find out their availability, pricing and to see whether they would be a good fit. 
You may want to chat to several makeup artists to find someone you're comfortable with and whose style and vision matches yours.
Organise to talk over the phone or in person, and make sure you ask them all the questions you have before making a decision.
Find a Makeup Artist Whose Style Speaks to You
If you're a minimalist and don't wear much makeup daily, don't choose a makeup artist who does big bold, glam looks because you will look and feel overdone. 
Unfortunately, by the time you realise your artist is too heavy-handed for your style, you may have invested a lot of money and have run out of time and the ability to find someone else. 
We're sure you want your fiance to recognise you when you walk down the aisle, no wonder who you are and where their fiance went, right? 
Tip: Check makeup artist portfolio pictures carefully, does the bride's skin glow and look realistic or is it matte, heavily done and artificial-looking? Check out our ultimate list of Wedding Hair and Makeup Artists to make you into the princess that you are.
Consider Your Desired Level of Service 
If you're OK with not knowing who you'll be working with on your wedding day, then you might be OK with booking a makeup business that delegates their jobs out to different artists.  
But if you're a person who needs to build a relationship and trust in someone before your big day and know exactly what their work is like, then the other option is to work with a solo artist like me. 
It depends on what kind of person you are; if you like the one-on-one personalised service of booking with a supplier that you deal with from start to finish, then a solo artist will likely make you feel the most comfortable. 
Tip: Check with any Makeup Artist you're considering booking whether they'll be doing your makeup personally. 
Even those artists who trade under their names may still book you out with one of their colleagues – so always check! 
Consider Hygiene and Sanitation Practices
With the Coronavirus situation, it's crucial now more than ever to be aware of hygiene regarding personal services like makeup application.  
You would hope to trust a professional to take 100% care in this department, but unfortunately, we've seen some gross things in the industry over the years.
Poor hygiene practices in makeup application include double-dipping, no brush cleaning, blowing on brushes. This kit looks like a bomb went off in it, reusing disposables like Beauty Blenders, using fingers and hands as palettes, etc. 
Tip: Ask questions about the sanitation and hygiene protocols of any artist you're considering. 
If they seem uninterested in answering your questions or don't sound thorough enough, then move on. Your health is most important!
Rethink Your Friend's Offer to Do Your Wedding Makeup
When you plan a wedding, you'll get recommendations from everyone about who is the best supplier.  
Some family and friends will even offer their services to you for free! It's tempting, we know, but if they don't do this professionally day in and day out, what does that mean for you on your wedding day? 
So many things could go wrong, and usually, with makeup, it's evident at your makeup trial. 
Tip: Do your research, and you'll find the right artist for you!
Choose a Makeup Artist Whose Personality Suits Your Own
When you start looking for a makeup artist, you need to make sure they're easy to work alongside, are not overbearing and that they'll make you feel comfortable and not on edge and anxious on your special day. 
Hair and makeup preparations set the tone for your day. They're the first suppliers you see, so you need to make sure the style of your stylists is what you want for your day. 
Tip: Schedule a call with any artist you're considering booking. I'm more than happy to have a chat with you!
Consider the Products They Use
Look into what brands Makeup Artists are using. Most will happily tell you. What you want to look for is professional brands and a variety of them. 
You don't want a one brand makeup artist as it might mean the look and finish will suit most but not everyone. 
You also don't want predominantly drug store brands as these won't hold up on a long wedding day. 
If cruelty-free, sustainable, and eco-friendly practices are essential to you, this is also something to consider.
Tip: Ask Makeup Artists what brands they use. If you don't know them by name, give them a quick Google to verify their quality and reputation.
Don't Book Your Makeup Artist Based on Price Alone.
Remember, it's not like you're buying a product here where shopping around gets you the same item at a lower price. 
When it comes to purchasing services, it's like comparing apples with oranges; you can't compare two service providers based on price alone. The result will always be different, the service and personal touch they provide plus their experience.
How much you pay for your wedding day makeup will depend on who you book, how long they've been in business, their level of service, the market you're getting married in and how in-demand the artist is. 
We can't deny the financial investment of a wedding day, so if you're on a budget, that's OK. 
But knowing what goes on in the industry, you wouldn't be trying to find the lowest price when it comes to makeup.
Tip: Read reviews on Google and Facebook, and other review platforms. Seeing what words past clients use to describe their experiences are clients saying it was just 'great' or did they say 'she went above and beyond and made me feel and look amazing. I felt on top of the world'.
Shop Around
Don't be afraid to shop around! Even if you love the result of your first trial, who knows what you might think of the second or third. 
There's a reason makeup trials exist, and it's perfectly OK to book consultations with several different artists until you find the perfect fit. That said, be careful not to go overboard. 
Being educated and prepared when you begin your search for a makeup pro should help you find the right one in just a few consultations. 
Looking thoroughly at the portfolios of each of the artists you're interested in will help you narrow it down.
Key Questions to Ask Your Wedding Makeup Artist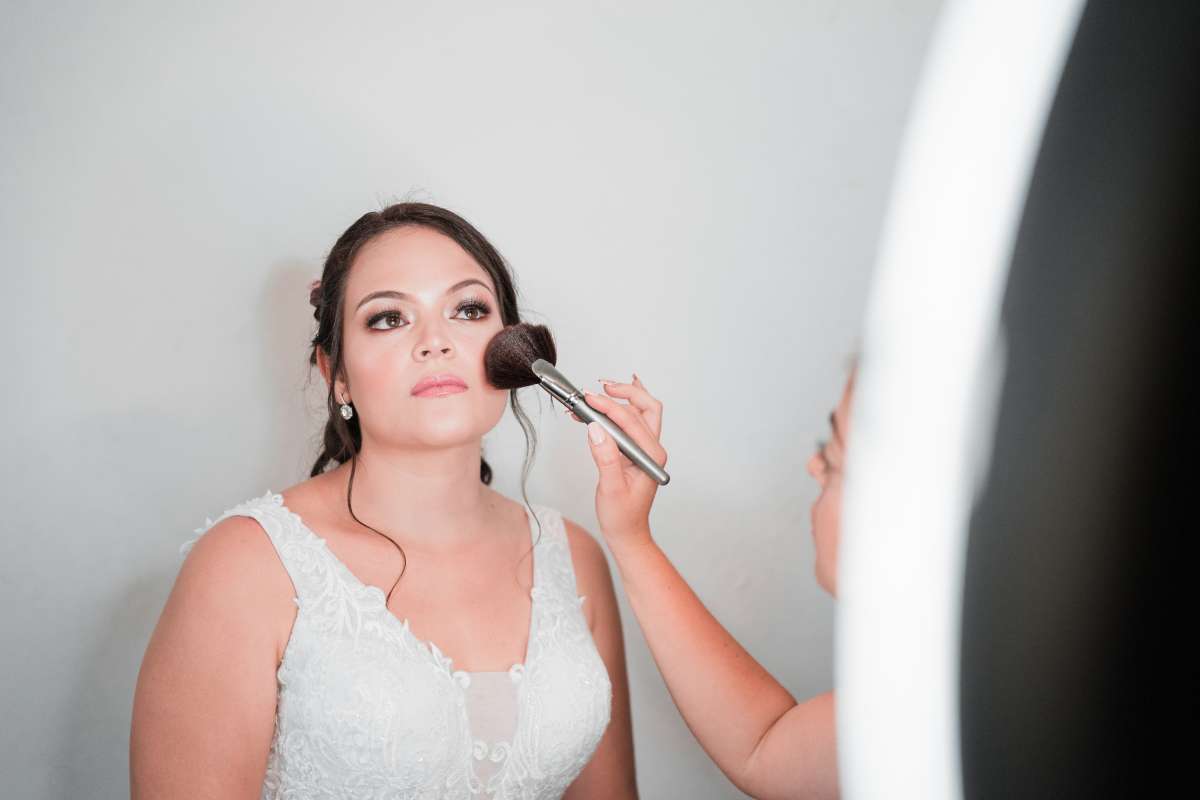 When speaking with your potential makeup artist, Emma recommends asking them the following questions:
Can They Travel to You on the Day?
Please make sure they are a mobile makeup artist who is willing to travel to you on your wedding day, and they're not located too far away from where you are getting ready.
Do They Do Trials? 
A trial is essential to make sure your makeup artist can achieve the look you want, and it will also give you confidence on the day.
What Makeup Brands Do They Use?
Make sure you choose a makeup artist that uses high-quality brands. Also, be sure to let them know of any skin conditions or allergies to cater to this.
How Long Will it Take to Do a makeup on the Day? 
It takes roughly 45 minutes to an hour to do the bride's makeup. Therefore, if you are booking your makeup artist for your bridesmaid and mothers or other guests, we recommend having at least 30 to 45 minutes for each additional person.
How Much Will it Cost?
They should be happy to discuss the packages they offer and should be able to give you a quote over the phone. 
If you're planning to hire a wedding hair and makeup artist, you can expect an average cost of $100 to $280. Expertise level, location, and the size of the bridal party will all affect the price.
What Happens If They Fall Ill or Have an Emergency on the Day?
While the chances of your makeup artist falling ill or having an emergency on your wedding day are slim, having a contingency plan in place will give you peace of mind. Make sure they have a solid backup plan.
Choose Your MUA and Book a Trial
Based on your conversations with your potential makeup artists, you should feel confident in making a decision. If not, start the process again until you fit your perfect fit.
We recommend booking a trial, so you can get to know your makeup artist and feel prepared on your wedding day.
Make sure you have a trial because it's essential to meet your makeup artist and try out what you want. 
This also means that if you aren't happy with the makeup artist for any reason, you have time to find someone else. 
Bring makeup references and ideas to your trial to go through together. Many of my clients create Instagram and Pinterest mood boards with makeup looks they like. Too busy with life to really plan your wedding in detail? Have someone else do it for you and check out our list of Wedding Planners in Melbourne to help take the stress away.
Alternatively, you may not have any idea of what you want, and in that case, you and your MUA can find your perfect bridal look together.