Many brides are still unsure of what they should wear to their rehearsal dinner. 
Your rehearsal dinner is the first official party to kick off your wedding celebrations, and your rehearsal dinner dress will likely be the last outfit you wear before saying "I do" (unless you count your getting ready robe!). 
Whether you're having a casual backyard wedding or a formal back tie affair, your rehearsal dinner dress will set the tone for your wedding weekend.
When picking the perfect rehearsal dinner dress, let your style and wedding venue guide your decision-making process. 
A summer or destination wedding calls for light and airy fabrics like linen and crochet lace. In contrast, winter weddings are all about lavish velvet styles, embellished materials, and floor-length gowns. 
And if you're more of a minimalist bride, go for sleek and structured dresses to complement a modern venue as well as your pared-back aesthetic.
As your wedding weekend draws closer, there's one outfit you should be thinking about besides your wedding dress: your rehearsal dinner attire. 
Choosing what to wear to a rehearsal dinner is an important task that shouldn't be forgotten. 
This event serves as the formal kickoff to your wedding festivities, where your loved ones begin to gather to celebrate you and your fiancé—meaning you'll need a fabulous outfit for the occasion.
With so many options available, it can be hard to find the perfect look. Below, we break down everything that goes into deciding what to wear to a rehearsal dinner. Let Cosmopolitan events Wedding Venue help you create the most magical day of your life.
Whether your style is simply classic or trendy and bold, your rehearsal dinner attire should be a reflection of your class. Here's what to consider when selecting your outfit. 
Best Tips and Tricks for Dressing for a Rehearsal Dinner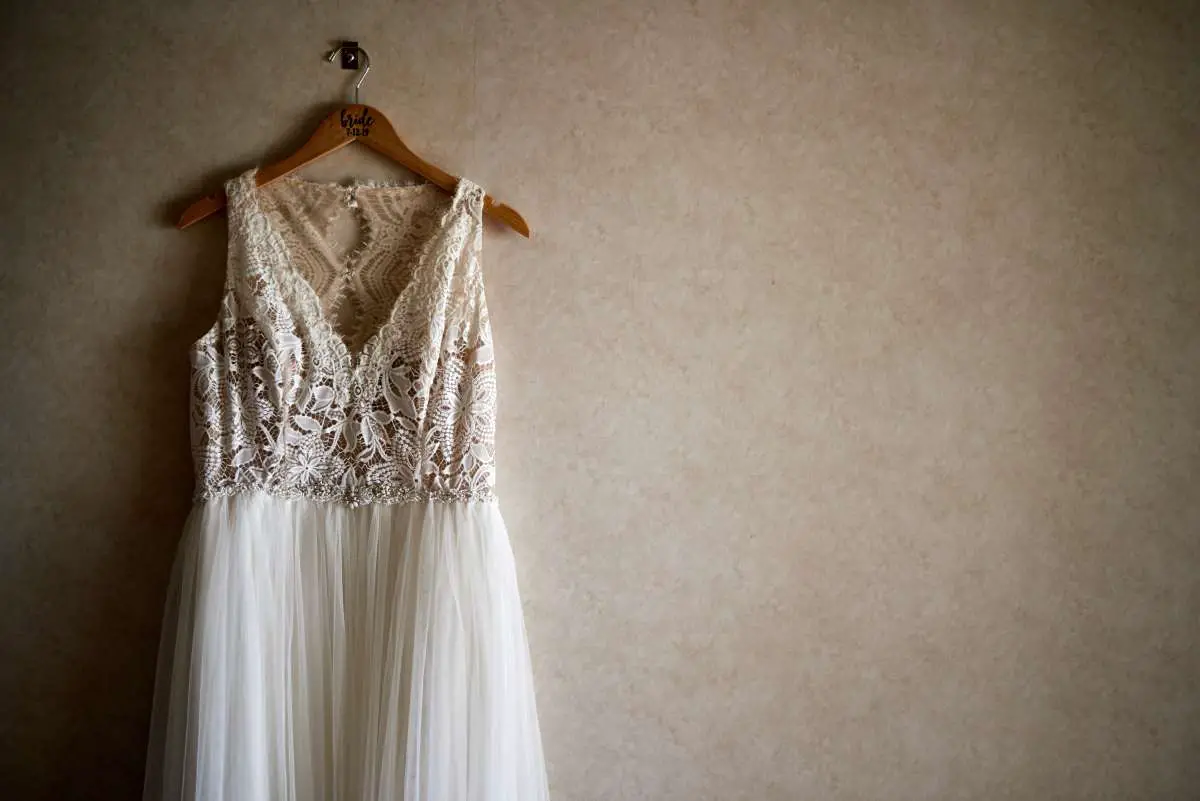 You've put a lot of thought into your wedding-day attire—everything from your wedding dress and jewellery to your shoes and veil was carefully selected to match your personality and big-day vision—but what about what you'll wear to your rehearsal dinner? 
As the official kickoff to your wedding celebration, the rehearsal (and any following welcome parties) is a big deal. 
That's why shopping for the perfect rehearsal dinner dress early is vital.
You can wear just about anything you'd like: If you've had your eye on a slinky white slip dress or a fun eyelet maxi, your rehearsal dinner is the perfect opportunity to go for it. 
Want to save white for the big day itself? Pink, purple, blue, yellow, red, and even black are all acceptable colours.
It's your event, after all! You should wear what you like. Do you favour patterns over solids (or vice versa)? 
Wear an outfit that is reflective of your taste. In short: There are no rules when it comes to rehearsal dinner fashion. 
As long as you're happy and love what you're wearing, you've made a good choice.
Whether you want to wear white, a breezy floral pattern, or a glamorous, head-turning dress, we want to help make shopping for your rehearsal dinner outfit a little easier. 
To that end, we've rounded up a selection of beautiful dresses perfect for this pre-wedding event. 
No matter if you're looking to splurge or save, go subtle or over-the-top, or wear something that feels bridal-inspired or not, we think you'll find your ideal rehearsal dinner dress here.
Get Inspired by Your Rehearsal Dinner Venue
Naturally, the first thing to keep in mind when selecting your look is what type of rehearsal dinner you're having. 
Much like how your wedding venue can influence your gown, the same can be said for your rehearsal dinner dress.
Are you having a casual backyard BBQ or an elegant soirée at a country club? A dinner in someone's home or at a steak restaurant? Is it an intimate gathering or a free-for-all with all of your out-of-town guests? 
These are the questions to ask when deciding what to wear to a rehearsal dinner. 
The type of party you're having should set the tone for what you wear—for example, cocktail attire for a swanky rooftop dinner or a breezy sundress for a casual outdoor gathering. 
Knowing the venue and researching the location, weather, and vibe will be your guiding light when picking an outfit. 
If it's a summertime outdoor event, you can opt for something more casual, lightweight, and flowy. 
If it's a winter evening at a fine dining restaurant, you'll want to elevate your look to a more cocktail or semi-formal suit or dress. 
It's Your Time to Shine.
It's your party, you're the bride, and you can do whatever you want. But, it really should be something extraordinary. This is your real fashion moment.
Pick the best outfit of what you would typically wear. This is our top piece of advice for brides-to-be. 
We suggest thinking along the lines of what you would wear to someone else's wedding when deciding what could make the perfect rehearsal dinner outfit.
Start by determining the event's formality, then pick an outfit that's slightly more dressed up than what your guests might wear.
White Is Always a Good Idea.
Depending on the season, it's fun to prelude to the upcoming celebration with a bit of white dress. 
Put that little black dress back In your closet and say hello to the new girl in town, the little white dress.
But You Can Also Wear Other Colors and Patterns.
While you definitely can wear white to your rehearsal dinner, you don't have to. Light blues and pinks are always popular with brides-to-be. 
However, you can also really make a statement and go for a bold pattern.
Another fun route is to think about your colour palette. Are you wearing white on the big day? Cream? Champagne? Blush? 
Find a fun dress that gets your guests excited for the big reveal and hint at your own choice.
Shop Styles Unlike Your Wedding Dress 
Your rehearsal dinner is an excellent opportunity to go bold with your fashion choices. 
Consider wearing a rehearsal dinner outfit that helps you express yourself in a different way than your wedding gown does. 
If your dress is traditional (lace and long sleeves, for instance), go for something more contemporary for your rehearsal dinner (like a sleek jumpsuit) to show off a different side of your style. 
Now is also a great chance to wear a trend you're loving. 
While you might want to keep your wedding look classic, use your rehearsal dinner to show off an eye-catching hair accessory or a pair of printed heels to make a statement. 
Or, if you're wearing a bold wedding dress, consider sporting a different silhouette like a silk sheath gown or a fitted midi dress.
Go Bold With a Pop of Color
Any shade of white is an excellent choice for your rehearsal dinner—you'll look every bit the part of the bride that way, of course. 
But a white rehearsal dinner dress isn't the perfect fit for everyone. 
If you want to break with tradition and have a little fun with your rehearsal dinner attire, feel free to incorporate some colour into your outfit. 
There are no rules when it comes to your night-before-the-wedding look. If you'd rather wear a sleek little black dress or bold red pantsuit, go for it. 
Or, stick to light hues of pink, green or lavender. (You could also use this moment to wear "something blue.") 
No matter the colour palette you follow, keep in mind that this is an excellent opportunity to show your personality.   
Play With Prints
Much like pops of colour, fun prints are also a great way to spice up your rehearsal dinner attire. 
If you're struggling with choosing what to wear to your rehearsal dinner, opt for something unexpected, like a floral dress or a stunning sequined jumpsuit, to make a statement. 
As the bride, you're not relegated to wearing solid white if you'd instead stun in something unexpected. 
With so many bridal outfit options, why not take advantage of the chance to wear what you love at your rehearsal dinner?
Opt for Comfort 
This will likely be your first time greeting some of your guests and mingling with out-of-town family members. 
When it comes to deciding what to wear to a rehearsal dinner, comfort is critical. 
Make sure you can move around in whatever you're wearing—the last thing you want to worry about is an itchy hemline or a skirt that keeps riding up. 
Your rehearsal dinner is all about spending time with your fiancé and your loved ones, so you don't want to spend the night preoccupied with preventing a wardrobe malfunction. 
This is the time to wear something easy and relaxed, not fussy and annoying. 
To avoid an outfit mishap, make sure you can try on the dress ahead of time so you can make any necessary adjustments. 
Wearability 
Wearability might not be the first thing that comes to mind when picking what to wear to a rehearsal dinner, but we think it's a great thing to consider when it comes to budget and the costs associated with going to, or being in, a wedding. 
If you choose something that you love and can wear to events in the future, that payoff will be much sweeter than if you buy something you can't wear again. 
If you need something a little more upscale, rental websites like Rent the Runway and The Black Tux are excellent resources with plenty of options. 
That way, you don't have to splurge on something fancy if that isn't in line with your everyday wardrobe.
Your Wedding Day Look
Use the rehearsal dinner as a way to express your unique style. 
If your wedding dress is super romantic, maybe go with something funky and fun like a sequin-embellished jumpsuit or super chic sheath dress. 
If your bridesmaid dress is a neutral colour, try a bold pop of colour in your rehearsal dinner outfit. 
Try a more casual pair of trousers with a fun patterned button-up shirt if your suit leans on the more formal side for the wedding day. 
Another great way to shop for your rehearsal dinner look is to utilize vintage shops. 
You'll not only find something incredible and one-of-a-kind, but you'll be helping the environment by eliminating the waste that comes from fast fashion. 
Have Some Fun With Different Styles.
Go for a long dress or cut a wedding dress into a short white dress for a formal affair. On the other hand, if it's taking place at a restaurant, a fun cocktail dress is perfect. 
And if you're doing something a bit more relaxed and casual like a BBQ, pair your dress with a cool denim jacket.
Maybe you're a jeans and T-shirt kind of girl, and a dress isn't your go-to. In that case, think about textures and other styles, like a jumpsuit or a billowy blouse with leather pants. 
Try a new style out. Be daring, experiment with what you know works for your body type, and always listen to that little voice in the back of your mind and go with what you feel best in!
Spare Your Feet.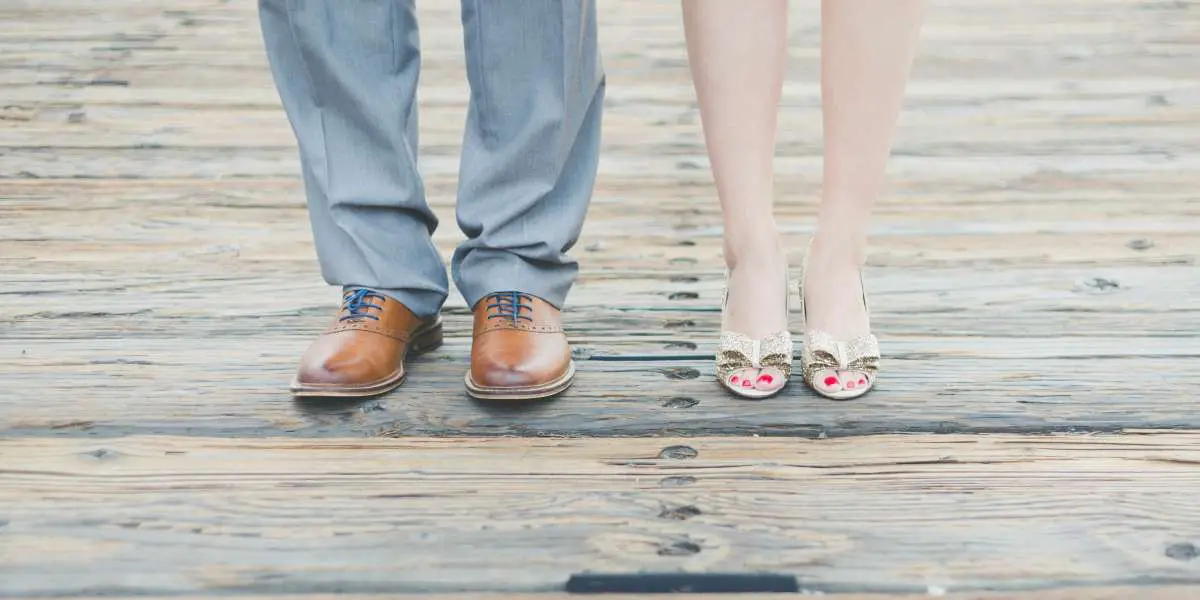 When it comes to shoes, the rule is not to kill your feet the night before. 
Go for a shoe that's a different style than what you'll be wearing to your wedding. For example, if the rehearsal dinner takes place outside, go for a wedge and don't be afraid to wear flats.
Don't Forget Hair and Makeup.
Frequently couples forget that this is a night filled with lots of photos, and you want to be looking camera ready. 
Get your hair and makeup done, but make sure it's different from what you're doing for your wedding day. Looking for a wedding hair stylist? Look no further, Cosmopolitan events has you covered
For example, if you plan on wearing your hair in loose waves for your trip to the altar, try an updo for the rehearsal dinner or vice versa.
Let the Groom Have a Fashion Moment, Too.
Just like the bride, the groom should use the rehearsal dinner as a chance to show off his style.
The Groom Can Go Bold With Colors and Patterns.
While the rehearsal dinner is still a momentous occasion, there is less pressure to adhere to the more formal dressing rules of the big day. 
Don't be afraid to embrace lighter colours and have fun with new patterns.
It's All About the Accessories.
Use the rehearsal dinner as a time to have some fun with your look. The easiest way to do this is by playing with accessories.
If you plan to wear a bow tie for the wedding, perhaps opt for a connection during the rehearsal dinner. 
Worried that a tie might be too formal? Then try a knit link in a variety of different colours or patterns. 
Or, if you want to skip the tie altogether, a blazer with a pocket square is an excellent alternative for looking sharp but not under-dressed.
Or let your belt do all the talking and grab a braided or canvas option instead of resorting to a traditional brown or black leather.
And regardless of what you choose, Lewis is a fan of using your socks to add that little extra personal touch.
It Takes Two to Tango
As far as coordinating as a couple, dress in a similar colour palette and make sure the level of formality of your outfits is on par. 
Hold up both of your outfits side by side to see how they look together. You can even try taking a picture to see if they photograph nicely together.
Buy Something You Love Wearing
Don't buy a rehearsal dinner dress because you think it's what you should wear or what your family would want you to wear (or what you think would look the best on the 'gram). 
Your rehearsal dinner is the kickoff event to your wedding weekend, so pick an option that makes you feel your best. 
When you feel confident, you look confident—and that's the best way to start your wedding weekend.
What to Look for in a Rehearsal Dinner Outfit
There are indeed so many options out there when it comes to rehearsal dinner outfits. 
While some brides may opt for something unexpected like a bold print or modern jumpsuit, others may choose an outfit that keeps within their wedding theme. 
No matter which route you go, your ensemble should reflect your style and complement the season, venue, and dress code. 
For summer brides, dresses with shorter hemlines in breezy fabrics like cotton, linen, and lightweight silk always look effortlessly chic. 
Consider long sleeve jumpsuits, crisp tuxedo suits, or beaded dresses if you're planning a winter wedding. 
And for more casual weddings? Of course, you can never go wrong with comfortable and straightforward silhouettes like easy-to-wear separates, rompers, or sundresses for laidback celebrations.
Do I Have to Wear a Dress to My Rehearsal Dinner?
Not! You should wear whatever makes you feel the most stylish and confident. Some great alternatives to rehearsal dinner dresses are jumpsuits, rompers, and suits.
Do I Have to Wear White to My Rehearsal Dinner?
Not! While some brides may choose to wear white to their rehearsal dinner, others may opt for dresses in vibrant colours or prints – what you wear is entirely up to you!
Can I Wear a Formal Dress to My Rehearsal Dinner?
Yes! Formal styles like simple slip dresses, floor-length gowns, and fitted sheath silhouettes are all attractive options for a rehearsal dinner look – especially if you're throwing a formal or black-tie wedding.
What to Wear to a Rehearsal Dinner: Ideas for the Bride
Mini Dress
For a fun short dress option, go for this vintage-style mini embellished with flowers and pearls.
Lace and Satin-Trimmed Crepe Playsuit
An elegant lace and crepe playsuit is the perfect combination of relaxed but dressed up. 
With satin lapels and an optional belt, this rehearsal dinner outfit is lovely for the contemporary bride.
Midi Dress
We love the length of a satin midi dress, complete with a draped cowl neckline. 
It may come in many colours, so if you want a rehearsal dinner dress that isn't white, this is a great option to bring in a pop of colour.
Jumpsuit
We love the idea of incorporating a chic jumpsuit into your wedding weekend.
Put These Rehearsal Dinner Attire Ideas to Good Use!
Whether you're getting married, there is a rehearsal dinner outfit for you. 
Just remember to keep in mind the venue, dress code, wearability, and wedding day attire when you're choosing your rehearsal dinner look, and you'll be all set! Check out our ultimate list of Wedding Planners in Melbourne to help you organise a stress-free wedding.
Once you have your ensemble decided, you're one step closer to the best celebration ever.