Going on a hen party soon, ladies? Trying to decide what to wear for the weekend? Don't worry; we have everything you need to know about what to wear at the hen party here!
One of the big things about deciding on your outfits for the hen party is to make sure that you don't go for anything too fancy or stand-outish. This is the brides weekend so make sure that you don't take any of her spotlights. Even if she doesn't like being the centre of attention, she won't appreciate her thunder being stolen on the hen party!
Looking for hens ideas? Look no further, Magic Men has you covered.
Going to the Hen Party
When going to the hen party, especially if you have a long distance to travel, you must be comfortable. Of course, this doesn't have to mean trackies and a hoodie. We're talking a nice pair of jeans and a cute top. Nothing dressy, just casual everyday wear. You may even have a theme or hen party t-shirts printed if so stick with that. Chances are when you arrive at your hen party destination you'll be changing for your activity or a big night out so don't worry too much about this outfit ladies.
For The Activity
It's so essential for you to have a change of clothes that suit your activity! If you are doing an obstacle course or something active, leggings or a tracksuit are the go-to. If you are doing something like Paint, a Nude or Wine Tasting what you wear going to the hen could be perfect. Some activities have a theme attached like a Father Ted Tour goes hand in hand with a Lovely Ladies Fancy Dress. Roller Disco works brilliantly with an 80's themed outfit! Check out with the bridesmaids that are organising the weekend and see what is most appropriate.
For Dinner and Night on The Town
For the big night on the town like we said already it's important to make sure you don't go for anything that will make you stand out from the crowd too much, it's the brides weekend. Even though the bride may not decide on wearing white on the hen party better to steer clear of it! A great idea that we always love is giving the group a colour to wear. Maybe get all the group to wear black, and the bride-to-be wear white. Let her soak up the limelight! Plus black is always a great colour to choose as it's flattering on everyone and everyone has something they could wear in black!
Going Home
We strongly suggest comfort for coming home from the hen party as long as there is nothing planned for the way home. Chances are you may have a sore hear and a bit of a sick belly after the wild night so why not wear your comfies for the journey home. Of course, if you are continuing the party when you get home, we suggest putting in a little more effort!
One of our main tips is to talk to the rest of the group on what to wear on the hen party, especially the person organising the whole thing!
Must-Follow Bachelorette Party Style Rules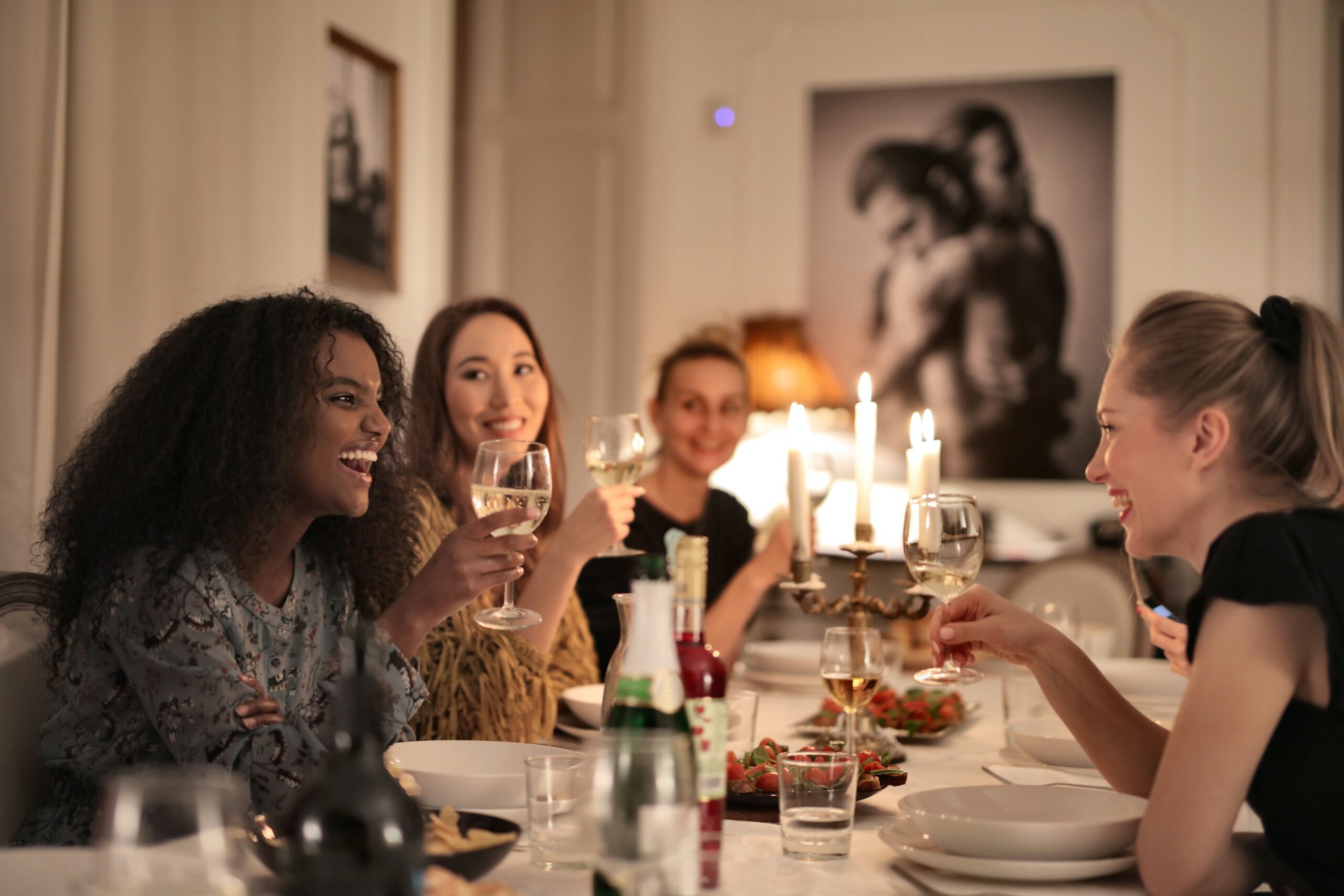 It's her party, and you can't wear what you want to—just kidding! In most cases, you totally can rock what you want at your BFF's bachelorette party (within reason, of course). However, frequently there are some bachelorette party dress code rules, like being required to sport those matching tees the maid of honour bought. We have the best range of Sydney hens party
So for brides, guests, and hostesses, here are a few style rules to take into consideration when planning or attending your next bachelorette party: 
Avoid White
Remember that it's customary for the bride to wear white at her bachelorette, so do everyone a solid and leave your white-on-white outfits at home, urges Janik. A little black dress, on the other hand, is the perfect party style pick.
Don't Try to Be Matchy-Matchy.
Number one bachelorette party style rule is that you shouldn't try to match each other head to toe. Instead, have one matching item between the crew, whether it's t-shirts/headbands or even tote bags, and then let each bridesmaid style the rest of her outfit to fit her personality.
Prioritize Comfort
Dressing up in coordinated outfits or getting the same shirt for everyone to wear during the bach with the couple's wedding hashtag on it can be a blast, but be sure to keep in mind any guest limitations. Not everyone is the same size or feels comfortable in the same type of clothing. So most importantly, whoever is planning the party should talk to the bride and see what she is most comfortable in and what she thinks everyone would be most comfy with since she knows her girls best, and you might not know everyone as well as she does.
Go With the Flow
As a bachelorette party guest, it's essential to go with the flow and wear that silly hat or bachelorette party-themed t-shirt without pouting about it. Now, if you have significant issues with the "dress code" or are completely uncomfortable with it, feel free to say something to the host.
Keep It Classy
You don't have to dress in the tightest, skimpiest outfit just because it's a bachelorette. If anything, because this is a wedding-related event, there will be more attention paid from the bride's family members and older wedding attendees on social media. While it may be tempting to rock that too-short skirt, think twice before you go out in an outfit you might regret the next day or in pictures.
Dress Code, Chic: 10 Classy Hen Party Themes
If matching slogan t-shirts, pink feather boas and thigh-high nurses' costumes aren't your bride-to-be's jam; then this guide will make essential pre-hen party reading. Most modern brides forgo the more traditional (often tacky!) hen party themes, but still like the idea of having some dress code, theme or element of uniformity – and we couldn't agree more! A hen party with a fun dress code is not only a great way to get everyone in the celebratory mood and feel part of the squad, but it also makes it easier to spot your fellow hens in the crowd – which might come in handy. Not to mention the fact that an excellent dress code looks pretty great in the photos too (hashtag squad goals)!
Today we are sharing ten classy hen party themes which are a little more modest, chic or cool, that your bride-to-be (and her gaggle of hens!) will love…
Sex and the City
Cosmos at the ready! Dress up in Carrie Bradshaw-inspired midi tutus paired with simple tops and cute heels. Add some jewels for extra glamour. Alternatively, you could ask the guests to dress as their favourite SATC character.
Great Gatsby
Encourage your guests to channel their inner Daisy Buchanan! Look to the Roaring 20s and get inspired by embellished dresses and vintage style hair and make-up. Add headpieces and lots of jewels for the perfect art deco look.
Sleepover Chic
This one is perfect for a hen party at home, spa weekend, or a good old-fashioned slumber party. Slip into some fancy PJs and accessorise with eye masks and cute slippers!
Little Black Dress
A simple yet stylish theme, all guests can dress in black and the bride in white. What gal doesn't have an LBD, blacktop or jumpsuit in their wardrobe!? You could also up the glam by making it a Breakfast at Tiffany's theme complete with pearls, gloves and sunglasses!
Beautiful Boho
The hottest hen party theme right now, this is one for festival-lovers and boho brides. Guests can dress in floaty maxi dresses, lots of fringe or floral kimonos – add flower crowns or head chains as well as temporary tattoos.
Nauti-Chic
Celebrate the bride's 'last sail before the veil' with a nautical-themed hen. Guests can wear simple striped t-shirts paired with jeans or a navy dress and fun little sailors hat!
Tuxedo Hen Party
This is such a chic idea and something everyone can have a bit of fun with it – it's also perfect for if your bride isn't one to wear a dress. You don't need to splash out on a full tux, and guests can dress in black trousers, a white shirt and a bow tie, with the bride to be in white!
Polka Dots and Petticoats
One for the vintage-loving bride! Get your guests to dress in 1950s style swing dresses and petticoats or something sweet with polka dots. Hair scarves, pearls and red-lips are a must!
Pretty in Pink or Sweet Pastels
Perfect for the bride who loves all things pretty and pink this is the ideal dress code for an afternoon tea hen party – ask your guests to dress in all pink or a rainbow of pastels. Princess accessories, optional!
All White
A simple yet very chic theme to follow, ask your guests to dress in all white to honour the bride. The bride could also dress in white with a mini veil or wear her favourite colour.
Our Top Tips for Choosing a Hen Party Theme
If you are planning a dress code and want your hens to wear a coordinated outfit, make sure you let them know early! You could also create a Pinterest board to share with the hens, so they are all on the right page.
Know your bride. Make sure to choose a theme that is relevant to the bride. Think about how she dresses for special occasions, does she like to go all-out glam or is she more of a casual dresser? Perhaps she's, is a vintage-loving gal or rocks a flower crown at every opportunity?
Take your hen party location and activities into consideration. For example, a glam Gatsby theme probably won't work for a glamping hen party; likewise, boho vibes might make it tricky to get into an expensive club.
Think about the budget. If you know some of your hens will be on a tight budget, think about a theme that will incorporate items they already have, or find an affordable source to direct them too.
What to Wear for Every Hen Do Eventuality
What's not to love about a hen party? A night out with all your girls, and no boys (unless you've got a stripper lined up). But, hen party outfits can be challenging to plan, especially when activities can be so varied. No matter what your hen party plans, we've got an outfit for you.
THE OUT-OUT HEN PARTY
Ah, the classic hen party. You all get dressed up, don your tiaras, and head into town carrying various willy shaped apparatus. This calls for a vamped up version of your regular night-out outfits. A little bodycon dress is a safe bet, or try a playsuit if you're worried about keeping your dignity if/when you fall over (flashing your knickers is not a good look). Just finish off the outfit with the highest heels you can find, and you're hot to trot.
THE DAY TO NIGHT HEN PARTY
When you've got activities till five then cocktails at 6, you need an instant outfit that can take you from day tonight. T-shirt dresses look great dressed down with an oversized jacket and trainers in the day – So you're ready for action. Then, throw off your coat, cinch your waist in with a belt, pop on some heels, and you're sorted for drinks with the girls. No faff and you'll look lit. Make that a large glass of wine, please.
THE POOL HEN PARTY
If you're jetting off to warmer climates on a pool party hen, do then lucky you. The sun makes everything better. Plus a hen-do abroad will be one to remember. Pack your hand luggage with some fire bridal swimwear, and a pair of killer sunglasses. And don't forget the factor 30, obvs. Sun, sea, and cocktails by the pool. Can we squeeze in your suitcase, pretty please? 
THE ULTIMATE GIRL'S SLEEPOVER HEN PARTY
Who needs a night out when you are the party, right? A sleepover hen party is a perfect choice for a close-knit group of friends who want to stay in, drinking prosecco and having loads of fun. Obvs you're going to need matching pyjamas for such an occasion. Silky bridesmaid and bride nightwear is super comfy, is a cute memento of the hen do, and most importantly looks impressive. You want to look great in those candid Instagram photos.
THE SURPRISE/ANYTHING GOES HEN PARTY
A surprise hen party can be exciting but is an absolute 'mare when it comes to packing. You need something that you can comfortably do activities in, but also look excellent if your surprise is cocktails on a rooftop bar. The best way to tackle this tricky situation is opting for trousers. Wide leg and culotte styles are big news this season. You could even match them with a matching co-ord top if you want to go full fashion. Just make sure to take both trainers and heels so you can take on whatever is thrown at you. 
HEN PARTY ACCESSORIES
If you're the maid of honour, then you're probably not even thinking about your hen party outfit. You're more concerned about making sure you throw your bestie the ultimate party. The devil is in the detail with party planning, so make sure you have all your decorations and accessories sorted. Every gal loves rose gold, so a rose gold themed hen party could be perfect. Banners, signs, sashes and even some novelty glasses are all essentials for the perfect bash.
Can I Dictate a Dress Code for My Bachelorette Party?
After months spent planning your wedding, you're probably looking forward to your bachelorette party, in which you'll get the chance to spend a day (or a few days!) celebrating your upcoming marriage with your closest female family members and friends. As you work with your maid of honour and bridesmaids to plan the party or getaway, you'll probably have a few questions. One big one? Whether or not it's okay for you to set a dress code for part or all of the celebration. 
Pick Your Battles
The bachelorette party is all about you, so you don't need to feel too bad about making these kinds of decisions. With that being said, you still don't want to go overboard. Whether a bride can or should try to control the dress code for her bachelorette party truly comes down to the bride and her group of friends. Regardless of how much fun you think it is, you might elicit a few eye rolls, so pick your battles. When it comes to the dress code, a good rule is if you wouldn't wear it for one of them, don't expect them to wear it for you. Set on matching attire? It's considerate to impose a dress code that your loved ones can follow without having to purchase something new.
Think About What's Planned Already
Before you can even think about a dress code, you should figure out what's happening during the bachelorette party, then choose something appropriate for what you'll be doing. Controlling the dress code also depends on the activities planned. Matching t-shirts and many sashes that say something like, 'Bride's Tribe!' would be less appropriate for a relaxing spa day or a wine tasting than a night out in a city. Want to have the best melbourne hens party? Magic Men has you covered.
Spread the Word Early
If you decide that you'd like your group to wear coordinating or matching attire, make sure to spread the word early. You'll want to give everyone time to choose and pack an outfit that works-no one wants to be the only person not matching the rest of the group because they didn't have enough time to get what they needed. Anything you or your maid of honour can provide-custom shirts or small accessories like sunglasses, hats, or sashes-will make planning easier on your family and friends.