HOW TO HOST A VIRTUAL HEN PARTY
With another lockdown keeping us confined to the house, and many having to postpone or cancel the stag parties, hen dos and weddings that have been months in the planning, we're on the lookout for new ways to celebrate. It's time to pick up your phones, iPads, tablets or laptops and invite your besties to the ultimate virtual party.
We have an exclusive range of hens party services to spice up your girls' night out at Magic Men.
What is a Virtual Party?
A virtual party is an event where people interact over the internet rather than face-to-face in a physical space. When social distancing is encouraged, an online party is a fantastic way of maintaining connections and hosting events with family and friends. However, a virtual party could be held at any time and could be particularly useful for those of us with long-distance friends and relatives. Be as creative as you can when planning a virtual party and develop unique ideas to ensure that you and your guests have an incredible time.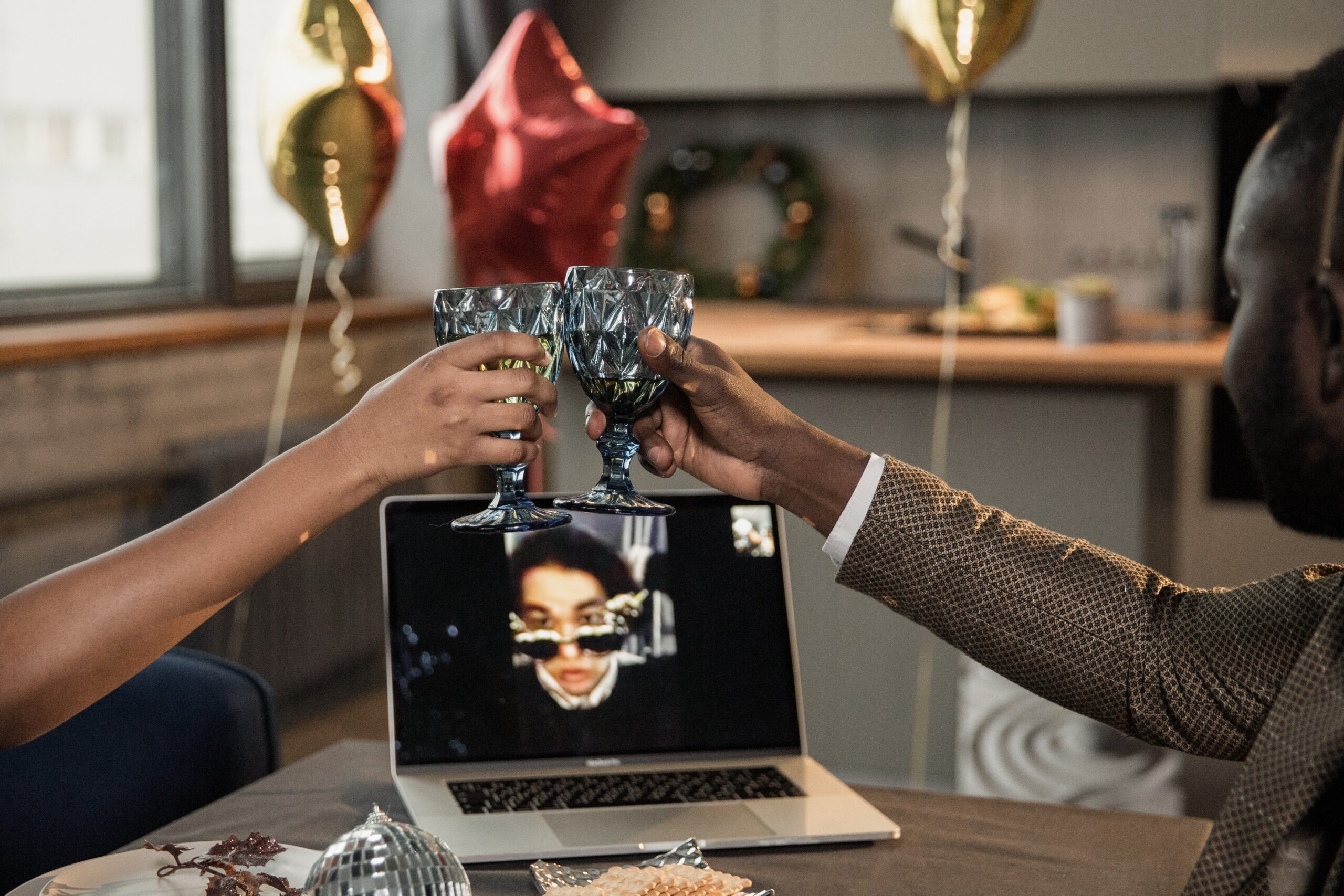 How to Host a Virtual Hen Party or Virtual Stag Do
First, send a message round to your chosen guests and let them know when your virtual party is taking place. Once you've done this, you should try and work out the logistics.
So, figure out the best platform to use. If you have iPhones, iPads and Macs, you might decide that a group Facetime call will work best. Or, if you all have laptops or computers with webcams, then a video call using Skype might be the best option. We recommend planning activities in advance and letting the group know what you have in mind to ensure that they come prepared.
Create your guestlist & invites
Before you start planning any other elements of your hen party, you'll need to consider your guestlist and how many people you wish to invite (virtually of course). When it comes to sending the invitations, you can send them via email or if you want to keep it simple or are short on time then set up a facebook event and invite everyone to the group.
There are plenty of platforms that allow you to connect to your friends via video call; our favourites include, skype, zoom, facetime (supported by iphones only) and google hangouts. All super easy to set up and will work on either your phone, laptop, tablets or smart tv.  
Decorate the space!
Try to make it as personal as possible so it feels as close to the real event as possible, why not send her a little package of hen party goodies to enjoy a few days before the virtual party so they can hang all the decorations up. It'll make the bride to be feel special knowing everyone is thinking of her. We have put together s kits to help you send a package for all the goodies you will need for your virtual hen party.
Make sure she has something special to wear
Just because the in-person hen party is cancelled or postponed, it doesn't mean the bride to be won't enjoy seeing a few decorations in the background to make her feel special. Why not start by sending her a sash or headband to use for the virtual hen party just as she would wear for the special occasion!
Play some games
The key to any hen party is the games! They're the best part, and one element that shouldn't be disregarded just because of a little social distancing. Games such as 'brides bingo' are set to be a hit on a virtual party! Do not forget; this is a hen party so there should always be time for a drinking game! 
Virtual Party Ideas for a Hen Party or Stag Do
Play your favourite party games, create a playlist your guests will love, and virtually watch a movie or series together. Most importantly, you'll maintain connections and celebrate in the best way possible. Plus, you can always use this as a warmup for the real thing once social distancing is no longer needed.
Create an Online Party Playlist for Your Guests
Set the atmosphere by creating a playlist and share it with your guests before the party begins. You'll find that there are plenty of music streaming services that will allow you to make public playlists or share the link of your playlists with your friends and family.
Slip in some unexpected songs that the group may not have heard in a while and reminisce over great tunes of the past. The mutual excitement and cries of 'remember this one' will get everyone in the party mood.
It's also a great way of sparking a discussion of shared memories or swapping stories you may not have heard before. You could again try something a little different and get everyone interacting by playing a music orientated game. You could play the beginning of a song and get everyone to guess the song title, bonus points for the artist name.
Virtual Dance Party Ideas
Now that you've got a playlist sorted, why not host your virtual dance party? We all love hitting the dancefloor and throwing our best, or worst, dance moves.
If you can't hit the dancefloor in the club, then why not create your own. You could even organise a virtual dance-off. If you're an energetic bunch, why not host your virtual silent disco and bust a few moves to your favourite songs? If anything, it'll look wholly hilarious and will have you all in tears with laughter.
Play Your Favourite Party Games Online
If dancing is a step too far and the thought makes you cringe a little, then why not play some of your favourite hen party games instead. Some many different websites and apps allow you to play card games and board games online. If you love the popular Cards Against Humanity, then you'll be pleased to know that you can play this online.
For something a little different, why not create your virtual cocktail, or mocktail, making class? Find a recipe online and inform your stag group beforehand to ensure that they'll have any necessary ingredients to make the drink of your choice. If you've tried all of this and fancy something to bring your party games back to basics, then right, old-fashioned charades could be a winner.
Watch a Movie Online Together
If you fancy something a little more lowkey, or you're feeling exhausted from all of the fun activities, then you could always settle down and watch a movie. Various online platforms allow you to watch a film with the lads virtually. Netflix Party is one of the many fantastic services that enable you to do this.
Netflix Party is a chrome extension which will allow everyone with a Netflix account to have a synchronized viewing experience. Get the popcorn ready and virtually bond over a film or tv show of your choice.
Grab a Bite to Eat Together
Food is an excellent way of bonding! So, why not cook your favourite dish and virtually sit down to eat together. If you're not the most incredible cook or don't fancy cooking, why not treat yourself to a takeaway? Some food delivery services, including Dominos and Deliveroo, have recently announced that they're introducing contact-free delivery, which helps when social distancing is being urged.
How to Throw a Themed Hen Party
If you'd like to make your virtual party extra special, then you could always incorporate a theme into your online party. Ask your guests to get involved, dress up and make the most of this virtual party (or virtual warmup hen party). Once the theme is decided, and you've decided what you're going to wear, think about how you can take the theme further. One example of how you could do this is that if you've decided that you're going to embrace the theme of the decade that the stag was born in, you could create a playlist with music from that time and games the stag loves.
How to Plan a Virtual Hen Party
If one of your besties was due to tie the knot or have her hen do in the coming weeks, we're sure the Covid-19 crisis has been a difficult time for her. Whether her celebrations have been postponed or there's just a lot of uncertainty, some time with her closest ladies is bound to boost her feelings. With thousands of brides in this position, we see some epic virtual hen dos in our social media feeds as bridesmaids and pals try their best to do something special for their friend. We're sharing our guide on how to plan the perfect Virtual Hen Party from themes and games to structure the celebrations to our favourite video call platforms for groups. All you need to do is grab your laptop/iPad/phone and make it a virtual hen do to remember!
Are you getting frustrated by searching for the best hens ideas? Let Magic Men handle it.
Practical tips for throwing a seamless celebration online.
Pick a Date & Time
You may have already had a date set for a hen party so that you can go ahead with that one, or, if no date has been set, chat to the bride and ask for two or three dates where she's free. Send a message to the hen group (in WhatsApp or Facebook etc.) to propose those dates and take a quick poll to see what night best suits everyone. Ensure each member can dedicate at least a few hours to the virtual party to make it feel less like a happy hour and more like a real event. If there are mums of young children in your group, think about doing time later on when they'll be more available.
Be specific about a start and end time so that each guest can plan accordingly. It's also important for whoever is organising the virtual hen party to be confident in calling it when it's over so people can leave the call without feeling bad!
Send the Bride-to-be Some Fun Party Supplies
A sash or tiara will make any bride feel special! You can find lots of great hen party decor online that you can ship directly to the bride (rope her other half in to set all up!). There are also many fantastic free printables online that you or the other guests can print out and decorate their backgrounds with. In these make-and-do times, a little effort makes a big impact and will help your pal feel special.
Pick a Video Platform
Where and how you host your virtual hen party depends on your group's size and which devices your ladies have access to. There are countless video chat platforms you and your friends can avail of, but the main thing you want is to be accessible to everyone.
Great free tools that are super-easy to work for group calls are Google Hangouts Meet and Zoom. We've also seen lots of people using the House Party app on Instagram. For smaller get-togethers, you can't go wrong with Facetime, Skype, or WhatsApp Video. Be prepared to give a little bit of technical guidance to those who haven't used these platforms before! Find our mini guide to group video calls here.
Have a Party Plan
Just as you would for an in-person hen party, the best ones have a loose plan of what will happen. Once the date has been decided, and the platform has been confirmed by everyone and begins planning what you're going to do so you can share it with everyone ahead of time. This will eliminate endless chitter chatter or worse, awkward screen silences and ease any nerves for those who might not know a lot of people on the call. If there are people in the group, who may not know each other get everyone to do a quick hello at the beginning of the call with their name and how they know the bride.
Have A Theme or Dress Code
If you want to make this online hangout a little bit special from the rest, why not have a theme or dress code? If you had already gone to the effort of planning a theme for the hen weekend, there is no reason why you can't still apply this to your virtual bash!
If you have to pull a theme together quickly, choose something that everyone will already have in their wardrobes. You could all hang out in your PJs old-school slumber party style, dress up to the nines in the bride's favourite colour or go for a fun costume theme using what you can all find at home. It'll make a nice change from your regular online meetings and no doubt there'll be endless giggles!
The Ultimate Girls Night In
Just because we're social distancing, doesn't mean things need to be boring. You could organise an online pamper party and have everyone don their favourite face masks, you could all order a takeaway delivery to be eaten at the same time, host a virtual wine and cheese tasting, or have a good old bop in the living room to our epic hen party playlist! Not only is it a bit of fun, but it will also go a long way into making you feel like you are all there together.
You could even assign someone the 'Happy Hour host' and ask them to give a live cocktail masterclass how to make a specific alcoholic or non-alcoholic cocktail. The Happy Hour host could also send around a list of ingredients ahead of time so they can challenge the hens to replicate the cocktail!
Make Her Feel Extra Special
Celebrating without being physically together can be difficult when you had something different planned, so reminding the bride of how important and loved she is with a virtual party will help lift her spirits.
Pop a card in the post (those free An Post postcards are ideal!) to read on the morning of the hen to let her know you are thinking of her, or, if you live close by, you could leave a bottle of fancy bubbly outside her door. If you and the other hens are financially able to, you could club together to send her some flowers, cupcakes, or a self-care box with beauty goodies. And no, we won't judge if you order one for yourself whilst you're at it! If you had a memory book or photo album planned for the hen do, do your best to compile it over email or post in advance and get it to her to peruse on the day – she'll be over the moon!
Don't Forget the Fun & Games.
Hosting your hen do from home doesn't mean you have to skip on the hen party games! Why not do a game of bridal bingo or a pub quiz themed around the bride? We've also listed our favourite hen party games below that can easily be played online for your virtual hen party:
Mr & Mrs Quiz. How to play online: THE quintessential hen do game here! We've already written a post that teaches you how to play the Mr and Mrs game, and a list of 50 questions to use as your starting point, but can also find a more offbeat version of the classic hen party game here!

Read My Lips. How to play online: Have the host turn off the microphone and read out three phrases (or take turns), the hens then have to read her lips and write down what you think they said. Whoever is the closest one. Some of the answers will have you laughing out loud.

Guess The Memory Game. How to play online: Everyone texts their favourite memory with the bride to the host or hen organiser, she then reads each text aloud to the group. The bride then has to guess who the memory was with.

Who Am I? How to play online: Ask guests to submit a random or ridiculous fact about themselves that other people may not know about them ahead of time. The host then reads out these facts and the hens have to guess who submitted it.

Guess the Celebrity Bride. How to play online: Save photos of celebrities on their wedding day and crop the heads out. Ask each person to share their guesses as a list via private message and keep track of each player score without revealing who they got right. Once all players have made their guesses, you can reveal the final scores and the correct names.
Can I find hens ideas to match my taste? Absolutely! Magic Men has a variety of services and packages to offer.
Above All, Have Fun!
Remember, all normal hen do rules are out the window right now. The circumstances may not be ideal, but whatever, or however you choose to celebrate your virtual hen party, the most important thing is just making the bride feels special and supported during what we're sure is an incredibly difficult time for her. Don't forget to take some screenshots of your virtual hen party so your bride can remember this very special and very unique celebration!