Before the décor, before the dress, even before the location, the first glimpse your guests get of your wedding is—surprisingly—via the stationery.
To help you get started on your invitation hunt, we've rounded up our best wedding invitation shops from right across Melbourne, Victoria.
So it follows that the same amount of care and time should be given to choosing your stationery as any other part of your wedding, cakes, DJs and canapés included.
All factors considered—card stock, design, foiling, calligraphy—here are our recommendations for Melbourne-based companies.
Read on to discover where to start your search.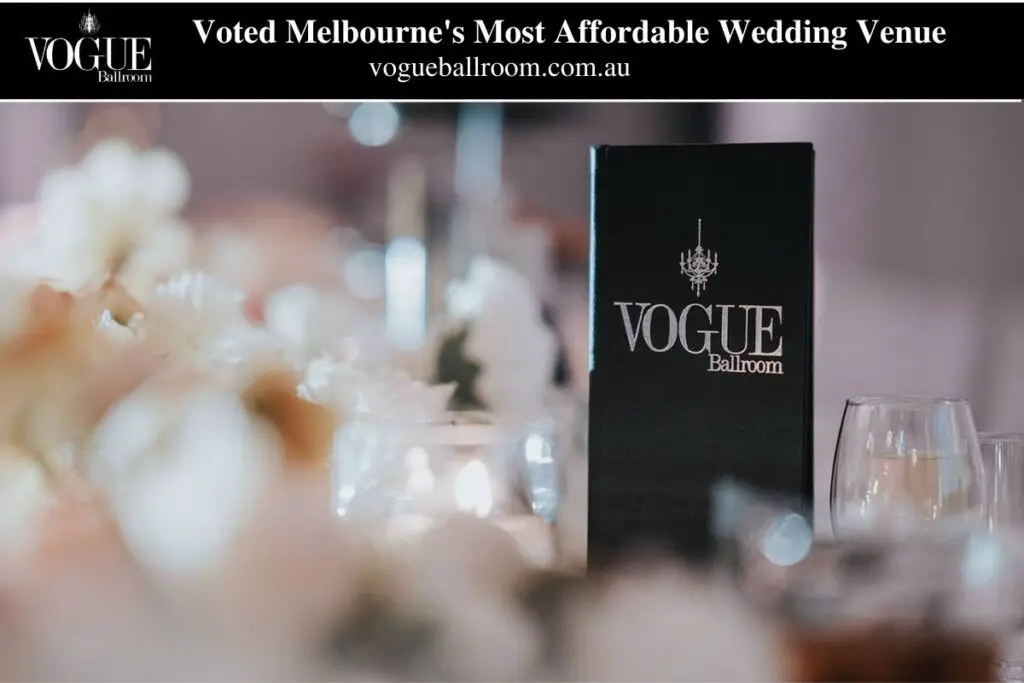 Add a header to begin generating the table of contents
Paperlust Wedding Invitation Melbourne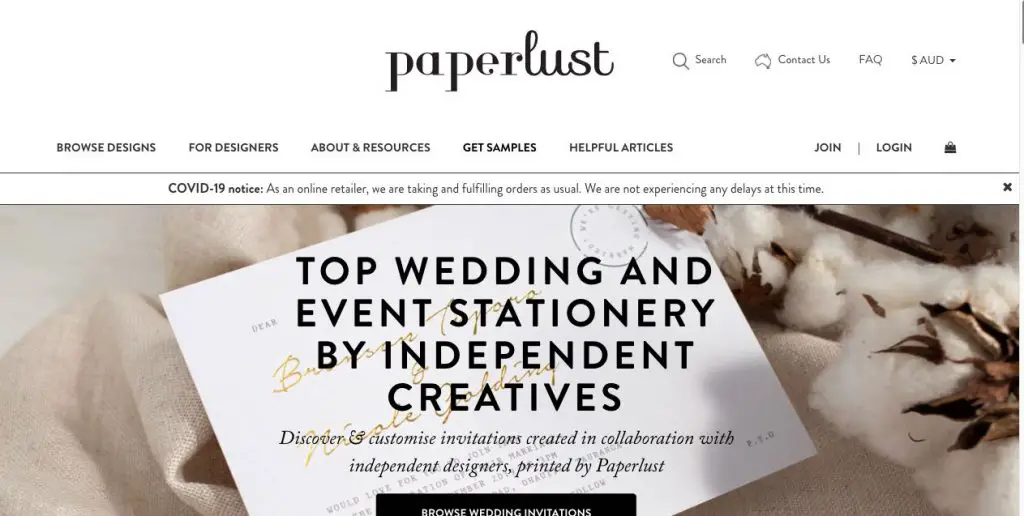 paperlust.co
1300176727
ABOUT US
Paperlust is the platform where print design lovers can find work they love from Australia's best design talent. We offer a custom invitation and card designs for every occasion, including weddings, engagements, birthdays, and baby showers. All designs are exclusive to Paperlust and come printed out on our luxe paper stock. Play with our easy-to-use on-site customisation tool, have your final design tweaked by a Paperlust designer, and get your perfect invites in your hands in no time.
We help designers sell their work globally. While you focus on being creative, we take care of the logistics: printing, packaging, shipping, delivery, customer support and more. There's nothing like earning commissions, gaining exposure, and being part of a community of other creatives, all without having to leave your studio or interrupt your flow. Create more stress less.
BROWSE, CUSTOMISE, BUY
Discover, customise and purchase your personalised invitations, save the dates, engagement invitations, RSVP and on-the-day stationery.
DESIGNER REVIEW
A Paperlust design associate will perfect your purchased stationery designs and apply any of your special requests before getting your final approval before print.
WE PRINT & SHIP
Paperlust will print your invitations & stationery on our luxe paper options with free white envelopes and ship them to you with express shipping.
PAPERLUST ENVELOPE PRINTING
Choose from a wide range of font designs, colour options and a choice of white ink on dark coloured envelopes.
Choose from a range of beautiful custom paper envelopes and envelope liners to complement the card design.
PAPERLUST ADDRESS MANAGER
Gathering your guest address details just got more comfortable with the Paperlust Address Manager. Import friends and family details into the Paperlust address manager, add them one at a time or invite them to submit data via Facebook or Email directly into the tool.
Approve your envelope proof, and we will print your return and recipient address data and ship any remaining blanks.
Keep all of your addresses in one place for the save the date, invitation and thank you cards when you return.
START ORGANISING
You can sign up today and get started with our Address Manager before you purchase to get all of your address details ready in advance.
The tool is entirely free!
Papermarc Wedding Invitation Melbourne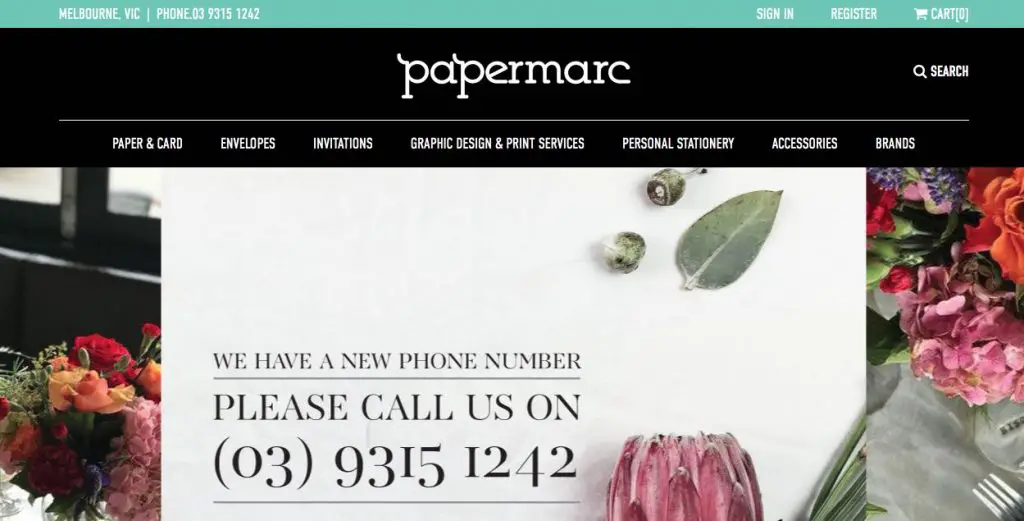 papermarc.com.au
393151242
WELCOME TO PAPERMARC
Papermarc is a Melbourne boutique paper retailer who specialise in invitations, personal stationery and cards for all occasions such as weddings, birthdays, engagements, christenings, birth announcements, corporate functions, parties, anniversaries, bar mitzvahs/bat mitzvahs, baby showers, kitchen teas, hens nights, bereavements, rsvp acceptance cards, save the day cards, gift registry cards, wishing well cards, bonbonniere tags, the order of service cards - cover - booklets, menus, place cards, table cards, entrance boards, wine labels, thank you cards and anything else you may require.
You can purchase invitation samples or visit us instore to see and feel our artistry physically. If you would like to place an order for custom designed invites, please contact us to have a quote written up with your specifications or to book an appointment.
View Our Range
PRINT MY OWN WEDDING INVITATION / EVENT STATIONERY ARTWORK 
If you have your wedding invitation/stationery artwork. Please contact us for a quote, email us your artwork in with the quantity your require for each wedding stationery item and advise if you are after a smooth, metallic, textured or recycled kraft card stock. Alternatively, we can then suggest a store that would complement your artwork. Please also advise if you would like a matching envelope, coloured or recycled kraft envelope.
We offer various printing services, including thermography (raised print), letterpress, foiling, embossing, digital printing, including white ink printing and offset printing. 
If you have any further queries, please don't hesitate to contact us.
PAPERMARC WEDDING INVITATIONS AUSTRALIA, WEDDING INVITES & WEDDING CARDS
Our in house graphic designers, design wedding invitations and event invitations each with their own unique design style. Our designers take inspiration from all aspects of life, some of our wedding invitations focus on typography based designs, graphic patterns, hand lettering, beautiful floral watercolour illustrations or hand-drawn illustrations. Browse through our wedding invitations gallery, and you'll be sure to find a design style to suit you.
PAPER, CARD & ENVELOPES
Browse our extensive range of fine stationery, cards and envelopes. Japanese, metallic, transparent, smooth matte, pre-printed designs, flocked, foiled, sheer, pre-cut cards, paper, card stocks and envelopes.
If you cannot find what you are after, please contact us as we stock over 700 papers and 300 envelopes. We can try and track down that elusive paper stock if you are having difficulty locating it.
WAX SEALS & SEALING WAX
Work with our designers or provide your own artwork and have custom made and designed wax seals to embellish your papers, cards, envelopes and invitations. This will give your stationery a special, personal touch. Flexi wax sticks and other related accessories can also be purchased.
PAPER EMBOSSERS
Work with our designers or provide your own artwork to have custom made and designed paper embossers created to embellish your papers, cards, envelopes and invitations to give your stationery a unique, personal touch.
APERMARC WEDDING INVITATIONS AUSTRALIA, WEDDING INVITES & WEDDING CARDS
Our in house graphic designers, design wedding invitations and event invitations each with their own unique design style. Our designers take inspiration from all aspects of life, some of our wedding invitations focus on typography based designs, graphic patterns, hand lettering, beautiful floral watercolour illustrations or hand-drawn illustrations. Browse through our wedding invitations gallery, and you'll be sure to find a design style to suit you.
WATERCOLOUR WEDDING INVITATIONS & WEDDING STATIONERY
Browse our new range of watercolour invitations and stationery. Hand-painted here in our Melbourne studio by our in house talented graphic designers and illustrators. Each watercolour wedding invite is unique featuring beautiful arrays of botanical garden green foliage, cascading florals each with hints of spring/summer colours originally hand-painted in a watercolour style sensitively styled with clean and modern typography.
ChiCreative Wedding Invitation Melbourne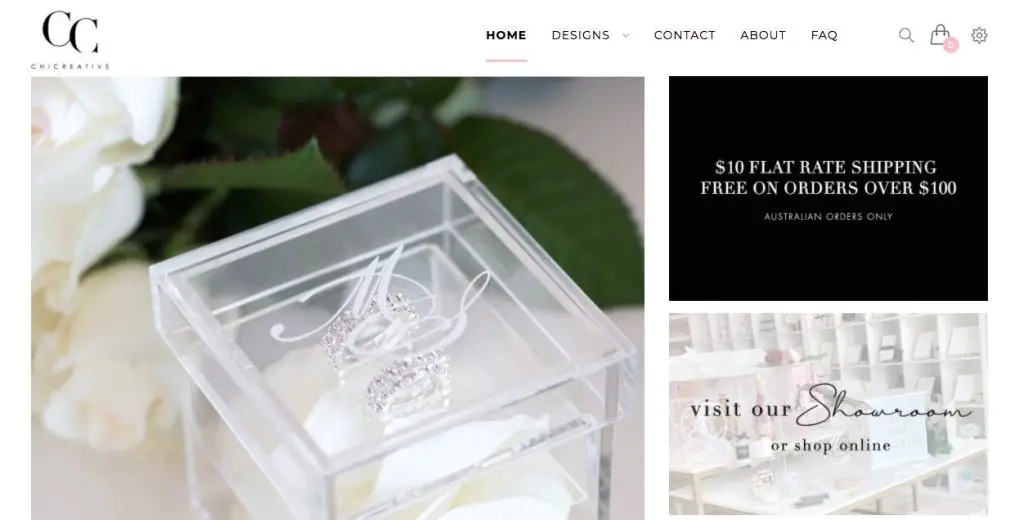 chicreative.com.au
39689102
At Chicreative we create specialised invitations your guests will remember.
Do you still love receiving that special invitation for an event in the mail? When we receive a beautifully crafted and designed message, our emotions are immediately invoked – the journey for your guests begins that very moment.
Whether it's a wedding, christening, kitchen tea, birthday or any other special event, at Chicreative, as specialist graphic designers, we make sure your guests receive a warm, tasteful and unforgettable introduction to your event.
 It's the Special Touches that count!
At Chicreative, we understand that it can be the special touches that make an event which is why we are passionate about impeccable design. We keep up with the latest trends and use special techniques such as foil stamping, letter pressing and embossing to create the perfect touch. 
 Our reputation for excellent service and artistry is second to none!
After 14 years in the business, we have a wealth of experience under our belt, and our reputation is impeccable! Every invitation is handmade and printed on the premises, which means that each piece is afforded the utmost care and attention to detail.
Our turnaround is fast, and we take exceptional care to ensure each element is perfect. And our prices are not through the roof!
We offer a personalised, premium service and work closely with you to achieve the perfect design for your special occasion, creating that unique piece that will set your event apart.
And of course, we not only craft beautiful wedding invitations, but we also specialise in save the dates, engagements, christenings, baptisms, thank you cards, birth announcements, birthdays, kitchen tea, bridal showers and much more.
 The Chicreative Story
As a passionate Graphic Designer with a proud record of achievement, in 2005, Sotiria identified a gap in the market for personalised invitations and stationery that portrayed the real essence of what clients wanted for their special event or occasion. 'We wanted to offer a service that was unique, invitations that were beautiful to the touch and exquisite to look at, but still being affordable and tailored to what each individual client and their event required' And so, Chicreative was born in Charles St, Seddon in 2005.
We hope you enjoy our beautiful invitations as much as we love creating them. 
Fenton Ink Wedding Invitation Melbourne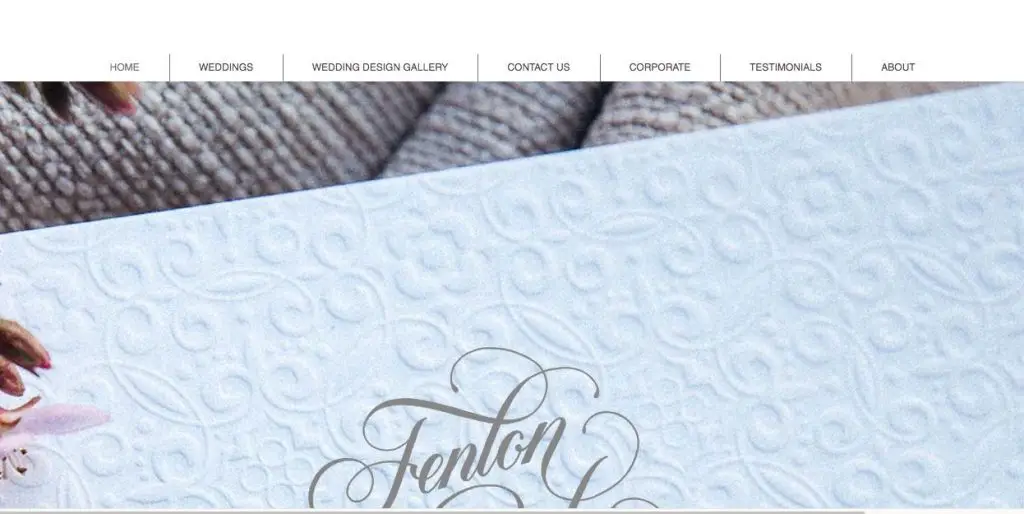 fentonink.com.au
404282097
Making Dreams Come True
In 2014. we realised our dream of creating a bespoke letterpress printing studio.
In that time, we have created over 700 unique wedding stationery orders and printed many hundreds of thousands of custom made business cards.
We also print for specialty Universities and Corporate clients, catering for their exacting and precise requirements.   
SAVE THE DATE SPECIAL OFFER
​No-Fuss Luxurious Letterpress Printed Invitations.
​Get your wedding announcement date out there without all the fuss.
Proper sized A6 Save The Date Letterpress printed Invitations, on classic 450gsm off-white cotton card with matching C6 envelopes.
This specially priced offer is available in 1 of 4 different ink colours.
WEDDING STATIONERY PACKAGE PRICES
​Don't Settle for Less
We offer more than most because we think your luxurious letterpress wedding stationery should be printed on, as a minimum, an elegant 450gsm cotton card.
Choose from a simple one-piece Invitation, with Envelopes, or the option of our two, three, or four-piece sets. You can choose any of our pre-existing designs from our Collection page, at no extra cost. Or, if you prefer, we can quote on a semi-custom, or fully custom design your stationery to your exact needs. Or, you can supply your own artwork. (Email here for artwork specifications)
Over The Rainbow Invites Wedding Invitation Melbourne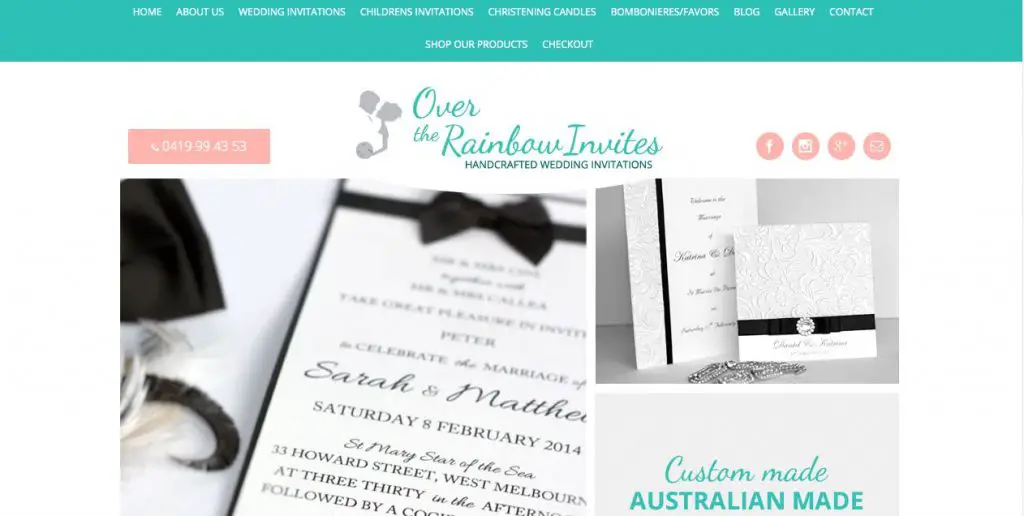 otrinvites.com.au
419994353
Welcome to Over the Rainbow Invites – Handcrafted Wedding Invitations Melbourne
There's nothing more special than your wedding day. Your invitations are a glimpse into the styling and ambience of your occasion. It is essential to choose an invitation design that is representative of both you and your partner and the theme of the event.
We love what we do, and would love to be part of your special day, and we are here to make the selection process of choosing the perfect wedding stationery enjoyable and comfortable. We are passionate about beautiful papers and all things pretty, that's why we have been in the business for nearly a decade. We aim to deliver stylish and elegant invitations and stationery perfect for your event, that will sure to WOW your guests. We have created the perfect invitation for hundreds of couples over the years.
Not in Melbourne worries, we service interstate clients too.
Quality
All of our invitations are designed in sufficient detail and printed on a vast range of but high-quality card stock. We are a significant stocker of all the leading paper supplier brands from around the globe, with over 1000 different paper swatches, stunning embossed and silky velvet flock paper, laser-cut designs, high-grade buckles, clusters, brooches and ribbons.
We only use the highest quality of products and pride ourselves on our attention to detail by coordinating your wedding invitation stationery for your special day.
Custom & Australian made
If you're looking for high quality, custom made wedding invitations that are as unique as they are stylish, you'll be pleased to know that Over the Rainbow Invites is one of the best in the business. With over eight years of experience, we pride ourselves on the fact that all of our invitations and event stationery is all handmade in Melbourne.
All designs are unique to Over the Rainbow Invites, custom made especially for you and can be tailored to suit your theme for your special event.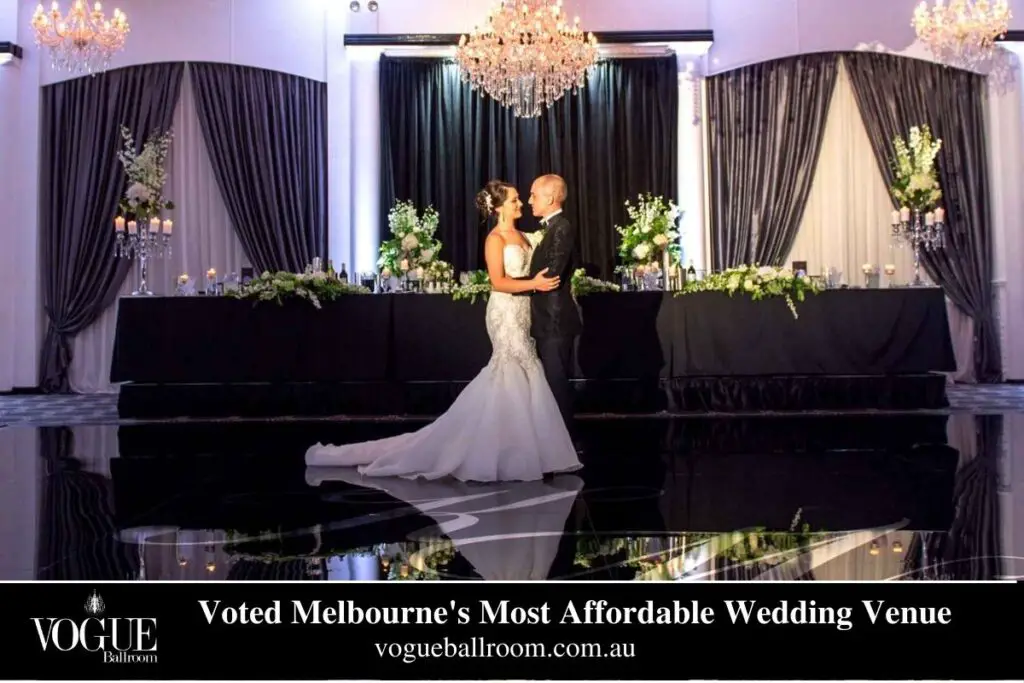 BW Reporter Wedding Invitation Melbourne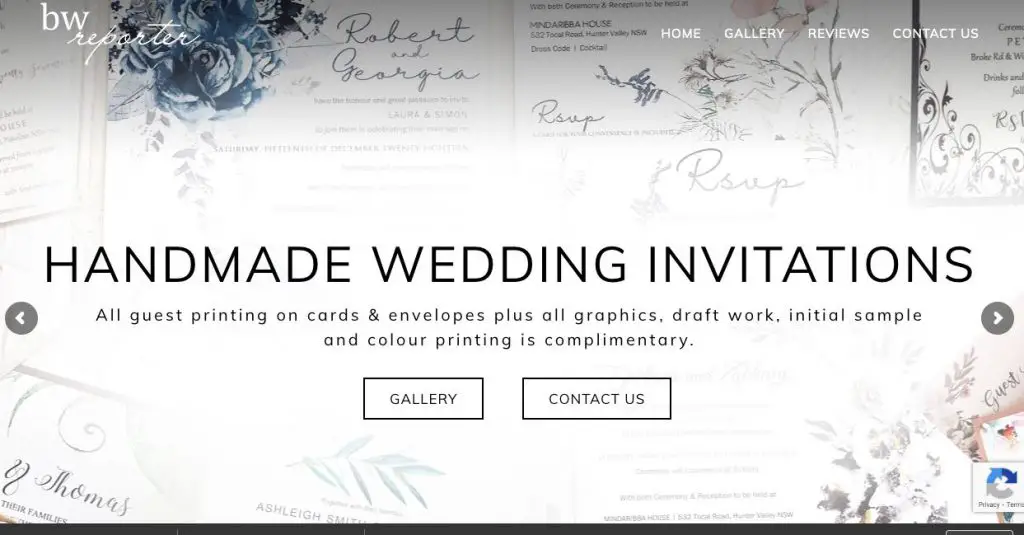 bwreporter.com.au
413998948
WELCOME TO BW REPORTER
All stationery is designed to reflect each customers' unique taste and needs.
FREE DRAFTING!
Shopping carts and mass-produced online invitations are not part of our philosophy.
A one on one and personal service is what we provide, as we know that the open line of communication is very important to you. Thank you for the time you are spending to go over my products & services And hopefully to be part of your special coming event!
The Printed Love Co. Wedding Invitation Melbourne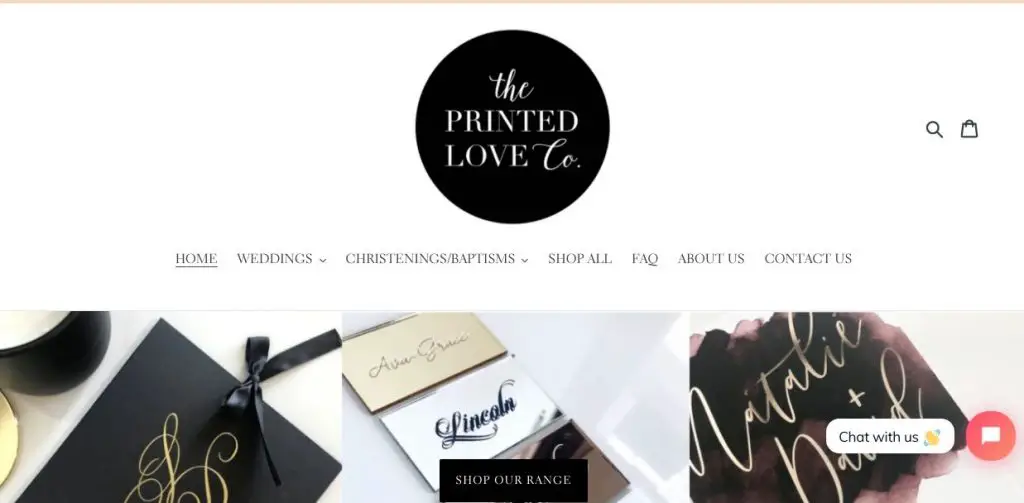 theprintedloveco.com
409755719
ABOUT US
Welcome to my online store and thanks for stopping by!
Formerly now as Feather-Bud, we are a boutique business specialising in creating beautiful keepsakes for Weddings and Christenings.
We understand these special events well and know what you need to complete the look or keep with tradition. Whether the items are for you or for someone else - we are here to assist you with any queries relating to our products, just contact us!
Founded in 2012, we were one of the first online to deliver handcrafted pieces for Weddings and Christenings, primarily via our Etsy Store.
We are proud to have now evolved into The Printed Love Co. which still caters for all events - but also now includes items such as invitations and personalised stationery. 
We offer our products with worldwide shipping, but we are based in Melbourne Australia with local pick up available too.
We look forward to creating something special for your next event!
Specialising in Weddings
Congratulations on your engagement!
We specialise in high-quality wedding invitations and personalised stationery for your special day!
We have a passion for creating beautiful designs using many different techniques. We are experts at laser-cut, acrylic, letterpress, embossing, foiling and & wax seals.
All our designs are custom made to each couple! 
Simply Invitation Wedding Invitation Melbourne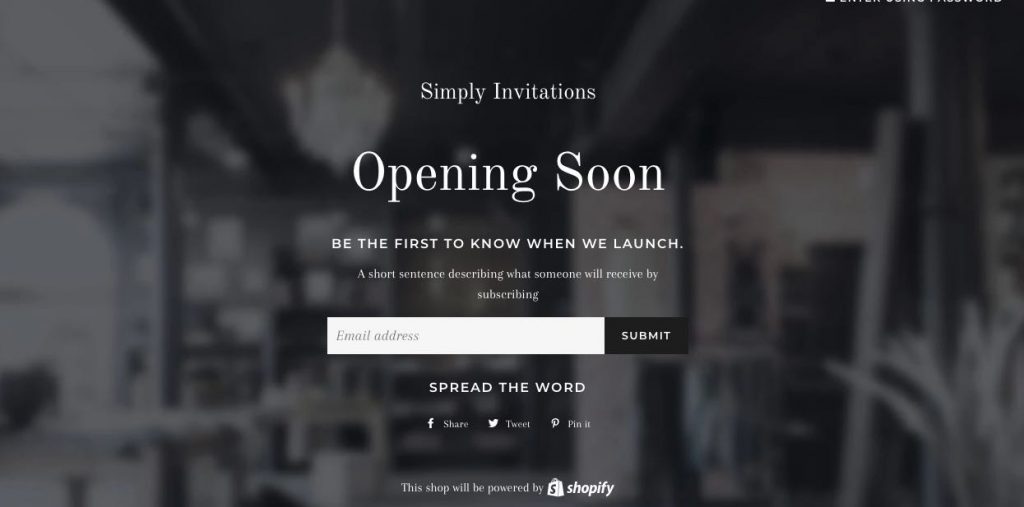 invitations.melbourne
434995408
Affordable packages, Choose from fully assembled or DIY packages. No hidden costs. Unique wedding stationery made simple, easy and affordable.
Simply Invitations specialises in invitation sets, place cards, save the dates, menus and table numbers.
We make the process simple and affordable.
Choose an option that suits your budget
1) Complete DIY - We supply digital files so you can print and assemble your own invitations, We can also provide the pockets and cards for printing as well
2) DIY Assembly - We print all the cards and supply all the materials you need to assemble yourself
3) All-inclusive - We print and assemble your design for you.
We understand that beautiful invitations are an essential part of any wedding as they reflect a couple's style and set the tone for your upcoming nuptials.
Simply Invitations aim to make the process stress free so you can focus on planning the other elements of your big day.
We have a range of colours and styles to choose from and happily service customers Australia wide.
Contact us now for a quote.
The Print Foundry Wedding Invitation Melbourne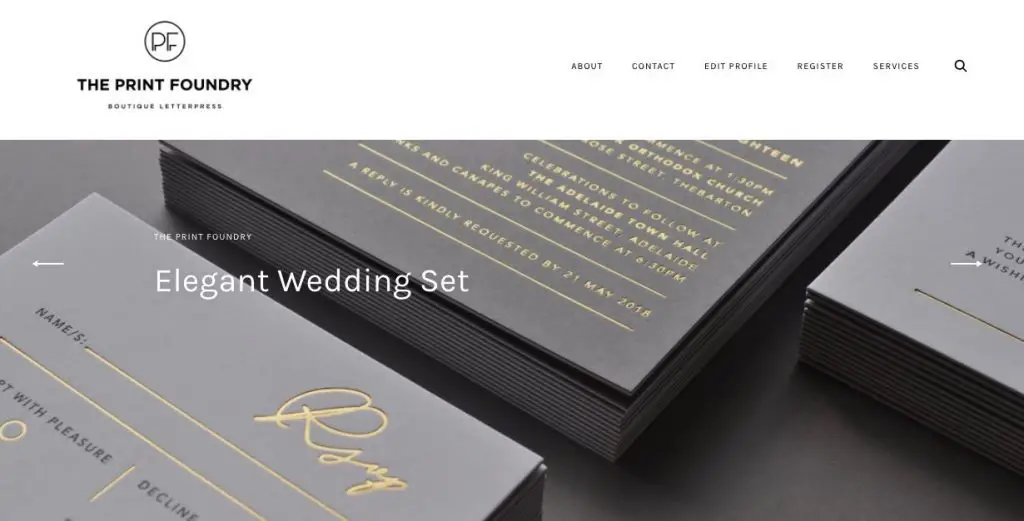 theprintfoundry.com
83402611
About
The Print Foundry specialises in letterpress printing of the highest quality.
Luxurious Wedding Set
To celebrate Maria and Adam's wedding, our team at The Print Foundry utilised their unique print production abilities, creating a luxurious invitation set. We laminated Keaykolour Guardsman Red in between Gmund Cotton Max White, creating a subtle but stunning triplex detail. The monogram was highlighted with gold foil, perfectly complimenting the letterpress printing. Rich red wax seals were individually hand pressed to finalise the envelopes.
Elegant Wedding Set
This elegant wedding set was designed in-house in close collaboration with Ellie and George, adding that personal touch. The gorgeous typography they chose was letterpress printed, with gold foil details to harmonise with the rich grey. We laminated Inspira Grey and Gmund Cotton Max White to create the duplex effect, elevating the design and giving another level of sophistication.
This Girl Designs Wedding Invitation Melbourne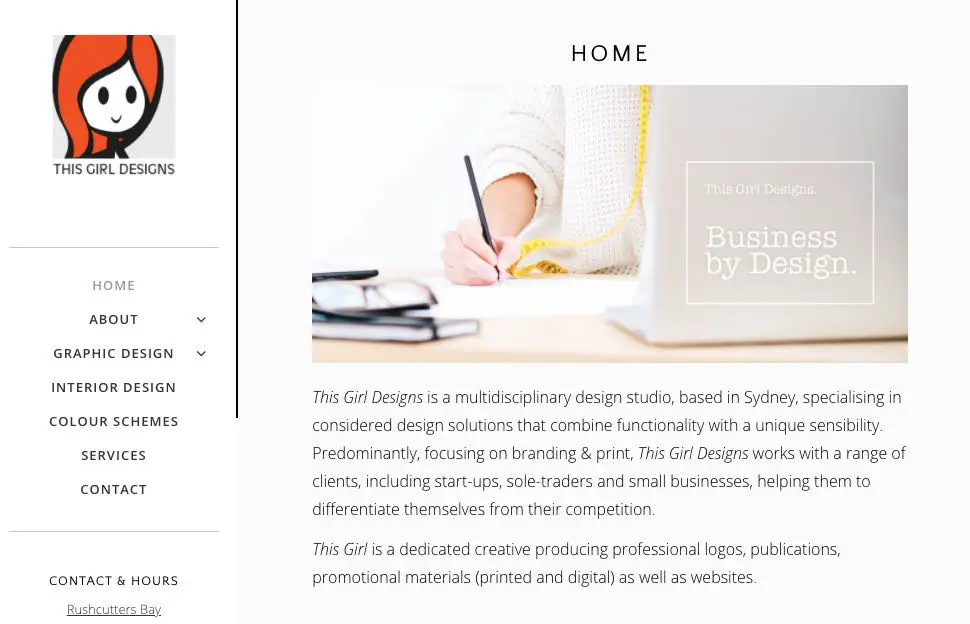 thisgirldesigns.com.au
403350073
This Girl Design is a multidisciplinary design studio, based in Sydney, specialising in considered design solutions that combine functionality with a unique sensibility. Predominantly, focusing on branding & print, This Girl Designs works with a range of clients, including start-ups, sole traders and small businesses, helping them to differentiate themselves from their competition.
This girl is a dedicated creative producing professional logos, publications, promotional materials (printed and digital) as well as websites.
ABOUT 'THIS GIRL'
Kathleen Cash established This Girl Designs in 1998 after graduating with a Bachelor of Arts (Graphic Design) degree from Charles Sturt University (Riverina).
This girl is a graphic designer, dressmaker and colour consultant. As well, an interior designer providing a complete design and decorating service for small residential and commercial projects.
From a young age, this girl was designing, drawing, making and writing all things. She made dolls, clothes, soft toys and dresses for her sisters and school friends. From high school, she had a regular clientele, creating invitations, designing and making dresses for formals, weddings and other special occasions, also soft furnishings such as cushions and curtains.
As an experienced graphic designer, Kathleen enhanced her knowledge and love of art, architecture, colour and textiles with formal qualifications in interior design + decoration. As well as graphic design, this girl has evolved to provide colour consultation for interior and external schemes, interior decorating and design services for both residential and commercial projects.
Kathleen completed her Interior Design + Decoration Diploma from the International School of Colour and Design in 2017.
Kathleen has a talent for colour and working with clients to articulate their brand or style. With an understanding of the client's requirement, this girl brings thoughtfulness and uniqueness to all she undertakes.
GRAPHIC DESIGN
BRANDING, PRINT AND DIGITAL
This girl is friendly and approachable – a creative professional devoted to providing effective solutions for clients, Australia-wide. With a considered and conceptual approach to colour, substrate, typography, imagery and photography, this girl develops ideas through to finished art and production.
CREATIVE SERVICES
Corporate identity, including logo and brand story

Business stationery

Personal stationery and note cards

Publications, large and small

Event and exhibition design

Invitations and event stationery

Marketing materials and promotional merchandise

Digital graphics

Banners and signage

Print procurement

Websites
Discount Wedding Papers Wedding Invitation Melbourne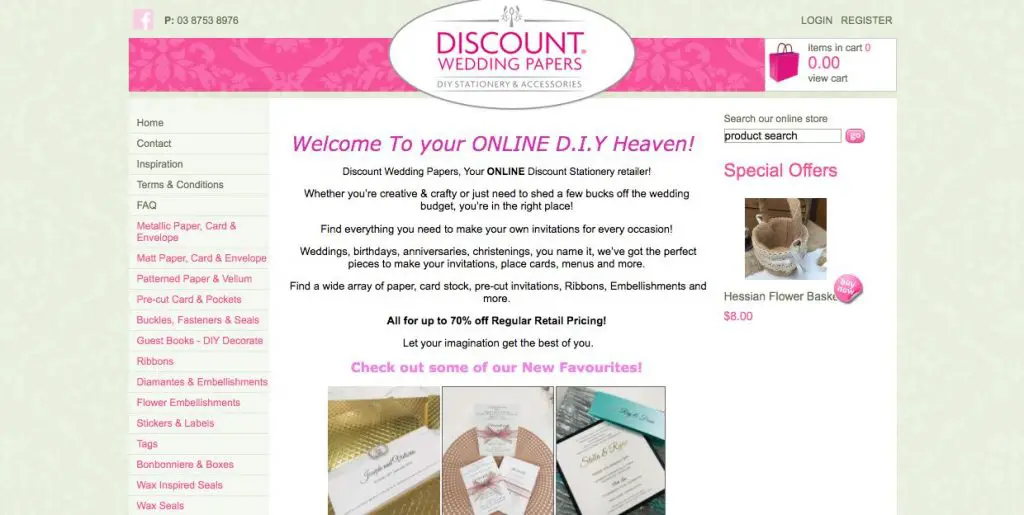 discountweddingpapers.com.au
387538976
Welcome To your ONLINE D.I.Y Heaven! 
Discount Wedding Papers, Your ONLINE Discount Stationery retailer!
Whether you're creative & crafty or just need to shed a few bucks off the wedding budget, you're in the right place!
Find everything you need to make your own invitations for every occasion!
 Weddings, birthdays, anniversaries, christenings, you name it, we've got the perfect pieces to make your invitations, place cards, menus and more.
 Find a wide array of paper, card stock, pre-cut invitations, Ribbons, Embellishments and more.
All for up to 70% off Regular Retail Pricing!
 Let your imagination get the best of you.
Event in Paper Wedding Invitation Melbourne 
eventsonpaper.com.au
414566476
Events on Paper – Wedding Invitations Melbourne
At Events on Paper, we understand that you require Wedding Invitations that will MORE than Impress. First Impressions are everything when creating a sense of anticipation for your upcoming wedding. We are preferred supplier for 12 venues including
Leonda by the Yarra

 Ascot House

 White Night Receptions

 Luxor

 Windmill Gardens

 Eynesbury Homestead &

 Overnewton Castle
Our experience and reputation are exceptional, so let us create something extraordinary for you.
All our invitations are custom made with your theme and budget in mind. We have invitations starting from $3, and our prices include artwork, printed envelopes, guest names and a hard copy sample.
We are located in Keilor Park and offer to even, and weekend consultations. Please ring to make an appointment before arriving at our showroom.
WEDDING INVITATIONS MELBOURNE
AT EVENTS ON PAPER OUR WEDDING INVITATIONS ARE TRULY BREATHTAKING.
They are all custom made, with your choice of papers to suit your theme and style. There is a huge range of embossed, glitter, flocked and printed papers to choose from and when coordinated with our extensive range of buckles, clusters, lace and ribbons your wedding stationery will be exactly what your guests have always dreamed of.
That's where Events on Paper can help. We sit with you in a relaxed environment and create the invitation of your dreams. You are unique, so your invitation should be too. Everything is customised to suit your theme, budget and ideas. From the papers, ribbons, buckles, fonts and wording, you create the handmade invitation you are proud to show off and say "this is my wedding invitation".
We can also print in languages other than English. So let us coordinate the stationery for your clients a special day, without breaking your budget. We also do place cards, RSVP/Acceptance cards, menus, service booklets, gift suggestion cards and any other stationery to coordinate with your theme.
Events On paper create
Custom Wedding Invitations

Designer Wedding Invitations

Elegant Wedding Invitations

Embossed Wedding Invitations

Formal Wedding Invitations

Handmade Wedding Invitations

Lace Wedding Invitations

Modern Wedding Invitations

Pocket Wedding Invitations

Unique Wedding Invitations

Vintage Wedding Invitations,

Plus much, much more 
Wedding Wish Wedding Invitations Melbourne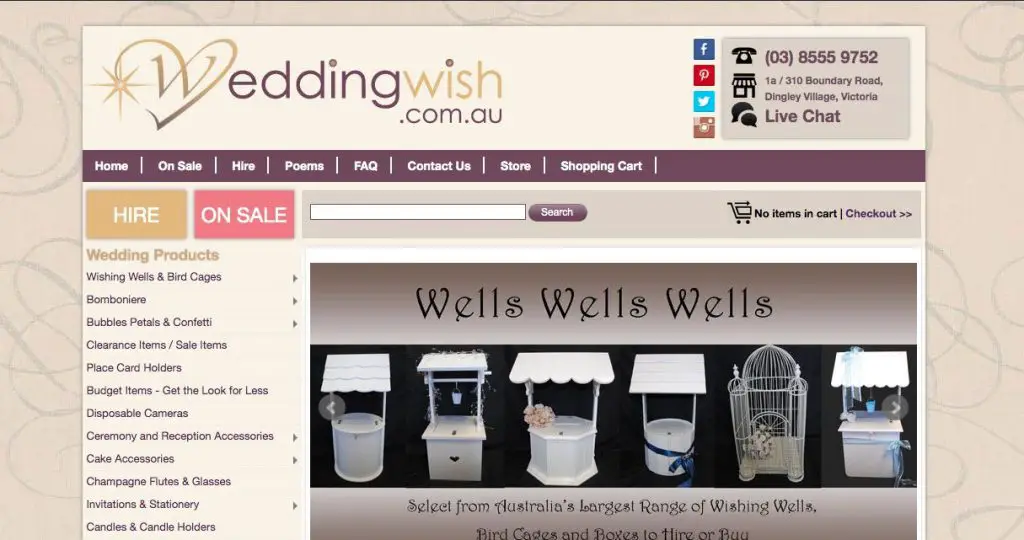 weddingwish.com.au
385559752
Our Customers
Our customer satisfaction is what we build our business on. We are growing and constantly striving to ensure every customer is happy with their Wedding Wish experience. No problem you may encounter is so great we can't reach a reasonable solution so please feel free to contact us at any time if we didn't meet your expectations.
The Printable Shop Wedding Invitation Melbourne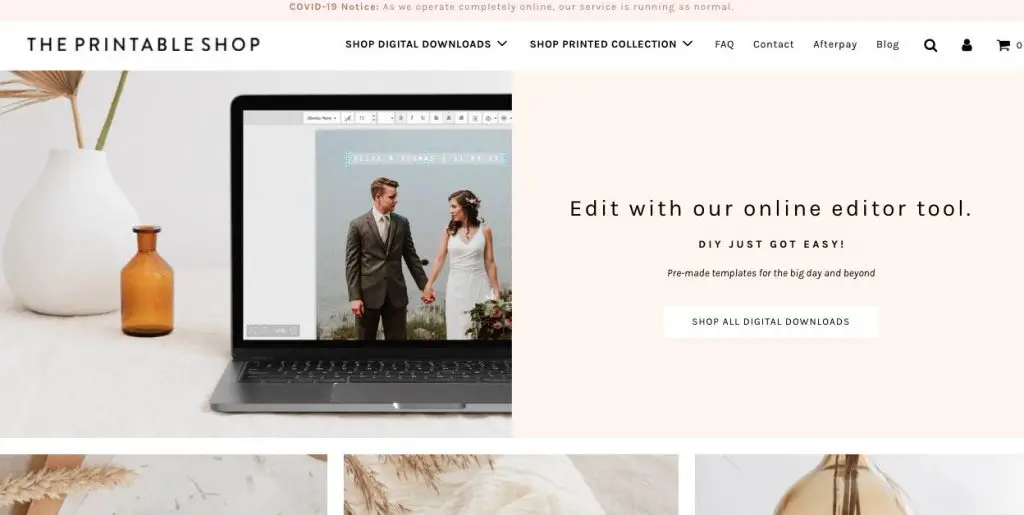 theprintableshop.com
SHOP ONLINE
The Printable Shop is based in Australia. Browse and shop with us online 24/7. Shipping express worldwide.
DIGITAL DOWNLOADS
Edit our pre-made templates with our easy online editor tool. Print or send digitally. Style your way.
PRINTED COLLECTIONS
Leave it to the professionals. Use our personalised wedding stationery design and print service.
Prima Donna Stationery Wedding Invitation Melbourne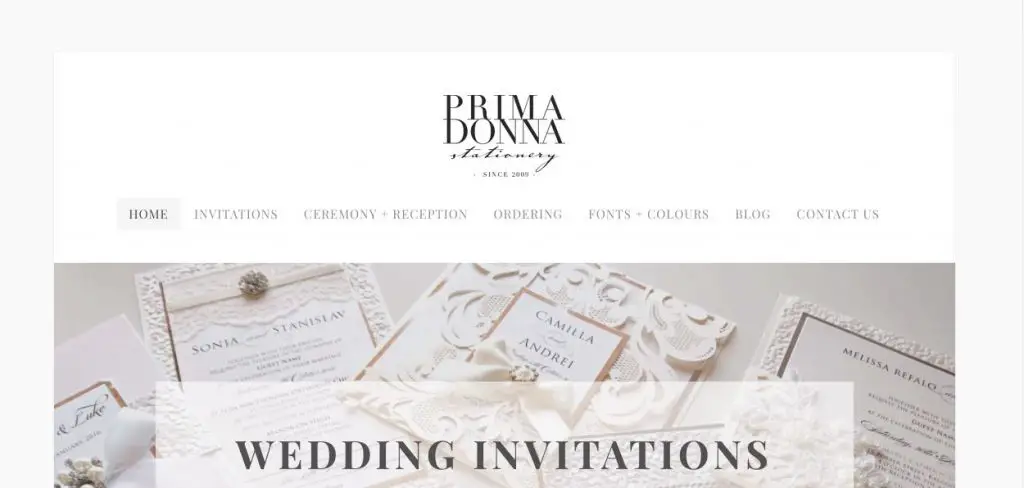 primadonnastationery.com.au
413133694
LOOKING FOR ELEGANT WEDDING INVITATIONS?​
Selecting your wedding stationery is important. This is the first glimpse your guests will get of Yours. Big. Day. You want something that is elegant matches your style and colour scheme and isn't too over the top but makes your guests feel honoured and excited to be invited. For over nine years (wow – time flies!) we've been designing and creating OMG invitations for hundreds of gorgeous couples worldwide.
 If you:
Have no idea where to start or what's even meant to go to a wedding invitation

Are overwhelmed by the sheer number of invitation options out there

Are freaking out about how to word your invitations so as not to offend anyone

Have been looking high and low for something that is expertly made using quality materials and doesn't look like it's DIY

Are exhausted from travelling around shopping at invitation stores, wasting time and becoming frustrated because they are only open during business hours; and you.

Need a little help getting organised and working out your when to order your invitations and what you need to do. 
​Then you will love our gorgeous, fully customised designs, that you can select from, right from the comfort of home. We guide you through the process, keeping it stress-free and fun.
HOW IT WORKS 
DESIGN
Browse our existing designs and customise or contact us to create your own design, style and preferences
PROOFS & PRODUCTION
Pay your deposit, provide your details and guest list, proof your artwork and we get cracking on your gorgeous invitations
GET EXCITED
Receive your fully assembled invitations, you post them out and wait for the oohs and aahs from your guests to start!
OUR BRIDES LOVE US.
We make selecting your wedding invitations fun, easy and personal.
You are guided through the steps, so you always know what you need to do and by when. Consider us as your confidant.

Our extensive experience means you can trust us to word your invitations the correct way, so you don't offend anyone.

We believe there are no silly questions!

We offer a 100% Satisfaction Guarantee on our wedding invitations. That's right! We are so sure that you will fall in love with the quality of the artistry, the beautiful papers and laces that we back our invitations 100%.
We have created gorgeous invitations for hundreds of couples over the years and have consistently been rated as a 5-star supplier and have been featured in magazines and on bridal blogs. 
Vista Print Wedding Invitation Melbourne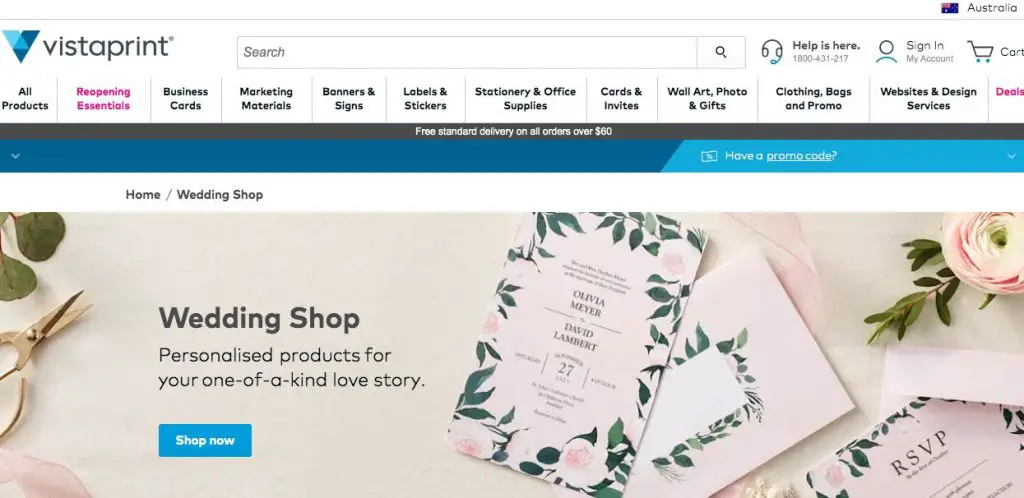 vistaprint.com.au
1800431217
Simply put, we provide you with top-quality printed products at affordable prices.
Vistaprint, a Cimpress company, empowers millions of business owners worldwide to market themselves professionally. Our wide range of quality products at affordable prices, along with design tools suited to every skill level and need, mean everyone can create the customised materials they need to get their message across.
It all started with the vision of our founder, Robert Keane. He wanted to give small business owners access to the same high-quality, custom-printed products that bigger companies (with bigger print budgets) enjoyed. Robert and his team developed patented technology that delivers professional-quality printing in small quantities, affordably. Then they took a process that was traditionally only available offline and made it possible for both business owners and individuals to create and order their custom materials online conveniently.
About 20 years later and Vistaprint has consolidated its market-leading position. We've greatly expanded our product and service offerings and advanced our technology. Our products are printed in the Netherlands, and we run a state-of-the-art research centre in Switzerland to ensure our customers will continue to benefit from the latest technological innovations.
Our commitment to helping you promote your business is stronger than ever. We're confident you'll be 100% satisfied with our products, quality, design experience and attentive service. In fact, it's absolutely guaranteed.
A Wide Selection
We offer customised marketing materials and printed products for business or personal use to fit any budget, style and occasion.
While we've always been known for business cards, that was only the beginning. Now, whether you're creating flyers, T-shirts or party invitations, our full array of exclusive designs and customisable templates mean you'll find exactly what you need.
We also help small businesses get more attention to services like postcard postage, email marketing and website development and hosting.
Your Customised Experience
Whatever the size or stage of your business and whatever your design skills, we give you the tools and support you need to bring your vision to life.
You can choose to create your materials yourself from scratch by customising a template or uploading an existing design or logo.
Or let us help you design. We offer a range of design services to help you get exactly what you want.
Our Proven Process
We invented the technology – and the concept itself – of affordable online printing in quantities that meet the needs of small business owners. And we're constantly enhancing it.
Today, more than ever, our patented printing technique allows us to maximise efficiency and consistently deliver quality and savings to you.
This innovative process is supported by 25 localised websites serving numerous locales, world-class manufacturing facilities around the globe, including North America, Europe, Australia and India and thousands of employees located in 13 worldwide offices.
Life is Peachy Wedding Invitation Melbourne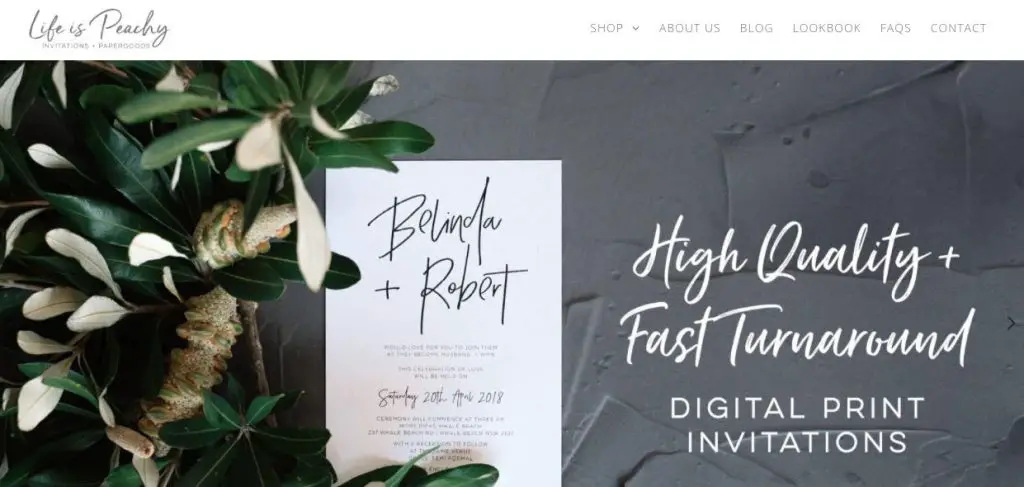 lifeispeachy.com.au
249469694
Everything You Need to Ensure a Memorable Day
Wedding celebrations, birthdays, engagement parties, and milestones. Life is a never-ending stream of celebrations and joy, but when it comes to the organisational side of things, it can get tough. From the biggest detail to the smallest, each aspect must be perfect. 
That's why, at Life is Peachy, we offer an extensive selection of beautifully designed stationery and paper goods to ensure your special day, no matter what the occasion, is one that will be remembered by all that are in attendance.
Simply browse our range today, and find the perfect invitation for your big occasion.
 A beautiful selection of wedding stationery available
Whether you're planning a small and intimate celebration or a big reception with all your friends and family in attendance, it's safe to say that your wedding day is undoubtedly the biggest day of your life as a couple.
When planning your wedding, you must send out the right invitations as it sets the tone for your big day. From your engagement party invitations, your wedding invitations, welcome signs and through to your wedding reception stationery and thank you cards we can ensure that each piece of stationery will complement each other, and your unique style as a couple.
The limits of your wedding stationery are endless, and your final product will be of the highest quality to ensure your guests will want to take them home and keep them as treasured souvenirs.
Perfectly capture those big moments in your little one's life
At Life is Peachy, we not only offer an exquisite selection of wedding stationery and invitations for a special celebration, but we also offer fun and colourful supplies to celebrate the big milestones in your family's life.
To treasure your little one's milestones, with the help of some happy snaps, we supply a fantastic range of baby and toddler milestone cards and fingerprint trees.   
Whatever you're searching for to make your big day that little bit more magic, you'll find it at Life is Peachy. 
Our friendly team are here to help you
Whether you have any questions about our extensive selection of invitations and paper goods, or if you'd like to request a free sample of something you're interested in, then contact our friendly team today. We're here to help you make your celebration a day to remember. Call us on (02) 4946 9694, or get in touch by using our contact page.
About Us
Ever wondered about the Peach behind Life is Peachy? 
Well, meet Jackie, graphic designer extraordinaire and creative brain behind the business. 
If there were two words to most accurately describe print aficionado Jackie, it would be FONT.NERD. And isn't it lucky that she is? Because that's part of what inspires her creative genius; the ability to hunt and gather the most awesome fonts and use them to create deliciously stylish designs for Life is Peachy's signature collection of invitations. 
 Jackie loves colour, and knows how to work it in the best possible way, creating fun and romantic designs that run the gamut of themes and styles. You name it, and she can do it! Jackie has spent her whole life obsessing over the pretty paper, stationery and design, so she knows her stuff. 
For The Lovers Wedding Invitation Melbourne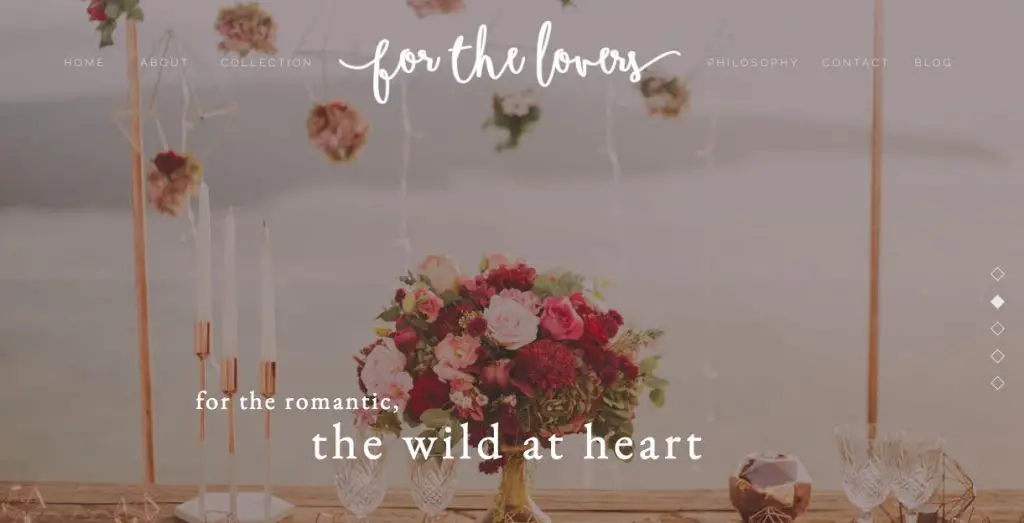 forthelovers.com.au
414475266
Hello, lovers
Our brand is deeply romantic. We believe in love at first sight, midnight kisses stolen under starry night skies, whispered nothings and eternal vows of devotion. For the modern couple who love, love.
For the lovers
Hey, I'm Leanne, and I've been wild all my life. Wild about adventure travel, art, design, music, and love. I love, love. And, if you are here reading this, you must too! 
When you work with me, you work with me and only me: Bespoke, one on one. You are guaranteed warm customer service and over twenty years of experience in graphic design, art direction and photography.
If a giant internet conglomerate with a trillion choices is your scene, you're probably in the wrong place. We release only small, thoughtfully designed collections. Our designs are printed locally in Western Australia, on luxurious ethically sourced paper.
Want more info? Click here to download our wedding guide and price list. 
Wedding Star Wedding Invitation Melbourne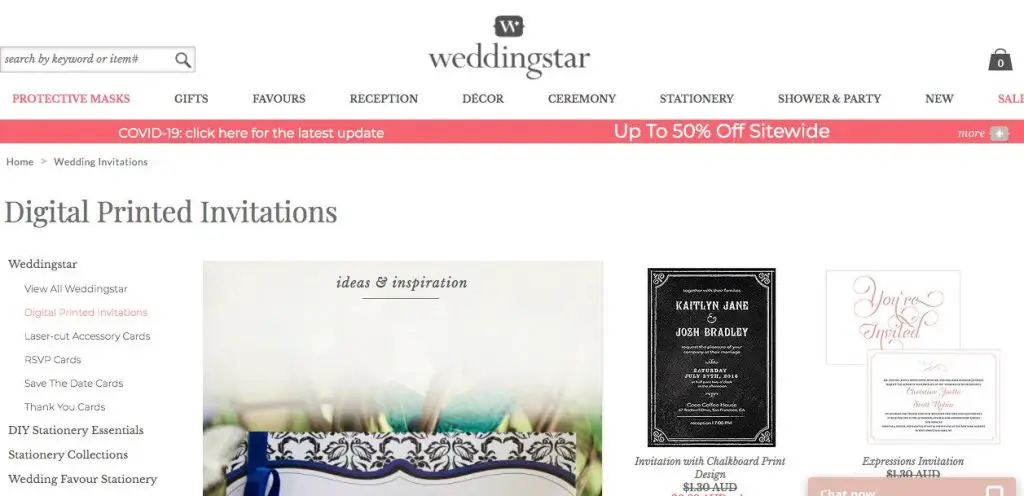 weddingstar.com.au
About Weddingstar Inc.
Weddingstar Inc. is internationally recognised as a leader in the wedding industry for over 35 years!
Weddingstar Inc. ships to over 100 countries and offers wholesale partnerships throughout North America.
In collaboration with some of the most creative minds in the world of weddings, we have curated a trendy product assortment that will help you with everything from "I Do to Honeymoon!"
Weddingstar Inc. oversees every aspect of our product selection and is proud of the exclusive designs that set our aesthetic apart.
Our distinctive line of accessories, personalised gifts, wedding décor, and more offers literally 1000's of choices to make your celebration unique.
We care about our customers and their experiences shopping with us. As such we are proud to offer online chat, a very detailed FAQ forum as well as honest and true reviews posted on our product pages.
Weddingstar Inc. wants your time shopping with us to feel simple, inspired and all at our very best prices.
Polka Dot Paper Wedding Invitation Melbourne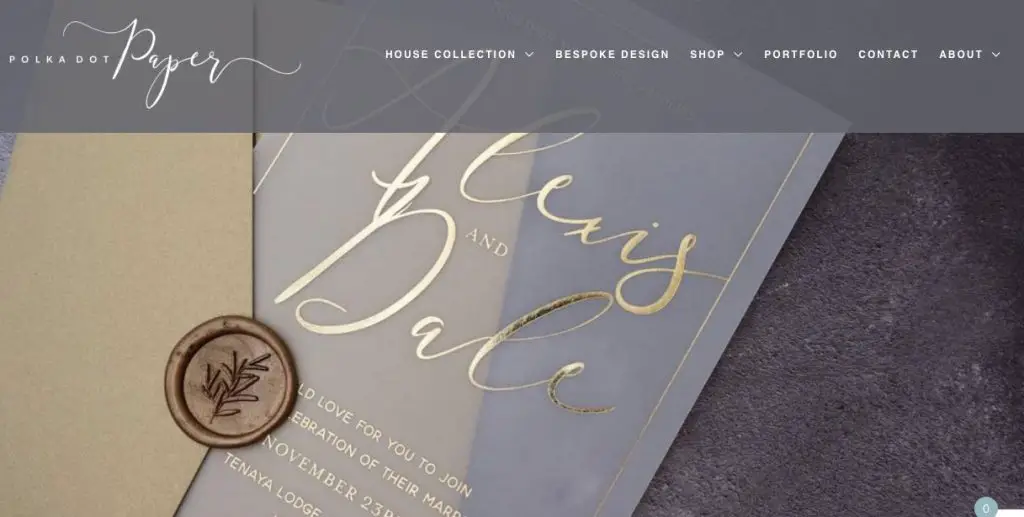 polkadotpaper.com
47585905308
Polka Dot Paper is a boutique design studio specialising in modern luxe wedding stationery. We know a thing or two about wedding invitations and love nothing more than working with couples to capture their wedding day in the prettiest piece of paper. 
We offer bespoke and ready to buy contemporary wedding stationery to meet all your needs right through from your engagement to the big day. We do it all – engagement invitations, save the dates, bespoke wedding invitation stationery, table plans, menus, name cards and more. Our house collections can be personalised to match your wedding style, colour scheme or wedding theme. All designs are created with love and tactfully finished with the highest quality printing and cardstock – the perfect recipe for your dream wedding stationery. 
DISCOVER OUR  HOUSE COLLECTION 
All house collections can be customised to reflect your wedding style, including colour scheme and wording. We have a ton of coloured cardstocks and materials to choose from, including textured, super smooth, ultra-thick, cotton feel, vellum and acrylic. We also offer a range of fancy finishes, including wax seals, envelope liners, belly bands and envelope printing. House collections are available for engagement invitations, save the date cards, wedding invitations, RSVP cards, detail cards and wishing well cards. Matching on-the-day stationery is also available, including welcome signs, table plans, menus, place cards and table numbers.
We also offer a bespoke design service if you'd like something created just for you.
At Polka Dot Paper, we appreciate there's plenty to do when planning your wedding, so we aim to make this part as efficient, stress-free and as fun as possible! Wedding invitations are a cherished and lasting reminder of your most beautiful day, so we want you to be totally in love with what we create for you. We are passionate about design and love nothing more than working with couples to capture their wedding day in the prettiest piece of paper.
Our designs are vivid and energetic, with a focus on foil printing and fancy finishes. Whether you're getting married in the countryside or the city, we've got you covered! Our collection ranges in style from floral to formal, rustic to romantic. Choose from our ready to buy house collection of designs, or opt for our bespoke service and have something truly unique made for you.
Paper Divas Wedding Invitation Melbourne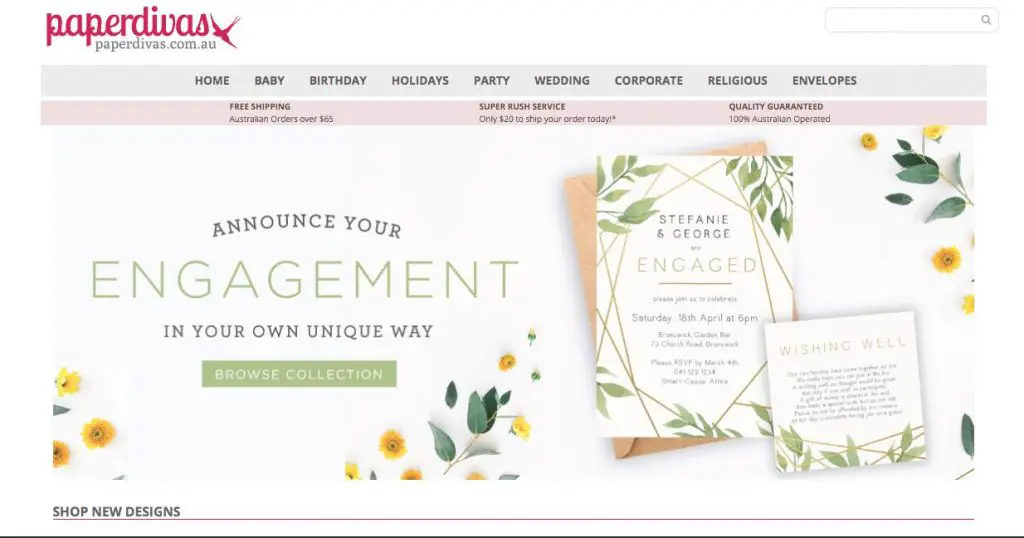 paperdivas.com.au
1300088854
At Paper Divas, we pride ourselves on making it easy for you to choose a card or invitation for that special occasion and add your own personal information and photos.
Our extensive range of personalised invitations and stationery is varied and includes affordable products such as birthday invitations, engagement invitations, wedding invitations, birth announcement cards and much more.
'It couldn't be easier to add your own photos and personalised party information. Simply select your design and colour, insert your details, then upload your photos and submit. Alternatively, the Paper Divas' team of graphic designers can set up your invitations for you as part of Paper Divas' premium service.
We really hope you love our products as much as we do
ABOUT US
Paper Divas provides online personalised stationery that is affordable, modern and stylish.
All quality Australian designed invitations, cards, thank you cards, envelopes and more for personal and corporate use.
We endeavour to provide a store for invitations and cards online that can make shopping fun, easy, reliable and convenient.
 We are committed to providing you with the highest level of customer service possible.
Our aim at Paper Divas is to ensure that our customers, worldwide, know they will be provided with high-quality products and exceptional service. We only use the highest quality card stock to ensure satisfaction.
We also aim to ensure you receive your product in the shortest possible time frame.
We are constantly endeavouring to offer increasingly innovative online tools to make your shopping experience even more convenient. Our team of designers continues to expand our collections regularly to ensure a wide range of products.
Paradise Invitation Wedding Melbourne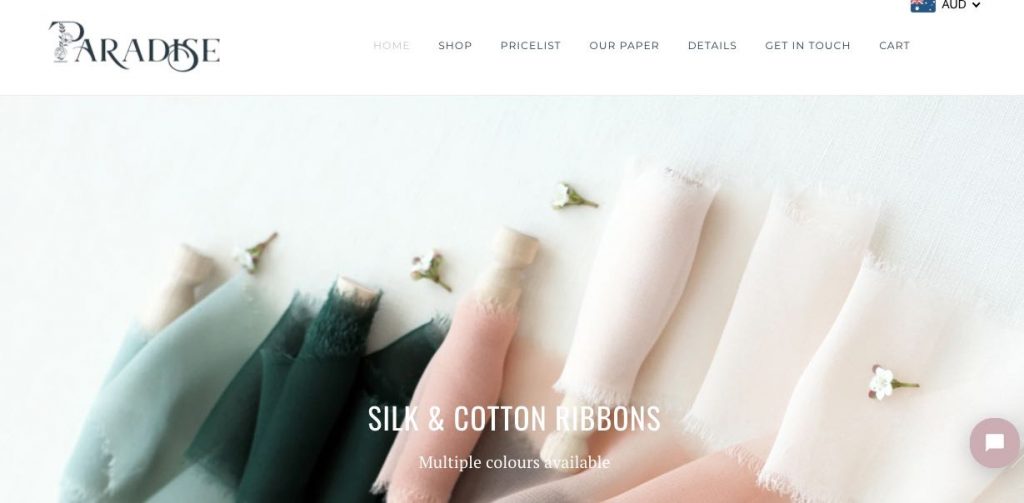 paradiseinvitations.com
A LITTLE ABOUT US
WHY the US?
Our dedicated and friendly team is professional, experienced, patient - no matter how many changes you want to make, has great attention to detail, and ...
Customers say choosing Paradise Invitations was one of the best decisions they ever made. They didn't have to worry about a thing and were delighted by the result.
WHAT MAKES US DIFFERENT?
Paradise Invitations is purposely a provider of premium high-quality stationery. We believe that customers most highly desire this commitment to the best, plus personal one on one customer attention, and a willingness to engage back and forth with customers.
We also know the importance of being available 365 days per year and responding quickly to requests or questions. With Paradise Invitations, it's like having your own expert adviser.
But most of all, it is our passion to ensure customers get the stationery of their dreams that sets us apart. Click HERE to read what our customer s say.
INVITATION DESIGN
Our stationery is inspired by international fashion and wedding trends. We offer timeless classics and the latest original designs. We do all the hard work - to offer you the best of the best.
Design elements include the latest fonts, colours, shades, papers, graphics, shapes, wording, and accessories.
All of the designs are customisable just for you – so let us know what you like.
Choose Paradise Invitations to feel proud, confident, relaxed, and happy!
PAPERS, ENVELOPES AND ACCESSORIES
You can purchase a customised digital file and arrange the printing yourself, or have us print and assemble beautiful handmade stationery for you. We use the finest printing techniques to ensure high quality.
We offer the world's best papers and card, with different colours, textures and thicknesses. We also do letterpress, and if you want to really splash out, foil printing.
We have a huge range of beautiful envelopes and other accessories like ribbons, wax seals, string, and more, to make your invitations exactly like you imagined them, or maybe even better!
DESIGNER
Chief designer and Paradise Invitations founder, Katie, is based in Melbourne Australia, where she lives with her family. Her passion is not just design. She loves the interaction with customers to ensure they receive exactly what they want – their dream stationery.
Katie's personality is one that enjoys the to and fro with customers – no matter how many changes they need to make or questions they might have.
Katie travels to Europe and other places every year to ensure she keeps up with the latest fashion trends so that they may be reflected in her stationery.
WHAT MAKES US DIFFERENT
Paradise Invitations is purposely a provider of premium high-quality stationery. We believe that customers most highly desire this commitment to the best, plus personal one on one customer attention, and a willingness to engage back and forth with customers.
ORIGINAL DESIGNS
Our stationery is inspired by international fashion and wedding trends. We offer timeless classics and the latest original designs. We do all the hard work - to offer you the best of the best.
DIGITAL OR PRINTED CARDS
You can purchase a customised digital file and arrange the printing yourself, or have us print and assemble beautiful handmade stationery for you. We use the finest printing techniques to ensure high quality.
We also do letterpress, and if you want to really splash out, foil printing.
HOW IT WORKS
Easy steps to design your perfect stationery. If you have any questions, please contact us.
SELECT THE DESIGN
We have a wide and varied selection of designs, all of which are customisable just for you
CONTACT US FOR A FREE QUOTE
The prices can vary, depending on your requirements
PURCHASE
Once the quote is accepted, we will create a custom listing for you to purchase 
DESIGN
We will send you the proofs for sign off before printing
PRINTING AND SHIPPING
Once all approved, we will print and send you the order 
Inspired Design Wedding Invitation Melbourne 
inspired-design.com.au
39470191
WEDDING INVITATIONS & INVITES
Inspired design specialises in custom design wedding invitations & wedding stationery. It offers an enormous range of unique, quality and affordable products such as specialty papers, invitations and associated stationery products including print and custom design services to create unique and wonderful stationery for any social or corporate event.
We do it all: invitations for weddings, engagements, save the date cards, christenings, birthdays, communion/confirmation, table place cards, reply cards, thank you cards, bonbonniere tags, place cards, wishing well cards, gift registry cards, menu cards, guest welcome boards, seating charts, acrylic signs, wooden signs, the order of service cards, table numbers, information cards, envelope printing, easel hire and much much more.
With over 1200 paper varieties, you can select from the finest papers from all over the world. With so many paper options and invitation designs to choose, we guarantee you will find something unique to ignite your imagination and not exceed your budget.
Select from our extensive range of wedding invitations, birthday invitations, christening invitations and other social events. Invitation styles include letterpress wedding invitations, foil print wedding invitations, lace wedding invitations, embossed invitations, laser cut invitations, destination invitations, designer wedding invitations, acrylic invitations, wooden invitations, metal invitations, hardcover invitations, couture invitations, Classic DIY wedding invitations, bespoke invitations, verso invitations and photographic invitations.
For D-I-Y (do it yourself) enthusiasts, Inspired Design is also a complete "one-stop-shop" for all papers, cards, envelopes, diamantes, ribbons, lace trims, buckles, brooches and other embellishments and tools to create your unique stationery at home.
The inspired design has the largest selection of wedding invitations in Melbourne. All our wedding stationery is customisable so we can match it to your colour theme and budget.
Inspired design is highly regarded for their beautiful wedding invitation ideas & designs, quality and customer service.
When it comes to choosing wedding invitations for your upcoming wedding, we know that you want invitations that are beautiful and ones that really reflect you as a couple. We also know that you don't want to pay a fortune for them.
That's why here at Inspired Design; we offer a comprehensive range of simply stunning wedding invitations online that won't ruin your wedding budget.
A SIMPLY SPECIAL WEDDING INVITATION FOR YOUR SPECIAL DAY
We understand that your choice of wedding invitation sets the scene for your upcoming nuptials and that you want to choose something that gives a hint of what's to come. After all, your wedding invitation cards can say so much about your chosen wedding theme, the style and the mood.
Perhaps you're having a totally traditional white wedding complete with flower girls and page boys. Perhaps you're planning to say your vows barefoot on a stunning beach, surrounded by just your nearest and dearest. Or maybe you have something completely different in mind, and you need totally personal invitations?
Whatever your needs, we create the kind of wedding invitations Australia brides and grooms love.
UNIQUE WEDDING INVITATIONS THAT ARE AS INDIVIDUAL AS YOU ARE
All our online wedding invitations are custom designed so you can be sure that your wedding invitations will be as unique as you are. We offer an enormous range of options and designs so that you can find something that really represents you and your wedding.
Take a look now, and you'll see that we have one of the best choices of cheap wedding invitations Australia has available online, including letterpress wedding invitations, lace wedding invitations, embossed invitations, foiled invitations and acrylic wedding invitations.
We even offer 'Do It Yourself' wedding invitations that can be customised to reflect your special day. No wonder we've got a growing reputation for providing the kind of wedding invitations Aus couples want and love.
WE NEVER COMPROMISE ON THE QUALITY OF OUR WEDDING INVITATIONS
While we may offer cheap wedding invitations here at Inspired Design, that doesn't mean to say that we ever compromise on quality.
We produce some of the most inspired wedding invitations Australia has available. However, you don't have to live in Australia to take advantage of our expertise, as we deliver anywhere in the world.
ORDER YOUR BESPOKE WEDDING INVITATIONS ONLINE NOW
If you need help to design your wedding invitations, Melbourne based Inspired Design will be more than happy to give you the benefit of our advice and experience. We can help with everything from the medium and lettering to the design and wording. Get in touch by calling 03 9470 1191, send us an email or why not drop into our design studio on High Street, Preston?
We've plenty of customer parking and would be more than happy to talk through potential designs with you.
Little Flamingo Wedding Invitation Melbourne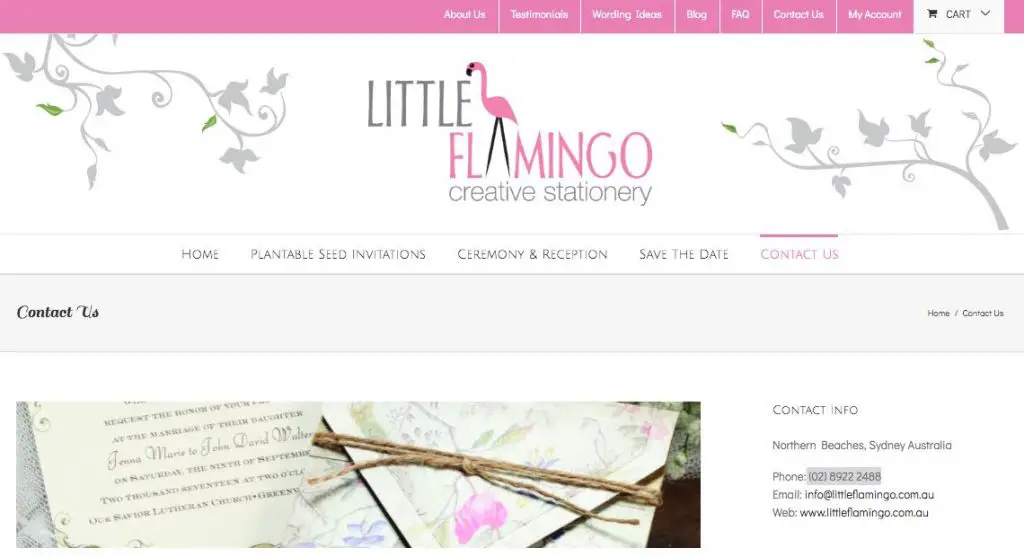 littleflamingo.com.au
289222488
Who is Little Flamingo?
Hi there! And welcome to Little Flamingo Creative Stationery. I'm Shannon, the founder of Little Flamingo, lover of all things paper, party and anything chocolate!
Paper and parties have been a love of mine ever since I can remember! When I was a little girl, I would sit on the lounge room floor surrounded by coloured papers, ribbons and fabrics, creating cards and artworks for friends and family.
As I grew older, my invitation designs took shape, sometimes simple, others intricate with lots of little elements. With innate attention to detail, every invite must be perfect, a philosophy that is carried through here at Little Flamingo.
Starting a stationery boutique was always a dream of mine, being surrounded by beautiful stationery and creating unique invitations for weddings, parties and celebrations. So in 2007 with over 12 years of creating invitations, cards and stationery for family, friends and friends of friends, Little Flamingo finally took flight.
Whether you are considering an 'off the shelf' design or something bespoke, the Little Flamingo team works with you to create the stationery which best reflects your style.
I hope you are enjoying planning your celebration and look forward to hearing from you soon
– welcome to the Little Flamingo boutique! –
Little Flamingo is based on the Northern Beaches, Sydney. We create wedding invitations and stationery goodies for special occasions, both Australia wide and internationally. Whether you are celebrating a wedding, birthday, christening, baby shower or corporate event, we believe your guests should be excited from the moment they open their invitations.
With this philosophy and a crazy love for paper and parties, The Little Flamingo team are continually creating and updating our collection of unique and imaginative invitation designs. We only use the highest quality products, cards and embellishments. We are also lucky enough to be able to make use of the best printers, papers, and processes from Australia and around the world.
Select from our extensive range of pocket wedding invitations, embossed, foil printed, and plantable wedding invitations to mention a few. With invitations suitable for casual to formal celebrations. Tropical destination weddings to country weddings, rustic, classic and vintage wedding invitations.
Check out the 'pricing & discounts' tab on your favourite wedding stationery or party invitations for quantity discounts. All discounts are automatically applied at checkout so no need for coupons! With invitation discounts as high as 35% off, Little Flamingo has high-quality invitations at discounted prices. Yay!
At Little Flamingo we have wedding stationery, birthday invitations, birth announcements, baby shower, hens party and children's party invitations. From your invitation suite to place cards, menus and on-the-day stationery goodies, we are sure you will love our designs, quality and customer service.
So come on in, grab a cup of coffee and wander through our array of gorgeous invitation designs and don't forget to get in touch if you have any questions, need additional information or are looking for something particular.
Thank you for visiting, and we look forward to creating your unique celebration stationery.