Whether you're a maximalist, a minimalist or something in between, when it comes to the floral arrangements at your wedding, perfection is required.
Floral design is one of the most powerful styling elements to any wedding. From the bouquet you hold as you walk down the aisle, to the arrangements that line your reception tables, flowers really do have the ability to transform any space.
And behind every beautiful bouquet is a talented floral designer, working their magic to create a piece of art that truly reflects your special day.
It's safe to say we dedicate hours to ogling over gorgeous flowers on social media – our saved photos are literally filled with colourful creations. And with such an incredibly talented bunch of floral designers right here in Australia, we wanted to share some of our favourite sources of inspiration with you, too!
With years of experience and impeccable taste, these botanical experts will ensure the most important décor choice you make regarding your nuptials goes off without a hitch.
No matter your bridal style, these floral designers will create an atmosphere that is nothing short of memorable for your special day.
So if you're seeking some floral styling ideas for your own big day, or simply enjoy lusting over beautiful blooms as much as we do, keep reading for 25 Best Wedding Floral Shops in Melbourne who truly inspire us with their artistry.
Add a header to begin generating the table of contents
Daily Blossoms - Wedding Floral Shops Melbourne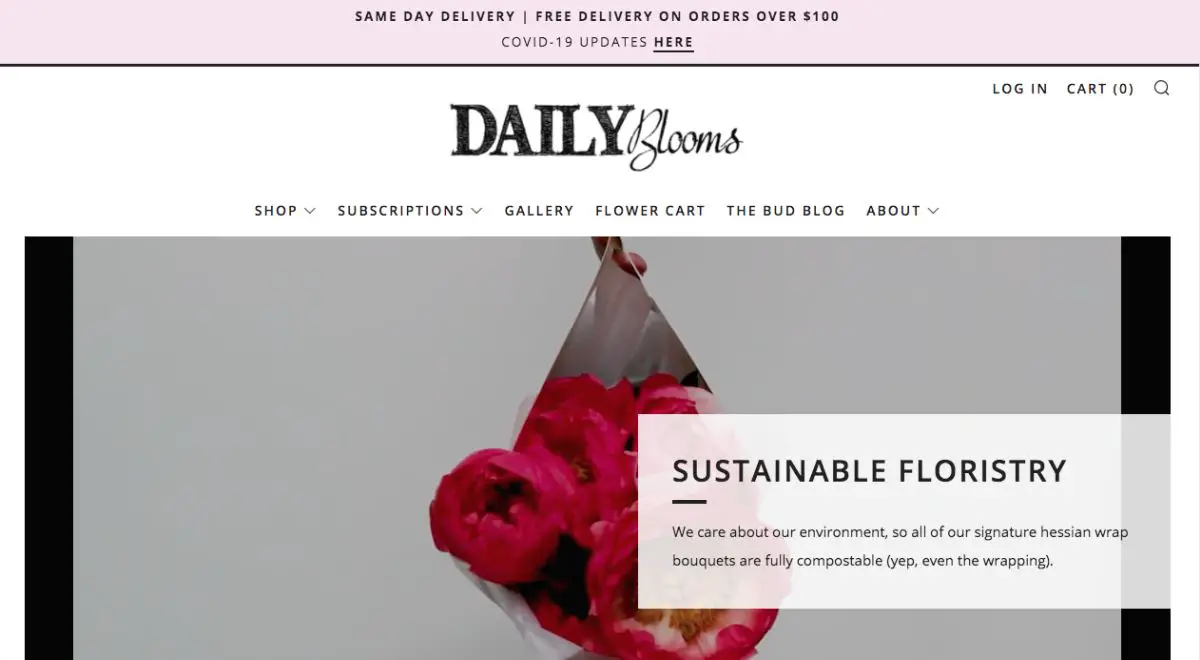 dailyblooms.com.au
475850740
FROM FARM TO FINANCE TO FLORIST
My name is Courtney and I am the founder and florist of Daily Blooms. Before starting Daily Blooms, I occupied my days in the (not so creative) field of Accounting and Finance. I was virtually inseparable from my desk and Excel and PowerPoint were my tools of the trade. But then – after many years of flirting with the idea of flowers – I took action!
Whilst I now live in the hustle and bustle of inner Melbourne, I grew up on a farm in a tiny town called Freshwater Creek. I was lucky enough to have a mother who shares my love of flowers and as a child I was constantly surrounded by beautiful gardens and bunches of freshly cut blooms that filled our house. To me, there is nothing quite like a bunch of flowers cut from the farm…. perfect by their imperfection.
When I moved from the farm to Melbourne I discovered that my little oasis of beautiful blooms was exactly that – an oasis and not the reality that many Melbournians face. I live in the inner city and whilst I am trying to be a green thumb with my relatively tiny courtyard, the modest selection of herbs in pots and a sad looking lemon tree hardly make up for a big flower filled garden.
THE CONCEPT
A few years ago (when online florists were few and far between) I had the idea to deliver beautiful, locally grown flowers to your home or workplace at reasonable prices. I wanted flowers to be easy and accessible so that people could enjoy them more often. Every day, every week or every fortnight.
Poppy Culture Wedding Floral Shop Melbourne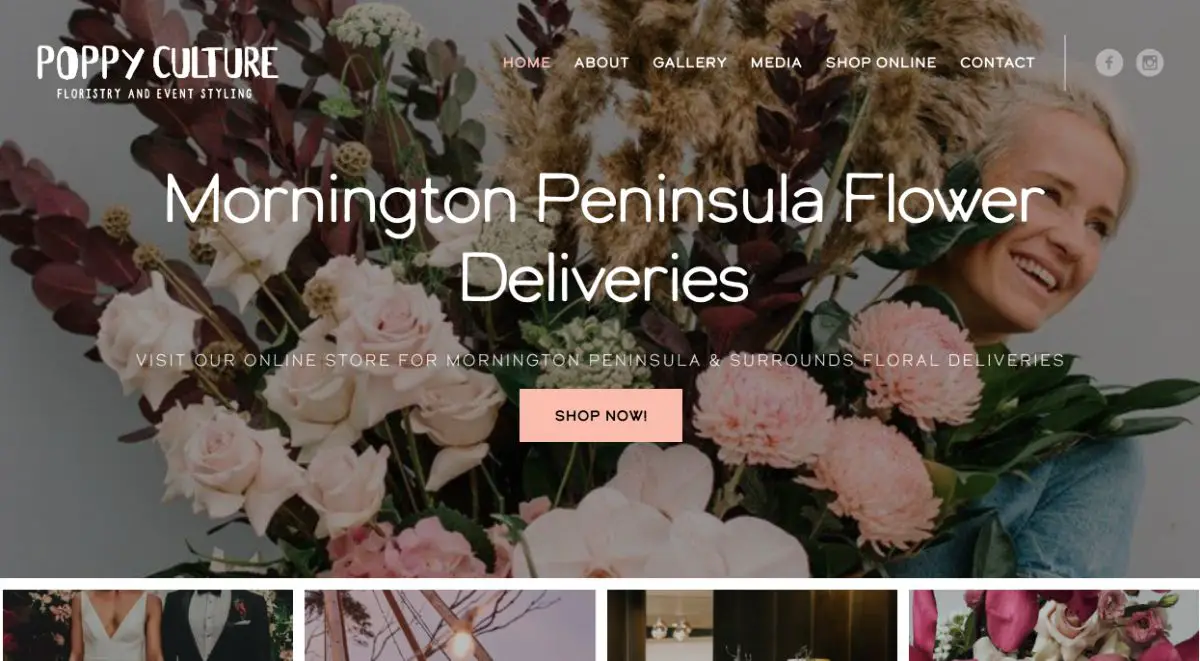 poppyculture.com.au
472767792
Our passionate and multi-talented team take great pride in providing quality creative concepts and bringing them to life.
Launched in 2012 and with a combined total of over 40 years worth of experience between the team, let our professionalism and 'can do' attitude put you at rest when looking for decorative solutions for your wedding or event. We are proud to now offer creative and quality flower deliveries across the Mornington Peninsula to homes and businesses.
BRINGING YOU ARTISTIC & CREATIVE FLORAL DISPLAYS
We create artistic floral designs, custom event and decorative styling for brides, businesses and beyond on the Mornington Peninsula, Melbourne and surrounds. Launched in 2012 and based in Mornington we have a combined total of over 40 years worth of experience in our florist team. Let our professionalism and 'can do' attitude put you at rest when looking for decorative solutions for your wedding or event.
We treat every occasion like our own, with Poppy Culture as your trusted florist you won't be disappointed.
Lillypad Flowers - Wedding Floral Shop Melbourne
lillypad.com.au
394602261
Established in 2001, Lillypad Flowers was born out of a little 'Cottage Garden on Spring' in the northern suburbs of Melbourne.
Based in the heart of Reservoir, our love for providing quality, unique and creative floral gifts curated with love has seen clients ordering and travelling from all over Melbourne for our flowers. We love sourcing new and exciting seasonal flowers, foliage and organic mediums to create into one of a kind floral gifts for all to enjoy.
Choose from one of our many unique and quality designed flower arrangements or for a custom floral piece simply choose from one of our florist choice ranges. Let us create a stunning and one of a kind floral gift for local delivery to Reservoir or send flowers across Melbourne. As a reputable member of Interflora Australia since 2001, we are able to provide a gauranteed quality product with Interflora flowers for all occasions to Melbourne, interstate and overseas. With a wide range of Interflora flower bouquets, arrangements and wreaths we have every special occasion covered.
Melbourne Wedding Florist
We love the whole process of building relationships with our brides. Getting to know your sense of style and creating memories for your special day. Let us customise amazing and spectacular wedding flowers for one of your most special days. We believe your wedding day should be done your way, thus choosing the floral details that are reflective of your personal sense of style is what we embrace.
Flowers by The Road Stall - Wedding Floral Shop Melbourne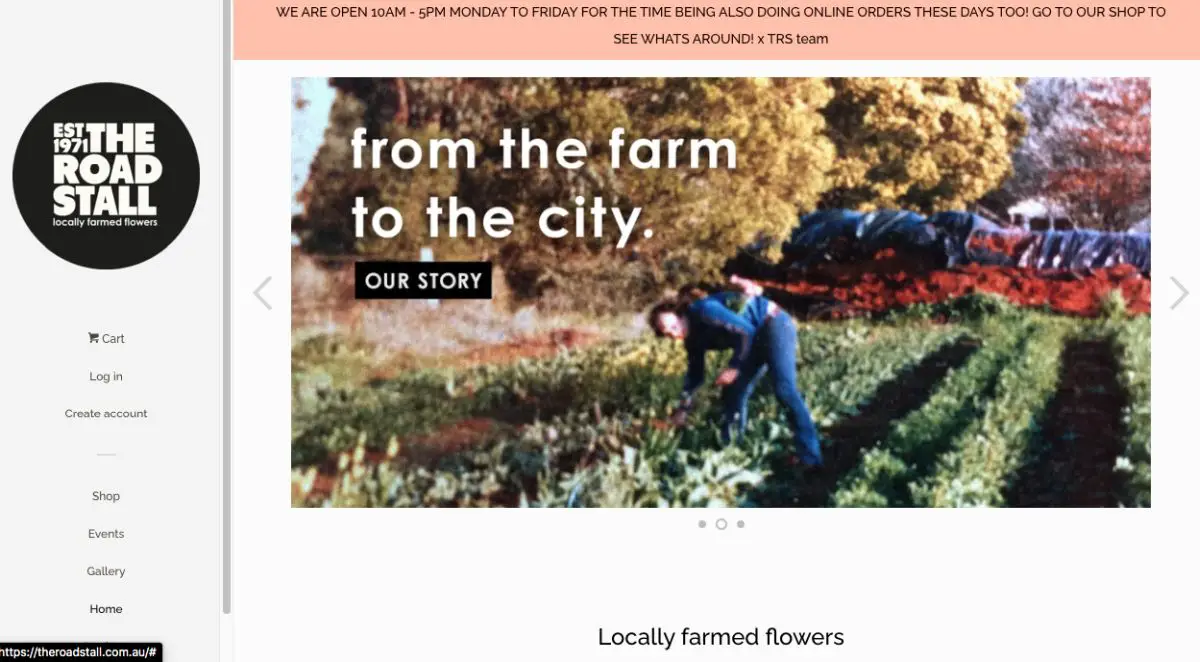 theroadstall.com.au
459737855
A PROUD HERITAGE
It was 1971 when Hans Duivenvoorden opened the original Road Stall outside the family flower farm in Monbulk. Named the Road Stall because it was a stall next to a road, Hans made up for his lack of flair for naming by bringing beautiful flowers fresh from the farm gate to the people of Monbulk (and a few blow-ins). It wasn't long before the Road Stall was more than just a little stall and soon became a Monbulk institution.
A NEW CHAPTER
In 2014, more than forty years after the original, the family opened The Road Stall on Spring Street, bringing the same farm direct flowers to the CBD. Today we're more committed than ever to supporting the farms of Monbulk, Victoria and  bringing Melbourne the freshest seasonal flowers from farmers we've actually visited and know. We are also an eco friendly florist! We recycle all of our green waste, use recycled paper and don't use unrecyclable materials such as floral foam, plastic flower wrappings and plastic vessels. More what it was like 40 years ago!
Clover Flower Co. - Wedding Floral Shop Melbourne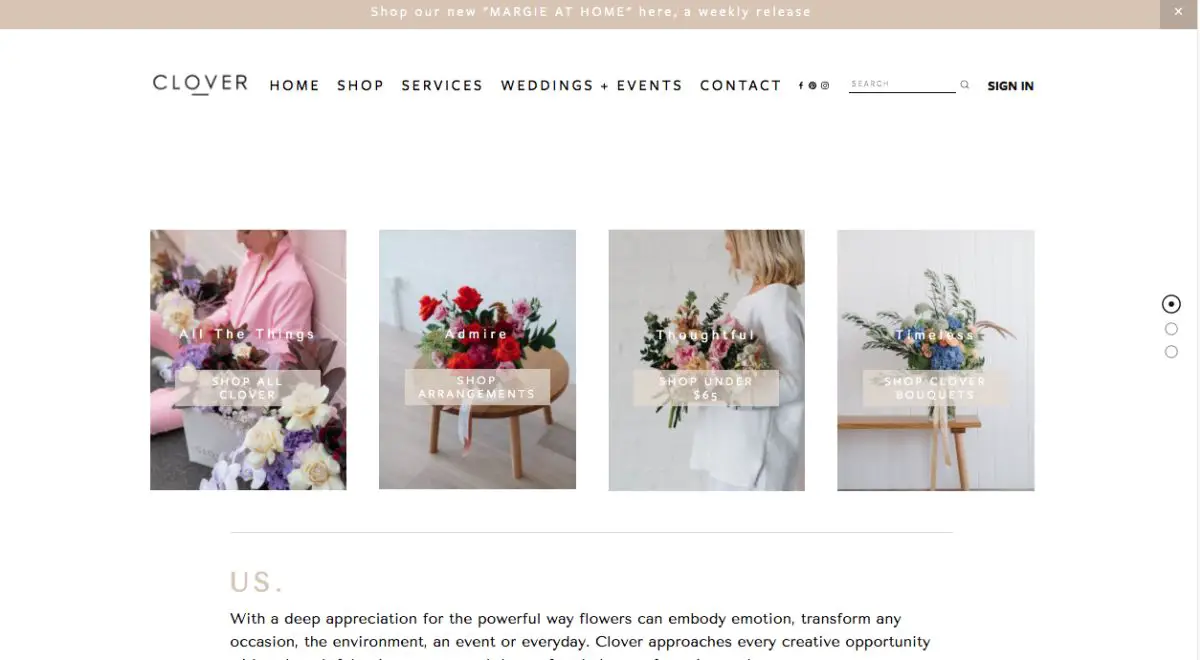 cloverflowerco.com
1396204331
With a deep appreciation for the powerful way flowers can embody emotion, transform any occasion, the environment, an event or everyday. Clover approaches every creative opportunity with a thoughtful unique scope and the perfect balance of passion and purpose. Flowers have the power to transform a space and work environment.
Clover offers a personalised floral service, that translates your brand and ascetic. We cater to Inner Melbourne CBD and surrounding suburbs, from retail stores to corporate offices, cafes and restaurants. Lets bloom your workplace: book a site viewing and consultation with one of our floral stylists today.
WEDDINGS
Clover dreams of blooms and will create bespoke flowers for your special day. Be it an intimate gathering or one hell of a party, Clover will cater. Currently taking bookings for 2020 and beyond.
To start the consultation process with one of our event floral stylists, please submit an enquiry below. We are currently catering all consults by phone or email, due to social distancing restrictions.
Ambrosia - Wedding Floral Shop Melbourne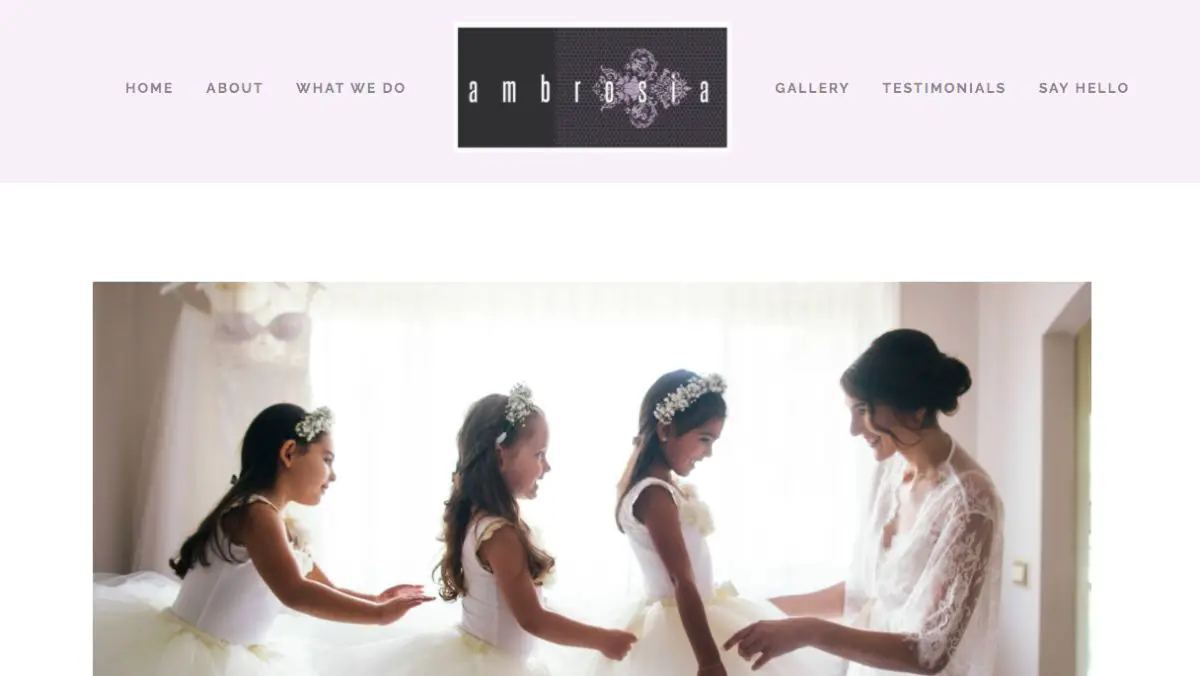 ambrosiafloraldesigns.com
1393383601
ABOUT AMBROSIA
The love story of Ambrosia Floral Designs began when owner and floral designer, Leanne walked into an iconic Melbourne hotel and was mesmerised with the most incredible floral arrangement she had ever seen. Not only did she fall in love with the imperfectly perfect flowers themselves but also the concept of design and how, together they formed such a visual impact.
From there she knew she had found her calling and entered into an apprenticeship and never looked back, taking out Apprentice of the Year in 2009. She then worked on some of Melbourne's major events such as the Australian Open, The Logies and the Spring Racing Carnival. Ambrosia takes pleasure in using the elements of colour, shape and texture to craft striking and unique visual creations through various floral materials. Our expertise is well known nationally, with our floral masterpieces being featured on Channel 9 shows, Married at First Sight and The Block.
Our passion lies in working with couples and designing Wedding creations for clients who are looking for something a little more unique. Our shop & studio is located in the Industrial hub of Assembly Drive Tullamarine. You can discover a great line of fresh cut flowers from all over Australia and other parts of the world. Whether it's something traditional or otherwise unusual, you'll be sure to find it amongst our wide range of floral bouquets and arrangements.
Flower Temple - Wedding Floral Shop Melbourne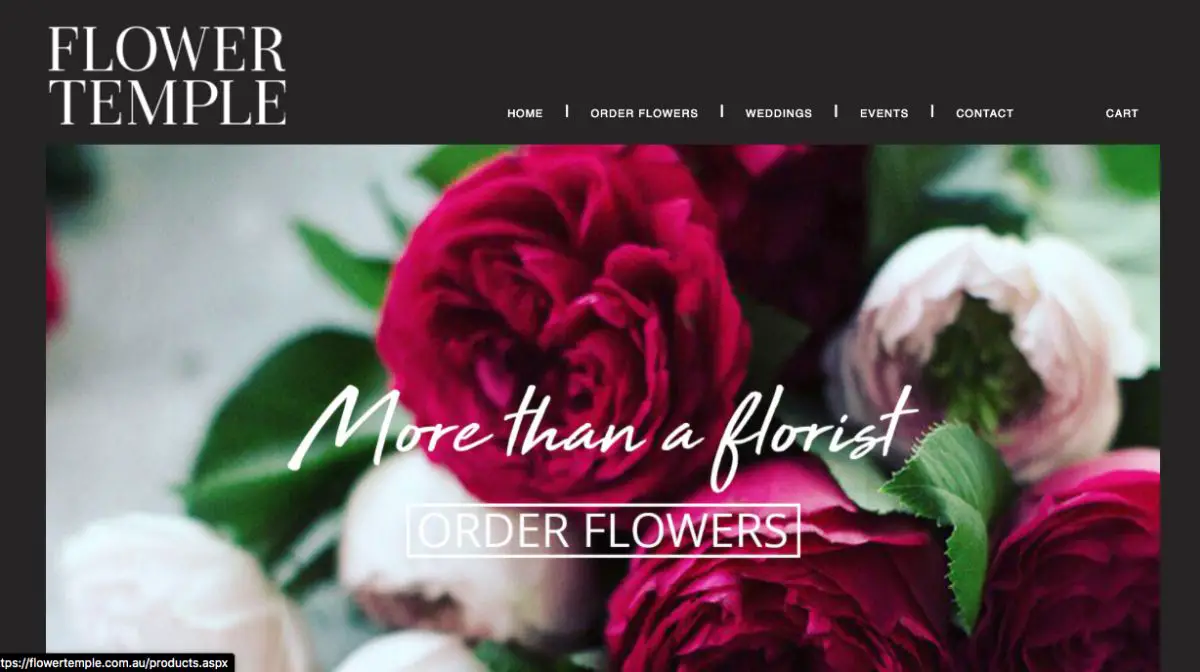 flowertemple.com.au
1396633021
More Than An Online Florist
Flower Temple provide the very best range of flowers and floral arrangements in Melbourne. Whether it's beautiful roses, exquisite orchids, rare and tropical flowers you can be sure that Flower Temple stock a full range of seasonally available flowers.
Melbourne's Flower Experts
The founders of Flower Temple have quickly become renowned at being the best in the business. Creating and delivering beautiful floral displays into homes, workplaces and venues throughout Melbourne for all occasions.
They are responsible for some of the most prestigious and luxurious retail flower stores in Melbourne with their recent concept store Melbourne Flower Merchant leading the way in contemporary designs.
The Flower Temple website reflects the passion, individuality and style set by it's retail arm and now extended to it's online community. The retail staff maintain a consistent program of events and exhibitions based on sharing their knowledge with customers and introducing the latest ideas, trends, techniques and products.
Working "live" in store, taking orders over the phone or out on consultation, the staff maintain the very best in selection, presentation and handling advice is recommended in line with individual needs.
Wild Flos - Wedding Flower Shop Melbourne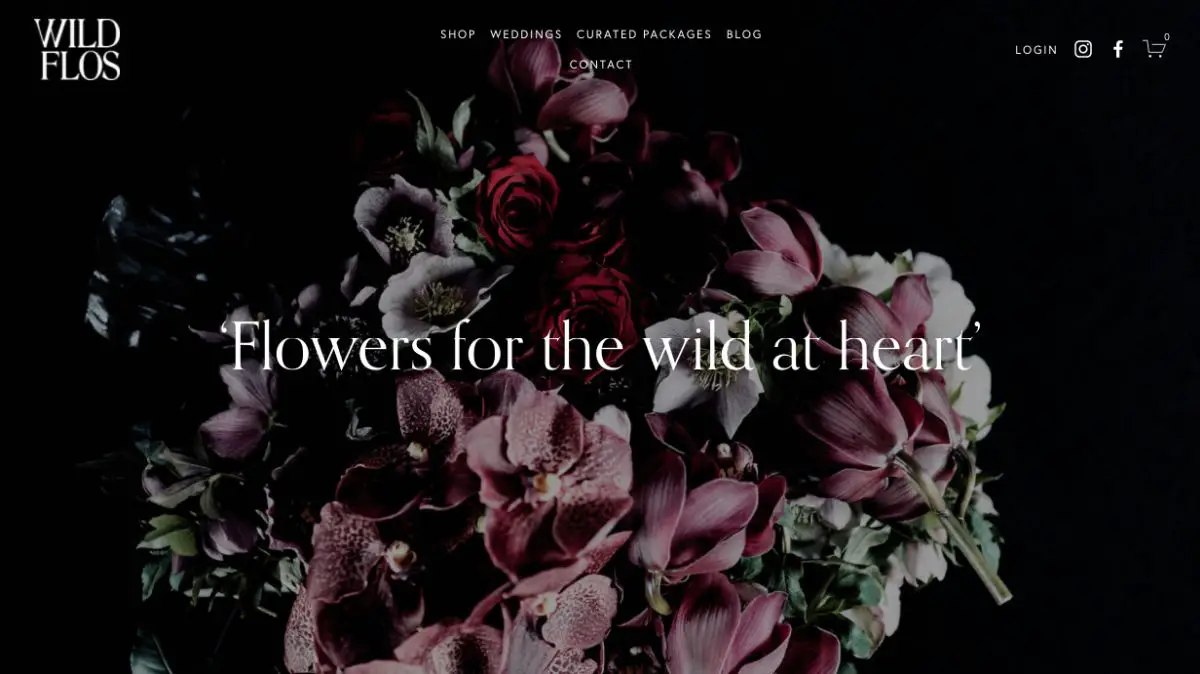 wildflos.com
427890358
Melbourne based floral design studio Wild Flos is led by flos boss, Nat Schorer. She's a lover of romantic days of all styles, from dark and moody florals to bright enchanting colour palettes.
We love working with couples to create unique and customised flos. Known for a heavy use of florals in our designs, we create luxurious textured pieces for both large and intimate wedding celebrations, corporate events and daily bouquets for your home or gifts. Using the seasons best flos, there's always a touch of wild, and a little touch of magic!
Wild flos for the wild hearts.
We love to work closely with our couples to create a little bit of flos magic for your wedding day. Our service includes a complimentary consultation, followed by a proposal which includes a mood board, colour palette and flower selections. Our expert team led by nat schorer, will bring our shared vision to life on your special day.
Thrive Flowers & Events - Wedding Floral Shop Melbourne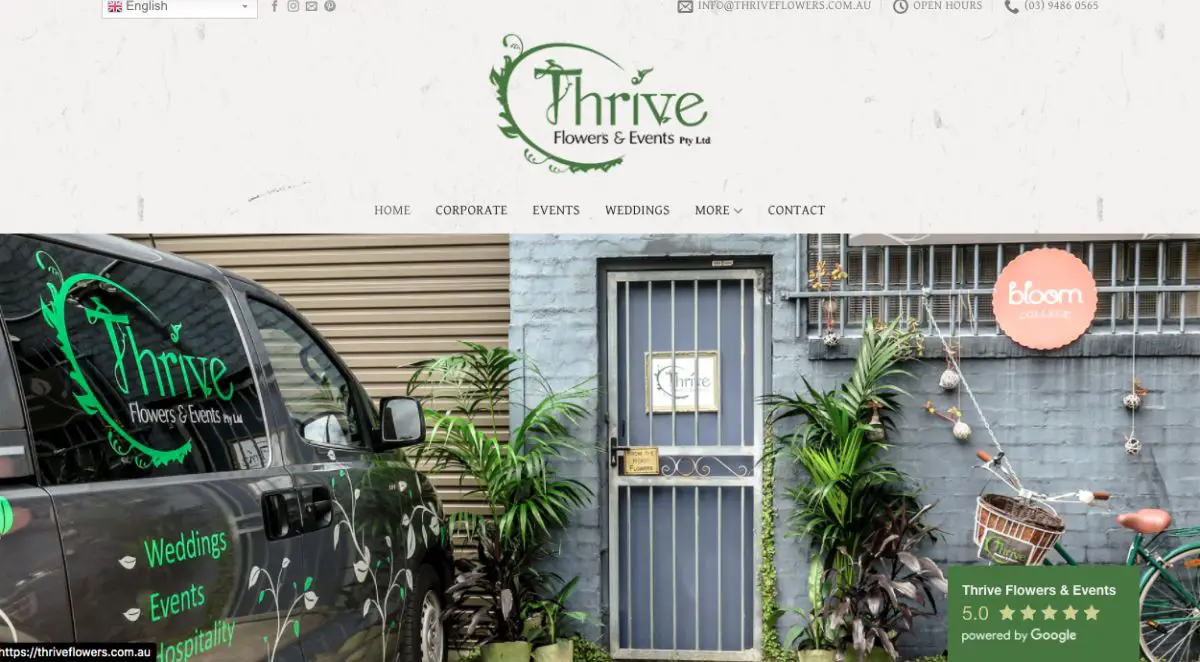 Thriveflowers.com.au
394860565
I grew up part time with my entrepreneur father on an Alpaca & Sheep farm in the Yarra Valley and also in the suburbs with my creative mother. Dad was a forward thinker and Mum taught me I could make anything a reality, she also steered me down the creative path.
I always put on parties and loved to organise everyone – fast forward to future me and here I am – a flower-preneur, event stylist, creative director and a floristry teacher with a love for nature and a need for animals and all things eco.
Rosie
Gatherer of information & invested in nailing your brief! After spending my teens and twenties in hospitality I realised what I love doing most is making customers happy.
I'm likely to be the one to answer your initial enquiry and then continue to help you along your floral journey with us, right until the end. It's probably me that will hand deliver your flowers as well. Actually, that's one of my favourite parts of a wedding day, turning up at the bride or groom's door, you just never know what you're going to walk into!
Hailey Paige Flowers- Wedding Floral Shop Melbourne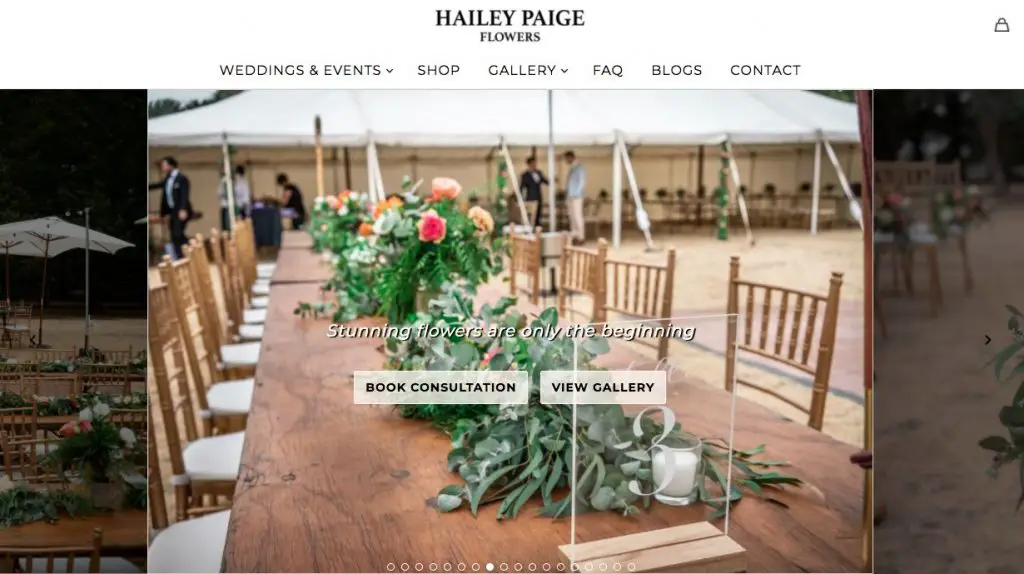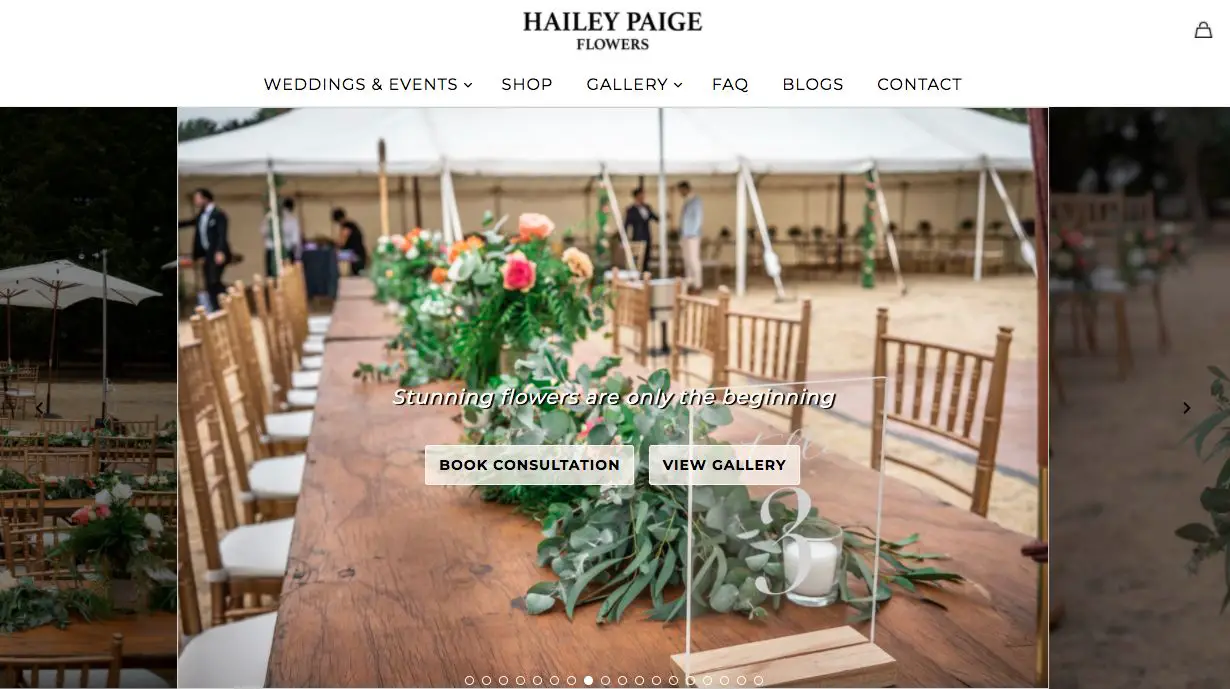 haileypaigeflowers.com.au
Upon Request
At Hailey Paige Flowers, we understand the role that flowers play on your wedding day.
Our wedding flower packages will be styled and customised to suit your wedding theme. We provide stunning bridal bouquet options and bridal and wedding flowers including buttonholes, corsages, church pews, reception table arrangements, bridal table arrangements, hanging arrangements, floral arch and many more. We will work with you through each step of the planning process to ensure your fresh wedding flowers are as special as your special occasion – with or without artificial flower arrangements in sight.
With an eye for detail and a genuine passion for floristry, our florists are dedicated to styling and creating the most beautiful arrangements for you using the most beautiful flowers available. At Hailey Paige Flowers, we can also do artificial flowers. We promise to only deliver the finest and freshest flowers to you. We're proud to be one of Melbourne's first choices for premier floral arrangements – delivered to your door.
Why choose Hailey Paige Flowers
When you choose Hailey Paige Flowers, you're choosing a team that delivers exceptional customer service. If you're not happy with your floral arrangements, then neither are we. To us, your satisfaction is of the utmost importance, and it always will be.
Feel free to reach out to us if you have an idea or want something different to what is offered. Our team is fully committed to your satisfaction, and ensures your flowers are safely delivered to their destination on time and in perfect condition.
Melbourne Fresh Flowers - Wedding Floral Shops Melbourne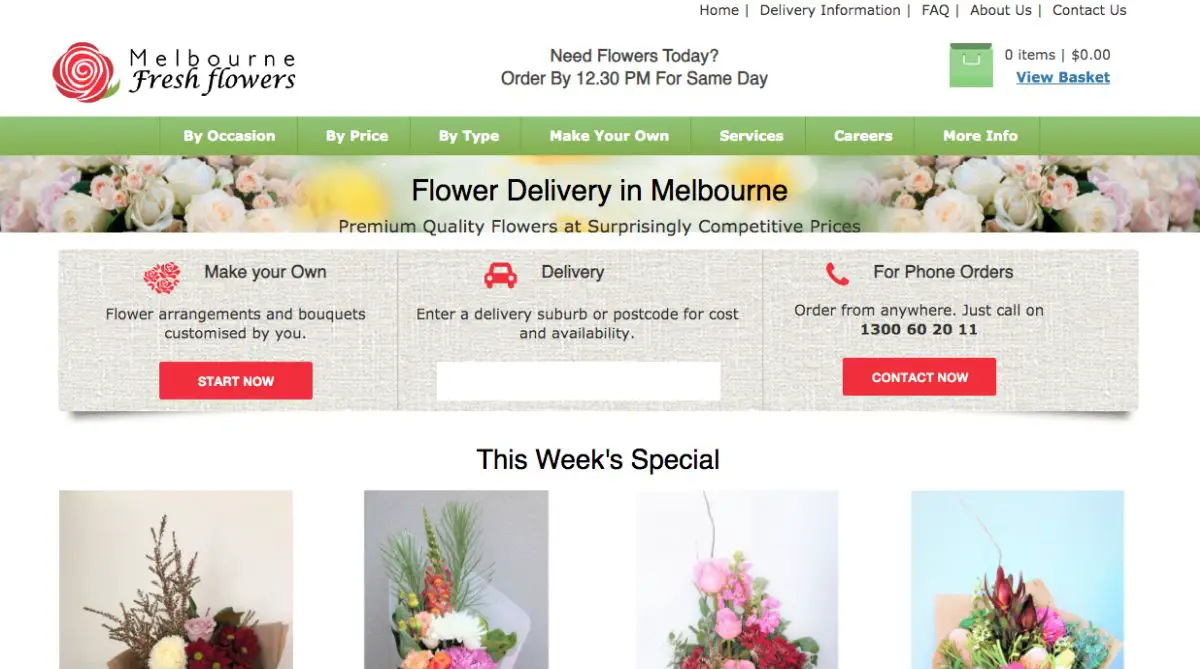 melbournefreshflowers.com.au
1300602011
About Us - Online Florist in Melbourne
Started as Hobby back in 2012 became my passion and business, I started this small business to create unique flower arrangements and enhance my knowledge in floristry. We are a small family business operating from our small warehouse next to our house. By doing this setup we have lower down our overheads and stock level.
Most importantly as we are independent florist ( Not order gatherers) your money is wisely spent on flowers only ( No commision to anyone) As we are online only we buy flowers every day from the market as per orders so clients get fresh flowers delivered on the same day. It also means we able to create elegant arrangements at reasonable prices.
We continue to improve every day and try to achieve further by offering new styles and arrangements as per trends.
Floral Architecture Wedding Flower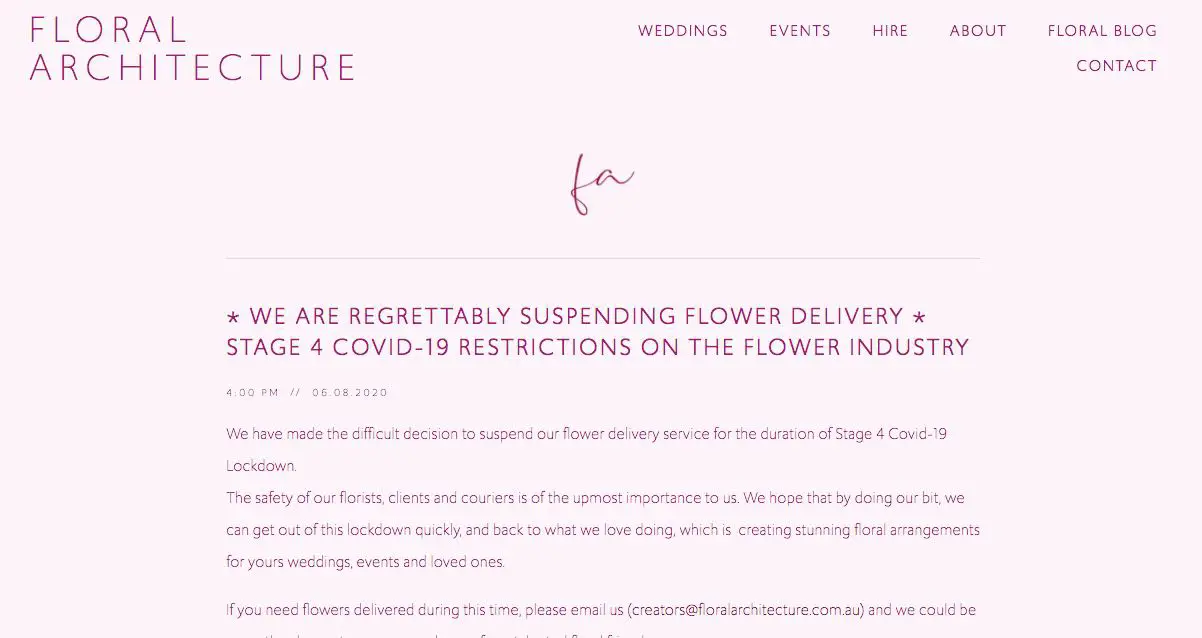 floralarchitecture.com.au
431340661
Servicing the city and beyond from our Melbourne studio, we create unique, inspired Wedding and Event florals. With a passion for showcasing the natural beauty of seasonal florals and foliage, our style is effortless. We utilise texture, depth and palette to create a unique floral experience for each of our client's and their vision.
We pride ourselves on our attention to detail, from extravagant roof installations to the perfection of bridal bouquets. Each piece is lovingly created to be unique, yet intertwined in the floral styling story of your special event.
Rosie - Creative
Rosie never wanted to be a florist, as she doesn't like to be cold. Fast forward 18 years and Rosie is a florist in Melbourne. Ironic. A traveller at heart, Rosie has taken her talents to work in Los Angeles, Byron Bay & Hamilton Island. Well known and respected in the floristry industry, you've most definitely seen her work before! As well as a talented florist, Rosie is an accredited floristry teacher and thrives on sharing her passion with others.
Rosie lives and works by the mantra of 'Wabi-Sabi' - the beauty and appreciation of things imperfect, impermanent and incomplete. Rosie's style is natural, wild and unstructured  and she enjoys finding the natural beauty in nature and then enhancing it.
Petal to the Metal Floral Design - Wedding Floral Shop Melbourne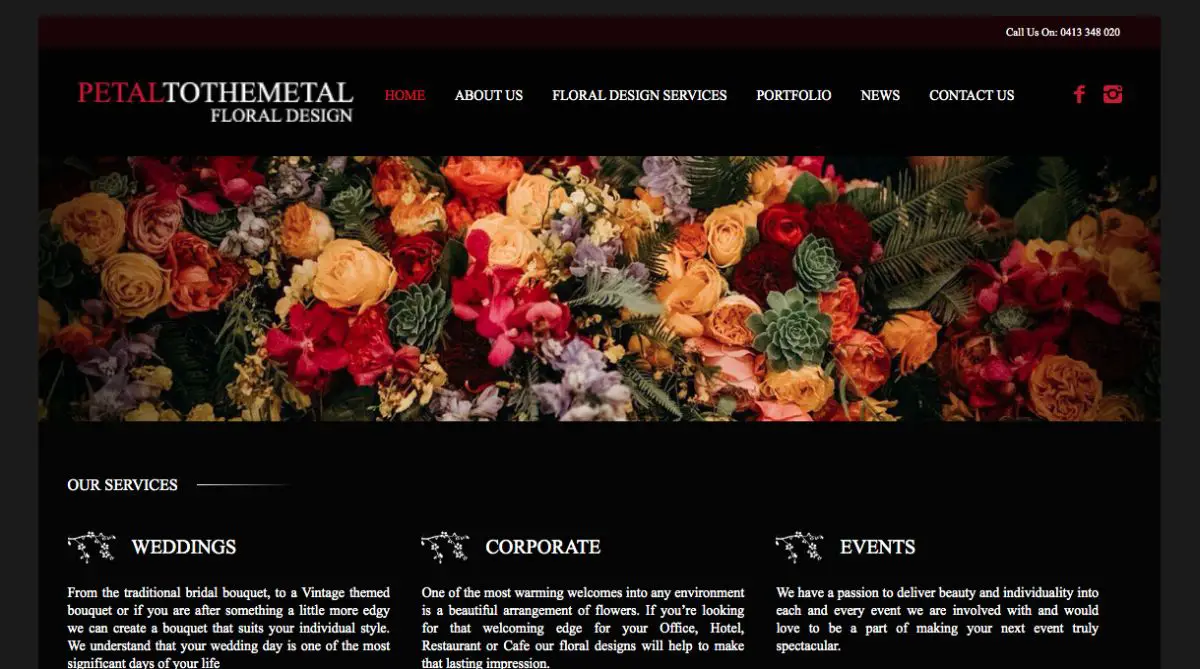 ptmfloraldesign.com.au
413348020
Petal To The Metal Floral Design first came to life with our first shop opening in Abbotsford Victoria in 2009.
Founder, Camilo Undurraga who has a background of Art and Design was looking for a city presence and to immerse himself in the music, design and arts culture, hence the name, which reflects his love of music and design.
Now based back on the Peninsula, I came on board in 2015, after 15 years of working as a Marketing Coordinator. I saw the potential and passion Camilo had for Petal To The Metal Floral Design so we made a leap of faith and I joined him in the business. Living and working together can be a challenge but with the same passion for the business, our clients and life, I don't think we'd have it any other way.
No longer in the retail side of floristry, Petal To The Metal Floral Design focuses on Weddings, Corporate and Event Floral Design. We have been the in-house florist to one of Australia's most prestigious and multi award winning wineries, Port Phillip Estate since it's opening in 2009.
Other clients also include Geoffrey Rush, James and David Reyne, Brooke Satchwell, Wally Debacker (Goyte), Prime Minister Malcolm Fraser, Baillieu Family, Portsea Hotel, Flinders Hotel, R.T Edgar Real Estate, Hvezda Hair & Beauty, Jeep, Two Birds Talking and Flinders Art show just to name a few.
Williams Florist - Wedding Floral Shop Melbourne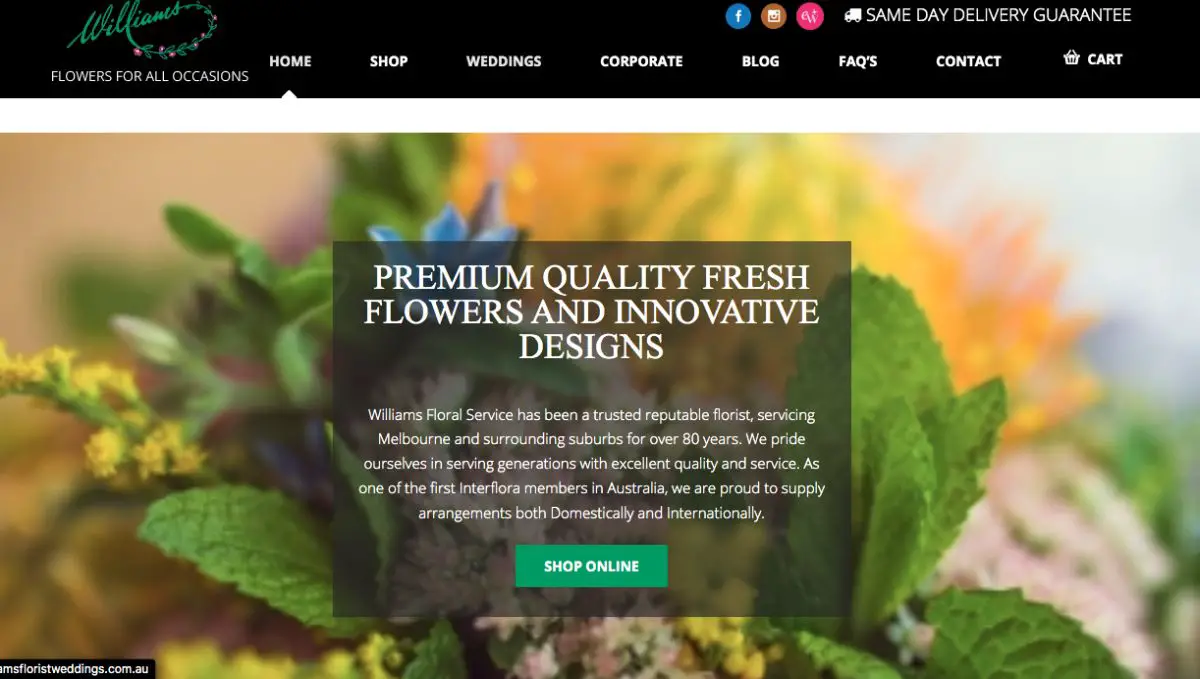 williamsflorist.com.au
1395681841
Williams Floral Service has been a trusted reputable florist, servicing Melbourne and surrounding suburbs for over 80 years. We pride ourselves in serving generations with excellent quality and service. As one of the first Interflora members in Australia, we are proud to supply arrangements both Domestically and Internationally.
Welcome to Williams Wedding Florist
Our experienced staff take the time to listen to your needs and help you make the right decisions, including styling, theming and colour combinations.
Whether you're after traditional, contemporary, rustic, vintage or colourful, you'll receive the very best in quality and personalized service. We offer an exclusive one on one styling consultation with Kathleen Nicolis who has over 25 years of wedding experience ensuring no detail is overlooked.
"Aim is to make the giving experience enjoyable for you as well as the recipient…"
Each wedding unique occasion and we take time with our bride to be, as we know how important it is that the flowers complement and enhance all aspects of the day. Williams Florist extensive portfolio of work.
Delivery to your home, ceremony, church and reception venue is also available. We specialise in servicing all the surrounding suburbs of Oakleigh, Huntingdale, Brighton, Bentleigh, Carnegie, Clayton, Mt. Waverley, Malvern, Malvern East, Armadale, Toorak, Caulfield, Murrumbeena, Hughesdale Chadstone, Glen Waverley and Melbourne Metropolitan areas, we also accommodate to other locations.
WildFlower and Twig - Wedding Floral Shop Melbourne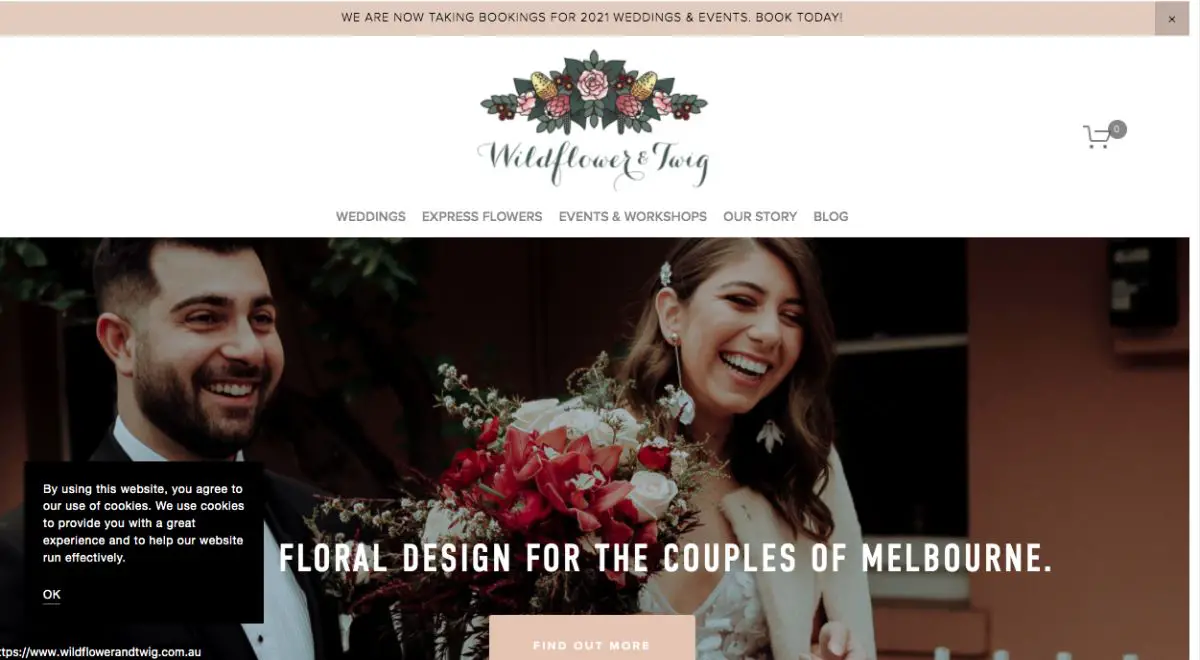 wildflowerandtwig.com.au
435789957
I always wanted to work with flowers & plants. Growing up I have vivid memories of making flower & leaf concoctions in my grandmother's backyard in a silverware set she owned. At age 10, I wanted to be a horticulturalist & work on Burke's Backyard, planting trees & using all the fancy scientific names. I had always dreamt of playing with flowers but the thought never seriously crossed my mind until I was well into my 20s.
Fast forward quite a few years, I had the opportunity to design for my sister-in-law for her wedding day. I quickly YouTube'd a few videos on how to make a bouquet & I was hooked! It was then I decided that I was going to study floristry & pursue something that had always made me happy.
Wildflower & Twig has since blossomed (pun intended!) into a busy & thriving small business catering to weddings, events & workshops. I am forever grateful of how far this little idea has come in only 3 years.
I love sharing my passion for flowers, getting my hands dirty & creating something beautiful. I pour my heart into each arrangement & nothing makes me happier than seeing the smiles on my clients faces.
Flowers by Cassy - Wedding Floral Shop Melbourne
flowersbycassy.com
409017398
"Flowers by Cassy" a dream that began in 1994. Hi, I'm Cassy, Owner and floral stylist at "Flowers by Cassy" in Cheltenham and more recently "Flowers for Jane" Melbourne. Flowers by Cassy is located at 8/320 Reserve Rd Cheltenham 3192, next to Wilsons storage.
Place your orders online or by phone before 10am weekdays for same day delivery Melbourne wide. Cassy - Owner and Floral stylist. Hi, I'm Cassy and been in the industry for over 20 years. I fell in love with floristry when I was 16 after doing work experience. I had an amazing three years gaining my trade certificate and becoming a qualified florist at Box Hill Institute. I entered Interflora competitions and worked at the International Flower and Garden show each year.
I decided that to run a business, I'd have to learn more. I stepped up from apprentice to florist then to Senior florist over six years. I then slowed down to raise three beautiful children. This gave me the chance to work part time in a range of other industries.
In 2017 I decided I was ready, and in 2018 took Flowers by Cassy from home garage into a warehouse studio in Cheltenham.
Nan FloralArt - Wedding Floral Shop Melbourne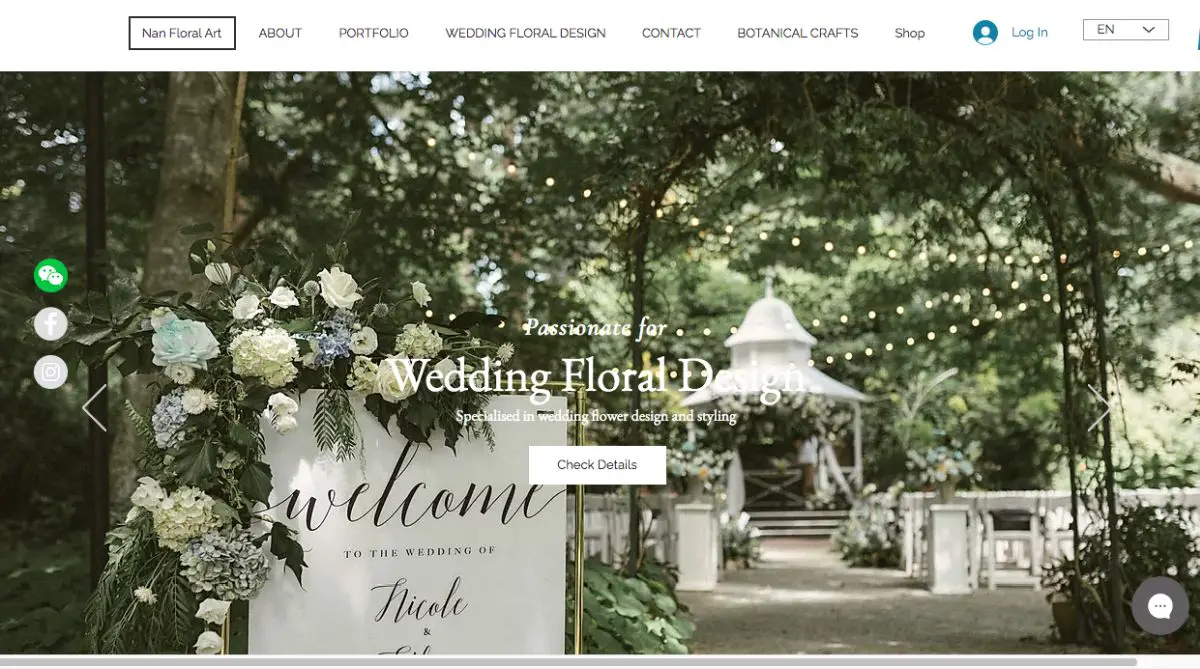 nanfloralart.com
1395214031
I'm Nan, Melbourne-based Florist and Botanical Crafts Maker. I provide services as Wedding Florist, Event and Corporate Floral Design and Styling, as well as Botanical Craft Making.
I was a landscape designer and later received my master's degree in urban horticulture from the University of Melbourne. I had a great passion in floral design and eventually start my own floristry studio, Nan Floral Art. I hold a floral design certification from South Korea and a Floristry certification III from Homlesglen. I believe floral design is a format of design and art, follows every elements of design.
I'm obsessed with the idea of preserving flowers. Floristry is an industry that is very energy consuming. At our studio, we try to dry flowers, and use dried flowers and plants to make artworks and crafts.
Our studio covers a range of services, customized floral design, weddings and events floral arrangements, styling, botanical crafts, and botanical candles. So visit us and happy great fun with flowers, plants and candles.
Arthouse Studio-  Wedding Floral Shop Melbourne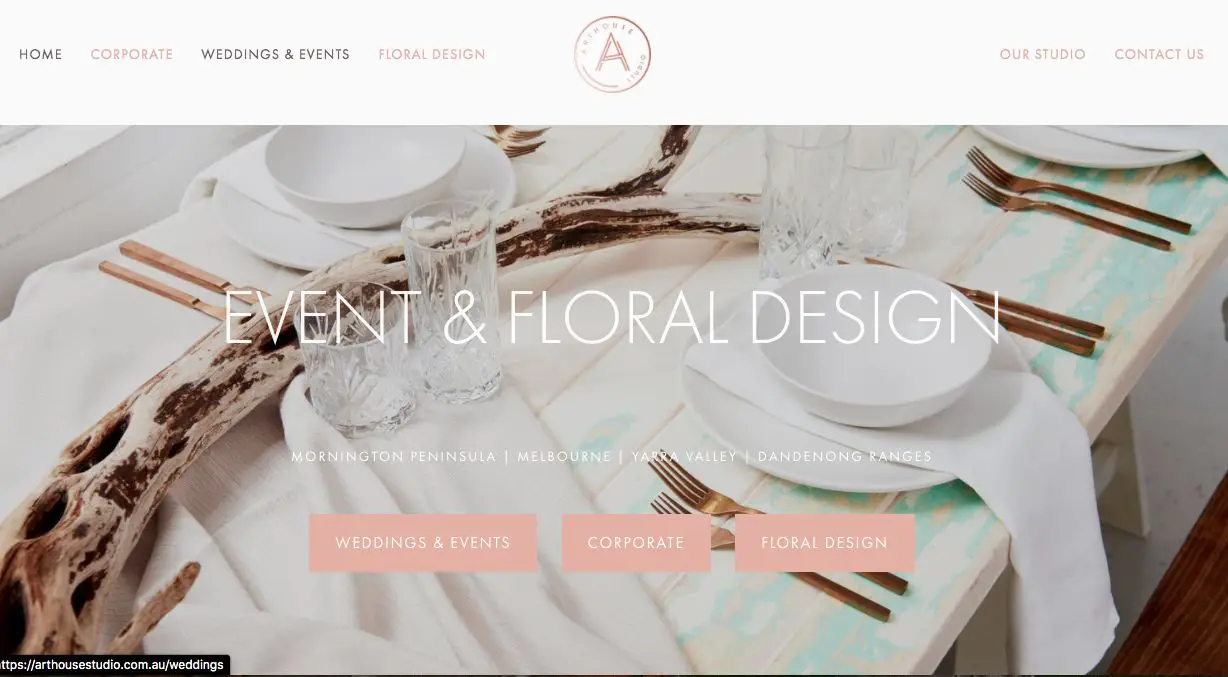 arthousestudio.com.au
431778923
Arthouse Studio is an event design and styling studio specialising in eye-catching floral designs and installations. We love pushing creative boundaries and draw inspiration from our global travels to deliver one-of-a-kind experiences.
From floral & event design through to event coordination, we take the lead so you can relax, and enjoy the party.
WEDDING
You're getting married — congratulations! After you're done riding the highs of your engagement, the reality of planning your perfect day will start to sink in.
Let us help you filter through all those inspo pics, and take away the stress of planning your big day. We can manage everything from vendors to budgets and checklists. You just need to sit back and enjoy your engagement! Arthouse Studio's design team works with you to create a unique celebration, and if you like, we can even take care of the catering, invitations and RSVP management.
We understand couples have unique requirements, which is why we create custom proposals to suit each client's individual needs.
Bayside Weddings & Events - Wedding Floral Shop Melbourne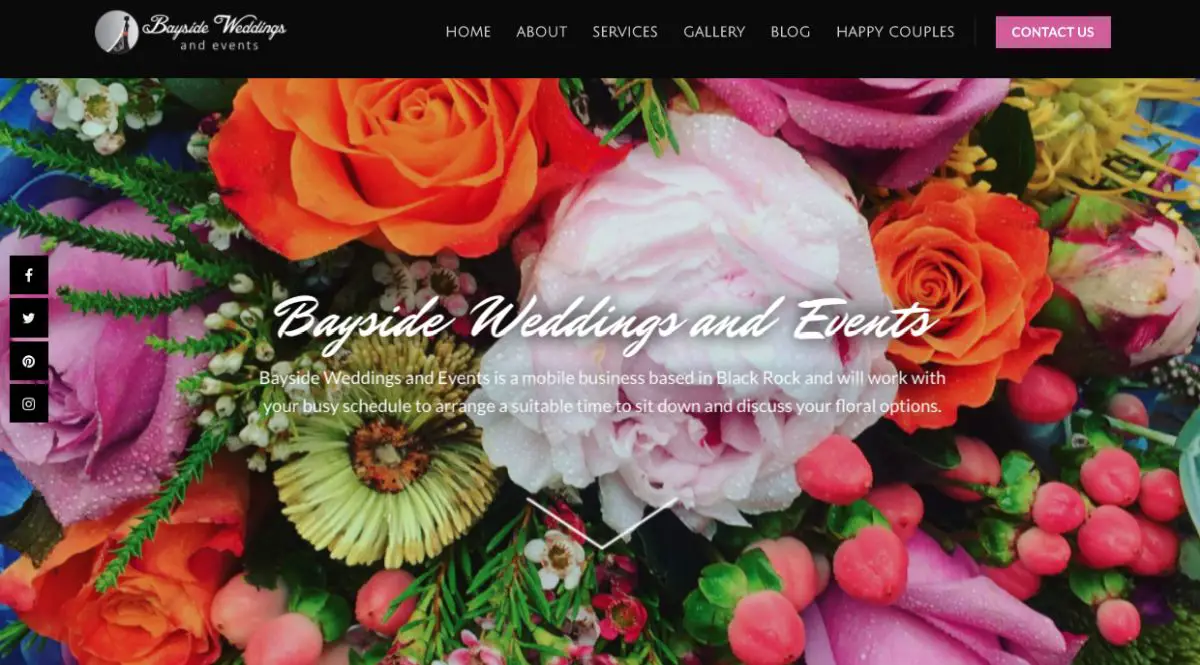 baysideweddingsandevents.com.au
418566950
Belinda started her passion as a floral stylist over 20 years ago. Successfully owning Lavender Ladies Florist in Beaumaris and Bayside Weddings and Events in Black Rock. Belinda is well respected in Melbourne's Bayside suburbs for her flower designs. Arranging flowers for venues around Melbourne, Bayside, Bellarine and the Mornington Peninsula.
Before becoming a florist, Belinda worked at the Melbourne Hilton on the Park in the banquet department. Working in functions, corporate, weddings and sporting events. This has given her a great insight into table designs, and customer service.
Belinda has planned many weddings and events over the years. "I believe in my work and love everything about designing flowers from bouquets to elaborate floral installations. Your wedding day is one of the most memorable and special days in your life. I will be grateful to be apart of your wedding day."
Florium Creations Wedding Floral Shop Melbourne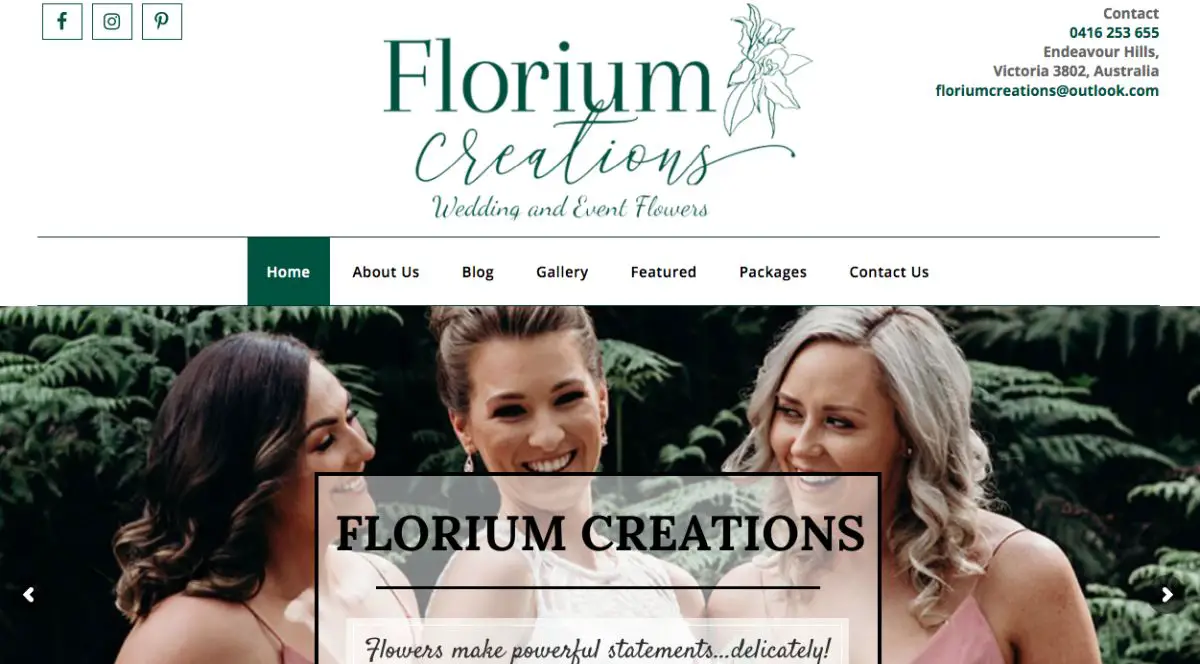 floriumcreations.com.au
416253655
For over 15 years, I've been providing weddings, celebrations, and corporate events with the floral touch needed to bring the party together! For as long as I can remember, I've always had a passion for the beauty found in nature and living things. Being a florist is my calling, and with every installation, bouquet, and flower crown I create, I feel a sense of accomplishment and joy in helping to spread nature's beauty to the event.
For years I worked for one of the most prestigious floral company in London, The Dorchester Hotel. I was able to learn from some of the best in the industry during my time there, and through sheer will and determination, I was able to launch a successful career of my own.
Since opening my first floral business, I've focused on producing memorable and creative floral designs you can't find elsewhere. I want your event to be unique, so each arrangement is built to fit your needs and match the aesthetic you want to achieve. Also, I locally source as many flowers and materials as I can to help support the Melbourne community. I also try to do my bit for the environment by recycling most of my waste.
If you want to see the difference that a professional and experienced floral designer can make for your wedding, photo shoot, corporate event or party, get in touch with me today!
Sarah's Florist Eltham - Wedding Floral Shop Melbourne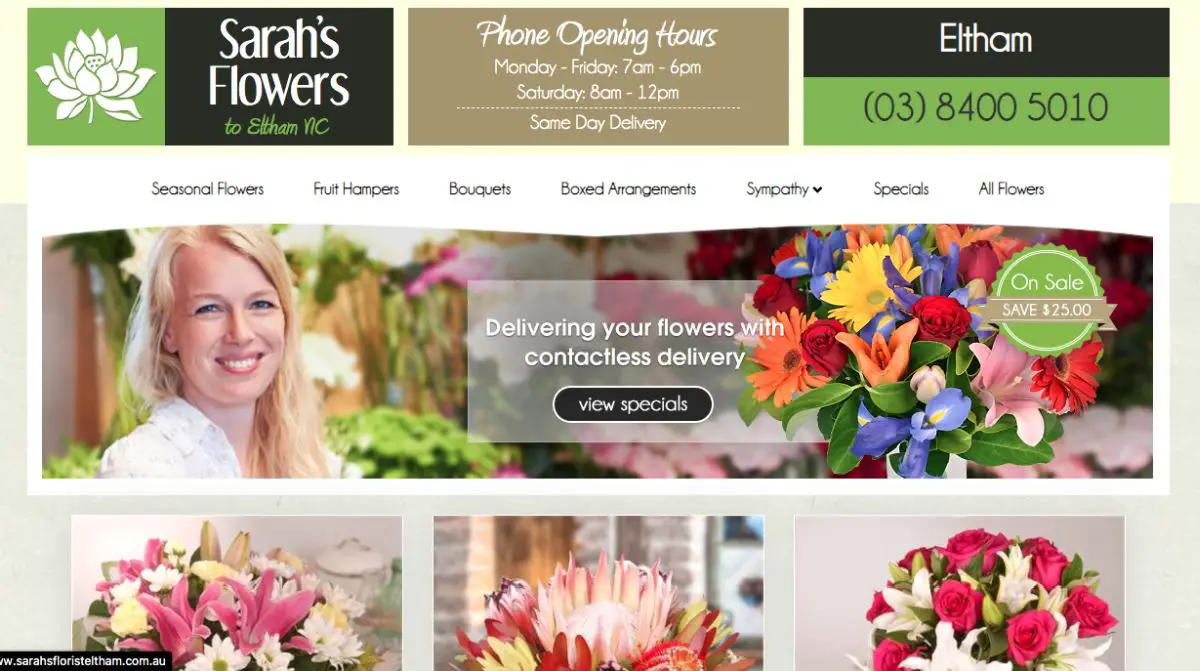 sarahsfloristeltham.com.au
1384005011
Do you need exceptional quality flowers in Eltham? Let Sarah's Flowers deliver them today.
You'll get a warm welcome in Eltham which is only 20km north-east of Melbourne's CBD. It holds an important place in the history of Australian art as being home to the Montsalvat artist's colony, and we like to think we do our bit to add to the beauty with our gorgeous fresh flowers. If you want to brighten the day of someone special why not get in touch with Sarah's Flowers. We deliver spectacular bouquets of blooms in the wider area six days a week. We take our flowers to homes, businesses, hospitals and nursing homes so there is no address where you can't arrange for a surprise floral pressie.
We have it all covered at Sarah's Flowers. There is no gift giving circumstance that isn't magnificently catered for by our gorgeous floral collection. We've been sorting flower delivery to Eltham for years and have put our experience and expertise to good use in creating a range of designs that includes a top-notch choice regardless of the taste of the person you're sending flowers to and your budget. Don't believe us? Just have a squizz at our website and you'll see what we mean. We have flowers for sending get well messages to hospitals and nursing homes, cleverly arranged using florist foam so they stay fresh without requiring a vase and can be easily taken home when the patient is well enough to leave; bold and beautiful birthday bouquets full of celebratory colour; elegant lilies with their creamy cool glamour; roses so romantic they could propose on their own; exotic orchids and native Australian wildflowers in a glorious white ceramic pot that makes a fantastic keepsake pressie; and universally popular blooms like tulips and gerberas.
Azalea Flowers - Wedding Floral Shop Melbourne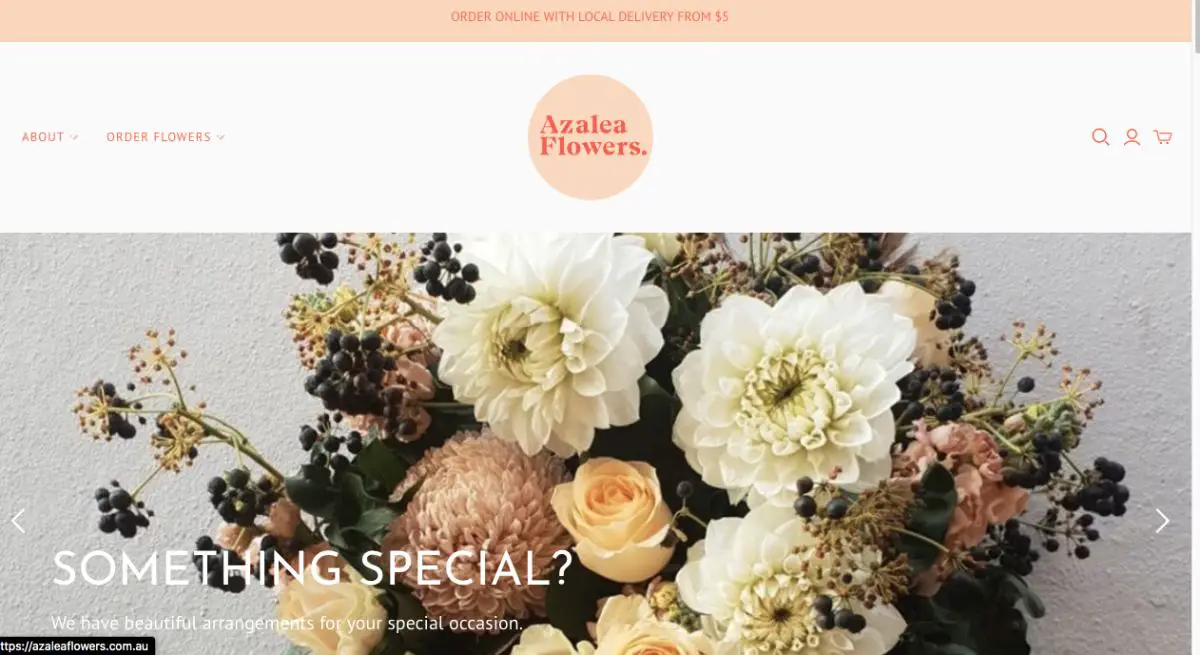 azaleaflowers.com.au
1396964978
We are a boutique florist that focuses on seasonality and the beauty of nature's diversity. We stock a large range of stunning and unique flowers and foliage, specialising in Australian natives and seasonal blooms. Established in 2014 by industry veteran Michael Pavlou, we are committed to providing our customers and the community with the highest quality products the flower industry has to offer. We're conveniently located on the Coventry Street edge of the bustling South Melbourne Market.
Our passionate team of skilled florists can create beautiful, bespoke creations for your wedding or event. We work extensively with stylists, businesses and brands to create floral experiences that suit your brief and budget. We also specialise in DIY weddings and events.
Recently featured as the florist to visit in Melbourne in Monocle's inaugural Melbourne Travel Guide. Our store also features an ever changing array of unusual (and easy to care for) indoor plants, sure to entice even those who are missing a green thumb.
Sakura Flowers - Wedding Floral Shop Melbourne

sakuraflowersmelbourne.com.au
1395274441
SAKURA FLOWERS
With unsurpassed attention to detail and inspirational floral designs We create a unique atmosphere of elegance and beauty, in which your love can be visually conveyed to all in a way that words simply can not. Our passion is to ensure your wedding day is truly unforgettable by creating stunning works of floral art.
Drawing on our vast wedding experiences in Japan, Holland, U.S.A, and Australia enables us to compose truly unique fusions of eastern and western floral design styles. We will consult with you to ensure your floral designs are unique and individual.
Just Peachy Event Florals - Wedding Floral Shop Melbourne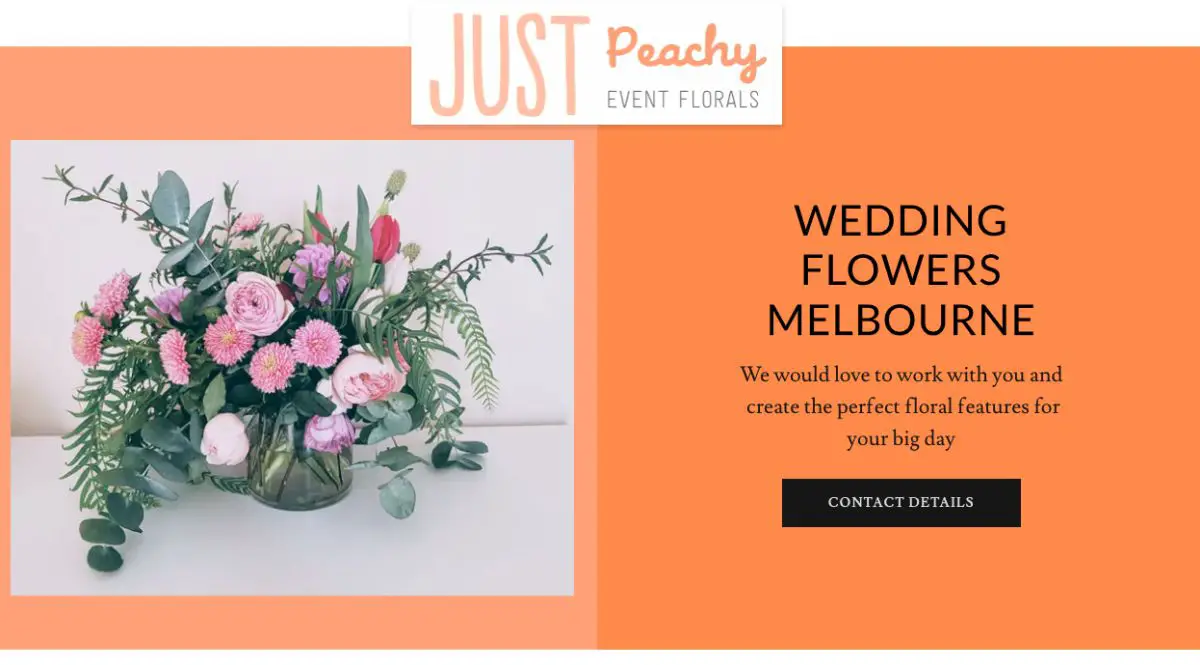 justpeachyeventflorals.com.au
409002383
Events are what we love most. Anything from wedding flowers, birthdays parties, Christmas parties, or corporate events. Just Peachy Event Florals in Melbourne, would love to work with you in designing the perfect floral arrangements or installations for your event.
Heavenly Creations - Wedding Floral Melbourne
heavenlycreationsfloristry.com
439326574
Working with flowers and becoming a Florist has been a  dream of mine for a very long time but as we all know, life sometimes takes you in lot of different directions before you get to the point where you really want to be. I worked for many years in an office environment until I finally decided to 'hang-up' my office chair and pursue my dream of creating wonderful things with my own two hands.
I completed my Advanced Certificate of Floristry at the Floral Art School of Australia and International Floral Design School and started my business first part-time next to my 'normal' day-to-day office job. Today I am lucky to be a mum of a nearly 9year old cheeky boy but also to be able to commit myself fully to my business, working in my own home-studio, designing and creating floral arrangements.
Working with flowers and foliage, combining unusual colours and textures to turn them into a wonderful piece of floral art makes me happy and gives me a feeling of finally having arrived where I always was meant to be.
"Being part of someones Wedding Day is an incredible honour, one which I don't take for granted."
When you fill out my contact form you may already know exactly what you have in mind. Or maybe you only have an idea about your colour scheme but are not sure what flowers would go with your colours. You may have a strict budget and are not sure what is possible. It really does not matter at what stage you are with the planning of your Wedding flowers, I am here to help you, walk you through the flowers available and in season at the time of your Wedding Date, to show you ideas of arrangements from your Bridal Party Flowers to your Ceremony Flowers and to your Reception Flowers.  It is my job to make it easy for you so let's start 'Talking Flowers'.
Urban Bunch Wedding Floral  Melbourne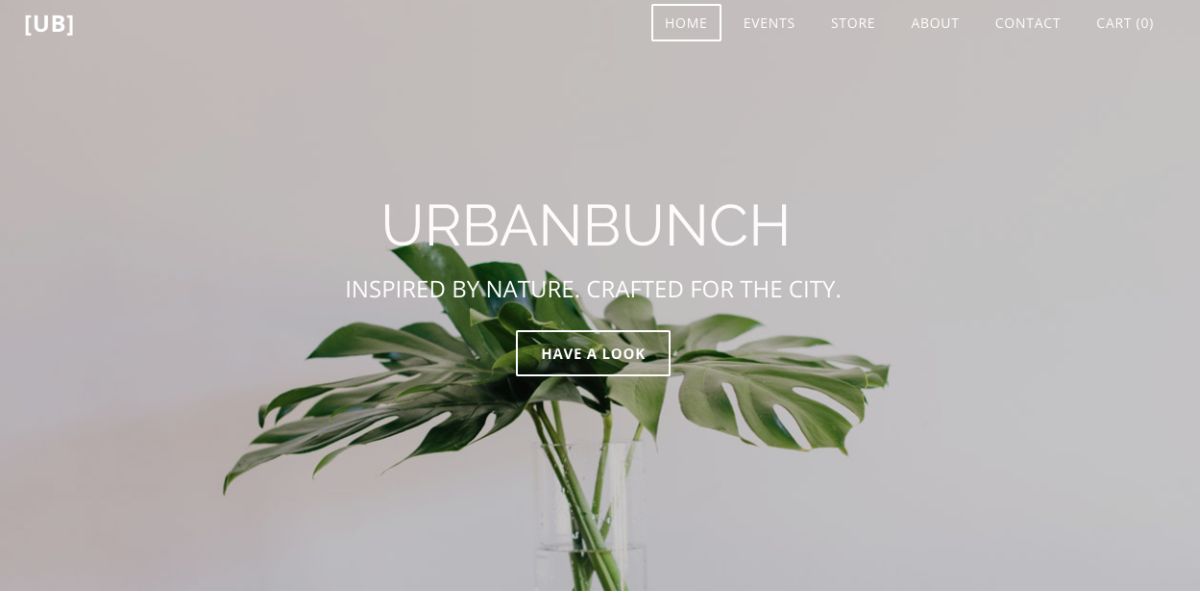 urbanbunch.com.au
491346855
SINGLE BLOOMS
URBANBUNCH delivers bunches of seasonal flowers/foliage for a flat rate of $35. Every bunch consists of SINGLE blooms, which means only 1 type of flower. We buy bulk what's best on the market this week and deliver to our business clients the same day. That way we keep the cost low for you. We do condition the flowers by cleaning and cutting the stems to ensure that your flowers serve you longer, but don't arrange them. It saves our time and your money.
OUR PICK
We do prefer to pick the best quality and long-lasting flowers ourselves in the category of your choice - Pretty, Leafy or Tropical bunch. However, if you are absolutely in love with lilies or just white flowers, let us know and we will do our best to deliver accordingly
EXTRA
Would like to order a couple of different bunches and arrange them yourself in your own vases? Simply add as many types of bunches to you cart as you need and check out. For an extra charge of only $10 we can quickly arrange your flowers on the place. We can also supply a vase for a flat rental fee of $15. You can keep it as long as you order flowers from us. Contact us to discuss any extras.