Looking for the best Wedding DJ in Melbourne, Victoria? Cosmopolitan Events website are experts in events entertainment. Today we'll cover live music, MC hire, entertainment, weddings and functions!
When you're looking for DJ or MC services for your upcoming event, don't settle for less! We've found you the most highly qualified and experienced Melbourne Wedding DJs or MCs. Our team will take the stress out of your planning and work with you every step of the way to guarantee your dream entertainment experience filled with energy and a fun-filled atmosphere for you and your guests to remember for years to come.
The
wedding reception
is almost as important as the ceremony itself, and music is the most important element to all of this. If you're looking for a premium
wedding DJ in Melbourne
, Victoria, you're in the right place. We've found Australia's number one choice for wedding DJ and MC services in Melbourne, and here is the list.
Add a header to begin generating the table of contents
Ultimate List of Best Wedding DJ Melbourne
Melbourne Entertainment Co. Melbourne Entertainment Company

Melbourne & Surrounding Areas, Mornington Peninsula & Yarra Valley/Dandenongs
1300 858 981
melbourneentertainmentco.com.au
bookings@melbentco.com.au
Custom Entertainment Performed by Youthful & Perfectly Presented DJs, Singers, Acoustic Duos, Sax Players & Live Entertainers
Our fresh mixes by Music Curator, DJ & Saxophonist Nathan Op de Coul, are broadcast LIVE ON-AIR Nova 100 every Friday night 10pm-11pm.
We take a fresh & modern approach to wedding entertainment. The addition of live elements to our DJ sets is trending amongst Brides & Grooms, with the incorporation Saxophone, Percussion and Vocals impressively taking over the wedding scene!
In your personalised 1-on-1 consultation, we listen to your entertainment aspirations to create a personalised music concept for your special day.
Our exciting DJs and Live Entertainers understand the importance of delivering the perfect playlist on the most important and fun days of your life!
Entertainment Offering:
Expert DJ Entertainment
Hybrid DJs | Combining Sax or Vocals with DJ delivery
Saxophonists
Singers
Acoustic Duos | Guitarists
Percussionists
Bands
Pianists
String Ensembles (Duos | Trios | Quartets)
Photo Booths
Masters of Ceremonies
Roving Entertainment
Lighting
Event Management
Our Wedding Entertainment Packages include: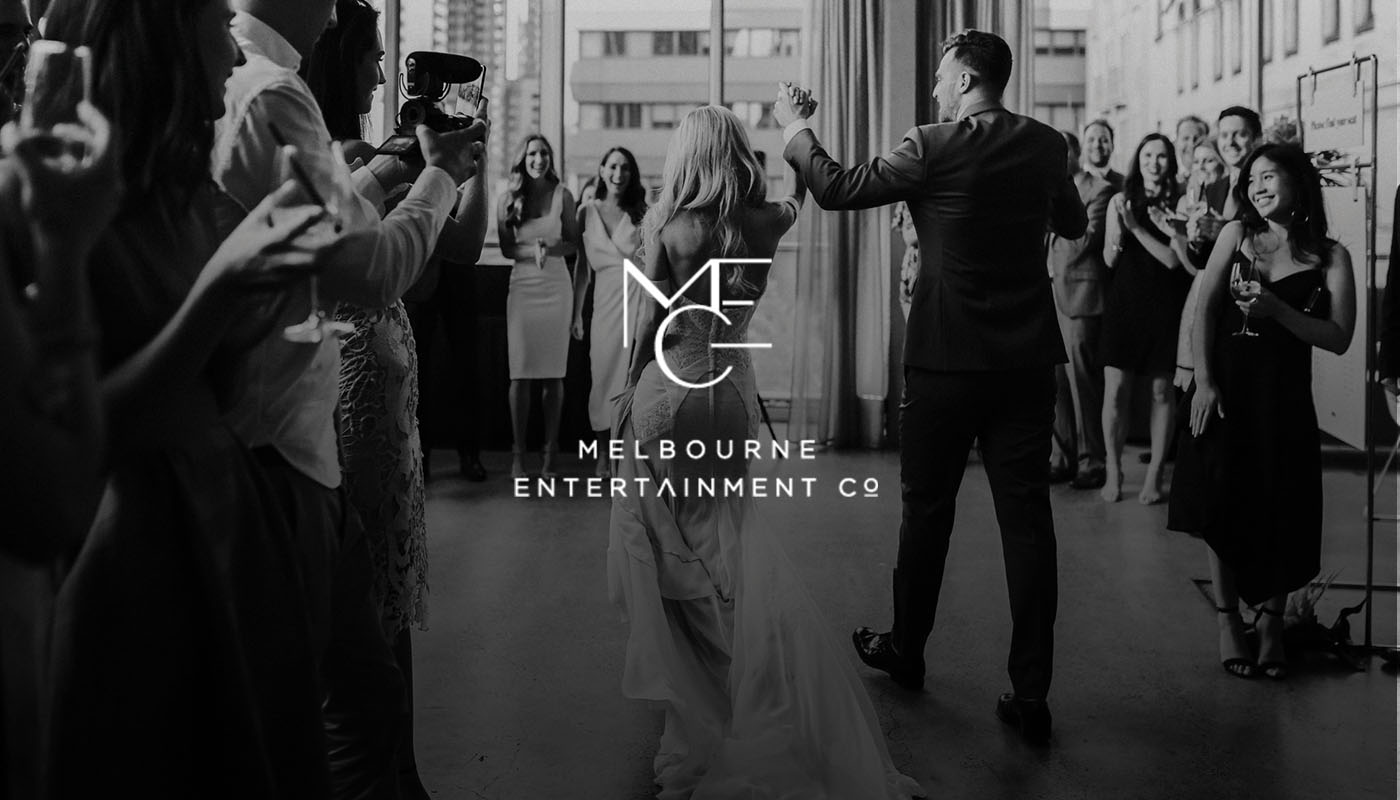 Personalised consultation to tailor your perfect playlist and meet your entertainment aspirations
Exciting DJs | Saxophonists | Singers | Bands or Live Musicians for your Reception
Beautiful Singers | Acoustic Duos | Guitarists | Pianists or String Ensembles for your Ceremony or Canapes
State of the art Sound Equipment and Black Surround DJ set up
Wireless microphones for speeches
Perfectly presented entertainers: Males, full suit, tie, pocket square & rose gold tie pin | Females: beautiful formal cocktail attire
A fun, sophisticated, unique & memorable element to your wedding
The highest level of personal customer service from the moment you contact us
DAMIAN ANDRES-
MELBOURNE WEDDING DJ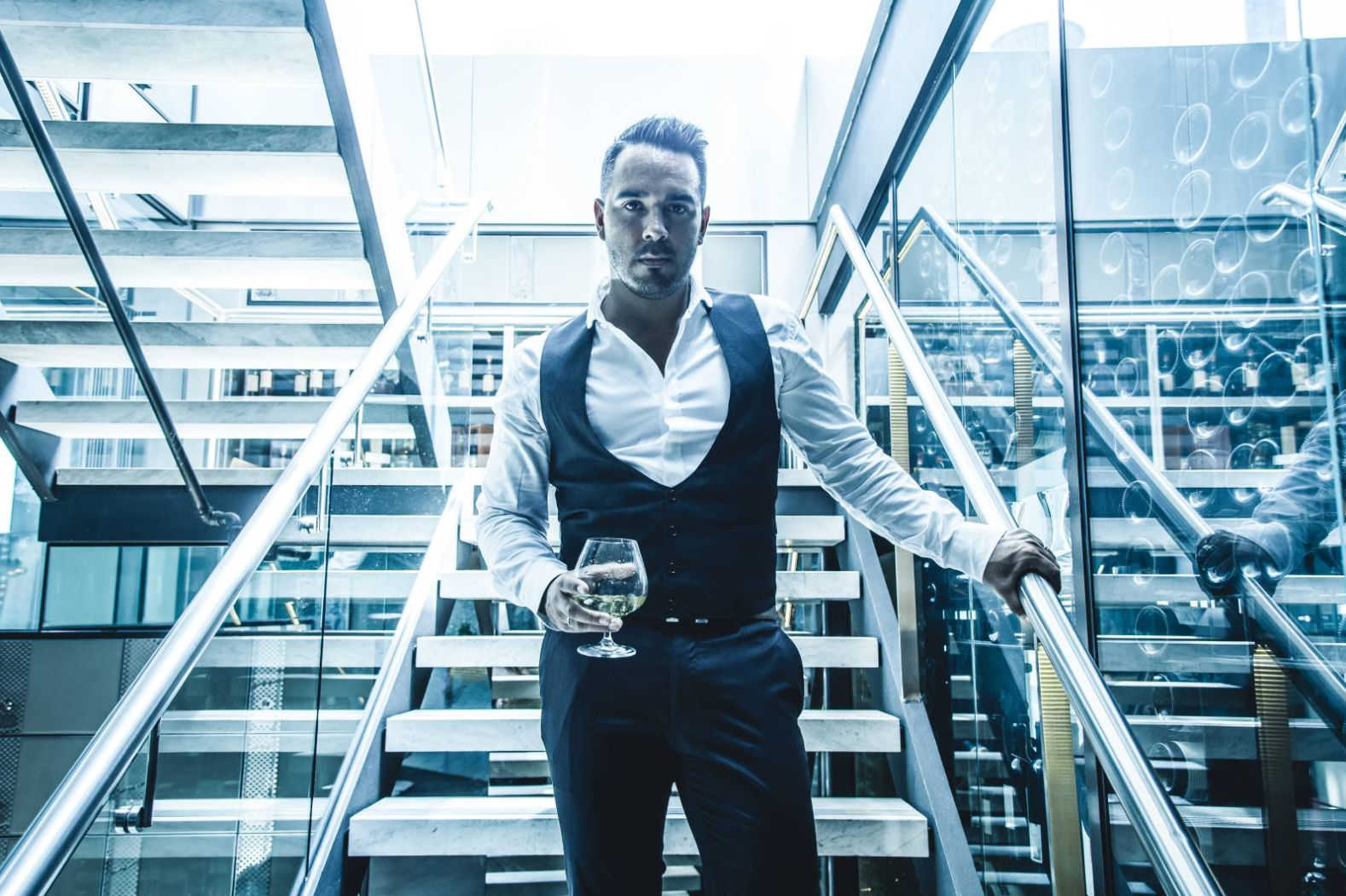 Boasting a massive collection of music spanning across all genres as well as a 15-year career of DJingin clubs, festivals, weddings, corporate events and internationally, its safe to say there isn't a party situation Damian Andres hasn't played for. Starting out as a wedding DJ and MC, Damian quickly gained notoriety for the ability to cross genres seamlessly, be it house, top 40, hip hop or even classic rock or pub tunes, all the while maintaining a full dancefloor!
A club career followed, obtaining residencies at notable venues in Melbourne CBD and in the suburbs before the creation of a Daft Punk tribute show–'Discovery'–sent Andres and business partner Matt Campbell onto the touring circuit, DJing shows at every capital city in Australia as well as trips to New Zealand, Bali, Jakarta, Vietnam, Thailand, Ecuador and Papua New Guinea!
This touring act continues today, however, in between shows, Damian Andres continues to play at weddings and corporate events, providing full audio equipment, lighting and MCing duties. Audiences frequently compliment
Andres' fluid style of blending tracks and maintaining an upbeat tempo, whilst also being able to play a more mellow style depending on the scenario.
There is no doubt that this sharply dressed DJ will be a perfect fit for any event.
NOTABLE CAREER HIGHLIGHTS
Albert Park PoloPortsea
Polo after party at Continental Sorrento
New Years Eve at Sydney Harbour Bridge
Melbourne F1 Grand Prix
New Years Eve @ Sky High, Mt Dandenong
Big Bash Cricket @ Melbourne Cricket Ground
Toyota Awards Gala, The Ivy, Sydney
Oktoberfest St Kilda & Williamstown
Artist links:Facebook:https://www.facebook.com/djdamianandres
Instagram: @damianandres
Soundcloud:https://soundcloud.com/dj-damian-andres
I-do - Wedding DJ and MC Melbourne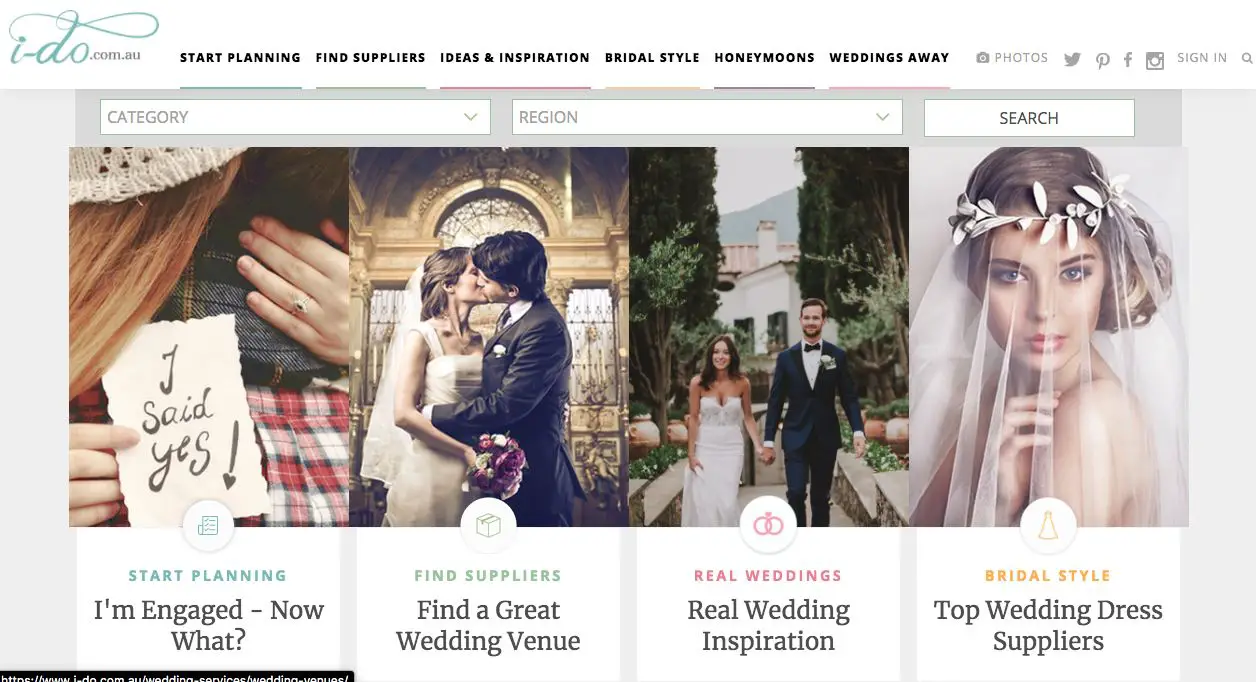 START PLANNING
Plan the wedding that you want in a style that's all you. We share everything you need to ensure you plan like a pro. From planning a sensational ceremony and reception, to setting a budget and sticking to it. From tackling etiquette issues to writing an awesome wedding speech and most importantly reciting the vows you will share together forever.
WEDDING CEREMONY GUIDE
START PLANNING
Start your marriage off in a way that's true to you! The sorts of traditions, beliefs or religious views that are close to your heart can impact your big day and help you to theme and plan the event. Whether that means writing your own vows, including a hand blessing or a remembrance ceremony - or something else altogether - don't be afraid to think outside the square.
PROFESSIONAL MASTER OF CEREMONIES
AUSTRALIAN
Need to find a professional Master Of Ceremonies for your wedding? Browse the following directory of professional Master of Ceremonies servicing Australian, who are experienced wedding MC's and will conduct your wedding night ensuring it runs to schedule so you need not worry about a thing.
Midnight DJ's - Wedding DJ and  MC Melbourne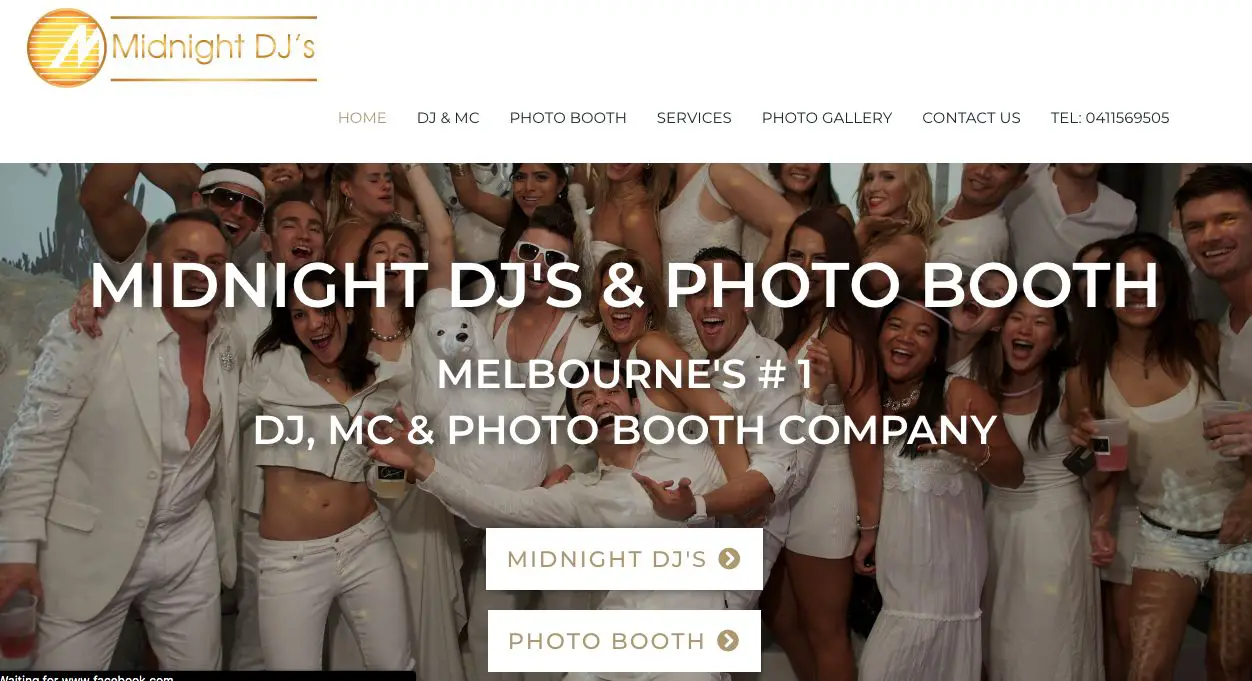 411569505
ABOUT MIDNIGHT DJ'S
Whether it's managing the reception for your ideal wedding or organising the ideal corporate event, Midnight DJs will go above and beyond your expectations by taking the extra time necessary to go over every detail of your event with you. Midnight DJ's has one simple goal … Make sure everyone has a great time on the dance floor and lots of memories to take home!They create this feeling by coordinating your day with you by offering just the right blend of leadership, communication and experience, resulting in a momentous occasion for all with simply great entertainment.
James Leversha Personalised Entertainment - Wedding DJ and MC Melbourne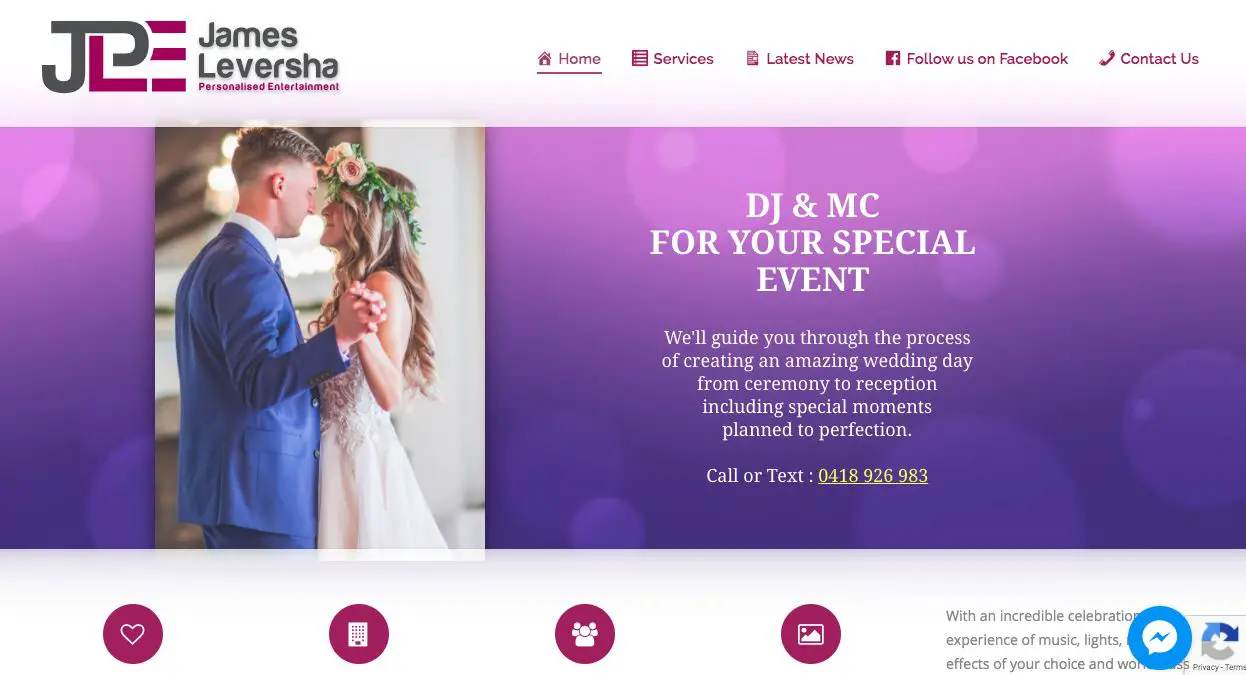 418926983
Personalised DJ and MC for your event
Let us create an amazing event tailored to you!
Our aim is to provide our clients with the best value, quality and service in the industry, with a reputation for excellence. We aim not only to meet the expectations of all parties, but also to continue to exceed them and maintain our competitive edge.
Wedding DJ & Master of Ceremonies
When was the last time you were actually SUPRISED at a wedding reception? Can you remember the last reception you were at where nobody wanted to leave? Reception boredom is the #1 cause of guests leaving your wedding and not enjoying themselves. I want your wedding reception to be unforgettable. Ask us how we can create that "wow" factor at your event.
Celestial Band Wedding Singer Melbourne
0467 375 489
Your Day, Your Way
Greetings on your recent engagement and finding the love of your life! It's time to start organising your dream wedding right away! Ms. Lexi & Celestial Band is an expert at providing top-notch live music all day long for your wedding. Our Acoustic Duo or Solo artist often begins the day with music at the Ceremony (including guest arrival, aisle song, signing song, and exit) and continues playing during your Canapés hour. This is completely customizable.
When we step up the rhythm and play as a 4- or 5-piece traditional band for your wedding reception, the fun really begins!Born and raised in Melbourne, Lexi Ross is a singer, keyboardist, and band leader. Our live band is guaranteed to have your guests up on their feet dancing the night away! Have a look at our Showcase videos to see our Soloist, Acoustic Duo and full band performing! We have a generous range of special offers, plus a secret complementary pre wedding gift to give you, ensuring that you have the most amazing experience with Ms Lexi & Celestial Band in the lead up to your wedding, and on the day! Finally, we are happy to learn song requests and yes, we service the whole of Victoria!
Wedding Band Packages from Ms Lexi & Celestial Band
Below are just some ideas of our different wedding band packages you may like to choose for your Wedding or Special Event. Enquire with Ms Lexi & Celestial Band today and tell us about your ideas. You might like to book a 4 or 5 piece band for your reception as well as an Acoustic Duo for your Wedding Ceremony. With Ms Lexi & Celestial Band, we'll do our best to make your entertainment dreams come true!
Instinct Events & Entertainment - Wedding DJ and MC Melbourne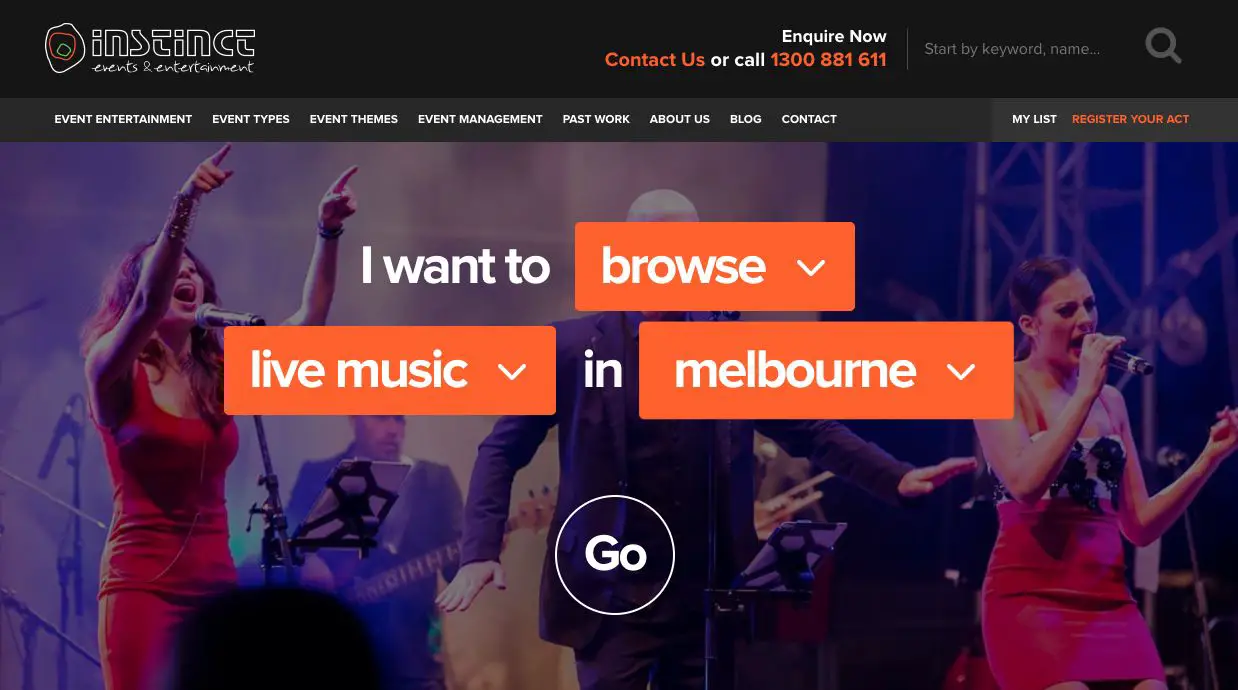 1300881611
As an entertainment agency and event management company, we are completely integrated. Both fields are expertly covered by one business, all under one roof! Our integrated approach and innate understanding of both disciplines allows us to deliver real results for clients, whether we're providing entertainment or event management services , or both. So what's mean for you? It Means We Get Guests Buzzing About Your Events.
We know if your guests are not talking about your event the next day, we didn't do our job properly!
Wedding Music & Entertainment
Music for your BIG DAY: Weddings! On behalf of the entire Instinct team, congratulations. Make sure that the celebration on your big day is one that you and your friends will never forget. We recognise that your wedding ceremony and reception are opportunities to celebrate who you are as a couple.
Design a uniquely you wedding. Make it your own while ensuring that everyone has a good time at the wedding. elderly and young. kin and pals. Being hip, cool, and edgy while also ensuring that everyone returns home with painful feet from dancing requires a delicate balance. Simple, huh?
Top-Notch Entertainment - Wedding DJ and MC Melbourne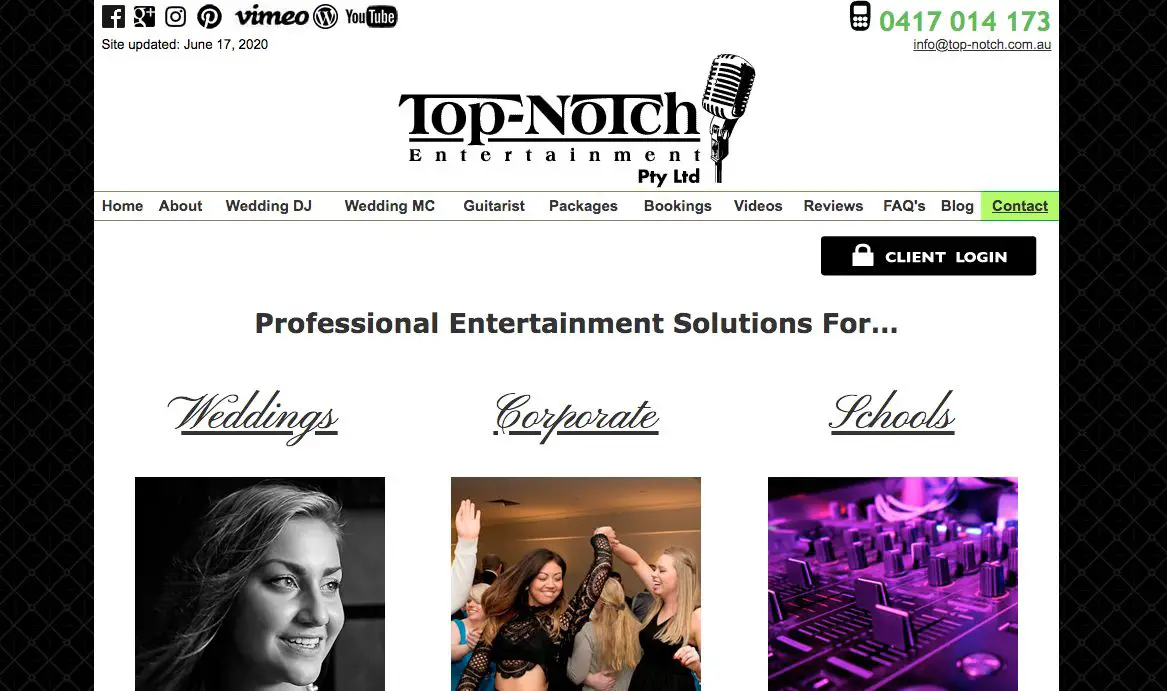 417014173
For weddings, schools, business events, and other special occasions, we specialise in offering expert entertainment solutions. We have the solution for you whether you need a Wedding DJ for your reception, a guitarist for your wedding ceremony, or merely a Professional MC to organise and organise your celebration.
Professional Wedding MC
Need A Professional Wedding MC At Your Wedding Reception. If you are in need of a Professional Wedding MC for your Wedding Reception, then you're in luck, we have one of the best around.
Paul is a trained public speaker who has hosted countless weddings and corporate functions at some of Australia's top hotel and reception venues.
Contact Paul to arrange a free consultation so you can discuss your needs. Whether you're looking for the "ideal" wedding MC who can confidently manage your reception or a compere with a unique flair for your next business event, Paul can help.
JAG Entertainment - Wedding DJ and MC Melbourne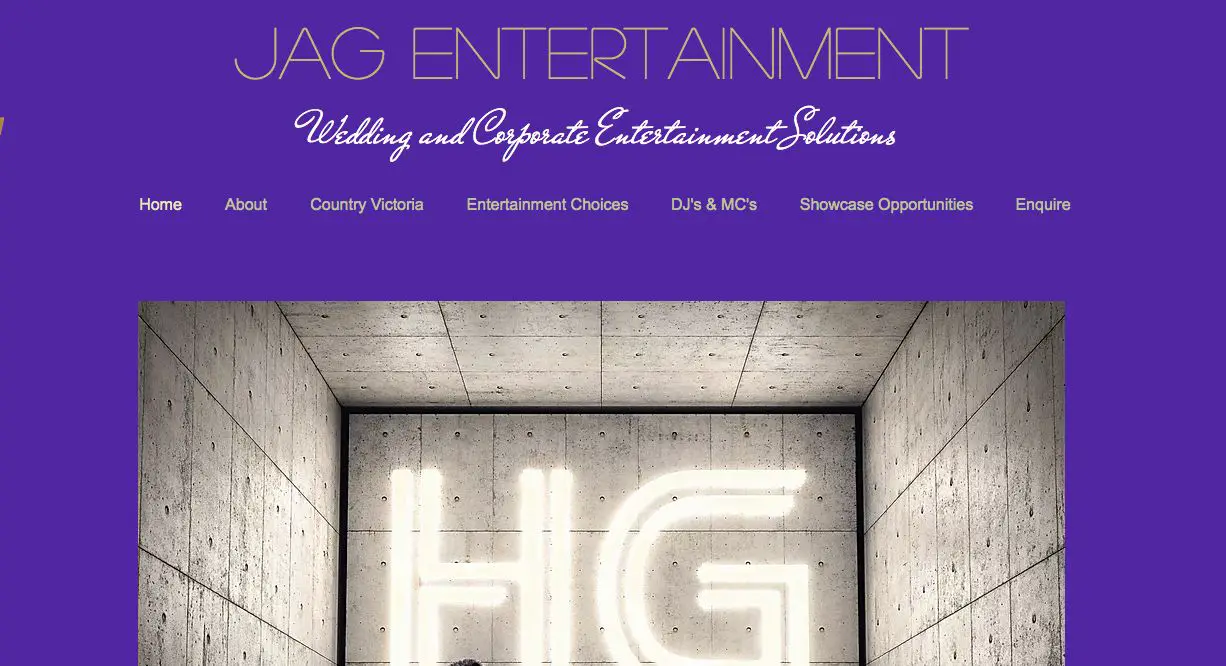 1300030331
ABOUT
Our staff are all professionals and have been in the entertainment industry for many years.  Customer service is a major priority and our main focus is to ensure you are matched perfectly to your chosen entertainment.
Most JAG bands have a special night where you may see them; these showcase nights are always free, informal, and a perfect time to meet with your prospective band for your wedding or corporate event.
If there is an entertainer who is not listed, please always ask, we can certainly assist you and point you in the right direction.
Merrimu Receptions Wedding DJ and MC Melbourne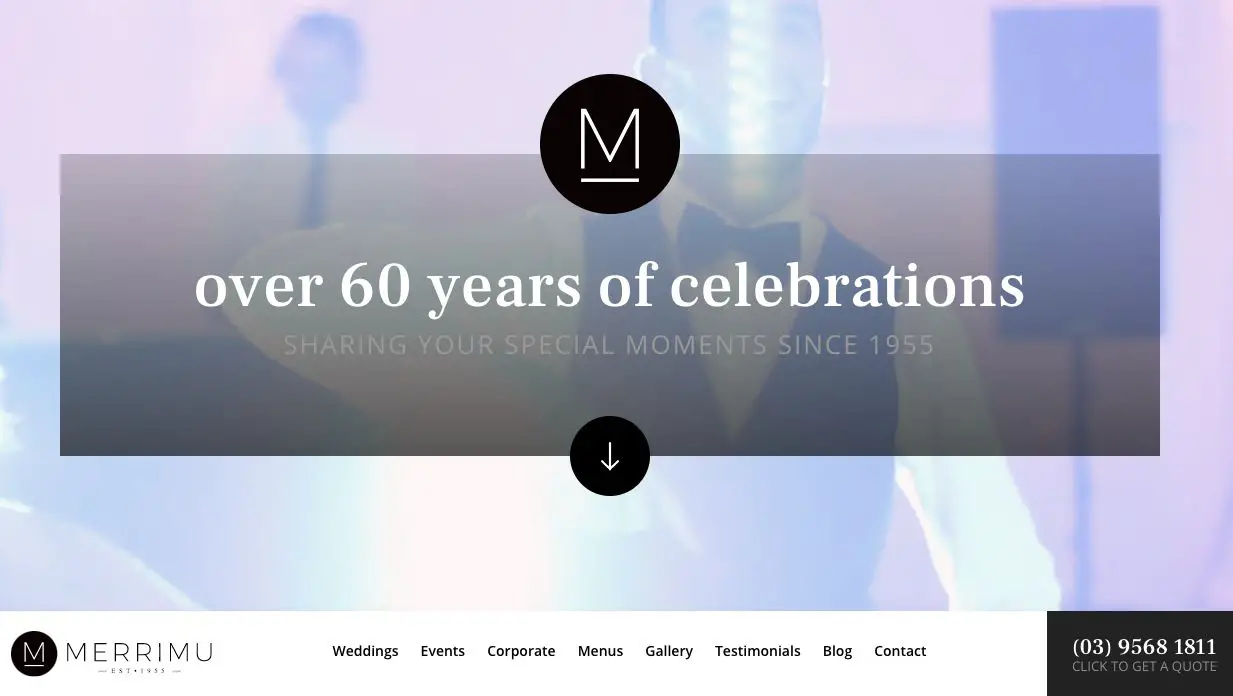 merrimu.com.au
1395681811
Discover Our Space
What distinguishes us from other venue sites is the breadth of our offering: in the last decade alone, we've catered for weddings from all over the world, designing and preparing the venue to suit and respect the traditions of different religious and cultural backgrounds. With its stunning setting, ballroom, and dancefloor, an event at Merrimu will be remembered for a lifetime. Furthermore, it's a photographer's dream setting, so your wedding photos will be as distinctive and wonderful as your special day - or night.
Melbourne's Finest Function Venue
Whether you're planning a small, personal affair or a large, grandiose reception, selecting a wedding location is one of the most crucial elements in wedding planning.
There is bound to be a location that is ideal for your special occasion among the several function areas available, ranging from the sumptuous grand ballroom to the more private Merrimu room, in our quaint period style building with a long and proud history dating back to 1955.
Halogen DJ Company - Wedding DJ and MC Melbourne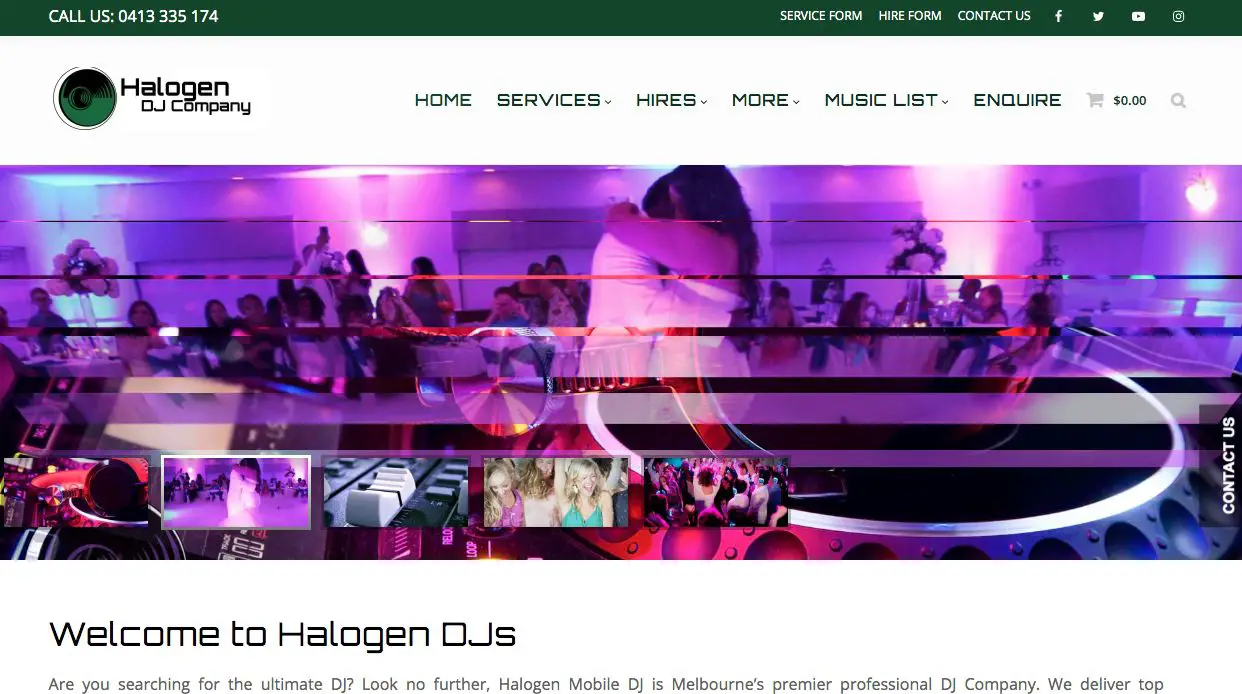 413335174
In addition to providing top-notch audio/visual equipment rental, we also provide excellent Disc Jockeys, Video DJs, Wedding MCs, and Karaoke Entertainers, to mention a few. Our DJs offer great value and are ideal for special events including 18th and 21st birthday parties, engagement parties, weddings, business gatherings, school formals, graduations, presentation nights, or any other type of celebration.
Our Melbourne DJ services strive to provide top-notch client care in addition to our cutting-edge sound systems and effect lighting, which are appropriate for all events and occasions. We are proud in what we deliver, catering for all venues: reception centres, pubs, nightclubs, bars, hotels and more. No matter the venue or event our friendly, experienced mobile DJs will be more than happy to host the event & interact with the crowd, with additional MC services available at your request. We are a growing company and are always striving to increase the quality our customer service and equipment as we move forward. We are fully committed to making your special occasion a hit!
Whatever your event may be, you can be 100% assured that Halogen Mobile DJ Company will deliver the ultimate DJ Service. Check out our extensive online music database with over 10,000 songs to choose from, including Top 40 chart toppers, dance, 50s, 60s, 70s, 80s, 90s, disco, rock'n'roll, retro, pop, RnB, hip hop, rap, alternative rock, heavy metal, commercial house, electro house, trance, techno and jazz as well as a wide array of international music.
Black Tie Events - Wedding DJ and MC Melbourne
400447552
We concentrate in providing top-notch sound and have years of experience to get the party started. We offer MC and DJ services in Melbourne and the neighbouring suburbs of Victoria.
THE CEREMONY
WEDDING MARCH:
The traditional church wedding features two bridal marches, by two different classical composers. The bride walks down the aisle to the majestic, moderately paced music of the "Bridal Chorus" from Richard Wagner's 1848 opera "Lohengrin.
The practise stretches back to Victoria, Princess of Great Britain and Empress of Germany, who married Prince Frederick William of Prussia in a formal ceremony in 1858. Victoria, the eldest child of British Queen Victoria, chose the tunes on her own. She was a supporter of the arts who respected Mendelssohn's compositions and revered Wagner's.
Given the British propensity for following the monarchy, Western wedding traditions were soon being established by brides from all over the Isles, nobility and commoners alike, marching to Victoria's drumbeat.
BRIDESMAIDS AND GROOMSMEN:
The wedding party has several historical roots, one of which dates back to the Anglo Saxon era. The "bridesmen" or "brideknights," the groom's pals, were needed when he was ready to kidnap his bride. They would see to it that the bride arrived at both the church and the groom's home. The "bridesmaids" or "brideswomen" were females who assisted the bride.
Apples and Pears Entertainment- Wedding DJ and MC Melbourne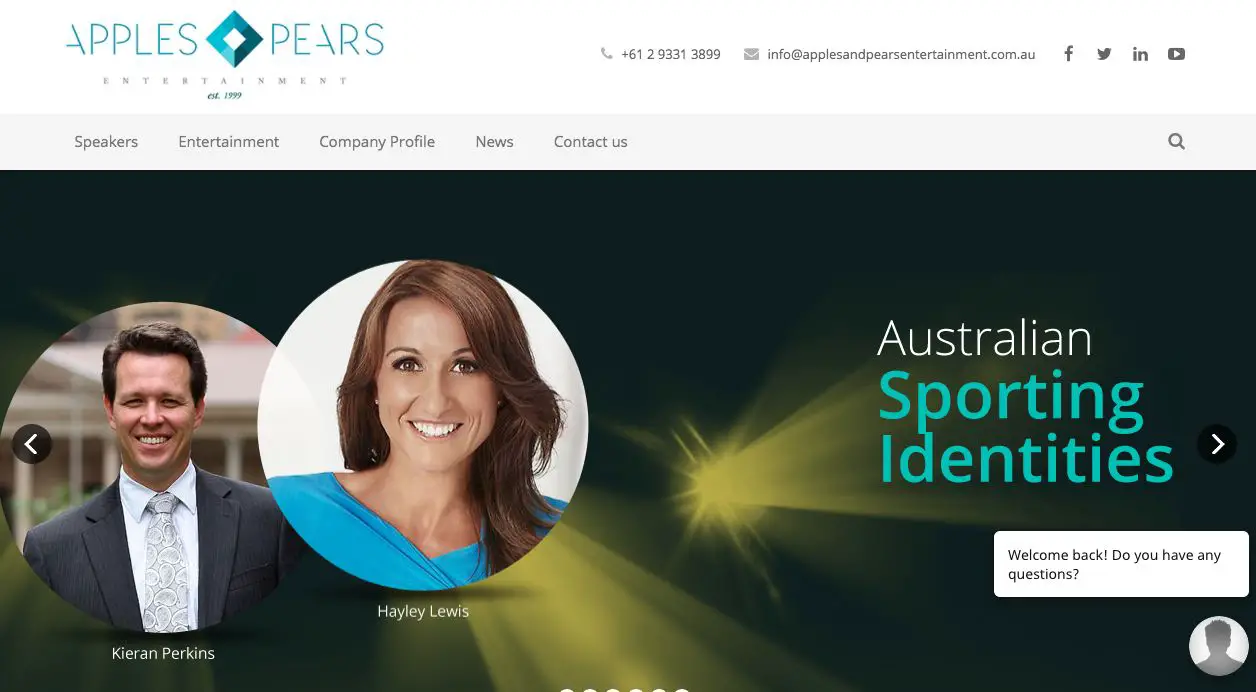 applesandpearsentertainment.com.au
293313899
Australia's Leading Entertainment Agency
While Apples and Pears Entertainment are known for providing Corporate Entertainment to big name clients – Big W, Clipsal, Herbalife just to name a few, we also specialise in providing exceptional Private Event and Wedding Entertainment. A.P.E's artist catalogue expands up to 1500 artists.
Our talent roster extends to Party Bands, Duo's, DJ's, MC's/Speakers, Fire Dancers, Magicians, Painters, Aerialists and more. A.P.E are determined to make your event special and memorable by providing top tier talent suited to your brief. Entertainment facilitation is our speciality and we guarantee that once you experience the peace of mind through utilising our services, you'll be back for more!
Wedding Entertainment
Every bride wants the perfect wedding, and every couple wants the smoothest ride possible. If you want your guests to rave about your wedding – and who doesn't? – the options can be practically endless and extremely daunting. Luckily, A.P.E Events has got you covered.
Want a live musician for your walk down the aisle? Our agency arm Apples & Pears has hundreds. Maybe you'd like to spice things up and have some dancers for the reception? They've got just as many.
Celebrity Speakers - Wedding DJ and MC Melbourne
1300557842
History House, home to Celebrity Speakers
We have provided entertainment, MC, and speaker recommendations to the nation's top business organisations and associations for an astonishing 40 years, helping them achieve their strategic objectives.
Celebrity Speakers represents the most well-known and respected motivational speakers, media celebrities, business leaders, athletes, icons, and entertainers in the nation. This vast talent pool of over 5,000 individuals is sure to please even the most picky audience.
Our history
For the purpose of educating and entertaining the nation's corporate executives, Celebrity Speakers Bureau was founded. The business swiftly grew to represent trainers, comedians, and celebrities.
For chairmen, chief executives, and top managers in the public and commercial sectors, Celebrity Speakers Bureau eventually started to provide training and courses on speaking, giving presentations, and media skills in order to meet increasing demand.
From unique offices at History House in Macquarie Street, Sydney, David and his team draw on their collective professional experience in finance, sales, marketing and entertainment to work closely with clients, understand their objectives and offer innovative solutions to meet their speaking and entertaining needs.