Located in Melbourne, Victoria, and on the hunt for a cosmetic eyebrow tattoo salon for a new look? Search no further! To get you started on your cosmetic tattoo salon hunt, we have compiled a list showcasing the Cosmetic Eyebrow Tattoo Salons in Melbourne.
Finding the right cosmetic eyebrow tattoo salon can be a stressful endeavour. After all, there are so many salons, options, and prices out there to consider.
Check out our range of microblading melbourne salon around Melbourne to help with your problems.
So, looking for a cosmetic tattoo salon to achieve perfectly applied, long-lasting makeup or make subtle enhancements to restore fullness and definition, there is a wide range of options available.
Add a header to begin generating the table of contents
Melbourne's Best Cosmetic Eyebrow Tattoo Salons
Rachel Bebe Cosmetic Tattoo Salon  Melbourne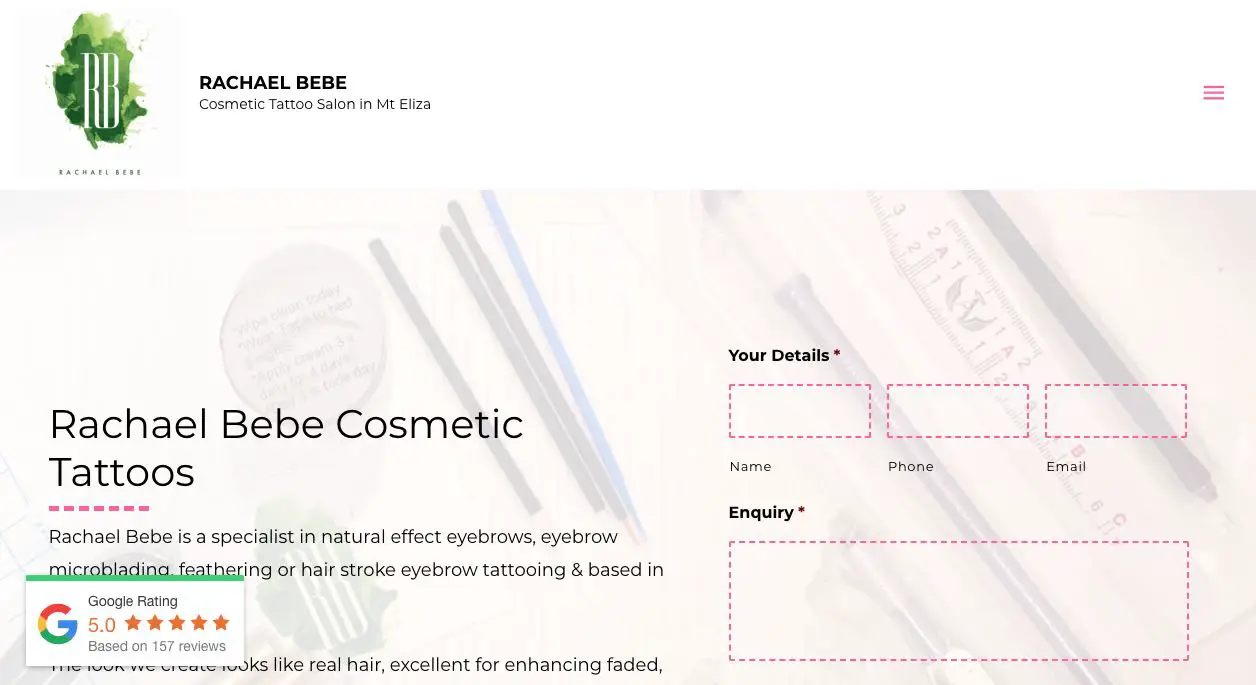 (03) 9787 7716
Rachael Bebe is a specialist in natural effect eyebrows, eyebrow microblading, feathering or hair stroke eyebrow tattooing & based in Mt Eliza, Victoria.
The look we create looks like real hair, excellent for enhancing faded, patchy and thin eyebrows, or creating those designer brows you've always wanted.
Cosmetic Tattoo Salon in Mount Eliza
Eyebrows are the most defining feature of the face. They frame your face emphasize your eyes and accentuate your expression. Brows & lips are pivotal in giving symmetry to the face. As an expert in the field of cosmetic tattooing & microblading & eyebrow feathering since 2008, Rachael Bebe has pioneered the most natural-looking 3D and 6D hair stroke (feathering, eyebrow embroidery) eyebrow.
MICROBLADING EYEBROWS MOUNT ELIZA
Rachael Bebe is a specialist in natural effect eyebrows. Eyebrow microblading, feathering or hair stroke eyebrow tattooing. It looks like real hair and is excellent for enhancing faded, patchy and thin eyebrows, or creating those designer brows you've always wanted.
When it comes to women's beauty and women's face care, there's always a new solution to take advantage of. But here at Cosmetic Tattoos by Rach, we use our proprietary technology and advanced microblading methods to provide a service that makes a real difference.
Microblading Mt Eliza 
Cosmetic Tattoos by Rach has seen tremendous success since our launch, and we've decided to turn our microblading and brow care service into its very own business to give our clients the attention and commitment that they deserve.
What we do 
Here at Cosmetic Tattoos by Rach, nothing is more important to us than ensuring that the women of Mt Eliza have the eyebrow and facecare solution that they need – whether it be an eyebrow tattoo, eyebrow feathering, microblading, or even semi-permanent makeup. We're always standing at the ready to ensure that you not only look and feel beautiful but that you believe it too.
Microblading Eyebrow Tattoo
Microblading (a form of Cosmetic Tattooing)  has been around for so many years, and it became popular here in 2017. The results are so natural and allow the brow to mimic a full natural brow best. Microblading is for ladies with brows, sparse brows, poor vision, or someone who wants perfect brows all the time of the day! The process is simply placing pigment in the skin (like a scratch) mimicking your natural hair, with lots of little strokes together will create the most divine perfect eyebrows you could ever imagine, I can make these brows soft and natural or darker and more full.  
On an actual day, we'll have a very thorough consultation, discussing what you do and don't want. We'll be talking about your skin, expectations and age-appropriate results for you. While this is happening, I'll put a little numbing cream to ensure you to be comfortable throughout the procedure.  On completion of your first treatment, you are advised how to look after your brows, and you'll be given an aftercare pack. These gorgeous new eyebrows will require the perfection stage, which is about 6 weeks then will offer you all the ease and benefit for 12 months (We'll be having an appointment after your perfection stage). The finished product will last up to 2-3 years.
EYEBROW FEATHERING MOUNT ELIZA
Rachael Bebe is a specialist in natural effect eyebrows. Eyebrow microblading, feathering or hair stroke eyebrow tattooing. It looks like real hair and is excellent for enhancing faded, patchy and thin eyebrows, or creating those designer brows you've always wanted.
Cosmetic Tattoos by Rach in Mt Eliza is a specialist in natural effect eyebrows. Eyebrow microblading, feathering or hair stroke eyebrow tattooing. It looks like real hair and is excellent for enhancing faded, patchy and thin eyebrows, or creating those designer brows you've always wanted. Using a very fine disposable needle customized pigment is etched into the superficial layers of the skin. Individual directional strokes fill in gaps or imperfections to create your desired effect.
Bid farewell to pencil-thin brows and embrace the latest eyebrow trends by Rach, Mt Eliza's leading brow expert.
There is no denying the eyebrow trend has become the new viral beauty plague taking over our screens and news feeds.
Eyebrow Feathering Cosmetic Tattoo Salon
Cosmetic Tattooing (also known as micro-pigmentation, Microblading, or Semi-Permanent Make-up) is a gentle process where a water-soluble pigment is deposited into the skin to create gorgeous, long-lasting colour. Cosmetic Tattooing enhances eyebrows, upper and lower eyeliner, the colour and shape of your lips, and even enhances your lashes.
Cosmetic Tattooing and Microblading devises I used to ensure absolute precision, hygiene, minimal noise and shorter treatment time, guaranteeing your process is just seem less with magnificent results Based on the Mornington Peninsula, in Mt Eliza (about 40 minutes drive from Melbourne), My name is Rachael Bebe, and I have been performing cosmetic tattooing to provide permanent make-up solutions and empower women for more than 16 years. It's your face, and you deserve the best!
EYEBROW TATTOO MOUNT ELIZA
Rachael Bebe is a specialist in natural effect eyebrows. Eyebrow microblading, feathering or hair stroke eyebrow tattooing. It looks like real hair and is excellent for enhancing faded, patchy and thin eyebrows, or creating those designer brows you've always wanted.
OMBRE EYEBROW TATTOO MOUNT ELIZA
Rachael Bebe is a specialist in natural effect eyebrows. Eyebrow microblading, feathering or hair stroke eyebrow tattooing. It looks like real hair and is excellent for enhancing faded, patchy and thin eyebrows, or creating those designer brows you've always wanted.
Your eyebrows say so much about who you are and how you express yourself - that's why we take their shape and maintenance so seriously. Cosmetic Tattoos by Rach is the perfect place for you to relax and have your eyebrows sculpted and maintained by a true Brow Artist.
We understand that true beauty does not end with your brows, so we have also created a carefully selected menu of additional services- from lash extensions to eye treatments to compliment your brow look.
For soft natural brow shading with no hard edges, ombre brows are the brows for you. Lasts approximately 2 years depending on the depth of the colour and aftercare. It is recommended to have ombre brows refresh once a year to maintain the tattoo and sure long and lasting results. Each client receives a thorough consultation and is created a tailored solution for their requirements.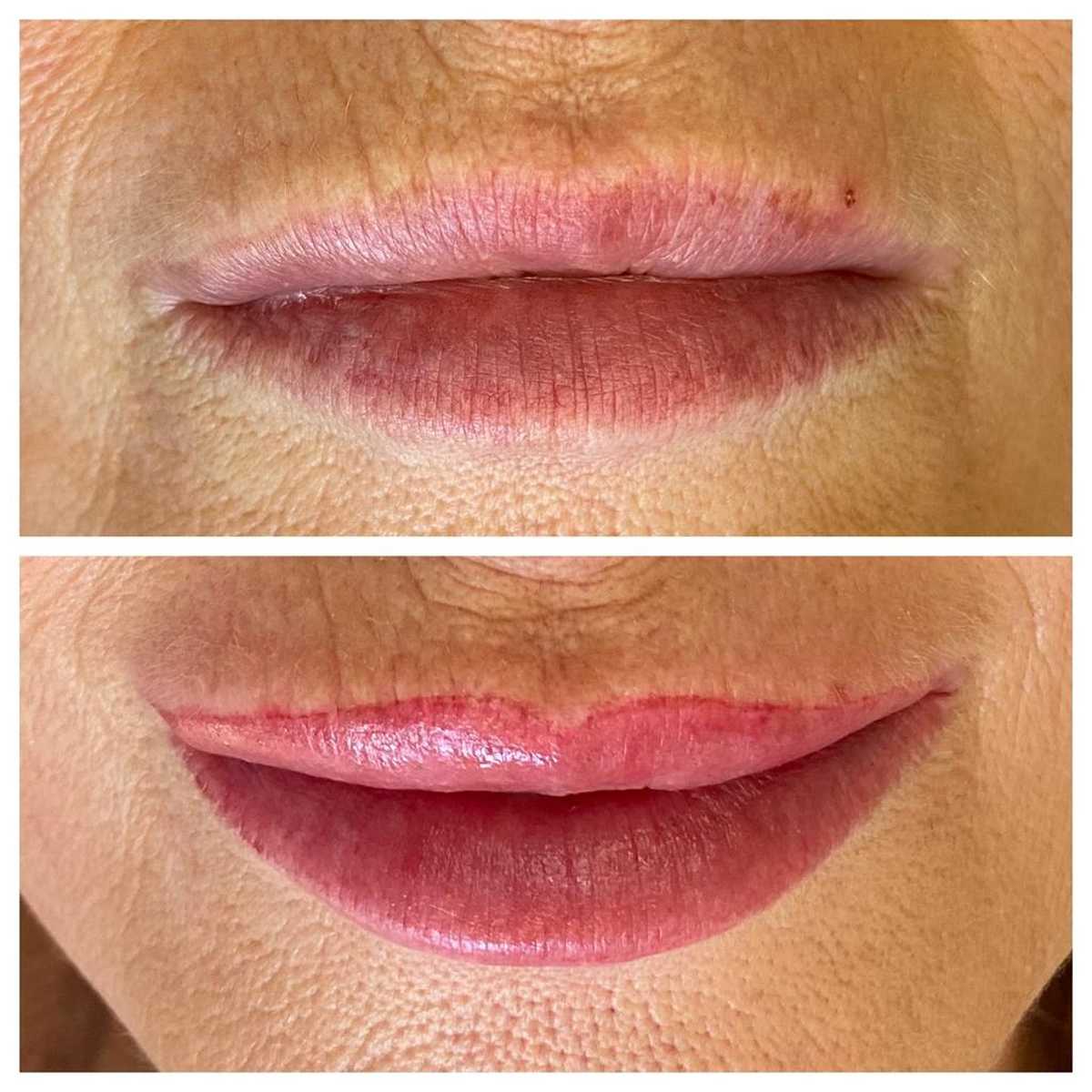 POWDER EYEBROW TATTOO MOUNT ELIZA
Rachael Bebe is a specialist in natural effect eyebrows. Eyebrow microblading, feathering or hair stroke eyebrow tattooing. It looks like real hair and is excellent for enhancing faded, patchy and thin eyebrows, or creating those designer brows you've always wanted.
Give your eyebrows the celebrity look.
Let's face it - your eyebrow's can either make or break those important first impressions. We offer dozens of brow services that can have you looking picture-perfect in under an hour. As with all of our treatments, we guarantee 100% satisfaction and use only the highest quality products and application techniques.
Presenting bespoke semi-permanent makeup options and located in Mount Eliza, we proudly offer cosmetic tattoos and beauty treatments for customers of all ages.
Cosmetic Tattoos by Rach specializes in hyper-realistic  Feathering eyebrows, Powder Mist Brow, Eyeliners, Lips and Lash Lift. We pride ourselves on our nano-needling and microblading and eyebrows tattoo techniques to cater to different types of skin. What we aim for is to give you to that perfectly crisp hair stroke, yielding long-lasting results. Although our products are of the utmost quality, fret not, our prices aren't.
This beautiful technique will create the perfect brow. It is just like when you pencil your brows for yourself. The process is, when you arrive (you would already have your numbing cream on), I will ask you to fill in some forms, and then we will talk about what you do and don't want, I am creating these new Eyebrows for you. I am listening to what you do and don't want, and I have the added benefit of being able to work beautifully on an older skin too (it is different and needs to be treated accordingly).       
This brow technique is very natural and beautiful, the difference between this and microblading is there will be no skin showing through in between the hairs like there is with microblading. The brows can be delicately soft and subtle or most intense, (there is a misconception that these brows are like block brows... now the way they are magnificent). Naturally, these brows also require the perfection stage, which is of course, in 6 weeks. Powdered/Ombre Brows will last about 2-3 years. The price? $740 for this procedure and it includes the perfection stage, aftercare, and your guarantee.
EYELINER TATTOO MOUNT ELIZA
Rachael Bebe is a specialist in natural effect eyebrows. Eyebrow microblading, feathering or hair stroke eyebrow tattooing. It looks like real hair and is excellent for enhancing faded, patchy and thin eyebrows, or creating those designer brows you've always wanted.
Have perfect wings all day every day with our eyeliner tattoo treatments
If we had a dollar for every minute we've spent in front of the mirror, tediously trying to get our eyeliner to look the same on both eyelids, we would be sailing on a yacht off the coast of Santorini! You can imagine the buzz at Cosmetic Tattoos by Rach when we got our hands on the amazing permanent eyeliner tattoo technology!
There is a whole lot of amazingness that transpires after an eyeliner tattoo treatment from Cosmetic Tattoos by Rach. Firstly, you'll wake up with fresh eyeliner each morning, ready to go! Thus, saving you at least 10 minutes in front of the mirror.
Secondly, eyeliner tattoo treatment is also cost-effective! Your back pocket will praise you, once you no longer have to fork out anywhere between $10 to $60 every time your eyeliner pencil runs out!
Thirdly, with your spare 10 minutes, you'll have more time to do the things you love like exercise or… Just kidding! 10 minutes is plenty of time to squeeze in an episode (or two!) of the latest thing you're binging on Netflix!
I believe this is what every woman should have. The colour that is applied around the eyes makes your eyes pop with colour, and they seriously come to life. This new splash of colour around your eyes is a very easy trick to make you appear younger. The colour will fade quite a bit before I see you again in 6 weeks, then I will redeposit more colour to make sure it lasts the 2-3 years. 
Have the eyeliner you deserve at $550 for thicker upper eyeliner, $440 if you want a natural eyeliner, $300 for the lower eyeliner. If you have your lower eyeliner tattooed at the same time as the upper eyeliner, then the price of the lower eyeliner is just $100. (special price)
Looking for a cosmetic lip tattoo salon? Look no further,we got you a list to look and save your time.
FULL LIP COLOUR TATTOO
Rachael Bebe is a specialist in natural effect eyebrows. Eyebrow microblading, feathering or hair stroke eyebrow tattooing. It looks like real hair and is excellent for enhancing faded, patchy and thin eyebrows, or creating those designer brows you've always wanted.
A lip tattoo is a professional procedure that involves inserting colour pigments into your lips with small tattooing needles. This may come in the form of tattoo art in your lip area or perhaps permanent makeup tattoo as an aesthetic procedure called cosmetic tattooing.
Whether you get inner lip tattoo or outside of your lips, you should know that both can be painful and prone to infection. It's important to know all the facts about these trendy tattoos to see if they're worth it for you.
Imagine this......you don't have to worry about reapplying lipstick all over again! The perfection in shape, colour, and the opportunity to make your lips beautiful is a dream come true!
You don't have to worry about pain because I have sensational anesthetics that ensure you are so comfortable during the procedure. I require my clients to come back in 6 weeks for their perfection stage, applying more colour to the lips. The price for your perfect new lips is just $770.
LIP LINER TATTOO
Rachael Bebe is a specialist in natural effect eyebrows. Eyebrow microblading, feathering or hair stroke eyebrow tattooing. It looks like real hair and is excellent for enhancing faded, patchy and thin eyebrows, or creating those designer brows you've always wanted.
Defining the lip border and creating a contour with a gradual fade from the lip line. Enhancing the lips with the liner and contour can give the illusion of increased size and a healthy colour.
If you opt for a lip liner tattoo, you'll find that it gives your lips more definition. The procedure also corrects uneven lips and will result in a fuller more youthful appearance. A liner tattoo also helps prevent your lipstick from bleeding as well as minimising the appearance of wrinkles. You can either choose a softly lined look or go for a more defined shade for a lip-liner effect.
Imagine this......you don't have to worry about reapplying lipstick all over again! The perfection in shape, colour, and the opportunity to make your lips beautiful is a dream come true!
You don't have to worry about pain because I have sensational anesthetics that ensure you are so comfortable during the procedure. I require my clients to come back in 6 weeks for their perfection stage, applying more colour to the lips. The price for your perfect new lips is just $770.
Semi-Permanent Makeup Salon in Mornington
Cosmetic Tattooing (also known as micro-pigmentation, Microblading, or Semi-Permanent Make-up) is a gentle process where a water-soluble pigment is deposited into the skin to create gorgeous, long-lasting colour. Cosmetic Tattooing enhances eyebrows, upper and lower eyeliner, the colour and shape of your lips, and even enhances your lashes.
Cosmetic Tattooing and Microblading devises I used to ensure absolute precision, hygiene, minimal noise and shorter treatment time, guaranteeing your process is just seem less with magnificent results Based on the Mornington Peninsula, in Mt Eliza (about 40 minutes drive from Melbourne), My name is Rachael Bebe, and I have been performing cosmetic tattooing to provide permanent make-up solutions and empower women for more than 16 years. It's your face, and you deserve the best!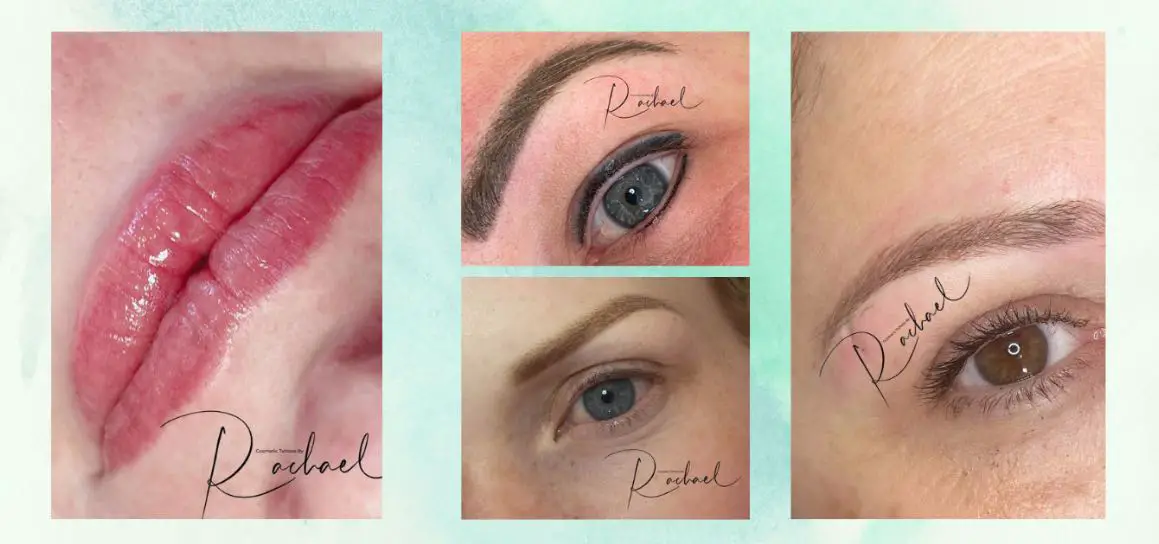 Rachael Bebe is based on the Mornington Peninsula and has been performing Cosmetic Tattooing for over 16 years.​​​​​​​
My Experience is what should impress you most, and that is 16 years, of Cosmetic Tattooing together with Cosmetic Skin Treatments, and basic beauty procedures.  My passion was the creative artistic side being the Cosmetic Tattooing, and I took to doing more and more courses. I became so busy with Cosmetic Tattooing, Feather Touch Brows & Microblading, that it took over my business and now that's all I do at my beautiful Salon In Mt Eliza.
How lucky was I…now I am doing what I love day in day out. (and….. get paid for it…. a big bonus).
There was more though, and I found that I gravitated to a mature aged woman,  our skins are more difficult to deposit colour into accurately and precisely, my lady always hated the fact that they were ageing, and didn't feel fabulous like they used to. So after the Cosmetic Tattoo treatment, whether it be Microblading, Feather Brow, Powder Brows, Lip Tattooing or Cosmetic Tattooed Eyeliner, she was left looking and feeling amazing.
 It was then I realised my hobby, my passion, and I desired to empower women, to make the 45+ lady feel beautiful again in her own skin…. all through the use of Colour.
Now 16 yrs ago when I began, ladies didn't discuss with their friends that they had had Cosmetic Tattooing performed, as it was "Vain", and no woman wants to fit into that category… Right? (Well I have an answer for that), Look good, feel great... 
Simples, are you worth it? My word, you deserve it! 
All you have done for your family, and you want a little colour in your life,  it is simple, yet we don't make it ok to look after ourselves. Yes we are ageing, yes things are heading south, yes someone threw some lines on our face while we slept, and snuck a lot of fat into our food while we weren't looking… and pretty soon (if it hasn't already happened), someone is going to throw climate change into our bodies to mess with everything else. 
The Positive….. we are still alive… Look after yourself, be true to yourself, and you are entitled to love yourself. So if you hate drawing on your eyebrows every day, have them applied beautifully (they are even waterproof), if you can't see to apply your eyeliner anymore, have it applied so you know it won't smudge or wear off during the day. If you are wondering where your lip colour and shape went, but not yet ready to have them filled (although this can be done very tastefully) have some colour and shape applied to them to look like little rosebuds again. These are procedures that take on 1-2 hrs and last for 12months - 3 years.
Check out this microblading melbourne salon list which has everything you might need near you.
Eye Art Studio -
Cosmetic Tattoo Salon  Melbourne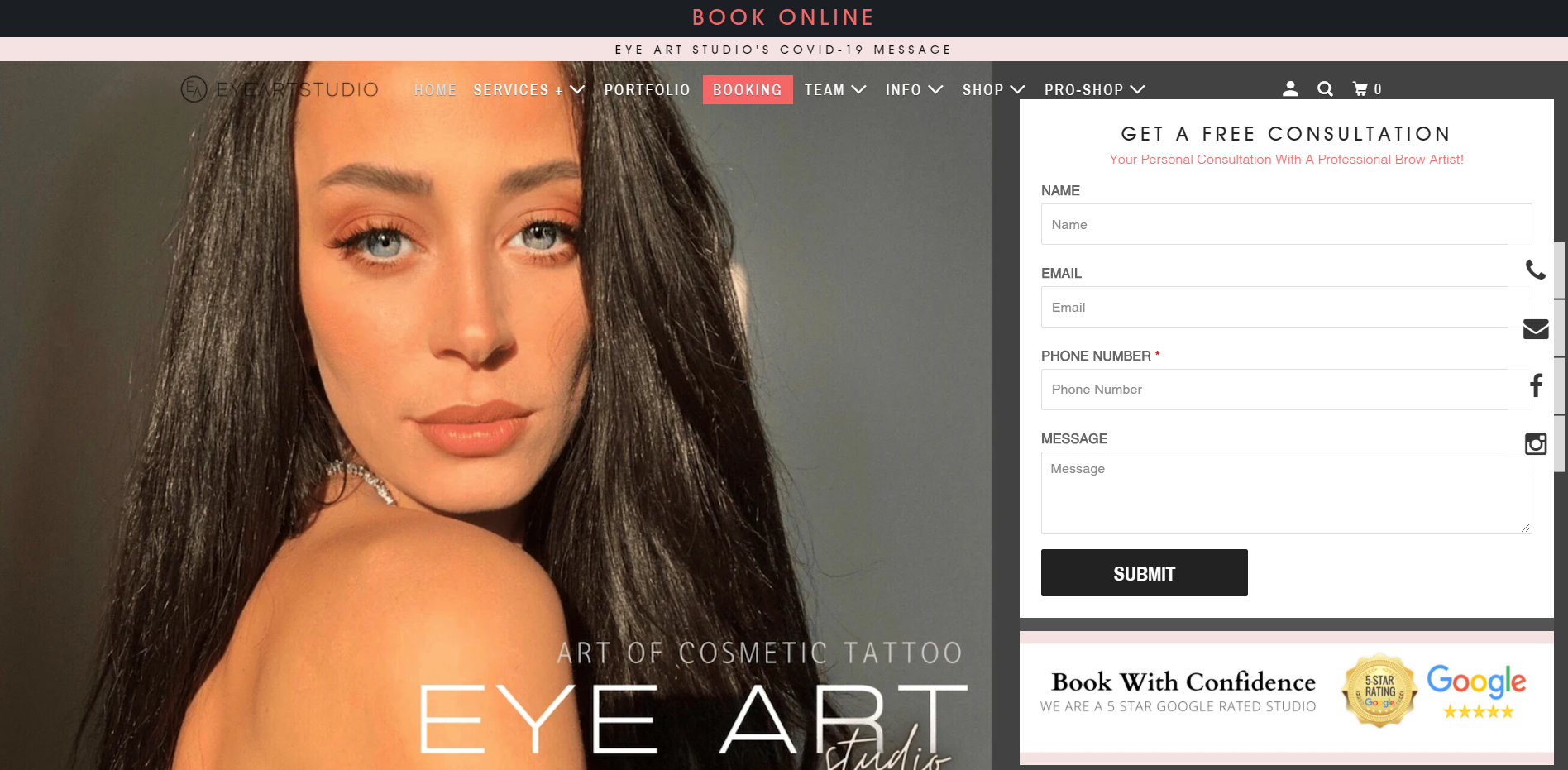 +61385288599
Located on Puckle Street - Moonee Ponds, in Melbourne, Eye Art Studio is a boutique day spa style studio specialised in Eyebrow Microblading, Men's Eyebrow Microblading, Ombre' Brow Tattoo, Combination Eyebrow Tattoo, Cosmetic Tattoo, Lip Tattoo, Eyeliner Tattoo, Eyebrow Tattoo Removal, Eyebrow Tattoo Repairs, Microneedling, Freckle Tattooing and 
Cosmetic Injections
Additionally, we also offer Eyelash Extension, Keratin Eyelash Lift, Brow Lamination, Eyebrow Sculpting for Men and Women.
All within a spacious studio that is zen, calming and professional for Clients and their Artists.
To date, Eye Art Studio remains one of Australia's highest-ranked Eyebrow Tattoo studios, according to Google and our customer reviews of their genuine experience.
EYEBROW MICROBLADING - MELBOURNE
Cosmetic Tattooing has evolved significantly over the past decade. Eyebrow fanatics can now rejoice in an expansive range of eyebrow tattooing techniques in Melbourne delivering supernatural and fluffy eyebrows which are undetectable to the human eye. One of the most popular choices being eyebrow microblading - also known as eyebrow feathering.
WHAT IS EYEBROW MICROBLADING? Cosmetic Tattooing has evolved significantly over the past decade. Eyebrow fanatics can now rejoice in an expansive range of eyebrow tattooing techniques in Melbourne delivering supernatural and fluffy eyebrows which are undetectable to the human eye. One of the most popular choices being eyebrow microblading - also known as eyebrow feathering.
OMBRE' EYEBROW TATTOO - MELBOURNE
WHAT IS OMBRE' EYEBROW TATTOO? Making its grand entrance into the cosmetic tattoo scene around 2017, the Ombre' Brow tattoo style has quickly gained its place as one of the most loved eyebrow tattoo techniques.
Unlike the older "block" tattooed eyebrows of the 1980's to early 2000's, the ombre' eyebrows deliver striking, defined, statement-making brows that still look natural. Ombre' tattooed eyebrows have a gradient air-brushed effect, with lighter fronts that gradually transition to a more saturated body and tail ends.
COMBINATION EYEBROW TATTOO - MELBOURNE
WHAT IS COMBINATION EYEBROW TATTOO? Combination Eyebrow Tattoo - also known as 3D eyebrow tattoo, or combo eyebrow, is a popular choice with our clients. Adopting the two eyebrow tattooing methods of microblading and powder brow tattoo,  the combination eyebrow tattoo technique delivers fuller, fluffier, more defined eyebrows that do not require extra filling in for those who want sharp, sleek, natural-looking eyebrows all day, every day.
POWDER EYEBROW TATTOO - MELBOURNE
WHAT IS SOFT POWDER EYEBROW TATTOO? Soft Powder Eyebrow Tattoo offers a stunning, soft, powdery finish which gives the illusions of pencilled or softly powdered over eyebrows, while still looking super natural. Soft power eyebrow tattoo should not be mistaken with the older style of "solid" or "block" tattooed eyebrows.
MEN'S EYEBROW MICROBLADING - MELBOURNE
We are proud to be Australia's most popular choice when it comes to Men's Eyebrow Microblading and Tattooing services. Our clients travel from all over Melbourne and across the states where they can expect desired results within a discreet, warm and welcoming environment.
WHAT IS MEN'S EYEBROW MICROBLADING? Men's Eyebrow Microblading (tattoo), also known as Men's brow feathering is a cosmetic tattoo procedure which delivers extremely realistic looking tattooed hair strokes that are both natural and masculine, blending in harmony with the existing natural hair strokes. Men's eyebrow tattoo is one of our most popular services. We have worked with countless male clients in achieving fuller, fluffy eyebrows to suit individual tastes. We are the number one choice for Men's eyebrow microblading in Melbourne.
We have worked with a variety of male eyebrows, from those with little to no eyebrow hair at all to those with just one eyebrow visible. Before a Men's eyebrow feathering treatment, a tailor mixed pigment colour is chosen to match your natural brow hair to perfection, while thorough brow mapping and shaping ensure you are comfortable with the shape and size of your new eyebrows before the tattooing takes place.
EYEBROW TATTOO CORRECTION - MELBOURNE
WHAT IS EYEBROW TATTOO CORRECTION? Eyebrow Tattoo Correction is the process of repairing tattooed eyebrows that you may no longer be happy with. Eye Art Studio's eyebrow tattoo correction is highly popular, with almost 50% of our new clients are those requesting help in correcting, or complete eyebrow tattoo removal.
Specialised in providing professional and results-focused treatment plans, we cater to each client's situation, restoring their self-confidence and happiness.
In most cases, we can repair and improve the unwanted eyebrow tattoo; other times, the only solution is an eyebrow tattoo removal. Your Artist will determine this during a consultation.
EYEBROW TATTOO REMOVAL - MELBOURNE
As cosmetic tattoo - especially eyebrow tattooing - becomes increasingly popular, we experience a drastic increase in new requests for eyebrow tattoo correction and non-laser eyebrow tattoo removal treatments. Our saline, non-laser brow and cosmetic tattoo removal service is the most popular choice in Melbourne due to results.
Please Note - "Before" photo (not our work) is a 1.5 years old microblading work that this client would like removed. The "After" photo is after 3 non-laser eyebrow microblading removal sessions with Eye Art Studio.
See more of our list of cosmetic lip tattoo salons near you.
WHAT IS EYEBROW TATTOO REMOVAL? Eyebrow tattoo removal is the method of fading, and or completely removing unwanted tattooed eyebrows, restoring them back to as close to their pre-tattoo state as possible.
The majority of eyebrow tattoo removal requests are those with concerns regarding their older "block" like eyebrow tattoos, overly saturated colours, wrong shape, size, uneven length and arches, or those with the pigment (ink) colours turning a blue, green, pink or red shade.
There are 2 methods of eyebrow tattoo removals, laser or non-laser techniques. Eye Art Studio offers an in-house method that is non-invasive, non-laser approach to removing unwanted cosmetic tattoos, with a proven record in delivering drastic and immediate results.
Our non-laser tattoo removal results are also suitable for unwanted eyeliner and lip tattoo. It is not suitable for the removal of body art. We are currently Melbourne's most requested non-laser eyebrow tattoo removal specialists.
BROW SCULPT
A BROW SCULPTING SERVICE BY IN-HOUSE BROW ARTISTS
Designer Brows doesn't get better than this. Have your brows designed, shaped, trimmed, waxed, groomed and sculpted by some of Australia's best Eyebrow Tattoo Artists. A tint is optional and included in our price. Our Brow Sculpt service is $75 for new clients and $50 for existing clients.
Our highly popular Brow Sculpt goes beyond a simple brow wax, as we treat it like an art form, as it should be. During our 30 minute session with your Brow Artist, your brows are mapped, measured, and a shape will then be designed to best compliment your natural features and lifestyle.
KERATIN EYEBROW LAMINATION
The latest favourite on the brow scene is the "soap" brows, spotted by every Blogger, Celeb and IT girls and guys. The "soap" brows can be achieved with the help of a bar of soap, and an old trusted brush, or, introducing Keratin Brow Lamination - the longer-lasting solution for "soap brow" fans.
WHAT IS EYEBROW LAMINATION? Our Keratin Eyebrow Lamination is a Keratin based eyebrow treatment designed to "set" your natural eyebrow hair in the desired direction, making them appear fluffier, fuller - brightening and opening up the eyes in the process.
Keratin Eyebrow Lamination can be booked with one or all of the following:
Keratin Lash Lift

Eyeliner Tattoo

Lip Tattooing

Freckle Tattoo

Skin Microneedling

Eyelash Extension

Cosmetic Injections
DOES BROW LAMINATION DAMAGE MY LASH?
Keratin based treatments do not harm your natural eyebrow hair. Following aftercare advice from your Brow Lamination Artist will help your eyebrow hair stay healthy and damage-free.
HOW LONG DOES BROW LAMINATION LAST?
Following aftercare instructions can see your eyebrow lamination treatment last anywhere from 5 to 8 weeks!
HOW MUCH DOES BROW LAMINATION COST?
Keratin Eyebrow Lamination's pricing is $90.00 at Eye Art Studio.
IS THERE A DOWNTIME AFTER BROW LAMINATION?
There is no downtime following an Eyebrow Lamination treatment. It is a walk-in walk-out treatment which takes approximately 45 minutes.
BROW LAMINATION vs MICROBLADING
Eyebrow lamination is a temporary treatment and does not change the colour of your eyebrows, it only enhances the shape and direction of your eyebrow hair. Eyebrow tattooing is recommended for long term results.
There are many choices for eyebrow tattooing, from the more natural (microblading) to ombre' eyebrow tattoo, combination eyebrow, or the bolder style of powder eyebrow tattoo. Eyebrow lamination can be treated over existing tattooed eyebrows once healed for maximum brow effect. View our eyebrow tattoo photos by visiting our Gallery.
EYELINER TATTOO - MELBOURNE
Eye Art Studio offers the Eyeliner Tattooing services to clients who wish to have stunning eyeliner all day, every day. Tattooed eyeliner is a wonderful cosmetic tattoo investment, being a permanent makeup procedure, clients can simply wake up and go without the morning liner application fuss. The style of eyeliner tattooing is adaptable to the client's request, with something as subtle as an eyelash enhancement liner, to the full-blown cat eye, winged style, thick, or smokey liner!
WHAT IS EYELINER TATTOOING? Eyeliner tattooing is a permanent makeup (aka cosmetic tattoo) procedure which delivers long-lasting, perfect eyeliner that you can wake up to, 24/7. An eyeliner tattoo means smudge-proof, on-point eyeliner all day, every day. No more uneven or running eyeliner in the morning, at the beach, pool or on tropical holidays, ever!
KERATIN LASH LIFT - MELBOURNE
WHAT IS A KERATIN LASH LIFT? Keratin Lash Lift is Eye Art Studio's Keratin based treatment for the eyelashes, which lifts, curls and enhances the natural eyelashes at once - from the base to the tip of each lash - making them appear longer, appearing thicker, brighten up the eyes.
IS KERATIN LASH LIFT SUITABLE FOR ME?
Keratin Lash Lift is suitable for everyone, including those with finer lashes to thicker and longer eyelashes. Keratin Lash Lift is highly recommended for those with straighter eyelashes which benefit from the added curve and volume.
DOES KERATIN LASH LIFT DAMAGED LASHES?
Done correctly by an experienced and qualified Artists, and with proper after and maintenance, Keratin Lash Lift does not damage the natural lashes.
HOW LONG DOES LASH LIFT LAST?
Keratin Lash Lift last between 5 to 12 weeks.
KERATIN LASH LIFT PRICES - MELBOURNE
Keratin Eyelash Lift is $90.00 inclusive - and takes approximately 45 minutes.
A welcoming, spacious and creative zen space with a minimalist modern Japanese vibe - accentuated by timber lines, a mix of modern and antique furnishing - where hand-selected, talented and passionate Artists offer specialised needle services.
The 7 multiple-purpose creative studios on the ground level have been designed with a lot of thought, love and care - from layout to lighting and ambience, making your visit a holistic, decadent experience.
Looking for a microblading melbourne salon? Look no further,we got you a list to look and save your time. 
Permanent Tattoo -
Cosmetic Tattoo Salon  Melbourne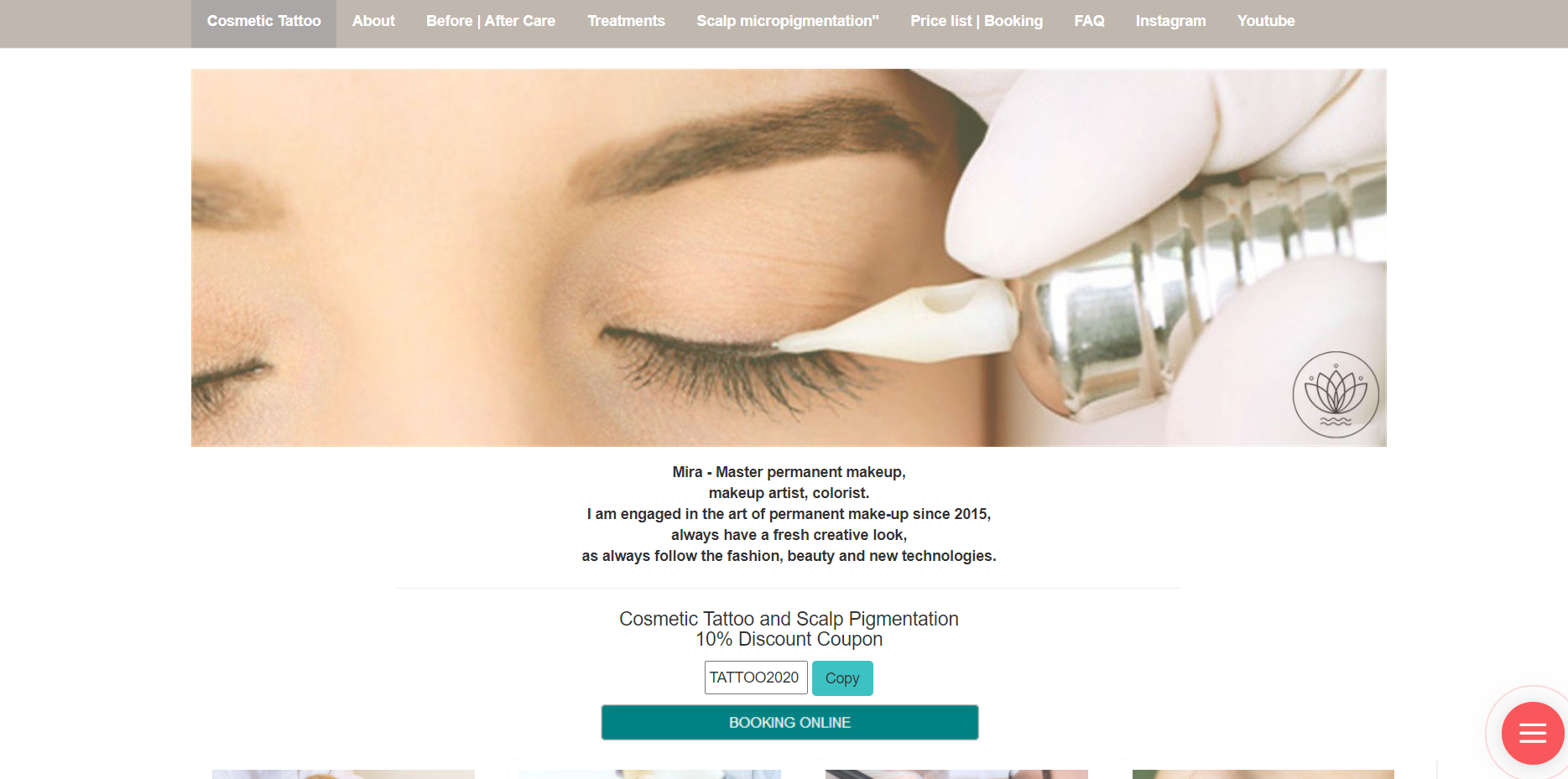 04 06 200 663
Mira - Master permanent makeup, makeup artist, colourist. I am engaged in the art of permanent make-up since 2015, always have a fresh creative look, as always follow the fashion, beauty and new technologies.
TREATMENTS
EYEBROWS
Eyebrows frame your face and open up your eyes. Perfectly shaped eyebrows provide symmetry to the face. If you have little or no hair, you will be amazed at the difference well-placed eyebrows will make to your appearance. If your hair is sparse or missing, this procedure can fill in the gaps and make your eyebrows appear natural and beautiful.
Feather/Hair stroke Eyebrows
Feather/Hair stroke Eyebrows are a very modern way of tattooing your eyebrows Small strokes or lines are used to fill the brow, giving the appearance of hair and creating a pleasing shape. Multiple colours can be used in this technique to provide highlights, thus giving a depth to the brow.
Powder Finish Eyebrows
The powder finish brow is a more solid brow. We use soft colours to make the brow appear more natural and less made-up. Powder finish is popular with people that have a lot of hair but want more definition to the brows.
BRO-VO Eyebrows
The BRO-VO eyebrows are a mix of two technique Hair stroke and light powder finish technique.
Check out our range of cosmetic lip tattoo salons around Melbourne to help with your problems. 
EYELINER
They say the eyes are the most beautiful feature on a person's face, so why not highlight them. Eyeliner can open your eyes and make them look bigger. We can create a subtle or dramatic look. We can also add colour to the lash line to make the lashes seem fuller.
Top Eyeliner
This procedure involves inserting colour into the area just above the lash line. It can be thick or thin and can be shaped accordingly. Top Eyeliner Tattoo line is created and finished with a wedge-shaped or winged tail.
Bottom Eyeliner
This procedure involves inserting colour into the area just below the lash line. It can be thick or thin and eliminate the need for mascara on the bottom lashes.
Lash Enhancement
In this procedure, - Cosmetic Tattoo Lash Line Enhancement will discreetly define and frame your eyes. Tiny dots/line of colour are implanted between the lashes creating fuller, thicker, lovelier-looking lashes. A Cosmetic Tattoo Lash Line Enhancement rejuvenates the eye area without the noticeable effect of make-up, for a strikingly fuller lash appearance.​
Eyeliner with eye shadow effect
This kind of permanent makeup is suitable for ladies of all ages. It looks very impressive and reminds of shaded lines of pencil or shadows along the edges of the eyelids. Eyeshadow is considered the best for aging eyelids. The small wrinkles on them can deform the applied contour, and due to its blurring, this effect will be absolutely invisible. Eyeshadow looks most natural, and an excellent option for every day. Eyeliner with eyeshadow makes out both the lower and the upper eyelid. With the help of tattoo-shadows, it is possible to round eyes, make their incision almond-shaped. Eye tattoo-shadows can be completely different in volume, but for this, it is necessary to take into account the individual shape of the eyes and eyelids.
LIPS 
Everyone wants beautiful lips. With permanent lip colour, we can fix irregularities, improve shape and colour and stop you from reaching for lipstick during the day. It is the perfect way to shape, enhance and colour your lips. A lip procedure can make your lips look fuller, more youthful and more symmetrical. Pale lip colour, blurred lip line, or scarring, can all be corrected and your lips will always look great with or without the addition of lipstick. 
Lip Line
Colour is implanted in the outer edge of the lips. This procedure is great for correcting the shape of the lips and giving them more symmetry.
Lip Blend
Like the lip line procedure, the lips are outlined and then the colour blended into the lips to give a softer looking line.
Full Lip Colour 
In this procedure, the lips are tinted with an all-over colour. Not only does this procedure enhance the lips, but it can also make the lips appear fuller and eliminates the need to apply lipstick.
Permanent makeup is a cosmetic technique which employs tattoos (permanent pigmentation of the dermis) as a means of producing designs that resemble makeup.
Who can benefit from permanent makeup?
People who don't have time to apply makeup daily

People with very little or no natural hair on their eyebrows or eyelids

Alopecia sufferers who have lost some or all their facial hair including eyebrows or eyelashes

Chemotherapy patients who may lose facial hair would benefit from permanent make-up before or after treatment.

Vision impaired people who have difficulty applying make-up

People with unsteady hands who cannot apply make-up, possibly through Arthritis, Multiple Sclerosis, Parkinson's Disease etc.

People who suffer from hay fever symptoms, such as watery eyes

Any one of the millions of people who suffer various allergic or sensitive reactions to conventional make-up

Professional women and men, entertainers, media figures, models, actresses

People who need/want to look their best all the time.
Ira Bale Brows -
Cosmetic Tattoo Salon  Melbourne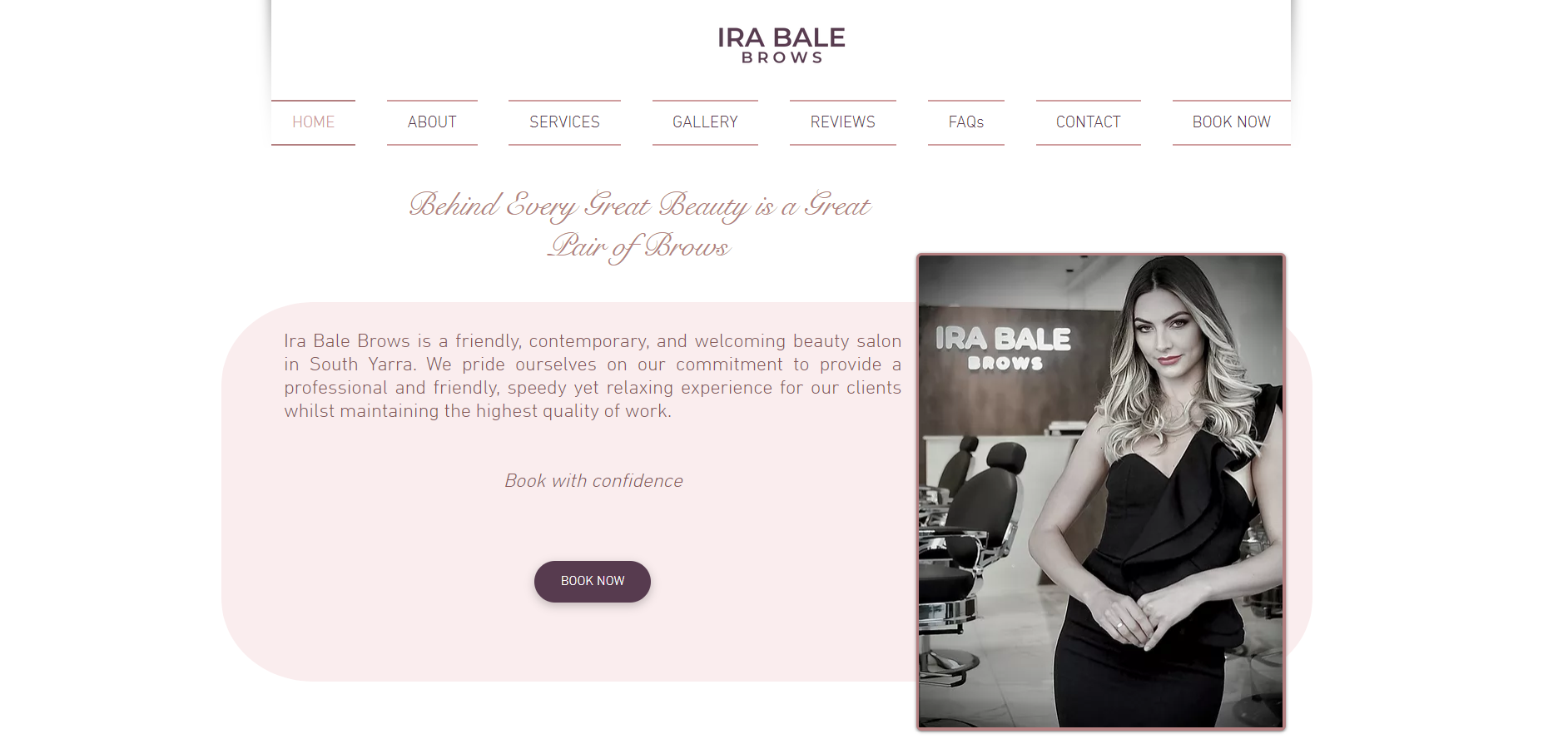 03 98 277 586
Behind Every Great Beauty is a Great Pair of Brows
Ira Bale Brows is a friendly, contemporary, and welcoming beauty salon in South Yarra. We pride ourselves on our commitment to provide a professional and friendly, speedy, yet relaxing experience for our clients whilst maintaining the highest quality of work.
You Must Never Underestimate the Power of Good Brows
We keep up-to-date with all the latest beauty trends and techniques. Professional services are carried out under strict hygiene standards in a relaxed environment where you will always be made to feel special.
Services
Brow Shape & Tint
We love the thick and fluffy brow trend and would like to keep our clients' brows thick and full. We remove the excess hairs to create a perfect shape tailored to you. Add tint to get the brows to k fuller and more pronounced.
Men Brows
We avoid redesigning the eyebrows. What we do is to follow the natural shape and make slight changes within reason to lift the brows and make them look groomed and polished.
Henna Brows
Henna is a great semi-permanent tint for the brows that stains the skin and creates a shadow-like makeup underneath the existing brow hair. Henna lasts longer than a normal tint.
Eyebrow Lamination
Eyebrow lamination is the new trend to get your featheriest brow ever. The goal is to achieve thicker, fuller, and fluffy brows without needing a brow gel. It Lasts for 4-6 weeks.
Eyelash Lift & Tint
Lash Lift is a low maintenance treatment that curls and lift your natural lashes in an upward position. It is a bra push up for lashes. It enhances the length and the shape of your natural lashes. Say goodbye to your lash curler.
Microblading
If you are tired of filling your brows and still can't get committed to any permanent solution Microblading is a good start. We draw hair-like strokes to mimic the natural hairs. The procedure is done with a hand tool to implant the pigment into the top layer of the skin. Microblading is a semi-permanent technique that fills the gaps and enhances the natural look of eyebrows. It Lasts between 6-18 months. Microblading is not suitable for oily skin.
Ombré/Powder Brows
Ombré/Powder Brows mimics the look of brow makeup with more defined filled in look. This technique gives a soft shaded and powdery look on the front of the brows. Ombré is performed with a machine that disperses extremely fine dots of pigments on the brows in an airbrush or shading technique. The final look is lighter from the front and darker from the middle to the end to achieve an ombré and powdery look. This method lasts longer than Microblading and suits every skin type.
Combination Brows
Combination brows is an ultimate brow treatment that combined both Microblading and Ombre/ Powder Techniques. With Combo Brows, the inner or the front of the brows is feathered with hair-like strokes while the tail is powdered for perfect definition. This technique is Ira's favour.
Beauty is About Having a Pretty Mind, Pretty Heart & a Pretty Pair of Eyebrows
Ira has been in the beauty industry since she was in high school and helped her mum in her beauty salon. She was managing the salon and working as a Brow Expert at the age of 21. Ira completed two Master's degrees from Australian and American globally renowned universities in International Business and Leadership in 2015. But she couldn't wait to continue her unique journey in the beauty industry.
She has a passion for aesthetics, as demonstrated in her ever-growing clientele in both Toorak and South Yarra salons. Ira has brought the brows and lashes services to a new level, and she has consistently advanced towards her ultimate goals, which are all about transformations and improvements in beauty services and products.
Golden Brows -
Cosmetic Tattoo Salon  Melbourne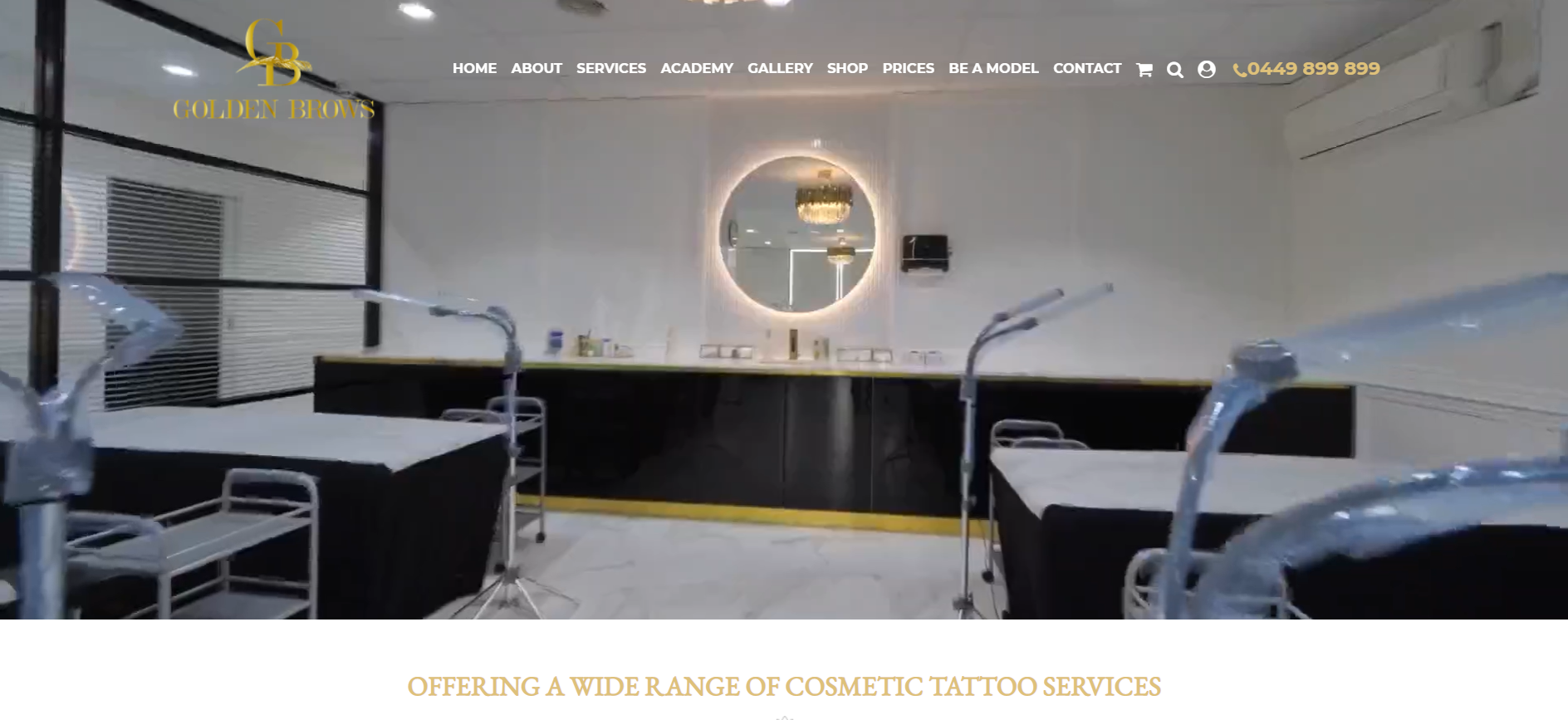 0449 899 898
PERMANENT MAKEUP IN MELBOURNE
Our range of cosmetic tattoo services includes eyebrow microblading, permanent eyeliner, lip tattoos and tattoo removal. We also run a very successful academy to teach our students the professional techniques of microblading and permanent make up. You can see the stunning results of our permanent makeup in Melbourne here on our website or our Facebook page. We have plenty of before and after photos to show you the high-quality of our work. There's nothing like tattoo makeup for precise results that illuminate your natural beauty. Whether you want microblading, eyeliner or a lip tattoo done, Golden Brows is the permanent makeup clinic for you. If you want the best results for permanent makeup in Melbourne, Golden Brows is the best destination. We can create magical effects with tattoo makeup that's so natural, and no-one will know it's a tattoo!
EYEBROW TATTOO
If you're looking to get a permanent eyebrow tattoo in Melbourne, we welcome you to visit Golden Brows. Our lead cosmetic tattoo artist, Master Tina Huynh, is a true master of permanent makeup, including the hair stroke eyebrow tattoo. We make use of a range of techniques, including microblading, ombré brows and combination brows.
TECHNIQUE 1 – MICROBLADING
Hair stroke eyebrow or microblading as it's also called is a form of temporary eyebrow tattoo. It is a semi-permanent makeup procedure whereby hair-like incision strokes are created along with eyebrows. These strokes attempt to enhance, reshape or create a natural-looking appearance on the brows. Microblading is done using a very fine blade to deposit pigment into the skin.
A hair stroke eyebrow tattoo will last between 9 and 18 months. Results can vary from person to person, depending on skin condition, type of skin, exposure to sun and reaction to the tattoo pigment.
TECHNIQUE 2 − OMBRÉ BROWS
Ombré brow eyebrow tattoo in Melbourne involves shading and blending in a technique that will create an ombré effect from the beginning of the brow to the end. This means that it starts light from the of eyebrow and fades to dark at the eyebrow tail, giving your brow a shapely yet natural look.
This cosmetic eyebrow tattoo treatment will last for about 2 years. Individual results will depend on the type and condition of your skin as well as how much sun exposure you regularly get. Different reactions to the tattoo pigment can also affect results.
TECHNIQUE 3 – COMBINATION BROWS (MICROBLADING & SHADING EFFECTS)
Combination brows are so-called because they are a combination of microblading and ombré-like shading effects to create a beautiful natural yet defined brow. The inner brow and the outer line are microbladed with hair strokes, and the tails are shaded to create the perfect definition. Combination brows suit clients that don't have much real hair and want perfectly shaped stylish brows.
The results from this treatment will likely last between 9 to 18 months. This time can vary depending on skin type, skin condition, exposure to sun and reaction to the pigment used for the tattoo.
PERMANENT EYELINER
If you're looking for the best permanent eyeliner, we invite you to come to Golden Brows and experience the highest calibre cosmetic tattooing by our very own acclaimed artist, Master Tina Huynh. She's appeared as a guest at international conferences on permanent makeup tattooing, and now she's at our clinic, ready to work on your permanent or semi-permanent eyeliner tattoo.
WHAT IS PERMANENT EYELINER TATTOO TREATMENT?
Permanent eyeliner or lash line enhancement can create a dramatic or subtle delineation around what is considered the most beautiful features on your face – your eyes!
LASH ENHANCEMENT TATTOO
A lash enhancement is the best permanent eyeliner solution for a 'barely there' definition that can make your eyes really pop. This subtle line along the lashes can make all the difference to your look. Now you can have eyes that catch attention without the messy battles with your eyeliner pencil!
BOLD & DRAMATIC PERMANENT EYELINER TATTOO
To create a bolder and lasting impression, the thicker, winged tattoo eyeliner is a dramatic statement that can be worn day-to-day or dressed up at night. Can you imagine having sexy winged eyes at all times of the day or night? No-fuss with liquid eyeliner required! Get the look you've always wanted with permanent eyeliner tattoo.
Tattoo eyeliner will usually last between 1-3 years, on average. Results can vary between individuals based on skin type, reactions to pigment and exposure to the sun.
PERMANENT LIP TATTOO
Want extra kissable lips? Permanent makeup for lips is the answer to smudgy or bleeding lipstick. You can just pop on some gloss and get going with our easy lip tattoo makeup. All of our lip tattoo makeup effects look amazing, and you can choose how bright or dark you go with the colour. We can also tattoo your lips using pigment that mimics your favourite lipstick shade. It's all possible with lip tattoo makeup at Golden Brows!
WHY CHOOSE PERMANENT MAKEUP FOR LIPS?
A lip tattoo is a perfect way to create the illusion of fuller lips. We can even make your lips a few shades darker than their natural colour, giving you a perfect look from day to night without any of the mess of lip products. Permanent makeup for lips can enhance your current lip shape or lip shade. It can also re-shape the lips and visually increase the size of the lips while adding extra definition.
A lip colour enhancement will usually last between 1-3 years. Results may vary in accordance with the precise chemistry of your skin type, the ingredients in your skincare products and how often your skin is exposed to the elements.
NON- LASER TATTOO REMOVAL
If you've had cosmetic tattooing done and would like to have your tattoo removed at some point, Golden Brows can help. Certain cosmetic tattoos can last for years, but sometimes people want to change their look before the tattoo pigment fades. That's why we offer cosmetic tattoo removal to help you remove your existing tattoo makeup.
ABOUT OUR TATTOOING & COSMETIC TATTOO REMOVAL EXPERT
When it comes to cosmetic tattooing and the best tattoo removal in Melbourne, we've got our very own expert, Master Artist Tina Huynh. Tina has appeared at international conferences on permanent makeup treatments as a guest tattooist, which is why clients come from all over Melbourne to have sessions with her. She knows everything there is to know about cosmetic tattooing and cosmetic tattoo removal.
WHAT'S THE PROCESS FOR COSMETIC TATTOO REMOVAL?
At our tattoo removal clinic in Melbourne, you'll notice that the cosmetic tattoo removal process is actually similar to tattooing or micropigmentation, and it uses the same equipment. The cosmetic tattoo removal formula starts working almost immediately after drawing over the original tattoo ink, moving upwardly through the skin.
A scab with tattoo ink will form over the treated area in the next few days. While the skin heals, even more, unwanted tattoo ink will be drawn out. The scab will start to peel off naturally, extracting the unwanted tattoo ink. You are likely to have a secondary scab containing even more tattoo ink. After the procedure, and for as long as you have the scab on the skin, keep the treated area completely dry.
Depending on your skin type, preferences and pigmentation of the tattoo, you may require few sessions, spaced 8 weeks apart.
The number of sessions between treatments depends on various parameters, including the area of the body treated, the size of the tattoo, the amount of existing scar tissue and the amount of ink.
You must wait 4 weeks between each session and then a further 8-10 weeks before getting new treatment on top.
An aftercare cream and instructions will be provided to you.
Tina came to Australia in 2009 and completed a Diploma of beauty in 2011
Tina officially started her career in the beauty industry in 2012 when she opened her first beauty salon. The beauty salon was the avenue which helped Tina realise her passion for permanent make up.
Tina discovered her passion for a cosmetic tattoo in 2013, just 1 year after she began her journey in the beauty industry. Tina is professional and a perfectionist, she has travelled around the world to learn many different Microblading and Permanent makeup techniques from the top masters to not only share her skills and expertise but to also broaden her current skill set in permanent make up. Her attention to detail and broad education from many places and master has made her one of the best Microblading Artist in the world.
Zoe Rami Beauty & Brows -
Cosmetic Tattoo Salon  Melbourne 
0478 260 609
Eyebrow Microblading 
Eyebrow Feathering (3D Microblading): 
This technique is suitable for all types of skin. The tool used in this method is the manual pen where the artist draws fine hair strokes that seems like real hair. The look of this technique is very natural; hence is also called 3D Microblading.
Ombre (Powdering):
This technique lasts longer than the other method (Feathering), and it is more suitable for oily skin. The look of this technique is darker and more visible than the Feathering look. 
The tool used for this technique is the machine only, and the final look of this technique is lighter in fronts that gradually transitions to a more intense, defined body and tail ends. This technique is recommended for those who wear makeup on a daily basis.
Microblading Combo
(Eyebrow Feathering & Powdering/Ombre):
I personally believe the most natural look of the semi-permanent brow is achievable only when using the combination of all the above techniques (Feathering & Ombre/Powdering).
Having said that, depending on the condition of each individual brow and client needs, only one of those techniques might be required at times as well.
As I came from a graphic design background and worked in the beauty industry for quite a long time, in my opinion, the art happens when you set yourself free and not limit yourself in any predefined structure. In a similar manner, in my work, I focus on what needs to be done to have the best result that satisfies me by seeing the outcome and also the client by having a new look as they have wished.
It takes between 2-3 hours and costs $450. A touch-up session is required to be done after 4-6 weeks which costs $150.
Lip Tattoo
(Blush Lips & 3D/Ombre Lips)
Lip tattoo is simple and basic words is the technique of semi-permanent pigmentation (ink) on lips which gives you the full and consistent natural colour of lipstick, look and even goes beyond that.  I believe that it is completely a piece of art at the finish.
It starts with a design considering the anatomy of the face and how the lips can be aligned to enhance harmony in the face.
The tools of an artist after coming up with an appropriate design are the use and mix of colours and applying shades on the lips to have a natural and realistic outcome.
It requires a high knowledge of colour combination in a way that suits the tone of skin, colour of hair and eyes. In the end, clients wear it permanently, and they need to be engaged and happy with the process.
It takes between 2-3 hours and costs $450. A touch-up session is required to be done after 4-6 weeks which costs $150.
Eyeliner Tattoo
Eyeliner tattoo is the technique that a skilled tattooist can bring the most beautiful natural look of your eyes with enhancing the eyelashes without having the fake eyelash extension on and suffering from the maintenance of it, besides it can correct the eyes towards your face anatomy and balanced and shaped your eyes.
Additionally, it is a solution for the people who have the cosmetic allergy so they cannot have eyeliner or mascara on their eyes. In this technique you will receive the semi-permanent tattoo once and for a while you will be free to put the makeups on every day.
It takes between 1-2 hours and costs $350. A touch-up session is required to be done after 4-6 weeks which costs $150.
A lash enhancement tattoo creates an undetectable definition for eyes. It involves tattooing an ultra-thin black/brown line along the lash line to create the illusion of fuller and darker lashes.
​Brow Sculpt and Design
Sculpt and shaping treatment involves threading, trim, plucking with tweezers and tint eyebrow.
It requires analysis of face anatomy, the colour of skin, hair and eyes to achieve your ideal look. This treatment is recommended when you have a natural, full, and healthy eyebrows, and it is recommended to be done every 3 to 4 weeks.
It takes about 45 minutes and costs $50.
If your eyebrows are not as full as you wish because of reasons such as over-waxing, plucking, age, etc. the good news is there is another way to fix the eyebrow shape which is the semi-permanent tattoo called Microblading.
​Eyebrow Lamination
Brow lamination is the technique that will provide natural beauty for brows. It will give a fuller and maintain the look of your eyebrows like a just- combed effect by using a safe solution which shapes and restructures the brow hair to keep it into the preferred shape.
It stays on your eyebrows for about 6 to 8 weeks (depending on the product, aftercare, lifestyle, etc.) and it can last up to 12 weeks.
It takes about 45 minutes to an hour and costs $100.
​Lash Lift
Lash lifting is a modern technique that will provide an exceptional eyelash enhancement. All the procedures would be applied to the shoots of the lashes with a safe solution. It will make the longer and more visible look of eyelashes and bigger eyes. It is a new and natural way of enhancing eyelashes rather than using curl wands or eyelash extension and suffering from side-effects. It is advised to have eyelash tinting at the same time as well to get the shiniest look.
It will stay on your eyelashes for about 6 to 8 weeks (depending on the product, aftercare, lifestyle, etc.) and it can last up to 12 weeks.
It takes about 45 minutes to an hour and costs $110.
Skin Needling Facial Treatment 
Skin needling facial treatment is a technique in which by penetrating the skin, naturally body starts to heal the wounds and this procedure will increase by producing collagen and elastin.
Collagen and elastin are two factors for the structure and elasticity of our skin, so by activating and reproducing these two elements, we will slow down the aging process and improve/correct fine wrinkles.
Skin needling is one of the safest, most effective, least time consuming and affordable cosmetic facial treatments in comparison to peels, laser and dermabrasion.
Some of the micro-needling treatment benefits are, skin rejuvenation, skin tightening, anti-aging effect, improve fine lines, reduce skin's pore size, fading stretchmarks and hair regeneration.  
Normally the result will appear after the first treatment; however, follow-up treatments are highly recommended within 6-8 weeks.
It takes about 45 minutes to an hour and costs $100.
BB-Glow Facial Treatment
BB-Glow facial treatment is a semi-permanent makeup technique without skin penetration that places the BB-Serum into the epidermis layer of the skin and remains there up to 2-4 months.
Some of the BB-Glow facial treatment benefits are:  improve facial skin tone, lightening and balancing the colour of skin which gives a look of even tone, reduce fine wrinkles and deep skin moisturising and nourishing the skin.
Normally the result appears after the first treatment; however, follow-up treatments are highly recommended within 2 weeks.
It takes 60-90 minutes and costs $150.
Free consultation: During this session, you learn about your skin type, face anatomy, whether you are a suitable candidate for a cosmetic tattoo, before and aftercare procedures and go through any questions you might have.
Additionally, we d an eyebrow mapping with design, shape and tint of your eyebrows so you can get a clear idea of how it will look like after cosmetic tattoo. It is an interactive session to talk more about what you desire and what suits you best. Normally it takes up to an hour, and we hope this session assist you to make an educated decision regardless of you proceed with us or not.
100% Risk-Free: We are so confident about the job we do to offer a full money-back guarantee if you are not happy with the result.
Unlimited Touch Ups: Using the highest quality pigments in the market and latest technology of machines allows us to make a durable work, another important variable here is the type of skin so to keep it simple for you, within 6 months of cosmetic tattoo and after the first touch up session, you can come back for additional touch-ups without any extra fee.
Experience and Qualifications: We have the highest accredited certificates and third-party recognition in Australia and internationally for a cosmetic tattoo with more than 10 years' experience in the beauty industry so you can rest assured that you are in good hands.
Lifetime Membership: By using any of our cosmetic tattoo, skin needling or BB Glow services you join the large family of Zoe Beauty & Brows and get a lifetime membership and receive a discounted price for all service we offer. Additionally, you can simply refer anyone connected to you, such as a friend or relative, and they will automatically get those benefits as well.
Good Cause: We allocate 10% of monthly profits to go directly to a charitable organisation such as the National Breast Cancer Foundation, Wildlife Victoria, Environment Victoria, etc. Feel free to nominate any organisation you support to be added to our list as you are contributing to it as well.
Best Value: We aim to have a reasonable price and options for payment plans with the purpose that more people can use those services, but still financial difficulty should not stop you reaching your beauty goals by any means at any time. If needed, please let us know about your situation, and we are willing to consider and evaluate it on a case by case basis for clients, at the end your smile is what keeps us happy.
Flexible Booking: We are aware that some people due to work or family commitments cannot make a time during business hours to attend, so for those individuals, we are happy to find a time after hours or over the weekend for consultation, procedure and touch up sessions. 
​Zoe Rami - Design Based On Simplicity and Naturalism
I started my journey when I was 13, as my mother opened a beauty salon, and I was excited to help her out. After that, all of my school books were filled with eyebrow and eye drawings in different styles and forms until I was graduated.  
I realized I would be fulfilled when I can help people feel good about themselves. 
I believe in simplicity and naturalism based on knowledge of face anatomy while I work with clients to come up with the best result that meets their needs.  Caring about each and every client allows me to perform a signature work each time.
I am proud to be a voluntary member of AAAF( Australia Alopecia Areata Foundation) and keen to work with people diagnosed with Alopecia Areata to examine the possibility of coming up with a plan for a cosmetic tattoo to enhance their appearance at an affordable price for them.
I have more than 10 years experience in the beauty industry and am a member of Aesthetics Practitioners Advisory Network (APAN), and also Member of Cosmetic Tattoo APAN Registered Practitioner(CTRAP).
Browology
Cosmetic Tattoo Salon  Melbourne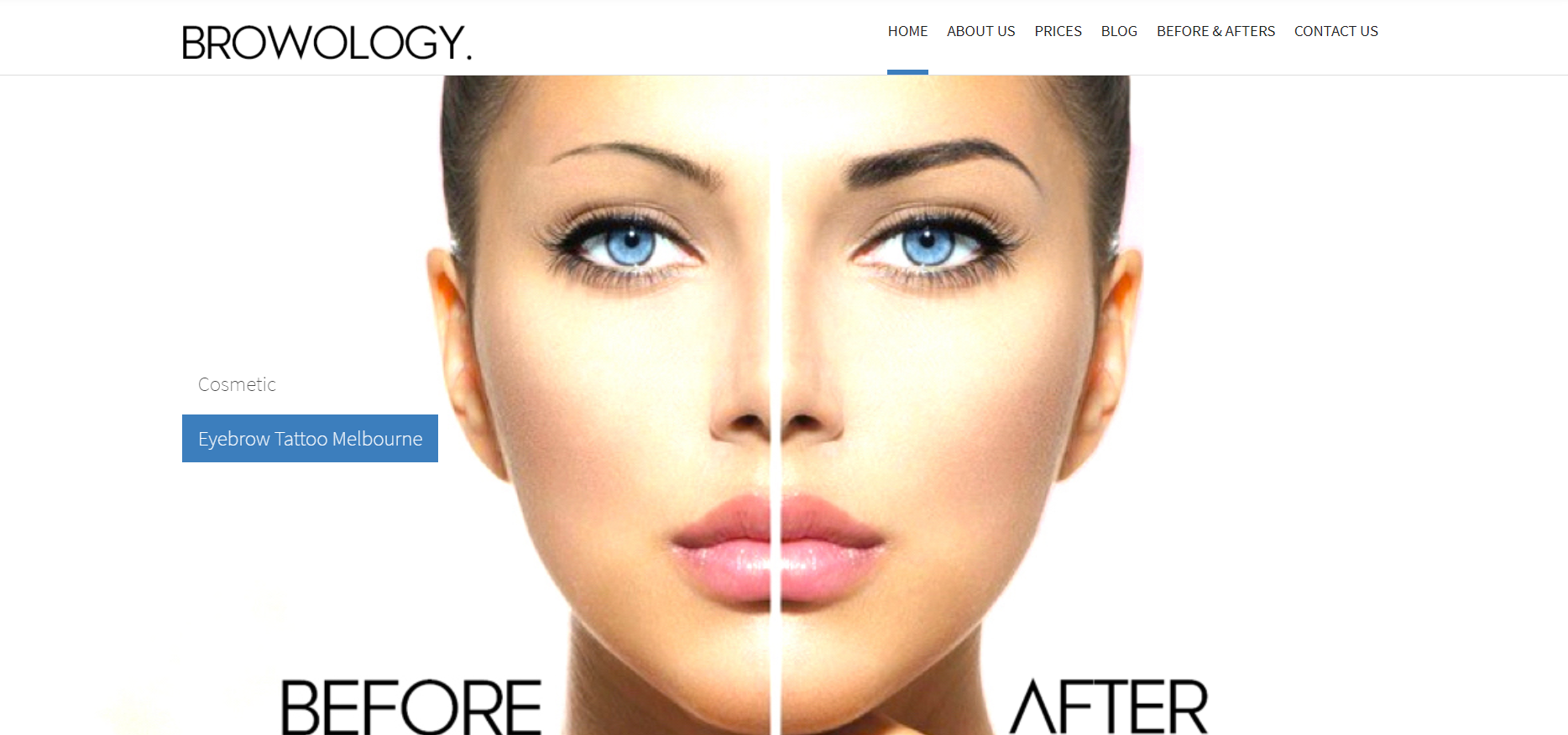 eyebrowtattooingmelbourne.com.au
0431 538 441
Eyebrow Tattoo Melbourne, Eyebrow Feathering & Microblading Feather Touch brows.
Eyebrow tattooing is one of the fastest-growing beauty products for females in the emerging makeup industry. Tattooed eyebrows can offer you freedom from the annoyance of constant plucking and grooming. You can now have your eyebrows as you always wanted with no need for you to visit nearby beauty parlour to get your eyebrows done. But before you consider eyebrow feathering you should know what exactly it is and the exact process of microblading.
The process of eyebrow tattooing is very safe. It is advised that you take before and after process precautions. You must make sure that your expert carries out the whole procedure is safe and careful manner.
It is recommended that after-procedure care should be taken. It's natural for you to see swelling after the procedure, but this will subside without any problem.
You will see excellent results with this procedure if done carefully. Microbladed eyebrows do not last forever, so we recommend a touch up every 12 months.
Scabbing can occur after tattooing so we advise you not to pick at your eyebrows as that can pull out the pigment.
Try to apply Vaseline every night before you sleep and try to stay out of the sun. Protect your eyebrows until they are fully healed.
Browology
We use the name Browology at eyebrow tattoo Melbourne because this type of brow requires a special science when it comes to measurement, we use the golden means ratio. This ratio gives you a balanced brow that is adapted to your own facial structure and measurements to give you the golden arch you've always wanted.
We also carefully choose a pigment that specific and suited to you, this colour is something you will be able to choose your self in our consultation prior to your tattoo being applied.
Feather-touch also know as micro-blading is all done by hand with no machines involved, this hand tool is designed to hold different types of blades depending on what kind of brow stroke your brow requires, it is specifically designed to help aid in the process of implanting pigment into the skin.
There are many benefits with tattooed eyebrows:
It is time-saving. Instead of struggling to make up every day, you can get these eyebrows done. Once it is done, you don't have to make up your eyebrows.
These kinds of eyebrows are very advantageous to the people who have thin, sparse and light coloured eyebrows. These eyebrows make their eyebrows look fuller.
People who lost eyebrows in accidents or some other reason can have this kind of eyebrows as this looks like natural eyebrows.
This kind of eyebrows is cost-effective. By getting these eyebrows, you will cut down expenses on buying eyebrow pencils, brow powders, tints and dyes etc.
These eyebrows look excellent. You can get these eyebrows done with your desired shape, density, look, symmetry and balance. You can have your favourite eyebrows that can last long.
Even in the rain or when you for swimming you have to fear of brow liner melting. This is a one-time payment process compared to numerous expenses you incur regularly.
The most important benefit of these kinds of eyebrows is that they just don't get wiped or fade easily.
Factors to consider in Choosing Tattooed Eyebrows
While it's not surprising that hair extensions and wigs are used by many people today, fake eyebrows are also becoming popular. In this generation, where people pay so much attention to their aesthetic aspects, it is not unusual that false eyebrows are used by many people to enhance their physical appearance. However, before you choose any type of fake eyebrows or even try one, there are things that you need to consider to avoid ending up with the wrong eyebrows.
Brow colour is an important factor to consider when choosing your fake eyebrows. Typically, eyebrows are 1 to 2 shades lighter or darker than the hair on the head. While blonde-haired people and other individuals with light-coloured hair have darker brow colours, individuals with dark hair and brunettes have lighter brows. So, it is important to match the brow colour with your hair colour. However, it is better that you go for different blends of colour for added depth and texture. Having the wrong brow colour that does not compliment your natural hair colour would appear fake and awkward.
Another important thing to consider in choosing your false eyebrows is your skin colour. Choose the brow colour that matches your skin tone; otherwise, your fake eyebrows would give you away. If you want to add a base before applying your brows, then make sure that the base is not too shiny or dry.
Brow shape
Since eyebrows are useful in accentuating the face, the brow shape must be neither too arched nor too straight. The wrong choice of brow shape would draw attention to the brows rather than to the face. Always remember that the shape should frame your brow bone. Additionally, your brows should align with the eyelids and nose.
Brow Type
There are different types of fake eyebrows that can be brought from different beauty stores. Usually, these brows are made of natural hair so it would appear natural when attached to the brow bones. Make sure to buy fake brows that have proper spacing so there would be space for growing hair.
We are located at 209 Glen Huntly Rd, Elsternwick VIC 3185. We have the best certified & Qualified eyebrow tattooist in Melbourne. We keep the highest sanitary standards to ensure your safety and well being. If you have been recommended a certain beautician at browology please lets us know, and we will book them in for you.
Check out this cosmetic lip tattoo salon list which has everything you might need near you.
O' some Brows & Lashes -
Cosmetic Tattoo Salon  Melbourne 
0406 973 645
Welcome To O'some Brows
A Beauty Salon in Melbourne North East, specialising in Hair Cuts, Facial Threading, Henna tattoos, Tinting, Eyelash Extensions, Makeup, Waxing and more.
Eyebrow Microblading
Eyebrow Microblading, also known as eyebrow feathering or 'feather stroke tattooing' is a growing area of eyebrow styling. It is a semi-permanent technique using a hand tool as opposed to more common cosmetic tattooing. The hand tool results in strokes that are incredibly fine, producing a realistic hair effect with a natural look. Microblading will last up to 2 years, with touch-ups throughout to maintain the look.
Eyebrow & Eyelash Tinting
Eyebrow and Eyelash tinting is the process of creating darker looking lashes and browse through the semi-permanent dye. This can enhance, shape and define your brows without having to apply a daily routine. O' some Brows staff don't just make brows darker, they match your natural colour to result in full and youthful-looking brows.
Eyelash Extensions
Our pride and joy are creating finely detailed eyelash makeovers that look amazingly natural and real!
O' some offers semi-permanent eyelash extensions. Lash extensions are individual and are applied one-by-one to your natural lashes for a weightless, natural look and feel. Imagine waking up to long, thick, beautiful eyelashes every day – without the need for mascara.
O' some Brows known for their specialists who are trained in traditional practices and modern styling. Growing their loyal client base since 2013.
At O' some we thoroughly enjoy empowering our clients through beauty services and strive to have every client leave O' some looking and feeling amazing.
Contact us at our Doncaster and Glen Waverley office for any further enquiries or information regarding Eyelash Extensions, Eyebrow Tinting, Microblading, Waxing, Threading, Hair Styling and other Beauty services.
Cosmetic Tattooing Salon  Melbourne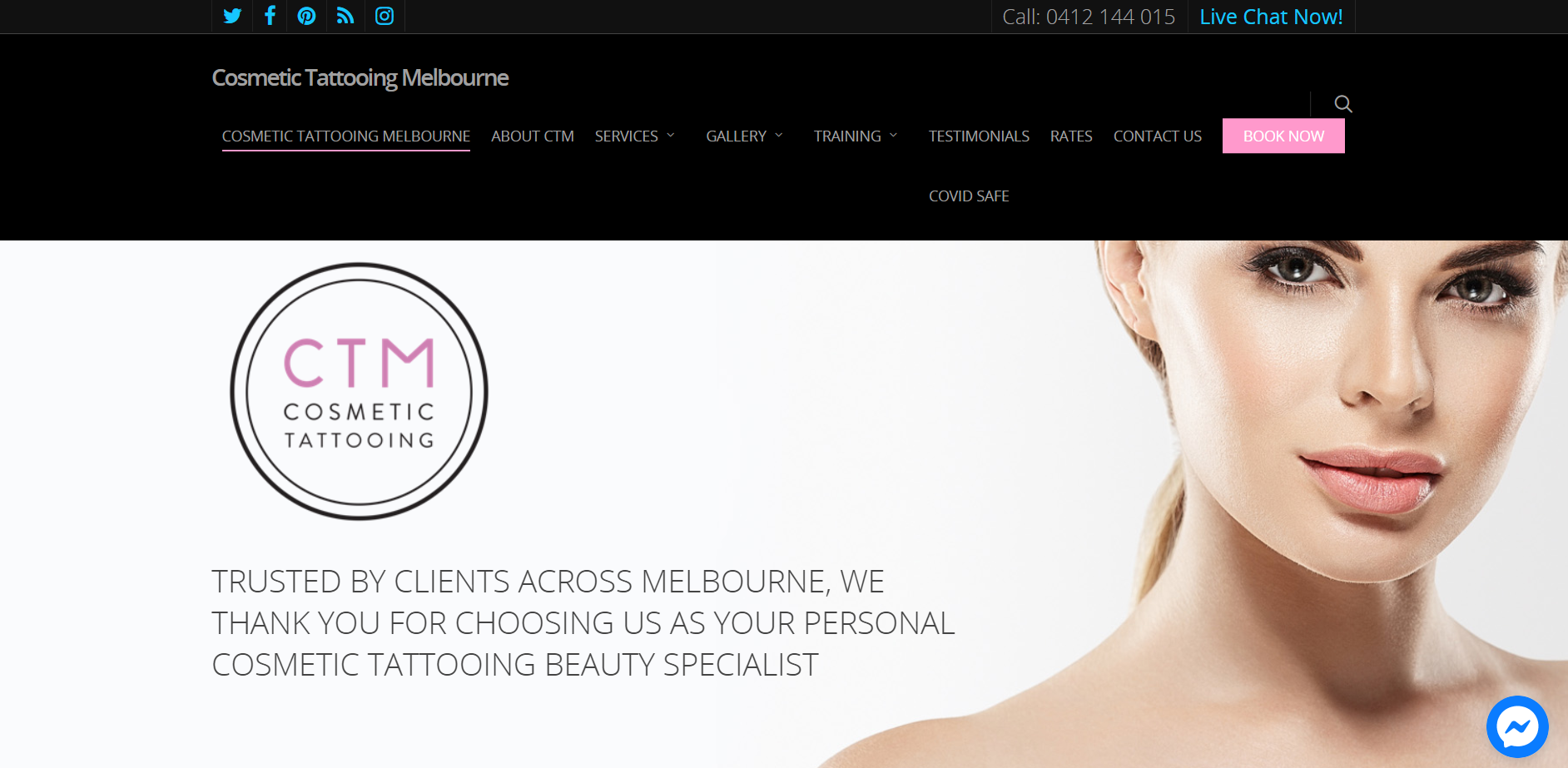 cosmetictattooingmelbourne.com.au
0412 144 016
TRUSTED BY CLIENTS ACROSS MELBOURNE, WE THANK YOU FOR CHOOSING US AS YOUR PERSONAL COSMETIC TATTOOING BEAUTY SPECIALIST
EYEBROW TATTOOING
OMBRE, POWDER BROW, MICROBLADING/ FEATHER STROKE, 3D OR COMBINATION BROWS.
Eyebrow tattooing is ideal for women who like a more defined look or filled in brow shape. Those who are used to applying pencil, can go swimming, play tennis, or wipe their forehead without the embarrassment of losing their eyebrows. Those suffering from alopecia (hair loss) are pleasantly surprised at how natural it looks.
This non- invasive innovated procedure will instantly take years off your age, and save hours of frustration trying to draw your own eyebrows. You will no longer need to dye or wax your brows, as your tattoo is a guide for where to pluck.
Eyebrow tattoos are a fantastic way of achieving the 'open eye' effect, which creates the appearance of a facelift. Many Hollywood starlets enjoy Eyebrow Tattooing for this reason!
For creating the perfect brow, CTM works with your natural brow shape, to create a subtle and natural look. Because eyebrows are generally naturally asymmetrical, we strive to initially tattoo within the natural brow line, without losing too much hair. Waxing off or completely tattooing so far out of the natural growth can be devastating to someone that has a good brow base.
We offer multiple ways of tattooing for eyebrows:
Feather-touch – Microblading is a technique whereby fine strokes penetrate into the skin to create a natural hair-like finish. This process is done with a blade rather than a digital machine.
Feather-touch – Nano strokes is a technique whereby fine strokes penetrate into the skin to create a natural hair-like finish. We can create a more hair-like effect with freedom of strokes compared to the MicroBlading. Soft on the skin and longer-lasting without needing frequent touch-ups like micro-blading. 
Powder Brow is a soft and natural look that suit most clients. Although most clients are into the idea of the feather stroke, a soft and shaded powder brow looks amazing on all. Great for girls wanting a more defined brow to highlight their eyes more.
Ombre Brows have been a huge trend in makeup and tattooing. We create a softer shaded tattoo at the bridge of the nose continuing with a bolder brow for definition.
3D Brows is where multiple pigments are applied next to one another, resulting in a natural-looking 3D effect.
Combinations Brows: Feather stroke with Powder shading down with digital nano-machine work.
Corrections can fix that discoloured pigment or unwanted shape that is not perfectly symmetrical. This is why you always want to do your research before going to a cheap or unqualified tattooist. If we are unable to rectify the previous tattoo, fading sessions are available to help ease the pigment base.
EYELINER TATTOOING
If you love wearing eyeliner, save precious time every morning with the perfect liner that doesn't smudge throughout the day! Accentuate and enhance the shape, colour and size of your eyes.
Eyeliner Tattoo is a great semi-permanent solution for women with vision impairment, those who wear contact lenses, have allergies, active lifestyles, smudging of makeup or minimal lashes or just can't be bothered putting it on. With the latest techniques, there's no downtime, minimal swelling and little to no pain.
Quite a few options are being either a shaded liner, pixeled enhancement, fade-outs or contouring.
Not to worry! Shelley will help you decide the right technique that is most suitable for your eye shape along with what you like wearing daily. If your a little apprehensive, please feel free to give us a call to discuss in-depth or come in for a consult.
If you're not sure, we can always start off with a more natural look and build as we go! 
Thin Natural Eyeliner: Perfect for those that want a soft natural liner that will give their eyes so much more definition. We always tattoo in between the lashes for the lash enhancement and optional top wet line for even more of an eye-opening effect.
Winged Eyeliner: Great for those that struggle daily to get their wings perfectly placed! You will approve the shape 100% before commencing. Lash enhancement included and optional wet line.
Shaded Top Eyeliner: A soft and subtle look for those that like a blended out effect with their eyeliner. Can be done with a small to long-winged eyeliner in different colours of black and brown. Can create a heavy shade to a soft pixel shade for an eyeshadow effect.
Eyelash Enhancements: By adding black pigment to the lash line, we can create a fuller and subtle definition to the eyes.  Lash enhancements are ideal for those that have fair or minimal eyelashes that want more of a solid base to open up their eyes. Top enhancements are also perfect for balancing out the thicker bottom eyeliner.
Wet line: Tattooing of only the top wet line can give much more eye-opening effect. A makeup artist is known for applying coal eyeliner on the top for this reason.
Shaded Bottom Eyeliner or Enhancement: A softer look than a direct line of pigment. Using precise nano placement, we create this look by building up multiple tiny dots of pigment along the lash line to create a shaded look. Perfect for those with very little lashes that want their eyes to stand out more, Alopecia or cancer suffers. We can create a subtle natural enhanced eyelash look or a thicker eyeliner design that will simply taper off beautifully for wherever you prefer for your liner to finish.
Corrections: Shelley loves doing corrections! If you have an eyeliner that you simply hate, asymmetrical or just a really bad job along with the migration of pigment, we can help!
LIP TATTOOING
Semi-Permanent makeup can change the size and shape of the lips by creating a fuller and sexier lip, as well as adding colour to correct uneven imbalances. This procedure helps prevent lipstick bleeding into the surrounding skin, as well as restoring the natural pigment of your lip line- known as the "white line", commonly lost through sun damage.
Countourless/ Lip Blush Tattoo: Enhancing the natural lip colour with a light pixel technique to improve definition to create the illusion of fullness. Most natural look and great for those who are comfortable with their lips but wanting a subtle transformation—either matching to your natural lip colour or dusting a soft colour of your choice.
Full Lip Tattoo: Blending the entire pigment into the full lip, so there is no graduation of colour. Great for lip construction where we need to rebuild the shape and fill either a natural colour or if the client wants a heavier saturation of colour being that "lipstick look".
Lipstick look: Clients that like wearing lipstick daily and wants a more saturated colour on their lip. Make sure you bring in your lipstick to match.
Ombre Lip Tattoo: By tattooing two different colours, a gradient effect "ombre" can be achieved. We can create this look with a darker colour on the inside or outside and fade out.
Lip Line & Blend Tattoo: Cosmetic lip tattoo involves altering the appearance of the lip line to create the perfect shaped lip which you desire. The pigment is blended back into the body of the lip to give a more natural and gradual tone of colour.
You can still wear any coloured lipstick over the top of your desired tattoo colour either it being a lighter or darker shade. By having your lips tattooed, the base colour will hold your lipstick on for several hours without having to reapply.
For clients that have extreme asymmetrical lips and shrinking of the vermilion, we can considerably build the shape of the lip to give more definition and symmetry. Clients are always so surprised by the reconstruction when simulated. The lip is still there; it just starts to blend in with the dermis as we age.
Colour Selection: Not to worry, we have a massive range of pigments. Once the lips are healed, if you like to manipulate the colour, we can do this at the perfecting session. You are not stuck with any particular colour. However, best to come in with your favourite lippy if you have a particular colour in mind.
Slight swelling will occur for at least 24- 48 hours, but no downtime, you can resume work, etc. without fear that you have to hideaway.
Minimal to no pain! Shelley is trained in the latest techniques and is top in her field.
Do you suffer from cold sores?
We strongly suggest that clients undergo a course of any of the following antiviral medications to prevent cold sore outbreak after your tattooing procedure.
Lysine is a natural essential amino acid, best taken 1 month before the procedure.
Valtrex, which you can obtain a prescription from your doctor, and will attack the virus immediately. Best to take 2 days before and after the procedure.
Pros & Cons of Fillers:
A full Cosmetic lip tattoo is a great option rather than fillers. While injectables build the bulk of the lip, it doesn't address the issue of pigment loss and correcting the lip shape/line. If done correctly, along with tattooing, fillers can look amazing, but done incorrectly, and injectables can give an extreme and fake look. This is why we always recommend to clients to first try tattooing, being that it looks extremely natural, then if need be, use filler/ botox to finish the desired look.
If you choose to get injectables, make sure you come in for your tattoo beforehand as tattooing will decrease the strength of the filler by 10% depending on when injected.
PLASMA FIBROBLAST / NON SURGICAL SKIN TIGHTENING
Plasma fibroblast is an exciting alternative to invasive surgical procedures, and we're proud to offer this game-changing new treatment at Cosmetic Tattooing Melbourne. With minimal downtime and at a fraction of the cost, it delivers stunning results for the face and body, safely and quickly. This innovative plasma fibroblast treatment revitalises and returns a more youthful look to your face, neck, body and hands. Plasma fibroblast is the cutting edge new way to reap the rewards of fresher, smoother, younger-looking skin, without having to resort to surgery. Our highly trained therapists here at Cosmetic Tattooing Melbourne are ready to treat you with this state-of-the-art cosmetic procedure – why not book today?
What is plasma fibroblast?
Plasma fibroblast uses a hand-held pen-like device that emits a high-frequency electric current to targeted areas of your skin. Your CTM therapist holds the plasma pen close to your skin, and a tiny plasma flash heats the surface, causing superficial micro-injuries. As this heal, the skin begins to tighten and lift – giving noticeable results after just one treatment. New collagen and elastin are produced over a few months, increasing the tightening and plumping effect.
We only use industry gold standard technology, products and treatments at Cosmetic Tattooing Melbourne. This is why we perform our plasma fibroblast therapy with the industry-leading Plaxpot Plasma Pen. It works evenly and superficially on the skin, delivering the plasma flash to just the right depth, allowing for a safer, more uniform application and outstanding results.
The benefits of plasma fibroblast are many!
This innovative, safe and non-invasive skin tightening therapy can be used on a variety of skin concerns. With Plaxpot Plasma Pen in hand, your CTM therapist can weave magic on your skin and help with:
Eyelid tightening (droopy eyelids, under-eye bags)

Crows' feet

Removal of skin imperfections (skin tags, blemishes and sunspots)

Reducing the appearance of skin's redness

Reducing nasolabial folds and other facial lines

Improving the appearance of acne scars

Diminishing stretch marks

Tightening loose stomach skin after pregnancy

Smoothing signs of ageing such as lines and wrinkles

Mini face-lift, neck-lift and under chin lift

Improving overall skin tone and texture.
DERMALUX FLEX LED PHOTOTHERAPY
Visibly radiant, glowing and rejuvenated skin can be yours again, thanks to Dermalux LED Phototherapy. This non-invasive treatment uses clinically proven TGA approved therapeutic light energy to trigger the skin's natural rejuvenation and repair processes without pain or downtime. And we're delighted to offer you this exciting new treatment at Cosmetic Tattooing Melbourne.
Boost your skin's radiance
From the very first treatment, Dermalux instantly boosts your complexion to restore its glow and vitality. Individual treatments energise the skin to instantly revitalise a dull complexion, restore luminosity or calm irritation. One treatment is the perfect boost before a special event or just because you want to pamper yourself and feel amazing! An ongoing treatment course offers cumulative benefits and can be targeted to specific skin concerns for the face and body with lasting and visible improvement. At Cosmetic Tattooing Melbourne, we believe everyone deserves to have beautiful, radiant, healthy skin. Talk to us about making Dermalux Flex LED phototherapy part of your essential skin health regime.
How does Dermalux LED phototherapy work?
Our skin has the ability to absorb light energy and use it to stimulate or regulate essential cell processes. LED Phototherapy is the application of beneficial wavelengths from the visible and infrared part of the light spectrum, which has proven skin-enhancing benefits. Skin cells that are energised function better and can renew up to 200% faster – accelerating regeneration and repair. Let your skin harness the power of light at Cosmetic Tattooing Melbourne.
DERMALUX TRI-WAVE THERAPY is the only Phototherapy machine on the market that can target all three levels of the skin to stimulate and target multiple issues. At CTM, we love the incredible results this state-of-the-art machine can do for our clients' skin!
What are the benefits for my skin?
Dermalux Flex LED phototherapy boosts collagen production increases hydration, calms redness and irritation and blitz blemish-causing bacteria. As the light triggers a cascade of skin-enhancing processes, the benefits continue after the treatment has finished. LED will cover most concerns you have with your skin. It can even assist with speeding up cell recovery after major surgery, knee injury or chemotherapy!
What does the treatment involve?
Dermalux is a relaxing, pain-free experience with proven mood-enhancing effects. Enjoy some luxurious me-time as your skin absorbs the energising light to kick start cell regeneration, calm irritation or restore radiance. Each treatment lasts up to 30 minutes, and with no downtime, you can simply get up and glow!
COLLAGEN INDUCTION THERAPY (CIT) SKIN NEEDLING IN MELBOURNE
Collagen induction therapy (CIT) is a skin rejuvenation technique. CIT is an improved form of traditional roller micro-needling. CIT "no roller" technology is applied via a digital handheld device with skin use needles which penetrate the skin up to 0.3mm- 1.2mm at variable speeds.
Once the skin is penetrated with the needles, the body responds with a wound-healing reaction, which produces natural collagen. With microscopic punctures in the epidermis/ dermis, CIT skin needling is non-invasive with no damage to the skin.
Skin Needling promotes the natural reproduction of collagen and elastin, making the skin feel smoother and tighter, giving it an overall healthy glow.
The new collagen that CIT creates improves areas such as wrinkles and scar tissue. New blood vessel growth improves blood flow to the skin, which will stimulate cellular metabolism, producing improved skin oxygenation.
The most popular areas for CIT treatment are the face, neck, and hands, but CIT can be applied anywhere on the body you may want to improve the skin texture.
CIT procedures have minimal downtime for healing with redness and swelling generally subside within 24 hours, and most people can return to work the following day without any irritation or embarrassment.
Benefits of CIT Skin Needling
Skin appears smoother

Collagen growth is stimulated for a healthy glow.

Minimizes stretch marks

Reduces surgical scars

General improvement of skin integrity

Improves fine to moderate wrinkles

Benefits skin texture and ageing skin

Reduces pore size and laugh lines

Eliminates acne scars

Skin tightening effect

Creating a more fresh, more rejuvenated complexion

Improves mobility of burn scars

Improves deepened or depressed scars such as Chicken Pox scars

Can even out skin pigmentation

Ideal for improving areas marked by pimple and scab picking
People who are not acceptable candidates for this procedure are: 
Anyone that is under medical care that may be on a high blood pressure medication, heart medication, is diabetic, not in general good health, is a poor healer, has an active herpetic breakout, or has just had an invasive laser treatment:
Cystic active acne

Active psoriasis or Eczema

Very Lax skin

If you have prone to keloid scarring, you would not be a suitable candidate.

Anyone that has any type of facial skin disease or disorder that would be a contraindication

Anyone with scars that are less than 6 months old

Anyone that has had facial fillers or Botox, in the past 7 days

Anyone who has had facial surgery in the past 6 months

Anyone that has been using Corto-steroids on the treatment area, as this thins the skin's tissue
EYELASH EXTENSIONS
We offer 4 types of Eyelash Extensions at CTM.
We use only the best glues, lashes and techniques to ensure longer-lasting lashes with maintaining optimal lash health to the highest level! From fluffy to extra fluffy, different colours, we love using Lashbox LA as our supplier.
We design our own fan lashes whilst performing the procedure, rather than using pre-made that weighs your lashes down and creates an artificial look along with destroying the lash long term. Our meticulously strategic fan extensions have exactly the right weight for each lash that can range between 3 to 10 ultra-lightweight extensions for one natural lash.
Our technician is the best in the trade with her super soft handed technique, and you won't even know she's there, just lay back and have a snooze!
Classic Eyelash Set
A set of lashes for a natural weightless look using only one thicker individual lash extension to fill in what you're missing. This is best for lash newbies or those who want a natural look or who have a full lash line already. Easy to wear and maintain.
Time: 1 hour
Hybrid Eyelash Set
Hybrid eyelash extension is in-between Classic and Russian lash. Create more volume by adding more fan extension to each lash.
Time: 1.5 hour
Russian Volume Eyelash Set
With Russian 3D volume lashes, you are getting a thicker, more dramatic look even if the real hair is sparse. Looking soft and extra fluffy and last the extra mile due to their lightweight fans.
Time: 2 hours
Mega Volume Eyelash Set
Creating symmetry and balance with the perfect set of 6-12 light long weight fan lashes on each individual lash. This is the MEGA Volume of all lash looks that will give you the fullest, most dramatic look with up to jet black extensions. Only to be performed by a highly-skilled artist.
Time: 3 hours
Refills 
Look after your lashes, and they will last just as long as your natural lash cycle, being 4-6 weeks. Maintenance refills should be between 3 weeks to avoid patchy areas and to continue a glamorous lash.
Aftercare packs supplied with detailed instructions on how to maintain your luscious lashes.
MAKEUP ARTISTRY / GLITTER ART
Shelley's dedication, professionalism, and extensive understanding of creative styles will transform you into the most beautiful self or craziest character. Her passion for exploring unique trends and enhancing natural beauty manifests in a celebration of individuality. Our mission is to listen, collaborate, and meticulously manifest your vision.
With an extensive career of  18 years experience in fashion, film, bridal, advertising, special effects, creative makeup and special events, Shelley and her team offer the following services to cater for any experience that might ask for a bit of glam or fun!
Professional Makeup
Offering affordable beauty styling packages for the individual, weddings or special events. Our style is natural to full glam, radiant and ensuring that you will appear as the best version of your beautiful self.
Also available:
Airbrush makeup for that flawless, radiant look

Individual or a full set

Hairdressers for any occasion

Using only the best quality makeup products in order to ensure long-lasting results.

In our kit: Huda, Tarte, Urban Decay, Mac, Stila & Nars
Glitter Art
Everyone loves glitter, go glitz and glam to your next special event! Have us just add the glitter or combine full makeup or hair along with special add ons such as jewels and airbrushing.
Hens parties

Birthday parties

Festivals or concerts

Girls night out
Bookings:
Book out our upstairs Makeup studio for 1 to 3 hours to get ready before you head out.
Canapes and Champers are available upon request. Contact us for more info!
HENNA BROWS
Thinking of getting a brow tattoo and not sure what it will look like? Henna brow tinting is an excellent starting point and is the perfect addition to your brow sculpting service. Try a temporary brow tattoo, with natural plant pigment to achieve a natural-looking, fuller brow that no one can tell is not your natural brow.
Henna tinting lightly stains the skin and fades to a subtle natural matte finish and will last approximately three weeks depending on your skin type.
What to Expect from Henna Brows:
We will wax, tweeze, shape and tint with the most flattering henna shade for your preferred darkness.
Benefits of Henna Brows:
Natural henna tinting will create that perfect shape to be proud of! Henna brows camouflage gaps in over-plucked brows and sparse brow hair resulting is a magnificently sculpted brow!
Choose from a variety of brow tint shades to complement your hair and skin tone. Henna tinting is vegan-friendly and all-natural. It contains no peroxides or preservatives, so it's a great alternative for those with sensitive skin and prone to irritation. Henna brow tint lasts considerably longer than an average eyebrow tint.
KERATIN BROW LAMINATION
Get those brows looking smoking hot with our Eyebrow Lamination! Generally, our brows normally start growing out of control with a mind of their own. With Eyebrow Lamination, we can tame those unruly cray brows to become super smooth, less course, and sit perfectly in place. Keratin is a specially formulated treatment that straightens the hair and helps gain symmetry whilst being gentle on those precious hairs.
FACIAL THREADING / WAXING
Our very skilled cosmetic tattoo artist can quickly get rid of any of those unwanted hairs with no pain, extreme accuracy that will save you time and money!
Either it being facial threading or waxing we'll get rid of those pesky unwanted hairs with success.
Benefits of Threadings 
No irritation and more hygienic.

Precise, to maintain desired shape and size.

Threading is a simple process, quick, and fast.

No pain and redness
Get any area worked: Brows, Lip, Chin or Sideburns
Waxing
Waxing hair removal is a technique using hot wax that removes the hair from its root, swift and fast creating an ultra-smooth finish on the skin. 
LASH TINT & LIFT
A subtle and sexy look to open those eyes and darken those lashes, so you don't even have to wear mascara! Ditch your curling wand and lengthen your lashes with them being perfectly in place with extra volume. Add a little bit of mascara and people will think you're wearing false eyelashes.
A lash lift-and-tint treatment involves two separate processes; a combination of the perm and tinting for fullness and added body. You can either do one, the other or both together for the sexiest result! Fluttering eyelashes that will last you for weeks!
Colour options:  Brown or Jet Black
Our technician has the lightest touch, come in for a nap and get pampered.
COSMETIC TATTOO REMOVAL IN MELBOURNE
If you have a tattoo, you would like correct, and please feel free to contact us so we can thoroughly consult you for a free phone consult or come in for us to have a look. We always like to see images of the tattoo before being able to quote and to suggest the right measures to take to solve the issue.
There are options for what we can do! We might be able to colour correct the tattoo without having to go through the removal process altogether. This is a great option for any tattoo that has an unwanted discoloured red hue. This is very easy to fix and can save you time and money. If the pigment is placed creating a terrible shape, we can also correct areas that are out of the symmetrical shape and fix the rest if you want it completely gone.. no worries!
Our solution contains milled sea salt, purified water, lemon seed extract, orange seed extract, and aloe. Implanting the solution into the dermis skin breaks up the healed pigment. It begins to lift up and out of the skin by an osmosis effect, achieving a safe cosmetic tattoo removal to accommodate the clients desired outcome.
Results will vary depending on the client's skin condition, health profile, the ability to heal well, and the type and colour to be lightened.
Procedures have a minimum of 4-8 weeks for healing time, depending on the client, and the area treated.
LASER VS SALINE COSMETIC TATTOO REMOVAL
With a laser, the ink is absorbed into the body whereas Saline it's lifted up through the surface of the skin. A great solution for those that might be Diabetic has gone through cancer or have autoimmune issues.

Laser removal cannot lift white ink which is titanium. This is very important that you don't get laser on titanium-based pigments as it will darken the colour and will be extremely difficult or impossible to lift with Saline removal once done.

Each laser tattoo machine only emits certain wavelengths of light so specifically, break up only certain colours. Newer machines are available but extremely expensive. Saline is not discriminative and targets all colour within each session.

The laser is more expensive than Saline.

With a laser, the recovery can be quite painful with excess blistering, whereas Saline is more of a gentle process resulting in light scabbing.
BEST COSMETIC TATTOOIST FOR EYEBROWS, LIPS AND EYELINER
Shelley is one of the best cosmetic tattooists in Melbourne who specialises in creating beautifully natural tattooed lips, brows and eyeliner. Her focus is always on offering clients a natural-looking solution to suit their lifestyle needs and physical challenges. Above all, she recognises that each client is an individual with specific tastes and visions. With years of training and cutting edge techniques, cosmetic tattooing can look so natural, that no one will know that you've been tattooed. Shelley works hard to listen to her clients needs rather than offering a "one size fits all" solution. My biggest daily reward is making a long-term difference in people's lives and witnessing my clients' inner and outer transformation and renewed self – confidence.
Based in St Kilda, Melbourne in 2006, Cosmetic Tattooing Melbourne is a complementary addition to her other businesses  Brides and Beauty, and We Love Face Painting. Being in the beauty and creative industries for over 15 years, Shelley has a true talent, continuous thriving passion and a keen artistic eye for detail.
Having undergone extensive training and regularly attends Advanced Master Classes with other national and internationally renowned artist to keep up with new developments, techniques and trends.  Shelley only uses the best pigments and has the highest clinical standards for health and safety, ensuring the safest environment for your procedure.
Now sharing her knowledge with other inspiring artists, CTM now offers a training academy to help allow beginners or existing Cosmetic tattooist to succeed in their skill set. With an intimate class of one on one or two maximum, the student will receive the highest level of training. With Shelley's true compassion for only giving her student the best, it is her mission that every student excels and feels comfortable with their new founded career. Ongoing mentoring and apprenticeship positions are available.
Microblading | Eyebrow Feathering | Eyebrow Tattoo
Microblading is a form of permanent eyebrow makeup that creates natural, beautiful eyebrows; it is sometimes also referred to as Eyebrow Feathering.
Although Microblading and Eyebrow Feathering are considered forms of eyebrow tattooing, the difference is that the artist draws every hair stroke with a handheld microblade. Each eyebrow stroke is manually shaped and blended into the client's existing eyebrow hair which results in a more natural look.
Why choose Melbourne Designer Brows for Microblading & Eyebrow Feathering?
Best known for her highly detailed and natural-looking Microblading & Eyebrow Feathering patterns, the way lead Artist Anne Nguyen performs the procedure is intricate, balanced, symmetrical and highly precise.
​Having studied Microblading and Eyebrow Feathering techniques from both Australia and overseas, Anne has combined her knowledge to create the best available microblading techniques worldwide available for her clients.
Everything you're looking for in a brow artist is at Melbourne Designer Brows.
​We welcome and encourage you to view the Gallery of our previous work.
How Long Does Microblading Last?
During the Microblading procedure, the artist carefully inserts pigment into the outer layer of skin of the eyebrows.
It is referred to as "semi-permanent makeup" and can last up to 12-24 months. The longevity of the microblading pigment is affected by various factors such as your skin type and lifestyle. Oily skin, for example, will retain pigment for a lesser time than non-oily skin. Similarly, excessive sunlight may fade the pigment sooner.
After this time, you can return for a 'touch up', change the look or shape of your brows or just return to the look of your natural eyebrows.
What is the difference between Microblading & Eyebrow Feathering?
Microblading is considered a form of 'eyebrow tattooing' and derives its name from the "micro blade" that is used to manually insert the semi-permanent eyebrow pigment into the outer layer of the eyebrow skin. This procedure is also commonly referred to as eyebrow feathering.
Although some artists may try to distinguish the difference between Eyebrow Feathering and Microblading by the thickness or the number of strokes applied, essentially it is the same procedure applied with a microblade. Most artists will use the term microblading or eyebrow feathering interchangeably for this reason.
What's the difference between Microblading and Eyebrow Tattooing?
Technically Microblading is a form of Eyebrow Tattooing and is only differentiated when the pigment is applied by the artist using a handheld microblade.
When the tattoo or eyebrow pigment is applied via a specialised cosmetic tattoo machine, this is then referred to as Eyebrow Tattooing or Cosmetic Tattooing.
In the case of Microblading, as the artist manually applies the pigment to the outer layers of the skin, it is less suitable for oily skin types and fades sooner than when applied by a machine.
When a longer-lasting eyebrow is desired or for excessively oily skin, eyebrow tattooing or a combination of eyebrow tattooing and Microblading may be the right choice.
MICRONEEDLING
Microneedling, also known as skin needling, is a non-invasive treatment that is designed to promote collagen and elastin production in the skin by stimulating it with a special micro-needling device.
The needles create microscopic punctures in the skin surface, which prompts the skin to stimulate collagen and elastin production, filling in fine lines, plumping the skin and contributing to a younger rejuvenated look. The procedure can be used on the entire face or specific areas of concern such as under the eye, nose and the lips.
Each skin needling treatment will take approximately 30-45 minutes to complete.
What to Expect
First, an anesthetic cream is applied to your skin to keep you comfortable during the procedure.
We then use a special micro-needling device over your treatment area, which creates microscopic holes in the skin's surface.
The process typically takes less than 30 minutes, and afterwards, your skin may appear a little red similar to a sunburn.
Post Treatment
There is minimal downtime post-treatment, you can expect some redness and your skin may feel slightly warm and sensitive similar to a sunburn.
The skin usually only takes a couple of days to look fairly normal, and results become apparent typically 7 days post-treatment. As the skin continues to produce collagen, optimal results are seen up to 3 months post-treatment.
It is important to note that optimal results are achieved typically after 3 to 4 sessions.
COSMETIC TATTOOING
In Short, Cosmetic Tattooing is makeup you can wear All day, All night. All week. All year!
Sometimes also referred to as semi-permanent makeup, it is a beauty treatment that involves the controlled insertion of safe colour pigments into the skin instantly improving appearance. This cosmetic treatment is usually applied to the eyes, brows, lips and cheeks and appears like perfectly applied make-up or the most subtle of enhancements.
Who benefits from a cosmetic tattoo?
People who don't want to spend their time applying makeup

People who need to look good every day for work and are

expected to maintain a certain level of grooming

People who enjoy sports, swimming and the beach

Those suffering alopecia and hair loss from medical

treatment

Those who suffer bad eyesight who have trouble applying makeup

Those who just don't like the 'made-up' look and want to look great in no time

Those who are always in a rush and feel that applying makeup is a luxury they just don't have time for!
Anne Nguyen is the founder and lead artist at Melbourne Designer Brows.
Having studied microblading techniques from both Australia and overseas, Anne has combined her knowledge to create the best available microblading techniques worldwide for her clients.
Anne has been in the Beauty Industry and has run her own salon for years, but Microblading is her passion. She loves being able to create the perfect eyebrows and loves revealing her work for the first time to her clients.
With the same passion, precision and attention to detail, Anne brings her experience to Cosmetic Tattooing and Skin Needling at Melbourne Designer Brows.
J'adore Brows & Lashes
Cosmetic Tattoo Salon  Melbourne 
03 9826 6163
Welcome to J'adore Brows and Lashes where Brows and Lashes are our forte. Based in Toorak village, we are an exclusive boutique salon that specializes in your beauty needs.
J'adore Brows and Lashes take pride in offering professional services in a welcoming and friendly atmosphere. Brows & lashes are just a few of the treatments on offer. We also specialize in Cosmetic Tattooing, Facials, and Derma-planning.
Our work ethics are about the quality of the products used and innovative techniques, hygienic environment, and exceptional customer service. 
Brow Shape
When it comes to brows, we know our stuff. Having seen thousands of clients & every type of brow imaginable, there is not much that we haven't come across! Choosing the right brow treatment and style to suit you is important. If you have thick, full eyebrows, you might like them tweezing or if you have thin, small eyebrows, you might like them filling in with a pencil. Either way, we can find you a shape that is flattering to your face. This is why every one of our brow treatments starts with a consultation, where we not only discuss your desired brow look, but we will help you with recommendations based on your face shape, skin tone, and your style. From a simple brow shape to a brow rehab regrowth plan we can help you to achieve the brows you've always dreamed of.
Men Brows
Between shaving facial hair and getting regular trims, men's eyebrow grooming can easily be overlooked. Thick, bushy brows are always on-trend, and while there are no rules, having a proper maintenance routine for them can help shape the face and define certain areas. "Thick brows that aren't groomed can feel heavy and sometimes flat," says Joey Healy, eyebrow specialist and owner of New York-based brow bar, Joey Healy Eyebrow Studio. "Even bold, dense eyebrows can benefit from a little architecture built into them to help support the facial features." Eyebrow grooming for male-aligned people doesn't necessarily mean removing a lot of hair, shaping them like an Instagram model, or creating high or dramatic arches. Some people just want to keep that classic masculine look, just a little cleaned up.
Henna Brows
Brows are as unique as fingerprints, from over-plucked to under-groomed, no matter what your brow dilemma – we have the solution. Henna brows is a tinting technique used to dye the brow area. Henna stains the skin underneath the brow area to give the illusion of fuller, more defined eyebrows. Henna dye is all-natural and derived from plants. This natural plant pigment is completely safe to apply to the skin, and being natural makes the ideal choice for sensitive skin types. Eyebrow tinting darkens and thickens the appearance of your brows while Henna brows give a bold and more matte appearance as it is the skin underneath the eyebrow area that is tinted.
Eyebrow Lamination
The latest brow trend is a treatment that involves giving brows new shape by setting the hairs in place - think of it as a perm for your eyebrows. The result can be tailored to suit your vision – if you want thick, fluffy brows it's perfect, and likewise, if you have wild, unruly brows, you can have them set into a more defined shape. If you want to correct your shape, lift your brow hairs, and cut down on your daily brow maintenance routine, then brow lamination is the treatment for you.
Eyelash Lift
Lash Lift gives you the appearance of longer, thicker lashes. No mascara. No messing. Just perfect lashes from the moment you wake up. A lash lift is a semi-permanent treatment best described as a perm for your eyelashes. A lift is essentially what your lash would be doing with a really good mechanical curler, giving a nice shape upward and a realistic curl. If you're going on vacation or prefer a low-maintenance makeup routine, you can opt for a lash lift and tint to deepen the colour of your eyelashes in addition to the more dramatic curve. Lash lift lasts 4-6 weeks.
Microblading
This method is ideal for anyone wanting to enhance the look of their eyebrows. The results are very natural looking, feathered hair-like strokes, regardless of the amount of hair present. People suffering from alopecia or any other condition that causes hair loss benefit greatly from Microblading, as well as people who simply aren't happy with their eyebrows but do not wish to have dark, defined High Definition brows. The pigments used in this method have been formulated to match your original eyebrow colour, and if the eyebrows are still present, blend perfectly into the existing hairs. The results are a natural, flawless, fuller looking brow. Initially, the brows appear darker but fade significantly over two weeks. It is crucial to have a touch up done, as it is very difficult to predict how well the skin will retain the pigment. The results can last anywhere from 6-18 months, depending on different factors such as clients' skin type, sun exposure, chemicals contained in creams and beauty products applied to the skin which could fade and break down the pigment sooner, etc. 
Ombré/Powder Brows
It is a semi-permanent makeup procedure for clients who prefer a fuller result, where we create a soft misty powder-filled brow similar to the makeup look. The tails of the brow are darker and fade to a light beginning of the brow giving a perfect ombre makeup affect. The effects will be waterproof, smudge-proof, and look completely natural. This technique differs from microblading in that it is established using a state of the art digital machine, not a handtool. This technique can be combined with microblading if you desire that hair stroke look at the front of the brow. Both ombre and microblading are beautiful and can be adjusted to look super soft or more intense. It just comes down to which style you prefer, your skin type, lifestyle, and various other factors which will all be discussed with you during the consultation.
Combination Brows
Combination brows is an ultimate brow treatment that combined both Microblading and Ombre/ Powder Techniques. With Combo Brows, the inner or the front of the brows is feathered with hair-like strokes while the tail is powdered for perfect definition. This technique is Ira's favour.
Your Brow Babes at Toorak Village, Melbourne
We all are Browaholic and passionate about our work. We never compromise on the quality of our services and the comfort of our clients. Treating each client as an individual, and this has gained us an excellent reputation with people travelling from far & wide to visit our welcoming salon.
We have very much become a destination salon in the heart of Toorak and gained a loyal following and an enviable reputation in the 3 years since we opened the doors to our beautiful clients.
Come & meet our friendly team and enjoy an excellent brow and lash experience.
Book your appointment for premium brows & lashes services.
Melbourne Brows
Cosmetic Tattoo Salon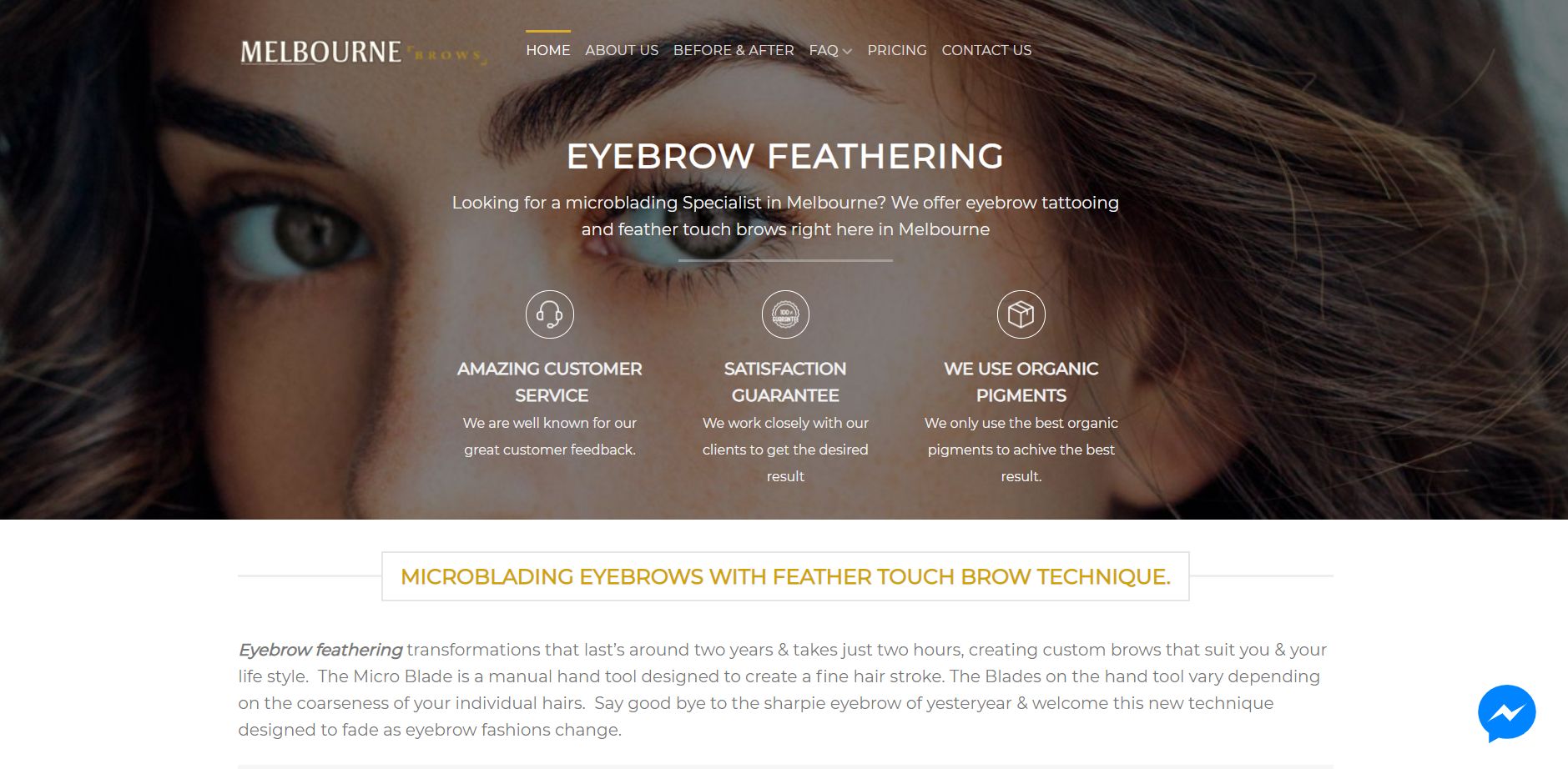 eyebrowfeatheringmelbourne.com.au
0431 538 441
Eyebrow feathering transformations that last's around two years & takes just two hours, creating custom brows that suit you & your lifestyle.  The MicroBlade is a manual hand tool designed to create a fine hair stroke. The Blades on the hand tool vary depending on the coarseness of your individual hairs.  Say goodbye to the sharpie eyebrow of yesteryear & welcome this new technique designed to fade as eyebrow fashions change.
Over the past couple of years, the cosmetic tattoo industry, i.e., Eyebrow feathering and Eyebrow Tattooing, has started to change a specially in Melbourne. Its definitely become a lot more popular. New techniques, pigments and tools have made it possible to create much more natural-looking eyebrows. These days we are able to create perfectly defined but natural-looking eyebrows hair stroke by hair stroke, and with the amazing pigments we have at our fingertips, we can create a colour to suit anybody. Pigments are specifically formulated to fade over time which means you can change the colour or shape of your brows when you have them touched up as your face shape changes over the years.
There are a few different techniques practised these days to create the perfect hair stroke eyebrow. I personally use 2 techniques.
The machine: each hair stroke is created one at a time with a tattoo machine (or gun as some may call it). Technicians will use different combinations of needles, but my personal favourite is a single needle as it leaves a beautiful, fine stroke, and I find the colour penetrates into the skin and lasts beautifully. As you can see, the colour looks a lot darker immediately after the procedure. The last picture is the healed result 1 month after the 1st procedure, and before the touch up as you can see, the strokes look quite natural.
Microblading: This is a fairly new technique. It is performed with a manual hand tool, it does not have any power source behind it. The tip is not a blade, it is a combination of needles all joined together like this: These needles come in many different combinations and shapes. The technician will choose a combination that they feel comfortable working with and what gives them the best result.
Then we simply dip into the pigment and gently create a hair stroke one at a time until we build the perfect eyebrow shape. Here is an example: As you can see the microblading can give a finer hair stroke, therefor often creating a more natural look.
Which Technique hurts more?
I don't think one technique hurts more than the other. I always make sure my clients are as comfortable as possible during both techniques and so far I haven't had anyone complain about the pain while getting their eyebrows tattooed (fingers crossed I never do, lol).
Which technique is for me?
This depends on the client's natural eyebrows and what they want from the procedure. For clients that don't have a lot of hair or have very fine hair, microblading might be the best choice for them. Clients that like a bolder look or have coarser, darker hair would benefit from the traditional machine.
Microblading can tend to fade a little quicker too.
So you must always have a thorough consultation with the technician performing your procedure and work out what is best for you.
Please make sure your technician is properly trained, ask to see certificates if necessary and definitely check out pictures of their work. Just because they say they have been in the industry for a long time does not mean they have performed a lot of procedures or kept up their training.
Beauty Science -
Cosmetic Tattoo Salon  Melbourne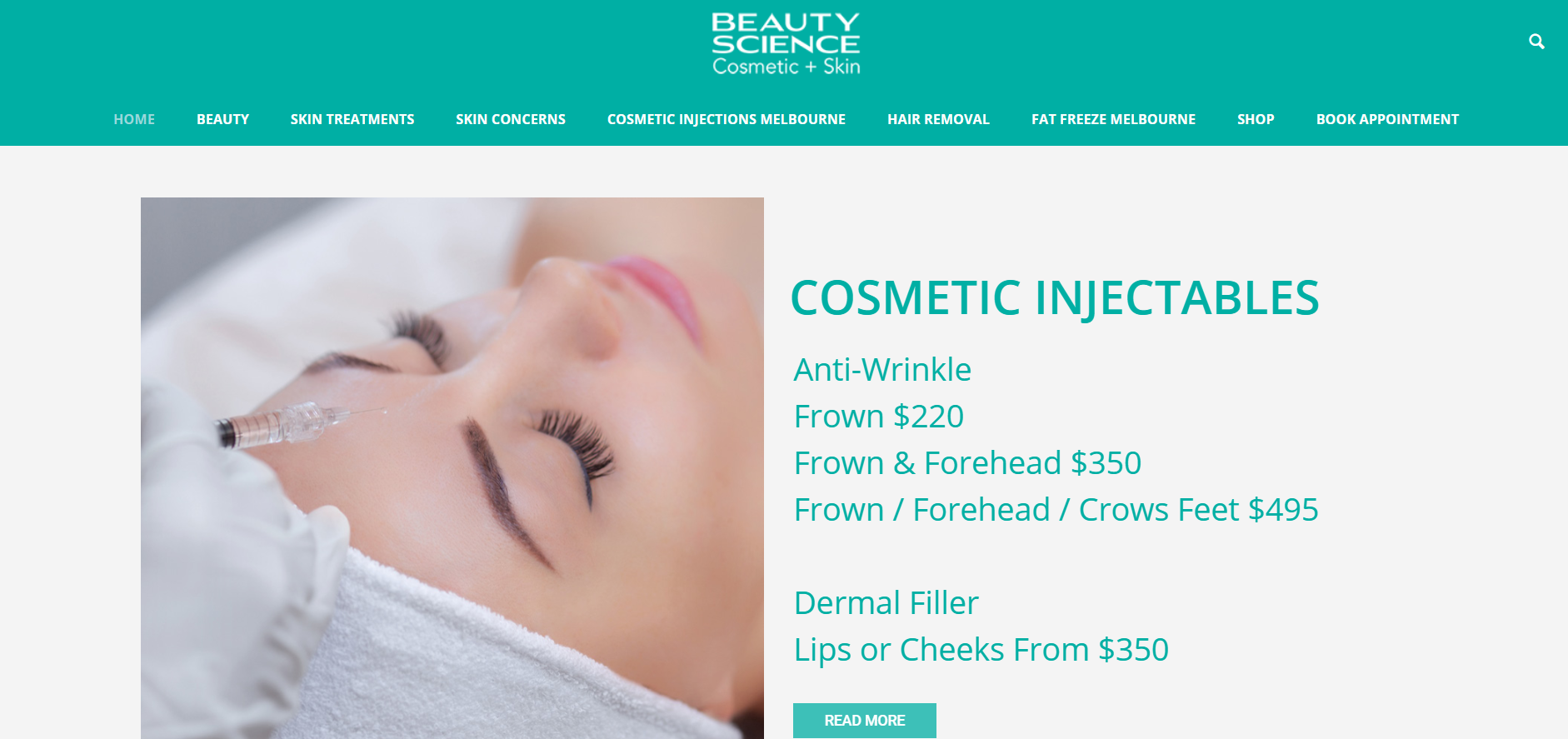 03 9569 6910
The best of beauty & clinical treatments since 1994
Qualified cosmetic, dermal and nursing specialists fuse the best of beauty and clinical treatments. Continuously evolving and offering all the latest techniques, trends, 'gold standard' technology and 'pure' skincare and cosmetics, we aim to provide a consistent personal & quality service.
COSMETIC TATTOOING
Qualified in all the latest techniques of brows including; hair strokes, shading, powder finish and ombre since 1992. Member of the Association of Cosmetic Tattoo Inc.
The Difference:
Knowing how to tattoo brows is just the beginning. Skills in skin type assessment, colour theory, brow shape and styling, hygiene practices, insurance and registrations, and TGA (therapeutic goods Act) certified pigments to name a few, should also be highly considered. And what if you don't like it-can they are removed?
Our owner (cosmetic nurse) has been providing PMU (permanent make up) services since 1994 and is a member of the cosmetic tattoo association. Membership to the association can only be acquired with registered and accredited training and proven expertise and experience. She also provides many techniques which she has mastered over the decades and not just current trending methods, and a master at 'repairs' which she often sees due to inexperienced operators.
She has also trained with famous 'brow shaping specialists and methods' from around the globe Svetlana Burckhardt, Jazz Pampling, Nilan Patel (HD brows the UK) Anastasia Beverley Hills. Beauty Science established one of the first ' brow bars' way back in 2007.
What is semi-permanent cosmetic make-up?
Similar to tattooing, it is accomplished through a process known by the medical field as micro-dermal pigmentation. Iron oxide pigments are naturally found in the body and are implanted into the epidermis of the skin, to create a natural finish and enhance natural features. Please note this procedure is not intended to replace make-up.
How long does it take?
Allow approximately 1 hour per application. Two visits are necessary to complete the treatment for new areas. During the first visit, the coloured pigments are applied to the epidermis. On the second visit, the final pigments will be applied for a longer-lasting effect. A numbing cream will be applied 30 mins prior to treatment for complete comfort.
Is it really permanent?
The process is considered semi-permanent but may lighten or fade over a period of up to 1- 2 years, but it varies with each individual. Touch up treatments will have a lasting effect.
How safe is it?
All articles used are sterile and are disposed of immediately after the treatment. After the completion of the treatment, mild swelling and tenderness can be expected up to 48 hours, but you may continue business as usual. You will also be advised about after-care, which involves applying cream on the area twice daily for 1 week.
BROW & LASH BAR
High Definition Brows
Trained in globally famous methods 'HD brows' and 'Anastasia Beverley Hills' we have designed a service to incorporate the best of both methods. This step by step process includes personal brow design, colour, waxing, tweezing, and a demo on brow make up application and home maintenance.
Lash Extensions
FULL CLASSIC SET $150
REFILLS POA
Keratin Lash Lift
$110 INCLUDES LASH TINT
This amazing technique lifts your own natural lashes, giving a fanned fuller effect without the need for extensions, unlike traditional perming, its a simpler and quicker process lasting between 4-6 weeks.
Additional Treatments
BROW WAX & STYLE $33

LIP WAX MAINTENANCE $20

CHIN WAX MAINTENANCE $20

SIDES WAX MAINTENANCE $22

LASH TINT $35

BROW TINT $25

BROW LAMINATION $60

HENNA $60
SUGARING
Sugaring is done at body temperature. There's no need for heat. Sugaring treatment adheres to the hair, not the skin, and lubricates the root for easier removal from the follicle.
WHY IS SUGARING BETTER THAN WAXING?
No risk of injuries, infections:
Used at body temperature.

Minimised risk of ingrown hairs.

Bacteria don't breed in sugar.

No risk of allergic breakouts.
It's completely organic:
Lemon, Sugar & Water. That's it!
Have you ever read the ingredients in the wax you've been using?  Which would you choose? The one you can eat, (no literally you can) or the one you'd have to call a poison hotline if your children got into it? 
Sugar only sticks to dead cells:
Unlike wax, sugar is water-soluble. This leads to a few great benefits, one of which is that it will not stick to water-containing live cells. This leads to less redness and irritation. It also allows sugar to act as an exfoliant, leaving your skin soft and silky-smooth after the treatment and days later. Unlike waxing that removes the protective barrier of your skin!
Another benefit of being water-soluble- it's easy to get off:
Have you ever gotten waxed and spent the rest of the day sticking to your clothes because of the pieces left behind?  We have all had that awkward experience going to the ladies after a bikini wax-ouch! Well, guess what! This doesn't happen with sugaring!  Even if you do end up with some left on your skin, a quick wipe with a warm cloth is all it takes to remove it.
Low temperature:
Sugar does not have to be at high temperatures like wax does. In fact, if it is too warm, we cannot use it.  It'll just turn into a giant blob of runny liquid sugar! This means there is no risk of being burnt like wax.  Additionally, higher temperatures lead to more swelling as heat draws blood to the surface. Something you'll be happy to miss out on with sugaring!
Sugaring leads to less breakage:
Sugar is applied against the direction of hair growth, and removal is done in the direction of growth, therefore minimising breakage of hair at the surface: the best part, less pressure=less pain.
Bonus: Your skin will stay smooth for longer as the hair bulb must be regrown before you will see hair again.
HYGIENE:
One of my favourite parts of sugaring is that it is way more sanitary than wax. Fresh sugar is taken out of the container each time by a new disposable glove. This sugar is then thrown out, at the completion of the treatment. Since there are chances of catching infections when getting waxed due to this reason, you can feel safe and sound knowing that this is not even a possibility with sugar. Besides, bacteria don't breed in sugar paste!
Sugaring leads to a permanent reduction of hair growth:
Each time you get sugared, your hair bulb gets ripped out, and your follicle collapses. Your follicle needs to be reconstructed, and your hair needs to be strong enough to push through this collapse. Over time your hair gets weaker, and eventually, the follicle stops producing hair altogether. The longer you've been getting sugared for, the less hair growth you will see. Pair this with laser hair removal treatments, and you will be hair free in no time! 
Samaya Beauty Centre -
Cosmetic Tattoo Salon  Melbourne 
(03)9440 1143
With Samaya Beauty Centre at your side, you can rest assured of your beauty at all times. In truth, Samaya is the place you need to be to look good, feel good and love life. See what your beauty can do for the Earth. We offer in-shop and outdoor professional services.
18+ years of professional experience in the Makeup industry.

On and Offsite makeup service

We use only quality Brand Makeup and Skincare products.

We specialise in services such as Waxing, Electrolysis, Micro-needling, cosmetic tattoos, and Tattoo and hair removal services.

Anti-wrinkle Injections.

100% Customer Satisfaction
We are a one-stop-shop specialising in all your Beauty needs. You can rest assured of your beauty at all times. In truth, Samaya is the place you need to be to look good, feel good and love life. See what your beauty can do for the Earth. We offer in-shop and outdoor professional services.
Our Services
Feathering Tattoo

Makeup Artist

IPL Hair Removal

Micro Dermabrasions

Anti Wrinkle Injections
Eyebrow Threading
Eyebrow threading a well-known ancient technique that has originated from the Middle East. Which is now becoming very popular in Australia and the western world. Many Clients are preferring their Eye Brows being threaded, rather than getting their Eye Brows waxed.
In fact, you can have the whole Face threaded not just the Eyebrow. You can have Upper lip, chin and the sides of your Face threaded as well.
Eye Brow threading is becoming popular for the following reasons:
It's reasonably priced and affordable.

It's not as painful as Waxing.

It's a lot quicker.

You only require a thread.

It's more precise.
About Samaya Beauty Centre - Makeup Artist In Melbourne
A well-known saying goes, "Beauty is not eternal". However, maintaining it to the best possible level as long as possible is rather an art than just a habit. At Samaya Beauty Centre, we believe in beauty with a conscience. We have created a beauty centre that offers the highest quality make up services in a setting that is healthier for the environment, our guests and our staff. We are committed to providing healthy beauty care with a low impact on the environment.
Founded in 2012, Samaya Beauty Centre has indeed grown leaps and bounds to become one of the leading beauty centres in Australia. Situated in the bubbly area of Bundoora, Melbourne, Samaya is known for delivering top profile and absolutely gorgeous all events make up including weddings and parties for its customers, provision of high-quality IPL hair removal and cosmetic tattoos and employment of the best hands in the industry.
These services are carried out by a team of highly qualified and experienced beauticians headed by Marcelle. Marcelle has been an experienced makeup artist for almost 18 years. We aim to provide each client with exceptional, professional service intended to relax, energise and revitalise you, your skin and your body. Aristocrats, celebrities, executives, professionals, students and kids all testify to the immaculate and unrivalled touch of Samaya Beauty Centre. Samaya is all about making you beautiful and confident about your look and personality. That is why we have travelled the world to get the best expertise and experience to give the beauty persona you deserve (that best suits you)
With Samaya Beauty Centre at your side, you can rest assured of your beauty at all times. In truth, Samaya is the place you need to be to look good, feel good and love life. See what your beauty can do for the Earth. We offer in-shop and outdoor professional services
Tulip Beauty -
Cosmetic Tattoo Salon  Melbourne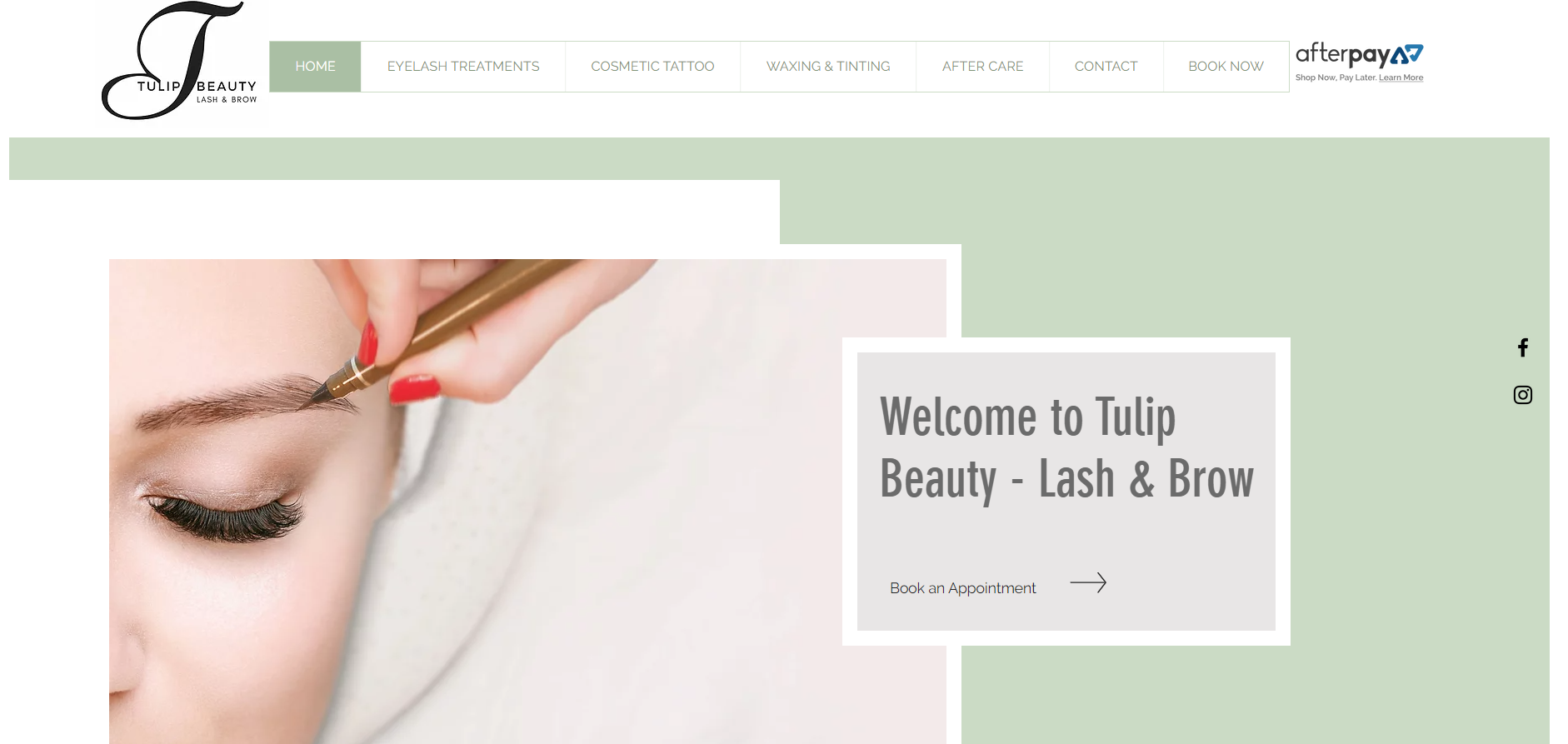 0404 529 781
Established June 2019, Tulip Beauty - Lash & Brow is Melbourne's newest trendy boutique corner.
Our highly qualified beauticians have over a decade of experiences and certifications to match, adhering to healthy hygienic practices for your peace of mind. Professionalism would be an understatement, and we strive to impress, over and over again. Tulip Beauty - Lash & Brow specialise in Eye Lash Extensions; from Classic to Russian, Cosmetic tattoo including Microblading tattoo for Brows and Waxing. We are conveniently located in the heart of the city in Somerset Place laneway just off Little Bourke and Elizabeth Street, Melbourne.
We pride ourselves in giving you a relaxing experience and committed to perform and conduct your treatments in a safe and professional environment, and of course, WOW results from every time for days/months to come! Are you ready to be impressed? Don't hesitate. Book Now!
Lisa Millington -
Cosmetic Tattoo Salon  Melbourne 
0437 660 997
SPECIALIST IN COSMETIC TATTOO AND NATURAL HAIR STROKE EYEBROWS
WELCOME TO LISA MILLINGTON'S COSMETIC TATTOO, NATURAL HAIR STROKE EYEBROWS, LIPS & EYELINER
TRAINER FOR COSMETIC TATTOO: MICROBLADING  – OMBRE – POWDER – 3D – EYELINER – LIPS
REFRESHER AND ADVANCED AND MENTOR TRAINING
Melbourne's Leading Cosmetic Tattooing Clinic
Lisa Millington specialises in natural semi-permanent makeup. She provides unparalleled artistry in the realm of cosmetic tattooing, giving her clients exceptional results. Clients throughout Melbourne can take advantage of Lisa's talent and ability in Melbourne. – Pascoe Vale South.
A Huge Range Of Permanent Makeup Services
Lisa Millington has a wide range of expertise and offers a comprehensive menu of cosmetic tattooing procedures. These include eyebrows, lips and eyeliner with a variety of techniques available to achieve the look you desire. Lisa customises each procedure to ensure the finished results complement and enhance the client's features. Regardless of the area being worked on, you can be sure that Lisa will utilise the most effective and advanced techniques available.
A Commitment To Cosmetic Tattoo Excellence And Client Satisfaction
Lisa has extensive training and experience across the full scope of facial morphology, paramedical cosmetics, and colour therapy and analysis. In every procedure, she shows her dedication to client comfort and works to ensure you receive the results you desire. Lisa has worked with cancer survivors, helping to restore their physical appearance, as well as repair their emotional wellbeing and give them confidence again. She regularly visits hospitals to perform areola tattooing for breast cancer patients and is passionate about the effect this has on their future quality of life.
Lisa Millington's Cosmetic Tattooing and Specialist Training in Cosmetic Tattoo.
Lisa has been operating in Melbourne for over 18 years in Cosmetic Tattoo. Lisa has created her own personalised cosmetic tattooing methods in which she is known for Australia wide. Providing target driven results to suit your every need, let Lisa introduce you to the world of semi-permanent makeup and show you how it can benefit your life beyond all imagination.
Because perfection is not always possible, sometimes you need a little helping hand. Through the evolution of cosmetic tattooing and the continued development of state of the art techniques and technologically advanced equipment, the enhancement of natural beauty at affordable prices is no longer a luxury enjoyed by celebrities alone.
Lisa has trained with some of the best in the Cosmetic Tattoo world and is very passionate about the way she works, helping clients overcome the anxiety of changing one's appearance. Lisa can transform you conservatively or more dramatic the choice is yours.
Eyebrow Cosmetic Tattoo Salon Melbourne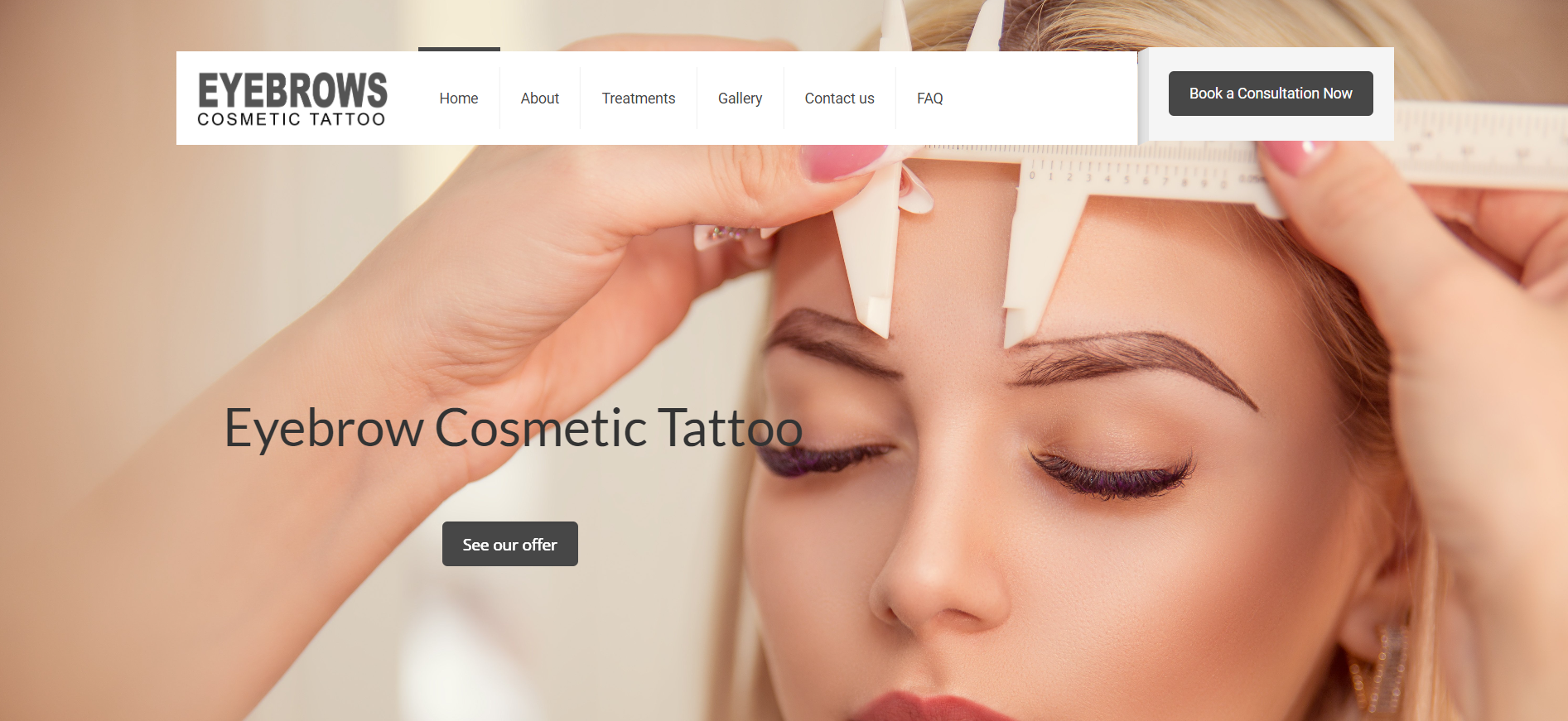 0405 106 240
We specialize in innovative types of eyebrow tattooing, including Ombre brows, feathering and microblading.
Ombre/Powder Brows
Session length 2 hr 30 min approx. / today price $250
Ombre brows is a new technique suitable for any skin type and make your brows look natural…
What Are OMBRE or POWDER brows?
Ombre Brows (also known as Powder or Shaded Brows) is a semipermanent MakeUp procedure, where through the manual process of implementing pigment into the top layer of skin.
In recent years, in cosmetology, powder technique for eyebrow tattoos is gaining more and more popularity. It is distinguished by a more gentle surface method of applying pigment, while the vascular layer of the epidermis is not damaged. The sacrum is almost not allocated, which greatly facilitates the work of the master since the lymph does not eject the pigment. In the process of powder tattooing, the effect of the light shadow is created under the hairs of your eyebrows, which allows you to avoid excessive contrast, sharp graphic contours and achieve the most natural, voluminous appearance of eyebrows.
The procedure is usually a three-step process that includes touchup session 6-8 weeks after the first treatment. The skin regenerates fully in 24 days, and we are able to enhance the colour and shape in the touchup session.
*This technique differs from Microblading in that we create misty, powder-filled brows resembling the look of Makeup. We use a single-use needle and machine for Permanent MakeUp
This technique (unlike Microblading) is suitable for any skin type (oily or dry), and any age as it looks very natural. This technique does not damage your skin, it gives a soft appearance of full enhanced brows.
Ombre brows last for 1-3 years depending on skin type.
Hair Stroke/ Nanoneedle/ Micropigmentation
Session Length 2hr30min approx./ today price $290
Treatment is for someone who prefers very natural look hair strokes.
What is Microblading?
Microblading is famous for the very natural looking hair added to make your brows fuller and shaped to the desired look.
With Microblading, we use a single-use hand tool, called a blade, and the technique is – to implement the pigment into the skin by cutting the skin.
Microblading is not suitable for every skin type – we consider the dry skin is good for Microblading. However, if you use make-up often, if you exercise a lot, like a pool or sauna, Microblading will fade very quickly, and you will need to touch up more often.
Micropigmentation VS. Microblading: What is the difference?
Microblading is a current trend for pigmenting eyebrows. Compared to conventional permanent makeup it lasts much shorter, only one to ten months. The reason for this is the bigger trauma for the skin: in microblading, the artist uses blades with which he cuts the skin very finely by hand. This injures the skin, and so the colour is flushed out by blood and body fluids. The result: the artist has to bring more and more colour in order to achieve better results.
The results are lines that are reminiscent of hairlines. Various factors influence the treatment's outcome and determine how long the pigments might remain in the skin. The skin type and the skin structure of the customer can significantly influence the results. Microblading is not suitable for some skin types.
The innovation: digital blading and powerful shading! The new nano-gradient needle configurations create the look of microblading with the benefits of micropigmentation. 
What Is Nanoneedle Hairstroke or Micropigmentation?
Nanoneedle hair stroke performed with nanoneedle and machine for PMU.
The stroke simulates your hair, in the same way as Microblading, however, is very safe for your skin.
Its looks very natural and we can add some shading to make your brows look fuller and realistic.
Combination Brows
Session Length 2hr 30min approx./ price $290 
Combination brows it's a hair stroke (machine) or microblade and shading combined technique.
Correction /Touch Up Treatment
Session 1hr 30min/ price from $150 for touch Up after first treatment until 12 months
What Materials do we use?
We use the best pigment line on the market Li-aqua and Li-velvet Line Made in the USA. Also, we use Permablend Line Made in the USA. These pigments formulated for PMU using organic products.
We use only single-use Vortex nanoneedles, specially designed for PMU and made in the USA.
We use a Xion machine designed and made in the USA, especially for PMU artists. All other materials are single-use only as Safety is the First Importance for our clients.
Our uniqueness is what makes us who we are; no two women are alike. In this sense, every one of us truly embodies perfection. And when we choose to embrace this, enhancing and accentuating ourselves in the most authentic way, we stay true to ourselves and the depth of our personalities.
Permanent eyebrow tattoo allows women to solve several problems: save time on everyday makeup and hide some imperfections. It became very popular and fashionable thanks to new cosmetic technologies and tattooing techniques.
See more of our list of microblading melbourne salons near you.
Brows & Beyond
Cosmetic Tattoo Salon  Melbourne 
 03 5903 4645
Semi-Permanent Cosmetics Re-Defined!
Welcome to Brows & Beyond, a Melbourne based owner-operated Boutique Salon. Your Aesthetician is Angela Ritchie, Specialist in the exquisite Art of Semi-Permanent Cosmetics, HD Brows Stylist and Dermatude Skin Rejuvenation Practitioner.
Eyebrow Tattoo
Brows are back, and everyone's talking about them! Arguably your most important facial feature, eyebrows give your face character and expression, whilst framing and accentuating your eyes. Surprisingly, however, the eyebrows are often our most neglected feature, seldom realising their full, brow-beautiful potential! A Cosmetic Eyebrow Tattoo Procedure will help you achieve your perfect arches, giving your entire eye area a lift. It is without a doubt (short of plastic surgery), the quickest way to a more groomed and youthful appearance!
Cosmetic Eyebrow Tattoo – for Beautiful Brows!
Our Cosmetic Eyebrow Tattoo Enhancement is our most requested procedure and for a good reason! Angela's signature brow design and eyebrow tattoo procedure will create a beautifully natural-looking pair of eyebrows for you, giving a youthful lift to your entire eye area, framing your features and complimenting your face!
We have not, unfortunately, all been blessed with beautiful brows. Many of us having over-plucked in our teens are left struggling with sparse and patchy eyebrows. Others have scars, gaps, medical conditions, uneven, non-existent or just poorly shaped brows. A beautifully natural Cosmetic Eyebrow Tattoo Enhancement is a fantastic solution, and overcomes most of these eyebrow 'issues'!
Brows & Beyond in Melbourne can help you achieve the perfect Cosmetic Eyebrow Tattoo. Your brows will be custom designed to suit your unique facial shape and features (no two sets of brows are alike), providing you with the most flattering and age-appropriate brows. Your eye shape, bone structure and facial contours are all carefully considered when designing the size, shape and position of your brows. Angela will then select and custom blend brow pigments to compliment your individual hair and skin tones, ensuring that you achieve a beautifully natural Cosmetic Eyebrow Tattoo Enhancement.
Feather / Hair Stroke Eyebrow Tattoo
Forget hard, flat and unnatural! The Feather Hair Stroke Eyebrow Tattoo is the latest hair-simulation technique for beautifully natural-looking eyebrows! Delicate individual hairs which mimic real brow hairs are meticulously crafted and woven together in the direction of your natural brow hair, creating a softly feathered effect. The result is beautifully natural, on-trend eyebrows that are totally flattering to the whole face.
Powder / Shadow Mist Eyebrow Tattoo
For a more subtle, soft pencil or powder shadow effect through the brows, the Shadow Mist Eyebrow Tattoo technique closely mimics the appearance of more conventional brow makeup. This powder eyebrow tattoo technique is particularly popular with both our blonde and more senior clients who wish to achieve gracefully arched and beautifully coloured, yet softly defined brows without the use of individual hair strokes – classic elegance!
Powder / Hair Stroke Combination Eyebrow Tattoo
For a fuller and more defined eyebrow, the above two eyebrow tattoo techniques may be successfully combined for a softly textured, defined, on-trend look!
Sublime Eyebrow Tattoo Colours
We have an extensive range of beautiful brow colours. Ash blondes through ash and golden browns to the chestnuts, auburn and darker shades, your hair and skin tones will be easily matched to find the perfect brow shade for you!
Eyeliner Tattoo
A beautifully applied eyeliner is fundamental in accentuating and enhancing the shape, colour and size of your eyes. A skilful Eyeliner Tattoo will give you a perfectly applied eyeliner in your choice of thickness and style, that is waterproof, smudge-resistant and long-lasting. For those wanting a fuller-lash effect or who are nervous about committing to eyeliner, a Lash Line Enhancement is another great option!
Cosmetic Eyeliner Tattoo – For your eyes only!
Besides convenience, a Cosmetic Eyeliner Tattoo is a perfect solution for anyone with allergies, contact lens sensitivity, dexterity issues, vision problems or an active lifestyle. The artistic placement of colour and line can also help correct the appearance of certain eye shapes and facial asymmetry.
A Cosmetic Eyeliner Tattoo Enhancement will quite literally enhance your life, never to go 'bare-eyed' again! You may choose top only or both top and bottom, adding depth, definition, and lift to the eyes so that they appear larger and more striking, and lashes appear thicker and fuller.
Lash Line Enhancement
For a subtle, 'barely there' look, a Cosmetic Tattoo Lash Line Enhancement will discreetly define and frame your eyes.  Tiny dots of colour are implanted between the lashes creating fuller, thicker, lovelier-looking lashes. A Cosmetic Tattoo Lash Line Enhancement rejuvenates the eye area without the noticeable effect of make-up, for a strikingly natural, fuller-lash appearance.
Eyeliner Tattoo Enhancement
For a more defined eyeliner, an Eyeliner Tattoo will enhance the colour, size and shape of your eyes. Colouring is applied through the lashes as in the Lash Line Enhancement, and an Eyeliner Tattoo line of your desired weight or thickness (up to medium weight), is beautifully drawn adjacent to the lash line.
Thick Eyeliner Tattoo Enhancement
For a bolder and more dramatic statement, you may desire a thick Eyeliner Tattoo Enhancement. Colouring is applied through the lashes as in the Lash Line Enhancement, and a more dramatic, thick Eyeliner Tattoo line is created and finished with a wedge-shaped or winged tail. Alternatively consider a smoulderingly seductive Smokey Eye Liner, which also may be finished with a winged tail.
Alluring Eyeliner Tattoo Colours
Select from our beautiful range of exotic eyeliner tattoo colours, used on their own or mixed to create an endless palette of alluring custom colours to enhance and beautify any eye colour! Softly muted shades for a soft natural look, and darker, stronger shades for a bolder, more dramatic effect.
Lip Tattoo
Juicy! Sexy! Pouty! Kissable! That's right we're talking lips, and what woman wouldn't want lusciously full, youthful-looking lips with a blush of healthy colour? As we age, our lips lose their fullness and colour, and the natural vermilion border diminishes. A Cosmetic Lip Tattoo Enhancement can help restore lips to their youthful appearance, whilst correcting asymmetries and re-defining natural lip contours for a perfect pout!
Cosmetic Lip Tattoo – Balanced, Voluptuous Lips 24/7!
Ideal for women wanting fuller, more defined lip contours, a Cosmetic Lip Tattoo Enhancement takes the hassle out of reapplying lip liner and lipstick throughout the day. Confident that your pout will always be on point, and your lip colour won't disappear whilst eating, drinking, or playing, leaving you looking drained and pale!
Besides enhancing the fullness and shape of your mouth, a Cosmetic Lip Tattoo Enhancement can also be used to correct inherent asymmetries – perfect if you have lost colour, shape or lip definition due to the ravages of time!
For that 'just bitten' appearance, a sheer lip blush may be right for you – perfect for that 'au natural' type of girl! Alternatively for a more glamorous, fuller-lip effect, a full lip tint is going to work wonders in redefining and re-shaping your lips.
Lip Tattoo – Natural Lip Contour
Re-define and enhance your lip contours with a softly lined lip tattoo. Alternatively, you may choose a stronger, more defined line for a lip-liner result.
Lip Tattoo – Contour & Soft Blush Shading
For that 'just bitten' youthful look, a softly sheer blush of colour will create a natural-looking fullness to your mouth. This style of lip tattoo is a great choice for the 'au natural' girl who wants a subtle enhancement of her natural lip colour, whilst creating gorgeous lip-fullness – just gloss and go!
Lip Tattoo – Full Lip Tint
Full lip colour can be applied across the entire lip area, enhancing your mouth, correcting asymmetries and making it shapelier, lovelier and fuller. This lip tattoo procedure can also closely imitate the appearance of a full lipstick application for the more glamorous ladies!
A Myriad of Juicy Lip Tattoo Colours
Select your perfect lip tattoo shade from our extensive range of deliciously vibrant lip colours: softly muted nude pinks, peaches and browns through to bold siren reds and juicy plums. Alternatively, bring in your favourite lipstick and lip liner to colour match!
Express Yourself in High Definition With HD Brows!
HD Brows is a bespoke eyebrow styling treatment for the ultimate in well-groomed, High Definition Brows. Taking eyebrow shaping to a whole new level, HD Brows is the new 'must-have' brow treatment demanded by celebrities and A-listers the world over!
Bespoke brows designed exclusively for you. Nothing comes close to achieving the glamorous, couture arches you've only ever dreamed of!
Brows & Beyond also stock the exclusive HD Brows make-up range for brows and face for sale to clients. A collection of beautiful brow makeup, blushers, powders and palettes to suit every skin tone, along with professional HD Brows brushes for flawless application.
Valentine Artistry
Cosmetic Tattoo Salon  Melbourne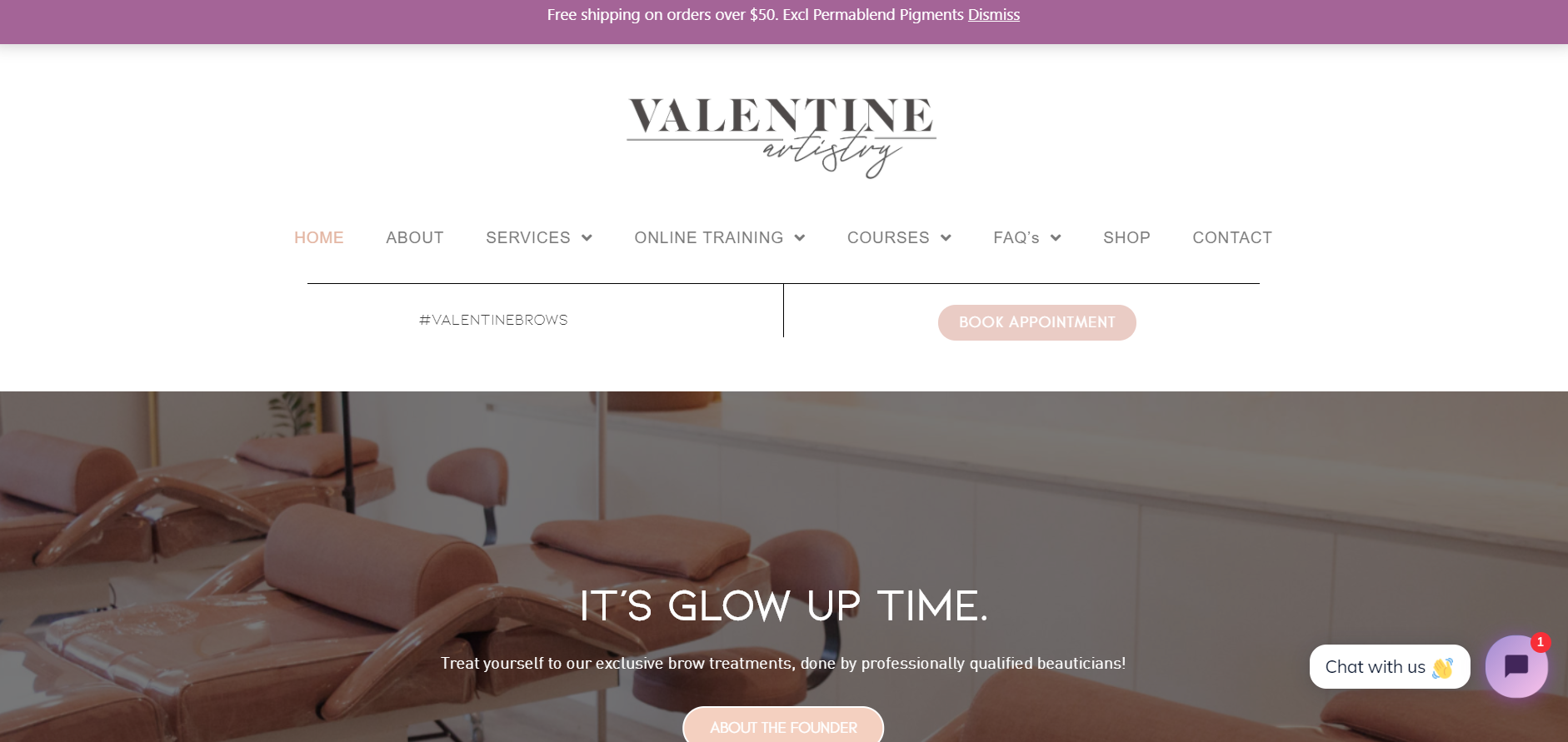 +61 401 544 661
LUXE EYEBROW MICROBLADING & COSMETIC TATTOOING IN MELBOURNE
A chic, open-planned space peppered with pink furnishings, luxe touches, good beats and even better brows, the Valentine Artistry studio is a long-time vision brought to life. Fulfilling the need for a place that embraces individuality, diverse beauty, fun chats and all-around goofiness, Valentine Artistry is as much your space as it is ours.
We'll be working closely with you to craft a gorgeous transformation and empowering you to feel comfortable in your own skin – own what your mama gave you! You're a natural beauty, and we want you to leave feeling at the peak of your beauty game (with magically fluffier brows).
Valentine Artistry has a buffet of delicious treats for your gorgeous face. From microblading to eyelash extensions, eyeliner tattoo and lip blushing, we've got a bougie somethin' for everyone. Plus, you're guaranteed good bants, chill vibes and silly giggles on the side.
We're here to add a touch of sugar, spice and everything nice to your pretty face so that you can live your best life…or snooze that alarm for an extra 15 minutes every morning. We've got you, girl!
MICROBLADING
This is the most natural form of cosmetic tattooing and the perfect starting point for most. Created with a fine needled hand tool, delicate strokes are placed behind existing hair growth to mimic the look of extra "hair". The result is a naturally full eyebrow. This style is best suited to those with a fine to full natural hair growth over most of their brow area, those who want to achieve a natural look and those who have dry to normal skin types.  It is not ideal for very oily skin types with large pores, mature skin or sun-damaged skin. 
COMBINATION BROWS
Want to achieve that natural fluffy brow whilst creating a beautiful delicate brow. Microblading creates the natural fluffy hair stroke look with a handheld tool.
The holy grail brow technique and the best of both worlds. A mix of Microblading throughout the brow blending back into a more defined, denser look with shading. 
Michelle's signature technique that allows you to customise to your preference; more or less of each technique.  Perfect for those who have little to no hair in the tails of their brows, those who love a little extra oomph in the back end, or anyone who simply prefers this look.
OMBRE POWDER & MISTING BROW
The holy grail brow technique and the best of both worlds. A mix of Microblading throughout the brow blending back into a more defined, denser look with shading. 
Michelle's signature technique that allows you to customise to your preference; more or less of each technique.  Perfect for those who have little to no hair in the tails of their brows, those who love a little extra oomph in the back end, or anyone who simply prefers this look. 
NANO MACHINE HAIRSTROKES
Want that hyper-realistic hair strokes to k? Nano strokes use a single needle tattoo machine to create individually crafted hair strokes. Yes! Each and every individual hair stroke and depth of the hair stroke is fine-tuned for your brows. The patterns of these hair strokes suit individuals with little to no hair.
Considered the Ferrari of all the techniques nano-strokes is the premium technique which will give you longevity and pleasure for your skin integrity. This technique includes nano-shading to fill in the gaps of your brows—the ultimate "fluffy brow" technique.
Learn the differences too between Microblading & Nano hair strokes here.
LIP BLUSH TATTOO
Do you wake up feeling like your missing a little something, something on the lips? Do you always wear lipstick and refuse to leave the house without some colour? 
Created with a  tattoo machine and nanoneedle, colour is misted into the lips to result in an ed depth of colour, corrected asymmetry and a slight fullness and definition. This is perfect for almost everyone, however, if your lips are wrinkled, scarred or you have dark pigmented lips please contact us to discuss further before booking. You'll need more than 1 session to achieve optimal colour.
OMBRE EYELINER & LASHLINE ENHANCEMENT
Wake up with a perfect wing or add subtle definition to your starry eyes with our eyeliner tattoo sorcery. Say no more to days of struggling to find the perfect eyeliner angle – starting from a simple, delicate lash line enhancement to simple starry ombre liner (for eyelash extension lovers), to a more defined natural liner. We have a selection for all lifestyles and preferences!
COSMETIC LASER TATTOO REMOVAL
The best, safest and most effective solution to cosmetic tattoos is cosmetic laser tattoo removal. The process requires knowledge, skill and caution as the laser tattoo removal process is performed on some of the body's most delicate areas – eyelids, eyebrows and lips. Cosmetic laser tattoo removal will target only the tattoo pigment, with surrounding skin not affected.
PLEASE NOTE – FOR SAFETY REASONS, TEST PATCHES WILL ALWAYS BE PERFORMED FOR COSMETIC LASER TATTOO REMOVAL. A $50 FEE WILL BE CHARGED AND WILL BE CREDITED TO YOUR NEXT FULL TREATMENT.
MICROBLADING COURSES & TRAINING
We've worked hard at perfecting our obsession with brows and sharing is caring. If cosmetic tattooing tickles your fancy, feel free to have a stalk of Valentine Artistry's Brow Academy, home to an array of microblading courses.
We're passionate about and love what we do, so we want you to feel empowered to bring your own dreams to life. Come train with us, young padawan.
We won't bite, we promise….we might have cupcakes too.
Meet Brow Queen: Mish
Hey girl! My name's Michelle, but everyone calls me Mish. 
I'm a Psychology graduate with over 10 years' of experience in the beauty industry, specialising in makeup, fashion photography, skin and permanent makeup (PMU). Combining my two big loves in life, helping people and art, I made the big leap of faith to follow my passion for PMU and make it my "9 to 5". Having found my spark, I obsessively travelled the world to train with famous Master PMU artists – receiving 15 certifications and counting.
And that's how Valentine Artistry came dancing along and took me to where I am today – and I couldn't be more grateful. I now spend my days adding a touch of sugar, spice and everything nice to babes' (and dudes') faces so that they can live their best lives and snooze that alarm for an extra 15 minutes every morning. 
On my days off, you'll probably find me binge-watching Survivor or working on my holiday Pinterest vision board, while eating copious amounts of sour mangos.
Thanks for believing in me and I can't wait to meet you.
Meet Senior Brow Slayer: Olesia
My name is Olesia, and I have been doing permanent make up for 3 years. I am internationally trained in the latest techniques and regularly attend advanced training courses and engage in constant self-development. I am a supporter of natural beauty – because we are all beautiful in our own way, and I only help you emphasize your natural beauty!
There is nothing more rewarding to me than seeing my clients reaction when they look in the mirror for the first time.
That is my job satisfaction.
Meet Lash Guru: Jocelyn
Flirty, fluttery lashes for days?
I'm Jocelyn, your lash artist at Valentine Artistry.
With over 2 years' experience specializing in Classics, Russian & Mega Volume lash extensions, I'm here to help your peepers put on a freakin' unforgettable show.
So come bat your eyes at me and let's lash you up.
Jenny Rinon Cosmetic Tattoo Specialist -
Cosmetic Tattoo Salon  Melbourne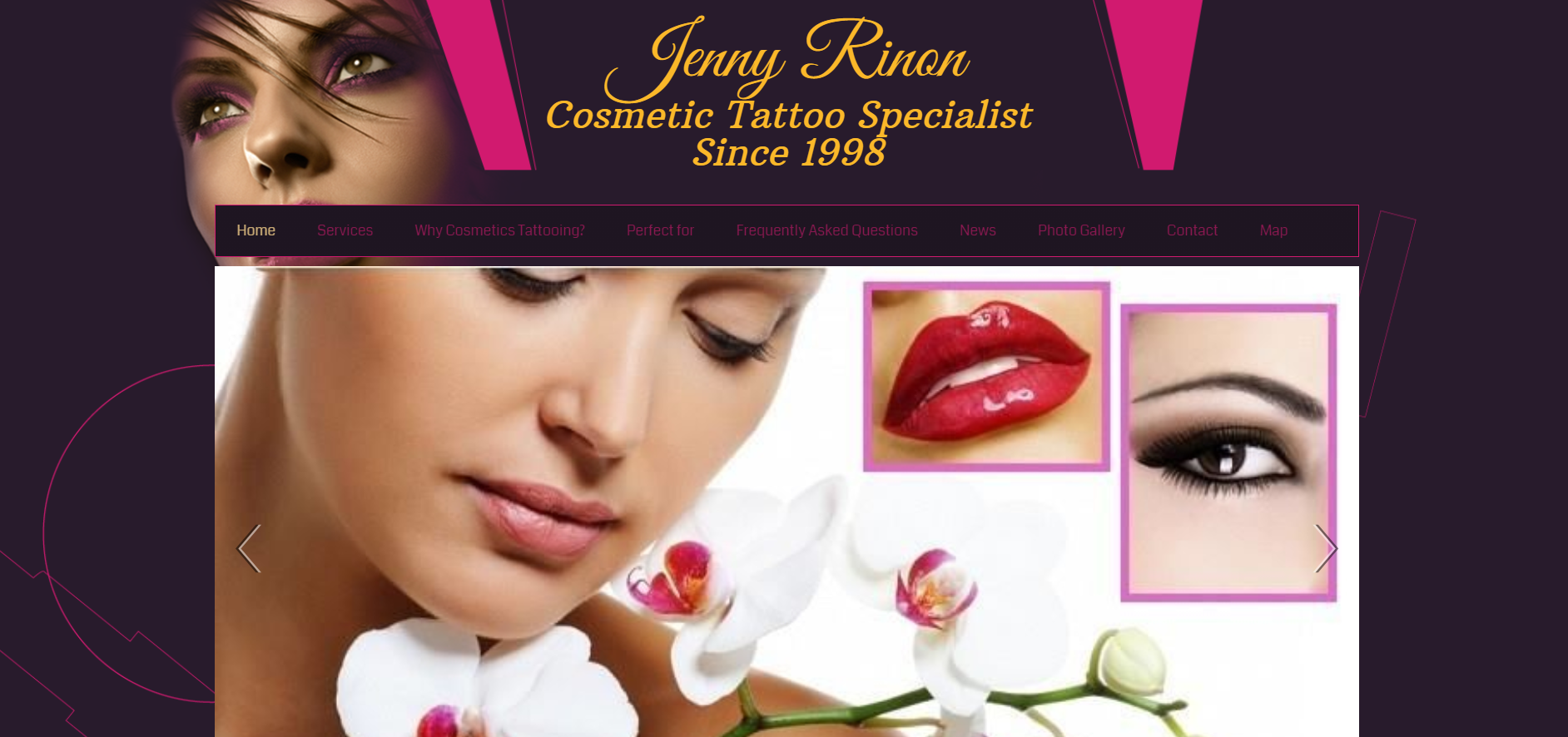 0408 477 005
Why Cosmetic Tattooing?
For many centuries women have feared to face the day without their eyeliner, eyebrows or lip liner, and for centuries they have beautified their eye's and lips. Today modern science and cosmetology have merged to create a technique for enhancing one's natural beauty permanently. This is known as Permanent Makeup, also known as cosmetic tattooing or micropigmentation. Pigments (extracted from vegetables and minerals) are skillfully blended and implanted into the dermal layer of the skin. The procedure involves the use of a handheld device, that penetrates the skin with a very fine needle, effectively embedding the pigment into the desired location.
Imagine the extra time Cleopatra would have had to conquer the world if she had permanent makeup?
Imagine the luxury of always having the perfect brows, eye's and lips! Colour implant means you can sleep, swim, perspire, cry, wash your face, rub it and wake up with your make up intact.
You can choose from 'soft and subtle' or 'bold and dramatic', selecting from a palette rich in colours to suit any complexion. Jenny will initially design your new eyebrows and lips with a makeup pencil.
No pigment is implanted until you are completely satisfied with the shape and colour.
Cosmetic Tattoo Creations will save you time and frustration, and you will look great 24 hours a day, it won't wash off and lasts for years! No smudges! No mess! And freedom from a vast array of makeup tools. This is a reality for many men and women and can now be yours as well!
SERVICES OFFERED
Classic Eyebrows

Microblading Eyebrows

Ombre & Powder Brows

Upper Eyeliner & Extension

Lower Eyeliner

Lip-Line

Lip Blending

Full Lip

Beauty Spot

Nipple-Areola Re-pigmentation

Corrective colouration
Permanent Make-Up is perfect for everyone from the young to the elderly who desire a soft natural enhancement of their appearance.
Busy people - professional and housewives who value their appearance, but do not have time to constantly reapply the make-up.

Physically Active People - who want to look great even when participating in sweaty pursuits.

Vision Impaired - persons who have difficulty applying make-up.

Motor Impaired - persons, including those with arthritis, Parkinson's disease, multiple sclerosis, stroke survivors and those with unsteady hands.

Allergy Sufferers - who are sensitive to normal cosmetics.

Alopecia Areata - who have lost partial or all facial hair including eyebrows and / or eyelashes.

Chemotherapy - recipients with full or partial hair loss.

Post Surgery or Injury - those seeking nipple-areola repigmentation of creation, camouflage of scars and burns, redefinition of facial features.
iBrow Beauty
Cosmetic Tattoo Salon  Melbourne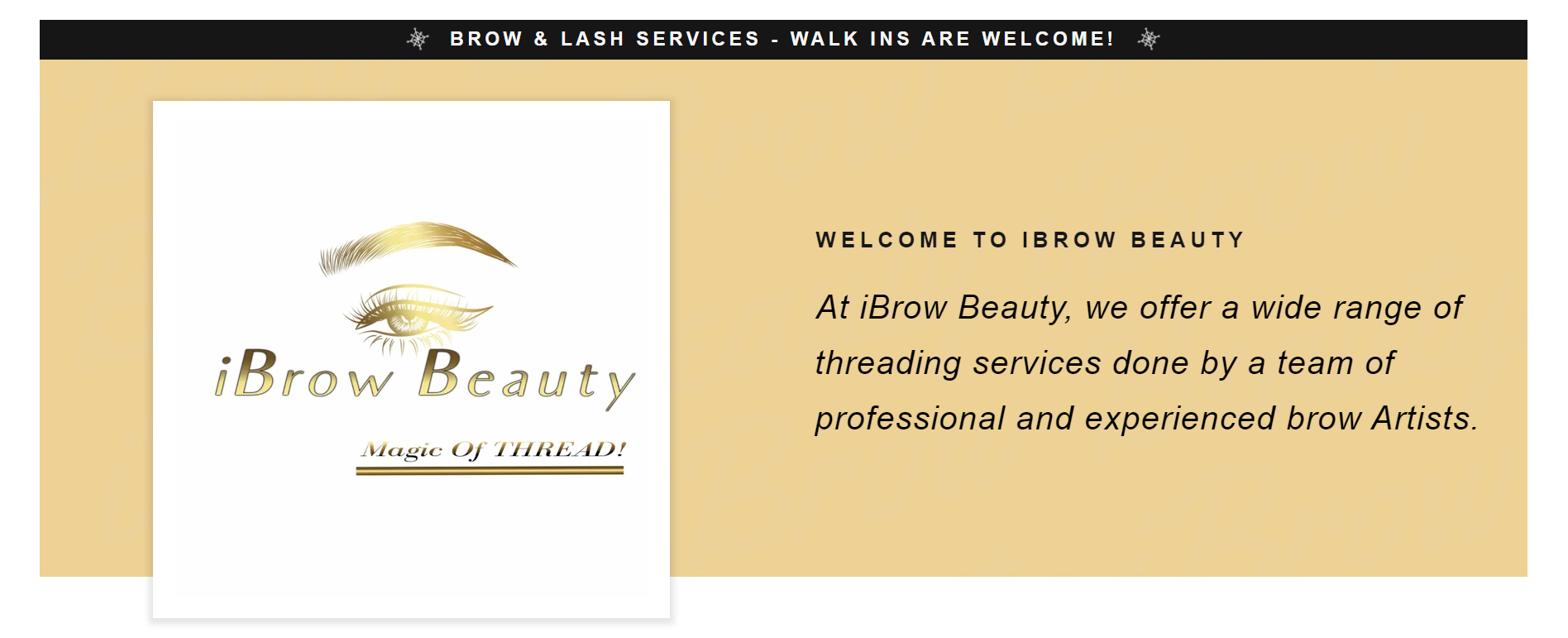 0406678853
At iBrow Beauty, we offer a wide range of threading services done by a team of professional and experienced brow Artists.
Eyebrow Threading
iBrow Beauty uses organic thread which means less pain and perfect brows. Removes all facial hair quickly and hygienically. iBrow Beauty always uses sanitised tools.
What is THREADING?
Threading is a technique mostly used on eyebrows, lips, chin and cheeks to remove unwanted hair with a special type of cotton thread that is gently rolled on the surface of the skin in a quick motion, creating a precise hairline by the experts.
Benefits of Threading over Waxing:
No Chemical used.

Threading is better for sensitive skin.

Threading last longer.

Less Pain.

Threading is more precise.

Threading is much cleaner.
HENNA TINTING
Henna eyebrow tints are a semi-permanent form of eyebrow tinting using natural Henna.
Regular tinting the tint only last up to 2weeks on brows, whereas Henna can last for up to 6weeks.
3 POINT TECHNIQUE
Our professional & experienced brow artist measure your brows by 3Point technique before shape it making sure our customer get perfect eyebrows in town.
EYEBROW SHAPES
Our professional brow artist can guide you to find the right brow shape for your face. Get the right shape and change your look. Get it done by Professional!
EYELASH EXTENSIONS
iBrow Beauty offers eyelash extensions at a competitive price. (by appointment only). Eyelashes did by our experienced staff.
Judy Feather Eyebrow Tattoo -
Cosmetic Tattoo Salon  Melbourne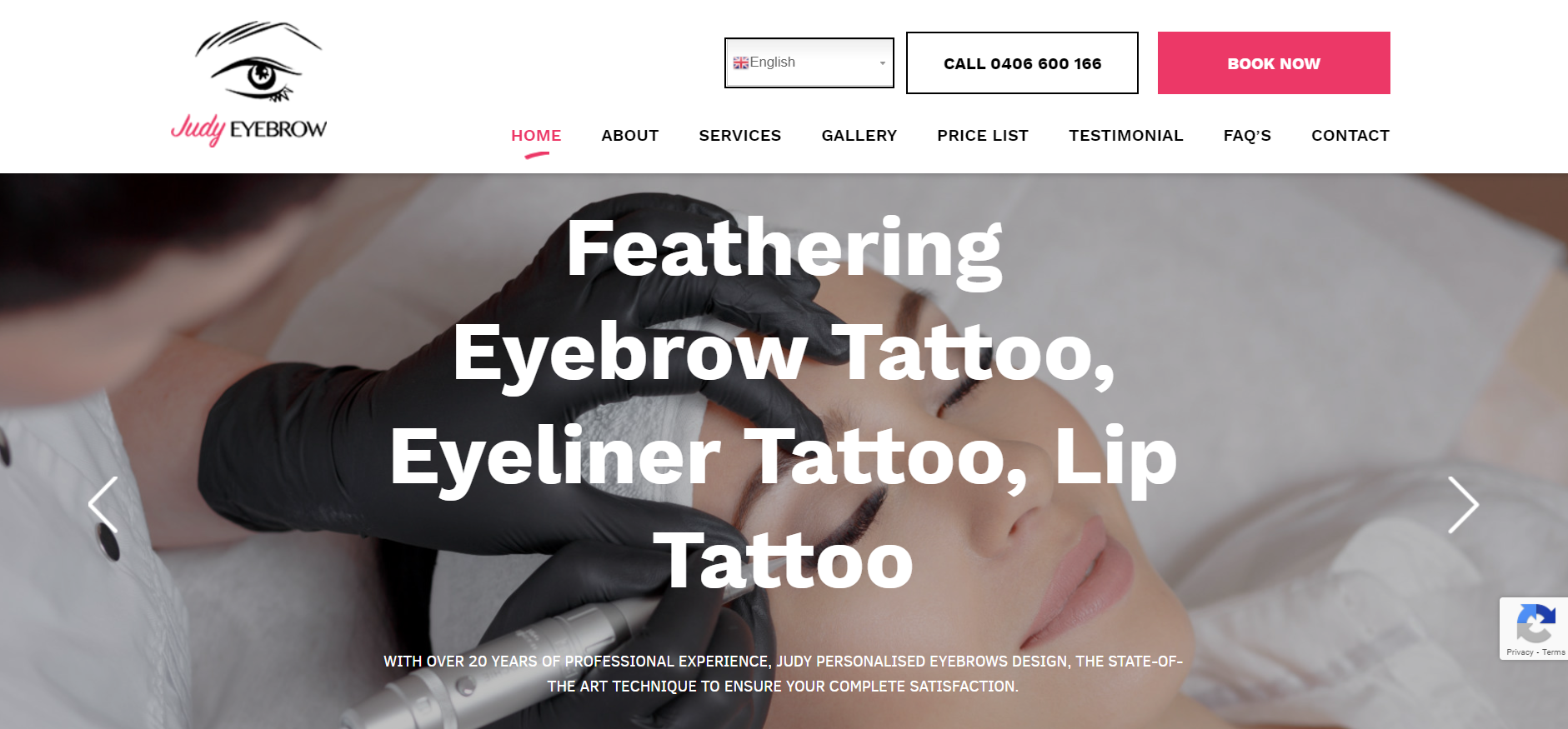 0406 600 169
We Create The Most Natural Looking, Realistic Hair Strokes in Eyebrow Permanent Makeup.
If you want the best cosmetic tattoos in town, drive down to Blackburn and pay a visit to Judy Eyebrow. Our team have the artistry and technical expertise to create stunning results when it comes to cosmetic tattoos in Melbourne. Our tattoos look so natural, and people won't be able to tell tattoo from your natural beauty.
We enhance the looks of our clients in ways that are simultaneously subtle and noticeable. Have a chat with our tattoo artist in your initial appointment to ensure you obtain the exact type of appearance you want with your cosmetic tattoos. We can customise our techniques to cater to different requests.
Eyebrow Tattoo
Looking for an eyebrow tattoo near Box Hill? Judy Eyebrow is a studio for eyebrow tattoo in Blackburn that's conveniently located nearby. Our tattoo artists are highly skilled with both an aptitude in artistry and technical knowledge of cosmetic tattooing. We can get you stunning results when it comes to an eyebrow tattoo, ensuring your eyes will be framed beautifully.
How Long Does an Eyebrow Tattoo Last?
The cosmetic eyebrow tattoo process is a semi-permanent eyebrows tattoo method which doesn't last as long as a regular tattoo, as it's applied in a different way using dissimilar tools.
How long an eyebrow tattoo will last will depend on a number of factors. Your skin type and condition will have an impact on how long cosmetic tattoos hold their pigment for. Whether or not you follow the aftercare instructions will also have an effect. Generally, though, you can expect an eyebrow tattoo to last between 12 months and 3 years.
Semi-Permanent Eyebrows Tattoo
Zhong has been working as a specialist cosmetic tattoo artist for 20 years and has taught her tattooing method to students in China for the last 10 years. You couldn't be in safer hands to get a semi-permanent eyebrows tattoo with Judy. Whether it's your first time or you need an eyebrow tattoo touch-up, Judy will listen to your needs and make you feel completely relaxed throughout the whole process.
What is Semi-Permanent Eyebrows Tattoo?
A semi-permanent eyebrows tattoo is applied with a microblading method that inserts mineral pigment into the upper skin layers. The idea is to provide extra definition, shape and fullness to the eyebrow with this ink enhancement.
How Long Does a Semi-Permanent Eyebrows Tattoo Last?
The length of time that semi-permanent eyebrow tattoos last can vary greatly, but it's usually between 12 months and 3 years. The reason for the large variation in time is that there are numerous factors that can affect how long a tattooed eyebrow will last.
Firstly, your skin condition will have an effect – whether your skin is dry or oily will affect the result. Secondly, if you meticulously follow all the aftercare instructions, including doing tattoo touch-ups every 6 to 12 months, your eyebrows will last longer. The skin products you use on your eyebrow area may also influence how long your eyebrow tattoos last.
Microblading Brows Tattoo
If you want a high-quality microblading brows tattoo from a leading cosmetic artist in Melbourne, come to Judy Eyebrow. Award-winning tattooing artist Judy Zhong has been working in the industry for the past 20 years, as well as teaching her microblading brows tattoo technique to students in China for the last 10 years. If you're searching for a cosmetic tattoo artist whose results are reliable and precise, benefit from our expertise.
What is the Process for a Microblading Brows Tattoo?
Microblading is a form of semi-permanent cosmetic tattooing designed to make eyebrows look more shapely and full. The end appearance of the eyebrow can be customised to look anywhere from quite light to a very bold brow.
In the initial consultation, our artist Judy Zhong will suggest a brow shape that best suits your face structure, and that matches your natural eyebrow hair colour and skin tone. She'll then clean the brow and apply a numbing cream to minimise any pain from the procedure. Judy uses a special handheld tool to expertly draw in hair strokes on your brows. Lastly, Judy applies an ointment that helps with the healing of the cosmetic tattoo.
How Long Will My Microblading Brows Tattoo Last For?
There are a number of factors that affect how long your eyebrow tattoo will last. These factors include:
The kinds of products you regularly use on your eyebrow area

If you follow the aftercare instructions for tattoo healing

If you have touch-up tattooing done as recommended

The amount of time you spend exposed to the sun

The condition and type of your skin

How readily your skin accepts and keeps mineral ink
For more information on getting the most out of your microblading brows tattoo, pay special attention to the aftercare instructions provided by your cosmetic artist. You can also ask Judy any questions you have about a microblading brows tattoo before you commit to the procedure.
Due to the factors above, the length of time that a microblading brows tattoo lasts for will vary, but you can expect your eyebrows to look stunning for between 12 months and 3 years.
Feather Brows Tattoo
If you're interested in getting a feather brows tattoo, there's no better choice than Judy Eyebrow. Our principal cosmetic tattoos artist, Judy Zhong, has won many awards for her work and has been in the industry for 20 years. She has also taught students in China her techniques for the last 10 years. Who could be a better candidate to create the perfect feather brows tattoo to flatter your features? If you want reliable, precise results, you need a tattoo artist who knows her technique − and that tattoo artist is Judy Zhong at Judy Eyebrow.
What is a Feather Brows Tattoo?
A feather brows tattoo is applied to the eyebrow area either by a handheld tool that has several tiny needles – known as microblading – or a specialised cosmetic tattooing machine with a single needle – known as nano brows. The idea of feather brows tattoo, or hair stroke brows as they're sometimes called, is to mimic the look of real eyebrow hairs. This technique is useful for those who want fuller brows or who have sparse patches in their natural eyebrows.
What is the Process for a Feather Brows Tattoo?
First, you'll have a private consultation with our lead artist, Judy Zhong. In this session, you'll determine what kind of eyebrows you want – subtle, or fuller and bolder. Judy will also determine the best shape for your eyebrow based on your facial structure and show you a mock-up drawing on your face for your approval. The ink used for your cosmetic tattoos will match your natural eyebrow colour and complement your skin tone.
Judy will then clean the area to be tattooed, applying numbing cream so that the procedure isn't painful for you. She'll use a handheld tool to draw in individual mineral ink strokes into your skin that looks like real hairs. Afterwards, Judy will apply a lotion that will aid the healing process of your new feather brows tattoo.
How Long Will My Feather Brows Tattoo Last For?
A feather brows tattoo will last for different lengths of time for different people depending on:
The products you regularly use on your face

Your dedication to following aftercare instructions

Whether you get touch-up tattooing done

If you're in the sun a lot

Your skin type and condition

Your skin's reaction to the ink
For the best results, always follow the aftercare instructions that your cosmetic tattoo artist provides. You can ask Judy any questions you have about your feather brows tattoo either before or after your procedure. With the above factors in mind, your tattoo should last anywhere between 12 months to 3 years.
Semi-Permanent Eyeliner Tattoo
Whether you're getting a semi-permanent eyeliner tattoo or an eyebrow tattoo in Blackburn or elsewhere, it's important to choose an experienced artist in order to get the best results. The award-winning cosmetic tattoo artist at Judy Eyebrow has been conducting semi-permanent eyeliner tattoo − and every other type of cosmetic tattoo − for the past 20 years. If you want a tattoo artist with masterful skills, arrange a consultation with Judy Zhong − a leading cosmetic tattoo artist in Melbourne.
What is a Semi-Permanent Eyeliner Tattoo?
A semi-permanent eyeliner tattoo is a form of cosmetic tattooing that lays down colour in the upper layers of the skin, along the lash line of the upper and lower eyelid. The purpose of semi-permanent eyeliner tattoo is to eliminate the need for fiddling around with normal eyeliner makeup every day, which wastes time and can be frustrating to obtain the desired effect. With a semi-permanent tattoo, the eyeliner is always there and perfect in shape, depth and colour 24/7.
How Long Will My Semi-Permanent Eyeliner Tattoo Last?
A semi-permanent eyeliner tattoo will usually last for approximately one year. However, it could remain on your skin for up to 3 years. It depends on a variety of factors, including how your skin reacts to the pigment, the kinds of beauty products you use regularly, and UV rays from the sun. It's usual to need a tattoo touch-up after one year to keep the pigment looking even and strong.
Permanent Lips Tattoo
Do you find putting on lipstick frustrating or time-consuming? And having to reapply all day… who needs that? Now you can have perfect lips 24/7 with a permanent lips tattoo at Judy Eyebrow. Our principal artist, Judy Zhong, has been a leader in this industry for 20 years. She's not only won awards but has taught students in China her unique permanent lips tattoo technique. And now she's here in Australia, ready to do your permanent lips tattoo and create kissable lips for you that last year.
What is a Permanent Lips Tattoo?
A permanent lips tattoo works to add definition to THE lips. It doesn't physically add any volume or puffiness, but it does give the illusion of a fuller lip. A permanent lips tattoo is also appropriate for people who have hyperpigmentation on the lips and who want a way of correcting colour. It's a natural-looking technique when applied by a skilful cosmetic tattoo artist.
How Long Do Lip Tattoos Last?
The length of time your permanent lips tattoo lasts will depend on a variety of factors. One of them is the shade you choose. If your shade is lighter, or closer to your natural lip colour, then your permanent lips tattoo will fade away sooner. To prevent it fading, you will need to have a tattoo touch-up to renew the colour. To avoid this, choose a colour that's one or two shades brighter or darker than your natural skin tone on the lips.
Hairline Tattoo
Is your hair becoming sparse in places? Need to thicken the look of your hairline? Come to Judy Eyebrow for outstanding natural results in a hairline tattoo. No one will know that it's not real hair when you get a hairline tattoo at our clinic in Blackburn. Our lead artist, Judy Zhong, has been in this industry for 20 years and has enviable skills as a cosmetic tattoo artist.
What is a Hairline Tattoo?
A hairline tattoo mimics the look of real hair on the hairline and on the scalp. Both men and women can have hairline tattooing done. It's commonly used to give the impression of thicker hair at the hairline or to give the appearance of light short hair growth over the scalp. As it's important that the end result looks natural, it's best to choose a cosmetic tattoo artist who is very experienced. Our lead artist, Judy Zhong, has been doing cosmetic tattoos for 20 years and can guarantee a high-quality result for you.
With over 20 years of professional experience, Judy Eyebrow has perfected personalised eyebrows design with state-of-the-art eyebrow tattoo techniques to ensure your complete satisfaction.
We create the most natural-looking, realistic hair strokes available in eyebrow permanent makeup, as well as offering other cosmetic tattoos such as permanent lips tattoo and semi-permanent eyeliner tattoo.
Amanda McGregor Tailored Cosmetic Tattooing Salon Melbourne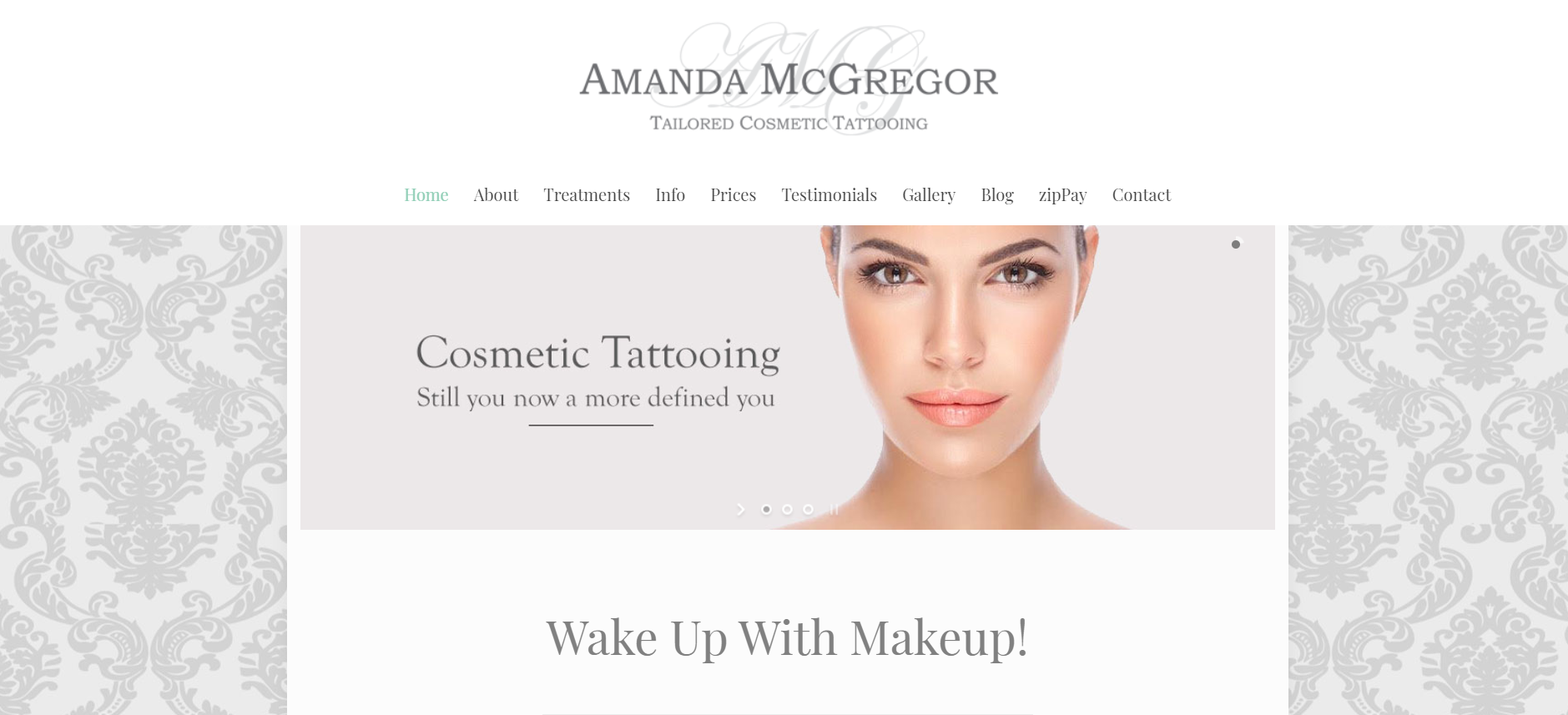 0437 235 347
Wake Up With Makeup!
Cosmetic Tattooing | Semi-Permanent Makeup
Beautiful Eyebrows
Eyebrow tattooing also called feathering, simulates brow hair using a technique called microblading. This is the most natural-looking eyebrow treatment you can have.
Effortless Eyeliner
Eyeliner will make your eyes stand out and enhance that youthful look. Fine eyeliner or lash enhancement will define the shape, colour and size of your eyes.
Youthful Lips
Lip line and blend or full lip tattooing will restore lost colour and rejuvenate your face. Transform your lips, enhancing volume and defining the perfect shape.
Tattoo Removal
Remove unwanted cosmetic tattoos with a hyper-tonic sterile saline solution, allowing the skin to heal naturally. Multiple sessions may be needed.
Giving Back
Amanda offers to tattoo for clients in need who may have lost hair due to illness, Chemotherapy or Alopecia, at no cost to them.
Find out more.
Price List
Amanda's price list provides comprehensive information about her treatment pricing. For further details, contact Amanda for a consultation.
Amanda is passionate about her field of cosmetic tattooing, and the results speak for themselves.
I have been interested in eyebrow shaping since I was a teenager. Not knowing how to shape my eyebrows, like so many others, I did some damage from plucking too much out. As time went by, my eyebrows didn't grow back much at all. My brows thinned out more as I got older, and thanks to a couple of scars and an unbalanced thyroid issue and I wasn't left with much by the age of 40.
I had to pencil them in every day, constantly tinting to keep them looking good, until it got too annoying. I had to learn how to fix my eyebrows, and with a lot of practice and persistence, I was soon able to help other people fix theirs. I have now been shaping eyebrows for over 30 years and tattooing for more than a decade.
The secret is being artistic, having an eye for detail, and the patience to deliver an excellent result every time. What I do is ingrained in me, it's my passion. You can teach someone to paint, but that doesn't make them a great painter. Many cosmetic tattooists are not artistic, so I've trained in a variety of different techniques, combining my artistic flair with my eyebrow shaping skills – and here I am!
Anh's Artistry -
Cosmetic Tattoo Salon  Melbourne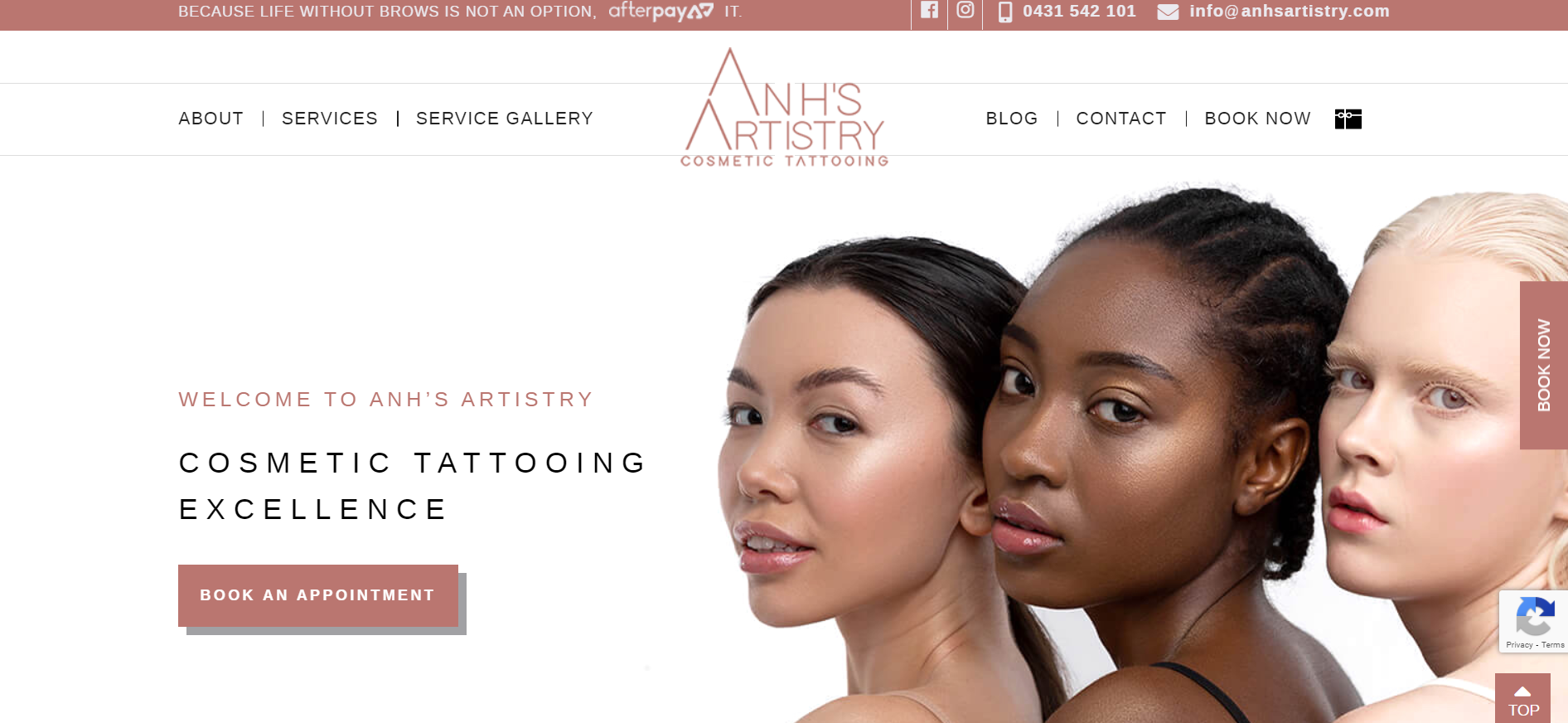 0431 542 101
We specialise in cosmetic tattooing for eyebrows, lips and eyeliner, helping you to look your best every day.
EYELASH EXTENSION
Do you want to accentuate your eyes without spending hours in front of a mirror? At Anh's Artistry, we offer eyelash extensions in Melbourne that can enhance your natural beauty and reduce the amount of time you spend on your makeup routine every day. Our one-on-one service can help you achieve your beauty goals and improve your self-confidence. Whether you want classic extensions or volume extensions with up to four weeks of refills, we can deliver results that will satisfy and impress.
What We Offer
When it comes to eyelashes in Melbourne, there's nothing our specialists can't do. We offer the following services:
Lash Lift & Tint – A 60-minute treatment that creates luscious lashes which last up to eight weeks, eliminating the need for eyelash curlers and mascara

Classic Extensions – A 90-minute procedure that involves adhering individual synthetic extensions to each natural lash

Volume Extensions – A more premium option for clients who want the fullest and longest-lasting extensions for their natural eyelashes

Hybrid Extensions – A combination of classic and volume extensions that make your lash-line look darker and more voluptuous
Our professional yet friendly service also offers up to four weeks of refills for classic, volume and hybrid extensions. In addition, we can remove lash extensions the moment you no longer want them for any reason.
The Benefits Of Eyelash Extensions
Our lash extensions in Melbourne offer multiple benefits, some of which include:
Enhance your natural lashes

Accentuate your eyes

Eliminate the need to use mascara

Causes no damage to your natural lashes

Lightweight, water-resistant and realistic looking
Our tailored service includes a free consultation to make sure you receive extensions that are suitable and achievable.
COSMETIC TATTOOING
Are you unsatisfied with your appearance and want to accentuate your facial features? Anh's Artistry proudly offers professional cosmetic tattooing in Melbourne and Townsville. We can provide a free 30-minute consultation either face-to-face or over the phone, during which you can discuss your goals, ask any questions you may have and seek advice on current trends, and together we can determine the best course of action. Whether you are looking for cosmetic tattooing, eyelash extensions or even brow lamination, we can provide a wide range of services to help you attain your desired look.
Eyebrows
When it comes to eyebrows, there's nothing our specialists cannot do. We can provide microblading that creates natural and realistic hair strokes, brow machine shading that creates more defined shapes and adds soft colours, and other treatments that are customised to your specific needs.
Eyeliner
If you want tattoo eyeliner, we have multiple treatment options for you to choose from. This includes eyelash enhancement, wing eyeliner, and an additional smokey liner look. We're confident that our friendly service will achieve an excellent result for your eyeliner look.
Lips
Are you unhappy with the current shape or colour of your lips? We can provide the best cosmetic lip tattoo in Melbourne that enhances the natural appearance of your lips. Whether you want a lip line and blend that defines your lips or a full lip blush that creates the perfect colour, we can help.
Eyelashes
Our tailored service can be used to accentuate your eyelashes and achieve a beautiful natural look. We're fully capable of providing classic and volume extensions or a hybrid of both. We also offer a lash lift and tint treatment, allowing you to wake up every morning with long and luscious lashes.
Face
Our facial treatments include skin needling that can reduce scarring, fine lines and pigmentation to improve the overall appearance of the skin. We also provide a take-home serum to maintain results.
EYEBROW TATTOOING
Do you want to enhance or accentuate your natural eyebrows? The specialists at Anh's Artistry can provide the right cosmetic eyebrow tattoo in Melbourne that looks authentic. We offer a friendly service that gives you complete control over the look you want to achieve. Whether you're interested in microblading, machine shading or another eyebrow enhancement treatment, we can help. We're confident that you'll be impressed with the results and eager to show off your new look to friends and family alike.
What We Can Do
Anh's Artistry has earned a reputation for providing the best eyebrow tattoo in Melbourne. Our brow enhancement services include:
Microblading – Our cheap eyebrow microblading involves a 120-minute session, during which we can provide feather brows that look completely natural

Machine Shading – We can shade your eyebrows, adding shape and definition to your face in a way that complements surrounding features

Combination – We can use both microblading and machine shading techniques in a two-hour session to create stunning eyebrows that complement your look
Who Is Eyebrow Tattooing For?
Do you have sparse or over-plucked eyebrows? Are you unhappy with the current shape of your eyebrows? Have you lost your eyebrows as a result of chemotherapy or Alopecia? Our tailored service is suitable for people of all ages and many different backgrounds and circumstances. We're also a great choice for anyone who is looking for affordability, friendly service and convenient brow tattooing in Melbourne.
LIP TATTOOING
Are you fed up with applying lipstick each and every day to get the look you want? Do you want a semi-permanent solution that eliminates this hassle? Fortunately, the specialists at Anh's Artistry can help with your lip tattoo in Melbourne. Not only can our services provide long-lasting results, but they're also affordable and generally non-invasive. Whether you want to conceal problematic areas of your lips or you simply want to enjoy a fuller and more defined shape, we can help.
Our Services
Our friendly service is the answer to the question "where can I get a lip liner tattoo near me?" We're fully capable of providing:
Line and Blend – A two-hour session during which we use a blend of light colour to create the perfect liner, defining your lips with minimal reshaping

Full Shade – A three-hour session that includes defining, reshaping and adding colour to your lips to achieve the best possible cosmetic effect

We can provide accurate lip tattoo before and after photos if you're unsure about the effectiveness of the treatment. We're confident that you won't be disappointed with the outcome.
Our One-On-One Service
We proudly offer a tailored service that takes your input into account. You can arrange a free 30-minute consultation either face-to-face or over the phone, during which you can tell us exactly what you want. This gives us the opportunity to learn more about you and your goals, allowing us to recommend the most suitable course of action and avoid unnecessary misunderstandings.
EYEBROW WAXING
If you want flawless eyebrows that perfectly frame your eyes and enhance your facial features, Anh's Artistry offers friendly service for eyebrow waxing in Melbourne. Whether you want stray brow hairs removed or you want to achieve a specific look that gets attention, we're confident that our eyebrow waxing services will give you newfound self-confidence.
What To Expect From Our Tailored Service
People who are asking themselves "who can provide excellent eyebrow wax and tint near me?" can rely on Anh's Artistry to keep them informed about what to expect. We tell clients who have never had their brows waxed that they should expect some pain or discomfort, but that this will dissipate the more times they get them waxed. In addition:
We use straight or curved wax strips to achieve a shape that compliments your face

We may use tweezers to remove pesky stray hairs.

You may experience mild redness around your brows for up to three days.

Our eyebrow waxing sessions take up to 30 minutes and cost just $20
How Long Do The Results Last?
A brow wax in Melbourne can last between two and three weeks, although the specific duration will depend on the individual. Some people have eyebrows that grow back quicker than others, in which case they'll require repeat treatments more often.
Tips To Prepare For A Brow Wax
We strive to offer the best eyebrow wax in Melbourne. This not only means carrying out the actual procedure to the highest standard but also making sure our clients are adequately prepared before they arrive. We happily provide several helpful tips, including:
Gently exfoliate and moisturise the surrounding skin 48 hours before your appointment

Avoid harsh scrubbing, lotions and makeup on the day of your appointment

Inform our specialists about any skin medications that you use

Refrain from tweezing before your appointment and leave the job up to us
EYEBROW TINTING
Are you asking yourself "where can I find a skilled professional who can provide eyebrow tinting near me"? Fortunately, Anh Tran has established a clinic where you can get beautiful and well-defined eyebrows. Using the latest tools and the best techniques, we can deliver amazing results that enhance your self-esteem and confidence.
Add Colour And Fullness To Your Brows
Our professional eyebrow tint can add colour and fullness to your eyebrows. We use premium tints that are long-lasting and available in a wide range of colour options for you to choose from. Our one on one service will guide you through the colour selection, ensuring you're completely satisfied with the final choice. We can also give you accurate eyebrows tinting before and after photos that exemplify what we've achieved in the past to verify the veracity of our skills.
Pre And Post Care Tips
We make sure that all clients who book our eyebrow tinting in Melbourne are armed with useful pre and post-care tips, including:
If you wear contact lenses, take them out before the procedure.

If your eyes are dry or sensitive, bring saline or lubricating eye drops to rinse them after the procedure.

Avoid using exfoliants and acid cleansers to stop the tints from being removed prematurely and ensure they last the maximum amount of time.
An Affordable And Friendly Service
Our specialists are proud to offer a friendly and tailored service that carefully listens to what you want. Our clients often come in with specific expectations about how they want their eyebrows to look. We do our best to accommodate your ideas, respond to your feedback and make you feel comfortable. We also maintain affordable prices, charging only $20 for a 30-minute eyebrow tinting session.
Elle D Cosmetic Tattooing Salon Melbourne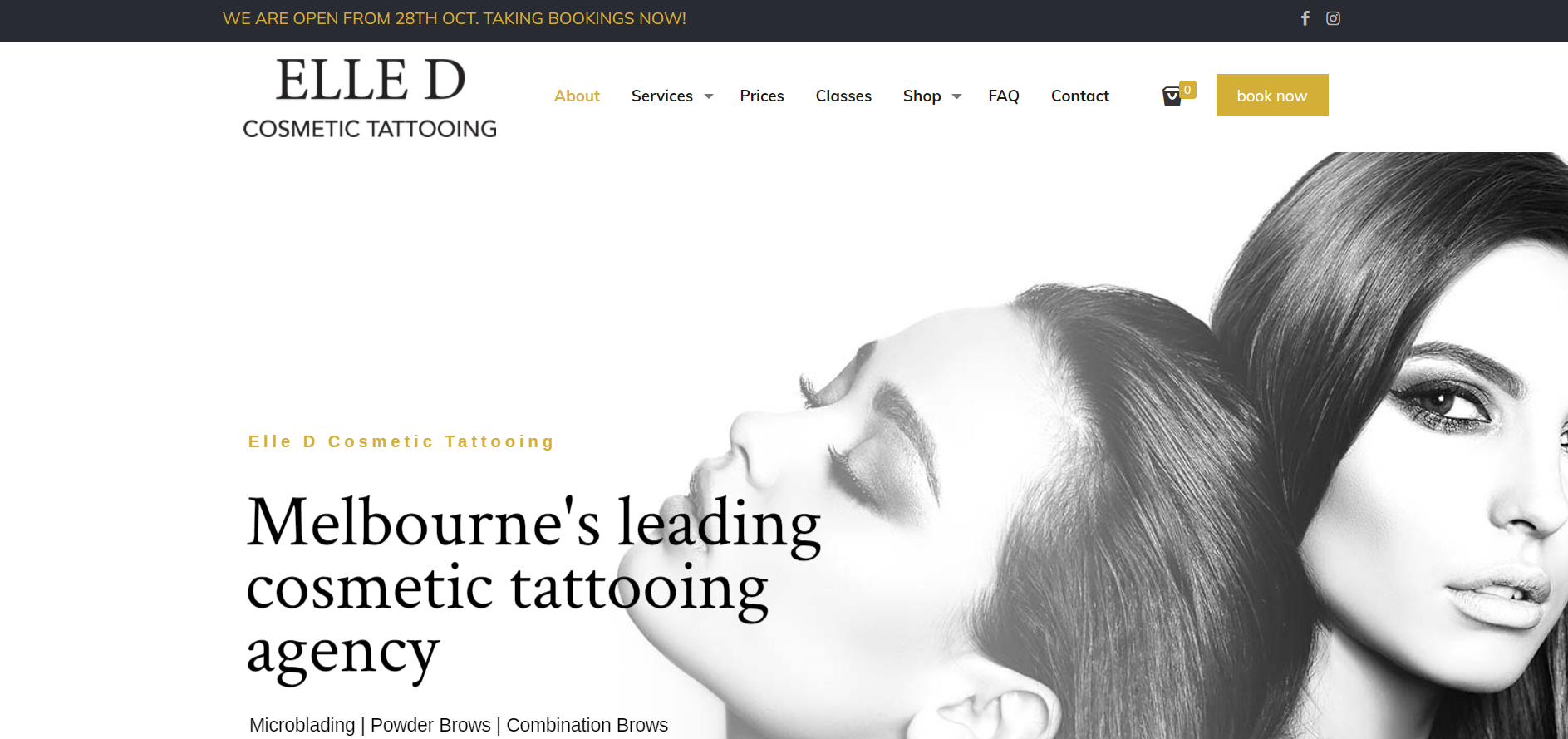 0428 264 291
Melbourne's leading cosmetic tattooing agency
Our cosmetic tattooing services are eyebrow feathering, lip tattooing, microblading, eyebrow tattoo correction & eyeliner tattooing.
Eyebrow microblading Melbourne
Eyebrow Microblading (also known as the Feather Touch Technique - feathering) has exploded in the beauty scene in recent years! This is a semi-permanent tattooing of the eyebrow which creates a very natural looking eyebrow using a hand-held Microblade that creates fine hair-like strokes of pigment into the skin. These thin lines flow in the same direction as your own eyebrow hairs, which in return, create crisp and natural results. Microblading or feathering is meant to replace eyebrow hairs and not make it look like your eyebrows have been filled in with an eyebrow pencil.
Pros: Microbladed eyebrows or feathering eyebrows look very natural. If done correctly, each stroke looks like real hair & flow with your natural eyebrow hair.
Why is eyebrow feathering / microblading good for you?
Eyebrow Feathering / Microblading is perfect for someone who:
has thin or patchy eyebrows

wants a subtle natural look to enhance their eyebrow shape

doesn't regularly fill in their eyebrows
Powder brows Melbourne
Powder eyebrows or ombre eyebrows create a soft powdery filled in a finish that looks like you've just filled in your eyebrows with eye shadow or pomade. Using a cosmetic tattoo machine, hundreds of tiny dots of pigment are implanted into the skin, which helps build up colour and a defined shape of your desire.
Pros: Powder Filled Eyebrows/powder brows or ombre brows creates longer-lasting results and works with most skin types, so they are great for the customer that wants that fuller and dramatic rather than the Microbladed Method – think mega eyebrows like Sophia Loren! To perfect this method, the desired eyebrow shape is not saturated with 100% pigment, which allows a softly defined look without looking too blocky!
Why are ombre eyebrows/powder eyebrows good for you?
Ombre eyebrows or Powder Eyebrows are perfect for someone who:
who draw their eyebrows regularly & want to save time in the morning

wants a more dramatic look to enhance their eyebrow shape

oily or combination skin
Microblading or feathering and powder or Ombre eyebrows together
We like to call this the Roll Royce of eyebrow procedures as it creates the perfect eyebrow look for absolutely everyone. It is exactly what the name suggests, a mix of Microblading or feathering eyebrows and powder eyebrows or Ombre eyebrows together to create the "little hairs" at the start of the eyebrows but also combines a shading technique for a dense filled in look at the corner of the eyebrows. This look still appears natural but gives the "perfect makeup look' you see all the A listers rock on their eyebrows!
Pros: The combination of Microblading hair strokes and a Powder or Ombre eyebrow gives an incredibly natural-looking eyebrow. It's a bit more defined and filled in than just straight Microbladed Brows. This method should suit every client
Why are combination eyebrows good for you?
Combination eyebrows are perfect for someone who:
who draw their eyebrows regularly & want to save time in the morning

wants a beautiful & dramatic eyebrow shape
Eyebrow corrections Melbourne
Eyebrow Tattoo Correction is a procedure for fixing badly tattooed eyebrows to help you restore your self-confidence & happiness again. In most cases, we are able to correct and improve their unwanted eyebrow tattoo; however, this needs to be determined by each individual client's cases. Each case is assessed with immense detail and precision.
Pros: Perfect to restore confidence in clients again. Eyebrow correction is extremely popular at Elle D Cosmetic Tattooing, with almost 50% of our new clients asking for assistance to restore their arches again.
Why are eyebrow corrections good for you?
Eyebrow corrections are perfect for someone who:
who is unhappy with their current Eyebrow Tattooing and the eyebrow has become discoloured or out of shape

has waited 6-8 weeks since their last procedure to allow the skin & eyebrows to fully heal
Lip tint tattoo Melbourne
The Cosmetic Lip Tint Tattoo or Lip Colour Tattooing is a procedure for women that do not want any filler but still perfectly luscious youthful-looking lips. The procedure involves blending pigment tailored to our client's preferred lip shade with the choice of either more definition or a subtle colour pop!
Pros: Not only does the Cosmetic Lip Tint Tattoo enhance your natural lip shape and fullness to the mouth but it also can help balance any shape, colour or lip definition and make the lips look symmetrical.
Why are lip tint tattoos good for you?
The Cosmetic Lip Tint Tattoo is perfect for someone who
who does not want cosmetic surgery

wants a more subtle look without the "duck lips"

wants the hassle removed from applying lip liner or lipstick
Please note: if you have dark or pigmented lips then the lip tint tattoo procedure may not be suitable for you. If you have any queries, please contact us before booking this procedure.
Cosmetic eyeliner Melbourne
Cosmetic Eyeliner or permanent eyeliner is a procedure for women that want to permanently create an eyeliner effect to enhance their eye shape, accentuate their colour of eye or want a fuller eyelash look. The procedure involves blending tiny dots of pigment to create a fine line along the lash line tailored specifically to the client's needs and requirements.
Pros: Not only does Cosmetic Eyeliner enhance your natural eye shape, but clients save so much time getting ready in the morning with this flawless look. The precision & perfection of the Eye Liner also gives that perfect makeup look lots of clients struggle to achieve with makeup.
Why is cosmetic eyeliner or permanent eyeliner good for you?
Cosmetic Eyeliner or permanent eyeliner is perfect for someone who:
who wants perfect eyes as soon as they wake up, at the beach, when wearing no makeup

if you have allergies to makeup & products and want a seamless, easy solution

line your eyes daily & want to save time in getting ready
Having your eyeliner permanently applied will not only give you back 10 minutes or more every day, but you'll love your new look highlighting the youthful, bright eyes that you've longed for.
Elle D Cosmetic Tattooing has been perfecting and correcting eyebrow microblading, Powder eyebrows /Ombre eyebrows, combination eyebrows, Eyeliner tattooing, Lip Tint tattooing and manual shading techniques since 2016. Her attention to detail and precise hairline stroke placement methodology achieves the most realistic eyebrow tattoos, eyeliner enhancements and luscious lip tattoo.
She strongly believes in a sound fundamental education, dedication to practice, and continuing education throughout a Permanent Makeup Artist's career.
Cosmetic Tattoo Melbourne – Eyebrow, Eyeliner, Lips & Permanent Makeup
Elle D was trained by Daria Chuprys, who is a world-renowned leading trainer of the Microblading techniques, located in Beverly Hills, CA and Athens, Greece. She has been trained by the best in the industry. Elle D continues to train and assist in classes that she runs here with Daria.
Cosmetic Tattoo Beauty -
Cosmetic Tattoo Salon  Melbourne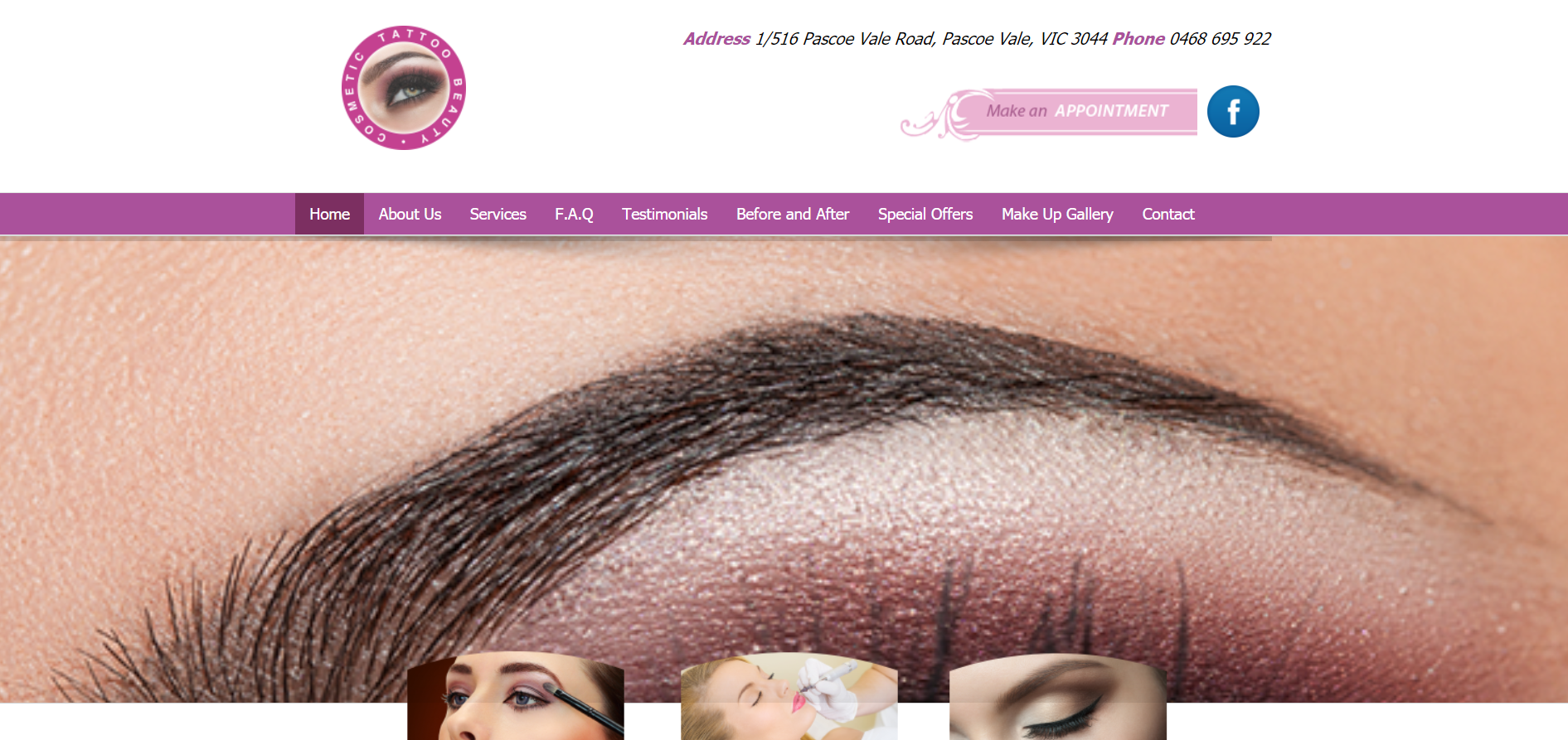 0468 695 921
WELCOME TO COSMETIC TATTOO BEAUTY
Micro-pigmentation, Semi-Permanent & Permanent Make-up are all terms describing the same service Cosmetic Tattooing. Micro-pigmentation Colour Implantation is the process of implanting natural iron oxide, titanium dioxide into the dermis layer of the skin as a means of producing designs for make up, such as Eyeliner, Lip Liner, Eyebrow, Eye Shadow and Areolas. You will receive a natural beauty look and feel amazing after your cosmetic procedure.
Cosmetic Tattoo treatments last for years. It is recommended that clients have retouches to their make up as the colour softens over a period of time.
Cosmetic Eyebrow Tattoo
Eyebrows can make the most dramatic look to the basic symmetry and enhancement of the face. It makes you years younger and gives your face a very specific definition.
Colours are implanted to your desired shape framing your eyes with a beautifully defined brow. For total hair loss, an entire hair look can be created with individual hair strokes, as well as any small areas with hair loss. This can include filling brows with a few strokes or reshaping, lengthening or darkening an Existing brow. If brows have started to drop, giving the eyes a tired look, we can draw the brows slightly higher at the tail end to give the eyes a more opened look. The well-designed brow can give instant lift and emphasis the eyes, giving you a more youthful appearance. Your eyes are the windows to your soul. Your face is the picture frame, and your brow and eyeliner complete the perfect picture.
Cosmetic Tattoo Eyeliner
You can choose your colour applied through the lash line, thick, thin, with or without tails, full-line, three-quarter line, or half-line, or have a heavier eyeliner that tapers off. This procedure is available for the upper and lower lid to beautify and frame your eyes.
Give the eye more expression

It can appear to change the shape of the eyes.

Enhances the shape of the eyes.

Enhances the eye colour by applying an accent colour above the Eyeliner

The wet line eyeliner procedure will brighten eyelashes

Enhancement eye shading or smudged eyeliner creates the illusion of thicker, darker eyeliner.

For a bolder, more dramatic effect, permanent eyeliner will define the eyes and accentuate their colour.

With eye enhancement, you can say goodbye to wobbly lines and smudges and welcome beautifully defined eyes, all day, every day.
These procedures are particularly beneficial for those who are sensitive to conventional eye make-up or for those who wear contact lenses, and many ophthalmologists are now recommending it. Those with poor eyesight and watery eyes will also benefit from these treatments. Alopecia sufferers can benefit from an eye enhancement, as it will restore definition to the eyes in the absence of lashes.
Cosmetic Lip Tattoo
Perfect for restoring a healthy colour back into the lips. Fabulous if you have pale lips or if you want to create a fuller shape to the mouth – say goodbye to the lip liner pencil or lipstick. 
This treatment is also ideal for anyone who lacks definite shape to their lips, and sun-damaged lips, uneven lip shape or lips that have lost shape due to scars or injury. Cosmetic tattoo lip liner, lip blend and full lip treatment are perfect to create the illusion of fuller, natural-looking lips with a beautiful tint.
This perfect treatment:
Can restore the lost definition of the lip and create the illusion of fuller lips, make the lips look fuller or make the lips more defined

Correct uneven lips

Balance the lips and lip complexion.

Creates Confidence and gives you a beautiful smile, making you look years younger. These lip procedures create a most youthful appearance. This is no longer a need to worry about colour coming off when you eat, drink, swim… Always looks fantastic 24/7
Beauty Spot
Add a distinctive beauty spot in the place you always though one should be. High on the cheekbone or just under or above the lip or eyebrow for that beautiful, alluring look. Women throughout the ages have always known the magic of the famous beauty spot.
At Cosmetic Tattoo Beauty, we utilise several cosmeceutical products ranges for all of our facials, including MONTIEL – Germany and ALPHA H – Australia which assists us in achieving and maintaining the best results for our clients. We are dedicated to providing the highest quality in beauty treatment and providing the best product ranges in our industry today.
All of our product ranges contain high strength active ingredients such as vitamins, antioxidants and alpha-hydroxy acids and have been manufactured with the latest technology in ingredient delivery systems with proven clinical results.
We offer a range of facials for men and women. It is designed and customised to treat your skin's individual needs in a relaxed environment. We perform complimentary skin analysis with each facial procedure to optimize the right treatment for you. We ensure that you leave the salon feeling rejuvenated, renewed and leaving your skin feeling significantly smoother.
Our mission statement is to provide you with skin beauty solutions that will delight you.
Cosmetic Tattoo Beauty founder, Nancy, is a specialist cosmetic tattoo artist, professional beauty therapist and make-up artist with over 10 years of experience. She has attended a variety of advanced training courses worldwide to ensure that you receive the best service using the latest technology equipment and the best practices. Nancy specialises in natural cosmetic tattooing and Feather Touch and Natural Hairs in the brow area. Nancy has added Paramedical Tattooing to her already diverse reputation and experience. Her professional service can also assist with treatments for cancer patients.
Nancy is also a specialist Skin Needling Therapist and can assist in treatments for scars, stretch marks, acne, lines and wrinkles (See Micro-Skin Needling). She is passionate about creating shapely lips and beautiful eyebrows and eyeliner as well as recreating areoles and beauty spots. Nancy is inspired to boost a woman's self-esteem and make them look their very best.
Nancy's kind and caring personality in conjunction with a steady hand, attention to detail and customer-focused approach will provide you with a pleasant experience like no other. Your satisfaction is our top priority.
LE BROWS & BEAUTY -
Cosmetic Tattoo Salon  Melbourne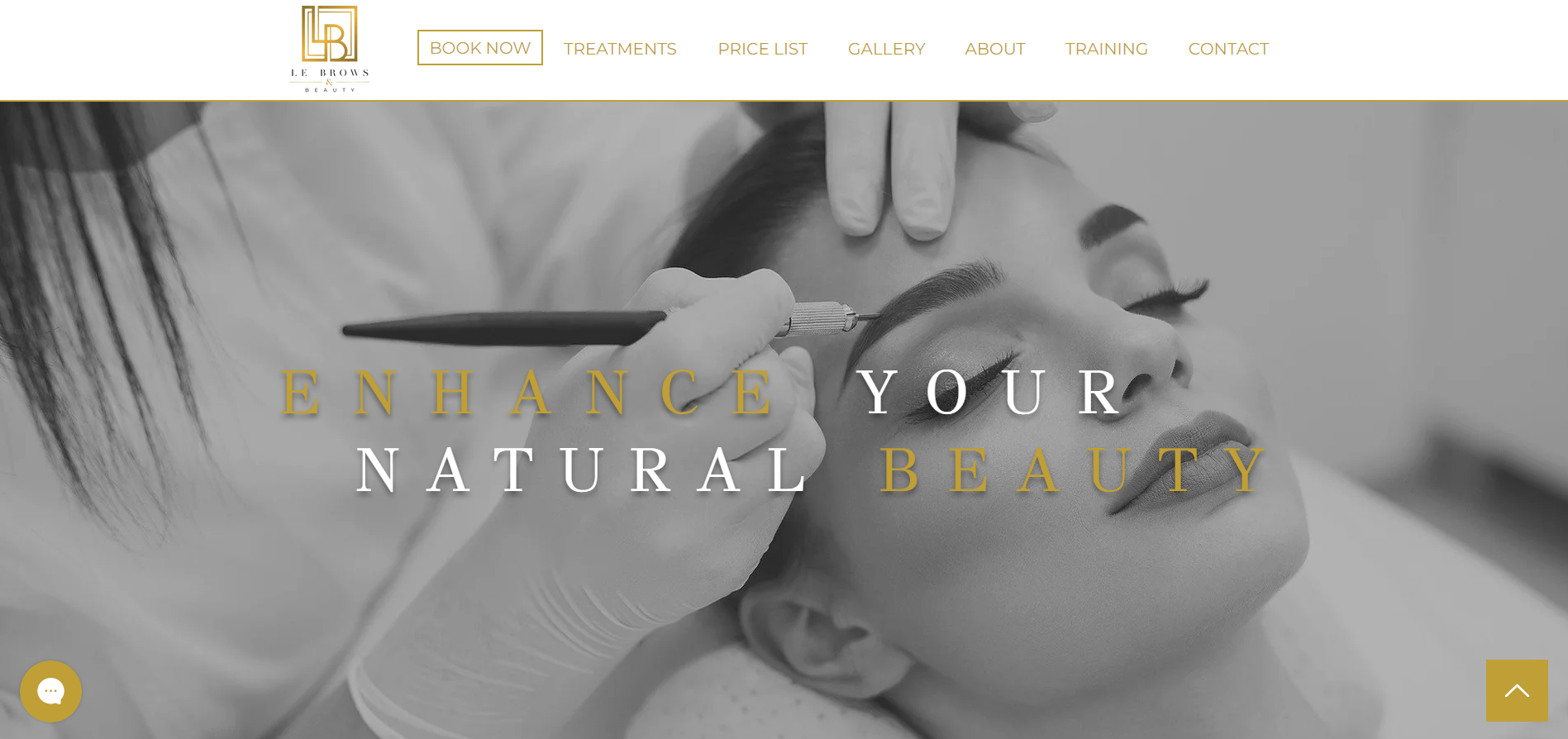 0422 208 437
We are a Melbourne based Beauty Salon, specialising in semi-permanent makeup including Eyebrow Microblading, Eyebrow Shading, Ombre Eyebrow, Lip Blushing, Lip Tattoo and Eyeliner Tattoo.
We have certified and experienced PMU artists. Our mission is to provide clients with the safest, most effective cosmetic tattoo treatments. We focus on enhancing your natural beauty with advanced techniques.
We strive to find best-personalised care for your looks and well-being.
BROWS
LAMINATION
BROW LAMINATION is a process of restructuring the brow hairs to keep them in the desired shape. It smooths out thin or bushy brows and lifts the hairs in a more upward direction.
Whereas MICROBLADING gives you the illusion of fuller brows, brow lamination primarily works with the hairs you've already got. Originating in Russia, this treatment has popped up in salons all over the U.K. and is slowly making its way to the U.S.
If you've ever wanted to look like you've got brow gel on semi-permanently, this is the treatment for you.
​We also offer wax and tint to go with this service.
MICROBLADING
MICROBLADING is a semi-permanent tattoo where the artist uses a manual hand tool with 'microblades' that deposit semi-permanent pigments into the superficial dermis layer of the skin.
MICROBLADING creates the most natural-looking eyebrows by creating crisp hair strokes to mimic your natural eyebrow hair.
This method is ideal for anyone wanting to enhance the look of their eyebrows.
NANO OMBRE MICROSHADING
MICROSHADING is done with a more standard tattoo machine, an electronic device that inserts pigment into the epidermis layer of the skin and results in a powder-brow look, rather than hair-like strokes.
The result is to give your brows a softer, fuller finish that is reminiscent of a shadow.
There are different preferences of colour intensity for you to choose from. It could be super soft and natural or more defined and bold.
MICROBLADING / MICROSHADING​
MICROBLADING is a 2 step process, usually 4-6 weeks apart. It is important to complete both the initial procedure and touch up for microblading. For NANO OMBRE/SHADING, you might not need a touch up if the healed colour is achieved after one session.​​
- STEP 1 -
The initial procedure takes approximately 2-3 hours. During this time, a consultation is done where we discuss your desired brow look, choose a colour tone and draw the initial outline of the procedure area for your approval.
Though our faces are NOT perfectly symmetrical (one side is usually flatter than the other), we do our very best to create as much symmetry as possible! As we like to say, BROWS ARE SISTERS, NOT TWINS.
Once you are satisfied with the basic shape and symmetry, the area is then traced over, and the semi-permanent pigment is applied with a disposable microblading hand tool. 
​- STEP 2 -
The second stage of the treatment is a TOUCH-UP appointment. The touch up takes approximately 1 hour and is included in your service.
Touch-ups are done NO EARLIER THAN 4 WEEKS AFTER your initial procedure and NO LATER THAN 6 WEEKS. If you do not schedule your touch up within 6 weeks, you will be required to pay a touch-up fee outlined in our touch up schedule.
- HOW LONG DOES IT LAST? -
The pigment used in MICROBLADING and MICROSHADING is semi-permanent and can last between 1-3 years. The pigment will begin to fade within 12 months.
In order to keep your brows looking fresh, a touch up is recommended every 12 months to 24 months maximum. After 2 years, the full price for microblading will apply.
For clients that choose a softer look and lighter colour shade initially or those who did not follow the aftercare instructions properly may require more frequent touch-ups.
- HEALING TIME -
Immediately after your MICROBLADING and MICROSHADING procedures and in the first 10 days, your brows will appear significantly darker and more defined than perhaps your desired look. It may continue to get darker over the next few days as scabs begin to form; however, this is not an accurate indication of the finished and healed result.
30-40% of your brow colour will fade as the scabs fall off within 7-10 days. In some cases, the scabs may take longer to heal and fall off.
DO NOT PICK YOUR SCABS!
The pigment is within the scab, and you do not want to pull any pigment out of your skin prematurely. We all heal differently, and what works on one client may not be effective on another, so please do not compare your results.
The complete healing process takes approximately 4-6 weeks.
LIPS
LIP BLUSH TATTOO
As we age, our lips lose their fullness and colour. A Lip Blush Tattoo can help restore your lips to their youthful appearance, whilst correcting asymmetries and re-defining natural lip contours for a perfect look! You can choose a soft, natural or bold colour.
Ideal for women wanting fuller, more defined lip contours, LIP BLUSHING takes the hassle out of reapplying lip liner and lipstick throughout the day. Your lips will always be on point, and the colour won't disappear if you are eating, drinking, or playing, leaving you looking drained and pale!
Besides enhancing the fullness and shape of your mouth, lip blushing can also be used to correct inherent asymmetries – perfect if you have lost colour, shape or lip definition due to the ravages of time!
EYES
EYELINER TATTOO - FINE & WINGED EYELINER
EYELINER TATTOOING is the process of inserting the pigments on the lash lines (lash line enhancement), or on the eyelids.
There are many options of a thickness  (superfine, thin, medium or thick) and styles for you to choose (with or without wings). You can have waterproof and long-lasting eyeliners without the hassle of drawing them on every day.
EYELINER TATTOO MAKEUP accentuates the colour and shape of your eyes. Beautifully defined eyes give the face an instant lift and depth of expression. If you get them done the first time, it is best to go for subtle lines rather than something to bold. Remember that it is very long-lasting.
If you are having trouble applying precise eyeliners in the morning, you will get great benefits from these eyeliner tattoos.
Contact us today for consultation and booking.
LASH LIFT
A LASH LIFT IS LIKE A PERM FOR YOUR LASHES.
Like old-school perms from the '80s, lash lifts set the shape of your natural lashes using a chemical solution. A lift is essentially what your lash would be doing with a really good mechanical curler, so giving a nice shape upward and a realistic curl.
THERE IS NO PREPARATION NECESSARY.
The only thing that we recommend is if you want a more dramatic result, then going on something like a LASH SERUM to grow your lashes as long as possible is a great option. But we can work with any lash type.
​EYELASH EXTENSIONS
Unlike gluing a strip of temporary fake lashes onto your lash line, SEMI-PERMANENT LASHES are applied by a technician who hand-glues the extensions on top of your natural lashes.
You can choose from a natural look with a classic set to full volume 3D-10D.
SKIN
HYDRAFACIAL - WITH LED LIGHT THERAPY
Using a SMALL BUBBLE MACHINE that combines powerful exfoliation, cleansing, hydrating and skin resurfacing, it will leave your skin hydrated, looking brighter, smoother and rejuvenated.
Immediately following the treatment, the skin feels smooth and refreshed with increased blood flow to the surface. This increased circulation encourages new collagen formation, and firmer, more youthful-looking skin.
WHAT YOU GET IN OUR ALL IN ONE FACIAL TREATMENT:
STEP 1
Face cleansing.
STEP 2
Exfoliate and remove dead skin with a hydra-dermabrasion pen.
STEP 3
Oxygen spray for skin rejuvenation
STEP 4
LED light therapy
STEP 5
Serum and moisturiser
Welcome to LE BROWS & BEAUTY, centrally located in the MELBOURNE CBD.
Our team is passionate and dedicated to giving you the very best services with care and professionalism. We truly believe in the power of enhancing your natural beauty and confidence through advanced PMU techniques.
Specialising in industry-leading cosmetic tattooing treatments including Microblading/Feathering and Ombre Brows, Lip Blushing and Eyeliner Tattooing, we understand that each client's face is unique and each treatment needs to be based on their individual features and desired outcomes.
We keep updating our techniques to ensure that we bring you the best results.
THAO LE is the founder of Le Brows & Beauty.
She has a great passion for her job and always strives for perfection with every client. If you look through her work, you can see that she loves enhancing her clients' looks in the most natural way possible.
She puts her clients' satisfaction above everything else. And though she is one of the best in her field, she continues to always learn new techniques from masters all over the world so that she can bring clients the best treatments in the industry.
Thao also runs a training program and workshop to share her knowledge and skills with others.
Smudgeproof Inc -
Cosmetic Tattoo Salon  Melbourne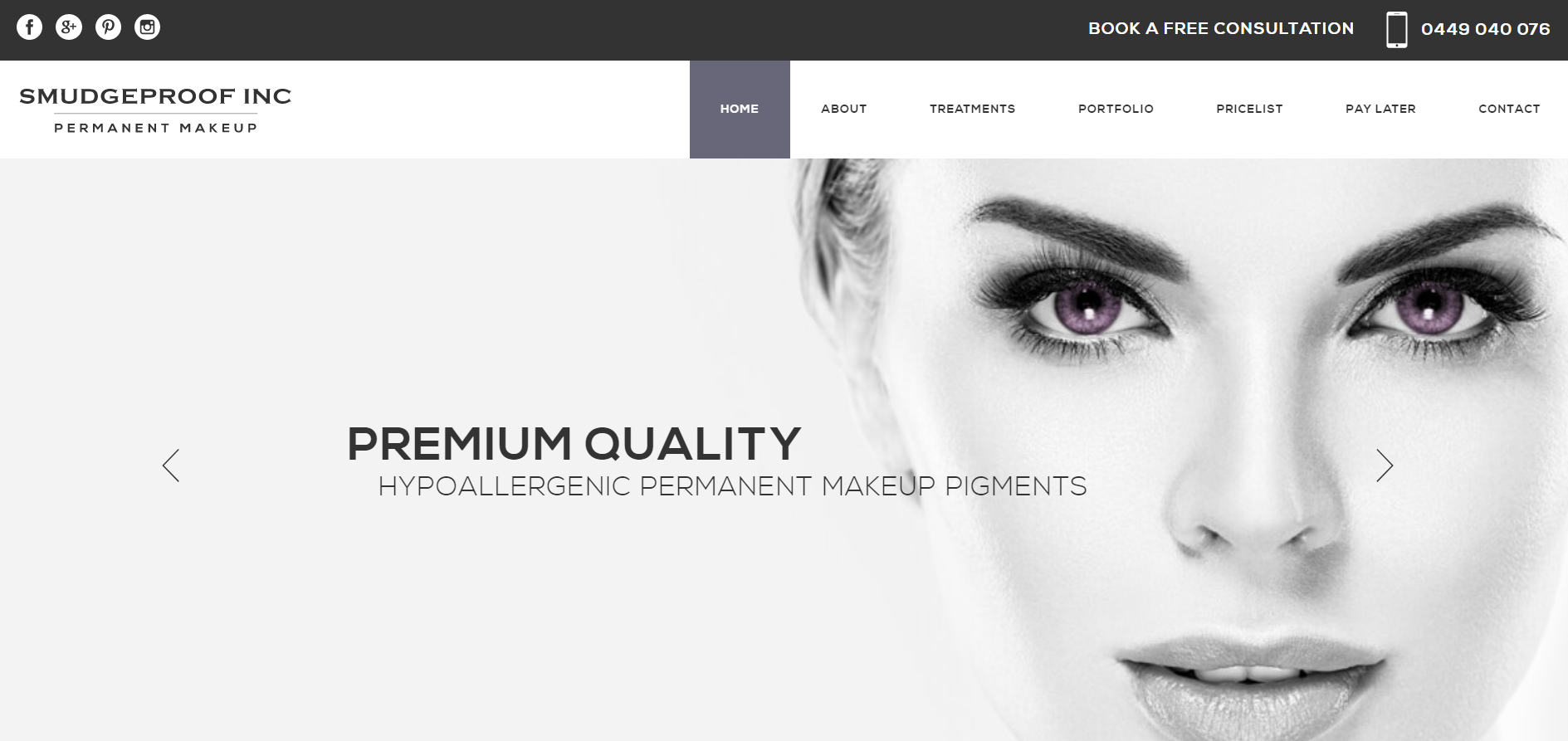 0449 040 079
NATURALLY ENHANCE YOUR FEATURES TO ACHIEVE EFFORTLESS BEAUTY WITH COSMETIC TATTOOING
Feather Eyebrow Tattoo
Want Melbourne's best eyebrows? Our signature Feather Touch and Microblading, Powder and Block Eyebrow Tattooing technique is the most beautiful, natural long-lasting semi-permanent cosmetic eyebrow tattoo treatment. Using Microblading with ultra-fine hair strokes, we mimic the look of eyebrow hairs for a really natural effect.
Eyebrows set the tone for the face and are the most important facial feature for expression. Badly shaped brows can make you look angry. Sad, surprised, uncertain or worse. Eyebrows also need to be balanced and well-proportioned to complement the dimensions of your face. The perfect eyebrow will open up your eyes and make you look years younger.
Facial features are carefully studied during the design phase to determine the ideal eyebrow shape, position and thickness best suited to each individual's unique facial structure.  Short, sparse brows can be lengthened, reshaped and filled with fine hair strokes. Droopy brows need lifting, and straight brows may be subtly arched to create more movement in the design. Extremely thin brows look outdated and unnatural and radically improve with added thickness for a more realistic, natural effect.
Professional eyebrow design can help you achieve your maximum eyebrow potential and dramatically alter your appearance for the better. Amazing metamorphoses can be achieved with the correct eyebrow for your face shape.
Only except the best for your cosmetically tattooed eyebrows with 15 Years Professionally World-renowned Smudgeproof Inc.
FEATHERED TOUCH & MICROBLADING TECHNIQUE
Microblading is also known as Eyebrow Embroidery, Feather stroke and Feather-touch. This manual method is performed using a hand tool with a row of multiple super-fine needles, commonly referred to as a 'blade'. The resulting ultra-fine hair strokes mimic the look of eyebrow hairs for a realistic 3-D, natural effect.
The pigment is implanted superficially (compared to the traditional hair-stroke machine method) and is considered semi-permanent with results lasting between one and two years. This technique, while not new, has gained in popularity to become the latest trend in eyebrow tattoo procedures for women looking for beautifully natural results.
Microblading Eyebrows 
Never underestimate the power of the brows' – this popular catchphrase is a testament to the transformative effect that eyebrows have on facial features. Eyebrows can single-handedly make or break your appearance. Great brows elevate your features much like a mini face-lift and set the tone for facial expression.
However, drawing your eyebrows on a daily basis may not be the most practical solution. The process of creating symmetrical brows every morning is not only time-consuming and tricky but also requires careful attention throughout the course of the day to avoid inadvertently smudging your masterpiece.
Not surprisingly, eyebrow 'Microblading' has become the no.1 requested cosmetic tattoo procedure in recent years. It has quite literally exploded in popularity worldwide due to the very natural results produced when performed by skilled technicians.
Microblading is a manual tattoo technique using a hand tool, similar to a pen, which has a row of ultra-fine needles attached. No machines are required, and there are many different needle configurations available to the technician.
Although the 'manual' tattoo method is an ancient technique, the tools used have changed throughout the ages. The modern microblade / hand tool that I prefer to use is a pre-sterilised and fully disposable item containing the handpiece and needles in a single unit. This offers the best protection for hygiene and safety in my view and bypasses any potential problems associated with sterilisation methods relating to the reuse of handpieces with separate disposable needles.
Microblading is performed by drawing ultra-fine hair-strokes using the hand tool needles dipped into specially formulated hypoallergenic pigments and deposited into the upper dermis. Well performed microblading mimics real eyebrow hairs, unlike any previous tattooing techniques. It's little wonder that technicians and women the world over are embracing this method of eyebrow tattooing on a massive scale.
There is some confusion amongst the general public, at times, due to the many alternative terms that are used in the industry to describe the very same microblading process: 3D eyebrows, 6D brows, feathering, feather-stroke, feather-touch, eyebrow embroidery, micro-stroking, semi-permanent brows and micro-feathering just to name a few.
Microblading takes around 2 hours to perform and includes the application of a topical anaesthetic as well as the all-important eyebrow design phase. Inherent asymmetries and customisation of the perfect eyebrow shape for each client take time and should not be rushed. Price should not be the driving factor in your technician selection process. Instead, you will need to evaluate background education, training, experience and the personal taste of each artist. Technicians will all have their own distinct style and approach to designing the eyebrow and microblading the hair-strokes. Some will mainly draw strokes upward, or downward strokes or a combination of the two, whilst others will follow the existing hairs natural growth direction. Some will curve the strokes while others will keep them straight throughout. Looking through an artists image portfolio will help you decide which style you prefer and which technician to choose.
Women who have previously had 'block' tattoos may also be able to transition to microblading as their old tattoo fades. Microblading will then add some much-needed texture and a 3D effect to the flat looking 'block' effect. For further information and advice, please consult with your technician.
Semi-permanent microblading is generally considered to last anywhere up to 2 or 3 years. However, the actual duration is impossible to accurately predict as clients' retention of colour varies considerably and is influenced by many environmental factors.
Periodic retouches to refresh the colour are necessary to maintain beautiful looking microbladed eyebrows. You'll wonder why you didn't have them done sooner!
Get a Free Microblade Assessment Now!
Eyeliner Tattoo
Eyeliner Tattoos are Semi-Permanent Cosmetic Makeup using tattooing pigment on the eye line of the lashes. You can have fine, thin, medium to thick and winged eyeliner style creating the forever beautiful smudge-proof, waterproof, long-lasting tattoo eyelid liner.
Eyeliner Tattoo Makeup accentuates the colour and shape of your eyes. Beautifully defined eyes give the face an instant 'lift' and depth of expression. Eyes appear larger and more alluring when enhanced with a professionally applied eyeliner tattoo to maximise their natural size, shape and colour. Topically applied conventional eye makeup looks great, but a cosmetically tattooed eyeliner has the advantage of being waterproof, smudge-proof and long-lasting. Due to the longevity of these treatments, it is best to opt for a subtle enhancement that accentuates your eyes without being over the top.
These eyelid tattoos provide great benefits to many people who have allergies or trouble applying conventional cosmetics and offer an easy, get up and go alternative to the usual morning makeup routine. Choose from a variety of colours to create a soft look or deeper, more intense shades for a more dramatic impact.
*Consultations are recommended prior to the semi-permanent tattoo procedure to determine the ideal placement option for your individual features.
LASH LINE ENHANCEMENT
Hypoallergenic, permanent makeup pigments are delicately placed within the lash line only to create an extremely subtle and natural-looking effect. This technique creates the appearance of more lashes and is best suited to women who prefer to wear very little makeup. It's a barely-there approach for natural beauties.
FINE EYELINER AND WINGED STYLE
Thin eyeliners are particularly recommended for hooded eye shapes that have very little visible space on the upper eyelids. This precise, fine line will enhance the natural eye shape and, if necessary, the addition of a slight 'wing' or 'tail extension' will help to elongate the eyes.
A fine eyeliner is a 'classic' and a good choice for most eye shapes. It provides subtle definition while eliminating the bland, naked-eye look that many women with few eyelashes have. It's a timeless look that never looks outdated.
MEDIUM TO THICK EYELINER AND WINGED STYLE
Women who prefer bolder, dramatic makeup usually request thicker eyeliners with winged tails at either straight or upward angles depending on the effect desired. The shape and thickness is custom designed to the individual client requirements with many colours available to choose from.
LOWER EYELINER
Lower eyelid eyeliner's do not suit all women. At the time of the consultation, a simulated version of the finished result will determine the ideal placement with careful consideration given to the size and shape of the eyes. Softer colours on the lower eyelid are generally preferable when aiming to maximise the size of the eyes. The darkest pigments will give maximum definition but will further reduce the size of small eyes.
Lip Tattoo
There's no denying that beautiful lips are a major focal point of attraction. Although we are not all naturally blessed with gorgeously sensuous lips, cosmetic lip tattoo makeup offers stunning improvements to their overall shape and colour. Ageing lips, in particular, tend to lose their youthful appearance when the natural lip line diminishes and fading occurs. Semi-permanent lip tinting procedures are the perfect, long-lasting solution for restoring lost lip contour and colour while correcting asymmetries.
The most natural and uniform results can be achieved with the 'full lip' technique similar to the look of lipstick. It is also referred to as 'full lip blush' or 'full lip tint' due to the softer effects achieved. The 'lipline' only or 'lipline and blend' technique is great for women who need to redefine the shape only. Colour choices are unlimited and range from super soft lighter tones to the most vibrant shades. Perfectly contoured lips rejuvenate, enhance and beautify your face at any age eliminating the need for traditional cosmetics.
Cosmetic tattooing is a rapidly growing sector of the beauty industry. Also known as micropigmentation, dermagraphics, semi-permanent makeup, permanent makeup and permanent cosmetics (USA). It is a procedure designed to mimic conventional makeup by the process of depositing hypoallergenic mineral pigments into the upper dermal layer of the skin with ultra-fine needles for long-lasting results.
In the hands of a skilled technician, a cosmetic tattoo can naturally enhance your features and correct unwanted asymmetries. Traditional makeup has become a thing of the past for countless women the world over. With this exciting treatment, you too can enjoy the benefits of looking good 24/7 and say goodbye to time-consuming beauty routines. Customised semi-permanent or permanent makeup is designed specifically to suit you.
Permanent makeup is a specialised artistic technique, and your result is only as good as your chosen artist. It is important to make this decision based on the design aesthetic, experience, ability &  talent of the technician along with the quality of the equipment and products used.  A thorough consultation with conventional makeup to simulate the desired outcome should be performed prior to any procedure to ensure that you know what to expect.
The most popular procedures include – complete eyebrow redesign to a subtle 'fill-in' with hair-like strokes for a realistic 3D effect. The most on-trend techniques for this purpose are  Microblading/Feathering. Eyebrows are undoubtedly the most important facial feature. They frame the eyes and set the tone for expression. Great eyebrows act as a facelift! Subtle eyelash enhancements that give you the look of more lashes to eyeliners of varying thickness in a variety of colours will add depth and definition to your eyes. Liplines can be defined and blended or fully coloured for the ultimate natural-looking, youthful lips.
PARAMEDICAL – Para-medical procedures include nipple and areola repigmentation following mastectomy, scar camouflage, micro-hair simulation for hair loss irregularities due to injury, surgery, alopecia or trichotillomania, vitiligo re-pigmentation and cleft palate restoration following reconstructive surgery to balance the lip shape.
CORRECTION WORK- There are various methods used to improve poorly performed permanent makeup greatly. Unnatural colours can be returned to a more pleasing colour using corrective pigments. There are also professional treatments utilizing inorganic chemical remover products to lighten existing unattractive makeup, but they are not suitable for removing permanent eyeliners. Expectations must be realistic as results are not usually as perfect as new cosmetic tattoo enhancements.
Welcome to Smudgeproof Inc – Permanent Makeup Clinic based in the Melbourne suburb of Malvern.
I began my career as a cosmetic tattoo technician in 2002 and have since completed many advanced training courses and conferences locally and abroad. I have specialised in this transformational 'in-demand' art form for almost 15 years and gained extensive industry experience throughout northern Italy between 2002 – 2012 as a freelance technician collaborating with medical facilities and beauty spas across the region. Precision Beauty & Cosmetic Tattooing. 
Precision Beauty -
Cosmetic Tattoo Salon  Melbourne 

0401 460 661
Precision perfect beauty treatments by fully qualified & experienced technicians.
Eyebrows Tattooing
(also known as micro-blading/feathering or powder/ombre brows)
Save time getting ready with no brow pencil or powder needed (which means no more pigment running down your face at the beach or gym), and although you still need your brows maintained (plucked or waxed), the overall effect is fuller, more youthful brows and a more polished look.
Before anything permanent is done we will consult you as to the end result you're going for.  Cosmetic tattooing should go undetected and be as subtle as possible. We take into account thickness, arch, length and the colour/pigment that will be used.
We spend time measuring the brows and drawing on the shape, so they are perfectly symmetrical. We have a method to determine how far apart they are in the centre as well as the length of the brow, and the all-important arch. Each face shape is different; therefore, every brow is measured specifically to suit that particular face.
There are two different methods of cosmetic tattooing that are used. 
Method 1 – Microblading is used for hair strokes This technique is done by hand with a small disposable tool which has tiny needles in a row, the skin is lightly scratched into hair strokes, and the pigment is pushed into the strokes to make them darker, creating crisp strokes identical to that of a hair. This is the most natural technique to get the best natural-looking brows. Touch-ups are required more often with this technique and are not ideal for anyone with oily skin.
Method 2 – Digital Tattoo Machine is used for 'Powder/Ombre' brows, eyeliner and lip tattoo's. Most people are familiar with this as it is similar to a traditional tattoo, where you feel the buzzing and vibration of a tattoo machine. This method gives a more defined look, closer to that of makeup,  leaving a behind a soft powdery finish within a crisp design. The density of the pigment that is implanted starts soft and light at the beginning of the brow and gradually gets darker and heavier towards the tail. This technique tends to last longer and is overall better for the integrity of the skin. This is great for the individuals who have little to no hair, oily skin, or those who prefer a more defined brow shape.
A combination of both methods can be also be used; this is known as Combo brows. This gives you the best of both worlds.  You will still get the subtle look of hair strokes but will be slightly more defined with some shading through the brows. 
Your own hair isn't removed -- the feather strokes are made through your existing hair to bulk up patchy parts and create a full shape visually.
A topical anaesthetic cream is applied to numb the area before and during the procedure to make the treatment as comfortable as possible. Pain is subjective, and pain threshold levels vary from person to person.
Treatments usually take between 1.5-2.5 hrs for the first session and between 30-60 mins for touch up session.  Most people liken it to a 'scratchy' sensation. It's not painful as we continue to apply anaesthetic during the entire procedure.
Cosmetic tattoo treatments need to be refreshed every 6-18 months, depending on how well your skin retains the pigment. Within two years, the pigment in the strokes will have blurred into a soft and extremely subtle 'wash of colour'. Oily skins break down the pigments and blur the 'crisp' lines at a faster rate than a dry skin type would. For that reason, drier skin types get longer-lasting results out of micro-feathering brow tattoo.
Eyelashes
Extensions
Eyelash extensions are single synthetic lashes applied directly to the natural lash, close to (but not touching) the lash line with a semi-permanent bonding adhesive. They are applied carefully (by isolating one single natural lash at a time) and applied one by one using specially designed tweezers. The whole process normally takes 1 – 2 hours depending on your natural lashes how many lash extensions are applied.
Extensions last for as long as six weeks.  The eyelash extension generally lasts until the natural lash falls out in its natural cycle. However, if you wish to maintain them, it is advised you get refills approximately every 2 – 4 weeks (depending on how well you take care of them and your natural lash cycle).
Classic Extensions are when 1 extension is applied to 1 natural lash. They enhance your natural lashes by making them appear slightly fuller and adding length. They give the appearance of having a great mascara on.  Russian Volume lashes where multiple fine lashes are applied to 1 natural lash in a fan.  At Precision Beauty all fans are hand made. Beware of salons using pre-made fans as they can be uncomfortable and cause damage.  Fans can be made from  2-8 fine lashes, depending on the strength of your natural lash, to create a full fluffy look. Volume lashes tend to last longer as they wrap around the natural lash.  A quick consultation with your therapist will help you make an informed decision. 
When applied correctly, there will be no damage to your natural eyelashes. We apply eyelash extensions taking special care to ensure that they are all applied individually and correctly to maintain your eyelash health. To ensure the ongoing health of your lashes, we highly recommend that you take the advice of the technician regarding the maximum thickness and length that would be appropriate long-term for your natural lashes. 
At Precision Beauty, we always aim to give you beautiful lashes all the time, with no damage to your natural lashes. We customise the lashes, so they are the right weight and thickness, and apply them carefully, one by one, so that your natural lashes remain as healthy as ever!
The eyelash extensions are applied directly to the eyelash, so there is no contact with the skin. It may feel a little unusual the first time, but once you get used to it, it should be so comfortable that you may drift off to sleep (most people love a lash nap!). People with extremely sensitive eyes or sinus problems may get some watering and slight stinging at the end, but this subsides within seconds.
Lash extensions should never be felt, only seen. If your lashes are painful or pulling or uncomfortable in any way, please book to have them removed safely asap!
Before your appointment, make sure you have clean eyes and eyelashes, free of makeup – especially mascara. Be sure to use an oil-free makeup remover if removing makeup, and don't use any oil or petroleum-based products on or around the eye area for 48 hours prior (such as Vaseline or moisturisers).  
You can wear makeup! Eyeliner and eye shadow just need to be applied gently. We don't recommend that you apply mascara to your eyelash extensions, as this can cause them to clump together and may contain oils that weaken the adhesive bond. If you are intent on wearing mascara, we stock a safe mascara made specifically for use on eyelash extensions.  When wearing eye makeup always make sure you thoroughly remove all make and cleanse with an oil-free lash extension shampoo. 
Don't be scared to get your lashes wet or clean them. It will actually be worse if you don't! Keeping your lashes clean (even if you don't wear makeup) is the best way to make sure they last as long as possible. Always make sure you cleanse your lashes daily with the lash shampoo (or any 100% oil-free cleanser) and then rinse off with water. 
Tinting & Lifting
Don't want the maintenance of lash extensions but still want lashes that look long and have strong curvature?  Our new lash lift & tint treatment defines and curls lashes in one relaxing treatment.  
Does it sting?  If you are not allergic to the tint and you don't have excessively watery eyes, then eyelash tint should not sting, EVER! If it does, it is more to do with the therapist's technique than the product or your eyes. It just takes a little bit more concentration and time to get it perfectly applied.
We use a method that gets every lash black from root to tip, including the bottom lashes without getting it into your eyes. Our removal process gets as much tint off as possible before rinsing, and we get the very last bit under your eyes before you open them.
We hear the words "wow that didn't sting at all" all the time from clients who had just accepted that tinting means stinging eyes.
If you have put off getting your lashes tinting as you don't like the stinging make an appointment with us and we will take the extra time and care to give you great, pain-free black lashes.
Brow Henna
How great would it be to wake up in the morning and have your eyebrows already good to go?
With henna, you can temporarily tint your eyebrows in a painless and all-natural way, so they're shaped every morning, with no need for pencils or powders. It's also a really great way to trial a shape before you commit to cosmetic tattooing.
What is brow henna?
Brow Henna by Irina Levchuk is a natural dye made from henna, an ancient plant that has a rich history of being used for cosmetic colouring purposes spanning thousands of years. Today, Brow Henna is extremely popular for eyebrow colouring as it boasts not only vivid and rich colour, but also offers unique health benefits by helping to restore weak and damaged hair follicles. 
Brow Henna penetrates the shaft of the hair follicle and tints the skin leaving luscious, long-lasting colour, similar to a permanent makeup effect. Brow Henna is made up of 99.5%natural ingredients that encourage the vitality of hair follicles while reinvigorating the eyebrow's natural shape.
Brow Henna's extensive range of colours allows you to find the perfect custom blend for any skin type or hair colour. Rest assured, due to the incredibly durable nature of Brow Henna's ingredients, whatever hue you choose will last for up to 14 days on the skin and 6 weeks in hair. 
Henna will shed as your skin does.
Henna dye is semi-permanent, but the important fact is, the skin is not. We are continually releasing oils, and the renewal of skin cells, paired with environmental factors means the henna will shed as the skin does.
Brow Lamination
Brow lamination is a technique (similar to a lash lift) used on the brows to straighten the brow hair resulting in instantly voluminous, lifted and fluffy brows that are defined yet natural looking!  Many people are mistaking LAMINATION for Microblading; it enhances each natural, individual hair stroke that much!! The treatment restructures the brow hairs to straighten them, adding length and volume and sets the brow hair in place to create the perfect shape. Perfect for all brows!
Are eyebrow tattoos a good idea?
Eyebrow tattooing has become all the rage at the moment with many celebrities sporting a thicker brow. But exactly how does it work, and is it worth all the pain and expense?
Tattooing or microblading has become an increasingly popular cosmetic procedure thanks to its more subtle and natural look. You can achieve bolder brows with fine strokes of pigment delivered via microneedles, which resemble the look and texture of actual hair.
Microblading or eyebrow tattooing – whatever you want to call it, the last few years have seen a huge surge in the professional semi-permanent, brow-filling treatment. 
And while women are flocking to their nearest brow salons and handing over their hard-earned cash for cosmetic tattooing to transform their brows from thin and sparse to power brows, Cara Delevingne would be jealous of, and it must be known that it's by no means a cure-all. 
Permanent makeup such as tattooed eyebrows may seem like a good, time-saving idea. Women with sparse or nonexistent brows may be swayed by the fact that permanent makeup can give the look of eyebrows without having to fuss with pencils and brushes. But permanent makeup is not without cons, and these should be carefully weighed against the pros before making a decision.
How long do eyebrow tattoos last?
Unlike tattoos, microblading gives you semi-permanent eyebrows and can last anywhere from six to 36 months before they become faded. After the first treatment, another touch up is required four to six weeks later. Celebrity tattoo artist Amy Jean says "Depending on your skin type you will enjoy the results for roughly one year before requiring a refreshment of the pigment. You can certainly get out the door more efficiently and enjoy more symmetrical and defined brows without the hassle of designing them daily."
How much does an eyebrow tattoo cost?
Depending on the artist microblading can cost roughly $1,000 with one of Amy Jean's internationally qualified technicians. Amy Jean personally charges a price of $1500 upwards, but she is extremely popular and has a long waiting list, so there's plenty of people willing to splash out on perfecting their brows.
Is it painful?
Depending on your pain threshold, the sensation can be likened to the end of pointed tweezers being dragged along the skin or "etched". You hear a scratchy sound, but the anaesthetic will numb the area for added comfort during the procedure tiny prick to a more discomforting jab. It really does depend on the individual and if you feel you have a low pain threshold, take some painkillers an hour beforehand. Numbing cream will be applied to the eyebrow area, so it should be relatively painless for most people. Amy Jean says, "Most people are relieved how minimal the pain factor is. The results are definitely worth the commitment."
Pros and Cons of Eyebrow Tattoo
Pro: Time
Having your eyebrows permanently tattooed on can shorten your makeup routine. When you apply your brows with makeup, it takes time to draw them on with the eyebrow pencil and then fill them with eyebrow correctors. Tattooed brows remove that aspect of your makeup routine.
Con: Pain
Anyone who has had a tattoo done can attest to the fact that it has a degree of pain involved. Having permanent eyebrows tattooed on the delicate skin above the eyes can be a painful process. However, the pain is short-lived, as the eyebrow area is fairly small and quick to do.
Pro: Defined Face
Permanent eyebrows are sought after because of the way they can define a face. A well-placed, well-shaped brow can make a face look thinner and more polished and even help to make eyes look wider. Some women may even choose to remove their natural brows altogether in favour of permanent ones that are easier to maintain and care for.
Con: Changing Styles
While the eyebrow shape that you choose today may be very much en vogue, changing styles may render your permanent eyebrows out of date and dowdy. Decades ago, perfectly shaped brows were the fashion, but the trends have changed and gravitated toward larger and more unkempt brows at times. Choosing one shape of the brow may be in fashion today, but not tomorrow.
Pro: Hair Loss Correction
Some women and men suffer from a condition called alopecia, which causes them to lose all of the hair on their bodies, including the hair from their eyebrows. Permanent makeup can help them to restore their eyebrows by giving the right colour and shape, helping to camouflage the condition.
Con: Infection and Sensitivity
Getting tattooed eyebrows could cause some infection and problems when you are finished. Some women develop keloids, or puffy scars, after having this treatment done. If you have a history of sensitive skin and scarring, this may not be a good choice for you.
Here are 4 key differences between microblading and eyebrow tattoos:
Natural-Looking Outcome
Microblading creates a more natural end result compared to eyebrow tattooing, which results in brows that appear "drawn on" and flat. This is because the microblading technique creates individual hair-like strokes that are identical to the hair growth pattern of the surrounding eyebrow hair. A good microblading technician can make treated areas look like a more dense version of the natural brow hair.
Pigment vs. Ink
Tattoo ink is used for eyebrow tattooing while microblading uses a specialized pigment. Ink differs greatly from pigment in the way it fades over time. As tattoo ink fades, it often develops a blue-green coloured tint, especially around the edges of the tattoo. This can leave people with some oddly coloured eyebrows that often look as though they were created with a Sharpie.
In contrast, microblading pigment is specifically designed to fade into a lighter version of the colour used, so the patient retains a natural appearance.
Semi-Permanent vs. Permanent
Eyebrow tattoos are permanent. Once the ink is tattooed onto the skin, it is there for life (although undesirable fading of the ink, as mentioned above, is possible). This is very different from microblading, where the results typically last about 6 months to a year. Simple "touch up" treatments can be done annually if the microblading patient wishes to maintain their enhanced brow. The semi-permanent nature of microblading allows patients the ability to change the appearance of their brow as trends change.
Pain
Getting a tattoo can be relatively painful, especially if they are placed in a sensitive area like the face. The microblading technique involves much less discomfort, especially if the brow area is numbed with lidocaine prior to treatment. Most patients describe the feeling of microblading to be similar to tweezing.
What to expect during the process
When you first get your eyebrows tattooed the look is rich in colour and severe. You may look a bit overdone, but fear not, this fades over time, and the final look should be very natural and subtle. Amy Jean says: "Allow two days for the deeper colour to heal and begin to fade. They will fade by 30-70 per cent in the first week and shrink in size. This is why the retouch is of utmost importance. The artist can address any imperfections and reassess the colour depth and symmetry."
Eyebrow tattoo aftercare
Depending on your skin type, you may need to apply a protective and soothing balm across the brows when dry or itchy. If you have oily skin, the wound will "self-heal" and not require any further nourishment. It's best to avoid vigorous sports or exposure to moisture, which means protection in the shower is vital for roughly 5-7 days. You should also stay out of direct sunlight. Amy Jean suggests avoiding creamy moisturisers, serums with active ingredients and oils near the brow line as the drier the skin is kept, the better the retention of the pigment in the skin. Anything oily will "blur" the crisp lines created during the procedure.
Are there any risks?
The success of the procedure will depend on who is performing it. You will need to ensure you have a recommended and experienced artist or you could be left with eyebrow tattoos gone wrong. You also may get an allergic reaction or infection if you do not follow the aftercare instructions properly. Amy Jean says "There are many "overnight brow artists" so be very mindful of your choice and beware of "specials" It's a highly skilled art form that takes many years to learn and perfect. Always ask the clinic if they have their Infection and Hygiene Control Certification and ask to see your disposables opened in front of you (for example the Microblading needle).
Mist Brow vs Microblading
There are two types of popular treatments on the market at the moment. Microblading and Mist Brow Tattoo.
Microblading uses a bundle of 12-15 needles to "etch" fine lines into the skin. It only reaches the superficial layers of the skin, so is semi-permanent. The lines mimic hairs, and the results can be suitably conservative or denser to create extra definition. 
Mist tattooing, on the other hand, is better suited for those who want to create a background "shading" to look similar to a powdered brow. It will also thicken or fill in brows. Amy Jean says, "We have seen a surge in popularity for our in-house "Misting" technique. It's a very topical procedure where fine dots are airbrushed across the skin to look like a soft powdery brow. It's also very popular now as we are correcting a lot of poorly performed Microblading treatments and misting can sometimes camouflage or conceal a previous brow tattoo that you are unhappy with.
One of the reasons why women choose to have permanent eyebrows tattooed is that it can offer them what they believe to be a better face definition.
If you manage to achieve a well-placed and perfectly shaped eyebrow with the procedure, this could help your face to look thinner and more polished, plus it could even assist in making your eyes look a little wider.
Some women actually choose to have their natural eyebrows removed altogether in order to achieve a permanent solution that is easier to maintain and care for, but whatever your view or objectives, do take time to think about it before going ahead, so you are more comfortable with the outcome.
Mien Brows -
Cosmetic Tattoo Salon Melbourne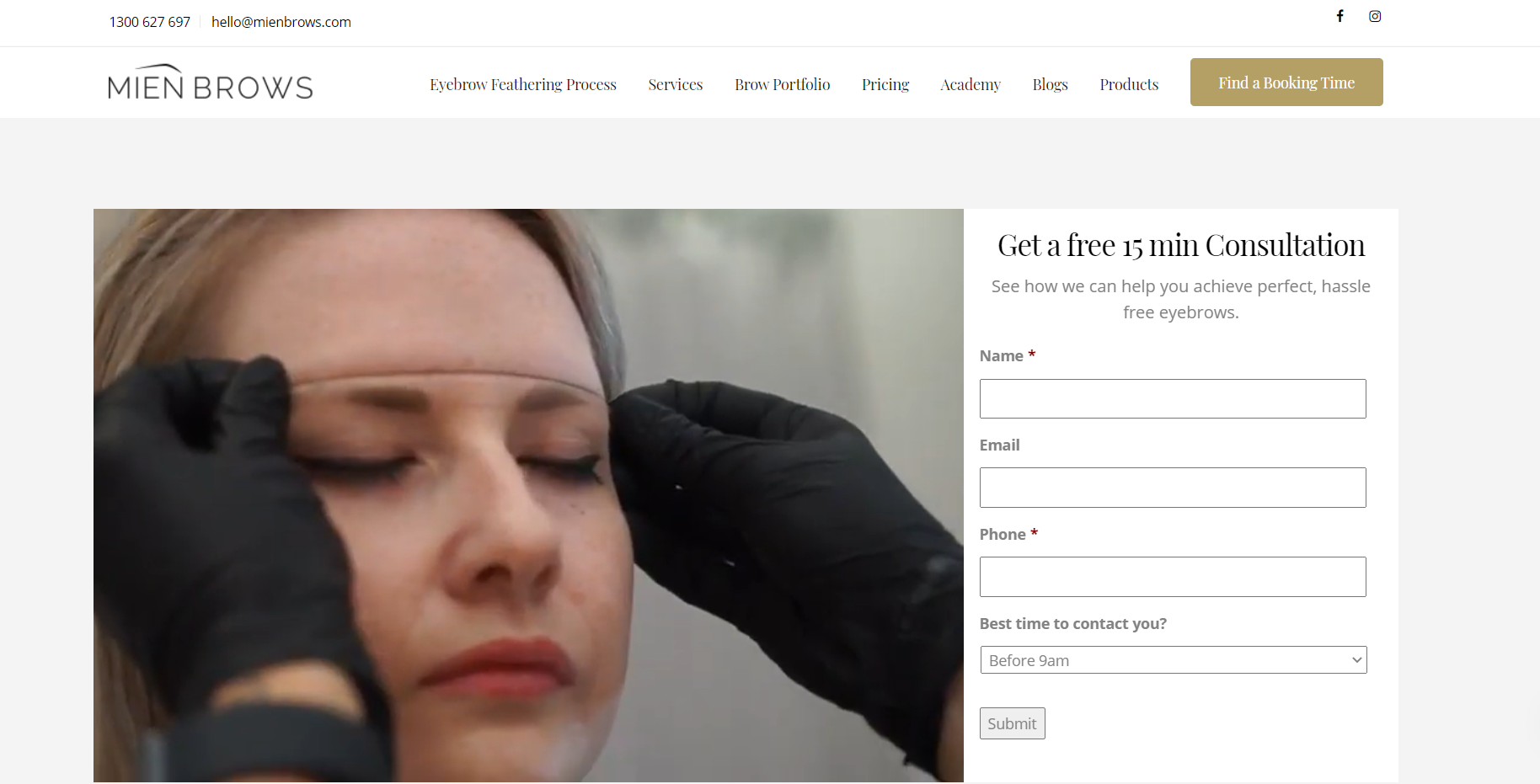 mienbrows.com
A new set of personalised, perfectly natural-looking semi-permanent eyebrows in less than two hours.
At Mien Brows we believe Eyebrow Cosmetic Tattooing is a form of eyebrow architecture, designed to achieve fuller, more structured brows, thereby alleviating the regular routine of applying brow makeup.
Our courses are designed for you to be guided by our highly experienced Master Stylist and Owner of Mien Brows.
We provide complimentary consultations for Nicole to tailor a course structure to your specific requirements on any aspects of cosmetic tattooing that you would like to gain more confidence in and perfect your technique.
Our number one goal is setting the industry apart with a key focus on education, building strong relationships with our students and giving them the confidence within themselves to have a successful career in the industry.
Eyebrow Microblading 
Also known as "feather stroke."
Microblading is a tattooing technique in which a small handheld tool made of several tiny needles is used to add semi-permanent pigment to the skin. This technique is used to mimic the natural brow hairs. It is the most natural way to fill in your brows. It can last anywhere between 6 – 18 months.
Combination Brows
A combination of the brow is a mixture of microbladed hair-like strokes and shading. Shading gives more definition to your brows and once healed, it creates more of a "make-up" look. I often use this technique to cover old eyebrow tattoos.
Ombre Brows
The ombré effect comes from using two different brow colours, one lighter than the other. This technique lasts longer and works very well with oily skin. The brow is also fuller and more defined or dramatic. Great for clients who regularly fill in their brows with pencils or shadows.
Lash Enhancement Tattoo
A lash enhancement tattoo creates an undetectable definition for eyes. It involves tattooing an ultra-thin black/brown line along the lash line to create the illusion of fuller and darker lashes.
Luxe Brow Sculpt Package
Book in for a Luxe Brow Package with our artists for the ultimate Brow experience.
Your package includes:
Shaping your eyebrows using the Golden Ratio Method

Eyebrow wax & tint

Mineral makeup application

Education on maintenance
Our products
We provide top quality products that are customised for your brow requirements.
Our new Eyebrow crayons and Eyebrow Gels will provide an easy application to shape and fill in your eyebrows. Add both products to your morning routine to give your eyebrows that ``va va voom`