Suppose you are currently planning your beach wedding, congratulations! Planning a destination wedding is no easy feat. It requires careful attention to detail to ensure that everything runs smoothly and goes off without a hitch.
If you want to get married on the beach, there's no shortage of things to consider. From what type of ceremony and reception you want to how many guests can be accommodated at your venue, it may seem a little overwhelming! That's why we've put together this handy list of steps for planning a beach wedding.
Your perfect weddings are in the palm of your hands. The beach is a romantic and simple location for any couple to say, "I do". With less planning, there's more time to enjoy your special day with friends and family! Here are some tips on how to plan the perfect beach wedding.
A beach wedding can be captivating and charming for many reasons; the romantic oceanfront setting with its spectacular green and blue tones, the beautiful natural environment that frames the ceremony, or the wind and waves that add the most delightful soundtrack to the event, are just a few to mention.
Outdoor weddings in gardens or patios are nice bets; however, a beach wedding is an option with no contenders. Just picture yourself and your fiancé pronouncing your vows with the ocean enclosing your ceremony.
Planning a beach wedding can be overwhelming, but following these tips and tricks will make the process significantly easier. First off, when considering the location for your ceremony and reception, keep in mind what type of weather you are looking to have on that day.
This is especially true when it comes to planning such a special occasion in unfamiliar territory. With all that's involved in creating a memorable event, it can be hard to know where or how to start – which is why we're here for you today with some advice from our team experts on how best to prepare yourself and those around you for your big
Be sure also to find out what other events are taking place in those particular locations to have enough space for both ceremonies without running into any scheduling conflicts. Next up, consider all of your guests who might not be able to travel well by choosing venues within driving distance from airports or bus terminals.
Wedding planning can be stressful and time-consuming. Planning a beach wedding might add an extra layer of difficulty to the process, as you may have less time and resources available. However, if you follow these tips for planning your perfect beach wedding, it will all be worth it in the end.
How much does a beach wedding cost?
You should know that many grand tourism resorts have special wedding packages that include a ceremony on the beach.
You will need to have a certain number of guests, and if the accommodation meets three nights or more, they might offer the option of holding the ceremony on the beach or on terraces overlooking the sea.
But be careful, these plans may have several restrictions, and the extras could considerably raise the price.
In addition, there are beaches where you can get married at no cost or where the rate is lower compared to what a church would be worth, for example.
So, when they ask us if a wedding on the beach is more expensive than one in a hotel ballroom or a restaurant, my answer is that it depends on the place you choose, the extras you want, and the travel expenses.
Budget Advice for a Beach Destination Wedding 
Having a well-constructed budget is the key to ensuring all your perfect beach wedding ideas come to fruition. As is the case with all wedding planning, setting the budget should be one of your and your partner's first things when planning.
Setting the budget goes hand-in-hand with finalizing your venue since which beach you choose will impact your budget.
Many oceanfront resorts have beach wedding packages that take a lot of guesswork out of planning; however, if you're saying "I do" on a public beach and plan to rent out a beach house, you'll need to map out your spending accordingly.
"Cost-wise, beach weddings are monumentally cheaper than venues," says Benson in regards to DIY beach weddings on public beaches. "To have a beach wedding (at least, for most places in California), all you need is a city permit which is typically $100-$250 depending on the beach and the number of people you plan on having attended your wedding.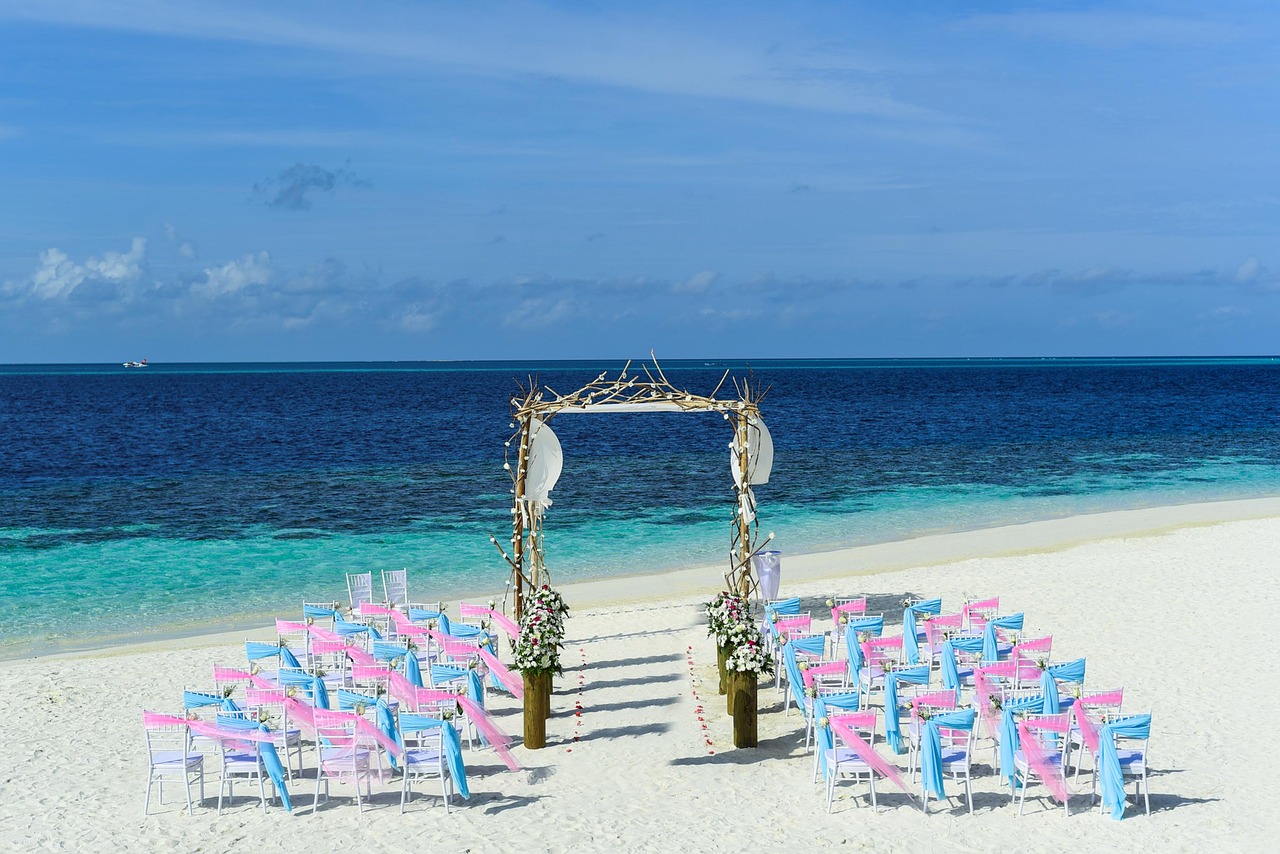 Obviously, you have to get creative with decor and things like audio to have a few more additional costs for chairs, tents, and generators. However, you're still looking at an overhead venue cost of about $1,000 compared to $5,000+ at a traditional venue."
While a public beach is going to be cheaper than a private beach or resort, as Benson pointed out, you'll incur other costs associated with DIYing the day since nothing will be provided but the sand.
Although it's another investment, a wedding planner is invaluable when planning a destination beach wedding. They'll be able to help you create a budget that takes into consideration generators and other equipment you'll need to rent while also helping you stay on top of all your normal wedding to-dos.
"Have your coordinator or someone assigned to stand guard of your setup. So many onlookers like to crash your wedding spot for pictures and sit in your guest's seats. This happened at my own wedding so take my word for it," advises Benson.
Tips On How To Plan The Beach Wedding
1. Public Vs Private
Thinking about that popular beach spot? Just remember that public beach access means that people are free to roam the shores as they normally would!
If you have picked your date during peak beach season, you may have strangers walking by your ceremony, kids laughing and screaming, and music playing in the background. Try moving up or down the coastline from that central hotspot, and the traffic will be less heavy and have fewer people in the surrounding area.
2. Mother Nature
There is one rule for the weather – it changes by the hour! It could be sunny one minute and downpour the next. Make sure that you have a backup plan in case of inclement weather. If possible, plan your ceremony in the morning or the late afternoon – chances are higher for you missing that afternoon shower!
Another key factor to remember is the tide. When is it high tide? Is there enough beach at high tide to fit everyone? Again, you or our planner should be looking into these and keeping up to date records of this so that you can make any last-minute adjustments as needed!
Planning an evening ceremony? Make sure to check when the sunset is!
The last thing that you would want is to start the ceremony early or late and miss the beautiful sunset backdrop!
3. Think Like A Guest!
One thing to do is to think about the questions you had as a guest for another wedding: Where do I park? Are there clear directions to get to the beach access? Then, make sure that your guests have an easy time making it to your ceremony and reception space.
If you're having a beach wedding at public access, parking may be your worst enemy! Think about this ahead of time and see if you can work with a local business or lot to reserve the whole lot for your guests!
4. Bathroom Breaks
If you get married away from the central hub at the beach, bathrooms may be few and far between! So when getting your permit, be sure to ask city officials about restroom access and the closest to your location.
5. Can You Hear Me Now?
We hear all the time from brides that their biggest fear is that guests will not hear anything from the ceremony. So no matter how good you are at projecting your voice, a small sound system is always a good idea!
Facing the waves crashing and the wind blowing can take event the loudest of voices to a whisper. Guests are coming to celebrate your love together, and they want to enjoy these moments with you; make sure that they can hear you!
6. But What Will I Wear?
Planning to wear a ball gown and stilettos to your ceremony? It's hard enough to walk through the glass in heels, let alone through sand! So be sure to think about how loose or fitted your dress is and wearing heels vs flats or sandals.
A suggestion that we always offer is to add boardwalk pieces so that you and your bridal party do not have to trek so hard in the sand – and it also adds to the tropical beach ambience for the wedding!
7. Permissions
Check with your local city government to see whether you need to get a permit for the beach access or not. Some cities require one, and others do not. It is a quick and easy form to fill out, and it also gives you a great opportunity to ask some of the questions we discussed above!
8. Dress Code
What does someone wear to a beach wedding? Are you expecting guests to be in suits and gowns or something more tropical and flowy? Establishing a good idea of what you want guests to wear will help them, in the end, be more comfortable and enjoy the big day with you!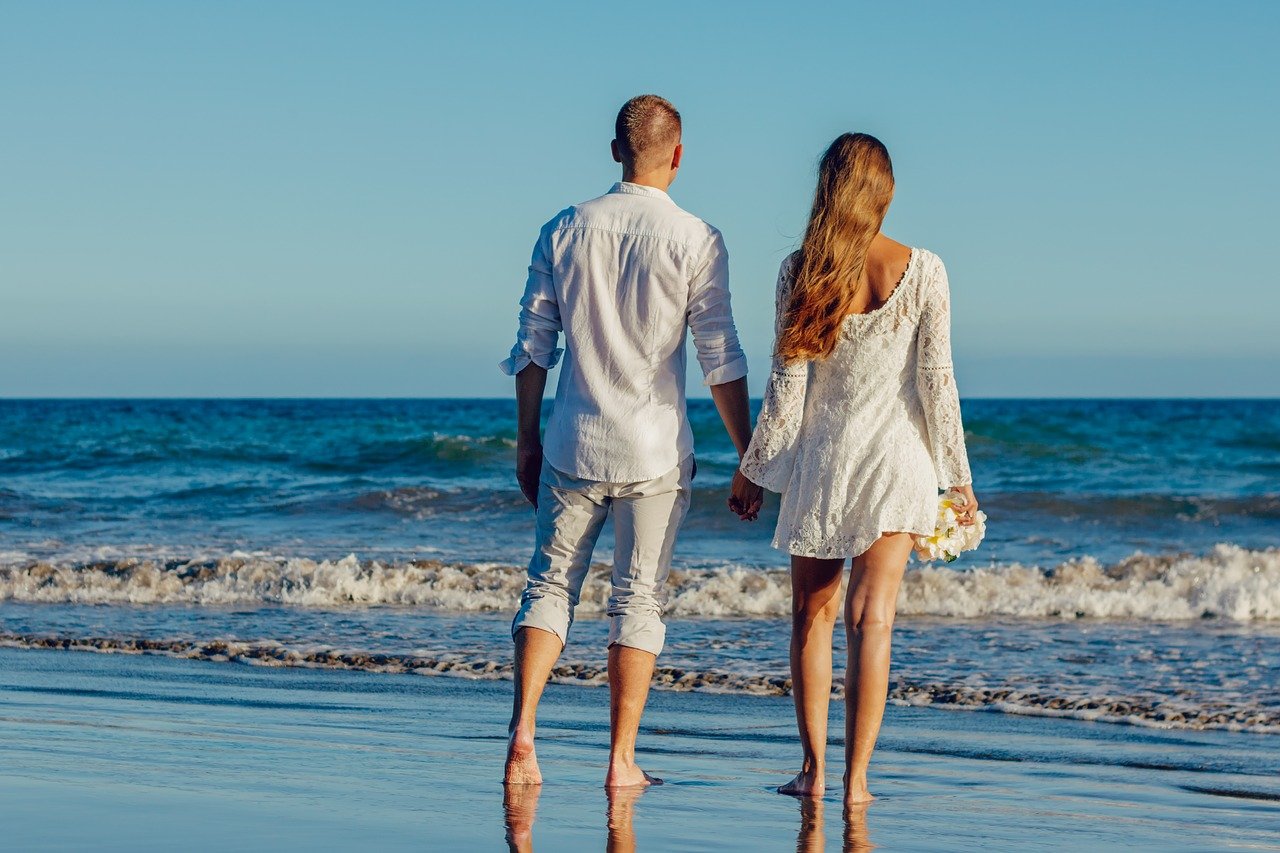 9. Think About Theme!
Going all white at the beach? Or fulfilling your mermaid dreams since childhood? Think about the overall look for the wedding and tie those elements into all of the aspects!
Adding a wispy fabric draped ceremony arbour or tropical bamboo chairs for guests on the beach help tie little touches together to give an overall feel! Don't be afraid to go overboard and fully embrace whatever theme and colour palette you're choosing for the big day!
10. Don't Forget The Little Things!
Little things are sometimes taken for granted when you have a beach wedding. Providing small bottles of water for the guests at the ceremony or small fans for the afternoon heat add those caring touches that let guests know that you are thinking about them!
What to wear for a beach wedding?
Sometimes, beach weddings are much more relaxed in the dress code. Unlike a city wedding, white is a colour guests can wear if it does not steal attention or compete with the bride's dress. You can opt for light colours like beige, gold, or bone tones.
What you should never wear to a beach wedding is a city suit, whether you are a man or a woman, because not only will you feel out of place, but you will suffocate quickly because of the composition of the fabric.
Neither are black dresses for day weddings recommended because, even if they are made of sheer fabrics and sleeveless, it is a fact that black is a colour that absorbs more of the sun's rays, unlike light colours. You will quickly start sweating and feeling uncomfortable.
1. The groom and the best men
The groom and the best men can opt for natural fibre suits in natural colours such as cotton, silk, or linen.
If the beach is hotter, it is permissible to wear looser pants and loose shirts outside the pants. In many tourist destinations, you will find traditional shirts in bright colours such as blue, yellow, orange that perfectly combine with pants in shades of beige, brown or even white.
Other guests hearing the term beach wedding know that there is the option of wearing fisherman pants or even Bermuda shorts. A beach wedding allows colours you would hardly use in the city, even for them.
2. For the girls
Just as there are looser options for the groom and guests, the same rule applies to the maids of honour. Loose-fitting dresses made of flower-patterned fabrics and bright colours are ideal fabrics such as crepe, cotton, linen, and silk.
You can also wear a midi dress in bright colours, but a maxi dress with prints, halter neck and backless with ruffles that will flutter in the wind is also a pleasant choice.
Necklines, bareback, and arms are quite common and even expected. However, heels should stay in the city because wedge or platform shoes are better for a beach wedding.
In fact, espadrilles or open floor sandals can make the ideal solution for dancing in the sand.
Some couples let their guests know the dress code and offer tips when they send invitations.
Date and Time Tips for a Beachside Wedding 
Whether you're having a sunset ceremony or exchanging vows earlier in the day, finding out what the weather will be like and when the sun will set on your chosen wedding date is especially important.
Along with knowing the sunset time, it's important to look up how the tides will be affected and what time high tide will be at your chosen beach spot.
Benson encourages couples to "position the ceremony altar close to the beach but far away enough from any high tide," so you don't have to worry about the water getting too close.
Additionally, the best months for beach weddings will differ from an ideal date for a beach elopement in Hawaii, so do a little research before locking in a date and sending save-the-date cards.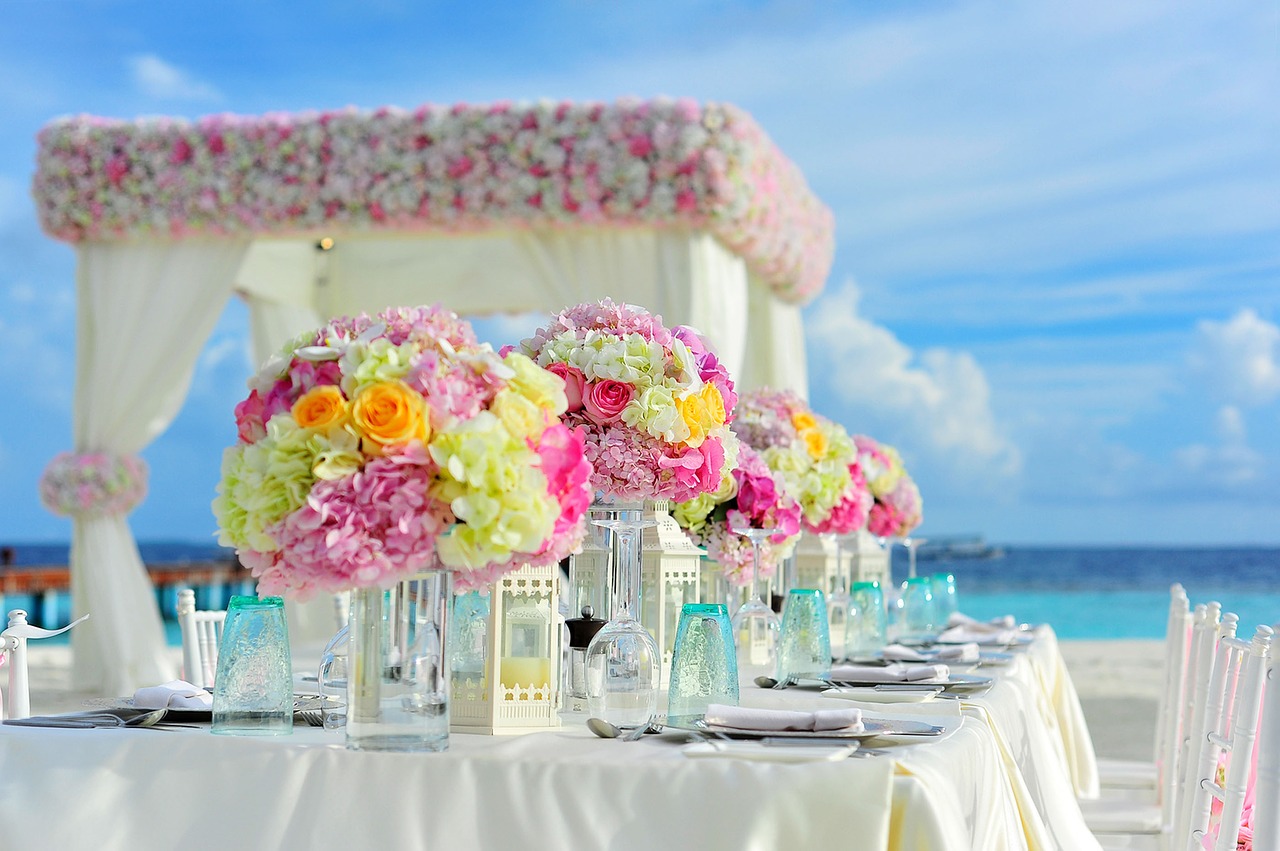 Furniture and decor
1. Natural Table Runners
The palm leaf runners blend in perfectly with the natural vista and oceanic carpet that stretches beyond. Who needs one big centrepiece when you can have this?
Keep decorations simple when surrounded by natural beauty. "Focus the budget on the experience, like food and entertainment," says Grosset. If that's on point, guests won't miss the rest.
2. Fish Food
Guest favours are the one instance where it's completely okay to play with your food. These fish-shaped cookies were decorated with guests' names and placed atop welcome boxes in each seat.
3. Nautical Knots
In addition to their functional purposes, these namesake knots were used by sailors as a way to keep the memory of their beloved with them on long journeys at sea.
Such a sentimental symbol of enduring love deserves a place at your wedding celebration. Create large knots from nautical rope to hold table numbers, place cards, or menus.
4. A Grand Entrance (or Exit)
You and your wedding party deserve to make an entrance, and for a seaside fête, there's only one way to go about it: by sea.
Or, make a grand exit with your new spouse by chartering a vessel of your choice and sailing off into nuptial bliss. Feel free to get super creative with the notion. "The craziest request we have had must be arriving on a kiteboard for the ceremony," recalls Grosset.
5. A Seafood-Filled Menu
It's not a full-fledged beach theme until your guests can actually taste the ocean. If coastal New England is your vibe, then you already know that lobster rolls are a must.
Grosset believes in incorporating a seaside theme into all components of a celebration, including cocktails and food. "If you do this, you will create a whole experience that will engulf everyone in the vacation mood and what the beach offers," she explains.
6. Nautical Welcome Bags
And let's discuss these lobster-inspired welcome bags while we're at it. All the usual suspects, from candy crustaceans and bottle openers to nautical wine stoppers and seafood mallets, are encased in one personalized beach tote—with lobster-printed tissue paper, of course.
7. A Ceremonial Backdrop
With a view this magnificent, you'll want nothing to get in the way, but a minimalist ceremonial backdrop may be in order.
While we wouldn't call this an arch per se, the structure creates the perfect frame for the newlyweds' vows while leaving the sweeping oceanic vista free from obstruction. Two swags of monstera leaves, palm fronds, orchids, pampas grass, and white king proteas finish off the look.
8. Décor With Island Vibes
The tropical colour scheme of vibrant green, creamy white, and natural tones is the epitome of island charm. We're obsessed with the combination of textures, from the soaring arrangements of palm leaves to the organic rattan and wicker finishes to the bamboo furniture.
9. A Boho Hammock
What better way to relax with your new spouse and commemorate a beach theme than with a macramé hammock like this couple did for their destination wedding in Tulum?
"Our couples usually love to identify with our little beach town, Tulum, and incorporate the local style as much as they can in their big day," says Grosset. "These local details, mixed with the personal elements of the couple, can make the experience more unique and complete."
10. A Tropical Bouquet
We love a uniform, on-theme look, and a bridal bouquet should be no exception. So blend the local colours and greenery into your bouquet for an ode to the destination and culture. It's also a cheaper alternative to flying in exotic flowers that may not even withstand the climate.
This bride's oh-so tropical bouquet consists of tonal palms, ferns, massive monstera leaves, and anthurium.
11. A Flourishing Chapel
Not all seaside weddings have an alfresco setting, especially if your ceremony calls for a chapel. Bring the beach indoors with beautiful foraged foliage and blooms, like these colourful arrangements of monstera leaves and proteas. Who wouldn't swoon at the sight of this vibrant array of colours against the white-washed interior?
Catering Considerations for Beach Wedding Venues
White sand may be picturesque, but no one wants their dinner, and especially not their wedding cake, to come into contact with grains of sand.
For a wedding reception on the beach, it's crucial to work with a catering company that has experience with off-site catering and has worked on a beach before. During your catering tasting, ask how the company has handled beach weddings before and inquire about what kind of equipment they would need to bring in.
Benson notes that the wedding reception is the "only downside" to a beach celebration. "It gets chilly and large tents may not be allowed on some beaches."
She goes on to explain that even if you have your outdoor ceremony on the beach, it's alright to move the second half of the day indoors to make dinner service a simpler process. Many ocean-view restaurants and venues could work to cap off a stunning beach destination wedding; ultimately, the decision is up to you.