Would you like to get married on a beach in the Caribbean? Or maybe somewhere in Europe, or even Asia?
Planning a destination wedding can be overwhelming. With so much to do, it's easy to get lost in the details and forget about what is really important. Planning your dream wedding doesn't have to be stressful or expensive, but it does take some time and effort on your part.
While the wedding day is still very much about the couple, some destination wedding etiquette rules are encouraged to follow to help their guests have an unforgettable experience.
From covering specific costs to providing travel details, here are our top six destination wedding etiquette tips to help you through the planning process.
You have many things to consider – including your guest list, how much time off work will be needed for you and your partner (if applicable), transportation logistics, and more.
Here are some of the things you'll want to consider when planning your big day: where will we get married? What type of food should I serve at my reception? What is the best way for us to plan and pay for our honeymoon? How do I turn an idea into a reality? These questions touch on just a few aspects of what can be one of the most exciting times in your life.
You may be considering a honeymoon vacation, which can only add more to the budget and planning. With so much information out there, it's hard to know where to start or what you want for your big day. We're here to help with this blog post!
Planning a destination wedding can be expensive and difficult. With so much to consider, it's easy for couples to feel overwhelmed. However, the following are some tips that will help you plan your perfect destination wedding.
We hope this blog post has given you some helpful advice!
Let's get started!
Tips For The Destination Bride And Groom
1. Wedding Invitations Must Go Out Much Earlier!
So the suggested timeline of sending out your invites two months before the wedding doesn't apply to a destination wedding. Instead, your guests will need to secure vacation days off from work and budget for travel expenses.
You really should be sending out a Save The Date no later than six months before your big day to give potential guests a chance to get their plans together or decline. And you should send out the actual wedding invitations no later than four months before your wedding.
Your guests are going to need to plan flights, accommodation, time off work, and potentially childcare to attend your destination wedding, so be sure to give them plenty of time to do so!
Typically, for a local wedding, you would send invitations at least two months in advance. However, for a destination wedding, you should send your invitations at least three to four months in advance.
That means you should send your save-the-dates at least eight months (even as far as 12 months) ahead of time, rather than the typical six to seven months.
Basically,  the more remote you'd like for your destination wedding to be, the earlier you should notice the people you want to be in attendance.
2. Time It Right
Unfortunately, the best weather in popular vacation destinations tends to correlate with tourist season, when there are typically more crowds, fewer hotel and venue availabilities, and higher rates all around.
If you're planning a destination wedding during this peak time, book your venue and reserve your room blocks through an online booking service like Hotel Planner as soon as possible.
If you opt for the shoulder season, you may be able to save yourself and your guests some money and still enjoy great weather.
However, while the off-season will mean fewer crowds, the weather can be a gamble (consider the Caribbean's hurricane season and the summer heatwaves that occur in parts of Europe). As a result, you may find that many stores, venues and vendors close up shop.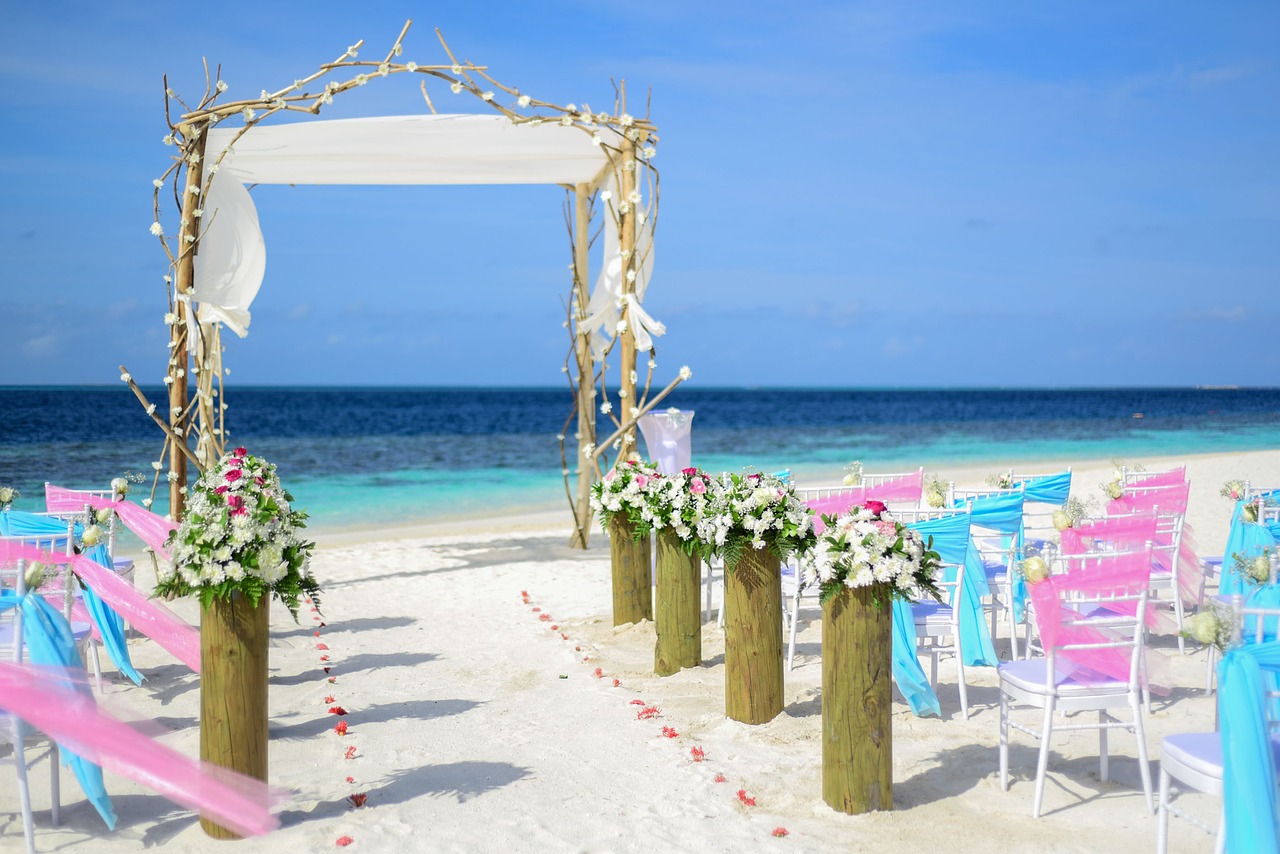 3. Your Invitations Should Match Your Wedding Style
It's a complete disconnect to send a classic engraved ivory invitation with handwritten calligraphy addresses and then expect your guests to know that you've planned a casual beach wedding where you and your beau will be sporting flip-flops down the aisle.
Very formal invitations should be paired with an ultra-traditional and formal wedding ceremony and reception. Your invitations set the bar for guest expectations and should also include essential details like dress code and a brief schedule for your wedding day (i.e. cocktails and passed plates + black tie dress code).
4. Take a Trip
We seriously can't recommend this enough: Take at least one planning trip, and if you can swing it, two or three is ideal.
On the first trip, you'll need to scout and secure your key venues—ceremony and reception spaces, hotels for guests, a rehearsal dinner venue—and local suppliers such as caterers, florists and photographers.
After you've made your selections (perhaps during a second trip), you may want to schedule "tastings" with your caterer, see sample bouquets from the florist, plan a hair and makeup session with a local salon, and organize activities (golf, tennis, walking tours, museums) for your guests.
5. Host a welcome party or a post-wedding brunch
One way to let your guests know you appreciate the time and money they spent to be with you on your big day is to host a welcome party or a post-wedding party — or both!
Open up the traditional rehearsal dinner to all your guests to start the celebrations early and to give you both a chance to spend more quality time with your guests than you'll be able to get on the wedding day.
Or say goodbye in style with a day-after brunch, complete with one final "thank you" toast and hugs all around!
6. It's okay to Have a Child-Free Wedding
Yes, this can cause some tension with anyone you know who has children. But we'll let you in on a secret…it's your wedding.
Whether you're opting not to allow children because of budget constraints (because wee little ones count towards the headcount) or because you're not really into having a child's temper tantrum meltdown upstage, you…it's okay.
Just be sure to politely let guests know that you're opting out of allowing children to attend because of budget constraints (because it's rude to say someone's child is a brat!). But do keep in mind that if you're planning on having a ring bearer or flower girl in your wedding ceremony, someone might consider it favouritism.
Again, it is your wedding day, but this way, your guests will appreciate your diplomacy, and you can avoid any potential disagreements on the happiest day of your life!
7.Try to Negotiate Travel Packages and Other Discounts for Your Guests
Seriously, destination weddings can be extremely pricey affairs for your guests. And if you're not in a position to cover the costs of travel for everyone, the least you could do is hook them up with a discount!
All-inclusive resorts tend to offer preferred rates on hotels (and throw in airfare package deals as well) for guests who book within your room block. If your ceremony locale is a non-traditional venue, follow up with your hotel to request a room block for potential wedding guests.
Likewise, most airlines will offer anywhere from a 5 to 10% discount for wedding-related travel when ten or more guests book. And be sure to include these details on your info insert in your invitation sets.
8. Pay for day passes at all-inclusive resorts
This tip won't apply to all destination weddings, but it's important for couples who plan to hold their wedding at an all-inclusive resort. Most guests will probably stay on property.
But, if guests decide they can't or don't want to stay on property, you should pay for the required day pass they'll need to attend the wedding. (You should be able to arrange this ahead of time through your wedding planner or the resort coordinator.)
9. Find lodging for your guests in advance, at different price points
Unless you're planning to pay for your guests' travel or accommodations, it is expected that they will pay their own way for your destination wedding. One way you could help your guests find the perfect place to stay is to scope out accommodation options before you send save-the-dates and provide that information on your website.
Make sure to include several options at different price points — all as close as possible to your venue — so your guests can choose the one that works best for them.
You could even go one step further by tracking down flight options or providing websites where guests can book affordable flights. Any stress you can take out of the travel planning process will be huge for your guests!
10. Make Guests Feel Welcome
Your friends and family are eager to celebrate with you, and creating a wedding website will make it easy for them to find all the important details in one place—like group rates for flights and hotel rooms—how to get to and from the airport, a list of nearby activities they can do on their own and an itinerary of the weekend's events, like the rehearsal or welcome dinner and next-day brunch.
Upon arrival, deliver welcome bags to their rooms, full of essentials for the trip, like sunscreen, water and bug spray.
11. Let everyone know it's okay not to bring gifts
This topic has the potential to be a sensitive one, but hear us out! Weddings are expensive for everyone involved.
Whether it's the family helping pay for parts of the day, the wedding party buying new attire and accessories, or guests buying gifts, it's just a fact of weddings that things can get expensive very quickly. And people are totally willing to pay for those things because they love you!
But, that doesn't mean you shouldn't try to alleviate some of the cost, and one of the biggest ways is to let your guests know that gifts aren't required explicitly.
Their presence is enough! Put a short and sweet message on your website and your invitations so nobody has to have an awkward conversation. (Chances are you'll still get a few regardless!)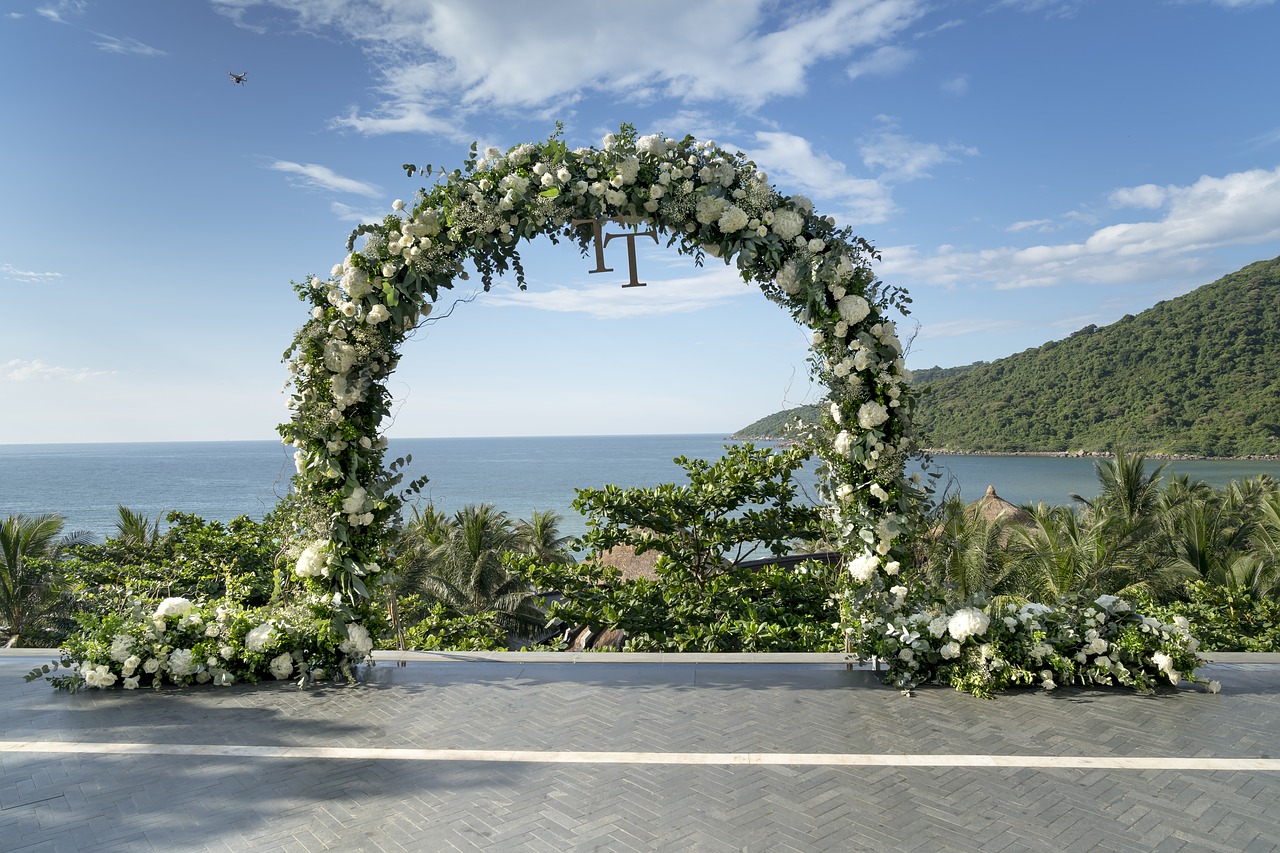 12. Add a destination guide to your wedding website
Suppose you're travelling to a different country. In that case, you and your guests will have to think about currency differences, time changes, exchange rates, cultural nuances, safety, and so many other little things.
You'll likely be looking into all of these during the initial research phase of planning, so remember to record all this information as you find it. Then, when it's time to create your wedding website, add a special section with all your research so guests can easily find and reference it as they prepare for their trip!
If you want to get super cute and creative, you could also create a printed infographic to include in your welcome gifts, so your guests have an easy reference when they get to the destination (if WiFi is spotty).
It would also be great to add restaurant recommendations, sightseeing spots, and anything else your guests might enjoy!
13. Research Local Marriage Requirements
The legal side of tying the knot in a different country can be complicated. Many countries have a "residency requirement" (for example, 24 hours in Turks and Caicos and seven days in England), which means you must reside in the country for a certain length of time before your ceremony.
Although this is usually just a few days, it can be longer. France, for example, requires you to arrive at least 40 days before you marry! If it's next to impossible to do it at your chosen destination and have it legally recognized, consider making it official (by government standards) before you travel.
That way, your wedding day will be in front of your guests, but there's no doubt it's the real deal.
14. Get Help
Control freaks, beware: If you're hosting a wedding in a distant locale, you will need to entrust at least part of the planning to someone else's capable hands.
Many resorts include a wedding specialist in their wedding packages who can shoulder the burden of researching and securing local vendors (especially valuable if there's a language barrier), dealing with logistics (like tent rentals and lighting), and handling any last-minute fires that may start in the weeks leading up to the wedding.
You can also get a coordinator to be your behind-the-scenes go-to at the destination, creating gift bags for guests, greeting everyone at the airport, keeping people busy with fun activities once there, vetting special requests (babysitters, dry cleaners, and so on), and getting everyone where they need to be on time.
Generally speaking, a local planner connected with your venue is your best bet, as they can be your man-on-the-ground when you can't be there.
But if you prefer to go with a planner from back home, make sure they have experience planning weddings in your chosen destination and expect to cover their transportation costs for planning visits and the actual wedding.
15. Consider the Elements
It's essential to think of the unexpected when planning a destination wedding. For example, speak with your planner or venue about lighting: If your reception is outdoors, you'll need a backup for when the sun goes down (and for safety too).
Think about stringing market lights or adding a romantic vibe with hundreds of candles. And while crashing waves are peaceful, your guests want to hear your vows. So consider lapel mics, and make sure the D.J. or band has enough equipment (and power) to entertain all night as well.
Besides that, think about what else you can provide to make it a better experience for your guests, like flip-flops for your oceanfront ceremony or umbrellas in the event of a late afternoon drizzle.
16. Be Decisive
Not to stress you out, but you're basically competing in the Olympics of wedding planning—the long-distance affair.
You need to be twice as organized as a local couple and pre-think everything because you won't have much time to make up your mind, especially if you can only make one or two planning trips.
So do your research, set up necessary appointments and have any preliminary meetings by email or phone so that once you're in person, you can focus on decision-making, like tasting the cake. If you don't allow the long distance to hinder your vision, it'll make the whole planning process a lot smoother—and less stressful.
Tips For Destination Wedding Guests
1. If You Can't Travel for the Wedding, Don't Hassle the Bride and Groom about it
The fun part about attending a destination wedding is that you get a celebration of love and a mini-vacation all in one! But, unfortunately, you might not be able to budget or take time off from work to attend the wedding.
Even if you're the bride's best friend, you should not try to convince the couple to change their mind about having a destination wedding.
Make sure you know the cost the bride and groom are expected to pay for you. Make sure you have done the math before committing. You can think of it as a vacation with a non-negotiable event.
After all, this event is all about them, not you. We are sure the engaged couple will want you in attendance, but if they had to accommodate every guest's requests, they would never settle on a date. There's enough stress during wedding planning, don't add more to their plate.
2. Do Not Assume There's an Automatic Invitation Coming Your Way
Trust us; we get it…you're that friend that Aunt Carol always brings to Thanksgiving. So, you just assumed that when her daughter got engaged, you'd receive an invitation as well.
It doesn't work that way for destination weddings. Not all couples have a "the more, the merrier" mantra towards the guest list.
And especially if a couple opts for an all-inclusive venue with a very strict headcount for bridal packages, they really can't invite everyone who wants to come. So make sure you ask the couple before you start sourcing flights and planning your outfits.
And if you know for a fact that you're not that close to the bridal couple or their parents, please don't act like the injured party. Instead, understand that weddings can be expensive, and the couple will need to prioritize their guest lists to stay within their budget.
3. About Those Plus Ones…
Now, with an in-town wedding, people tend to be more lenient on guest list additions. But with destination weddings, the headcount is much more rigid.
Don't invite your own guests to someone else's wedding. It's rude—plain and simple. Would you want a stranger showing up eating up your food and drink?
While it may seem like the rules have changed because this is a destination wedding, if the guest isn't included and hasn't gotten an okay for you to invite, don't do it. Wedding crashers aren't cool.
If you're married or in a long-term relationship, you can safely assume that both you and your other half are invited. If you're a close friend or relative, you can assume that a +1 is okay – but you should still ask.
And most importantly, unless you know for a fact that the couple is okay with last-minute additions, do not decide to invite someone to the wedding long after the RSVP deadline has passed.
4. Don't Bring Gifts to the Wedding
Unless you're giving the newlyweds cash or a gift card, this is an impractical thing to do. As well-meaning as it is…most couples do not want to deal with the hassle of shipping bridal registry gifts back to their homes after a destination wedding.
Don't worry about gifts. If you are coming, your presence is all that the brides and grooms usually request. However, if you must, don't bring it to the destination, have it delivered to their home for easy transport.
Do use their registry—why do you think it's there? If they are telling you what they want, why would you get something else? They have done the work and made it easy, so don't stray from the list—it honestly just makes everyone happier in the end.
Don't make it about YOU—it's not. Instead, please find time to show the bride and groom how much they mean to you. Don't be glued to your phone, the bar or the beach. Instead, make new friends and be part of the celebration.
And P.S…why would you want to lug it with you through all that travelling?! Instead, if you're attending the bridal shower, bring the gift there. Better yet, ship the gift to their home. Let this experience be a gathering to celebrate love!