Throwing a backyard wedding can be a beautiful and intimate experience, but there are some pros and cons to consider before you make the leap.
It can be difficult to make the decision between a backyard wedding or a traditional church ceremony – especially when you have been dreaming about your perfect day since childhood.
Asking yourself what is best for you and your partner will help you decide if this type of wedding is right for you.  Whether it's deciding on where to get married, the guest list, or what food to serve at the reception – some many pros and cons need to be considered before making any final decisions.
We all know that weddings are expensive. But some people don't realize just how expensive they can be. So if you're looking for a low-cost, casual wedding, then throwing one in your backyard might sound like the perfect idea to save money.
You will save money by doing the decorating, food preparation and entertainment yourself. It can be more work than you think, but it's worth it to have your dream wedding without breaking the bank!
However, before you go into this venture with blinders on and get too far ahead of yourself, it's worth taking a step back and considering the pros and cons of doing so.
Throwing a backyard wedding is an exciting time for any couple. It's the bride and groom's special day, so they get to plan it however they want.
There are many pros to having a backyard wedding; you don't have to spend as much money on decorations or renting out venues, but there are some cons too. For example, if rain were forecasted, then it would be difficult for guests to make their way through your house and backyard.
A backyard wedding can be a great option for those who want to have a small, intimate ceremony with close family and friends. However, there are some downsides that you may not think about when planning your special day.
First off, it's important to note that backyards usually do not come equipped with the features of an indoor venue such as lighting or heating systems; this means you will need to invest in these necessities on your own. Another downside is that if you're hoping to serve alcohol at your reception- which many couples do – you'll need a permit from the local authorities first.
One final consideration is noise restrictions, as most neighbourhoods have ordinances against loud noises after certain hours of the night, so make sure to ask your neighbours before setting a date for your backyard wedding.
If you're considering throwing a backyard wedding, we hope this article will help you decide whether or not that is the right route for you!
Is It Really Easier to Have a Backyard Wedding?
There's something so welcoming about a backyard wedding. For some, the idea of inviting friends and family for such a significant occasion is made all the better by hosting it on one's property. The memories made at one's private home or that of a close family member are invaluable.
However, there's a common misconception that backyard weddings are easier to host than renting a venue space. So we asked wedding pros to chime in on the pros and cons of backyard weddings, along with some often overlooked considerations for planning.
1. The Freedom
"You can customize your wedding and make it personal since it's your home," expresses Heather Rouffe of Atlas Event Rental. "It's a blank canvas where you can use the natural elements to create the look. You don't have to go far and can get ready in your home."
Jamie Chang of Mango Muse Events agrees, stating: "One of the greatest pros of having a wedding in your own backyard is that you have complete control over everything.
You can create what you want, design how you please, bring in what you want, and you have access to your 'venue' at all times. So, you can take your time making it how you want it to be. If you've wanted to make changes to your backyard, this allows you to do it with purpose."
2. The Cost
"It is a common misconception that, because you are not paying for a venue or a food and beverage minimum, you will save money," explains Laura Maddox of Magnolia Celebrates.
"However, keep in mind that even off-premise caterers have F&B minimums, and you'll need a rain plan that will inevitably involve a tent that will cost just as much if not more than a venue. Then, add on the need for extra bathrooms, power, lighting, etc., and you spend quite a bit more."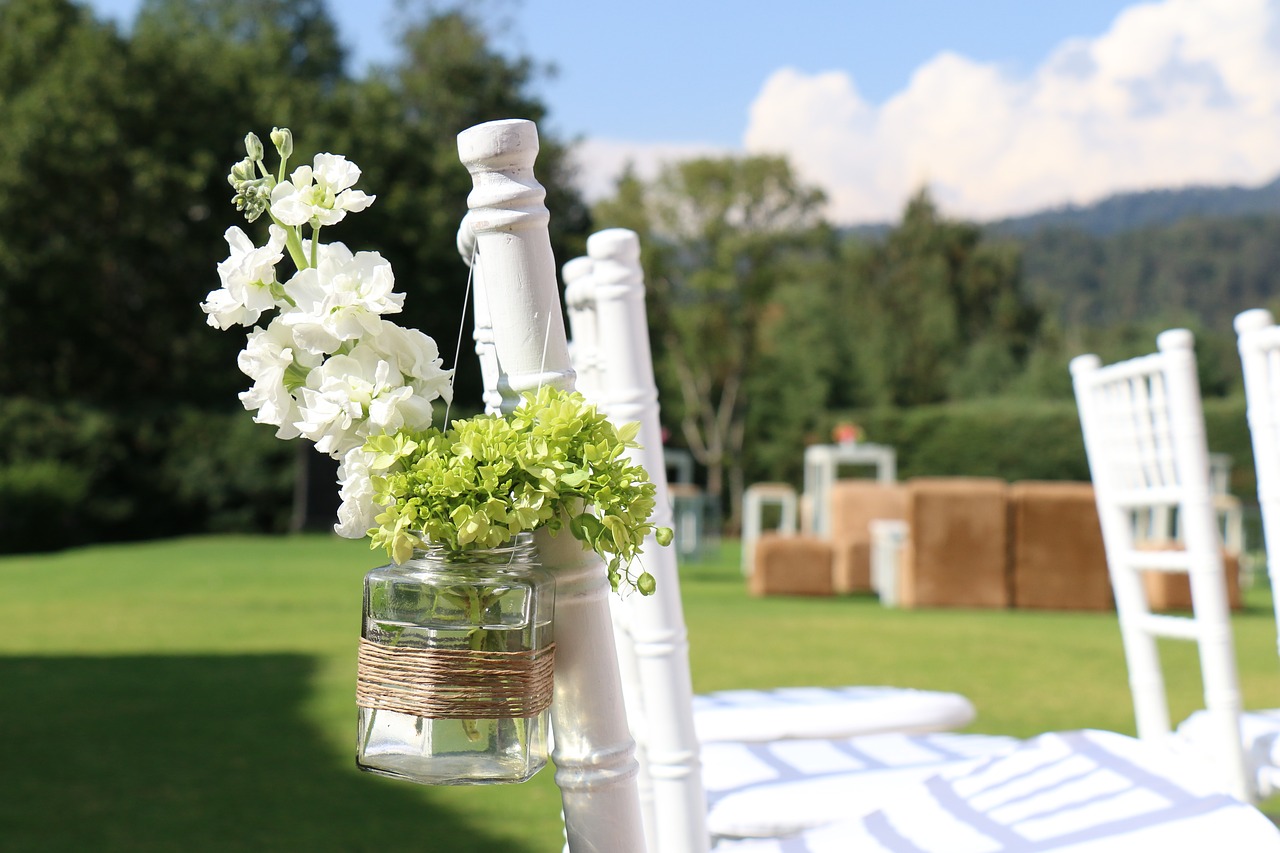 3. The Space
Oleta Collins of Flourishing Art says: "Remember guest count. Each chair requires two feet per person at a minimum. At this, people feel cramped. Please allow six to eight feet between tables.
Try and do a Google Earth map of your backyard and pencil in what you think if you have a hard time. If you have a large guest count, you can bypass a formal dinner and do heavy appetizers and a small ceremony area."
This includes parking, too, which Shannon Tarrant of WeddingVenueMap.com reminds: "If you are inviting 100 people to your backyard wedding, that usually means at least 50 cars will need to be parked. Do you have the space? Is there a parking lot close by that you can contract? How far will your guests have to walk?"
4. The Logistics
"There are many things that couples overlook when planning a wedding in their own backyard," shares Chang. "In some places, you need to get a permit, so you'll need to research that. Also, it would be best to think about noise and control since you're in a residential neighbourhood.
Power is also a concern, and you'll need to figure out what you can't handle and whether a generator is necessary. Also, since you own the 'venue,' cleanup is all on you, so you'll want to make sure you plan for that and have a team to help with cleanup and trash removal."
Tarrant adds: "Ask yourself, does the home have city water or well water with a septic tank? If the home has city water, it can handle the flushing that comes from a large group of guests.
But you still have to consider if you want 100 people coming in and out all night long. I've seen the damage to carpets and floors, broken items, spillage, and even stolen items. Also, if the home is on septic, it cannot handle the high volume of usage over a short period.'
"You will also need extra lawn care both before and after the event to clean up anything that was destroyed in the production of the event," says Maddox.
5. The Little Things
"Don't forget to remember the bussing of tables," reminds Collins. "No one wants photos of their wedding with dirty dishes in their photos. Will they have trash cans to handle the guest count, and will the waste company remove all the waste in a timely manner?
A regular garbage company will charge for additional cans, but it will be worth it. Or have a temporary dumpster for the wedding. If you are going green, have an extra green waste that can be delivered for the week of the event."
"You really need to get down to the nitty-gritty of what is needed as you need to ensure everything is brought in — proper staff, etc.," states Rouffe. "It's a lot of details that most people are not used to in comparison to when they have an event at a venue.""
For many, the freedom and control of a backyard wedding are well worth the effort, but all of our wedding pros shared the same sentiment about planning: Don't do it alone!
There is a lot to manage when planning a backyard wedding, and it's far from impossible, but having a planner to support you along the way is the key to success.
Not only will they help with logistics leading up to the wedding, but they'll ensure you don't have to lift a finger on the big day — especially after all of the heavy lifting you've done.
Backyard Wedding Pros
Free venue!
Start setting up (and then cleaning up after) whenever is best for you and your wedding timeline.
Very personal and sentimental.
No leaving something behind – it will all be there!
You don't have to worry about transportation to and from the venue.
Most of the people you invite will already know the address for the wedding – no getting lost en route!
You can do whatever you want decor-wise without worrying about paying a fee for putting up hooks or making holes.
A good excuse to make home improvements.
Backyard Wedding Cons
Everyone you invite will know where you live.
You are completely in charge of cleaning up.
Do you have enough bathrooms? You'll need one for every 50 guests.
You're in charge of EVERYTHING – it can be stressful.
You have to provide (and pay for) everything – tables, chairs, toilet paper, etc.
Guests may not understand that this is a wedding and not a house party. So you'll get people asking to crash on your couch or pass out in your bathtub.
It could be not easy to make normal backyard stuff (i.e. basketball hoop, sandbox) pretty and safe for your guests.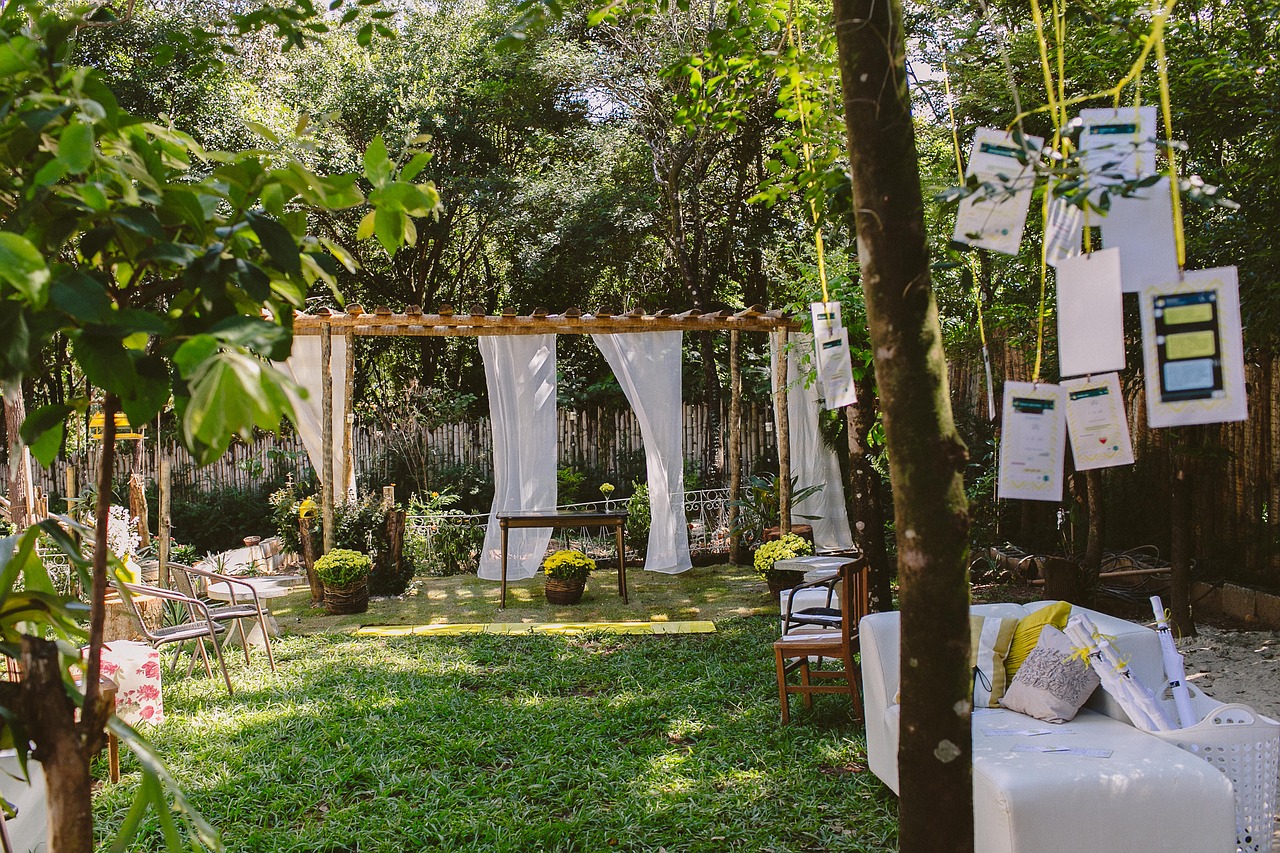 Elegant Backyard Wedding Ideas
1. Plan it  
Backyard weddings are a great way to save money on the venue space, although you must remember that you'll need to consider many things before committing to this idea. First question: Do you or your parents have a backyard big enough for your wedding?
To answer this, you must think about your guest list and what type of reception you would like. Do you envision a plated dinner or a buffet?  Passed hors d'oeuvres and cocktail bar or grilled picnic food?
Each type of reception comes in different capacities. For example, will you also be hosting your ceremony in the backyard or just the reception? Of course, you'll need even more space if you're hosting both.
Tip:  Talk to a rental company or a catering company—yes, we can help answer these questions!—before you make this decision.
They will know how much space you will need to set up tables, booths and a dance floor to accommodate your guest count and will likely suggest different catering options that best meet your visions and space constraints.
2. Prep it 
If you have at least eight weeks, you should be ready to prep the backyard.  If you're hosting a backyard wedding in the summer, great! Nature can take care of most of your décor costs—although you're going to have to help it along.
Plant your gardens this year with your event design and layout in mind.  However, getting your gardening in order won't be easy without knowing where everything will go.
Here's a great tip:  Talk to your wedding planner, rental company or caterer about the event layout before doing any work. Sometimes there are tables and prep areas that our clients forget to consider or new layout ideas we come up with to maximize the space when we visit the site.
3. Theme it 
Whether you're looking for a simple backyard wedding or an elaborate, elegant wedding design, your theme will drive most of the aesthetic decisions from here on out.
Sophisticated country? Vintage? Rustic? Whimsical? Every theme comes with different flowers, photo frames, centrepieces, chairs, linens, catering choices and more.
4. Tent it  
This is one of our biggest recommendations.
We largely recommend this: rent a tent!
Not only will this come in handy should there be a little inclement weather on the day of your wedding, but it also provides you with much-needed shelter from things as simple as too much sun or a light breeze (think of your delicate decorations on the tables…you don't want them to tip, break or blow away!), gives you privacy and adds decorating opportunities (see: light it up). Trust us when we say tents are great for backyard weddings, large and small.
5. Dance floor it  
What's a backyard wedding reception without a dance floor? Lots of holes in the grass, that's what.
Be kind to all those women in high heels and those poor blades of grass growing in the danger zone, and rent a dance floor for guests to use instead of just a grassy area or even a patio or deck. You'll want something flat and smooth.
Hint: this is a recommendation that's right up there with renting a tent on the must-do list.
6. Light it up  
A huge perk of a backyard wedding is that you can light up this space with as many (or as few) beautiful strands of lights as you could want—and you can begin the stringing as early as you need to since no one else is renting your event space.
We suggest stringing lights throughout the ceiling of the tent and wrapping them around trees. Consider hanging or placing even more lights, Chinese lanterns and candles on chairs, tables, trees and other natural shrubberies.
Wedding lighting is worth the upgrade almost every time. Take a look at these photos. What would they look like without such exquisite lighting?
7. Rent it  
Rent your tables and chairs from a rental company—or through your catering team, who will either rent the equipment themselves or know with whom you should speak for the best styles for your budget.
When you rent your equipment, you won't have to worry about the setup or takedown. Instead, you show up, sign on the dotted line, and the entire reception will be constructed for you.
Huge tip: you will not regret this help on your wedding day. Also worth considering is the temperature. Are you hosting your wedding on the hottest day of the year? Consider renting equipment that will help cool down your guests so that no one gets too hot and uncomfortable.
If you're hosting a late fall backyard wedding and the evenings are known to cool down, there are plenty of attractive looking heater options you can also rent from your rental company.  Another big tip: temperature controlling equipment is always a good idea.
8. Personalize it  
It's your backyard—let people know! Personalize your backyard wedding with the kind of intimate details only a backyard wedding could afford. Hang Polaroids of you two from the tent or on the backs of your chairs.
Showcase your baby photos and engagement photos. Display your parents' and grandparents' wedding photos around the backyard or frame them for a side table. Decorate the tent, the trees and the tables with memorabilia that is special to you two.
Don't forget about the inside, either. In the bathroom, for instance, leave something special, like perfume and cologne, mouthwash and floss and other toiletries, along with framed photos of either wedding-related things or pictures of you and your fiancé.
Turn the living room and kitchen inside the house into a shrine commemorating your relationship. This day is all about you.
9. Separate it  
Depending on how much room you have to work with, consider creating different "areas" or zones in your backyard. For example, incorporate a casual seated area away from the dance floor and tables that provide guests with a little bit of intimacy.
10. Game it  
With an outdoor wedding—and one in your backyard, nonetheless—you get to host games and entertainment your way. Set up a couple of lawn bags or cricket games. Guests can play while they wait for you to finish your photos or while they have a cocktail. As long as the sun is still out and the music does not dance material, your guests will be looking for something to do.
Tip time: take a look at your guest list and note how many children will be at your reception.  Consider a small children's tent or game area. Backyards without fences might lead to wandering children, but the more occupied they are by fun and games, the less likely they'll be to walk into trouble.
11. Remember it  
Come up with creative ways to remember your wedding day. Of course, the obvious is to hire a photographer, which probably seems as though it's a must-do. We agree.
Document as much of that day as you can.  Also, consider hiring a videographer, renting a photo booth, setting up a photo or video guest book and more.
Tips For Having a Backyard Wedding
We hope you think these backyard wedding ideas are useful! Even more useful, though, might be our biggest backyard wedding planning tips. For your reference, we have laid out our biggest tips from within each backyard wedding idea right here:
Tell your catering or rental company your guest count and ask them to visit the site before deciding your yard is big enough for your ceremony and reception.
Talk to your vendors before you plan your garden so that you can incorporate this year's design into the event's layout.
Get yourself a real dance floor.  Decks and patios aren't stable or comfortable enough.
You will never regret the setup and teardown help of a respectable rental company.
Rent equipment to cool down or heat up your outdoor area.
Give the children something to occupy them or risk little wanderers.