Talking All Things Wedding Dresses
Tips, Tricks & Styles
It's hard to say what is considered last-minute these days. I think it was Kim Kardashian West's wedding that showed brides everywhere anything is possible. As lavish as the wedding weekend was, it's hard to believe it was all planned within a few months. Check out Cosmopolitan events Wedding Venue for your ultimate wedding reception.
As the leaves fall and the colours change, we can't help but fall in love with the new season. From new trendy desserts to delicious and easy to make cocktails, to our stunning autumn-ready wedding gowns, follow us along as we take you on the journey of the hottest fall wedding trends this season!

Prepare the Wedding Budget
Weddings are expensive affairs, and this is the right time to discuss finances with your fiancé.

Calculate the maximum amount you can afford to spend. Then, divide the funds into different expenses. Some of the essential factors to consider at this point are:
If you're a bit baffled by all the variety, don't worry, our handy guide will tell you everything you need to do. In this post, we're going to focus on the necklines, and next time we will look at all the different skirt shapes out there.
Your Wedding Dress Style
Start thinking about your wedding dress
Dress shopping is one of the best parts of wedding planning. However, wedding dress orders typically take six to nine months to be delivered. So, you will have to start shopping for your wedding dress shortly. Make the task easy by preparing for it.
Read up on wedding dress trends and familiarize yourself with wedding dress lingo. There is a ton of information online. So, use the resources at your disposal to become familiar with all that you should know about wedding dress shopping. Start your wedding shopping now, and you will have ample time to complete the entire process. Not only should you be able to explore your options in different stores, but you can also save on rush fees.
STRAPLESS WEDDING DRESSES
The strapless neckline encompasses a few different styles of the neckline and is a hugely popular choice for brides right now. With no straps attached anywhere, a strapless dress should sit snugly across the bust and under the arms with a secure fastening at the back.
Quality is important to us, but getting your gown in on time is just as important. No reason for the wedding dress process to be stressful and have to give up on the quality you deserve.
HALTER NECK WEDDING DRESSES
The halter neck dress is considered one of the more unusual choices at the moment – with most brides opting for strapless or high necklines. This style has a high neck and deep armholes, with straps that meet behind the neck to show off the shoulders.
SWEETHEART WEDDING DRESSES
The sweetheart neckline has proved a timeless and adored style for brides across the globe thanks to its feminine and romantic look.
You may have moments of feeling overwhelmed, but I promise you this: It is way better than feeling overwhelmed a few days before your wedding! Try all the different type of bridal accessories on; you might be surprised by what you find. A sweetheart neckline forms a natural heart shape across your bust, with a slight dip in the middle to show a hint of cleavage. It works well with bigger busted brides, as the curves add softness and balance.

SQUARE WEDDING DRESSES
A square neck dress has an angular neckline shape that is created by two straps and a straight line over the bust, with no cross over.
Then there are always the relatives that find the "heirloom" piece out of nowhere and would love for you to wear it. You feel bad. It's so touching, but it's not your style. It's so easy when you have already purchased all of your bridal accessories just to explain you have already invested in your pieces and can't return them. They are low cut without being too revealing and work wonders for round-faced or hipped brides who want to give their body more balance, as this neckline tends to broaden the shoulders. A square neckline can look very formal and is often a traditional choice, particularly when paired with long gloves.
HIGH NECK WEDDING DRESSES
High necklines are pretty much what they say on the tin – dresses with a neckline that usually comes up to the throat. This is either achieved with lace for a more elegant feel or with the same silk as the bodice for a very classic look. These dresses are popular with smaller busted brides and look beautiful with a fishtail skirt.
V- LINE WEDDING DRESSES
Two diagonal lines form the V Neckline from the shoulder that meets on the chest, with the plunging 'V' shape exposing the neck and, depending on the design, showing a hint of cleavage. This style is excellent for brides who want to minimize their bust while giving the impression of height in the neck, evening out the bodice length.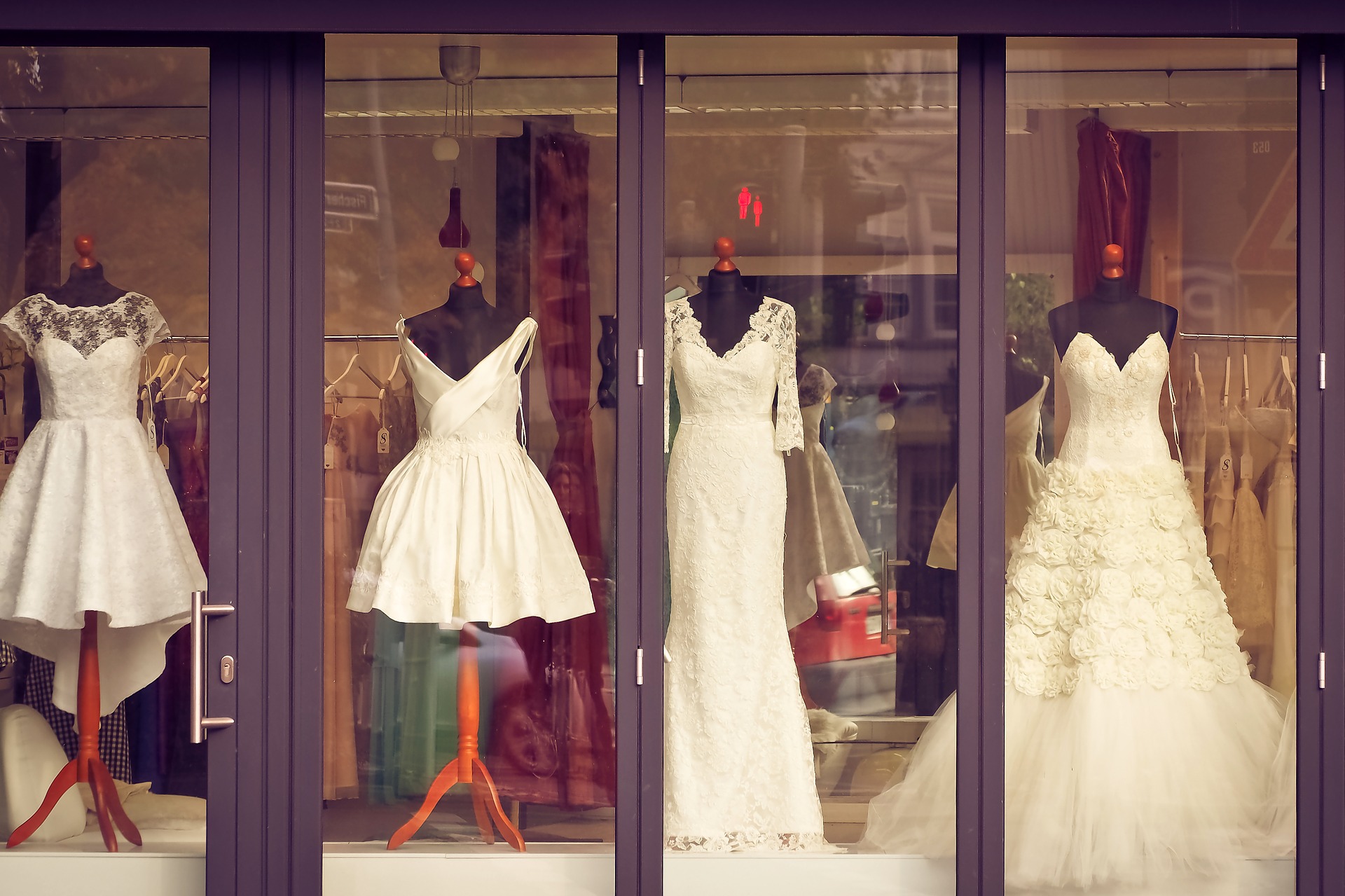 COMBINATION WEDDING DRESSES
Combination necklines are something more unique, and often designed to suit the desires of a particular bride. More often than not, a combination neckline dress involves a strapless sweetheart or straight neckline as a base, but with a sheer fabric added in behind to create a high neckline as well. While there are a lot of varieties and combinations of these neckline shapes, most dresses will incorporate be based around one style. Looking to purchase your wedding rings? Check out our list of Wedding Ring Shops to help you choose.

Find your veil, hairpiece, jewellery.
Look, I get it, we all make decisions differently. Some of us are quick to make them and others love the "sleep on it" method. Just try them on.
Not only is this easy to make, but will also have your guests feeling like a kid again. You can even include a station with multiple ingredients like nuts, sprinkles, chocolate drizzles and more for your guest to create and enjoy- a fun and delicious idea! And for those that want to a midnight snack, offer a treat bag for them to have the option to take home, perfect after a long night of dancing.

Find your undergarments
An expert stylist fits you for the right undergarments while you are trying wedding dresses. Undergarments are everything. They are equally important as a good sewist. Some seamstresses won't fit a wedding dress until you have purchased your undergarments.
When it's time to look at undergarments, we will often show you different options to see what looks best with your wedding dress. Undergarments typically take 5-7 days to arrive; however, if they are on backorder, they can take 2-3 months.

You are setting up your alteration fittings for the last minute wedding.
You found your wedding dress, your wedding day accessories, and hopefully your undergarments. Now it's time to set up your alterations appointment.
If you're searching for something that has a little more dramatic and high-fashion, Val Stefani Style Harper is calling out for you.
I was torn between finding a gown befitting of Holywell's grandeur, and something I could quickly move around in and dance the night away. By designing a dress with Emma, I could have the best of both worlds. I loved the tulle skirt the most, with hand-stitched flowers cascading from top to bottom. Check out our list of Wedding Ring Shops to help you find the perfect wedding band.

Traditionally, bridal alterations start eight weeks before the wedding or when you leave for your wedding if it is a destination. No fret, if you don't have eight weeks. We have coordinated beginning to end alterations in just 4-5 days. It is possible.

Learn how to steam or hire a steaming company
This tends to be an afterthought, and that's why we always bring it up in conversation. Who is cooking your wedding dress on your wedding day? Hopefully, you didn't answer "me". If you have an elopement on a secluded island, then it may need to be you.
Practice the bustle
The bustles are ties or a hooking method that causes the train to lift, making it easier to dance. If you are not having a dance reception, this may not be necessary; however, it's nice to pull it up regardless, so guests don't step on your wedding dress and damage it. The bustle is shown at the very last fitting, so it's helpful to have a maid of honour or a responsible one learn the bustle.