Every girl wants an excuse to wear flowers in her hair, which may explain why flower crowns have become one of the most popular bridal accessories. The natural headpieces first popped up in bohemian ceremonies as an ethereal alternative to veils, and soon enough, brides everywhere began customizing the colourful floral halos to suit every wedding style, from sophisticated and elegant to whimsical and chic.
At this point, it's pretty much safe to say that the floral crown trend is here to stay (yay!). A beautiful option for a woodland wedding, a garden party, a whimsical fête, or any romantic theme you can dream up really; flower crowns add an ethereal touch to a bride's big-day look. Whether you're having a bohemian black tie-affair or a modern wedding with an oceanside view, we're here to help you nail the look.
From expert tips to sage advice, here's everything you need to know about choosing a floral crown that complements you, your style, and your wedding theme.
Over the past few years, we have seen more and more brides opting to wear flower crowns or halos on their wedding day. They are also a hugely popular choice for flower girls. And flower crown parties are great hens or birthday activities, with many groups doing a workshop before hitting the bars with their gorgeous crowns. But flower crowns aren't a new thing and have featured throughout history.   
Looking for the ultimate Wedding Reception Venue in Melbourne? Look no further, Cosmopolitan events are here.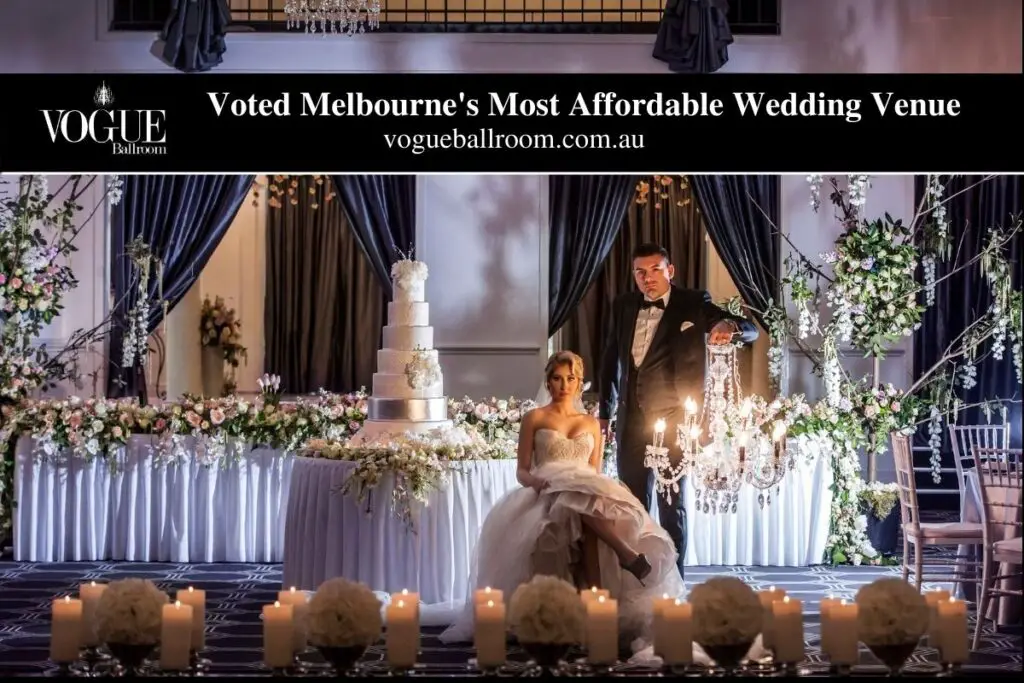 In the beginning
Crowns made of flowers or foliage go back as far as ancient Greece when they were worn on special occasions to honour the Gods. Festivals in honour of Aphrodite, the goddess of love, would see people wearing crowns of roses in their hair. Olive wreaths were given at the first Olympic Games in Olympia.
Flower Crowns Through Time
The Romans adopted many of the Ancient Greeks traditions, one being the awarding of crowns for victories and military achievements. Julius Caesar was often depicted wearing a laurel halo. 
Flower crowns became less popular during Medieval times and the rise of Christianity. The crowns were seen as a pagan symbol. However, in the Renaissance era, flower crowns saw a rise in popularity again, with painters depicting gods, Venuses and nymphs with flowers in their hair.
In Victorian times the floral wreath was seen as a symbol of femininity, and women started wearing them on their wedding day. Similar to the white wedding gown, it was Queen Victoria who brought them into fashion when she wore orange blossoms in her hair when she married Prince Albert.  
Hippie culture in the 1960s saw flower crowns become a fashion symbol synonymous with peace and love. The Hippies associated the crowns with a connection with nature. Later, artists like Frida Khalo used flowers to symbolize sexuality, and she was often depicted in her self-portraits with crowns of flowers in her hair, making them a symbol of rebellion and female empowerment.  
Flower Crowns Today
Today flower crowns are a must-have addition to every festival-goers wardrobe and regularly feature in weddings. They are a great way of injecting some personality and style into an outfit and are becoming more and more popular for hen parties, birthday celebrations and even baby showers. Fun to make, gorgeous to wear, it's the perfect activity with the girls.  
Brides through history have worn flower crowns. Flowers symbolized fertility. Today's bride isn't likely wearing a flower crown to "make a statement" but this hair accessory does have the special quality of bringing out a bride's unique style and personality. Whether she is bold, romantic, elegant. Chic, natural, feminine, or free-spirited, a bride, expresses her vibe without saying a word.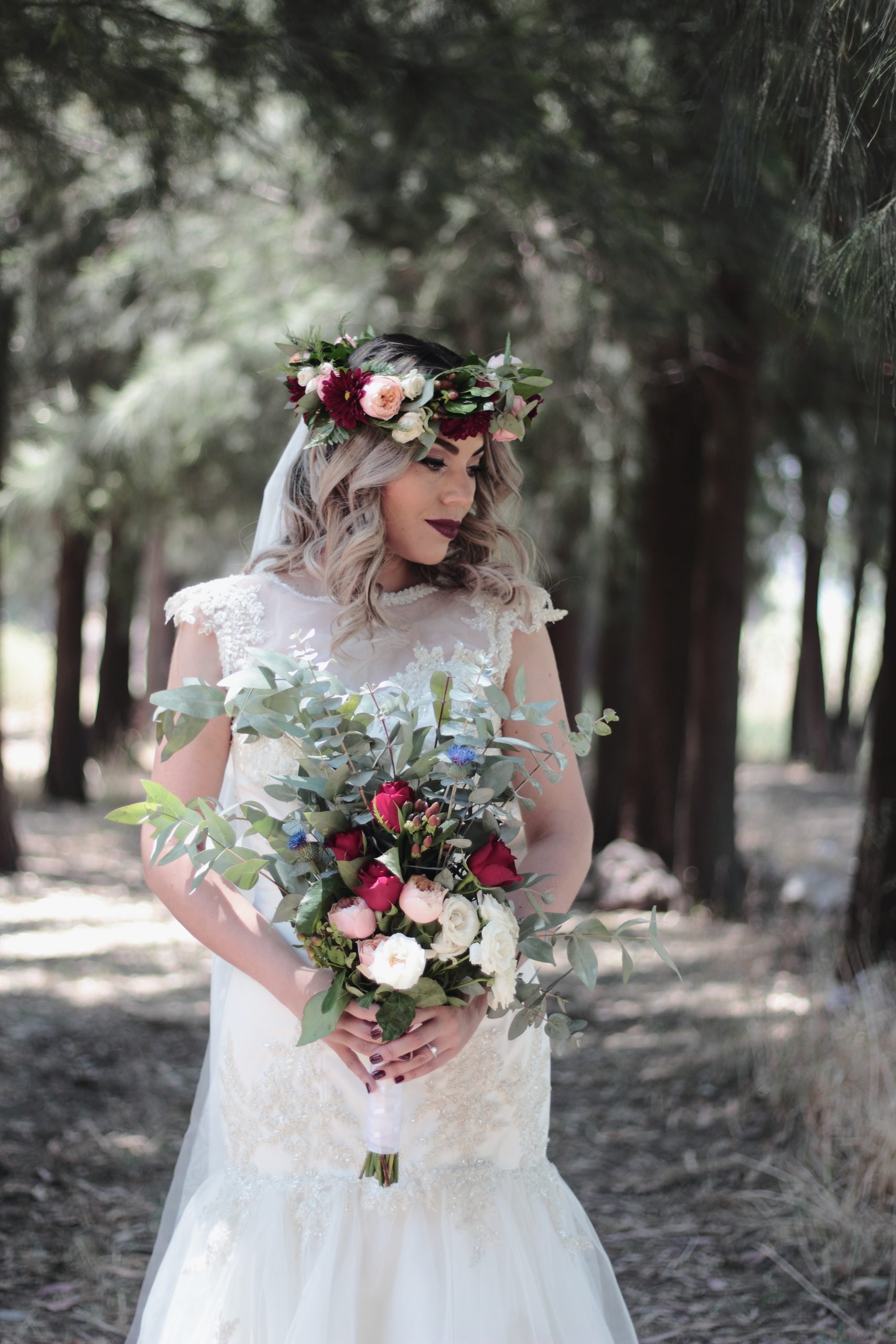 Some special considerations for brides:
Veil or No Veil – Some brides choose to wear simply the flower crown as their sole hair accessory. Some chose to wear the flower crown with a veil for their ceremony and to remove it for the reception, and others chose to wear the crown and the veil for the day. Whatever works for you!
One Crown or Two – A special consideration for outdoor weddings is the durability of a fresh floral crown. Flowers deprived of moisture will wilt. Depending upon the duration of your festivities, a bride may elect to have a second fresh flower crown for the day. This is an indulgence for sure but guarantees that the blooms will look their best from the start of the day through to the end.
Consider your hairstyle when sizing for your crown – If you will be wearing your hair up or you anticipate volume in your hairstyle, you will want to expand the circumference of your flower crown. Also, if your flower crown is faux and you are doing "practice hair", bring your flower crown along for the dry run. If you wear a fresh floral crown, you will not have your crown available for your consultation or practice. In this case, show your stylist during "practice hair" a picture or close approximation so that your stylist can work your crown into your hairstyle.
Get the Placement Right
While a floral crown may look gorgeous pulled completely across the forehead of one bride, it could be even more stunning set further back on another. Everyone has different hair and proportions. This is why I always tell people to get in front of a mirror, take their crown (doesn't necessarily have to be the one they wear on their wedding day as long as it's similar) and start by putting it a few inches behind the hairline. Then simply move it back and forth until you find the place that it feels right.
Make Sure It Works With Your Overall Story
Just like a fashion photoshoot has a story, so will your wedding. That means everything, including your floral crown, should look like it goes together seamlessly. Stick with shades that work well with your overall colour scheme, as well as your skin colouring. "If a bride has a bright wedding, then she may want to tone the crown back a little bit." On the other hand, if big and bold is so you, feel free to throw out that rule.
Choose Flowers That Won't Wilt Stat
Unfortunately, not all fresh flowers can stand the test of time. Some blooms that have a super short lifespan are poppies, sweet peas, and the lily of the valley, all of which you'll want to avoid. Smaller flowers like ranunculus are good and last for a long time out of water. Spray roses and things that are hardy, such as wax flowers, jasmine, and spirea, are great choices, too. Greenery crowns can go the distance and berries last and look pretty as an accent.
Looking for Wedding Flower Shops in Melbourne? Look no further, Cosmopolitan events have you covered.
Consider the Climate
Are you getting hitched on a hot summer day? Then the flowers in your crown will wilt a whole lot faster than they would in a cooler climate. In this case, having two crowns is an absolute must. You can also opt for a silk floral crown, which can be worn forever and is a hand-dyed piece of art.
Learn How to Preserve It
Or, again, consider having your florist make you two crowns to wear. "If you wear one all day long, it will likely look gross by the end of the evening. "There's a spray called Crowning Glory you can find at any floral supply store (or a place like Michaels) to help your flowers stay fresh longer. Don't squirt it while the crown is on your head though!" In terms of storage, she suggests placing your crown in the fridge on a plate with a paper towel underneath and on top of it to keep it moist until you're ready to put it on.
Dos and Don'ts of Wearing a Flower Crown
Do: Choose Hardy Flowers
First and foremost, brides must realize that flowers many types of flowers wilt and discolour quickly without water, so they should choose blooms that have the best chance of surviving throughout the big day. Working with a florist to achieve your desired flower crown style "with the hardiest blooms that can sit out of water for a long time." Some safe options include orchids, spray roses, freesia, and spirea. In terms of greenery, Porcaro recommends seeded eucalyptus and Italian Ruscus. Dainty white baby's breath is another popular choice for flower crowns worn by brides, bridesmaids, and flower girls. If used properly, the baby's breath can make a statement.
Don't: Use Flowers That Wilt Easily
When choosing flowers for a crown, Stay away from anything that's heat-sensitive or temperamental, since these types of blooms are more prone to wilting and yellowing. Some of the worst offenders include poppies, peonies, hydrangeas, and gardenia. Avoiding temperamental flowers is especially important for summer weddings since the hot sun will exaggerate dropping and sagging in the florets.
Check out our post on How can I get cheap flowers for my wedding?
Do: Have a Backup Plan
If a bride is worried about her headpiece holding up throughout the night, Porcaro suggests that she have two separate crowns: One for the ceremony and one for the reception. Still, a bride should accept that she's dealing with nature, and some discolouration of the flower crown may be unavoidable. Know that your crown might change over the course of the day.
Don't: Ignore Your Personal Style
Who says flower crowns have to look bohemian? Consider many factors when designing a flower crown, including a bride's style and personality, the wedding dress, and the ceremony theme. But of course, the most important factor is a personal preference. Feel free to cater the crown to your liking, and don't be afraid to experiment with flower colour and symmetry.
Do: Consider Crown Placement and Size
The placement and size of the flower crown also depend on personal preference. Some brides want the blooms to fall across the forehead, while others prefer the headpiece to be situated further back on the head. There's no right or wrong way to sport the trend, but make sure the crown will work with your bridal hairstyle-whether you plan to wear your locks straight, wavy, braided, or pulled into an updo. Imagine teasing your hair into an elaborate top knot, only to discover that your flower crown won't fit properly over the top!
Don't: Let the Crown Fall Off
A reputable florist should measure the dimensions of a client's head, then make a custom crown based on these measurements. Even so, some brides may worry that the headpiece will fall off while dancing, mingling, or-yikes!-walking down the aisle. A few strategically placed bobby pins can secure the crown without compromising the overall look.
Do: Store the Flowers Properly
Although some florists may suggest storing a flower crown in a refrigerator, I "heard some horror stories" about that method. The cold temperatures in a fridge may speed up discolouration-especially in white blooms. Instead, Leaving the crown with your florist until "the latest possible time that will coincide with your photos," adding that "anything that should be in the water, you should be retrieving in the last possible moment." If you must pick up your flowers early, keep them in a cool and dry place, such as an air-conditioned room.
Flower crowns for Brides and Bridesmaids have been gaining popularity, and there's no sign of it slowing down. Flower crowns add an ethereal touch to a Brides overall look. Whether your wedding's inside or outside, here's everything you need to know when choosing the perfect flower crown to compliment you and your day.
Make sure that it works with the overall look and feel of your wedding 
If you're trying to decide whether you should wear a floral crown, ask yourself whether it complements all of the elements in your wedding. If your wedding is big and glam and somewhat reminiscent of a royal wedding, it's probably not right for you. 
However, if your wedding is relaxed and a little bohemian, go for it! Ensure that you choose flowers and shades that match your overall colour scheme. 
Choose the perfect placement 
Everybody is different; one bride may look amazing with their crown across their forehead, while another suit having it pushed a little further back. With differing hairlines and proportions, the best thing to do is to grab a floral crown (doesn't have to be the one you're wearing on the day) and have a play in front of a mirror. 
Consider the lifespan of the flowers 
Chances are your floral crown is going to be made prior to the actual day of your wedding. It's important to consider that some flowers have a shorter lifespan than others; for example, stay clear of sweet peas or poppies! Speak to your florist and take into consideration their suggestions of flowers to use, it's hardly good luck to have wilted flowers on your wedding day! 
Consider the weather 
Think about the weather and temperature on the day. The flowers on your crown are more likely to wilt faster on a warm day. If you're concerned your flower crown will not last the whole day, consider purchasing a second crown. Alternatively, you can have your crown made out of silk flowers. Silk flowers can look identical to real flowers and allow you to keep the crown long after the big day is over.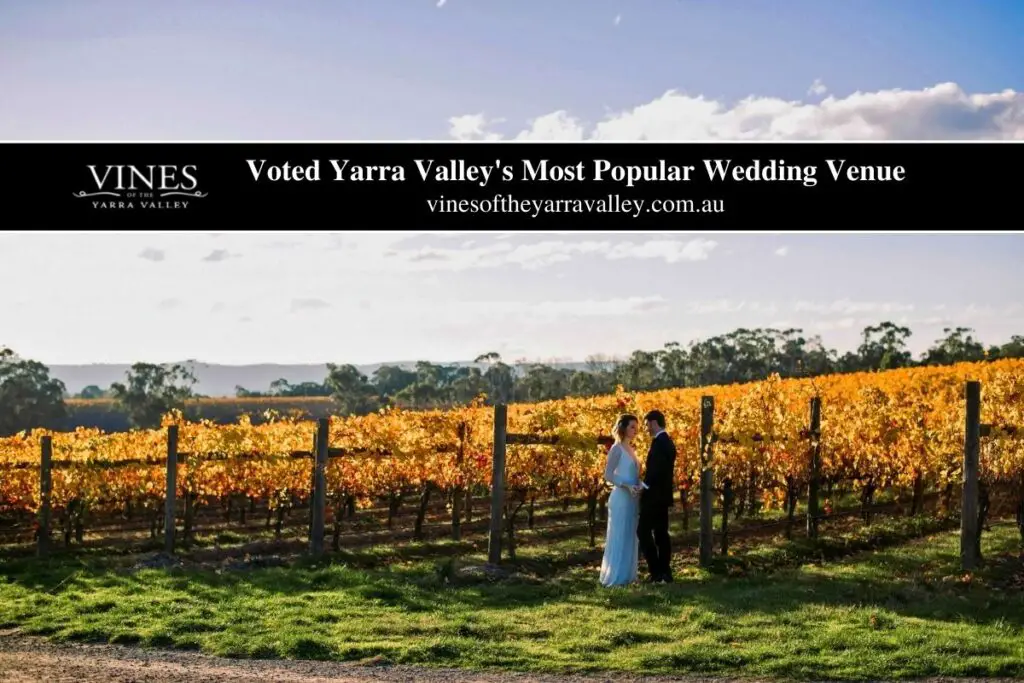 How to DIY Your Flower Crown Wedding
If you're like me then you've attempted a few too many DIY projects that quickly became DIY fails, but don't panic - DIY flower crowns are 100% possible and easy. You don't have to be Martha Stewart to create the boho wedding flower crown of your dreams. Your gorgeous flower crown wedding is just a few simple steps away. Let's get crafting!
Step 1: Plan your flower crown design.
Do you want more neutrals on your flower crown or vibrant colours? Do you want a simple crown or a Moana-style creation? What kind of flower to greenery ratio are you wanting? Deciding on an overall theme will help you choose your flowers and materials and eliminate some of the stress. The brides featured in this article from ProFlowers can help give you some inspo!
Step 2: Gather your materials
AKA goes to Hobby Lobby. Flower crowns are constructed with three basic materials:

floral wire or vine wire

floral tape

flowers + greenery
And of course, wire cutters like these. Simple, right? When choosing your materials, you want items that will survive the building process and create something strong, comfortable, and of course - beautiful! I'd also buy more flowers and greenery than you think necessary because you don't want to get home and realize you need one more fuchsia peony! Play around with the flowers and greenery in the store and make mock arrangements – that way, you can get a feel for how much supplies you'll need. Brides recommend 25 to 30 inches of floral wire in their DIY boho wedding flower crown tutorial.
Step 3: Measure the wire to your head
This is the base of your crown. Make sure it's not too snug on your head – you want it to sit comfortably after the flowers and greenery have been added. I'd recommend making two or three loops to create an extra sturdy base. You can also use vine wire, which is thicker and covered with a thin layer of paper if you want a different option. Wanderlust even used a plain wire headband which is another inexpensive and easy option for your boho wedding flower crown!
Step 4: Wrap the entire wire with wrapping tape
This covers the wire in case it peeks through the crown and makes it more comfortable.
Step 5: Cut the stems on your flowers and greenery
Leave two to three inches on each stem. This leaves enough room to layer and wraps around the wire. You can always cut excess stems at the end! After this, I like to arrange all of my stems in front of me to get organized before I begin to build the crown – plus this makes for a pretty flat lay photo!
Step 6: Add flowers and greenery to the crown base
Add your first stem by connecting it to the wire with the wrapping tape - this stuff is stickier than it looks, so you don't have to over-do it, by the way. Place your next piece on the wire and wrap it. Add each following piece one by one or in bundles until your crown is full! PRO TIP: for a more natural-looking crown, reverse the direction of your flowers with every few pieces – this technique is even more gorgeous with wildflowers used in this boho flower crown.
Step 7: Fill in gaps with extra flowers and greenery and add final touches
If you have holes or thin spots, use extra greenery and small flowers to fill them in. Some brides even add glitter or fun floral scents to make their boho wedding flower crown extra unique!
Step 8: Rock your gorgeous flower crown!
You are done and done. Flower crown wedding ready! There's no wrong way to make a flower crown, so don't stress and just enjoy the process. Make it special to you and wear it with confidence! If you're more of a visual learner, check out helpful tutorials, the crafting goddess of our generation! If you're looking for extra boho flower crown wedding inspiration, you should browse Lauren's website for other great DIY ideas.
Flower crown weddings are as beautiful as they are easy to pull off. You and your 'maids will look Pinterest perfect on your special day in the flower crowns of your choice! If you're considering having a flower crown wedding, I'd say go for it, girl! Don't be afraid to be unique, and most certainly don't be afraid to be you! Have you ever been in a flower crown wedding? Do you have any tips on how to create the perfect flower crown? Let us know in the comments below!
Frequently Asked Questions
So this is the typical way to wear a flower crown, with the flowers sitting along your hairline or on top of your head. Leave some layers out around your face. Not only does this make it more comfortable to wear, as the crown rests on your hair, not on your skin, but it's so soft and pretty too.
The length of time a crown can last depends on the type of flowers used. Some flowers are more delicate than others and it is all based off of how strong their stock is. In general, with basic care, a crown can last from 1-5 days and for some flowers, up to 1 week before completely drying out.
If you want to make a flower crown the evening before you're going to wear it, mist it with water and keep it in the fridge overnight so it stays fresh.