As the name suggests, a micro wedding is all to do with scale. 
Sometimes defined as small and intimate weddings, typically, a micro wedding will host a much lower capacity involving the invitation of fewer guests to your special day.
Most aspects of a larger traditional wedding can form part of a micro wedding, and there are many reasons why couples opt for this type of celebration.
Planning a wedding is a huge undertaking—and an equally colossal investment—leaving modern couples torn on whether it's worth it. 
You and your partner may have joked about eloping, but if you know you can't bring yourselves to buck all tradition, there's another option: a micro wedding. Looking for the ultimate Wedding Reception Venue in Melbourne? Look no further, Cosmopolitan events are here.
Sounds good to us! Ready to go micro? Here are some planning tips you'll need to make this small-scale celebration as memorable as a ballroom blowout bash.
What Is a Micro Wedding?
A micro wedding is an intimate affair, typically with no more than 50 guests. However, they still feature time-honoured traditions that make a wedding but on a much smaller scale.
Many people make the mistake of equating micro weddings with elopement weddings. 
A Micro Wedding involves up to a maximum of about 20 guests, usually including close family members and a select few friends. 
This is different from an elopement, which involves only the couple and the wedding official. 
Generally, micro weddings will include features of an enormous traditional wedding day, only on a smaller scale, typically with a more relaxed vibe.
Before 2020, many couples across the country and the western world were choosing micro weddings. 
Back in 2018, it was the most trending marriage system in the US, and there are a whole host of reasons why modern marriages embrace this form of wedding.
A micro wedding is a small, intimate gathering to celebrate a couple's marriage, generally with no more than 50 guests. 
Often, micro weddings still feature many traditions that couples and guests know and love, just on a much smaller scale. 
During the midst of the COVID-19 pandemic, micro weddings are a shining light. 
Many couples don't want a courthouse wedding, and pushing off a wedding a few additional months may or may not be possible—and it might have to be pushed again! 
Micro weddings provide an alternative to couples who are ready to tie the knot.
What's the Difference Between a Micro Wedding and a Minimony?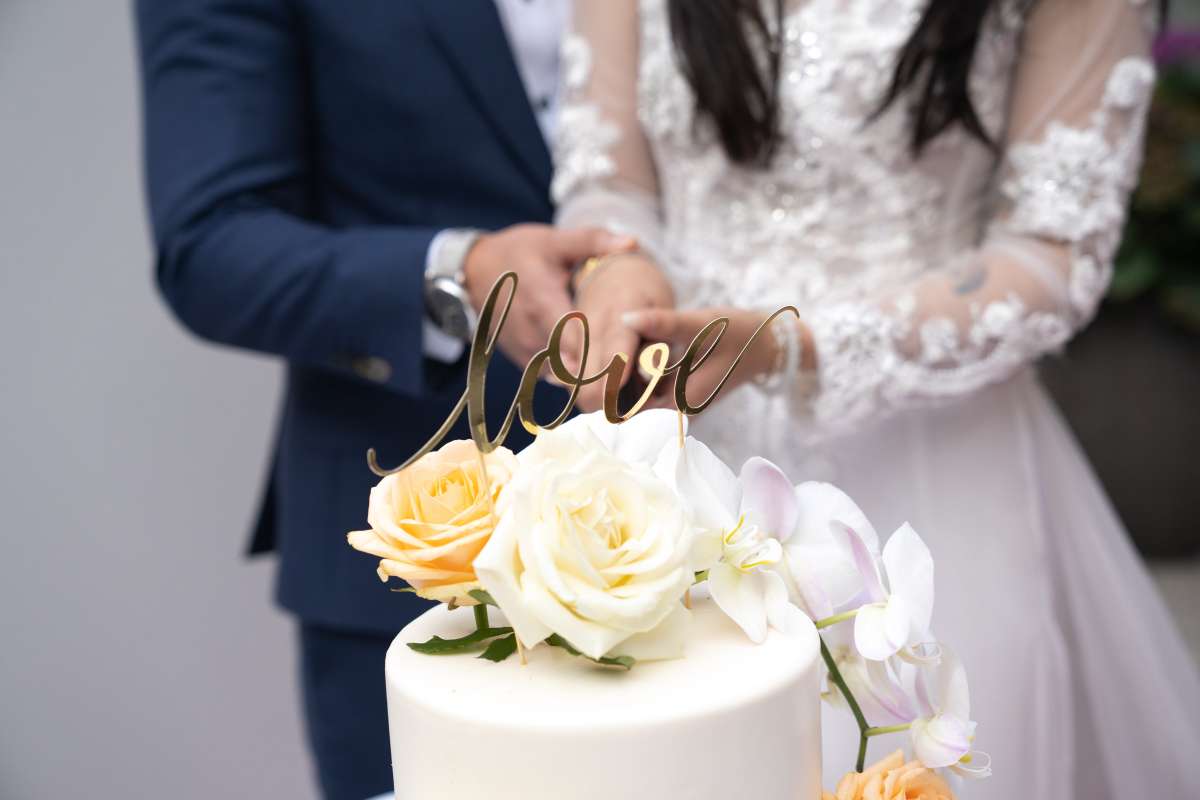 A minimony, or mini wedding ceremony, is an incredibly intimate commitment ceremony between you and your partner and up to ten people. 
Minimonies are more about the commitment itself than the celebration that typically follows a wedding ceremony. 
Most minimonies won't have a full-blown reception. Instead, there will be select traditions that the couple chooses to uphold. 
Many couples choose to have an officiant and photographer present and then celebrate the "reception" with a couple of desserts, a first dance, and lots of photos. 
Typically, there is no meal, raucous dancing into the night, or other grand events found at large wedding bashes. 
Meanwhile, a micro wedding is much more like a traditional, larger wedding, just smaller. As an additional alternative, many brides choose to have either a micro wedding or minimony followed by a larger wedding reception later. 
With this method, the first event is often small and simple, but the second event is a bigger bash.
What Do Small Weddings Mean for Wedding Dresses?
There have been many brides planning micro weddings to come in looking for two different dresses. 
The first dress is for their micro wedding. It is typically a lower budget gown worn just for the small celebration with a limited guest list. 
The second dress is the dress with the wow factor! This is the show-stopping dress that brides want everyone to see them in on their big day, the larger wedding typically held a year after the more minor, legal ceremony. 
While COVID-19 has popularised this type of celebration, couples have done the same thing now, but the more significant festival isn't always so far behind the initial wedding gathering. 
Don't let a micro wedding stop you from getting the dress of your dreams. 
If you are only having a micro wedding, you should get the dress you love for the day, regardless of how many guests will be in attendance. 
Plus, you will want to look back at pictures of a dress that you truly love in the future.
Why Are Tiny Weddings Becoming More Popular
Ok, we need to address the big event of 2020, and no, it's not a substantial lavish wedding (unfortunately!) 
It's the world pandemic Covid-19, safety restrictions have significantly reduced wedding numbers, and therefore the popularity of micro weddings has increased dramatically.
As of October 2020, only weddings of up to 15 people can occur, and people still want to say 'I Do' to the ones they love, so their micro wedding ensues. But as we mentioned, their popularity was already growing before Covid-19, but why?
The Cost
It seems simple instead of providing for hundreds of guests, and a micro wedding instead lets you provide for a limited number, reducing your financial outgoings. 
In some cases inviting less than 20 costs significantly less than 100, especially when you are looking at a price per head basis, so the budget can, of course, be a solid reason to choose a micro wedding.
However, as of the last decade, a new trend is emerging in micro weddings. Couples are deciding to increase their price per head budget hugely for a select few and spoil their special guests to indulgent wedding celebrations.
This includes exclusively hiring out venues to enjoy with their family and friends across a weekend, whisking loved ones to unique destinations abroad to watch them say 'I Do', and creating once in a lifetime experiences for a handful of their nearest and dearest.
Micro weddings, as with any wedding, can be as indulgent or tight-budgeted as you want it to be, and fewer guests do not necessarily mean less cost unless you ultimately want it to.
Freedom
Large traditional weddings can come with a host of formalities, expectations and requirements but micro weddings offer couples the freedom to think outside the box and use their creative ideas. 
No tight schedules, no substantial guest numbers need to be entertained and accommodated, no top table formalities, and the option to make the day unique, no wedding comparisons between friends.
Big Day Nerves
Character and personality can certainly depict the correct type of wedding for a couple. 
If you are naturally more introverted and the thought of a room full of hundreds of eyes on you fills you with utter dread and anxiety, then a smaller micro wedding could undoubtedly be the right choice. 
Many couples feel more at ease and can relax on their special day, knowing just a handful of loved ones are celebrating with them.
Reduce Planning Stress & Time
Thinking about less than 20 guests instead of 100 logistically can reduce your stress and planning your wedding day. 
There are fewer invites to post out, fewer responses and questions to deal with, fewer menu choices to arrange, fewer table favours and name tags to sort. 
A whole host of things on your to-do list can be reduced in time or even eliminated by reducing your guest numbers.
Quality Time With Your Guests
The small gathering gives you the time to interact with your guests. Instead of your day being a steady stream of welcomes, goodbyes and guilt that you haven't correctly chatted to a hundred people individually, a micro wedding allows for a more relaxed vibe. 
Welcoming much fewer guests allows more time for quality conversation in the excitement of your magical day.
It's All About Marriage!
Some couples feel a micro wedding allows them to enjoy the true meaning of the day, marrying the one they are completely in love with and beginning their marriage together. 
Standing up in front of a massive group of people and declaring their love can seem unnecessary to some.  See our list of Melbourne Wedding Celebrants to help you make an informed decision when saying your vows.
A micro wedding allows you to be surrounded by the people you love and gives you the space to enjoy each other at this exciting time.
Tips for Planning a Micro Wedding
So, you've decided to move forward with a micro wedding. Let us give you a little warning: you are likely to get a lot of pushback. 
Unfortunately, there could be people hurt because they are no longer going to get an invite. 
Other family members might want to invite a long list of their friends or extended family members, so they might try to persuade you to rethink your decision. 
If a micro wedding is genuinely what you want, hold your ground. 
A micro wedding will look similar to a large wedding, which means you will still have some planning to do. Here's a little advice for planning your micro wedding.
Don't Sacrifice the Chance to Celebrate
Why would you miss this opportunity to do something special?
Instead, make the most of it—even if they have a gorgeous destination wedding in the works. 
Get your marriage license, hire an officiant, and grab a few friends, then get married somewhere you could never have a typically-sized wedding. 
Whether it's the front steps of a Public Library, at the top of a State Building, or in your childhood home's living room, take advantage of the small size and go somewhere you couldn't go otherwise!
Let Your Imagination Run Wild
With fewer guests comes less work, more occasional opinions and people to please, less budget required, and more options for celebrating spaces. 
You open up the world of unique spaces that are inaccessible to larger weddings. You can rent out cafés, restaurants, bars, parks, galleries, or anywhere you'd never consider for a big wedding. 
They're already designed beautifully—meaning you can save on décor—and might have their tables and chairs, so you don't have to rent them.
When you're looking at renting an entire space (which might seem pricey on paper), keep those savings in mind, and you'll probably notice that it's pretty cost-effective.
Pick a Venue First
Whether your wedding is big or small, it's easier to find a venue and then tailor your guest list to fit, instead of inviting everyone and realising you can't find a suitable space. 
If it's your favourite restaurant, for example, find out the capacity of their private dining room, then cut down your guest list until there is space for everyone at the table.
Cover the Basics
Regardless of size, the three things to have at all weddings are great food, music, and alcohol! 
Weddings are celebrations, and people love to come together to share a meal and dance, so these three items are a must. 
Food is the base, alcohol loosens everyone up, and dancing makes it fun!
Of course, we love flowers, stationery, and décor, but those aren't must-haves for a celebration. 
Start with the basics, and add those details to enhance the evening and create a vibe that encourages joy and love.
Get Dressed Up
No matter how big or small your wedding, it's so special to get gussied up in attire specifically for the occasion. 
It doesn't have to be a big ole' gown and tuxedo, just something special. Your grandchildren will look back at the photos 50 years from now and say how fab you both looked!"
Hire a Photographer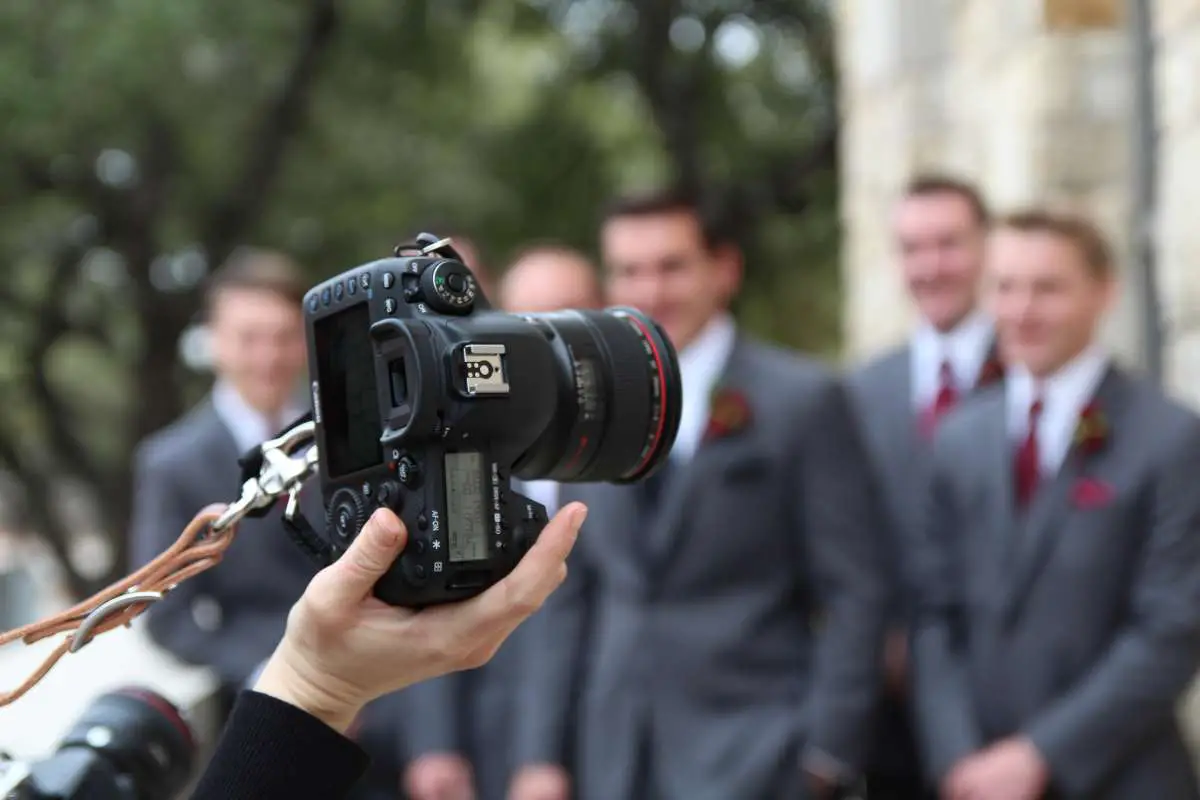 No matter how small your wedding is, please, please hire a photographer. You'll want to document this day, no matter what. 
But that doesn't mean you need an eight to 10-hour package and a second shooter. 
A smaller guest list also means a smaller shot list, so talk to your photographer about creating a custom package for a shorter amount of time.
Cut Your Guest List
It is never easy to pare down a wedding guest list. Therefore, you are going to have to be very selective when choosing guests. 
Before you even start on the list, you and your fiancée should agree on the number of people you want to invite to the wedding. 
Once you have determined the number of guests you want to attend, you can narrow down the invitees. 
Start your list with immediate family. If you have a large immediate family, this might end your list quickly. 
If you still have room, you can move on to close friends. Give those you would have had in your wedding party the priority on your friend's list. 
To make this step easier, think about who you want to be at your weddings. 
Who knows you best? Who would you be sad not to have there? So don't focus on who will be upset about not getting an invite. 
If you do, you will end up missing out on inviting the people you truly wanted to your wedding.
Treat Your Guests
Since you have cut down on the number of guests, making the event special for each person who comes to your wedding becomes even more critical. 
You can provide extra favours or unique gifts for each guest. You can also offer more personalised favours for each guest.
Get Help
A smaller wedding doesn't precisely mean less effort. While there is a lot less to worry about, there are still many things that you will have to plan. 
However, working with a company that offers a more full-service micro wedding approach can help you avoid the stress that typically comes with planning a large wedding. 
At the very least, hire a coordinator to help you ensure that there will be someone to help get things done.
Rethink Your Budget
There may be services or decorations that you no longer need to spend money on with a micro wedding. 
For example, do you need a party bus to take people from the ceremony to the reception after cutting your guest list down to just the VIPs? 
You also won't need centrepieces for 20 tables. But, again, this money can either be saved or spent elsewhere.
Create a Registry
While there will be fewer guests, these guests still need ideas for wedding gifts. 
We've noticed that many couples consider previous a registry due to the smaller size of the guest list.
However, the people you invite to your wedding want ideas for things you want or need.
Turn to the Pros
You can still do things like rent linens, hire a florist, or get a cake. 
Look for someone who can create what you love, and know that they might not be a full-blown "event designer" or "wedding cake baker" who has a spending minimum.
You don't need a cake for 50 people, so get creative with your local bakery or favourite sweet shop instead. 
Your local florist, who might specialise in single arrangements instead of bouquets and floral arches, is an excellent resource for a smaller table. 
And you can still work with a planner! 
Many offer hourly rates that would be just the thing for an intimate celebration that doesn't require the same level of planning as a larger-scale wedding.
Talk to a florist about picking up a few arrangements instead of having them deliver a dozen of them, which will cut that budget and still make the space beautiful. 
A dozen guests mean you'll only have one or two tables, so you don't need a whole production team for setup and breakdown (unless you love flowers and want to splurge on a total transformation of the space!).
Make it Meaningful
Don't skip the chance to share words and promises, surrounded by the people who are truly closest to the two of you. 
We also love including sentimental details, like wearing your grandmother's brooch or having your dog walk down the aisle with you, to give the day personal value.
Create a Personal Experience for Your Guests
While you're thinking about adding those meaningful touches, do so for your guests, too. 
Write handwritten notes to every guest to place at their seat. Or consider hand-painting each invitation instead of having them printed.
It's much easier to add those exceptional touches for 12 people than it is for 200! 
And since you've gone through the trouble of narrowing your guest list down so far, you're guaranteed to have a super-close connection to every guest, making those little touches all the more.
Flexibility in Planning Is the Key
Embrace the flexibility of planning a micro wedding. Make up your mind and detach yourself from traditional wedding demands. 
If you are not comfortable wearing a white dress, ditch the idea. Check out our ultimate list of Wedding Planners in Melbourne to help you organise a stress free wedding.
Don't feel under pressure to satisfy any cultural demands, be in charge of your planning journey, enjoy and your micro wedding will be everything you dream of.