Wedding rehearsals are a necessity: Practicing getting down the aisle in order will make sure you're all on your A-game come wedding day! 
The other benefit? Rehearsal dinners follow rehearsals. This "party before the party" kicks off your wedding weekend. 
The most important part of a rehearsal dinner is the chance it offers for both of your families to spend a little more time together before your wedding day arrives.
Your wedding is an important day, so you want to make sure it goes smoothly. One way to ensure that it does is by practising ahead of time at the rehearsal. 
Once you've run through the ceremony, the couple and their VIP guests head to a fun rehearsal dinner to eat together, exchange gifts and toast to the lovebirds. 
This event is a fun way for the couple to celebrate with a smaller group of friends and family and kick off the wedding weekend.
Since much goes into a rehearsal dinner, we rounded up what you need to know about planning one. 
From etiquette tips to decor recommendations, we have everything you need to host an unforgettable pre-wedding party. Check out our Top Wedding Planners here to help make your special day as smooth as possible.
Here's everything you need to know to plan an unforgettable wedding rehearsal dinner.
What Is a Wedding Rehearsal Dinner?
A rehearsal dinner is a pre-wedding event that typically happens the night before the wedding. 
It takes place after the rehearsal (the event where the couple and those in the wedding run through the order of events). 
It's a celebratory event that involves the couples' VIP guests, great food, and sentimental toasts.
What's the History of the Rehearsal Dinner?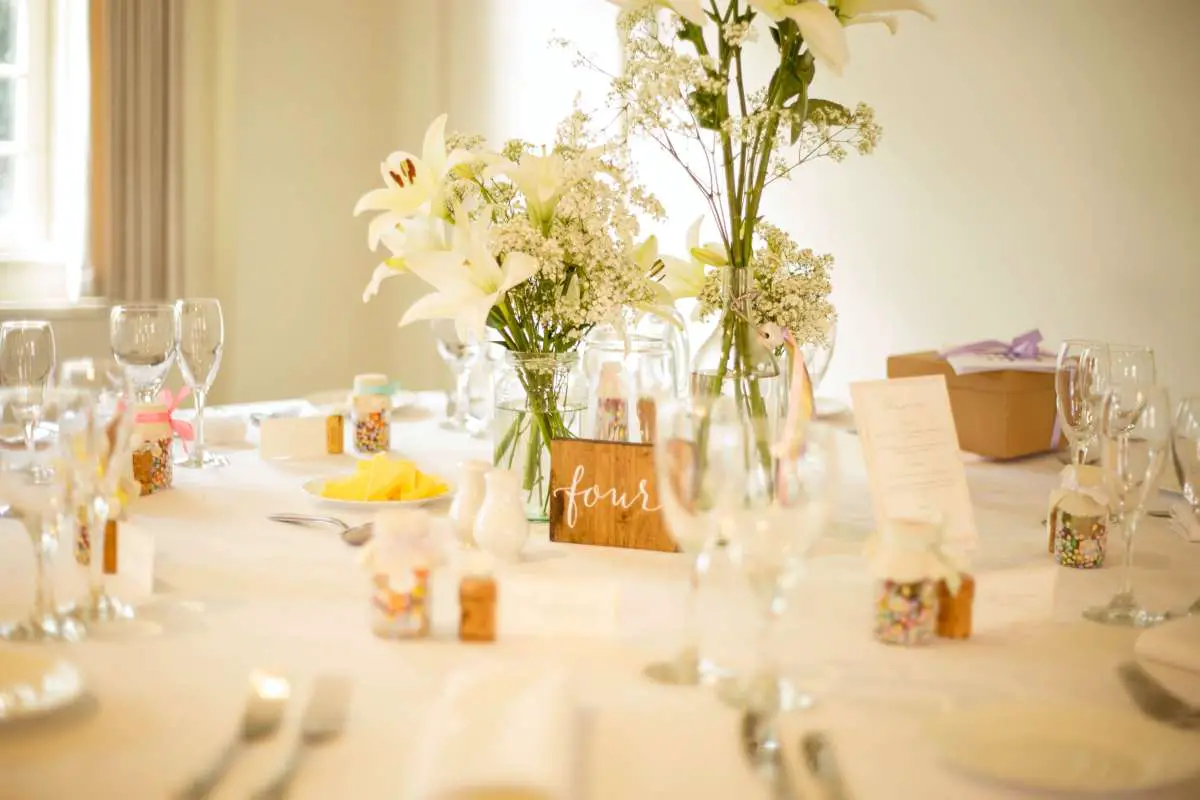 It's tough to find an 'official history of when the rehearsal dinner became part of the iconic wedding experience. 
However, there is one assumption we can likely make: they started gaining popularity when weddings went from a casual affair at churches or BBQ backyards and instead became a production. 
This started happening in the 1950s, and the wedding market as we know it today has continued to grow. 
As weddings became more lavish and ornate, the need to have a ceremony rehearsal and gather essential friends and family memes became more critical. 
With this wedding explosion, there was no choice but to get everyone together to rehearse the ceremony, so it goes smoothly. 
Throw in the fact that photographers and videographers are now a very normal thing, and it increases the importance of everyone being in the right place at the right time.
What Happens at a Wedding Rehearsal Dinner?
As the name suggests, the couple and their guests eat at the rehearsal dinner. Typically, the rehearsal dinner host will start things off with a toast, and others will follow. 
The couple can also toast to their parents or other loved ones. It's also an excellent opportunity for the to-be-weds to give their wedding party and parents gifts. 
Who Hosts the Rehearsal Dinner?
Old-school etiquette says that the groom's family hosts the rehearsal dinner (as the bride's family hosted the wedding). 
However, those rules are outdated and don't include many couples exchanging vows, such as if you're an LGBTQ+ couple or your parents aren't paying for the wedding. 
There aren't any set rules around who hosts the rehearsal dinner. It could be a family member, members of the wedding party, or the couple themselves.
Who to Invite to Your Rehearsal Dinner
Since the rehearsal dinner comes after the rehearsal, you'll likely want to invite everyone who is a part of the event:
The couple

The wedding party

The parents of the couple

Any other significant family members or friends 
Sometimes, couples invite the officiant if they feel close to the individual. 
You can also open up the rehearsal dinner to out-of-town guests as a way to create more of an experience for them. 
The guest list is entirely up to the couple and should be cleared before any rehearsal dinner invitations go out. 
Once you have a guest list, consult our guide on rehearsal dinner invitation wording and send them out.
What to Wear to a Rehearsal Dinner for an Epic Photo Opp
There are many traditional rules around rehearsal dinner attire (like the bride wearing white or everyone dressing formally). 
However, the rehearsal dinner dress code is entirely up to you! If you'd instead host a backyard barbecue or a themed party, we encourage you to do so. 
The rehearsal dinner is yet another opportunity to showcase your personality, so feel free to have fun with it. 
Of course, if you're rehearsing in a space that has a suggested dress code (like a religious place of worship or a five-star restaurant), you'll want to respect those guidelines. 
Otherwise, feel free to dress however you'd like for the rehearsal dinner.
Who Pays for the Rehearsal Dinner?
Traditionally, the rehearsal dinner is a part of the wedding weekend hosted and paid for by the groom's parents. 
However, as we have moved forward with the times, it is either one side of the couple's parents or jointly by the parents. 
Modern couples who are assuming the investment of their wedding usually take on the rehearsal dinner.
What Exactly Happens at a Rehearsal Dinner?
While the type of rehearsal dinner you have, from a formal sit-down dinner to a backyard bbq, is up to you, there are a few things that you should make sure to add to the timeline. 
Our experts weigh in on what goes down at a rehearsal dinner.
Dinner
The first, of course, is to eat! Whether you're having dinner with just your immediate families or inviting the entire guest list for a pre-wedding feast, it wouldn't be a rehearsal dinner without, well, dinner.
Gifts
The rehearsal dinner is also a great time to distribute gifts to your wedding party and your parents if you aren't planning to do so on your wedding day. 
You'll be in a smaller crowd and have a little more time to hand out and open gifts.
Toasts
Usually, the event hosts kick things off, followed by the groom toasting his bride and her family. 
You could also stand up together and offer a more personal toast to your family and wedding party at this time. 
Want to limit who is speaking on your actual wedding day? 
Cut down on mic time during your reception by scheduling some of the toasts during the rehearsal dinner, whether it's a free-for-all or a setlist of who is making a toast. 
For anyone who may want to present a roast instead of a toast, the rehearsal dinner is the more appropriate venue for some good-natured fun.
Dessert
Now onto dessert. Traditionally, the groom's cake is served during the rehearsal dinner as well. 
Of course, you can serve it alongside the wedding cake on your wedding day, but every good party needs something sweet!
How to Plan a Rehearsal Dinner
Create a Checklist
When it comes to learning how to plan a rehearsal dinner, don't underestimate the power of checklists. 
Although rehearsal dinners are far more casual than the ceremony or reception, it's essential to maintain the same level of communication and note-taking as you have with the rest of the event. 
Use the information provided with this post or develop your own to-do list to organize the rehearsal dinner. 
Create a digital document that you can share with co-hosts or hosts to keep everyone in the loop.
Choose a Host for the Rehearsal Dinner
Traditionally, whichever family did not pay for the wedding should pay for these expenses. 
If both families split the cost of the wedding, they can also split the rehearsal dinner cost. 
Just keep in mind that whoever pays for it will likely do most of the decision-making. 
Some couples choose to pay for the rehearsal dinner themselves, which gives them full planning privileges for the event. 
In addition to the financial obligation, the host will be expected to greet guests and give a short toast. 
If you'd like someone to host the evening and make sure everything runs smoothly, work with your venue to find a suitable coordinator, or take matters into your own hands. Check out our Top Wedding Planners here to help make your special day as smooth as possible.
Put: There's no right or wrong answer here, and selecting the host — and all of the logistics that go along with it — varies from rehearsal to rehearsal. 
Nail Down the Budget
A good rule of thumb is not to spend more than the total price of your wedding ceremony and reception divided by 30. 
Use the average couples pay (around $1,400) for their rehearsal dinners as your benchmark. 
Or, price it out per person, which should come out to anywhere between $30 and $70 for a meal and drinks at a moderately-priced location.
If you're on a budget:
Consider hosting a potluck at someone's home

Turn dinner into breakfast or brunch

Look for a restaurant or venue with a BYOB policy

Cut the guest list down to just parents and the bridal party
Pick a Theme or Tone
If you're already using a wedding theme, let it inspire your rehearsal dinner. 
Or choose a complementary colour palette, a particular type of venue, or a symbol that's important to you as a couple. 
For example, if your first-ever dance was to Frank Sinatra's Come Fly With Me, you can use suitcases and aeroplanes to decorate the space. 
Other popular rehearsal dinner themes include mini-golf, fondues, and even blackjack tournaments.  
In other words, have fun with it! 
You can pretty much always expect a rehearsal dinner to be more laid-back and casual than the main event. 
Use this opportunity to mingle, have fun, and relax together before the big day. 
Decide on a Date
Rehearsal dinners usually take place the night before the wedding. So if your wedding is on Saturday, the rehearsal dinner will be on Friday night. 
However, don't feel like you have to follow this schedule. Factors such as weather, budget, and travel schedules are good things to keep in mind.
For example, if you have your rehearsal dinner on a Friday night and your wedding is on Sunday, guests will have time to completely relax and unwind in between events while the other attendees make their way into town.
Also, once you see the whole schedule in front of you, you may find that a rehearsal dinner will be too rushed for everyone to fit in. 
If that's the case, don't worry! You can always provide light refreshments at the rehearsal itself or skip food altogether. 
Remember, your guests won't feel stressed either, which could happen if the events are too close together.
Book a Venue
The most popular venue type for a rehearsal dinner is a restaurant, but you don't have to stick to tradition. 
Want your rehearsal dinner to be in a park, plaza, theatre, mansion, or resort? Go for it! Some venues include catering, but you can always book your private caterer too. 
First, search for the best rehearsal dinner space and narrow your options by aesthetic, scenery, type, price, and guest list number. 
Next, narrow it down even further by choosing specific search criteria such as BYOB policies. 
Then, get a custom quote and confirm the date you chose with the venue. Finally, make sure your host or co-host signs off on it, then place your deposit. 
Pro tip: Always keep signed contracts and cancellation policies, even for your rehearsal dinner venue, in your wedding binder or digital files for easy reference. 
Create the Rehearsal Dinner Guest List
It would help if you always invited your closest family members and the bridal party to the rehearsal dinner. 
If you have any children participating in the wedding, make sure you invite their parents too. 
Also, don't forget about your officiant, priest, or any other important ceremony participant you want to thank for participating. 
And, if you have room, show gratitude to out-of-town guests by inviting them too. 
Come up With a Menu
Work with your chosen restaurant or venue to create a rehearsal dinner menu within your budget. 
A soup or salad plus a main course and dessert with drinks (like wine and beer) should be more than enough. 
Make it more luxurious with your custom cocktails, or try a laid-back style BBQ. 
You should already have dietary restrictions from attendees who will also be at your reception, but make a note of who you still need this information from on your guest list. 
Send Out Invitations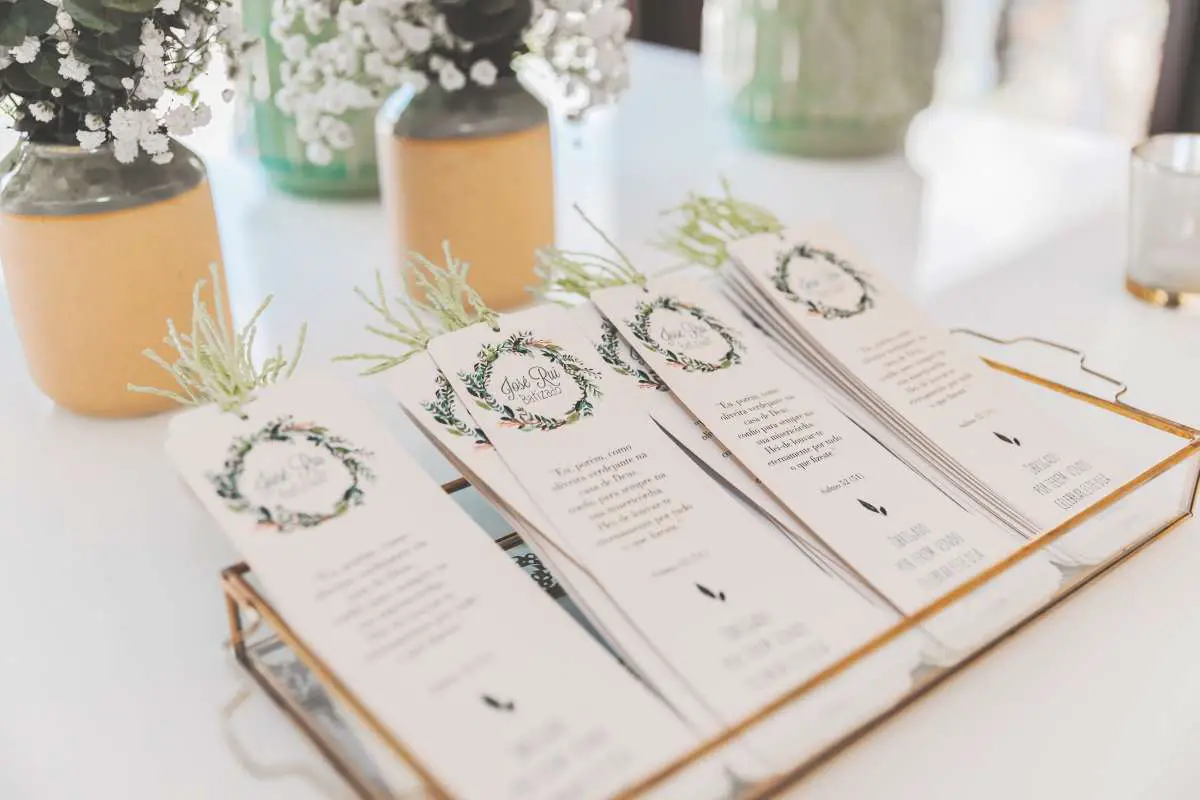 Always send your rehearsal dinner invitations out after your wedding invitations, but at least 30 days before the big day. Confirm RSVPs one or two weeks in advance of the rehearsal dinner date. 
Because this event is more relaxed, eco-friendly digital invitations from sites such as Paperless Post work well. 
However, if you want a more high-end luxury feel to your rehearsal dinner, go for paper invitations that compliment, but don't outperform, your wedding ones.
Plan the Evening
Most rehearsal dinners last two to three-plus hours. 
Give your guests at least 30 minutes to 1 hour to travel between the wedding rehearsal venue and the rehearsal dinner venue, if they're different places. 
Some rehearsal dinners include activities such as watching sports games or cooking out, so schedule the appropriate amount of time for whatever it is you have planned.
If you're only doing a meal, use the first half-hour of the event to greet guests, give everyone a chance to mingle, and let servers take care of drink orders. 
The dinner itself should last 60 to 90 minutes. Then, between the final course and dessert, leave 10 to 20 minutes for speeches, gift-giving, and other activities. 
Gather Decorations
Ask your venue if they have unique decor or signage you can use to direct guests when they arrive. 
You can also DIY some banners, balloon arrangements, and centrepieces if you've chosen an outdoor or backyard space. 
Borrow some of the decorations bought or created for the reception so that everything matches. 
Assign Roles
If a person who paid for the rehearsal dinner doesn't want to play host, make sure you know who will. 
If you're hosting the rehearsal dinner at a private home, check in with the owner about what they do or don't want to do once the dinner is underway. 
You also need a point person for keeping track of the schedule for the evening, giving tips to the servers and event venue, and coordinating with the caterer if they have any questions on the day of.
Confirm Bookings
Confirm your booking with the caterer, restaurant, or event venue at least one week ahead of time. 
Update everyone on guest RSVPs, dietary requirements, and the plan for the evening. If you're not the host, be sure to CC them in correspondence or update them accordingly. 
Make it Personal
A couple can weave in their favourite hobbies, foods or nods to their love story at the rehearsal dinner with a condensed guest list. 
For example, you could name a drink after your pet or have fun table names of places you have visited. 
You'd be surprised at how little things like that will be the most memorable things that the guests will take away with them. So don't overthink about it, and let this be a bit more organic.
Make it Comfortable
The rehearsal dinner is an excellent time for family and close friends to gather before the pressure cooker of a wedding day. 
To ensure everyone is at ease and enjoying themselves, you want to create an environment that allows for easy conversation between people that you have not met before. 
This will go a long way the next day, letting family and friends go directly to each other versus going through the couple to be introduced to the other person.
Keep it Short
Since the next day — aka your wedding! — will be a busy day; the rehearsal dinner isn't the time to have an all-night rager. 
Begin at a reasonable hour and, more importantly, end at a good time. For most rehearsal dinners, allocate two hours at maximum. 
This will give your guests a marker for when it is OK to leave and reduce that opportunity to overindulge in food and drink.
Share a Moment
During the rehearsal dinner, Waters encourages couples to make an effort to approach every guest to share a moment with them. 
Since your wedding party will be familiar with everything going on at this point, you may want to share a few extra minutes with your out-of-town guests.
Let them know how happy you are they could make it and how excited you are to see them, especially if you haven't shared space with them in a while. Cosmopolitan events are your ultimate Wedding Reception Venue to create your dream wedding.
A little hug, eye contact, and 'thank you will go a long way with those guests. If they have travelled far, they are super-excited to be there, and knowing it's appreciated will increase your stock with them by leaps and bounds.