When planning your wedding, there are various elements of the day that will influence the overall atmosphere. While lighting and decorations are one key area, another is that of your music. Tied strongly to our emotions, music can tug at the heartstrings and bring fond memories swimming to the surface. 
You'll no doubt already have had discussions with your partner on your choice of tune for the all-important first dance, but have you considered how your music will play?
A good DJ will be able to read the room and sense whether your guests are in need of a slow dance or a fist-pumping tune.
When it comes to setting the mood for your reception, a DJ or a live band can both do the job, but generally only one will be the right fit for your big day.
What most couples who are planning a wedding don't know is that saving money by hiring an amateur DJ for your wedding comes with a high price tag. Before you make a decision you regret, here are some things you need to know.
Looking for wedding DJ's? Look no further, Cosmopolitan events have you covered. 
Here Are Few Reasons To Hire A Wedding DJ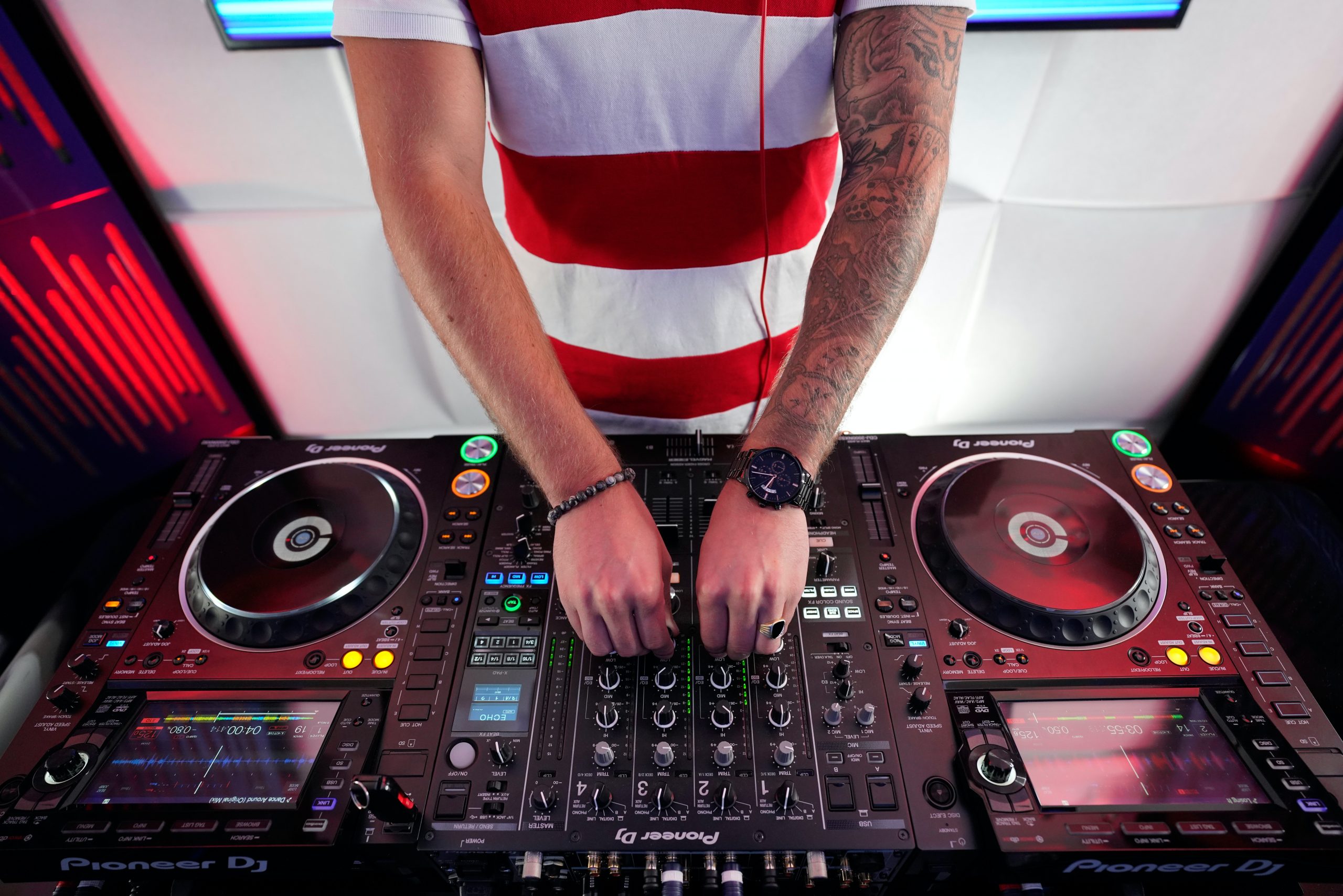 Music Selection
Professional DJs have an extensive library of songs of different genres, countries, and eras. They can also suggest a broad range of songs that are sure to entertain guests, family and friends of almost all age groups. Most of the time, they play music according to the wedding theme to entertain guests and encourage them to dance and have fun. 
Experience and Skills
A good DJ can produce the utmost fun and excitement through their musical tracks. They can read the crowd, use their skills and adjust the music accordingly. They have an abundance of experience and knowledge in executing and managing wedding receptions.
Equipment
An expert DJ comes with high-quality, advanced and professional musical equipment. They make sure to have all the correct lighting props, backup systems, audio gear and video equipment to ensure that the wedding party remains interesting and entertaining. They can play a wide range of instruments to keep the guests engaged.
Planning
Expert planning is what separates a professional DJ from a rookie DJ. They are proficient in overall planning and execution. They consider all possibilities in advanced and take care of minor details. They use the best practices to make the event successful.
Right Attitude and Attire
Expert wedding DJs arrive in style; they make sure they wear presentable clothing, behave politely and maintain the overall entertainment of the wedding. They respect your guests and try to please them.
Convenience and complete peace of mind
Hiring an expert wedding DJ makes things convenient for the bride and groom, while also making them feel comfortable so they can enjoy the music and dance with their guests. They provide you with complete peace of mind, and a truly immersive as well as awesome experience that is sure to give you the wedding of your dreams.
Reasons Why Hiring an Amateur Wedding DJ Is a Huge Mistake
There's a high probability that a cheap (or free) DJ won't be in business by the time your wedding arrives.
Many low-priced DJs aren't charging enough to support their businesses for the long term; you're just financing their hobby. Meanwhile, your wedding is 6-12 months away or more.
We've received those calls from desperate couples who had a "friend of a friend" DJ cancel on them last minute. It's not pretty.
Do you want to risk the possibility that the cheapie DJ is bankrupt and out of business before your big day?
Amateurs are less invested in their performance than a wedding professional.
The amateur DJ is doing it "for fun," and if something goes wrong, it's not a big deal. A wedding professional, on the other hand, risks his entire reputation and livelihood with every performance. One bad review can destroy his business, and he knows it.
At one wedding, the DJ brought along his wife and newborn. Their table was littered with McDonald's bags, and his wife decided to breastfeed the baby during dinner.
Would you rather have an entertainer who is 100% invested in his business and performance on your wedding day or someone who does it as a hobby?
A wedding is a unique event that requires the skills and experience of a wedding specialist for a smooth, flawless ceremony and reception.
It's about more than just playing music. Your wedding DJ is responsible for coordinating the timeline, orchestrating the introduction and flow of events, working with your other vendors, managing the guests, reading the crowd and making sure the right song is played at just the right time.
Even a DJ who is quite experienced in the club setting will be at a loss because she isn't familiar with the flow of events and how to prevent disasters when something goes awry.
One inexperienced DJ mistakenly announced a special dance with the bride and her grandfather because he forgot to update his notes. The entire family started crying because Grandpa had passed away two weeks earlier.
Are you willing to place the outcome of your wedding in the hands of someone who doesn't "do" weddings for a living?
Your guests won't dance without an experienced entertainer who can read the crowd and keep the momentum going.
You have to play the right songs at the right time and in the right order to maintain dancing. Oftentimes, the mood changes and your entertainer needs to change the program to maximise the dancing along the way.  
If she can't mix from one song to another, you'll have gaps of "dead air" or awkward rhythms that will frustrate your guests and clear the floor.
Many couples think that providing an amateur with a setlist of songs they love will be enough to make a fun wedding. It's not. You need someone with experience to work with your requests and what your guests are responding to in order to avoid an empty dance floor.
One bride regrets hiring her DJ. After all, he played "Unforgettable" five times during the wedding because he didn't know any other slow songs.
Are you willing to sacrifice the fun at your wedding to save money on a cheaper DJ?
The MC (the guy or girl on the microphone) has a huge impact on the mood and outcome of your party, for better or worse.
An obnoxious DJ with an abrasive voice will irritate your guests and dampen the mood of the entire party. Professional DJs invest in vocal training and practice to optimise their performance.
I witnessed one DJ and embarrassed everyone by making suggestive comments to the bride over the microphone.
Do you want just anyone acting as your wedding host or do you want a professional speaker you can trust?
Your special events may not happen if you don't hire a specialist who's experienced in channelling the flow of events.
Who will direct your bridal party and guests at the ceremony? Who's going to line them up for introductions? Who's in charge of making sure the toasts, special dances and dedications go without a hitch?
Just having the equipment and knowing how to push play doesn't guarantee the people are wrangling skills you need for a fun, smooth reception. In most cases, your entertainer is the one who makes sure your special events are executed as you've requested.
One inexperienced DJ forgot to bring the couple's First Dance song; they were forced to dance to Barbra Streisand, who they can't stand.
Will you risk leaving your special events to chance or do you want to ensure that everything is done according to plan?
An amateur doesn't have the experience to include your unique requests in a way that truly expresses your personality AND keeps people dancing.
You can't make your guests dance to the songs you like if they don't feel the same way. Your DJ needs to read the crowd and have the experience to build sets of music around your preferences.
An amateur DJ can play the songs you request but lacks the experience necessary to make it work.
One bride told us her DJ played the unedited version of Sexxy Back during dinner and had five minutes of dead air while he queued up the next song.
Do you want your guests on the dance floor all night, or is it acceptable to have large chunks of time with no dancing?
Check out our exclusive list of Wedding DJ's to help you celebrate your special night. 
An amateur DJ has inadequate or non-existent backup equipment, which means that if something fails, you have no music at your wedding.
A fully functional backup system on the premises is essential to making sure you have music at your wedding no matter what. Most amateur DJs won't have a backup plan if a speaker blows or a laptop crashes.
We were approached at the end of one wedding by a DJ in the next room who asked if he could "borrow our speakers" because they were broken.
Are you willing to takes your chances without a backup on your wedding day?
DJs who charge less invest less in their equipment, which means you have inferior sound and performance at your wedding.
A stereo system that sounds great in your living room doesn't sound good in a spacious wedding venue. Professional speakers and equipment are necessary for clear sound that has an impact at low volumes, so your guests can speak at the tables even while the dance floor is thumping.
If you want your guests to hear your exchange of vows at the ceremony, you'll need professional equipment and an onsite tech to make sure that happens.
One DJ showed up at a venue for the first time without ANY speakers or mixer because he's been told that he could, "use the venue's sound system" and he didn't call ahead to verify.
Are sound issues like blasting music or impossible to understand audio acceptable on your wedding day?
If you're not planning to have any formal events at your wedding, and you'd like a cocktail party more than a dance party, it may make sense to save money by hiring a non-professional. But if you're investing thousands of dollars on creating the perfect day, please don't jeopardise it by hiring someone who doesn't know what they're doing.
Thinking a DJ is "better" than a band or a band is "better" than a DJ
Here's what DJs and live wedding bands alike don't want you to hear: There are weaknesses with hiring either a band or a DJ!
DJs have some considerable strengths: They are usually cheaper than a professional band, they can set up into a smaller space, and they can play a large range of music.
However, they can't interact with an audience the way a REAL LIVE band can. They can't stop and start songs and address the crowd on the fly in the personalised way a great entertainer can.
They aren't creating the music, but rather re-playing what's already been created. Their sound is good, but it's not the great WOW factor that a top-notch professional band provides.
Live bands have some considerable strengths: The band, on the other hand, can elevate the party to the next level with an energy and WOW factor that's hard to capture unless you're there in the moment. If the band is professional, they will know how to emotionally connect with the audience and bring them into the show. The sound of a group of talented human individuals coming together just can't be replicated by a computer and the experience of a live band is distinct from a DJ.
However, there are some significant challenges to the band, they take up more floor space, they
cost more (generally), and if they aren't professional, they can ruin your wedding. This is
why the truly professional bands in most areas (especially Toronto) are so busy and booked up.
It's not uncommon for my band to have bookings years in advance because the demand is
greater than the quality of supply. Another issue with bands is that they have a smaller repertoire of music they play from, but the songs they do know are usually the best of the best and are performed at a high level with more impact. 
I hope this information helps you steer away from the "dark side", that is budget DJs and amateur parttime bar bands. However, if your budget is tiny and there's no way to expand it realise that you are taking a bigger risk with a "budget" band.
Here's why: A terrible Dj will play terrible songs too loudly and kill the vibe. A terrible band
will play terrible songs and sing them off-key, at a volume that hurts your ears and scares the old people out of the room.
With that said, a professional live band can be so much more impactful and memorable than
even a great Dj. They are making eye contact, involving people in the show, inciting a dance
party and it just sounds amazing. The live band is a WOW kind of experience.
The good news is this: Most professional bands offer a DJ service to incorporate into
their live music sets. This truly is the best of both worlds and highly recommended for when
bands take a break (all bands are going to need a few short breaks throughout the reception
dance).
A DJ is on the decks, changing things up to create exactly the right vibe at the right time, and keep your party pumping all night. Depending on your music tastes, adding a live performer to the mix is great value and can give you that live music feels for about the same price as a three-piece band.
A live band often gives you more presence, energy, and an authentic music experience. If you've ever been to a live gig, you'll know what I mean! There's nothing quite like live music to set the goosebumps off and start the hands-in-the-air singalong.
Should I have a DJ or live music at my wedding?
Live Music 
There's nothing quite like a live band to give proceedings a little bit of ambience. You can choose your band to suit your theme, from some soulful jazz crooning to a laid-back acoustic set. Big band sounds are usually ideal for getting your guests onto the dance floor. 
Before you shake hands on it, make sure you nail down costs, remembering that some will charge from the moment they arrive until they pack down. Don't forget to ask about overtime, in case the party goes on longer than planned. 
Good music will have everyone on their feet and having a good time. Good music will have everyone on their feet and having a good time.
Once you've scouted out a potential band, see if you can head along to a performance, and try to visualise how they'll fit into the overall feel of your wedding. You can also check YouTube or Vimeo for videos of past performances to give you an idea of what to expect. 
It's important to bear in mind that the more popular a brand is, the further you'll need to book them in advance. Bridal Guide recommends starting your search for the perfect musicians up to six months before the day. 
Check out our post on What does a wedding DJ do?
DJ 
The obvious advantage with a DJ is unlimited access to some of your favourite songs of all time. Fancy a bit of Earth Wind and Fire's 'September' before the latest Maroon 5 track? Done and done.
A good DJ will also be able to read the room, as it were, to sense whether your guests are in need of a slow dance or a fist-pumping tune.
A DJ will also cost less, which could be an important factor in your decision after factoring expenses for your wedding dress and venue. 
Keep your eye out for disk jockeys with a stage personality – they can easily act as an MC if you need, to stir your attendees into a dancing frenzy. A less-than-average DJ can potentially bring the mood down, so apply the same selection criteria as with choosing a live band. 
No doubt, wedding DJs are highly cost-effective and ideal for any wedding. So no matter what you have planned, you can always hire a professional wedding DJ to make your wedding party unforgettable and unique.