DJing your wedding is a great way to save money, and it allows you control of your reception playlist. Yet a DJ does a lot more than just push play, and if you don't plan, you might end up with the poor sound, the wrong songs, or technical difficulties.
Wedding entertainment is an obvious place for couples to cut wedding costs. Why pay for a pricey DJ (or an even more expensive wedding band) when all the songs you could want are right at your fingertips? Thanks to the easy proliferation of mp3 files, music-streaming services, and the advanced sound quality available in small, affordable speakers these days, DIYing your wedding music seems fairly doable—easy, even. But there are some major considerations you should keep in mind when deciding to DJ your wedding, not to mention some guidelines to follow to make sure the experience is harmonious for everyone (see what we did there?). Read on for our expert tips for how to DJ your wedding that will have you and your guests keeping the beat all night long.
We have compiled a list of Melbourne Wedding DJs to help you celebrate your special night.
Pros and Cons of DJing Your Wedding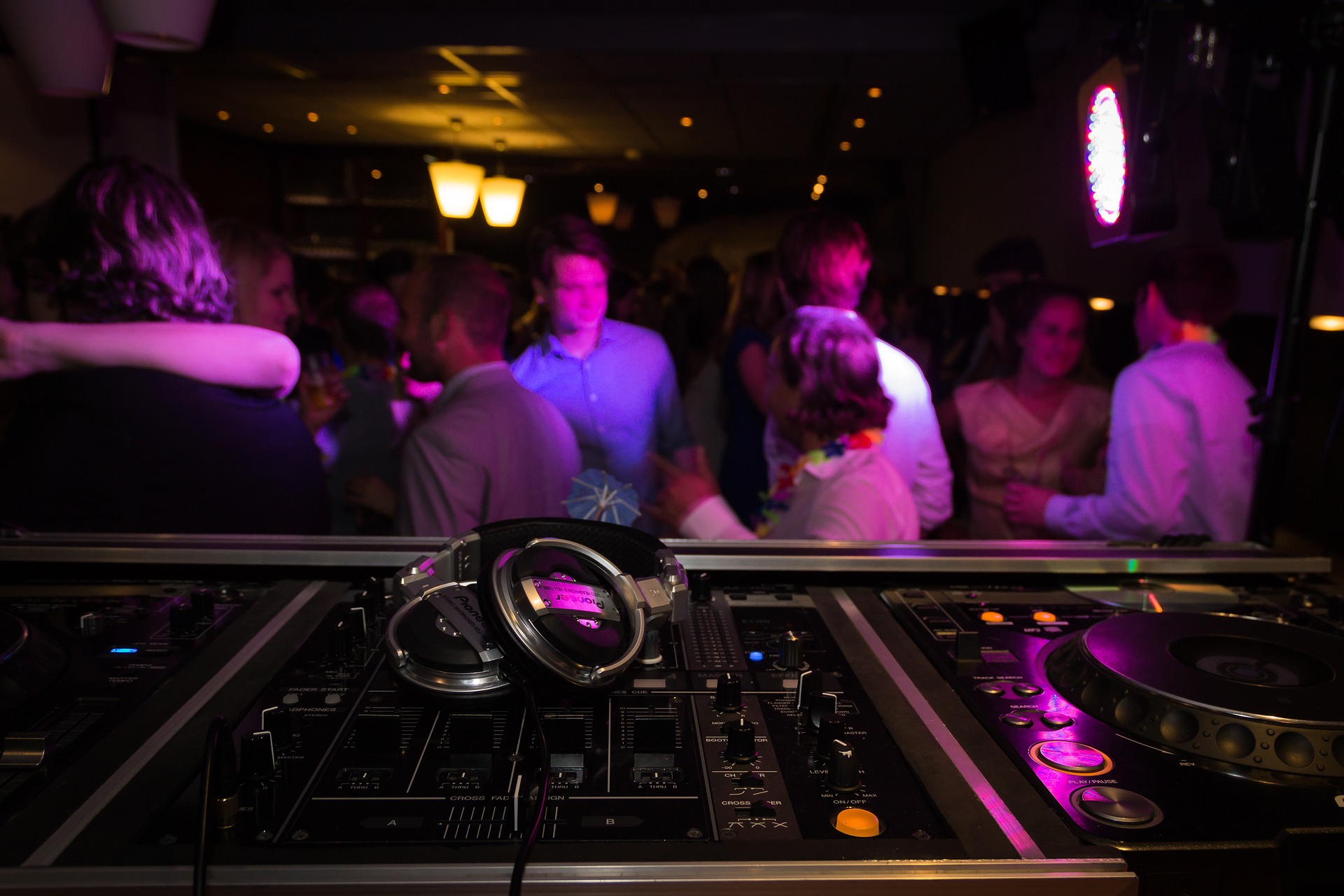 Before you start shopping the aisles of Best Buy, take some time to consider whether DJing your wedding is the right move for you. Here are some pros and cons of being your wedding DJ:
Pros:
Saves a lot of money.

Offers ultimate control over your ceremony, cocktail, dinner, and dancing playlists.

Allows you to control the mood and vibe (and avoid cheesy DJ antics).
Cons:
Might have to "work" at your wedding.

Potential poor sound quality or lack of amplification.

Guest might want to overtake (or offer lots of feedback on) the playlist.

There's no professional to deal with any technical difficulties.

Must know how to build a good wedding playlist that flows, encourages dancing, and matches the right moods.
The setup
Rent a sound system
Your Bluetooth speaker might work great at home, but it won't pump out sufficient sound for a wedding — especially if your event is outdoors. If your venue doesn't have a sound system, rent one.
Brandon Stiles, the founder of Uptown Down Entertainment in Atlanta and author of "How to DJ Your Wedding," suggests the following setup:
Two 12-inch speakers with stands

A microphone

A laptop or music player (your own)
Renting equipment from a music store like Guitar Center or Sam Ash will set you back $75-$150 a day, plus a refundable deposit.
Appoint a master of ceremonies
Enlist a friend or family member to help cue the music and make key announcements — like when dinner is served, or it's time for the first dance.
Set your MC up for success. Make sure they know the day's timeline and can familiarize themselves with your playlists and sound system before the wedding day.
Do a dry run
A missing cable. A bad mic. Audio feedback. Anyone of these issues can throw a wrench into your music plans. Better to encounter them a day or two before the wedding, rather than an hour or two before.
That's where a dry run comes in. Set up everything like it's the main event and run through the various parts of your day — pre-ceremony music, ceremony readings, etc. Your officiant and MC will have a chance to practice, and you'll have time to address problems that arise.
Make mini playlists
Your wedding day is made up of lots of moments — some big, some small — that you'll want set to music. Make separate playlists for each of these moments, label them clearly and arrange them in chronological order to ensure your MC cues up the right tunes at the right time.
Here are a few moments that may warrant their playlist:
Pre-ceremony seating music

Processional (parents, bridal party)

Processional (bride)

Recessional

Cocktails and dinner

First dance

Parent dances (father/daughter, mother/son)

General reception
Pick crowd pleasers
You and your partner may love thrash metal, but Slayer isn't everyone's cup of tea. So save "Raining Blood" for the after-party and stick to crowd pleasers during the reception.
"What people call typical wedding songs — Motown, Stevie Wonder — they became typical for a reason: They have universal appeal. If you're playing heavy metal, not everyone is going to stand up and dance."
Not sure where to start? Stiles recommends searching for the top 100 dance songs and selecting popular tunes from various decades to engage guests both young and old.
How To DJ Your Wedding
Step one: Decide how you will play the music.
What software/playlist app will you use?
First, we had to choose the app from which to play the music. Pandora is out because you can't make playlists. iTunes was out because we didn't want to buy every single individual song. (You could, however, check out Apple Music, as they have an unlimited streaming option for $10/mo.)
Then I heard about Spotify. For less than $5/month (student pricing, less than $10/month regular) you can have access to pretty much any song you can think of. It's available on your computer and phone. And the best part: you can make your playlists available offline!
You could also look into any Smartphone apps that you could use to make a playlist, like The Music Concierge. Choose whichever option works best for you!
What sort of amplification system will you use to play the music?
Then we needed to figure out the sound system. At first, we were looking into places that rented out sound systems, but the smallest option we could find was for "parties of about 100 people" and since our party is 1/3 the size of that we thought it would be overkill. What we ended up finding and going with was this:
Bonus #1: It's got a cheesy little light show thing

Bonus #2: It's cordless! With Bluetooth! So we can take it to the ceremony site (with the light show off, of course)

Bonus #3: It's got a ton of great reviews for our-sized parties.
Lastly, we had to find someone willing to hit "play" for use at the wedding. John played iTunes DJ for one of our favourite couple friends' wedding, so the groom was totally down to return the favour.
Step two: Collect the music, Create your playlist.
John and I have spent the last 6-8 months with various playlists that we'll add to whenever we hear a good song. Luckily Spotify has tons of pre-made playlists that we listen to. It's given us some awesome inspiration and helped us find some good songs we may not have otherwise thought of.
We started with four major playlists and decided on the mood of each one:
Ceremony: songs without lyrics, potential processional songs. Example: Yo-Yo Ma Cello solos

Cocktail hour: upbeat, a little bit of dance, fun music. Example: Lorde – Royals

Dinner: Chill, music to eat, have conversations and give toasts to. Example: The Flaming Lips: Do You Realize?

Dance: Dance music, of course! We once went to a wedding that didn't have any slow songs or any "let's go refill our drinks" songs, and we were on that dance floor all night. It was fantastic, and we wanted to do the same with our playlist here—examples: Lots of Michael Jackson and Justin Timberlake.
Step three: Prune your playlist.
After several months of adding music to the various playlists, we had way too many songs!
We pruned our "dance" playlist from 5 ½ hours to 3 hours very quickly, and our method worked quite well.
Here's how we pruned our playlist:
We each had scorecards labelled 1, 2 and 3.

1= "meh" 2= "ok, sure" and 3= "YAS!"

We went through each song, listening to a little bit to get the vibe, and then we'd share our score.

Songs that got a total of 5 or 6 points went into the final playlist.

Any songs with a 2 or 3 were deleted.

Songs with a four were left on the original playlist in case we needed them.
We ended up having the perfect amount with our 5's and 6's, which has resulted in a dance playlist full of only songs one or both of us love!
Check out our ultimate list of Melbourne Wedding DJs.
Step four: Arrange the music in order
Once you've got all the songs you need, it's time to put together the perfect wedding reception playlist. Besides collecting the music, this step has been the most time-consuming. We want to make sure each song flows nicely into the next (Don't forget to use the "Crossfade" option so that there aren't 5-10 second gaps of silence between all the songs!)
What we're looking for with the order is just a good flow. Three Michael Jackson songs in a row aren't the best idea, where the flow is concerned.
For an example, in our cocktail hour, we have a more modern pop song most of the guests may have heard, followed by a Devendra Banhart song (kind of poppy sound, sung in Spanish), followed by a salsa song. By sandwiching Devendra Banhart in there, the salsa song doesn't sound like someone suddenly changed playlists.
I've been listening to my playlists non-stop to see how the order feels and tweaking things here and there. I've also been careful not to have a song that ends in a busy way followed by a song that begins in a busy way because it sounds a bit messy on the crossfade.
Now our four playlists have morphed into several, with key songs (like the first dance song) being on their playlist. This should make it super easy for our friend to walk over, double click on the next playlist, and get back to the party. It's been a time-consuming project, but also a fun one, and I think it'll pay off!
Tips for Being Your Wedding DJ
Think Through The Whole Day
Wedding music is necessary for other parts of your wedding day beyond the reception. If you're going to provide your music for your ceremony and cocktail hour, make sure you have a plan in place for what you need in each location, who will set up and operate the sound equipment in each location, and who will move the equipment to the next location (if necessary). Make sure to test out your playlists and equipment in all locations ahead of time.
Play Dance Hits
If you want your guests to get up on the floor and bust a move, be sure you craft a reception playlist that touches upon many classic dance songs that your guests know and love. Think about weddings where the dance floor was packed, and you had a blast dancing: what were the hits? We're not saying you need to play the "The Electric Slide" or the chicken dance, but be sure to throw in enough crowd-pleasers.
Play a Variety
Similarly, if you want everyone from your little cousin to your grandmother to enjoy the music, consider playing a variety of songs from different genres and periods. While you might listen exclusively to '90s hip hop, EDM, and obscure indie bands, chances are most of your wedding guests won't share your eclectic musical tastes. Play a variety of popular songs that build in energy and chronology, including some classic, slow-dance ballads, some danceable funk or Motown tunes, and some contemporary pop hits that you can get behind.
Do a Trial Run
We already mentioned this, but we'll say it again to hammer it home: make sure you test out your equipment and do a trial run of your most important playlists at your venue. You don't want any surprises on your wedding day.
Don't Rely on The Internet.
Be sure you have your playlists downloaded to your music player so that you're not relying on a wifi connection to play them. While streaming services like Spotify, Pandora, and Apple Music are awesome for general use, your wedding music should be saved (and backed up) on your devices so you can access it regardless of the internet.
Assign a Music Captain
Your music captain will take over some of the musical logistics on your wedding day, freeing you up to be in the moment as much as possible. This person will also offer a safeguard against well-meaning, but pesky wedding guests who want to take over the dancing playlist. Entrust this role to someone responsible and ideally both musically and technologically savvy.
Crossfade and Cut Your Songs
The difference between a professional playlist and a DIY playlist can be found in the gaps or awkward moments between songs. Use crossfade functionality to eliminate long transition between songs, and use iTunes to cut songs down to shorter lengths that match dancers' attention spans—otherwise, your crowd might lose momentum.
Use a Wedding DJ App
There are several handy apps on the market made specifically for those who want to DJ their weddings. Check out MyWeddingDJ to see how using the app can streamline your process (and help ease your day-of setup) even further.
Read The Room
While other people should not mess with your carefully crafted playlist, you and your partner can. If you feel like the energy needs to shift, or you notice people aren't dancing to certain genres of music, feel free to skip ahead or change your song order to better match the party vibe. The beauty of DJing your wedding is the freedom you have to change it up (without obsessing, of course).
Pad Your Playlist By 2 Hours
Running out of music is a big no-no, and some portions of the wedding timeline might go on longer than you expect. Be sure you have extra music to fall back on should things run long, if you need to switch up the mood, or if you're at a venue that will allow you to keep the party going if no one's ready to call it quits at the appointed end time.
Check out our post on How much is a DJ usually?
What You'll Need to DJ Your Wedding
While you don't need a truckload of professional A/V equipment to DJ your wedding, don't think that you can plug your phone into a speaker on the day of your wedding and be ready to roll. As with any DIY wedding project, the more preparation you put into it, the better the results. Once you decide to self-DJ, visit or talk to your wedding venue to find out more about their setup for playing music:
Do they have a fully equipped system for playing and amplifying music already on-site, or will you need to bring one (or parts of one) in?

Can someone walk you through the locations of equipment, cables, outlets, and other considerations so you will know exactly how to set up on your own?
If you are providing your equipment, consider renting professional-quality amplification. One of the biggest DIY DJ missteps is not realizing how much volume you'll need: while your Bluetooth speaker sounds plenty loud in your home, you'll need powerful amplification to project sound over hundreds of bodies, their chatter, and general party din. Plus, nothing makes it harder to pack the dance floor than music that isn't loud enough. Renting a basic set of speakers and an amp will cost you $75-100; adding a mixer and a wireless microphone will add another $100-$200.
Here's the list of the necessary equipment you'll need to buy, borrow, or rent to DJ your wedding successfully:
An iPod, laptop, or another digital music player

A good speaker system, including:

(2) 12-15″ speakers with stands

Subwoofer (optional)

A mixing console

A cable to connect the player to the mixer (most likely a mini-stereo to a male dual RCA)

A microphone, either wireless or with a very long cable
So all these tips might leave you feeling more prepared. But they could also be overwhelming; suddenly, the simple DIY DJ isn't as simple as you thought. Once you add up the cost of renting equipment and purchasing songs, and the time you'll spend making playlists and getting prepared, you may decide that it's worth it to go pro. To save money, you could consider using a DIY setup for the cocktail hour, and a pro for the reception.