Your wedding entertainment is one way you can make sure your guests have a blast. It can also be another way of adding your personal touch to the event. Your wedding is a party, after all! You want to make it a kick-ass party that your guests won't soon forget. Whether your goal is to get people moving on the dance floor or to have some great music accompanying the reception, hiring a wedding DJ can be a great option.
Unlike a live band, a DJ can play the actual recordings that your guests love and crossfade them, so there's no awkward silence between songs. Which DJ you hire will depend in great part on what kind of music you want and what your guests will be excited to hear. If you want a dance party, you'll find plenty of DJs who can give you one. You can also find DJs who will customize a playlist for you, whatever your tastes. Here are some tips to keep in mind when hiring a wedding DJ.
Once you have decided that you want a DJ to provide the music for your wedding reception, you have to pick the DJ. Picking the right DJ for your wedding can seem like a daunting task because you know that the DJ sets the tone for the reception. Pick a great DJ, and it is going to be hard for your reception to be anything less than spectacular. Pick a so-so DJ, and even with the best food and venue, you are still probably only going to have a so-so reception. However, there are so many choices in DJs that you may be overwhelmed. Even if Limelight Entertainment is not your choice, we want you to be confident and knowledgeable when selecting your DJ, so here are our top tips for picking your wedding DJ.
Looking for wedding DJ's? Look no further, Cosmopolitan events have you covered. 
What makes a good wedding DJ?
Being a DJ is about way more than pushing "play" on an iPad playlist. Here are three qualities that set a good wedding DJ apart from the crowd.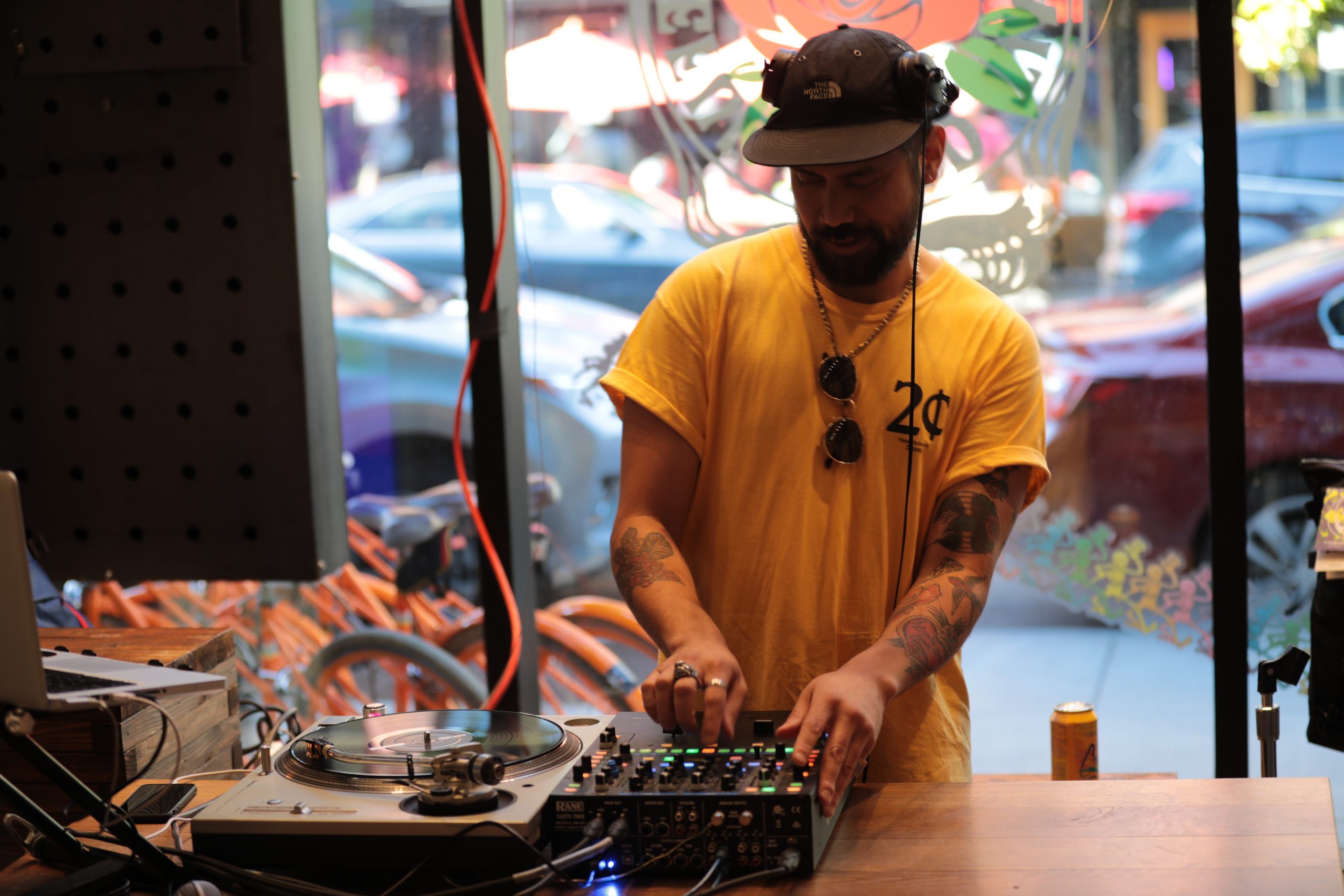 Personality
If we could only give you one tip, it would be this!
Your DJ is going to be responsible for setting the tone of the evening. If you have boring DJ…that means a boring wedding.
A DJ's personality is the most important clue you're going to get. Instead of relying on emails and texts, meet with your DJ in person to talk about your vibe, needs, and favourite music. This will help you decide whether they can create the party atmosphere you're looking for.
Communication
You've probably been hearing how important communication is during all those premarital classes. Well, working a DJ is no different.
Playing music is only part of what a DJ does. The other half is talking. From making sure you're on the same page regarding the "do not play" list to making sure the photographer captures the cake cutting, wedding DJs need to communicate, and they need to do it well.
This is why it's so crucial to hire a wedding DJ that can also MC. Other than your wedding planner, your DJ is the one person keeping everything together!
Flexibility
Any DJ who specializes in weddings will end up working a lot of them, so they need to be organized. But when those plans go awry, they also need to be flexible.
An organized DJ has a copy of the evening's timeline so they can keep events on track. But if the bride and groom are an hour late, they should be able to adapt on the fly so that you and your guests are able to enjoy the evening without feeling rushed (with plenty of time for dancing).
Questions to Ask Before Booking Your DJ
Is this your full-time business? Are weddings your primary focus? What clubs, lounges, and corporate clients have you performed for in addition to weddings?
Determine whether they are a well-rounded, successful entertainer who can bring a level of expertise and versatility to your event. "You want to ensure that your DJ isn't a one-dimensional part-timer, but a true performer who had varied and extensive experience performing in front of different (and tough) audiences," said DJ Kev Sakoda. It's fine if your prospective DJ mainly focuses on weddings—DJ Vito Namio performs at well over 100 per year—as long as they squeeze in some time for other types of parties as well. 
Beware if a potential DJ bad-mouths former clients (whether they're corporations or individual brides) or their competitors. My fiancé Jason and I once met with a vendor who told us about an event that "wasn't his best work" because the client was a huge bridezilla! This made us wonder: Who's not to say he wouldn't whisper about that crazy-demanding web editor from Bridal Guide afterwards?
How do you customize the music experience for each couple? Can you help with song lists and providing suggestions?
Find a DJ who will create a soundtrack for your wedding that is based on your style, taste, and vision for that day. "One size does not fit all—if you desire to have a mosh pit at your wedding, then you will need to deliver that and anything else you want, for that matter," said Sakoda.
A skilled DJ will gladly accept your must-play and do-not-play lists, no matter how short or long. Namio tells his brides upfront that they are in control of the music that will be played and they need to allocate time to work with him to ensure smooth timing for their event.
All of the aforementioned can only be achieved with an entertainer who is flexible and willing to listen. It's easy to come up with lists of songs to play—determining the placement of the music (e.g. cake-cutting and bouquet toss) and how it fits into unique themes is the real challenge. 
How do you get the crowd pumped?
There are all kinds of incentives that DJs use to encourage guests to storm the dance floor, whether it's asking couples to join the newlyweds for a good-luck dance or playing a meaningful throwback song from the bridesmaids' college days.
Ask them how to get the crowd pumped, but, more importantly, listen to their music demos or watch wedding performances to get a sense of how they will interact with your guests in person. Interviewing prospective DJs is certainly helpful, but hearing them in action will seal the deal.
"You want to make sure your DJ understands how to read a crowd, build up the energy and then keep it up. There should never be a lull—your DJ needs to have the ability to blend all sorts of genres to accommodate everyone and keep them on the dance floor.
How do you handle song requests?
"There could be instances where the client directives are opposed to guest requests. How a DJ strikes a balance to deliver on the couple's desires—while still satisfying the guests' requests—determines the skill and experience of the DJ," said Sakoda.
Some DJs (with the permission of the newlyweds) may tell partygoers that they need to stick to their playlist, but they'll do their best to fit in their song. In contrast, others will appoint a bridesmaid or relative to screen particular requests (so that the DJ doesn't need to interrupt the new Mr. and Mrs. mid-dance). 
Can I hear some examples of mixing and blending different tracks?
When mixing is done correctly, you probably aren't even aware of it. The DJ should be able to blend between songs seamlessly; you don't want guests to become bored by a ten-minute long Queen rendition! However, when this technique is performed incorrectly, you'll be able to discern it instantly: "When there is no mixing or blending, there is an awkward silence between songs (it's the same thing as your iPod)," said Sakoda.
What sound equipment do you utilize? Do you have backup equipment?
DJ equipment is just as important as musical instruments. "Turntables allow the DJ to have hands-on control of the music and the ability to manipulate it instantly. A simple touch can change the sound, speed, and tone," said Sakoda.
Ask if your DJ is certified and knows all of the ins and outs of connecting a system. "We allow our equipment to operate without overdriving it, which is when guests start to complain about it is being too loud (sometimes referred to as 'muffled' sound). When I play at a wedding, you will hear every word, nice and crisp, at a moderate level; I guarantee guests will still be able to talk at their tables while others are showing off their latest moves on the dance floor," said Namio.
Backup equipment is also essential: DJs should always have the equivalent of a "flat spare" on hand, whether it be a microphone, computer, mixer, etc. Don't forget to ask how soon before the reception they plan to arrive and how long it will take for them to set up.
Have you played at our chosen wedding venue before? If not, can you make a site visit beforehand?
The sound varies drastically depending on the room where your reception will be held. Don't underestimate the importance of a site visit: The lighting technician at my wedding reception told me that they've had crises with brides who chose DJs that didn't know how to work the room's acoustics. The sound on the microphones was so poor that the tech couldn't understand the garbled instructions through his earpiece!
Namio recommends that brides ask prospective DJs if they can set up appointments to visit such locations. "This allows us to become acquainted with new staff members, learn their rules for vendors, and plan correctly for providing the correct equipment for acoustics and lighting design. At the same time, we offer to provide these establishments with insurance certificates and updated company information. With these steps, they know we mean business," said Namio.
Check out our exclusive list of Wedding DJ's to help you celebrate your special night. 
Do we have our choice of DJs to select from, or is one automatically assigned to us depending on date availability? What happens in case of an emergency?
"We believe the choice is important: No two weddings are alike! You should have a choice of top DJs that fit your style and personality, and have the proper experience and skill for your wedding," said Sakoda.
Namio agrees: "I spend quite some time with my clients to answer their concerns in detail and make suggestions when called upon. In turn, they learn more about my experience and everything I bring to the table. Now, imagine investing all of this time and not being their MC/DJ on their wedding day!" he said.
It happens more often than you'd think: At one meeting, a sales rep tried to us to sign a contract before we even met with our prospective DJ! He happened to be in the building that day, so Jason and I got to say hello briefly, but the company's impersonality still rubbed us the wrong way.
What other services do you offer (e.g. lighting, HD video screens)?
Some DJ packages come with extra services such as intelligent lighting and video screens. "Next to lighting, video screens are our most requested option. I like to explain it as personalizing your day: Imagine watching memories roll by on the screens while you're sharing that first dance. Then, you can add a few photos to enhance the parent dances as well," said Namio.
Remember to get any details clearly outlined in your contract. Also don't feel pressured into signing up for extra amenities if you don't need them. When I told one DJ that my venue came equipped with intelligent lighting, he told us their lighting was still necessary for a true "club-like" experience. Next!
Why should I choose you as my wedding DJ?
I always like to throw in a curveball to see what they consider to be their best attribute: Is it their amazing sound equipment? Their can-do-anything personality? Or is it their professionalism and dedication towards making your wedding a success? Hopefully, all of the above! 
Tips for Hiring an Awesome Wedding DJ
Know what to look for and where
The most common option is to go with a DJ whose primary business is weddings. These wedding DJs know the ins and outs of wedding receptions and may even be great at serving as an emcee to make announcements. To find one of these, do the usual web searching and asking for referrals from other vendors.
If your focus is on having great dance music, you may consider a DJ from the local club scene. These DJs may charge cheaper rates, but they won't necessarily be experienced with weddings. To find one, you can start by asking at local clubs.
If you want to go all-out on music, you may be able to find a wedding DJ who is also renowned for its great music or a club DJ who has lots of wedding experience. These can be ideal options, but be aware that they may cost you. A professional wedding DJ of this variety will probably be well known in your area. Just ask vendors.
Ask to hear samples of the wedding DJ's work.
Once you've found a DJ or two that seems right for your wedding, ask to see examples of their work. This could be a video of a live performance, a mixtape, or sample playlists. The more important to you, the quality of the music is, the more you should see and hear before hiring.
Give the DJ your playlist and your "do not play" list.
If you're already set on a playlist, discuss it with DJs and make sure they are willing to follow it. You may also want to create a "do not play" list and share it to avoid any unpleasant surprises.
Ask how they get the crowd going.
If you want your DJ to be involved in making your reception fun, make sure to ask about how they engage a crowd. Some important questions to ask:
How does the DJ get people dancing if they seem reluctant? 

Will they accept requests from guests?

Is the DJ willing to also act as an emcee and make announcements?
Get a contract
As with all vendors, you should get a contract. Don't work with someone who won't provide one! Be sure to check our guide to hiring wedding vendors for general tips on finding, vetting and reviewing contracts.
Check out our post on What questions should I ask a DJ for a wedding?
You can DIY, but you may need help.
Of course, you don't need a professional DJ to have music or even a dance party! You can set up the sound equipment and have your playlist ready when the reception begins. Just remember to crossfade the songs, so there's no pause in the music. You'll also want to put someone else in charge of watching over the music, just in case. This person can respond to any issues that arise and keep meddlesome guests away (not that you'll have any of those). With someone you trust safeguarding the music, you'll be free to dance like crazy!
Hiring a wedding DJ is one decision that makes a huge impact on your big day.
So much of your wedding day—from the ceremony to the reception—hinges on having the perfect atmosphere to set the mood. The wrong DJ can easily kill that vibe with the wrong song selection, a misspoken word, or a missed opportunity.
Hire a cheap wedding DJ, and you'll find it to be the worst money you've ever saved. A wedding is a once-in-a-lifetime event. Make sure you do it upright.