When it comes to newborn photography, you'll never run out of clients! The infant photoshoot market is exploding because everyone is having babies—and everyone wants cute photos of their babies. This is excellent news for you photographers who want to try out different types of photography or make a little money from your photography. Newborn baby pics are also a fantastic addition to your online photography portfolio; an amazing newborn photo shoot can show off your skill and range as a shooter (to say nothing of your subject wrangling skills!).
Newborn photography is a genre that focuses on capturing newborn babies. It is the only area of photography where the photographer needs to have the subject's well-being as the main priority. Safety is key. The great thing is, you will have parents who can act as your assistants, holding and posing the baby. They can also make them laugh and put them back to sleep. Looking for a Wedding Photo Company? Look no further. Cosmopolitan Events has compiled an ultimate list of wedding photo companies to help you choose. 
Want to learn how to take amazing newborn photos so you can get a piece of this lucrative business? Our newborn photography guide will show you how to produce newborn pictures like a pro in no time. Ready? Let's go!
The Number One Rule of Infant Photography: Safety First
Keeping the newborn safe in the studio is trickier than it sounds. Make sure everything happens down low and that poses are in reclined positions. If the baby should fidget or roll one way or the other, there shouldn't be any danger or a drop or a fall. 
All props that are nearby should be baby-safe. If you don't regularly do newborn shoots in your studio, it's a good idea to do a thorough run-through. Get a doll and find your basic positions, and practice lighting and setup. Simultaneously, look around and make sure there are no backgrounds, lights, or cables around that could be hazardous.
Before the shoot:
Wash your hands to keep from spreading germs.

Sanitize and clean all surfaces where the baby will be posted.

Remember, newborns do not yet have a fully developed immune system. If you think you might be getting sick, it's best to reschedule the shoot. 
You also want to do an excellent job of communicating this ethos to your clients. The parents are naturally going to be worried about their precious baby, and making sure they know that the baby's safety and comfort are your number one priority, too, will help set their minds at ease. 
Styles of Baby Photography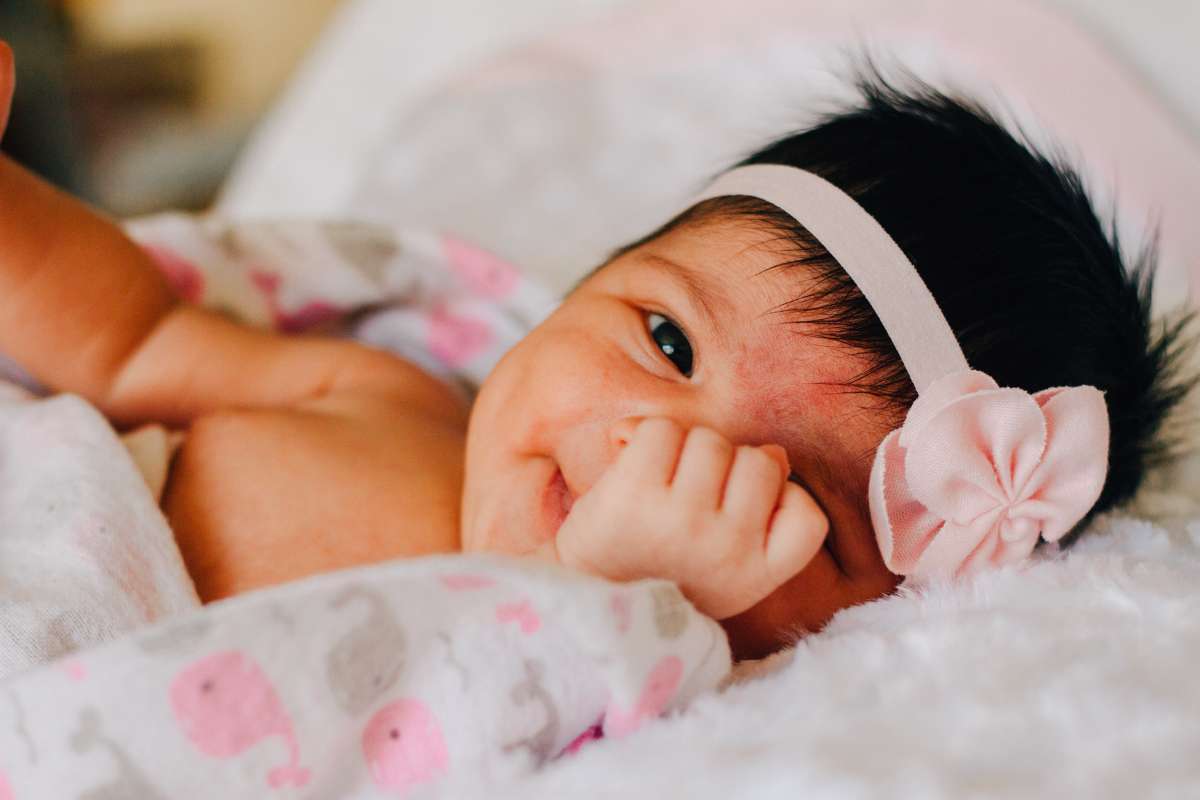 When to do newborn baby photography depends on the type of images your client is after. Lifestyle photos capture interactions and relationships within the family. Memories from these stress-filled and hectic days in the newborn's life are often fuzzy. Since there's a little more flexibility here, timing is less critical, and you can do lifestyle newborn photos at any age.
A posed newborn photoshoot is quite different. Here, the baby is posed to look perfect in a studio setting with cute props and backgrounds. Timing is essential; for the best-posed images, newborns must be around two weeks old.
The ideal time frame to conduct the photoshoot is when the baby is between five and ten days old. During this time, infants spend most of their time curled up and sleeping. After the two week mark, they stretch, move about, and generally become much more active. Of course, you can still do a photoshoot, but you will spend more time getting the baby to stay relaxed and calm.
Be Flexible
The number one tip for any newborn shoot is to be flexible. The node might not go as planned. Sometimes babies will refuse to cooperate and will show you who is really in charge (they are). But if a baby fidgets and refuses to sleep, don't lose your cool and keep shooting. Many times the best images will come from unplanned and organic moments. 
Be Confident
Going into the shoot, everyone will pick up on any nervous energy. The first to react will be the parents, who will lose confidence in your ability to pull off the shoot. After the parents, the baby will soon begin to lose comfort. So it is essential that throughout you keep your cool and exhibit confidence. Again, if you are new to photographing newborns, consider gaining some experience before working with clients.
Use Aperture Carefully
Many times in portraiture and wedding photography, you are tempted to open your lens to the max. Who doesn't love the bokeh of a wide-open lens? But unfortunately, this technique may get you into trouble with newborns. With many odd angles and reclined positions involved in newborn poses, if you leave your aperture wide open, your depth of field may be insufficient. Keep this in mind, and work a stop or two higher than the lowest f-stop on your lens.
Avoid Bright Strobes
Baby-Safe lighting is the name of the game. Most professionals use only natural lighting. This look matches the mood of the images well. With some beautiful filtered light, you can do wonders. In a studio session, you can use speed lights and strobes, but they must be external. Bounce the morning or use large diffusers to make it as mellow as possible. Never use pop-up flashes or on-camera setups. Newborns' eyes are sensitive, and if they're sleeping, you don't want to wake them.
Keep it Warm
Ok, maybe this is two tips wrapped in one. You'll want to have the thermostat in the house or studio set high, somewhere between 80 and 85 degrees Fahrenheit. Your goal is to keep the baby warm, especially if the blankets are loose. A space heater is a good idea, too.  But keeping it warm can also mean maintaining a loving and relaxed atmosphere. Make the shoot a fun experience for mom, dad, baby, and you. Be flexible, friendly, and have fun with it. At Cosmopolitan Events, we have compiled a list of the Best Photographers in Melbourne to help you choose who captures your magical day.
Tips for Photographing Your Own Newborn
Prioritize the Baby's Comfort
A warm baby with a full belly will be happy to relax and doze off during a photoshoot, which is precisely what you want if the baby is just a few days old — after about ten days, they'll start moving around more. If you'd like to photograph the baby asleep, ask the parents about their nap schedule before the shoot, and organize accordingly. Before you start, see to it that your little model is snug, cozy, and fed.
Consider bringing a white noise machine for a soothing atmosphere. Alternatively, you can also download an app like Cradle for other music and sounds. Some posing is OK, as long as the baby is content and fully supported throughout the process. For relaxed poses and easy handling, consider staging the baby on a beanbag.
Make Safety a Priority.
Attend a workshop or training session with an experienced newborn photographer, or take a course to get certified on the ins and outs of safety for newborn photoshoots. For example, you will want to leave the flash at home and rely instead on soft, indirect window light to protect the infant's eyes.
Babies have positions they like and ones they don't, which varies based on the child, so pay attention to body language and follow the newborn's lead. Keep in mind that many of the famous "poses" you see in newborn photography are composites done in Photoshop — including the "froggy," where the head is resting on the hands.
Bring an Assistant
Babies don't follow directions, so having a savvy assistant can be a tremendous help. While you're busy snapping away and chatting to the parents, the assistant can be playing peek-a-boo to make the baby laugh. Ensure your assistant understands baby behaviour and safety protocols, as these skills will prove more valuable than any technical expertise. A baby can wake up, wriggle, or kick at any time, so you'll need someone there to "spot" them for added security and peace of mind.
If you look at some of the earliest examples of baby portraiture, you can often find a parent hiding in the background, holding the infant in place. Newborn photography has never been a solo endeavour, and you don't have to do it alone.
Include the Parents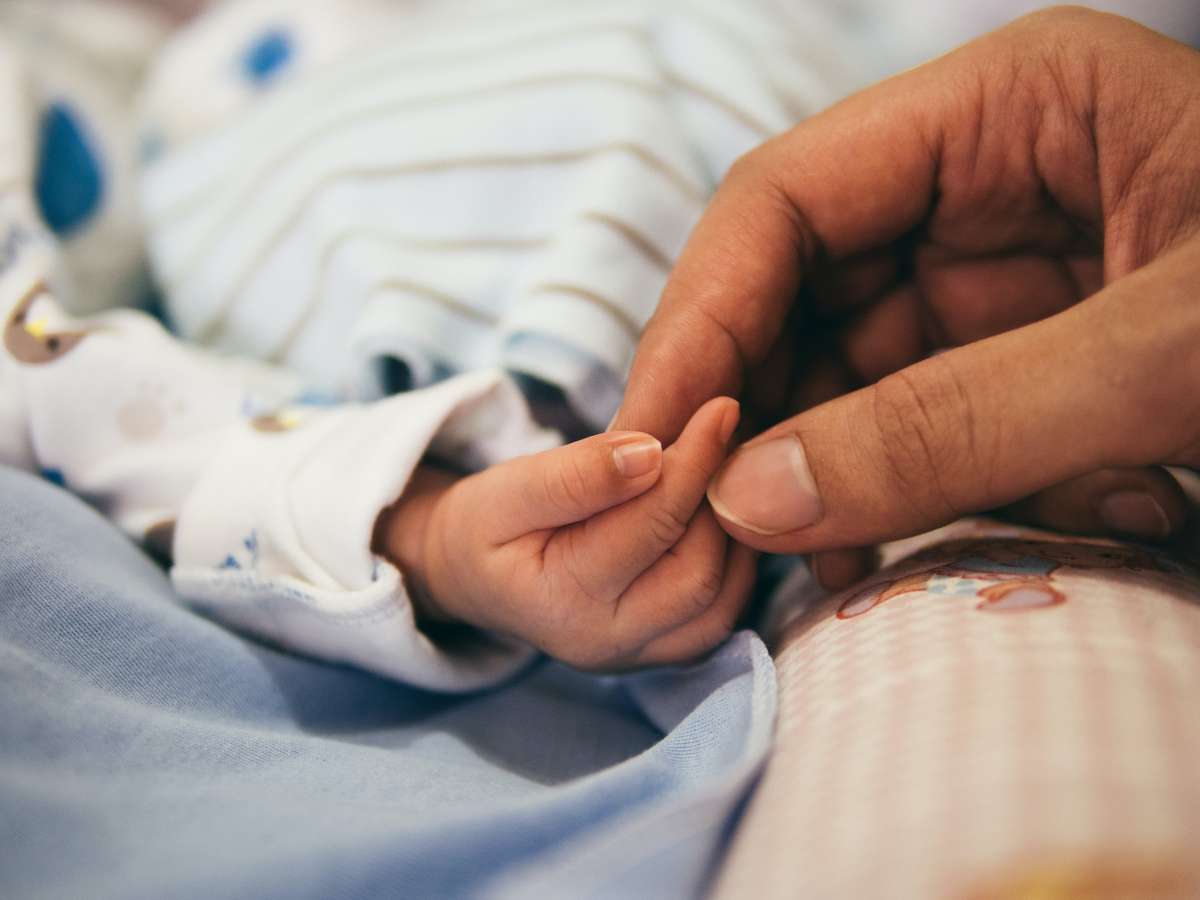 As with most photoshoots, you'll want to get to know your client — the parents — before you do anything else to make them comfortable. Remind them to gather all the props they'll want to have in their photos:
A hand-stitched heirloom quilt

A stuffed animal from grandma

A favourite pacifier
Send them a quick checklist of what they should do to prepare for the shoot — e.g., selecting clothes for themselves and the baby (any baby outfits should be breathable and easy to take on and off) and keeping the baby awake for an hour or two before the shoot, so they're nice and sleepy. That way, they won't have anything to worry about once you get there.
Focus on the "Firsts."
During these sessions, you often get a chance to cover many milestones — including little ones like the baby's first bath. Paying attention to those brief details (e.g., the hospital armband) and rituals (e.g., cutting the umbilical cord) within the first few hours and days will result in meaningful, timeless images.
Provide a Sense of Scale
Newborns are tiny, so highlight their size. Place that itty-bitty baby hand on top of a giant Mom or Dad's hand, include a ruler in your frame, or introduce other props to showcase this specific stage in the baby's growth.
Keep any props and outfits intentional and straightforward to not detract from your main subject — the newborn! Get creative and try different angles.
Mix it up With Both Posed and Candid Shots
When we think of newborn photography, we generally think of classic portraits of a baby sleeping in a bassinet or curled up on a blanket. These formal, solo setups are great, especially with dozing babies under the age of 14 days, who naturally curl up into those adorable poses. At the same time, newborn photography can also veer into the realm of documentary/lifestyle work, especially if it's an at-home session.
In addition to staged shots, remember to grab some spontaneous moments, primarily when the baby interacts with the parents. You may also want to get any siblings in the photos too. If they're young, try to photograph them at the beginning of the shoot, so they don't get restless or bored. If shooting in the client's home, remember to include scenes from the brand-new nursery — the parents have worked hard on it and will want to have those photos years down the road.
Don't Forget the Macro Lens.
Besides environmental portraits, capture the details: delicate eyelashes, gripping fingers, wrinkly skin, and wiggling toes.
Babies tend to be calmer in the morning, so if you schedule an early shoot, you'll have a better chance of being able to zoom in and catch those macro shots while they're asleep and relaxed.
Turn Off All Phones.
When you're working with a newborn, all your attention should be on the baby. Toys and props are great, as long as they don't become distractions. Without the constant buzzing of notifications, you'll be able to connect better with the parents and hone in on the baby's unique personality.
Types of Newborn Photography
Posed newborn photography
This is probably what you picture when you think of newborn photos. This is also the type of newborn session we primarily do at Puddles & Pearls Photography. Posed newborn sessions are typically done in a studio but can also occur in your home with a photographer who travels. The main focus of a posed newborn session is your baby! Poses, props and styling are used to emphasize the tiny details of your newborn artistically and creatively. Good posed budding photographers have had a lot of training in positioning the baby safely and using angles and lighting to capture those sweet chubby cheeks, lips, eyelashes, and tiny fingers and toes in the most flattering ways. A lot of editing is typically done after the session to even out skin tones, remove dry skin flakes and tone down red patches. While posed sessions are primarily focused on the baby, parent, sibling and family shots are also incorporated during the session. Flattering posing, lighting, angles and full photo retouching is also done on those images, which can be very appealing for a new, just gave birth, swollen, sleep-deprived mama! If posed newborn photography is what you are looking for, I strongly advise you to do your research on your photographer and make sure they are adequately trained in safe newborn posing and studio practices. 
Lifestyle newborn photography
Lifestyle newborn sessions are typically done in the client's home, although some photography studios are set up for a lifestyle feel. Rather than the main emphasis being all about the baby, the focus is on the family and welcoming the newest member. The styling and posing are much more natural, with many candid shots of the family interacting. A photo documentary of your life, just as it is at that moment! For this type of session, you will be holding and positioning your baby, so your photographer doesn't necessarily need to have a lot of training in newborn posing as they typically don't set the baby very much, if at all. They do, however, need to have a lot of experience and knowledge in family photography and lifestyle posing that is both natural-looking and flattering. If your home doesn't have a lot of natural light, you'll want to make sure your photographer is knowledgeable in using off-camera flash. As this type of session is meant to depict real life, there is typically minimal retouching done to the images.  
Combination of Posed and Lifestyle
If both posed newborn photography and lifestyle newborn photography sound appealing to you, consider choosing a photographer who does both! While most newborn photographers stick to one or the other, some do both. At Puddles & Pearls Photography studio, we primarily do pose newborn photography images. Still, we have a section of the studio set up to give a more natural lifestyle feel with a bit of a rustic, boho style. The individual baby images are posed fine art images. Still, we like to do a mixture of refined art poses and natural lifestyle poses for the family portion of the session. There are travelling photographers who do a variety of poses and lifestyle posing in the home as well. 
Fresh 48
A new 48 session occurs in the hospital, birth centre, or home within the first 48 hours after the baby is born. Like a lifestyle session, this type of session is a documentary-style session with the main focus on the baby. You'll typically get images of the baby in the hospital blankets, the clear hospital bassinet, ink stamped little feet, hospital bands, and welcome baby charts. There is usually a lot of close up detail shots of the baby to document their tiny features. This type of session can also record a big brother or sister meeting the new baby for the first time, or grandma, grandpa, or other family and friends coming to meet the new addition. 
Birth Story
Birth photography is a type of photography that is rapidly growing in popularity. This is also a lifestyle, documentary style of session that captures the birth of your precious baby. Typically for this session, the photographer acts more like a fly on the wall, quietly documenting the birth while creating a minimal distraction for the family and birth support team. While in labour, you tend to tune everything else out, which can sometimes make the entire process seem like a very painful blur. A birth photographer allows you to experience the process from everyone else's perspective. You'll be able to see your strength; your partners support, and the love and emotion of the experience in a completely different way. When you hold your brand new baby for the first time, the look on your face, the look on your partners face, cutting the cord, weight and measurements, and depending on the time of day and birthing environment, siblings meeting the new baby for the first time. Here at Cosmopolitan Events, we have compiled an exclusive list of Melbourne Wedding Photographers to help capture your special day.