As COVID-19 case numbers continue to spike, today we're discussing how to safely photograph weddings during the pandemic. The wedding industry has taken a massive hit this year due to the measures implemented to slow down the spread of COVID-19. It has affected not only couples planning their wedding but also all the vendors involved. This includes venues, planners, wedding outfit stores, florists, caterers, photographers, videographers, etc.
After conversing with several photographers who had already shot a few weddings, it has become clear to me that the authorities' safety regulations are often not being followed. Apparently, at many weddings, there is barely any physical distancing, and hardly anyone wears masks. Not to mention, the consumption of alcohol leads to even more uninhibited behaviour.
The article Weddings as a Coronavirus Super-Spreader Worry published in The New York Times states that" Despite precautions, the Coronavirus has swept through several weddings, large and small, infecting guests and vendors." In this case, it is fair to assume that at weddings with close to no precautions being taken, the risk of catching the Coronavirus dramatically increases.
Check out our extensive list of Wedding Photographers in Melbourne to help capture your special moments.
This is quite alarming. Therefore, informing yourself about the steps, you should take to keep yourself and others safe at a wedding, let's break it down into main categories about safely photography weddings during the pandemic.
The Basics
We have been hearing/reading about it for months now: wash your hands, keep your distance and wear a mask. Nevertheless, I think it is essential to get a refresher:
Wash your hands often with soap for at least 20 seconds. Especially after blowing your nose, sneezing or coughing.

If you can't wash your hands, use a hand sanitiser with at least 60% alcohol.

Avoid touching your nose, eyes and mouth if you don't have clean hands.

Stay at least 6 feet away from people.

Cover your mouth and nose with a mask in public settings.
Before the Wedding
Stay Up-To-Date
The safety regulations set forth by the authorities concerning the number of cases changes quite often. Therefore, make sure that you are well-informed about the current rules.
Communicate With Your Couples
Keep an open dialogue with your couples. Let them know what safety measures you will be taken at their wedding. Share with them any tips you may have about how they can create a safe environment for themselves, their guests and their vendors.
For instance, you can provide your couples with the suggestions laid out by WHO3 (World Health Organisation) in regards to planning a wedding:
Always check local guidelines before planning your event.

Brief guests about precautions before the event starts; during the event, remind guests of these precautions and ensure they are followed.

Choose outdoor venues over indoor spaces – if indoors, ensure the area is well-ventilated.

Minimise crowding by staggering arrivals and departures, numbering entries, designating seats/places and marking the floor to ensure physical distancing between people of at least one meter.

Provide all necessary supplies – hand hygiene stations, hand sanitiser or soap and water, tissues, closed-lid bins, distance markers, masks.
At the Wedding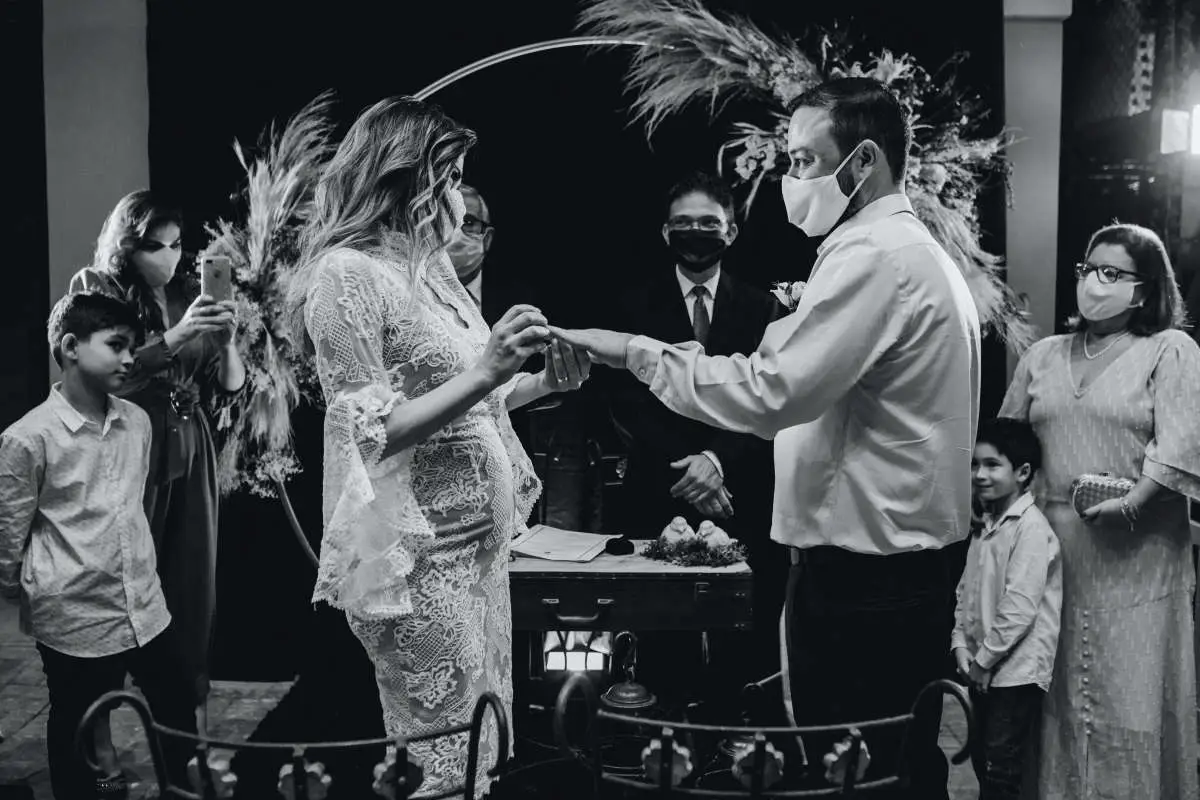 Wear a mask. Make sure that you pack at least two good quality masks, preferably with adequate filters.
Carry hand sanitisers and disinfection wipes with you. Make them readily accessible so that you can easily clean your hands or commonly touched surfaces throughout the day. And also, take lotion along in case your hands get dry.
Take your food and drink. You cannot be particular about how food is being handled at the venue. It could be that they just set out a buffet which could easily be contaminated. The same goes for refreshments.
And as a bonus point: if you usually wear eyeglasses, consider putting in contact lenses instead. That way, you avoid your eyeglasses from constantly getting fogged up from wearing a mask, and it is one less thing to worry about.
And When it Comes to Photographing the Wedding.
Take a Zoom Lens
This will enable you to take pictures from a distance instead of feeling the need to get up close and personal. It can help avoid getting on the dance floor or staying clear of any other crowded areas.
Prioritise Fresh Air
For example, if the couple is getting ready in a smaller room, open any available windows. If there are too many people, like family members hanging around, kindly ask them to step out of the room. Better yet, if you can do the photos outside, do just that.
Keep Clean
If you take any detailed shots, like the rings, wash or disinfect your hands before and after. Also, wipe down all your equipment after the wedding.
Keep Your Hands to Yourself
And if you are anything like me, where under normal circumstances, I would personally make slight adjustments to the bride's hair or dress, but during this pandemic, avoid doing so. Instead, ask someone else that the bride anyway has close physical contact with to take over making these tweaks, if necessary.
Wedding Photographer's Guide to Navigating the New Normal
The world has faced much worse and overcome. Our grandparents were given guns and sent to terrible wars, where they were felled by bullets, gas, and pandemics far worse than the one we face today. So we should take heart that the storm will pass eventually, and we will survive and recover.
So what can we do now while we watch the crisis unfold from our homes?
A lot, as it happens. In all businesses, there are winners and losers. We can support each other and help our friends and peers, but the reality is that we must also compete for our bread. When the game starts again, those of us who have spent our time wisely now will hit the ground running. Those who have given in to malaise will fall behind.
The business of wedding photography was already a ruthless one. It's all about art and expression to outsiders, but the reality is somewhat different to those who run their own business. It's about marketing, SEO, social media, accounting, sales – and not just doing these things, but doing them better than our competitors.
This stuff can be exhausting, and it can often, for many of us, feel like a losing battle. Our industry is an unregulated one, and so our great arena is endlessly fed by newcomers, eager to test themselves, confident and ignorant in equal parts, many of them wildly talented. And for every newcomer that takes up a camera and enters the fray, someone from the old guard must inevitably give way. There's never enough work to sustain all of us who want to be here.
And now we face this: the loss of our clientele—the shuttering of venues. And the excruciating unknowing: when will it all end?
The good news is this: people will always need to get married. Love is a constant, no matter the era or the issues we face. And people will always want to be photographed. Our industry is not recession-proof, but it's close. Work will always be there.
But times have changed, and we need to change with them. We need to be nimble in our processes and flexible in dealing with the following months and years to survive now and thrive when things get better. Looking for a Wedding Photo Company? Look no further. Cosmopolitan events has compiled an ultimate list of wedding photo companies to help you choose. 
Here are 12 ideas and strategies for wedding photographers and videographers to help navigate the current reality. 
Work on Your Attitude and Mental Health.
Be strong, and be positive. This doesn't just help your well-being, but it helps your chances of success. Blame no one for your predicament. Take encouragement in the fact that we are all in this together. Seek comfort from friends and family. Be honest about how you feel and if you need help, seek it out. Somewhere, find strength and positivity. Find it in the fact that this crisis will pass. Be sure that yours is one of the businesses that will recover and thrive. But don't expect it to happen by itself. Prepare to work for it.
Arm Yourself With Knowledge, and Don't Be Too Proud to Seek Help.
Many countries are supporting business-people in this time of need. Be across the policies that are aimed at helping you. Don't be afraid to take what is offered. Your country needs your business to survive and grow. We all pay tax, and it's ok to take some back when we are in need. Look at what your bank can do for you. Talk to your accountant. Everywhere you outlay money questions whether that outlay can be mitigated or reduced.
Fill Your Time.
And not just with Netflix. Don't be idle. Create a routine that includes time every day to spend on your business. We've never had this much time to fix up odd-ends, to do tasks we've been putting off for years. That time is now. Create a strategy. Employ that strategy with discipline. Some of the things that can be done are below:
Improve Your Website
Your shopfront is still your website. No one has ever booked a wedding photographer without first looking at their website. Social media has become all-consuming, but your website is still crucial. Prep and polish it. Ditch the images that have dated. Inject some fresh photos. Retire those blog posts from 5 years ago. Review your homepage presentation, get your favourite fellow quarantined humans to give you a brutal assessment of where you can pick up your game.
Improve your SEO. Google is still King. Coax it to give you more love. Use online tools to check your website performance. Web Page Analyser is helpful on keywords. Ahrefs can check out your backlinks.
Submit to Bridal Blogs
It is an excellent way to gain more backlinks and get traffic to your site from real brides. Research the outlets that offer you the best SEO boost and traffic. Aim high and send them your weddings.
Social Media
Post, post, and post some more. Instagram will reward you if you work at it. Go through your archives, and consider the Facebook Creator Studio – you can post to both Facebook and Instagram simultaneously. Make sure you aim up with your hashtags. Make sure to target some keywords that are more important now than ever before: elopements, for example.
Work on Pinterest. It's the most underrated social platform out there, and it works on a long game. What you put into it now will pay dividends months and years from now. Right when the industry kicks back on.
Streamline Your Outgoings.
Your accounting is going to need to come under scrutiny. Now is the time to shed dead weight. Be ruthless with directories you have subscribed to that are not performing. Consider ditching services you can do without. Seek out discounts: they're everywhere at the moment.
Research alternatives to your current partners. Whether it's your CRM, your image gallery host, your website host, now is the time to examine what value they offer and trim the fat.
Pivot to Elopements and Engagements
These are going to boom this year. Social distancing and tighter budgets mean brides and grooms are going to be looking closely at smaller affairs. Get in touch with the businesses around you that run these and see what partnership you can set up. Look at your packages and consider adding an elopement option. Work on increasing your visibility on google (web SEO) and Instagram (hashtags).
Be Flexible With Your Pricing
A tricky one. Take care not to undervalue yourself. If you reduce your rates, you'll also be tearing down the industry around you. But consider tiered pricing and creative packages.
The reality is that our economies could take a significant hit, and budgets are going to tighten. Make sure you have an option for those who love your work but don't have the funds to hire you for your most significant package. Weekday options are a great way to broaden your market.
Be Business-Like With Your Clients, but Be Fair.
Cancellations and postponements are coming in thick and fast. Steer couples towards postponements. Urge them to consider weekdays for their new dates. And where they ask for refunds, think what they're asking on a case-by-case basis. At times we need to weigh our conscience against keeping our finances afloat. It's a tough predicament. Be guided by the law, and also consider the circumstances of the couple. They're often doing it even more challenging than we are.
There are no easy answers for this predicament. One option for postponements is to ask for couples to pay 50% of the agreed fee on the established date and the rest by their rescheduled day. This will at least ensure short-term cash flow and discourage outright cancellations.
Consider Alternative Income Streams.
This is an option that might become increasingly necessary for many of us. Getting an extra job or income source is not a sign of failure: on the contrary, it can be a smart strategy, particularly in the short term.
No good business thrives on desperation, and stress is anathema to success. Take some anxiety away by seeking other sources of funds. This is a great idea not just for wedding professionals in the current climate but for anyone testing the waters in this industry. Easier said than done in many cases, but worth looking into.
Plan Ahead.
And I mean well ahead to the brave new world after this crisis is over. There are still many unknowns, but one possibility is that there will be a bounce-back and that all those couples who couldn't get married now will cause a bottleneck of inquiries for end-of-year dates and 2021. It may be that lean times will be replaced by an overload of work in a short space of time.
How to Prepare for Wedding Photography During and Post-Pandemic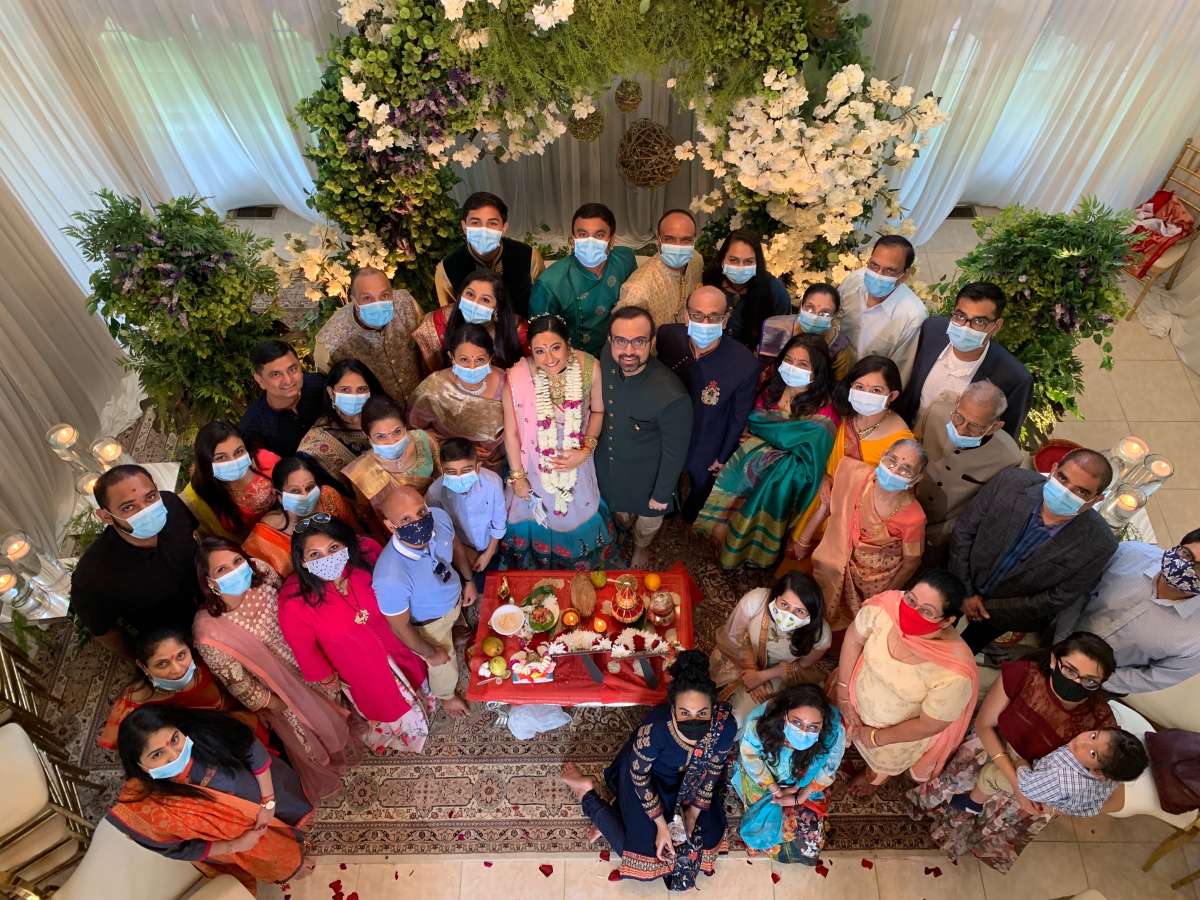 Couples across the country are changing their wedding plans because of the COVID-19 pandemic. Smaller weddings are taking place now instead of large-scale ones. The priority is safety, all while ensuring all the personal touches, themed decoration, and wedding fashions (even with face masks on) are still there. Of course, it's still crucial that a photographer captures the story of the day. 
So how do wedding photographers prepare? We asked professional photographers and industry experts for advice on preparing for wedding photography during and after the pandemic — in a new normal we will live in for years to come. 
Be a Leader in Safety 
Brandon Ballweg, wedding photographer and founder of ComposeClick, says wedding photographers and other wedding vendors will need to be leaders in helping keep all who attend or work at weddings safe. 
"That means things like maintaining a distance of six feet (and this may mean using a longer focal length lens), always wearing a mask, and wearing gloves/frequently washing hands and using hand sanitiser."
Ballweg says, "At the weddings I do, I will personally be keeping masks and hand sanitiser on me and, during client meetings or in downtime during the wedding day, I'll be seeing if any guests require a mask or hand sanitiser." 
Ballweg notes that although the wedding environment looks different now, with guests wearing masks, it's up to photographers to tell the real story of the day. 
"Many photographers will likely opt to try to frame their shots without people wearing masks in them. That can be OK, but I think telling the honest story of a wedding day is what works best — so as far as my technical photography goes, I'll be shooting relatively the same way." 
Communicate and Make Sure You're Comfortable 
To make sure the day goes as smoothly as possible, you'll want to communicate as much as possible. 
Vishal Joshi, CEO of Joy, says to be upfront with your communication to the couple and only do what you are comfortable doing. 
"It is best to align on your health and safety preferences and what you feel comfortable with ahead of time, so there aren't any surprises or misunderstandings when you arrive on the big day," Joshi says. "Make sure you are on the same page with your clients regarding social distancing, wearing face masks and any other preventive actions you and your team plan to take. If you only feel comfortable photographing a private or micro wedding with limited guests, be sure you confirm the guest count with the couple." 
As another way to make sure you are fully prepared for the entire day, go over the shot list with the couple. 
"Clarify the types of shots you will and will not be able to take based on your comfort level," Joshi says. "Shooting photos of the couple, the wedding party, and family portraits can be accomplished while social distancing, while candid shots of the dance floor, for example, may not be possible while social distancing. Ensure you are aligned with the couple on what your photography setlist will entail."
Finally, Joshi says to update your contracts to reflect health and safety protocols you will be following as another communication point. This protects your business and ensures couples are aware and have agreed to your policy. 
Don't Let Social Distancing Get in Your Way of Telling the Story — and Communicate.
"In the end, we need to be mindful of health concerns, and also remember the privilege we have of connecting with our couples and sharing their stories from their most important day. Don't let social distancing get in the way of our ability to tell stories and to be present for our couples' authentic and personal moments." 
That advice is from Bob Kniley, a wedding photographer in Rochester, NY. Kinley also says to communicate with couples before the wedding to show you care, that you're thinking about them and being proactive about keeping everyone safe. 
"Ask [couples] questions about what their expectations are regarding masks and physical contact, and especially ask if any guests are especially at risk (grandparents, etc.)." 
Here's Kniley's advice to photographers to prepare for working safely:
Have a hand sanitiser ready in the car and your camera bag for when you need it.
Figure out how you can wash your hands before eating and drinking, even on a busy wedding day.
Make sure to connect with your couples ahead of time to see their social distancing standards and expectations.
Be aware of your equipment when you come home; keep kids and pets away from anything potentially exposed to the virus when you were out.
WeddingPostPandemci
Sanitise Equipment, Stay Distant, and Again, Communicate  
The cleanliness of equipment has never been more in style. And communication should be prioritised by every wedding photographer. 
That's the takeaway of the advice of Joshua Gabrielson, owner of Wedding Photographer and Films. He says his team is taking measures to help keep staff and equipment clean for each wedding. 
"Our gear is also being sanitised for each wedding with the use of an ultraviolet light system for an hour, he says. "All lenses, camera bodies, flashes, cases, and remaining gear are being treated with an hour of ultraviolet light." 
Gabrielson says in addition to cleaning equipment, his team is wearing masks throughout the day and using hand sanitiser every hour of the day they are on location. His team is also communicating effectively with couples. 
"Before each wedding, we are communicating with the couples in an email stating what we are doing, what to expect during the wedding day with our precautions and procedures, so they will know and understand what we are doing in the process," Gabrielson adds. "Most couples have been pleased to know that we're going the extra mile to keep them safe as possible with our safety measures." 
If there's at least one thing we learned from experts, communicating to your couples is the critical action you can take when navigating the pandemic, and after, when the time comes, our world goes back to some kind of routine. While weddings, as we know them, are changing, one thing will always remain the importance of capturing a couple's most special day in their lives through photography. 
Closing Thoughts
If you are at a wedding and the couple asks you to do something that makes you uncomfortable or puts you at risk of getting the Coronavirus, you have the right to say no. It is essential to keep in mind the seriousness of this virus. There is a line between serving our clients well and putting our health at risk. We also should protect our loved ones.
In the same token, if you have any symptoms or you know that you have been in contact with someone who has COVID-19, do NOT go to the wedding. You have a responsibility to keep others safe. Tell your couple(s) promptly and help them in organising a replacement.
The world has changed almost overnight. What began as a rumour of a strange virus in a far-off city has inevitably turned into a global pandemic, with implications for life across the entire globe. Aside from the human tragedy of death and dying, the economic malaise has begun that could continue for the rest of the year.
We're in uncharted waters. No one knows what will come in the next few months, let alone years. Millions of businesses are facing a crisis unimaginable just a few months ago. Many of you reading will be doing so from home, with work and finances on life-support, facing crushing anxiety and feelings of helplessness, hopelessness and depression. Here at Cosmopolitan Events, we have compiled an exclusive list of Melbourne Wedding Photographers to help capture your special day.
But things will get better. Perhaps not next week or even next month. And maybe even after our situations worsen. But there is an endgame to all this. It happens as soon as a vaccine arrives, and perhaps even before that, with better treatment, sterner preventative measures, coordination and cooperation between nations and within communities.