A wedding theme will set the tone for the big day and guide every aesthetic decision made from that point forward. 
For that same reason, choosing a wedding theme can be quite a daunting commitment to make. 
Do you want to go the romantic route or keep things fresh and modern? With so many variations and wedding styles to choose from, the choice can be an overwhelming one. But it doesn't need to be.
Consider what elements speak to you as a couple or as individuals. Perhaps specific colours or design aspects resonate deeper, or maybe some iconic details have sentimental value. 
From there, you can allow your imagination to run wild and define the theme from those benchmarks.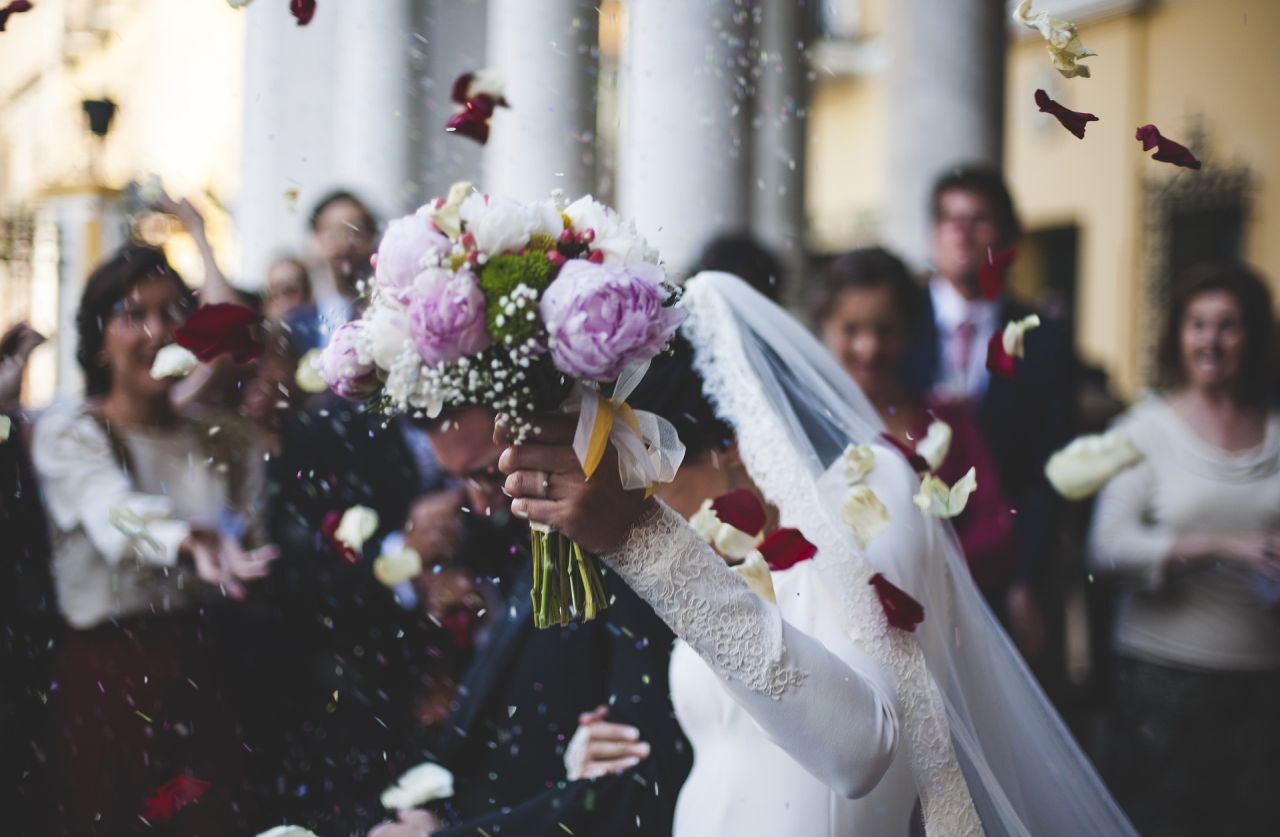 Choosing the Perfect Theme
Your wedding theme is the perfect opportunity to make your special day a true reflection of you and your partner's style. 
When choosing your theme, take some time to think about how you'll want to remember that day.
You can browse countless websites and Pinterest boards for inspiration, but in the end, your theme should represent your taste and incorporate elements that feel true to who you are.
You want your wedding to include more than trendy decor and Instagram-worthy backdrops. 
Above all else, it should reflect who you are as a couple. All of the details should join together in perfect harmony, just like the two of you.
It's essential to choose a wedding theme that you love, but you should also consider how well the piece will age. If you think you may end up looking back and wishing that you had kept it classic and timeless rather than springing for whatever the bridal magazines said was popular that year, then consider that.
When you're going through your wedding album twenty or more years from now, will you look at those photos with pride? Or is it possible you will regret the Gatsby theme that was on-trend the year you got married?
That's why it's essential to go for a theme that speaks to you and represents you and your partner, regardless of what other people think or the commercial outlets are recommending at the time.
If you're having some difficulty picking a theme, set aside time to reflect on what your perfect wedding day looks like.
Sit down with your partner and ask each other these questions:

How did you dream about that day as a child?

Have you been to any weddings that took your breath away?

How do you want to feel as you walk down the aisle?

How do you want your guests to feel when they leave?

What kind of story are you trying to tell with the details and decor?
Once you've answered these questions, think about how you can use them to create a wedding theme that is specific to both of you.
Consider Your Style
Take cues from your wardrobe about what colours you enjoy and the types of pieces you gravitate toward. 
Even if you choose to wear white, you can incorporate those colours into your bridesmaids' dresses and other wedding components.
Think of your favourite colours as a couple. If they pair well, that's a great way to add touches of both of your personalities into the wedding theme. 
If you don't have a favourite colour, again, look at what colours are present in your day-to-day life to get a sense of what you like.
Once you know what colours you like, experiment with different colour combinations to see if a theme surfaces organically. 
These colours can establish a baseline for the theme and help shape the rest of the design elements.
In addition to looking at your wardrobe, look at your home decor style as well. You can get a good sense of how you want your wedding to look by examining how your home (or dream home) looks.
You can incorporate your home decor style into the reception hall and centrepieces and the floral arrangements and other details at the venue.
Consider the Venue.
Use your venue as a source of inspiration. Your wedding venue plays a massive role in helping you select colours or a theme. 
The venue sets the tone and overall aesthetic and should align. Love the outdoors? Go bright, bold, or down to earth. Are you dreaming of a modern theme? Then try pastels and neutrals.
What Does the Venue Inspire?
Think about the dream wedding you envisioned. Your venue can play a defining role in your wedding's theme, so pick one that complements rather than clashes with it.
Always keep your budget in mind. Since the venue represents a significant portion of your costs, you might need to plan your theme around what you can create within that space.
Sometimes the venue will do a lot of heavy lifting for your theme. For example, if you are getting married on the beach or near water, that backdrop can contribute to an ocean-inspired or nautical theme. 
If you are getting married in a romantic garden, that can complement a classic or princess theme. An outdoor or barn wedding can add a rustic, country vibe to your wedding theme.
Remember that no matter where your wedding takes place, there are always ways to add little touches that define your style.
Let the Season Inspire You
The time of year may not seem relevant to the theme, but it is an important consideration to take into account. 
For instance, a beach-themed wedding might not hold to form if snow is on the ground. 
Similarly, a black-tie affair might lose its charm during those sweaty summer months, primarily if held outdoors.
Thinking about when your wedding will take place can also help you craft a theme. The season can even act as a theme itself. Look at seasonal details to find additional inspiration.
You can make an Autumn wedding pop by incorporating deep burgundy tones and Fall foliage into your decor. 
Winter weddings can be an excellent backdrop for bright whites and glitter. Deep emeralds and reds can add a holiday vibe to the event. 
Summer weddings beckon beachy or nautical themes, while spring weddings can play pastels and vibrant blooms.
Get Personal.
Your personality, sense of style, and home can give you great insight into which colour palettes you're most attracted to. 
What colours do you see most in your closet? What colour nail polish do you usually wear? Is it a particular shade of lipstick? Taking your creativity from everyday life is a great way to spotlight your personality in your wedding colour choices.
Let Go of Obvious Color Combos.
No need to go with the status quo. When selecting colours to complement a theme, let go of the apparent colour combinations. 
For example, nautical-themed weddings don't need a navy, red or baby blue colour palette. 
We recommend keeping the colours light and summery but consider selecting colours such as greens, oranges, and browns.
Don't feel like you have to stick with the transparent colours of each season. Pick whatever feels most natural and organic to the couple. 
For a summer wedding, we typically see the light, airy colours like blush, ivory, and green during the summer, but it's okay to step outside of the box and focus on what you're drawn to instead.
Stay Away from Trends (if You Want To!).
If you're hoping for a unique wedding, know that you can break away from the current trends.
There is no need to follow the trend or the season. Think of the wedding venue, location, your favourite flowers, colours, hobbies, favourite movie, designer, formality, and time of day your wedding will take place. 
Then begin incorporating your colour or theme from the very beginning, starting with your invitation.
Additionally, stay away from trends entirely. 
The trendier your wedding is, the sooner you'll date yourself. 
No one wants to look back on their wedding in a year or two and find they already wish they had gone a different route. 
We'd recommend staying classic and timeless with your look but pulling in small, fun, whimsical details of you into your paper.
You Can Pick More Than Two.
Suppose you're attracted to multiple colours and hues, no need to pick just one or two. Be open to a range of colours. Pick a palette of two or three focal colours and three or four supporting colours and tones. 
If you do this, keep in mind the types of materials, textures, and metallics you may want to consider as a part of your palette. In turn, you'll have a multi-dimensional and textured design.
Think About the Dress Code
Do you have a specific dress code in mind for your wedding? The vibe you want to feel throughout the day can be affected by how well it plays into the wedding theme.
Asking guests to dress for a formal or black-tie event will create a particular upscale and classy atmosphere. Consider how different themes will play into that dress code. Your photos may end up looking a bit funny if you plan a DIY, rustic wedding with a black-tie dress code.
Similarly, suppose you are planning a glamorous princess or old Hollywood themed wedding. In that case, a casual or semi-formal dress code might make guests feel underdressed compared to the event's aesthetic.
When deciding on a dress code, think about how you are as a couple. Are you laid-back, or are you always on-trend, dressed to the nines? Look at your style collectively and use that to choose a theme that is best suited to both of your personalities.
Common Wedding Themes to Inspire Your Big Day
Every year there's a new 'it" trend for weddings. You don't have to go with a theme just because it's in style and there are articles written about it, but it can be an excellent way to find ideas for your wedding.
If you're having a hard time coming up with the idea that makes you feel good, take a look at some common themes. See if they strike a chord in you and reflect how you would like to see your wedding day.
In the end, follow what you feel and what you like. Maybe your unique style will even inspire the next big thing in weddings.
Romantic
Soft hues, delicate lighting, and plenty of florals typically make up a romantic wedding. For this theme, envision pastels, hanging lights (even chandeliers), calligraphy, and a flower wall.
Alternative
More of an offbeat couple who's never been one to take the usual route? We get you. 
Buck tradition with an alternative wedding theme, and roll with it however you see fit. 
If cool, moody colour palettes and creative stand-ins match your style better than bright floral and been-there-done-that wedding décor, then an alternative theme has your name written all over it. Push the boundaries as much as you want.
Vintage
Draw inspiration from decades past if you want a vintage style for your wedding. One of the easiest ways to channel this is through your wedding outfit and beauty look. 
As for the ceremony and reception, you can rely on antique-looking décor, like weathered doors and worn-in wood seats, to further exemplify a vintage-inspired wedding. 
For your last hoorah, finish off the vintage theme by driving away in a classic getaway car, like an old Porsche or Volkswagen.
Whimsical
For the whimsical couple, your wedding will be one full of bright splashes of colour and quirky, bohemian components. 
Incorporate design elements like multicoloured balloons, streamers, punchy floral arrangements, and mismatched chairs.
Modern
For a modern wedding, think clean lines, geometric shapes, and minimal design. A current theme knows few bounds, so channel it however you see fit. 
Put a modern spin on anything, from your wedding dress (take a break from white) to your venue decorations, like sleek seats, an excellent structural backdrop, or a bold colour scheme.
Rustic
String lights, mason jars, twine, lace, and all-wood contribute to this theme's simple and homey vibe. 
If you're a huge DIY fan, rustic wedding décor will be your cup of tea. Consider a more rustic venue, like a chic and intimate barn, if this is your dream wedding style.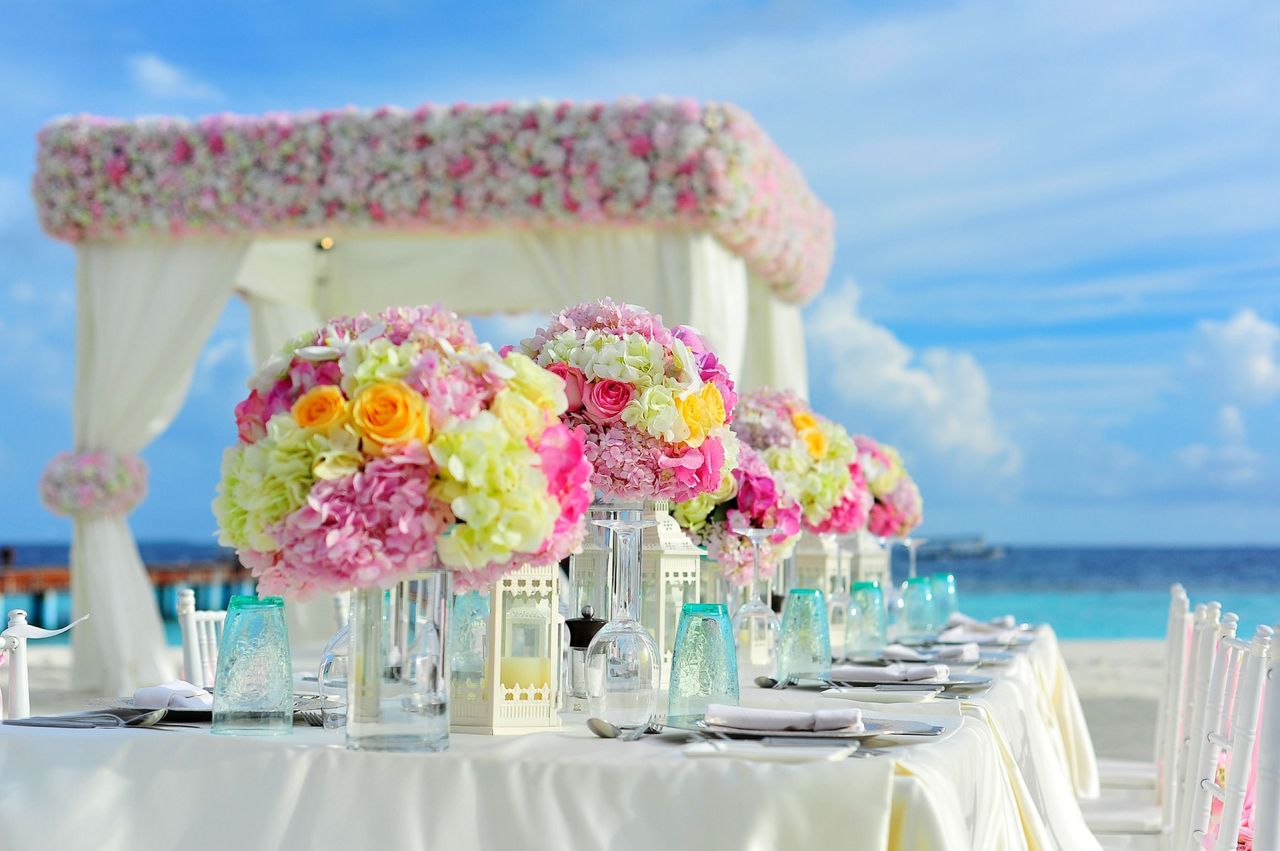 Garden Party/Casual
If you envision a more intimate, casual ceremony, opt for an outdoor garden party-themed wedding. 
This laid-back style is perfect if you have a backyard wedding on the brain and a spring or summer date.
Bohemian
Calling all boho brides—if this matches your style, then say "I do" to the corresponding wedding theme. 
Just like how your wedding dress will most likely look, a bohemian wedding remains relaxed and carefree but still beautiful. 
Keep your venue decorations simplistically elegant, oriental rugs lining the aisle and altar and decorative pillows or hanging macramé decorations. 
Take a note from actress Troian Bellisario's wedding, which is the stuff of boho dreams.
Southern-Inspired
Can't resist the charm of the South? Whether you're a born-and-raised Southerner or want to tie the knot at a venue below the Mason-Dixon Line, ensure that your theme aligns with your locale by adding hints of Southern charm. 
Treat guests to bites of comfort food and bourbon-infused cocktails, show off your monogram, or walk down the aisle in your favourite pair of cowboy boots, if you're so inclined. 
Decorate with pops of colour in pastel hues and rich blues to channel more components of the South—and don't forget about hospitality.
Formal/Traditional
Are you considering a black-tie wedding? If you envision you and your guests dressing to the nines, your overall theme will have to match accordingly. 
For weddings this exquisite, you'll want to pull out all the stops and include complete table settings (wine glasses and all) with a full sit-down dinner, posh seating, ornate flower arrangements (even on the cake), and an exquisite head table, to name a few formalities.
Art Deco
This timeless style features Great Gatsby-era lavishness, including complete fonts, ornate gold and sparkles, and plenty of geometric shapes with sharp lines (similar to the modern theme). 
If you're all about tasteful glitz and jazz-age glam with an ode to vintage allure, then this theme's for you.
Nautical
Whether you're tying the knot at your childhood lake house or are planning a destination wedding, a nautical theme perfectly complements a seaside ceremony. 
Make waves with blue and white tones (especially stripes) paired with beach motifs like shells, anchors, ropes, and sailboats to exude a maritime style.
Eco-Friendly/Natural
Just because you want to be mindful of the environment (as we all should be) at your wedding doesn't mean you have to skimp out on the little things. 
You can use biodegradable confetti as an alternative to rice for your grand exit, plants instead of flowers as table décor, and invitations printed on recycled paper. 
If the weather allows, choose an outdoor venue to cut back on energy from lighting.
Celestial
Your love was written in the stars, so translate that mentality into your wedding theme. Even your dress can channel the ultimate celestial vibes. 
The sky's the limit (literally) with this theme, so get creative with a galaxy-inspired constellation guest book, cake, and ceremony backdrop.
Tropical
You don't need a beach locale to pull off a beautiful tropical-inspired wedding—one couple even incorporated a tropical vibe into their New York City weddings. 
You need plenty of plants (like palm fronds and neon florals), laid-back décor, and a signature beachy cocktail.
Preppy
Bright pinks, greens, and navy blues are the name of the preppy game, which can also go hand in hand with nautical or Southern weddings. 
A preppy theme allows you to blend formality with fun through bold patterns, elegant bows, dainty fonts, and cheery flowers. 
Channel your inner Kate Spade or Lilly Pulitzer (pearl earrings and all) if this theme is up to your alley.
Christmas/Holiday
Take your winter wedding to the next level with holiday-infused motifs. 
From Christmas tree décor and ornament escort cards to warm winter cocktails, the Christmas wedding options are endless. 
Hope for a bit of snow the day of, request "All I Want for Christmas Is You" from your DJ, gift candy canes, or Santa hats as favours, and you're all set.
Travel
If you're a jet-setting duo or have friends venturing from near and far for your wedding, incorporate a creative travel theme that guests will also love just as much.