Your wedding flowers can turn into a major portion of your wedding budget. There's a good reason for that.
The type of flowers in your bouquet and in your wedding decorations immediately emphasize and enhance your wedding theme. The beauty of flowers simply adds so much to your wedding day.
When it comes to flora, there is such an abundance of choice, you can usually have exactly what you want. Of course, be aware that the cost of in-season flowers will vary a great deal from out-of-season flowers.
Not only are flowers beautiful and exotic, they are fragrant. A reception venue filled with floral arrangements will be filled with an inviting scent.
With some many options for flower arrangements, your wedding florist can make or break your wedding day. You need a wedding florist who understands want you want and the look you are trying to achieve.
Planning your perfect wedding entails so many things – from creating a guest list, finding a wedding venue, and deciding on a wedding catering, you can easily overlook the importance of your wedding florist until it is too late.
Florists who cater large events can be booked up months in advance. So, it's best to make time in your hectic planning schedule to find that wedding florist that is perfect for you and will brighten up your wedding day. You want the ultimate look to be beautiful, impressive, and reflect the essence of your wedding theme.
Flower arranging is an art form, so you want to create the most beautiful portrait possible.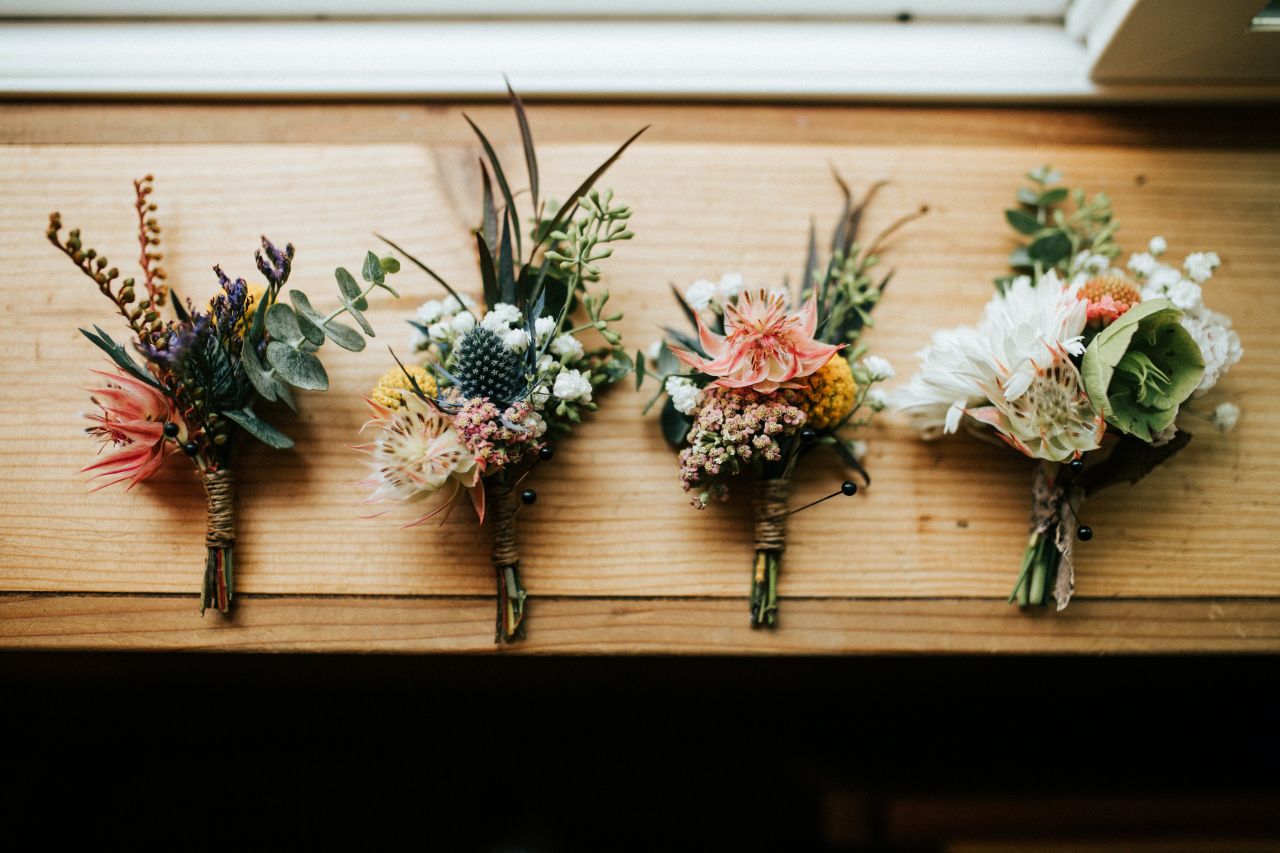 When Should You Find a Florist for Your Wedding?
At least four months before the date. However, six to eight months out is best because it gives you time to shop around, compare prices, and finalize contract details. 
Considerations for Selecting a Florist
As you determine the type of flowers you want and hunt for appropriate florists, consider the following:
Budget
Does the florist meet your budget? Determine how much you are willing to spend on flowers before you get price quotes from florists. This will give you an idea of vendors that are within your price range.
Flower Types
Does the shop have the types of flowers you want? Are there certain types of flowers you absolutely must have for your wedding? Many florists can get any flower that is in season. 
However, some florists have more resources and available flower varieties than others to get you exactly what you want. There are also specialty shops that have more unique varieties of flowers.
Flower Design Ability
How skilled is the florist? Are they experienced? Most florists have designers on staff who can create lovely arrangements but some shops are more skilled at design than others. 
If you admired the floral arrangements at other weddings, ask the couple who did their flowers. 
Before you commit to a florist, visit at least four shops to see live samples in the showroom or their portfolio to get an idea of their design ability. Ask for one or two references, if available, to vouch for their work.
Design Style
Will the florist's design style fit your wedding? Now that you found a skilled florist, does their design style fit your wedding theme? 
For example, if the florist creates stunning modern arrangements but your wedding theme is Victorian, it may not be the best fit.
Tips for Choosing a Wedding Florist
Do some wedding planning before choosing a florist. You should already know the type of wedding and reception you have planned, and their locations should already be booked. 
Any wedding themes should also be figured out. For instance, if you are having a beach wedding, you will want a simple bouquet to go with an informal beach wedding dress.
Do Your Research Before You Begin Your Wedding Florist Interviews
Start with a budget. The cost of your wedding flowers is directly related to what flowers are in season and you should have an amount in mind before you begin your search.
Out of season flowers can double or even triple the cost. 
First, search for some wedding flower ideas using this nifty visual search tool. Your wedding flowers should blend into your overall theme.
Consider what you want your wedding florist to do. Should he or she merely provide the flowers for the wedding, or do you want help with the overall wedding design and look? Your neighborhood florist may not be able to handle elaborate wedding decorations, wedding centerpieces, bouquets, and boutonnieres.
The easiest way to start your research is, of course, online. Here are some great local wedding florists recommended by past brides:
Take a look at the experience, example flowers and decor from past events, client testimonials, pricing and more.
Should you go with a wedding florist who has 20 years of experience or an eager, hungry newbie trying to catch a break? 
They both have their pros and cons, and you may ultimately have to go with your gut feeling.
An experienced wedding florist may have been doing arrangements for decades. They will certainly know what to do, so that's a huge plus. 
On the other hand, he or she may not be open to new ideas and will push the ways things have always been done. 
He or she may also have several other weddings during the same time period, and you could end up just one of many.
A newbie may lack the experience that you need in case of emergencies, which is a serious consideration. 
On the other hand, he or she will be more open to new ideas and will work twice as hard on your floral wedding design. 
A less experienced wedding florist will have a lot more at stake than the experienced counterpart and has every reason to go to great lengths to fulfill your wedding vision.
Your best bet is to check out references carefully. Ask former bridal couples about their experience, especially how the wedding florist handled unexpected circumstances and problems.
Check out your choices on social media. Thanks to modern technology, you can go to Facebook or Instagram and see your wedding florist(s) creations. You may also see comments from other clients that will be helpful to you.
Organize Your Ideas.
Arrangement ideas can be anything from a specific type of flower you want to feature to an entire bouquet concept. 
Look up your wedding theme online to see what flowers other brides use. View photos from friends and family wedding albums. 
Cut out bridal magazine pictures to create a vision board. 
Gather all of your floral content in one place and discover recurring themes such as types of flowers, colors, and arrangement styles. Use those patterns to fine-tune your own vision. 
Try one of these free digital tools to organize your wedding flower ideas and show them to florists: 
Pinterest: Make a Pinterest board called "Wedding Flowers." Add pins from wedding-related profiles such as Wedding Spot, Afloral, and Wedding Flowers, Inc. 

Bridal Bouquet Builder: Create a 3D version of your dream wedding bouquet. Use it as a jumping-off point for your bridesmaid bouquets and centerpieces. Subscribe to the premium version to unlock customizable bouquet recipes from professional wedding florists. 

Canva: Capture the feeling you want your flowers to evoke using an abstract mood board on Canva. Upload images from your computer or online that reflect the color scheme, style, and bouquet shape you want to have. 
Determine How Many Types of Flowers You Need.
Choose if you will incorporate all the traditional types of flower arrangements in your celebration, which include: a bridal bouquet, bridesmaid bouquets or corsages, boutonnieres, centerpieces, cake decor, and venue decor. 
Bridal bouquets are large wedding dress accessories that look nice in photos, give the bride something to do with her hands during the ceremony, and can be thrown during the reception. 
Bridesmaid bouquets and corsages are also attractive additions to wedding pictures and can create a uniform party look, which is especially important if they plan to wear mismatched dresses. 
However, you can pick cheaper props such as candle-lit lanterns, macrame artworks, or ribbon bouquets instead of flowers. 
If you do, substitute boutonniere flowers too with unusual and elegant alternatives such as paper cranes or monogrammed pocket squares. 
Design your wedding table centerpieces, cake decor, and venue decor flowers to match or reflect your bridal bouquet and wedding theme. 
Use your budget to determine which wedding arrangement types you want to have. Start with your bridal bouquet then add wedding party flowers. Include flowers in your centerpieces and cake or venue decor if you have room in your budget afterward. 
Plan to have one bridal bouquet, a bridesmaid bouquet for every bridesmaid, one groom boutonniere, and a boutonniere for every groomsman at a minimum. Calculate how many flower table centerpieces you need by calculating how many tables you will have at your reception using a free 3D wedding design tool like Social Tables.
Design your cake with and without flowers then compare estimates for both designs to see how much money you can save if you do not include them. 
Consider if your venue needs extra decor and then ask if they allow outside florists to work in their space. 
Establish a Budget.
Expect to spend 8-10% of your overall wedding budget on flowers. Compare that number to these average wedding arrangement prices from professional florists: 
Bridal bouquets

Bridesmaid bouquets

Boutonnieres/corsages

Wedding table centerpieces

Cake decor

Venue decor
Expect to spend 8-10% of your overall wedding budget on flowers.
Factor in additional delivery and installation fees (roughly 6-11% of your total florist bill), labor fees (18-20%), rental security deposit fees (around $50-$100), and state and county sales tax (9-16%) if applicable. 
Calculate how much money you will have leftover after you subtract your desired number of arrangements plus additional fees and taxes from your budget. Use that number to streamline your search. 
Create and Vet a List of Potential Companies.
Start with personal referrals from friends, family members, and colleagues. Do a cursory internet search on Google, Yelp, and Find a Florist to discover highly-rated wedding florists near you. 
Write a post on social media that asks your extended network who they recommend. Read popular wedding blogs to discover new and award-winning wedding florists in the immediate area. 
Cross-reference your list of possible florists with the following accredited business and industry-specific sites:
Better Business Bureau: Search the florist's first and last name plus their company's name. Read reviews (if any) from real customers. 

Local, regional, and national florist associations: Explore the directories of associations nearby to see if anyone on the list is a member. 

Their company website: Browse wedding flower examples, client testimonials, and awards or accolades. 
Once you narrow it down, look for examples of their work that are similar to your own vision. Pay special attention to any wedding themes they specialize in. 
Also, see if you can spot similarities between all of their flower designs. These shared characteristics make up their signature style and will likely appear in your flower arrangements should you choose to hire them. 
Consider their level of experience and how many years they have been in the industry. 
Professional wedding florists with roughly 5-7 years of experience will likely charge average rates while more or less experienced florist prices will vary accordingly. 
Find out whether they work alone or with a team. Freelance florists have more opportunity to make special accommodations, provide hands-on service, and negotiate package deals. 
Professional florist teams share a wealth of knowledge, experience, and creativity between them. They also have more capacity to handle last-minute changes.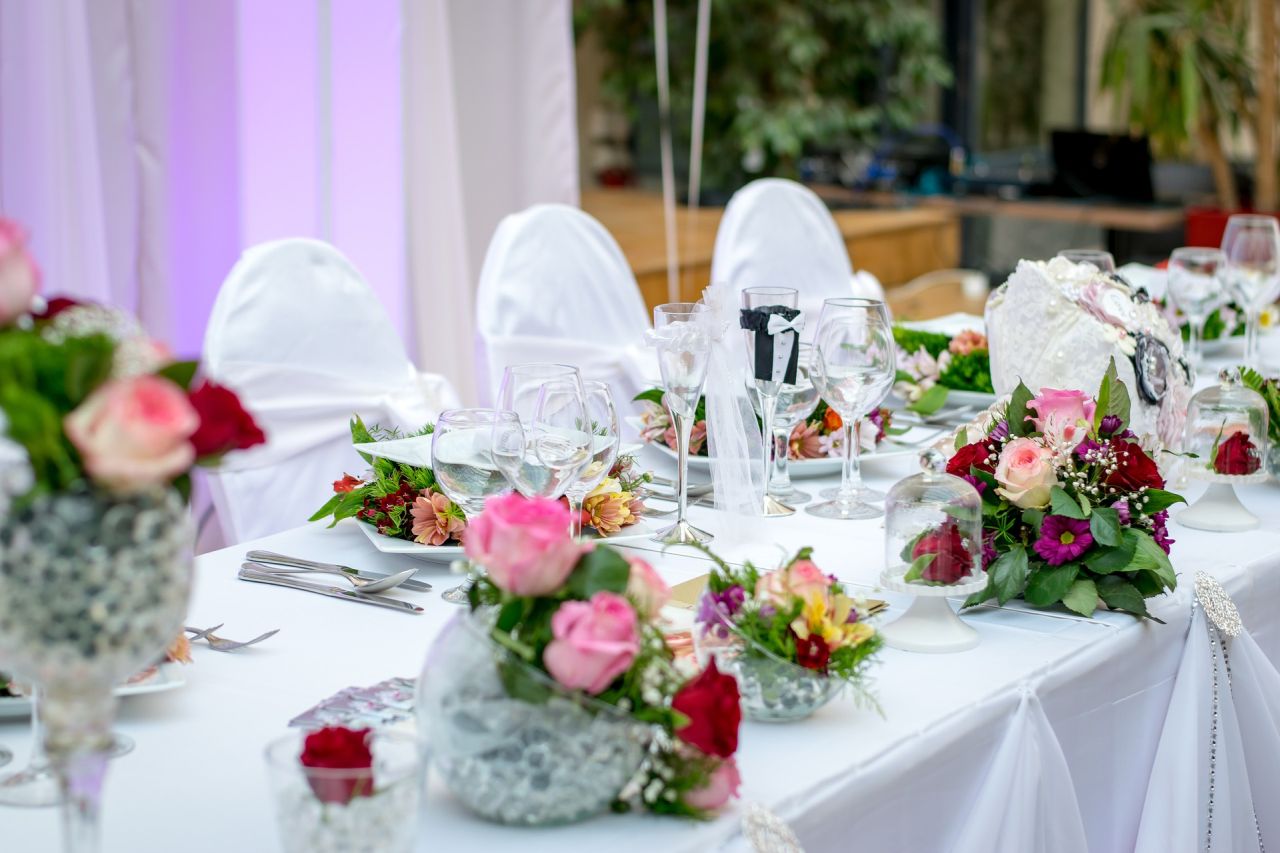 Meeting With Potential Wedding Florists
Once you have narrowed down your choices, book your wedding florist interviews about nine months before the wedding. 
You should meet with at least four wedding florists to get an overview of what is available to you on your budget.
Bring your ideas, photos of floral wedding designs that have inspired you, pictures of your wedding dress, along with fabric swatches, if possible. 
Discuss your vision for your dream wedding. The more your wedding florist knows about you, the more ideas he or she will have.
Review your wedding florist's portfolio. You want to be inspired by what he or she can do for your special day.
By the end of your first meeting, you and your wedding florists should have a firm idea of the style that you want. 
The style and colors should be incorporated in your centerpieces, decorations, and bouquets.
Classic floral designs tend to be round and feature white roses.

Romantic floral designs are less structured than classic designs, with lots of pink and neutral flowers.

A natural floral design will have more greenery.

For a bolder, out-of-the-box design, choose dramatic colors with a nuance of neutral shades.

For a modern look, consider bolder colors and a cascading design for your wedding bouquet.
Discuss Price
Price will be an important part of your hiring decision. If cost is an issue, discuss in-season wedding floral arrangements, which will be much cheaper. 
Ask about adding less expensive blooms, such as carnations or tulips, to your bouquet or wedding décor.
Get a breakdown of all of the costs. Ribbons, wires, and vases may add considerably to the quoted price.
Ask about the labor involved in transporting the flowers, setting up the wedding decorations, breaking everything down, etc. Exactly what services can you expect from your wedding florist?
Make sure you know who owns the accessories and vases. Will the wedding florist be retrieving everything following the reception, or are they yours to keep?
A tremendous discrepancy in price can be reason for an immediate elimination if all else is equal.
Narrow Down the List
Finding the right wedding florist can turn your wedding day into a beautiful extravaganza
Schedule a follow-up interview with your top three choices, where experience, talent, and price are in alignment. 
They should come prepared with a proposal that embraces your vision and budget. Discuss any changes you may want, such as decreasing the centerpieces in favor of the overall floral decorations.
No final price is written in stone. Before making a final decision, ask what can be done to save money. 
Adding greenery to your flowers or getting smaller centerpieces can affect the final number. 
Also ask if the bridal bouquet can be used to decorate your table, while the bridesmaids' bouquets may be used for other decorative purposes. Small touches can save you big money.
If you are undecided between two wedding florists, here is a hint: There are always ways around the cost; but the final piece of art created by your wedding florist will make your wedding day and live forever in wedding pictures and videos.
If it comes down to price versus style, go with the style that most appeals to you. 
You can always find a few extra hundred dollars in your budget. But nothing will recreate that perfect piece of wedding floral art.
Your chosen wedding florist will provide you with a contract. 
Make sure it includes substitution for any flowers that aren't available and an itemization of all of the costs involved.
Finding the right wedding florist can turn your wedding day into a beautiful extravaganza.
Finalize Your Decision.
Share your wedding flower vision board, budget, and timeline before your first meeting. 
Include pictures of your dress, wedding theme inspiration, and any relevant cake or venue details too. 
Ask to review a copy of their standard contract. Inquire about their flexibility on terms or policies that are most relevant to your wedding. Determine if this is a dealbreaker for you. 
Get a detailed quote that includes a breakdown of how many flower stems they expect to use along with what kind of containers. Weed out florists who are 1. Out of your budget or 2. Unwilling to negotiate a smaller quantity of stems or cheaper vases. 
Compose a list of questions about their services. See if they provide the answers in the FAQ section of their website before you ask them to save you both some time. 
Compare Area Florists
Like all other aspects of your wedding, you'll want a comparison shop to get the best value for your flower money. 
Visit with different wedding florists and describe what you'd like for your wedding. He'll probably have several sample books for you to look through to choose the flowers and centerpieces that complement your wedding and reception.
In your quest for the perfect flowers for your wedding, don't discount the neighborhood florist. 
He might not advertise as a wedding florist, but he probably knows what he's doing. Even better, he probably charges less than many popular upscale shops that specialize in weddings. The service is sure to be more personalized and he'll have more time to sit with you and find flowers to suit your needs.
The Right Florist for You
Once you've visited several shops, browsed their books and received their quotes, it's time for you to begin choosing a wedding florist. 
Do you want to go with the wedding florist who charges the lowest fee or the florist with the prettiest floral arrangements? Do you want personalized service, or a limited package provided by the wedding super center or catering hall? 
Don't forget to ask about flower preservation to have a memento of your special day. Whatever you do, don't settle for the cheapest price if the package doesn't feel right to you. It is, after all, the most