Everything You Need To Know About Hiring A Wedding Caterer
As soon as you've got your wedding venue booked, it's a good idea to lock down your caterer as well. Some sites provide catering in-house, in which case you'll work directly with the venue coordinator and caterer to select your menu and organize tastings. However, if you're in charge of finding a caterer on your own, there are a few things you need to know that will help you make sure that your wedding guests are all well-fed.

Rich in history and natural beauty, the John H. Pierce House was the ideal place for Maggie and Kevin's 150 guests to gather in celebration of their love. Because this wedding venue offers equally beautiful indoor and outdoor spaces, it is perfect for spring weddings in Cambridge. On May 26, this late Victorian home and the surrounding 30 acres of rolling lawns and woodlands were filled with joy. Cosmopolitan events is your ultimate Wedding Reception Venue to create your dream wedding.

Take a look at the fun custom menu and personalized events that created a unique wedding experience.

The food doesn't stop at dinner when it comes to modern-day nuptials. It's becoming more and more of a trend to serve a late-night snack at wedding receptions, and there is a lot to love with the innovative things couples are trying. After busting a move on the dance floor all night, guests might begin to get hungry. This doesn't mean you should plan a second meal but rather a smaller snack to tide guests over and keep energy levels up. Having lunch up your sleeve to surprise guests is never a bad idea and is sure to be memorable.

Sometimes couples come to us looking not just for catering but for help finding the perfect venue, too. And, more and more often they're looking for something other than a traditional ballroom. They want a space the reflects their style, and they want to give their guests an unforgettable experience. Warehouses, Art Spaces, Wineries, Distilleries and Farms are top choices for couples looking for a venue that reflects their style and allows them to create a unique and unforgettable experience for their family and friends.
Catering Budget
Like with everything else in your wedding, you need to establish a budget for your catering. Typically, couples tend to offer snacks and hors d' oeuvres as well as a full meal during the reception. Depending on your estimated or final guest count, you should have an idea of how much you can budget for catering. There is no set rule for how much of your total budget you need to spend on catering, so the amount you allocate will largely depend on your personal preference. If you're a total gourmet foodie, expect to spend more on catering and allocate less to something like flowers or décor. If you're skipping the three-course meal and serving hor's d' oeuvres and drinks only, be sure to specify on your invitations. Remember that catering usually doesn't include your wedding cake or dessert table, so keep that separate!
Tips to Consider When Planning Late-Night Wedding Food
Here are a few tips to remember when it comes to serving up snacks during the party.
It will be late into the night after a presumably long day of celebrating. Don't give guests a laundry list of options, but instead offer one or two options that please across the board. Fewer choices mean fewer decisions, something your guests will thank you for later.
People are going to be dressed to the nines, and nobody will want to spill on their cute clothes. Keep the snacks in containers or small glasses to prevent any possible mess.
Montgomery County's newest top spot for Farm Weddings and Special Events is Aix La Chapelle Farm in Poolesville. Aix La Chapelle is a 200-year-old farm situated on 160 acres just an hour from downtown DC. Are you looking for an outdoor space? The beautiful lake, or scenic Peach Grove and Apple Orchards provide the perfect backdrop for a magical ceremony or cocktail reception. A barn wedding more your style? Aix La Chapelle has a beautiful barn with a 30-foot vaulted ceiling complete with a raised stage, built-in bar, lounge furniture, and farm tables and chairs available with the rental. The old fashioned Bakery is the perfect place to stage a fabulous dessert display or late snacks.
Wedding Themes and Menus
What is the overall theme and feel you're going for? Rustic charm? Vintage glam? Boho chic? Classic romance? You've probably already decided on a few bits and pieces of how you want your wedding to look and feel, and your menu for the night has to match to achieve the right tone. For example, mini sliders and French fries don't exactly fit the traditional classic ballroom wedding. There are a few different options for menu types: plated multi-course, buffet style and family-style are all excellent choices. Late-night snacks and food trucks are trendy this year and give a more casual feel. When choosing your menu style and selections, think about whether or not they'll fit in with the theme you're aiming for.
Delightful Spring Cocktail Hour
After the ceremony, we guest to the house for the cocktail hour. Although indoors, spring's beauty showed up here too. Maggie and Kevin's signature sangria cocktail garnished with apple and orange wedges was fresh and flavorful. And these fun stationary hor's d' oeuvres also communicated that it was time to celebrate with all the incredible energy that characterizes spring events:
Chicken quesadilla: avocado + crema mousse
Roasted vegetable quesadilla: chipotle aioli
Pulled BBQ pork quesadilla: queso, chipotle cream
Tortilla chips: with black bean dip, guacamole, pico de gallo
Keep It Personalized
This is your wedding, and why shouldn't every aspect be about you? Find something that represents your love or reminds you of a fun time in your relationship. Do you and your counterpart have a favourite late-night snack or go-to cuisine? Share this with guests!
We loved being a part of this carnival-inspired styled photoshoot. Jack Hartzman expertly captured the beauty and magic of the space, Select Event Group designed the swoon-worthy tablescapes, Stephanie's Secret Garden provided the boho-chic bouquets, centrepieces and wedding arch and the beautiful cake was created by Jess Sweets.
And, of course, the talented team at Catering by Seasons led by Executive Chef, Kyle Vermuellen, provided the farm to table inspired menu.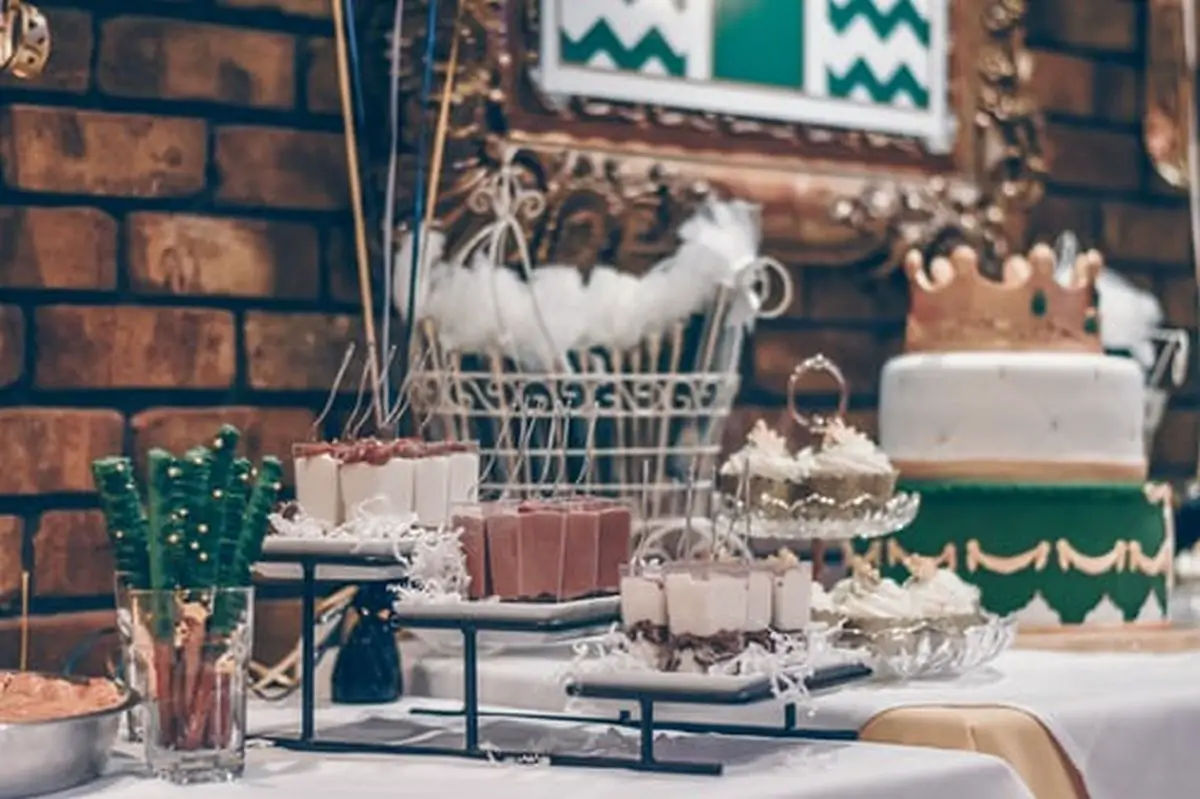 Choosing the Right Wedding Caterer
Every single one of your wedding vendors should be a good fit for your wedding, your budget and your personality. The same goes for your wedding caterer. Not only do you want to ensure that they fit those base criteria, but you want to make sure that they are qualified and professional as well. Check to see that all the food and ingredients they use are fresh and not cooked from frozen. Ask when and where they'll prepare your food for your wedding – will they do it the morning of, at the venue or the day beforehand? You want your caterer to produce the freshest and best food for you possible. Finally, another thing to consider is the presentation of the food. Even if you aren't going for the most gourmet exceptional dining experience, you still want the food to be presentable and look good. Looking for Wedding Caterers in Melbourne? Look no further, Cosmopolitan events has you covered.
Southwestern-Style Reception
Based on the appetizers set out during the cocktail hour, it wasn't hard to guess that Mexican food would work its way into the evening schedule. With wooden chairs and colourful flower centrepieces upon ivory linens, the elegant outdoorsy vibe continued to cultivate a refreshing atmosphere—the perfect way to help guests stay bright-eyed through all the speeches.
At 6:30 pm, when the cocktail hour wrapped up, we asked guests to please take a seat. The first dance and speeches by Maggie and Kevin's parents began while guests enjoyed a pre-set arugula salad with roasted beets and grilled corn with lime vinaigrette. Delighted by those and eager to see what awaited them next, guests were free to head to the food stations.
Donuts. A much-appreciated treat for guests with a sweet tooth. The beauty of doughnuts is they are versatile. Serve an assortment or choose your favourite, either is sure to please.

Alcohol, Beer and Wine
Wedding alcohol deserves its discussion, but many caterers offer to serve your booze with a corkage fee. If you've already checked with your venue to see if you're allowed to bring your alcohol, check with your caterer to see if they have a corkage fee and how much it is. If you aren't interested in providing your alcohol, ask your caterer if they can run a bar and provide bar staff. Remember to check with your venue regarding alcohol licenses -some only allow beer and wine, while others will let liquor as well.
South of the Border Food Station
It was easy to piece together a mouthwatering Mexican meal at this wedding. Our chefs pulled out the highest-quality ingredients and their creative flair when crafting these exceptional dishes:
Morelia vegetable enchiladas
Enchiladas Verde de Pollo
Grilled Mexican street corn: queso cotija
New Mexican rice: charred tomatillo, garlic, onion, cilantro, lime, jalapeños, EVOO
Black beans with lime and spices: Mexican stewed black beans
Wedding Caterers Take Care of All the Details
You've been thinking of and planning your wedding day for what seems like forever. As it should – there are so many sweet little details to consider. Don't let those little details keep you from your wedding's real purpose – spending the day revelling in love. Finding the right caterer can not only make your vision a reality, but they'll ensure all those little details will be handled, like feeding your guests those late-night noshes. The caterer is the recipe to food success on your big day. It's possible to serve a delicious meal and subsequent snack without completely breaking the bank, so finding a catering option that aligns with your ideas and budget is crucial. These inexpensive wedding reception food ideas are a great place to start. Open communication with your caterer about your plans will alleviate any stress on your big day.
Equipment and Staff
In addition to the food itself, caterers also usually provide equipment and staff. The material might include tables, chairs, plates, linens, silverware, glasses and cooking appliances. If they do give any of their equipment, ask to see samples to verify the quality. If they require space in the venue to cook or reheat food, coordinate with the site to ensure everything will be taken care of. Whether you choose to have a plated dinner or a buffet-style meal, the catering company will still have to provide staff members. Ask to see photos of their staff that might be working your wedding so that you can ensure they look professional and neat. When you have a final headcount, confirm with the company that they will have sufficient staff to accommodate all of your guests. A good rule of thumb is to have one staff person per table for a sit-down meal.
Make Your Own Taco and Tostada Food Station
Guests who already had their mouths set for their favourite Mexican meal precisely the way they like it were free to create their perfect tacos and tostadas. Using premium ingredients cooked to perfection or diced up with meticulous attention to detail, guests compiled some of the best meals they can take partial credit for making:
Grilled mojo: marinated steak
Tacos al pastor: marinated pork
Spiced seasonal vegetables
Corn and flour tortillas
Condiments: sour cream, guacamole, lettuce, shredded cheese, diced tomatoes, sliced jalapeños, fresh lime wedges
Milk + Cookies. For the kids at heart. A quick, sugary snack can spike energy levels and get people dancing in no time. Plus, who doesn't love a functional chocolate chip cookie? It's nostalgia at its finest.
Contracts and Invoices
Before you sign a binding agreement with a caterer, you want to be sure that this is a vendor you feel comfortable working with. Is your point of contact responsive via email and phone? Is the company operating more than just your event that weekend? How flexible will they be in terms of changes and fees? Once you have decided that this is the caterer you want to work with, read through the contract and invoices very carefully. Make sure that anything that was discussed verbally is reflected in the written agreement. Ask your caterer to provide an itemized invoice so that you can see exactly what you are being charged for. Finally, be sure to clarify what the payment schedule is and whether or not there are any post-event charges, such as gratuities or takedown charges. This way you won't be surprised by any additional fees after the fact.
Memorable Moments Until Happily Ever After
Satisfied by all the delicious Mexican dishes, guests were ready to once again turn their attention to moving speeches. Kevin's sister and Maggie's brother both spoke before the father-daughter and mother-son dances. With those complete, it was time to turn up the music and get guests out on the dance floor. Between trips to the coffee station and an ice cream sundae bar that featured a wide variety of fun toppings, guests enjoyed plenty of good conversations and dancing until they departed at 11 pm.
If you too would like to give your guests memories of a lifetime, our creative team wants to hear about your dream wedding. To get started designing your personalized menu marked by innovative cuisine, contact us online or give us . Check out our list of ultimate Wedding Caterers in Melbourne here.
Mini sliders. Who doesn't like an excellent late-night burger? Bite-sized burgers will fill up hungry guests and are easy to consume.
Choosing the right caterer for your wedding can set the entire tone for the whole of the day. The reception generally revolves around the meal you serve, so you want to make sure that the food you select accurately creates the setting you want. Be clear with your caterer about your needs and ask them to be as transparent as possible with contracts and invoices so that you can have a positive relationship. Finally, enjoy tastings and your wedding meal!