Your second wedding is a new experience, and it can be nerve-wracking to plan. You probably don't want to make the same mistakes you made with your first one! This post will help you navigate through all of the potential issues that come up when planning a second wedding.
It's not too late to plan your second wedding. Whether you're remarrying after a divorce or want to celebrate another milestone with your current partner, there are many ways to make the experience feel fresh and new.
Almost 50% of marriages today involve someone who has been married before, so it's no wonder that attitudes toward remarriages have changed greatly over time.
What once was considered no cause for celebration, in the light of a past "failure," has become, appropriately so, cause for celebration of what everyone hopes will be the start of a long, happy and lasting relationship.
Second wedding ideas do not have to vary significantly from the planning for a first wedding, but there are some important considerations that a couple must make when planning their dream day. By understanding what a second wedding truly is and how to make it special, couples can celebrate their union in creative and memorable ways.
One of the most important things is etiquette- what do I need to know about a second wedding? This blog post will help guide you through some common questions when planning your event.
Second weddings can be a lot of fun, but they also come with a few etiquette rules you might not know. Don't worry – we're here to help! Read on for tips that will make your second wedding the best one yet.
About Second Weddings
A second wedding is defined as one where either the bride or groom has been previously married. The first marriage may have ended in divorce, annulment, or death, and it can be difficult to get away from the idea that a "second" wedding is somehow less important than the first.
Before planning a wedding, the couple needs to realize that while they may have had the party and events before with other people, this is still the first wedding for the two of them. That makes this day just as grand and special, worthy of a celebration.
As divorce becomes less stigmatized in society, so have second weddings. Gone are the days when an encore bride should feel obligated to have a quick ceremony at city hall if that's not what the couple wants.
Nowadays, the general public accepts that it's perhaps better to start fresh than languish in an unhappy or even abusive marriage, as well as acknowledge that we should celebrate when a widow or widower finds love again after suffering through such a tragic loss. However, old-fashioned standards also fail to consider that it may still be the first wedding for one half of the couple.
Years ago, it was appropriate to celebrate a second wedding (or, in better words, an encore wedding) in a quiet civil ceremony that a small luncheon might have followed. The keyword for second marriages was "quiet."
Today, it is very much the norm for couples who have been married before to plan weddings just as elaborate as first wedding celebrations might be. This is because the remarrying bride wants to have the same special experience as a first-time bride.
This is not to say that there are not some rules of etiquette and, usually, several dilemmas specific to second weddings. However, this is where guidelines may be helpful.
Most second-time bridal couples take the position that it's not their second or third wedding but rather the first for them as a couple. For most, they will be older, hopefully, wiser and paying for the wedding themselves.
Holding the purse strings means that the decisions will be theirs alone. They will undoubtedly consider the feelings and wishes of their respective parents, but when all is said and done, they will be the ones who make the final decisions.
Second-timers are more mature than they were at their first weddings, and they tend to be more comfortable knowing what they like. For that reason, most second weddings tend to be more sophisticated.
That sophistication can manifest itself in the style of wedding that encores brides and grooms choice and appears in everything from the type of foods they select for their menus to the kind of music they have played.
For most encores, the couples pay more attention to what the event means to them and their families and less attention to accoutrements. Usually smaller affairs, most second-timers only invite close friends and family.
The guest list and who is invited to a second wedding also changes. WherewithWherewith the first wedding, the list appropriately included many of their parents' friends and clients; the encore wedding list will consist of more of the couple's friends and clients. It's okay to invite ex-in-laws if the bride and groom are comfortable with that decision.
In keeping with sensitivity to children's feelings and one's partner, an ex-spouse is rarely invited. However, if the couple is amenable to asking the ex, it's important to do so in a way that gives him/her "a way out" without feeling or looking bad.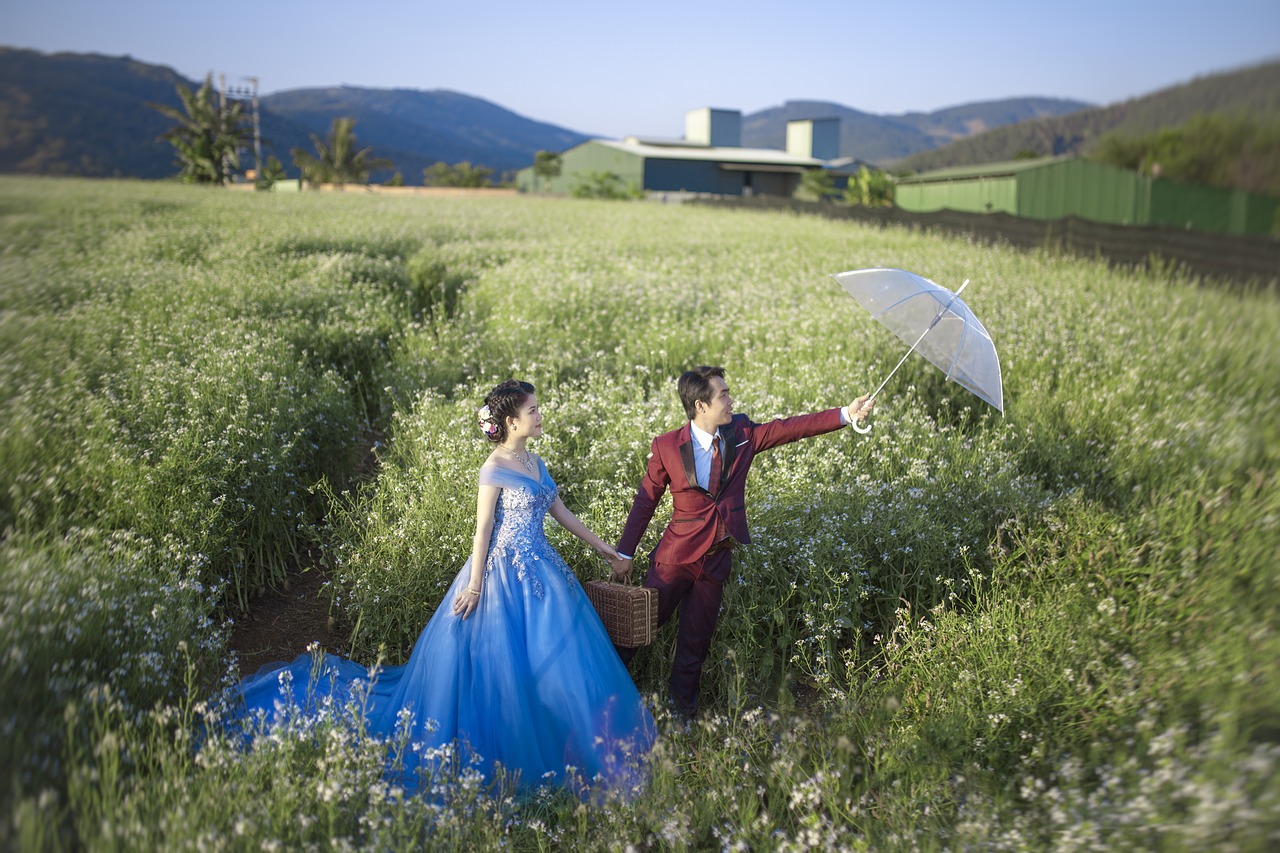 Hopefully, announcing your engagement and impending marriage to the people who love and care about you will evoke the appropriate positive response. There will, however, be some people for whom the announcement will be less than pleasant or even unpleasant, so sensitivity is the key. You will, of course, need to tell your ex-husband.
Do this as a matter of fact away as possible, without sharing details. If you have children from your first marriage, be prepared for mixed reviews when you make your announcement. Leave time for questions. Leave time for them to be able to vent their concerns.
Try to explain the logistics involved and how things will change for them. If you can put their mind at ease, the transition and the wedding itself will be more pleasant for all of you.
If your upcoming wedding is the second for either you or your future spouse, you may be wondering if you need to abide by different rules. Read on for our guide to encore nuptials.
Considering the First Wedding
When creating a second wedding plan, couples need to consider their relationship carefully and prior marriages to starting a meaningful, joyous day to celebrate together.
The couple needs to take care not to compare this wedding to the prior one negatively. It may not be the second wedding for both the bride and groom, or if it is, now is the opportunity to create a special and loving celebration for this new relationship.
Discussing what they did and did not like about prior weddings can help them define what they'd like for this wedding while making it unique and beautiful.
Second Wedding Etiquette
1. The Engagement
If either you or your beloved have children from a previous relationship, they should be the first to learn of your engagement, as it greatly affects their life. You then can share the happy news with your parents, followed by friends and other relatives.
If you share custody with an ex, they should be informed of your impending nuptials for the sake of the children. Otherwise, there's no need unless you happen to be on particularly good terms.
2. Bridal Shower/Registry
Part of the joy of celebrating a forthcoming marriage is the pre-wedding parties.
Etiquette prescribes that there is no need for an engagement party, wedding announcement, or shower. Still, bridal couples today believe that there is no reason to forego an engagement party or bridal shower for a second marriage.
If most of the guests at your engagement party attended the engagement party for your first wedding, it's appropriate, but not a hard and fast rule, to indicate "no gifts please," on your invitation. Alternatives to "no gifts please" are a suggested donation to a charity or promissory coupons such as "one night of babysitting or dog watching."
Of course, you're not the one who is deciding to host a bridal shower, but if your sister or close friends really want to host one, it is perfectly acceptable!
Should a member of your family or a close friend offer to throw you a bridal shower, as a second-time bride may gracefully and gratefully decline? If the bride is okay with being given a shower, the shower announcement should be kept as informal as possible.
Often, to stay within the boundaries of good taste, the shower is a non-traditional one. Instead of china, linens and housewares that the bride, in all likelihood, already has, a gourmet food, wine, library (books), or garden shower is a thoughtful alternative.
These variations on the theme will provide a bride with items she can enjoy and doesn't already own. The only unacceptable thing is to ask for gifts of cash.
However, you might want to have a more themed party in terms of gifts, as you presumably already have the kitchenware and home goods that you need. For example, consider having your friends and family shower you with cookbooks, gardening equipment, or another specific interest.
In the past, most guests for a second wedding followed the rules of etiquette that prescribed that gifts were not required for a second wedding. Today, gifts are now much more common. Most guests feel that a gift is appropriate when you attend any celebration, so they make no exception in the case of a remarriage.
3. Bridal Attire
There may be people who tell you not to wear white, but that is nonsense. That said, differently hued gowns are certainly trending, so no one will be shocked by a colourful dress.
If you want something more non-traditional, this is an opportunity to embrace your own personal style. But if you still want to wear a classic ball gown ­– whether you did the first time around or not ­– don't let anyone sway you from wearing what you want. You can even still wear a veil, although a blusher is the one thing typically considered for first-time brides only.
A second wedding is an opportunity for the bride to purchase or borrow something lovely to wear. A tailored suit, an evening dress, or a wedding gown are all appropriate attire.
Many wedding consultants and etiquette experts advise the second-time bride against wearing pure white unless her first marriage was short or she eloped. Today, however, some consultants are comfortable with the guidelines that say that any bride may wear a long, white gown, no matter how many times she has walked down the aisle and her age.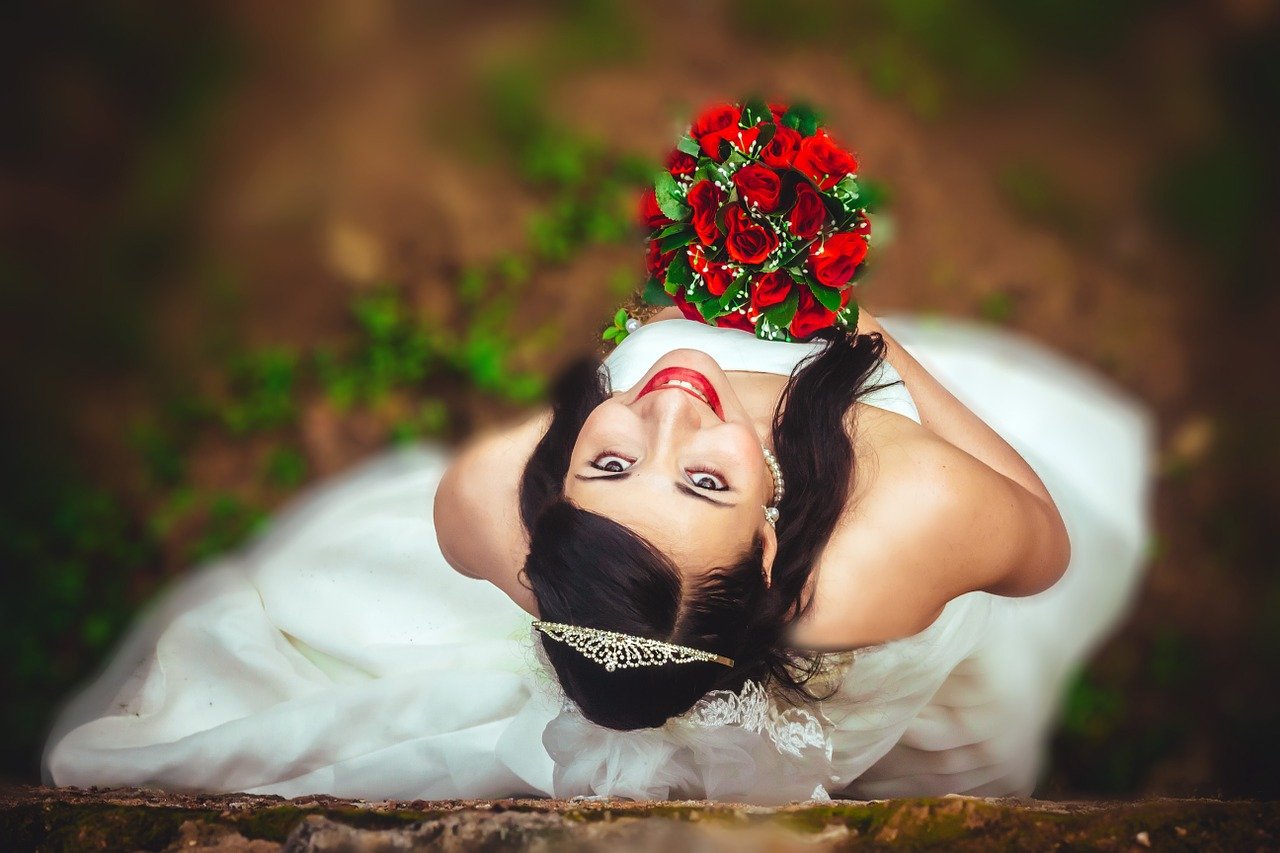 Brides who choose white for their second marriages tend to make their choice a less formal, less traditional gown. Most second-time brides are uncomfortable about wearing pure white. If that's how you feel, a shade of off-white or almost any flattering colour is fine.
Many brides opt to choose a dress which they can wear again after the wedding. Thus, a suit or cocktail dress is most appropriate. Still, pretty much all the borders can be stretched, except . . . etiquette consultants advise that orange blossoms, a symbol of virginity, should not be included in the bride's bouquet.
As for wearing a veil and a train, almost all etiquette-setters agree those should only be worn at a bride's first marriage because the train and veil symbolize youth and innocence. They suggest that the second-time bride, in place of a poofy or blusher veil, choose a wreath of flowers or a beautiful bridal hat.
Etiquette expert Peggy Post says it is acceptable for remarrying brides to wear a veil that cascades down the back if it matches the formality of the wedding. Likewise, you may wear a train, but it should be kept simple and "match" the formality and style of the wedding.
4. Ceremony and Traditions
Unless your father is uncomfortable with the idea, there is nothing wrong with him walking you down the aisle again. Some women decide to exert their independence and join their new spouse on their own, while others may have their children act as escorts.
In remarriages where a bride or groom has kids, it is often a nice gesture to include the children in the proceedings, whether through family vows, a parent-child dance at the reception, or a unique idea of your own.
Because most second-time brides have already been "given away" at their first weddings, it would be peculiar to be given away again, especially since it would be the divorced spouse who would be giving her away. Therefore, in most second weddings, there is no processional.
The bride enters from the side. There is also no need for bridesmaids, albeit one or two close friends may "stand up" for the bride and groom.
For a second wedding, couples often opt to skip some of the usual planning woes and get right to the point: become husband and wife.
Luckily, the pressure is off because there isn't a "traditional take" on how a second wedding should go — it's really up to the couple's style. In many remarriages, couples may often skip certain customary elements, like having a bridal party or an escort down the aisle, favouring something that feels a bit more appropriate and personal.
5. Announcement
If recently widowed or divorced, etiquette suggests that the announcement be made after, not before the wedding.
Formal, printed invitations may be sent when there are more than fifty guests. With less than fifty, a phone call is more appropriate. Especially if your wedding will lean toward the informal, you can invite people verbally. If you wish to mail invitations, the rules for first marriages hold.
The more formal their wedding, the more formal the invitation. It's especially appropriate with a remarriage for the invitation to make clear who is hosting the event.
6. The Invites
Wording your invites may be a little tricky the second or third time around. Since your parents may have paid for your first wedding but likely not your second, they might not be listed as the "hosts" of your remarriage.
You can still include your parents on the invitation, but underneath you and your fiance's names, such as, "Jane Doe and John Smith together with their parents request your attendance… etc."
As for an invitation to an ex-spouse, the guidelines of etiquette say "no." Many divorced men and women maintain a "relationship with their ex's and, in such cases, the "rule" is theirs to "break."
7. Your Dress
Of course, the dress. Arguably one of the most important parts of the wedding, right next to the ring and the husband. What you wear during your remarriage is totally up to your style.
If you choose to treat yourself to a beautiful gown, you shouldn't shy away from revered local salons like Nitsa's–after all, it's still your big day! You can go long, tea-length, short, suit, lacey, sleek. In addition, you can pick any shade of cream or white you like or any colour you prefer (although most brides go with muted tones).
Your dress can be a gown intended for a wedding or any dress that is beautiful and flattering. You can even go outside the box and hop into a bridal jumpsuit, romper or a two-piece trouser-and-top combo.
These untraditional takes on wedding day fashion are quickly catching the attention of many brides-to-be… So why not be part of the movement? Show them who really wears the pants.
8. Wedding Vows & Papers
With regards to the wedding ceremony, the second is much like the first. You will need to consider any legal or religious logistics such as a prenuptial agreement, an annulment or a special dispensation.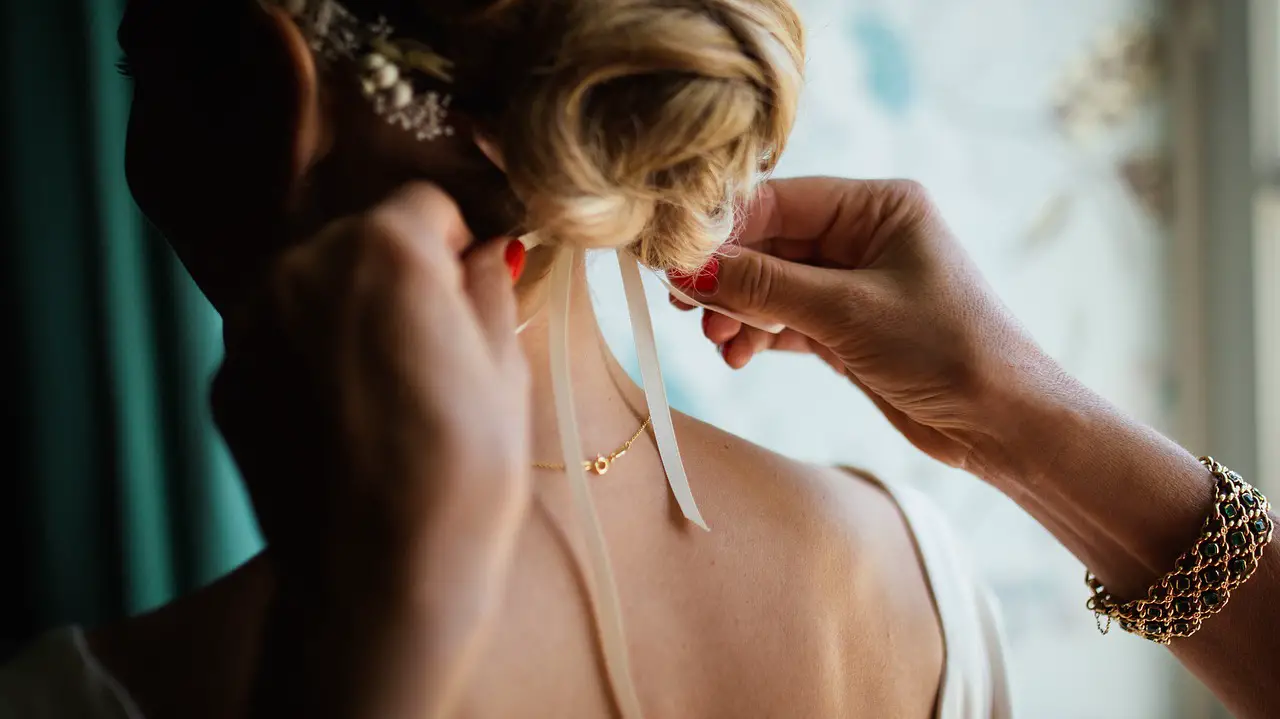 Leave yourself sufficient time to take care of these issues. The couple will want to discuss the content of the wedding ceremony with their clergy person or wedding officiant because you may not be comfortable with some of the text.
This is an ideal time to create your own special wedding vows, which can incorporate special meaning to both of you. You can be creative and write your own, or you can get ideas and passages from one or more of the many books on the subject.
9. Don't Stress
At the end of the day, all you want to do is be married. All the details never really seem to matter once you're staring at the one you love in the eyes and thinking about how wonderful your lives will be together.
Surely you remember the stress of your first wedding, so this time, focus on the result. There's no reason to be stressed when you're getting married to someone you love! Do what you want. It's all about you and your groom.
10. The Ring
Forget the rumour that an engagement ring is out for #2, #3 and so on. Please, did Liz Taylor or Zha Zha forego the big rock on round 5? If anything, this may be your chance to get the bling you couldn't afford in your 20s. Or, it could be your chance to go with a less traditional stone, like a coloured diamond, sapphire, ruby or emerald.
11. Children Involved
If there are children involved, it's especially important to have them participate actively, so they will be made to feel an important component in the wedding.
That participation can begin in the planning phase of the wedding. Older children can help address invitations. Younger children can stuff and close envelopes. Some second-timers go so far as to have the children make the invitations. At the very least, they can be assured of originality.
One of the pleasurable ways to include children is to shop with them for special clothing and, perhaps, even for wedding jewellery. Almost everyone, adults and children alike, feel special when wearing "fancy" garb purchased, especially for wedding and wedding-related functions.
Creative Second Wedding Ideas
A second wedding is still the first wedding for a couple's new relationship, and it can be as traditional or as unique as the couple wants. However, many brides and grooms prefer to avoid the more ritualized traditions common to first weddings, and these creative ideas can help you plan a memorable second wedding.
1. Date 
The wedding date should be unique and significant for the couple, and many couples opt for holiday weddings for a second wedding. This gives the holiday even more significance and helps create unique traditions the couple can share for many years. Just like setting any wedding date, the date of a second wedding may also relate to the couple's first date, when they got engaged, or simply their time of year.
2. Location 
Many couples opt for unique destination weddings for a second event rather than a classic hometown wedding. Combining a second wedding with the honeymoon or choosing to elope is a fun way to celebrate and allows the couple to exchange vows in a truly unique and exotic destination. But, of course, getting married abroad, on a cruise ship, or on a tropical beach is also.
3. Size 
The guest list for a second wedding is typically smaller than that for a first wedding. Couples who have been married previously quickly realize that having many wedding guests is not as important as being surrounded by those closest to you, and many second weddings are limited to very immediate family and friends for an intimate celebration.
4. Bridal Party 
Just as the guest list is usually smaller for second weddings, so to is the bridal party. The bride and groom may only choose one or two attendants, and it is common to have one's children stand with you for a second wedding. Some couples prefer not to have attendants, particularly if it will be a destination wedding or a very small affair.
5. Attire 
The attire for a second wedding is usually a bit less formal than that of a first wedding, depending on the length of the previous marriages and the couple's ages and the formality of the wedding they are planning.
The bride may choose ivory or even a coloured wedding dress instead of a white gown, or even a skirt or suit that can be worn again for other special occasions, and the design is usually more modest. The groom may still wear a classic tuxedo, a suit, or more casual attire, depending on the style of the wedding.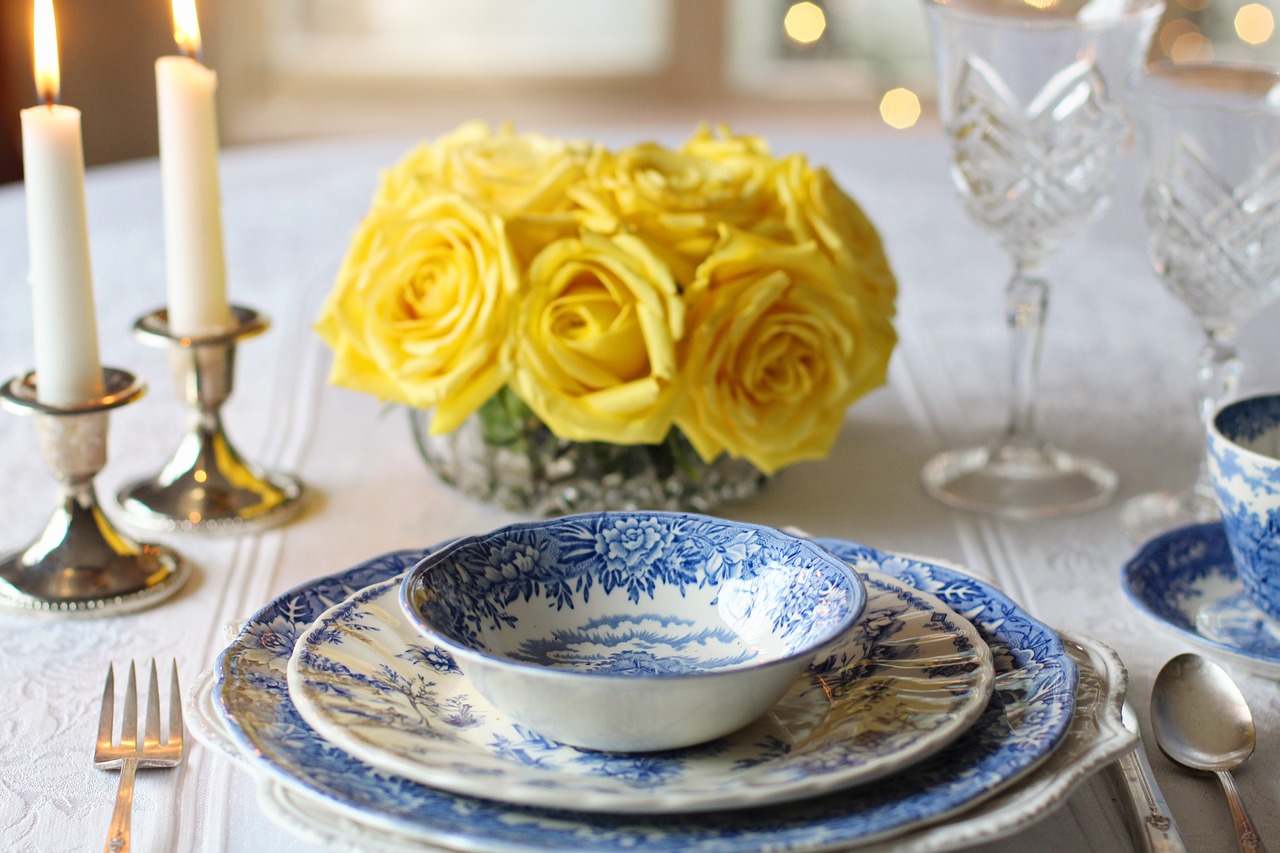 6. Decorations 
Second marriage wedding decorations can be elaborately themed or more naturally subtle, depending on the couple's style.
A second wedding is usually less over the top than a first event, though the couple may have more unique touches and fine details that they didn't think of for their first weddings. Themes are always a good option, though the classic princess or fairytale theme is unsuitable for second weddings.
7. Reception 
The reception of a second wedding is often more casual than for a first wedding. The couple may forgo typical traditions such as a receiving line, bouquet toss, or garter toss, and there is usually more time for mingling with the guests.
Second Wedding Don'ts
There are very few rules regarding second weddings, and couples can often choose just what they'd like to do regardless of formality or previous celebrations. However, there are a few "don'ts" associated with second weddings that couples should be aware of.
Bachelor parties, bridal showers, and bachelorette parties are not usually appropriate for a second wedding. However, a simple couple's shower can be arranged instead.
Large gift registries are inappropriate, as the couple should not need to outfit the first home. However, a small registry can be used for convenience.
A second-time bride will not usually wear a veil over her face, though she can wear one under her hairstyle if desired.
Do It Your Way
One of the most pleasant aspects of a second-time wedding is the ability of the couple themselves to do it "their way." In addition, there are far fewer restrictions on the couple because they are most likely paying for the wedding themselves.
Not having to consider the wishes of parents and the control that holding the purse strings brings allows the couple to have their taste, creativity, and character reflected in this style of the wedding.
Second weddings still tend generally to be more informal than first weddings, but certainly, that's no rule. The sky's the limit concerning the type of wedding that's appropriate. Consider all the options: a brunch, a theme wedding, a barbecue, an at-home wedding, a beach party or a traditional wedding.
Probably the only thing to pay attention to in planning a reception is the children, yours and his. In the interest of future family harmony, your wedding should be a shared family event.
It's easiest to do this if your reception is informal so that children can participate joyfully. However, if you have your heart set on a formal wedding, consider the possibility of hiring child care and have a mini-reception for the children, along with child-oriented entertainment, in another room.
What's most important in a second wedding is not so much what you don't do, as what you do! Keep in mind that this is a joyful celebration of new beginnings. Keep in mind that this is an occasion to celebrate with your friends and family.
Keep in mind the delicate balance of old and new relationships and levels of comfort and sensitivity. Planning your second wedding with an open mind and an open heart will create special memories for everyone participating in it with you.