There's a lot of etiquettes involved with weddings, and things can get quite complicated. Everyone has their ideas about who should get invited for what and where. Even the hen party can suffer from etiquette issues. So who should you invite to your hen party?
Check out range of Magic Men's hens party ideas to help in your upcoming party.
WHO SHOULD YOU INVITE TO YOUR HEN PARTY?
The 'mothers' question
One of the first considerations for brides or their chief bridesmaid when arranging the hen party is the mothers. Mother of the bride, mother of the groom, step mums, dad's partners, all the different options – do you invite them or not?
The answer to this question is twofold – what are they like and what do you plan to do? Are mothers quite traditional and don't drink? In that case, a fun weekend to Ibiza might not be their scene. Or are they real party animals who are first into the bar on holiday? Then no problem.
The mother in law question can also need a little additional consideration. For instance, if you plan to have Buff Butlers running your hen party evening, is the mother in law going to be a bit put out by this? Or will she be waiting at the door to greet the guys?
Thinking about their personalities, their tastes and their feelings are important. If you want a funky hen party, but they are more traditional, why not do two? Go to Ibiza with the girls then have a meal at a nice restaurant with the older generation. Everyone is happy that way.
The financial question
Sometimes you have to think a little outside the box when it comes to hen parties and who to ask. Sure, you want your friends there and to have a brilliant time, but can your friend who just had a baby afford a weekend in Ibiza? And would she want to leave the little one?
What you do and the financial considerations around it is something to think about. While going abroad or somewhere like London is a brilliant idea for a hen party, you don't have to travel far. If it is more important to have all your friends around, then go somewhere nearer to home. Many cities scattered around the country are hotspots for hen parties so check out guides and choose one that is nearer home.
People not coming to the wedding.
Sometimes there are people you want at the hen party but who aren't invited to the wedding. Small weddings often leave people out, and most people will be understanding. You can also use the hen party as a way to celebrate with them. 
But if you think they are going to spoil the evening in a huff about not coming to the wedding, then drop them from the hen party life too. No negativity allowed!
Surprise or not?
One last consideration for the chief bridesmaid is arranging the hen party – should it be a surprise or not? With the guest list, if you know the bride well enough to make the invites without consulting her and not miss anyone, then that's great. But otherwise, you might want to chat about the guest list, even if you hold back on what you are doing for the event.
ONLY THE MOST IMPORTANT PEOPLE MAKE THE LIST!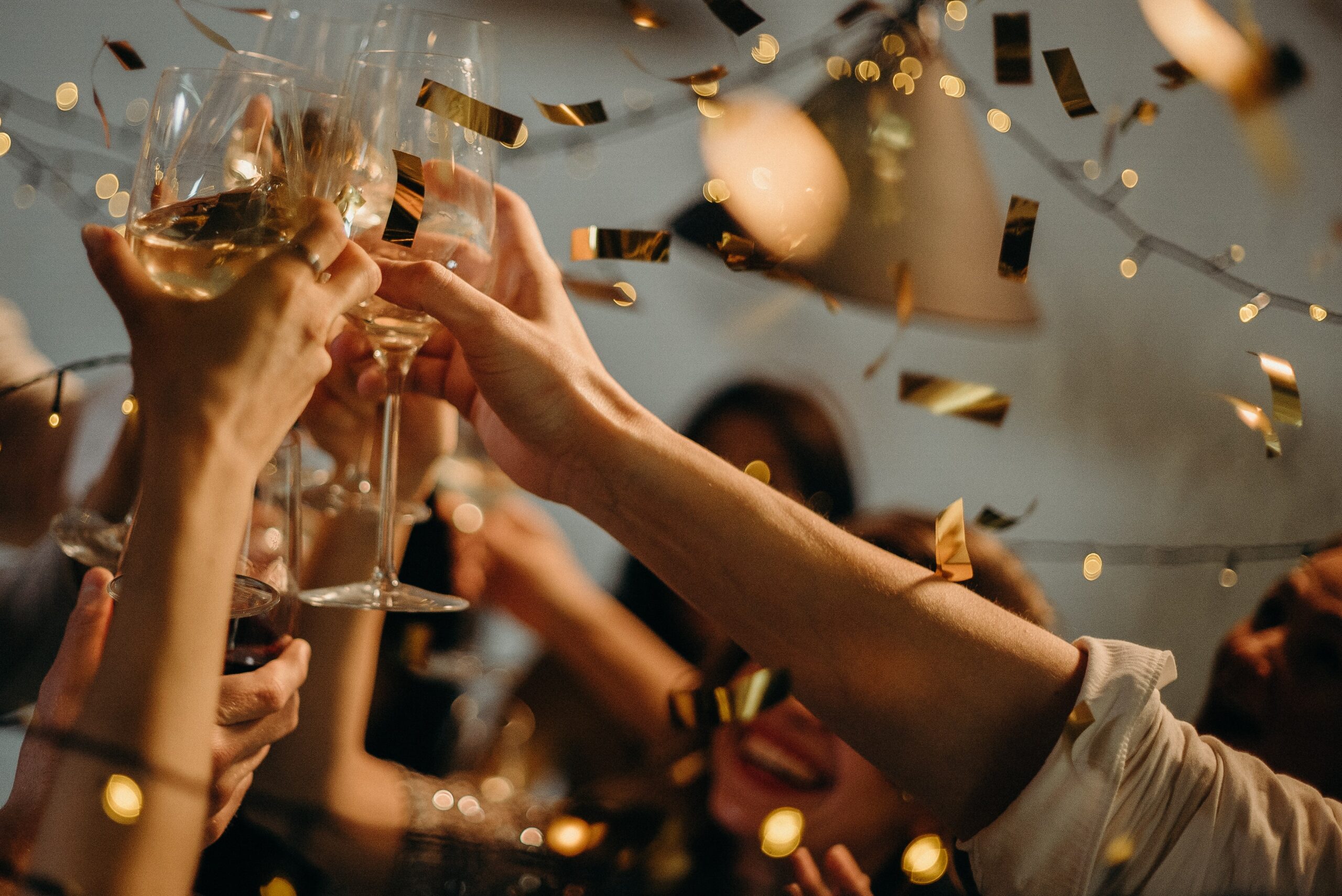 Hen parties have been a tradition for centuries in which a ceremony is held in celebration of the bride to be. The big question ringing in every maid of honour's mind is "who should I invite and am I completely certain that they are still friends?". It's probably a good idea to team up with the bride on this one but if you're trying to keep it a secret then taking a peek at the wedding guest-list will probably be the best start – usually received via a not-so-clueless groom or groomsman.
Some brides will want their Mum or Gran there, and some won't. You'll need to adjust the hen party plans accordingly to accommodate the age range. It might be that you choose to do an activity during the day for the 'younger' contingent and then have a meal and drinks in the evening where any 'oldies' can join in. Or why not have two dos! Go away for a weekend with the girls and then have a second do somewhere local maybe in a restaurant so that the relatives can join in.
When putting the hen party invite list together, think about group numbers. Too small and it can be difficult to book the best activities as there are minimum group sizes. Too large and it can get a bit of a nightmare trying to co-ordinate everyone.
If there are people that you have to cross off the list, then send them a quick note to explain why. That way there's less likely to be any awkwardness at the wedding when you see them.
MOTHER HEN
Perhaps a somewhat controversial choice, but some brides are going to want to (or they're expected to) invite their mums and grans. By inviting the mother hen, you'll earn a few extra brownie points – mums and grans are perfectionists and want to be involved in everything! If you're doing something a little intense like It's a Knockout, 80-year-old Eveline isn't going to want to take part and bust a hip, but most events will allow spectators anyway! If you're venturing away from home to gallivant around the country, it may be worth finding mother hen a family friend to keep her company back at home for a bit of peace – she's still got the wedding to look forwards to.
FRIENDS
This one goes without saying. If they're a regular face at the cocktail bar, the bride is sure to want her there. Think back to her Myspace top 8 friends, check to see who's posting on her Facebook wall, peek at who she's texting; you've got yourself a guest-list.
At the majority of hen parties, friends make up the biggest number of guests! Ladies with large groups of friends can find it difficult to decide who to bring and who not to bring. Are you hosting the mother of all hen parties? If so, this is generally not an issue and the more people that come, the better! More often than not, though, people have to whittle down numbers, and we have a very simple solution. Invite those friends you feel comfortable with to ring up on the weekend and meet for a coffee. If you are inviting a friend because you were besties in pre-school, you are on the wrong path! There is often an issue with inviting one friend that will 'know nobody' on the day. Our answer to this is, do not worry! Don't be guilted into inviting someone to accompany this person; it always works out after a few glasses of bubble and ice breaker games!
COLLEAGUES
She sees these people every single day, but has she invited them to anything before? If the answer is no, chances are she doesn't like these people and will not want them at her hen party. Your job is to invite people that she feels comfortable around that make her feel warm, loved and get her excited for a damn good weekend! Will she be confident singing Girls want to have fun in her undies at 2 am in front of her colleagues? This is the type of question you need to ask yourself.
With a lot of hens and hen organisers, this one doesn't come up in the conversation! We see a massive increase in people asking their work besties to their hen party! After all, you do spend every day of the week with these people. So if you get on well, why not bring them to your hen do? The only downside to asking work colleagues is, where do you draw the line? If you ask the woman you share a desk with, do you have to ask the entire block? This can be a huge downside to inviting work friends. It is a decision that you will have to live with every day afterwards! If you meet up with a colleague after work hours,, they should be asked to come along to your hen. If you get along well and have no relationship outside of work,, we advise that you refrain from giving them an invite!
YOUR FAMILY
This one always seems like a no brainer…but it's just not that simple. Sometimes, you feel obliged to invite, people in your family, but you have no real reason to ask them. There is always a cousin or aunt that your mum encourages you to invite when it comes to family. Our biggest piece of advice here is for you not to feel pressure from others. Decide what sort of a hen party you are having? If you are bringing a group to Marbella, is it worth bringing people you don't want there?
Another thing you need to decide from the beginning is whether you are having your mother/aunts come along to your hen do? A lot of our hens decide against this. With family, we would always say that if you could pick up the phone to them for a good chin wag, they should be at your hen party!
Your other half's family…is always a tricky one! Are you trying to keep someone happy or do you genuinely want to invite the annoying cousins! The in-laws involve a lot of politics! Granted they will all be at the wedding but how do you decide whether or not to bring them to your hen do with all your besties! Sisters of your partner should always be invited..this is way to close not to have them there, we advise not to cause any argument here.
Regarding your mother in law, we say that if your mother is a part of the hen weekend, then this lady should be too! If you don't feel like having either your mum or mother in law at your hen, there are loads of other options! There is a fabulous option of pre-hen afternoon tea that can be a lovely day to have with your mother/mother in law. Mothers and in-laws often prefer this enjoyable day!
DISTANT RELATIVES
If you're going to invite people from afar, it may be worth considering getting them to the wedding first. If the wedding is shortly after the hen party, see if they can extend their stay (the wedding is always the priority). If they can't make the wedding, see if they are free for the hen weekend instead!
FRIENDS OF FRIENDS
Can I bring my friend? Can my friend bring her friend? On the most part, you will want to say no. If they haven't ever met the bride, then why should she be at the hen party? They will probably be together for the most of the weekend, and then your party stops being one big group and turns into a couples retreat. If you're close to home, by all means, invite them for the night out, but once you've said yes to one, you can't say no to the long queue of people waiting behind.
At Magic Men, we have the best hens packages to make your party a night to remember.
Should You Invite Your Mum To Your Hen Party?
Should you invite your mum to your hen party? What about your mother-in-law? And where do aunties come in? Well, unfortunately, there's no fixed answer. Choosing who to invite to your hen party depends on many different variables, from where you're going and what you're doing, to what vibe you want your hen party to have.
Your decision also depends on your mum, does she even want to go, will she hit the dancefloor and start doing shots (whether that's a good or bad thing!), or will she feel like she has to bow out and duck off early to bed? The main rule of thumb is, only have your mum or mother-in-law there if you want them there. You shouldn't feel obliged to invite them or to leave them at home, and hopefully, they'll understand either way.
To help you work out the difficulty of whether or not to invite your mum to your hen party, we've put together some pros and cons of sorts that should make deciding this dilemma, a little less tricky.
Yes, You Should Bring Your mum To Your Hen If…
You're close, and you can't imagine having your hen without her.

You're having day and night elements, and she's happy to take part during the day and then nip off after dinner while you and your pals head off dancing.

She's great fun to have on a night out and gets into the spirit of things.

You're having a low-key hen with just dinner, afternoon tea, or daytime activity.

Your mother gets on well with your friends.

Your mum doesn't know many of your friends, and you'd like her to meet them before the wedding.

Your mum isn't easily offended, by drinking, naughty jokes, dressing up etc.
If you do choose to bring your mum to your hen, maybe have a chat with her beforehand (or get one of your bridesmaids to call her if you're not privy to the plans) to tell her about what you'll be up to, what she needs to bring, and to let her know it's no problem at all if she wants to bring a pal or bow out for certain elements. Most likely she'll be happy to share duties with the rest of the girls, but it's good to let her know that if she'd prefer not to come, that's okay too. Check out our customized hens packages for easy ladies night planning.
No, You Shouldn't Bring Your mum To Your Hen If…
You don't get on with her, and having her there will cause you to feel tense or stressed.

She tends to cause drama or doesn't approve of your friends.

You think she won't enjoy herself, (for example, if she's not outdoorsy, glamping might not be her bag.)

She's really shy or socially anxious.

She'll require a gang of pals or your aunties to bring with her – a plus one is fair (perhaps it's an aunt, friend or your mother-in-law).

You're going abroad and think a whole weekender might be a bit too much for her.

You're nervous your friends won't keep things PG (think rude Mr & Mrs questions, willy straws, crude dares, or a stripper) and your mum won't be comfortable with it.

You're planning a hen on a budget and will have basic shared accommodation, like a hostel or bunk beds. 
If you're not bringing your mum (or indeed your mother-in-law) to your hen, it's a nice idea to plan a separate pre-wedding activity with her. Whether it's combining a dress fitting or shopping for her outfit, with some afternoon tea or cocktails, going for a spa weekend together, or having something like a kitchen party or bridal shower, your mum will appreciate getting to spend a little quality time with you ahead of all the excitement of the wedding.