Traditionally the bride and groom set out for their honeymoon the moment they leave the wedding reception. Perhaps they stay in a hotel at the airport on the way to their destination, but that is all part of the big holiday. In recent years, however, it has been more common for couples to delay their honeymoon by a couple of days, or even several months. Here are some pros and cons to help you decide when to go on a honeymoon.

Honeymoons are meant to be relaxing and relationship building for a married couple. It's a tradition for a married couple to leave for their honeymoon the night of or the morning after their wedding. But there has been a new trend recently where people wait a day or even months before celebrating their honeymoon. There are pros and cons to each, but you need to pick the decision that works best for you and your significant other!

We are going to break down the options you have in terms of when to go on your honeymoon as well as the pros and cons of each. This should help you to help you choose when to go on your first trip as husband and wife!

While honeymoon planning is one of the most enjoyable tasks on every couple's pre-wedding to-do list, deciding when to leave for your postnuptial trip is always a big decision. The good news is that there are only four options on the table. Read up on the possibilities and see which works best for you and your future spouse.

Saying "I do" at Cosmopolitan events is an elegant and luxurious affair.

Depart straight from the reception
Is there anything more romantic than exiting your wedding reception in grand fashion-say, with a sparkler send-off or in a vintage getaway car-and then heading straight to the airport to depart for your honeymoon? If you opt for this kind of honeymoon departure, remember that your reception is the last chance you'll have to mix and mingle with your beloved guests. Make those moments count!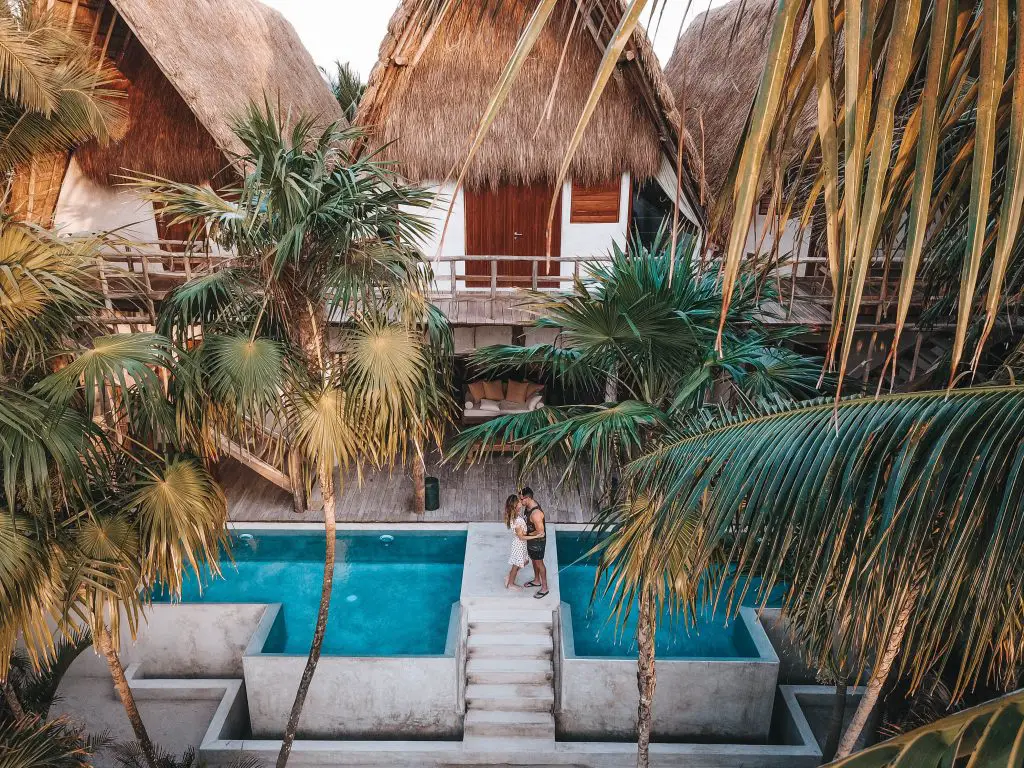 Leave the next day
As full wedding weekends become more popular, many couples choose to spend their first night as newlyweds in the bridal suite and leave for the honeymoon the following afternoon or evening, often after a morning-after brunch with their guests. This option will give you plenty of time to sleep in and one last chance to get together with out-of-town friends and family. While planning a post-wedding breakfast, brunch, or lunch does mean more on your to-do list, and it can be super casual if you'd like.

To get more ideas check out our post on Honeymoon Ideas and Packages.

The Night of or Morning After
It's typical of a married couple to leave almost immediately after their wedding night for their honeymoon. This choice allows a couple to transition right into their alone time and begin transitioning with the excitement. Experts say spending time with your significant another right after your wedding is a great way to transition into your marriage.

This can also mean feeling rushed or stressed with remembering details for your wedding and honeymoon at the same time. You will need to have transportation and suitcases packed to leave immediately after your wedding or the morning after.

A Day or Few Days After
This choice has become a more accessible way of leaving for your honeymoon. A couple will feel exhausted after their wedding, and having a day or two to relax can make a huge change in their honeymoon mood. You won't feel as rushed or tired between your wedding and honeymoon. You can pack the day after your wedding instead of before your wedding, you can see guests one last time who can be travelling out of town, and you can reassure everything is safely in place from your wedding.

Brunch the day after having become a popular trend as well, and leaving a few days after your wedding can allow you to spend time with guests and family before leaving. Relax those tired dancing feet, check your suitcase one last time, and relive the memories from your wedding night.

Months or Year After
As most of you know, weddings are EXPENSIVE. If a couple is paying for their entire wedding, planning and paying for a honeymoon could be out of the budget or schedule. Choosing to wait for months after your wedding to take your honeymoon, a couple can save up for their dream honeymoon and have more time saved up to take off.

Also, to keep in mind a wedding could be during conflicting months for a couple's preferred honeymoon destination. For example, if you're getting married in June but want a snowy, mountain destination, it could be hard for you to honeymoon during this time of the year.

Some say waiting too long after your wedding can lessen the excitement, but if you need to hold off, then do so! This can give you time to write those thank you cards, save up money, and fully prepare for your honeymoon.

These days, there are no hard and fast rules about when you have to leave for your honeymoon, and newlyweds can choose to take their honeymoon weeks or even months after the wedding. Whether you want to save up more PTO days or are waiting for a better season to travel to your preferred locale, know that many couples delay their honeymoons. As a bonus, you'll have more time to focus on planning all of the details after the wedding is over.

Why leave on a honeymoon straight away?
In the movies, the happy couple always seems to head straight from the reception to the airport, and this is generally considered the most exciting and romantic honeymoon option. You woke up in the morning as a single gal, and by the end of the day you're married and jetting off on honeymoon. Leaving right away means that you can prolong the excitement and exhilaration of the wedding, and you get to avoid all those tedious post-wedding tasks such as returning tuxedos and arguing with the venue over minor damages.

There are some downsides to leaving for your honeymoon immediately. Firstly you will probably have to make your exit just as the party is heating up, and you might miss dancing to the band that you spent so long choosing or eating the scrumptious evening food you've been drooling over. You may also be exhausted after months of wedding planning and a day of festivities, and starting a long journey might seem like the last thing you want to do.

Learn more about honeymoon so check out our post on Why is a wedding trip called a honeymoon?

Why wait for a couple of days?
The majority of couples are now waiting until at least the day after the wedding to leave on honeymoon, and many are giving themselves a couple of days before they start their holiday. This means they can stay at the reception right until the end, and they can even sleep at the same hotel as their guests so they can say goodbye over a relaxed brunch in the morning.

If you have a lot of out of town guests visiting for your wedding, it seems a shame to waste the opportunity of seeing them by dashing off straight after the wedding, and You can spend a couple of days catching up with them and showing them the local area.

There are various practical reasons for waiting until a couple of days after the wedding to go on a honeymoon. You can unwrap your wedding gifts and get the thank you letters in the post, make sure your suppliers are all paid in full, have your dress dry cleaned and stored away, and arrange any last-minute honeymoon packing.

The possible downside of waiting a few days to go on the honeymoon is that you may have time to crash back down to earth after the wedding, and for a few days you might experience a feeling of anticlimax or be in limbo. You will also have so many things to arrange you won't have much time to spend with your new husband. Leaving the day after your wedding will still give you the chance to see guests again the next morning, but will ensure you start the trip when you're still on your 'bridal high'.

Why postpone your trip for several months?
There are many practical reasons to postpone your honeymoon for several months. Perhaps the weather at your chosen destination is at its best six months after the wedding. Maybe you've taken so much time off work for wedding planning you can't take any more until next year, or your job is seasonal so you can't take two weeks right after your wedding.

Some couple's feel that they have enough to organise with the wedding, and they want to postpone the stress of arranging a honeymoon until after the wedding is over. Others decide they have spent so much on the wedding they need time for their finances to recover.

The danger with delaying your honeymoon by such a long time is that it may feel like just a regular holiday. Make sure you put a lot of effort into planning your honeymoon to make it extra special, and if you are delaying your main trip for a long period try to get away for a night or two straight after the wedding to have some time together as newlyweds.

But even though you may have just agreed to share a life, you can't seem to agree on where to go for such a special occasion.

Plan to help settle the honeymoon destination debate
Make Lists
The keyword here is a compromise, and you've probably heard it brought up a time or two after your engagement. Easier said than done, but this subtle art will come in handy quite often down the road, so it's best to start practising now. Stay proactive and avoid one-sided viewpoints by making lists of the experiences that you each have in mind.

Start simple by covering general areas of contention like urban or beach, relaxing or exhilarating, one spot or multiple, warm or cool weather, etc. Afterwards, jot down a few of the top choice destinations that you think might best fulfil your honeymoon (check out our Destination Guides to ignite your imagination).

Focus on the Overlap
Dig back to your Venn diagram days and prioritise the overlapping centre portion of each of your lists. As nice as it would be, this intertwining section of shared wants won't just magically reveal one simple and perfect destination, so now it's time to get creative.

Choose one or a few of each other's most prioritised experiences, and make a game out of narrowing down to a destination that can meet both of your needs. Maybe you're a foodie and want to explore a world of new flavours, but your partner prioritises lazy days on the beach (think South Africa, with coastal Cape Town offering stunning beaches and serious relaxation with world-class dining options a stroll away).

Or perhaps you're looking to relax, rejuvenate, and be pampered in a spa-like atmosphere. Still, your other half is itching for adventure – look no further than Indonesia, where tranquil resorts like COMO Uma Ubud offer holistic serenity in spades. Still, excursions like scuba diving, temple trekking and cycling through rice paddy fields are never too far away.

Approach this part of planning as a puzzle, with your partner's pieces needing to fit into yours to make the perfect picture. Compromising is a two-way street, after all.

Create (and stick to) a Budget
Believe it or not, money can sometimes simplify things. Creating a budget is not only a necessary task while planning your honeymoon (we try and avoid going broke on vacation), it will also help rule out certain destinations and activities, bringing you one step closer to turning your honeymoon dream into reality. Plus, this is exactly the perfect time to eliminate anything your boo has been begging for that you're completely not into — like shark tank dives or couples' canyon swinging (the latter of which we're extreme fans of).

Timing can also play a big difference in how the financial picture pans out. Peak-season prices can completely change the financial picture when compared to shoulder and even off-season rates, so are sure to weigh all relevant options and dates for any destinations that you've narrowed down to at this point.

Lastly, remember to think beyond airfare and accommodation when drafting your budget. Expenses like meals, land transportation, adventurous excursions, and spa experiences can equate to hefty amounts. Even though it is your honeymoon and the goal is to spare no expense, reality does have a way of kicking in when you least want it to. For user-friendly tips and tricks on cutting budget corners, we've compiled some essential foolproof ways to save on your honeymoon.

Research and Plan to Maximise Your Time (and Money)
It might seem obvious that appropriate planning and research is required to reach your ideal honeymoon destination, but we're going to reiterate it. Getting ahead of schedule allows your options to expand by finding better rates on airfare, and limits any panic purchases.

Many couples are so caught up with wedding planning that the honeymoon becomes an overpriced afterthought – don't fall into this trap. Narrow down your choices together (with that new compromise skill), work within your budget, and — after considering your top choices — create an itinerary.

This sort of detective work is fun for some and daunting for others — if you fall into Group B, seek out advice from a travel agent who can score you great deals and carve out your dream itinerary exactly how you envision it.

Consider the Mini-Moon
Whether you've waited too long to plan your honeymoon properly, your budget is too tight at the given moment, or you're simply not moving along so well in the compromise department, we can confidently recommend that you consider the mini-moon.

A short flight to sandy shores for some oceanside relaxation, a road trip up the coast to discover neighbouring cities, or even a "staycation" to see your hometown through the eyes of a tourist could be just the experience you need at this time.

If the destination debate shows no signs of concluding, have one partner pick the mini-moon and allow the other priority in planning a future full-length honeymoon later on.
Pros Taking an Immediate Honeymoon
Who doesn't want to start vacation early?
Leaving immediately – within 24 hours of the "I dos" – kick starts your big trip and allows for some well-deserved fun following the stressful planning period. The sooner you board that plane, train, or car, the sooner you'll be relaxing on the beach, hiking up a mountain, or gallivanting through ancient streets with your new spouse.

No need to worry over post-wedding family plans
Travel plans for two are complicated as they are, but having to deal with travel plans for your entire family is a more challenging process. With your parents flying out Sunday, your sister flying out Tuesday, and your love's cousin staying in town for a few extra days, you'll have to manage farewell meet-ups and rides to the airport right after the wedding. Leaving right away will allow you a "pass" on handling these multifaceted plans.

It's the smoothest and sweetest transition into married life
Your time as a husband or wife will not always be simple, so this is the time to enjoy one another's company before returning to the real world. If you depart for your vacation right away, you go from the bliss of the wedding to the bliss of the honeymoon seamlessly, so the whole experience is incredibly fun and positive from start to finish.

Cons Taking an Immediate Honeymoon
You'll be significantly more rushed after the nuptials
Forget sleeping in after your lively reception; even if you don't have an early flight or train, preparing to travel is a job in and of itself, and you'll have little downtime the day after your event. Though it's true you'll have to relax on vacation soon, the hours after waking up following your wedding will be spent gathering your belongings, going to the airport or train station, and having to endure the travel process – a feat that can be made especially difficult with a slight hangover.

Flipside: you won't get to see family and friends in the aftermath
Coordinating their travel plans may take a good amount of effort, but departing for your honeymoon immediately also means forgoing extra time with your nearest and dearest. The wedding will likely be hectic toward the end of the night, and you may not get the chance to say a proper "goodbye," so your quick departure will omit the opportunity to spend quality time with your family and friends before they, too, must jet off.

You must deal with packing hassles in tandem with pre-wedding tasks
When you have to be ready to go straight away, you'll have to have packed before your vows. Unfortunately, this means doing all of your honeymoon prep work around the same time that you're putting all of the final touches on your big day. This may also be the time when out-of-town guests will be arriving, and you'll want to focus on spending time with them.

Planning a honeymoon should be exciting! It's your first vacation as a married couple, after all. So don't let the planning process overwhelm you. With the right knowledge, you'll be able to design a trip with memories you'll cherish for a lifetime.