Planning a hens celebration? Steer clear of the strippers and get inspired with these party ideas.
Are you looking for some fun ideas for a hens shindig in Melbourne? Have no fear; we are here! We've hunted down our favourite ideas from right across the city to inspire you and your posse. Whether you're after night to let your creativity run wild or are looking to sit back and enjoy a pamper session, there's an idea for every bride tribe vibe.
Throw the best party ever with our hen's party ideas! Planning a hen's night but don't know where to start? It can be hard coming up with something to do, so that's why we've put together a vast range of hens night ideas to celebrate the bride-to-be! Get the girls together and combine your love of food and cocktails with a Mexican and margaritas cooking class or cocktails and tapas experience. If you want to plan a hen's party that's outside the box, why not hit the open water and spend the day indulging on board a high tea cruise. With our hen's party ideas you're guaranteed to throw a celebration the bride-to-be will always remember!
Wedding bells are in the air, and it's time to have one last celebration as a single lady. With everything from boozy art classes to karaoke and long lunches with waterside views, get all the inspiration you need with these hens party ideas.
If there's one thing we know to be true, it's that old mate Freud would have loved the Hen's night; there's no need to analyse when everything truly is shaped like a penis.
We've got some good news for those not so keen on peen-shaped straws, ear-piercing 'Wooooos!' and everyone's favourite—the gyrating crotch of a stranger: there are other options. Know a hen that lives for a long lunch? How about the 'can dance' chook? Rejoice! There's an option for each and every one.
BTW, bonus points and therapy tokens for those forced to watch the backyard stripper give Aunt Linda a lappy.
Located in Melbourne, Victoria and hoping to do something special with your girls for your last hurrah as a single woman? We've compiled a list of the 20 best and most memorable Melbourne  hen's night ideas to hint to your bridesmaids.
Add a header to begin generating the table of contents
Your Guide of Melbourne's Best Hens Party Ideas
Magic Men - Hens Party Ideas Melbourne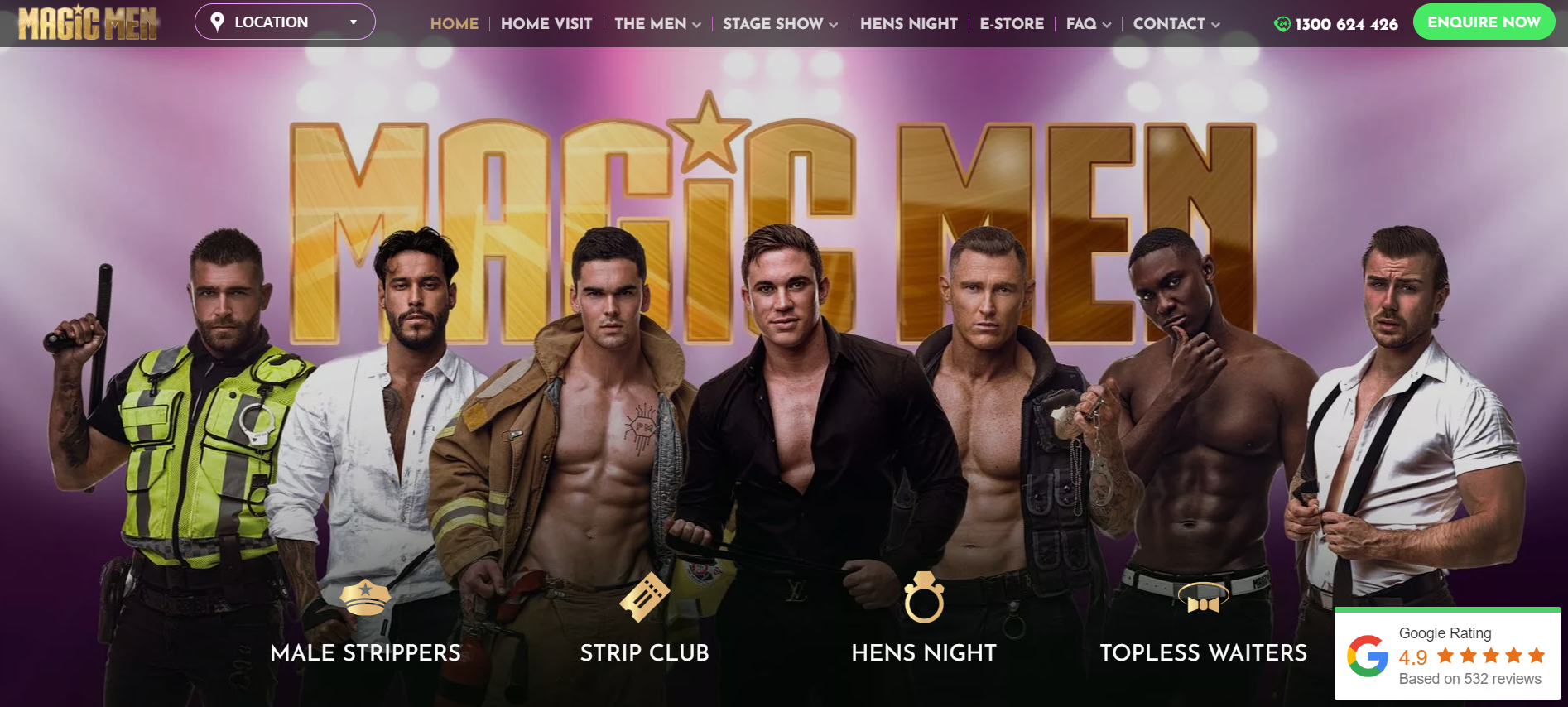 1300 624 426
Whether you're celebrating a birthday, hosting a hens night, bachelorette party or just having a fun girls night in Melbourne, our hot and hunky male strippers and cheeky topless waiters are sure to make your ladies night one to remember. The Magic Men can visit suites, private function venues and residences around Melbourne for private shows just for you and your guests.
Each Magic Man has the body, the moves and the charisma to excite and delight – delivering more than just a set routine. Our male strippers are also talented dancers and tailor a smart and sexy show to perfectly suit your tastes. Different shows are available to fit with the THEME OF ANY PARTY.
So if you're looking for the best MALE STRIPPERS MELBOURNE has to offer and cutest topless waiters to add a bit of magic into your next event, contact us today! Make your party a night to remember. We guarantee unforgettable shows to spice up your:
HENS' NIGHT IN MELBOURNE

GIRLS NIGHT OUT

BIRTHDAY PARTIES

BUCKS NIGHT

LADIES' NIGHT

BABY SHOWER

PRODUCT LAUNCH 

EXPOSLIFE DRAWING
Trust us, and they're even hotter in real life!
Country girls! Our hunks love to travel, and will happily head out across Victoria to make sure you and your friends can enjoy all the sizzle of a MALE STRIP SHOW, no matter where you are.
Hens Night Melbourne
Are you excited for a fun night with chitchat, laughter, and all the glitters and glamour? Make your Hens Night Melbourne way spectacular with Magic Men. We offer a full-service package of entertainment, good looks and professional service that won't break the bank.
Booking with Magic Men is easy – just fill out a contact form with your details of the event. You can also check our customised hen's packages for easy and fuss-free planning.
Magic Men is voted as Australia's best party planner for 5 years, and we take pride in our passion of giving quality entertainment and services. Creating amazing hens night in Melbourne won't be possible without fun, teasing and laughs we at Magic Men can provide. Take your creative hen's party idea up a notch by celebrating it with us in live shows, e-shows and private visits. Expect jaw-dropping performances from our Magic Men ready that will surely result in ear-to-ear smiles, laughs, blood-pumping excitement, and a night to remember. Have your phones ready, and capture all these details when you celebrate with us. Let's have a blast for the single last night of your life!
HENS NIGHT PARTY IDEAS
Classy Hens Party Ideas For The Bride Tribe
Want to treat your hen to the ultimate celebration before her wedding day? Day or night, winter or summer, crazy or classy, we have an option for every single type of hen. Choosing a theme or activities for the BACHELORETTE PARTY is a tedious thing to do. It takes so much time and from one planner to another, we've seen how many bridesmaids or girlfriends struggle with this because of different ideas from each lady in the group. So here, we summed up the best classy hens party ideas so you can devote your time to more productive ones, like choosing your outfit!
High Tea Party: Manners, Lace, and Everything Elegant
The high tea party is perfect for a luxurious and stylish experience of CLASSY HENS. You can visit your favourite snack place or book a tearoom and sip tea and cakes while catching up with your friends and play games.
You can even set a dress code for the party. Ladies, you can wear vintage dresses, or it can be an all-white or pink party to keep things very angelic and girly. Plus, to add some elegant atmosphere, you can fill the room with flowers and ribbons, and you have a perfect hen's afternoon planned for your future bride.
Indulging in A Luxury Cruise Ride
If you don't worry about the budget, then a luxury cruise is perfect for the party. You can hire a boat and enjoy luxury cocktails, wine, and canapés with your hens. You can also listen to all your favourite music and play more than a few drinking games. Private party like this will be appreciated by the hen and even everyone in the group. Plus, you have the ocean as your backdrop, what more could you ask for?
Pro tip: add some fun and excitement to your party, and hire topless waiters or MALE STRIPPERS – not only they will look amazing in the photos, but they're also very good at mixing cocktails and keeping those glasses filled. So leave the "cock-tails" and drinks with these lovely hunks and have the party of your life!
A Pamper Session For The Care You Deserved
If you're looking for a classy party with your hens, then a pamper session (spa day) is also a good idea. A day on the hot tub, having your nails treated, and a range of beauty treatments will leave you all refreshed and gorgeous! The perfect activity in the afternoon after a night spent booging with your loved ones.
With many options either on your doorstep, in the city centre or a more picturesque and rural setting, it is an accessible activity whether you opt for massages, manicures, pedicures or facials with your hen over the weekend.
Private Bartending: Sip and Spill the Fun
For cocktail lovers, this is your chance to learn and have endless fun while preparing epic cocktails from the private bartender. You can organise a professional cocktail party in your own home by hiring your bartender and learn how to make cocktails during this master class.
The session includes three cocktail creations where you will go through several stages, such as how to mix and shake a perfect cocktail. Imagine a cocktail session with your ladies, pure fun and bliss while you mix the best potion you want with guidance and charm from a topless bartender. Cheers, because it's going to be a long night!
Hen parties are a rite of passage before the bride finally ties the knot. For the ladies who want to party in a classy but special way, these are HENS PARTY IDEAS that will make a fabulous get-together. No matter what your hen's party idea is, it is essential that the future bride loves and feels comfortable at the party. Moreover, it must be appropriate for all participants, affordable and is within budget. So, think outside the box and let your imagination run wild with these hen party ideas for one memorable send-off.
HENS PARTY DARES & GAMES
MAGIC MEN'S FAVOURITE HENS PARTY GAMES ALL IN ONE PLACE
Hens party games are one of the essential things to consider when organising the special night. Whether it's a HENS NIGHT IN or just pre-drinks before you come to the club,  we've got loads of fun ideas. These are games for you and your group to play, which will break the ice and have you in side-splitting laughter in no time. From naughty games to drinking games to funny games, there are many options for hens night games to plan!
Party games add fun to any hens night. Drinking games such as 'I Have Never' and 'Drinking Words' give your friends the perfect opportunity to enforce some challenging party dares! Scavenger hunts and Truth or Dare are classic hens party games that everyone will love – just make sure to make some of the questions, dares, or scavenger hunt items naughty, funny, and very difficult! If it's your job to arrange a hens party, you definitely want to plan a few games to help send the guest of honour off to married life in style (and laughter).
When planning games, keep in mind that it's a good idea to over-plan a little. You don't have to play all the games; in fact, no one likes an over-scheduled party. However, having a few games up your sleeve can be a lifesaver (and an ice breaker) when entertaining a group of ladies, you may not know very well – or even your best friends. For extra fun, get your topless waiters in on the action – they love to play games, too!
As the party planner, the pressure is on for you to organise an unforgettable evening. At Magic Hens, we know how to take your hens night to the next level. Let us help with naughty hens night games along with OUR COMPLETE PARTY PACKAGES. Our hot male strippers, topless waiters, exclusive venues, luxury transport, and wild party games will ensure that your hens night is a fun and fabulous celebration that you and your friends will remember for the rest of your lives.
LET'S START THE PARTY WITH OUR TOP 10 
DRESS THE BRIDE 
The bridesmaids come together and organise the Bride-to-Be's outfit for the evening by choosing bits and pieces of unconventional fashion styles and materials. The bride then has to wear this outfit for the entire duration of the evening, no matter where the night takes them! Now there's a way to make sure your hen is the centre of attention!
HENS SCAVENGER HUNT
Create a list of items that can be found around the house or venue. Be creative and try come up with a variety of items from simple things such as a lighter from a stranger to something cheekier like boxers from a stranger. Remember that this is a Rated H (for hens) scavenger hunt so come up with cheeky and naughty items that will get everyone stepping outside their comfort zone. Once the list is created, split the hens' party into two groups, and the group that comes up with most of the items on the list will win.
TRUTH OR DARE
The perfect indoor hens' party game. Take advantage of the flowing drinks and spirited atmosphere and gather everyone together for a round of Truth or Dare. One at a time, flip a coin or spin a bottle to decide whose turn it is to be put to the test and reveal a little (or a lot) about themselves and who has to go run around the neighbour's yard completely nude.
NEVER HAVE I EVER
The ultimate drinking game. What better way to kick starts a night by getting everyone acquainted or to solidify some life-long friendships by revealing some intimate secrets about what each girl has and hasn't done. One at a time, each girl will go around the circle and reveal something they have never done before (e.g. 'Never have I ever… had three-way kiss) and the girls who have done that will then have to take a sip.
PIN THE WILLY ON THE STRIPPER
This game can be purchased from most adult shops or even better, why not make your own. Grab a blown-up poster of a stripper and stick a photo of the groom's head over the strippers. Make willy cut-outs for every member of the hens party and each person puts their name on that willy. Aim of the game is to blindfold one girl at a time and guide her to the poster, she then has to place the willy where she thinks it should go. This activity is sure to have the whole party in hysterics.
BRIDAL TRIVIA
One girl will interview and ask the bride a bunch of random and obscure questions about many facets of her life, embarrassing moments, relationships and interesting facts that make her unique. The questions will be posted to the wedding party, and whoever gets the most questions right is deemed the winner of the game. Now add the hens' twist and make the game interesting by making anyone who gets an incorrect answer take a swig of their drink.
NEWLY-TO-BE
This games requires some preparation in advance but definitely worth the effort. Call, email or record the groom answering a list of questions about the bride, and have he respond with what he thinks her answer will be. This game is sure to bring out a few laughs to the table as it tests how well the groom really knows the women his going to marry. Now to reverse the table on the hen and have the groom answer the same questions about himself and see if the hen knows the man she's about to marry.
THE "NAUGHTY " WORD
The idea behind this game is to forbid wedding related words from being said during the entire hens night party. Some examples are groom, wedding, bride, bridesmaid, best man and vows. Each time someone says one of these words, then they must have a drink or accept a dare from the rest of the party.
POST-IT NOTE HENS GAME
To make the night memorable for the bride, play the post-it note hens game. Provide the hens with post-it notes and pens, and have them write any remarkable experience they've had with the bride. Collect the notes and then placed them in an area where the bride can read them. Now the bride has to read them aloud and guess who wrote them. She then has to narrate the real story behind the experience. This activity will definitely make the bride remember some wonderful memories she had with hens that would either make her laugh or cry.
DESIGN THE WEDDING DRESS
This is perhaps one of the most popular hens party games of all time. Divide the hens into teams and instruct them to come with a unique wedding dress for the bride. They can use any material they can find in the venue or house such as toilet paper. Give them a time limit to conceptualise a design and transform it into an actual dress. Once the time is up, the teams need to choose a hen who'll wear the wedding dress and act as a model. The bride gets to choose the team with the most beautiful design. She then has to wear the winning piece all throughout the night.
Archery Hens
From Robin Hoods' Maid Marian and Katniss Everdeen from The Hunger Games to the red-haired Meridan in Disney Pixar's Brave, Hollywood has welcomed fearless women with weapons. Now it's your turn to bring the archer goddess dream to life, with your very own coloured bow, foam-tipped arrow and ... faceguard. Real to its name, Archery Attack is a fight, and you are the target. Your group will be tossed into the battlefield with just the inflatable barrier course and your security gear to secure you. And we make sure the Hen can't hide with a target strapped to her back!
Archery Warz Hens Night Party Ideas Melbourne
archerywarz.com.au
Located five minutes walk from South Yarra Station and Chapel Street, this is a fantastic location if you're looking for something close to Melbourne's CBD and nightlife areas. The high nets around the tennis courts catch all your arrows for quick retrieval.
Fawkner Park is one of Melbourne's most extensive public parks with lots of sporting fields, event spaces, BBQ and picnic areas. Indulge in a game of Bubble Soccer or other sports in the same location as your Bow Tag Archery. The perfect place for Corporate Events, Social Gatherings, Buck's Parties and Hen's Days.
Bubblesoccer 2 U Hens Night Party Ideas Melbourne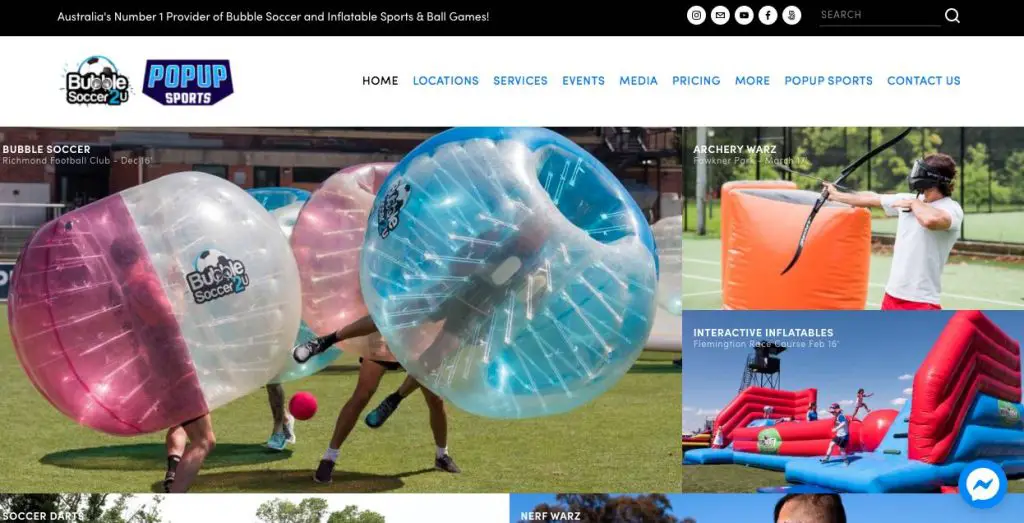 bubblesoccer2u.com.au
Our Bucks, Hucks and Hens Day activities are a great way to enjoy the day before the evening's festivities get underway. All of our Bubble Soccer, Bow Tag Archery and Soccer Darts games fit perfectly with the mood of the day. We also finish each event with a few select games to send the prospective Bride or Groom in style.
With locations all across town and the ability to combine multiple fun activities in the one place, you'll enjoy the convenience of playing near your next location and save on travel time on the day.
Our aim is to make booking and organising your event as simple as possible. We understand that numbers fluctuate and it's hard to organise a large group of guys or girls, especially when you might not know all the invited guests yourself. For that reason, we only require a ~20% deposit upfront and can wait until the week of the confirm your final numbers and package size.
Princes Of The Night Hens Party Idea Melbourne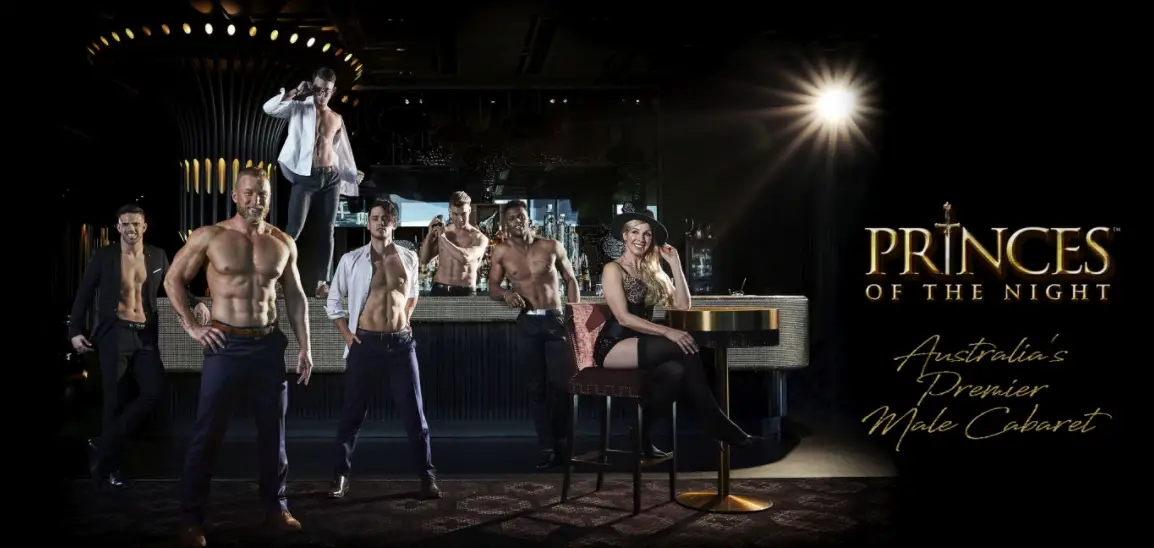 Australia's premier male cabaret show, Princes of the Night, is the perfect way to celebrate your once-in-a-lifetime hen's party. Situated at Crown Melbourne, this popular show is fun, glamorous, and - best of all - elegant, with the organisers focusing on providing a comfortable, safe environment. Celebrate your impending marriage with class, style, and a dash of cheekiness at this lively event.
Handsome Princes, comedy, and spectacular dance routines – it's like stepping into a real-life fairytale... with an outrageously sexy twist1
Featuring a cast of Australia's hottest and most talented men; Princes of the Night promises a high-class male striptease experience like no other. Fun, energetic, and the perfect combination of sex appeal and sophistication, it's a show that everyone is guaranteed to love - even nanna!
The show is held at Crown Melbourne and the venue is all class, warm, intimate, and the groups that walk in just feel amazing, happy, and excited about what's to come. Being at Crown really sets the scene, it's high–class, glitzy, and glam.
"If you haven't been here, do yourself a favour and go! Not only is the show hot, but it's also amazing and fun as well! Both the owner and host are so, so accommodating and wonderful and the princes are to die for! They are tasteful, professional, and move like majestic unicorns. By far the best male strip show!" Andrijana
What can brides and bridesmaids expect from Princes of the Night?
The Princes of the Night promise you a heart-stopping, jaw-dropping, first-class male striptease experience with an outrageously sexy cast of Australia's hottest and most talented men.
This isn't your average "male strip show", but a one-of-a-kind, world-class experience filled with a visual storyline, creative and sexy male talent, thrilling choreography, and audience participation guaranteed to excite all the senses.
Highlights of Princes of the Night:
• Evening of classy, live male entertainment
• Reasonably priced tickets
• Comfortable, safe environment
• Show caters to women and men of all ages
• Centrally located at Crown melbourne
• Crown restaurants pre-show dinner options
"I highly recommended Princes of the night last night was my 4th time there all for hens parties including my own hen's party 2 years ago and we always have a great night the blokes are fantastic and the hostess is an AMAZING best girls night out and I can't wait to come back for more it is the BEST night and was so good to be able to chat to all the crew afterwards... such wonderful cast. AMAZING AMAZING xx." - Chrissy
Princes International Events PTY
Crown Melbourne : Australia
Box Office: 1300 135 556
House of Hens Hens Night Party Ideas Melbourne
houseofhens.com.au
There's something about throwing axes that just gets the blood pumping, the girls laughing, and unleash the warrior woman in your bride. Trust us, at House of Hens we love it! Axe throwing is not just for burly men with bushy beards, Viking women have wielded axes since before it became a fun weekend activity.
A professional instructor will talk you through different throwing styles, how to hit that bullseye, and even run your group through some competitions and games. This unique experience is like no other.
Maniax Hens Night Party Ideas Melbourne
maniax.com.au
Private hosted sessions are our specialty, giving your group the ULTIMATE Axe Throwing experience! It starts with individual coaching and target practice, you'll then play a tournament against your friends to see who wins bragging rights as the champion Axe Thrower.
Baking Class
Another terrific concept for hen's party is baking if you are searching for something different than strippers. Going for a baking class is ideal for bride-to-bes who are looking for a special and fun activity. Likewise, this is a beautiful way to bond with your women. There are women of any ages of life; it will be an outstanding concept to talk to them and take an idea.
Class Bento Hens Night Party Ideas Melbourne
classbento.com.au
Looking for unforgettable and fun hen party ideas in Melbourne? Move beyond the classic afternoon tea or the traditional night on the town and plan something that your bride-to-be will remember for years to come. This is your opportunity to bring the bridal party closer together and send off the bride-to-be in a big way. Whether it's flower crown making or cocktail making, ClassBento has a range of hen party ideas that will please every single hen in your party. We have so many activities available that you'll be able to find the best classy hen party ideas or opt for a crafty bachelorette party. No matter which hen night theme best suits your girls, you're destined for a night or day to remember in Melbourne.
Laneway Learning Hens Night Party Ideas Melbourne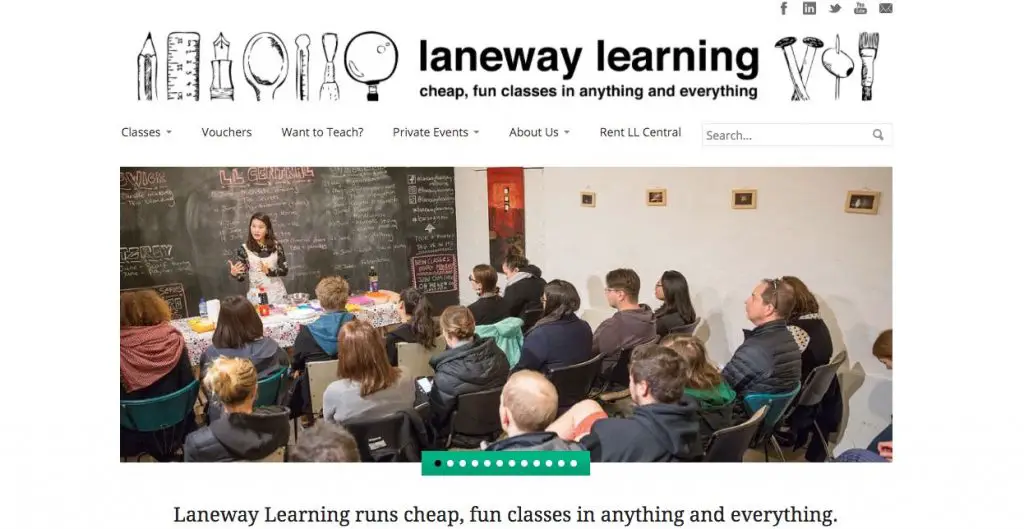 melbourne.lanewaylearning.com
Looking for unique hens' parties or day activities that aren't the regular stripper show or boozy cruise? We can help you plan a special class for the bride-to-be, or arrange a whole day of activities in our space in the CBD or your selected venue. Make gorgeous flower crowns before setting off for lunch, learn a Hawaiian Hula or burlesque choreography so you can kill it on the dance floor later in the night, or create polymer clay accessories to remember the special day. Our hens' parties will definitely be different, creative and memorable!
Bar Hopping
The cosy and familiar charm of the boutique bar has actually been forever immortalised in songs, films and obviously television classics like Cheers. Every bar has a distinct character and the type of inviting appeal that's perfect for a Hens Party, from a cosy corner lounge to mixed drinks on the rooftop. Whatever has been thought of for you in this all-inclusive Bar Package, total with a reserved location for your group, scrumptious food and beverages package, and attentive personnel. So bring up a stool and settle in at the bar. What takes place next depends on you!
Go Bananas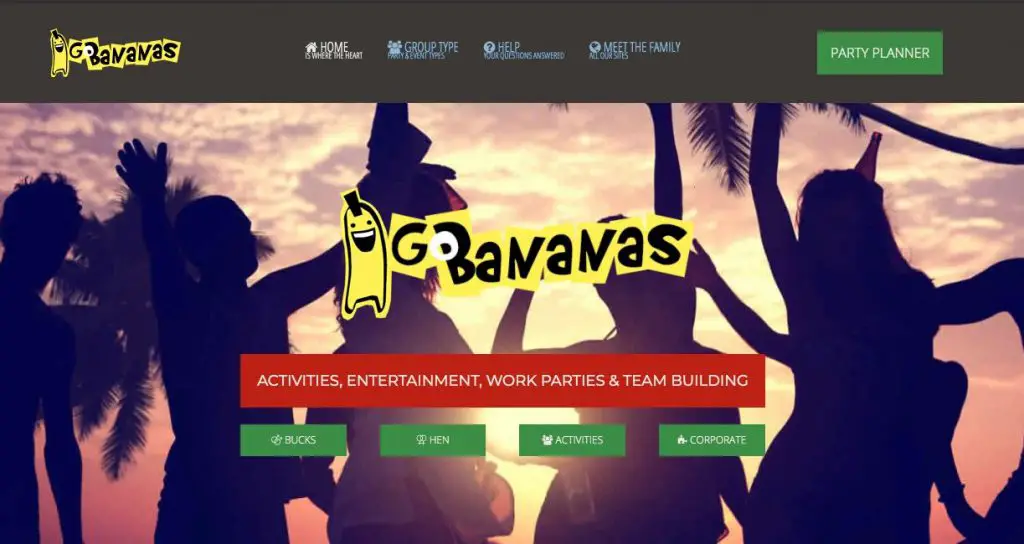 au.gobananasworld.com
Hit the town and party it up at some of Melbournes Bes Clubs on this Hens Night Party Bus Pub Crawl!
Pub Crawls are always are a fun option for a Hens Night Out and with our Hosted party bus - you and the girls are set for a great Hens Party in Melbourne.
You can choose to rage with a funky band, enjoy great disco, hit a pub, have your favourite drink at a cocktail lounge, do the karaoke thing or dance the night away – or a combination of them all! Starts at 7.30pm-8pm and finishing up at 1:30 am - it'll be a fun-filled night of all the hen's favourite things - you won't want the night to end!
Our bus can have up to 40 people so plenty of room for those larger Hens Groups in Melbourne, you also get a fun host for the night who will run the evening and make sure all the ladies are well looked after. Choose 3  venues from a list, and we'll take care of the rest. Your Hens Night in Melbourne is all taken care of here.
A stereo is available for use on board, so plug in your phone, turn up your favourite song and get the party started as soon as everyone is on board!
Drinking is allowed up till the 1st stop.
This is the perfect option for those Melbourne Hens Groups who are looking to do something a little different and keep things moving - call us today and let us help you plan and book the best Melbourne Hens Night Pub Crawl ever!
Hophause Euro Bar Bistro Hens Night Party Ideas Melbourne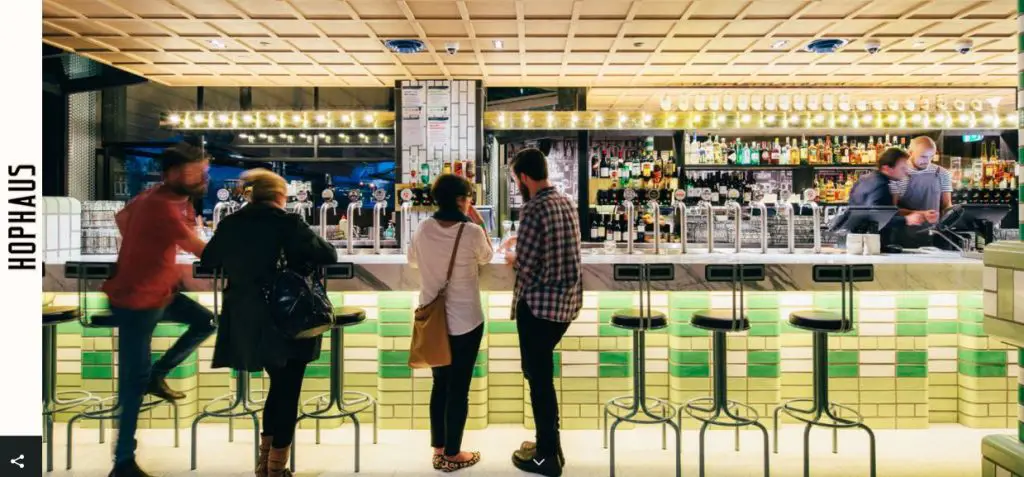 hophaus.com.au
Hophaus is a stunning Southbank functions venue with much to offer, from its showcase deco-dining hall to its enviable location with north-facing waterfront views of the Yarra and Flinders Street Station.
Designed with functions in mind, the spaces within the venue range from internal dining rooms to sheltered terrace landings, or combinations of both. The layout is ideal for hens parties.  There is so much flexibility; intimate gatherings for small groups can be hosted just as easily as the big parties, with capacity for up to 180 guests!
Mon Bijou Hens Night Party Ideas Melbourne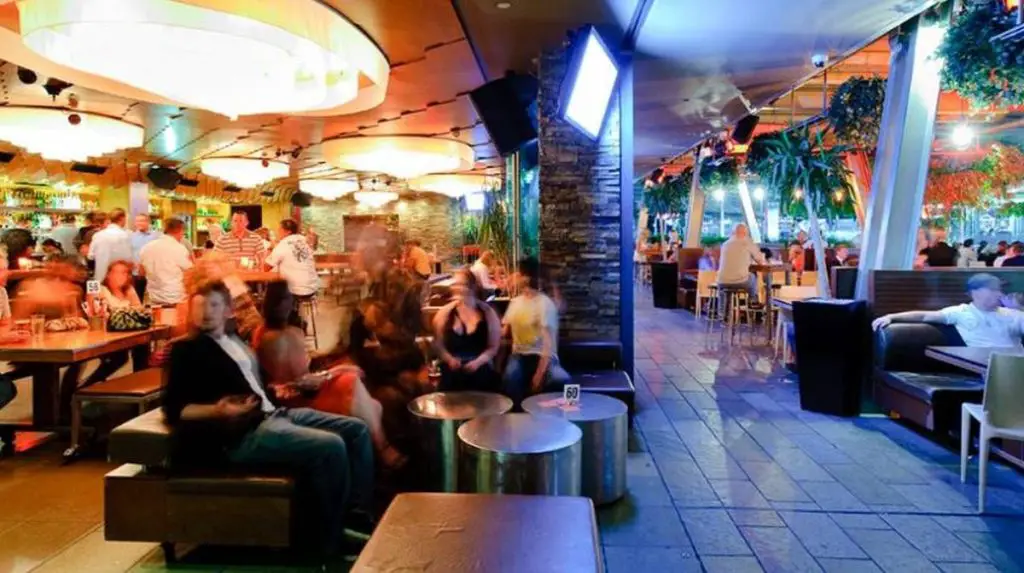 monbijou.com.au
Don't let the boys have all the fun! If you're throwing a hen's party or bridal shower in Melbourne, there's no risk of it being a bland or forgettable event. Our creative team has more than a decade of experience helping the bride-to-be and loved ones to come up with fun bachelorette party ideas, knowing exactly what to do to ensure that everyone there has the time of their life.
Set in Melbourne VIP's favourite boutique hotel The Adelphi, head to Mon Bijou during the day or night. This Instagram worthy space offers an unforgettable experience since its set in a penthouse, high above the clouds. Posing incredible views of the city with its feminine yet fierce décor, this venue is one of the best places to start your Melbourne hen's weekend. With the option to enjoy a first-class high tea dining experience with all of your girls, to a little later where you can spend your evening sipping on modern cocktails, it's perfect for making your hens dreams come true! The best of both worlds under one, gorgeous roof.
Baroq House - Hnes Night Party Ideas Melbourne
baroqhouse.com.au
Baroq house, the perfect venue for you and your girls to… play. Featuring a number of exclusive rooms (with just as many bars!), this nightclub offers luxurious booths, opulent table settings and a hidden outdoor area. Party the night in your own private booth with table service like an A-lister and enjoy the atmosphere of the nightclub that's hidden within a 19th century cobblestoned laneway. A hidden gem, the mansion-style building and incredible décor make for one of the classiest hen's nights a girl could ever wish for.
Barefoot Bowls
If you are arranging a freind's hens party and are searching for a fun, unqiue and really unforgettable method to commemorate her wedding day then look no further than a barefoot bowls hen party. Begin your shoes and commemorate your pal's upcoming wedding day in style, with champagne and yard bowls. The ideal Hens party is a combination of limitless fun and an unique and extraordinary experience in an unwinded environment. Our barefoot bowls experiences meet all of these requirements. With the bar open, music playing outside, and everybody barefoot on the greens - in a beautiful setting - it's the perfect method for a bridal party to come together, learn more about one another and produce enduring memories for the bride-to-be, prior to her Big Day.
My Ultimate Hens - Hens Night Party Ideas Melbourne
myultimatehens.com.au
Our Barefoot Hens High Tea package is the perfect combination of chilled and chic all rolled into one incredible Melbourne hens party! Round up the bride tribe prepare for an afternoon of traditional hens high tea indulgence – complete with bubbly of course! Then teeter over to our My Ultimate Hens bowls club for an afternoon of fun & light hearted competitions with the girls out on the green…with a wine in hand of course! It's a Melbourne hens party package that everyone will adore!
Your fabulous Melbourne hens soiree begins as you arrive to our stunning hens venue in the heart of the glittering riverside precinct where your hens high tea experience awaits! As you step inside, you'll fall in love with our darling décor with touches of French elegance everywhere you turn!This exclusive My Ultimate Hens venue truly is what high tea dreams are made of, and it only gets better as you're welcomed to your reserved seating with a glass of sparkling on arrival! Clink clink - raise a toast to your beautiful bride to be and settle in for a day of girly fun & deliciousness!
The ladies will be absolutely spoilt for choice as we serve up an incredible selection of indulgent traditional tiered high tea delights including the likes of delicate ribbon sandwiches, freshly made scones with lavish amounts of jam and double cream & decadent dessert delights such as divine chocolate brownies and hand crafter macaroons – yes please! This scrumptious high tea is so exquisite you'll want to take photos of absolutely everything, so make sure you've got plenty of space cleared in your camera roll and don't forget to take that quintessential group photo of the girls all frocked up with a glass of bubbly in one hand and a scone in the other. Ahhh the life of a hen.
As your afternoon of hens high tea perfection comes to an end – the celebrations continue! It's time to teeter over to our Melbourne lawn bowls venue for even more hens party fun! Kick off those shoes and grab a glass of vino because the next two hours are all yours to soak up the sunshine, shred the green & show off your skills…(or lack thereof if you're anything like us!) We start you off with a short lawn bowls demo and hand you all the equipment you need for your barefoot bowls sesh!
It's an afternoon of light-hearted fun that absolutely everyone will love and the perfect way to spend some quality time with your hen and her best girls! Barefoot bowls & high tea really is the perfect combination of classy, girly & fun! It's an incredible afternoon in itself, or use it as the pre-lude to even more hens party fun! Follow it all up with a delish hens dinner party, limousine cruise – or hit the clubs! You're in the heart of glittering Melbourne and we're here to make your hens dreams come true, so let us know how we can help!
The St Kilda Sports Club - Hens Night Party Ideas Melbourne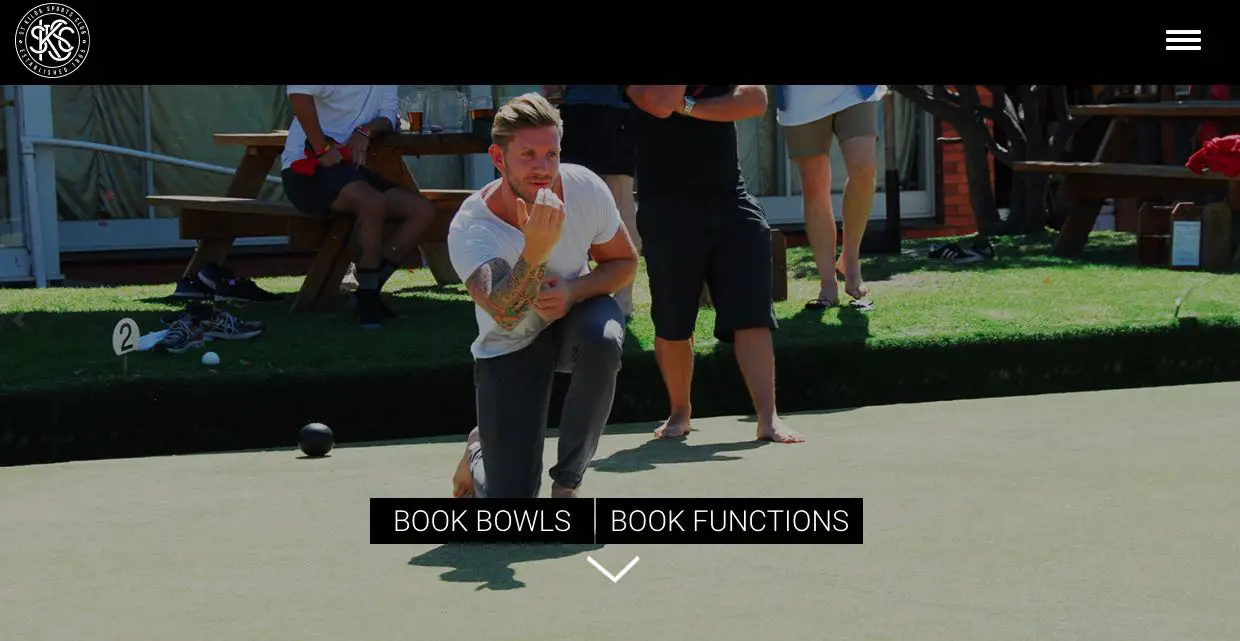 stkildasportsclub.com.au
The St Kilda Sports Club has a range of facilities that make it a great place for a whole range of functions.  With a self contained function room and wonderful outdoor areas, BBQ facilities, and of course our historic bowling green, you can mix and match for what suits you.
We have bundled together some of the different options for you below but if you have a different idea then please contact us, we will do our very best to make it happen.
Bungy Jump
For the hen who survives on the wilder side. Great and easy, you jump off a high structure with a rubber band tied around your ankles. Seem like your vibe? The first one was completed in Bristol, England and morons and legends have been finishing the unsafe activity since. The good news is, bungy leaping has never ever been safer and is completed in some really picturesque settings. This is an enormous advantage as it often takes the focus off you or the hen shitting yourself en route down.
Rap Jumping Southbank - Hens Night Party Ideas Melbourne
bookme.com.au
Unleash your inner adrenaline junkie and experience Melbourne from the exhilarating perspective of Rap Jumping!
Rap Jumping, also known as forward abseiling, combines the thrill of bungy and control of abseiling and will have you absolutely reeling with adrenaline and exhilaration!
You'll run face-first down the edge of a seven story building right in the heart of Melbourne - and you'll do this not just once, but three times!
Our highly skilled and experienced instructors have 26 years experience and adhere to the strictest of safety standards, so you can be sure that you're in the safest hands possible.
Before your first run, your instructor will give you a short but comprehensive safety briefing and gear you up with the necessary safety equipment.
Your descent will be controlled by 2 safety personnel during your forward abseil run, so all you need to worry about is plucking up the courage to go over the edge! Simply one of the most thrilling and memorable ways to experience Melbourne's urban jungle!
Candle Making Workshop
Are you searching for elegant hens night ideas in Sydney? Why not discover how to make candles in this enjoyable candle making workshop! In this enjoyable and hands on workshop, you'll discover how to make a series of candle lights and select your own colours and scents. Your productions will be embeded in charming containers and you'll invest your time with family and friends relaxing, celebrating, chuckling and developing.
Hire the Bare Bros - Hens Night Party Ideas Melbourne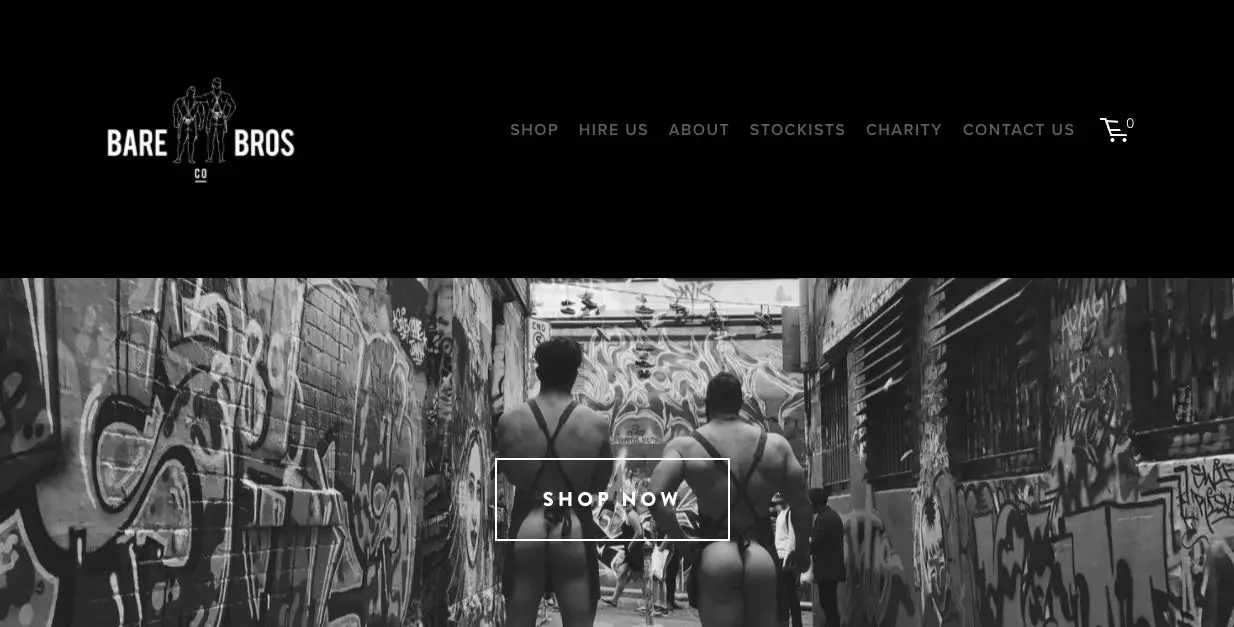 barebrosco.com
So, you're the maid of honour and you have been told "no strippers". Well don't we just have the perfect solution. The Bare Bros will run a tasteful, yet cheeky candle making workshop for the bride and her hens. We also make sure the bride never forgets the Bare Bros by giving her a Bare Bros Co. care package.
Princess of the Night - Hens Night Party Ideas Melbourne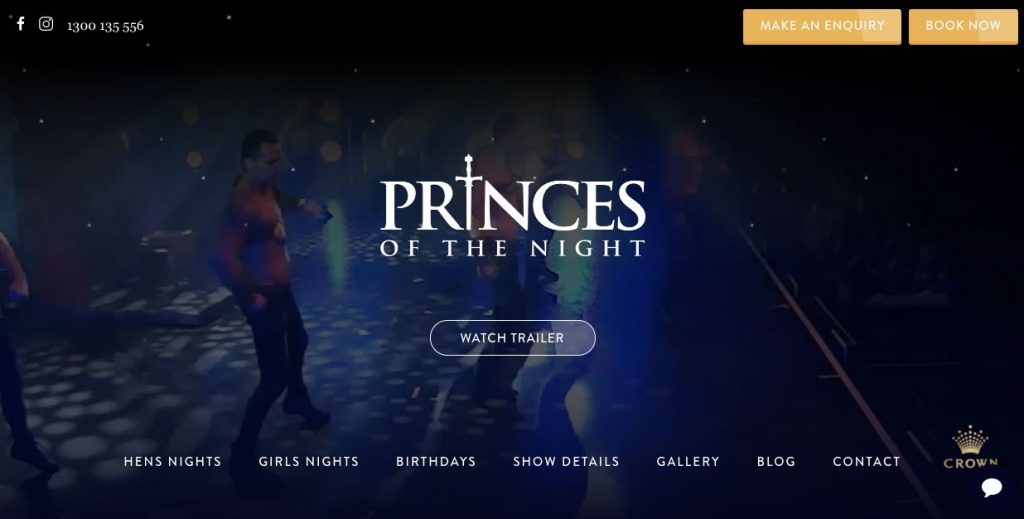 princes.com.au
Held on Saturday nights at Crown Melbourne, Princes Of The Night is a fully interactive two-hour male cabaret spectacular. Here to make your celebration one hell of a party, this cabaret show is perfect for you and your hens.
Check out Princes Of The Night and their smoking hot gallery today!
Cocktail Making & Gin Masterclass
A preferred choice for hen's days in Sydney, since who does not want to find out how all their favourite beverages are made? Invest a couple of hours mastering all those ideas and tricks you see those master mixologists do perfectly-- definitely an ability to show off at your next dinner party. The best part? You even get to taste them too-- this one is something the girls will like and is the perfect activity to do in the afternoon prior to hitting the clubs later on that night.
A beverage choice of 2019 is gin, so take advantage of this popular year-round drink with a gin tasting sesh. Attempt the finest gins and select your own mixers. Some classes teach you the history of gin and how to pour the perfect drink, all whilst getting to try 3 different ranges. If you would like something a little more special, you can develop your own gin. As a reward, you're offered some of your own design to take home with you to continue the festivities.
Liquid Infusion - Hens Night Party Ideas Melbourne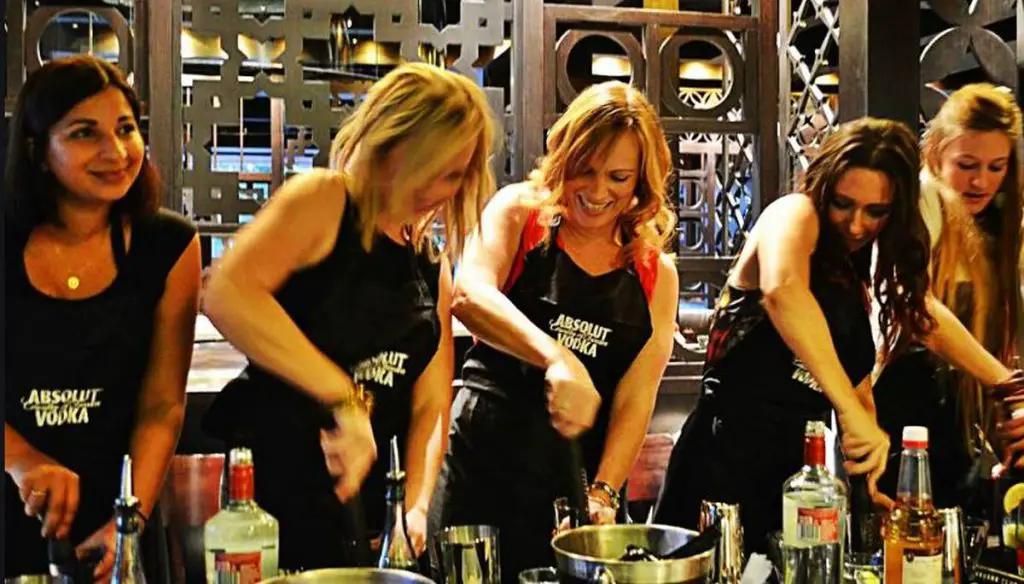 liquidinfusion.com.au
Learn how to mix, muddle and shake like a pro while our mixologist teach you all the tricks and you get to drink everything you create.
Naughty or nice, this is the night that all you ladies catch up for that last hoorah before the bride heads off to start her new life with the man of her dreams. If you're looking to organise a great party for the girls, check out the packages below and feel free to add a cheeky upgrade or two to make it that little bit more memorable.
You may be hosting the festivities in a private home or booking a hotel room for the night, just let us know where and we'll make sure we're there. Our personable and professional young barmen are skilled not only in making cocktails but also making the girls happy and if they aren't enough for you we'll organise a topless waiter to do almost anything you want….and even serve the drinks!! Want games and entertainment and even a roving masseur to sensually rub your worries away? We'll do that too.
Back Bar - Hens Night Party Ideas Melbourne
backbar.com.au
Conducted in the privacy of our function venues lounges, our hens party ideas melbourne are a fun and stylish way to celebrate a hens night or a get together with the girls. We have 2, 3 and 4 hours packages available including our Sparkling Hens Tea event, Life Drawing Class, Glam Girls event, Ladies Night package, or your hens party may like the fun of our Cocktail Making Class.
Our Hens packages are hosted at Mofo Lounge which is located at 157 Greville St Prahran. The venue is conveniently located in the Chapel St entertainment precinct which makes planning a night out easy. There are a number of great cafes, restaurants and bars located within a minutes walk from the venue.
This is one of the most fun hens party ideas Melbourne has to offer and has been rated as one of the best Cocktail Making Classes in Melbourne. Your hens party will be two and a half hours of fun and laughter, as you learn the secrets to making perfect cocktails, receiving instruction on how to mix and shake your own 3 cocktails of your own.
The Cocktail Making Class includes:
The class is 2.5hrs long and allows you to run your own activities and hens games in between making cocktails. There is about a 25 minute break between making each cocktail which gives you time for these activities. You are welcome to bring your own music along with connections available for plugging an iPod into our sound system. You might also like to add in a topless waiter into your package, please ask for further details on this.
Our classy hens Cocktail Making Class makes the perfect start to a hens party night. Please click the following link for further information on our Cocktail Making Class.
Cocktail Making Class with Puppetry Of The Penis Show
This event combines the fun and laughs of our Cocktail Making Class with an absolutely hilarious puppetry of the penis show. Its bound to be two and a half hours of laughs and giggles. For further information on this package please click here.
Cooking Class
This is a great choice for a relaxed hens day afternoon activity and it is available in useful if the bride to be is a little an amateur in the cooking area. Discover to sizzle, sauté and season a range of food and even work up some delicious desserts later on. BYO drinks permitted also so bring along some bottles of bubbly and get cooking. Suitable to do later on in the afternoon as then you can consume the food afterwards and no requirement to go to supper-- two birds, one stone.
Cucina Italia - Hens Night Party Ideas Melbourne
cucinaitaliana.com.au
For a unique and special occasion with your best friends before the day that will change your life forever, Luciana Sampogna will deliver a unique and magical experience.
Hens night can be a memorable day or evening and we will ensure that your privacy is all what matters to us.
We have a boutique school in Sydney, where the atmosphere is alluring and Luciana has all the necessary ingredients to transport you to Italy.
We have had many Hens Nights at Cucina Italiana, and experience is the key to success on such an important occasion.
Strictly Marine - Hens Night Party Ideas Melbourne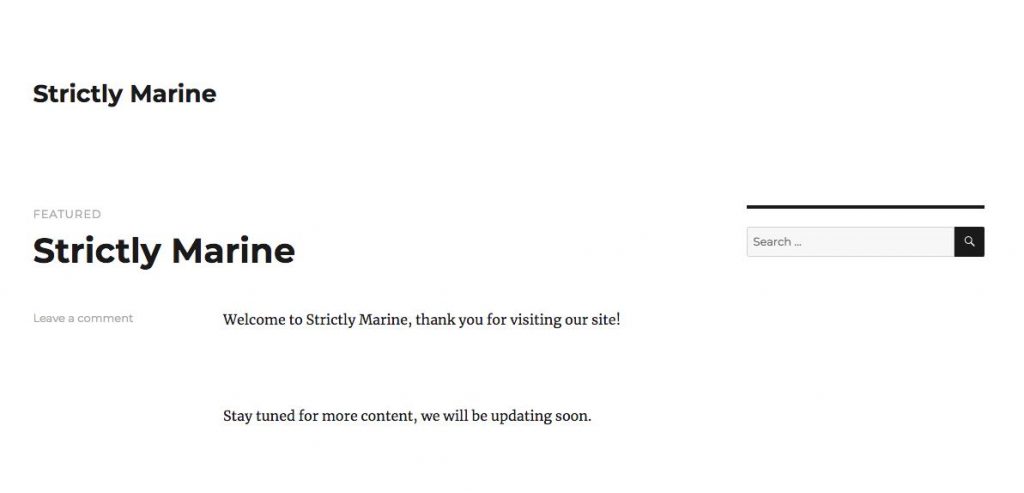 strictlymarine.com.au
A new bride may have to master lots of new skills. One such skill is that of cooking for more than one person. Some people have spent a lot of time cooking for others. Others may have spent many single nights alone only cooking for themselves. What could be better for a hens night Melbourne than a cooking class? Learning to master new skills is useful. It's even more fun when having a hens night Melbourne with friends. Many types of cooking classes are available. Catering places are happy to give classes for groups of people.
Cupcake Decorating
When it pertains to hen's celebrations it is frequently a great concept to have some enjoyable activities planned to keep everybody entertained. Cupcake embellishing may sound a little bit childish, however it's also actually enjoyable! Have some cupcakes pre-made and set up a craft table with a range of choices for embellishing including coloured frosting, edible glitter and whatever other enjoyable and yummy pieces you can discover.
Bella Cupcakes - Hens Night Party Ideas Melbourne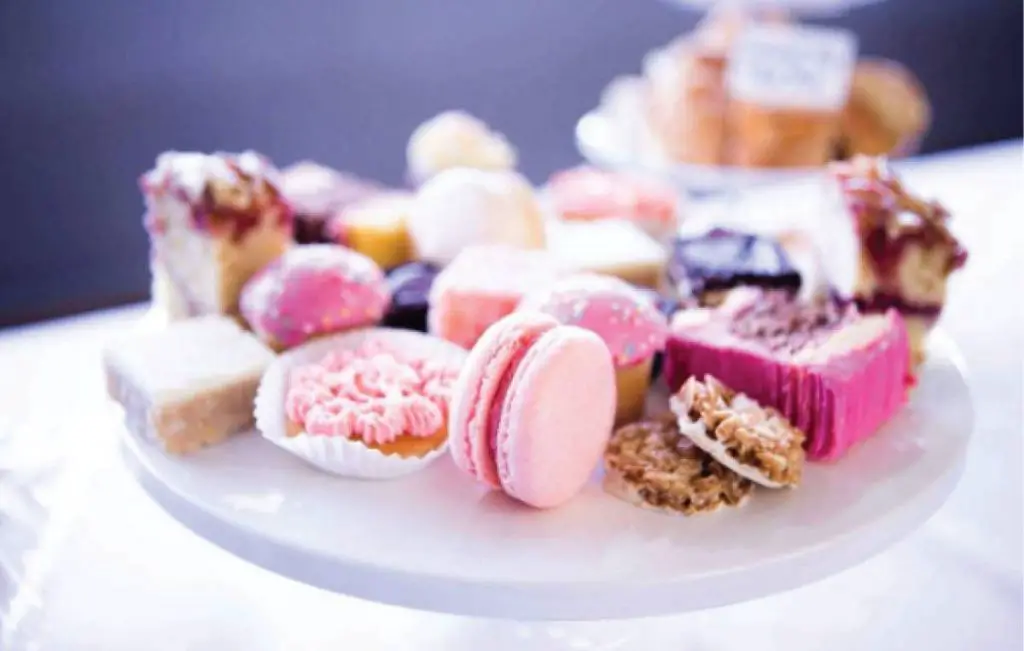 bellacupcakes.com.au
Do you want to make your next celebration one that won't be forgotten?
Let Bella Cupcakes make your wish come true!
From our unique custom cupcake towers or for something extra special, try one of our cupcake decorating parties!
We have something to suit everyone's needs, tastes and budget. Our decorating parties are perfect for hens nights or even an afternoon together with friends.
All celebrations are held at our beautiful venue in Kensington, Victoria (Australia).
Wild Oak - Hens Night Party Ideas Melbourne
wildoak.com.au
If you're thinking of an escape from the city, Wild Oak in Olinda does a variety of amazing cake decorating and cooking classes where your party can pick up some culinary skills. And let's be honest: Anything that requires any sort of cooking and/or decorating skill is going to be hilarious, especially if you've started the day with a couple of mimosas.
Dance Class
An ensured enjoyable, active, interactive and super amusing activity to start any Hens Party with a bang! Choose from endless dance styles such as; Pole, Burlesque, Twerk, Cheerleading, Bollywood, Hula Hooping, Michael Jackson, Disco & more. Select from having a mobile occasion or having it at a studio in Melbourne.  The most sweaty enjoyable a Melbourne Hens Party can have!
Aussie Twerk - Hens Night Party Ideas Melbourne
aussietwerk.com
Aussie Twerk is the perfect hen's night party idea to get all your girls feeling hot, sexy and confident ahead of your wedding! A famous Twerk Instruction School across Australia, this team of dancers will come to your party, give a quick lesson, and teach you and your girls how to shake, pop, drop and twerk the night away.
If you are searching for something truly memorable for your hen's night, Aussie Twerk is worth checking out.
Sugar Blue Burlesque - Hens Night Party Ideas Melbourne
sugarblueburlesque.com
Inject some serious sparkle to your hens night with one of the lovely hostesses from Sugar Blue Burlesque! Able to come to your house or the venue of your choice, Sugar Blue Burlesque promises a fun and memorable girls night in. And, with four themed hen's night packages to choose from – Burlesque, 1920's Charleston, 1960's Go-Go, and Vintage Cabaret – there's something for every hen with Sugar Blue Burlesque.
Brooks and Baker The Dancing Hen - Hens Night Party Ideas Melbourne
thedancinghen.com
The Dancing Hen is the perfect choice for brides waiting to release their inner 1920s flapper to dance the night away. Rated five stars on Easy Weddings, this hen's night company is famously known for their vintage-style hen's parties and entertainment.
If you are planning a vintage event complete with Great Gatsby costumes, we cannot recommend The Dancing Hen enough. But don't just take our word for it – check out their dazzling photo gallery and see for yourself why so many hens choose The Dancing Hen to celebrate their last hurrah.
Pole Divas Hens Night Party Ideas Melbourne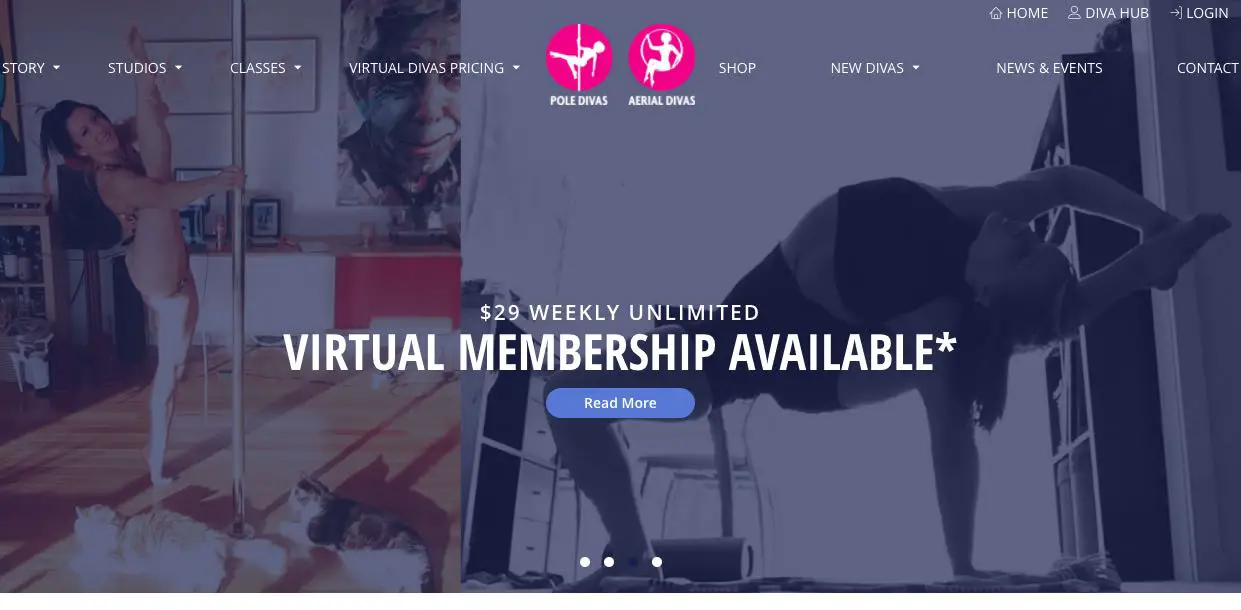 poledivas.com.au
Put on your sexiest stilettos and have a night of fun, laughs, and amazing new dance moves with Pole Divas! Their in-studio functions are a popular way for your girls to have fun and learn something new in a comfortable environment. And, with a choice of Pole Dance, Bootay, or Burlesque functions, there's something for every hen at Pole Divas.
80s Hens - Hens Night Party Ideas Melbourne
80s-hens.com.au
Pull-on your leg warmers and lycra; you're being transported back in time with 80s Hens! At their famous 80s dance classes, you and your girls will get your heart pumping and feeling footloose in no time! You even get to take home your very own 80's hens video clip to cherish for years to come!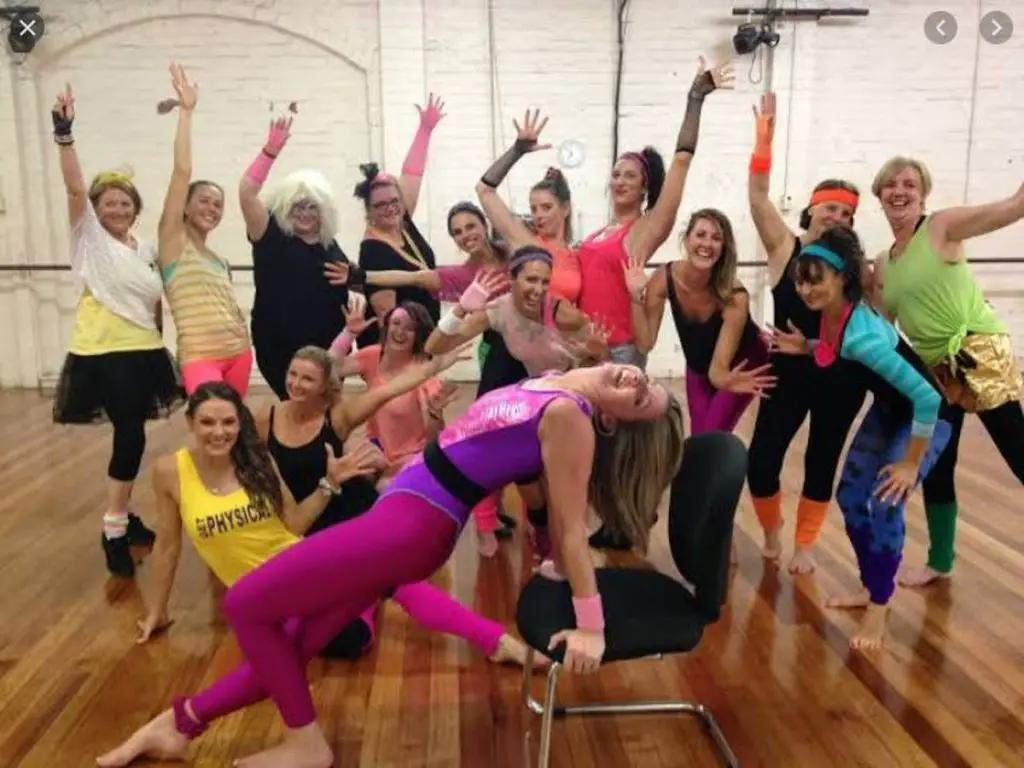 Swing into Circus Oz - Hens Night Party Ideas Melbourne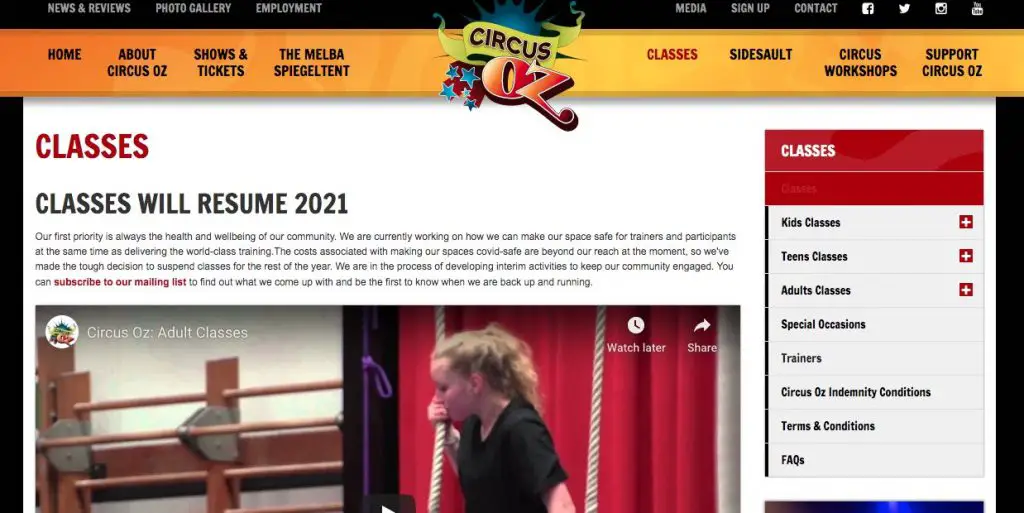 circusoz.com
Adventurous brides-to-be will jump at the chance to fly on the trapeze with her best mates. Circus Oz runs two-hour classes for 'vixens' in their Collingwood headquarters and can tailor the experience to whatever takes your fancy: trapeze, floor-based skills or a combination of both.
Day Spa
The best place to unwind with your good friends is a Spa. There are plenty of Spas that will help you relax and feel revitalized before your wedding. The experts will provide an environment of serenity and calm for the bride-to-be. This massage therapist and beauty professionals will get you all set for your special day.
Hepburn Bathhouse and Spa - Hens Night Party Ideas Melbourne

Hepburn Bathhouse is dedicated to your wellbeing and offers to relax and reviving spa treatments and therapies, including private mineral wellness baths, wellness-focused massages, body treatments & facial therapies and hand and foot experiences.
Ripple Hens Party Massage - Hens Night Party Ideas Melbourne
ripplemassage.com.au
Looking for some great hens party ideas?
Ripple creates your hens day or hens night oasis, in your home, hotel, Airbnb or accommodation.
We bring professional massage beds, fluffy soft towels, aromatherapy oils and even the music, your private day spa.
You get spoilt with luxurious massages, manicures, pedicures, facials or our wide choice of day spa treatments. There is something for every budget, and we include free facials, exfoliation, foot baths and reflexology in all our packages.
At Ripple, we know that organising a Hens Party can be a lot of work.
If you'd like, we can make all the phone calls and book everyone in, let us do all the running around.
Our goal is to make you happy and send professional, friendly spa therapists to spoil you all.
Nourish Day Spa & Wellbeing Centre - Hens Night Party Ideas Melbourne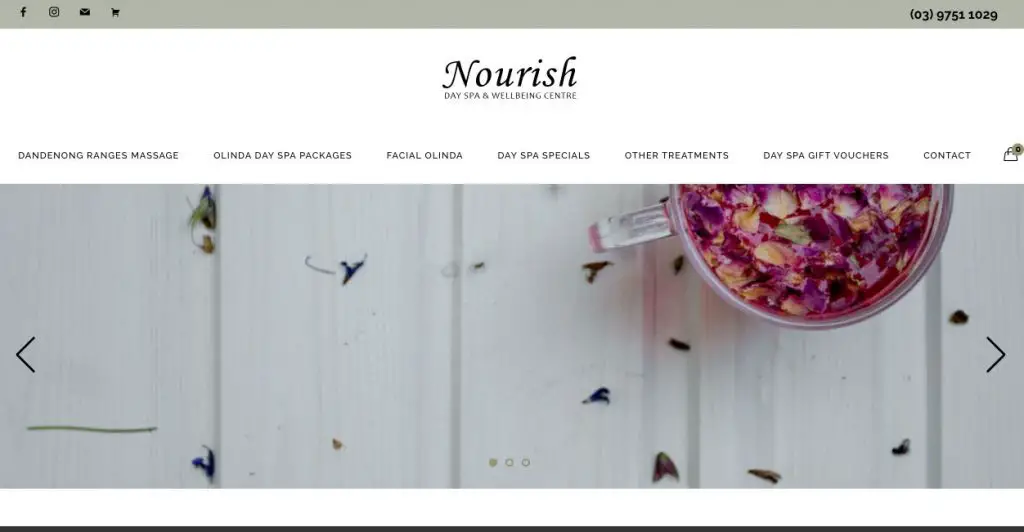 nourishdayspa.com.au
Take some time out of your day for a morning or afternoon of pure relaxation, the perfect distraction to take your mind off of any wedding stress you or the hens may have. Have an afternoon full of laughs and chats and create some new memories with your nearest and dearest.
Games and prizes to be won with all pamper parties.
Dominatrix Lessons
She's getting married quickly, so you may as well send her off with a couple of useful tips for the bedroom! Dominatrix Lessons make sure to get your bride-to-be's heart racing and cheeks flushing. This is an amusing and flirty hens night idea that's sure to chill out the whole hens night gang. As a reward, you'll all walk away with a couple of excellent transfer to bust out in the bedroom. In a Dominatrix Lesson, the bride-to-be (and all her closest pals) will be taught how to control their partners. You'll be shown a few suggestions and tricks to try back house and get hearts racing. For a hens party that's quirky, different, yet still informative, this is it! You'll be telling stories for a while.
Damiens Party Entertainment - Hens Night Party Idea Melbourne
damiensparty.com.au
Hen Night, also known as the 'hen party' or 'bachelorette party', is a party held in honour of a woman who is going get married. It is the time when the bride-to-be spends some time with her closest female friends for some fun and outrageous bonding before she enters married life.
If you are looking for out of this world ideas for your hen night activities, then you are in luck. Here are some unique activities that you can include in your party.
50 Shades of Dominatrix Lessons
Get ready to take out those whips and cuffs ladies. If you and your girls loved 50 Shades of Grey, then you will surely enjoy and relish this unique activity. Learn the 'basics' of BDSM from your instructor. Your instructor, along with a 'slave', will show you a spanking good time. Learn the art of role-playing, spanking, whipping, and restraints in this session.
Escape Room
For a fun afternoon, try an escape room in Melbourne  Work together to discover ideas and work them out to "save the world". This is an ideal idea if not everybody in the celebration knows each other; it's a fantastic way to start a conversation!
Escape Hunt Hens Night Party Ideas Melbourne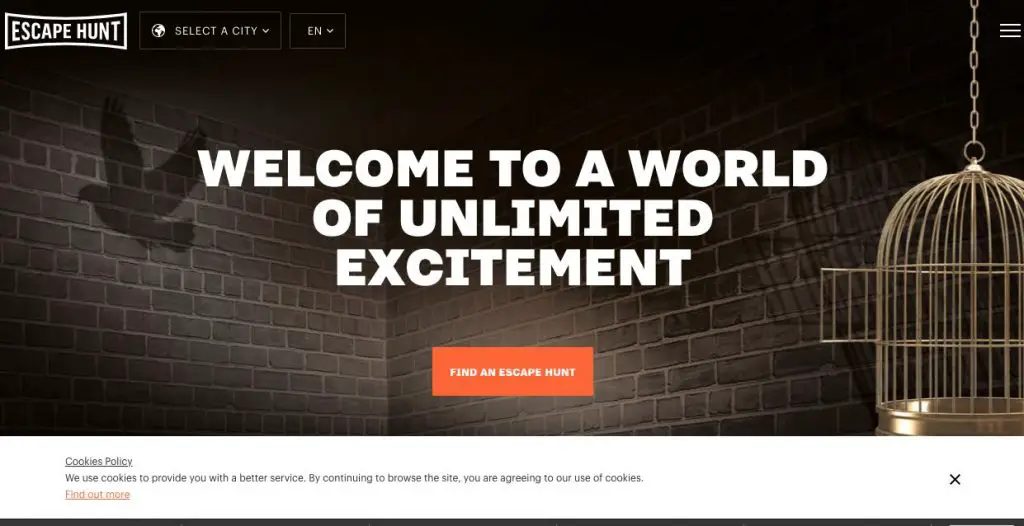 escapehunt.com
Escape Hunt is the exhilarating alternative to traditional hen parties. You'll enjoy an hour of adrenaline-fuelled gameplay, working together and playing to your strengths to beat the clock and break free. Finally, of course, celebrate your success!
Unlike escaping, planning your hen's night with us is simple – we'll provide you with a personal events coordinator who'll take care of all of the organising, so you're free to focus on having fun.
Thrive Flowers & Events - Hens Night Party Ideas Melbourne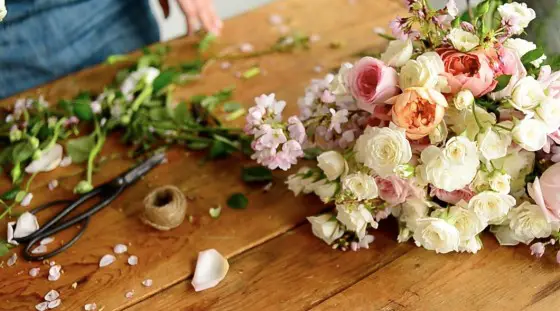 thriveweddingflowers.com.au
Thrive Flowers & Events now offer floral workshops for those who want to learn a new skill, explore their creative side, get back to nature and have a unique, memorable, fun experience with friends and family of all ages. Create a gorgeous floral design to wear on your evening out or take home to enjoy. Your host is a leading florist who will make sure all your girls have a fabulous time in a hands-on workshop! With over 16 years in the industry, Alyssa will demonstrate the techniques to make your floral design and then it's your turn to get creative.
Floral Accent Hens Night Party Ideas Melbourne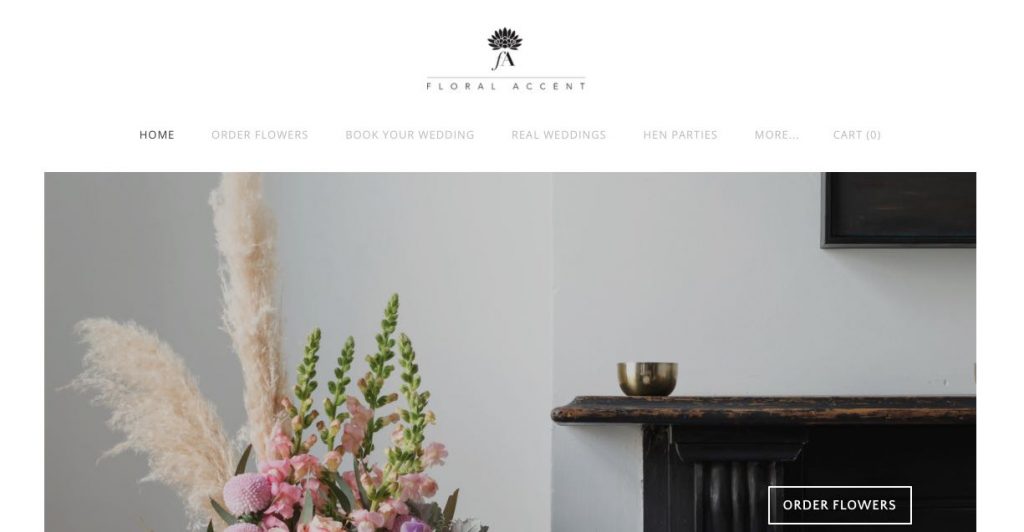 floralaccent.com.au
We love a good hen party. In particular, a flower-filled hen party. We run 90-120 minute floral crown or floral arrangement workshops for tribes of hens all across Melbourne. We come to you with buckets of seasonal blooms and all the tools needed to make your very own creation. A quick demonstration by us, lots of hands-on flower loveliness by you and at the end of your session you are on your way to the wineries, races or restaurants of Melbourne wearing a flower crown that shouts "Look at me, I'm on a hen do!". We recommend floral crowns when you have something else to move on to and either crowns or arrangements when flowers are your final destination!
Blindfolded Dinner - Hens Night Party Idea Melbourne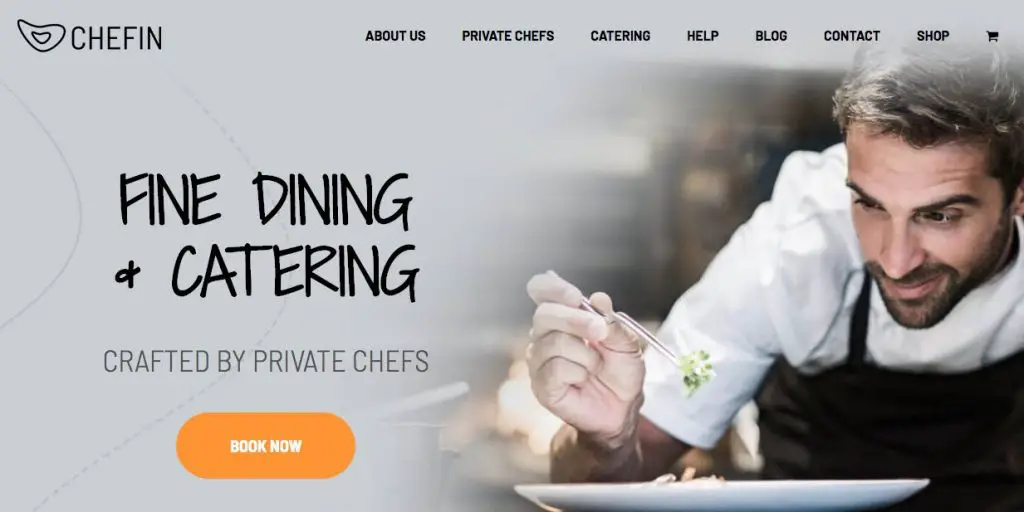 chefin.com.au
Blindfolds at the dinner table? Yep, we're doing away with etiquette and replacing manners with heightened senses. This foodie experience takes you on a complicated culinary journey without the sense of sight. Completely blindfolded, you and your guests will be guided through the meal by your four other reasons, now heightened like a superhero. With these new superpower senses, you'll pick up aromas, flavours, and textures you've never experienced before!
Private Chefs
We've teamed up with some of Australia's best chefs to deliver food experiences that push boundaries and engage the senses.
Our private chefs are obsessed with food. They're creative, passionate, and driven to explore new food concepts and ideas consistently. They're always discovering new and obscure ingredients, special techniques, and intriguing ways to present their foods. They want to engage people's senses, to spark conversation, to leave a mark on your memory.
We think it's unfair to keep highly creative and dedicated chefs in the kitchen at the back of the restaurant. They should be at the forefront, showing off their creations and interacting with the diners that will eat them. That's why we're reintroducing the chef as part of the dining experience. Meet our chefs, get a feel for their food and personalities, and let them take you on an unforgettable food journey.
Iluka Retreat & Camp  - Hens Night Party Ideas Melbourne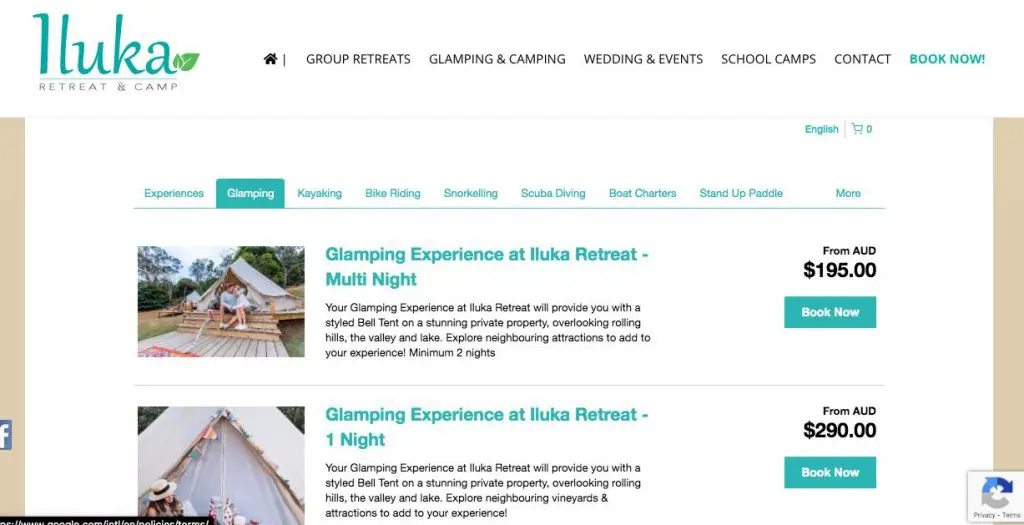 ilukaretreat.com.au/glamping/
Iluka Retreat provides a bespoke glamping experience on a stunning 36-acre private property on the Mornington Peninsula.  This fusion of small scale luxury immersed in nature is the perfect lamp-ground setting. Luxury bell tents are set up and styled to perfection, so all you need is your overnight bag and a sense of adventure.
Auscarts - Hens Night Party Ideas Melbourne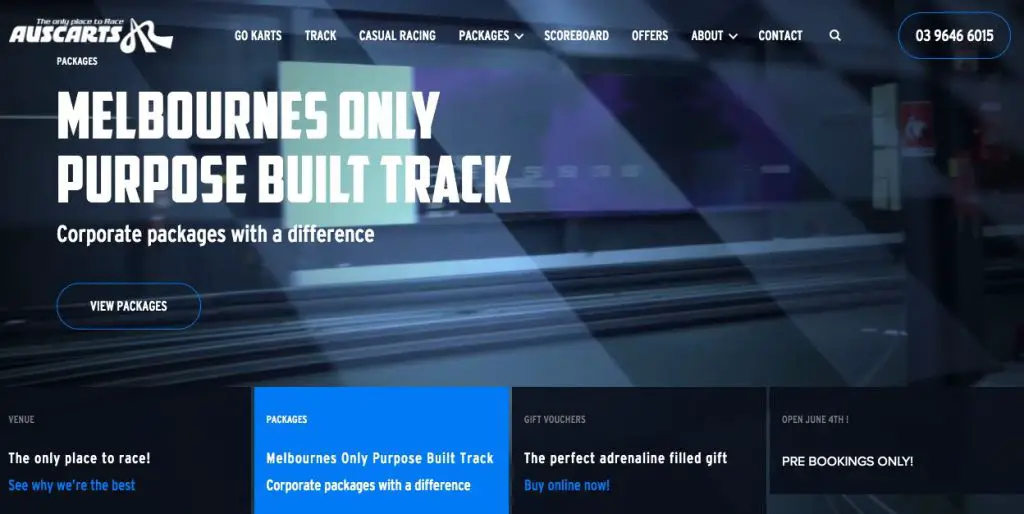 auscarts.com.au
Start your Hens event with a race they will never forget! Auscarts is the perfect venue to create a memorable day you deserve.
Create a Memory - Auscarts is sure to meet your requirements and exceed your expectations when hosting your event or party. Make your hens a memorable event that you and your guests will never forget.
Great Location & Plenty of Extras - Auscarts is Just 7 minutes from the CBD Making it the ideal venue to start a hens party on a high. Party buses, coach or limo transfers can be arranged upon request. We can also tailor decorations, entertainment, music, and food to you (and much so more, just ask!).
Venue Fun - Our purpose-built indoor go-kart racing facility, serves as a different and alternative venue to the usual bars or clubs that host many bachelorette parties.
Hair, MakeUp and Photoshoot
Be the centre of attention in this beautiful hair, makeup and photography plan fit for the stars. Your Hens Party will be dealt with to elegant makeup artistry and high-end hair-styling before an expert photoshoot to display your new style. Drink champagne and aid yourself to the lolly bar, while the skilled staff member works their magic, recording the energy of your celebrations and enabling your natural appeal to shine. Even the most camera-shy of your crew will feel confident and at ease with the help of this professional team. This unique Hens Day experience is filled with love and laughter, perfect to share with the mom of the bride and another member of the family too, making amazing memories to last a lifetime.
Runway Room - Hens Night Party Ideas Melbourne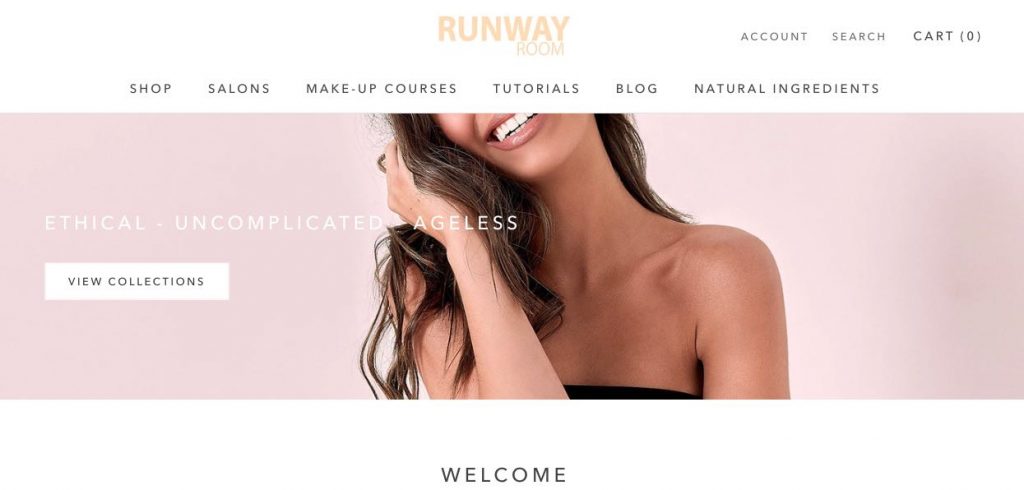 runwayroom.com
Offering a luxurious makeover and photoshoot for you and your girls, Runway Room is the perfect place to begin your hens night. Be pampered with champagne, hair styling, makeup, and end with a fun photoshoot with your girls. And, after the fun of the day at Runway Room, you're all dressed up and ready to hit the town to continue your hen's night celebrations!
Hen's Treasure Hunt
Analyze clues, total saucy difficulties, take pictures with random hot people, it's that easy and loads of FUN! (Well, there is more to it, but if we tell you we'll have to eliminate you ...) Oh, and there's no apps or innovation included, we're old school fun-- the pen and paper range with a genuine person as your hostess-- yes! A real individual! Do not worry, if your hen is a bit conservative, our activities are created to suit the tame and timid hen along with the girl who's up for anything! How many in a group you ask?
Wicked Hens Parties- Hens Night Party Ideas Melbourne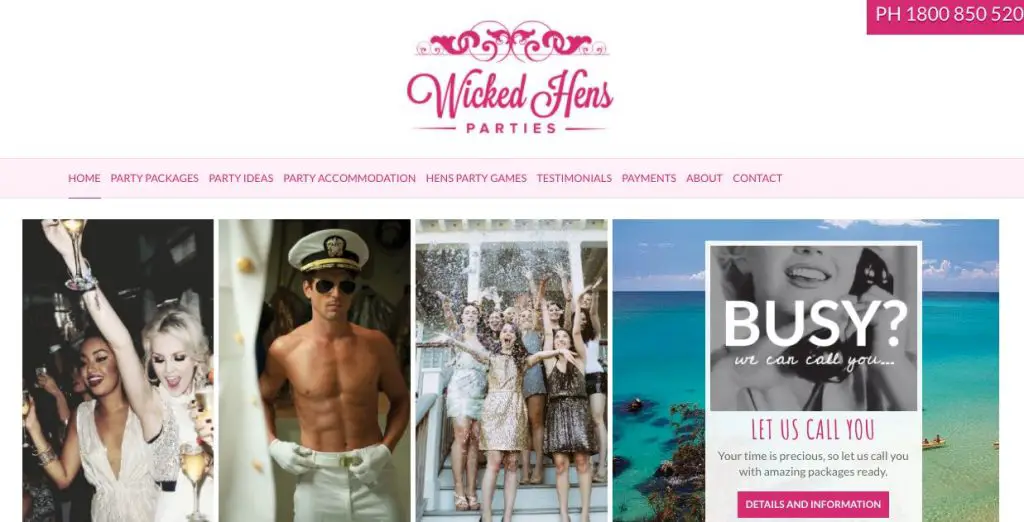 wickedhensnights.com.au
Remember the amazing race? How about the ultimate treasure scavenger hunt at your Hens party finding clues around Melbourne city or out at the beautiful St Kilda beach.
An adventurous and unique way to get to know all the girls before the big day! Choose from a game based on the popular TV show and perfect for competitive hens, or opt for a mini-Amazing Race with bar checkpoints for those who want to sneak in cheeky champagne or two. Think 'pub crawl' meets 'Amazing Race' with a Hens party twist!!! You and the girls will be running around Melbourne's beautiful St. Kilda or around Melbourne City as you battle it out to figure out the clues, answer the riddles, and tick off all the boxes to become the 'Hens Party Amazing Race Champion'!
Wicked Hens party planners know how to make your Hens party unforgettable, so please contact them to find out the rest of the details, this scavenger hunt will satisfy your competitive urges and makes for an adventurous and magic Hen's day around Melbourne.
High Tea
A modern-day twist on the traditional bridal shower, take to town with your girls and take pleasure in a hen's high tea with a bit more sparkle-- and we're not just talking about the ring. It's time to bust out that little floral number, dust off those gloves and make like a girl with this supreme elegant hen's celebration idea. Believe champagne, fragile finger sandwiches, beloved little quiches and divine macarons set against the rich botanical backdrop of our main dining establishment. "Hello, decadence, are you there? It's me once again."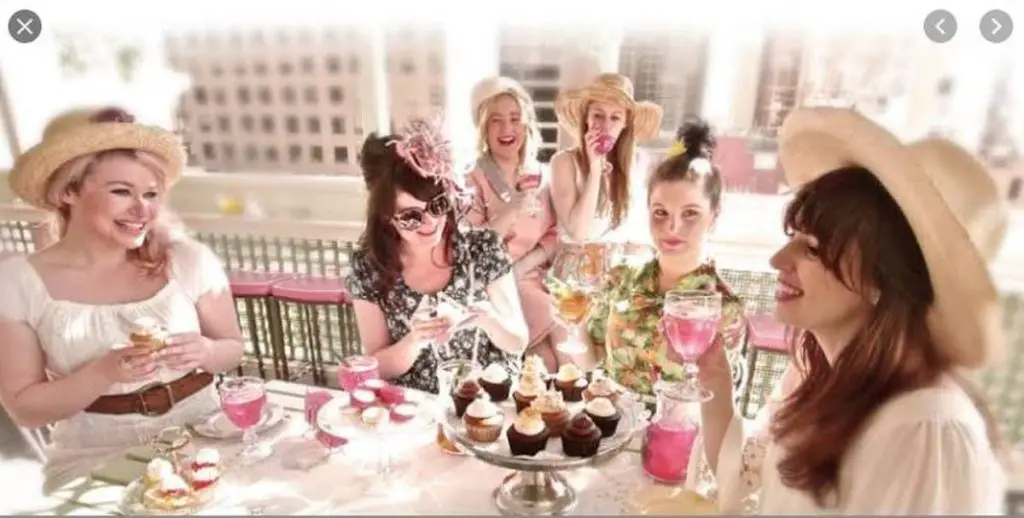 Add a touch of elegance and class to your Hens Party with a High Tea organised by Wicked Hens Parties. Whether you are in the mood for a traditional, cucumber sandwiches affair or a Death by Chocolate experience, our team can arrange it for you. Contact us with your preferences, your budget and your guest list numbers and we'll custom design a package and a quote that takes all the guesswork out of organising a Melbourne High Tea.
The Cocktail Queen – High Tea Hens Parties - Hens Night Party Ideas Melbourne
cocktailqueen.com.au
Celebrate the bride to be with an Afternoon High Tea Party Package from The Cocktail Queen.  Delectable petite sweets, sinful cocktails and a giggling good time is always a must for a kitchen tea.
At Your Table - Hens Night Party Ideas Melbourne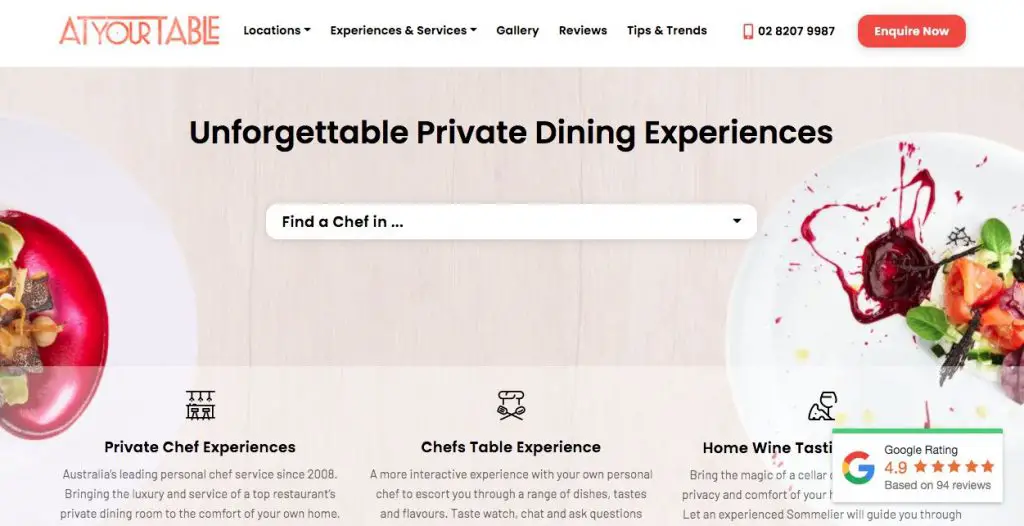 atyourtable.com.au
At Your Table has been Australia's leading private chef service since 2008. Bringing the luxury and service of a top restaurant's private dining room to the comfort of your own home. We also offer a range of private gastronomy experiences from interactive chefs tables to in-home wine tastings. We can also help with high-end catering as well as party planning and styling.
Gone are the days when booking a personal chef is something only available to the rich and famous. At Your Table make it easy for you to hire a personal chef for just about any occasion.
We have sourced the very best private chefs from around the world, each with individually designed menus. From highly acclaimed award-winning chefs to the newest creatives in the kitchen. Let our team and chefs do all the hard work so you can sit back, relax and enjoy being the perfect host.
We have recruited the very best personal chefs from around the world. Including Michelin Star Trained chefs and one or two celebrities.
Gathar - Hens Night Party Ideas Melbourne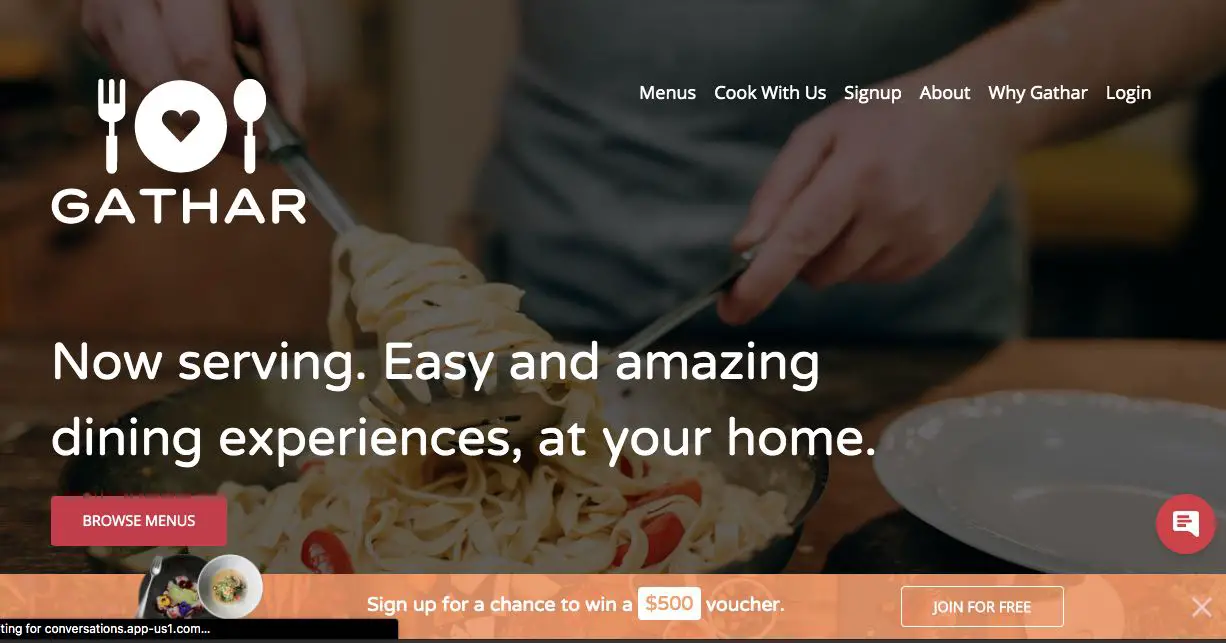 gathar.com.au
Gathar connects those who love to cook, with those who love to entertain. Browse menus and book your favourite, then sit back and relax. Your Gathar Culinarian will come to your home or holiday pad with all the ingredients, cook in your kitchen, serve your guests then clean up for you and your friends.
Whether it's a recovery brunch, Sunday lunch, afternoon grazing or delicious dinner party, Gathar has you covered. It's entertaining, without the hard work.
Karaoke
You and your women have started with Champagne, before indulging in a banquet and streaming red wine. Next thing you know you're searching for a brand-new celebration location. For the times when you desire more than just drinks at a bar, head to among Sydney's top karaoke areas.
Heroes Bar - Hens Night Party Ideas Melbourne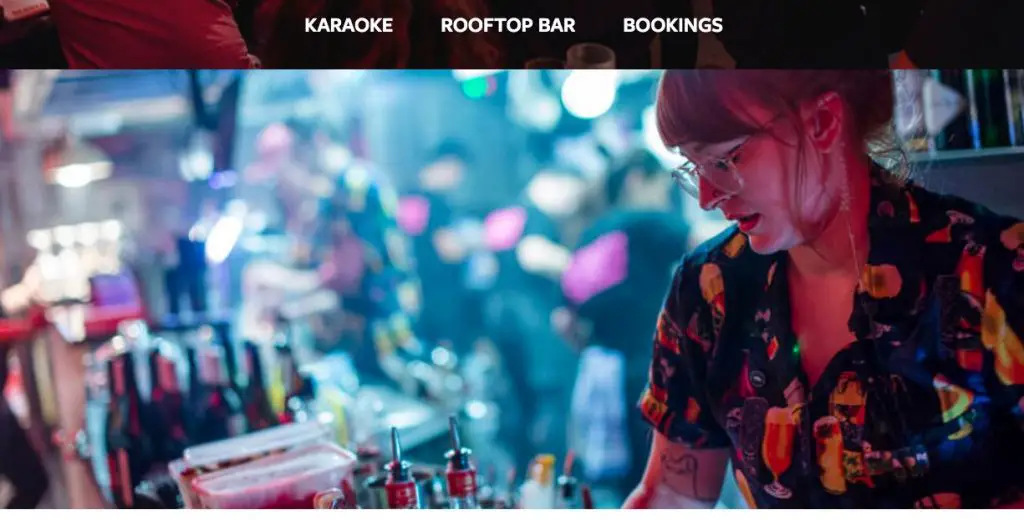 heroesbar.com.au
Heroes is the perfect venue if you're organising a hen do or bachelorette party. Private room available for all size groups, plus a kitchen to eat from and a rooftop to drink at before or after your booking. We'll make sure the bride to be has a night she won't forget!
Party World
Party World is one of Melbourne's best-loved karaoke bars and sets the standard for multi-functional karaoke bars across the city. It is a place to have a good time with your friends, belt out a tune and meet new people. All these are taken to the next level with modern decorations, cozy sofas, absolute privacy for private rooms, as well as up-to-date equipment to ensure all have good times.
Naughty or nice, this is the night that all you ladies catch up for that last hoorah before the bride heads off to start her new life with the man of her dreams. If you're looking to organise a great party for the girls, check out our packages below and feel free to add a cheeky upgrade or two to make it that little bit more memorable.
Kayaking
Confess, all of us understand one of those gals who wear activewear to breakfast with the legitimate objective of hitting the health club later on (they're not just 'decorative' leggings individuals). When it comes time for The Active Bride to commemorate, a Manly Kayaking tour makes certain to please.
Balgownie Estate Hens Night Party Ideas Melbourne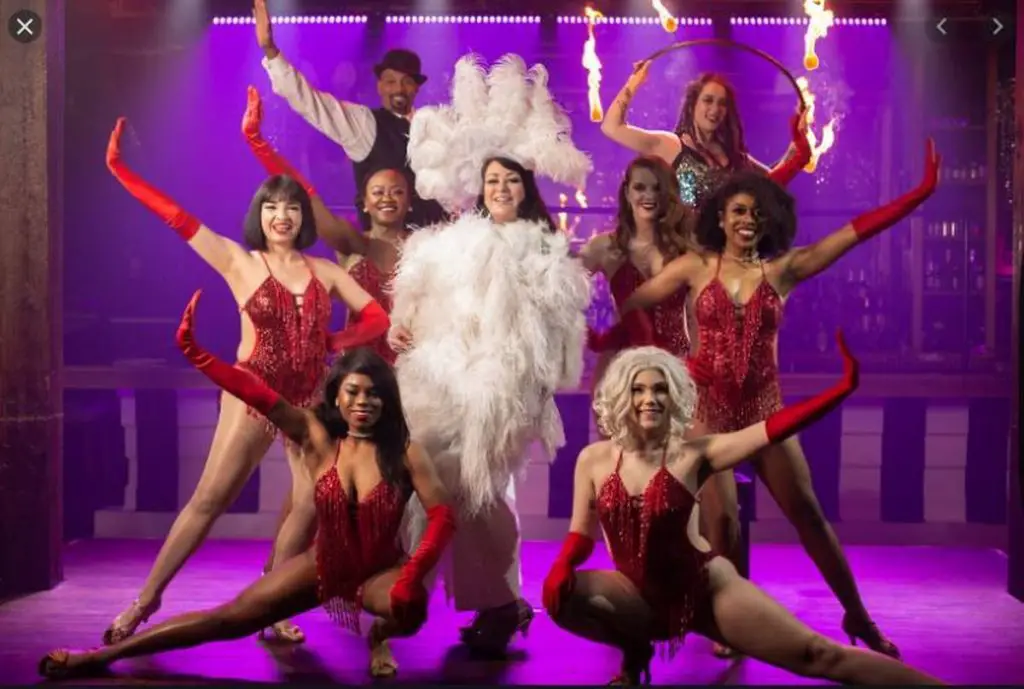 balgownieestate.com.au
From milestone birthdays, engagements, product launches, and corporate events, our exceptionally skilled Event's Team will seamlessly tailor your next Yarra Valley celebration to your satisfaction.
With floor to ceiling glass windows and modern soft furnishings, our private dining rooms set the scene to implement the perfect event, with a view of the Yarra Valley and great dividing range that is unrivalled.
Our attention to detail and fine dining service alongside our impeccable food and wine will leave a lasting impression on your guests, certain to be a memorable experience for years to come.
Learn to Dance Burlesque
Now you girls can put all your sexiest dance moves together, get dressed up like you are ready for a shift at the Moulin Rouge and have one hell of a fun time. A Burlesque class is among the most asked for Sydney hen day activities. The personnel here are wonderful and will ensure to bring the shyest members of your hen group out of their shells. By the end of the session, you will all be ready to place on the sexiest show in the land if you can stop chuckling that is!
Kolbee Rae Designs Hens Night Party Ideas Melbourne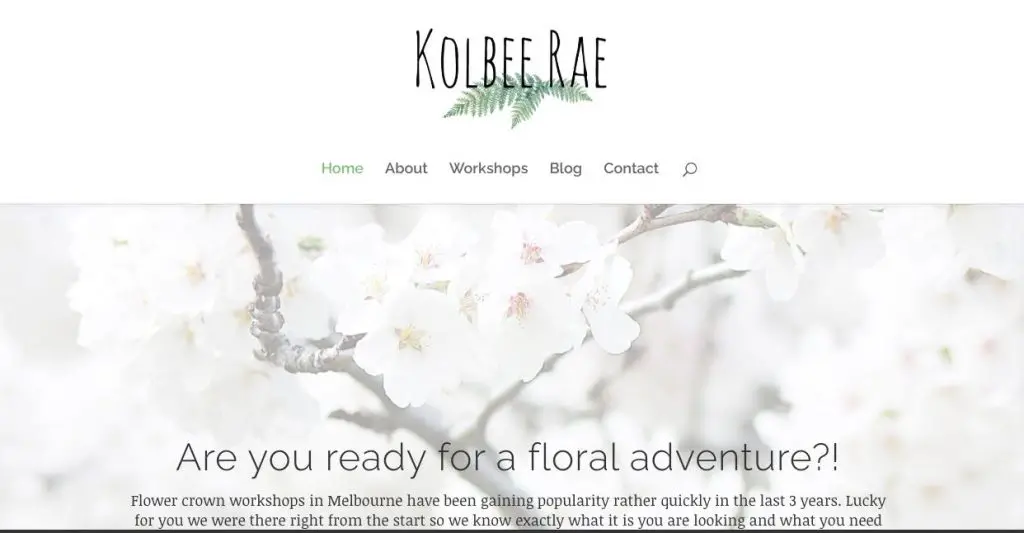 kolbeeraedesigns.com.auFlower crown workshops in Melbourne have been gaining popularity rather quickly in the last three years. Lucky for you we were there right from the start, so we know exactly what it is you are looking and what you need for a perfect event. Our packages are tailored to suit everyone, and we love nothing more than ensuring the workshop blends seamlessly into your day, leaving you feeling relaxed, confident and with a brand new set of skills!
OzParty Events - Hens Night Party Ideas Melbourne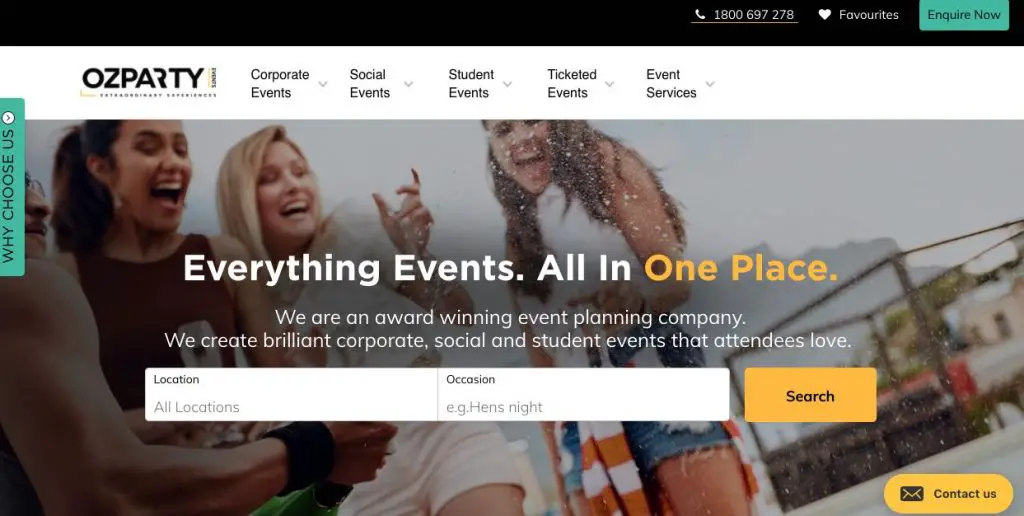 ozpartyevents.com
OzParty Events promises to create a hens night everyone will remember for years to come! This highly recommends the team of party planners take the stress out of planning a hen's night, allowing hens to sit back, relax and enjoy their last hurrah with their best girlfriends.
Party ideas include cocktail-making classes, life drawing, winery tours, pamper days, hens cruises, male entertainment and more.
The Gathering Florist - Hens Night Party Ideas Melbourne
thegatheringflorist.com
We love spending our weekends running our fun workshops. We are obsessed with beautiful flower crowns and love gathering friends around for pre-wedding parties! The workshop is all about having fun and learning a new skill while sipping on a glass of bubbles! We start the workshop with a short demonstration and explain how to wire the stunning flowers. We go over all the steps on how to design and construct a flower crown. Our workshops run for one full hour. It's best for us to come near the start of your event so your guests can wear their pretty crowns for the remaining of the day/night. No one leaves without wearing a crown! We are hands-on, so if anyone is having difficulties, we are more than happy to finish off their crown!
Make Your Own Fragrance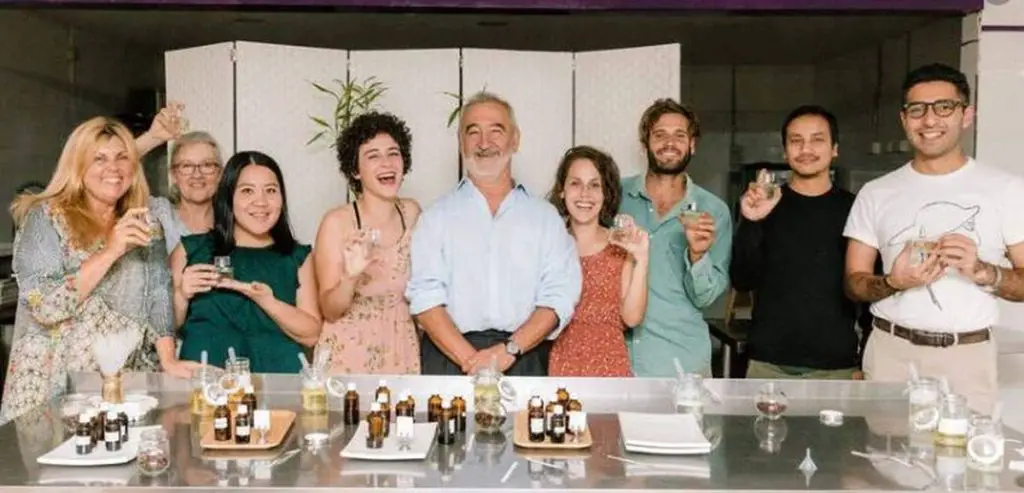 The Bride and bridal group can create their own unique signature scent for the wedding day at the Make Your Own Fragrance Workshop. In this workshop, you will get to have fun with the very same components as significant fragrance houses and embark on a mesmerising journey of discovery!
Secret Women Business - Hens Night Party Ideas Melbourne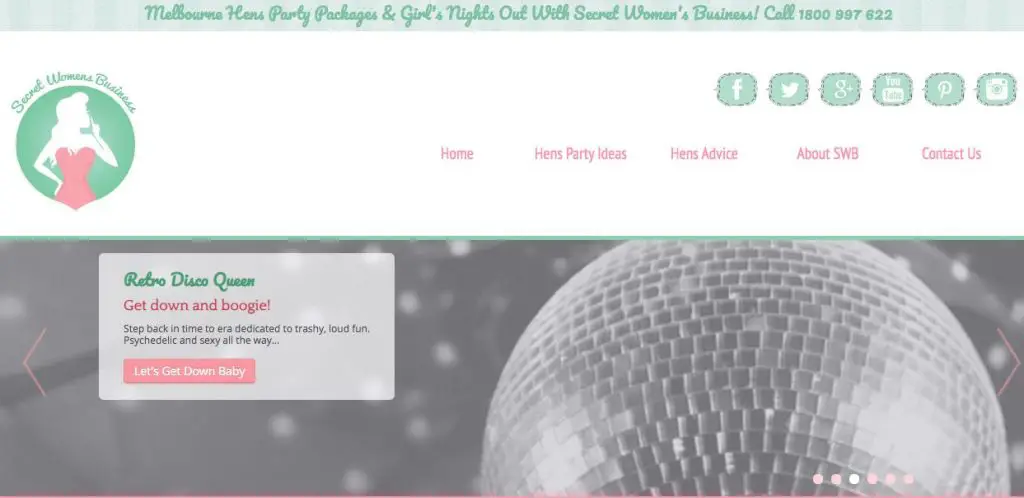 swbusiness.com.au
A perfume making session is something that you can all actually do at home.  You can buy perfume making kits on line on set up in your own lounge room. Each girl can make their own signature scent, giving everyone something to take away on the night.  Depending on how they turn out each girl can even where their scent to the wedding (or at least for the rest of the hens night).  This is also a great activity to maybe do over a glass of bubbles before you head out for the rest of the evening's festivites.
Overseas Trip
A hen's getaway is all about kissing single life goodbye, at a leading celebration location. Use tiaras and veils on the beach, vineyard hop or dance your method through attractive bars. Whatever you select to do, these locations ensure the bride is spoilt for choice-- simply do not forget, anywhere you go, please keep in mind to stay safe, and notify your enjoyed ones of your location so they don't worry!
Epic Holidays Las Vegas Hens Party Packages
epicholidays.com.au
Hens Party Las Vegas Packages At A Discount! Set in Nevada's Mojave Desert, Las Vegas is non-stop 24-hour, 365 days of casinos, bars, pool parties and nightclubs. The 4 mile long Strip is like everything you've seen in the movies, lined with elaborate theme hotels such as the pyramid-shaped Luxor, Caesars Palace, and the iconic Bellagio. Just outside the city you can fly over the Grand Canyon in a helicopter or drive around the desert in a Hummer.
Hens Party Las Vegas Ideas
Las Vegas also has the best Resident Dj's, music artists, magicians and acrobatic shows in the world all year round. Best Hotel Rates Guaranteed*! Epic Holidays offers Hens Party Las Vegas packages to suit any budget or requirement so get in touch and one of our travel planners will help.
Wine Regions of New Zealand
The ideal destination for if want to spend a weekend with the girls but want to make the affair an international one is just a hop and skip over a ditch away.
New Zealand offers unparalleled landscapes and experiences. For a luxurious hens unwind, however, your go-to has got to be one of its many wine regions (e.g. Otago and Marlborough).
In short: Chill out on a trip away from Australia without sacrificing more than your weekend.
Our accommodation pick: Marlborough Vintners Hotel Heritage Boutique Collection. If you want to stay amongst the vines while in New Zealand, this place is it. It's just a few minutes' walks to the nearest vineyard and there are dozens to visit in the area.
Enjoy a fun and memorable Hen's wine tasting tour of the Yarra Valley that's personalised for your special friend's Hen's day. Our Hen's winery tours are ideal for small to medium size groups for up to 20 girls. We have no shortage of Hen's party venues in Melbourne to bring you to, including stops at 3 to 4 wineries for exclusive tastings.