Enjoy the freedom of renting designer dresses, gowns and clothing online for a fraction of the retail price.
An Occasion Never Forgotten. In the years to come, when you look back on this happiest of all days, what will you remember most? The ceremony itself, of course, all smiles and the nerves. The reception, the speeches and the superb meal. Then there's the sheer joy of dancing and partying with all your family and friends.
A truly memorable occasion. And there at the heart of it all, the happy couple; the bride looking radiant and the groom suitably elegant. We've put together a collection of exclusive formal hire wear that will complete this beautiful picture.
A superb choice of traditional and contemporary styles, all created using the finest materials, for the groom and wedding party.
Located in Melbourne, Victoria and searching for a formal wear store to dress your handsome groom and his groomsmen? It's your groom's day too – why not make him feel a million bucks as well! Here's the top 20 most popular Melbourne formal wear hire!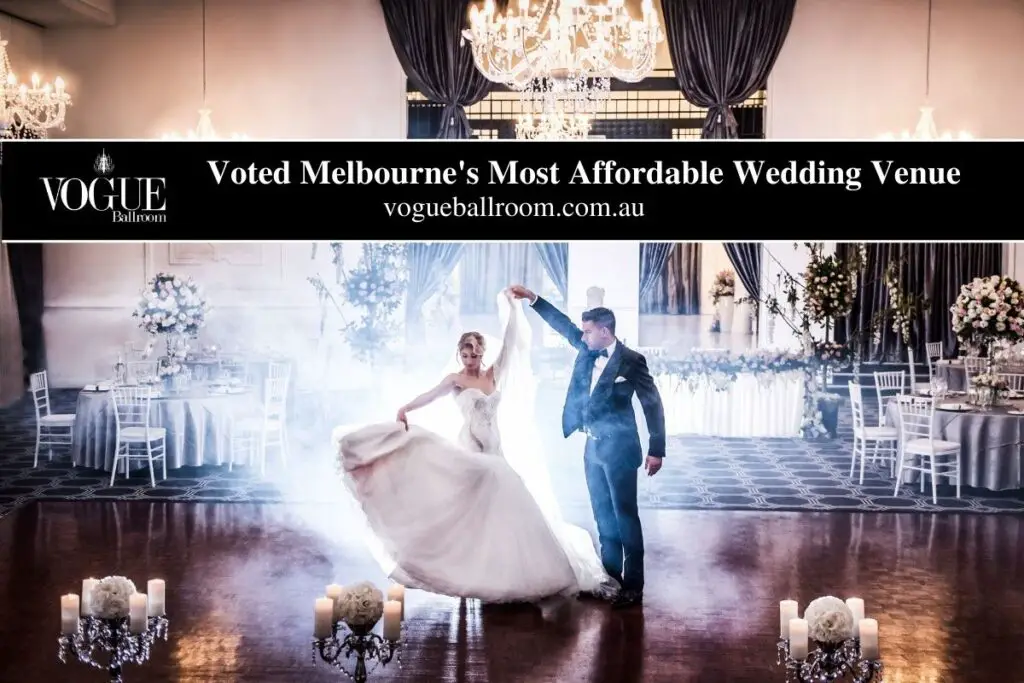 Add a header to begin generating the table of contents
White Runway Formal Wear Hire Melbourne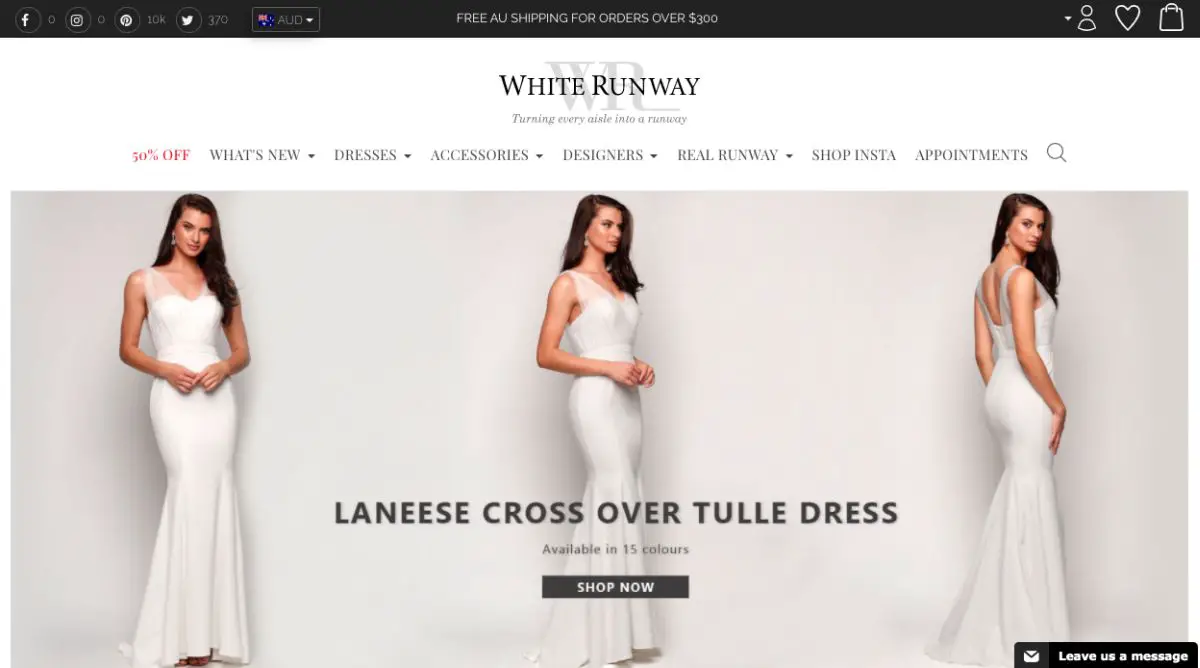 whiterunway.com.au
Upon Request
Shop for stylish and sophisticated Bridesmaid Dresses, Formal Dresses and Evening Dresses in Australia. White Runway makes it simple and easy when it comes to online bridesmaid dress shopping in Australia. We don't believe in the concept of wearing a dress just once especially when it comes to bridesmaid dresses, formal dresses, evening dresses and debutante dresses. We have a carefully selected range of flattering formal dresses online, debutante dresses, bridesmaid dresses, mother of the bride dresses, evening dresses and wedding guest dresses that have been selected for their timeless quality and can all be worn again. Not only limited to online dress shopping in Australia, White Runway delivers worldwide to customers in the US, UK, Singapore, Dubai and New Zealand.
Introducing WHITE RUNWAY, Bridesmaid and formal dresses she'll wear time and time again.
White Runway offers the largest and most on-trend selection of Ready-to-Wear and Made-to-Order gowns to suit any woman. Specialising in Bridesmaid gowns , Black-Tie and Formal dresses,  White Runway  has become Australia's number #1 Formal and Bridal Fashion destination and is a cult favourite among both Australian celebrities and the media fash-pack.
At White Runway, we don't believe in the concept of wearing a dress only once, particularly when it comes to bridesmaid dresses.
All too familiar with the age-old custom of wearing an unfashionable bridesmaid dress and then banishing it to the dark recesses of the wardrobe, White Runway Founder Rebecca Lau Marsh created the company to offer bridesmaids stylish dresses that would be loved, cherished and most importantly, worn again! Dresses that your bridal party would love to wear and will thank you for.
Unlike any other boutique, White Runway stylists can turn every aisle into a runway style by offering clients a selection of over 350 dress styles in more than 30 colour-ways in sizes 4-24, all designed and delivered to your door within 1-12 weeks.
All the dresses that you see on White Runway have been carefully selected by our team of Stylists to provide a flattering fit and timeless style. We offer a wide variety of formal dresses, bridesmaid dresses, evening dresses and dresses to wear to a wedding in numerous colours, sizes and prices. With our Stylists only a few clicks or a phonecall away, shopping for your wedding at White Runway becomes easy. If there's anything you want that you can't find, please do contact us and we'll do our best to assist you.
 Bariano Formal Wear Hire Melbourne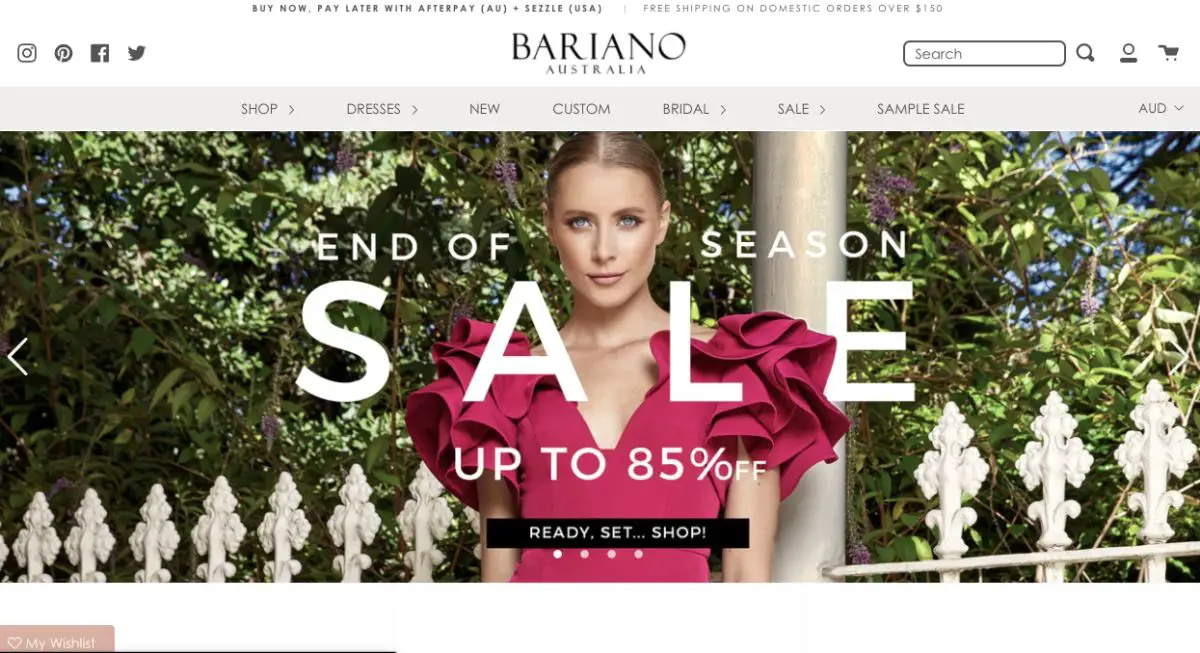 bariano.com.au
1300133693
Bariano is a Melbourne based designer dedicated to being at the forefront of global fashion trends. Escape into a world of glamour, femininity and elegance.
The Bariano girl was born in 2004 with the promise to fascinate and charm, allure and dazzle.
Since launching the label nationally in carefully selected boutiques in 2006 Bariano is now also stocked internationally.
Our first flagship store was unveiled on Melbourne's Chapel St in 2006. Since then we have had the pleasure of opening a further 5 stores across Melbourne's fashion precincts.
The team at Bariano pride themselves on their promise to you to always deliver a personalised styling experience, making sure the Bariano girl always leaves her mark.
 InStitchu Formal Wear Hire Melbourne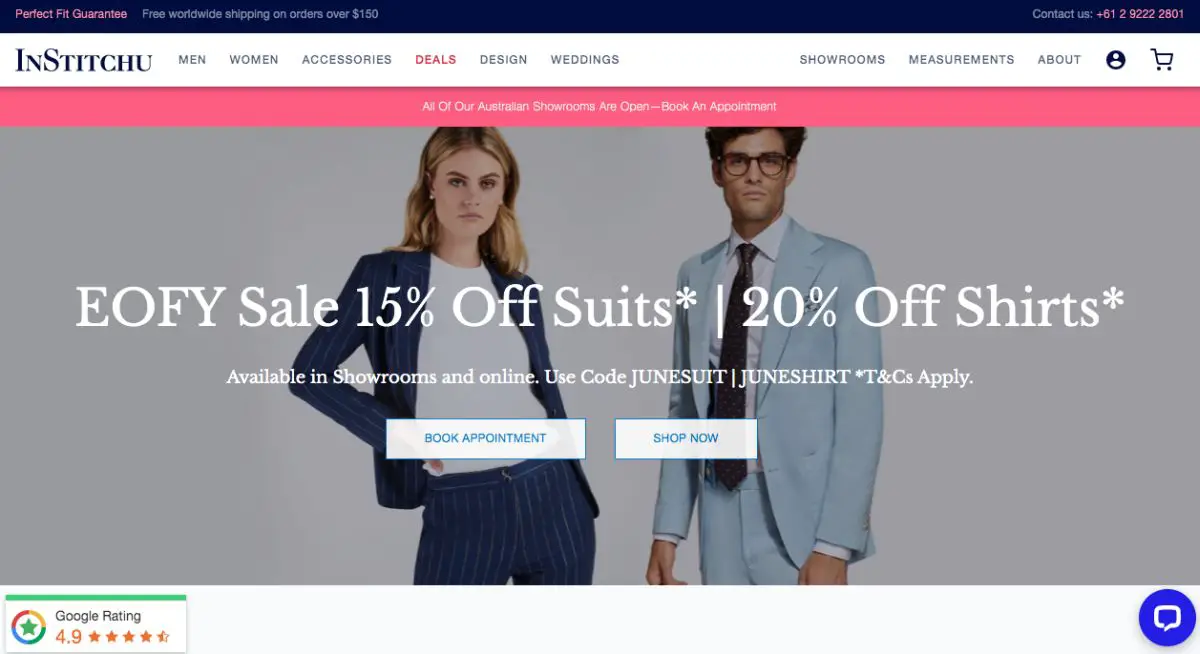 institchu.com
292222801
Our Co-Founders
InStitchu was founded by Australians James Wakefield and Robin McGowan. After years of searching in vain for perfectly fitted, high quality, affordable menswear, they created InStitchu, to bring exactly that to gentlemen around the globe.
Through the InStitchu website, they established a bridge between high-end tailoring partners with customers all over the world, and removed the exorbitant retail mark ups, allowing customers to shop high quality, made-to-measure menswear online or at a Showroom, without breaking the bank.
The gamble paid off—what started from humble beginnings above a Sydney cafe in 2012 has grown to Showrooms across both Australia and the USA, with a fully integrated website.
Design Perfectly Fitted Garments
The concept of InStitchu is special—We allow you to design custom, made-to-measure garments down to the detail, choosing from hundreds of customisation options and premium fabrics.
Get measured by a Stylist and enjoy our old-world tailoring experience at one of our Showrooms across Australia and the USA, or hop onto our website to measure, design and order from scratch from home.
All orders are covered by our complimentary Perfect Fit Guarantee and your measurements and order will be saved to your online profile for next time.
Our custom, tailored suits start from $599 and shirts from $89 and although affordable, quality is never compromised.
Our Showrooms
InStitchu is all about the experience—transport yourself into the realms of old-world tailoring at one of our Showrooms across Australia and the USA.
Be measured by an expert Stylist and peruse hundreds of premium fabrics and customisation options as you design your garment(s) down to the detail—all with a whisky in hand. Choose to have your final fitting at a Showroom or have your garments delivered directly to your door—all orders covered by our Perfect Fit Guarantee.
Design & Order Online
Design custom garments made to your measurements online, all from the comfort and convenience of home.
Design your garment from scratch using our design tool, or customise a product from one of our extensive suit, blazer, pants, or chino collections pages.
Next, if you've ordered from us previously, your measurements will be saved to your online profile, select them at checkout. If you haven't ordered before, follow our online video instructions to enter your body or favourite garment measurements at home or choose standard sizing and tweak to your liking. All orders are covered by our Perfect Fit Guarantee.
Ways To Measure
Visit A Showroom
Be measured by an expert Stylist at a Showroom—your measurements will be saved to your online profile making reordering online next time simple.
Measure At Home
Enter your measurements online conveniently from home, following our easy step-by-step measurement videos.
Measure Garment
Measure your favourite garment at home following our simple steps or bring it to our Showroom and our Stylists can measure it for you.
Travelling Stylists
Book a travelling Stylist to come to you to measure you, guide you through our online design tool and bring fabric books for your perusal.
Standard Sizing
One of those lucky few that fit off the rack, but want one size for your jacket and another size for your pants? Customise your design and choose from our standard sizes.
InStitchu's Complimentary Take Home Fabric Kit
If you're scarce on time, or don't live near an InStitchu Showroom, our brand new InStichu Fabric Kit will give you a first-hand look and feel of our high quality fabrics, making your final fabric choice even easier.
For a limited time, we are offering our Fabric Kit to you, complimentary ($30AUD value)
Perfect Fit Guarantee
All orders are covered by our Perfect Fit Guarantee whereby in the unlikely event that your garment is anything but perfectly fitted, we will alter or remake your garment for free, ensuring you walk away completely satisfied.
Perfectly Tailored Wedding Suits
Book a complimentary initial consultation at a Showroom to meet with a Stylist to discuss your wedding plans, suit styles and pricing with no pressure to purchase.
From there, gather your Groomsmen to enjoy our signature old-world tailoring experience where you can choose fabrics, be measured by your dedicated Stylist and design your dream wedding suit down to the detail—all with a whisky in hand. Once our expert Tailors craft your garments from scratch, enjoy final fittings at a Showroom, with all orders covered by our Perfect Fit Guarantee.
Pilgrim Clothing Formal Wear Hire Melbourne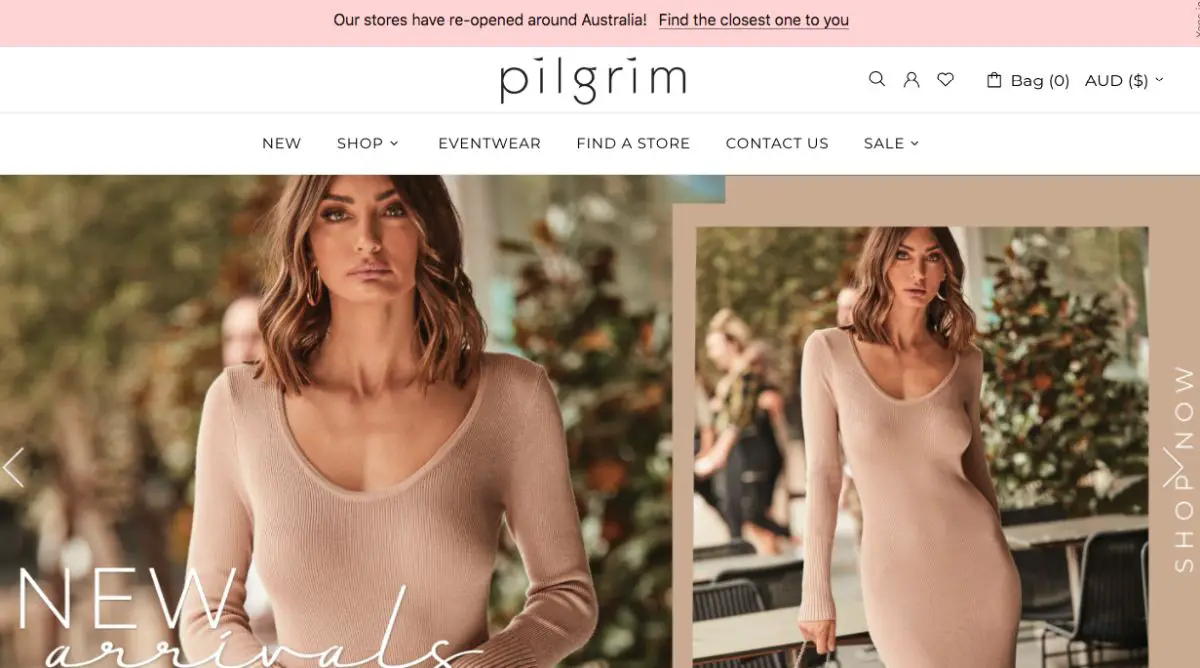 pilgrimclothing.com.au
1396611142
Today at Pilgrim Clothing, we strive to stay ahead of the curve and in the forefront of current fashion trends.
Driven by a passionate team of creatives, we're absolutely dedicated to quality and value in our garments across the board. Regularly featuring prints exclusive to our brand, at Pilgrim Clothing we are endlessly striving to offer luxurious, fashion-forward options – without the price tag.
Our aim is to provide the every-day woman with everything she needs to look and feel confident & fabulous for every occasion. Pilgrim Clothing embodies the average young, bold and fearless Australian female, ever-evolving as she is.
Inspired by the Pilgrim woman, renowned for being unapologetically daring; styling our customers with an individual edge is what we do best.
Our Story
The legacy of Pilgrim Clothing began in 88', when it was created as a part of an overall collective brand at the peak of pop-culture inspired fashion.
In 92', the brand was purchased by Grant Olver, who is still a co-owner of the brand today. Seeing amazing potential for Pilgrim, room for expansion and progression, it was an opportunity that he knew he couldn't pass up.
In the same year, we began producing our own product, as well as opening up our first store in Acland Street, Melbourne, Australia. Twenty-seven-years, seventeen stores and a whole lot of hard work later, we here at Pilgrim are so proud of how far we have come and what we stand for as a team and as a company.
But the most important part of our story is you – our customer. We couldn't have gotten here without you, our wonderful, supportive and loyal customers. We owe all of this to you, thank you.
Mens Suit Warehouse -Formal Wear Hire Melbourne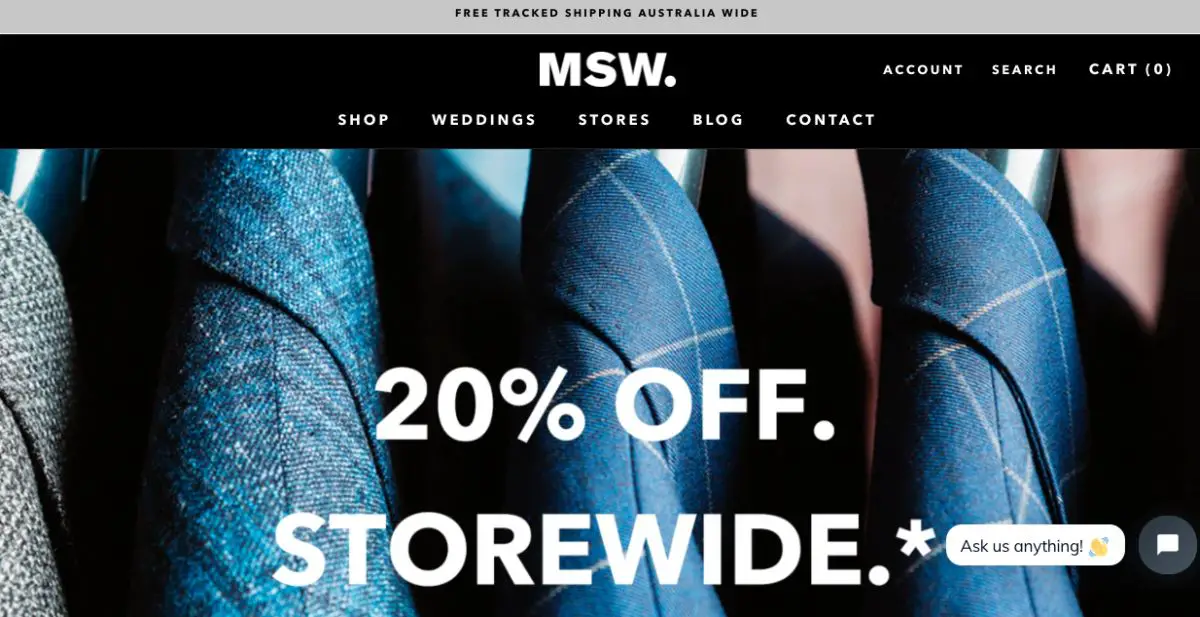 menssuitwarehouse.com.au
1394284152
FIND THE RIGHT SUITS FOR YOUR WEDDING.
With over 20 years experience, our friendly team know everything there is to know about suiting up for your big day. Relax. We'll make it simple for you. With the biggest range of suit brands under one roof, we've got the right fit for any look and budget.
WE MAKE SUITING UP FOR YOUR BIG DAY AS SIMPLE AS IT SHOULD BE.
FRIENDLY EXPERTS
Our easy going team are here to take you through the options and simplify things for you. You won't be judged or intimidated.
RELAX
With no fuss personal service and a really relaxed atmosphere, we take the the stress out of buying suits for your wedding.
A QUICK NO FUSS PROCESS
Unlike most things involved in planning a wedding, we bring an honest and no fuss approach to helping you suit up for the big day.
MAKE AN APPOINTMENT
You can always come in and browse but having an appointment allows us to give you proper one-on-one service for your wedding needs. You can make an appointment online or call us on (03) 9428 4151.
SORT YOUR SUITS IN STORE
Come in and we'll talk you through your options in terms of styles, brands and budgets. Bring along your groomsmen or anyone else, all are welcome.
FINISHING TOUCHES
While we get most guys suited and booted at their appointment, you may need some alterations for that perfect fit. We can help with that or point you in the right direction.
ABOUT MSW
From our humble beginnings in 1995, we have continued to evolve the Mens Suit Warehouse [MSW] brand around our core mission; to help men get suited! Men who are time poor, men who don't want to go shopping for hours on end, men who stick to a budget men who find the entire experience of finding a good suit, a bit tiresome. We exist to help men like you. No frills, no fuss.
At MSW, we have built a brand around simplicity, honesty and convenience, without compromising style or service. We make finding a suit as simple as it should be.
SUIT YOURSELF
Our people are our pride, and our greatest asset. The knowledgeable and friendly team of MSW experts know their suits, so that you don't have to!
We have redesigned our stores to help simplify the suit search. We guarantee that there will be no feelings of overwhelm of intimidation. The personal service and relaxed atmosphere in store will put you at ease.
We have the right fit for any budget or occasion with our huge range of brands that you know and love.
We hope to see you soon!
Ever Elegant - Formal Wear Hire Melbourne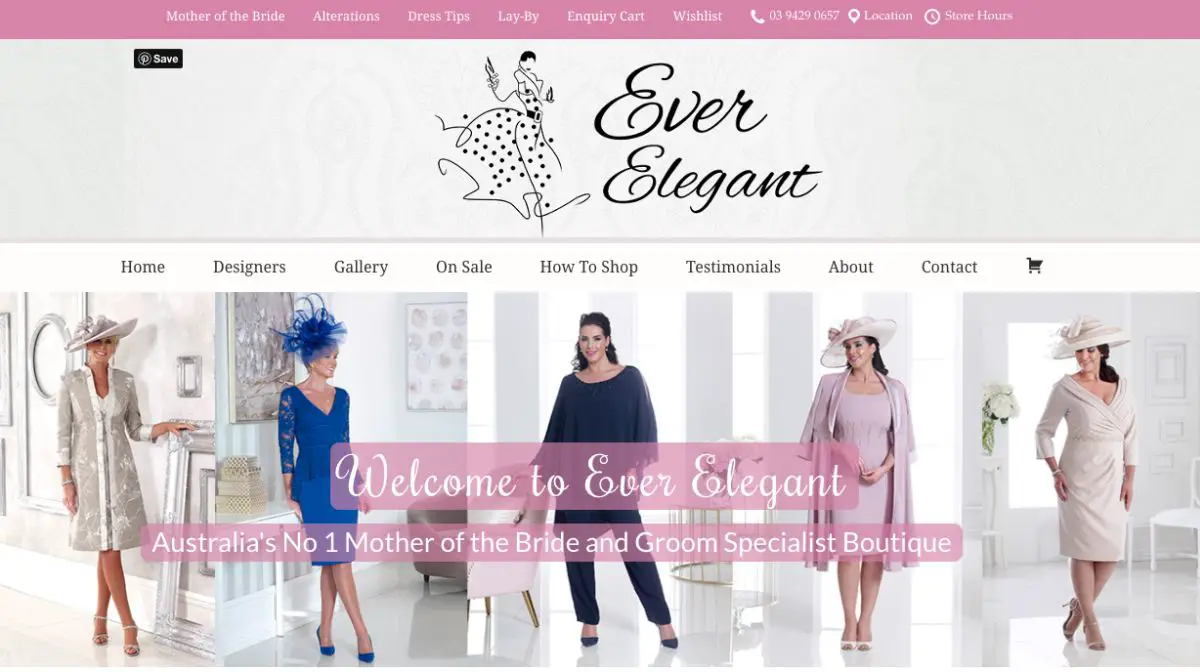 everelegant.com.au
1394290657
Melbourne's Biggest and Best Mother of the Bride and Groom Boutique
Ever Elegant started as a custom dressmaking business in East Malvern, and serviced the locals , making Bridal Gowns , Mother of the bride, race wear, day wear and even t shirts.
The owner of Ever Elegant Helena Buxton, has been a custom dressmaker for thirty plus years and has heard  many of her clients  saying that there wasn't anywhere to get great occasion wear for the mature lady.
Because of this the concept of a boutique specially for a more mature lady , but one still wanting style and elegance, was born.
As a mature lady herself and having made custom outfits for many years, Helena knew what ladies were asking for and went out to find designers from around the world with stunning occasion wear.
Not all ladies are the same so she has sourced many different styles in sizes from 6 to 26, and a range of prices.
Another consideration, was that mothers of the bride want something a little more exclusive.There is nothing more deflating and embarrassing than walking in to your daughters or sons wedding and a guest has the same outfit. So many of our outfits are exclusive to Ever Elegant here in Australia.
With Helena's experience in custom dressmaking, she has provided a Alteration service for outfits sold in store. Very few ladies can walk out without a minor adjustment, so we find most ladies find this service a great addition.
We receive 2 main deliveries per year from our overseas designers. Our main order being Jan-March and a smaller order July – Sept.
We do not keep lots of multiples of sizes, so be quick to ensure you size.
Ever Elegant specialise in mother of the bride and groom-occasion-wear so all our stylists are very focused on making the mum's look and feel amazing, we try very hard to provide the ultimate shopping experience. We offer a relaxed intimate atmosphere and many mums spend 2-3 hours trying on 10 or more different styles, until they find that one special piece. We  are anti pressurized selling , we want you to look and feel fabulous and we will happily guide you in your purchase.
We stock a range of hats and fascinators to coordinate with your outfit, if you so desire.
We source our hats and fascinator from both local and overseas milliners.If you are after an exclusive hat or fascinator, we may have just what you are after.
Come along and browse, or ask advice from one of our experienced personal stylists.
With lots of ideas and knowledge of our stock, once you have given us an idea of what you are looking for, we will do most of the hard work for you and bring you some outfit suggestions.
It is always good If you come in with an open mind and don't be afraid to try a few things that may be out of your comfort zone.
We find one trusted person to help can be far better than a whole group, who can tend to confuse matters.
As a leading stockist of special occasion wear, we are committed to making our customer's look and feel fantastic.
With so many websites selling poor quality fake designer copies, we would like to make clear that we are an authorized retailer for all of our brands and source our product directly from the designers. They are of a high quality.
We have heard many horror stories of ladies purchasing outfits through websites that seem to be genuine, only to find the quality and fit are extremely poor.
If the price is extremely low there is a fair chance that it is a fake manufacturing website.
We sell through our website but are a bricks and mortar store, if you can come in and see our product do so. If not we will be only too happy to help you with a purchase, just ring us in business hours and we will do a payment over the phone and have your outfit off to you by express post.
Always and Forever - Formal Wear Hire Melbourne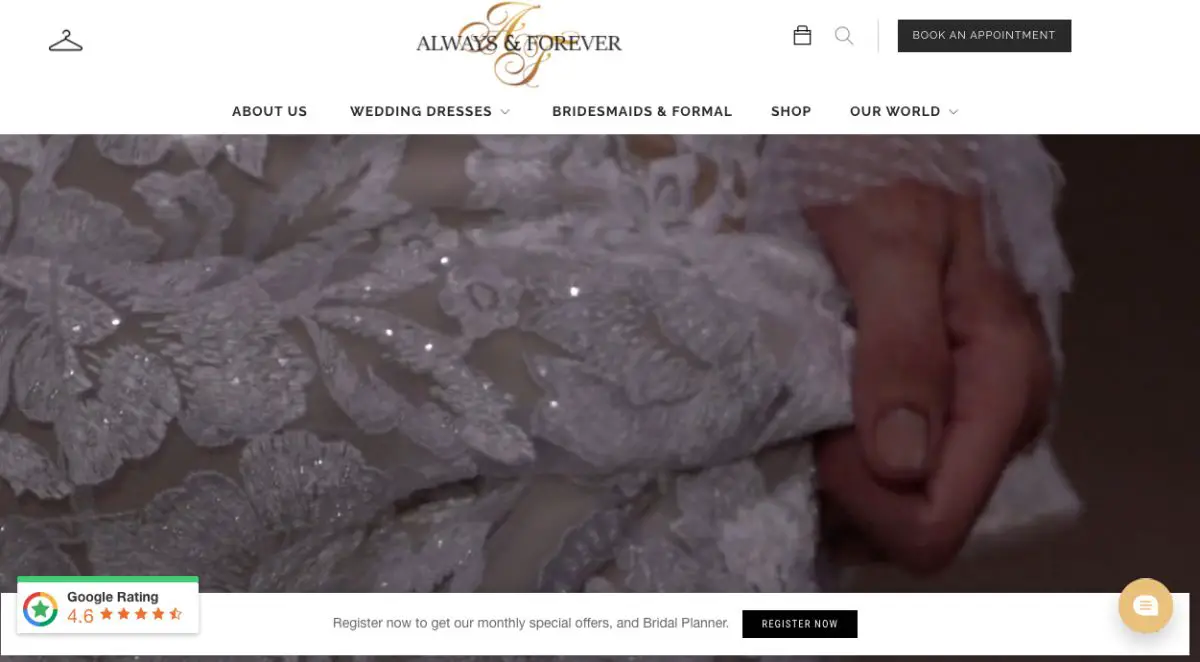 alwaysandforeverbridal.com.au
1390772999
BRIDAL - BRIDESMAID AND WEDDING DRESSES
At Always and Forever Bridal International, Melbourne – London, We pride ourselves on being the leading premier bridal wedding gown stockist in Melbourne. We support one of the largest collections of stunning wedding gowns in Melbourne. Here at Always and Forever Bridal we carry award winning exclusive bridal designers from Australia and around the world;- such as Dando -London, Mori Lee, Nicole Spose, Mon Cheri, Martin Thornburg, Sophia Tolli, Ellis Bridal, Kelsey Rose, Peter Trends, Ronald Joyce, Rosa Clara, Fara Sposa, Oppulence, Romantica of Devon, Madeline Gardner New York and many more.
With over 30 years of experience in the Industry, Always and Forever Bridal International is a second generation family run and owned business, renowned for its customer service. Always and Forever has become Melbourne's most sought after and trusted bridal store, for brides to be when shopping for their Wedding Gowns, Bridesmaid's Dresses, Bridal Accessories, Shoes and Final Touches
BRIDAL - BRIDEMAIDS AND WEDDING DRESSES MELBOURNE
ALWAYS AND FOREVER
At Always and Forever Bridal International, Melbourne – London, We pride ourselves on being the leading premier bridal wedding dresses stockist in Melbourne. We support one of the largest collections of beautiful wedding gowns in Melbourne. Always and Forever carry award winning bridal and exclusive designers from Australia and around the world;- such as Sophia Tolli, Ellis Bridal, Peter Trends, Pronovias, Rosa Clara, Fara Sposa, Mon Cheri, Oppulence, Romantica of Devon, Mori Lee, Madeline Gardener New York, La Sposa, St Patrick, Ian Stuart and many more.
With over 28 years in the Industry, Always and Forever Bridal International is a family run and owned business, renowned for its customer service, Always and Forever has become Melbourne's most sort after and trusted bridal store, for brides to be when shopping for their Wedding Gowns and Bridesmaid Dresses.
DESIGNER WEDDING DRESSES AND GOWNS MELBOURNE
Always and Forever Bridal International is based in the heart of Melbourne's most famous fashion precinct, based on Collins Street, Melbourne. With globally acclaimed fashion houses sourced from around the world, from Europe to the United States as well as some of Australia's finest designers. We are synonymous with bringing the newest designer catwalk wedding dress collections from London, Barcelona and New York to name but a few.
Our dedicated bridal stylists will help guide you on your journey to find the most amazing wedding dress, to suit your individual personality and style. With a sense of style our professional team are here to listen and create a truly amazing experience, never to be forgotten.
CUSTOM WEDDING DRESS SERVICE MELBOURNE
The perfect gown is only limited to your own imagination as we now have our Custom Design Bridal Service. Where you can create your own personalised wedding dress, from Vintage to Boho, Princess Classic to Modern sleek designs. Always and Forever are committed to providing our brides with the ultimate designer experience here in Melbourne.
Our flagship store in Melbourne, is located at the Level 1, 340 Collins Street, Melbourne. We carry an exquisite collection of Bridal gowns, Evening wear and Prom gowns, along with a large selection of accessories, everything you could need for all those special occasions.
Designers such as Ian Stuart, who are exclusive in Australia to Always and Forever, as well as Pronovias, La Sposa, Mon Cheri, Rosa Clara, Peter Trends, Ronald Joyce, Madeline Gardner, Victoria Jane, Mori Lee, Mark Lesley, Romantica of Devon and more.
Always and Forever have been established for over 20 years in the UK, we hold a large selection of some of the finest gowns from around the world. Our success is due primarily to our customers recommendations, that is why you are important to us. Our aim is for you to relax and enjoy the experience, we don't make any demands, (no maximum time limit, no limit to the amount of gowns you may try), we are here purely for you, so that you may experience the magic.
We pride ourselves in our friendly and professional service, so thank you for taking the time to visit our site and we look forward to seeing you soon, at one of our stores.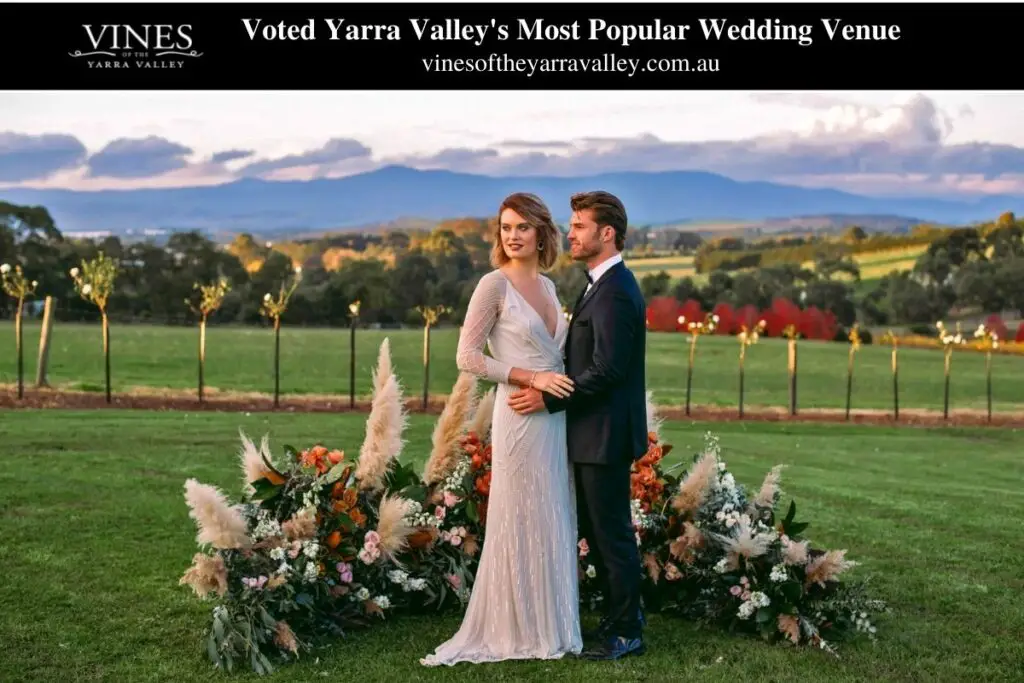 Trevor West Formal Wear Hire Melbourne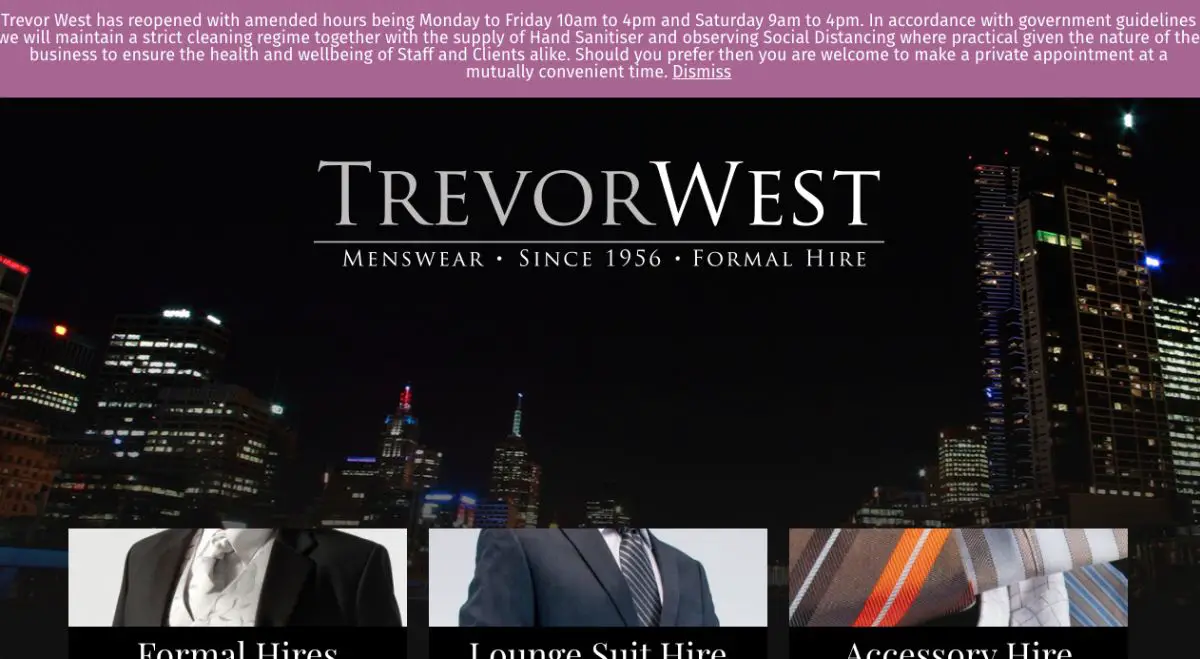 trevorwest.com.au
1398665658
The Trevor West Experience.
Trevor West have long been regarded as Melbourne's pre-eminent formal wear and hire specialists, providing formal hire, wedding suit hire and lounge suit hire to Melbourne and South Yarra since 1956.
Trevor West is the preferred formal wear supplier to most of Melbourne's premium hotels for their guests, as well as being referred by the VRC to its members and international guests for the supply of Morning Suits for the committee room over the spring racing carnival. Also an exclusive menswear retail specialist, Trevor West is a major distributor of iconic brands such as Hugo Boss, Bugatti, Abelard and Ben Sherman, each range being hand picked and bought specially to suit our customer base.
A simple philosophy of providing personal and friendly service to our customers, giving honest feedback instead of pushing sales, and ensuring our team have an excellent understanding & knowledge of our labels is what separates Trevor West from others as the premier menswear store South of the Yarra.
TREVOR WEST'S HISTORY & HERITAGE
Established in 1956, Trevor West has long been regarded for its outstanding professional service, friendly staff and high quality clothing, where we pride ourselves on being the premier menswear store South of the Yarra.
One of the last menswear retail specialists in Melbourne, Trevor West is a major distributor of well-known iconic brands that are carefully and selectively bought for our customers. Trevor West is the preferred Formal Wear supplier to most of Melbourne premium hotels for their guests as well as being referred by the VRC to its members and international guests for the supply of Morning Suits for the committee room over the spring racing carnival. Trevor West was also appointed by IMG for the internationals and for that matter any of their guests attending the 'Presidents Cup' when it was last played in Australia.
A small but discerning number of retailers within Melbourne now act as agents for the Formal Hire range as it is considered the most exclusive and best quality range available.
Trevor West has adopted a simple philosophy over the years; to service our customers personally, provide honest feedback and to ensure our team have an excellent understanding & knowledge of our quality label
QUALITY BRANDS & LABELS
The iconic Trevor West brand has evolved over the years with the introduction of world leading fashion labels, which has seen Trevor West firmly position itself as the premier menswear store South of the Yarra. The ability to provide our customers with iconic brands is a key to our success
Empire Bridal - Formal Wear Hire Melbourne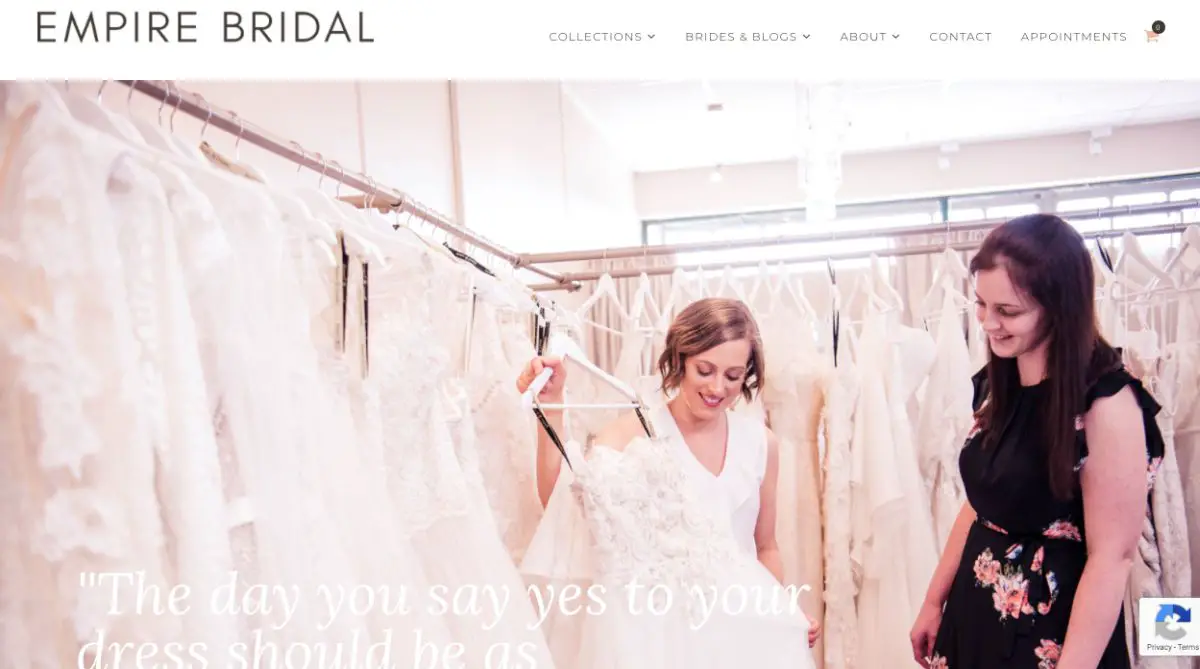 empirebridal.com.au
434020670
Hello! Let me guess, you are trying to plan your wedding on a budget? Who doesn't? Weddings can be expensive. We have in-store events all the time, the only secret is, you need to be signed up to our mailing list to be told about them!  So what are you waiting for?  Click 'Subscribe' now and join our tribe to hear about exclusive offers for members only.
Where fairy-tale weddings come true with beautiful gowns as unique as you .You've got the ring, now it's time for the dress.
Maybe you're freshly engaged and just about to begin your dress-hunting journey or maybe you've searched all over town already and have been disappointed by a lack of choice or ridiculously high prices.
Luckily, your search has brought you here. Where you can find the perfect dress without the stress!
Hello!  Michelle and Sarah here.  Empire Bridal is a cosy boutique with a unique but broad selection of wedding dresses, all proudly hand-picked from Australian designers.
With us there is no frustrating guesswork – nor squeezing into unsuitable sample sizes. We love providing sample dresses in all shapes and sizes – so you can effortlessly find THE ONE that suits you best.
We provide a relaxed, fun dress-shopping appointment, where you're treated like a princess and can make a decision WITH knowledgeable help but WITHOUT pressure.
This moment is all about you, the bride, creating precious memories to last a lifetime.
So bring your Bride Tribe, grab your Mum – it's time to find your DREAM DRESS at Empire Bridal.
Opal Formal Wear - Formal Wear Hire Melbourne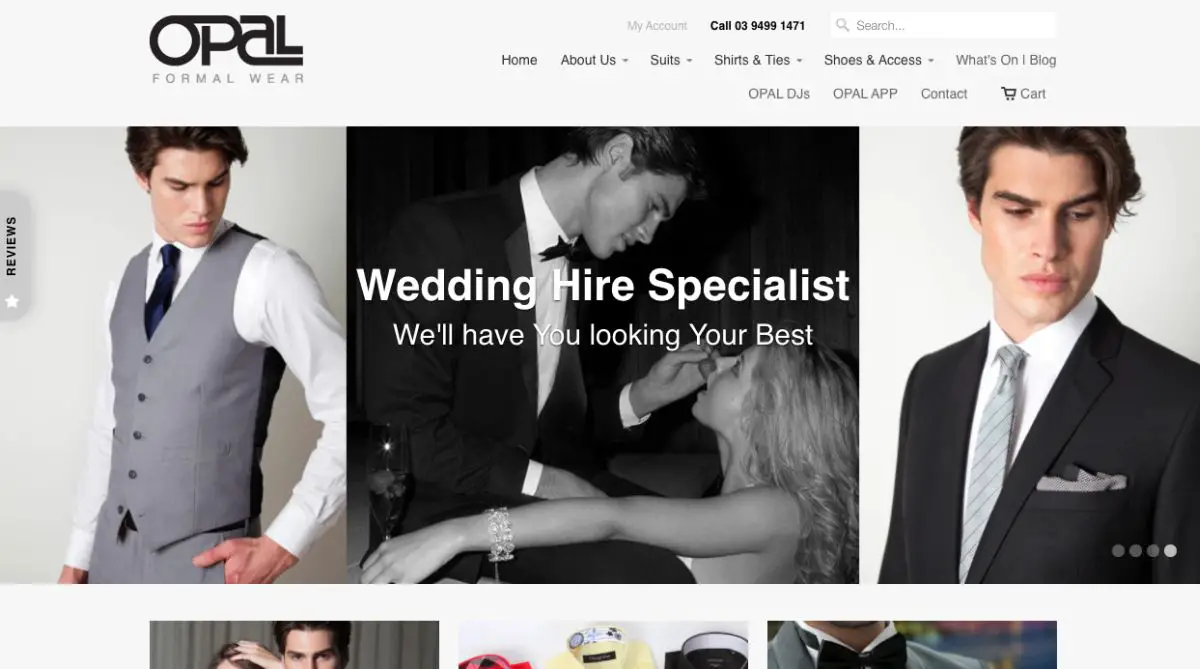 opalivanhoe.com.au
1394991471
Service by Experienced Professionals
The dream for Opal Formal Wear began in 1957 by an inspired Greek Cypriot tailor. He fell in love with Australia's opal stone while travelling around the country in the 1970s, and used the gem as a spark to start a suit factory that went on to become a chain of successful Opal menswear stores.
The Opal legacy remains strong today. Along with a host of other accomplishments, in 2005, Opal won the "Fashions on the Field" award at the Melbourne Spring Racing Carnival, and we were also recently awarded ABIA's "Best Groom's Fashion 2019, 2017 & 2015 and runner-up 2014, 2016, 2018"for Victoria, and 3 best ABIA National Award winner 2019.
Now, through our showroom in Ivanhoe, Melbourne, we offer gentlemen formal suits for hire or sale, and made to measure. We also provide a full range of fashion shirts, ties, shoes and accessories.
All Around Professional Service
We don't just sell you a suit. We pride ourselves on being experts in consultation and fitting. Opal will always make sure your suit fits not only you, but also the occasion. Don't believe us? Opal is equipped to make your event exceptional. For your wedding, we take into consideration things such as the colour scheme of the wedding, and the outfits of the bride and bridesmaids. We want to ensure our grooms walk down the aisle feeling confident and handsome on their special day.
We've Got Style
Opal Formal Wear is always the most up-to-date in Melbourne on men's fashion. Our suits for sale and hire are made with high quality wools and Bemberg linings, so you know your suit is not only of high distinction, but that it's also durable and lightweight.
We like to dress you with the times. The future of men's suit style is filled with slim-fitting cuts in smooth greys and mid-tone royal blues, 1 or 2 button jackets, and flat front, straight cut trousers. Jackets and Chinos is a big part of our collection, for the modern winery type weddings. Both classic and modern trends change all the time, but you can trust Opal to always stay ahead of the game and on trend.
Opal Formal Wear offers experienced and professional service in Ivanhoe, Melbourne. To purchase or hire a formal suit for a special occasion, visit our store or call us today on 03 9499 1471 to make an appointment.
Our Award Winning Suits
Our European-inspired suit collections cover a wide range of styles, from traditional to modern. Whether you want to hire a suit for a special occasion or purchase one of our made to measure suits, we will have you looking your very best.
Opal Formal Wear was recently awarded the ABIA's "Best Groom's Fashion for 2015,  2017, 2019 " "Runners Up 2014, 2016, 2018" in Victoria, so you know you're in great hands when you hire a suit with us.
Formal Suit Hire
For certain special occasions, like weddings, you're only going to need to wear the suit once. That's why we hire wedding suits, Dinner suits and other black tie formal wear, all fitted to your precise measurements. We have the best Suit Hire Melbourne can offer. From Groom Suits to Slim Fitting Suits for School Formals.
Quality Suits for Sale
We source our off-the-rack European-style suits from Italy, Spain, Turkey, Asia and a local Melbourne manufacturer. We'll dress you in the most stylish suits, all tailored to your form. Whether you want to look chic in a black dinner suit, elegant in a gray two-piece or classic in a black bow tie tuxedo, Opal Formal Wear has the outfit to fit your individual needs and style for Wedding Suit Hire or Made To Measure suits.
Shirts and Ties
We have a wide range of fashion shirts and ties in many different colours that will fit any occasion. We know how important it is for a whole outfit to come together, and making sure the tie and the shirt match the suit to perfection is up on the top of our priorities list. Our shirt and tie selections are all made with top quality materials, from fine silk to blended wool, from broadcloth to twill.
Shoes and Accessories
Don't arrive at your event without a polished look. We can help you complement your suit perfectly with the right shoes and accessories.
For formal suits for hire or made to measure suits for sale, call us on 03 9499 1471, or visit our store today.
To view the full range of suits and clothing visit our store at 164 Upper Heidelberg Rd Ivanhoe.
Black Tie Classic - Formal Wear Hire Melbourne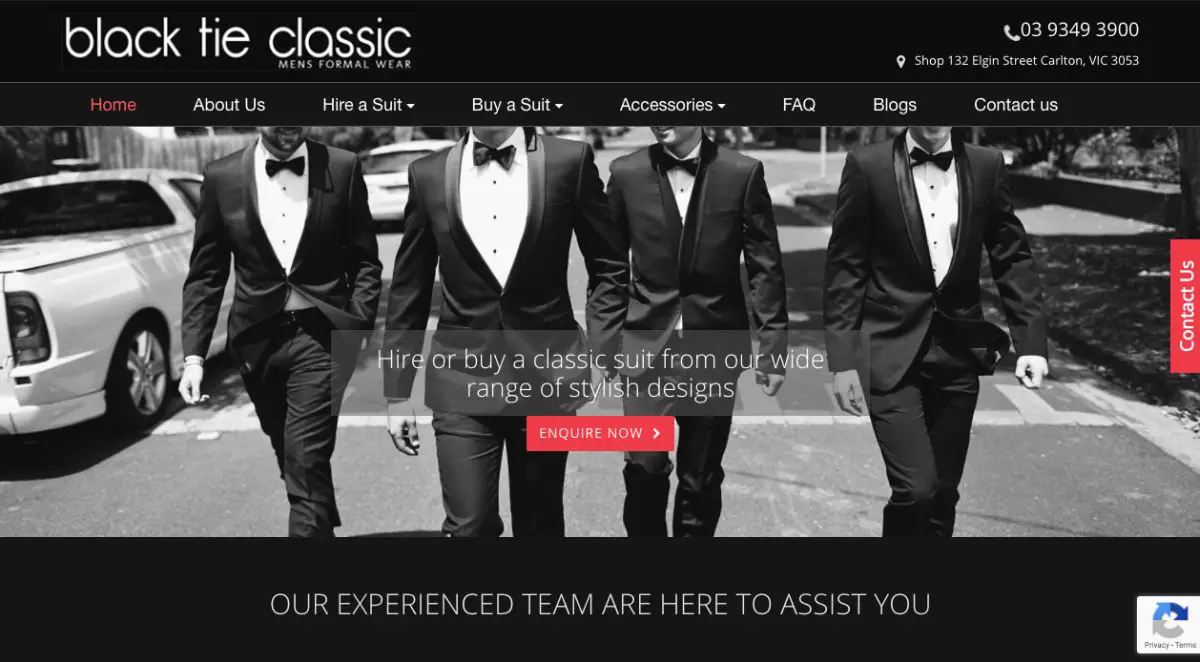 blacktieclassic.com.au
1393493900
About Us
Black Tie Classic was established in 1994 by husband and wife team. With a wealth of experience in men's fashion, Black Tie Classic became an instant success was quickly becoming the number one destination for Melbourne's Suit Hire & Men's Formal Wear requirements.
Black Tie Classic specialize in Men's Formal Wear & house a great selection of latest styles in Tuxedo's / Dinner Suits for Weddings, Black Tie, Formals, Suits for all occasions.
This is why Black Tie Classic was the first and preferred choice for Men's formal wear for celebrity weddings like: Hugh Jackman, Tina Arena, Kirsty Marshall as well as numerous AFL football stars.
Black Tie Classic's objective is to offer a product of the finest quality and latest in style & design, provide excellent service advise as well as the best price for Men's Formal Wear in Melbourne. Being owner operator's we aim to ensure total satisfaction for every Groom and his Groomsmen.
We invite you to have the Black Tie Classic experience on your wedding day to suit any of your formal wear requirements.
WEDDING SUITS BY BLACK TIE CLASSIC
Melbourne's Suit Hire, Formal Hire and Formal Wear Specialists
Need to hire a suit for that special event, We offer a great collection of Wedding suits, Dinner suits& Tuxedo's all at the best prices for, Suit Hire in Melbourne.
Visit our store today and discover why Black Tie Classic is the preferred Men's Formal Hire Boutique for high profile stars such as Hugh Jackman, Tina Arena, Kirsty Marshall and AFL football players have come to our humble store in Carlton for their Black tie needs. Black Tie Classic, Melbourne's Suit Hire & Formal Hire specialist for all occasions.
Wedding Suits, Tuxedo's & Formal wear, Hire or Purchase
Weddings, Formals or  Black Tie function to attend, Hire a Suit from $140 to $190, Ask us about our Suit Hire special offers .For lasting value and style  Buy a Suit from $299 to $599. We have a wide range of Tuxedo's, Dinner Suits & accessories for all your Formal Wear requirements. Ask us about our Dinner Suit, Tuxedo package deals, we won't be beaten on our service & price. For the groom who wants to express his style & individuality we offer a Made to Measure Tailoring service.
Our Made to Measure tailoring service helps you personalise your choice of suit and style by offering a fantastic range of fabrics to choose from. At Black Tie Classic, our master tailors place every stitch to ensure high quality craftsmanship and a perfect fit. This service also extends to our range of vests, shirts and neck wear.
When you shop at Black Tie Classic, you have the confidence in knowing that we will find you the perfect Suit & perfect fit, no matter the occasion.
Tie Store - Formal Wear Hire Melbourne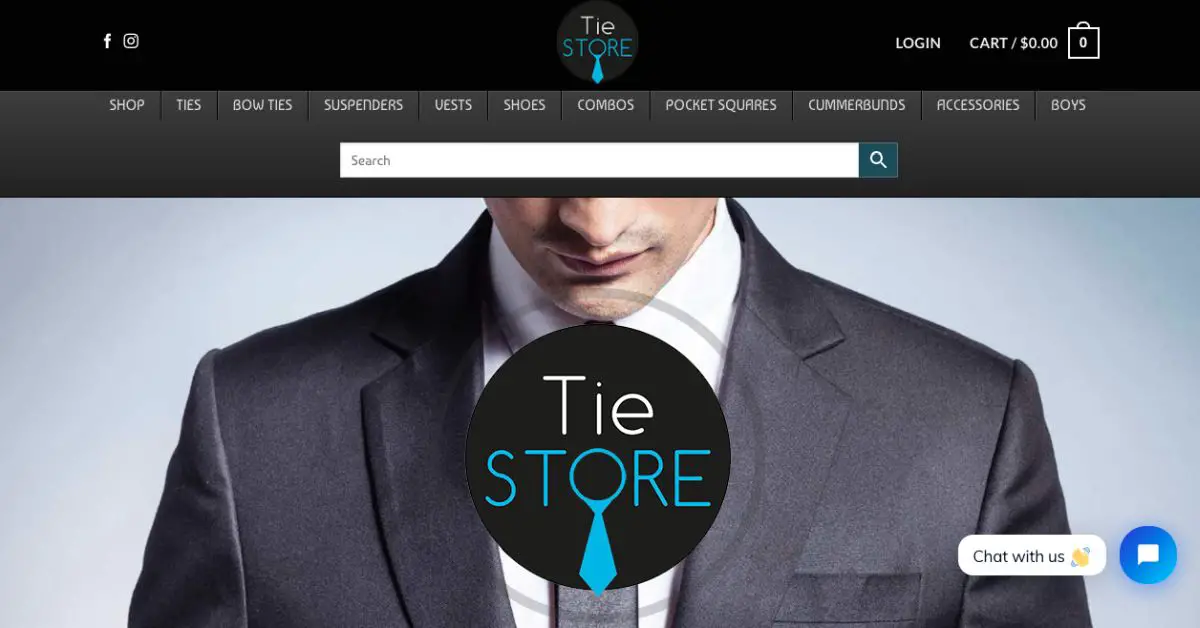 tiestoreaustralia.com.au
1394590702
Tie-Store specialises in the sale of ties & other formal accessories. Our local Australian business is run by a young and energetic team, always full of ideas.
FREE SHIPPING ON ALL ORDERS
Get free shipping on all purchases within Australia! Our orders are dispatched daily and will arrive within 3 to 8 business days.
HIGHEST QUALITY MATERIAL USED
We pride ourselves in using global style and fabric trends to ensure that the product you buy will be appropriate for any occasion you need to be ready for.
CUSTOMERS ARE OUR PRIORITY
We have been apart of the online sales world for a very long time. Our customers are our main focus and are a key reason for our great online presence and success.
COMPETITIVE PRICING
Our products are priced competitively to offer you the lowest prices worldwide. Whether you are based in Australia or overseas, not only will our products impress you, but so will our prices!
Online tie store with a massive collection of neck ties, bow ties, vests, shoes and much more accessories.
Tie Store Australia is an Australian-based online tie and accessories store providing customers with quality goods and services. Established and run by a young group of creative and energetic tie fanatics ensures that our products are always on the forefront of both classic and contemporary fashion and style.
Our large inventory of ties, bow ties and accessories offer you the colours, sizes and pattern variations to fit your needs.
At Tie Store Australia, we have worked hard to create a range of ties and accessories that will see you through any occasion – whether it be formal, business, or simply weekend fare. Whether you're looking to supplement your existing collection or if you're starting from scratch, we have the perfect accessories for you – browse our online range of:
Neck ties, Bow ties, Suspenders, Matching Bow Ties and Suspenders, Pocket squares, Bow ties and matching pocket squares , Well-fitting vests
Tie Store Australia serves all of Australia with the lowest pricing and free shipping
Looking for a great outfit for a Wedding or Formal Event? Even with the competitive prices you'll find on our website, we want to assure you that we haven't skimped on quality either. Our focus on fresh stylistic trends and superior fabrics ensures that our range is unmatched at the price range we provide.
To bolster our excellent products, we want to make sure that our customers are also offered the very best customer service possible, backed by a team that has vast experience in the online sales industry. At Tie Store Australia, we offer great shipping options both within Australia and internationally. All orders within Australia are shipped for free!
Tie-Store specialises in the sale of ties & other formal accessories. Our local Australian business is run by a young and energetic team, always full of ideas. We pride ourselves in using global style and fabric trends to ensure that the product you buy will be appropriate for any occasion you need to be ready for.
Threads N Trends Formal Wear Hire Melbourne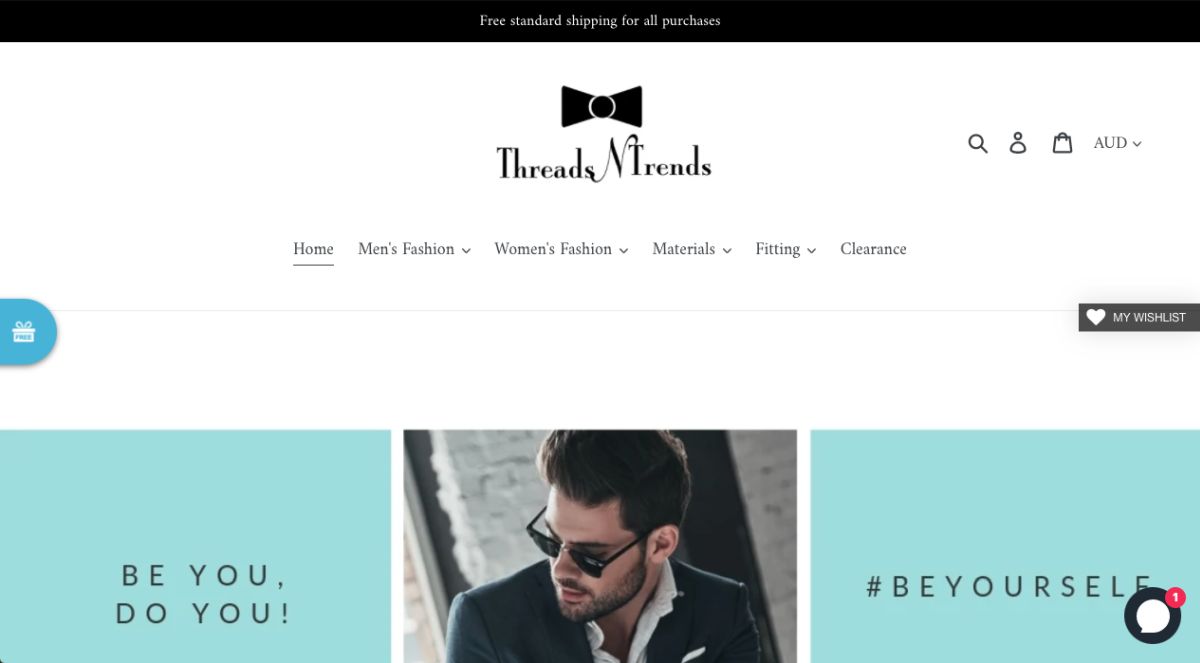 threadsntrends.com.au
430709018
About Us
At Threads N Trends fashion boutique, we offer a wide range of men's and women's fashion-wear that caters for every occasion. We have all sizes, with many colours and styles so you can mix and match. Our collections and styles always aimed to serve our customer based on three criteria; quality (lasting), fashion (in trends) and self-identity (characteristic).
We aim to provide our customers with quality, trendy, and affordable fashion-wear. Your satisfaction is our number one priority. We are more than just a boutique; we are your stylist, your fashion hunter, and your next idea.
IN-HOUSE ALTERATIONS
With over 15 years of experience, we know how to make you look your very best. Our alteration service in Melbourne and alteration service in Sydney is fast and friendly, and our workmanship is backed by a quality guarantee. Be 100% confident! Your special day is made to measure and so it should be with your dress. We specialize in the planning and execution of alterations necessary to customize your dress for that perfect 'designed for you' fit, for total confidence on your special day.
Specializing In Alterations For:
Wedding Gown
Bridesmaid Dress
Mother of the Bride Dress
Debutante Dress
Evening Gown
At Christina Rossi Australia, we have altered thousands of wedding gowns and evening dresses, Bridesmaid dresses, Debutante dresses. Even if you didn't purchase them from us! Our experienced dressmakers are able to transform any wedding dress into your dream wedding gown!  You may want us to modify or restyle aspects of the gown, with alterations to the neckline, train, adding cap sleeves, removing sleeves or adorning the gown with Swarovski crystals. We incorporate extra trims such as beading, lace or applique work. No request is too great. Our focus is to alter that gown and make it fit as if it were made especially for you.
Christina Rossi Australia offers a complete package from initial purchase to alterations.
Can't find your dream gown off the rack? We can help you.
We know that every bride is dreaming of a unique, customized gown for her wedding without breaking her budget,
Now, feel confident to design the gown of your dreams;
At Christina Rossi Australia, our goal is for you to look perfectly beautiful on your wedding day; with the help of our designers, you can now turn your ideas into your dream gown.
We can also customize our gown to achieve the details that you want.
We can make a strapless gown into a long sleeve style, a mermaid fitted dress into a ball gown skirt, mix and match a bodice of one dress, to the skirt of another, enhance more laces or beading to the original design, adding delicate sleeves onto our gowns, making up a bolero jacket to make your dress in any style and design you wish;
The possibilities are endless!