Top Tips for Your Wedding Hair & Make Up
Congratulations! You're engaged! And your wedding planning is probably well underway. With venues to view, dresses to try, food to taste and parties to plan, you've got a busy stretch ahead of you, but we all know that one of the things you're looking forward to the most is deciding on that perfect wedding hair and makeup look.
Saying "I do" at Cosmopolitan events is an elegant and luxurious affair.
If you are recently engaged or have already started planning, I'm sure you have a checklist of things to do. One of which is most likely hair and makeup for your wedding day. For some, this is the top priority, and for others, well let's just say that trying to book wedding hair and makeup-less than a month out isn't the wisest idea.

With all the chaos of planning a wedding, your bridal trial may easily slip your mind as something that should be taken seriously. As a result, as it approaches, you could find yourself stressing about what to expect, or how to prepare for the appointment.

All of us girls have fantasized about how we'll look walking down the aisle, and the hair and makeup is a massive part of that. It's got to be your dream look – something that makes you look and feel like the very best version of you so that you're brimming with confidence when you say your 'I dos' and looking flawless in those wedding photographs.

I believe makeup, along with photography are 2 of the most critical factors of a wedding. (apart from actually getting married that is) Why? Because at the end of the day, the photos are what last to keep those precious memories alive and no bride wants to look back and regret her makeup, or her photos.

No matter what stage you are at in the planning process for your wedding hair and makeup, you have questions. Guess what; I have answers, so you don't have to keep googling them. That's my job as a beauty planner

SHOULD I DO A HAIR AND MAKEUP TRIAL?
Fortunately, as an artist that does many weddings, I have seen it all, and therefore am going to share with you how to make the most out of your upcoming bridal trial!

Finding a wedding hair and makeup look that works for you can take time, so don't leave it until the last minute. Flick through magazines, create Pinterest boards and get inspired by the pros (check out my wedding hair and makeup gallery here) but most of all, enjoy it!

Any makeup for photography needs some precise specifications to ensure it reflects correctly in photos, so if you are thinking of doing your wedding makeup, I have compiled a list of products you will need. My Blog about the difference between Pro and commercial powder is also an excellent read for this very topic.

The short answer? As soon as possible. No really, this is not a vendor you should delay on. The best hair and makeup artists book up at least 6-12 months out. The sooner you start looking to book a beauty team, the more options you will have, that way you get the artists that are the best fit for you and your bridal party.

Before the trial even starts, prepare beforehand! This is essential to get the most out of your test, as well as will ensure for a smooth appointment, instead of forgetting many vital details you wanted to discuss.

Play around with ideas, but ultimately, try to focus on looks that you know aren't too far out of your comfort zone – just because it's a big deal doesn't mean it needs to be a 'big' look. Effortless, glowy and natural is beautiful if that's your thing, or equally, if you love wearing heavy makeup with smoky eyes and a vibrant lip, go for it! Gather images of styles that work for you – it is YOUR day after all.
It's totally up to you! As a beauty planner, I have found that doing a trial allows as client and bride to be to feel at ease on the day of. This is because by doing a lawsuit, you can build a rapport with the hair and makeup artist and test out the styles for your wedding day.
Come with questions already in your mind. I understand that sometimes you might not know what you want to ask until the process gets going (and part of my job is knowing the right questions to ask), but you should try to come up with at least three critical questions that you want to discuss. Whether it's about your look or logistics, your trial is a great time to chat over these things in person.

When you've got the big day booked in at your venue, and you've found a gorgeous dress, it's time to book in your trial hair and makeup run. Yes, you do get to luxuriate in bridal pampering not once, but twice!

The trial run is an incredibly important part of your wedding planning as it gives you a chance not only to try out all of these looks you've been obsessing over but also to get professional guidance and figure out a style that you love

SHOULD I HAVE A BEAUTY TIMELINE?
Absolutely! A beauty timeline is a great guideline to keep everything on track, especially since hair and makeup is typically the first element of your wedding day and can often run late. If you can, have your hair and makeup artist draft one up for you or your beauty planner. They should leave some buffer time just in case.

We've all sat in the salon chair, and watched ourselves get a horrible haircut without saying a word. Then after coming home (and crying for 5 hours), we immediately learned our lesson, and ultimately vowed to never make that mistake again. Well, the same concept goes for your bridal trial. Speak up, and be honest about what you do or don't like!

Makeup Tips and Tricks
Use SPF
Put this UNDER your makeup for protection through the day. An excellent high pigment foundation will act as a physical blocker too. But do NOT have SPF in your foundation, as it may give flashback and ruin your photos.
.
Primer
This will help hold onto your makeup longer, smooth over any fine lines and flakiness, along with slowing down the evidence of shine through the day.
You can finalize the look and know that on the wedding day there will be no surprises and you and the hair and makeup artist will be on the same page. You want to make the most of your hair and makeup trial.

Secondly, have any pictures that you want to reference ready to go. Sometimes having an actual visual is better than trying to explain your vision. For example, your definition of a smoky eye might be different than your bridal artist's, and therefore having some sort of image that accurately describes what you mean, will help you get most out of your appointment (instead of spending 20 minutes trying to explain what you mean by a "natural rainbow look").
But to make sure that you get the most out of your trial run and know with complete certainty by the end of it that you're over the moon, there are a few things you can do in advance and bear in mind on the day.
Mattifier
You only need one of these if you have oily skin. It will help to eliminate shine and slow down the signs of excess oil production through the day. Too much highlighter can also look oily in photos, so be careful not to use too much shimmer highlight.

Doing a trial often saves you stress on the day of, but again it's up to you and what you are most comfortable with. If you can't do a trial or decide not to, just make sure that you send inspiration photos to either your beauty planner (aka me) or the hair and makeup artist, so they have an idea of what you are going for. If you can get similar examples of the style, you are looking for from the hair and makeup artists, even better. Wedding hair and makeup is almost as important as the gown. Check out our top 90 Hair & Makeup Artists here.

And finally, don't be afraid to take notes at your trial. Many emotions are going to accompany your appointment (stress, excitement, etc.), and you don't want to let those feelings get in the way of your focus. If your stylist says something you think is essential, there is nothing wrong with making a quick note of it on your phone, rather than trying to remember every detail by yourself.

I love working with brides on trial runs – it's always so exciting, and it is usually the first opportunity we get to meet face to face and have some fun! Working with your ideas and creating a look that makes you feel terrific is all part of this beautiful job, but if you feel clueless as to what you want, don't worry – together, we'll work it out. I am an expert, after all!
Foundation
This is, by far, one of the essential elements. Get this product wrong, and you might have pasty white glowing flashback face in your photos or the un-intentional no-makeup look by lunchtime. Get one designed specifically for pictures without any SPF that matches your skin perfectly.
Concealer
This is a product I rarely use, due to my foundations being so amazingly pigmented. But if you have an annoying pimple, or dark circles from being too excited to sleep the night b4, then get the right colour matched concealer with high pigment. It's a godsend.
Translucent powder
This is applied over the entire face very sheer, to set the makeup, mattify and help with durability. This powder should not be overused and should have no SPF or shimmer. You can get pressed powders that are translucent, or that have a little colour to them, which are great for touchups. Just make sure, if it has colour, it must match your skin.
A contract secures the hair and makeup artist for your wedding day, that way you aren't ditched on your wedding day for a better offer. Trust me, just check all the boxes and cover your bases.
Blush
For weddings, best to keep this a soft neutral colour.

Eyeshadows
To keep things classic, stick to neutral tones and if you want colours, keep them soft, so they don't overpower the makeup. Otherwise, they can date and look old fashioned quite quickly.
If you need an idea, you can check out the checklist we send to clients, so they are prepared and don't have to worry about a thing. Just send us an email, and we'll send you a copy!

Additionally, planning a wedding is stressful enough, and many brides tend to second guess themselves on decisions they've made as the wedding gets closer. Having pictures from your trial will allow you to go back and remind yourself that getting an updo was the right choice and that your lipstick will be the perfect shade of pink. I'm all for tips that help relax my brides, and this is one of them!

A wedding hair and makeup trial is an essential part of getting it right before you walk down the aisle and any bridal hair and makeup artist who doesn't insist on it is not doing their job correctly! Your wedding day itself is not the time to be figuring out how you want to look and work out any kinks – every last detail should be sorted well in advance to ensure you have a fun, relaxed wedding morning.
Eyeliner
This can be in pencil form for a soft bit of definition. A liquid for that crisp defined line. Or a gel liner which can be smudged for a natural and smokey look, or applied as a crisp liner look. Keep to Brown, Black or Grey tones.

Mascara
Waterproof is your best friend on a wedding day. You don't want your tears to create a little work of art on your face.
I know sometimes it can be scary at the moment to speak your mind, but just remember: YOU are the one that must live with your wedding photos forever, so if you don't like what your stylist is doing, be honest.
Lots of brides-to-be think that freshly washed hair is the way to go, but actually, when it comes to styling second-day hair allows for the best results. Just washed hair tends to be a little bit fluffy, too soft and too silky if conditioner has been used, and this makes it harder to get your hair to stay in place.
Brow Definer
Today's brow fashion is quite strong and will likely out-dated within the next 5years or so, so don't go overboard on brows. I prefer brow powders for a subjective definition, but pencils work well too. Best to choose a colour 1-2 shades softer than your hair. Trust me on this, brows can take over a face very quickly, and you don't want to fall into the Trend trap.
Be kind and constructive when interjecting, but always remember that communicating your concerns (or your praises) during the trial is extremely important!
If you're interested in booking a bridal trial with me for your upcoming wedding, feel free to schedule a time here, or take a look at some more information below!
Of course, if you know that second-day hair doesn't work for you, this is easily remedied with the right texturizing products to add grip and securing techniques, but if you are happy to wash your hair the night before rather than in the morning, that is ideal.
Lip colour
Again, best to stick to classic or neutral shades. Avoid fashion colours. Dusty pinks, reds, soft browns, pinky browns, soft colours and nudes tend to hold their own over time and are less likely to look out-dated.
It is also essential to not use any product or serum in your hair before the trial run (or your wedding day!) as this can lead to product build-up and weigh down oily roots. I want to see you with your natural hair! No products and no styling beforehand – straightened hair does not like to curl, so leave the styling to me.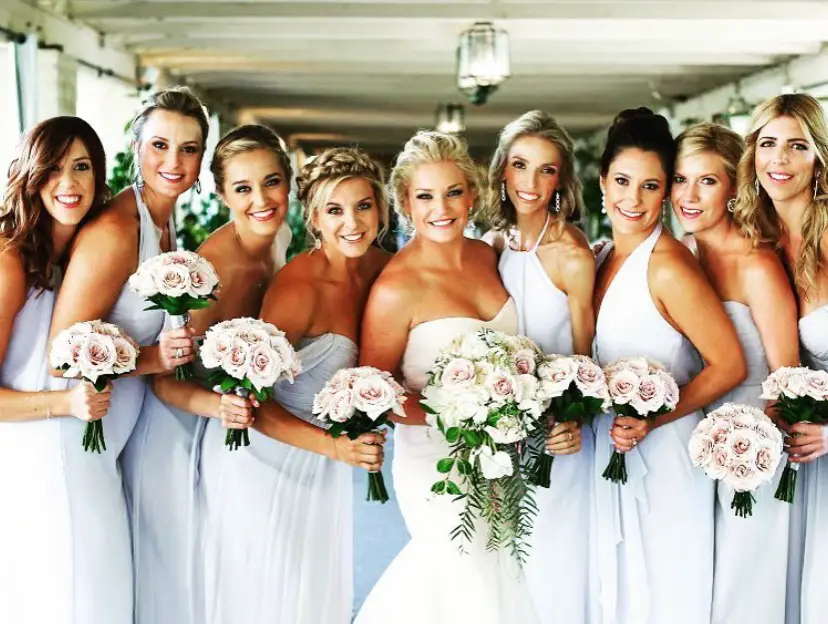 HOW DO I PREP FOR MY WEDDING DAY?
There are a series of things you can do leading up to your wedding day, hair and makeup wise. Skincare routines, eating right, working out, etc. It's best to start any habits for skin care and hair six months out then work your way down.

You will also be able to see your hair and makeup in photos, which you want to ensure you'll look just as good in real life as you do in pictures! Maybe your best friend wants to see what your hair will look like, or you wish to brag about how amazing your makeup is going to be to your sister. Whatever the case, having a picture to send them will help make that a reality. Check out our ultimate list of Wedding Hair and Makeup Artists to make you into the princess that you are.
During the trial, I'll make notes so that when the day comes around, I know precisely how you want things done, just as we worked out before. This means there won't be any surprises when it comes to your wedding hair and makeup – just a flawless look and a process that runs like clockwork, meaning you can enjoy every minute without stress.

It's great to be prepared for your trial run, both by having had a look at the hair and makeup inspiration to get a feel of what you might like to try and also, by prepping your hair and skin for styling and makeup application.
SHOULD I PUT A DEPOSIT DOWN FOR MY WEDDING HAIR AND MAKEUP?
Without question, YES! I know the hair and makeup artist seems trustworthy and will show up on your wedding day even without a deposit, but this is a case of better safe than sorry. I have heard (and fixed) too many situations for clients in which they didn't put a deposit down for their wedding hair and makeup.
WHAT IF THE HAIR AND MAKEUP ARTIST DOESN'T HAVE A CONTRACT FOR ME TO SIGN?
This is another red flag (along with the deposit). If you are in love with the hair and makeup artist, then ask them if they can draft one up for you. If not they and you have a beauty planner, then ask him/her to draft one up for you that way you are secured with the artist.

As a stylist that does a lot of weddings, I am always aware of this critical component. Therefore, I still do my best to make my brides/bridal parties feel as comfortable as I can while making a genuine effort to build a reliable connection with them!

I'll encourage you to share your thoughts – looks you love, seems you hate(!), features you want to show off and maybe specific aspect you'd like to conceal. We'll discuss all the details of your wedding: your dress, the venue, the theme, the colour scheme and even your husband! All of this will tie into choosing a hair and makeup style that works exactly right for your big day.

MAKE SURE YOU GET ALONG/LIKE YOUR ARTIST AS A PERSON
This may sound kind of obvious, but make sure that you genuinely like your stylist. Throughout the trial, it might be easy to get caught up in the excitement of it all, and not acknowledge how well you are getting along with your artist.

Some brides are a little nervous about their trial run and, although understandable given the importance, there is no need to worry. Your trial run is a day of pampering, and you are going to love it!

This does not mean thick, darker than your skin, or putting more on. It says it gets an excellent professional, high pigment foundation that is specifically designed for photographic purposes. A good one, applied correctly will last all day and feel super comfortable without looking cakey or thick, plus it will reflect beautifully in photos. Keep in mind; most retail, commercial brands are NOT suitable for photography.

So they didn't show up because the hair and makeup artist got a better offer for their wedding day. You don't want that to happen to you, so put a deposit down.
Remember that you are going to be spending a lot of time with this person during one of the most important days of your life. It is one thing to trust their skills, but make sure you like them as well.
I'll come to you, and we'll spend at least a few hours together, getting to know each other and trying out lots of gorgeous styles – but our session won't be over until you're 100% happy. If that takes a little longer, that's fine; there's no pressure and no time limit.
TAKE PICTURES
Take pictures of everything! The one thing you don't want after your trial is to forget what everything looked like.

Not only will it help you remember what everything looks like, but it will also allow friends and family to have something to reference before the big day as well.
I'll offer my expert opinion and advice too, suggestion styles I think you would rock and colour palettes that will flatter your skin tone. I might ask if we can try a form I can imagine you in that you haven't thought of, just to see what you think, but I'll never be pushy. Many of my brides end up going for something they hadn't considered before, once they try it out, but at the end of the day, it's what you want that matters. If you're happy, I'm so glad.