In Melbourne, the quest for the perfect home cleaning service for NDIS participants ends with our top picks of reputable providers. This listicle introduces you to NDIS-approved cleaning services that have mastered the art of cleaning, fusing it with the principles of the NDIS to offer a personalised service that respects individual needs and promotes independence. The cleaners we've selected are not just experts with a mop and bucket; they are dedicated professionals committed to understanding and meeting the unique demands of their clients.
From eco-friendly cleaning practices to customisable schedules that fit around your life, these Melbourne NDIS cleaning services represent the pinnacle of home care for those with support plans. Their services are a critical component in enhancing the lifestyle of NDIS participants, providing an environment that is not just hygienic but also nurturing and enabling. Ready to meet the cleaning services that will redefine the cleanliness of your space? Our listicle will guide you through the best of the best in Melbourne.
Add a header to begin generating the table of contents
DeepClean Community Services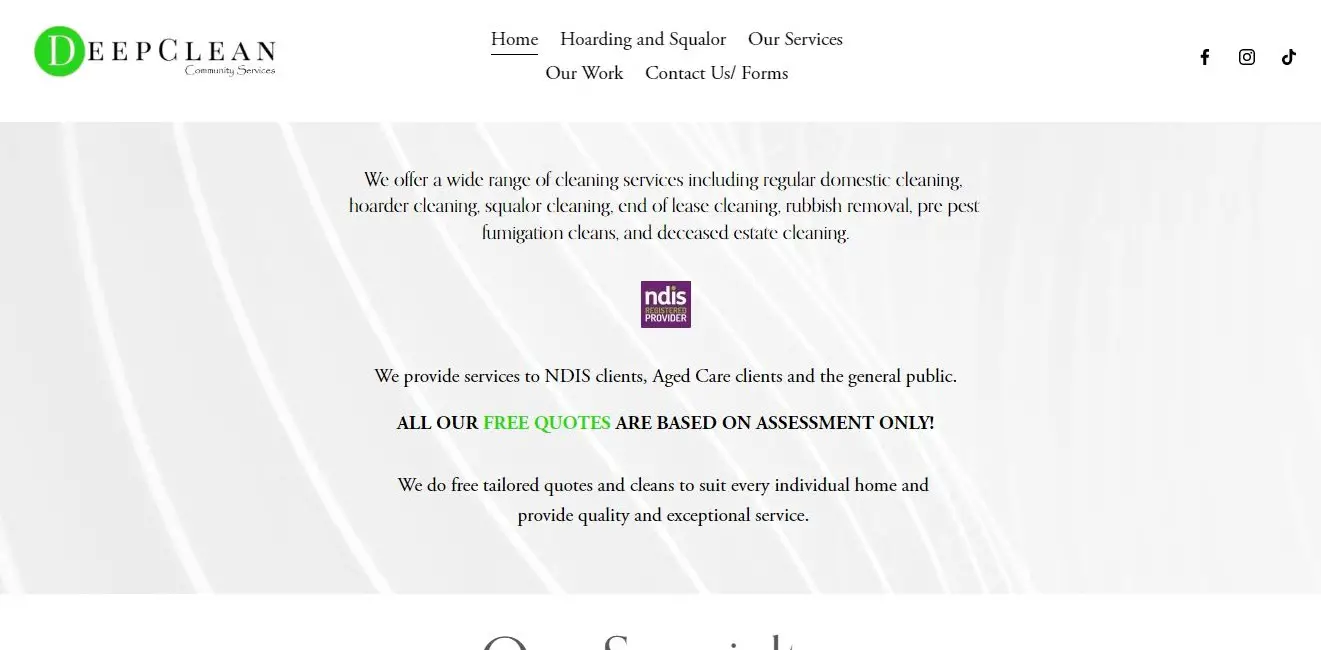 DeepClean Community Services is a specialised cleaning company that offers a comprehensive range of cleaning services tailored to individual needs. Their expertise lies in addressing challenging cleaning scenarios such as hoarding and squalor environments. They emphasise the importance of understanding the emotional and mental aspects associated with hoarding, recognising it as a mental illness that poses significant health and safety risks. 
The company is dedicated to creating healthier, safer living environments by providing quality and exceptional cleaning services. They cater to NDIS clients, Aged Care clients, and the general public, ensuring that each service is customised based on assessments.
Services Offered:
Hoarder Cleaning: Addressing the challenges of hoarding, understanding the emotional attachments, and ensuring a safe and thorough cleanup.

Squalor Cleaning: Handling biohazards like live and dead animals, faeces, urine, and other body fluids, and addressing the underlying issues of neglect.

Deep Cleaning: Comprehensive cleaning services for homes, including dusting, cleaning walls, doors, windows, and extensive bathroom and kitchen cleaning.

Spring Cleaning: Annual cleaning service focusing on dusting, cleaning windows, skirting boards, doors, and other household areas.

Regular Cleaning: Tailored cleaning services based on individual requirements, available multiple times a week or weekly.

Rubbish Removal: Disposal of rubbish or unwanted items after cleaning services.
Phone: 0423 553 909 or 0402 922 049
Email: info@deepcleancommunityservices.com
Website: https://www.deepcleancommunityservices.com.au/
United Home Services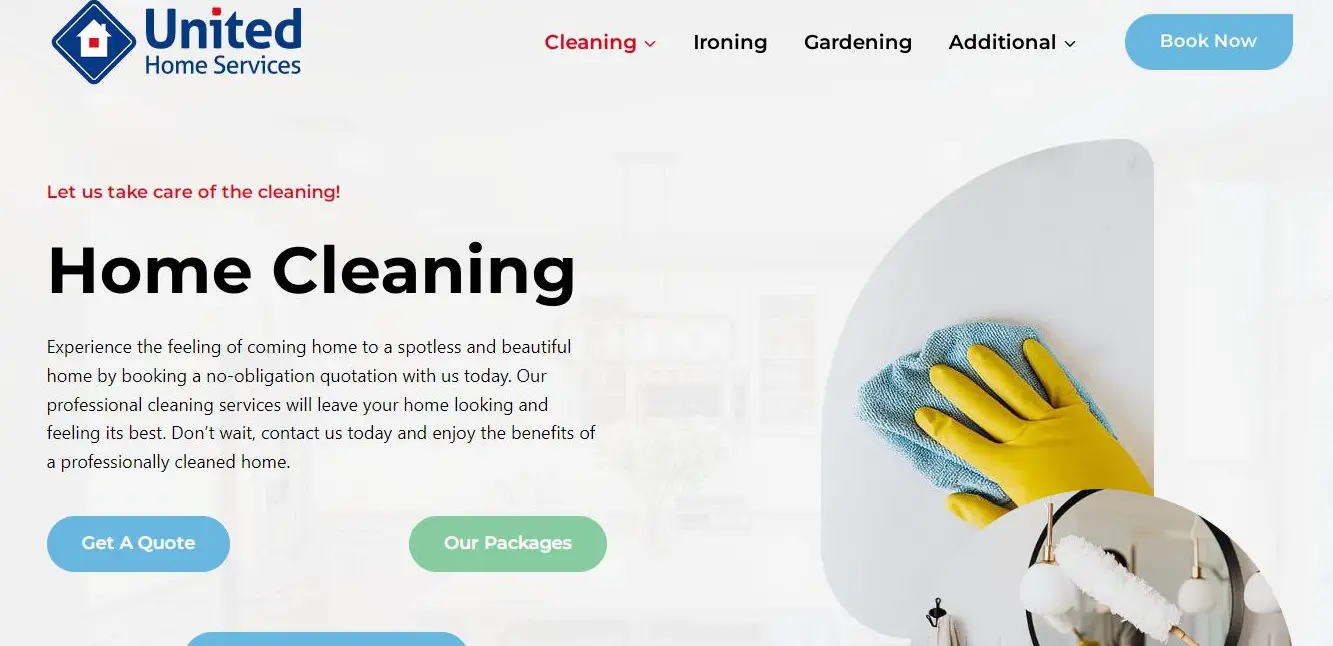 United Home Services offers a range of professional cleaning services for both homes and businesses, ensuring spotless and hygienic environments. Their services include regular cleaning, focusing on areas that require frequent attention like toilets and bathrooms. They also provide a comprehensive Spring Clean for a thorough cleaning of the entire home, including hard-to-reach areas. 
For those moving out, their vacate cleaning services help in leaving rental properties in top condition, essential for getting the full bond back. Additionally, they offer specialised carpet cleaning using advanced steam cleaning techniques to remove tough stains and odours, and office cleaning services to maintain clean and presentable commercial spaces.
Services Offered:
Regular Cleaning: Frequent attention to key areas for optimal hygiene.

Spring Cleaning: Top-to-bottom cleaning of the entire home.

Vacate Cleaning: Comprehensive cleaning for rental properties.

Carpet Cleaning: Advanced techniques for stain and odour removal.

Office Cleaning: Cleaning of windows and common areas in commercial spaces.

Add-On Cleaning: Includes window cleaning, NDIS cleaning service, oven cleaning, tile & grout cleaning, and builders cleans.
Phone: 1800 222 899
Website: https://unitedhomeservices.com.au
Clean House Melbourne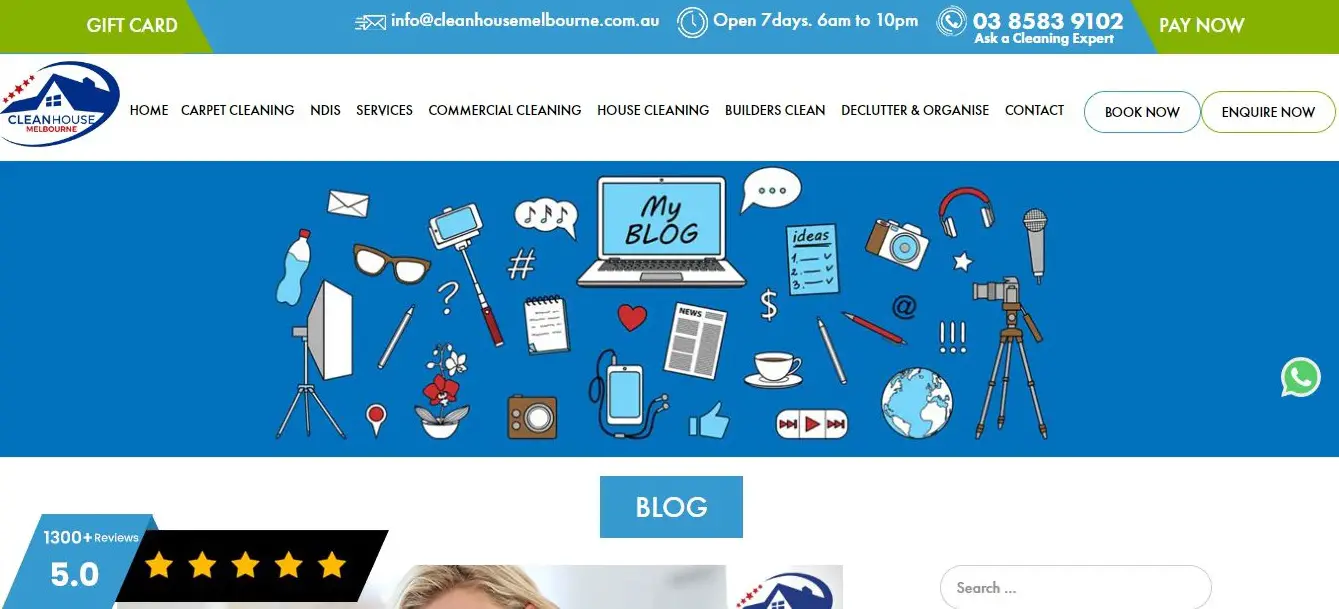 Clean House Melbourne provides insights on how to find the best NDIS (National Disability Insurance Scheme) cleaners in Melbourne. The NDIS was introduced in Australia to offer support to those with permanent disabilities, ensuring they have the necessary assistance to live normal lives. When seeking an NDIS cleaner, it's crucial to ask the right questions, such as verifying their registration with NDIS, understanding how they plan to assist you, and ensuring they communicate effectively in your language. 
Clean House Melbourne emphasises the importance of choosing a cleaning service that is compassionate, understanding, and tailored to individual needs. It stands out as a reliable and reputable cleaning company with a dedicated team trained in NDIS cleaning.
Services Offered:
Regular housework (twice a week, weekly, or every fortnight): Includes general tidying and essential cleaning tasks.

One-off or spring cleaning: Seasonal cleaning to refresh homes.

Bond or end of lease cleaning: specialised cleaning for moving out.

Custom arrangements: Handling laundry and appliance wipe downs.
Phone: 0407 094 444
Email: info@cleanhousemelbourne.com.au
Website: https://cleanhousemelbourne.com.au/
Easy Healthcare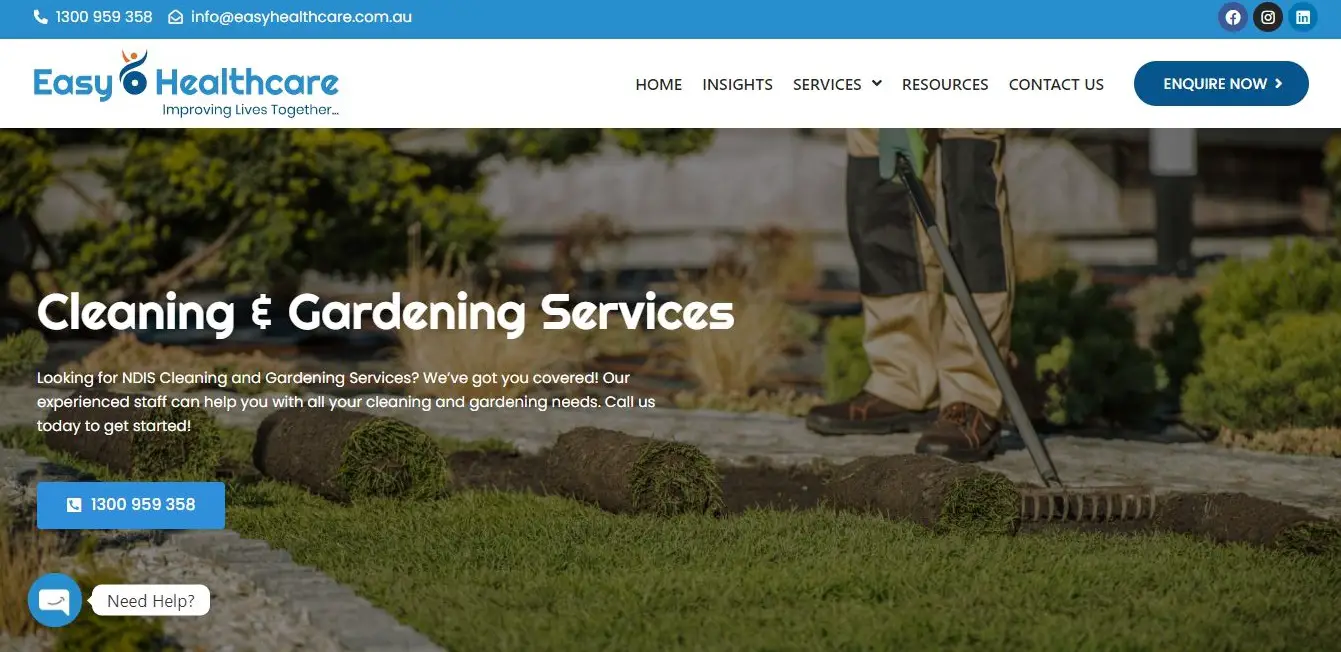 Easy Healthcare offers specialized NDIS Cleaning and Gardening Services in Melbourne, catering to individuals with disabilities. Recognizing the therapeutic and relaxing nature of gardening, the company ensures that even those who cannot physically engage in gardening due to their disabilities can still enjoy a well-maintained garden. 
Easy Healthcare provides a comprehensive range of domestic cleaning and gardening services, ensuring homes remain fresh, clean, and tidy. Their dedicated team of professionals respects personal spaces while delivering top-notch services tailored to individual needs and preferences.
Services Offered:
Cleaning

Laundry

Dishwashing

Spring Cleaning

House Maintenance (e.g., Window Cleaning)

Gardening

Weeding

Lawn Mowing

Gutter Cleaning

Trimming and Edging
Phone: 1300 959 358
Email: info@easyhealthcare.com.au
Website: https://easyhealthcare.com.au
Bunji Community Care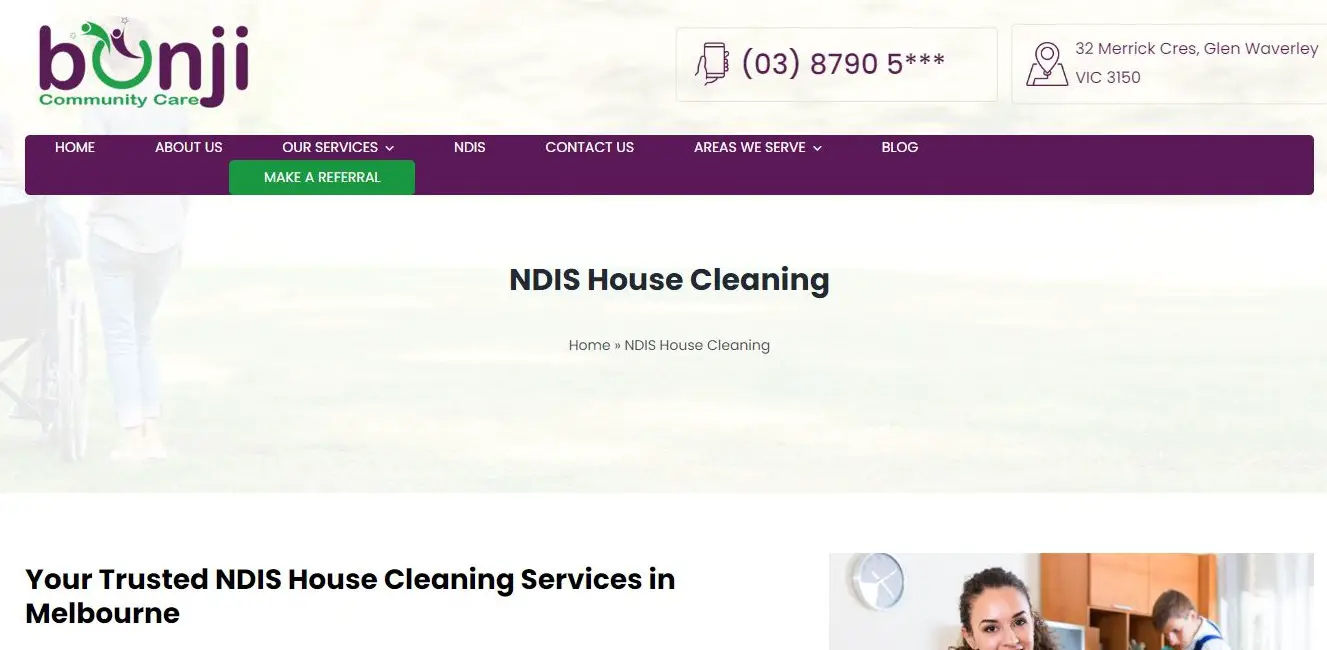 Bunji Community Care offers specialised NDIS house cleaning services in Melbourne, catering to the unique needs of people with disabilities. Recognising the challenges faced by individuals with disabilities in maintaining a clean home, Bunji Community Care provides professional cleaning assistance. Their services aim to ensure that clients live in a clean, organised, and positive environment, free from dust, bacteria, and germs.
 As a reputed NDIS service provider in Melbourne, Bunji Community Care's team is experienced in working with NDIS beneficiaries and is skilled in cleaning various types of homes, from apartments to Victorian bungalows.
Services Offered:
Basic Home Cleaning: Includes dusting, window and door cleaning, floorboard cleaning, sweeping, mopping, bathroom disinfection.

Carpet Cleaning: Deep cleaning of carpets using industrial-grade chemicals and vacuuming.

Garden Maintenance: Garden cleaning, landscaping, mowing, edging, weed removal, and pruning.

Laundry Services: Comprehensive laundry services including washing, ironing, and organizing clothes.

End-of-Lease Cleaning: Professional cleaning services for individuals moving out of rented properties.

Home Decluttering: Organising and decluttering homes for safe and easy movement.
Phone: (03) 8790 5503
Email: info@bunjicommunitycare.com.au
Website: https://www.bunjicommunitycare.com.au
Fantastic Services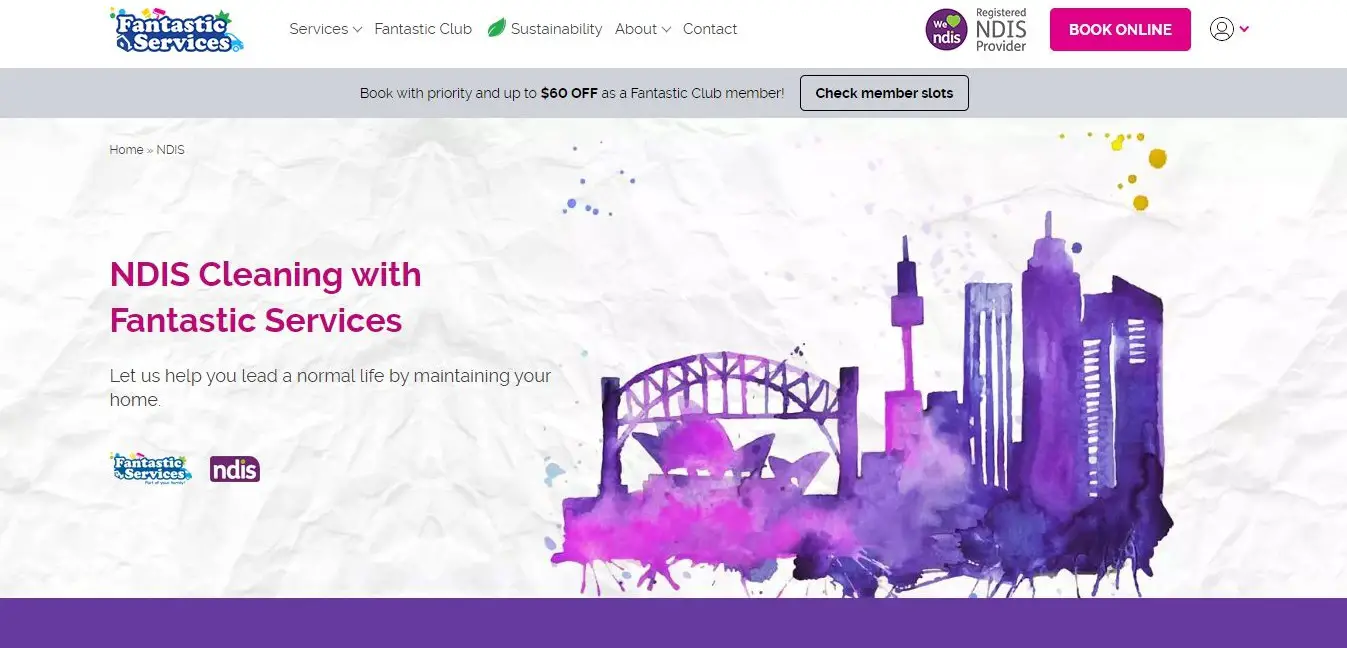 Fantastic Services has established a partnership with the National Disability Insurance Scheme (NDIS) to offer a variety of services to NDIS participants. As a registered provider, they aim to support individuals in leading an ordinary life by providing top-notch cleaning services in major Australian cities like Melbourne, Perth, Sydney, and Brisbane. Their offerings range from carpet cleaning, end-of-lease cleaning to regular domestic upkeep. 
The team at Fantastic Services is dedicated to employing advanced practices and using state-of-the-art equipment to ensure impeccable results. Their commitment to customer satisfaction is evident in their meticulous attention to detail and their unwavering dedication to transforming living spaces.
Services Offered:
Cleaning Services: Carpet cleaning, end-of-lease cleaning, regular domestic cleaning, spring cleaning, upholstery cleaning, mattress cleaning.

Pest Control: General pest control, mice control, rat control, cockroach control, possum removal, insect control (spiders, fleas, mosquitoes).

Handyman Services: House maintenance, home modifications, household maintenance, curtain/blinds installation, minor electrical/plumbing work, furniture assembly, assistive technology installation.

Gardening Services: General gardening, lawn mowing, hedge trimming, yard maintenance, tree pruning, leaf blowing.
Phone: 03 7018 6645
Website: https://fantasticservicesgroup.com.au
Storm International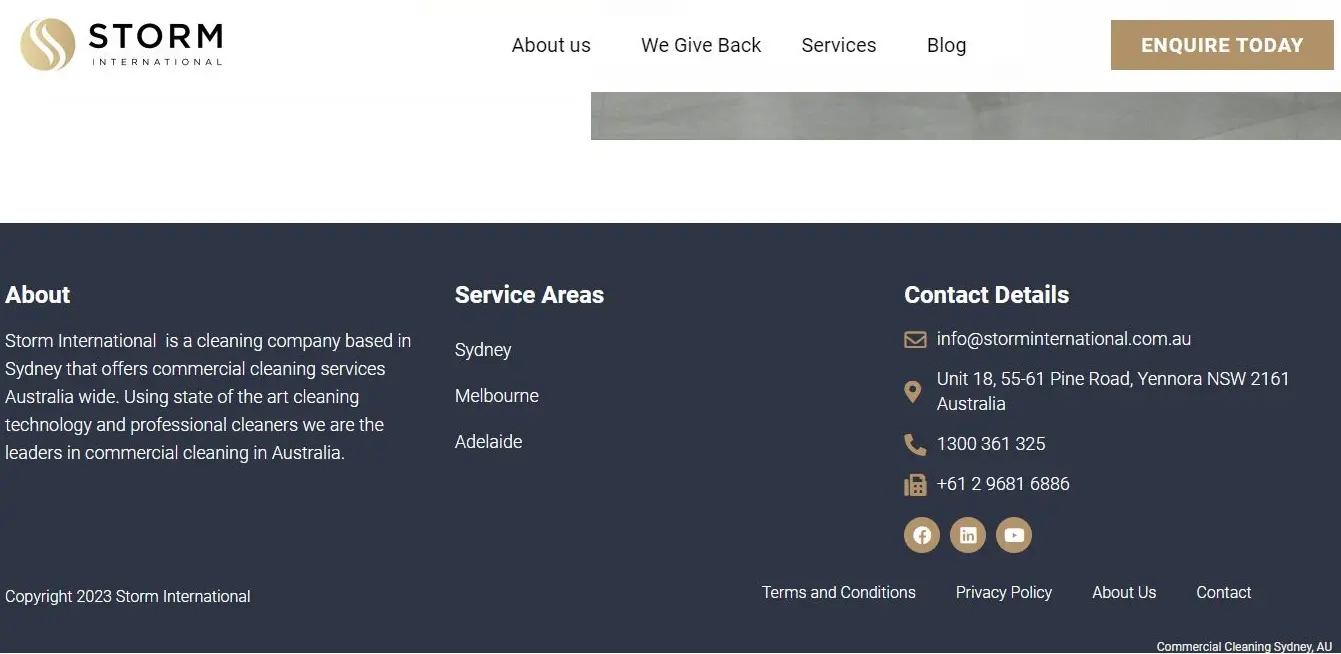 Storm International is a prominent NDIS cleaning service provider in Melbourne, known for its vast experience, professionalism, and comprehensive range of services. With over 40 years in the cleaning industry, the company has honed its cleaning processes to perfection. They place a special emphasis on NDIS clients, ensuring their premises remain welcoming.
The company offers tailored services based on individual needs, ensuring a thorough cleaning plan is crafted after a detailed consultation. Their commitment to quality is evident in their professional staff, who undergo detailed training and background checks, and their use of modern cleaning equipment and eco-friendly solutions.
Services Offered:
Tailored Cleaning Services: After an initial consultation, a customised cleaning plan is created to cater to specific needs.

Professional Staff: Trained NDIS cleaners are equipped to handle a wide range of cleaning and maintenance tasks.

Experience: Over four decades in the cleaning industry, with a focus on high-quality service.

Affordable Pricing: Reasonable rates for both NDIS participants and other clients.

Modern Cleaning Equipment: Use of advanced tools like mops, floor sweepers, high-pressure washers, extractors, and vacuum cleaners.

Eco-friendly Cleaning Solutions: Environmentally responsible, TGA-approved cleaning products that ensure germ-free premises.

Waste Removal Strategies: Proper disposal and recycling of waste.
Phone: 1300 361 325
Email: info@storminternational.com.au
Website: https://www.storminternational.com.au
Comstra Mowing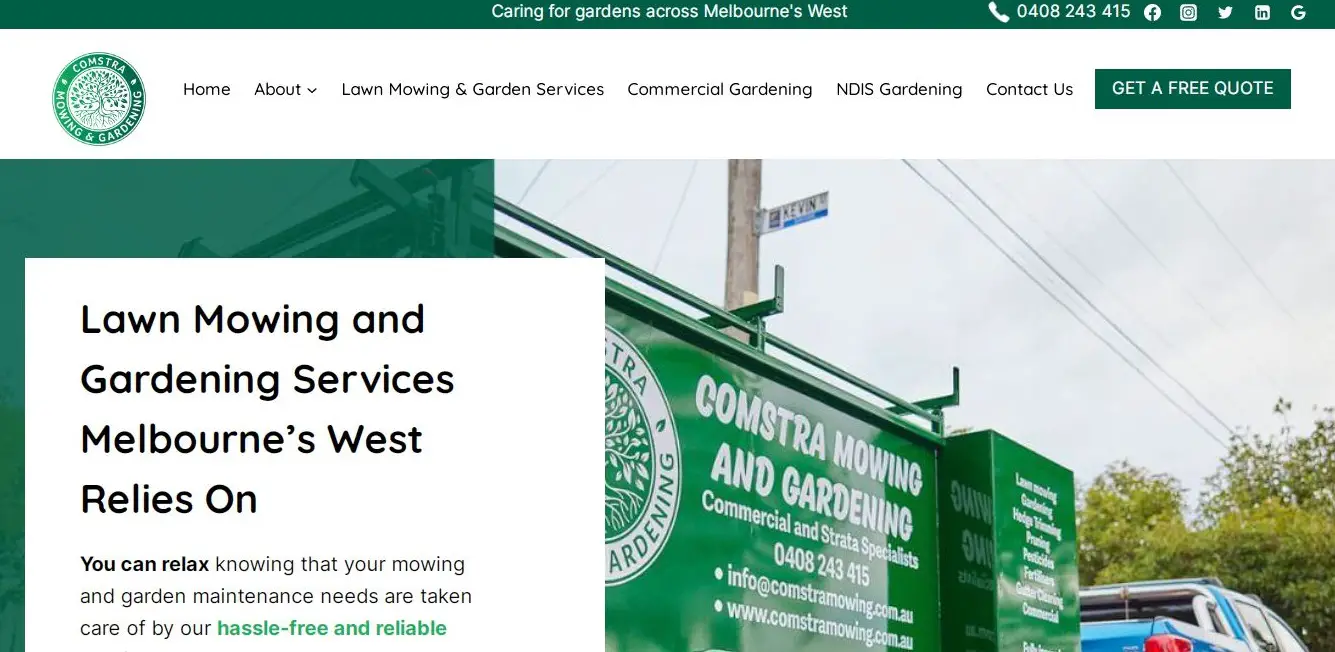 Comstra Mowing offers specialised lawn mowing and gardening services tailored to the needs of residents in Melbourne's West. With a commitment to providing hassle-free and reliable services, they ensure that landscaping and garden maintenance requirements are met with the utmost professionalism. 
Their services are designed to cater to both residential and commercial clients, ensuring that green spaces, whether big or small, are well-maintained and aesthetically pleasing.
Services Offered:
NDIS gardening services.

Garden rubbish removal.

Regular lawn mowing and edging services.

One-off garden tidy-ups.

Commercial garden maintenance.

Garden clean-up before tenancy changes or property sales.
Phone: 0408 243 415
Email: info@comstramowing.com.au
Website: https://comstramowing.com.au/
Trim Services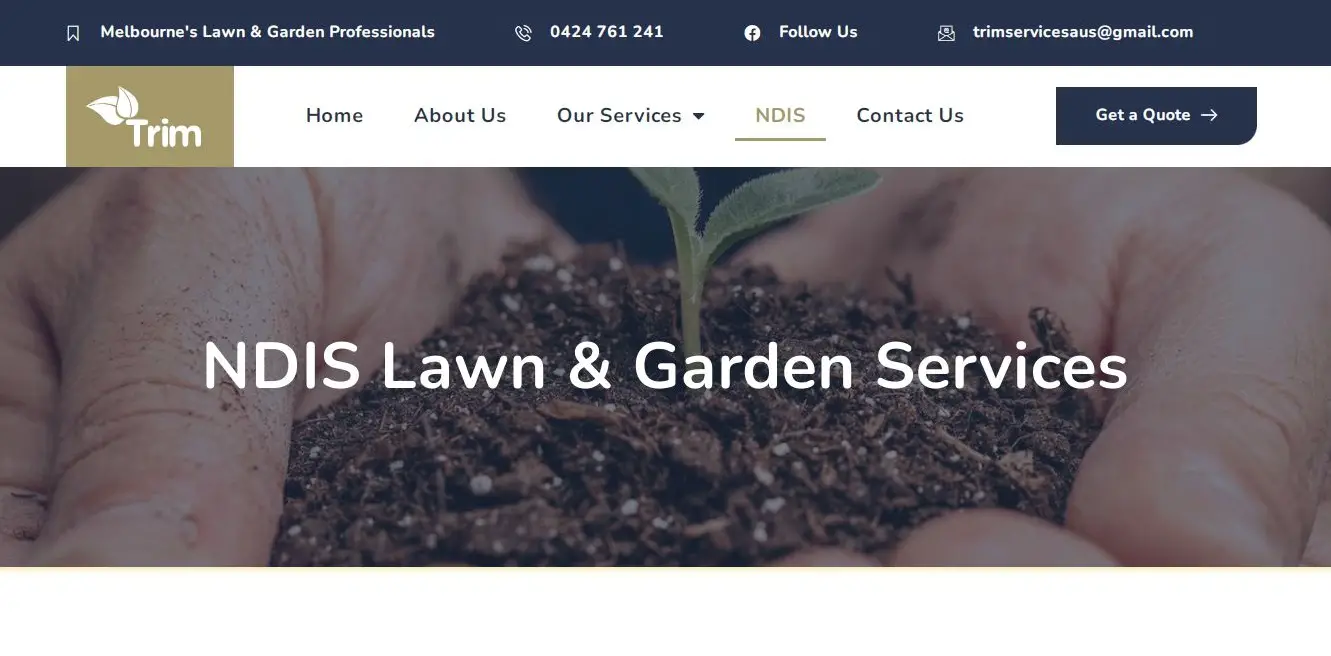 Trim Services is a leading brand in Melbourne that offers specialised NDIS gardening services tailored for people with disabilities. Recognising the unique challenges faced by individuals with disabilities, especially in yard maintenance, the company is dedicated to delivering top-notch NDIS gardening, lawn mowing, and yard clean-up services. 
Their team of experts not only ensures that clients have a well-maintained garden but also provides guidance on long-term lawn and garden care. The company emphasises its commitment to both the garden and the client, highlighting qualities like compassion, reliability, experience, and friendliness.
Services Offered:
Weeding

Hedge Trimming and Pruning

Green Waste & Rubbish Removal

Garden Landscaping

High Pressure Cleaning

Mowing and Lawn Edging
Phone: 0424 761 241
Email: trimservicesaus@gmail.com
Website: https://trimservices.com.au
Smurfettes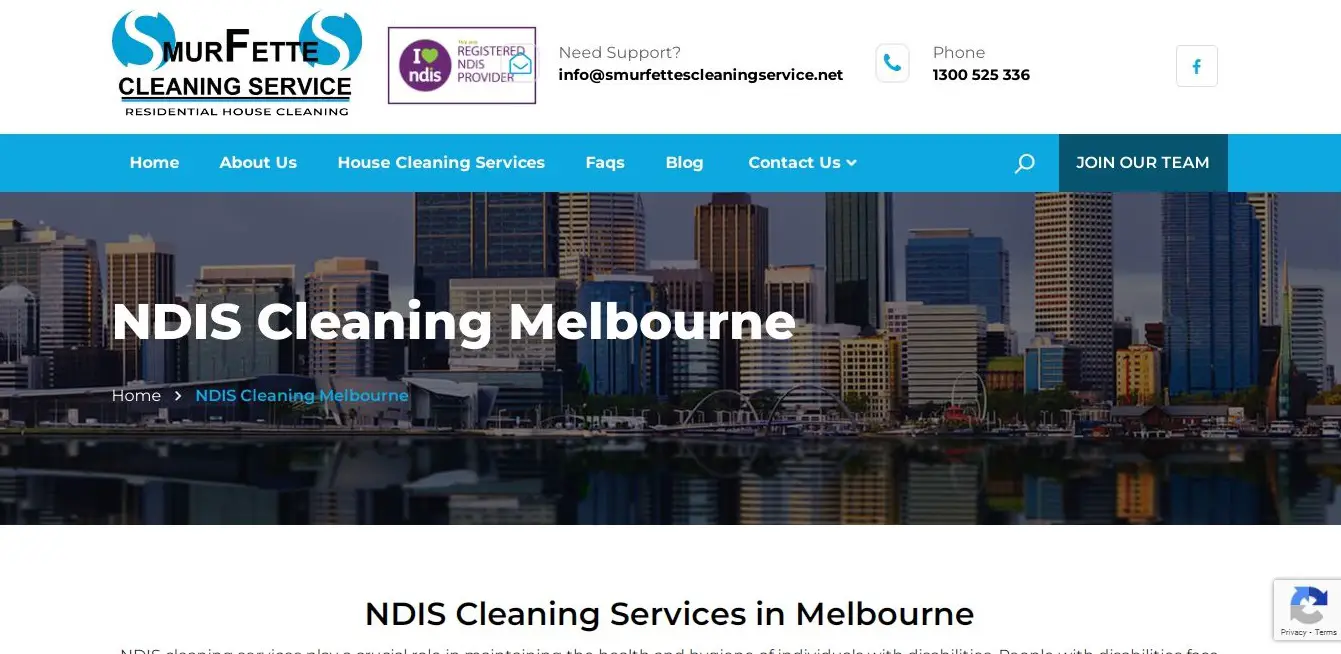 NDIS cleaning services are essential for ensuring the health and hygiene of individuals with disabilities. These services recognise the challenges faced by people with disabilities in maintaining cleanliness in their daily lives. NDIS cleaning services in Melbourne, provided by Smurfettes Cleaning, offer professional assistance to these individuals, ensuring a clean and hygienic environment. This not only promotes good health and prevents infections but also allows individuals with disabilities to focus on other aspects of their lives without concern of cleanliness. 
Smurfettes Cleaning emphasizes the importance of these services, highlighting their role in enabling individuals with disabilities to live their lives to the fullest and maintain their independence.
Services Offered by Smurfettes Cleaning:
Deep Cleaning:

Thorough carpet and upholstery cleaning

Detailed kitchen and bathroom cleaning

Disinfection of high-touch surfaces

Hoarding Cleanup:

Compassionate and non-judgmental approach

Decluttering and organisation services

Thorough cleaning and sanitization

Regular Domestic Cleaning:

Sweeping, vacuuming, and mopping floors

Dusting and wiping down surfaces

Cleaning and sanitising bathrooms and kitchens

Trash removal

Specialised Cleaning:

Hypoallergenic cleaning products for sensitive individuals

Cleaning for those with allergies or respiratory conditions

Customised cleaning plans based on specific needs
Phone: 1300 525 336
Email: info@smurfettescleaningservice.net
Website: https://smurfettescleaningservice.net
Some providers may offer these services, but typically cleaners focus on indoor cleaning tasks.
Sessions can vary in length based on your specific needs and the size of your home.
Yes, some cleaners may offer ironing as part of their household tasks if it's included in your NDIS plan.
Reputable NDIS cleaning services should have liability insurance to cover any damages or accidents.
Their insurance should cover any work-related injuries, not your personal home insurance.