The choice of who to ask as your bridesmaids and groomsmen can be a daunting task. 
While the two of you are the most important people at the wedding, half the fun is being able to celebrate and anticipate your big day with your closest friends by your side, serving as bridesmaids and groomsmen. 
There are so many factors that go into the decision, from how long you've known them to their relationship with your fiancé. Need help planning your wedding? Check out our list of Wedding Event Planners here.
While you might think you can grab your friends, assign them a bridal title, and call it a day, there are a few other things you'll want to consider before you assemble your wedding party.
How to Choose Your Bridesmaids and Groomsmen
We have vital tips that will help you choose your bridesmaids and groomsmen—and make sure your wedding party is one for the ages.
Consider the Size of Your Wedding.
Don't get us wrong: You can have as many (or few) bridesmaids and groomsmen as you like. 
That said, the average wedding party size is roughly five on either side, so you can use that as a guide when you decide how many bridesmaids to have and how many groomsmen to have. 
Depending on formality, go larger or smaller. For a smaller wedding with around 50 to 60 guests, have no more than four, but for a larger wedding of, say, 150, you could go up to 12 if you wanted. Just keep this in mind: More isn't always merrier. 
The more attendants you have, the more details to organise—flattering tuxes or dresses, a bachelor or bachelorette party with 12 attendants who have busy schedules, wedding party gifts, and so much more.
Start Your Siblings
To some, it may seem like little more than tradition. Still, there's good reason for considering family members as your bridesmaids and groomsmen, especially if you're wondering how to choose bridesmaids without hurting feelings. 
In most cases, they've known you longer than any of your friends, and they're likely to be the ones who will remain in your life long-term. 
Family members tend to be some of the most influential people in your life, and that relationship usually gets stronger over time. If you have a huge family, it may be best to choose those closest to you or cut the party off at the teenagers. 
For those wondering how to choose bridesmaids when you have no friends, siblings, and other family members are a great option.
Including your siblings is the perfect way to start choosing your bridesmaids and groomsmen. 
If they're much younger, you may prefer to have them serve as ushers or junior attendants, but if they're close to your age, definitely give them the full-blown honour. 
And nothing is stopping a bride from making her brother a bridesman or a groom from making his sister a grooms lady.
Consider Your Relationship With That Person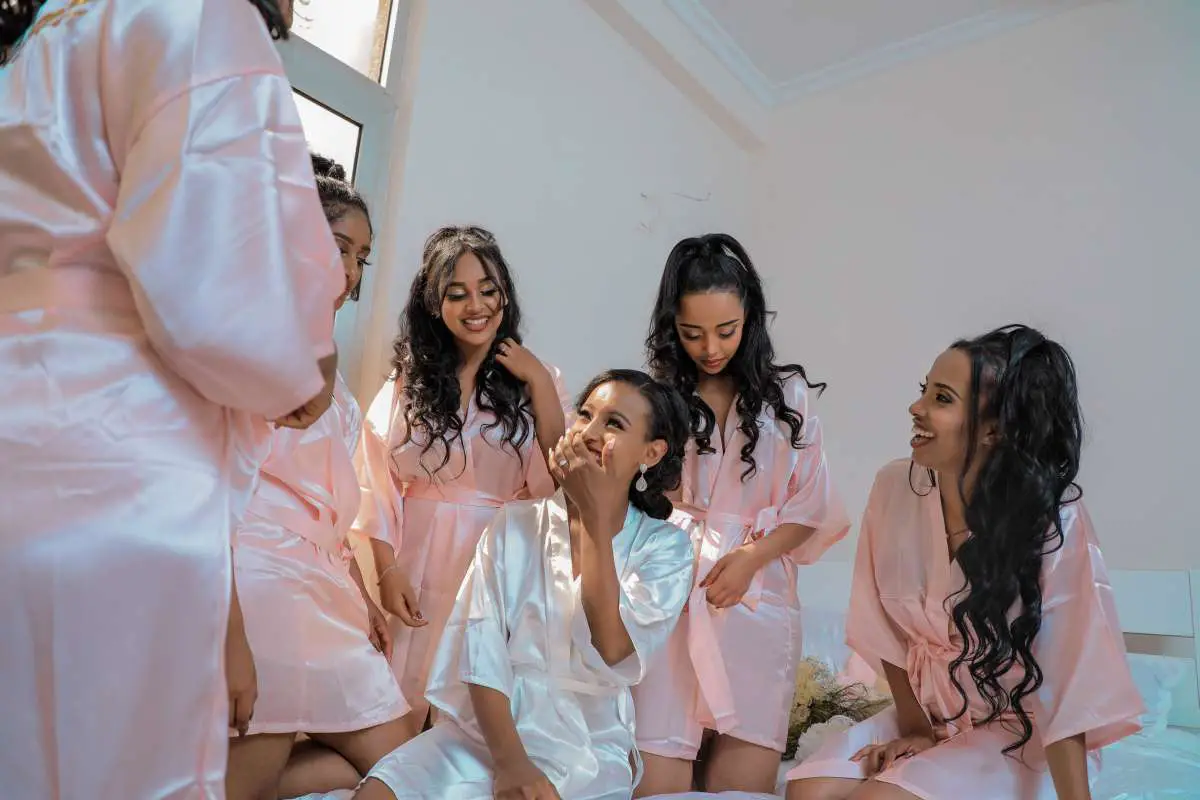 If you're still having trouble narrowing down your bridal party, consider your future with the wedding party members. 
When thinking about the people you're currently on the fence about inviting to the party, think about your life five, ten, or even twenty years from now. 
Are they going to still be in your life? Can you imagine life without them? Will you be glad to invite them to your anniversaries? 
Fair-weather friends or short-term connections might not be suitable for your wedding party. 
You don't want to look back at your wedding album and wonder why you ever invited them to be in a place of pride beside you and your closest friends and family. 
Size Matters When it Comes to the Wedding Party
When asking yourself how many bridesmaids are usually there in wedding parties today, the answer is traditional; four is the most common number for bridesmaids and groomsmen. 
If you want to play with those numbers, you're welcome to, but these days you should feel free to choose however many bridesmaids and groomsmen you'd like. 
However, you may want to keep in mind the overall size of the party in comparison to the wedding. For smaller weddings with fewer than 60 guests, you may not want a wedding party that makes up a sixth of the total attendants.
If it's a large wedding and you're inviting more than a hundred people, then there aren't any limits on how many bridesmaids and groomsmen you should pick.
Please make Sure They're Ready for the Responsibility
The responsibility that is involved with being a groomsman or a bridesmaid will differ from wedding to wedding. 
Organising the pre-wedding parties for the bride and groom might be the only duty you entrust them with. 
However, bridesmaids and groomsmen are also often involved in helping with wedding invitations, choosing the wedding wear, and providing logistic support. You should also take who gets the top position of maid of honour and best man seriously. 
These are the people who are typically in charge of some of the most important tasks, like holding the rings and providing emotional support if there are any jitters to be dealt with.
If you're not expecting your bridesmaids and groomsmen to be too involved with things, then you don't need to worry about these things. 
However, if they have responsibilities to take care of, you might want to select someone who will be reliable with anything they are in charge of. 
Choose people you can trust with whatever level of Responsibility the role entails.
Don't Ask Someone Just Because They Asked You.
One point of awkwardness is when you have someone you don't want at your wedding party, but you feel obligated to ask them anyway. 
Most often, this is because you were a bridesmaid or a groomsman at their wedding. 
You have to consider whether they are genuinely likely to be an essential part of your family life in the future and how much you value your relationship with them. 
It might cause a little embarrassment, but it's better to ensure that your wedding party only includes people you feel are closest to you.
Think Twice Before You Ask.
Once you've asked someone to be at your wedding party, you can't go back. 
So while it may be tempting to ask all of your favourite friends to be at your wedding party the minute you get engaged, don't. Take your time. 
Give yourself at least a month, if you can, to mull over the options. Then ask yourself this question: Will I be just as close to this person in five years as I am now?
Don't Feel Stuck by Gender Norms.
Plenty of men have female best friends and sisters they are closer to than all their male friends. 
The same goes for women and their male friends and brothers. You don't have to split the wedding party evenly down gender lines. 
You can just as quickly call your sister a "best woman" or your friend a "man of honour." 
It can even make the wedding outfits a little more unique if a member of your entourage wears a dress that matches the groom's suit instead of another tuxedo.
Downsize If You Want to Avoid Hurt Feelings
When thinking about how to choose bridesmaids between a collection of ten people you consider your "best friend", it can be difficult to avoid hurting anyone's feelings by leaving them out. 
Make a choice easier for yourself by giving them fewer spots to feel hurt about. 
If you can more easily narrow it down to the three most influential people in your life, instead of the four most influential people in your life, do it. Looking for a Wedding Event Planner? Look no further, Cosmopolitan events have you covered.
Remember There Aren't Rules. 
Call him the man of honour and her the best woman. Guys can stand with the bride, and women can stand with the groom. 
It's really up to you—what's most important is you include your favourite people, regardless of gender. 
There are no hard-and-fast rules about how to dress them. You can dress your groomsmen in tuxedos or dresses (or even rompers), and your bridesmen can look just like the groomsmen, or they can match their suits to the bridesmaid dresses. 
Just make sure they're comfortable with whatever you want them to wear.
Choose Responsible Honor Attendants.
The best honour attendants are friends who are responsible (since you're going to rely on them for some big wedding planning tasks and to hold on to your expensive rings) and good at providing emotional support because there just might be a few prewedding meltdowns. 
(It also helps if they're super-fun since they'll be planning the bachelor and bachelorette parties.)
Consider this: If your best friend isn't always the most dependable person, it's perfectly okay to have two best men or maids of honour. 
Pick your unpredictable BFF and another friend you can rely on for the extensive, essential duties.
Don't Ask Someone Just Because They Asked You.
Weddings are no time for quid pro quo. You don't need to ask someone to be at your wedding because they asked you to be at their wedding. 
Don't ask the college roommate you haven't spoken to in five years to return the favour.
If they want to talk to you about why they aren't at your wedding, be completely honest. 
Explain that it was a tough decision, but you felt like you should have the people you feel closest to at this point in your life standing up for you, and there are so many of those people (including him or her) that you had to leave out some exceptional ones.
Research Other Roles.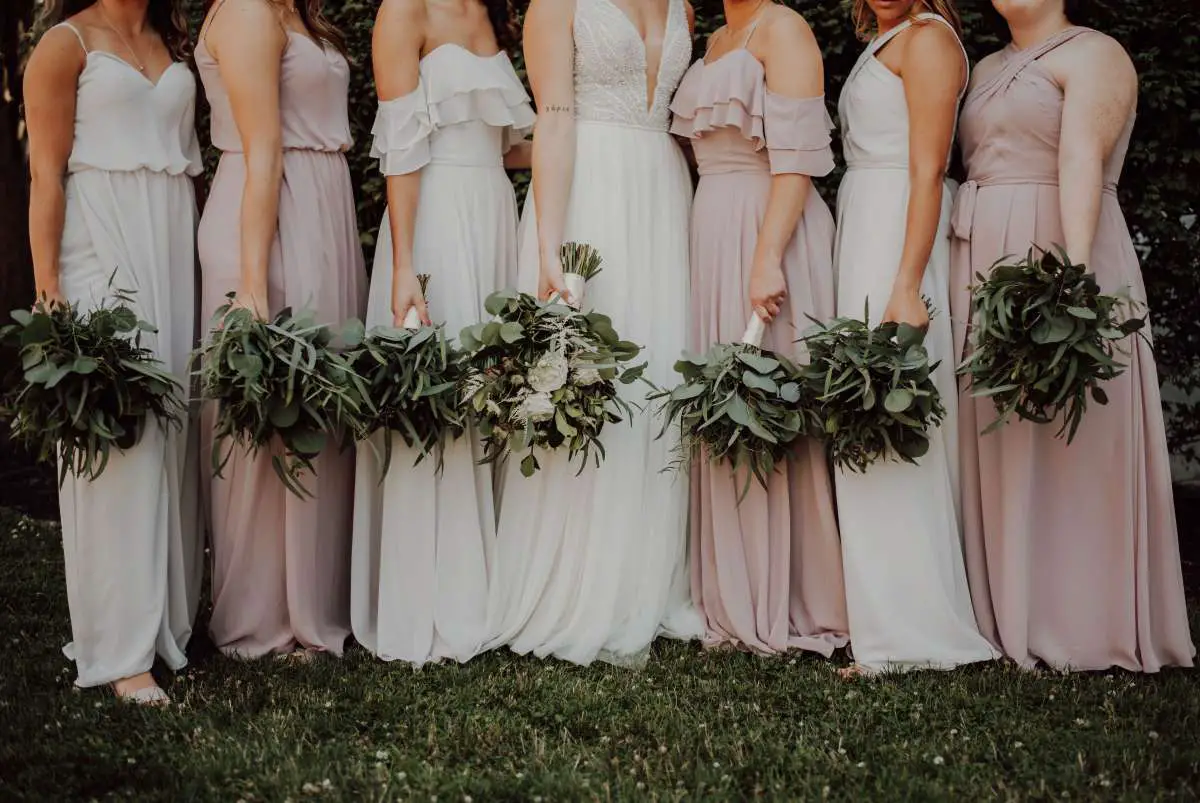 You might need ushers to lead the guests to their seats at the ceremony, plus a few people to light candles and distribute programs. 
But there are a lot of other options as well. Maybe you have a musically inclined friend who would love to play something at the reception. 
Or what about that friend who is a fantastic writer? Have them pen a poem or meaningful essay to share at your ceremony.
Think twice before offering your friends obscure, not-so-needed positions, like guest book attendant. (Would you want to do that?) 
Most people would be happier with a VIP corsage and a reserved seat at the ceremony. (Find a comprehensive list of additional wedding party duties your loved ones can help with here.)
Kids Aren't Required.
If there aren't any children either of you feel particularly close to, you don't need a flower girl or ring bearer. And if you have many children you want to include, feel free. 
Have three little flower girls instead of one and give them each basket of flower petals (boys might enjoy throwing flower petals too!). 
Or have your two little ones walk down the aisle as pages. They can bear the ring, hold a keepsake or carry a "Here Comes the Bride" sign.
Do you have an adults-only wedding? You can still have kids play their roles at the ceremony and not allow them at the reception. 
If you do that, consider setting up a room for kids with a babysitter during the reception and having fun foods and activities planned.
Set Honest Expectations.
What sort of a role do you want your wedding party to play? 
Is it necessary to you that they help address wedding invites, shop for your day-of attire with you and attend all of the prewedding parties? 
Or will it be enough for them to wear what you choose and show up on your wedding day? 
If you want a very involved wedding party, it may not be the best idea to ask friends or family who live far away or have extremely hectic schedules. You may be setting yourself up for disappointment.
For friends who can't commit for whatever reason (they live out of town or are busy at work), let them in on just a few wedding prep activities, like an invitation-stuffed party complete with wine and pizza.
Be Mindful of Budget
We all know being a bridesmaid or groomsman is expensive. 
Even if you're paying for their accommodations or chipping in for the suit or dress, the bill can add up between flights, gifts, and the bachelor and bachelorette parties. 
If you know a friend is in a tough spot financially, call them up to talk it over before making the official ask. 
Let them know you'd love to include them, but also have a few alternative ways for them to be involved if joining the wedding party might be too expensive. 
Close friends make fantastic readers, give great toasts at the rehearsal dinner, and could also hand out programs or serve as ushers at the ceremony.
Think About Feelings
Sometimes, having fewer bridesmaids or groomsmen is the easiest way to make sure no one's feelings are hurt. 
If your choice is between having just your sister and your childhood BFF stand beside you or expanding into two or three friend groups and ten or more 'maids, the smaller group could save you a lot of stress in deciding who does and doesn't make the cut. 
On the other hand, if you're committed to the idea of a huge wedding party, and there's one friend on the fringe, you might be better off including one more than leaving them out.
Avoid Inter-Party Feuds
Lastly, it might be worth considering the different personalities of the bridesmaids and the groomsmen and how they get along with one another. 
You are going to be spending a lot of time with this core group. If it causes you more stress to include people who dislike each other, you may want to reconsider. 
Your wedding party doesn't have to be the best of friends. However, suppose there is one person that's particularly abrasive or critical that presents a high risk of drama. 
In that case, it may be best to consider including them in your celebration in another way – like doing a reading.
What Is a Bridal Party?
A bridal party refers to the group of people assisting the bride and groom throughout the wedding planning process and wedding day. 
This team usually consists of the maid of honour, best man, bridesmaids, and groomsmen.
Traditionally, the maid of honour, the "chief" of the bridesmaids and the one who plays the most significant role at the wedding should be unmarried. 
But in case the friend or family member you would like to invite to be your maid of honour is married, no worries, she can still be part of your wedding and have the same responsibilities as a maid of honour. 
The only difference is that, in this case, her title is the matron of honour. The maid of honour is usually a sister or close friend of the bride. 
Even though traditionally, a bride has only one maid of honour, it's pretty standard to have more than one these days. 
Also part of the ladies team is the bridesmaids, who are also in charge of attending to the bride on her wedding day, working together with the maid/matron of honour in performing their duties. 
They are usually close friends of the bride, and some brides even choose a few close friends from different groups of friends such as school friends and college friends.
The best man and groomsmen form the male entourage. The best man is the team's chief and is often defined as the most important male or relative who helps a groom at his wedding. 
While attending to the groom's needs, the best man is often supported by none other than the groomsmen. The groomsmen are usually the groom's brothers or people from his close-knit group of friends.
No matter what one's specific roles and duties are, one thing to remember is that every member of the bridal party should always provide moral support to the bride or groom. As a bride-to-be, we're sure you know just how stressful wedding planning can sometimes be. 
Therefore, whenever your bridesmaids give you moral support, listen to your woes, get you through your pre-wedding jitters, and accompany you through every step of the way, their presence will mean the world to you. 
Of course, you should always return the favour by being a great bride to your bridesmaids and appreciating everything that they've done for your sake.
Conclusion
There is no definitive answer to how to choose groomsmen or how to choose bridesmaids. 
It's all about picking the people closest to you, who are best suited to the responsibilities it involves, and who can make the most cohesive wedding party possible. 
Let the tips above guide you towards those choices that make the most sense, but don't be afraid to go with your gut. If you both want a particular individual in your wedding party, you should ask them. Looking for the Top Wedding Planner in Melbourne? Look no further and check out our ultimate list of Wedding Planners here.