Your wedding day is a really big deal, and it's important to plan ahead for the best possible day.  The beach is an amazing place to get married because of its natural beauty.
A beach wedding is one of the most beautiful and romantic settings for your big day. The sand, seashells, and ocean waves make your ceremony even more memorable. Plus, with all the outdoor activities at your disposal, it's a perfect way to get active on your honeymoon!
A beach wedding has a lot of benefits. There are many different styles that you can use to plan your day, and it's easy to get some great shots with the ocean in the background.
A beach wedding is a perfect way to celebrate your love with friends and family. We've got some ideas for you to make it even more memorable!
Beach weddings are an excellent choice if you are looking for a venue that's not too expensive or forgetting about the importance of location. In addition, there may be fewer restrictions on what type of decorations can be used, allowing you to have an event that reflects your personality and style without breaking the bank.
The natural beauty of beaches can also inspire when deciding how to decorate your reception tables or create other design elements such as table numbers, place cards, menus and signage at the ceremony site.
If you want to be able to look back on your wedding day and feel like it was the best day of your life, then a beach wedding is for you!
The sand feels soft under your feet, the waves are crashing in the background, and everything seems perfect. With these easy tips from our blog, you'll find that planning a beach wedding will be easier than ever.
How to Plan a Beach Wedding
Weddings on the beach have several possibilities, so they should not be pigeonholed like weddings that are more relaxed regarding the dress or the food options. On the contrary, a beach wedding can be the ideal opportunity to let your imagination fly on what concerns decor, food and even dress code.
Before choosing a venue, consider the type of wedding you will have: a full wedding, a micro wedding, or an elopement wedding. This will give a good idea of the venues that better fit your ceremony.
A beach wedding can range from something very relaxed to a full luxury event.
However, please seek advice from an expert wedding planner so you can share all your ideas with her and get the best advice and support to make them come true. And, of course, try to visit at least once the place where you want to get married so that you can visualize what a wedding planner can do for you.
How to select the perfect beach wedding location
When planning a beach wedding, location matters.
Perhaps you were inspired to travel to Bali after seeing a glossy magazine advert of the popular tourist destination. However, with the possibility of endless entertainment before and after the fact, maybe Cancun is more your thing.
Perhaps the peace and serenity found on islands like Saint Lucia and Grenada compel you to take your wedding party to Caribbean shores. This is where you also might consider the Bahamas or Jamaica – both beautiful island getaways near the US.
Whatever the case, it is important to pinpoint a destination before getting your planning underway. Sometimes it helps to select a few potential destinations, weigh the pros and cons, and go from there.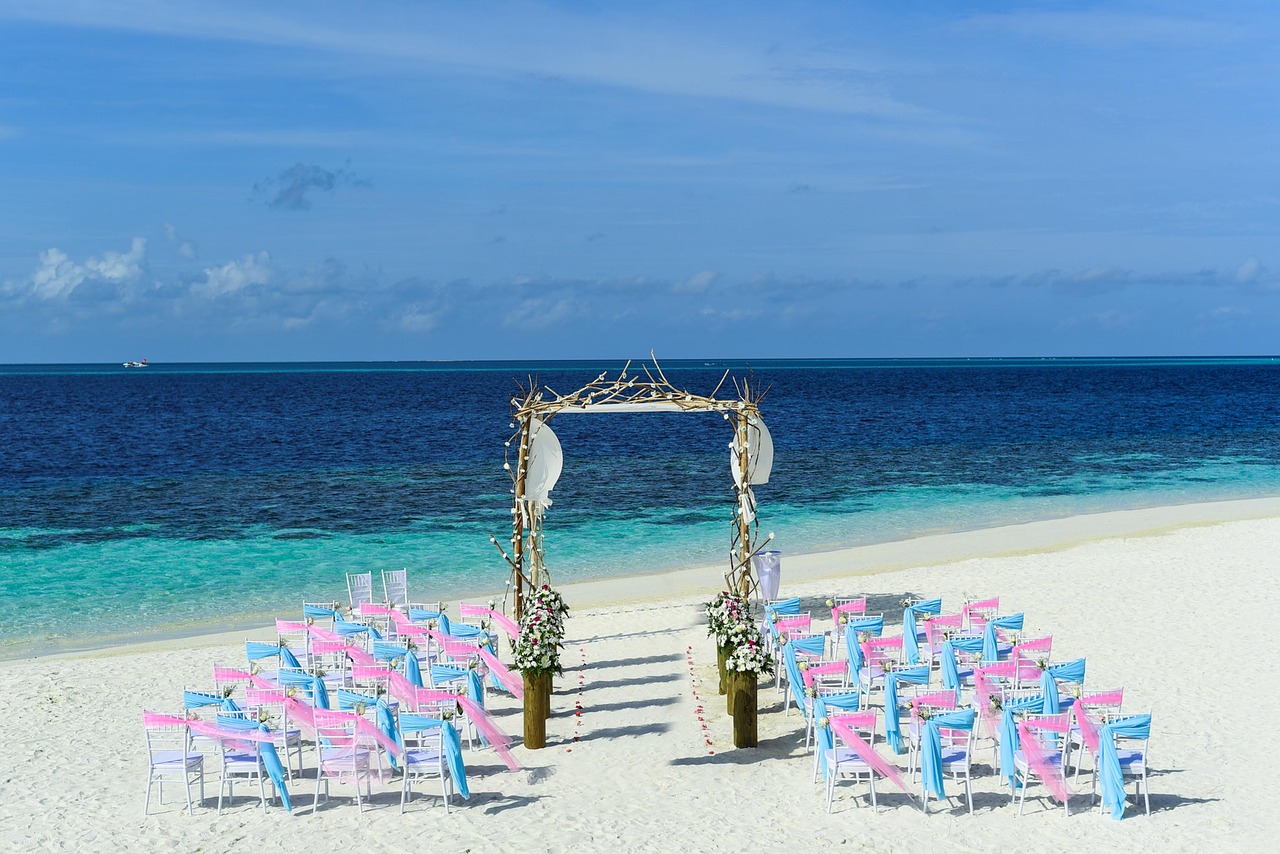 1. Find the perfect beach
In most cases, whatever destination you choose for your beach wedding, you will have multiple beaches to choose from. Most of them are gorgeous, so a good way to set them apart will be determining which ones are public versus private and the amenities that can be found at each.
Private beaches may require you to make reservations ahead of time, while public beaches often require permits for occasions like weddings.
One of the important things to look for when selecting a beach for your wedding is its level of accessibility. Will your grandparents and your sister's toddlers be able to make the mile-long trek to your dream beach? Can the tables, chairs, and food make it there without hassle or spoiling? These are all things to keep in mind when deciding on a beach wedding location.
Keep in mind that some beaches can get crowded on weekends or holidays. Therefore, weekday ceremonies often work best.
2. Check for amenities
Is there a washroom, a comfortable place for seating, a potential dancing area, etc.? Will you have the reception at the same location, and if so, is there a restaurant nearby?
If you're having catered food delivered, is there a good area where you can set things up? These are all some of the questions you'll need to ask to narrow down your list of venues.
If you're getting married at a local venue, take the time to visit the location ahead of time. This makes it possible for you to make a final decision and clues you in on what you'll need to put in place on the day. If it's a foreign venue, try to source as many photos and videos as possible.
Expert Tip: Are you dreaming of a resort beach wedding? All-inclusive resorts are perfect, as unlimited gourmet food, soft/alcoholic drinks and airport transfers are already included in the booking price.
3. Apply for a beach permit (if needed)
Some public beaches require permits for large scale events like weddings. You can find out whether or not this is necessary via the local City Hall.
In addition to your permit, you may have to follow the rules (or use your discretion) about alcohol, bonfires, number of guests, and music. In addition, there may be applicable fees or restrictions. Find out all you can about the application process (including liability insurance, etc.) ahead of time.
Good to know: A public beach permit can range from $30 to $300.
Planning to get married on a private beach? Getting a permit may be one less thing on your to-do list, as most private beaches are free for all as far as weddings are concerned.
It is worth it, though, to find out about any rules which may have been set out by the owners or persons responsible for maintaining the beach. A good example of this would be beaches located near hotels or resorts.
4. Consider the noise factor
Not every beach is as quiet, serene and romantic as it may appear in the movies. Nature can get loud, i.e. crashing waves and strong breezes. Factoring these in may fall far from your priority list, but they are things worth keeping in mind.
What you don't need is for your vows to be interrupted, or worse, be inaudible by your significant other and wedding party, as a result of being on the beach when the waves are particularly rough and loud. This is where a professional sound system comes in, and possibly a windscreen for your microphone.
5. Prepare for windy shores
Intricate flowers, ribbons, and other decorative accents are common elements in the dreamiest of weddings. The possibility of these being blown away after the hard set-up effort is disappointing, to say the least.
There's no way to predict how windy any particular beach will be on your wedding day, so with this in mind, try to use decorations that are unlikely to be tossed about in the wind. A good adhesive (or string) will be your best friend for other lightweight items that you can't do without.
6. Choose the best time for your beach wedding
Most beach weddings are held on sunny shores with high temperatures. Proper planning helps ensure you and your guests are comfortable at all times.
Since the afternoon sun tends to be a little more intense in some parts, early (8 am to 10:30 am) or mid-morning (10:30 am to 1 pm) ceremonies are encouraged.
Late afternoon (3:30-5 pm) is also ideal just before the sun goes down. If you end your ceremony about an hour before sunset, you'll be in good timing to get amazing photos whether or not you hire a professional!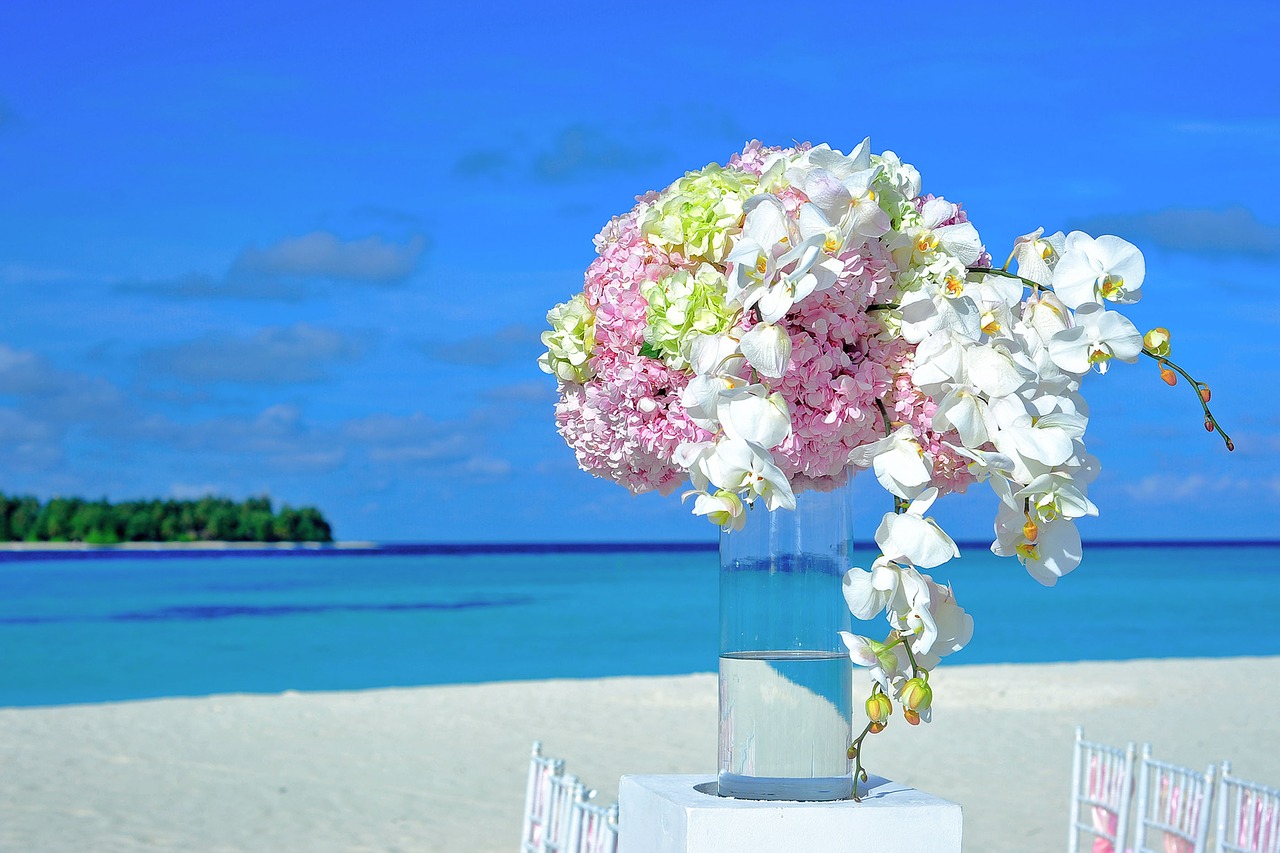 7. Expect the best, but prepare for the worst
Outdoor weddings are for the happiest couples. Beach weddings are riskier than traditional church weddings or weddings at private indoor venues, but that same risk can lead to you having the most memorable day of your life.
There's a much less chance of rain ruining your big day if you schedule the right time of year to go, but it's still a good idea to formulate a 'Plan B' when putting together a beach wedding. First, select an alternative venue nearby that you can go to if the weather deteriorates significantly on the day.
8. Stay shaded and dry
Canopy tents are perfect for ensuring there's sufficient covering and can help increase the comfort of children and older guests. According to wedding experts, a 30′ x 60′ tent can accommodate 225 seated theatre style or 144 seated at round tables.
Always remember to factor in buffet tables when planning the size of your wedding tents. There are so many different types to choose from, so take your time in this department. You can either rent or purchase a canopy tent if you plan on using it later.
There are many creative ways to decorate your tent – including using firefly string lights, added greenery along the sides, tulle (fine mesh), and more. If you're fully confident in the weather and prefer to focus on ambience, skip the tent and go for a lightweight, white fabric draped over bamboo support poles!
Beach Wedding Décor & Dining Tips
1. Don't feel limited by theme 
Tropical and nautical are most definitely *not* your only options. "Think of a wedding on the beach as a blank slate," says Durán. "If you love the garden-y look or want to go French, or classic, or sophisticated, do it! A designer can help bring it all together."
2. Be smart about beach ceremony set-up 
Acrylic or wooden chairs can be quickly wiped down in case of passing rain and are far easier to set up and break down than upholstered options.
A spot to leave shoes (sometimes called a shoe valet) is both a fun décor element and a nice amenity to offer guests if you're getting hitched on on the sand, and, because of sea breezes, programs should never be placed directly on chairs without something weighing them down. (You could also task an usher with handing them out.)
Also: speakers. If sound amplification is allowed and your group is larger than 50, this is something you'll definitely want to consider springing for.
"Your voice won't project in an open space the way it would in a ballroom," says Durán. "Same with music if you have live instruments or a singer." Be sure to consult a pro, as a subpar sound system might pick up too much wind and ambient noise.
While many officiants now read from iPads for a more modern look, the glare of direct sunlight at a beach wedding can make them hard to read.
3. Select a see-through tent  
When couples want to feel in the open and untouched but still protected from the elements, Durán suggests a clear tent. "Try to get something really high—over 20 feet," she adds. "A low roof will make it feel like you're indoors."
When planning the seating chart, Durán says that tables at the perimeter have a buffer of several feet between them and the tent edge—that way, they aren't at the mercy of wind-blown rain.
4. Get heavy with the rest of your décor 
If it's going to be windy, forget about bud vases, small centrepieces, and thin candlesticks. "You have to go for pieces that have good weight, so the wind doesn't blow them away," says Durán. "And make sure your menus, napkins, and place cards are weighed down."
5. Add local flair to the menu 
Your wedding food and drink should largely represent things you enjoy. Still, it's also a good idea to research what's authentic to your destination and add touches throughout the wedding weekend (a local fish at the rehearsal dinner, coconut drinks at cocktail hour, plantain appetizers, etc.).
"It makes it a more authentic experience for everyone to enjoy," Durán says. "Your guests didn't travel to eat strip steak with mashed potatoes and asparagus."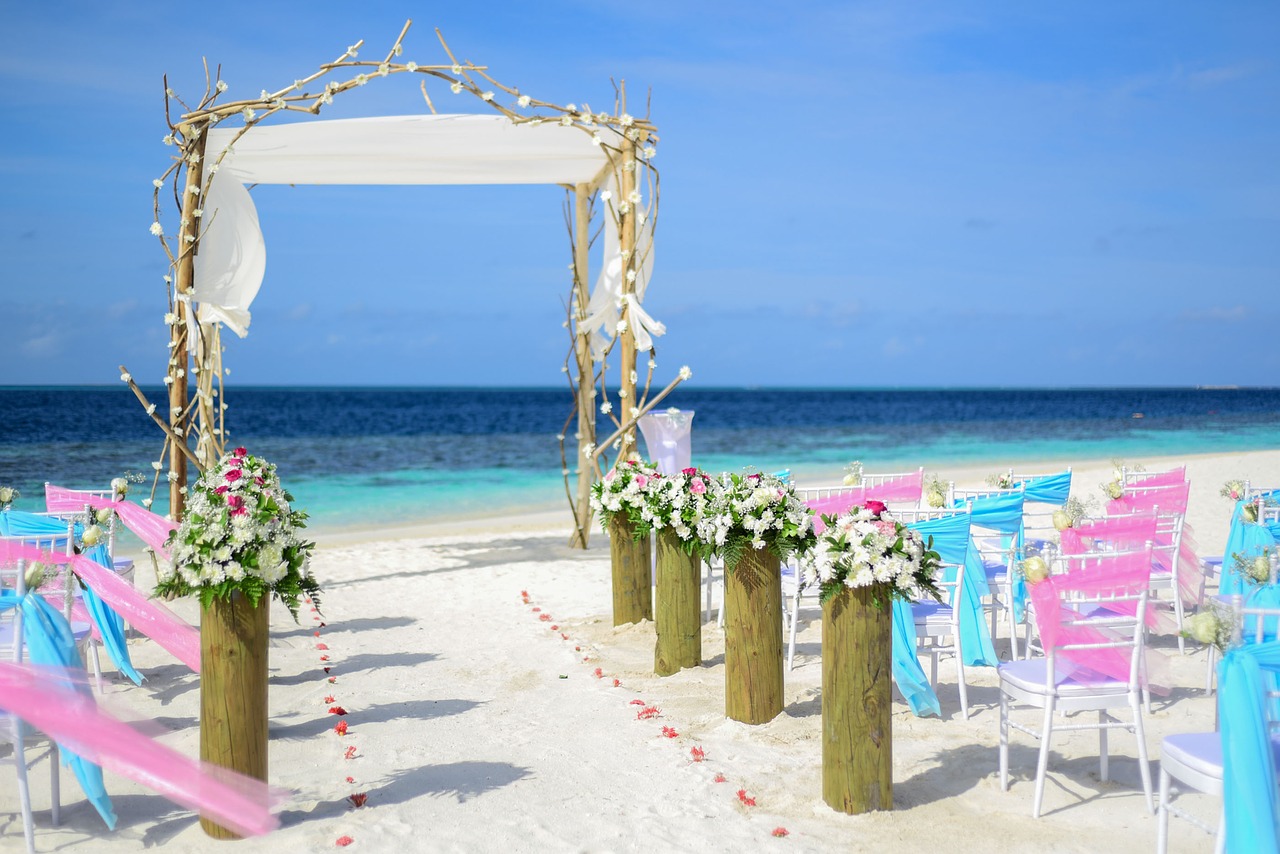 Creative Ideas: Décor and Others
1. A Lush Entryway
Bamboo and layers of lush, leafy greenery create a tropical gateway into the beach weddings of your dreams. "Consider incorporating natural elements and textures, such as wood, natural fibres, leaves, organic-shaped accents, and neutral colours," says Grosset.
2. Shells on Your Cake
The confectionary pièce de résistance of your big day is no place to skimp on the seaside details. This stunningly simplistic design shows that delicate shells are the perfect beach-inspired accent for your cutting cake or wedding cake.
3. A Juicy Centerpiece Display
Bold, juicy colours are the key to vibrant festivities. Here, bare wooden tables lay flush with centrepieces of vibrant florals and ripe citrus for a relaxed Mediterranean vibe that is good enough to eat. At the same time, an assortment of candles in various sizes provides a warm glow.
Opt for lanterns or hurricane candleholders rather than candlesticks or other uncovered candles to ensure the wind won't blow out the romantic light on your tables, recommends Grosset.
4. Decorate With Palms
The great thing about palm leaves is that they're absolutely huge and pretty durable, making them easy to decorate with. Tie them to chair backs for some DIY décor, use them as chargers beneath place settings, or flip the notion and place them atop white plates.
5. Fans for Guests
A beach wedding at the height of summer calls for creative ways to help guests beat the heat. The boho-inspired fans were cleverly attached to the programs for guests to use during the outdoor ceremony.
6. A Sea-Inspired Invitation Suite
Sea-inspired invitations will undoubtedly get your guests excited for the upcoming bash. These fun invites allude to the beach venue and hint at the event's colourful '60s theme.
7. DIY Seashell Place Cards
You've heard of farm-to-table, but what about sea-to-table? The seashell place cards bring the ocean right to your plate. You can order a bunch off Etsy as bride Kelly did for her nautical Montauk nuptials.
8. A Tropical Seating Chart
An acrylic seating chart is about as versatile as it gets. It seamlessly blends into any background and can be used to display existing wedding décor. Here, it takes on all the glory of nature set on a canvas of green leaves.
9. Statement Chairs
As the VIPs of the day, the newlyweds deserve a special seat at the table. A proper statement chair sets them apart in a place of honour and makes for some epic photographs. These round wicker stunners scream of beach royalty.
10. A Shoe Valet
Provide a spot for guests to drop their shoes at your oceanfront nuptials. Like this one with a custom sign, a shoe valet tells guests exactly where to leave their footwear. They can either trade heels for flip-flops or attend the sandy ceremony barefoot.
11. Boho-Chic Table Settings
Bohemian details feel right at home at beachside weddings. We're obsessed with the distressed white paint paired with these incredible straw chargers. Amber-toned glassware, stoneware plates, gilded metallic accents, and a sheer, rust-hued runner complete the aesthetic.
12. A Beachy Bouquet
A bouquet of greens and neutral-toned florals is perfect for a wedding in nature, and you can add palm leaves for an instant beachy upgrade. This bride chose a combination of white king protea, eucalyptus, palms, and white flowers like orchids and anthurium for her boho beach weddings in Mexico.
Reuse your flowers, advises Grosset—you'll save money while being eco-friendly. Use the bridesmaid bouquets as centrepieces or the bride's bouquet as a centrepiece for the head table.
13. Aquatic Aisle Décor
Submerge your ceremony in all the trappings of underwater finery with an aisle that's decorated with bright coral, textured grasses, dried flora, sea-glass vases, and the occasional cactus for good measure. This scene is fit for any mermaid bride.
14. Coastal Escort Cards
You can have nautical touches at your wedding even if there's no beach in sight. These capiz shell escort cards with pretty pink writing are the perfect addition to a coastal reception.
15. An Ocean-Inspired Cake
This elegant cake features a delicate blue watercolour design that mimics undulating waves. Adorned with a gold-painted piece of coral, a shell, and pearls—we love the organic approach—this gorgeous dessert is ready for its seaside debut.
16. Make a Fun Welcome Sign
– which is as colourful and bubbly as you'd like your wedding to be. Use this to instruct your guests to leave their shoes before they step into your tropical paradise.
17. Creative Seating Arrangement
Make it a super fun experience by having your seating arrangement worked into a shiny mirror, a treasure map, or even on a surfboard.
18. Emphasize the Natural Environment 
– by adding beach grass, seashells, or even coconut tree branches. Sea glass and driftwood host immense creative possibilities.
19. Treasure Chest
Use a treasure chest as part of your décor, and have guests write notes of love for you and your spouse to be. You can keep this chest and note for memories later.
20. A Glamorous Set-up
Beachy, but make it glam—because not all seaside fêtes are boho and relaxed or nautical in navy. This ballroom celebration was brimming with all the tropical grandeur. Linens of black-and-white palm prints, magnificent palm centrepieces, black accents, and gold flourishes delivered the drama.