The moment you say "I do" is a unique, special time for every couple. And while you might have dreamed of the big white dress, it's not always possible to get married in a church or on the beach.
Luckily, there are plenty of places to hold your wedding ceremony that doesn't require guests to travel far from home. One such place is your backyard! This guide will explore what makes this option so great and provide tips on making it work for you.
What would be the perfect place for your wedding? Some people might want to have a small intimate backyard wedding, while others might prefer an extravagant ballroom affair. Your venue can say so much about you and how you feel about marriage.
A backyard wedding might mean that you're looking for something more personal, where any two people who love each other can get married. But, on the other hand, if it's just not in your budget to rent a large space like a ballroom or banquet hall, then having a backyard wedding could save some money on rental costs.
The backyard wedding is a beautiful tradition that many couples choose to include in their special day. However, there are many pros and cons to consider before deciding whether or not you want this part of your wedding day.
Planning your wedding day might be a dream come true, but it is also a lot of work. So if you are looking to save time and money, backyard weddings may be the best option for you.
However, not all couples know about the pros and cons of having an outdoor ceremony. In this blog post, we will explore some options to make the best decision possible for your big day!
From the amount of time it will take to plan to how long the ceremony will last, these are all things you need to think about first-hand if you decide on a backyard wedding.
The benefits of having a backyard wedding include the ability to have an intimate ceremony with close friends and family in a beautiful setting. In addition, it's likely less expensive than renting out an event space or catering hall. The drawbacks include limited seating options for guests and not serving alcohol due to restrictions on open containers.
This article discusses those pro's and con's so that you can be well informed when making this decision for yourself!
Pros And Cons Of Having A Wedding In Your Backyard
1. Home Weddings Can Save Cash 
Budgetary restrictions often drive the choice to host a home wedding. While traditional venues may seem expensive at first glance, it's worth doing your research into what it might cost to bring in everything you'll need for a wedding in your actual backyard.
Saving money and risk on the venue deposit and cost! Less risk if the pandemic continues. Your deposit won't be tied up with a venue that may or may not be in business years later.
Since you're so accustomed to your home, hiring a wedding coordinator will give you a fresh perspective on the property and what you can and can't do. But, of course, you'll also need pros to cover all the basics: setting up, cooking, serving, parking cars and cleaning up (hiring a cleaning crew may be the best decision you'll make).
In the days leading up to your backyard wedding, the last thing you (or your parents) want to have to do is a massive house-scrubbing.
To fully appreciate your blank canvas, consider what decor you have in place to set the atmosphere for your Big Day.
What makes a private residence unique? (An elegant dining room, a massive oak tree in your backyard or a spectacular view, for example?) Play up that feature to create a homey feel. But, unfortunately, it adds to the trend of making it look like you've emptied an eclectic china cabinet of all its unique and beautiful pieces.
Use different centrepieces and mix-and-match vases. Bring in fresh, home-grown-type flowers or play with outdoor lighting possibilities. Decorating with garden lamps, paper lanterns, and tiny white string lights draped on branches will create the perfect atmosphere.
While you might be saving on a venue rental fee, you will need to rent a tent if you don't have an indoor rain plan. Tents can cost upwards of $15,000 if you want totally rainproof, windproof, weatherproof, temperature controlled with lights and a dance floor.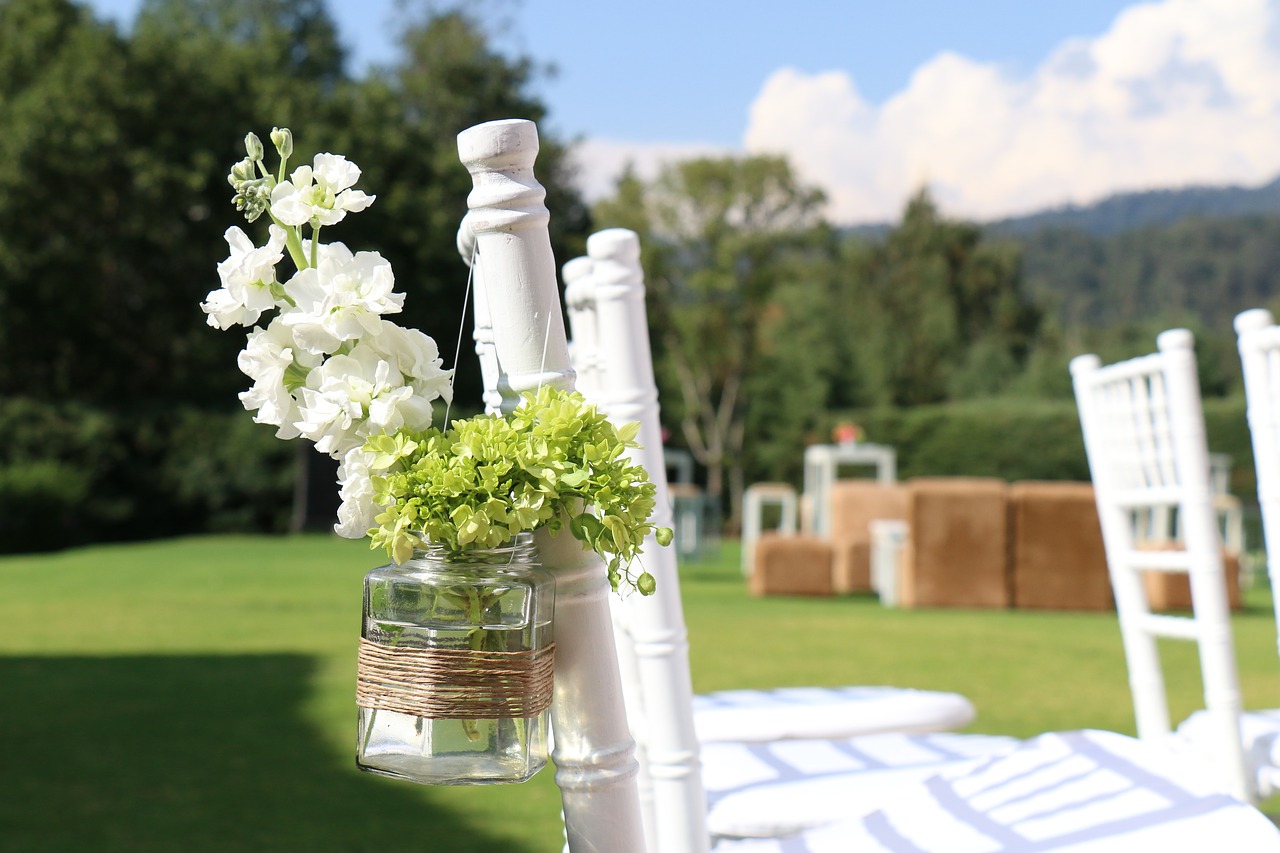 Your backyard may not be set up and equipped to host an event. For example, you might not have a backup rain plan or an indoor space to host your desired guest count.
These are logistics a professional event venue has already figured out and executed hundreds of times. When you book a venue, a rain plan isn't something you have to worry about.
2. You'll Need to Get Permission Before Proceeding
You'll need to make sure everything is in order, from the city permits to fire department inspections.
Bring in an electrician to inspect your area, determine if local noise ordinances require a permit or place restrictions on noise, and decide whether you need to file for a permit to park cars along your street. The last thing you want is cops crashing your wedding.
Your wedding officiant may also need to stop by to confirm the location. Make sure they will give you their blessing to say "I do" in a backyard or at-home ceremony.
Some cannot perform the ceremony outside their place of worship because the church does not recognize it. So you'll want to give yourself plenty of time to find a licensed officiant who will do the honours.
It's also a good idea to chat with neighbours about your event. Let them know of your home wedding plans well in advance. Make sure they know the ceremony time so nobody's mowing their lawn during your backyard vows, and ask if they'd offer their driveways for extra parking space.
But you can't rely completely on neighbours' generosity. Make sure there's enough street space for parking, or arrange for guests to park at a nearby lot like a school or church, then provide a round-trip shuttle service. If you want valet parking, hire a reputable company.
Reach out to your homeowner's insurance company to loop them into the plans, too. From guests dancing on your lawn to vendors traipsing in and out, your home may take a bit of a beating (all for a good cause, of course).
Find out what your homeowner's insurance covers. You may want to consider getting a supplemental policy. Check with your domestic insurance company to see if your policy covers third-party liability and with your vendors to make sure they have their own insurance policies, as well.
3. Your Backyard Wedding Will Demand Serious Space
You need room to say, "I do." Does your setup have enough space for all your guests? If not, you'll have to start trimming the list.
Flexibility! You don't have to follow a venue contract. You have your pick of the litter when it comes to your dream date. You have more flexibility and fewer restrictions. You can throw that confetti! Use that glitter! It's your space – your rules.
Don't mistake overcrowded for cozy. If you plan to use a combination of indoor and outdoor space, know that if the weather takes a turn for the worst, everyone might need to fit indoors if you don't have a tent.
Will there be enough space in, say, the living room to set up white folding chairs with a wide enough aisle? The general rule is 6 to 10 square feet of floor space per guest for row-seating.
Consult with the professionals about the realities of hosting a big event on property. They'll give you insight into the possibilities. For instance, the ground may not be level. Chairs, tables, the dance floor—you don't want any of these items to be on uneven ground.
Professional tent companies can ascertain whether or not they need to put down a foundation or if they'll be able to lay a dance floor directly on the ground. Your other vendors (caterers, florist, band and so on) need to determine what's necessary to keep floral arrangements and the cake table from tipping.
Your pros will need to check out the property. To determine what extras they'll need to bring, vendors should stop by for a visit. Have your caterer survey your kitchen to ensure it is well-equipped and large enough to prepare the menu. Otherwise, they may need to bring in a completely functional travelling kitchen.
You will spend more time managing this backyard venue. You will need to create a floor plan and layout. Don't forget about the bathrooms! Does your home have enough, or do you need to rent some? Figure out how to clean the confetti.
Figure out load in/load out. Decide where the catering area will be. Heat/rain. Deliveries. Backyard wedding decor. Decorative and functional lighting. This takes a tremendous amount of time, logistics and planning.  This is also putting your home at risk for liabilities, clean up, and possible damages.
4. Artistic Control
Total artistic control. You can do anything you want with your vision. You can build your dream venue in your backyard from the ground up. Start with a blank slate.
Total artistic control means comprehensive management of all moving parts. You will need to bring in all of the backyard wedding decor and supplies (rentals, china, flatware, chairs, glassware tables, tent.). It takes a lot of time and logistics to manage this.
Bringing everything can also cost more money, especially since an event has never been hosted in your backyard before. This means more work for you and your vendor team. However, many event venues already have amenities like chairs and tables included in the price.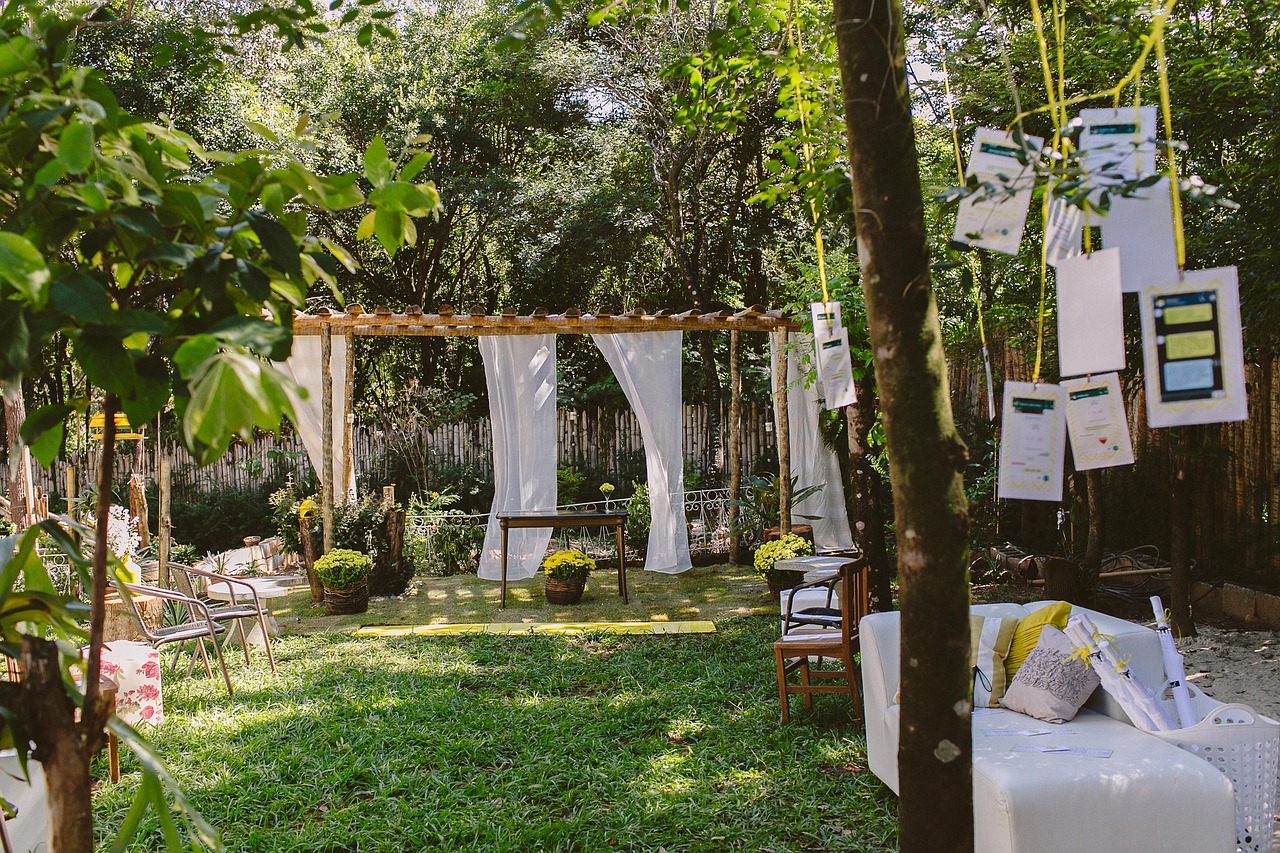 5. Guests May Try to Crash
Slumber parties are fun, but adding house guests to your home wedding will only further complicate an already detail-driven day. Try to dissuade them from this idea.
Unless you're marrying at a 25-room estate, the only people who should be staying at the wedding site are the homeowners and their immediate family (the couple and any siblings, for example).
You don't want to be fighting your cousin for shower time the morning of your wedding. What you should do is recommend a hotel that's as close to the wedding property as possible.
Vacation rentals, like on Airbnb, are a good option for guests to consider, too. In addition, there may be home rentals available in your very neighbourhood, giving friends and family quick and easy access for your home wedding.
Some couples prefer to keep loved ones at a distance the night before the big day, so a hotel may very well be the better option. Consider all possibilities before pitching a solution to your guests.
6. Factor Rentals into Your Plans
A backyard wedding reception inevitably requires bringing in enough rentals to throw a party. Your must-have items are tables, chairs, dinnerware, napkins, table linens, place settings, barware, portable bathrooms and a tent.
Rent enough chairs so everyone can be seated for the ceremony. If you need more room for the reception, remove most of the chairs after the meal, keeping just enough around so half the party can sit during the festivities.
You'll probably need a generator too. Most homes can't accommodate the amount of power necessary to light a tent or provide power to a catering kitchen. You don't want to risk a power outage—or worse, blowing out the whole neighbourhood.
Check with your caterer to see if you need to rent extra coolers, grills or roasters. But, don't wait on this. You'll want to start researching and reserving equipment six months before your wedding.
You'll also likely need to evaluate your bathroom options for guests. Unfortunately, the average home cannot accommodate the increased bathroom usage a wedding typically requires. Thankfully, portable bathrooms have gone luxe.
These aren't your average port-a-potties. You'll want to account for three bathroom trips per guest, and since most septic tanks can't handle that many flushes, portable bathrooms are a must. A general rule of thumb is to have one toilet for every 35 guests.
Keep in mind that your guests will need a place to wash their hands and do a mirror check, so keep the area well lit. Upscale portable bathrooms are now available that have lighting, sinks, heated water and even air-conditioning.
Don't forget to make them even more home-like by including an amenity basket filled with hair spray, tampons, Band-Aids and breath mints in the ladies' room.
7. Outdoor Maintenance May Take Months of Advance Preparation
With your entire backyard being on display, you'll probably need to give the space a more manicured look. Whether that means dragging out the lawnmower or hiring a landscaper, you'll want your lawn to be in peak form.
If you're planning a spring backyard wedding, start preparing in the fall (yes, really). Talk to your professional landscaper about reseeding, replanting and sodding.
You'll need to think about florals (and plant them) as early as possible. But, unfortunately, most perennials need a winter to take hold, and it takes some time for annuals to fill out. So make sure to find out the appropriate planting times for the flowers you'd like, so they'll be in full bloom on your wedding day.
For a spring wedding, cool-season flowers like tulips, daffodils and lilies of the valley will be in bloom (which need to be planted the autumn before). For summer, try annuals like geraniums, Gerbera daisies and African daisies, which should be planted after the threat of frost.
You'll probably want to plant perennials for fall, like Japanese anemones, chrysanthemums and blue salvia—these should also be planted the fall before.
8. Vendor Selection
Total control of what vendors you select. You can use any caterer, florist, liquor provider you want! You aren't tied down to an exclusive or preferred vendor list that all venues have. You can save money by buying your liquor and catering from your favourite restaurant.
It takes a lot of time to vet, interview and research vendors.  If you've never planned an event before, chances are you don't have a vendor list. The benefit of using a professional venue is that you can use their resources.
It is so important to find vendors who are aligned with your vision and budget. Think about how much time you want to devote to emailing vendors only to find out they don't work within your budget or they aren't a good match.
9. Weather Can Disrupt Carefully-Laid Plans
Unexpected weather can bring about unique challenges—especially at a backyard wedding reception. Always plan for the worst by making sure guests will be covered in the event of a sudden shower.
If there's no way to pitch a tent at the ceremony area, arrange to have the ceremony at a house of worship in case of rain—make sure to have an insert in each invitation that gives the alternate address and a number to call to find out if the ceremony has moved, plus keep your guests posted via your wedding website.
If a tent is your Plan B, make sure it has sides to keep out a downpour. Stifling heat can pose just as many problems as rain, so make sure ceremony chairs aren't in direct sunlight and that there are plenty of shaded areas, cool drinks and even hand fans available (your ceremony program can double as fans).
If it's a warm day, extra electric fans and portable air conditioners can be brought in; propane heaters will warm up the place on wintry days.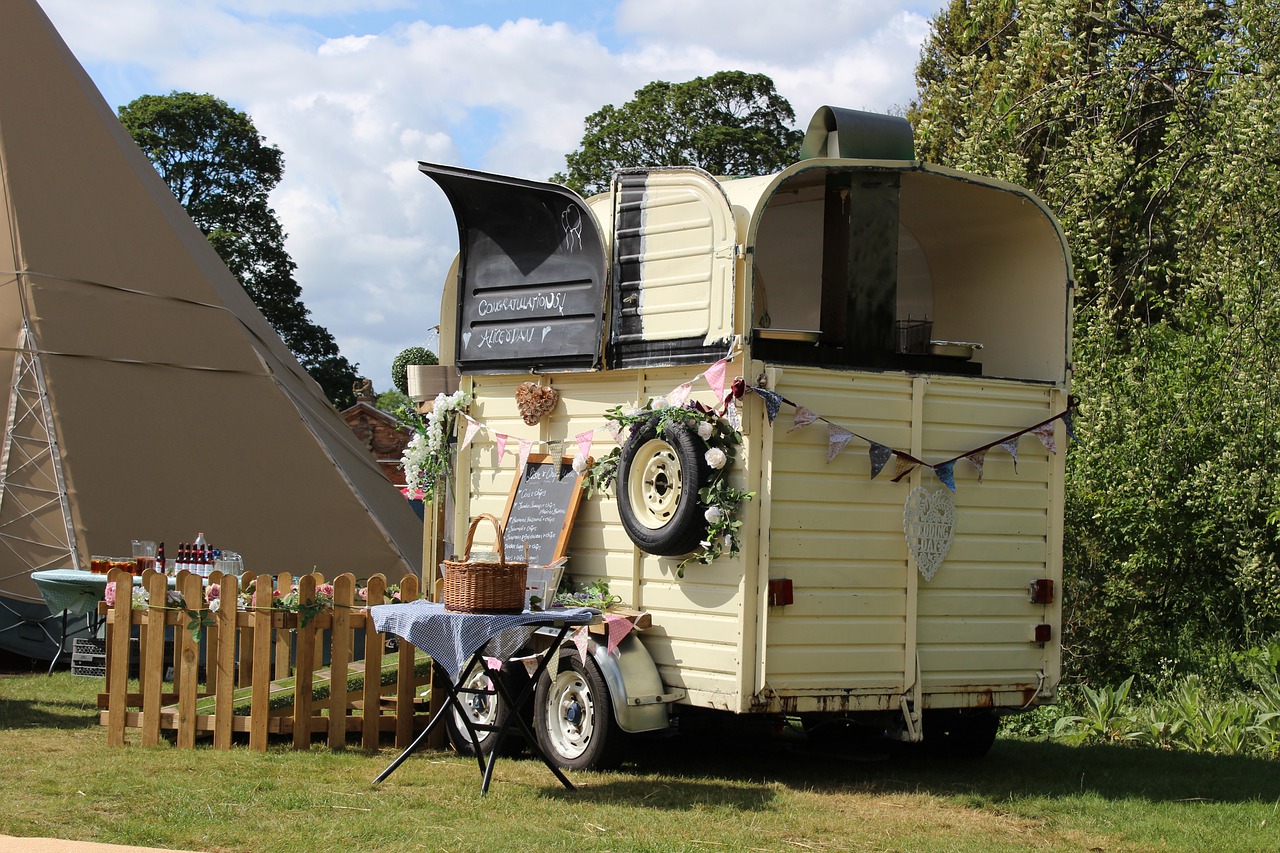 10. Start Planning the Perfect Backyard Wedding Reception
Having a backyard wedding at home—even at your new home as newlyweds—is an amazing idea and an event your family will always remember. The best thing about having your wedding at home is how personal it can be.
Nothing compares to getting ready in your childhood room and coming down the staircase in your wedding dress or suit. Find the right wedding pros to help, and you'll walk down your homespun aisle stress-free. So get started now by personalizing the wedding checklist for your ideal home wedding.
When looking at the PROS and CONS above, also ask yourself these questions
How much time do I have to plan this event? Do I work 40 hours or more a week?
What is my budget? What is more important, price or value?
How many resources do I have? Have I ever planned an event like this before?
Am I working with an event planner?
 Is this the kind of experience I want during my engagement?
Faqs About Planning A Backyard Wedding
1. What should I be aware of when planning a backyard wedding? 
Take a look at the pros and cons and questions above! There is a lot of time, logistics, and planning required to have a backyard wedding.
2. Is hosting a wedding in my backyard easier or less money?
Check out those pros and cons above! It all depends on your setup. We can tell you that it is NOT easier to have a backyard wedding. Does your backyard have an indoor space that can hold your desired guest count? If not, we highly recommend you invest in a tent which can increase your expenses!
3. What size tent do I need in my backyard? How much do tents cost?
This all depends on the square footage and dimensions. Having a professional event planner do a site visit is a fantastic way to figure out how to select the right tent.
Tents can range from $1500 for a very basic white canvas tent with no walls or floor to $15,000 for a luxury tent with all the bells and whistles. But, of course, it all depends on size, guest count, material, and amenities like lighting.
4. How much space do you need for a backyard wedding?
This all depends on your square footage. Here is a square footage calculator from HomeAdvisor. Generally, you want to have enough space to hold a ceremony and then a seated dinner.
Ideally, your backyard is large enough to have both the ceremony and reception set up ahead of time, so you don't have to do a flip during cocktail hour.
However, suppose you have another location, perhaps an indoor location inside your home for guests to enjoy cocktails. In that case, you can have an easy and efficient flip from your ceremony to your reception.
5. How much does a backyard wedding cost?
A mid-range average wedding in Chicago is around $400 per person. Included in that price is your caterer, who will help manage and bring in your china, flatware, glassware, tables, chairs, linens, etc.
This generally ranges from $110 – $250 per person. Of course, if you go DIY with your backyard wedding, you might see a lower per person price, but this all depends on your setup and how much you need to bring in.
Ideally, you have a fabulous indoor space that can host your desired guest count, so you don't have to rent a tent. However, if you have to bring in everything, you might see closer to $500 per person.
6. Are backyard weddings tacky?
Backyard weddings can be absolutely gorgeous. Tacky is all about a person's taste level, but we define tacky as under planned and mismanaged. If you plan on having a backyard wedding to make things easier or save money – think again. This can lead to "tacky" territory.
7. How long does it take to plan a backyard wedding?
For any wedding, we recommend 13 – 18 months. However, if you are hosting a backyard wedding, and you are hosting it by yourself without the help of an event planner, we recommend 13 months to 2 years.
It takes even MORE work to host an event of this size and importance in your venue. You are going to have to build your vision and team from the ground up. This doesn't include all of the logistics planning you are going to have to figure out.
Think of it with an analogy of buying a home. Do you want to build a house or buy one that is ready?