Planning your dream Wedding can be a mixture of emotions and can sometimes feel a bit overwhelming. This is where your Wedding planner comes in to relieve your stress and help create your dream Wedding.
Making days. Knocking off socks. Artistry, enchantment, elegance and love - someone who sprinkle these things, confetti-like, over every occasion they oversee. Whether it's a grand scale wedding or intimate dinner party, they should task themselves with curating something inexplicably special, from concept to closing time.
From seating arrangements to difficult diets, when it comes to planning a wedding, the to-do list can seem infinite—which is why it makes sense to enlist an expert.
However, like most wedding-related choices, finding the right one can be far from easy—so here are a few of our favourites to consider.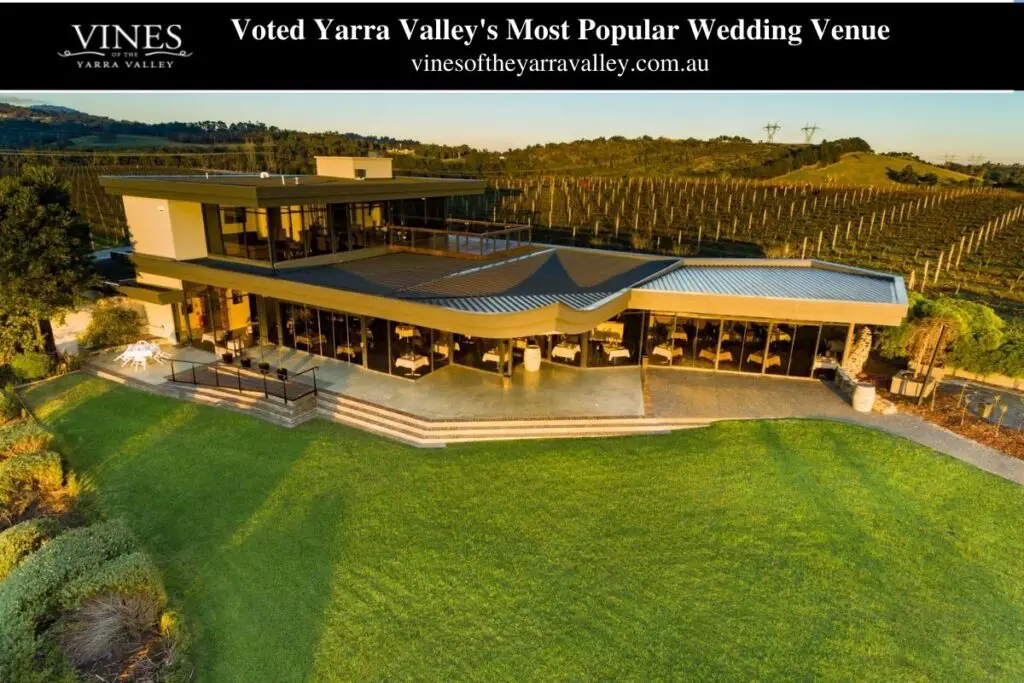 ​
Add a header to begin generating the table of contents
WedZtyle Wedding Planner Melbourne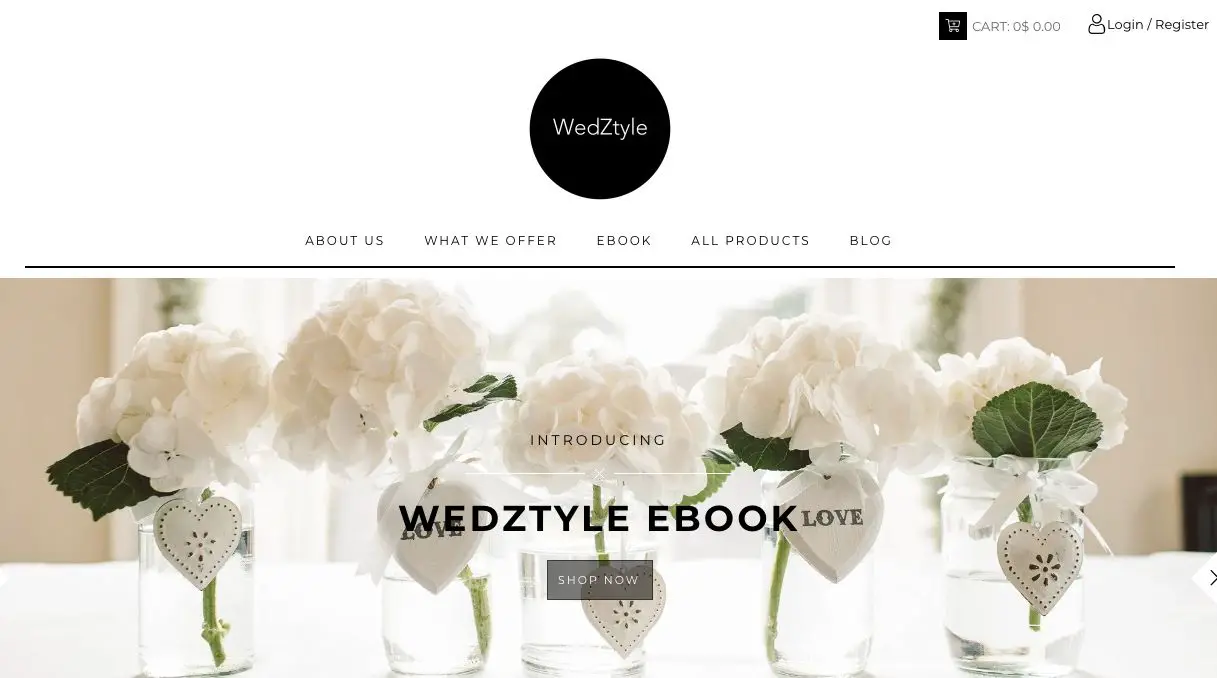 wedztyle.com
402074887
ABOUT WEDZTYLE
WedZtyle came about by a family of sisters who feel passionate about assisting couples in planning their wedding day. Our first introduction to weddings was back in 1997, where we started on the journey of designing and decorating wedding cakes. Over time, we developed an intimate exposure within the wedding industry. Here is where we realised that a lot of couples feel overwhelmed and stressed when it comes to planning their big day. Because of this, WedZtyle was created to give couples a valuable tool to guide them in planning their special day. We recognise that couples have different needs. What we offer is an individualised approach that allows couples to choose what is most important to them.
WHAT WE OFFER
Wedztyle is all about how 'WE' can assist couples to plan for their day without the stress that can come with planning a wedding.
Our website offers
eBook wedding planner
weekly blogs relating to all things wedding
what is trending
various social media platforms allowing communication between our viewers and us
WedZtylers
Appearing on Pinterest, we have developed a Wedztyler section. Couples can share their big day amongst other WEDZTYLERS through creating a dream board showing their wedding. All couples who choose to 'pin' their wedding will receive a blog about their day. As a Wedztyler, it will be your moment to shine!!! Sharing is caring, and as a Wedztyler, you can help inspire other couples.
Lettuce & Co Wedding Event Planner Melbourne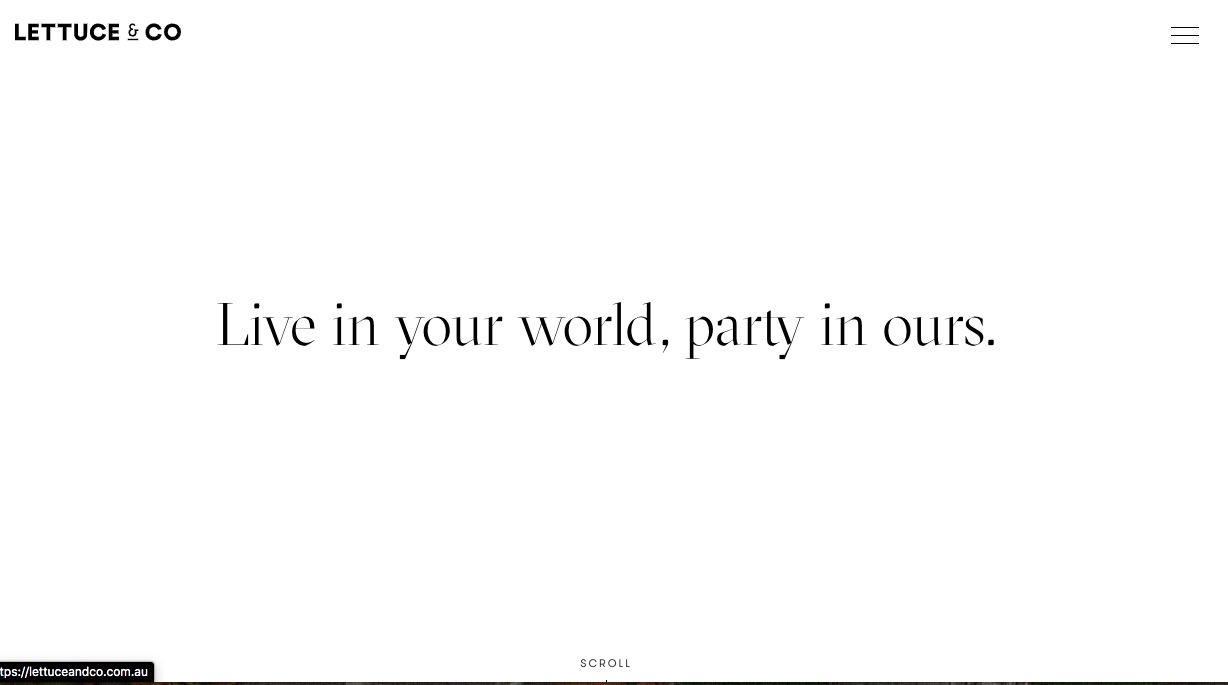 lettuceandco.com.au
403191129
Lettuce & Co was born from a creative collaboration in 2013 and ever since we've been on an epic ride designing and
delivering shit-hot stuff for all types of events in all shapes and sizes.
We get asked all the time why the name Lettuce & Co?
It's not an easy thing to name your child and this was no different but to put it simply…we chose a name that essentially sums up why we choose to exist. To have you LET US take the load and pressure off all that comes with planning and styling that event you wish to remember. The one you got to enjoy from beginning to end.
Since our beginnings we've tried to stay true to who we are and what we do…
We are dedicated, honest, passionate and professional. We are laughers and lovers at heart but when it's called for, we may drop a naughty word or two or three. Having fun is important to us so much so that we are banging out tunes at our 1am bump outs. That's just how we roll.
Weddings
Squeal you're engaged!
Planning a wedding involves hours (over 200!) of you name it and often more. As your planners & creative team, we will see your vision through and then some. Perfection is our thing and we make it our promise (pinky swear) to be your eyes,  ears and whatever else you need us to be. So kick back, enjoy your engagement and LET US take it from here.
Anything and everything event related…
We are the creatives, the stylists, the planners, the prolific list makers, the logistical engineers, the budget sleuths, the late night consultants, the dilemma technicians, your co-conspirators and your new 'favourite' on your phone.
Be it a wedding, brand activation, corporate Christmas party, birthday, engagement, bar mitzvah or whatever your excuse for a party is, we'll work with you to make THAT party… one for the memory bank.
Hailey Paige Flowers - Wedding Event Planner Melbourne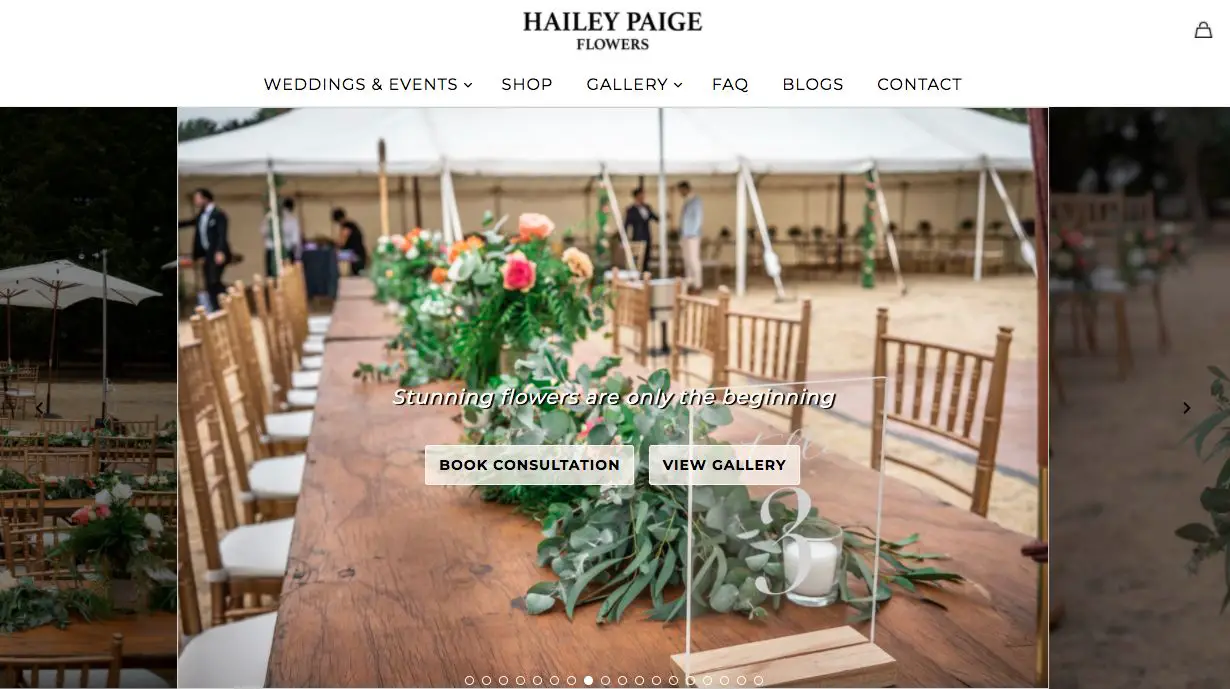 haileypaigeflowers.com.au
Upon Request
At Hailey Paige Flowers, we understand the role that flowers play on your wedding day.
Our wedding flower packages will be styled and customised to suit your wedding theme. We provide stunning bridal bouquet options and bridal and wedding flowers including buttonholes, corsages, church pews, reception table arrangements, bridal table arrangements, hanging arrangements, floral arch and many more. We will work with you through each step of the planning process to ensure your fresh wedding flowers are as special as your special occasion – with or without artificial flower arrangements in sight.
The team at Hailey Paige Flowers will assist you with all occasions. Please contact us at: info@haileypaigeflowers.com.au
Custom flower arrangements to suit any occasion
With an eye for detail and a genuine passion for floristry, our florists are dedicated to styling and creating the most beautiful arrangements for you using the most beautiful flowers available. At Hailey Paige Flowers, we can also do artificial flowers. We promise to only deliver the finest and freshest flowers to you. We're proud to be one of Melbourne's first choices for premier floral arrangements – delivered to your door.
Why choose Hailey Paige Flowers
When you choose Hailey Paige Flowers, you're choosing a team that delivers exceptional customer service. If you're not happy with your floral arrangements, then neither are we. To us, your satisfaction is of the utmost importance, and it always will be.
Feel free to reach out to us if you have an idea or want something different to what is offered. Our team is fully committed to your satisfaction, and ensures your flowers are safely delivered to their destination on time and in perfect condition.
The Super Styler- Wedding Event Planner Melbourne
thesuperstyler.com.au
421567572
Our Services
Planning a wedding, a party or a very special event? Well, you've come to the right place! Whether you need your event planned from start to finish, styled or maybe you just want a little creative direction; we are here to help. We are completely flexible, and can be as involved in your event as much or as little as you like – after all, it is YOUR event.
We offer full or partial event planning and styling, day-of services, hourly styling consulting, custom invitation and stationery design and a whole lot more!
Get in touch with us today to chat about our flexible and tailored packages that we offer hello@thesuperstyler.com.au
What We Do
Planning a wedding, a party or a very special event? Well, you've come to the right place! Whether you need your event planned from start to finish, styled or maybe you just want a little creative direction; we are here to help and have various packages available to suit your needs. We love really getting to know our clients to ensure that their day is a true reflection of them, their relationship, or their workplace. In fact, post event our clients regularly tell us that they will miss our regular chats – and we feel the same way! We believe that everyone has a workable budget, and do not implement a minimum spend. We are completely flexible, and can be as involved in your event as much or as little as you like – after all, it is YOUR event.
Weddings
We understand how important this one perfect day is; and are here to help you create the wedding of your dreams. We love to get to know our couples on a personal level to create a dream wedding that is a true reflection of them. It takes roughly 528 hours to plan a wedding, and we are here to take the stress out of the planning process to make the entire journey an enjoyable and relaxing experience for you both. We'd love to chat to you about your special day!
Corporate
Well thought our branding and styling can help businesses engage with their target audience. We love working with different brands to create events help them to truly connect with and excite their customers. We can help you create launch events, end of year parties or the perfect conference. We would love to discuss your corporate event with you.
Private Birthdays
We have so much fun creating the ultimate birthday party for our clients. We ensure that birthdays are styled to specifically reflect the personality of our clients.
Events
We love styling any special occasion, tailored specifically to our client. No matter if your event is a birthday party, bridal shower, proposal or engagement, our passion is to bring your celebration to life!
About
The Super Styler is an innovative event planning and styling studio which brings celebrations to life. Founded by passionate Melbournian Nadia Rados-Christo in 2013, The Super Styler offers exciting and unique event styling solutions that push creative boundaries.
The journey began back in 2013… Nadia autonomously styled her first wedding, put her heart and soul into the event, and absolutely loved every minute of it! Witnessing her vision come to life and most importantly the happiness of her clients on their special day was so rewarding, and from that moment she knew she wanted to take the next step and turn her passion into a career. With loads of hard work, moral support from her husband and family. Her dreams came true when The Super Styler was born; and since has styled over 100 events!
The design ethos is to keep things simple, as simplicity is the ultimate form of sophistication. Each and every event is meticulously designed and planned to ensure that it is successfully executed.
From Weddings, to Corporate Events, Private Birthdays and more, the super talented and diverse team is here to make each project an enjoyable, relaxing and unforgettable experience. Servicing all areas of Melbourne and Victoria, from the CBD to the Yarra Valley, Mornington Peninsula and beyond… We can't wait to bring your next event to life.
Wild Heart Events - Wedding Event Planner Melbourne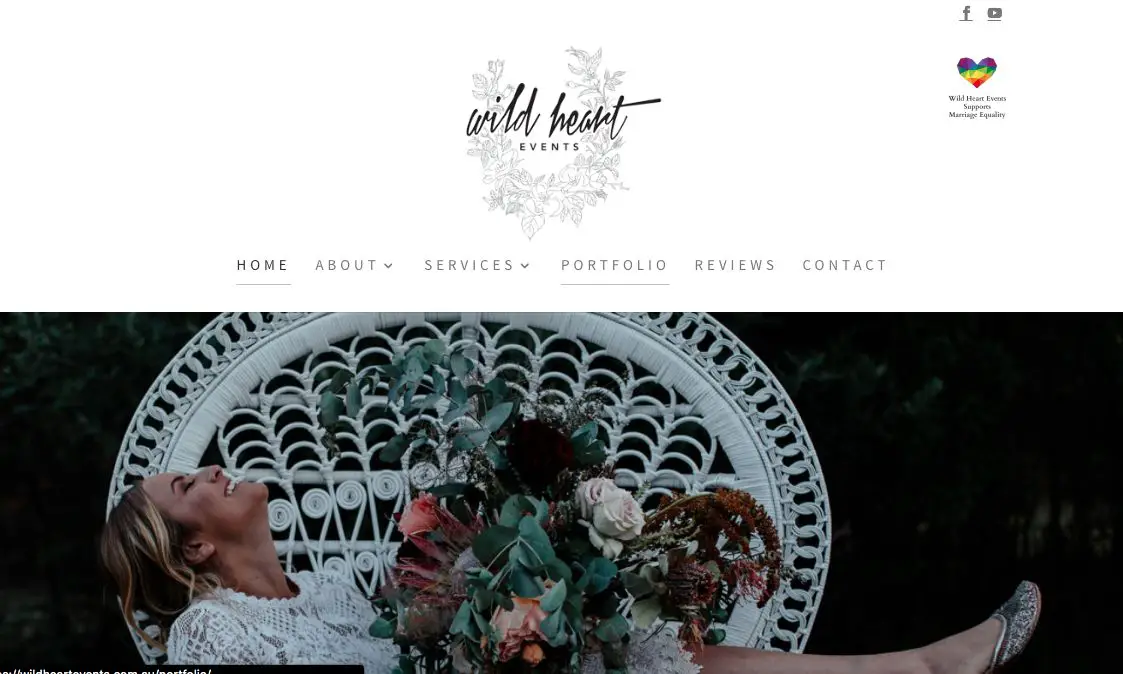 wildheartevents.com.au
407608718
OUR STORY
Wild Heart Events is a boutique event design and styling studio, specialising in weddings and other special events. We are based in the Dandenong Ranges in Melbourne, founded and run by Creative Director Danielle Steele.
Wild Heart Events is the culmination of a life-long love of art, design, colour and creating beautiful things, coupled with an obsession with flowers and all things botanical.
With qualifications and 10 year stints working in two different, but equally creative industries (Advertising then Interior Design), Danielle stepped away to invest her time in a role she had long been looking forward to - being a new mother.
During her time away from the corporate world, Danielle also planned and designed her own wedding, which took place in 2014. She thoroughly enjoyed all elements of the creative design and planning process, as well as handling all the set-up and styling of the venue in the two days prior, with the invaluable help of family and friends. The day after her wedding, the venue owner enquired whether Danielle would be interested in coming on board as the in-house Stylist. Being now well aware of what a monumental job the planning and design, then set up and styling, for a large event can be – and realising not everyone is willing or able to take this on - Wild Heart Events was born.
After many years of playing with flowers, further recent studies in Floral Design under highly regarded Floral Designer Sarah Winward (based in Salt Lake City, Utah) and a number of invaluable creative workshops, including an Ivory Tribe 'Rural Romance' Masterclass and 'Field & Flourish' with Cecilia Fox, have led to Wild Heart Events offering full floral design and styling for weddings and special events. Danielle works alongside a talented team of experienced florists, who are hand-picked for each event.
With Wild Heart Events, Danielle feels she has found her true calling, bringing together all of her past professional experience, studies and passions into the one business. Danielle enjoys working collaboratively with her clients to create weddings and special events that are unique, beautiful and truly memorable.
When Danielle is not working you can find her enjoying time with her little boy, husband and dog at the nearest park, attempting to keep her huge and unruly garden under control or enjoying a glass of wine. She loves yoga, Sunday brunch, travel and long walks and is very much looking forward to the next additions to her family - four chickens coming soon.
WHERE WE WORK
We love working at venues around the beautiful
Dandenong Ranges, the Yarra Valley &
the Morning Peninsula in Victoria.
We are also happy to travel...
Venues in other areas of Melbourne and
throughout regional Victoria are also possible.
EVENT DESIGN & STYLING
We have endless creativity and passion for creating events that are truly beautiful and unique, combined with some meticulous planning skills and a real eye for detail. Leave the stress to us, relax and enjoy the lead-up to your wedding or special event with your family and loved ones.
No matter what style of event you have your heart set on, from a rustic country affair to a modern vintage garden party or a decadent banquet or soiree, we can help you design a memorable and gorgeous event that reflects your style and personality.
We thrive on the challenge of transforming a blank space into something amazing. We love bringing our clients' dreams to life and making their weddings and special events something they will remember forever for all the right reasons.
We will provide you with an array of ideas and inspiration for your wedding or special event and work collaboratively with you throughout the planning process. Beginning with an initial design consultation, where we will chat about your inspiration, ideas, wishes and dreams. We can help you decide on the perfect colour scheme and style. We will guide you through the myriad of decisions relating to the look and feel of your wedding or special event. Once the creative direction has been decided on, we can help you source the ideal suppliers and products for all the elements of your event from our wide network of trusted and talented local vendors.
We will provide you with our unlimited support, guidance and inspiration. We will be contactable and available to answer any of your questions. To ensure that your wedding or special event is executed seamlessly, we only take only one booking per weekend, allowing us to fully focus on your event.
We will set up and style your venue in the days leading up to your event. On the day we will be there to attend to every little detail, ensuring everything comes together beautifully and your event is styled to perfection.
Custom event proposals and pricing are provided based on
individual client needs, the scope of work required,
as well as your venue and the location.
Please contact us to discuss how we can help transform your
wedding or special event
into something truly magical.
FLORAL DESIGN
We believe flowers and foliage are an integral element of any wedding or special event. They can really help to create an amazing atmosphere and set the style and tone of your event. They can transform an ordinary space into a tropical jungle oasis or a whimsical floral wonderland.
To ensure your design is cohesive, we can provide full floral design and styling for all floral elements for your event – from bespoke bridal bouquets & boutonnieres, to table centrepieces and statement arrangements, garlands, arbours and hanging installations. We design and create exquisite floral creations that will be remembered long after your event.
We source only the highest quality fresh flowers and foliage from our stable of trusted local growers and wholesalers. We can work to any brief, budget or style, from wild & rambling, to romantic and whimsical, through to a more classic, refined and structured style.
Studies in Floral Design under internationally esteemed Sarah Winward (based in Salt Lake City, Utah) and an Ivory Tribe 'Rural Romance' Masterclass in Styling & Floristry have both been incredibly inspiring. Danielle works alongside a talented team of experienced local florists, who are hand-picked for each event.
All floral work is quoted separately to styling work. We work through the floral elements
you will require during your Styling Consultation and a Quotation is prepared from there.
Please contact us to discuss how we can help transform your wedding or special event
into something truly magical.
PROP HIRE
We have an entire shed literally bursting at the seams with beautiful props and decorations available for styling your wedding or special event. From bunting, vintage timber boxes and suitcases, to signage, servingware, candleabras and vases & urns.
We also have a lovely range of Arbours available for hire, including the circular metal one shown here, styled by us with foliage and flowers.
Our range is predominantly rustic country/vintage in style, although we have recently added an extensive range of the most gorgeous Boho-style props to our collection. Macrame backdrops, chandeliers, tee-pee, cushions, table runners, ottomans, wall-hangings, lighting and lots more.
If you are wanting a different feel for your Wedding or events, we can source props in other styles and are happy to work with any additional pieces you provide.
If we are styling your event, you will have access to most of our vast range of props at no extra cost. We have found it simpler (and better value for our clients) to include access to most of our range within our Standard Styling Package. We don't want you to have to hold back on the number of beautiful items used at your event, so we have avoided individual hire fees across most of our range, which would otherwise add up fast.
You can select the key items you would like to use from our extensive prop range, then leave it to us to bring along plenty of extra pieces that will work beautifully with your chosen selections. We have that knack of knowing how many items will be needed to style any space to perfection.
We now also offer straight Prop Hire on most of our range. Pick-up and return of hired items is from Selby (just next to Belgrave).
Our Prop range is vast and constantly growing. Talk to us about how we can transform your Wedding or special event into something fabulous.
Jenny Chiu Chinese/ English Multilingual Wedding Event Planner Melbourne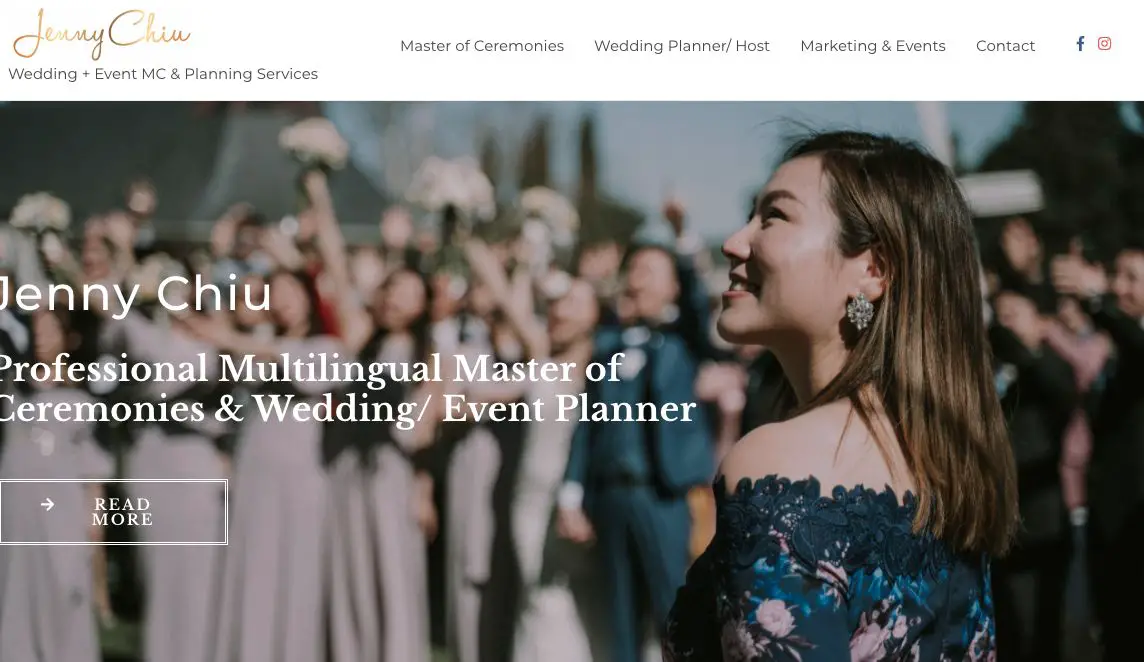 jennychiu.com.au
431258254
If you don't have a wedding planner or choose not to go with standard wedding package, my highly tailored service will be suitable for you.
From wedding consultation to ensure you are on the right track to the smooth operation of the rehearsals, wedding ceremony and reception, I will be your go-to to ease your nerves, guide you through the whole process so you can relax and enjoy this once in your life time moment.
Wedding Planner/ Host
I do not follow standard template. Wedding ceremony and reception  should be tailored to your vision of marriage and I'm here to help you from planning with your budget at heart, manage suppliers, reviewing contracts so you understand all legal obligations and how to allocate your time and money wisely.
Professional Multilingual Master of Ceremonies
Jenny lived in Hong Kong for 18 years before pursuing further study in Australia. With broad spectrum of professional experience in Accounting, Finance, Marketing and Sales, Jenny has been well received as a host for various business occasions and events. In 2012 Jenny travelled and lived in United Kingdom, France and Germany. She later successfully obtained a role as a singer/actress for a stage production which toured 17 different cities in UK for three months. In 2013, Jenny returned to her Australian home and started taking assignments as MC and performer, continues to pursue her passion in performing arts, alongside her professional career.
CMS Australasia - Wedding Event Planner Melbourne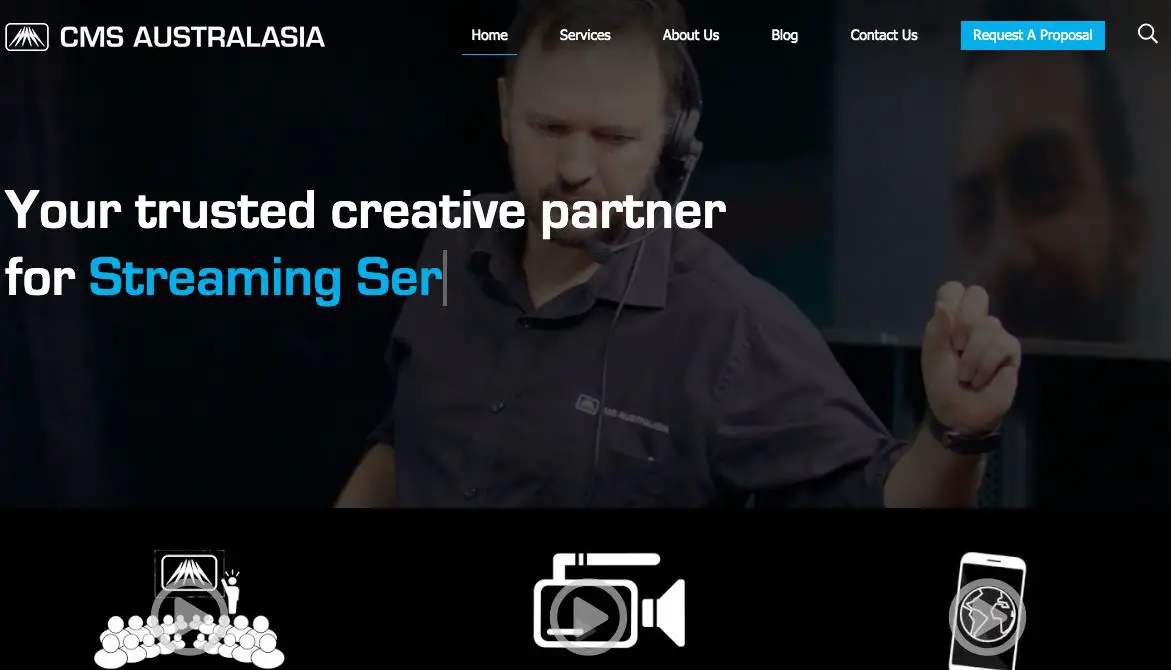 cmsaustralasia.com
1300559379
At CMS we believe everyone who runs an event should achieve the best results possible for their audience.
We're excited to help you on your event journey!
Our goals include working to deliver the best outcome for you by providing excellent service and by removing any technical barriers that can prevent you reaching your objectives.
This is our story
In 1992 CMS was born as Conference Recording Services
As the 90's progressed, technology evolved at lightning speed and so did recording services
We expanded to include video recording and digital conference recording, the business became Conference Media Services to accommodate this expansion
The business continued to grow organically through this period into the 2000's as we met more customer demands in the event production space
During this time, the name of the business Conference Media Services morphed into it's acronym: C.M.S. Australasia
These days we say it stands for Coffee?  Milk?  Sugar? because we love to sit down with our customers over a coffee and have a chat about their event visions and event challenges
As we head towards 2020, we continue to work across various business sectors; sports and recreation, retail, financial services, and government, as a full service provider we continue to support some of Australia's most recognised companies and associations
We remain up-to-date with the growth and change in workable event technologies and are passionate about employing those into events for our customers
Meet Steve Anderson
an events veteran with 30+ years in the industry
Starting in the 1980's studying audio engineering, he has become one of Australia's most experienced event directors, and the producer of thousands of live events
With his combination of creativity and practical know-how, Steve is able to get right down into our customers' requirements and develop creative concepts to hit the brief
Steve is results-focused and proudly offers a high level of personalised service and professionalism
His dedication to having a customer service culture is demonstrated through the long-term partnerships CMS has with many customers and suppliers, and team members
Steve works side by side with the CMS team
He is Managing Director, Head Honcho of Sales, and Boss Barista
The CMS Team
The team are a mix of creative and technical professionals who love what they do and do what they love!
We're a bunch of problem-solvers (some problem-creators) all focused on interpreting, investigating, and providing excellent solutions for our customers
Our Media Team is a blend of television industry veterans, video and editing experts, and skilled graphic designers. We lightly season the team with trainee talent who bring fresh skills and approaches to both video and graphics as they get the opportunity to be mentored by some of the best in the industry
Our Technical Operations Team cover the AV, staging, set theming, as well as our warehouse and logistics. From backgrounds in theatre, corporate, festivals, concerts, conferences and sports, our highly skilled and experienced team have operated every type of event production you could imagine.  They are passionate about producing great events.  They are assisted by enthusiastic technicians who are learning the ropes from true-blue industry masters
The Business Support Team, also comprised of several events industry pros and specialists, keep the ball rolling so CMS can get on with making great events and keeping our customers and suppliers happy
Your trusted creative partner
for Event Services
Let us help you reach your event objectives
we will work with you every step of the way to ensure your success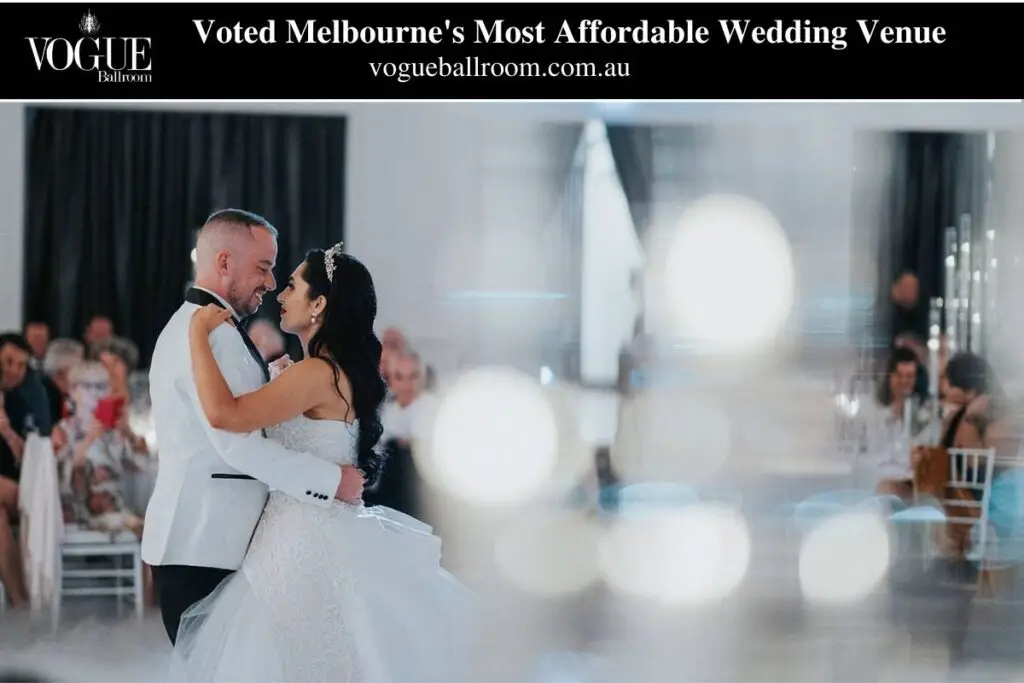 Flower of Lily Events - Wedding Event Planner Melbourne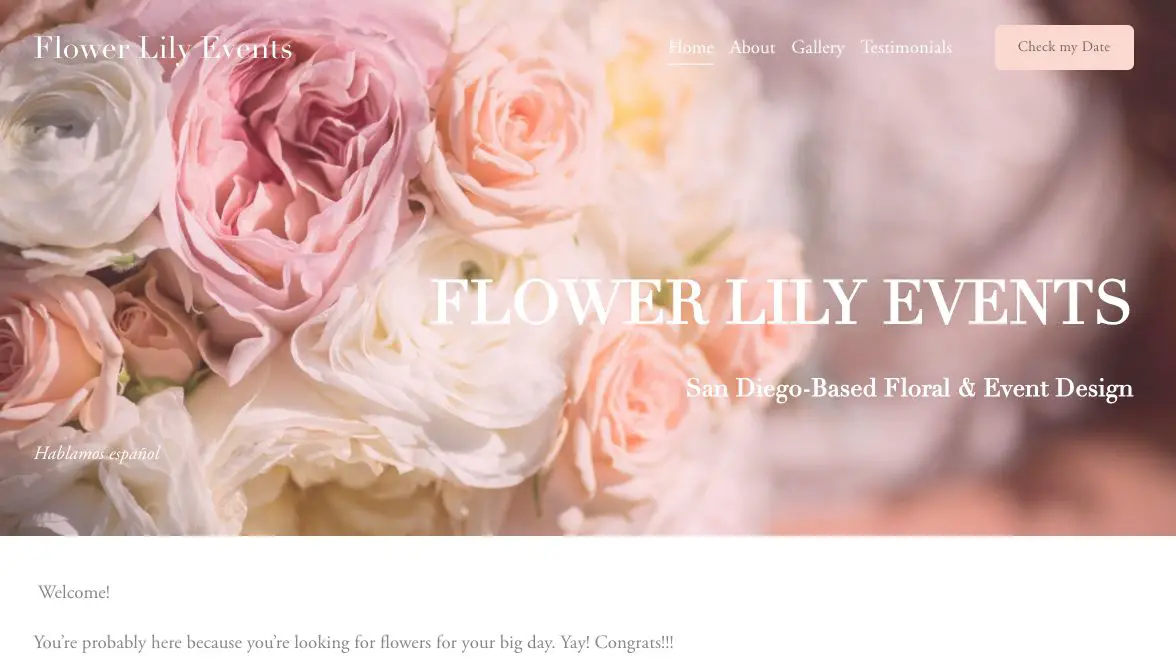 flowerlilyevents.com
410332631
Hi I'm Joanna!
Before even imagining about becoming a floral designer, I wanted to be a psychologist to help people live happier lives. On my road to becoming a therapist, life surprised me, and I discovered my love for flower design. Now I am the owner and creative director of Flower Lily Events. I get to do all things I love: florals, design, and getting to work with people. I'm looking forward to working with you!
Our Process
We understand that planning an event is no easy task. Therefore, we'd like to help you by making this process friendly and easygoing. You may have an exact vision of what you want, maybe you have no idea, or maybe you're somewhere in between. No matter where you find yourself, we'll meet you right there and guide you through this process with care.
1 Initial Consultation
This session is all about you and your wishes, everything you've pictured and imagined for your dream wedding. If you're unsure about what you want, don't worry, we'll figure it out together.
2 Design Proposal
Based on what we discussed in our initial consultation, we'll create a unique wedding design proposal just for you. Here's where you get to choose which designs you want to see come alive for your special day!
3 Final Details
We'll meet one last time, and it will be all about the details, logistics, and any last minute changes. We'll get all the details right to make sure your wedding day happens even better than what you imagined.
Queen For A Day - Wedding Event Planner Melbourne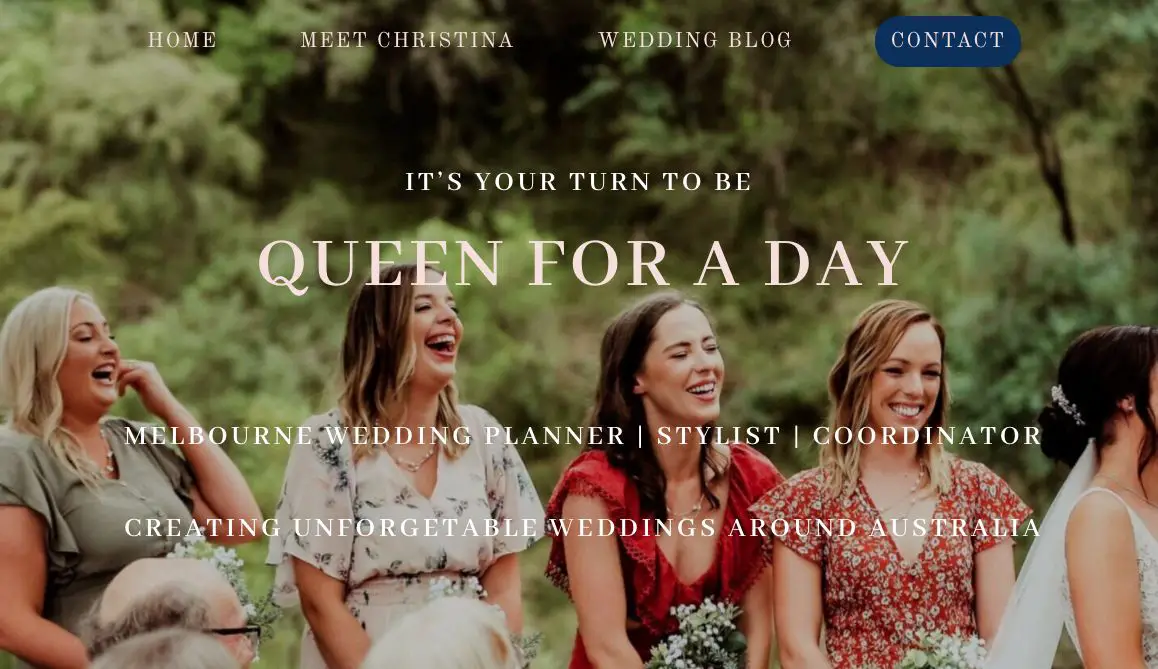 qfadweddings.com
490704777
HEY, I'M CHRISTINA!
I AM YOUR ULTIMATE WEDDING PLANNER + COORDINATOR + STYLIST + PERSONAL ASSISTANT + FAMILY LIAISON + NEW BRUNCH BUDDY ALL ROLLED INTO ONE ROCKSTAR PACKAGE! I AM AN INDUSTRY QUALIFIED PRO AND LOVE TAKING ON NEW OPPORTUNITIES THAT FEED MY PASSION TO BRING YOU THE BEST IN ALL THINGS WEDDINGS. I PRIDE MYSELF ON PUTTING REAL WORDS TO YOUR VISION AND KNOWING WHAT YOU NEED BEFORE YOU KNOW IT YOURSELF!
Evenio Wedding Event Planner Melbourne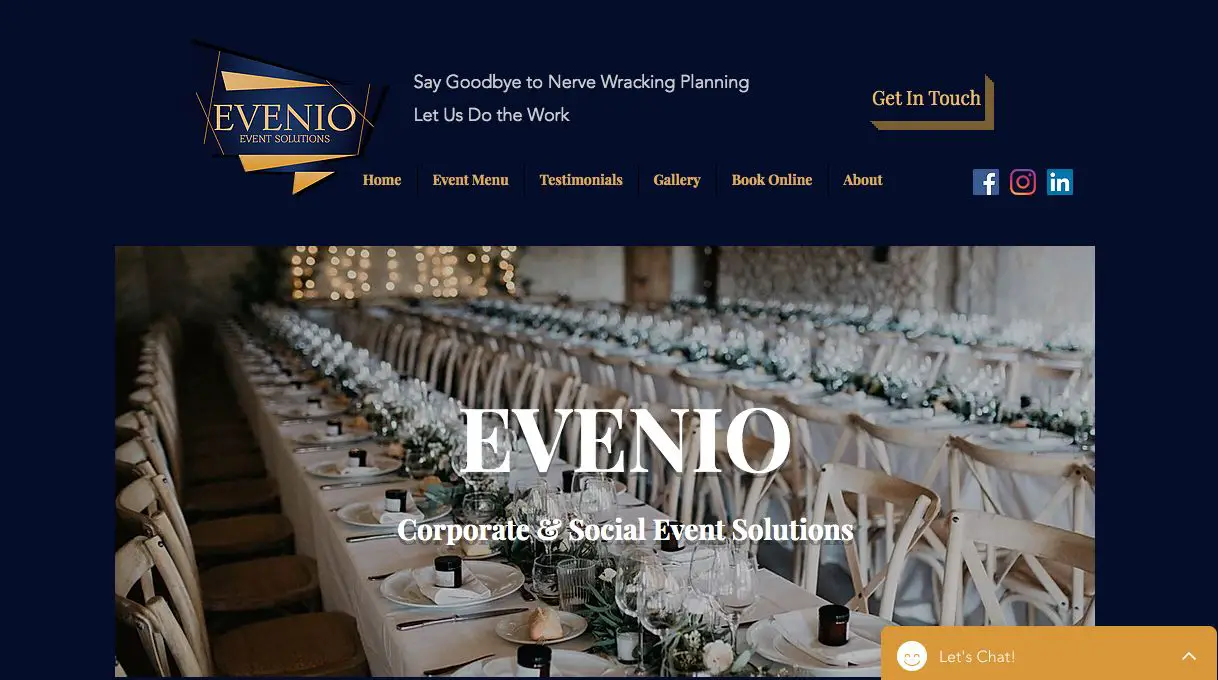 evenio.com.au
478658061
We create successful, memorable moments that people want to remember... and it all starts with you. Whatever you have in mind for your celebration, function or launch, our work is to transform your vision into reality. We start by understanding what a great event looks and feels like to you before working together to create a holistic, tailored plan that meets your needs and budget. Our team can be as involved as you'd like; from sharing design inspiration, sourcing vendors, to setting up on the day, you can cherry pick the services you need or hand us the reins for an end-to-end Evenio experience. So whether you're organising a function for twenty or launching a product for two hundred, our mission is to ensure your event makes a wonderful impression and each guest leaves feeling inspired and impressed.
EVENT MENU
You can feel it when you're at a great event. Your guests are chatty, relaxed and social, drinks are flowing and the music is hitting all the right notes. There is a comfortable, vibrant energy in the room and everybody is feeling the vibe. At Evenio, we know what it takes to create an environment that people want to be in and the magic that goes into crafting seamless experiences. It takes careful planning, thoughtful execution and an enthusiastic attention to detail. Our team manages each event intuitively so we can be in the right place at the right time. Over time, we've developed an innate sense for creating a warm and friendly ambience because nothing is more important than how you want your guests to feel. Leave everything to us and enjoy the party.
INVITATIONS & GUEST MANAGEMENT
For a polished first impression, our hand-picked designers create personalised and beautifully crafted invitations, seating cards, thank you notes and other collateral. If you prefer to go paper free, our design team can create digital invites or a simple website to inform your guests about the finer details. Either way, we can effortlessly manage the design and print process, send out your invites and collect each RSVP, ensuring the attendance of your event is carefully managed.
VENUE RESEARCH
The perfect venue sets the tone for a great event. From an intimate dinner for sixteen to a launch party for six hundred, our team will find a venue to suit your guests, vision and budget. We'll handle the inspection, contract and bookings and co-ordinate with our suppliers to set up and pack down from beginning to end. Our design team can provide a comprehensive consultation for colour schemes and decorations and we'll carefully execute every last detail on the day. All that's left to do is to wait for your guests to arrive.
CONCEPT & DESIGN PLANNING
Trust EVENIO to create the perfect cohesive design for your event. We will work with our signature vendors or those of your choosing, to create a color scheme, floral plan, menu, tablescape, and overall decor. We will prepare the day's timeline so that every detail is carried out perfectly and worry free. We  guarantee your Concept and Design Planning will have those in attendance raving about the occasion
ENTERTAINMENT
We'll keep your guests entertained by finding inspiring artists and speakers relevant to your event. Whether it's a 50s jazz band, a moving keynote speaker or an MC that gets the room going, we know where to find them. Our team will reach out to managers and artists to interview the perfect fit and negotiate each booking. We'll make sure your talent have everything they need to work their magic and captivate your guests.
PHOTOGRAPHY & VIDEOGRAPHY
We understand how important it is to record special moments in a way that feels true to you and your company. That's why we've grown our network of talented photographers and videographers to suit different styles and work with your brand. We'll help you find the best team to match your budget, negotiate and manage each booking and look after the finer details so that each moment of your event is captured seamlessly.