Like every party, weddings need entertainment and music to get the good times rolling. Whether you're after an acoustic duo for your ceremony, a full eight-piece band for the reception or a DJ with an impressive repertoire of genres, you'll find your perfect fit here. Remember to read customer reviews to ensure you are booking a professional.
On the hunt of best wedding musicians in Melbourne, Vicotria? Finding the right wedding band can be a stressful endeavour. After all, there are so many stores, options, and prices out there to consider.
So, finding a band and musician that offers supreme service and a carefully curated selection of entertainment is a true life-saver.
To help you get started on your hunt, we've rounded up our favourite wedding musicians and bands from right across Melbourne, Victoria.
Read on to discover where to start your search.
Add a header to begin generating the table of contents
Hey Jack Wedding Musician Melbourne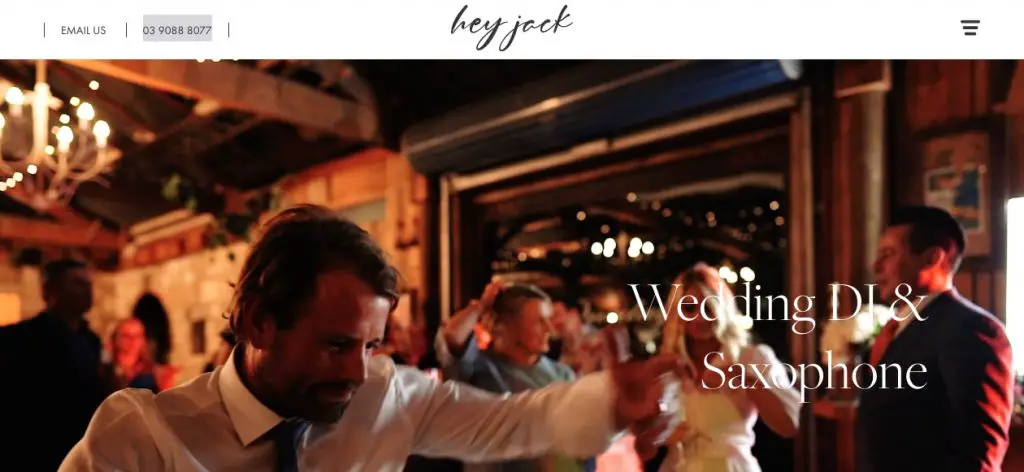 heyjack.com.au
1390888077
We have a love affair with creating & capturing good times that your guests will remember
We are Melbourne's best wedding entertainment and film company. We carefully select a small group of award-winning musicians and filmmakers, and our mission is to make sure you and your guests have a great time. We'll bring the music, you get the moves and together – we'll make the best memories.
Featured Acoustic Artists
There are some extraordinarily talented musicians on our team. Our Melbourne wedding bands and acoustic duos have been hand-picked to give you a choice of different styles and genres. Whether you're after an acoustic duo for your ceremony, a reception DJ, hybrid soloist or even a saxophonist – we've got you covered.
Wedding Films
Capturing the big thing the little things and everything in between
Hey Jack specialise in creating timeless, bespoke wedding videos by capturing all the fun, excitement and romance of your big day! Whether your wedding is luxury or rustic, a platinum bash or destination elopement, in a ballroom or on the beach, what matters most are capturing the incredible moments you share with family and friends.
Ultimate Ceremony Music // Hey Jack Trio
The Hey Jack Trio is an exclusive act, performing the most romantic covers perfect for your wedding ceremony. Adi on Cello, Jordyn on vocals paired with her guitarist, this is the ultimate act to get the tears flowing and add some magic to your wedding ceremony and canapés
The Best Men Wedding Musician Melbourne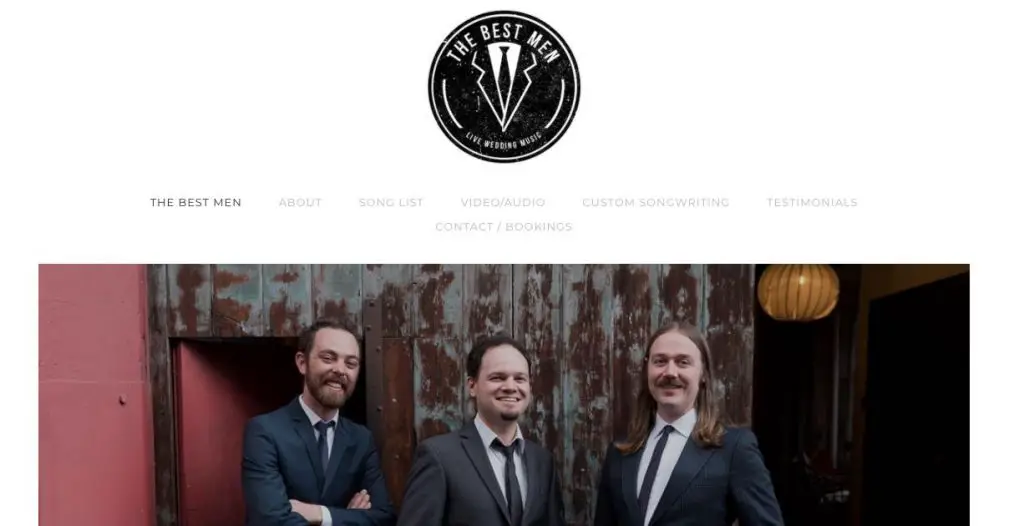 thebestmen.org
410659020
The Best Men are a three-piece band from Melbourne, Australia, who provide top quality music for weddings around Australia. The individual musicians of the group have decades of experience behind them, performing at venues including Parliament House, Vue De Monde, The National Gallery of Australia, MOMA, Crown Casino, Telstra Tower, Royal Botanic Gardens, Mandala Winery, Inglewood Estate and countless churches and function venues across the country.
From Top 40 to acoustic ballads to rock to jazz - The Best Men's catalogue provides either captivating entertainment or atmospheric background music. The group will perfectly suit any ceremony or reception in sound and style.
Not your usual cheesy part-time cover band, this group are made up of real musicians who do this for a living with absolute professionalism, and they love what they do. They really are the Best Men for the job.
We've also had the pleasure of providing music as part of personalised surprise wedding proposals.
Particular requests/song requests welcomed.
600 Watt Professional Sound System/PA and lighting is provided (which can also be used for speeches, announcements, etc.).
MC / DJ
Rosie is an experienced wedding ceremony singer, band lead singer and entertainer, and specialist wedding DJ and MC.
An experienced entertainment coordinator Rosie held an Advanced Diploma of Music and was on the 2015 Leadership Team of the Melbourne Wedding Group - a group of professional wedding suppliers dedicated to providing only the highest quality service to their clients.
Rosie has toured Australia as a performer and loves providing a high-end, personalised entertainment service for her clients.
The Bombastics Wedding Musician Melbourne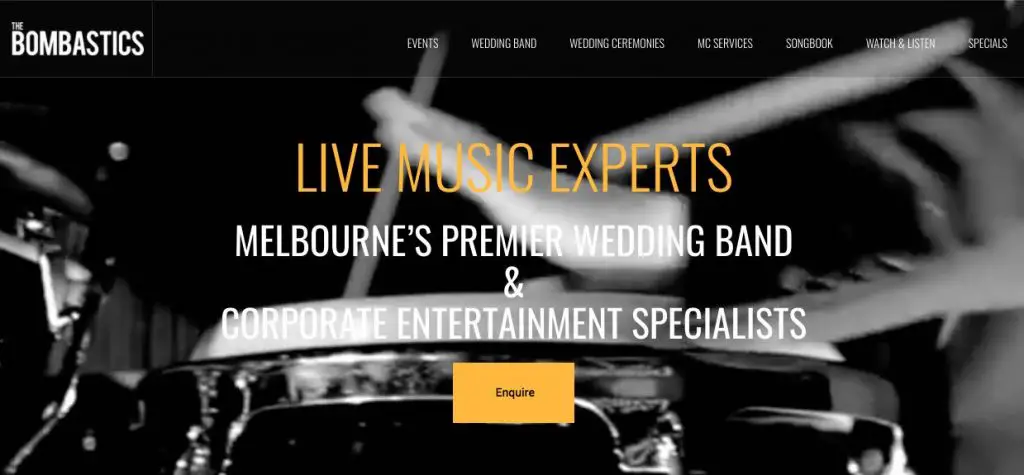 Thebombastics.com.au
6140704516
The Bombastics are a multi-award winning Melbourne band. We're a collective of Melbourne's finest musicians, meaning you get choice, flexibility and above all, reliability. Choose The Bombastics, and you know the music is in safe hands.
Finding the right band for your wedding or corporate event can be a painful process. The internet is flooded with good and not-so-good options. Save yourself hours of planning time by getting in touch with The Bombastics today. Discover our exceptional service, attention to detail and best of all, our fantastic sound.
Explore our audio, video and song list, see us at our next showcase or for great advice on planning wedding and event music see our FAQs and check out the blog.
THE BAND FOR YOU
Experience Matters
The Bombastics are a collective of musicians who have performed over 300 weddings for the couples of Melbourne and Victoria. Our talented musicians have also performed and recorded with artists including Pink, Goyte, Martha Wainwright, The Bamboos, The Cat Empire, Dan Sultan, The Androids, Kate Ceberano and Daryl Cotton.
Passionate and Professional
You won't find a band in Melbourne more professional and committed to perfecting the music on your special day. We work with you from the first email to the last song of the night to ensure you're wedding theme is everything you've dreamed of. Get in touch and experience our superior service and commitment to our couples.
Industry Leaders
Multi-award winning, we've graced the stages of Australia's premier venues including The Sidney Myer Music Bowl, The Melbourne Cricket Ground, The Sydney Opera House, The Melbourne Convention Centre, Flemington Racecourse, The Palladium and The Palms Ballrooms at Crown Casino.
THE BOMBASTICS WEDDING BAND
At The Bombastics, a Melbourne wedding band, we pride ourselves on making every bride and groom's reception the dream party they've always imagined. If you've spent hours scrolling the internet looking at all the wedding music on offer you're probably starting to feel a little overwhelmed. Look no further.
As Melbourne's leading wedding band, couples continue to choose The Bombastics to provide live music like no other. However, being great wedding music performers is only part of the reason. We offer very competitive prices and exceptional service that you won't get from other Melbourne wedding bands.
During the wedding reception, we offer a range of music services including:
Background acoustic songs or background jazz early in the reception
Party songs from a range of genres including rock, pop, top 40, soul and disco for later in the reception
A live band performance of your requested bridal dance
Perfectly balanced PA system so that it's loud enough on the dance floor, but guests at tables can still chat
Other additional features like dance floor lighting and a microphone for the MC.
OPTIONS
Reception Music
When was the last time you booked a band for a wedding? Our guess is never! Choosing your band can be a confusing and time-consuming process. Take the guesswork and hassle out of finding your wedding band. Explore our Reception Music page and find out how we make it easy to book the perfect wedding music.
Ceremony Music
We offer live ceremony music for all budgets and styles. Acoustic guitar and vocals, classical piano, string quartets and everything in between – having your ceremony accompanied by live musicians is an investment worth making. Check out our Ceremony Music page for sample audio and helpful hints.
MC Services
It's not always easy choosing the right family member or friend to MC your wedding. Let everyone enjoy the night, and we'll take care of MCing your big day. Our experienced MCs are relaxed, fun and most of all, know-how to ensure the night runs smoothly. Check out our MC Services page to learn about the value a great MC will make to your day.
PERFECT CEREMONIES HAVE LIVE MUSIC
Live music at the ceremony is the most under-considered part of planning a wedding. It transforms the most touching moments of the day from impressive, to beautiful beyond words. Subtle, correctly performed songs and pieces are how The Bombastics musicians turn your day into something better than you ever imagined. Explore the options below, listen to our samples and get in touch for a quote. We have excellent offers when you combine our reception band with ceremony music. You'll be pleasantly surprised at the price.
Live Music. The Ceremony Saviour.
Picture the bride and her bridesmaids walking down the aisle. Imagine no music playing at that moment. Awkward! Now imagine hearing beautiful music, the original recording of a song chosen by the bride and groom then it finishes. And the bride is halfway to the altar. Awkward again! Live music fixes this disaster. After hundreds of ceremonies, we know the value of an extended intro, an extra chorus, or the ever-useful interlude. Our live performances have saved many brides and their guests from a less-than-perfect moment. Don't settle for less-than-perfect. Choose perfect. Choose The Bombastics for your wedding ceremony.
Unplugged Entertainment Wedding Musician Melbourne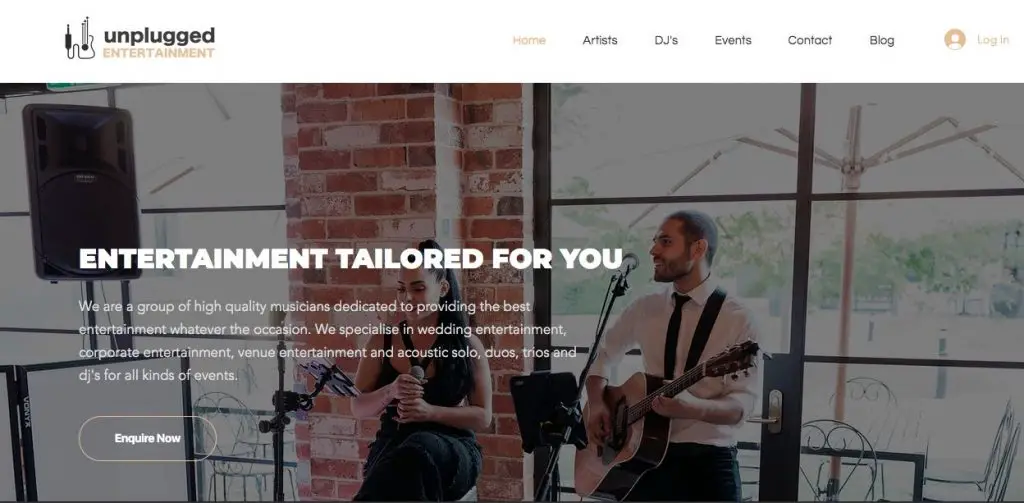 unpluggedentertainment.com.au
488202929
ENTERTAINMENT TAILORED FOR YOU
We are a group of high-quality musicians dedicated to providing the best entertainment whatever the occasion. We specialise in wedding entertainment, corporate entertainment, venue entertainment and acoustic solo, duos, trios and dj's for all kinds of events.
Solo Acts
Ideal for wedding ceremonies, venue entertainment, wedding receptions, parties and more!
Duo Acts
A bit bigger sound for wedding receptions, venue entertainment, and larger venues.
Trios/Band
Get the full band experience with our trios and bands to really get that full sound!
DJ & DJ Live Band
Like to have a fantastic DJ at your event or venue, or combine with an acoustic act? We also have live musicians available to join our DJ's like saxophone players, vocalists, instrumentalists and more.
WEDDINGS
Guarantee peace of mind by leaving the music for your event to a professional outfit who have played countless gigs, with the ability to read a crowd and ensure the perfect atmosphere is set.
We understand that your special occasion is the one day in your life you will want to cherish forever. Your selection of entertainment can often be the critical component in making your day marvellous!
We make sure the whole process is painless, friendly & professional. Collectively we have played over 1000 weddings so leave it to us and know you're in great hands!
We can provide a beautifully crafted acoustic cover as you walk down the aisle, perfect background ambience during cocktails and canapés and then rock out the dance floor right through until midnight!
​Our musician's are often playing multiple weddings within the same friendship group due to their fantastic past performances.
​This indeed shows how personal the experience of fantastic music on your special day can be.
CEREMONY
We can offer different options for the ceremony in terms of solo/duo/trios, and also whether you want us to play you down the aisle, have music during the signing and recessional!
COCKTAIL/CANAPES
Whilst you are out taking photos, why not entertain your guests with live music!
The perfect blend of cocktails, canapés and music.
DJ SERVICE
Need a DJ to cap off a fantastic day of live music? We also have some of the best DJ's Melbourne has to offer. We can package together with our live music.
RECEPTION
One of our most significant strength's is flexibility and having played so many weddings, and we know how important this is when planning your reception. Enjoy a blend of live and background music during your meal, then kick the dance floor off with the perfectly arranged first dance song leading into a night of fun and festivities.
Packages CAN include:
Acoustic music during the ceremony
3, 4 or 5 sets of 45 mins
1st dance song - either performed or iPod
All PA equipment
Microphone if needed for speeches
Management of your playlist between sets
At least three pieces can be learnt at your request
Ready to enquire? Contact us today for a friendly chat.
Celestial Band-  Wedding Musician Melbourne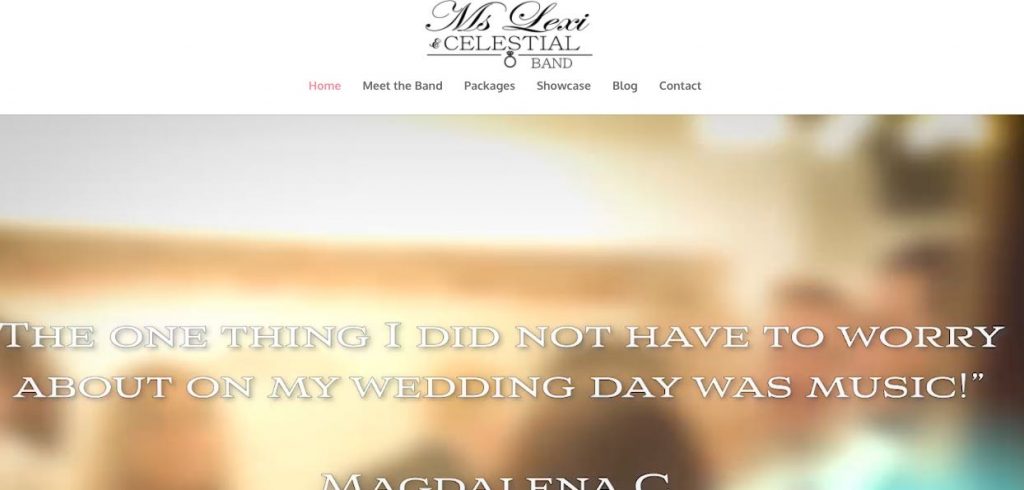 celestialbandmelbourne.com.au
467375489
Guaranteed to get the dance floor pumping!
The celestial band is an exciting Melbourne based band for Weddings and Corporate Events!
The talented musicians and singers in Celestial Band met in 2017 and have continued playing live music together ever since. With four singers among their customisable band of 6, Celestial Band is guaranteed to get everyone up and dancing at your next event! Whether you are looking for a soloist, acoustic duo, or full band, Celestial Band has your entertainment covered!
What makes Celestial Band Different?
We are Melbourne's most professional and entertaining wedding band! Highly talented and organised, we are guaranteed to have your dance floor pumping! Female owned and operated, and you can trust us to look after the live music for your wedding or special event, from start to finish!
Undercover Band Wedding Musician Melbourne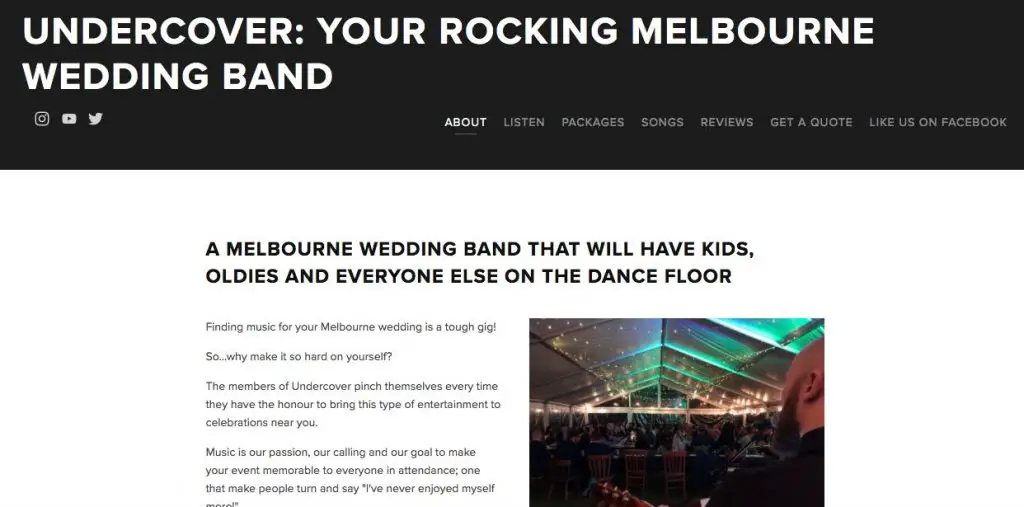 undercoverbandau.com
A MELBOURNE WEDDING BAND THAT WILL HAVE KIDS, OLDIES AND EVERYONE ELSE ON THE DANCE FLOOR
A MELBOURNE WEDDING BAND THAT WILL HAVE KIDS, OLDIES AND EVERYONE ELSE ON THE DANCE FLOOR
Finding music for your Melbourne wedding is a tough gig!
So why make it so hard on yourself?
The members of Undercover pinch themselves every time they have the honour to bring this type of entertainment to celebrations near you.
Music is our passion, our calling and our goal to make your event memorable to everyone in attendance; one that makes people turn and say "I've never enjoyed myself more!"
A MELBOURNE WEDDING BAND WITH A ROCKING TWIST
Our complete package starts with our exceptionally high standard of musicianship found in our advanced repertoire of covers dating from the 70's to today.
We aren't just like every other Melbourne wedding band.
We love to rock. Undercover plays pop and rock music from the 50s to today. So whether you love some Elvis or some Fleetwood Mac, with some Footloose and a few Maroon five songs are thrown in for good measure, our song list will have every guest on their feet - from kids to grandparents!
Undercover pride ourselves in a tidy appearance and, naturally, use premium performance and lighting gear.
LISTEN TO OUR DEMOS AND REQUEST A QUOTE!
Ready for more?
It's now time to have a listen to our demos, read our testimonials and request a quote. You'll be glad you decided to hire one of Melbourne's most professional and highly skilled cover bands for your event.
Undercover Entertainers - Singing Waiters Wedding Musician Melbourne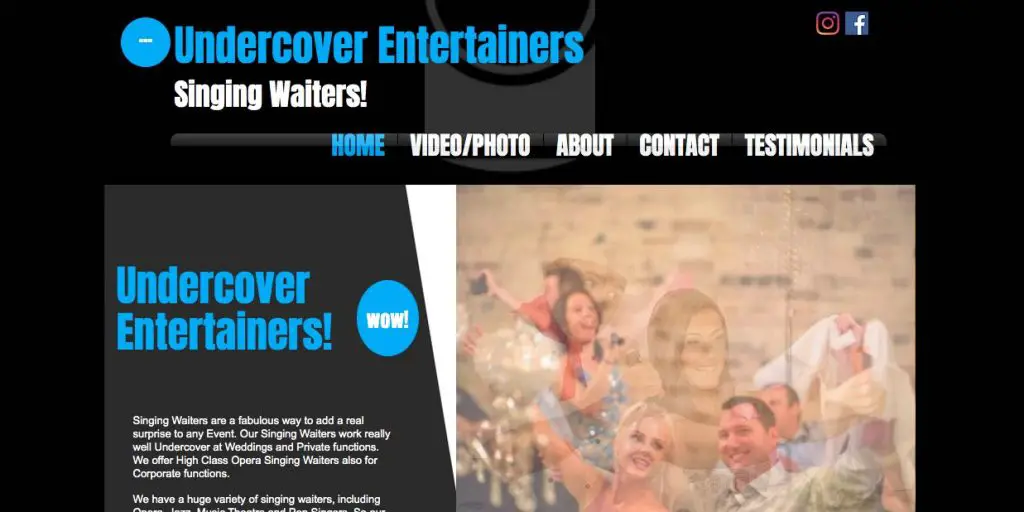 undercoverentertainers
390058482
Undercover Entertainers!
Singing Waiters are a fabulous way to add a real surprise to any Event. Our Singing Waiters work really well Undercover at Weddings and Private functions. We offer High-Class Opera Singing Waiters also for Corporate functions.
We have a massive variety of singing waiters, including Opera, Jazz, Music Theatre and Pop Singers. So our Singing Waiters can tailor their programme to your liking! Pavarotti, Sinatra, Elvis, Tom Jones, Abba, Madonna, Adele, Lady GaGa and beyond!
Wedding Entertainment
Let our singers turn your Wedding Reception into a truly memorable evening.
Looking for something different for your wedding?
Want something that is the high class to impress your guests, but also fun as well? Our Undercover Entertainers are the answer.
Our Undercover Entertainers infiltrate your event disguised as anything from Waters or Waitresses, Chefs, and at a certain point their identity is revealed, and they proceed to turn your wedding from just another wedding reception to an evening your guests will never forget.
World-Class Singers combining great singing with light-hearted comedy, providing a great Ice-Breaker to turn your wedding into a real celebration!
Midnight DJ's Wedding Musician Melbourne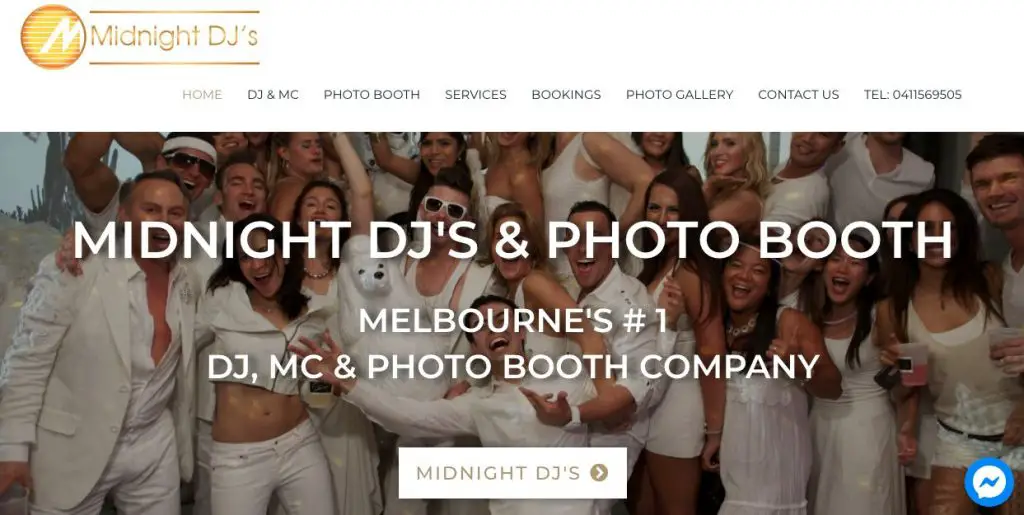 midnightdjs.com.au
411569505
WE'VE BEEN GIVING COUPLES THEIR DREAM WEDDING ENTERTAINMENT SINCE 1995... NOW IT'S YOUR TURN!
Voted Melbourne's # 1 DJ, MC & Photo Booth Company by Wedding Couples. Midnight DJ's & Photo Booth are the premium choice for your next event. They bring a wealth of knowledge and experience to your function no matter how big or small. Entertainment at any event is crucial as it will either make or break your event. Don't risk your special day and be stressed throughout the organisation process. Let Midnight DJ's assist you in organising your next event, and they'll also manage the entire night making sure everything runs smoothly like clockwork exactly how you imagined it to be. Call now for a friendly chat or a meeting over coffee. "Let us show you how we can make your next event a great success".
ABOUT MIDNIGHT DJ'S
Midnight DJ's is a professional wedding and events company servicing Melbourne and all states in Australia since 1995. Owned and operated by the award-winning DJ Nader Elalfy who is considered one of the leading wedding & events professionals in Australia – promises to provide a high-end quality entertainment and customised event planning to your exact specifications.
Whether it's conducting the reception for your dream wedding or planning the perfect corporate event, Midnight DJ's will take the extra time required to go over every detail of your event with you exceeding your expectations. Midnight DJ's has a straightforward goal … Make sure everyone has a great time on the dance floor and lots of memories to take home! They create this feeling by coordinating your day with you by offering just the right blend of leadership, communication and experience, resulting in a momentous occasion for all with merely great entertainment.
Midnight DJ's has entertained over 10,000 clients to date. Not only here in Melbourne and Australia complete but also in the following countries…Singapore, Honk Kong, Japan, Dubai, Egypt & Paris – France.
Midnight DJ's is a team of 5 talented DJ's. They all have been with DJ Nader for over ten years which tells you something about Nader & his outstanding company. As the owner of Midnight DJ's puts his heart and soul into every function, he does. With experience that surpasses that of most wedding & event professionals, who better to coordinate your special occasion? You can be assured of complete success.
"I welcome you to experience the quality and professionalism of Midnight DJ's. Our attention to detail, vocal clarity and music selection will leave you and your loving guests with lasting memories" DJ-MC Nader".
WEDDINGS
Wouldn't it be great if you can hire that one person who you share your dream wedding details with and have them deliver it on the night perfectly precisely how you want it?
At Midnight DJ's there more than just DJ Company.
There your Wedding Coordinator. They Wedding Planner, There Personal Assistant, They your Entertainment, There your Masters of Ceremonies, They take ownership in assisting and managing your night from start to finish.
Midnight DJ's has been in the wedding and corporate industry since 1995.
They know your function is extraordinary and essential to you; that's why they offer you a more personalised and comprehensive service that you've never experienced before.
Prior to event evening, they will ask you a serious of questions in developing an understanding of how you would like your special night to unfold yet they will make suggestions on what works best and in what order. After they have covered everything from Times, Events though out the night and music selections … they will then put together a formal Running Sheet or schedule for everyone to follow by at your event.
Please remember everything, including music, is customised to exactly how you want it to be. Here are some examples of what we call The Main Events …
Bridal Party entrance, Bride & Groom Entrance, Cutting of the cake, Bridal Waltz, Speeches, Toasting, Father & Daughter Dance, Son & Mother Dance, Garter Toss, Flower Toss, Farewell Arch or Circle.
They have a vast range of music styles for you to choose from. Songs from the 50's to the latest top 40 chart hits. Music styles range from 70's – 80's Retro, R'n'B Old School & Modern, Rock' n' Roll, Aussie Rock, Top 40 Dance – House tracks and more. Australia being a multi-cultural country they also understand the styles of music in Arabic, Italian, Greek, Macedonian, Indian, Spanish and more
Now that you've got all your entertainment organised with Midnight DJ's, the last thing you want is to think and worry about other things such as the reception staff, cameraman and photographer. How would you share everything over again with them! Don't worry as Midnight DJ's will notify them of everything beforehand and also liaise with them throughout the night? Working together as a team, everyone will be informed with a running sheet to make your night a great success.
Entertainment is a crucial part of a wedding or any event; in fact, the entertainment you choose could very well be the most critical decision you'll have to make. It can either make your party a great success or make it a complete flop.
Entertainers are entrusted with keeping a cheerful and festive "fun" atmosphere ambience & feel throughout the night for you and your guests. At Midnight DJ's, they create this feeling by entertaining you and your guests with just the right blend of the favourite and most popular music, making a momentous occasion for all.
Your night is almost here … It's time to decide… don't risk your one unforgettable night.
Call Midnight DJ's now for a chat …they guarantee you'll be happy.
"We care to make your night a great success".
Yo Mama Wedding Musician Melbourne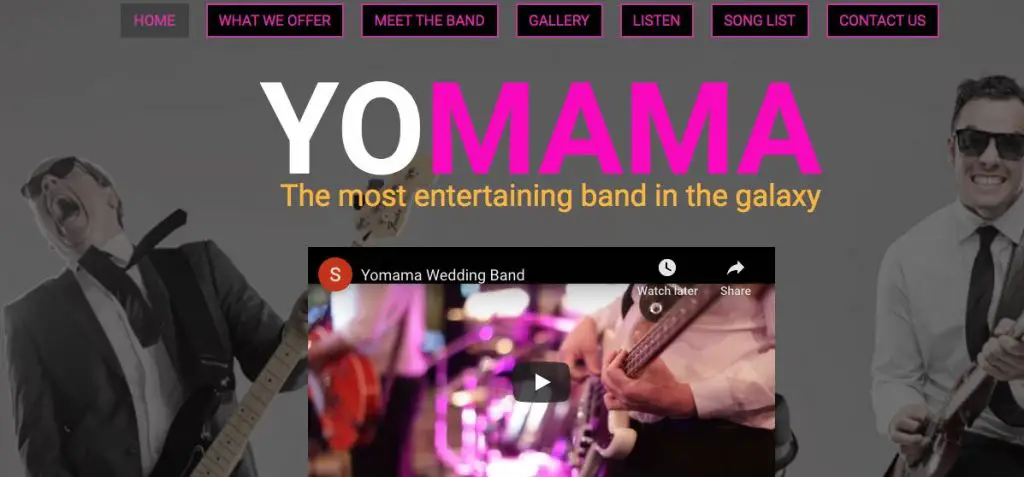 yomamacoverband.com
422887147
PLANNING YOUR WEDDING/ CORPORATE EVENT? LOOKING FOR A FUN NIGHT OUT?
Yomama isn't your ordinary act. Music is supposed to be fun, it's supposed to get people dancing and having an unforgettable time at your event. That's what we do!
Yo mama always puts on a show, and we play from the heart. We play with energy and excitement. This is our genuine passion, entertaining people with great music. We love what we do, and we want to make sure that when we play at your event, you love what we do as well.
50's, 60's, 70's, 80's, 90's, 00's current and Top 40. We do it all, and we sound good doing it, LISTEN HERE.
We provide Lighting, PA system, Sound Engineers and four guys who are ready to make your night as fun as it can possibly be, all while delivering a high-quality show that is guaranteed to have your guests dancing and leaving with a smile on their face.
So if you're looking for a brand that is 100% focused on making your night as fantastic as it should be, then look no further, you found them!
We are available for Weddings, Corporate Events, pub shows and Parties.
Yo mama can cater for any event.
Whether it be a small function/ wedding, a crazy pub, colossal wedding or a large party, Yomama will have the crowd dancing. We provide what most other wedding bands offer in terms of equipment and services, and we will not use this page to write 500 paragraphs trying to convince you that the service we offer is better.
We're just a little more fun!
Bruce Harrison DJ/MC Wedding Musician Melbourne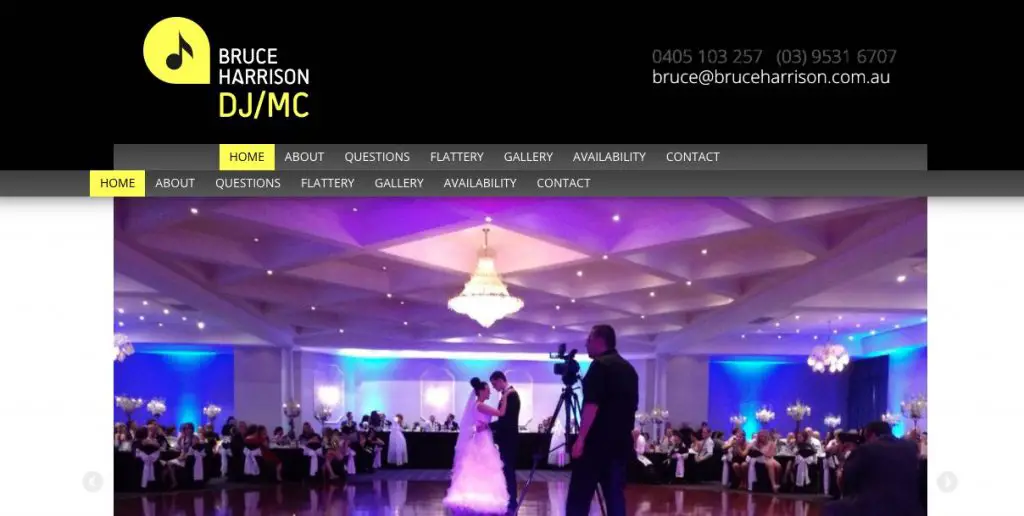 bruceharrison.com.au
405103257
ABOUT
Wedding DJ Melbourne. Australian Bridal Industry Academy (ABIA) award winner 'Best DJ/MC' categories in 2012, 2013, 2014, 2015 & 2017.
National Top 5 Wedding DJ & MC 2016, 2017 & 2018. Top three Wedding DJs and runner up 'Best MC' in 2019.
Easy Weddings 5 Star Certificate Of Excellence 2014 – 2019
Welcome, and thank you for visiting.
I'm an award-winning Melbourne Wedding DJ & MC who will work with you to make sure that your wedding reception entertainment is as personal and unique as you and your partner are.
As a sole-operator and full-time Melbourne Wedding DJ & MC for over 15 years, I've built my reputation on my performance, my professionalism, my attention to detail and most importantly – my dedication to the people I work with.
I'm very proud to say that most of my work comes from word of mouth, supplier and venue recommendations.
For me, the beginning of creating the perfect wedding reception should start just as your relationship did – with a face to face meeting.
A chance for us to sit down and begin painting that picture of that once in a lifetime celebration that you have in your minds.
I view each wedding as a thoroughly unique event with its own special atmosphere and its own personality.
Put simply, I love what I do and the people I work with.
Thank you again for taking the time to visit. I'd love to hear from you if you would like to know more…
Groove Junction Entertainment Wedding Musician Melbourne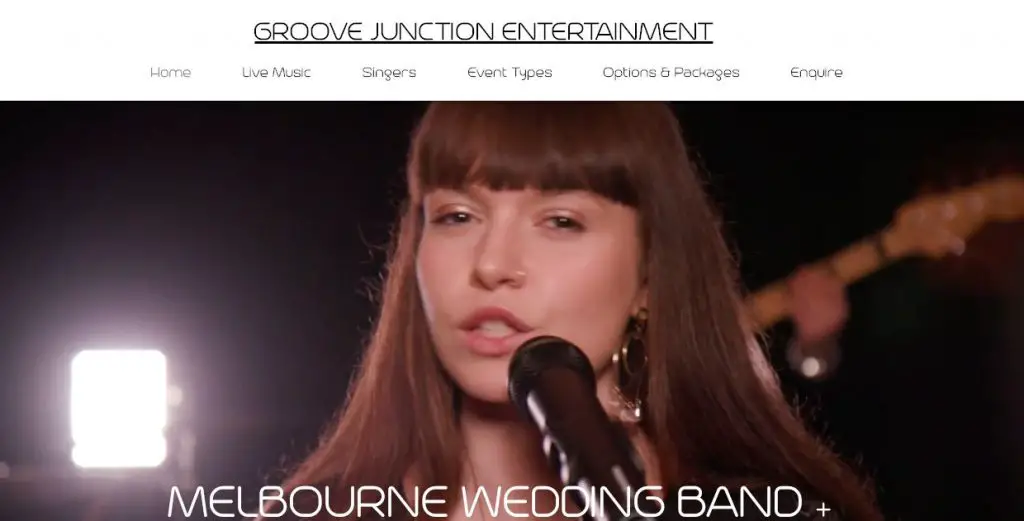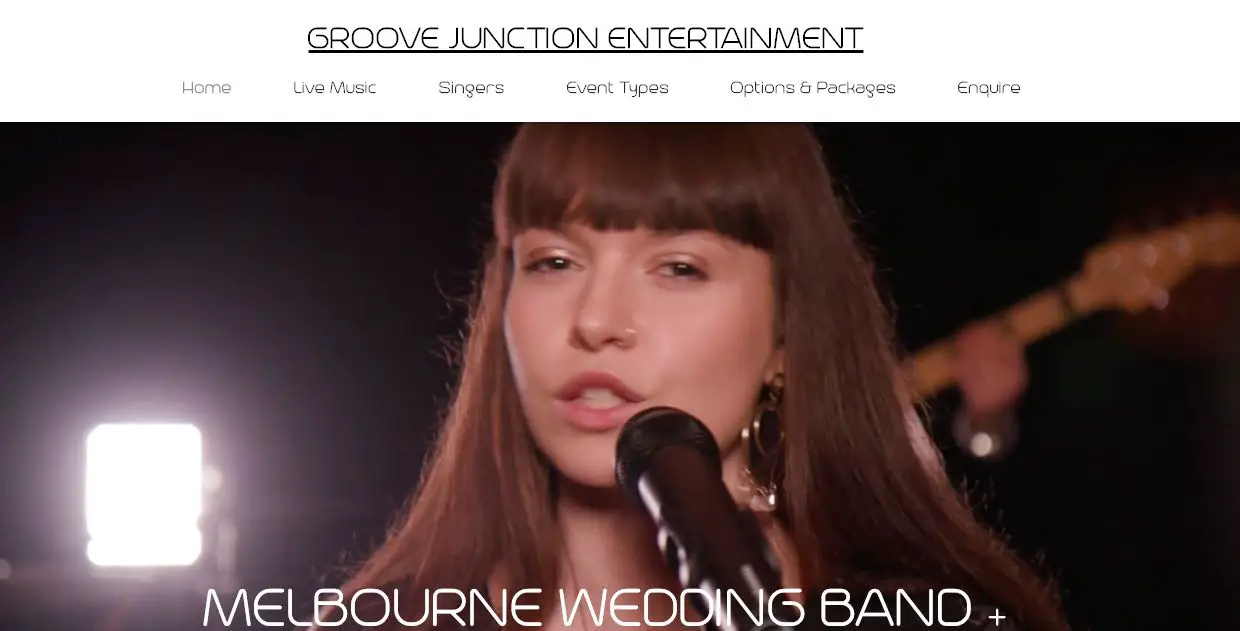 Groovejunctionentertainment.com.au
424257283
MELBOURNE'S PREMIER CORPORATE + WEDDING BAND HIRE
Groove Junction Entertainment offers live music entertainment services by the finest musicians performing in Melbourne, Victoria and Australia complete. Specialising in Corporate Events, Wedding Entertainment and Private Parties, our live band will take your event to the next level.
​Providing a first-class entertainment experience, our wedding bands are available in a 3-10 piece band format. We also offer acoustic duos, solo performers and DJ services.
Enquire now to find out why Groove Junction is one of Melbourne's most popular cover bands for functions and weddings!
WEDDING ENTERTAINMENT MELBOURNE
WE SPECIALISE IN WEDDING ENTERTAINMENT IN MELBOURNE & VIC
Groove Junction is experienced in creating the perfect Wedding Entertainment for couples in Melbourne and VIC complete. Weddings are a particular time in our lives full of excitement and celebration.
Every couple has something unique and special in mind for their live wedding music, which is why Groove Junction works personally with you at every step of the way.
Our live wedding musicians can help make your day extra special with experience in performing for intimate weddings of 20 people to large weddings of more than 400.
CREATE YOUR PERFECT WEDDING ENTERTAINMENT EXPERIENCE
Our Wedding Entertainment is offered in a range of packages designed to match the mood at each stage of the day.
Create an intimate and romantic atmosphere with our Acoustic Duos and Solo Artists as your ceremony unfolds or as guests mingle over canapes. Music is the life and soul of any party, and there is nothing like a live wedding band at your reception to get everyone, young and old on the dance floor. Then, keep the party going with our wedding DJ who knows how to keep the night alive.
Groove Junction is not just a Melbourne wedding band. We have enjoyed performing in the Yarra Valley, Mornington Peninsula, Ballarat and Bendigo. Don't hesitate to contact us no matter the location.
WEDDING BAND HIRE MELBOURNE
CELEBRATE WITH LIVE WEDDING MUSIC BY MELBOURNE'S BEST MUSICIANS
Groove Junction Entertainment Wedding Band is the premier choice for Wedding Entertainment in Melbourne and Australia Wide.
Our talented musicians understand that it is your special day. We will work with you to tailor your wedding music to your specific needs at each step of the way. From the ceremony and reception to the dance floor, Groove Junction is here to create your perfect live music experience.
The emotions shape our best memories that great music can evoke. Our professional musicians are experts in creating special moments that will ensure your wedding entertainment creates a unique and unforgettable experience
TAILORED WEDDING ENTERTAINMENT
Our wedding band is available in a range of options to ensure your wedding music suits your event perfectly. Choose from a four-piece to 9 piece format with a horn section.
We also have a selection of Melbourne's finest singers, each with unique styles and sounds. Groove Junction Wedding Band perform a diverse array of dance floor packing classics. Our Wedding Song list includes Pop, Reggae, Funk, Soul, R&B and Jazz music.
​Add a DJ, or Acoustic Duo to your band package to treat your wedding guests even more!
​Enquire today find out why Groove Junction Entertainment is fast becoming one of the most popular wedding bands in Melbourne
Future Entertainment Wedding Musician Melbourne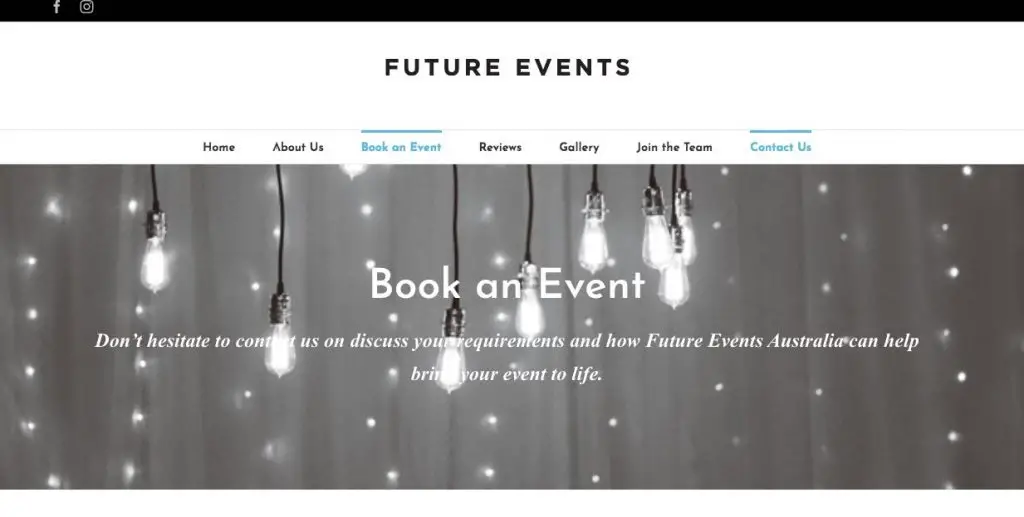 futureeventsaustralia.com.au
435367988
ABOUT US
Future Events began as a hobby for our Director Dean. At 17 years of age, he started off as simply DJ Dush, without the knowledge that his passion would turn into his career over the next 14 years, and expand into a bigger company.
Our Story
Future Events offer professional DJ services for a range of events. Our team are committed to helping you create the celebration that you have in mind and can cater for functions of any size, with no event being too big or small for us.
Future Events Australia began as a hobby for our Director Dean. At 17 years of age, he started off as simply DJ Dush, without the knowledge that his passion would turn into his career over the next 14 years, and expand into a bigger company. Dean's passion for music, the excitement of seeing a full dance floor and his attention to detail and hard work have built a steady list of clientele who keep him and the Future Events Australia team in high demand. Dean is accredited and a member of the Australian Bridal Industry Association (ABIA).
Future Events Australia's skilled DJs all have a minimum of 10 years' experience, catering to all types of music genres including the 50s, 60s, 70s, 80s, 90s, 2000s, Retro, Top 40, RnB (old school and new), House, Trance, and everything in between – we know how to get the party started! We have experience DJing for clientele of many different cultures and backgrounds and are more than happy to play music from any background.
We are a dedicated, friendly and reliable team, intending to provide our clients with a smooth, stress-free experience and use only high-quality audio and lighting equipment. We are passionate about music and entertainment, and we pride ourselves on ensuring that everyone has a great night. Don't hesitate to contact us on discuss your requirements and how Future Events Australia can help bring your event to life.
Fedora Productions Wedding Musician Melbourne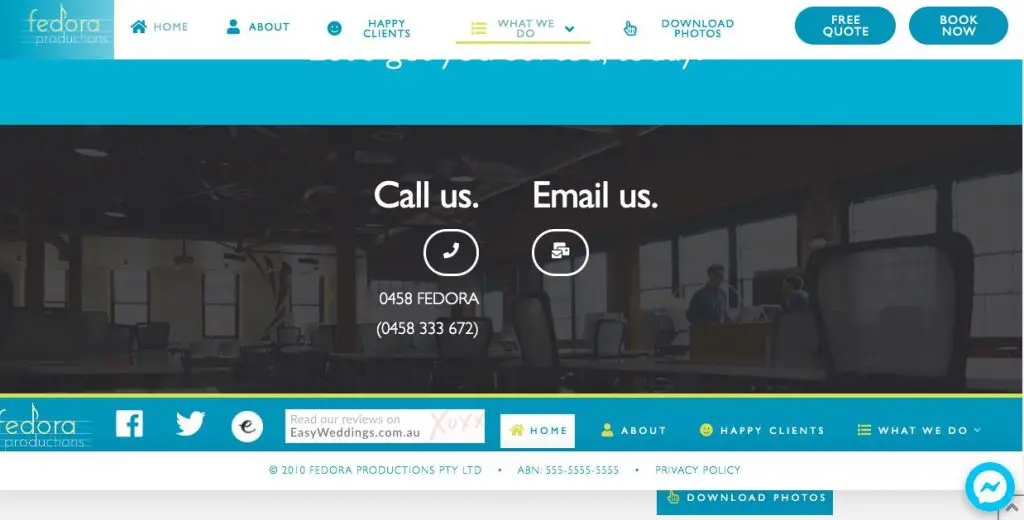 fedoraproductions.com.au
458333672
We are Fedora Productions.
We offer a premium service in the field of Pro Audio. Many years of experience supplying professional sound engineering and DJ services around Melbourne has enabled Fedora Productions to expand our services exponentially. Any event, any size, big or small, Fedora Productions have you covered.
Weddings
We know weddings. We love weddings! Whether your celebration is formal or cocktail, big numbers or small, we know how to cater to your needs to make your night unforgettable, seamless, and most importantly, fun for all!
One Fun Band Wedding Musician Melbourne
One Fun Band Wedding Musician Melbourne
onefunband.com.au
402405992
LIVE PARTY BAND ENTERTAINMENT FOR THE PRICE OF A DJ!
Engaging a band for hire can be expensive. So we provide the best Live entertainment for Weddings, Corporate or any Party for a fraction of the cost – within the budget of a DJ! For only $1100 including GST, we'll have all your guests up dancing with an energetic and fun show – including lighting, all equipment, massive playlist and ALL music between sets – Just like a DJ!
QUALITY ENTERTAINMENT
Over entree and dinner, we play upbeat background music. After formalities, we turn the party lights on, kick the energy levels right up, and the dance floor becomes the focus. We are not the shy type of entertainment that plays background music all night – our live energy and audience interaction start the party from the word go and will blow your guests away, getting everyone up on the dance floor. Great music is what a lot of people will remember about your wedding reception, party or corporate event, and you can trust us to get it just right.
DINNER MUSIC, WITH BREAK MUSIC, INCLUDED
Atmosphere-setting background music over dinner, party music afterwards. Soloist doubles as a DJ during breaks.
FILLING THE DANCE FLOOR IS WHAT WE DO!
A high-energy show that will light up the dance floor!
PA SYSTEM, MICROPHONE AND LIGHTING INCLUDED
Quality PA and lighting is included in our booking price, with a complimentary microphone for speeches.
ROCK, TOP 40, CLASSICS, 80'S HITS AND MORE!
A wide range of songs to choose from. Requests are welcome!
Baker Boys Band Wedding Musician Melbourne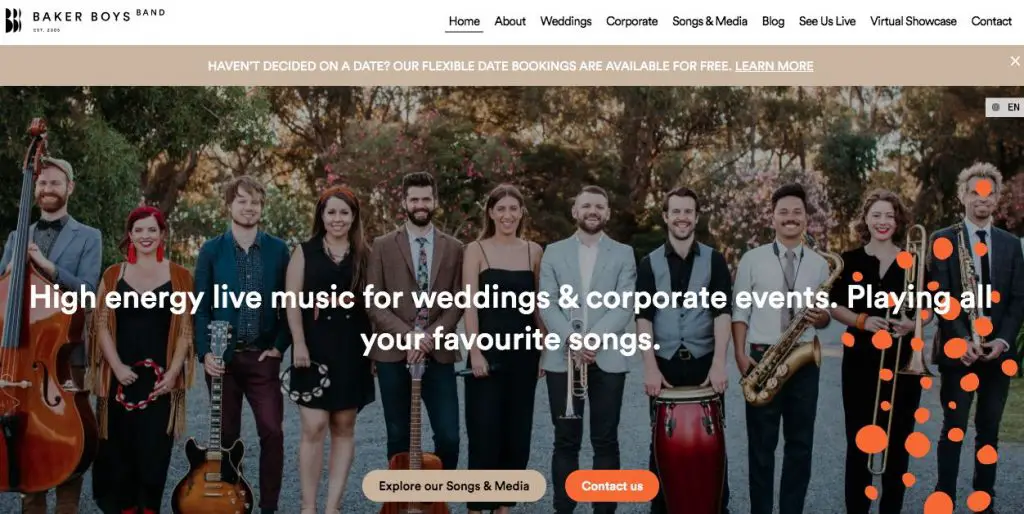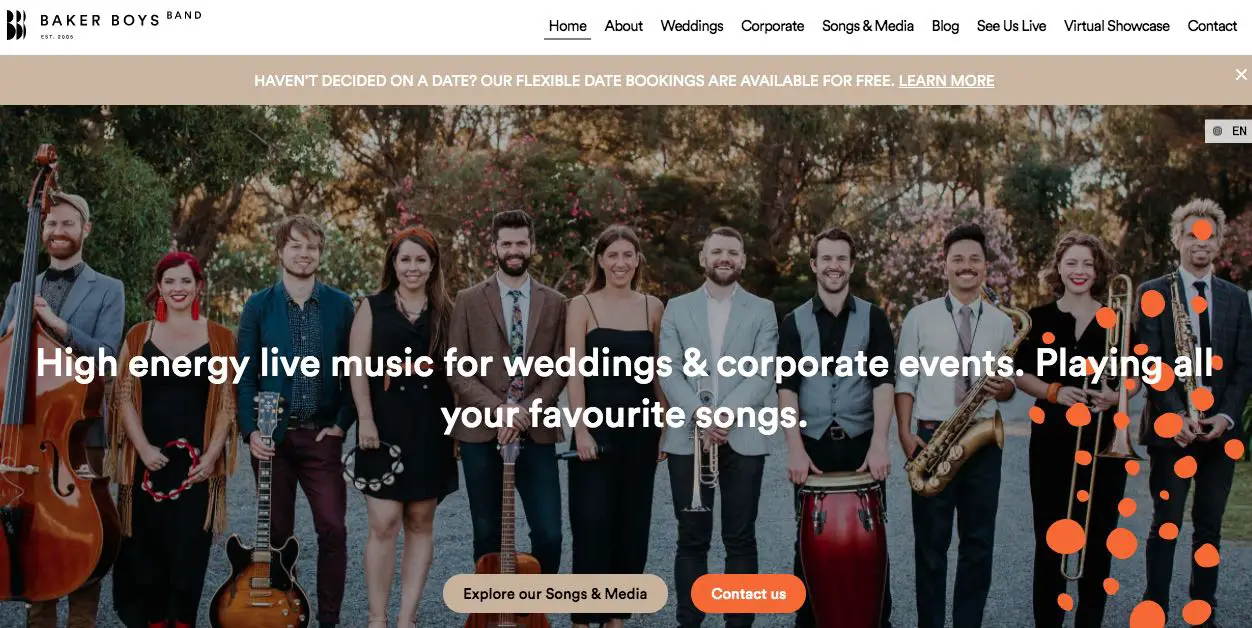 bakerboysband.com.au
438301313
What we're all about.
Founded in 2005, the Baker Boys Band has been setting the industry standard for event music ever since. Our musicians are passionate about creating memorable events. Their talent and experience guarantee that every Baker Boys event is seamless, so clients can focus on life rather than stressing over the details.
Where it all began.
As students studying music in Melbourne in 2005, we started performing around town. These public gigs quickly turned into requests to perform at private events and festivals. We loved seeing the joy and full dance floors that we could bring to these events. We perfected our event planning, expanded our repertoire, added members to the band - and the rest is history!
There's no better feeling than seeing the look of love on couples face when their friends and family join them on the dance floor. That feeling is why we love what we do.
Ceremony
Whether you prefer traditional music, classical songs, or modern tunes, we can work with you to set the perfect tone for your day. Ask us for a Free Demo Pack to hear for yourself.
Cocktails & Canapés
Start the party off right with a jazz quartet or easy listening trio to accompany your cocktails & canapés.
Reception
This is where we really shine - amazing dance parties are how the Baker Boys have earned their fantastic reputation! We pride ourselves on our high energy, flawless performance–it's all about great preparation and a genuine love for what we do to ensure you have the best night of your life.
We want you to love music!
We pride ourselves on knowing just what to play and when to play it. It isn't enough just to fill your dancefloor–we want you to love the music! Every song from the start of the day until you drive away together as a married couple can be tailored especially for you. Or, if you prefer, just leave it all up to us.
Kellie Anne Music Wedding Musician Melbourne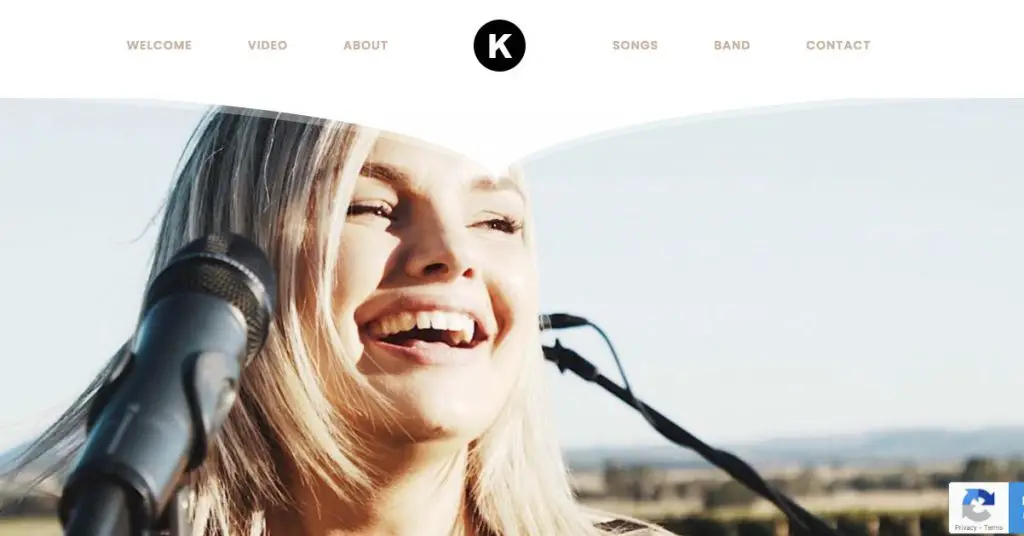 kellieannemusic.com
439636681
A Little About The Lady
Her brand is her excellence.
Her reputation speaks volumes.
And if you've seen her perform you will not forget it.
Mixing rich vocals, killer high energy and the warmest heart, each performance is.. just unforgettable.
You're in good hands
The Incredible Melbourne based band is made up of the most sought after musicians in the country.
Always performing at the highest of standards, with musical skills that enchant and captivate any audience.
We know that planning an event is a lot of work! So we hope to be involved and make the music part an easy, reliable process for you.
Colliers Wedding Musician Melbourne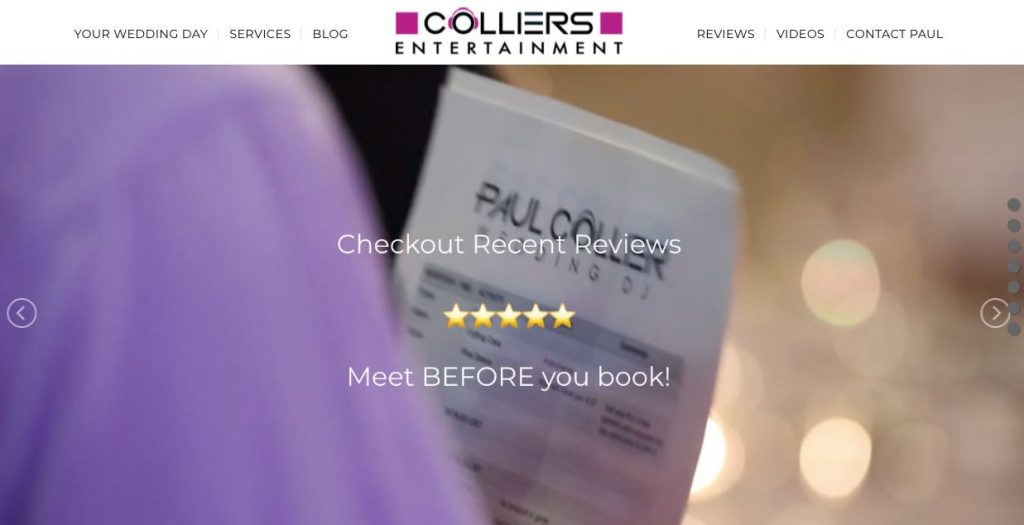 professionaldjs.com.au
410587221
WEDDING DJ + MC + PHOTOBOOTH
Welcome, we are thrilled you found us here. You are looking for a great wedding DJ for the biggest day of your life. An experienced, reliable DJ and MC that will 'get the party started', guarantee a 'packed dance floor' atmosphere and FUN for everyone. You want someone that will take the time to LISTEN to what YOU want and then exceed your expectations on the day.
For many, a Wedding Day is the culmination of months, perhaps even years, of planning and preparation. You get one Wedding Day to celebrate with your family and friends, we know you want to make it fun, relaxed and memorable for both yourselves and ALL your guests.
We also know just how important it is to put your Wedding Entertainment into the hands of someone you can rely on and trust to get it the right first time! Someone who is professional, experienced, flexible, and fun. With more than two decades experience in weddings, you can rest assured we know how to help you create the BEST WEDDING DAY EVER!
REVIEWS are the most important part of your wedding research, so check out couples reviews and videos. What is your vision for your Wedding Day? I'd love to hear all about it, and assist you in achieving it!
Whether you're looking for a great night of Wedding entertainment to keep your dance floor packed and the memories flowing, or a package that covers the formalities and fun from start to finish, we can assist.
Our specialty is providing an all-day entertainment experience where we can ensure your wedding day goes to YOUR plan. We provide music for the whole day and as MC ensuring all suppliers are kept 'in the loop', working together to get the best outcome for you. We can help with speeches, and recommend first dance songs. For want of better words we are 'your wedding day helpers', and nothing is too much trouble to ensure your day runs to your plan.
If you're into speakers, mixers, lights and controllers, let us know – We love to talk about our awesome gear! – otherwise, it might be enough to know that we purchase and meticulously maintain high-quality DJ equipment that is designed to fill any venue space with music at the perfect volume in all areas.
With a professional setup that discreetly keeps the 'tech gear' out of view, we are still accessible and the space open enough for everyone to feel a part of what's going on back there.
As experienced Wedding DJs and MCs, we love working with couples to create the best wedding day ever for you, your family and friends.
We know how to read a crowd, get a party started, and make everyone feel comfortable to join in and celebrate on (and off) the dance floor.
We promise to listen to you. If you want something special, we will make it happen. If you can't stand certain songs, we won't play them. Simple. We will take the time to get to know you and how you want your wedding to feel. By the time your wedding rolls around, you'll know you're in safe hands.
The White Tree Wedding Musician Melbourne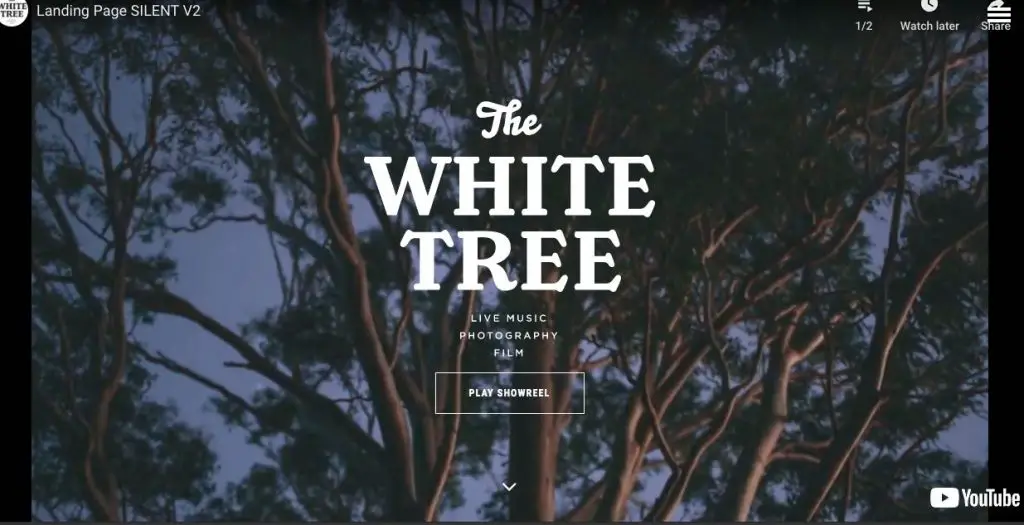 thewhitetree.com.au
425735774
Creating & Capturing Epic Memories since 2010
COVID-19 Update: The White Tree has been filling dance floors and capturing epic memories for over ten years, and you can rest assured that we will be doing so for another 10! We know that planning weddings or events are challenging during this current landscape, but we are here to help you. And...things are on the up! We are back showcasing at live venues across Melbourne, Sydney and Brisbane, which is exciting if you are recently engaged and interested in our services. Jump onto our showcases page to see when we're next performing near you.
The White Tree Band
We're dance floor legends! We pride ourselves on our energetic live shows, versatile configurations, entertaining showcases, and a varied repertoire to keep every punter happy. At one gig we'll be performing funk and soul with a brass section, and at the next gig we'll be belting out tracks by Tay Tay, The Stones, The Killers, Billie Eilish … and everything in between!
Our musicians and DJs are based primarily in Melbourne, Sydney, Brisbane, Perth, Adelaide, Hobart and the beautiful Byron Bay. However, we perform all around the world and love to travel wherever the party's at.
Nova DJs Wedding Musician Melbourne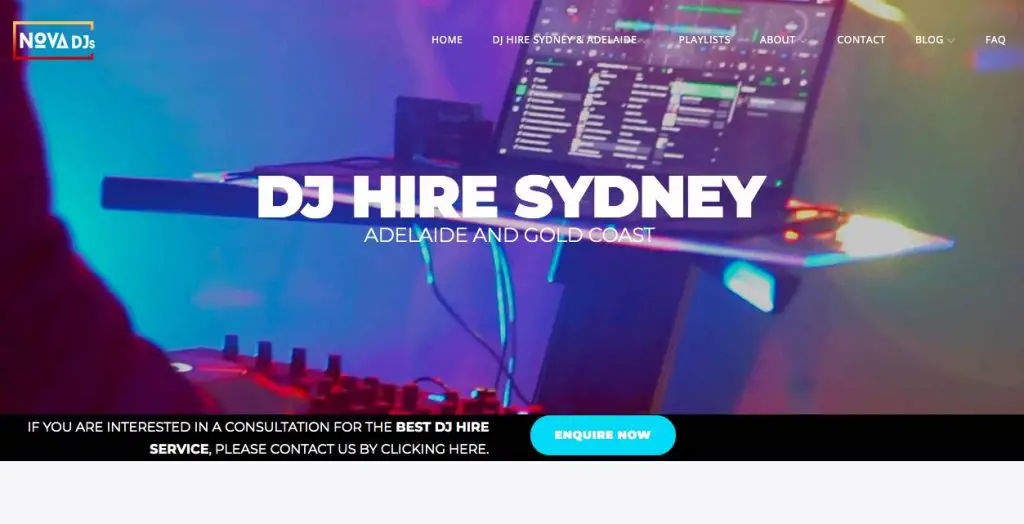 novadjs.com.au
436478494
IN MUSIC WE TRUST
Hire a friendly, outgoing DJ who is highly experienced and willing to play the music you want to hear! Fill out the form to make an enquiry and check our availability now. Hire a DJ who is ready to turn your function into the year's most memorable event, playing all the music that you want to hear! Well, YOU deserve it, and you will get it with our top-rated DJ Entertainment services. If you've come this far, it's because we have a common desire: To make your party unforgettable! Watch the video and get inspired!
HIRE WITH CONFIDENCE – WE ARE
GREAT AT WHAT WE DO!
We pride ourselves in being original, and unique as you won't find any other DJ company anywhere in Australia like us! We are energetic, inventive, and innovative. "Average" is not what interests us. We are continually looking to achieve more and to change what people think they know about private events. Every occasion is entirely unique. We believe that you deserve an experience that reflects your style, your preferences, your personality, and what makes you, you! We're proud of not following the same cookie-cutter formula other DJ companies use. We create fresh, new experiences for each and every one of our events. Based in New South Wales and South Australia, but we are available anywhere in the world.
YOU WANT AN AMAZING NIGHT!
We believe that the right music is always a game-changer for any occasion. Music is the universal language, that everyone understands, capture the feeling of your event in a way all your guests will enjoy it with NOVA. By having the right music, it completely changes and elevates the tone of your event. With the best DJs at your event, your guests will experience an unforgettable event.
LISTENING TO YOU IS
THE KEY OF OUR SUCCESS
At NOVA DJs, we do not have a sales pitch, and we do not make vain promises – everything we offer and do is tailored for you and your event needs. If you want a particular mood or wish to stay within a specific budget – our team will ensure that everything we do fits in perfectly with your event and your needs. All wedding packages include a one-on-one chat to get to know you and your plans. It is an informal exchange, which allows everyone to feel at ease and enable us to meet your expectations. Rest assured! Chemistry is also important, and we feel that you must feel comfortable working with our super-talented and highly experienced team. And, yes, let's talk about some cool improvements, which may or may not be right for your celebration. You can select the kind of experience to add on and have complete control of everything for your wedding entertainment.
RESPONSIBILITY
The DJ is the top of the house of cards for the mood. If he does well, the reception is perfect. If he is not well, the castle falls. If the DJ does not meet your needs, your party runs the risk of being a big fiasco. That is an enormous truth! But the fact remains that, most times, the DJ does not represent more than 4% of the total cost of a wedding.
REQUESTS WELCOME
The lucky couple must keep in mind that the wedding party is a unique moment. Do not risk it. Choose an excellent professional since music is the soul of the party. People will remember the party for the joyous atmosphere created by music.
100% SUCCESS
We understand just how much a couple invests in their wedding, and the responsibility they expect from the DJ. We realise it's one of the critical services because it can break a party or make it unforgettable.
OUR WEDDING PACKAGES
In Sydney or Adelaide, the wedding DJ's cost will depend on the package that you require for your wedding. We have various packages available and can also create a customised package for you. Our DJ prices are highly competitive, and we do not just provide the music and sound system, but the lighting equipment as well. Check out our DJ setup options for the reception, or the ceremony as well.
Blume Events Wedding Musician Melbourne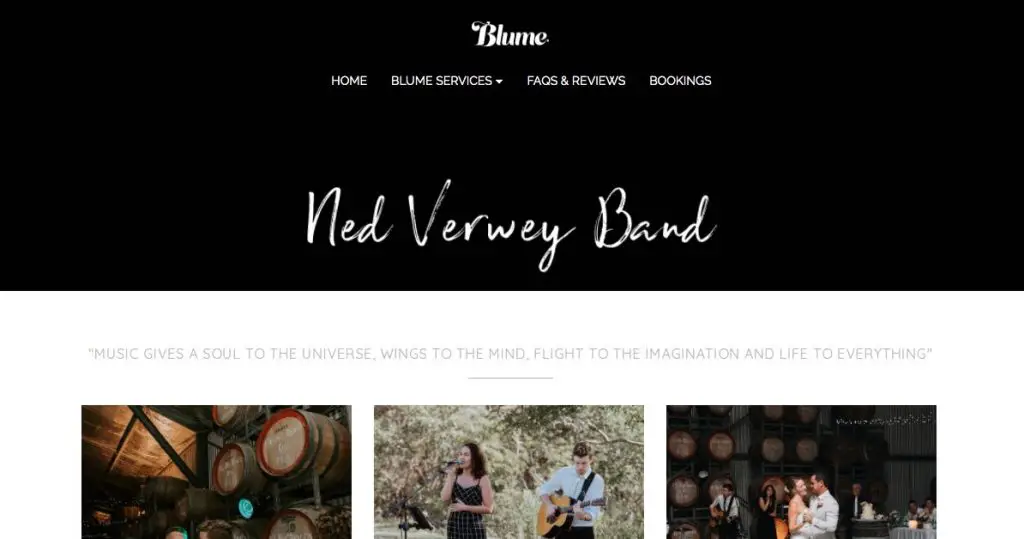 blumeevents.com.au
447047083
AUSTRALIA WIDE LIVE ENTERTAINMENT FOR ALL EVENTS AND FUNCTIONS
From performing in all major Capital cities within Australia to places around the world; Paris, Vannes, Koh Tao, Koh Samui and the Greek islands. Ned and his band have established their name within the event scene, becoming known for a top-quality, professional, entertaining act.
Performing a variety of rock, pop, funk, soul, jazz and folk Ned and his band have an array of over 400+ songs to suit any event. Covering hits from the 1940's-current. Whether it is a low key solo acoustic set or a 6 Piece Band, they are sure to have the music to fit your next event.
Ned and his band members maintain a level of professionalism and love for the music of the highest quality leading to a perfect combination of experience and entertainment.
Ladylike Music Wedding Musician Melbourne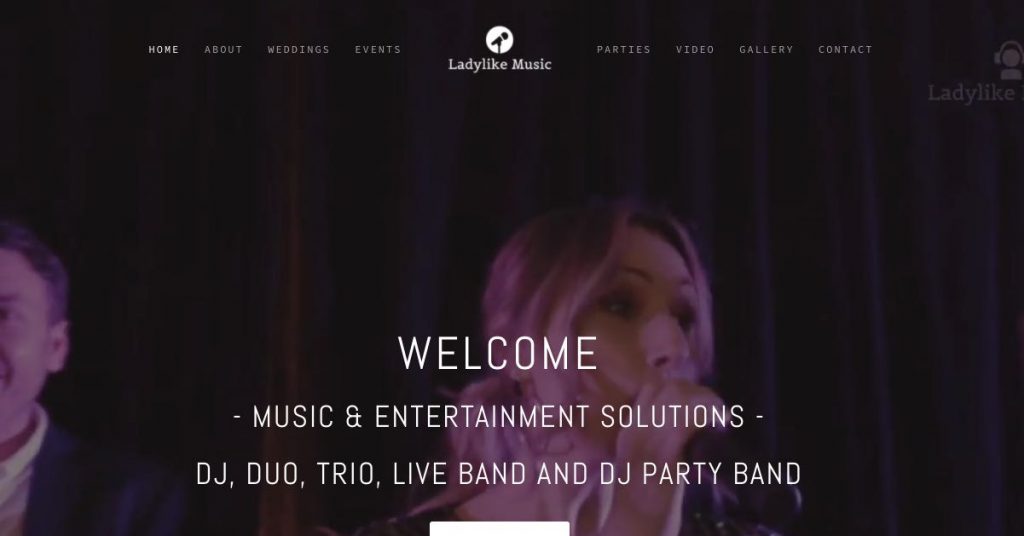 ladylikemusic.com
402616979
We've been playing music together at some of Sydney's most iconic venues for over ten years. We love weddings & private parties, & provide customised entertainment for corporate events both in Sydney & abroad.
Our acoustic duo may be all that is required. However, we can also graduate up to our ten pieces, life or DJ party band evolving seamlessly from low key to major WOW-factor.
For large-scale events, we work with you to create memorable entertainment, customised to your brief. Our bespoke musical arrangements and carefully curated entertainers make for show-stopping opening numbers and multi-faceted productions.
LOVE, MUSIC & MEMORIES TO LAST A LIFETIME
We love working with you to create a moment in time that you and your nearest and dearest will cherish long after you've tied the knot.
We offer small and larger band line-ups to suit the most intimate affairs or extravagant functions.
We tailor our band to your budget and our song selections to your wishes, so your day will be exactly what it should be uniquely yours!
LIVE BAND
LIVE Party Band for your Reception; Entrances, first dance, dinner music and party vibes - we have you covered!
Sound & lighting equipment
From $2,500 +GST
DJ BAND
DJ Party Band for your Reception - Entrances, first dance, dinner music and party vibes - we have you covered!
DJ. All night. The music only stops for speeches!
Sound & lighting equipment
From $2,500 +GST
CEREMONY ONLY
Music as guests arrive
We sing you down the aisle, during the signing of the registry and once you are officially MARRIED!
From $500 +GST
Celebrate Entertainment Wedding Musician Melbourne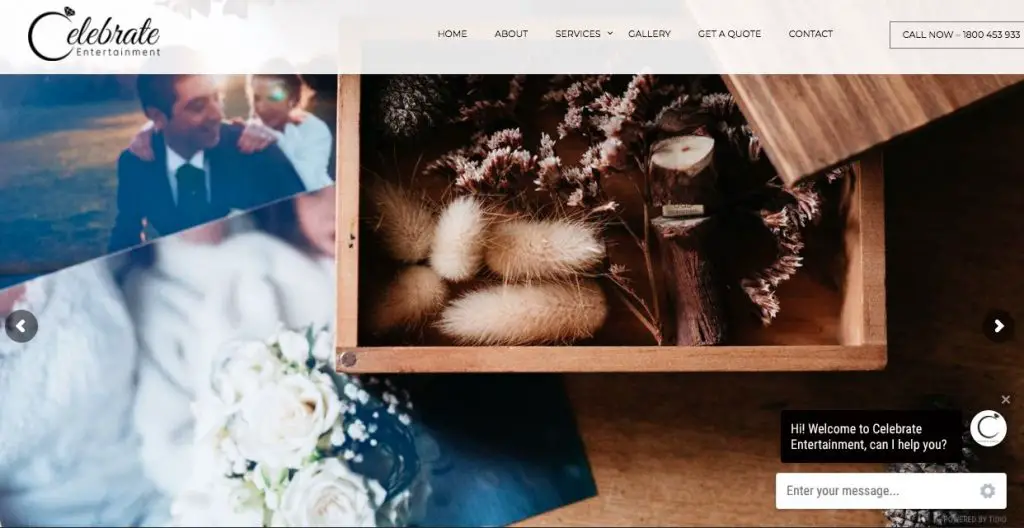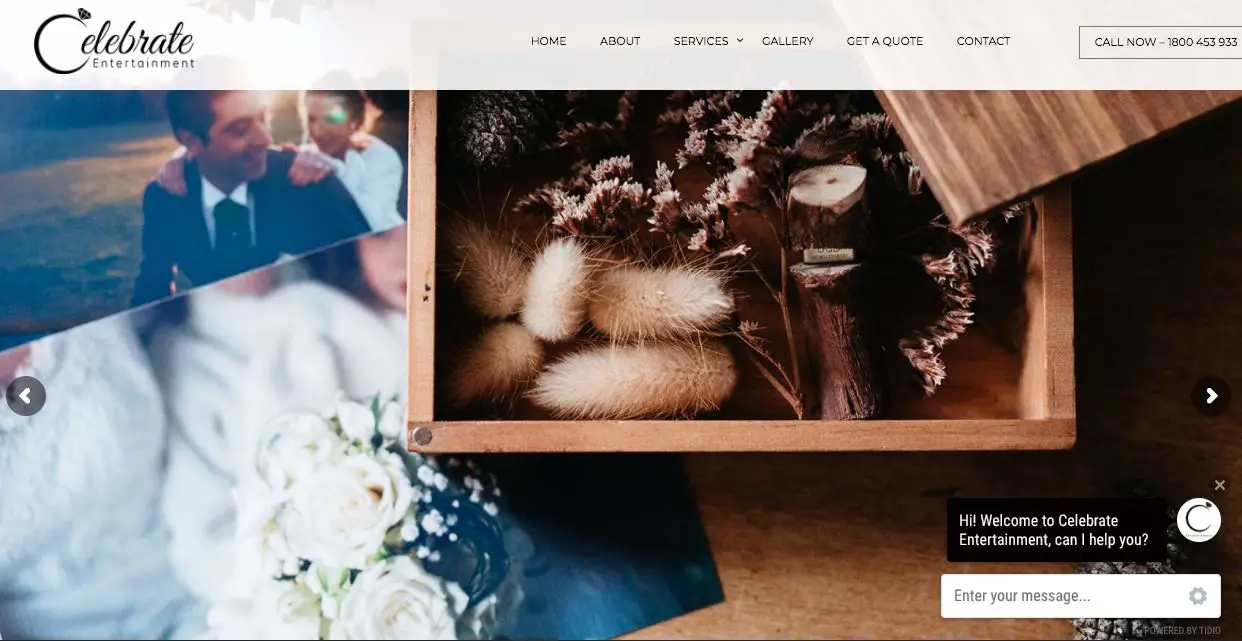 celebrateentertainment.com.au
1800453933
ABOUT US
WE ARE SYDNEY'S NUMBER 1 WEDDING ENTERTAINMENT HIRE COMPANY & DJ SUPPLIER
At Celebrate Entertainment we really love weddings, it's what we do!
Dedicated to professionalism, Celebrate Entertainment has over 30 years of combined experience throughout their highly experienced team. Specialising particularly in DJ Hire, our services additionally include sound and AV Hire, Wedding Chair Hire, Photobooth Hire, Wedding Invitation Design, Dry Ice Machine Hire, Bridal Arch Hire, Giant Letter Hire as well as Wedding Photography and Videography.
Too often have we heard the horror stories that come alongside wedding entertainment services. Celebrate entertainment was established to rectify these stories, providing an all-inclusive entertainment option to assist people in getting married to the best of our industries ability. With an emphasis on professionalism, we guarantee the utmost care and dedication is taken to ensure everything is run flawlessly to entertain at your wedding event.
We Are Sydney's Number One Wedding DJ Hire Company!
We bring passion and professionalism together, under the one banner, to ensure that your musical requirements are catered for 100%. We are dedicated to providing exemplary service across the board.
Our services have grown because we have come to know from experience that we do it better. We have arranged our wedding entertainment services to complement one another for the benefit of our clients. We offer an all-inclusive total package for those seeking the highest quality wedding entertainment in Sydney. We guarantee a flawless entertainment experience for you and your guests at your wedding event.
Producing the wedding you have dreamt of, and all your life is what we are about. We are your wedding planners, par excellence. We are based in the Sydney CBD. We are able to plan and produce weddings in all areas of Sydney, including Sydney's South-West, the Hunter Region, Central Coast, and Mid-North Coast.
WE ARE WEDDING SPECIALISTS
Focusing on complete entertainment solutions for our clients, our team takes a fun and professional approach to ensure your wedding is stress-free and runs smoothly. Offering customisable services and complete solutions, we specialise in working alongside our clients to bring to life their wedding dreams.
THE ULTIMATE SOLUTION TO WEDDING ENTERTAINMENT
Our entire team derives a great deal of satisfaction from their work, planning and producing successful weddings. We enjoy what we do, being a part of one of the most important days of our client's lives. Right from the first meeting, where visions are shared, to the heartwarming climax of the marriage vows, kiss, and first dance, we stake our commitment and expertise to your mast. We offer an adaptable service designed to meet a diverse range of requirements. Our diligence in the management and planning of your wedding ensures that we deliver an impeccable and truly memorable event.
WE CREATE PERFECT WEDDINGS FULL OF ENTERTAINMENT
We all know that weddings are, often the most crucial day in many peoples' lives. They stand out like a beacon of beauty, grace, and shared love. We invite you to let us create a once in a lifetime wedding spectacular.
Our history of successful weddings and events in Sydney and Melbourne enables us to confidently predict the success of your coming weddings, with our assistance. We offer a professional and unique wedding planning and entertainment service, which will exceed your expectations. We produce your perfect day, and the only hitch will be you getting married in style. Let us take care of all your entertainment requirements from start to finish. We take the worry out of the process and replace it with attention to detail and our exemplary service.
WHY CHOOSE US FOR WEDDING DJ HIRE
There are so many Wedding DJ Hire Companies out there. What makes you different?
MUSIC
Each DJ has respectable experience overall and in their specialist fields – we only work with the best. The diversity in our team ensures that you are getting the best DJ for your function. Our team of DJs specialise in a variety of music genres including Top 40/Commercial, Rnb, House, Retro, the 70s, 80s, 90s and more. You may also create your own customised playlist with your requests to ensure you get the best celebration imaginable. Our experienced DJs can read crowds which ensures only the best music is played alongside your requests.
EQUIPMENT
Our DJs have experienced professionals and come to your function with all of the essentials. The equipment we provide is state of the art and consistent with industry standards – similar to what is used at nightclubs and concerts! This includes a DJ console, speakers, lights and a cordless microphone. Our packages make DJ hire in Sydney and surrounding areas simple.
NO HIDDEN COSTS
Our pricing structure is simple for your convenience. Our hourly rate is fixed and does not vary. This means you know what to expect before your booking.
ITS TIME TO CELEBRATE
A lot of time goes into the planning of your function or party. Let us deal with the entertainment; you will have one less thing to worry about. When you contact us, all you need to do is fill out a form, and you're ready to go – it's that simple!
HOW WE ARE DIFFERENT FROM OTHER COMPANIES
Taking the stress out of wedding organisation, our entertainment packages are catered to each individual client to provide the ultimate solution. We love weddings, and it's what we do best.
More than just providing entertainment solutions, Celebrate Entertainment is here to create memories. Book your first face to face consultation today and find out how exactly we can enhance your special day.
From our first face to face consultation, you'll see that every Celebrate Entertainment staff member will go to any length to make your day the most memorable it can be. We strive to deliver you the dream wedding, and nothing is out of our reach.
Soulective Band Wedding Musician Melbourne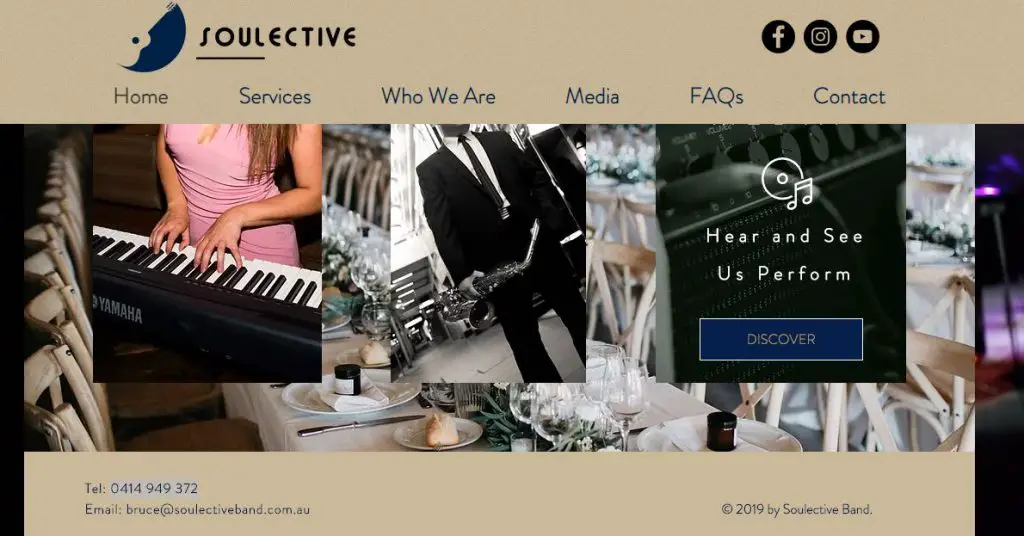 soulectiveband.com.au
414949372
Building on over 20 years of live performance and recording experience with groups and bands of all sizes and genres, Selective was born from the concept of pulling together a collective of some of Australia's most experienced, in-demand and talented musicians with the same objective in mind. Giving you, the client, the best experience in live entertainment for your function or event.
​Being one of only a handful of full-time bands in Sydney (every member is a full-time crew member) ensures we can consistently deliver on what we promise and to provide the same level of professionalism, sound quality and energy to all our performances.
WEDDINGS
Packages
Congratulations on your engagement!! You've just started your search on the right entertainment for your special day, but you've no idea where to start. Contact us today to enquire about the range of options Soulective can provide you and your guests on your special day. From solo to duo acts for your ceremony, right through to the full Soulective Band Experience, we will have an option that will fit into your theme.
Solo? Duo? Band?
Having had the privilege of taking part in several hundred weddings, we know and understand that no one wedding is the same as the next. As a result, we offer bespoke packages in consultation with you that will meet your exact requirements on your special day. Whether it's a small intimate setting, a formal black-tie event or an all out party extravaganza, Selective will create an experience that you and your guests will not soon forget.
On the Day
Selective prides itself on efficient management and coordination with your venue of choice and your wedding/event coordinator. Our sound equipment will be set up and sound checked before your guests arrive. One of our specialist consultants will also be on-site during your event to liaise with the venue and to ensure that everything runs on time and according to your run sheet.
Savvy Entertainment Wedding Musician Melbourne
djsavvyentertainment.com
406764255
How SAVVY Entertainment Began…
2016 was the year Irene and I tied the knot. Our wedding day is and always will be the highlight of my life. Every now and then it hits me, and I think "OMG! She said, yes!" Then I'm smiling for the rest of the day. I know exactly how couples feel and what they go through.
Organising our wedding gave me a powerful hands-on insight into all the problems and pain points involved. Being in the industry for over 13 years, I developed a strong network of vendors in the wedding industry.
Collaborating with all of them made the organisation of our wedding smooth and stress-free. That's when I truly realised my passion and decided that I want to help run amazing events all around Australia.
That was the inception of the SAVVY Vision!
It is the absolute tailored experience for events of all sorts. No longer do you need to hire for different elements of your event separately. We design a custom package that offers everything you need and nothing you don't!
Regardless if you're just looking for a DJ and a photo booth or if you're looking for a comprehensive setup with ten to fifteen different services, we can tailor a package that suits your needs and your budget. The end result; a mind-blowing event that runs smoothly and becomes the standard for an exceptional event experience.
Kahuna Duo Wedding Musician Melbourne
kahunaduo.com.au
437554415
What We Do
We love working with people to create the perfect soundscape for their event.
​The skill is not just in our instruments but in our ability to read the room and tailor the sound accordingly.
Music is what feelings sound like
Nothing commands the atmosphere of a room like live music. It is the soundscape that truly captures the emotion of any event, and creating this soundscape is what we love doing!
​When we perform at an event, we aren't just playing songs, and we are building memories and bringing people together by creating a warm atmosphere with the songs people love.
​Every event is unique in its composition, and the skill is not just in our instruments, but in our ability to read the room, to read that togetherness and tailor our sound accordingly.
​One of our most unique features is our dynamic range of sound. Unlike most duo's we are both multi-instrumentalists, giving us the freedom to arrange any song simply, with just vocals and guitar, to emulating a full band sound with vocals, keys, guitar and percussive loops... still performed by just us two!
​Our sound is always live, organic and acoustic, no matter what the occasion we are sure to provide musical entertainment to suit your event.
Choose Your Sound
Our set up can be as stripped back or as full sounding as you want, from vocals accompanied by guitar, to vocals, piano, acoustic and electric guitar.
No matter your preference, our performance is always live and acoustic, and we always bring our complete set up (vocals, keys, acoustic and electric guitar, and live looping) unless otherwise specified.
​You may have noticed us or other musicians mentioning this phrase 'looping', but what is it and why is it so great you wonder?
To be concise, looping is recording short audio samples on the spot during a performance (typically percussive hits on an acoustic guitar, chords or repeating vocal phrases) to add layers and dimension to the sound that could not otherwise be done without extra musicians. What makes looping so great is exactly that, it frees us up to add those nuances to our performance that make it truly wonderful, perhaps it is your favorite melody, or that stomp that makes your foot tap, looping is how we can do that for you.
Our Story
Our individual love of music brought us together in mid-2017. Our time together often consisted of road trips filled with classic sing-alongs to beautiful beach rock spots. One day while floating in clear Manly waters, amongst a large swell we decided we should start playing our music for everyone, only... what could we call ourselves? Taking inspiration from the gigantic waves rolling past us, Kahuna, was born.
​Since that fine summer day, we have played at countless venues throughout Sydney and greater NSW, as well as providing entertainment for many corporate functions, weddings and cruise ships.
​Congratulations!
You need professionals that you can rely on and trust to uphold the magic of your special day, provide quality in their field and attention to detail in every moment.