It can be hard to find the right place to buy loose diamonds in a city as big and bustling as Melbourne. But, we've all been there before-- you're looking to buy a diamond solitaire for your significant other, and you need to find the best place to purchase it.
Luckily, plenty of stores offer incredible deals on the perfect gems for engagement rings and anniversary gifts. This blog post will help you find your ideal diamond at an unbeatable price.
Add a header to begin generating the table of contents
The Ultimate List of Places to Buy Loose Diamonds for Wholesale in Melbourne
Temple & Grace -
Loose Diamonds, Wedding & Engagement Rings Melbourne
templeandgrace.com.au
0414 500 999
Loose Diamonds
H&H Jewellery - Loose Diamonds, Wedding & Engagement Rings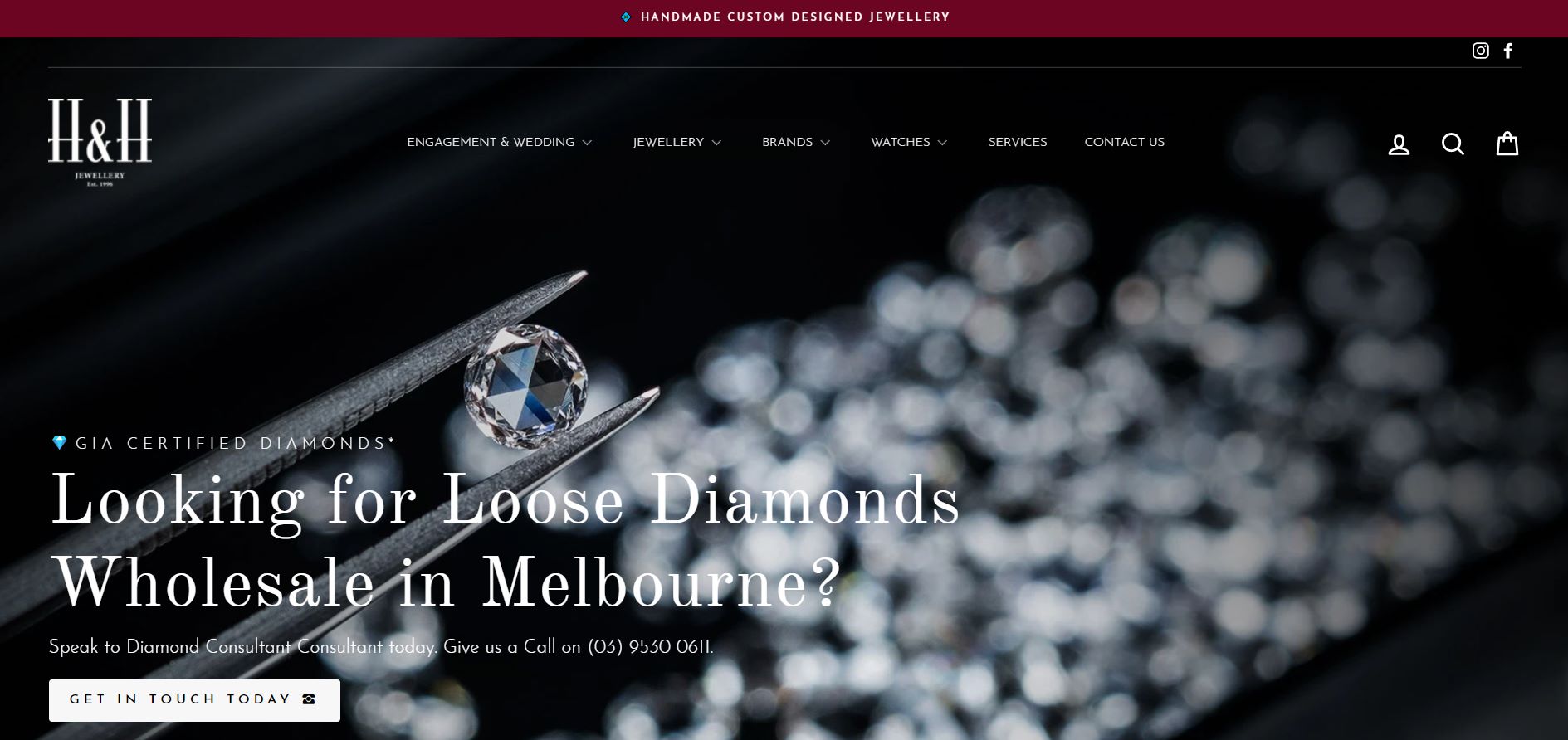 03 9650 2727
Amazing Pieces from a Real Jeweller You can Trust.
H&H Jewellery is a Trusted Family Owned Premier Melbourne Jeweller with a 40 year jewellery making heritage.
Discover the finest selection of Hand-Crafted Diamond Jewellery, Engagement Rings, Wedding Bands, Earrings, Bracelets & Bangles, Necklaces & Pendants and an elegant selection of Swiss Made Watches & Timepieces.
We are also Leading Supplier of GIA Certified Conflict Free Loose Diamonds for Wholesale in Melbourne.
Established in 1996 by Diamond & Master Jeweller's and brothers-in-law, Chris and Harry.
As premier supplier of GIA Certified Loose Diamond Wholesaler in Melbourne, We offer a range of Loose Diamonds or other coloured gemstones at competitive market prices with multiple purchasing options based on the Diamond Grading Standard's (the 4c's) - Cut, Color, Clarity, and Carat. 
Buy Loose Diamonds in Melbourne, Australia.
H&H Jewellery is a premier supplier of GIA Certified Loose Diamond Wholesaler in Melbourne, offering a range of Loose Diamonds or other coloured gemstones at competitive market prices with multiple purchasing options based on the Diamond Grading Standard's (the 4c's) - Cut, Color, Clarity, and Carat. 
An Exquisite Range of GIA Certified Loose Diamonds.
We are based in Melbourne, supplying Loose Wholesale Diamonds Australia-wide at unbeatable prices and exceptional customer and after-sales service. We offer an extensive wide range of conflict-free, affordable yet elegant quality loose diamonds. Our diamonds are highly favoured and sort after for use in diamond rings, engagement rings, wedding bands, necklaces & pendants, bracelets & bangles and other types of fine Jewellery.
Exceptional Service & Quality Commitment
H&H Jewellery has a 40-year heritage of consistently delivering the highest quality brilliant loose diamonds to our customers. All diamonds are independent, valued, reviewed by a certified gemmologist and handpicked to meet our high standards.
Buying Loose Diamonds
Purchasing a Quality Loose Diamond can seem daunting and complex, but it doesn't need to be. Our Expert Jewellery Consultants will help you find a diamond that meets your desired specifications and quality characteristics. Whether you're looking for retail or wholesale diamonds, we provide the best range of quality diamonds for weddings & custom jewellery with our commitment to quality and customer service.
Give us a Call on (03) 9530 0611 or Visit us In-Store to speak to Diamond Consultant.
Get in touch with a Diamond Specialist today.
Our 40-Year-Old Jewellery Making Heritage 
H&H Jewellery is an Australian owned and operated Jewellery & Diamond Wholesaler based in Melbourne, Australia.
Over our 40 year heritage, we have strengthened our reputation in the local diamond wholesaler industry. Our store is based in the heart of Melbourne. The flagship store is located in Elsternwick, with two more stores in South Yarra & Collins Street in Melbourne.
At H&H jewellery, Luxury Diamonds & Jewellery is our specialty. With considerable attention to detail and exceptional work ethic, we continue to grow our repertoire as fine jewellery experts. From our classic diamond rings, contemporary earrings and bespoke design solutions, our jewellery upholds our rich artistry and expertise.
Quality Guaranteed
All our signature pieces and loose diamonds come with quality guaranteed. Our ever-growing selection of luxury jewellery is tested and carefully assessed by professionals.
We are industry experts and part of the GIA alumni association. We are also members of the Australian-wide National Council of Jewellery Valuers.
With our strong connections with manufacturers and dealers, we can provide all our customers with the highest quality materials in jewellery and diamonds at the wholesale process and sell directly to the public.
MDTdesign - Loose Diamonds, Wedding & Engagement Rings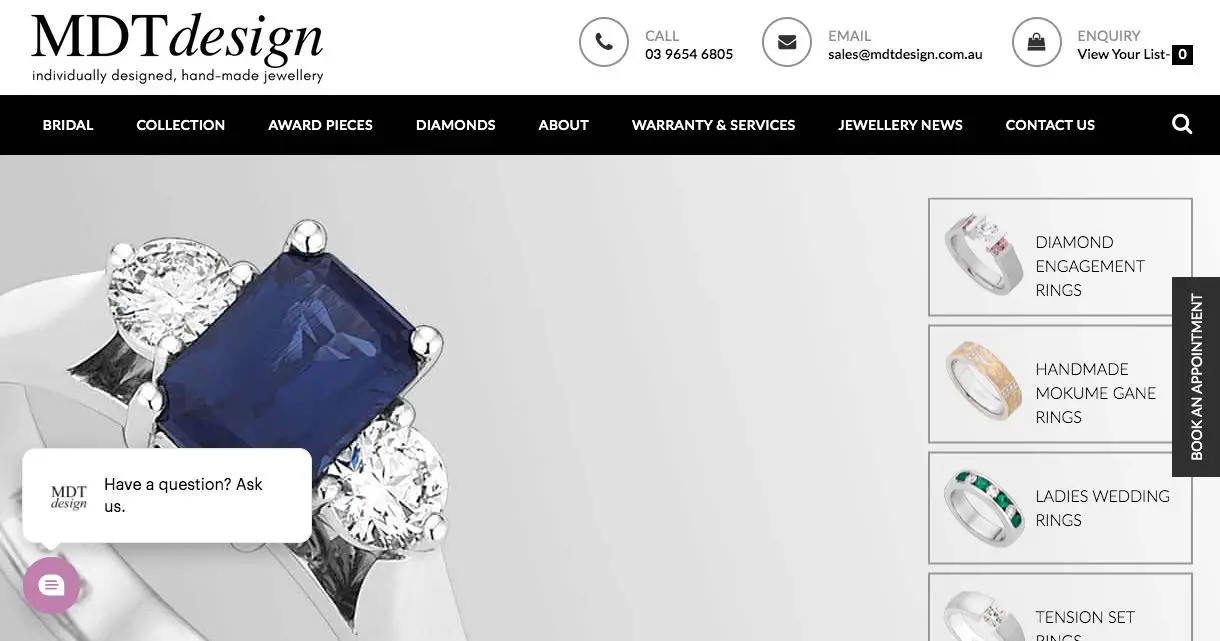 03 9654 6802
Handmade & Handcrafted Bespoke Diamond Jewellery in Melbourne
Work with some of Melbourne's best jewellers, designers and diamond graders to help find or custom make your perfect piece of precious jewellery! Whether you are looking for bespoke jewellery designs, diamond jewellery or simply want to partner with some of the most talented jewellery makers around, MDT design is the place for you.
Why Choose Us?
100% handmade on-site

Choose your own diamond

Customisable designs

Award-winning jewellers

In-house jewellers

In house diamond graders

100% conflict-free

Worldwide free delivery
Loose Diamonds for Custom Jewellery Design In Melbourne
Work with some of Melbourne's best jewellers, designers and diamond graders to help find or custom make your perfect piece of precious jewellery! Whether you are looking for bespoke jewellery designs, diamond jewellery or simply want to partner with some of the most talented jewellery makers around, MDTdesign is the place for you.
Unique Engagement Rings Handmade in Melbourne
If you are looking for something unique and striking and want to make sure that you have the best possible quality, MDT design welcomes you to explore our engagement rings. We can produce an engagement ring that you will love, and if you are buying for your partner, we can create something that will take their breath away.
Engagement rings are a personal statement and should represent the person of the hand they are on, and we are not just talking about women. Our men's engagement rings are as striking as you want them to be and will be one of the best things you ever buy for your loved one – we promise.
From custom and unique to classic engagement rings, we do it all.
Are you looking for a handmade, custom engagement ring with multiple diamonds? Perhaps something classic that speaks to your style in a way no other piece can? We can design that for you.
From totally modern to timeless and classic, our jewellers and designers have extensive experience in bringing our valued customer's ideas to life and stunning handmaking engagement rings that you or the partner you are buying for will never want to take off!
Everything we make is made with love, the way engagement rings should be, so if you want the best, then you have found it. Our team at MDT design welcome you to visit our Collins Street jewellery store in Melbourne and see what we can do for you.
Buy engagement rings crafted by our Melbourne jewellers.
At MDT design, we take care of you. From the initial design to the finished work, then continued through to the lifetime complimentary cleaning and checking we supply on every piece, your ring will never leave our hands. We work to the highest standards to create a ring of singular beauty that will last for the ages. To see this craft in action, please come explore our range of women's and men's engagement rings, as well as our collection of diamond rings, men's wedding rings, diamond bracelets, and so much more.
Ladies Wedding Rings Made in Melbourne
In our Melbourne based store, we can offer you a stunning range of ladies wedding rings, including traditional wedding rings in yellow or white gold, modern knife edge wedding bands, channel set wedding bands and diamond wedding bands.
Talk to our team of expert designers and jewellers at MDTdesign about what you want in a wedding ring, and let us bring it to life for you. Whichever design you choose, all our wedding rings and wedding ring bands will be handmade to the highest standard so you can wear it joyfully for life, and our main priority being that you choose a wedding band that is perfectly suited alone as well as when worn as a set with your engagement ring.
We back all our work with a lifetime manufacturer's warranty, Lifetime complimentary cleaning, polishing and rhodium plating, as well as two free resizes in the first year to be sure it fits you perfectly, so you have complete peace of mind.
Claw Set Wedding Rings
A popular choice for wedding bands is a claw setting style. This style keeps the focus on the diamond that is set and doesn't highlight the metal as much in this case. A claw set wedding band is a good choice for those who want to keep their wedding band fine but still want a good lustre amount of lustre. You can customise your ring by adding more or fewer diamonds as well as changing the size of these stones to suit you best. A perfect way to show off your diamonds in a slim, elegant design.
Channel Set Wedding Rings
Channel set diamond wedding bands are a great classic design that involves setting a row of diamonds in between 2 rows of metal. A channel is calved into the metal where the stones are then placed, and metal is worked down on top of the diamonds to hold them in. This style of the ring works well with most engagement rings they will be sitting next to and can also look fantastic even if going to be worn on its own.
Grain set Diamond Wedding Rings.
A diamond grain wet wedding band is a good option for those who want to add an art-deco feel to their set. Having the diamonds in-beaded in yellow or rose gold will tend to make the also a feature in a wedding ting of this nature, whereas if the ring is in platinum or white gold, the diamond will tend to blend in a little more with the white metal.
Gold Wedding Ring Bands
When all you want is the eternal beauty of gold, simply ask. We have a vast collection of simple 18ct yellow, white and rose gold plain wedding bands in-store as well as platinum. Although the most common profile of a wedding ring is half round, we also have flat bands and knife-edge bands to show you, so you make sure you are choosing the perfect ring that suits you as well as your engagement ring. Our diamond wedding bands are genuinely bespoke and can be styled to match your tastes.
Pave Set Wedding Ring Bands
For something truly unique, you should take a closer look at our pave set wedding bands. This clever design hides the settings for the diamonds, so the ring looks paved with diamonds in one continuous row of dazzling brilliance. It is one of the most innovative diamond wedding bands we have on offer.
Our white gold, half-round, pave set diamond band features 3 rows of tightly packed diamonds that sparkle in one continuous band. Or for something you will truly adore, you can choose a white gold ring half set with 5 rows of brilliant cut, pave set diamonds. It is truly dazzling.
Steve Pallas Bespoke Jewellery - Loose Diamonds, Wedding & Engagement Rings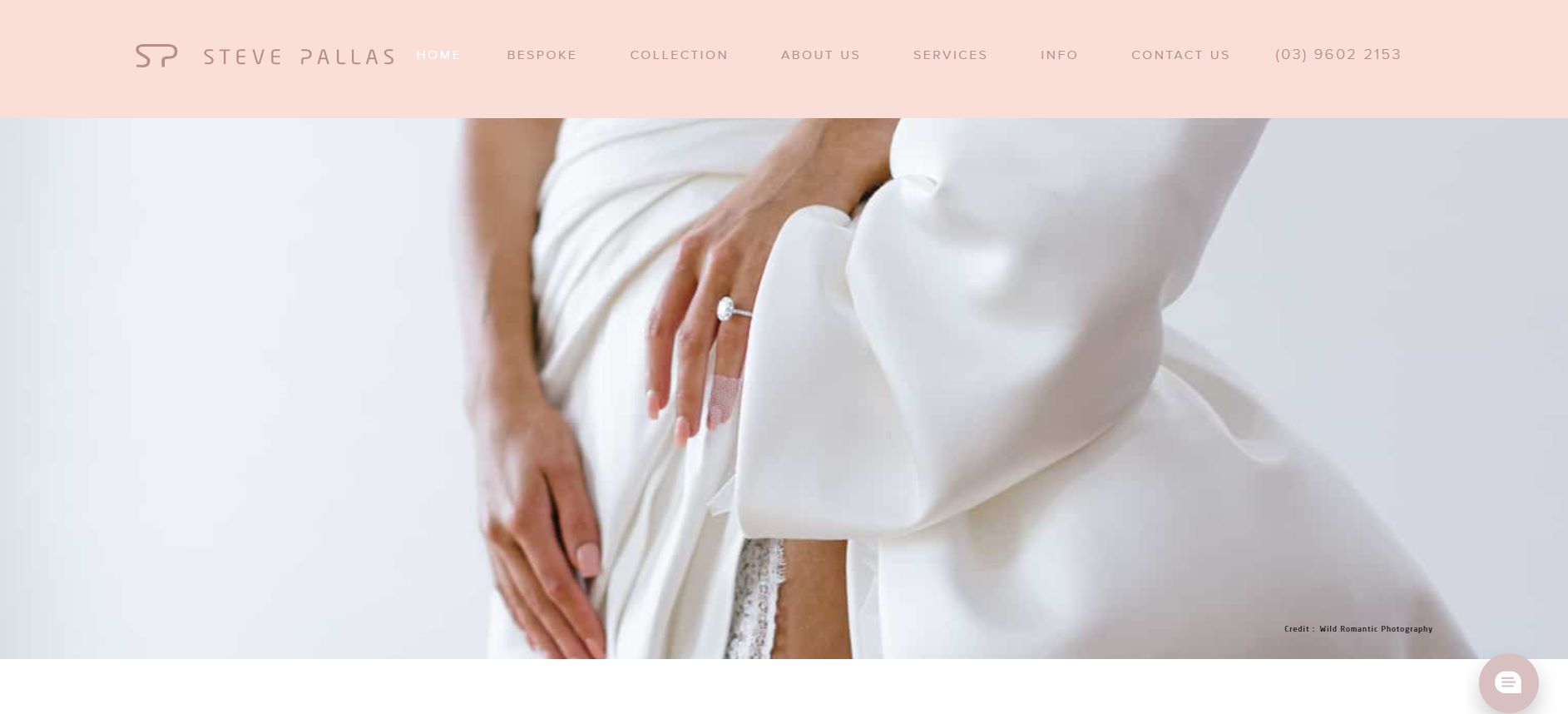 (03) 9602 2158
BESPOKE JEWELLERY IN MELBOURNE
Steve Pallas is known as the pre-eminent award-winning master jeweller in Melbourne. His workshop and showroom nestled in Melbourne's iconic Hardware Lane is the destination for fine bespoke jewellery. He knows the value of family and friendship. He understands the relationship with jewellery and the special occasions that define your lives. Steve Pallas loves what he does, and he embraces your milestones with knowledge, integrity, passion and expertise while offering an intimate jewellery experience for his clients.
An engagement ring is a timeless symbol of love and commitment. And for the rest of your life, your carefully chosen bespoke engagement ring promises to be a constant reminder of the romance behind your unique journey together.
Whether it's an elegant and perfectly classic solitaire diamond, a delicate three-stone trilogy, standout halo engagement ring or your own custom diamond design, at Steve Pallas Bespoke Jewellery, you are certain to find the perfect diamond engagement ring in Melbourne that reflects your unique style and is a suitably scintillating symbol of you and your partner's endless love and commitment to one another.
While the round brilliant cut engagement ring is a definite classic, it all depends on your own personal preferences as to which type of engagement ring in Melbourne will best reflect your personality and make a style statement that is uniquely yours. Apart from the fact that Steve Pallas Bespoke Jewellery can help you get an architecturally beautiful round brilliant cut diamond engagement ring, they can also help you get an engagement ring of any other cut of your choice, including emerald cut, cushion cut, oval cut, pear-shaped, and radiant cut just to name a few.
Round-cut diamonds have 58 facets that reflect an incredible amount of light, making this shape the most brilliant. Over 75% of all diamonds sold on the market today are round brilliant diamonds. However, this shape can also be one of the most expensive cuts, not only because of its popularity but because much of the diamond is lost during the cutting process.
Our collection of the most sought-after diamond engagement rings in Melbourne are made in your choice of the purest platinum, the finest 18kt gold (including our nickel-free 18kt white gold) and features only the finest sourced conflict-free diamonds that are synonymous with the Steve Pallas Bespoke Jewellery brand. Each impeccably handcrafted engagement ring has been created with one intention – to dazzle the person who the unique creation was meant for and to be a suitable reflection of the enormity that comes with making a lifelong vow to the one you love.
DESIGN YOUR OWN BESPOKE ENGAGEMENT RING
BESPOKE JEWELLERY DESIGN IS WHO WE ARE, AND IT'S WHAT WE DO.
Designing your own engagement ring is an exciting and memorable process. It's a way for you and your loved one to share something totally unique and one-of-a-kind, a true symbol of your love. Our design process brings you directly in contact with our award-winning designer and master jeweller, Steve Pallas. He'll guide you through every step of your custom engagement ring design process.
FIRST, YOUR VISION
You can start by selecting an existing style from our showroom or by submitting something totally unique and custom. We recommend bringing in any engagement ring images, sketches or inspiration to help us understand your vision. From here, Steve will assist you with any questions you may have during the custom engagement ring design process. He'll help you along the way, making sure your bespoke engagement ring turns out exactly as you envisioned. Through the help of personalised sketches and a custom 3D CAD, we'll ensure that your piece meets your every expectation.
During your consultation, Steve will draw a rough sketch based on your ideas and give you a price guide accordingly.
You can also easily get started designing your own engagement ring by using the Ask Question button on any of our pages. This will send a direct message to us, and we can answer any of your inquiries. You can send us a rough idea of the shape, carat weight and budget that you have in mind.
NEXT, WE SOURCE
We source the finest GIA Certified Diamonds, and while the 4Cs and certificates are an important consideration, every diamond that goes through Steve Pallas Bespoke Jewellery is personally inspected by Steve to ensure the certificate correlates to the diamond, has the correct diameter to weight, compares good or bad clarity grades, ensures bright and lively cuts, has the perfect depth percentage, and the best weight to value. Sometimes fluorescence has an adverse effect. Other times it helps.
We know everything there is to know about finding the best diamonds, and it's in our best interest to ensure you are completely satisfied with yours. Steve is an expert at finding the best quality and the right value in diamonds whilst maintaining the highest and strictest standards. He'll work directly with you, focusing on the quality you want and the budget you set.
WE CREATE
Once your order is placed, and we know your vision, we will create a 3D CAD Image (Computer-Aided Design). A CAD is used to create, modify, and optimise your bespoke engagement ring design. This cutting-edge technology gives you a clear vision of the exact dimensions of your engagement ring, ensuring a precise manufacturing process whilst giving you the option to alter your piece until you are satisfied.
THEN, WE REVIEW
Envisioning your jewellery is sometimes not enough, so we create a 3D wax model of your design to allow you to see, touch and try it on. This process isn't always necessary but is an option if you are still unsure of the finished product.
FINALLY, WE BRING IT TO LIFE
After your approval, our expert jewellers start handcrafting your design. First, we cast or handmake your bespoke engagement ring in the precious metal of your choice. We then handset all diamonds and gemstones on premises by our in-house expert gem setter. And finally, we emery, hand-polish and clean to give your bespoke engagement ring its final finish.
DIRECT UPDATES FROM YOUR JEWELLER
Once we start handcrafting your ring, you have the option to receive direct messages of every step of your bespoke engagement ring process. With this feature, our master jewellers capture the progress of your ring throughout the manufacturing process and will send it straight to you. You'll watch the journey as our craftsmen bring your beautiful custom engagement ring to life.
About MDTdesign & our experienced Jewellers
Are you looking for a Melbourne jeweller to make you a gorgeous handmade diamond engagement ring that is unlike any other you've ever seen? Do you want something stylish and sophisticated? Unique and edgy? Classic and timeless? Whatever your heart desires you must come meet me and my team of diamond graders, jewellers and designers at MDTdesign. We have been handmaking our diamond jewellery since 1981 and every piece of jewellery is made in our on-site Collins Street Jewellery workshop in Melbourne located behind our boutique in the heart of Melbourne's CBD and pride ourselves on bringing your dream ring to life!
At MDTdesign we supply our stunning diamonds for custome engagement rings, wedding rings, pendants and earrings all right here in our Melbourne CBD jewellery store. All of our Diamonds are GIA Certified. and is 100% Australian-made with your choice of using Australian diamonds.  Choosing to handmake our jewellery the old fashioned way instead of mass producing or casting our jewellery is what sets us apart and makes us one of the best jewellers, jewellery designers and jewellery stores in the city focusing on not just the quality of our diamonds, but the pieces they are set into. Our Award winning jewellery spanning over 25 years is one way we can show off our talent.
Let some of Melbourne's best Loose Diamonds Wholesalers find you the perfect Gem.
There may be many jewellery stores around, but none are like MDTdesign. Our bespoke jewellery collection will take your breath away, from engagement rings and diamond rings to men's wedding rings, diamond bracelets and more, we have something to suit every taste. And if not, let us custom design something special just for you.
Cerrone Jewellers - Loose Diamonds, Wedding & Engagement Rings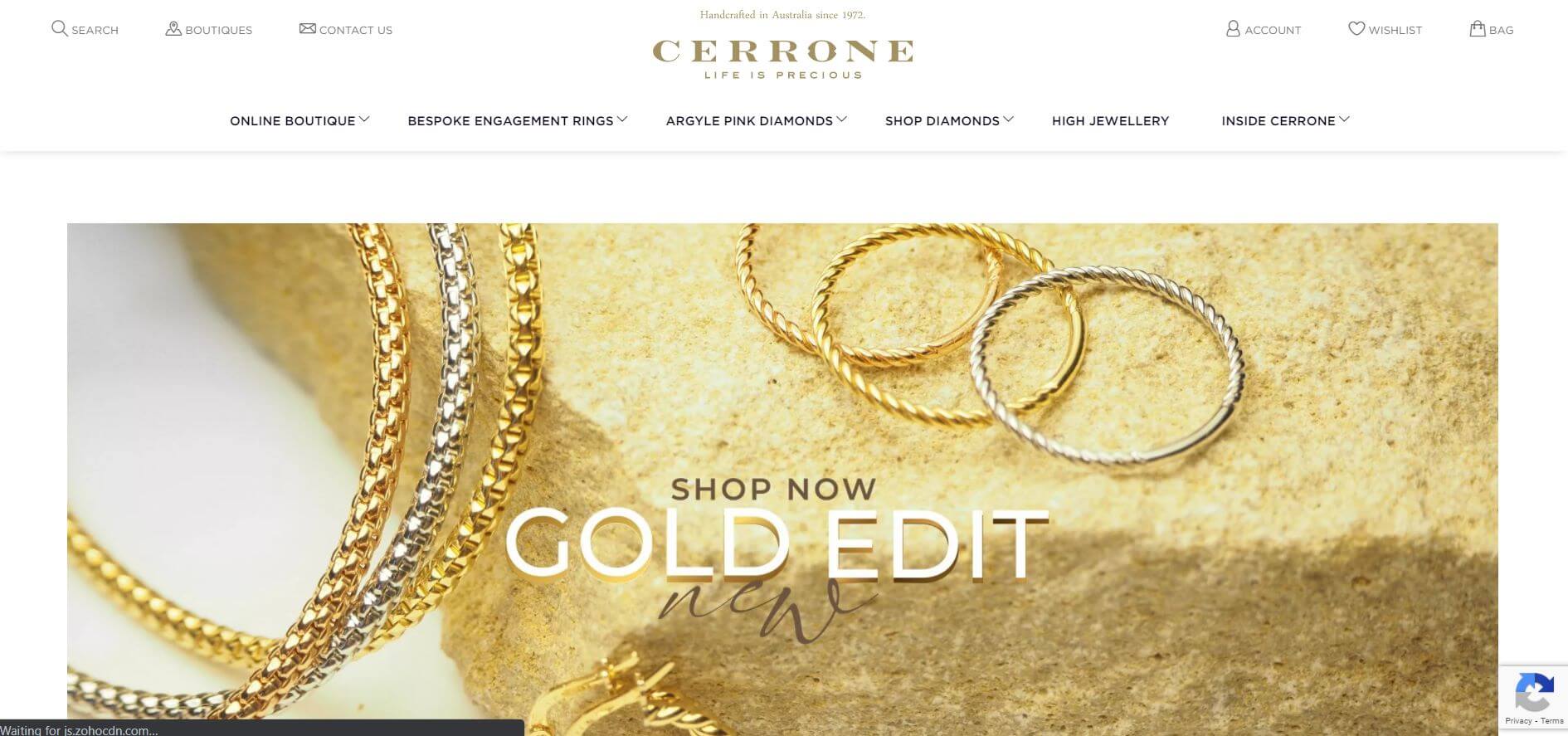 03 9671 3288
Cerrone diamonds are brilliant, scintillating and symbolic. Our diamonds are GIA certified, with care and professional vigilance observed from the moment they are unearthed until the time they are offered for sale. Capture forever with an ethically sourced diamond to suit you.
With a high-calibre of diamonds its evident in the continual satisfaction of customers, our reputation as an industry leader and the first jeweller in the country to be awarded "The Supreme Diamond Award" by De Beers.
Cerrone jewellery & diamonds are crafted from an exquisite blend of white diamonds and natural Australian pink diamonds. Sourced from the rugged East Kimberly region in Western Australia, these rare diamonds are a gift of exclusivity.
OUR STORY
At the heart of Australia's leading jewellery house is a family love story of passion and vision.
HUMBLE BEGINNINGS
Born in Lanciano, a small village on the east coast of Italy, Nicola Cerrone immigrated to Australia when he was 12 years old. Following his schooling, he was employed as an apprentice to a master jeweller in Sydney's central shopping district, thus igniting his passion for what would become his life's work.
THE OPENING
Cerrone travelled the world and learned from masters and artists throughout Europe before opening his flagship store in the backstreets of Leichhardt in 1972.
THE EXPANSION
Word spread of Cerrone's work, and he garnered a loyal following for his craftsmanship. Within five years, his workshop grew from two to 20 employees, and he now operates the largest handmade jewellery workshop in Australia.
BESPOKE SUCCESS
In 1991, Cerrone was commissioned by the Argyle Diamond Mine to design and execute the largest diamond necklace ever made in Australia. The brief from Argyle was to create an exhibition piece for investors. Cerrone's answer was to craft what would become known as the Million Dollar Necklace (right), an awe-inspiring piece that includes hundreds of cognac, champagne and white diamonds, totalling an unprecedented 230 carats.
THE ACCOLADES
In 1998, Cerrone created the Elizabethan Ruff, set with 559 round brilliant-cut diamonds. Each diamond is bezel-set to a radiating platinum frame which fastens with hinge joints and an invisible clasp. The impressive piece earned Cerrone the 1998 De Beers Diamonds International Award, presented in Paris – an event that jewellery insiders have nicknamed the "Oscars of the jewellery industry".
THE AWARDS
In recognition of his success in Australia, Cerrone received the Key to the City (il Frentano d'Oro) in his hometown of Lanciano Abruzzo, Italy. The award celebrates individuals who have succeeded abroad and made a positive difference to the arts and the community. Nicola also became an ambassador of the Abruzzo region, which he still holds today.
Whilst celebrating this honour, Cerrone launched 'Passione', a collection dedicated to the region in Italy.
45 YEARS
Over the past 45 years, the business has cemented Itself as an industry leader and is highly regarded for Its craftsmanship and reputation for design excellence. At the core of Cerrone, philosophy Is a focus on creating unique, handcrafted designs using only the finest materials, which push the boundaries for Its clientele In design and customer service. Cerrone launched Its first boutique outside of Sydney, located in St Collins Lane, Collins St, In Melbourne CBD.
Bespoke Engagement Rings
With unlimited appointments, your personal diamond consultant will be with you every step of the way through your bespoke journey. We are at your service. These steps involve assisting you with diamond knowledge, quoting, designing and sketching, goldwork and the final presentation of your ideal engagement ring.
To proceed with your desired choice of diamond and ring design, we require a 30% deposit to secure your diamond on your behalf and proceed with the making of your ring at our workshop. For bespoke engagement rings to be made, please allow 3-4 weeks.
Our boutiques showcase a wonderful display of bespoke engagement rings designed and made by Cerrone exclusively. For further information, please contact one of our boutiques to make an appointment with our highly qualified diamond consultants to assist you with your bespoke engagement ring.
Suzi Zutic - Loose Diamonds, Wedding & Engagement Rings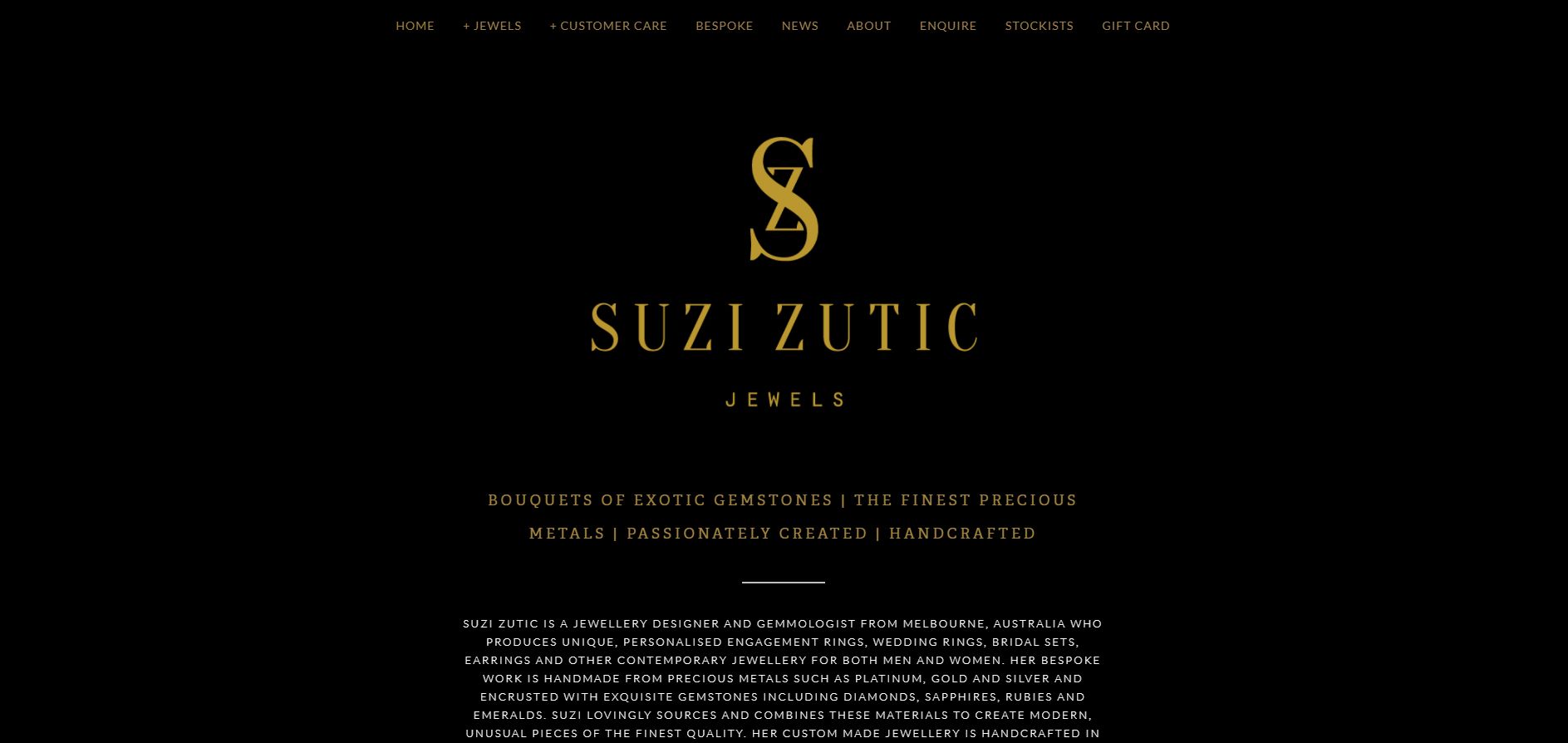 401 326 887
BOUQUETS OF EXOTIC GEMSTONES | THE FINEST PRECIOUS METALS | PASSIONATELY CREATED | HANDCRAFTED
Unusual wedding and engagement ring with an antique flourish. All jewellery is bespoke and can be personalised as required. Custom made bridal jewellery sets are also available upon request. They are made in Melbourne, Australia. 
SUZI ZUTIC IS A JEWELLERY DESIGNER AND GEMMOLOGIST FROM MELBOURNE, AUSTRALIA, WHO PRODUCES UNIQUE, PERSONALISED ENGAGEMENT RINGS, WEDDING RINGS, BRIDAL SETS, EARRINGS AND OTHER CONTEMPORARY JEWELLERY FOR BOTH MEN AND WOMEN. HER BESPOKE WORK IS HANDMADE FROM PRECIOUS METALS SUCH AS PLATINUM, GOLD AND SILVER AND ENCRUSTED WITH EXQUISITE GEMSTONES INCLUDING DIAMONDS, SAPPHIRES, RUBIES AND EMERALDS. SUZI LOVINGLY SOURCES AND COMBINES THESE MATERIALS TO CREATE MODERN, UNUSUAL PIECES OF THE FINEST QUALITY. HER CUSTOM MADE JEWELLERY IS HANDCRAFTED IN HER STUDIO IN MELBOURNE AND STOCKED BY JEWELLERY STORES AND BOUTIQUES ACROSS AUSTRALIA.
Suzi Zutic's jewellery is born of a varied and long-standing artistic career; as well as being a jeweller and certified gemmologist, Suzi is a qualified interior designer with a sound understanding of the principles of design. The pleasure she derives from the act of creating is evidenced by a large body of work which is expressive, eclectic, intricate and colourful. Her jewellery has been presented internationally and is currently stocked by galleries across Australia and New Zealand.

Suzi has a meticulous hand which allows her to indulge her penchant for detail and achieve a high level of craftsmanship. Her ongoing commitment to quality and technique has seen her undertake studies in gemmology, diamond grading and gemstone setting. This, combined with an interest in jewellery making throughout history, has resulted in work which draws on a diverse repertoire of techniques including enamelling, engraving, the ancient practice of lost-wax casting, stone setting and gem faceting.

Suzi's work has taken forays into the distant and not-so-distant past, using historical trends and practices as springboards for new pieces. Her creations are playful homages to forgotten forms and styles. Some of her jewellery is archaic-looking, using roughly shaped wax castings peppered with small jewels or sometimes adorned in bare metal alone. Other jewellery has drawn on past religious and royal opulences, featuring impressive stones or hinting at ornate religious iconography. Other pieces have taken inspiration from antique jewellery fashions. Her more recent work has seen a move to harder lines and more geometric shapes as well as what seems to be examples of pure improvisation based on the materials themselves: the cut of a gemstone might inspire a ring or multiple gems might be grouped into a bouquet of stones. What ties it all together is an undercurrent of mystery and rarity, fine craftsmanship and the sumptuousness of the materials
Perfect Diamond - Loose Diamonds, Wedding & Engagement Rings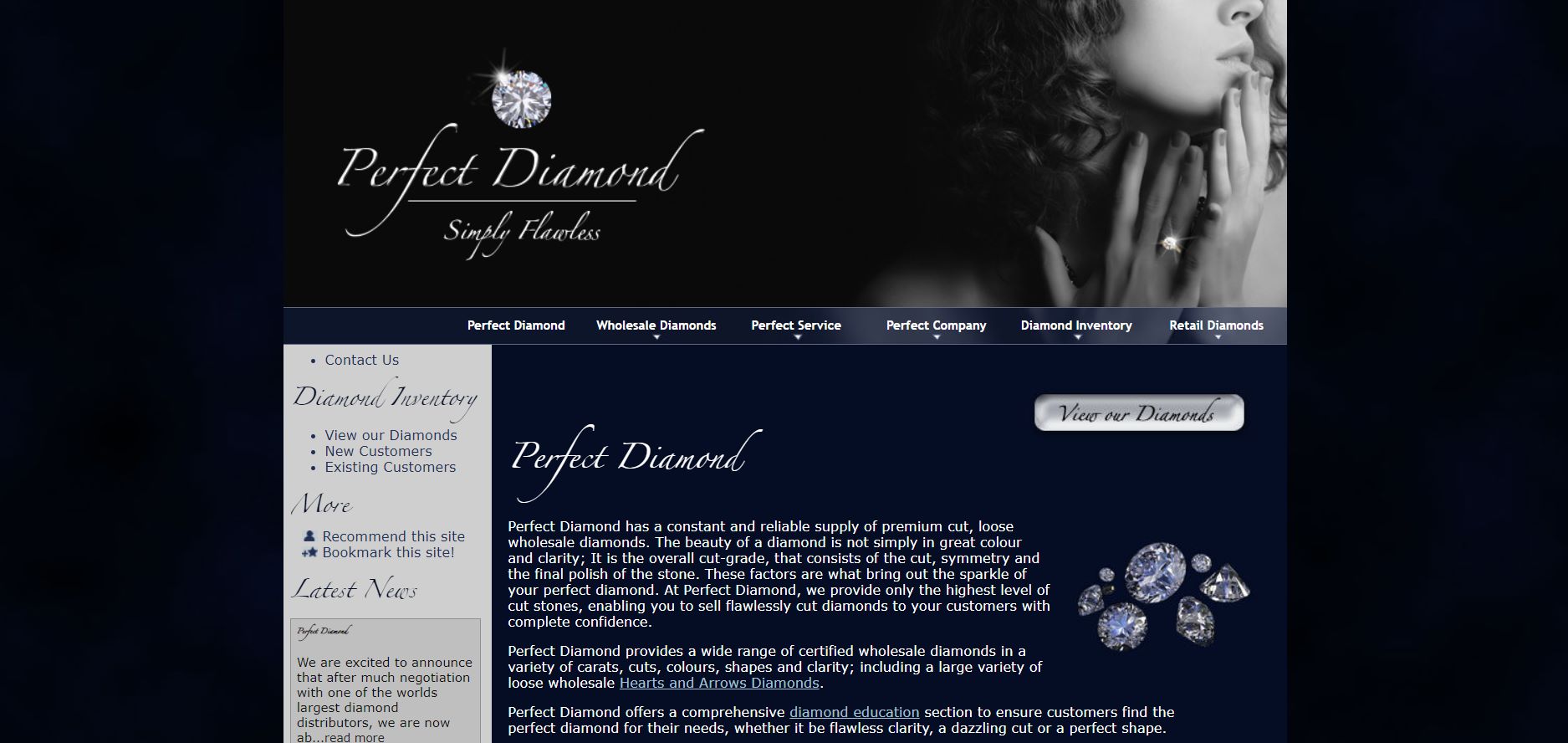 0432 942 948
Perfect Diamond has a constant and reliable supply of premium cut, loose wholesale diamonds. The beauty of a diamond is not simply in great colour and clarity; It is the overall cut grade that consists of the cut, symmetry and the final polish of the stone. These factors are what bring out the sparkle of your perfect diamond. At Perfect Diamond, we provide only the highest level of cut stones, enabling you to sell flawlessly cut diamonds to your customers with complete confidence.
Perfect Diamond provides a wide range of certified wholesale diamonds in a variety of carats, cuts, colours, shapes and clarity, including a large variety of loose wholesale Hearts and Arrows Diamonds.
Perfect Diamond offers a comprehensive diamond education section to ensure customers find the perfect diamond for their needs, whether it be flawless clarity, a dazzling cut or a perfect shape.
Wholesale Diamonds Online Inventory
At Perfect Diamond, we pride ourselves on flawless service. As a way of further developing this service, we now offer our full range of certified wholesale diamonds through our online diamond inventory. Join us today and become part of the Perfect Diamond family.
Wholesale Diamonds
Perfect Diamond is an Australian-owned and operated wholesale diamonds supplier based in Brisbane, Queensland.
Perfect Diamond has built strong ties with the largest diamond distributors throughout the world. By maintaining these close relationships with overseas partners, we are able to provide you with a continual supply of premium loose wholesale diamonds in every shape, carat, colour, cut and clarity.
Each wholesale diamond is certified by the most respected gemology institutions in the world, including GIA, AGS Laboratories and HRD.
Perfect Diamonds' strong overseas relationships bring you flawlessly cut wholesale diamonds at the lowest prices available. By keeping overheads low, savings are passed on to you and your customers.
What We Do For You
Perfect Diamond's main goal is to help you, the retailer, sell the perfect diamonds to your customer's needs. We provide the highest quality service before, during and after your purchase. Our team is always here to help with any question or order you may have, small or large, so you can provide better service to your customers.
At Perfect Diamond, we encourage your feedback as a way of further developing our service so we can better serve you in the future.
With our extensive range of loose wholesale diamonds, Perfect Diamond is confident that we can meet any customer's diamond needs. If you cannot find the particular stone you are after, please email us, and we will endeavour to source it for you promptly.
Our Vision
Perfect Diamond was founded by Shael A. Dawson, who has more than 10 years of experience in the retail jewellery industry. Shael's vision to look beyond the ordinary has enabled him to establish himself as a market leader in the diamond merchant arena.
As part of his commitment, he has successfully completed both the diamond grading and advanced diamond grading courses with the GAA (The Gemmological Association of Australia).
Shael's passion for diamonds developed as a result of watching clients react to buying and receiving high-end jewellery.Premium loose diamonds
"Watching customers' faces light up after seeing the Perfect Diamond for an engagement ring or a magnificent stone set in a necklace for an anniversary gift gave me a wonderful sense of satisfaction. I realised that I wanted to provide retailers with that same sense of pleasure every time they sold a diamond.
I wanted to be able to give customers a flawless stone every time and know that they would have a Perfect Diamond forever.
Over the years, I have managed to build strong ties with diamond distributors and am now able to provide nothing but premium wholesale diamonds.
Why buy a lower grade diamond when you can offer your customers a superb cut wholesale diamond? I am confident that you will surprise yourself with our flawless range of diamonds at competitive prices."
Our Philosophy
Perfect Diamond's philosophy is a simple one, to deliver premium diamonds of superb proportions, symmetry and polish.
Accompanied with unsurpassed expertise and value, Perfect Diamond strives to deliver unparalleled service; Perfect Diamond has a commitment to the highest values of honesty, integrity and accountability.
Joseph George Jewellery - Loose Diamonds, Wedding & Engagement Rings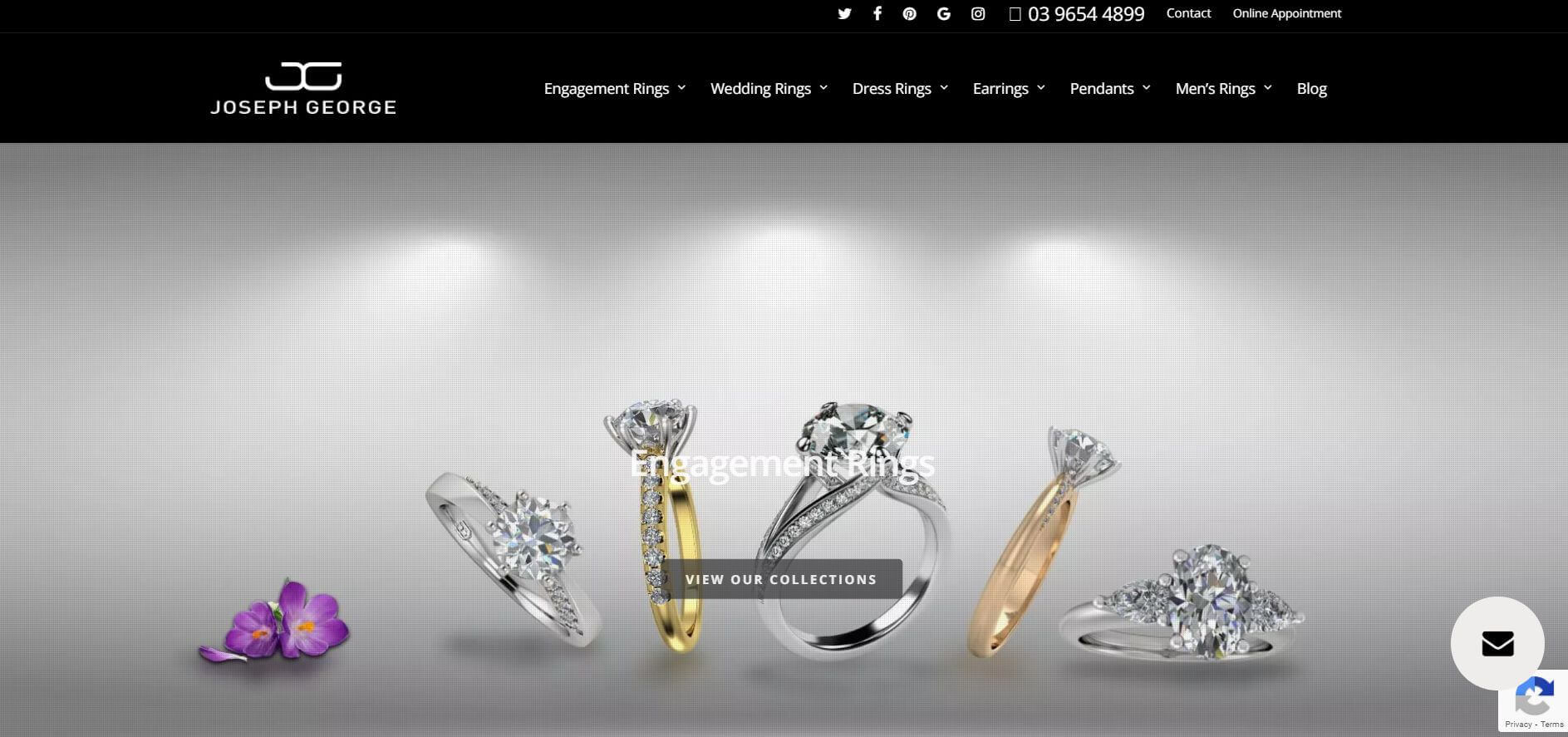 03 9654 4894
Our Personalised Approach
At Joseph George Jewellery in Melbourne CBD, we offer you one on one, personalised service through direct interaction with the designer and jeweller, Joseph George.
Finger size
Envision your Dreams with Joseph George
During the design process, we will work with you collaboratively to design a piece that reflects your individual style. After all, your complete satisfaction is our ultimate goal. We will provide you with the guidance of an educated jeweller to ensure your custom piece of jewellery truly reflects your inspiration.
At Joseph George Jewellery in Melbourne, we are certain that you will become a customer for life. Our objective is to provide you with a stunning piece of jewellery inspired by your visions and completed with our specialised skills.
Propose with a ring as unique and beautiful as the person you love
Our custom-made engagement rings come with a lifetime guarantee on materials and craftsmanship. With over 40 years of experience, we are the perfect choice for your perfect proposal.
Visit our Melbourne store to view our wonderful custom-made engagement ring options. We have a wide range to choose from, including diamond and sapphire solitaires, three-stone styles and much more.
Melbourne custom-made engagement rings are designed through collaboration with you.
Regardless of which style appeals to you, the best way to get exactly what you are after is by working with Joseph George, a second-generation jeweller with more than 40 years of experience. Joseph works intimately with every couple during the design process to share his extensive knowledge and love for the process. This collaboration is a key part of what we do – it means that your handmade engagement ring will look like a dream that's been brought to life. We also offer modern designs for inspiration and new ideas.
To get started on your journey towards the perfect engagement ring, browse our selection above or get in touch with Joseph George today. If you are searching for men's wedding rings, we can expertly design anything to suit your needs. Our personal collaboration process will leave you with a beautiful and unique creation to cherish forever.
Bespoke Wedding Rings For Couples In Melbourne
Start your new life together with wedding rings that truly capture eternal love.
From classic to modern, Joseph George's wedding rings are as unique as your relationship. Communicate directly with Joseph to discuss your preferences and start the collaboration process today. Make an appointment here.
Wedding rings to capture your love.
A piece of jewellery marks a special occasion or turning point in your life, and there's no better example of this than the rings chosen for your wedding – which will truly be one of the most important days of your life.
The exchanging of classic wedding rings and bands is more than just the giving of gifts between a newlywed couple. It signifies the coming together of two people, eternal love, and the start of a beautiful new chapter.
Your wedding rings should reflect just how big a step this really is. Just as importantly, men's wedding rings should represent the specific qualities of the wearer and tie in with the personality and taste of you and your loved one.
Custom-made wedding rings are as unique as your love.
No ring can compare to the person that you have fallen in love with. But it should encapsulate a part of their story and passion.
With a custom-designed wedding ring, we bring your dream ring to life.
Bespoke wedding rings made to order
A ring shouldn't try to stand in for the person that you have decided to spend the rest of your life with. But a custom-made design can keep a part of their essence with you at all times. Whether you are after a specific type of metal such as platinum, or a certain arrangement of precious stones, there's no reason why you shouldn't be able to have exactly what you want when it comes to style.
Of course, wedding rings aren't the only tokens of love associated with marriage. At Joseph George Jewellery, we also create custom-made engagement rings and, further down the line, eternity rings to solidify your commitment. These three items aren't always worn together, but it's important for them to work as a trio – even if that's only for special occasions. Our handmade jewellery and custom designs allow you to make sure that all three rings complement each other. This may not be an issue if all three pieces are being designed by one jeweller, but if your engagement ring is a family heirloom, going down the custom route is the only way to ensure your wedding ring works alongside it.
Simon West Fine Jewellery - Loose Diamonds, Wedding & Engagement Rings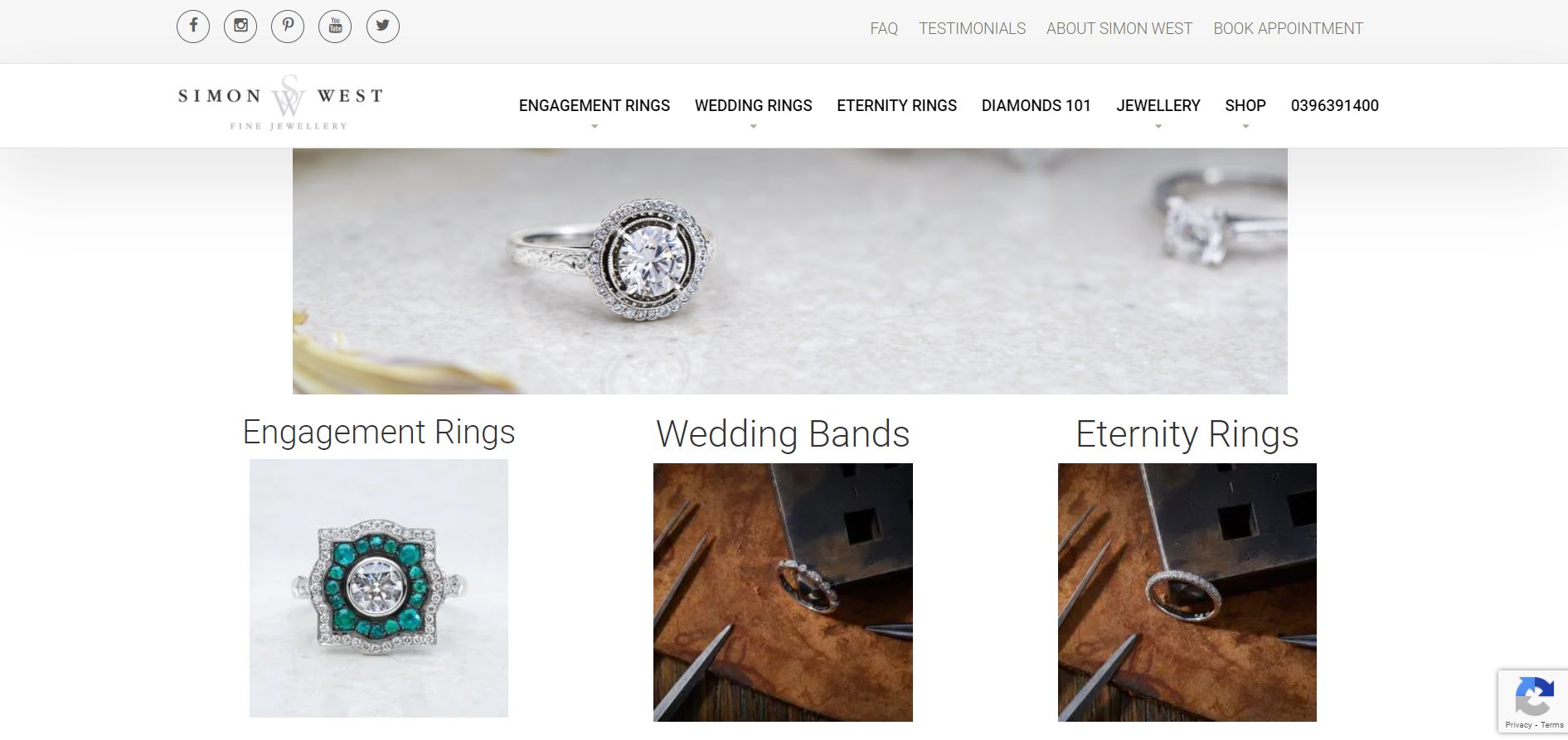 03 9639 1404
Who is Simon West: An experienced Jeweller?
Simon began his jeweller career as a Gold & Platinumsmith apprentice back in 1993 under Michael Cook in Cobram/ Barooga on the Murray River. With vision and ambition in his eyes, he decided to move to Melbourne in 1995 and learn more about the business employed at Bennettswood Jewellers in Burwood for four years. The goal was to learn as much as he could before branching out on his own where he knew he could add his personal touch and make special moments even more meaningful. Simon opened the doors to Simon West Fine Jewellery, located at the Capitol House Building on Swanston Street back in October 1999, but he had always dreamed of moving his workshop to the famous Manchester Unity Building on the Corner of Collins & Swanston street. Why? This building is the historic home of Melbourne's finest jewellers. In 2002, he realised his dream, and he set up the jewellery workshop and showroom in this building & never looked back as he is still located there today.
Diamonds are a Man's Best Friend.
Simon ethically sources the diamonds embedded in all engagement and wedding rings from all corners of the world, including Canada, Mumbai, Israel and Belgium. Simon maintains a strong focus on diamonds that are cut to perfection with the goal to unlock the sparkle within for maximum brightness.
Simon has a passion for design and quality. He is so detailed and passionate that he developed a collection of diamond engagement rings that are 100% made by hand, giving them longevity and the potential to one day become a family heirloom. Simon becomes frustrated that less than 10% of engagement rings sold across Australia were made and are still not made by hand these days. Simon saw this as an opportunity to bring back traditional goldsmith and jewellery making back to the modern era, offering a unique, individual and truly special dimension to his clients.
Designing luxurious fine jewellery is very fulfilling, and Simon loves creating it. He loves visioning new & original rings and jewellery ideas. Although he designs contemporary designs, his favourite style is Art Deco-inspired designs.
The Diamond Ring Showroom & Store
Located in the Manchester Building, the Simon West Jewellery showroom has an extensive range of classic designs that are one of a kind. Simon creates ladies and men's jewellery to ensure life's milestones are celebrated as well as cherished and remembered every day. Whether it is an Engagement ring, something to celebrate a special birthday, a wedding anniversary piece or just simply because you got a promotion at work. Whatever your story might be, he is here to be a part of it.
The Gold & Platinum Smiths at Simon West
Simon has two highly skilled Gold & Platinumsmith's making jewellery in his workshop, which is visible from the showroom. It takes years of commitment & passion for becoming a highly skilled Gold & Platinumsmith. He feels very lucky to have two of the best working alongside him in his boutique workshop, and the quality of the jewelled masterpieces that come out of the workshop is of a very high standard.
The best part of his job is the 'Big Reveal'. He loves showing off a new piece that he has created for the customer for the very first time. It brings great satisfaction knowing that he has met or exceeded their expectations. He builds almost 200 Engagement rings by hand each year &, on average, he only has to remake one of these.
HandMade Diamond Engagement Rings Melbourne
Custom Engagement Rings Melbourne
View our extensive collection of handmade engagement rings in the heart of Melbourne. We offer high-quality custom made solitaire in all shapes and sizes and wedding rings in white rose and yellow gold. Browse the custom-designed engagement rings of desire collection that is on display at Simon West Fine Jewellery. From contemporary rings to art deco bands, whether you have a design you want to create, Simon and his team of jewellers will craft the ring of your dreams.
Surprise your soon to be a life partner with a uniquely designed luxury engagement ring, ethically sourced diamonds and a lifetime guarantee on all workmanship. All our beautiful engagement rings are made right here in Melbourne's historic diamond district situated in the Manchester Building on Collins Street. Book your free engagement rings consultation with Simon West today.
Wedding Rings Melbourne
Handmade Wedding Bands
View our collection of premium Wedding rings in Melbourne, handcrafted by Simon West fine jewellery. You can custom design, and Simon West will make it to order. Choose between white gold, platinum, diamond for both men and women! Visit our showroom of custom wedding rings in Melbourne CBD to seal the deal with the perfect fit wedding ring from Simon West. We are so confident that we know you'll love our wedding rings.
Megan Webb Jeweller - Loose Diamonds, Wedding & Engagement Rings
460 928 137
Megan Webb Jeweller is a Melbourne manufacturing jewellery studio run by Megan Webb and Jenna Steele, who, between them, have over thirty years of experience hand-making fine jewellery. Custom designed and handmade in Melbourne. Each piece can be personalised to suit your needs and budget. Where possible, we use antique and recycled diamonds, conflict-free Australian and Canadian diamonds, ethically sourced gemstones and pearls and recycled gold, silver, platinum, and palladium.
We specialise in commitment jewellery, including engagement and eternity rings, as well as women's and men's wedding rings and bridal jewellery. One of a kind personalised jewellery, including earrings, necklaces, diamond and coloured gemstone rings and men's jewellery, can be designed and crafted to any specifications.
PROCESS
Manufacture
Each item we create is custom designed and handcrafted to our client's specifications, and nothing is mass-produced. We understand that our clients like to know what to expect before commissioning a piece to be made, and so below is some basic information about our process.
With few exceptions, everything is handmade in our Melbourne studio. During the initial consultation, we will discuss your ideas and requirements. From there, we will work together to source the materials and develop the design. Then manufacture can begin! You will be involved in every step of the process from start to finish.
Timeframe
From the initial consultation to completion usually takes 4-12 weeks. This includes working with you to finalise the design, making any necessary adjustments and sourcing the right materials to make sure you are completely happy with the outcome.
Pricing
Whilst it isn't possible to give an exact quote without knowing the details of your project, we are always happy to discuss what can be done within your budget.
Initial consultations are free. If you do wish to proceed and have designs drawn up to scale, there will be a $300 design fee that is deducted from the cost of your piece if and when the quote is accepted.
MATERIALS
Environmental Impact
There are, of course, many stages in the process where it is important to minimise waste and ensure best practices, but here are some of the direct ways in which we go about reducing our impact.
Antique Diamonds
These stones have been mined and cut by hand many years ago and re-introduced into the supply chain. Because they are cut by hand, each and everyone is completely unique.
Recycled Diamonds
These stones are modern cut stones that have been previously set in jewellery and re-introduced to the supply chain. Every recycled (including antique) diamond helps to reduce the demand for future mining ventures.
Certified Origin Diamonds
These are Australian and Canadian Diamonds with certificates of origin, ensuring that they are conflict-free.
White diamonds are the most readily available, with champagne, cognac, yellow, pink, blue and purple available in limited quantities of Australian certified stock.
Gems
We are constantly working with suppliers and communities to find gems that are sustainably and ethically sourced and cut.
James Alfredson Jewellers - Loose Diamonds, Wedding & Engagement Rings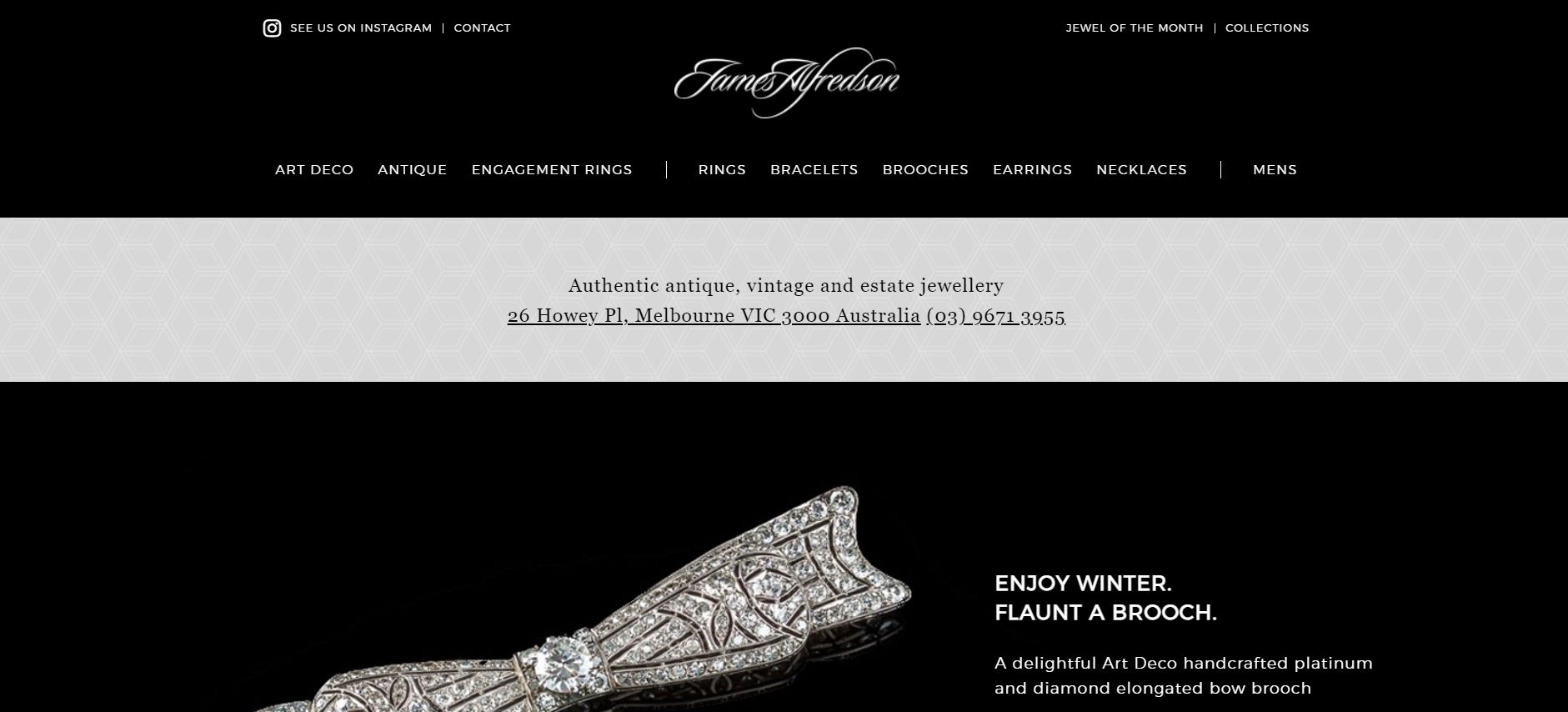 03 9671 3952
James Alfredson, nestled in historic Howey Place in the heart of Melbourne's famed shopping precinct, is a family-run jewellery boutique specialising in authentic antique, vintage and estate jewellery, including engagement rings, from Georgian to Art Deco to the 1960s.
James, with his background in archaeology and history, has a deep passion for and appreciation of period jewellery. Before establishing his own boutique in October 2008, he spent ten years after graduation from university involved in different aspects of the antique and fine jewellery trade while acquiring his gemological, diamond grading and valuer's qualifications. He has a keen interest in the identification and authentification of jewellery from the various periods –Georgian, Victorian, Art Nouveau, Edwardian, Art Deco and Retro. His ongoing objective is to collect a stock of exciting jewellery mainly from the Georgian period to the 1960s. A selection of his current collection is featured on this website…
James Alfredson's boutique provides personalised service with the opportunity to acquire distinctive and desirable antique, vintage and estate jewellery to complement today's fashions and lifestyles.
Loose Diamonds, Wedding & Engagement Rings FAQs
Diamond buying requires a little planning. But, follow along with these guided steps, and you will be able to find the perfect diamond in no time.
Set a budget: the most important part of buying a diamond is setting a budget and never exceeding that budget. Diamonds are a symbol of commitment, not a measure of spending capacity.
It is important not to forget that and never pressure yourself into spending more than you are comfortable affording. You never want regret, in the present or future, to be part of your engagement story. To set a budget, do very high level, preliminary research about the average diamond engagement ring purchase price. See if that's above or below where you may want to be.
See what going up or down in carat gets you. You need to establish a preliminary baseline to budget relative to it and properly set your budget. Otherwise, you'll find yourself changing your budget around, and this will get frustrating. If your budget is on the lower end, we recommend looking into lab-created diamonds. Lab-grown diamonds are chemically, physically, and optically the same as natural diamonds. Access our Lab Diamond Buying Guide for more information.
Timing: give yourself about 1 month, plus or minus a couple of weeks. You're not expected to become a diamond expert, and diamonds are something you buy every day. Therefore, don't obsess over them by spending months researching every single aspect -- it'll drive you crazy.
Also, taking too long may result in questioning your decision and put off your proposal longer than you should wait. It's best to purchase a diamond when you're research is fresh in your mind, and you're not learning about diamond a little per week. Odds are you'll forget many of the things you learned early on, which are often the most important parts of diamond research. Also, give yourself time. A ring takes about two weeks to make unless your purchase a preset ring. Don't cut it close and stress yourself out.
Shape first: The first and most visual consideration is the diamond's shape. The most popular shape is the brilliant round cut. If, however, you know they prefer another shape, definitely go in that direction. It is never a good approach to be selecting between multiple shapes at the same time because the styles, pricing and consideration all vary so much. The diamond's shape will really set the standard for the style and look. Some rings are only compatible with certain shapes, so we recommend confirming that first.
The 4 C's: Once your shape is final. You'll need to read up on the 4 C's and beyond the 4 C's. Carat, Cut, Color and Clarity are the most visual characteristics of a diamond. That is why they get the most importance. They also are the factors that set the diamond's price. You don't have to be an expert, and you'll never be grading a diamond. You simply need to understand them enough to decide on the diamond you may want to choose.
The best way to understand the relationship between the 4 C's and a diamond's price is as follows: Think of the C's as levers. Unfortunately, with diamonds, you can't have it all. So carat is typically the lever on your left, and Cut, Color and Clarity are levers on your right. If you pull the carat lever up, you may need to pull the other C levers down (and vice versa), so the diamond works with your budget.
Once you've pulled the levers up and down, you'll ultimately find the right balance, which will lead you to select a diamond. Be careful though, these are very sensitive levers, meaning that small changes in diamond attributes are large changes in price.
Selecting The Right One: Finally, once you've determined the right combination of diamond attributes for you, you'll probably notice that you still have several options remaining. Well, now what? Don't always go with the least expensive. Diamond suppliers know their inventory. They price diamonds a certain way for a reason.
If the price seems too good to be true, there's a reason for that. Second, consider comparing the attributes beyond the 4 C's such as fluorescence, measurements (length to width ratio), table, depth, polish and symmetry. These factors will help you. Beyond that, we highly recommend consulting a gemologist, ideally one that graduated from an institution such as GIA. 
The 4Cs of diamond quality will help you learn how to buy a diamond. This basic knowledge will unlock the mystery of a diamond's quality and help you understand a diamond's value and price.
Diamond Colour

 In most diamonds, the term refers to the absence of colour. The less colour in the stone, the more desirable and valuable it is. Some of these differences are not visible to the naked eye but directly impact the overall quality and price of the stone.

Diamond Clarity

 measures the amount, size and placement of internal 'inclusions' and external 'blemishes.' Grades run from 'Flawless,' with virtually no imperfections, to 'Included,' which contain a significant number of imperfections.

Diamond-Cut

 does not refer to a diamond's shape but the proportion and arrangement of its facets and the quality of artistry. The amount of brilliance, sparkle and fire in a diamond is determined by cut. Grades range from 'Excellent' to 'Poor.'

Diamond Carat 

refers to a diamond's weight. Generally speaking, the higher the carat weight, the more expensive the stone. However, two diamonds of equal carat weight can have very different quality and prices when the other three Cs are considered.
No matter how beautiful a diamond may look, you cannot see its true quality. Knowing more about the 4Cs of diamond quality will help you learn how to buy a diamond. The 4Cs provide you with the information you need to see the diamond's actual quality.
Diamond colour matters, but only to a certain point. The way we approach the 4Cs, we separate cut and carat weight from colour and clarity. Cut and carat are positive traits (you want to maximise as much as possible). Colour and clarity are negative traits that you want to make sure you don't notice when looking at a diamond. 
When it comes to colour, there is a line where you notice whether the diamond is clear or has a yellowish tint. Your goal should be to make sure you don't buy a diamond with a yellowish tint so low that you notice it. That line between yellowish and clear varies based on the shape of the diamond and the style set you are putting the diamond in. We get into that below.
Once the diamond looks clear to you, there isn't much to gain by spending more on a higher colour grade. Keep in mind that buying a diamond is a zero-sum game. If you spend more money by going with a higher colour grade than necessary, you will have to sacrifice size, brilliance or clarity. Is it worth doing that? Take a look at this challenge and decide for yourself.
A diamond is the hardest of all gemstones and is known for its extreme durability. To contribute to its longevity, it is advisable to take great care of your diamond jewellery, preferably by keeping each diamond creation separate and avoiding contact with other pieces.
Are Diamonds Indestructible?
There is a myth surrounding diamonds; they aren't indestructible. While diamonds are often described as being the hardest natural material on the planet, that doesn't mean that they aren't be scratched, chipped, or broken. So the expensive gem on your finger needs to be treated with care to prevent damage, even though it is pretty tough, and Noe's Jewelry has some tips that will help you avoid damage to your diamond.
Kinds Of Damage Diamonds Can Sustain
Diamonds are hard, but they can be damaged. It is possible to break or chip a diamond. However, breaking or chipping isn't the only way to damage a diamond. For example, you can damage a diamond with chemicals that cause it to look dull and cloudy or discolour the stone until it is professionally cleaned.
Be careful that you take off your ring when you are doing anything that could cause it to sustain damage. In some cases, you may damage the stone and the metal of the setting; and sometimes, rings can't be fixed.
If your precious ring suddenly loses its centre stone, you should call your jeweller and insurer straight away. However, other damages are more difficult to spot. Here are a few simple ways to gauge whether your ring needs repair.
Hold the ring close to your ear and tap it with your finger. If you can hear a rattling noise, this is a sure sign that something is loose and should be repaired.
Do a visual check for cracks or chips in your diamond. If anything appears different from when you bought it, consult your jeweller. If you still have the paperwork from when you purchased the diamond, compare your ring to the picture on the paperwork.
Take note if it becomes repeatedly snagged. If your diamond continues to catch on your clothes, consider the possibility that the claw isn't performing as designed. You may need to have the setting fixed or even redesigned.