On the hunt of Melbourne's Best Honeymoon Ideas and Packages?
After long months of preparing for your big day, it is very essential to have a very relaxing and one of a kind honeymoon once everything is over. And choosing the best destination to go is as hard as like other preparations. A destination that offers relaxation yet budgetly-friendly is what we all looking for.
These are just some of the beautiful attractions the East side of Australia has to offer, Western Australia offers an abundance of treasures waiting to be discovered and is the perfect place for your Australian self-drive honeymoon. We love Broome, situated in the North-Western part of Australia and Monkey Mia where you and your loved one can experience swimming with the dolphins together in a breath taking location.
To help you get started on your  hunt, we've rounded up our best honeymoon ideas and packages from right across Melbourne, Victoria.
Read on to discover where to start your search.
Add a header to begin generating the table of contents
Cruise away Honeymoon Packages Melbourne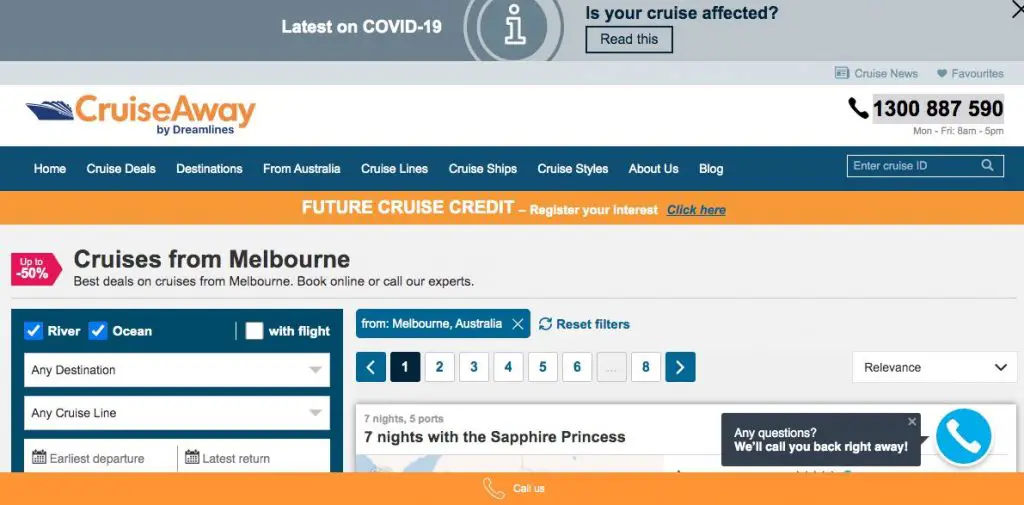 cruiseaway.com.au
1300 887 590
CruiseAway is Australia's premier online Cruise Travel Company dedicated to finding the perfect cruise holiday for every Australian traveller! WE LOVE CRUISING!
As one of the first online cruise travel agents, CruiseAway has been in business for 16 years specialising in everything to do with cruise holiday travel worldwide.
We believe there is a perfect cruise holiday out there for everyone, whether it's a weekend cruise to nowhere with friends, a family holiday to the South Pacific, a luxury river cruise in Europe or an adventure to Antarctica – we will find the best options at the best value for money.
WE CRUISE THE WORLD
CruiseAway offer the most extensive range of cruise itineraries online with a focus on cruises sailing from Australian ports around Australia, to New Zealand, and to the South Pacific.
CruiseAway also specialise in international cruise travel and offer Fly Cruise Tour & Stay with competitive rates on airlines, hotels, tours and transfers as well as the best cruise prices. Our experienced consultants can provide options to suit every taste and budget.
WE ARE FULLY LICENCED
CruiseAway is member of the Cruise Lines Association of Australasia (CLIA) and all our consultants are accredited cruise specialists with this organisation
CruiseAway is a fully accredited member of the Australian Federation of Travel Agents (AFTA Membership No. 11090)
CruiseAway are an approved participant in Australian Travel Agency Standards (ATAS Accreditation no. A11269)
Please be aware that some web sites offering cruises are not based in Australia and as such may not provide you with the same protection.
WE ARE PART OF THE WORLDS BIGGEST CRUISE TRAVEL AGENCY
CruiseAway is wholly owned by Dreamlines GmbH based in Hamburg, Germany.
Dreamlines are the leading online cruise travel agency in Germany, the biggest in Europe and the only online agency with a global footprint operating in 9 markets and with offices in Amsterdam, Nice, Moscow and Sao Paolo.
Dreamlines Australia Pty Ltd operates CruiseAway.com.au.
With this sort of global presence, we have access to expertise and deals that no one else can offer!
WE ARE YOUR PERSONAL CRUISE CONCIERGE
Cruise is the fastest growing holiday option in the travel industry, and there are so many deals, offers and announcements every day it's difficult to keep up!
Our cruise specialists are focused on everything that's going on in the cruise world, and we send out newsletters every week with the hot deals, latest special offers and new itineraries.
Your dedicated consultant will find out what type of cruise holiday you like and let you know when there are great deals and new itineraries are launched, so you don't miss a cabin on the most popular dates.
Meet Our Team. Click here to meet our team of cruise specialists and find out all about their experience. When you explore the website, you'll see recommendations pop up from this group of cruise fanatics! Want to know what our customers think of the team? Read our genuine Feefo customer reviews (Link will open in new window).
Flight Center Honeymoon Packages Melbourne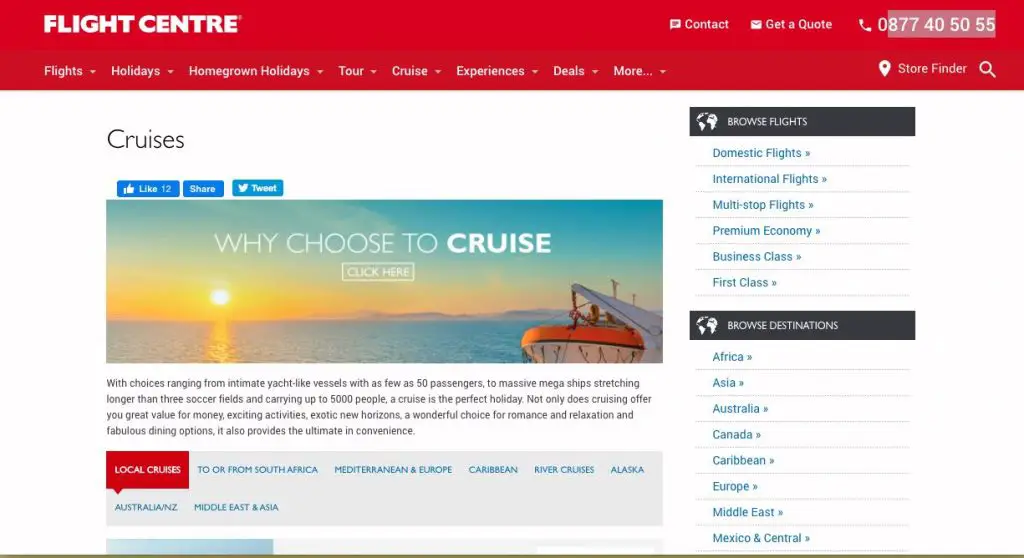 flightcentre.co.za
0877 40 50 55
Where in the world is your next holiday?
All travellers want something different out of their journey, and luckily the diverse destinations across the globe have something for everyone. Your photo albums could be filled with snapshots of the United States' larger than life cities, the colourful villages of South America, the lush landscapes of New Zealand or the ancient allure of the Middle East. Of course, you don't have to journey to the ends of the earth to broaden your cultural horizons – there's plenty to see in your own backyard!
Whether your travel aspirations are focussed on food, art, history, meeting new people, learning different languages or embracing the great outdoors, the only limit is your endurance and enthusiasm to fit more into your itinerary! Book in that trip of a lifetime, and then another, and another until your overwhelming wanderlust is finally satisfied. The hardest part is choosing where to go first.
'The land down under' is a world favourite - here's why
Australia offers a wonderful mix of attractions. From its fiery red deserts and tantalising, world-renowned, coral reefs to towering mountain ranges and golden beaches. These wonders of nature are a spectacular backdrop to the Fifth Continent's cosmopolitan capital cities and laid-back rural towns. South Africans can now enjoy this wonderful, eclectic country and be taken by its charms.
Discover the intrigue, majesty and beauty of the East
Multifaceted Asia is a sensory excursion. More people are living in Asia than anywhere else, creating a melting pot of unfathomable proportions. Steeped in spiritual splendour, Asia is blessed with natural wonders and sacred sites from country to country, leading the charge for big business and technological innovation.
Discover a place where culture and spectacular sights go hand in hand
Europe has long lured visitors with its siren song of history, culture and unforgettable travel sights. You too can discover what is undoubtedly one of the world's most beloved travel destinations with the help of our Europe travel guide. Sip on a cappuccino in Rome, traverse the towering Swiss Alps or explore cosmopolitan Stockholm; there's no limit to the things you can see and do in what is one of the cradles of civilisation.
Visit the land of pubs, rugby, theatre and the world's favourite royal household
Patriotic, proud and picturesque, the UK maybe South Africa's staunch rugby and cricket rival, but it remains a favourite destination with South Africans who love to unwind in the Scottish countryside, soak in the literary history in old English villages and don the latest London looks.
It's big, bold and brash; welcome to the United States of America! With so much to explore, it's hard to know where to begin, but a good USA Travel Guide can help inform your plans. Conjuring images of open savannas, dense jungle interiors and colourful coastal cities, Africa is as vast as it is complex. From the exotic influence of the Maghreb in the north, all the way to the multicultural nations of the far south, modern Africa is jam-packed with cultural attractions and stunning sights to discover. See the pyramids of Giza, explore exotic Timbuktu or take to the surf in Cape Town with the help of our Africa travel guide.
The Middle East will delight and confound, surprise and inform
A major centre of global influence, the Middle East is an ancient region jam-packed with exotic destinations. Largely centred on the sprawling Arabian Peninsula, there are plenty of travel surprises in store in countries such as Oman, the United Arab Emirates and Jordan. Explore the enchanting souks of the Gulf, visit the amazing stone city of Petra and marvel in the splendour of cosmopolitan Muscat in this enchanting and hugely rewarding region.
Crystal Creek Rainforest Retreat Honeymoon Packages Melbourne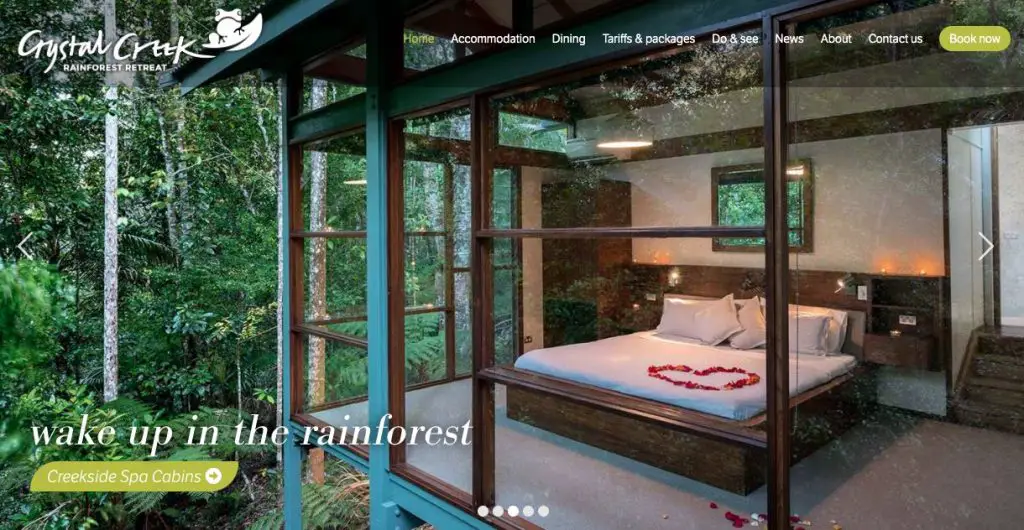 Ccrr.com.au
02 6679 1591
About Crystal Creek Rainforest Retreat
Formerly part of a banana plantation, the property that is now Crystal Creek Rainforest Retreat was purchased in 1988. Four years were spent planning, restoring and building the retreat, which opened in 1992. Since then we have constructed a variety of different accommodation types on the property, the most recent being the Lamington, Tamborine and Byron Lodges which were completed in 2015.
Open all year round, and Crystal Creek Rainforest Retreat is one of the prime destinations in the Tweed Valley, Coolangatta and their hinterlands attracting thousands of visitors annually. It has been the recipient of numerous international, national, state and regional awards including the Australian Tourism Award for Unique Accommodation, three international environmental tourism awards and 17 regional tourism awards.
We pride ourselves on creating a relaxed, intimate and romantic atmosphere for every single guest we have the pleasure to host.
Where we are
Crystal Creek Rainforest Retreat is nestled in the Tweed Valley, just south of the New South Wales/Queensland border, surrounded on three sides by the world heritage-listed Numinbah Nature Reserve and Springbrook National Park.
Our rainforest environment
The World Heritage-listed rainforests of our region are home to many rare and endangered plants and animal species – preserving them is of vital importance to us.
Accessible accommodation
Tamarind makes wheelchair access easy. There are no steps to or within this single-level cabin; there are ample wheelchair clearances, and the kitchen is also convenient to use.
Dreaming of your perfect honeymoon or an unforgettable romantic escape?
Romantic seclusion, privacy and an exquisite natural rainforest backdrop make Crystal Creek Rainforest Retreat the ideal setting for an intimate and memorable honeymoon or romantic getaway. At Crystal Creek Rainforest Retreat we've seen a lot of couples in love – you could say we are very experienced in romance. So many honeymoon couples have told us that this quiet retreat is exactly what they needed after their busy weddings.
Is this is the honeymoon or romantic getaway you've been dreaming of?
The feeling starts when you step out of the car upon arriving – you'll soon be soaking your stresses away in a sumptuous double bath with floor-to-ceiling windows amongst the rainforest. Spoil each other at this couples-only, genuinely romantic retreat, in a beautifully appointed private bungalow with all needs catered for, hidden among the trees, with nothing to distract you and your partner from quality time together. Take a Picnic Pack and meander along with one of the many secluded tracks in our genuine lush subtropical rainforest; find your own sparkling rock pool to picnic by and swim in. Or do nothing at all, gently swaying in hammocks suspended over the water.
These packages are our specially designed way to help you relax after the wonderfully giddy experience that a wedding can be – or if you just want to be by yourselves in the most amazing way possible. We believe our retreat is perfect for a honeymoon with luxury, complete privacy and a superb World Heritage location. Be in a world of your own, without distractions … just you and your partner. That's why these luxurious Ultimate Honeymooners and Romantics packages are one of our specialties.
Vana Belle, a Luxury Collection Resort, Koh Samui Honeymoon Packages Melbourne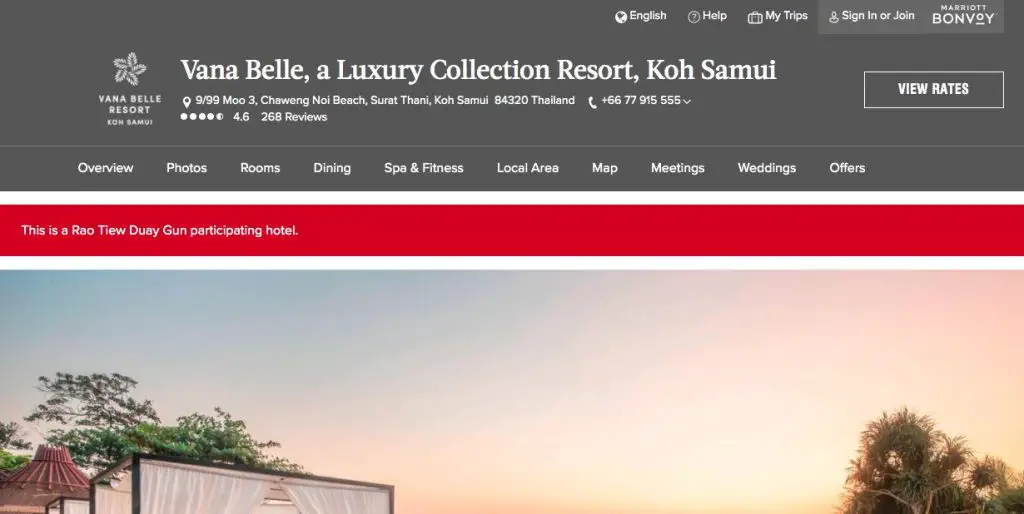 marriott.com
66 77 915 555
Resort Overview
Make your escape to our luxury hotel in Koh Samui
A warm and welcoming oasis in Chaweng Noi Beach, Vana Belle, a Luxury Collection Resort, Koh Samui presents unmatched hotel amenities and gracious hospitality. Savour epicurean snacks under a submerged cabana and candlelit dinners on Chaweng Noi Beach; discover Himavanta bath rituals at Vana Spa and sip on complimentary coffee after a workout in our hotel's 24-hour fitness centre. Each of our luxury accommodations in Chaweng Noi Beach offers unforgettable views of the garden or Gulf of Thailand. At the same time, some of our standalone villas showcase a sparkling pool that encircles your private terrace. Throughout your stay with us at our resort in Koh Samui, our Luxury Collection Concierge will thoughtfully guide you to remarkable sites in Koh Samui, including pagodas, temples, sanctuaries, parks, and snorkelling.
The Luxury Collection Concierge
Available 24 hours a day, our Luxury Collection Concierge, certified destination expert proudly wearing the "Les Clefs d'Or," the gilt insignia of the celebrated international concierge society, and eager to reveal the secret treasures of Koh Samui.
Make My Trip Honeymoon Packages Melbourne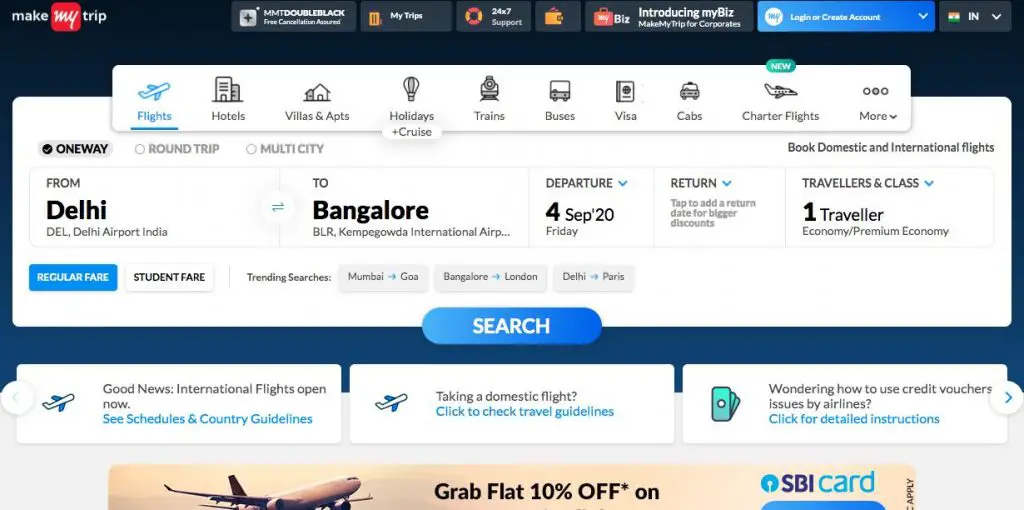 makemytrip.com
0124 4628747
About MakeMyTrip
Nurtured from the seed of a single great idea - to empower the traveller - MakeMyTrip is a pioneer in India's online travel industry. Founded in the year 2000 by Deep Kalra, MakeMyTrip came to life to empower the Indian traveller with instant bookings and comprehensive choices. The company initiated its journey serving the US-India travel market offering a range of best-value products and services powered by technology and round-the-clock customer support.
After consolidating its position in the market as a brand recognised for its reliability and transparency, MakeMyTrip launched its India operations in 2005. With more and more Indians initiating to transact online with IRCTC and new opportunities with the advent of low-cost carriers, MakeMyTrip offered travellers the convenience of booking travel online with a few clicks.
MakeMyTrip's rise has been led by the vision and the spirit of each one of its employees, for whom no idea was too big and no problem too difficult. With untiring determination, MakeMyTrip has proactively diversified its product offering, adding a variety of online and offline products and services. MakeMyTrip has stayed ahead of the curve by continually evolving its technology to meet the ever-changing demands of the rapidly developing global travel market, steadily establishing itself as India's leading online travel company.
Why Book Holidays with MakeMyTrip?
MakeMyTrip.com, India's leading online travel company, has a profound understanding of Indian consumers travel needs and preferences. It offers a wide range of holiday packages in India and across the world, catering to various segments of travellers. While the dynamic or customised tour and travel packages give consumers an option to create and design their own holiday, the fixed departure holiday packages have a pre-designed itinerary; thus ensuring there is something to meet the holiday needs of every kind of traveller.
What does MakeMyTrip Holidays offer?
MakeMyTrip offers a hassle-free holiday wherein all your travel needs are taken care of. Be it your accommodation in comfortable hotels, convenient transfers, varied sightseeing options and an array of activities to choose from, delectable meals and niche experiences - the holiday packages are designed such to offer you an unparalleled experience. Be it popular destinations such as Andaman, Kerala, Rajasthan and Kashmir, or more offbeat ones like North East, Ladakh and Uttarakhand, and there are tailor-made packages for destinations from all over India. From distinctive honeymoon packages to exclusive tour packages for women, from itineraries designed for solo travellers, families with kids and for those who are young at heart - MakeMyTrip has an answer to all our holiday needs.
How to book Holidays with MakeMyTrip?
The user-friendly MakeMyTrip App and website make it easy for enthusiastic travellers to plan and book a holiday entirely at the click of a button. Just use the filters and select the city you want to visit along with your travel dates, travel duration, specific preferences, if any, on hotels, kind of holiday, etc. and MakeMyTrip offers you an extensive list of holiday packages to choose from. Pick any package that meets your needs. Else, you could also choose hotels of your choice, add sightseeing and activities to your list and have a package ready that best suits your requirement. You can choose to book your tour packages offline by dropping a query or chatting with our travel experts for immediate support. With MakeMyTrip, planning and buying your ideal holiday has never been easier.
Pan Pacific Honeymoon Packages Melbourne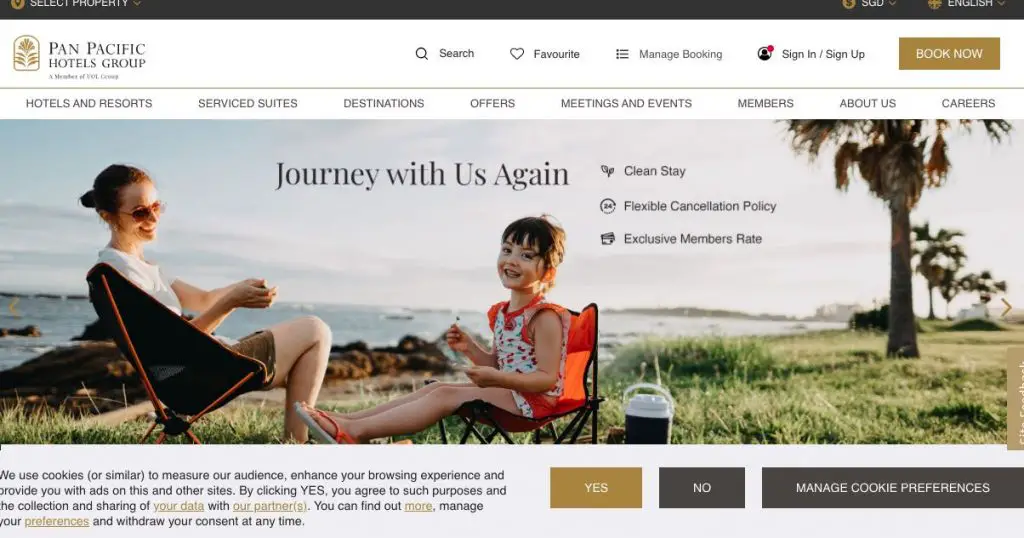 panpacific.com
3 9027 2000
Pan Pacific Hotels Group
Pan Pacific Hotels Group is a wholly-owned hotel subsidiary of Singapore-listed UOL Group Limited, one of Asia's most established hotel and property companies with an outstanding portfolio of investment and development properties.
Headquartered in Singapore, Pan Pacific Hotels Group owns and/or manages close to 50 hotels, resorts and serviced suites including those under development in 29 cities across the Asia Pacific, Europe and North America.
Voted "Best Regional Hotel Chain" by readers in Asia from 2017 to 2019, Pan Pacific Hotels Group comprises three brands - Pan Pacific, PARKROYAL COLLECTION and PARKROYAL.
Sincerity is the hallmark of Pan Pacific Hotels Group. The group is known to its guests, partners, associates and owners for its sincerity in people and the sense of confidence which alleviates the stresses of today's complex world.
Welcome to Melbourne: 8 Romantic Honeymoon Holiday Ideas
It is said that the wedding is for the guests, and the honeymoon is for the couple. Newly married couples often treasure this precious 'alone' period to recover and rejuvenate from the stresses of the wedding itself.
Melbourne, Australia's second-largest city, makes an ideal spot for newlyweds to do just that. Rated second in CNN's Most Liveable Cities in the World list, Melbourne has an abundance of picturesque sights, delectable cuisines, and vibrant nightlife to fill your honeymoon with memorable experiences.
The Pan Pacific Melbourne team recommends the top fun things to do in Melbourne for couples, both conventional and unconventional, on your honeymoon.
Pick Your Trail Honeymoon Packages Melbourne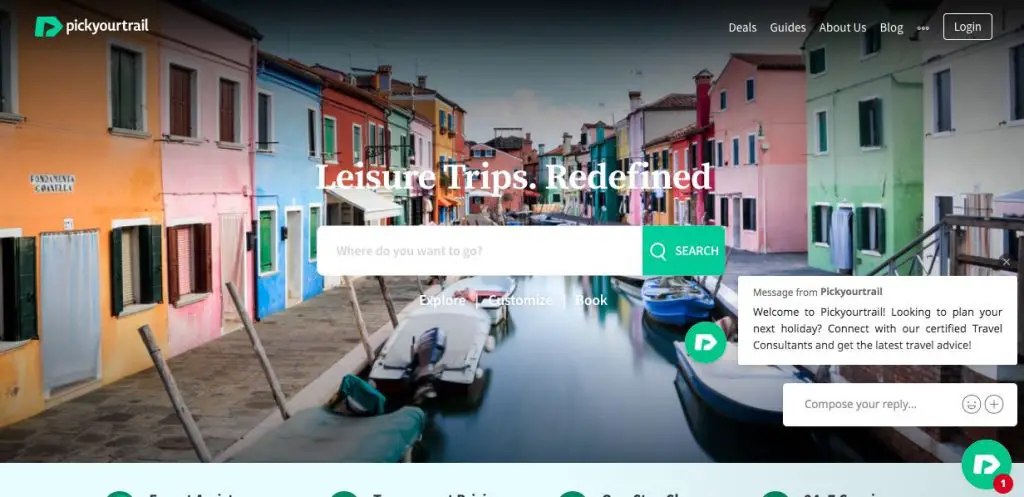 pickyourtrail.com
919360991166
Australia Honeymoon Packages
With so much diversity and variety in landscape, Oz has to offer, choosing the right Australia honeymoon vacation package becomes challenging. Gradually climbing its way up to become one of the most sought-after destinations for vacation worldwide, Australia—which is a country, and the continent as well—offers a perfect mix of adventure and amour, history, spectacular natural wonders, culture, beaches, and nightlife. Well-known for obvious landmarks such as Opera House, the Great Barrier Reef and its share of unique Fauna like Kangaroos, Emus, Koala, etc. and Canberra, being its capital, other popular cities here include Sydney, Melbourne, Adelaide, Brisbane, and Perth.
Tailor-made Australia Sensual Packages for Couples
Pickyourtrail's getaway packages for the newly-weds offer exciting Australia itineraries that can cover pretty much the entire country, based on your interests and the intimacy that accompanies it. If you're beachside lovers looking for adventure, then our plans will make sure you head to Gold Coast. Known as the surfers' paradise, this city has a great collection of theme parks, adventure rides, numerous beaches, and an amazing nightlife. Gold Coast is sure to make you fall in love with Australia. But if you want more adrenaline-pumping activities, our itineraries know where to take you and your spouse. Next destination: Cairns! This beautiful city in Queensland is home to the Great Barrier Reef. Dive into and swim with your soul mate in the world's largest coral reef system, giving life to rich and colourful marine life stretching to over 2,300 km (1400 mi), a phenomenal experience that will never fade away from your life. Once you've struck this off the bucket list, head to the sunny beaches where you can surf and indulge in other water sports. Interested much in art and culture? Our romantic packages in Australia include the must-see Sydney Opera House. Explore the cultural heritage here and hop on to ferry that'll take you to the Harbour Bridge, where the nightlife is amorously buzzing as well. If you're craving the beach already, visit the popular glitzy Bondi beach of Sydney. Or, enjoy the long ride along the coastline, southwards to the Sunshine Coast, the ideal place to enjoy the sunset on the beachside, romantically. For those couples interested in history and culture, our itineraries include visits to the National Museum, War memorials and the parliamentary building in Canberra, Victorian-era architecture, galleries and museums in Melbourne, wineries, and gardens in Darwin, etc.
Pick Pickyourtrail's Handcrafted Australia Honeymoon Package
Unlike other packaged tours, Pickyourtrail offers honeymoon-vacationing itineraries that are entirely customisable. Based on your interests, our experts craft a perfect and personalised pleasure-seeking itinerary that also lets you dote on each other during the stay. If you wish to add or exclude activities, you can change the itinerary yourself, and we'll work around that. Our 'Down Under' Australia tour packages offer itineraries that include everything from flights and 4-star accommodation to entry passes and leisure activities. Our 24*7 customer support during your holiday will make sure your honeymoon is both sensual and smooth. You can never get enough of this country; so, get in touch with us immediately. Let us know your preferences and leave the planning to us.
Thanda Safari Honeymoon Packages Melbourne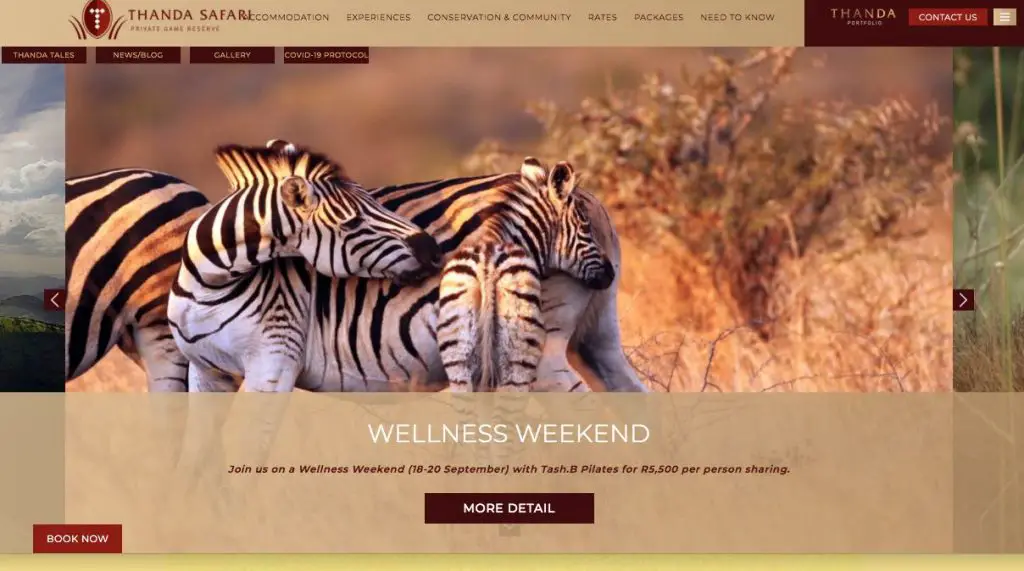 thandasafari.co.z
27325860149
ABOUT KWAZULU-NATAL
KWAZULU-NATAL
KwaZulu-Natal (KZN) is one of South Africa's most popular holiday destinations, with magnificent scenery and a warm climate. The area is known worldwide as an incredibly diverse, exciting region to visit. The province offers three geographical areas: the Lowland Region along the Indian Ocean, the Central Region (Natal Midlands) and two legendary mountainous regions: the Drakensberg Mountains to the west and the Lebombo Mountains to the north.
Why visit KZN?
It's home to Thanda Safari!
It's summer all year round.
KZN is home to the 'Golden Mile' and its sun-drenched beaches.
There is a rich cultural fusion.
It is the traditional home of the Zulu people.
Durban is known as a surfing hotspot.
The iSimangaliso Wetland Park, a World Heritage Site, is in KZN.
Diving enthusiasts can explore the region's many spectacular reefs, including Aliwal Shoal - a rocky reef, five kilometres from the coast and four kilometres long.
History enthusiasts can follow the Inanda Heritage Trail.
Downtown Durban is home to the Juma Masjid Mosque, the largest in the southern hemisphere.
KZN is the gateway to the glorious Drakensberg mountains.
Large schools of dolphins are frequently sited close to shore along the KZN coast.
Southern Right and Humpback whales are in these waters from July to November.
uShaka Marine World is a must-visit for every age.
WEDDINGS & HONEYMOONS THE THANDA WAY
Meaning 'Love' in isiZulu, Thanda represents the heart and soul of passion; the spirit of togetherness. Imagine Zulu dancers leading you down the aisle; picture yourself exchanging your vows in a sheltered bush location under the ancient marula trees, followed by a safari-style reception in a starlit boma or breathtaking venue overlooking the African bush. There is no better place than Thanda Safari in which to celebrate romance, marriage and life. Our wedding packages are also offered for vow renewals or special celebrations.
THE KANYE WEDDING
Kanye means 'Together' in isiZulu. This magnificent wedding package includes three game drives and delicious cuisine for up to 80 guests. For those who prefer a smaller, more intimate wedding or vow renewal ceremony, talk to us, and special arrangements will be made.
Akbar Travels Honeymoon Package Melbourne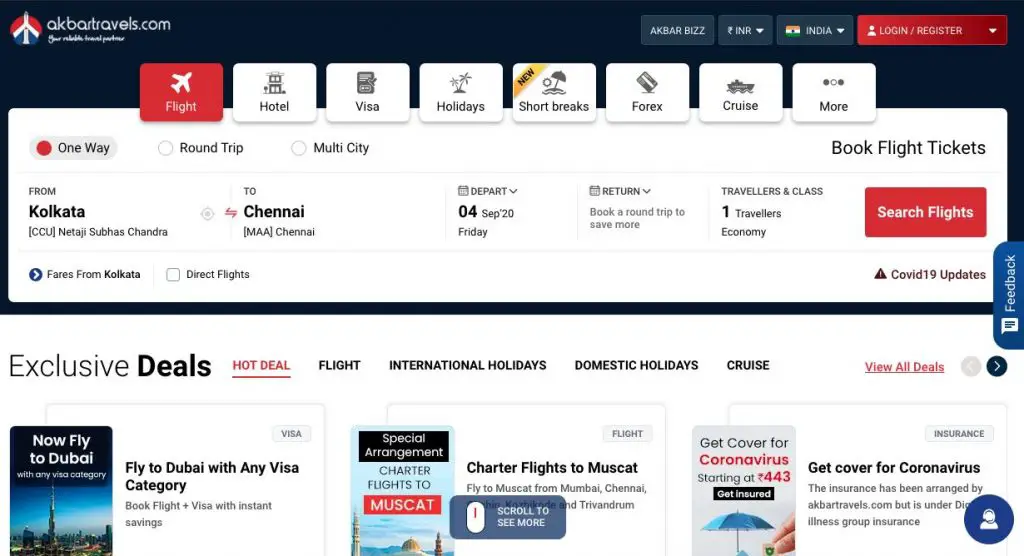 akbartravels.com
8108659695
Honeymoon packages
Honeymoons are meant to celebrate your love. To cement an everlasting bond and make memories that last a lifetime. Which is why choosing the right destination is as important as the wedding itself. Akbar Holidays offers newlyweds some of the most romantic honeymoon destinations in the world, customised to your exacting standards. Our honeymoon tour packages keep in mind every one of your needs, so you enjoy the honeymoon you have always dreamt of. Take your pick from some of the most beautiful honeymoon destinations in the world from Goa to Greece and Manali to Milan.
For a truly romantic honeymoon, we recommend honeymoon packages that will take you to Crete, the most oversized island in Greece. The island is home to rugged mountains, rolling plains and pretty, white-sand beaches. Besides its captivating landscapes, Crete also has a rich heritage that is nearly 130,000 years old. You could trek down Europe's deepest gorge, soak up the sun of the beach, see the cave where the Greek god Zeus was born or enjoy a romantic dinner by the sea. Visit the Palace of Knossos on your visit to Crete. Knossos has been called Europe's oldest city and is over 9000 years old. Visit the throne room with its frescoes, fountains and pottery older than the Egyptian pyramids. You could also learn about the island's past at the Renaissance mansions, Byzantine chapels and Turkish bathhouses. Try fresh cheese, meat and with local wine on a candlelit dinner in a traditional tavern.
Fiji is the perfect honeymoon destination for lovebirds. It is home to several adults-only resorts tailor-made for newly-weds popularised by honeymoon tour packages. Venture out of the alternatives, and you are met with inviting waters and white sand beaches. The island also has scores of waters sports for vacationers including fishing, sailing, kayaking, snorkelling and surfing. Or you could stay indoors and head to the spa for a couple's treatment.
Petra in Jordan may seem like an odd choice for a honeymoon destination, but the rose-red city is the epitome of ancient grandeur and romance. The city is the biggest attraction in all of Jordan and one of the Seven Wonders of the World as well as a UNESCO World Heritage Site. You can explore Petra by foot or on the backs of donkeys, camels and horses. The top attractions in Petra that should be a part of your honeymoon package are the Monastery and the Treasury. Another breathtaking site is the entrance to Petra itself, to a long winding canyon called the Siq. For a truly romantic experience take a night tour of Petra in which earthen lamps give the ancient buildings of Petra an ethereal glow.
Imagine a clear night lit up with dancing rays of blue, green and red. A mesmerising phenomenon that is also called the aurora borealis, the Northern Lights brings honeymooners to Norway from all over the world. The best places in Norway to see the Northern Lights are in the north of the country in the Arctic Circle. Cuddle in a glass igloo under the starlit sky for an unforgettable honeymoon experience.
Jetstar Honeymoon Packages Melbourne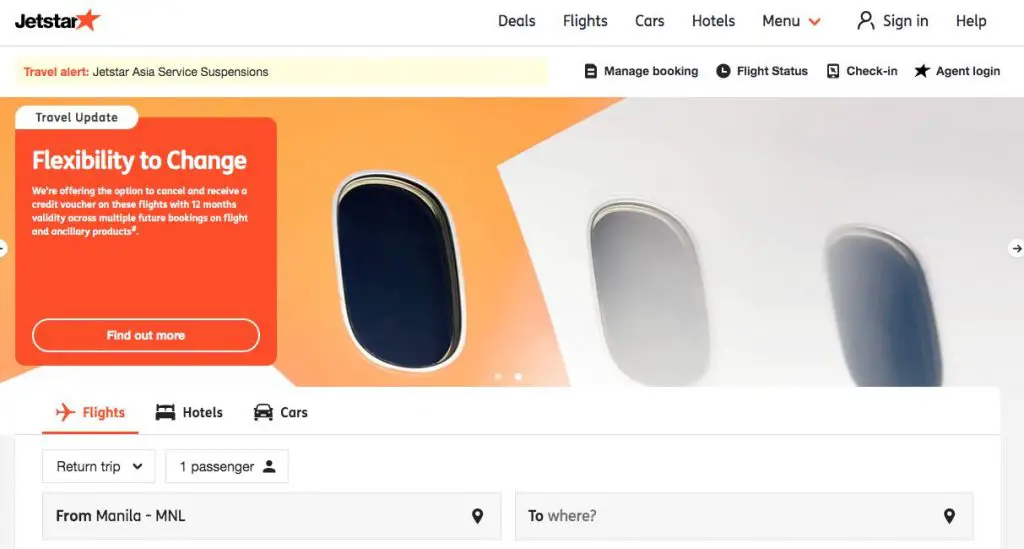 jetstar.com
Hi there, we're Jetstar!
We'd love to tell you a bit about ourselves – who we are, what we do, and what's important to us.
You may know us for our truly famous low fares. But did you also know that each week we send more than 5,000 flights to over 85 places - across Australia, New Zealand, Asia and the Pacific? Or that we've helped raise over AUD $10 million through our StarKids program?
And there's even more to us than that! You can jump from here to find out how our business works, about our impressive fleet and the opportunities for YOU to join the team at Jetstar.
Why Jetstar Packages?
Combine & Save
Want to go on more holidays? We can help with that!
We're known for our famous low fares, but now you can gain access to further savings by booking your flight & hotel together. Discounted fares and hotel rates are available on Jetstar.com, which are not always available if booked separately. That means you can book your whole holiday for less, and go away more often. Whether you're after a family beach break, luxury romantic getaway or exciting city escape – we've got you covered.
Take It Easy
Don't make booking your holiday harder than it needs to be.
Save time and have peace of mind that you can both book and manage your flights, hotels and more with Jetstar. That means one point of contact for your holiday plans, and whether you need to change your hotel room or add more baggage to your flight booking, we can take care of it for you. All you have to do is relax and enjoy your break!
Price Beat Guarantee
Find a lower comparable holiday package online, and we'll beat it by 10%
Conditions apply.
Our Price Beat Guarantee is part of our commitment to always offer you the lowest holiday packages. When you're shopping online, if you find a holiday package originating from Australia, on a competitor website that's cheaper than you can get on Jetstar.com – we'll beat it by 10%. We'd rather you book and holiday with us!
How to claim your 10% discount with our Price Beat Guarantee
Review the Jetstar Price Beat Guarantee for eligibility criteria.
Contact the Jetstar Call Centre on 1300 360 520 (between 8am – 8pm (AEDT) Mon-Fri, and 9am- 6pm (ADST) Sat-Sun).
We'll verify the comparison. If your request is eligible, you'll need to pay for your discounted Jetstar holiday straight away.
Itinerary will be issued when full payment is made.
Alternatively if within 24 hours of purchasing a holiday package (flights and hotel) on our site, you find and notify us of a better price online that meets the Price Beat Guarantee eligibility criteria. We will verify the comparison, and if your request is eligible, we will refund you the difference between our price and the competitor's price plus 10% of the competitor's price.
Austravel Honeymoon Packages Melbourne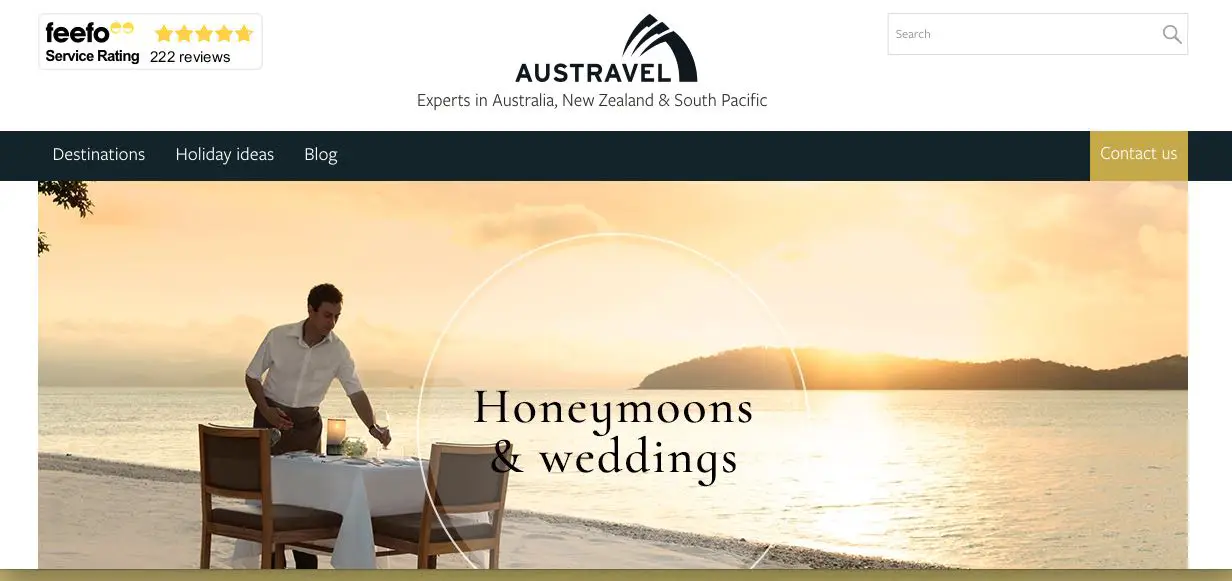 austravel.com
0800 988 4676
Honeymoons and Weddings
Discover the sheer natural beauty and romance of Australasia with our range of unforgettable wedding and honeymoon packages. For some, the dream is to tie the knot in a faraway destination, whilst others want to get away once the party is over at home. Whichever the case, our team of expert Travel Designers can craft the perfect itinerary to suit you and your partner.
With expert destination knowledge, we can help arrange your big day and honeymoon plans. For those wanting to get married abroad, we have an extensive range of wedding venues across Australasia, or if you're going to book a honeymoon, we can suggest some fantastic romantic retreats.
In Australia, choose a getaway to see the iconic Sydney Harbour, visit the beautiful Great Barrier Reef or hidden rainforest retreats. For adventure-seeking couples, there's New Zealand where deserted beaches, sparkling lakes and snow-capped mountains are waiting to be explored. And, if paradise islands are what you're searching for, then look no further than Fiji, the Cook Islands and the Islands of Tahiti – all offering crystal-clear waters, pristine shores and luxurious five-star resorts.
For inspiration, take a look at our popular wedding and honeymoon packages below. Alternatively, contact one of our Travel Designers who can craft your tailor-made honeymoon itinerary or help choose your dream wedding destination.
Avid Fly Vacation Honeymoon Packages Melbourne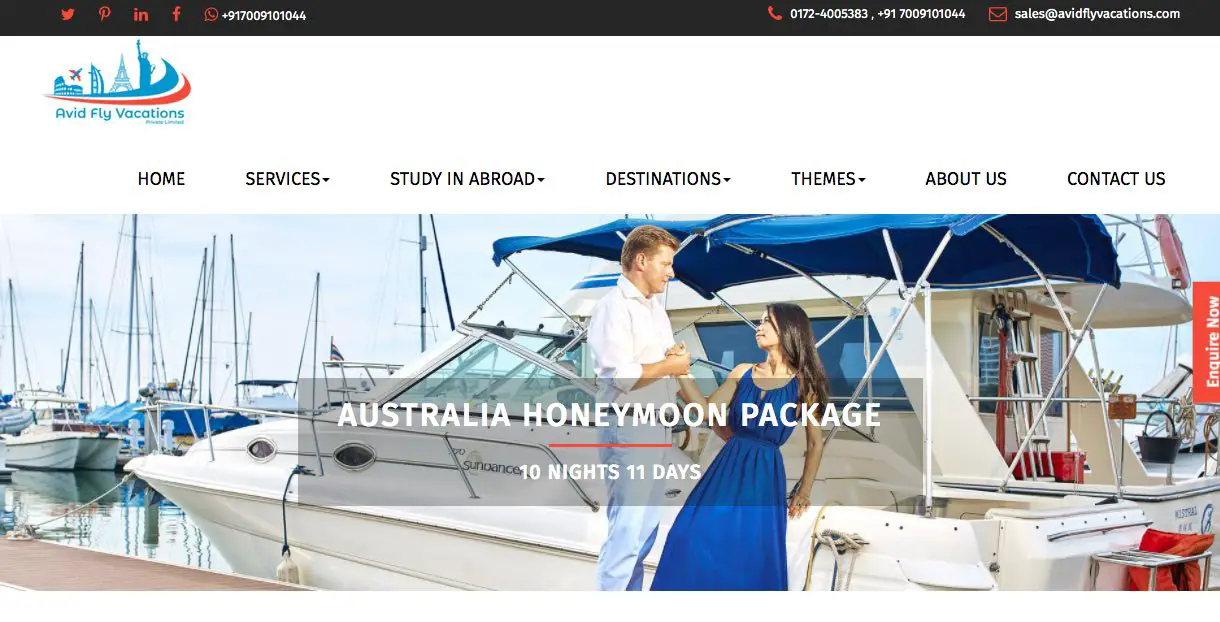 avidflyvacations.com
917009101044
Here at AvidFly Vacations, we believe that fulfilling travel experiences begin not only with choosing the right destination but ensuring your travel becomes memorable.
The way we see it, life is just one big journey, and we're here to help people make more enlightening stops along the way. But what does that mean, exactly? It means helping them have more fun dreaming and planning by offering up trip and destination ideas that range from time-tested to unexpected via Inspire. Giving them more fulfilling journeys and more cherished memories by delivering innovative products at AvidFly Vacations Customer First Guarantee that provides personal support before, during and after the trip.
Who We Are
AvidFly Vacations has a hybrid travel business model which not only provides you standard packages but also provides personalised bookings through our 24/7 multilingual contact centres and emails. Besides, AvidFly Vacations offers a high-quality solution for all your travel needs
Comprehensive Travel Solution
Be it Flights, Hotels, Car Rentals, Insurance, Activities, Cruises, etc., at the best and most affordable price. Our travel experts not only handle the reservation at the booking stages but are also experienced enough to handle post reservation queries, exchanges, refunds or cancellations. We don't redirect our passengers to airlines or to other vendors; however, believe in providing complete service during the entire reservation cycle under one roof.
AVIDFLY VACATIONS PRIVATE LIMITED
Travellers looking for new vistas are what excite us and have kept us going from past eight years. The cities & the sights that you encounter with us are unique.
We thrive on the appreciation that our customers shower us with for our service, & reciprocate by giving them an outstanding experience every time.
We are experts in this field and will lead you to places & people that you will cherish for many days to come.
Flyo City Honeymoon Packages Melbourne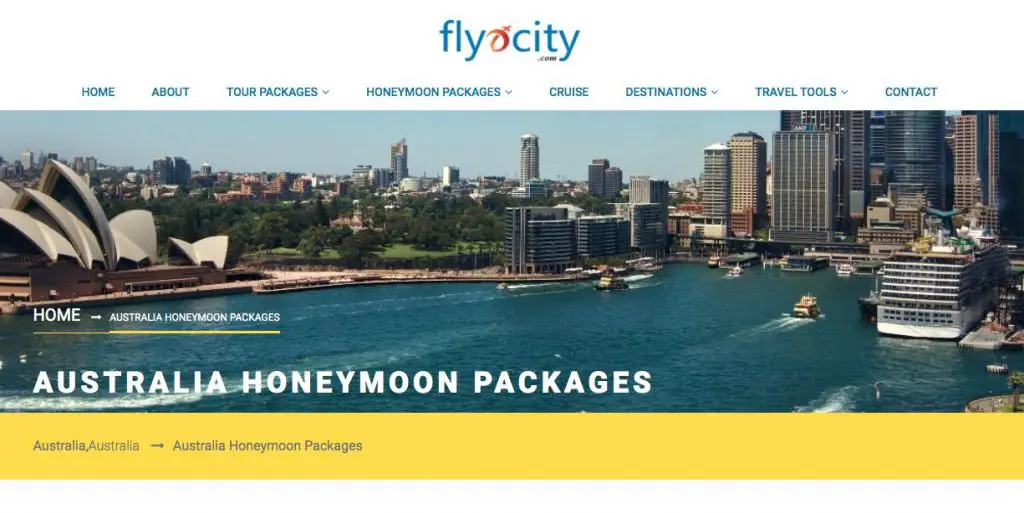 flyocity.com
919873187240
WELCOME TO FLYOCITY.COM
Flyocity Trip Planners Pvt Ltd is one of India's most leading & upcoming Travel & Tour Management Company. Being one of the top Travel & Tour Companies in India, we are always at the service of our valued associates and customers in providing the most professional and personalised tour services.
Possessing extensive knowledge, expertise and resources, specialising in conceptualising and execution of events, group tours, business/ trade delegations, business seminars & conferences with a difference, both in India and across the world.
Our company is known for new fresh ideas for incentives, events, conferences and tours across the globe. As the company is focused on customising programs and times for the client, we are flexible in our arrangements. We do our utmost to provide for our client's particular interest. Influenced by the season of the year, we will give you innovative suggestions for activities that can range from cultural experiences to pure adventure.
CUSTOMIZED Tour Packages
From one with just an idea of having pre-decided holiday package, we can personalise as well as arrange lifetime holiday experience for everyone. We personally match you with three leading specialised travel agents who are best fit for you.
24/7 SUPPORT with a live person
We are here to help. Our team of trip advisors are always available to help you get the best holiday experience. They might not get out much, but know what they are talking about.
Best price guarantee
We take our traveler's security and privacy very seriously and hence provide a 100% safety guarantee overall packages being booked through our portal.
Eco lodges & tours
A lot of Entertainment On Tour, Hassle-Free Travel.
New Caledonia Honeymoon Packages Melbourne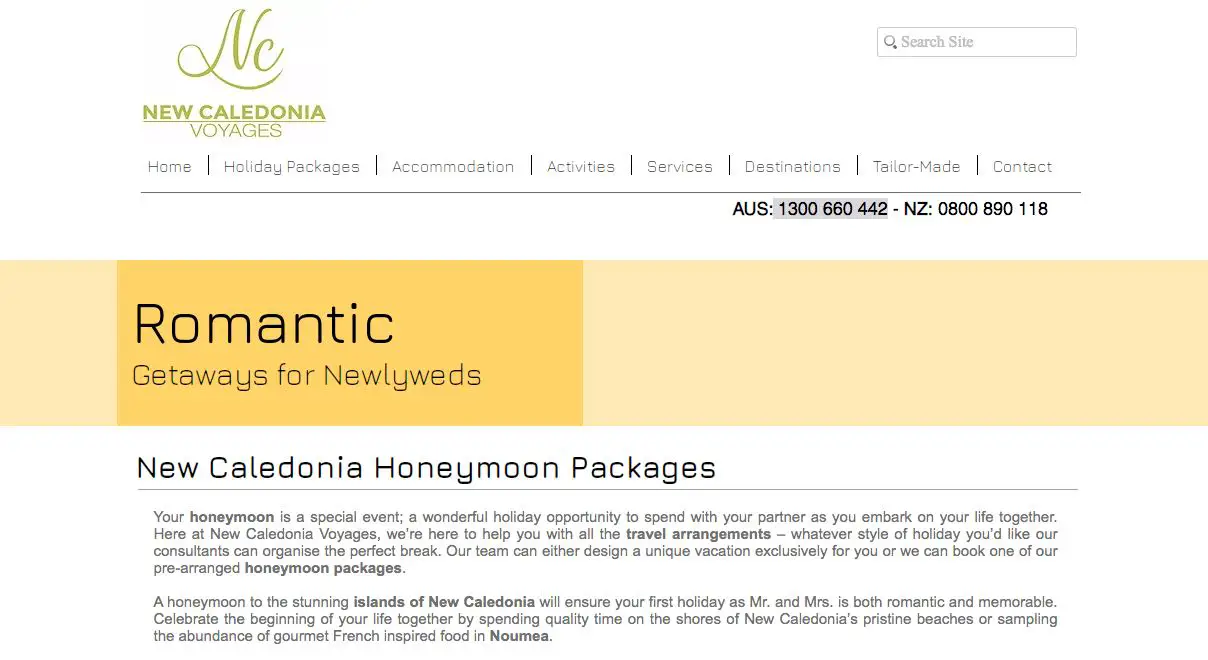 ncvoyages.com.au
1300 660 442
New Caledonia Voyages Experience
We believe your experience with New Caledonia Holidays should be exceptional – especially the price. We're proud to deliver memorable holidays and great value for money. We aim to ensure as many of our prices are fully inclusive as possible, with no hidden extras.
Here are just some of the things we can promise.
An authentic experience.
We'll give you a real taste of your destination – taking you beyond the usual tourist traps to discover the area's entire culture and heritage.
Something for everyone.
Every person is looking for something different, and we provide programs to appeal to every taste. Just get in contact with our team, and we'll tailor-make your perfect New Caledonia holiday.
Peace of mind
Everything we offer is designed to make your holiday stress free. Our prices are fully inclusive, with no hidden costs; we have complimentary visa services and expert guides who know their destinations inside out. All you have to do is sit back and enjoy the ride.
A personal service
Each experience we offer is as unique as the customer. We'll listen to what you want and deliver a memorable holiday shaped around your requirements.
A team of specialists
Our consultants live, breathe and sleep travel. They are passionate about delivering the best service and regularly visit New Caledonia. This enables us to offer genuinely up to date advice. Our team only have to sell New Caledonia; therefore, it can deliver you a more prosperous and more in-depth experience.
Safe & Secure
New Caledonia is under operating by LaCity Travel Pty Ltd, and we are fully bonded with the TCF 9415, so you can rest assured your holiday with Nc Voyages is 100% financially safe and secure. New Caledonia Voyages is a fully accredited Travel Agent – so you can relax in the knowledge that you're in the hands of professionals.
We are a preferred partner of New Caledonia Tourism and Australia's leading travel specialist for New Caledonia.
New Caledonia Honeymoon Packages
Your honeymoon is a unique event; a fantastic holiday opportunity to spend with your partner as you embark on your life together. Here at New Caledonia Voyages, we're here to help you with all the travel arrangements – whatever style of holiday you'd like our consultants can organise the perfect break. Our team can either design a unique vacation exclusively for you, or we can book one of our pre-arranged honeymoon packages.
A honeymoon to the stunning islands of New Caledonia will ensure your first holiday as Mr. and Mrs. are both romantic and memorable. Celebrate the beginning of your life together by spending quality time on the shores of New Caledonia's pristine beaches or sampling the abundance of gourmet French-inspired food in Noumea.
With so much to do both inside and outside the resorts, a week might not be long enough in this gorgeous tropical paradise! Spend a day or two, learning the history and culture of your destination by visiting the local museums or just wander the streets of the capital, sampling the different street food. If you're looking for something more adventurous, try kite-surfing at one of the local beaches or submerge yourself under the crystal clear water as you swim, snorkel or dive along the spectacular coral reef that makes New Caledonia so famous.
Together, you can set sail on a glass-bottom boat over to a little paradise, known as Amedee Island. Home to one of the tallest lighthouses in the world, this picturesque island boasts crystal clear waters and white sandy shores. For a secluded and intimate beach, visit Kuto Bay in Isle of Pines, a beautiful long stretch of sand lined by coconut palms and column pines. Enjoy a romantic meal for two at one of the fine dining restaurants in Noumea and taste the popular traditional feast dish of New Caledonia, Bougna.
At New Caledonia Voyages, we have a myriad of New Caledonia honeymoon packages for the perfect holiday. See our latest deals below or one of our New Caledonia specialist to tailor your own honeymoon package today.