Wedding bomboniere is the perfect way to say 'thank you' to guests for their attendance. To find a unique and personalised gift, shortlist vendors based on their product and your estimated budget per guest, and read their customer reviews to ensure quality. The options are endless!
While online shopping seems to be the preferred mode of purchasing clothes these days, brides will always engage in the tradition of grabbing their wedding bomboniere shops in the hunt for the perfect wedding bomboniere. If you are searching for local stores to put on your list, we suggest starting with our 35 unique bomboniere shops in Melbourne, Victoria.
Here is the ultimate list of Bomboniere Shops and Suppliers in Melbourne, making it easy for you to find the best bomboniere supplier shops for your magical day. Check the shops below and enjoy shopping.
Add a header to begin generating the table of contents
RSPCA Victoria Wedding Bomboniere Melbourne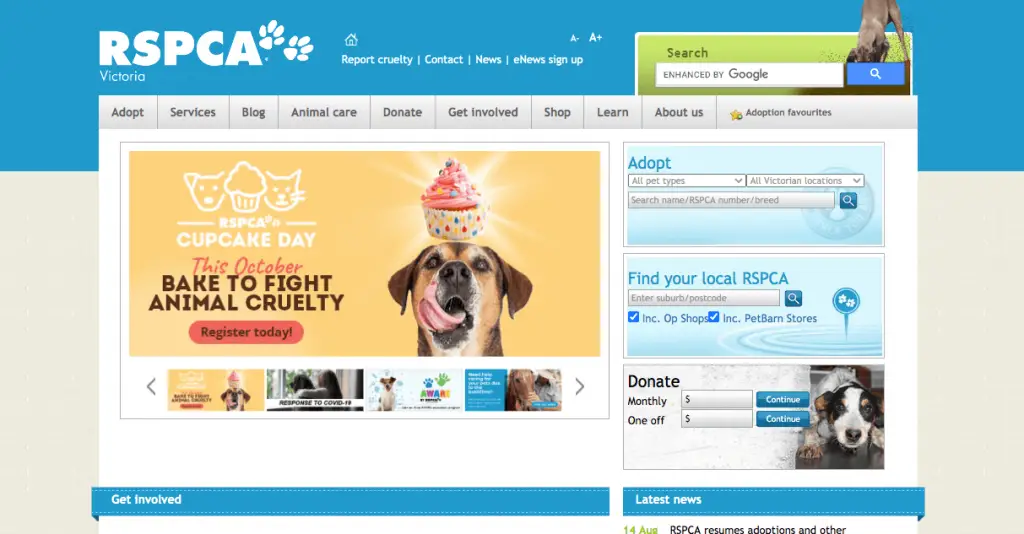 spcavic.org
392242222
RSPCA Victoria is a non-government, community-based charity that works to prevent cruelty to animals by actively promoting their care and protection. Since its establishment in 1871, and as member of RSPCA Australia (the federation of eight state and territory organisations in Australia), the RSPCA has collectively become Australia's leading animal welfare charity.
Across the state, RSPCA Victoria's community services include work undertaken by our Inspectorate, Animal Care Centres, Clinics and Education teams. RSPCA Victoria operates Animal Care Centres across Victoria, providing refuge, care and new homes where possible to more than 20,000 animals every year. Our team of Inspectors work to protect animals from cruelty, receiving more than 10,000 complaints every year, prosecuting offenders and rescuing animals from dangerous situations. Our Education team contributes to prevention strategies by influencing over 3,600 young people each year about the value and importance of animals in our lives.
RSPCA Victoria works to educate the community regarding animal welfare and works with government and industry to ensure the standard of animal welfare and care continues to improve.
As a not-for-profit organisation, we rely on community support to carry out our work with more than 90% of our funding coming from the generous support of the Victorian community.
Universal Party Wedding Bomboniere Melbourne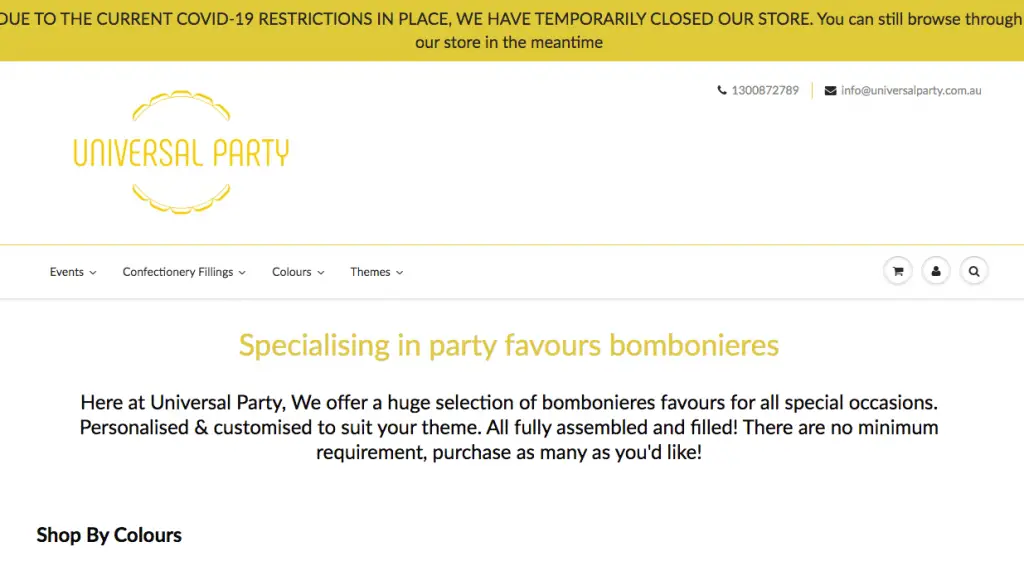 universalparty.com.au
1300872789
Specialising in party favours bombonieres
Here at Universal Party, We offer a huge selection of bombonieres favours for all special occasions. Personalised & customised to suit your theme. All fully assembled and filled! There are no minimum requirement, purchase as many as you'd like!
Wedding Glasses by Groovy Glass-  Wedding Bomboniere Melbourne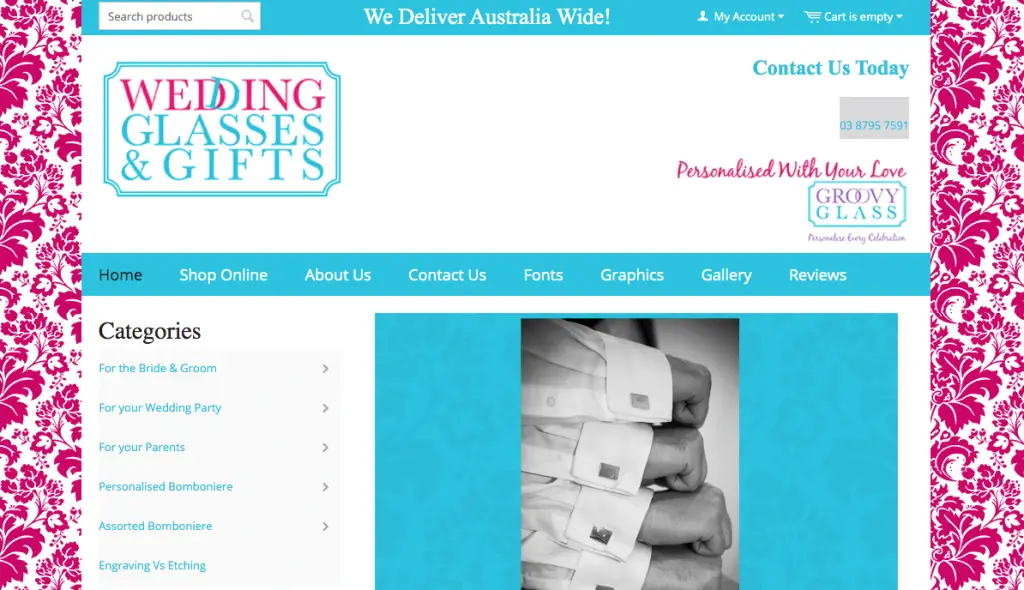 weddingglasses.com.au
387957591
Welcome to Wedding Glasses by Groovy Glass
Here at Wedding Glasses by Groovy Glass we have a great range of glassware that can be individually personalised, from Toasting Flutes, Cake Knife Sets to our popular Beer Glasses and great range of cocktail glasses. Our great range of glassware can be complimented to the individual.
Team up with our extensive range of graphics and unique fonts to make a truly individual gift for your bridal party and family members or those special people that have played a part in your wedding day. In addition to our personalised glassware we also can provide a great range of Personalised Bomboniere, making us the one stop shop for all your wedding favours and bridal party gifts. We look forward to working with you and being apart of your special day.
About Us
Wedding Glasses by Groovy Glass is rated as Australia's Top provider in both Bomboniere and Special Services across Australia by the Australian Bridal Industry Academy (ABIA) for its supply of personalised glassware and gifts for Brides & Grooms.  In 2015 we were ranked Top 2 Nationally for Special Services.  In 2014 we won both the Queensland & South Australian Bridal Industry Award for bomboniere and 2013 we won South Australian Annual Bridal Industry Award for bomboniere and in 2010 we won the Designer of Dream Award for Special Services Nationally.  This ranking is voted by previous couples who have used our services.
Highlight Candles & Sands Wedding Bomboniere Melbourne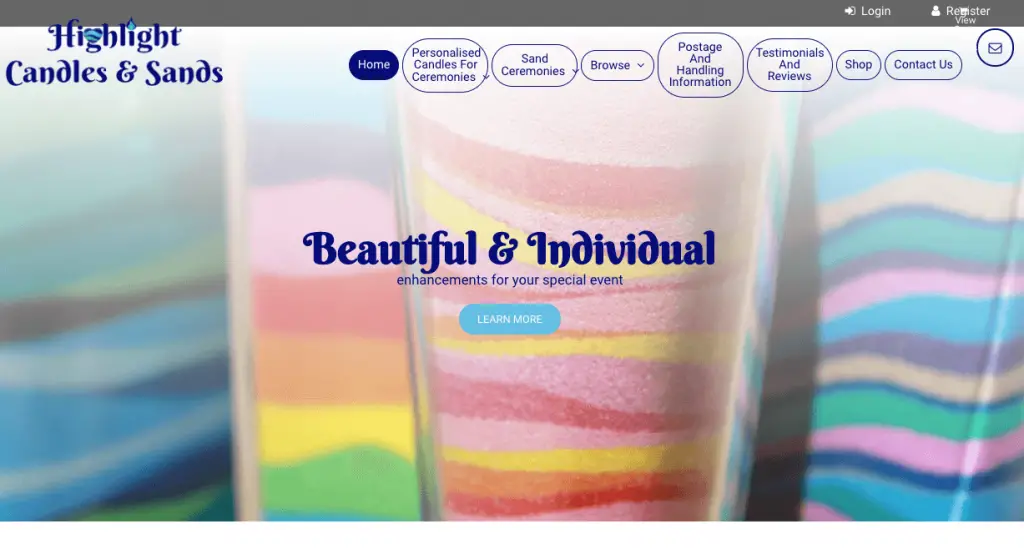 candles.net.au
468361999
Welcome to Highlight Candles & Sands.
Highlight Candles & Sands supplies beautiful personalised candles and brilliant coloured sand to make any ceremony more meaningful and memorable. We specialised in Personalised Individually Crafted Candles for Weddings, Wedding Unity Sets, Baptisms, Christenings, Naming Day, Memorial, Pet Memorial, Graduations, Birthdays and other special occasions and all your ceremonies and celebrations.
We use only top quality, double dipped and smoke free, Australian made candles to make a lasting keepsake for you to remember your special day. With many graphic, font, colours and designs to choose from, we work with you to ensure you get beautiful candles, exactly as you want them.  We can even print photos on the candles. We send you proofs via email for your approval before printing commences.
At Highlight Candles and Sand, we understand that you are spending your hard earned money on enhancing your event to help make it more memorable and special, so we pride ourselves on our attention to detail and customer service, to ensure you receive the perfect, beautiful accessory for your ceremony.
Personalised Candles
Candles compliment all ceremonies in a visibly simple, yet beautiful and deeply touching way.  The candle flame enhances the experience of your special occasion, creating extra warmth, intimacy and symbolism of the ceremonies purpose.
Here at Highlight Candles and Sand, we work with you to create a beautiful and individual candle accompaniment for your special occasion.   Whether it be a Wedding, Baby Naming Day, Christening, Baptism, Memorial service, Milestone Birthday, Valentine's Day, Christmas or any occasion at all, we will produce your beautiful candles just as you want them.
Your candles are individually crafted for and  become a treasured keepsake to remember your special occasion.
Disposable Camera Company Wedding Bomboniere Melbourne
disposablecamera.com.au
1300725581
BEST DESIGNER WEDDING AND PARTY CAMERAS IN AUSTRALASIA
Choose from our range of fresh modern designs for your Wedding, Celebration or Party. We have the largest range in Australasia with all designs created and styled right here in Australia.
Your memories are too important to take the risk of buying cheaper low quality cameras that often have inferior film, recycled batteries and very short use-by dates.
OUR PRE-PAID DEVELOPING
When you're ready to develop your photos you have the option of prints, CD's or USB Stick. Keepsake your prints in albums or have your photos digitally saved so you can send copies to all your guests or post your pictures on the web.
3 Foxes Distillery-  Wedding Bomboniere Melbourne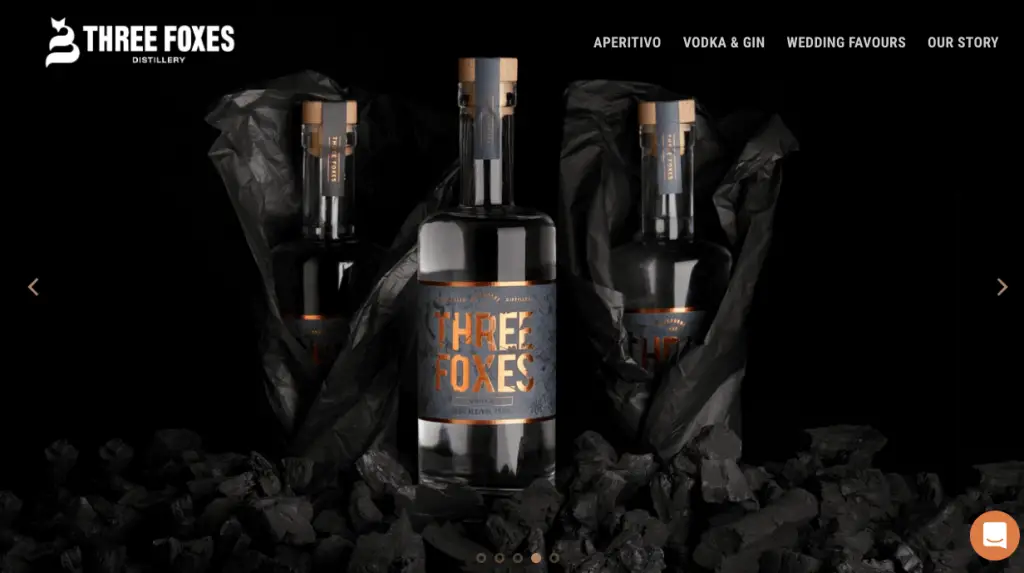 3foxes.com.au
1300872306
A Generational Tale of Passion, Dedication and Craftsmanship
Three Foxes Distillery is a family owned and operated distillery that dates back four generations to 1901, with humble and honest beginnings. Our tale can be traced to the opening of a micro-distillery in Constantinople, at first established in order to produce spirits to compliment the mezze cuisine served at our family restaurant next door. This is where we showcased boutique batches of Vodka, Ouzo & Liqueurs, which was the perfect complement to the seafood-based menu, and quickly became a favorite for the customers who frequented it. Born out of this simple beginning, and drawn together by a common desire for craft distilling, three generations now work side by side, continuing the family legacy.
Coupled with our tradition, is our firm belief in creating top quality spirits, wine and liqueurs. This is accomplished by honoring each generation and pulling the best from them, uncompromising on quality and working together to passionately create signature flavors and bespoke spirits, liqueurs and cocktails that excite the palates of our customers. Driven by perfectionism and fueled by heritage, Three Foxes Distillery is focused on providing quality spirits backed by hard work and a belief that our product is never finished; we are ever-improving and exploring in order to create refined spirits that are second to none.
Meet The Crew
The Three Foxes share a jovial attitude toward their industry and craft, while maintaining an honest and strong work ethic, that combined, compose the cornerstone of their success. Together, they hold a vision to expand the alcoholic beverage industry by balancing the time-honored, old-world traditions of their family roots, with the modern demands of the market, while keeping their customers' discerning palates at the centre of their vision.
La Belle Miette - Wedding Bomboniere Melbourne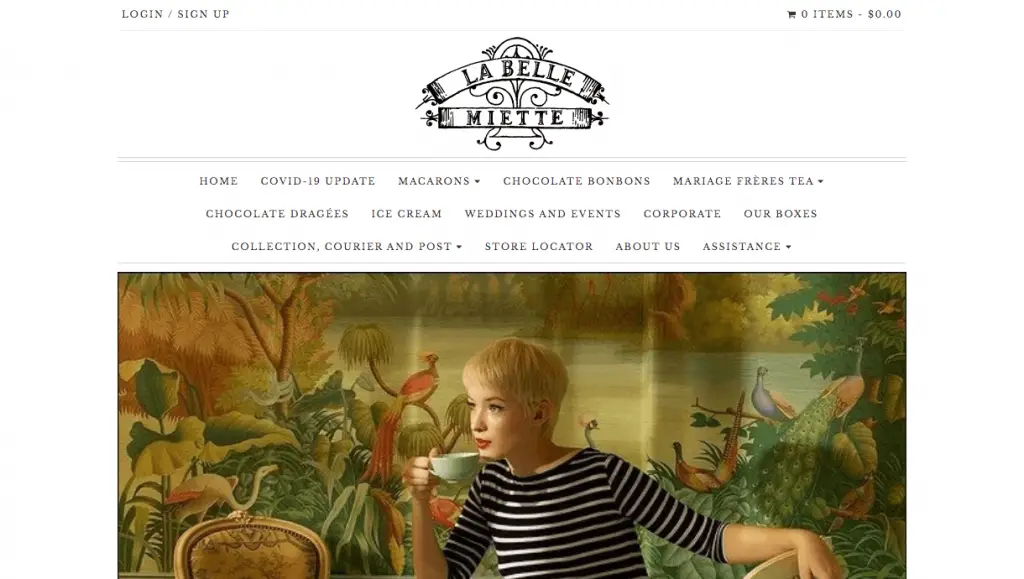 labellemiette.com.au
390244528
La Belle Miette is Melbourne's macaron specialist patisserie, founded by two francophiles. Only the finest ingredients are used to create flavours such as Strawberry, Passionfruit & Rhubarb and Fleur de Sel Caramel. Condé Nast Traveler rank them amongst the most delicious macarons in the world and the Guardian's Dan Lepard described them as "better than Paris, best in the world".
We have five locations – 30 Hardware Lane Melbourne, 8 Collins Street Melbourne, 432 Church Street Richmond, a pop-up kiosk at Chadstone Shopping Centre and a beautiful new kiosk at QVB Sydney.
La Belle Miette means the "beautiful crumb" or, more broadly, "beautiful small thing". We specialise in small delights – macarons, chocolate bonbons and dragées (chocolate coated nuts, fruits and cereals). To complement our belles miettes, we also stock a large range of tea from Mariage Frères.
Bouquet Cakes by Tiffany Wedding Bomboniere Melbourne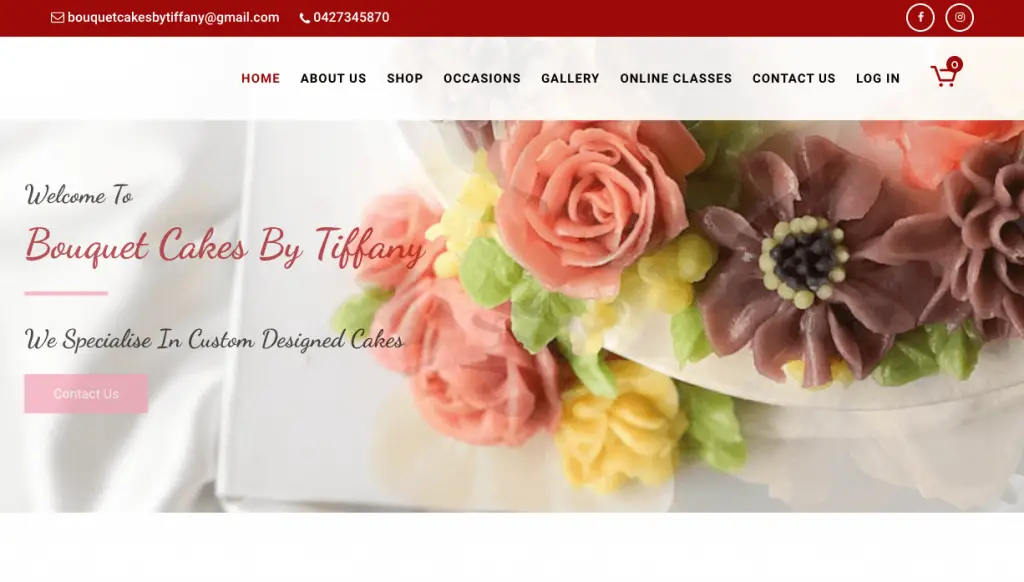 bouquetcakesbytiffany.com.au
427345870
Bouquet Cakes By Tiffany
Bouquet Cakes by Tiffany is run by Tiffany, a passionate cake artist based in Melbourne, who loves all things beautiful! We are a home-based cake boutique registered by the council and have been spreading smiles and bringing sweet treats to our clients, who are always in awe for our cupcakes and cakes.
About Bouquet Cakes By Tiffany
Bouquet Cakes by Tiffany is run by Tiffany, a passionate cake artist based in Melbourne, who loves all things beautiful! We are a home-based cake boutique registered by the council and have been spreading smiles and bringing sweet treats to our clients, who are always in awe for our cupcakes and cakes.
The foundation of Bouquet Cakes by Tiffany was laid to celebrate happiness and love for baking cakes, which was passed on to Tiffany by her mum and aunty! She baked first cake at the age of 10 and Bouquet cakes by Tiffany became a dream-turned-reality.
We offer all types of buttercream, fondant cakes, and cupcakes for you relish and make your special days even better. Our taro signature bouquet cupcakes have always been the talk of the town, and the love we receive for baking those beauties is unmatched. When passion turns into work, there are no Monday blues but only contentment whilst baking sweet treats for our lovely clients.
The Cookie Stories Co. Wedding Bomboniere Melbourne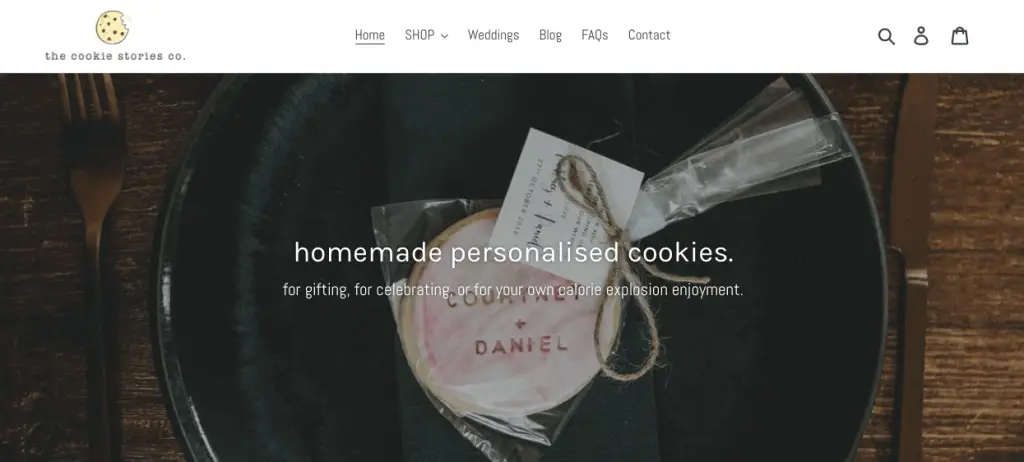 thecookiestoriesco.com
61424451646
Weddings
Personalised cookies make a beautiful (and yummy!) wedding favour/bombonnerie. We have a range of shapes, including circle, heart, flower, square, star, etc. You can choose from a range of colours, either solid or marble effect, and gold/silver detailing at an additional cost. Each cookie comes packaged separately in a plastic sealed pocket.
In regards to design, we want to match our cookies to your wedding theme perfectly. Let us know what you have in mind or definitely send us photos. Most couples get their names or initials on the cookies. A custom stamp can be made for an additional $33. Our cookies can also task as edible place holders!
Price per cookie is $4, or $3.75 if you order 50 or more. If you wish to get the additional detailing  (i.e. ribbon or swing tags) we can look at costs separately. We can deliver Australia wide at an additional cost. Alternatively, you can collect them from Bentleigh, Victoria.
We would love to part of your special day! Fill out the form below or email us hello@thecookiestoriesco.com for a formal quote.
Ambra Spirits Wedding Bomboniere Melbourne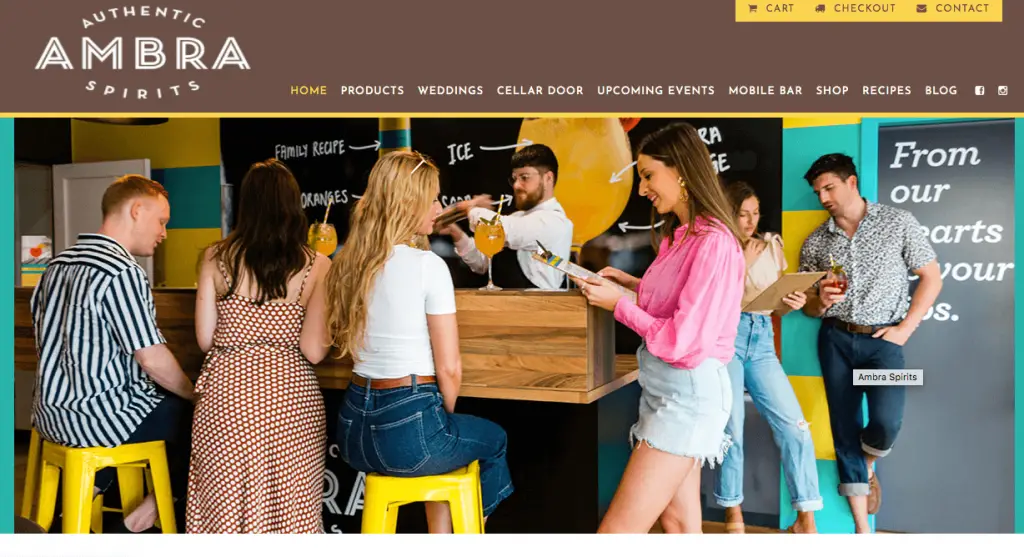 ambraspirits.com.au
883540611
ABOUT AMBRA SPIRITS
Our 100% authentic Italian family recipe was handed down over generations and remains unchanged. Australian made with fresh ingredients since 1998. AMBRA brings fun, flavour & passion to life with our range of traditionally inspired, locally produced spirits. Mixed as a cocktail or a great way to REFRESH YOUR SPRITZ, our distinct flavours will ensure that for every day there is an AMBRA WAY.
Our Products are inspired by authentic family recipes passed down through generations. Honouring our heritage, we handcraft small batch spirits in Australia with the finest locally grown citrus.  "From our Hearts to your Lips".
At Ambra we have a great range of Bomboniere and a perfect way to say "Thank you", to your guests, whether it is for a Wedding, Christening or other Special Occasions. Our beautiful 100ml bottles are available in available in 4 flavours – Limoncello (lemon), Orange, Cappuccino and Blood Orange, and are just the perfect size to compliment your special table setting, measuring 205mm in height x 40mm in diameter.
We do not supply any additional decorations, or special labels for our 100ml wedding bottles, we leave this personal touch to the bride. We recommend you place your order 6 – 8 weeks before your wedding.
Ecobloom Wedding Bomboniere Melbourne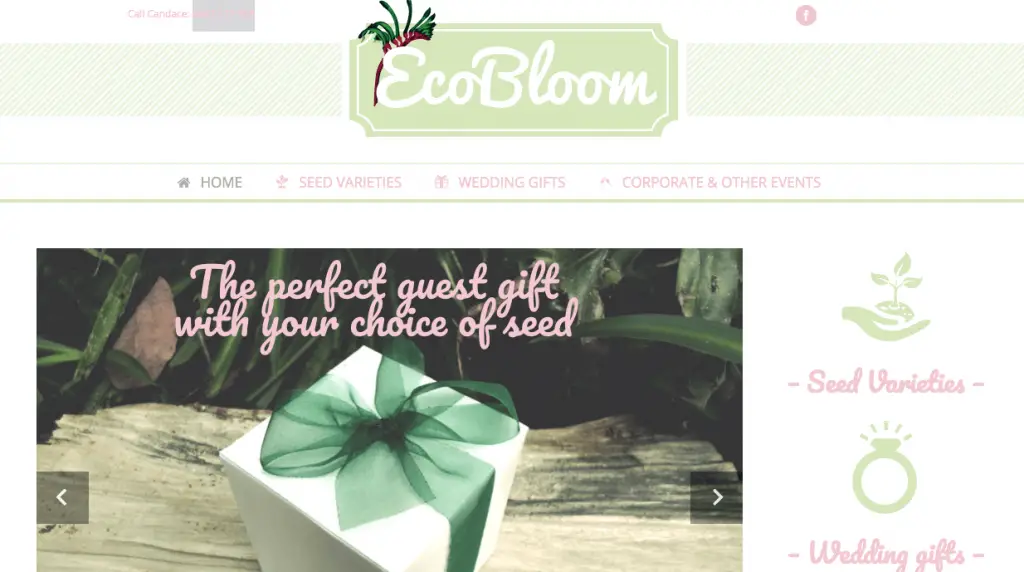 ecobloom.com.au
407471955
Give the gift of nature… Plantable Wedding Invitations
Ecobloom provides customers with high quality native seed for Plantable Wedding Invitations or special events such as weddings, corporate functions, baby showers or birthdays. We offer a range of packaging designs, from a basic seed sachet to personalised seed packets with your choice of native seed.
Give your guests a gift that will continue to grow and remind them of your special day! Give your clients an environmentally friendly gift they will remember.
Corporate seed packets are a distinctive promotional item that will continue to remind your clients of your business. Customise the seed packets with your specific information and message and watch your customers grow. Perfect for grand openings, trade shows, giveaways, thank you cards, fund raising, holiday promotions and more. Simply send us your logo or design and we will do the rest. .
Sticky Wedding Bomboniere Melbourne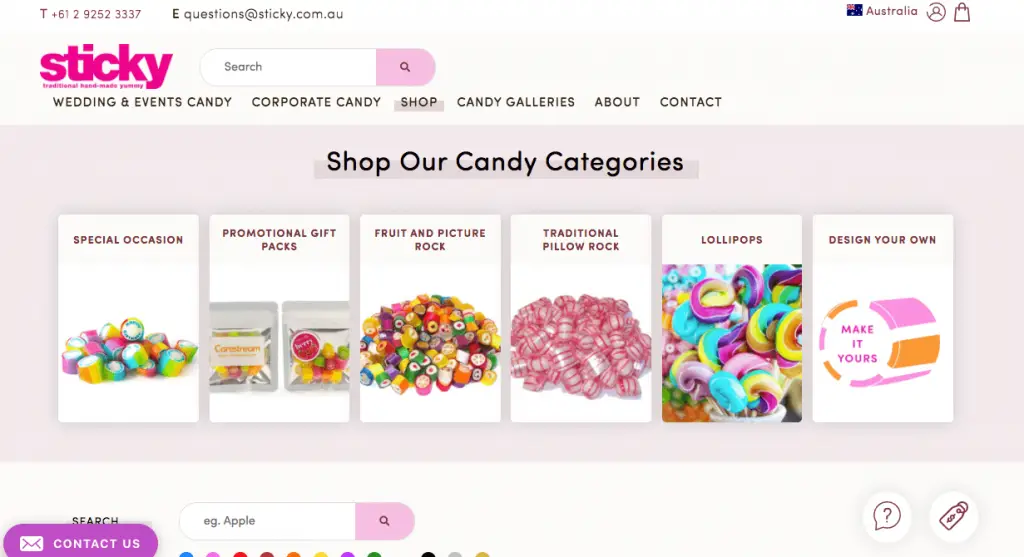 sticky.com.au
What We Do
We make candy. Rock Candy. Pure, but never simple.
Using traditional techniques transformed and updated for a modern market, each and every day Sticky Candy-makers sculpt their creations right in front of our customers, working with upto 16 kg of molten sugar to create something fascinating, educational, beautiful, delicious and fun. Check out the video and see for yourself. We have developed our own range of beautiful sweets, but our range is constantly evolving and almost infinitely flexible.
We can take your ideas, your thoughts, your feelings, your inspiration, and build it through the heart of your very own custom rock candy for just about any purpose. Have a look at the Weddings and Events and Corporate sections to learn more.
Who We Are
Sticky is a group of dedicated candy artisans and sculptors, committed to making the very best product of its kind, anywhere in the world. We have been making beautiful, hand-made confectionery here in Australia since 2001.
Sticky is an Australian, family owned business. We don't try to be everything to everyone. We simply strive to be the very best at what we do. We pride ourselves on the quality of our work and an unrivalled commitment to customer service. When you pick up the phone, you talk to us, so if you're not satisfied, we're not satisfied, and we'll do whatever it takes to make sure you are.
We use only the finest ingredients, ensuring that quality is at the heart of everything we do. We are proud of our product and of making people smile.
Our reputation for excellence means that we have now partnered with like-minded people around the world, transforming this little Australian business into an international brand. Seeing our vision grow, being part of an Australian success story overseas, is a source of both pride and extraordinary pleasure.
The Aisling Distillery Wedding Bomboniere  Melbourne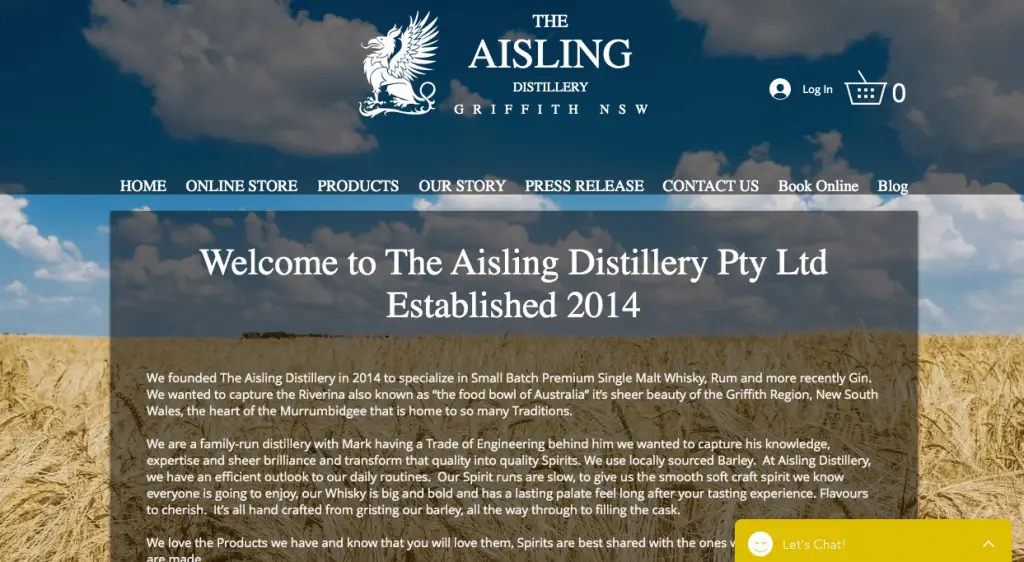 theaislingdistillery.com.au
428438336
We founded The Aisling Distillery in 2014 to specialize in Small Batch Premium Single Malt Whisky, Rum and more recently Gin. We wanted to capture the Riverina also known as "the food bowl of Australia" it's sheer beauty of the Griffith Region, New South Wales, the heart of the Murrumbidgee that is home to so many Traditions.
​We are a family-run distillery with Mark having a Trade of Engineering behind him we wanted to capture his knowledge, expertise and sheer brilliance and transform that quality into quality Spirits. We use locally sourced Barley.  At Aisling Distillery, we have an efficient outlook to our daily routines.  Our Spirit runs are slow, to give us the smooth soft craft spirit we know everyone is going to enjoy, our Whisky is big and bold and has a lasting palate feel long after your tasting experience. Flavours to cherish.  It's all hand crafted from gristing our barley, all the way through to filling the cask.
​We love the Products we have and know that you will love them, Spirits are best shared with the ones we love where memories are made.
Our Story
The Aisling Distillery was born with the love of my Scottish Heritage as I was born in the mid-seventies in Griffith, NSW. Being raised in Griffith surrounded by an Italian community rich in culture and heritage. I knew that I was of Scottish ancestry.The problem with being of Scottish heritage being raised in Griffith was that I had no identity in regard to my past. The Italians had their nice breads, salami, wine, olives, anti-pasta and a European language.
​I feel that I had nothing, but I felt that I needed to be in touch with something. I didn't know where I came from, I was just an Aussie boy growing up in a town full of people with rich cultures and stories dating back generations. So being of Scottish heritage I thought that it was my birth right that I produce something from my past.
As I have embarked on my journey into my heritage, I've realized the first descendants arrived in Benalla, VIC and settled in Tungamah, VIC. The land where they lived and worked from 1875-1920 was "BURNSIDE" Hill Plain Road. This farm is still today being worked by a local Griffith Lady that married a Tungamah Lad and now lives on "BURNSIDE" over the past few years they've harvested "Planet" & "Hindmarsh" Barley.
Along with my journey, we travel into the fate of East meets West. Fifteen years ago, I met my now wife, Michelle who has Dutch Heritage and with that we embarked on this journey together. We had a brief discussion about a Distillery, so Michelle sent me to Tasmania to meet Bill Lark. Well that was a decision made and here we are a Scotsman and a Dutchwoman two dreams that have come together and are producing amazing Spirits. It is an amazing journey, life changing, and memories being made with our family.
Spotted Llama Designs Wedding Bomboniere Melbourne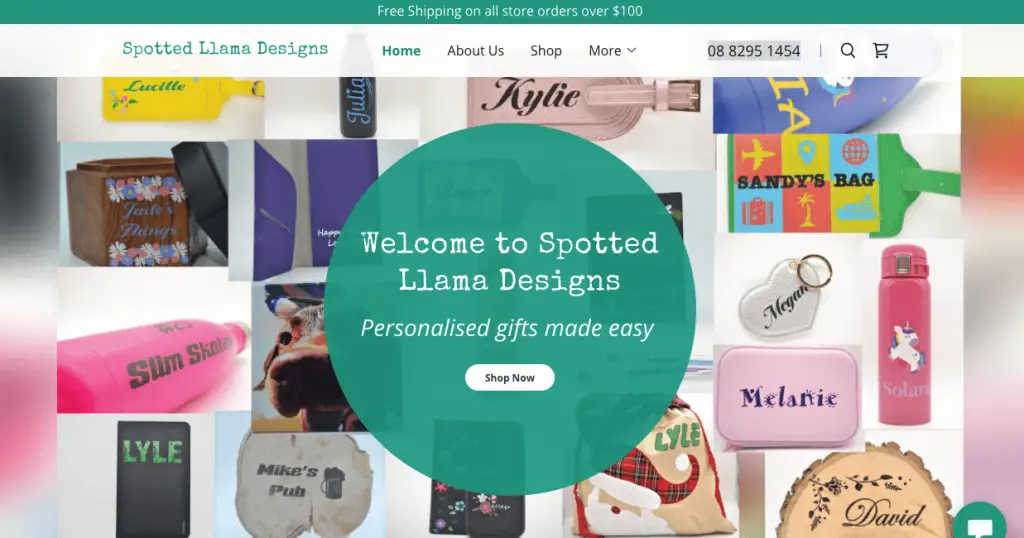 spottedllama.com.au
882951454
That's right, we can print directly to most surfaces including wood, plastic, glass,stone and metal. Contact us for more info on what we can do for you, or visit our store for products we stock.
Direct to Substrate printing
We use the latest printing technology to print directly onto objects, no vinyl, no stickers! Our ink is cured using a high intensity UV lamp which bonds the ink to the products. The options are endless!
Canvas and Photo Frame Printing
Make family memories extra special with our canvas prints. We can print on canvas with widths up to 25cm and lengths of up to 80cm.
Want something different?
Get a 3D Photo frame description print. Printing multiple layers on top of eachother creates a textured 3D font layer. We can even print your picture directly to the glass with a textured print.
Australian Favors Wedding Bomboniere Melbourne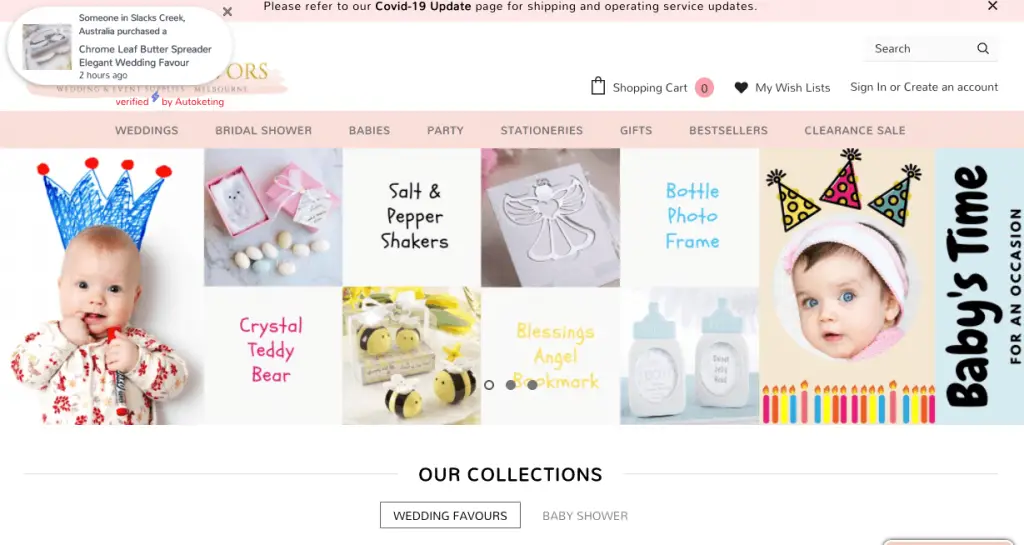 australianfavors.com.au
386575977
HANDCRAFTED WITH LOVE BY EVERY TEAM MEMBER.
Some said wedding is the very beginning of a selfless journey. For others, it's the day when two hearts merge into one, making commitments to each other, in saying "I do". Whatever your journey, the team at Australian Favors strives to make your wedding or special event a memorable masterpiece. Inspired by the love of crafting and the passion for quality artistry, we are renowned for each Australian Favors creation – designed and handcrafted with love by every team members – perfectly imperfect. Style defines each of us on a daily basis and your wedding shouldn't be an exception.
WE WANT SOMETHING UNIQUE.
Your day. Your style. We understand as a confident, creative individual, you might have a specific vision for your wedding or special event. If you wish to have some personalised gifts to mark every step of the journey, we would love to work with you to design custom favours or décor. Be it personalised heartfelt messages or engraved bottle openers, our favours and stationeries are waiting to be stamped with your personal touch. At Australian Favors, we're also more than happy to modify any existing designs in the store to perfectly fit other special occasions, such as bridal or baby showers. Talk to us and we'll strive to achieve all that you have envisioned for your wonderful events.
LET'S MAKE THINGS HAPPEN.
From the moment you log onto Australian Favors's online store, we want you to feel like you're a part of something special. We have a range of organized processes to ensure your favours fits your event's theme and your budget. If you're lacking inspirations and ideas for your upcoming events, Australian Favors is the place for you! Our Blog, Instagram, and Facebook are full of stuffs we love. We operate in an industry built on love and love shouldn't be that formal. That's why at Australian Favors, you always talk to a human. Now, it's your turn to say hello.
Favour Perfect Wedding Bomboniere Melbourne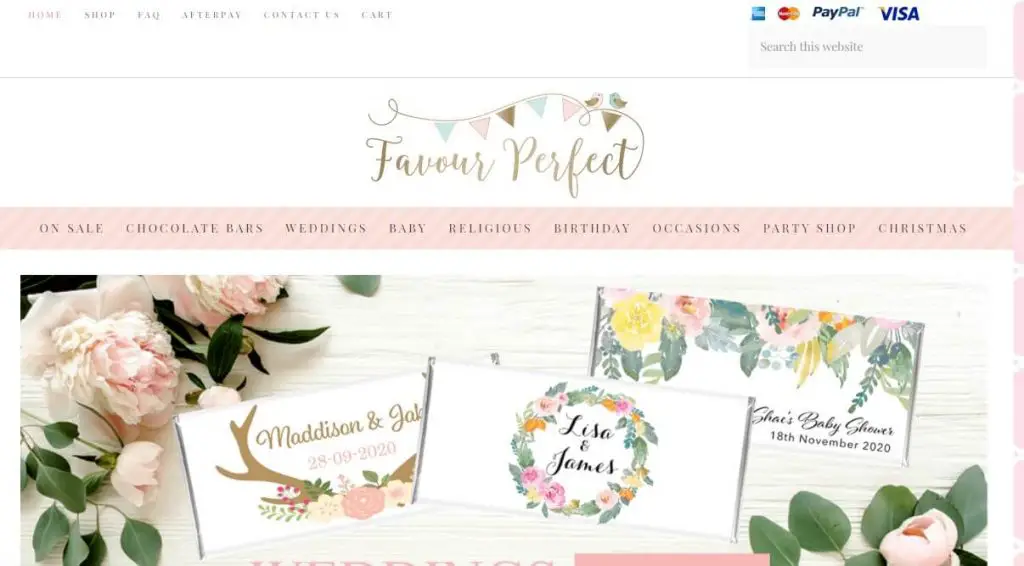 favourperfect.com.au
434392444
FAVOUR PERFECT - ONLINE WEDDING AND PARTY SHOP SPECIALISING IN GORGEOUS FAVOURS AND BOMBONIERE
Favour Perfect is an online Wedding and Party shop offering a unique and affordable range of Wedding Favours, Wedding Bomboniere, Wedding Favour Boxes, Wedding Place Card Holders and Frames, Wedding Candle Favours, Wedding Soap Favours, Bottle Stopper Favours and much, much more . We also have a large range of Christening Favours, Engagement Favours, Bridal Shower Favours and Baby Shower Favours and we have a range to suit every taste and budget!
Favour Perfect has just released an exciting new range of personalised chocolate favours which can be made to suit your wedding or party theme and double as place cards!
Having a beach wedding? View our fantastic range of beach wedding favours!
No matter how you spell it or say it - Favours, Favors, Bomboniere, Bonbonniere, Bonbonieres, Favour Perfect understands that each and every event is special and we also know how difficult it can be to locate and purchase ideal favours and bomboniere for your guests at your special event. Favour Perfect's secure and easy online shopping allows our customers to browse and feel safe when making purchases.
From Sydney, Melbourne, Perth, Canberra, and all the way up to the Northern Territory, anywhere you can think of Favour Perfect will deliver!
Pandora Designs Wedding Bombonieres Melbourne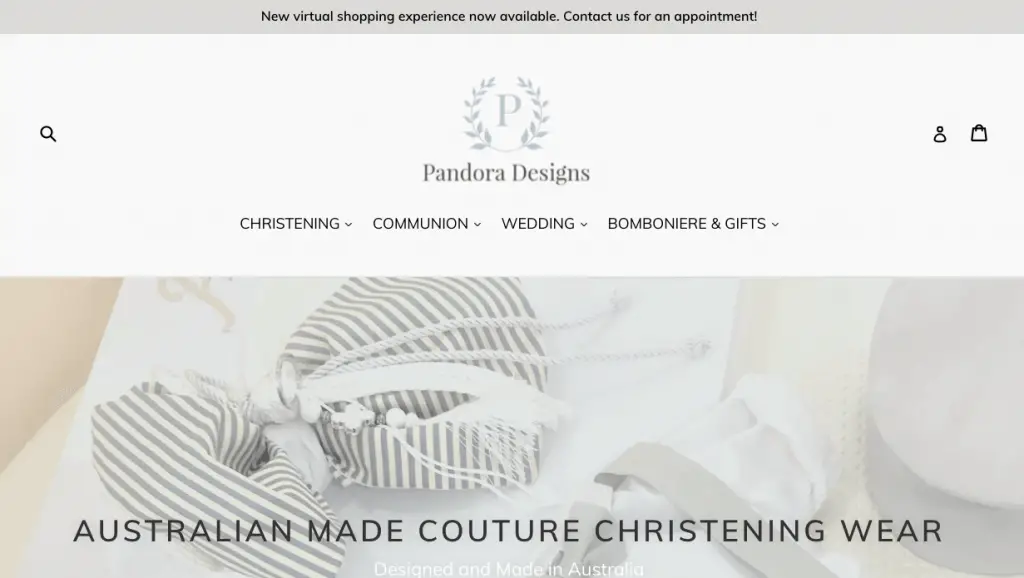 Pandoradesigns.com.au
61395699407
OUR COLLECTION
Pandora Designs is proud to be the leader in Australian Made Couture Christening Wear.  Our range of products also include Communion Wear and Shoes, Christening Shoes, Communion Wear, Wedding Favours and Candles for all special occasions. We make things with love, care and attention to detail, all put together by experienced craftsmanship. We also offer style consultation online or in store.
PANDORA DESIGNS - THE WEDDING, CHRISTENING AND COMMUNION SPECIALISTS
The Greek Orthodox wedding tray is one of the necessities for a Greek Orthodox wedding. The tray is used to place the wedding crown Stefana and is decorated with rice and sugar almonds koufeta. During the sacrament, the guests sprinkle the rice on the newlyweds to pray for the new couple to take root and have a happy, blessed and blossoming life together.
The Greek Orthodox wedding tray is usually also used to store the wedding crown Stefana as a keepsake. Or, some couples may prefer a wedding crown Stefana box for this purpose. Our collection of Greek Orthodox wedding trays / boxes features a range of hand-selected traditional & modern designs. Have a browse below or come visit us at our Oakleigh showroom in Melbourne.
Minoa Boutique Wedding Bomboniere Melbourne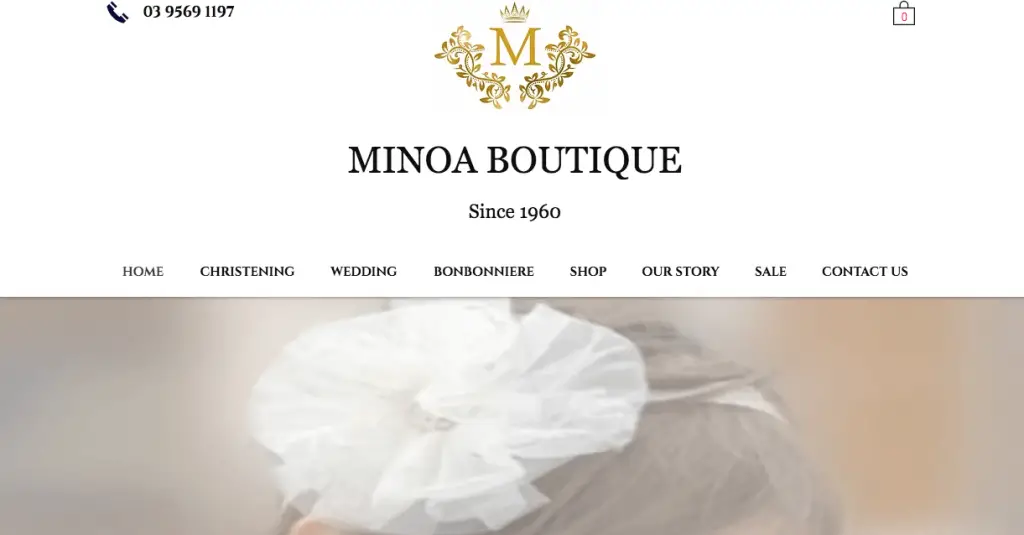 minoaboutique.com.au
61395691197
Welcome to Minoa Boutique
​We hope you can find everything you need. Minoa Boutique is focused on providing high-quality service and customer satisfaction - we will do everything we can to meet your expectations.
With a variety of offerings to choose from, we're sure you'll be happy working with us. Look around our website. If you cannot find what you are looking for, or if you have any comments or questions, please feel free to contact us.
Prilep Candles - Wedding Bomboniere Melbourne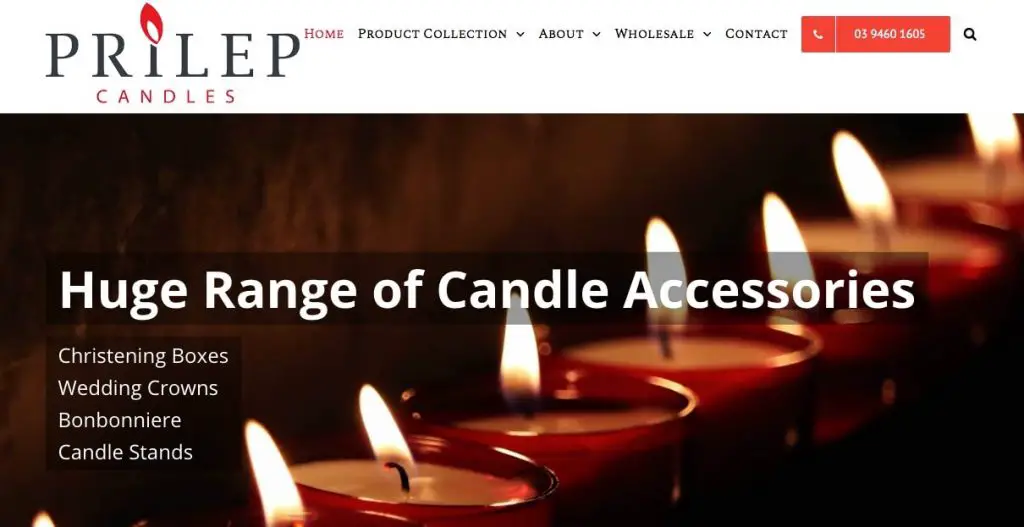 prilepcandles.com.au
61394601605
About Prilep Candles
Built on family history going back to the early 1980's and dedication to creating high quality candles, Prilep Candles has a broad capability and wide range of products for all your candle needs.
Being a manufacturer and wholesaler we offer a premium product with great customer service at a competitive price. Our advantage of being an Australian manufacturer means we can offer a customised product to suit your requirements. Take a look at our product collection to discover our extensive range of products. We specialise in personalised projects, contact us with your requirements and we will gladly look into this.
Candles
We have a wide range of candles ranging from tapered church candles to hand carved sculptured candles. We pride ourselves on having industry leading machinery enabling us to produce a customised range of candles with the highest quality. Our advantage of being a manufacture means we have a high degree of flexibility when it comes to a customised range of candles, for example we can manufacture church candles in a variety of different sizes, thicknesses and colours according to your requirements. Our soy jar candles can be manufactured according to your requirements of  jar types, fragrances and private labelling.
Christening/Wedding Accessories
Prilep Candles has an extensive range of add-ons and accessories for all your candle and candle decorating needs. Our accessories range from large christening keepsake boxes to small bonboniere. Take a browse though our Accessories and then contact us to arrange delivery of your selection.
Brewtopia Wedding Bomboniere Melbourne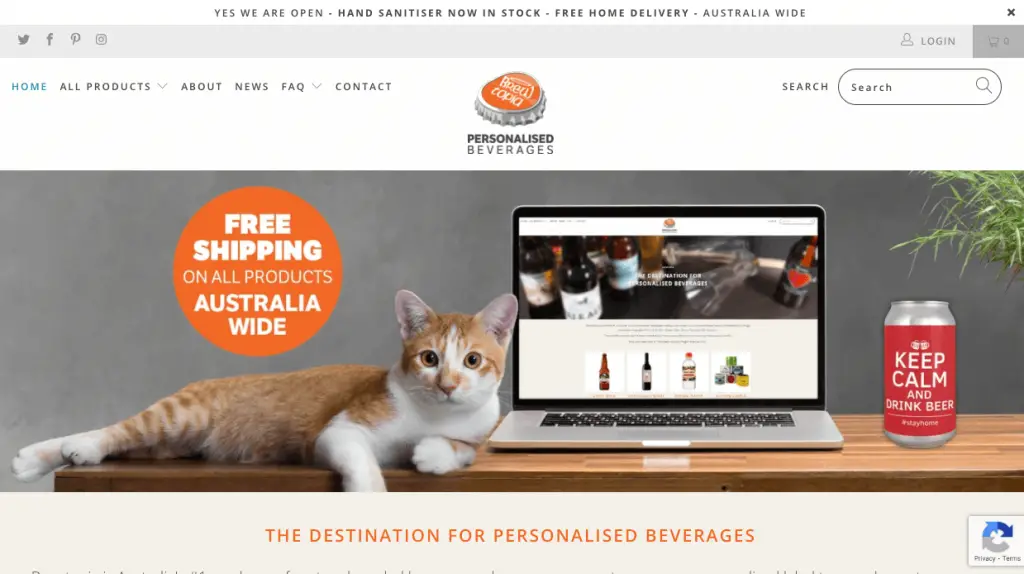 brewtopia.com.au
61383521000
BREWTOPIA
Brewtopia offers the largest range of personalised beverage products in Australia, spanning spring water, craft beer, artisan cider, premium wines and of course our deluxe hampers.
Established in 2002, Brewtopia has expanded into Australia's pre-eminent supplier to corporate Australia as well as special occasion gifting through out online retail site. Our best-in-class range of products are preferenced by brands all over the country for corporate branding, event PR and charity campaigns, marketing promotions and gifting.
ONLINE RETAIL
Brewtopia's unique Label Builder Tool provides online customers with the ability to build their own label brand or event-specific label using our wide range of label templates. Alternatively, you can upload your own label design and see your creative genius come to life. Whether it's a fishing weekend with the boys, a milestone birthday, a client meeting, conference or your upcoming wedding, Brewtopia's customised beverages can add a personal touch to any occasion.
CORPORATE DIRECT
We have an enviable and extensive client base across corporate Australia with many customers being long-term partners. Through word-of-mouth and referrals we continue to grow in this space. This is because we excel in product quality, service delivery and logistics. We have a streamlined process which makes the order process extremely simple for our customers. Whether it be two bottles of wine, one carton of beer, a pallet of wine or a truck load of spring water, we deliver to anywhere across Australia utilising our extensive logistics network.
Elvie and John's Wedding Bomboniere Melbourne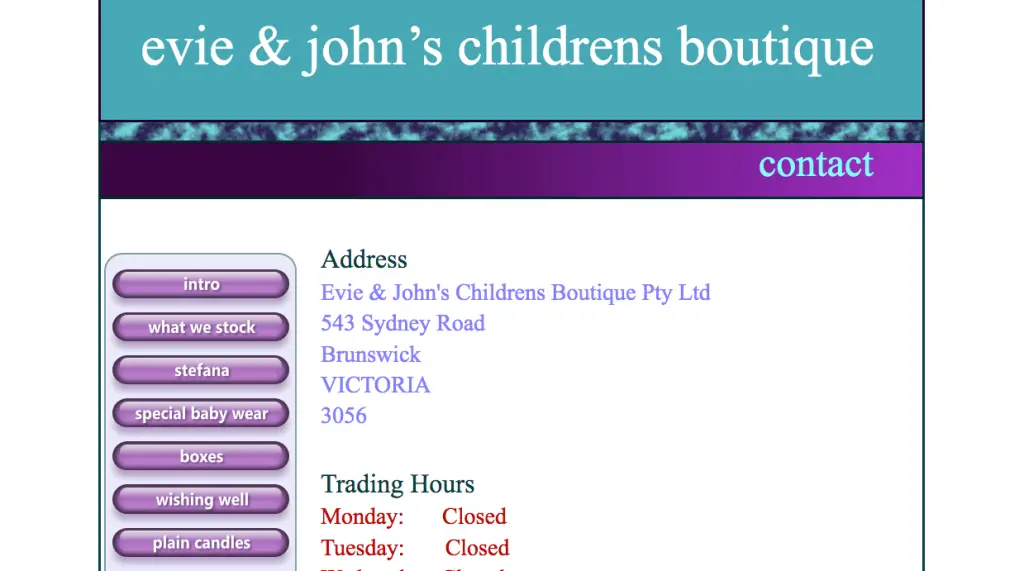 evieandjohns.com.au
393806466
Welcome to the Evie & John's Childrens Boutique website.
Evie & John's Childrens Boutique is a retail shop that operates out of 543 Sydney Road, Brunswick, Melbourne.  We have been trading at this location for over 40 years. While we sell various products, our main stock is Christening wear, Christening items and crowns for Orthodox Weddings. On the remainder of this website we broadly list different types of items that we stock in the What We Stock page.  Some types of items that we stock have their own web
page.  In the Contact page you can find our contact details and open hours. In the Q&A page we provide answers to some questions about our business
Starlight Children Foundation-  Wedding Bomboniere Melbourne
shop.starlight.org.au
61130072827
HOW IT WORKS
A Starlight gift will make a sick kid feel super special and bring a smile to their face. Whether you're helping grant a Starlight Wish or enabling access to a super fun day in the Starlight Express Room – you are brightening the life of a sick kid and distracting them from the pain and suffering they endure during months of treatment!
Not only will you be brightening the lives of seriously ill children, but you will also be bringing a smile to the face of the person you are buying the gift for – that's double the happiness! They will receive an explanation on exactly how their gift has impacted the life of a seriously ill child…all because of your generosity!
All our gifts represent true gifts that are delivered directly to the children who need it most, whether that be in their hospital bed or in a remote area of Australia. Because of you, Captain Starlight can bring joy and happiness to the lives of sick kids and their families.
Bon Bo Vendi - Bomboniere Wedding Melbourne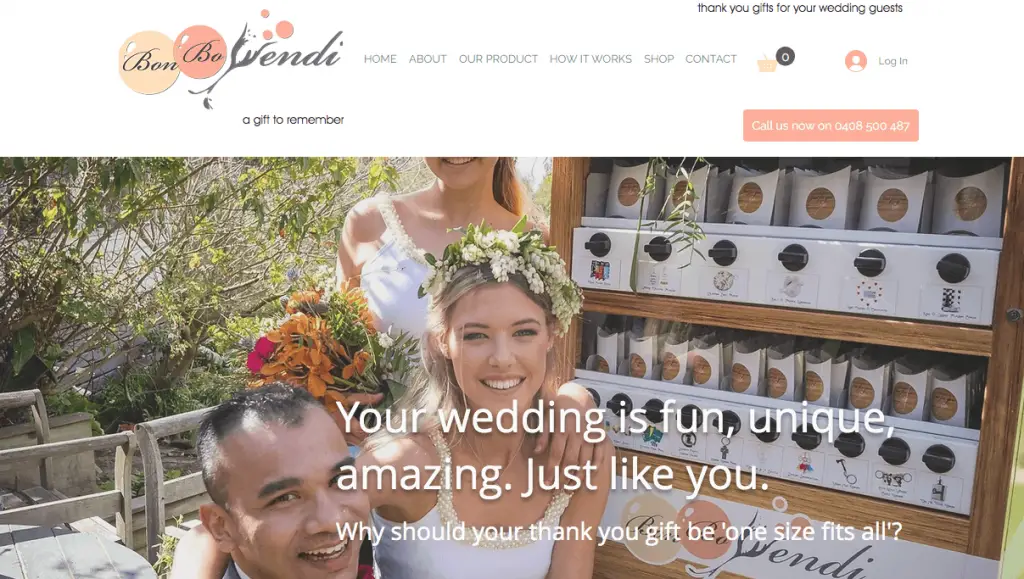 bonbovendi.com.au
408500487
Organising wedding favours is stressful for many couples. You want to thank the special people who share your joy. It should be simple. Too often it becomes hard work. The problem is: one size doesn't fit all.  The same gift for every guest cannot please all tastes, cater to all ages, mean something to each person. There is nothing worse than watching gifts chosen and made with love being thrown out with the napkins at the end of your celebrations.
We've been through the stress of organising thank you gifts. We've helped friends go through the same thing: first choosing, then wrapping and tagging each favour. Laboriously handmade, with love. Label after label, each bonbonniere the same.​
We're Kristy-Lee and Jamie Crossan. For our own wedding in April 2018, we were determined to keep it stress-free and find a way to make gift-giving fun, for us and for our guests. And our idea became Bon Bo Vendi, the Original Thank You Gift Vending Machine.
Introducing Bon Bo Vendi Add some sass to your wedding celebrations with Bon Bo Vendi, the original thank you gift vending machine with favours to suit all tastes and ages. Bon Bo Vendi puts the fun back into gift giving, dispensing beautiful custom-wrapped keepsakes especially designed for your celebrations. From the classically distinguished to the deliciously kooky, Bon Bo Vendi works with you to create your perfect, personalised thank you to your guests.