There are so many reasons why dancing is good for you, and it's hard to know where to begin. It's great fun and good for the body as well as the mind. Besides being a good form of exercise and having a truly positive impact on our health, a recent study showed that it also makes us smarter (something to do with remembering the dance steps, thus exercising the brain).
On the hunt for a dance class studio in Melbourne, Victoria? Finding the right dance studio can be a stressful endeavour. After all, there are so many options, and prices out there to consider.
So, finding a dance studio that offers supreme service and a carefully curated selection of trainers is a true life-saver.
To help you get started on your dance studio hunt, we've rounded up our favourite dance class studios from right across Melbourne, Victoria.
Read on to discover where to start your search.
Ultimate list of dance class studios in Melbourne
Lily's Dance Studios – Dance Class Studio Melbourne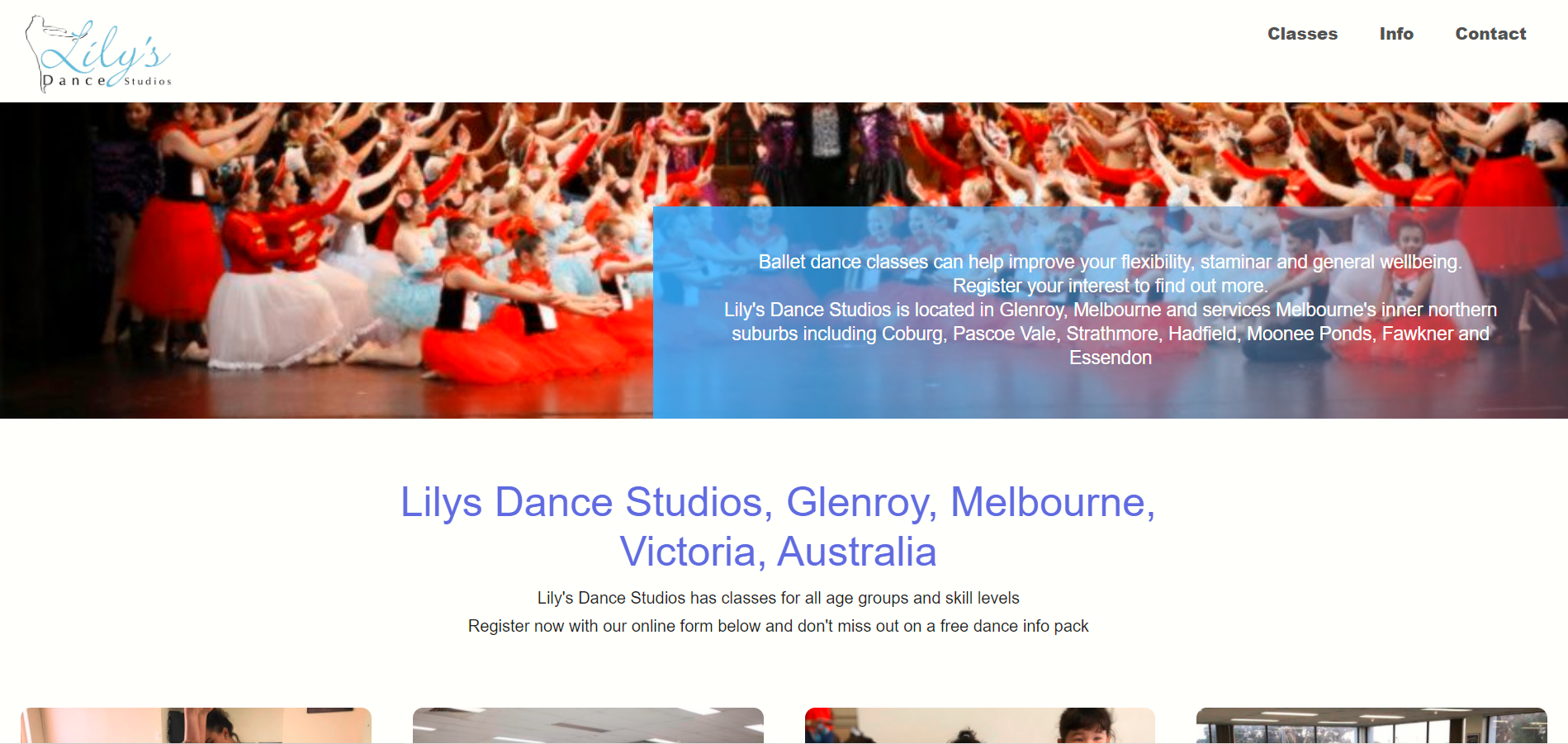 0416 018 201
At Lily's Dance Studio, we take all styles of dance seriously. We offer high energy Hip Hop classes, taught by industry professionals with valued experience in style. They collectively have over 20 years of experience, have been trained extensively in a formal dance setting, and have performed with numerous celebrities and dance professionals. You can view their qualifications at the bottom of this page. This amount of experience allows us to give your child the attention, professionalism, and knowledge that they deserve when learning a new craft.
Hip hop lessons require high energy and high concentration, making this the perfect pass-time for children and adults who need somewhere to positively focus their high energy level. This style of dance focuses on crisp, energetic, and refreshing choreography. Usually, our instructors will teach the student each move in "counts", and then progressively have them perform it more quickly as they become familiar with the material. This ensures that the child will retain the steps and have fun while learning, rather than becoming stressed out by the hip hop classes' quick pace.
Our hip hop classes also focus on the improvement of memory in regards to choreography, flexibility, transitions, and the ability to adapt to new styles of dance with the correct motivation. We hope to provide only the best, and most professional atmosphere as the child, young adult, or advanced dancer engages in the lively and fun world of hip hop dancing.
Our hip hop lessons range from junior beginners to advanced adults and can be enjoyed by inquiring about Hip Hop Melbourne at our Glenroy dance studio location. We encourage these classes for boys and girls and hope to promote fitness, high energy, overall good health, and having fun! Call us today to begin this expressive dance style and get fit!
About Lily's Dance Studios
Lily's Dance Studios Glenroy is located at level 1, 3 Belair Avenue in the busy shopping precinct of Glenroy with access to great cafes, fruit markets, supermarkets and public transport. The Glenroy dance studio is located in the heart of Melbourne's northern suburbs and takes in dance students from suburbs such as Essendon, Coburg, Pascoe Vale, Broadmeadows, Fawkner, Moonee Ponds and Strathmore.
Lily's dance studios Glenroy offers classes in classical ballet, jazz, hip hop, tap, musical theatre, tiny tots and more.
Facilities include fully air-conditioned studios, sprung timber floors, full-length mirrors, ballet barres, parents waiting room with coffee and tea facilities.
Lily's Dance Studios Mission Statement
Our Mission:
At Lily's Dance studios, our aim is to promote excellence in our students in a friendly, safe, non-competitive environment.
At Lily's Dance Studios:
We provide state of the art facilities that include fully air-conditioned studios, sprung timber floors, full-length mirrors, ballet barres and a parents waiting room with tea and coffee facilities.
We foster self-esteem, confidence and a love of dance through the development of proper dance techniques.
Students at Lily's Dance Studios have the opportunity to participate in examinations and multiple yearly performances. All students who partake in the end year concert are awarded a commemorative trophy at Presentation Day.
The teachers at Lily's Dance Studios promote excellence in our students. This includes a 100% pass rate in external examinations, with most students achieving Distinction or Honours standard.
Class sizes are kept to a minimum to ensure that each student receives individual attention.
All staff are fully qualified to have working with children checks and practise safe dance techniques in a safe, non-competitive environment.
Our studios are based in Glenroy in Melbourne's northern suburbs with easy access to public transport, great shopping, and plenty of car parking.
Phoenix Dance Studio
– Dance Class Studio Melbourne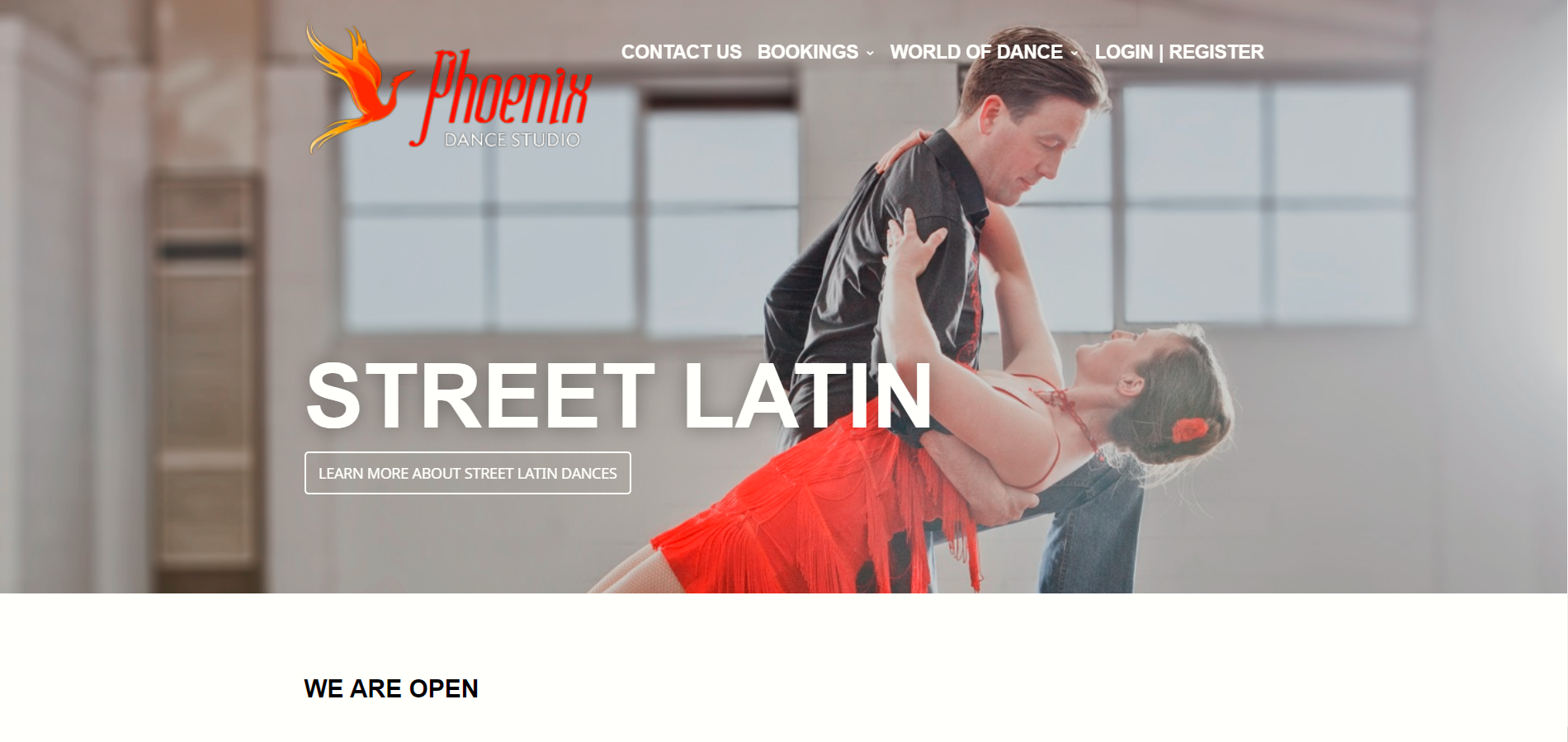 03 9428 7874
You can dance in your kitchen, on the beach or in a club. Dance at a street party or in the grandest ballrooms from Rio to Rome and everywhere in-between.
Dancing is your passport to enjoy yourself wherever you go.
Here at Phoenix Dance Studio, we wish to share with you dances from around the world: Salsa from the bars of Havana, Tango from the salons of Buenos Aires, Waltz from ballrooms of Vienna, Swing from dance halls of Harlem and that's just getting started.
At our dance studio here in Richmond, Melbourne we teach all levels, whether you are an absolute beginner or have been dancing for years and want to improve on what you already know, we can help you.
We all love to dance; that's why we are here. Tom and Miriam opened Phoenix Dance Studio in 2010 with a passion for making dancing simple and honest for everybody to pick up and enjoy. They also believe that if you're going to learn something, you should learn it right.
We teach you how to understand the music, the rhythm and the movement and how they all fit together so that you dance anywhere with anybody.
Dancing is a language used all over the world, and it is universal. Learn to dance well, and then you can have the most amazing times wherever you go, no words needed.
At Phoenix Dance Studio, we focus on teaching certain dance styles but understand dancing in a broader cultural context. Tango to Tap, Ballroom to Ballet to Breaking, there is something to get excited about whenever someone is dancing well and loving it!
We have a fabulous team of professional dancers here at Phoenix that we are immensely proud of. All of our instructors are passionate about dancing and realise that it is dynamic and constantly changing; they know no single formula or only one way to learn. Because they have broad background knowledge in different dances, they are therefore able to draw on techniques and insights from a variety of styles when helping you with your dancing.
We usually assume that you're happy with your regular instructor, but if you ever want a session with someone different to get a different perspective, talk to your instructor or one of the managers, and we can arrange that for you.
Phoenix Dance Studio is always looking for talented and motivated dance instructors. If you think this is you, then get in touch.
Phoenix Dance Studio run Private Dance Lessons, Group classes & even lessons, especially for your Wedding Dance. To learn more visit the links before booking your FREE consultation.
ADDICTED 2 DANCE
– Dance Class Studio Melbourne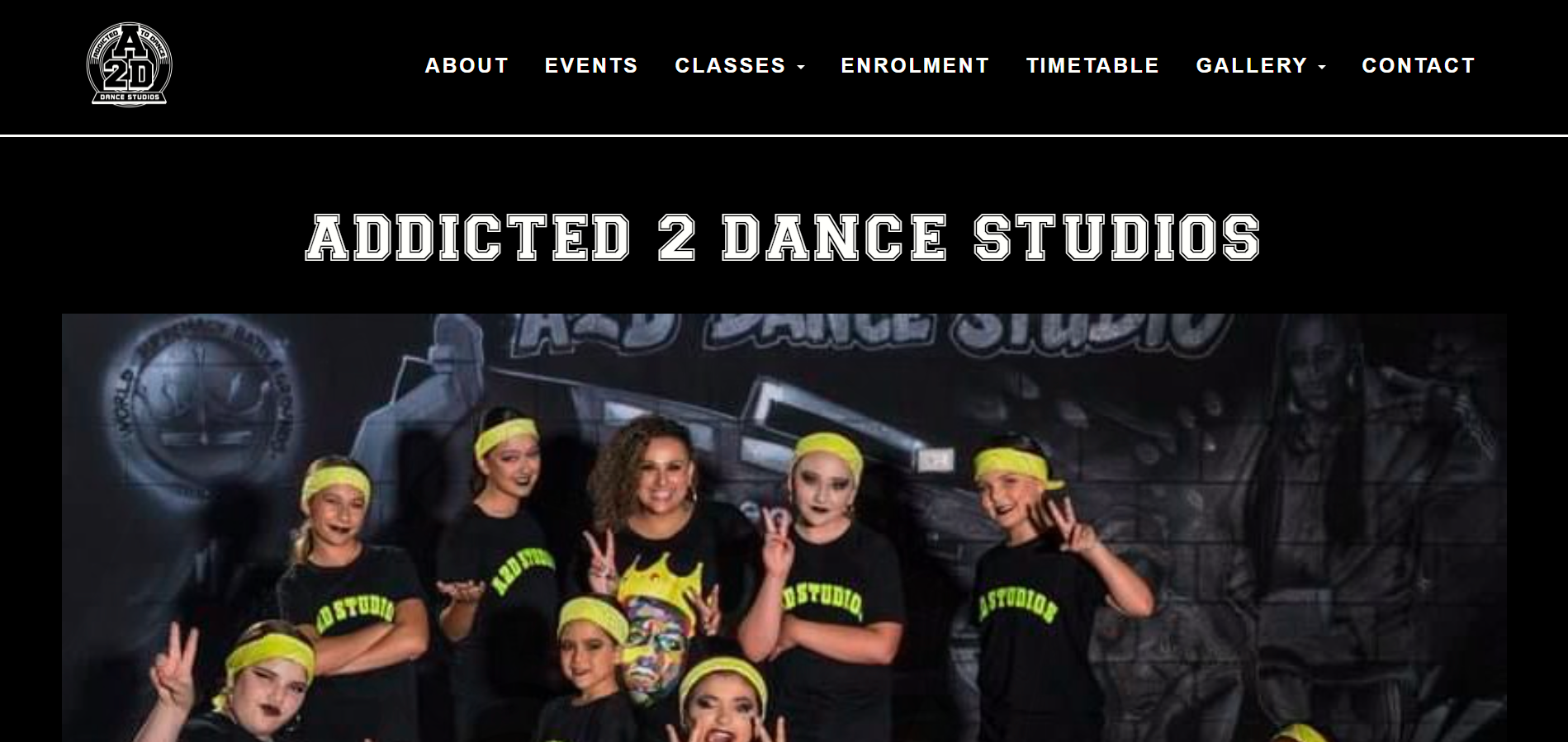 0413961146
Through casual classes of all levels and age groups, to award-winning competition crews, our studio is a place where everyone is encouraged to learn and broaden their skills in Hip Hop dance as well as discovering new friends and a second home. We are not just a dance studio; we are a Dance family. We always welcome new people in our dance family with open arm. We strive and work together to become the best we can be.
Sabrina Duchenne Director/Choreographer at A2D Studios.
Sabrina is very recognised for her work in the Hip Hop Dance scene and is frequently choreographing elite level shows for her competing crews in competitions such as the World Hip Hop Championships in Las Vegas, Step Off, Battlegrounds and World Supremacy. Because of her endless creativity, she has received many awards celebrating her choreography, musical arrangements and costume design. She is very passionate about dance and believes it is a great way to express herself in a fun and positive way. In opening a dance school, Sabrina has created a place where she can now share her knowledge, skills and passion with others and make her students reach their maximum potential. "Dance has made me who I am today" – Sabrina Duchenne Experience/Performances/Education Certificate 3 in Dance. Attended Melbourne School of Performing Arts. Full-time dance course at The Edge Performing School and Agency. Has Performed at The Commonwealth Games. The AFL Grand Final. Formula One Grand Prix. Moomba Festival. Melbourne Show. Australian Dance Festival. Along with her competition crews, Selected as a choreographer for Grounded 2015, Sabrina has also been invited to perform at many Good Friday and McHappy Day events and the Redken Hair Show.
Melbourne Acrobatic and Dance Studio
– Dance Class Studio Melbourne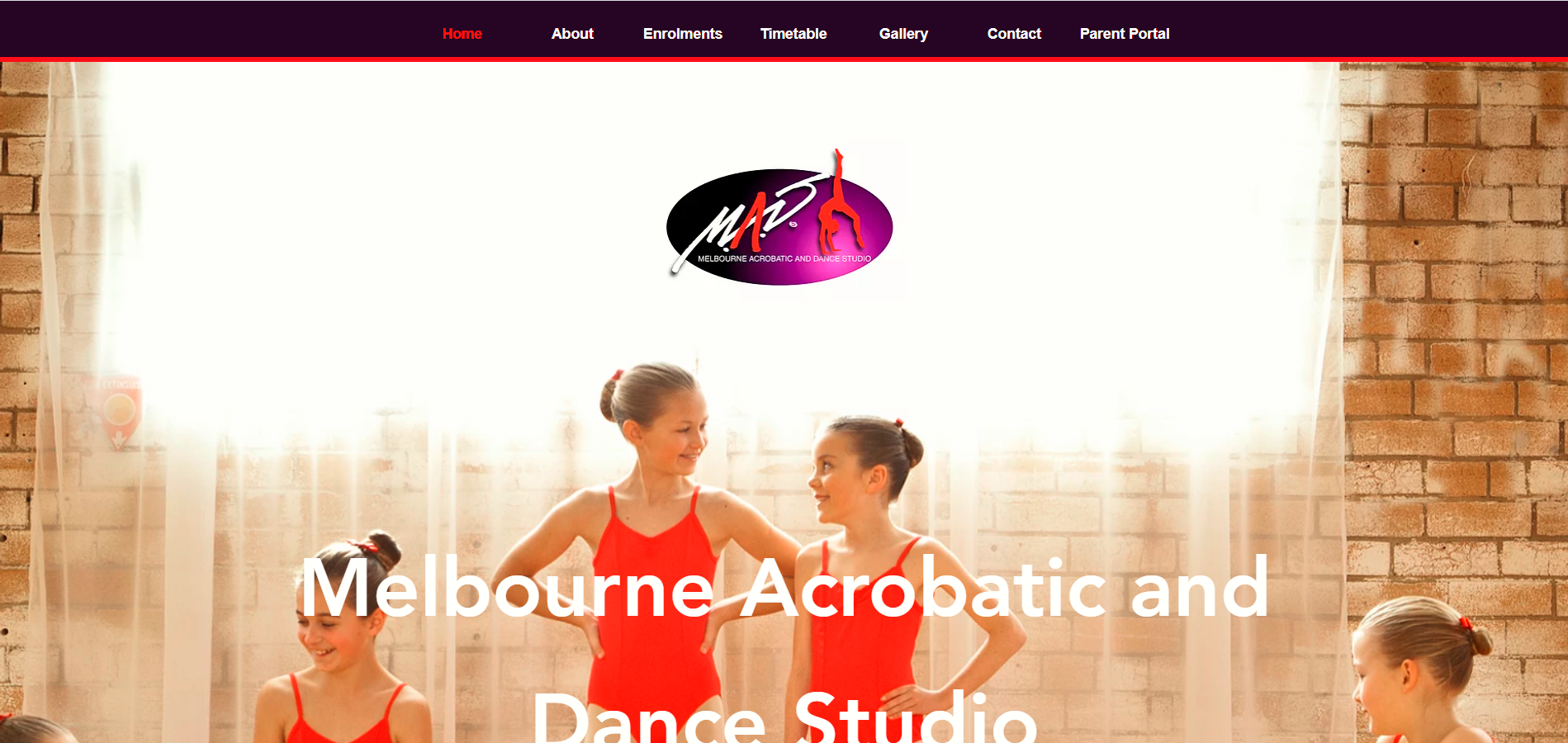 0425 032 622
At Melbourne Acrobatic and Dance Studio, we pride ourselves on delivering quality Dance Education through nurturing and passionate teaching.
We want your child to thrive in ability and confidence.​
Our students often refer to our Studio as the 'MAD Family, which is exactly the kind of community atmosphere we endeavour to create.
Mission Statement
In 2010 Melbourne Acrobatic and Dance Studio opened its doors with a dream of providing quality dance training in a positive learning environment. We have continued to grow each year, and available classes now include Pre-school classes, Ballet, Jazz, Tap, Hip-hop, Acrobatics, Musical Theatre and Contemporary.
Our mission is to provide a safe environment where your child can grow with qualified and experienced teachers who are extremely passionate about what they do.
Teachers are compassionate and understanding and work to provide self-expression and creativity opportunities whilst promoting excellence, dedication, and hard work. We strive to get the best out of each student whilst working towards attainable goals, which will leave your child feeling confident and positive.
About the School
Melbourne Acrobatic and Dance Studio have been operating since 2010 under Principal, Natalie Bale. The studio has grown very steadily in Hampton's Bayside suburbs and then also Beaumaris, Melbourne. We started with just 10 students in 2010, and now we have over one hundred students from ages 3 and upwards. Classes originally started with Jazz, Ballet and Acrobatics, including Tap and Musical Theatre and Contemporary. 
In 2016 MAD. Studios started entering students in examinations with the Royal Academy of Dancing (Ballet) and the Commonwealth Society of Teachers of Dancing (Tap) as well as competitions.
In August of 2017, we moved into our fully equipped, purpose-built studios in Moorabbin.
Isolation Performing Arts Studio
– Dance Class Studio Melbourne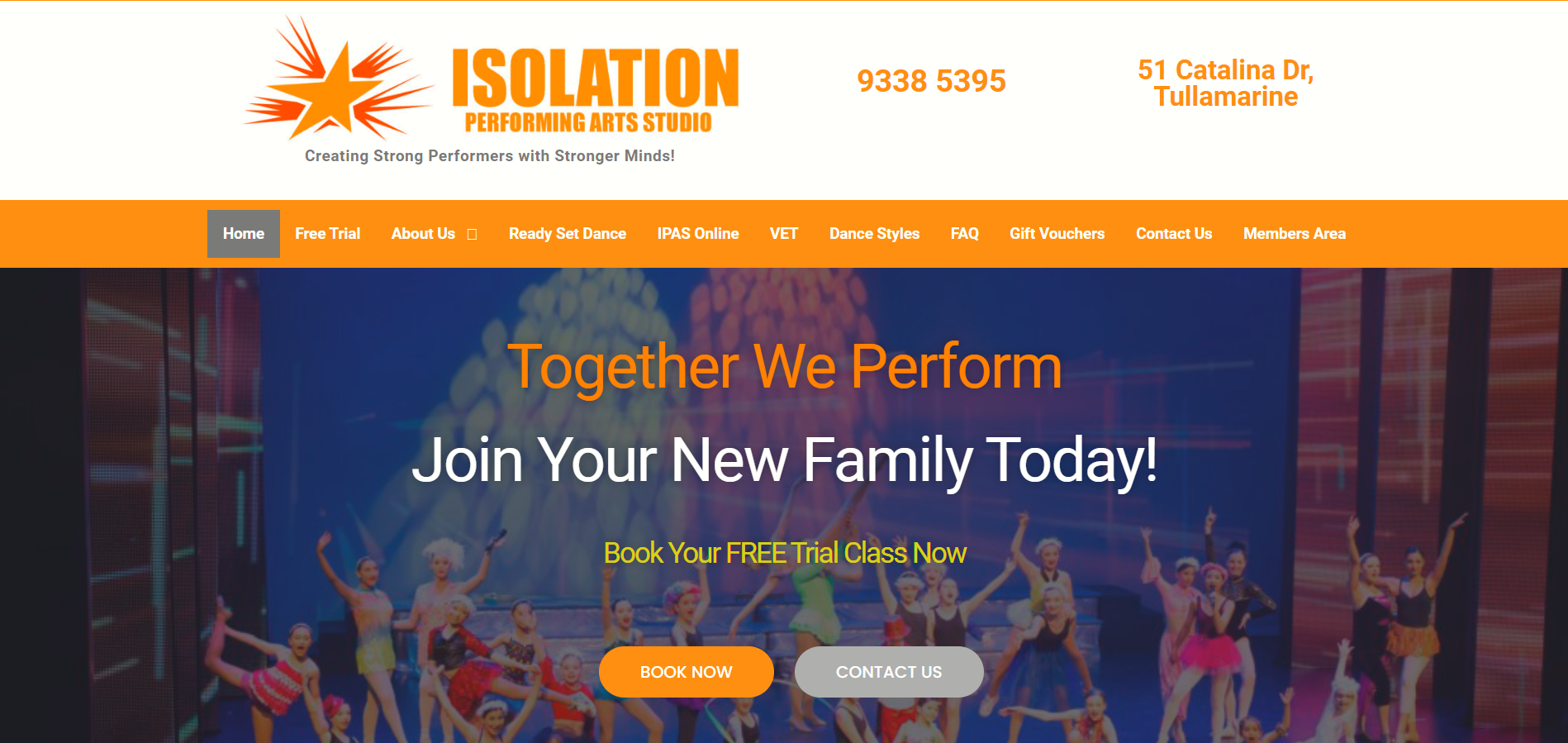 9338 5393
At IPAS, you can expect to create lifelong friendships, memories and a love of performing. For over 30 years, our caring, experienced IPAS team has shown its passion for providing the highest quality training and education in Dance, Singing and Music classes. When you choose either one of our fun recreational dance classes per week or aspire to be a professional performer, everyone deserves the opportunity to be guided on their journey by trusted, dedicated and loyal staff.
Our supportive and exciting environment connects you to a like-minded community of committed, happy families, making the studio feel like your second home. Dance studios can nurture personal growth and self-confidence, helping you strive for achievement outside of schools and academic environments.
We want to provide a safe and supportive space and allow excellence to shine through.
Isolation Performing Arts Studio (IPAS) celebrated our 30th year in 2019. This significant milestone caused us to pause and reflect, reminiscing about our long history training some of Melbourne's best performing arts talent. More importantly, it made us excited about our future.
We feel extremely fortunate as a studio. IPAS grew organically, but from a foundation of hard work, expertise and passion for what we do. Over the years, we have attracted amazing and professional team members, whose passion is reflected in our student success stories.
Whilst we are well-established, we understand the need to evolve to fit our students' needs and the world they live in today. We have spent our 30th year planning for new and exciting opportunities, and we hope our students and families love these as much as we do. We have also been considering how to further focus on the wellbeing of our students.
Our team is the cornerstone of the studio, nurturing and caring for our students whilst teaching them the technical skills and knowledge required to become established performing artists. Together, we articulated the important relationship that is performing arts teachers have with those they teach, as these students spend most of their formative years with us. We train them to achieve personal excellence in their chosen disciplines and pass on as many life skills as we can.
In the world we live in today, there is a myriad of pressures influencing our children – from the expanse of technology available and the resulting pressures from social media to school and the pressure to achieve perfection. We understand that modern life's ever-changing nature can be incredibly confusing to youth, leaving them feeling vulnerable. At IPAS, we aim to create a safe space – a place students and their families can consider their second home.
To support this focus on our students' wellbeing, IPAS is sending 11 of our core teachers to participate in an Accidental Counsellor professional development program. This program will enable these teachers to better understand and support our students in their times of need. We wish to develop our team of teachers in their respective arts disciplines and in dealing with situations in which they may become "accidental counsellors".
To further support this, we have also appointed Simone D'Amico as our Wellbeing Ambassador. Simone is a current practising and qualified youth worker – she has completed a Major in Counselling and is now a member of the Australian Association of Counselling. Her studies have encouraged her to work in government-funded organisations as a Young Adults Outreach Worker. She is currently completing her final clinical placement at high schools in our local area.
Our mission is to ensure that our students have a place where they feel welcome, open up and feel supported by our staff—a place where they can not only enjoy performing with their friends but feel accepted and understood. Caring for our IPAS Family is paramount, and making IPAS a safe and happy place to thrive is our goal.
Pivot Dance Studio
– Dance Class Studio Melbourne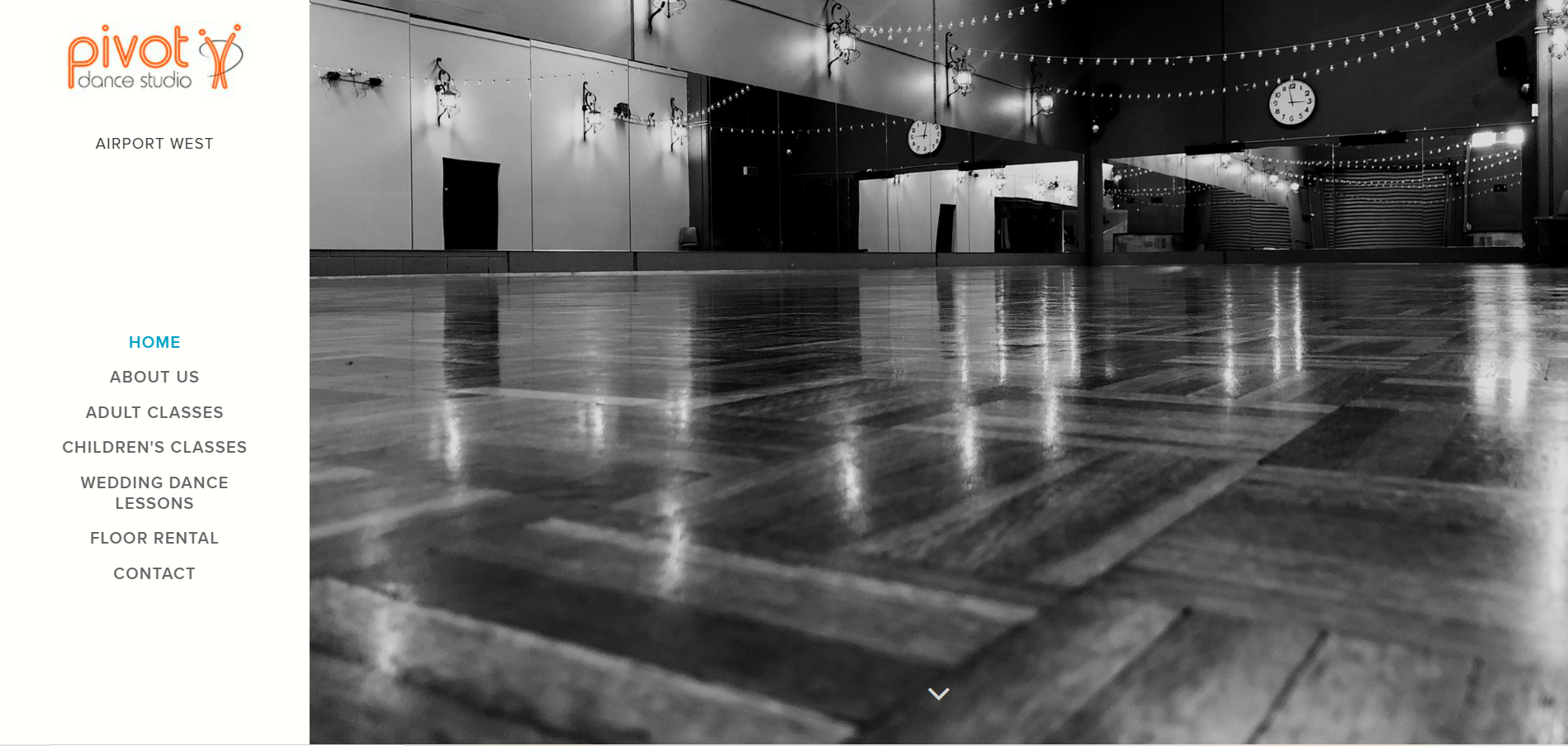 03 93386008
Our Medal Award Classes are for students who already have some experience dancing and would like to progress further to improve the more technical aspects of their dancing. Medal classes start at Bronze Level and go all the way up to specialty awards. Please contact us for our medal class timetable.
Private dance lessons are the most personalised and effective way of learning to dance and are time flexible to suit you. You will learn skills based on the dances you would like to learn and at your own pace. We offer private lessons in Latin, Ballroom, New Vogue, Salsa, Swing and Rock & Roll. Lessons can be one on one or shared with your partner. Please contact us to arrange your private lessons. No Partner is required.
At Pivot Dance Studio we offer dance classes for adults and children in Latin American, Ballroom, Wedding Dance and Rock & Roll within a friendly dance studio atmosphere. 
Since our establishment in 2004, we have maintained a strong reputation for being one of Australia's leading dance studios. We have a credible group of professional dance teachers accredited with DanceSport Australia and all have working with children clearances. 
We have a range of programs and dance lessons tailored to suit your needs. If you would like to try something new like social dancing or be a professional ballroom dancer, then Pivot Dance Studio is the place for you. 
We welcome you and hope to see you dancing soon. 
Crazy Feet Dance Studio
– Dance Class Studio Melbourne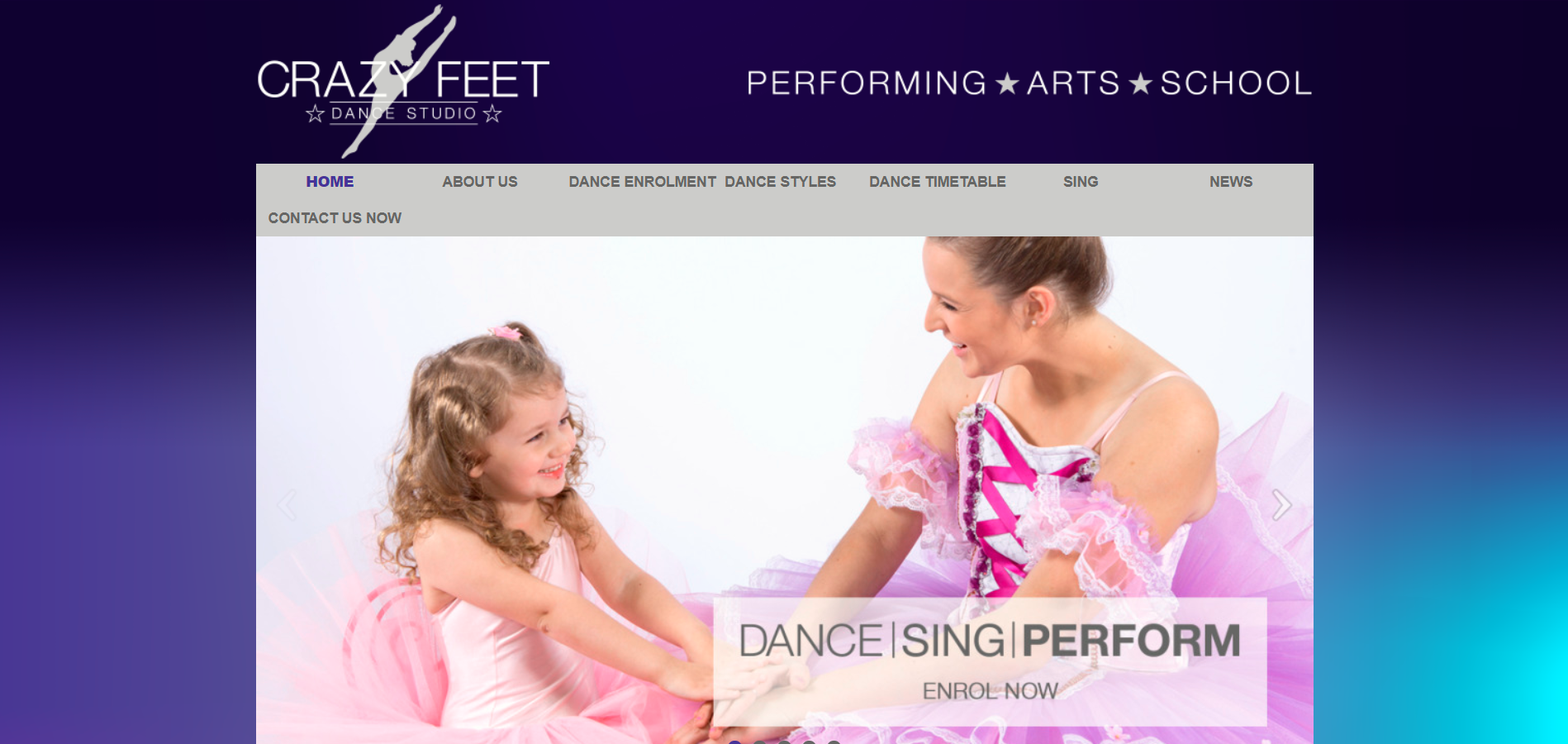 03 9808 3104
Crazy Feet Dance Studio is a dance and performing arts school. We are located in Burwood, Melbourne. It was established in 1992 and is still one of Melbourne's leading dance schools. Katie Rappel, the founder of Crazy Feet, believes it is important that dance be accessible to all children. Our classes aim to bring enjoyment, confidence and coordination to our students while delivering professional dance training in a fun and friendly atmosphere.
Crazy Feet caters to the recreational student as well as aspiring dance professionals. We deliver classes for all levels from 2 to 18 years old. Please head to our dance enrolment page to download our Dance booklet. This booklet contains everything you need to know, including prices, class times, uniform, term dates and more.
OUR STUDIO
Crazy Feet encourages a love of dance. We believe that dance should be accessible to all children for enjoyment, confidence and coordination. We deliver professional dance training in a fun and friendly atmosphere. Catering to the recreational student as well as aspiring dance professionals.
OUR FOUNDER
Crazy Feet was founded in 1992 by Katie Rappel. Katie is a graduate of The Victorian College of the Arts and a qualified Cecchetti ballet teacher. Katie enjoyed a successful career overseas and around Australia in the dance and entertainment industry before establishing Crazy Feet.
OUR TEAM
The Crazy Feet Dance Studio staff are professional, passionate and dedicated to delivering high-quality education in a fun and friendly environment. We pride ourselves on providing highly trained staff who have demonstrated excellence within their areas of expertise.
OUR TALENT AGENCY
Crazy Feet has an alliance with Triple Talent Management agency. Selected students audition for television, film and theatre. Triple Talent Management has had great success with our talent, and our close alliance allows us to assist our students in following their dreams!
Momentum Arts Studio
– Dance Class Studio Melbourne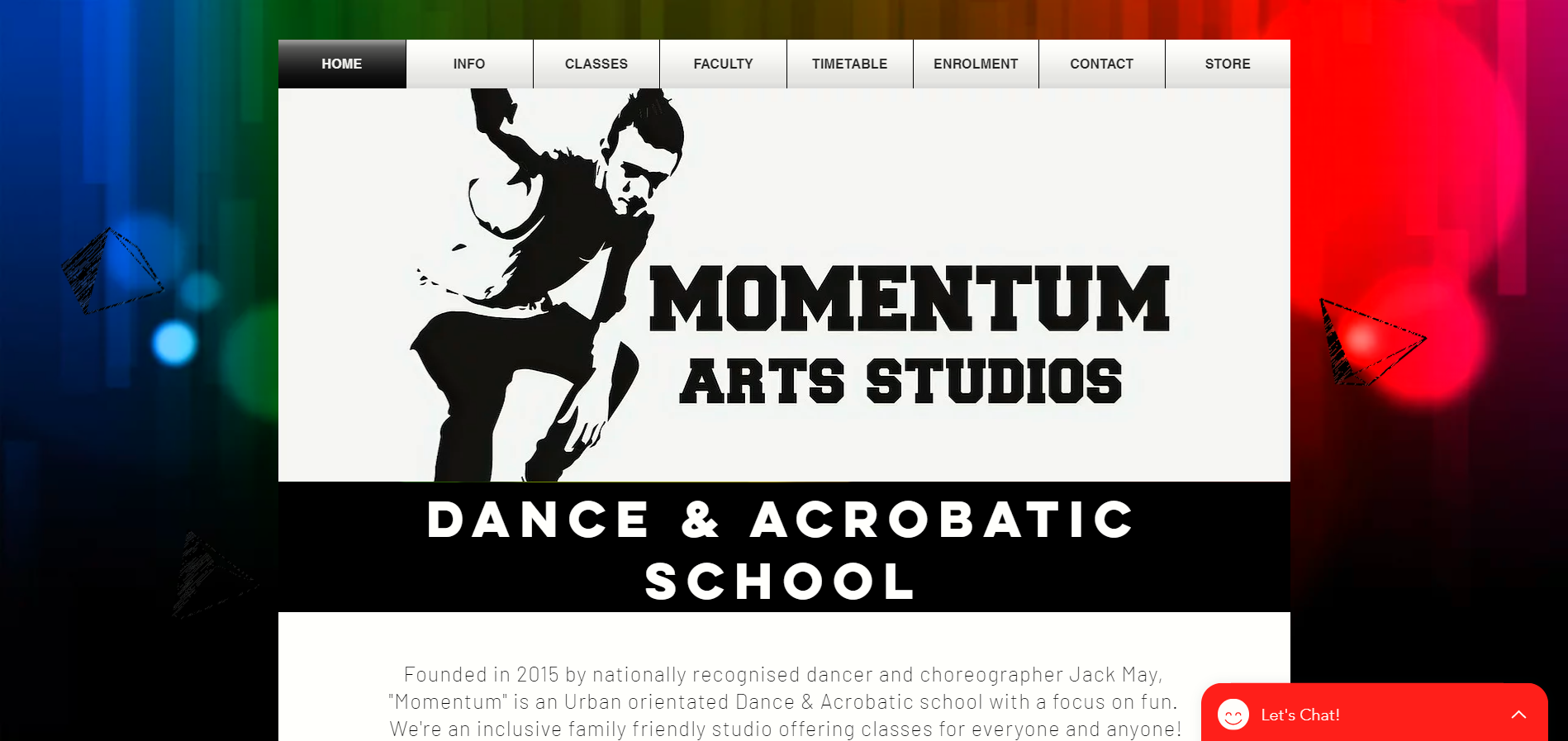 0410 360 258 
Founded in 2015 by nationally recognised dancer and choreographer Jack May,
"Momentum" is an Urban orientated Dance & Acrobatic school with a focus on fun.
We're an inclusive family-friendly studio offering classes for everyone and anyone!
​With locations in the NORTH (11 Arcade Rd, Mont Albert) and SOUTH (44 Montrose Ave, Elsternwick) you are sure to find a class that suits you!
We offer a competitive stream for those looking at training more heavily and provide recreational classes for those looking at getting some exercise and shaking their toosh – no wild uniform fees, no enforced class packages, just dance/acro.
We provide lessons for 4+ yrs to adults! 
Skill level is not an issue with multiple class options!
​Momentum is a place for those interested in refining skills or seeking an alternative form of exercise. Our classes are designed to progressively develop style and technique in a positive, fun-filled environment.
Having worked as a dance/acrobatics instructor for over 10 years, Jack has seen the positive benefits of movement-based exercise amongst children, teenagers and adults.
A studio is a perfect place to continually develop coordination, self-confidence, and body awareness.
So if you dance in the shower at home, or like to run around doing cartwheels, get in touch today to book a free trial session!
Jack found his passion for dancing when he joined "Fresh Funk" a local Canberra Hip Hop studio at 13. He gradually worked his way through the ranks to become a principal member of the school, where he contributed choreography towards the end of year production. He also regularly represented the ACT at Hip Hop and Freestyle competitions.
In 2009 and 2010 Jack visited LA where he trained in many disciplines of dance and had the opportunity to work with some of LA's biggest choreographic names such as Tony Tzar, Andre Fuentes, Brian Friedman, Tucker Barkley, and Jian Pierre-Louis.
In 2010 Jack moved to Melbourne to pursue a career in the performing arts. Since then he's been working as a choreographer for several Full-Time dance institutions (Patrick Studios Australia, The Edge Performing Arts School, Spectrum Dance, Ministry of Dance, Space, and Dance World).
Having travelled internationally over the past few years, Jack has become a resident choreographer for a number of schools throughout Australia and is now becoming one of Melbourne's most highly sought after urban choreographers.
Jack is the Creative Director of Melbourne's based crew "Soul Symphony" who were finalists for the 2011/12 Australian Hip Hop Championships, runners up for Step Off 2011, competitors in Groove Battlegrounds, and often perform at corporate events and functions.
Elevation Dance Studios
– Dance Class Studio Melbourne
0408 460 115
Elevation Dance Studios was established to provide children of all ages with an encouraging environment to explore, grow, develop and relish in the wonderful world of dance. We offer classes in Contemporary, Classical Ballet, Jazz, Hip Hop, Pointe, VCE Dance, Musical Theatre, Tap, Acrobatics, Adult classes and Pre- Primary classes. Our Principal, Alex Andrews, has had over 18 years of experience teaching and choreographing students of all ages. Alex would love to share her passion for dance and welcome you to join our Elevation Dance Studios community.
Elevation Dance Studios was established to provide young movers with an encouraging environment to explore, grow, develop and relish in the wonderful world of dance. Our love for dance goes beyond one style, and we offer classes in Contemporary, Jazz, Musical Theatre, Ballet and Acrobatics. 
PRINCIPAL: ALEX ANDREWS 
Bachelor of Dance Victorian College of the Arts 2010

Diploma in Pilates Instructing

Certificate 5 in Pilates Mat work 

P.A.A Member: Level 1 L115022197  

First aid qualification 

Working with Children Check
After graduating from Newtown High School of the Performing Arts as the School captain and Caltex all-rounder award participant, Alex was offered a full dance scholarship to attend Point Park University PA in the United States of America. 
During her time studying abroad, Alex studied in Graham technique, classical ballet, contemporary, pas de deux, pointe, and jazz. Upon successful auditions, Alex received roles in Peter Merz's 'Ondine' and a lead roll in Douglas Bentz' Snow Queen.' 
Alex returned to Australia in 2008 to attend The Victorian College of the Arts in Melbourne. Whilst studying at the VCA Alex worked with both nationally and internationally renowned artists Brett Daffy, Stephanie Lake, Becky Hilton, Wendy Houston, Anna Smith and Lina Limosani. Alex graduated from VCA in 2010 as the Valedictorian of her class. 
Since graduating, Alex has performed in Tasdance's 'Artery' season in Melbourne, Lina Limosani's solo work 'Borderline" performed in Portugal, Adelaide and Melbourne, 'Salt' Choreographed by Alex and Brianna Kell at Crack theatre festival and has completed her Diploma in Professional Pilates teaching. Alex is incredibly interested in the mechanics of the body and combines her love for dance and Pilates to discover a more efficient and safer way of moving. 
Alex was the recipient of the Friends Encouragement Award (2008), winner of the Splash Dance Choreographic Competition (2009), The Joy Nicholls award (2009), and the winner of the Short and Sweet dance festival, choreographic award (2014).
Alex was recently interviewed for Dance Australia Magazine. You can read the piece here.
Wendon Dance Studio
– Dance Class Studio Melbourne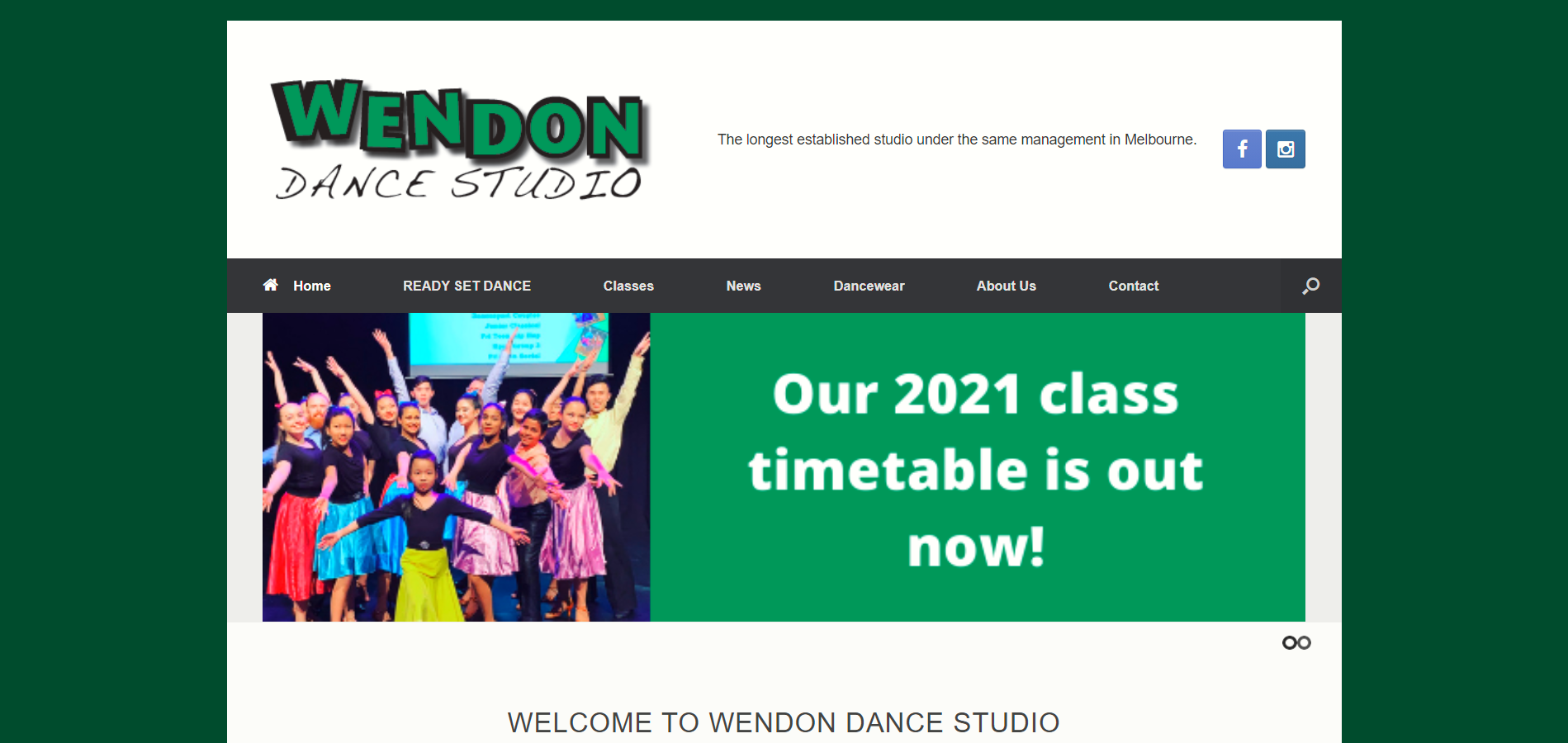 03 9803 3107
At Wendon, dance is not just about how we move, and it's about how we live! Operating in Glen Waverley for over 30 years, we are one of Melbourne's leading dance schools. We are fully committed to dance and offer a range of fun and competition dance classes in a variety of dance styles for all ages.
At Wendon, dance is not just about how we move, and it's about how we live!
Operating in Glen Waverley for over 30 years, we are one of Melbourne's leading dance schools. We are fully committed to dance and offer a range of fun and competition dance classes in a variety of dance styles for all ages.
Through our dance classes, we help you gain discipline and various life skills alongside learning how to move and make new friends within our Wendon community.
So why not come on down and join us to pick up a new move and let us help you with your dance goals?
Keilor Dance Studio
– Dance Class Studio Melbourne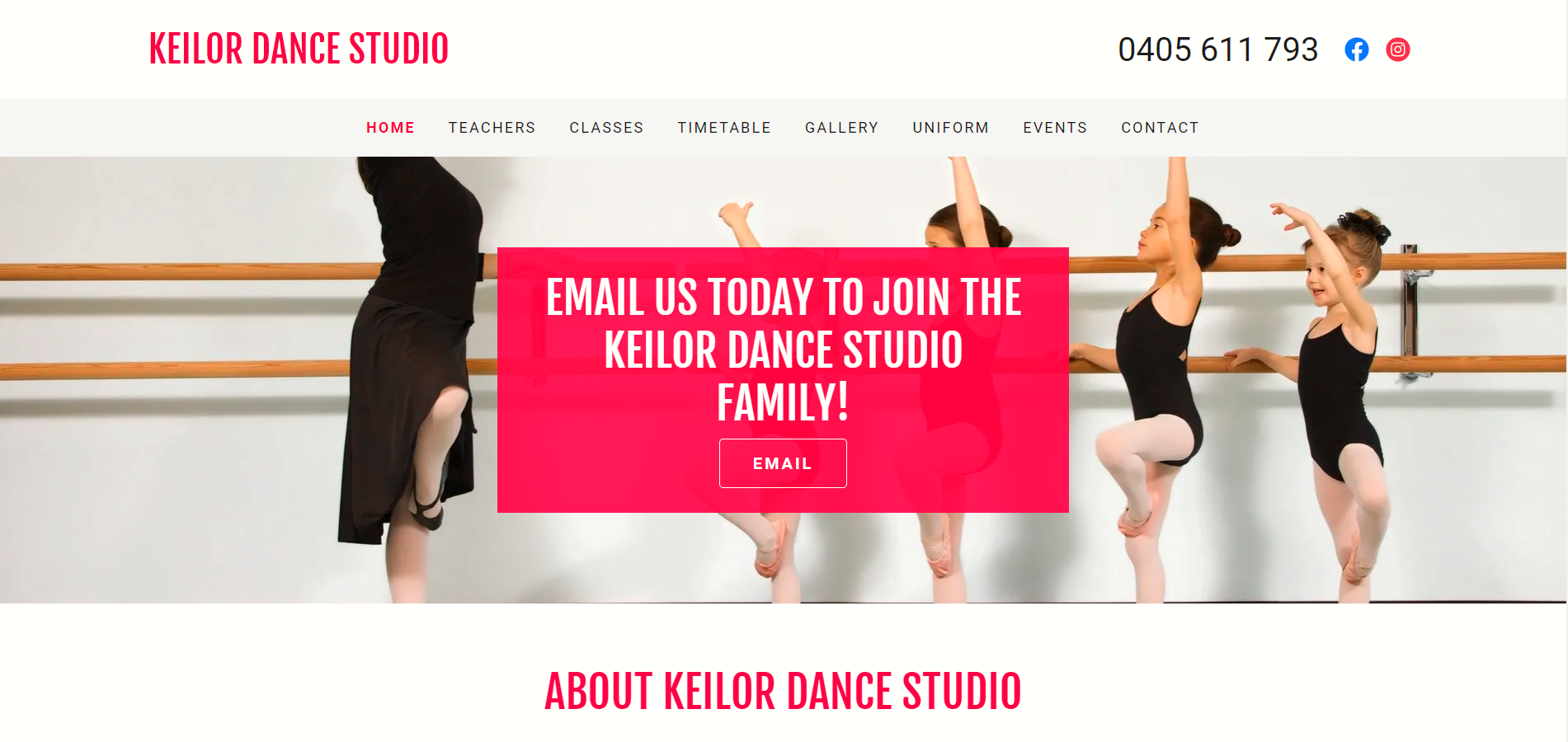 0405 611 797
Welcome to Keilor Dance Studio,
Keilor Dance Studio is a dance school based in Taylors Lakes operating for now over 7+ years. Our dance school focuses on providing high – quality dance lessons in Ballet, Hip – Hop, Jazz, Tap and Acrobatics for children and teens! Not only we cater for the younger ones we cater for the ladies who previously used to dance or even wanting to get into fitness with our combination class Burlesque and Jazz.  
In each of our classes, our teachers help provide each child's best and help bring our their confidence, passion for dance and their outgoing personalities. We accomplish this by our classes being enjoyable & fun as well as your child still being educated about the terminology of each dance style. With the variety of dance classes we offer, we're sure you'll love being apart of the Keilor Dance Studio family!
Trial classes are available! Contact us today to reserve your trial spot. 
STEPHANIE LOFTUS Owner & Director of Keilor Dance Studio
Keilor Dance Studio is founded by Ms Stephanie Loftus, who have over 24 years of professional dancing and dance combined.
Stephanie graduated from Deakin University with a Bachelor in Contemporary Arts/Dance. She continued further studies at Jason Coleman's Ministry of Dance where she completed a Certificate in Professional Dance Training and Performing.
Stephanie proceeded her training at London's premier dance school Pineapple Dance Studios in 2010. Stephanie had also completed an entertainment contract in Cancun, Mexico as a dancer in a five – star resort. 
Stephanie's fulfilling a childhood dream of running Keilor Dance Studio and works to provide a fun yet educational dance lessons and aims to have her students walk out of the studio with giant smiles on their faces!
All teachers are Keilor Dance Studio have a valid Working With Children's Check (WWCC)
Clifton Dance Studio
– Dance Class Studio Melbourne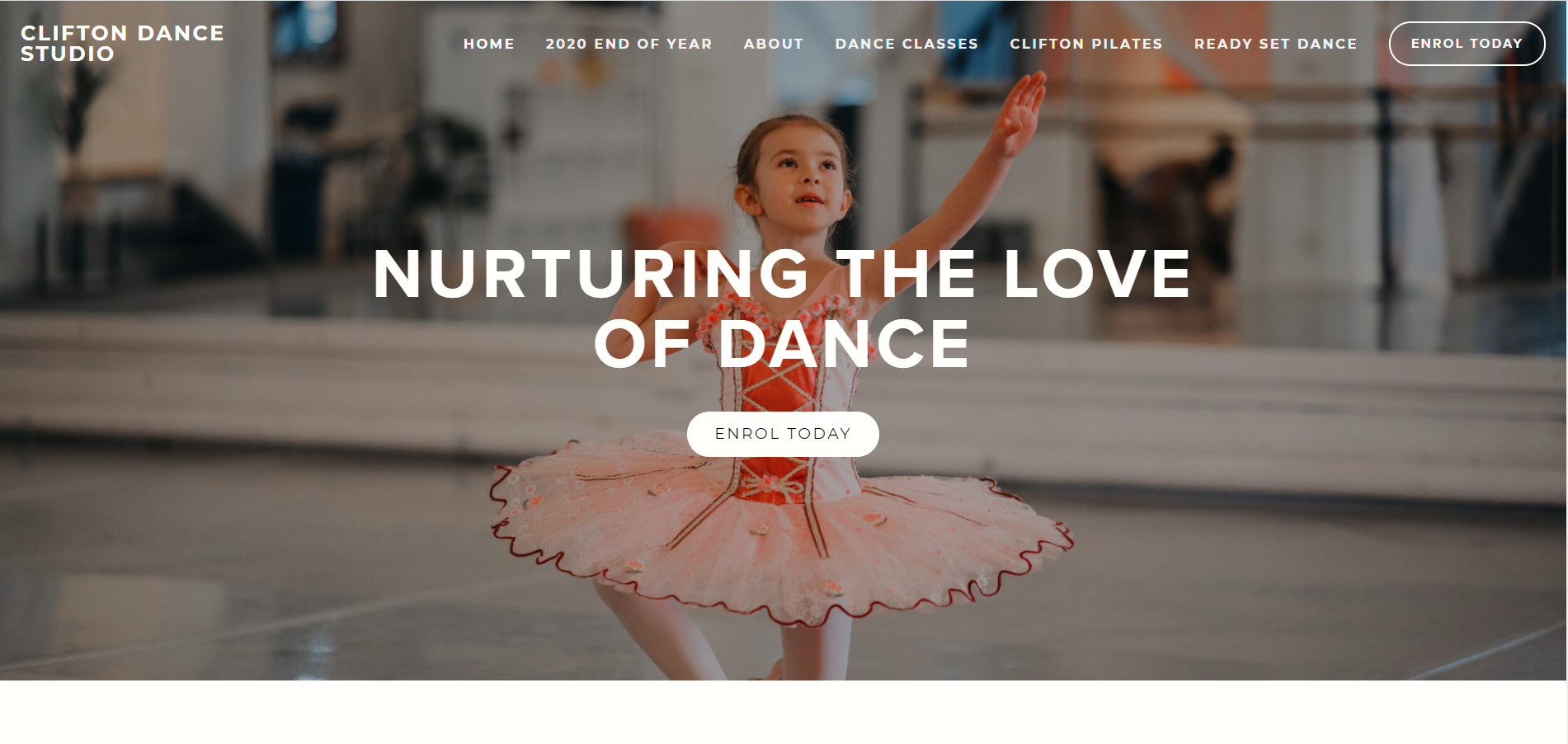 +61 437 666 315
Clifton Dance Studio offers a range of classes to suit both young and mature students. Some dance styles offer a structured technique that supports the young dancer's education – others are just great for fitness, fun, and dance love. Good dance training benefits are paramount; it instils a sense of style, poise, grace, and strength. Developing musicality, artistic expression and appreciation enhances self-confidence.
We are very proud to be the official READY SET DANCE location for Carlton North.
READY SET DANCE is a one-hour combo class of JAZZ, TAP, HIP HOP, SINGING and MUSIC.
Designed for both boys and girls, the program focuses on teaching the fundamentals of dance while developing confidence, coordination and creativity in a professional and safe environment.
Clifton Dance Studio was established in 1980 by Alida Endrigo. Alida ran the school successfully for 38 years. In 2019 Alida decided to step down as school director but continues to teach RAD ballet.
Kealy Fouracre has since stepped into the role and hopes to continue Alida's legacy into the future. 
Clifton Dance Studio offers a range of classes to suit both young and mature students. Some dance styles offer a structured technique that supports the young dancer's education – others are just great for fitness, fun, and dance love. 
The benefits of good dance training are paramount. It instils a sense of style, poise, grace and strength. Developing musicality, artistic expression and appreciation enhances self-confidence.
What dance is good for beginners?
Learning to dance doesn't have to be difficult. OK, so you think you have "two left feet?" Maybe you think this because you haven't had proper instruction and enough practice. Any dance can be mastered with some good guidance and concentrated effort. Yes, even you can learn to dance!
There are many reasons why learning to dance is a great idea. The biggest reason is that dancing is loads of fun! But also, practically speaking, having a few dance steps in your pocket serves you well for social occasions, is a good way to make new friends, and is super for getting in shape!
If you are a beginner, our advice is to start with easy dance moves so you won't get discouraged. Several ballroom dances are the easiest to learn because they use a small set of steps that are repeated over and over. By counting to the beat of the music, memorising the steps, and with a bit of practice, you can look like you've been doing the dance for years!
Learning How to Dance
Dance is a wonderful hobby enjoyed by many people throughout the world. Besides being lots of fun, dancing is good for you, both physically and mentally. Anyone can learn to dance… it's a simple matter of learning how to move your body.
One of the first steps you can take is to practice finding a beat in music. The beat establishes a rhythm to which you can move, even if it's just bopping your head at first. Every song has a beat, and you just have to recognise it.
Next up is timing. This simply means that you're putting movements to the beat. Timing is key in every style of dance, and it's often best when you can just let go and express yourself freely through movements.
Choosing a Dance Style
Ballet, jazz, modern, hip-hop, tap… you can choose from many styles of dance. Nothing says you have to stick with one, either. Maybe you like the expression of modern dance but also enjoy the fun partner work found in swing dancing. You'll quickly discover that learning any style of dance will help you learn another, so feel free to explore.
Many dancers choose to start with ballet. It's a very formal style and good for training your body to move with a certain elegance and flow. The foot and hand positions of ballet also carry over into other styles, so it's not a bad idea to take a few ballet classes and learn the fundamentals of dancing.
Finding a Great Dance Class
Dance schools are readily available in many cities and towns, so there's likely to be one or two near you. Some are privately owned while others are run by community centres, universities, or local organisations. Check around your area and see what is available. Ask friends about their experience with a school and check to see if you can observe a class or two to get a feel for it.
Whether you're looking to take a tango class at night or enrol your daughter in ballet, it's a good idea to find out a little about the instructor. Like all professions, there are good dance teachers and those who are not as great.
Dancers should feel comfortable with their instructors. It can be an emotional experience as you're often expressing yourself in ways you haven't before, so a good student-teacher relationship is key.
The Best Type of Dance Class for Beginners
If your child is younger than six and has expressed interest in dancing, a class that incorporates acrobatics and floor gymnastics is a good start. This can help your child with the coordination, discipline and muscle strength they will need if they wish to continue dance when they are older.
If your child is six or older than ballet/pointe classes are one of the best places to start. Ballet is seen as the foundation for all styles of dance, and your child will be taught the right techniques and poise that can carry them into any other type of dance they may show an interest in down the road.
Although ballet is the best place to start, your child may want to try different dancing styles to see what they like, and there is no problem with allowing your child or yourself to do this. Hip hop, jazz, lyrical and tap are all great styles of dance and may suit your child better than a ballet class would, however, you should never discount proper form and technique when it comes to growing as a dancer.
What to Wear to Dance Class
Wearing appropriate attire allows you to feel comfortable and move freely while dancing. Every class is a little different, and your instructor may have a specific dress code or recommendations. Yet, there are a few things that most dancers have in their dance bag.
Leotards are pretty standard for many dance classes, and they come in a variety of styles and colours. Find one that you're comfortable wearing and, if you like, consider a skirt as well.
Pro Tip: Many of these dances can fit the same songs… So it is up to you to decide which dance you'd like to do. You should weigh' different factors like the song's character, How slow/fast it is, and how much space you have!