Gardens, with their vibrant blooms and lush greenery, can be enchanting havens right in the heart of Melbourne's urban landscape. However, maintaining the beauty and health of these outdoor sanctuaries is no small feat. In this bustling metropolis, where life moves frenetically, we often overlook the importance of regular garden maintenance.
In this article, we'll delve into Melbourne's Top 10 Garden Maintenance Services. We'll explore how these experts can transform your outdoor space into a piece of paradise and why it's worth your time and investment.
Add a header to begin generating the table of contents
Must Have Maintenance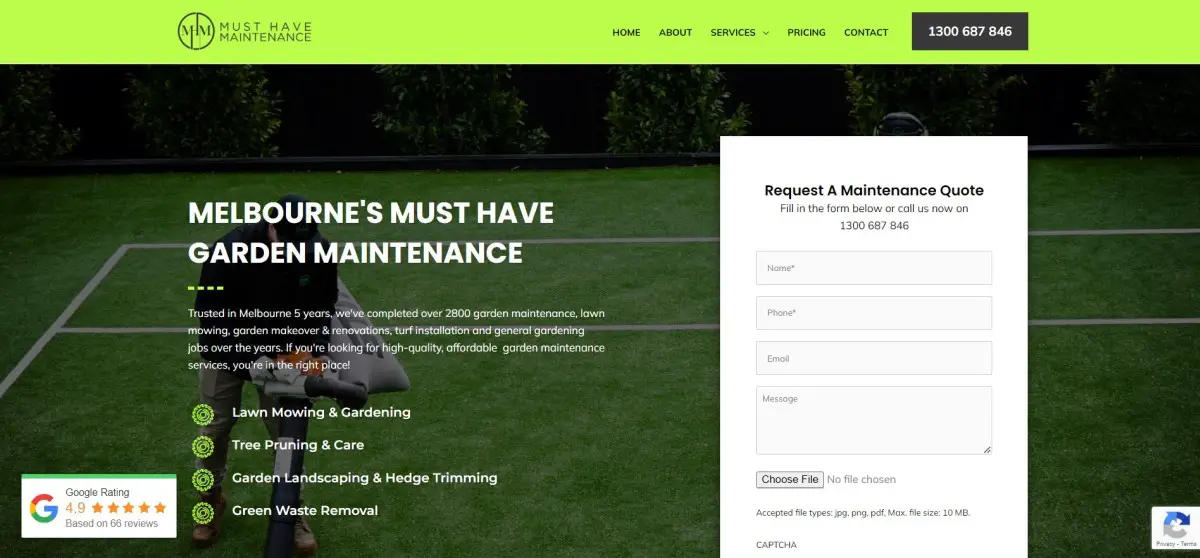 Must Have Maintenance solves your gardening demands on weekends for those with hectic weekdays. Whether you want a comprehensive yard makeover or a quick refresh, the Must Have Maintenance staff is here to help. 
They can build a plan to your personal needs and budget and offer a variety of service frequency (weekly, bimonthly, monthly, etc.). Their commitment is to achieve complete client happiness, whether it is lawn mowing, tree pruning, green trash removal, aerating garden beds, or any other garden care service.
Services Offered:
Lawn Mowing

Tree Pruning

Green Waste Removal

Garden Bed Aeration

Custom Garden Care Solutions

Hedge Trimming & Pruning

Garden Planning & Makeover
Phone: 1300 687 846
Email: info@musthm.com
Website: https://musthavemaintenance.com.au/
Inner Melbourne Landscapes (IML)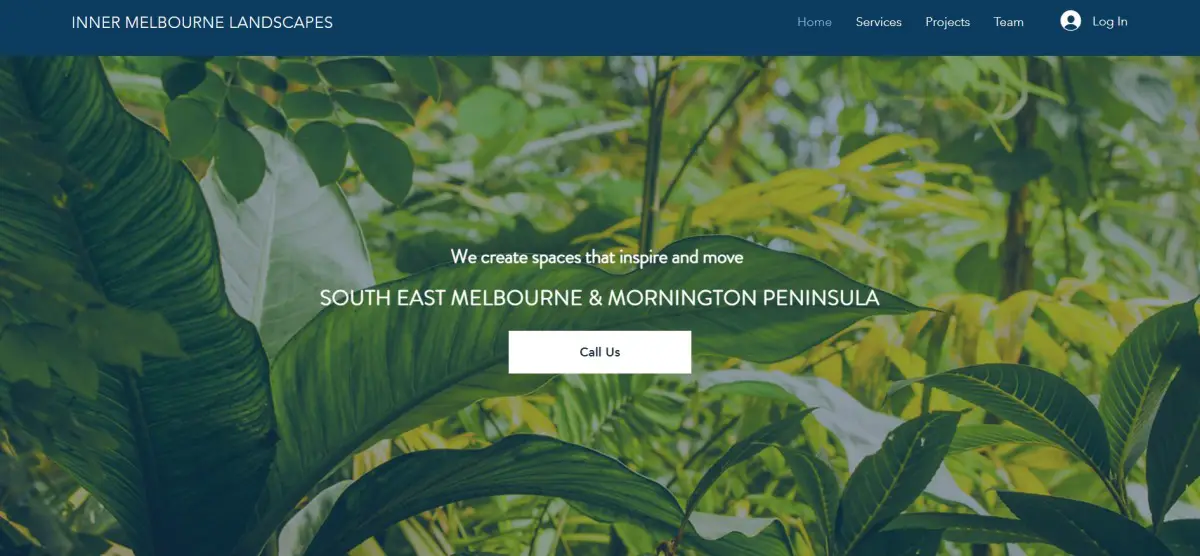 Inner Melbourne Landscapes (IML) offers a comprehensive range of landscaping services, focusing on creating unique outdoor spaces that reflect the dreams and visions of their clients. Their expertise spans both hard and soft landscaping, ensuring a full-service approach to garden and outdoor area creation and maintenance. 
IML prides itself on combining various materials and techniques to deliver exceptional results, from the construction of functional structures like decking and seating to the aesthetic and health aspects of gardens through planting and lawn care.
Services Offered:
Hard Landscaping: Decking, seating, screening, exposed aggregate, concrete work, brickwork, fencing, and paving.

Soft Landscaping: Mulching, fertilising, soil replacement, planting, new lawns, and lawn repairs.

Irrigation: High-quality watering systems, service mapouts, upgrades, repairs, and automation.

Excavation Work: Equipped with a 1.8t excavator for various tasks, including driveway excavation, site stripping, and drainage works.

Garden Lighting: Installation of LED and weatherproof lighting solutions with automation

Rural Projects: Services for farms and equestrian needs, including fencing, sheds, horse shelters, wash and tie-up bays, and vegetable gardens.
Phone: 0438 096 224
Email: andy@imlandscapes.com.au
Website: https://www.imlandscapes.com.au/
Masterpiece Gardenscapes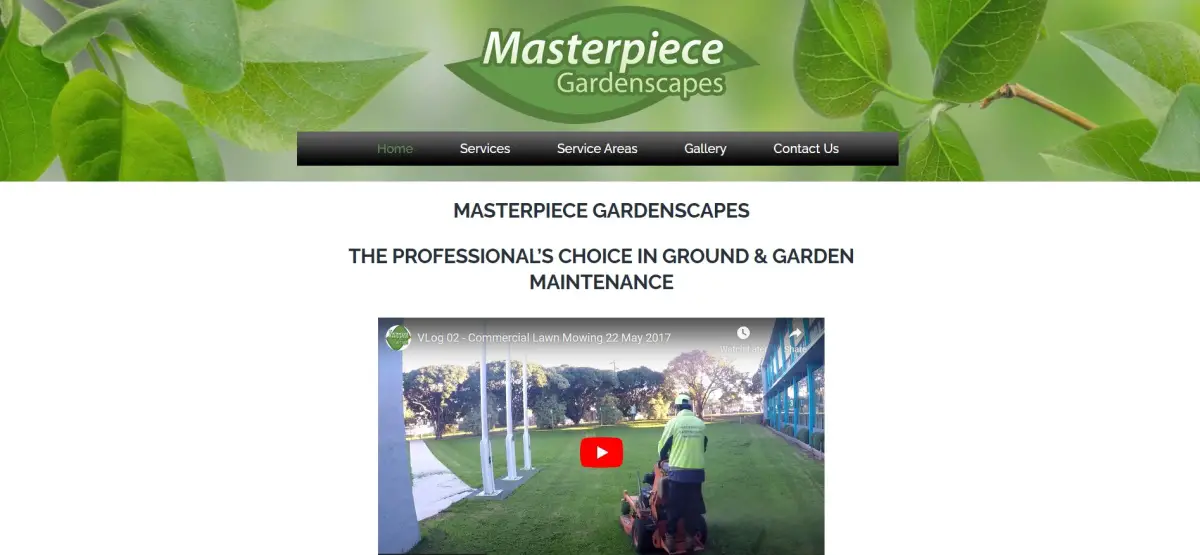 Masterpiece Gardenscapes is the top choice for garden maintenance in the south-east of Melbourne, catering to residential and commercial properties. They offer comprehensive services, ensuring that gardens and lawns are maintained to the highest standards. 
Whether a residential garden or a large commercial property, Masterpiece Gardenscapes has the latest techniques and equipment to deliver impeccable results. Their services are tailored to the specific needs of the season, ensuring that lawns remain green and gardens flourish. Additionally, they prioritise safety and are fully insured and qualified to handle specialised garden maintenance equipment.
Services Offered:
Lawn Mowing (both large and small areas)

Slashing, Weed Control, and Hedge Trimming

Brush-cutting and Whipper-Snipping

Fertilising and Watering

Maintenance of Garden Beds (including flowers, exotic plants, and edible plants)

Commercial Garden Maintenance (using ride-on mowers)

Use of Specialized Garden Maintenance Equipment

Weed Poison Spraying (e.g., Round-up)

Mulching and Installation of Instant Grass or Artificial Turf

Installation of Irrigation Units
Phone: 0415 567 888
Email: info@masterpiecegardenscapes.com.au
Website: https://www.masterpiecegardenscapes.com.au/
Ben Rickard Horticultural Service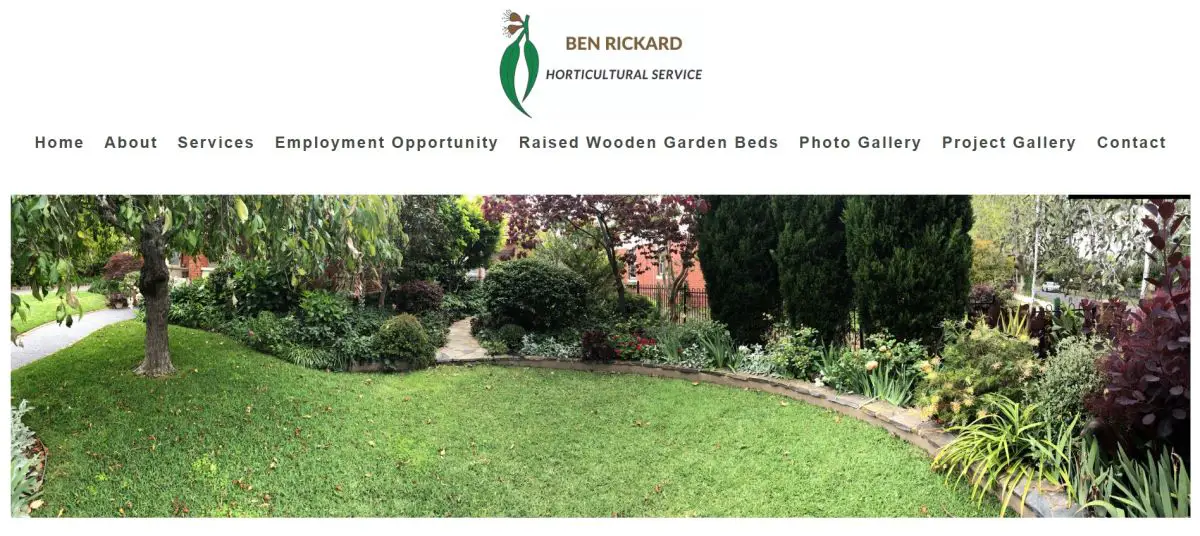 Ben Rickard Horticultural Service is dedicated to providing top-tier garden maintenance services, ensuring that gardens across Melbourne's inner, eastern, northern, and north-eastern suburbs remain pristine. They are committed to delivering the highest quality work and catering to various garden sizes and needs. 
Whether clients require a one-off garden clean-up or regular visits ranging from weekly to seasonally, Ben Rickard Horticultural Service is equipped to handle all garden maintenance tasks. Their expertise extends from lawn care to soft landscaping, ensuring that every garden aspect is cared for with precision and professionalism.
Services Offered:
Garden Maintenance Services

Lawn Maintenance

Installation of New Instant Turf

Weeding and leaf collection

Hedging

Pruning and trimming (small trees, shrubs, roses)

Planting, mulching, and fertilising

Pest and plant disease control

Garden irrigation system installation

Installing trellising, garden edging, and wicking garden beds

Soft Landscape
Phone: 0411 828 896
Email: ben@brhorticulture.com.au
Website: https://www.brhorticulture.com.au/
Commercial Garden Maintenance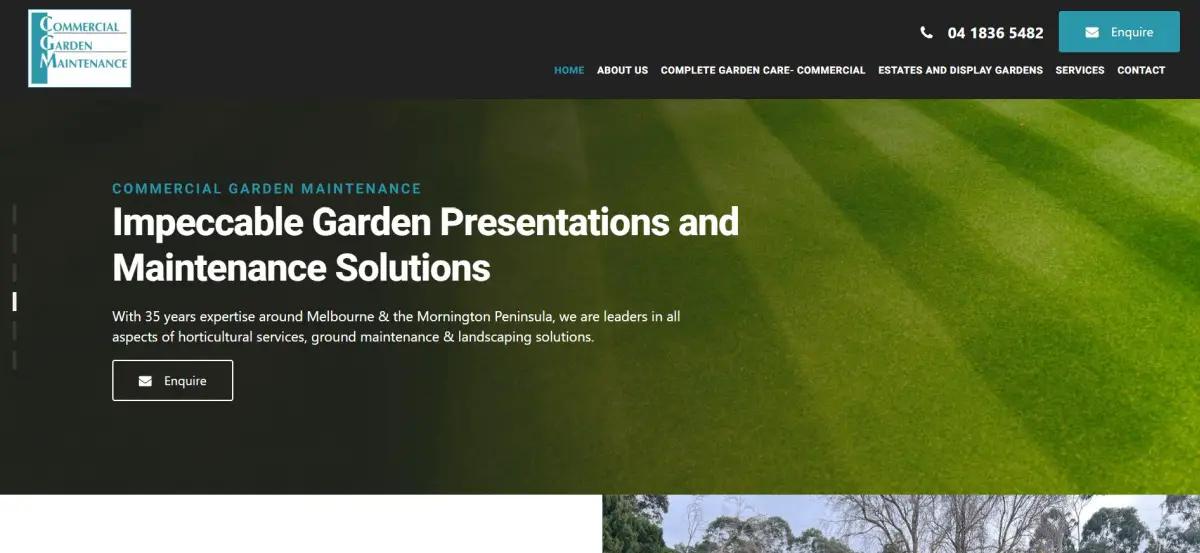 Commercial Garden Maintenance, a prominent horticultural company in Melbourne and the Mornington Peninsula, offers a comprehensive range of garden care services tailored for commercial spaces. Led by an experienced management team, they work closely with clients to provide grounds maintenance in an environmentally sound, cost-effective, and timely manner. 
Their commitment to excellence is evident in their attention to detail, quality workmanship, and continuous efforts to enhance their services. The team prioritises safety, adheres to OH&S and quality management protocols, and ensures that gardens look their best throughout the year. Their longstanding relationships with valued clients, including aged care providers like Royal Freemasons, attest to their dedication and high-quality service.
Services Offered:
Complete Horticultural Services

Garden Maintenance Programs

Property Management

Turf Care and Management

Irrigation Systems

Garden Design and Landscaping

Arborist Services

Pest and Weed Control

Fertilisation Regimes

Plant Selection and Care

Mowing and Cylinder Mowing Programs

Rejuvenation of Garden Beds and Problem Areas

Clean-up and Re-development
Phone: Sandy: 04 1282 4843 / 04 1836 5482
Email: bruce.cgm@hotmail.com
Website: https://www.commercialgardenmaintenance.au/
Garden A Mess? Gardening Services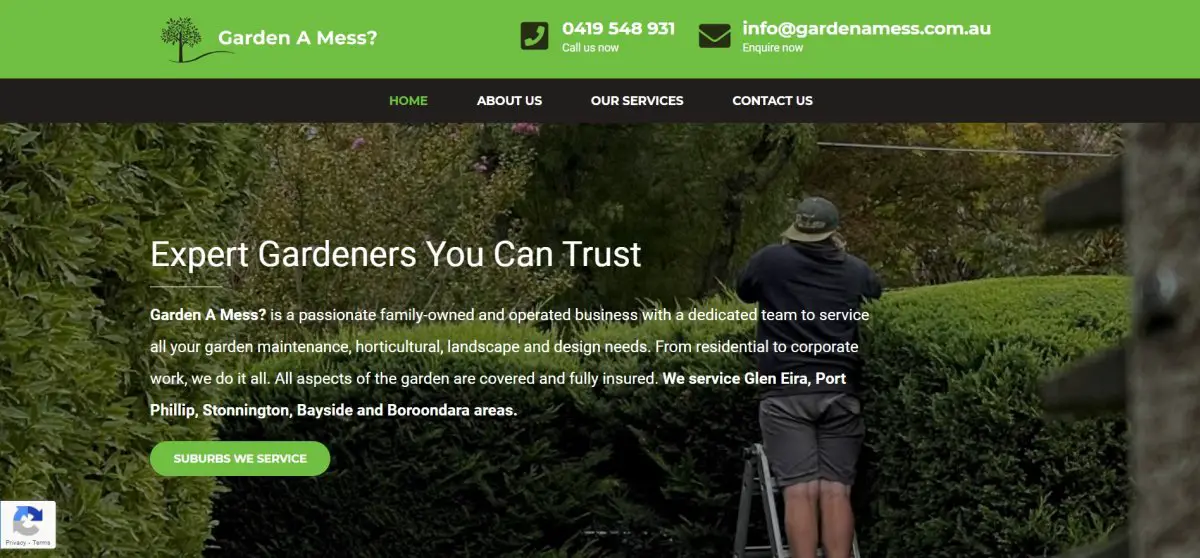 "Garden A Mess?" offers various gardening services, ensuring that gardens across Melbourne look their best throughout the year. With over 25 years of experience servicing the southeast suburbs of Melbourne, they have established themselves as a trusted name in the industry. 
Their team is dedicated to providing top-notch services, from regular garden maintenance to complete garden makeovers. Their commitment to quality is evident in their work, and they have garnered positive reviews from satisfied clients, praising their professionalism, punctuality, and high-quality service.
Services Offered:
Horticultural Consultation

Regular Garden Maintenance

Garden Clean-ups

Hedge Trimming

Tree Lopping and Plant Pruning

Weeding

Garden and Landscape Design

All Mowing and Edging

Soft Landscapes

Installation and Repair of Sprinkler Systems

Garden Fertilising and Pest Control

Soil Composting, Treatment, and Mulching
Phone: 0419 548 931
Email: info@gardenamess.com.au
Website: https://gardenamess.com.au/
Regal Services Group
Regal Services Group stands out as a leading provider of garden maintenance solutions in Melbourne. Regal Services Group offers comprehensive garden care and maintenance services for those aiming to have the best-looking garden in their neighbourhood. A well-maintained and beautiful garden enhances the aesthetics and adds value to a property. 
Regardless of the garden's style, periodic assistance is essential to maintain its beauty and health. Regal Services Group specialises in various services, from lawn mowing, weeding, hedge trimming, and pruning to general garden maintenance and landscape designing. Their team's passion and dedication have enabled them to consistently deliver high-quality work, ensuring gardens remain in peak condition.
Services Offered:
Lawn Mowing

Weeding

Hedge Trimming

Pruning

General Garden Maintenance

Landscape Designing
Phone: (03) 9021 3721
Email: team@regalservicesgroup.com.au
Website: https://regalservicesgroup.com.au/
Singhz Services Melbourne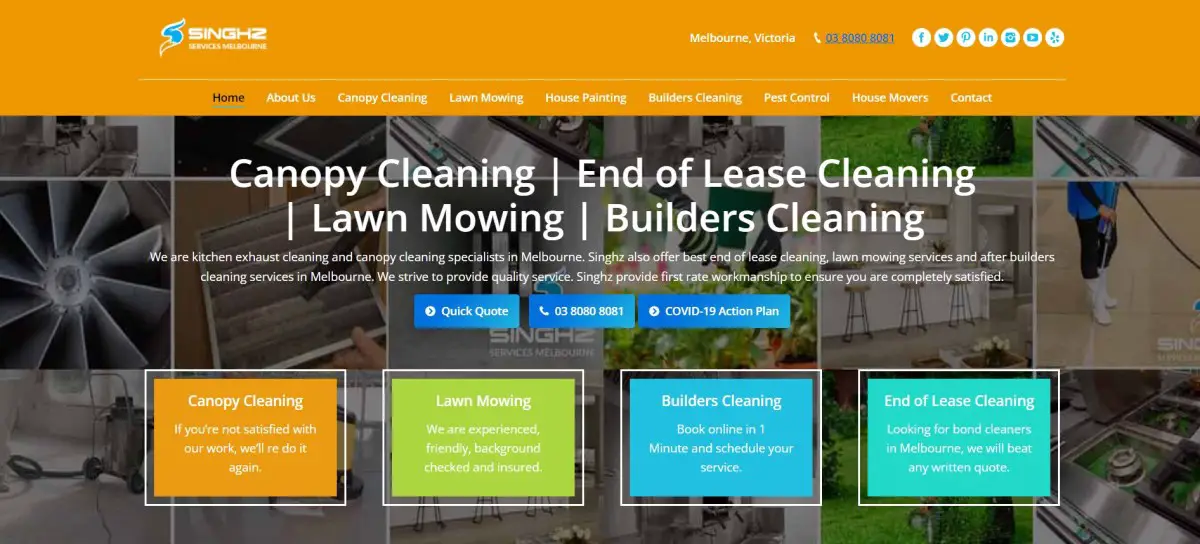 Singhz Services Melbourne is a professional lawn mowing company that has been serving the southeast suburbs of Melbourne for over 25 years. They offer comprehensive garden maintenance services, ensuring gardens look lush, green, and well-maintained. Their team is equipped with substantial equipment, from small lawnmowers to sizeable mowing machinery, to handle any garden size. 
Singhz Services Melbourne is committed to providing quality services at reasonable prices, ensuring customer satisfaction. From lawn mowing, edging, and fertilising to hedging and pruning, they cover all aspects of garden care, transforming any open area into a vibrant leisure space.
Services Offered:
Lawn Mowing and Edging

Garden Maintenance and Clean-ups

Hedging and Pruning

Weed Control and Removal

Lawn Fertilizing

Garden Design and Landscaping

Rubbish Removal

Garden Care and Routine Maintenance
Phone: (03) 9794 7002
Address: 11 Macey Ave Avondale Heights VIC 3034 Australia
Website: https://singhzservicesmelbourne.com.au/
Green 1 Gardening Maintenance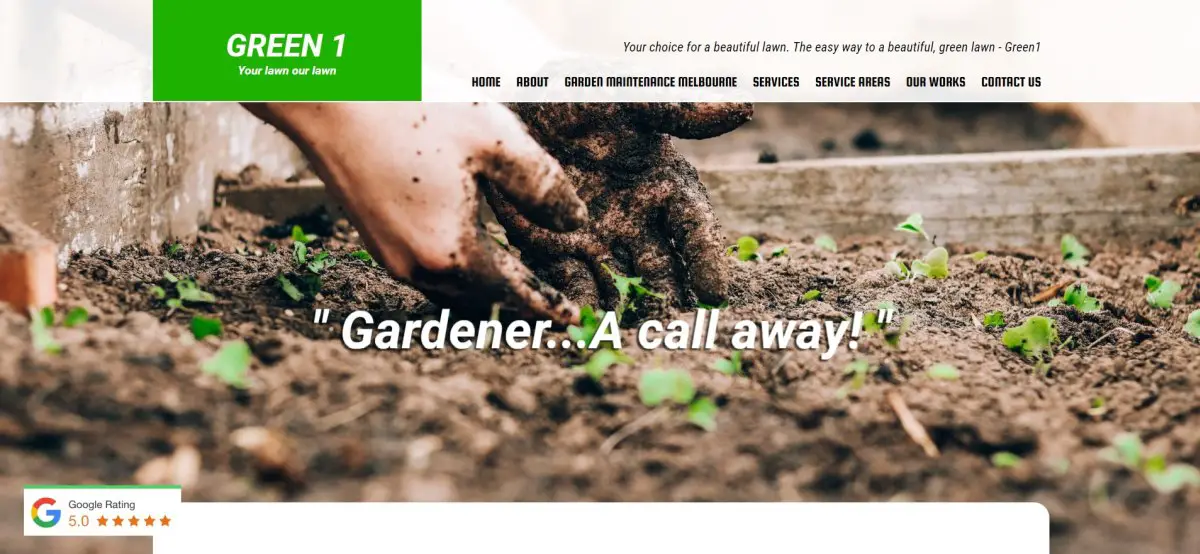 Green 1 Gardening Maintenance is a renowned service provider in Melbourne, offering many garden maintenance solutions tailored to individual needs. Understanding the unique challenges posed by Melbourne's climate, soil conditions, and seasonal changes, Green 1 ensures that gardens remain vibrant and healthy throughout the year. 
With a focus on essential activities like watering, weeding, pruning, and fertilising, they emphasise the importance of regular care to maintain the aesthetics and health of gardens. Their comprehensive range of services, combined with over 25 years of experience, ensures that gardens look their best and thrive in the local environment.
Services Offered:
Regular mowing of lawns

Pruning and trimming of bushes and shrubs

Regular watering of plants and trees

Daily removal of dead or overgrown plants

Fertilising the soil

Weeding of grass and weeds

Maintenance of flowerbeds and greenery

Lawn mowing, edging, and fertiliser application

Weed control

Comprehensive garden maintenance tailored to individual needs
Phone: 0413 900 511
Email: info@green1.com.au
Website: https://green1.com.au/index.html
MowBuddy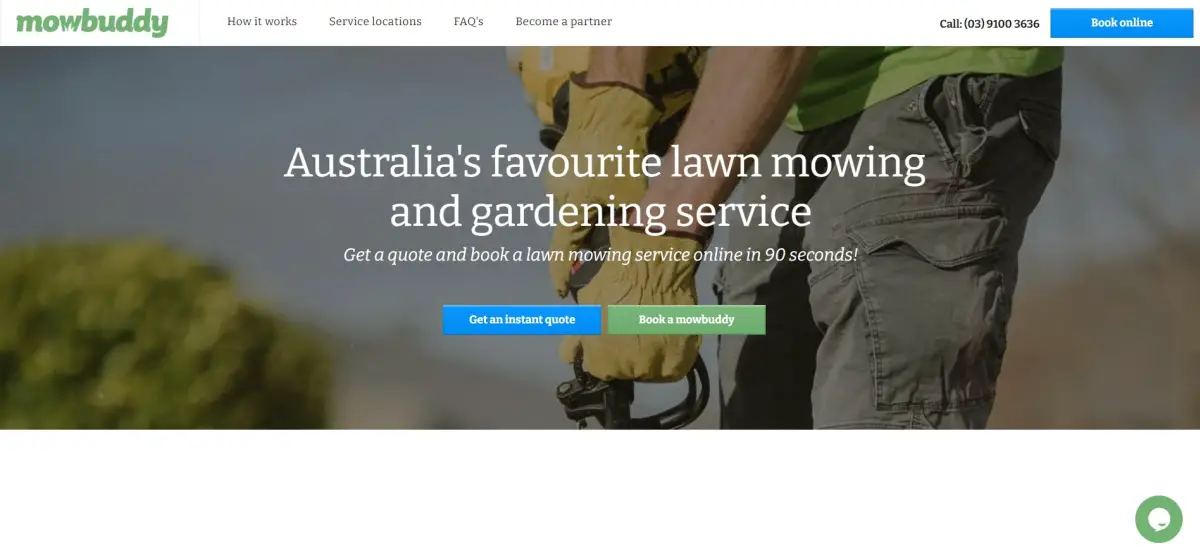 MowBuddy offers top-tier lawn mowing and gardening services tailored for Melbourne's South East residents. With a user-friendly online platform, clients can effortlessly obtain an instant quote and book a service in just 90 seconds. 
MowBuddy takes pride in partnering with trained, insured, and police-checked lawn mowing and gardening experts, ensuring that each service is of the highest quality. Their commitment to customer satisfaction is evident in their streamlined booking process, transparent pricing, and the comprehensive range of services they provide. Whether it's a one-time lawn mow or regular garden maintenance, MowBuddy is equipped to cater to all gardening needs.
Services Offered:
Lawn mowing and regular maintenance

Hedge trimming and small tree-cutting

Weeding (removal and weed spraying)

Garden clean-ups

Commercial and owners corporation lawn mowing and gardening

Ride-on lawn mowing when required
Phone: (03) 9100 3636
Website: https://www.mowbuddy.com.au/
To create a low-maintenance garden, choose native plants well-suited to your climate. Reduce the lawn area, use drought-resistant plants, and install an automatic irrigation system. Additionally, employ landscape fabric and mulch to control weeds and minimise the need for constant upkeep.
Soil pH affects the availability of nutrients to your plants. Test your soil's pH and adjust it using lime for more alkaline or sulphur for more acidic conditions. Maintaining the right pH level ensures your plants absorb essential nutrients, promoting their health and growth.
In small spaces, vertical gardening and container gardening are key. Use trellises and wall-mounted planters to maximise vertical space. Choose compact, dwarf, or bushy plant varieties and arrange them creatively. Smaller spaces require thoughtful design to create an appealing and vibrant garden.
When you spot signs of plant disease, act promptly. Isolate the affected plants to prevent the disease from spreading. Prune and dispose of infected plant parts, and consider using organic fungicides. Good garden hygiene, proper spacing, and soil health can prevent disease outbreaks.
Maintaining an eco-friendly garden involves using sustainable practices. Minimise water usage through rainwater harvesting, use organic fertilisers and compost and employ integrated pest management techniques to reduce chemical use. Supporting biodiversity and avoiding plastic waste also contribute to a greener garden.