If you think that high fashion photography is all about clothes, you are undoubtedly wrong. Even the best-looking clothes can look lifeless and dull when they are showcased online or printed into a catalogue if you don't have the proper knowledge of lighting, exposure, posing and composition.
So, What Is Fashion Photography?
Fashion photography is a highly demanding discipline that combines standard photography elements like composition, lighting, and exposure with the model's energy, life, and clothing.
In this guide, you will learn many fashion photography tips on making excellent fashion photos that capture the feel and look of the model and their clothes with no trouble at all. Read this guide to determine how to become a fashion photographer, starting from studio shoots to on-location fashion photography.
If you are new to fashion photography, you should know that it requires knowledge of primary digital photography, such as composition and exposure. There is a lot both behind the scenes and in front of the camera. Here are some things about fashion photography:
Fashion is one of the most exciting and creative types of photography you can get paid for.

The wilder your concepts, the more fun the production can be for a team. We make insane sets sometimes, for just one shot!

The reward of working with gorgeous clothing, shoes and accessories from world-famous designers every day is pretty special.

Sticking to your creative vision is critical, but also, being able to work collaboratively makes all the difference.

When that magical moment happens on set, where everything falls into place, and you know why you're doing this job, it's worth all the work.

Make sure your models are happy and fed. You can see low energy in photos instantly.
The Fundamentals Of Fashion Photography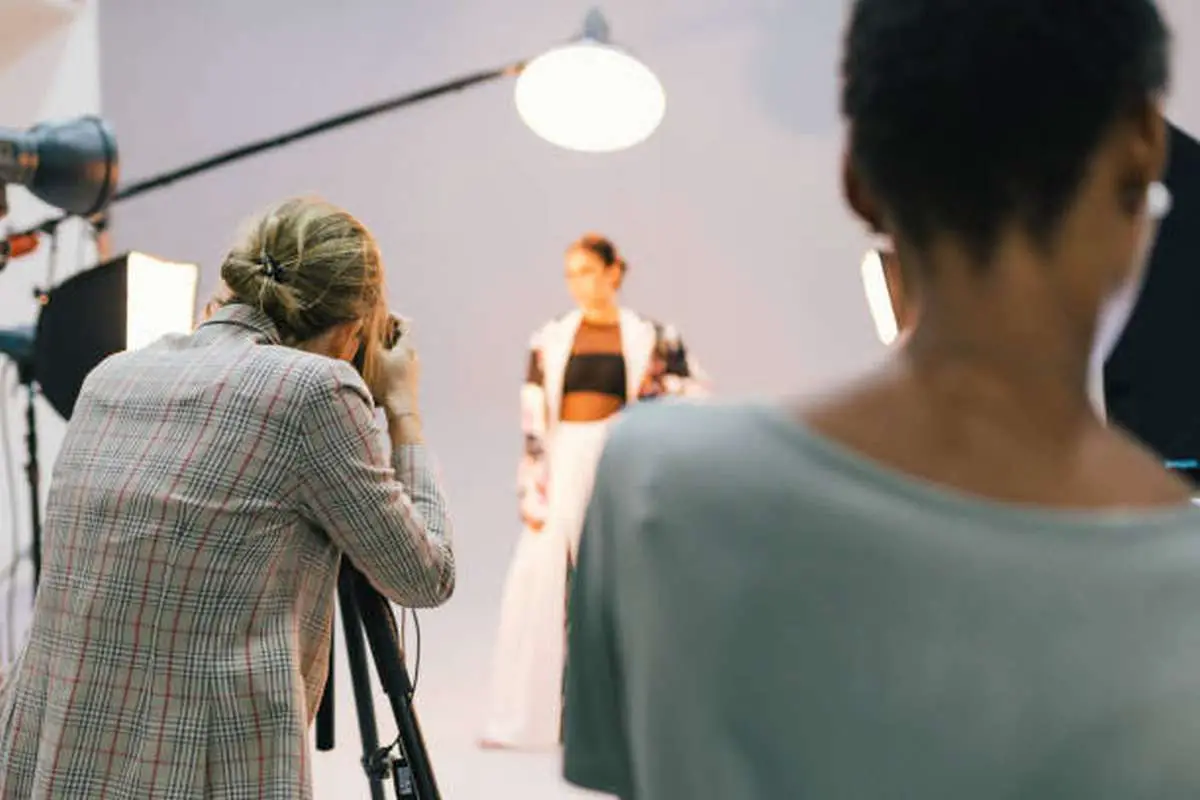 If you already know how to work with your digital camera in manual style, you will have no difficulties adjusting to fashion photography fundamentals. As the subject hardly ever moves, you will find fashion photography very easy.
Fashion photography can be made in two places: indoors, in an engaging environment, studio, and outdoors. Outdoor shoots are usually more complex than indoor shoots because the weather makes the camera adaptation more critical.
You don't need a vast lighting rig to take excellent fashion photographs. On the contrary, if you are a beginner with a limited financial plan, you can take great-looking photos with only a single light source and maybe two reflectors.
What Equipment Will You Need For Fashion Photoshoots?
As a starter, you don't need many things to shoot fashion photography, yet you will need a high-quality digital camera. So, make sure that you have a high-quality DSLR camera.
Fashion photos have to be at a high resolution and crisp, so your camera's megapixels matter much more for fashion photography than it matters for artistic or street photography.
While some fashion photographers swear by a film, don't be sad if you have just a digital camera. Modern fashion photography digital cameras DSLR are the best camera for fashion photography. They outperform nearly all film cameras for fashion photography, so almost all cameras will do if you have the right lenses.
Here, it is all about possessing the right lenses for the photoshoot set if you are a sports or a landscape photographer, set aside your zoom lenses and pick up wide to medium angle telephoto lenses that are adjustable to between 15 and 55 millimetres.
The best lenses for fashion photography include 17-40, 18-55 and 16-50 sorts with a fast aperture. You will also need a 50mm fixed focal length lens with a fast aperture, ideally among 1.2 and 1.8, to utilize for dark/low-light shots.
You don't need to purchase some extra flash equipment since you are a beginner. For lightning, take a pair of 500-watt halogen lights, ideally with barn doors and two reflectors, to spread light evenly everywhere in your studio.
Thinking Of Becoming A Fashion Photographer?
If you want to be part of this world, here are some tips:
Be nice! Be easy to work with, open to other's ideas, yet firm in what your vision is. No one wants to work with someone who can't roll with the punches.

Have a very concise vision for your portfolio. Don't have landscapes, dogs, people, and cars. Curate your portfolio for the editor you are going to meet. Make sure your work reflects the brand of the magazine.

Constantly do more work. Even if you're not being hired to shoot, do creatives. Even my most prominent photographers still do creatives to keep them moving forward.

Think outside of the box. Shooting in a studio all the time is easy. Going to a location and pushing yourself to learn lighting in an outdoor setting will take you leaps and bounds above the rest.
Should I Become A Fashion Photographer?
Fashion photographers are responsible for photographing fashion shoots and editing the resulting images. Although fashion photographers are generally not the directors of the photoshoots, their skill set, including an eye for design and lighting and an understanding of the feel and purpose of the resulting photographs, makes them an integral part of fashion photography portraiture. These professionals must have expertise in Adobe Photoshop or other editing software. There are no strict education requirements for fashion photographers. They're generally hired according to their portfolios, experience and connections within the industry. However, formal postsecondary is common among these professionals, and it provides training and relationships necessary for success. The salary potential for fashion photographers also depends largely on their expertise and portfolios. Now that you know more about a career in fashion photography let's explore the steps you can take to enter the career.
Study Photography
While fashion photographers are not required to have a degree, they can gain a greater understanding of the craft by studying photography at a college, university or trade school. Many schools offer a bachelor's degree in photography, allowing students to study photography history, lighting, digital photography, and fine arts. Fashion photographers may also attend graduate school or enrol in programs that focus on fashion photography.
During college, be sure to focus some of your studies on developing editing skills. Fashion photographers must be able to edit their work to meet their clients' needs. Photographers use Adobe Photoshop and other computer software to crop photos, correct flaws, and alter the images they have taken. Photographers may take courses in photo editing or develop skills on their own.
Build A Portfolio
Fashion photographers showcase their best work in a portfolio, a collection of the photographer's best work. Some photographers have physical portfolios, but it's necessary to also have digital portfolios displayed online. Early on in their careers, photographers typically include photos taken during college, and the portfolio evolves and improves as the photographer gains more experience. Prospective clients choose a photographer based on the style and the skills exhibited in their portfolios. So, fashion photographers must keep their portfolio up-to-date and ensure that their abilities are well represented in the work they include.
Book Photo Shoots
With a portfolio that attracts clients, it's time to start planning photoshoots. Booking photography shoots may include arranging travel, reserving a space, or working with publishers to ensure that the client's needs are met. These professionals must be flexible and be able to work in a variety of climates. While they may suggest certain styles, the fashion photographer must follow a client's direction to ensure that photos meet their needs.
Advance Your Career
Advancing in the field depends a lot on how fashion photographers manage their career duties. Most fashion photographers are self-employed, so they must also handle business and marketing matters, such as scheduling shoots, managing finances, and keeping up with clients by answering e-mails and phone calls. They also network and regularly meet with contacts in the industry.
Professional photographers may hire assistants to help them manage business matters. Additionally, photographers study and enforce copyright laws to ensure that their work is protected. Keep in mind that most photographers move on to other careers after ten years of experience in fashion photography, according to Payscale.com. Individuals who choose to stay in business may open their own small business or find more stable employment in a fashion marketing firm.
There are no strict fashion photographers' requirements, but they generally have formal postsecondary training in photography and demonstrate their skills and experience through a portfolio.
You Need To Understand Fashion.
Just like the photographer needs to know how to work with a camera, a fashion photographer should have primary fashion knowledge. Solid knowledge of the matter will go a great way in helping your profession; therefore I suggest studying the following subjects:
The history of fashion

Fashion from distinct times and eras

Designers, icons, and image-makers

Fashion specifications

Makeup and hairstyles look.

Fashion documentaries and films

Modern fashion news
Numerous photographers attempt to shoot fashion without acknowledging what fashion is. It points. Don't allow some learning to hold you back from the opportunity of creating excellent work. The materials on these subjects are easily reachable online now, so there is no excuse.
Learn About Everyone By Reading Magazines With Fashion Photos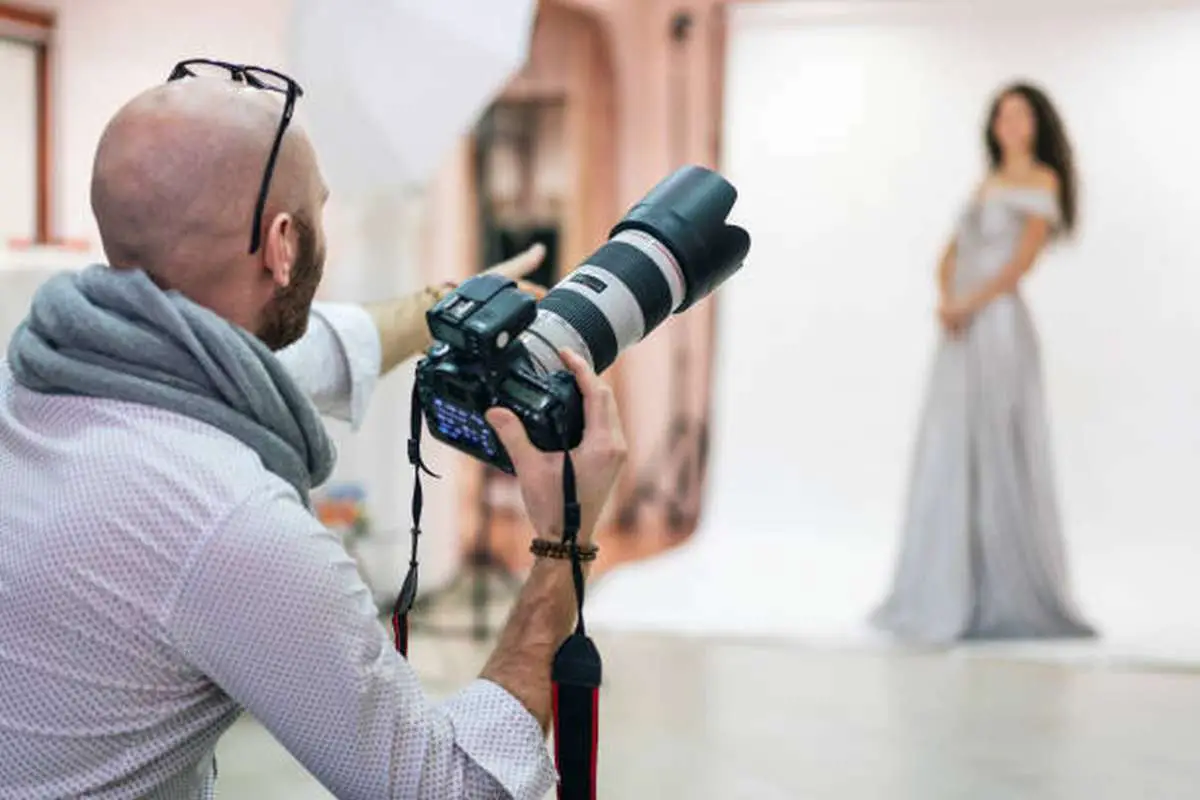 For new photographers, reading magazines is an excellent way to spot inspirational pictures and concepts.
Take this opportunity to organize the work and styles that you see yourself reacting to. Spot the features in the photographs you fancy and examine those for your shoots. Write down the names of people whose techniques you like, so you can operate towards co-operating with them one day.
Additionally, keep in mind that magazines have distinctive aesthetics and demographics from one another. They comprehend who needs what will be extremely helpful in providing some fashion photography portfolio ideas for the sorts of magazines that you desire to shoot for someday.
Try Yourself As An Assistant.
Assisting is an excellent way to discover how shots are made and meet some people in the fashion industry.
If you want to do it full-time for several years, that could be a way for breaking into the fashion industry, particularly in a larger fashion town where you can experience huge, high-end productions. But, keep in mind that your primary job is to assist. People don't like it if you strive to get the stylist's number or request Facebook friends with the director. Make friends with other assistants from the productive crew, since you will have a very higher chance of co-operating and improving together with them.
The Place Where You Take The Fashion Photos
Many of you are already interested in fashion photography, but they probably don't have access to a studio.
An excellent way to start shooting in a studio will be to find a job as an assistant for some local photographer. Or, you can sign in to some studio photography course, or maybe find someplace at your home to start making your studio setup.
Nearly all of the fashion photography tips here can be done by everyone, regardless of what tools you possess. You can begin by only using some window light and use your imagination!
When you are shooting in a studio, you can fine-tune the light correctly and include any props that you want. You can hold the complete power to build up that photo from scratch.
When you are shooting indoors but don't desire to hire a studio, use some improvisations! For example, find a room at your house with a large window allowing in lots of natural light, and just hang some white sheet above it to lessen the light.
When you are shooting outdoors, it will be a great idea to bring in some energy, personality, and character to the fashion photos. Pick a place that will help you convey the character of the model(s) and the design of the clothes the models are wearing.
When you are shooting outdoors, be cautious not to lose the clothes as the centrepiece. As you should remember, that's what the photo shoot is about.
Models And Posing In Fashion Photography
Posing may be a difficult point to understand, but scan into the newest women's and men's magazines to discover some motivating ideas, as well as taking a grip on what is fashionable today.
Practising 'broken down' poses or possess that demand angular body shapes may add some excitement and edginess to the photo and extend the body length.
The main reason why the very first fashion photography wanted to be rather hard and lifeless was only the limitations of the equipment. Less effective lighting and slower shutter speeds meant that the models had to be steady longer!
But photographers nowadays are free to play around with all the poses and ideas they want.
You can communicate with the model easily as you shoot and stop mid-action without any problem at all. Here are some easy tips for model poses for fashion photography and how to deal with it.
Fashion photography is about making a photo from your vision. It's usually collaborative as some people are helping you out with the hair and makeup, the models' input, assistants and so forth; still, you are the one who is in charge. Put your mark on every step of the process, and be sure that the clothes, makeup, etc., are all in the place as you want them to be.
Be sure that the models understand what you are attempting to achieve. Talk with them and be sure that they're comfortable in your company.
Make sure that the makeup and hair balances with the clothes.
Practice some previously planned poses, but also search for original and new ones. Don't always stay in your comfort zone. Let your imagination take off sometimes and examine every imaginable angle if you possess the equipment to go high over the models, awesome! Do not hesitate to try it. Shoot from every angle. From the ground, right, left, and every angle possible!
Let the models be spontaneous sometimes. Some models are excellent at expressing themselves and can bring very much to the photoshoot.
Do A Lot Of Testing!
Making many tests will improve your job and also will assist you in meeting others that are in the same industry. This is one of the main consistently cited advice for breaking into the fashion industry that I have discovered and shared with some colleagues and photographers.
In case that you don't have a team yet, you should start with a simple and small one. Operate with friends and take self-portraits. Tell what you can perform in terms of concepts and style with everything you have, and then approach freelancers and ambitious creative's. Your chain will grow with the number of shots you produce over time.
Once you produce a few strong shots of which you are proud, make a portfolio of few pictures and spread out to model companies. Ideally, you need to work with makeup and hair pros that have previously shot agency girls, so they may help examine what you have and give you some guidance on editing your images' collection.
In case that you don't get a reply, don't give up! Continue working on your occupation and try again after a few months. Once you begin testing for companies regularly, keep up with it, and you will soon be shooting your primary editorial in no time.
Get Ready To Have A Day Job.
As we've reported the professional and shooting side of things, it is time to get forward to the business end.
Firstly, even if you begin testing for companies, get ready to not make money for a while. You will need to manage a day job or possess many savings to last some time. 
Complete Your Paperwork
Nevertheless, day job aside, you still desire to progress your photography as if it was a business. Begin with a routine of organizing your paperwork and files:
Systematize picture catalogue and file names

File copyright for your job

Store press clippings

Demand and save hi-res lists of tear sheets

Archive invoices, quotations, bank and credit card statements, receipts, contracts and model releases

Arrange contact lists

Refresh your CV and resume always
It will be really good to have a different folder for each thing discussed above and organize them by year, occasionally with subfolders. You can do this in the way that you prefer, yet setting up this systematically will save you from headaches.
Regularly Update Your News, Social Media And Website.
If you are creating something, then show it to the world. Regularly update your news, social media and website with the things you are working on. Hold the original picture updates to social media and regularly keep the contact list for larger news with a newsletter.
Networking
This is pretty much a necessity in the fashion industry. It's all that you love: socializing and also the parties that go together with it. Fill up your portfolio on both iPad and smartphone so you can show it quickly at all points. Hold business cards nearby, and add your social media details on them.
Follow people on Facebook and Instagram and communicate. A mixture of following up on social media and meeting in person is one of the simplest and quickest ways to make a relationship.
Do more face-to-face meetings by choosing the individuals you want to meet, and look at this as a different way to meet new friends. A beverage is usually less noisy and dull than standing around and less unpleasant and scary than approaching strangers.
Be Ready To Change Your Living Place.
In case that you desire to do high fashion photoshoots for the greatest names and magazines, you will certainly have to live in one of the biggest fashion capitals since that is the place where everything big happens. So, if you don't live close by, then you probably have to move.
If your target destination is inside your country or if you're in Europe, you only need to get a new job in the new town. However, if you are attempting to move to a different country, it will be riskier and more expensive because you will have to acquire a visa. There are two basic ways for this:
Work on your portfolio and go to an art school at the same time. You should determine if you can afford the money and the time, but a good school is usually an excellent way to interface and meet growing artists, stylists, and designers.
Get a visitor visa so you can visit the town for a while. Do test shots, go on meetings, network, and find an agent. You will need to keep your regular customers at home and travel back frequently for a regular income' until you can get a new town job.
Outdoor Photography Shoot
As we all already know, not all fashion photography is taken into a studio. From calendars to catalogues, many photoshoots are captured outdoors, usually in exotic places like urban environments and beaches.
If you already know about landscape photography, you will quickly adjust to taking fashion photos on location. This fashion photography is usually more demanding than indoor photography because you don't have total control of the fashion photography lighting sources.
Fashion Photography Editing
Fashion photos are rarely published without being edited. Starting from airbrushing to blemishes and wrinkles to make the photo brighter and to feel natural, warm and organic. If you know how to use Adobe Photoshop or Lightroom, it will be a huge plus for you as a fashion photographer.
There's a lot of work that goes into the post-production for your photos. Here are a few tips for making your photos look as great as possible:
If you're not a good retoucher, hire someone to do it for you. Retouching is a huge thing in fashion. If it's not done well, your work suffers.

Learn to light. No great fashion photographer has ever made it by just shooting in natural light. Take courses on lighting, rent lighting and try everything until you can master that perfect light.

Use great lenses. You can rent professional lenses for about $40 per day. There is no reason to use your kit lens when you have all those amazing lenses to try out.

Make sure your images are tack sharp (unless you're going for a dreamy look). Images that are soft or out of focus are unusable for print in our publication. Make sure you know your f-stops, shutter speeds and focusing before you get into shooting with models.

Be excited about your work. You won't sell me on your work if you don't believe in it. Be passionate, and know who your influences are because you will be asked who inspires you.
Even if you're against airbrushing and photo manipulating, understanding how Photoshop works will make it far simpler for you to optimize your colour, lighting, and levels to produce photos that stand out from the groups and demand attention.
Conclusion
Fashion is a difficult industry. It's ambitious and competitive. It is likely that notwithstanding all your work, you will proceed to face denial, again and again. Inspire yourself and find the real reason why you want to do all of this. In your worst moments, your inspiration is what will cheer you up.