Are you looking for the perfect wedding singer or band to specialise your day? Melbourne has a huge range of talented performers to choose from. We've put together a list of our top 20 picks in this post. Whether you're after a classic jazz band or an upbeat pop group, there's sure to be something here that suits your style. Happy hunting!
Add a header to begin generating the table of contents
Ultimate List Of Singers & Bands Melbourne
Melbourne Entertainment Co - Wedding Singers & Bands Melbourne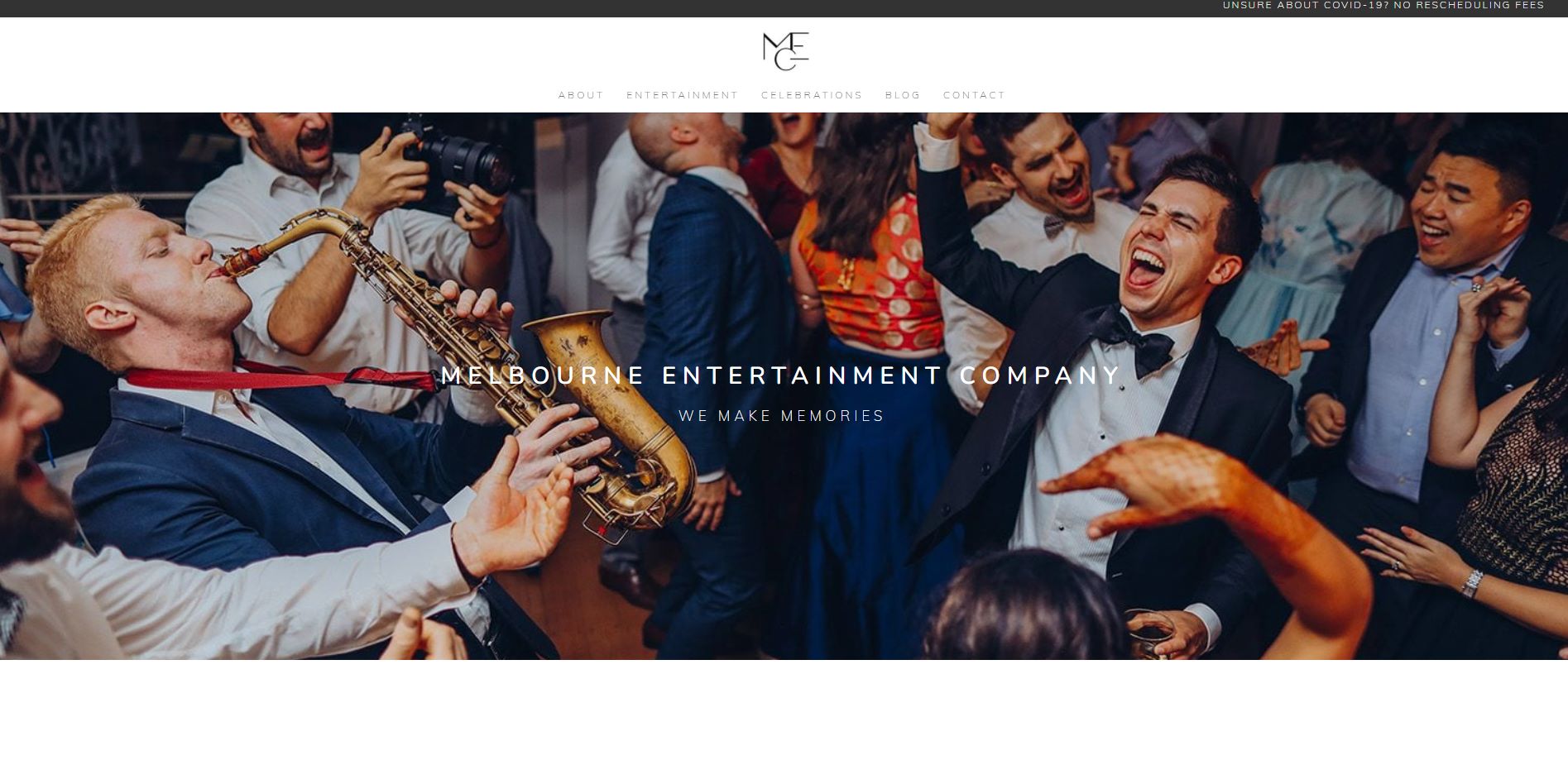 melbourneentertainmentco.com.au
1300 858 981
About 
The Melbourne Entertainment Company is a comprehensive wedding & events, entertainment supplier. We deliver a refreshing, personalised service to each client for every event. We are highly active in the Melbourne wedding/event market delivering over 700 events last year. With more than a decade of experience, we understand the need for a bespoke, memorable and premium service.
Offering elite DJs, DJ-Sax, Acoustic Solos, Duos, Trios, Bands, Singers, Guitarists, Saxophonists, Percussionists, Photographers and Roving Performers. MEC is your friendly, reliable and knowledgeable, go-to provider for seamless corporate, wedding and function entertainment.
NATHAN
GENERAL MANAGER
Nathan is an expert DJ and Sax-Man who has held the national on-air Friday Night residency with NOVA FM since 2011. He is the man driving the success of our refreshing take on wedding and event entertainment. The benchmark is set incredibly high for his client care and customer service. Nathan is a key influencer in professional entertainment and constantly adapt to achieve the business's goal of becoming the best entertainment provider in Melbourne.
HAYLEY
ENTERTAINMENT MANAGER
Hayley had been an event coordinator for over four years at Sandhill Road before starting with us. Her knowledge of Melbourne venues is unparalleled, and she has first-hand experience in every type of function. She'll go above and beyond to please.
DANE
ENTERTAINMENT MANAGER
Dane has been in the event/entertainment industry for over a decade. Recording music since seventeen, 7+ years as a venue manager and 3+ years as an AV-Tech: Dane has a wealth of knowledge to tap into when organising your event entertainment.
ALANNAH
ENTERTAINMENT / TALENT PRODUCER
Alannah has been in the music and theatre industry for the last decade, working on and off the stage. She then jumped into arts & music management before starting with MEC. Alannah's eye for detail and love for music and performance will bring something special to your event.
TALENT
MELBOURNE'S BEST
We pride ourselves on having the best talent in Melbourne. Our performers are not only incredible at what they do, but go the extra mile to ensure that their client's events are a complete success. Our elite DJs, Singers, Saxophonists, Bands, Acoustic Musicians, and more specialise in providing a unique "wow-factor" to performances that will have you and your guests raving.
EVENT & LIVE WEDDING BANDS
Nothing beats the performance and the crowd interaction that an incredible live band can provide. The experience that the music is being made, produced & delivered life right before your very eyes! It's encapsulating, invigorating & encompassing.
The most talented professional event and wedding bands Melbourne has to offer will create a vibe that your guests will not shut up about at your hangover brunch the next day. "How incredible was that Cover Band Singer!?" "The drummer was so hot!" "What about that Sax solo in the Jazz Band?!"
It's our job to create memories that last a lifetime. It's our job to guarantee when you hire a band, Melbourne Entertainment Co ensures that everyone from your grandma, to your bridal party, to your niece/nephew, is dancing around to your favourite requests and d-floor hits.
THE MOST PROFESSIONAL DJS MELBOURNE HAS FOR HIRE
OKAY, SO YOU'RE ON GOOGLE LOOKING TO HIRE A DJ IN MELBOURNE
NOT SURE WHERE TO START? WHAT TO LOOK FOR? WHO TO CHOOSE? HOW MUCH TO SPEND?
When looking for a DJ, Melbourne Entertainment Company has some of the best and most experienced DJs Melbourne has on offer. Our elite selection of professionals knows how to read a crowd and, above all, play the perfect music for every occasion. So don't book an old out-of-touch, has-been DJ. Instead, hire a young, fresh and cool professional that fits inside your budget.
SINGERS & ACOUSTIC DUOS
When looking for an Acoustic Duo or the best wedding singer, Melbourne Entertainment Company has the most talented artists and the greatest diversity of choice. Hire an incredibly talented Event / Wedding Acoustic Duo or guitarist who will knock your socks off. These Acoustic soloists and duos will serenade you down the aisle or provide the perfect chill background vibes at your cocktail event. There are vocal virtuosos who can play guitar, piano or use loop pedals to create a multi-instrumental soundtrack live before your eyes. With so much acoustic talent on offer, you'll have trouble narrowing it down to your favourite soloist. If you're not sure about whether or not to book a DJ or an acoustic musician and don't have the budget or both: check out our amazing complete soloists who can tick both boxes for you.
The Mac Project - Wedding Singers & Bands Melbourne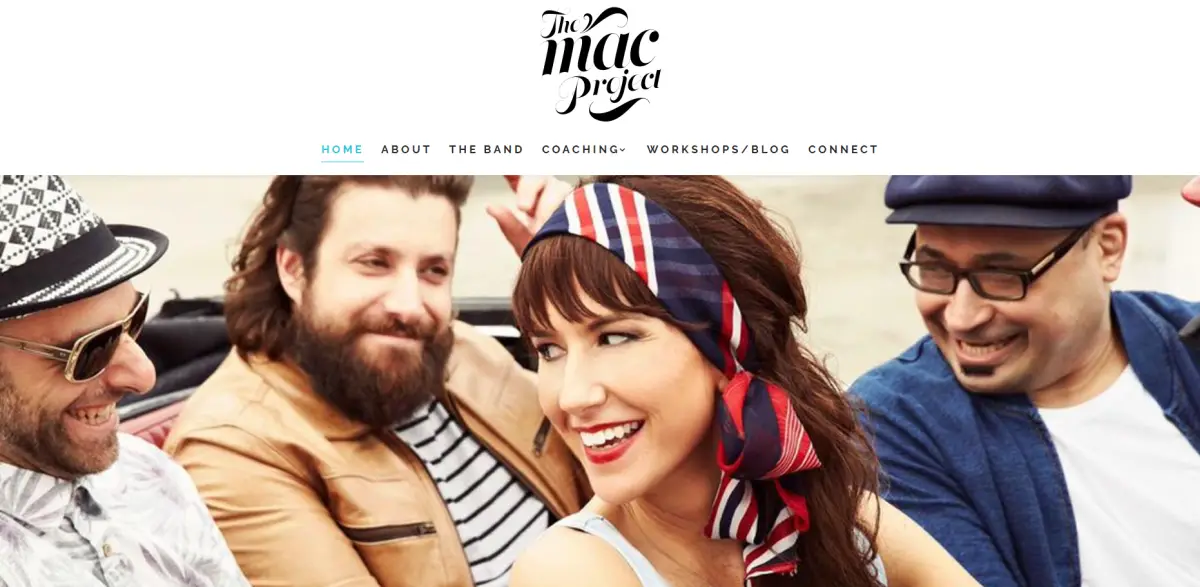 0409 387 245
ABOUT THE MAC PROJECT
Our rapidly growing fan base finds us performing regularly at popular venues, including Republica & Captain Baxter in St Kilda, The Smith, Corte, The Prahran Hotel, Richmond Club Hotel & The Bridge.
We also perform at high-profile corporate events, including the Australian Open and Spring Racing Carnival and weddings and private functions locally and interstate. In addition, we're available to perform as an acoustic duo/trio, a four-piece band… and more!
And so, The Mac Project was born. I believe these three concepts – connection, creativity and growth – are intrinsically linked, and it's on this belief that the Mac Project is founded.
ABOUT MARYANNE
After being accepted straight from high school into one of the country's top Acting Schools, NIDA (National Institute of Dramatic Art), I worked successfully for several years as an Actor in Television, Theatre, Music Theatre (multiple Helpmann & Greenroom Award Nominee). Having achieved many of my dreams and goals at a relatively young age…
I realised that I had a special talent for facilitation, for being a vehicle for connection, creativity and growth in both myself and others……
And so, The Mac Project was born. I believe these three concepts – connection, creativity and growth – are intrinsically linked, and it's on this belief that the Mac Project is founded.
BAND PRAISE
"Mac & her team at The Mac Project are such a pleasure to work with... They are such great fun & we get such great feedback from our clients on how perfectly suited they were for their function! We love them!"
Tillee Music - Wedding Singers & Bands Melbourne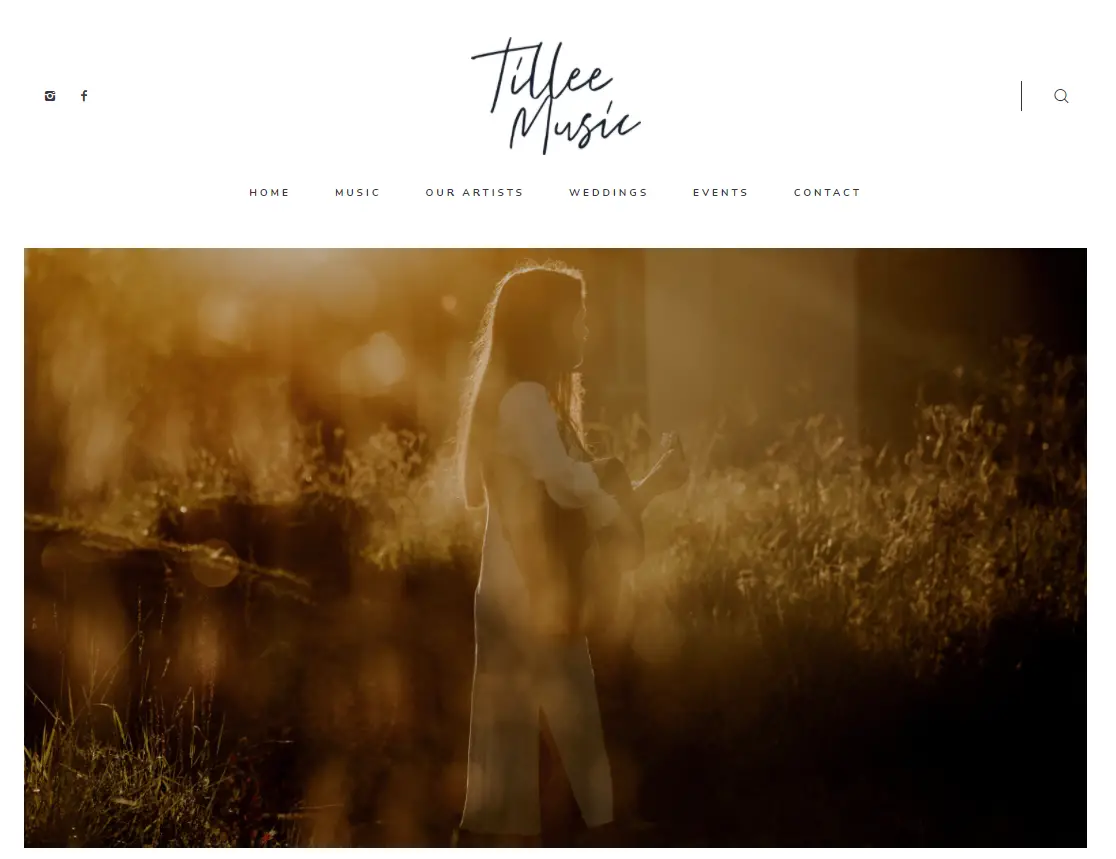 0408 828 955
Oh, hey there!
Silence. It's not something we humans are readily at peace with. The space between murmurs and lovers, friends and feasts – we want to fill it.
At Tillee Music, we believe the right soundtrack can change the tune of our lives. For 15 years, our artists have been tuning in to classy corporate dos and romantic I-dos.
Our hearts are in it – because we know yours is too. So let our signature acoustic sound breathe life into your next event.
Wedding Packages
We understand the power of music to make your event not unique but memorable. That's our passion. It's what we live for. So let us bring some magic to your big day. Below are some of our most popular packages; however, if you are after something more bespoke, just get in touch so we can customise your package.
Listen to our songs.
Each of our musicians is carefully handpicked because their style and quality compliments what Tillee Music is all about. In addition, all of our musicians share a dedication to ensuring the music for your event is as personal and beautiful as you imagined it to be.
Wedding Singers & Bands FAQ
Signing the register
This shouldn't take too long, but we recommend to have around three songs prepared just in case. It may take longer than you think if you are having photographs taken, too.
Regardless of the time of year 8:15 to 8:30pm seems to be the most popular time to do the first dance. The first dance is the first dance the couple do together as husband and wife, NOT the first dance of the evening as people will always be wanting to dance prior to this.
Many wedding planners will advise cutting the cake fairly early on in the evening, so shortly after evening guests arrive is usually the perfect time followed immediately by the first dance.
Obviously the amount of time for the DJing will be dependent on how coverage you've paid for. The normal, optimal length for a wedding reception is 4 hours (this includes the dinner portion). When you add in cocktail hour and the ceremony, there would be another 2 hours of music.
Are you asking yourself the question, "When should I go wedding dress shopping?" Ideally, you should start the process about 10 to 12 months before your wedding date. The best time to purchase your wedding gown is at least 8 months before your wedding!
Party Shirts Music - Wedding Singers & Bands Melbourne

0413 840 854
About
Party Shirt Music is an end-to-end music booking agency offering great DJs, live bands and acoustic teams in Melbourne, Victoria, Australia. We've spent years developing our professional networks, recruiting Melbourne's finest musicians, so you don't have to. Book today.
Why book Party Shirt?
We've spent years fine-tuning our legendary party-starting algorithm, recruiting Melbourne's finest wedding DJs, bands & acoustic singers, so you don't have to lift another finger (or pay anyone else to lift it for you). Like a fully loaded iPod, your Party Shirt Melbourne wedding DJ, live wedding band and the acoustic team arrives prepped, primed and ready to provide the great wedding music you need, and nothing you don't: dance-floor action, a simple booking process, and musical memories made in all their glory. Let's make your wedding one for the history books.
incredible musicians
Our whip-smart community of music professionals, your peace of mind. 
low-cost
We nail the must-haves to avoid the hefty price tag.
killer Songlist
All the best tunes of all time.
Instant Book
Get the party started and save bucks with our one-click reservation option.
Party Photographers - Wedding Singers & Bands Melbourne

ABOUT
What can we say about ourselves? We are a team of photographers passionate about capturing happy faces, candid moments and special nights. Our team is extremely diverse; many of our team are young, up and coming photographers passionate about what they do. They've grown up in Melbourne, attending their fair share of house parties, birthday parties, nightclubs, etc. They know their way around a party and exactly how to capture its essence. On the other end of the scale, we have photographers on the team who have been in the industry for years and have captured high-end events such as corporate functions and weddings.
We believe that everyone deserves great memories of any occasion, and that's why we came together to offer our photography services and share our passion with you for an affordable price. Hundreds of photographers in Melbourne will charge a King's ransom for a mere couple of photos. We believe in making high-quality service affordable for those looking to capture a special event and make the memories last forever. We service anyone and everywhere, whether a couple of mates hanging out in the backyard or a corporate function at the MCG. We offer bulky albums with no limit on the number of photos taken at the event, and we'll professionally edit them all!
Whether you want us at your disposal, directing us on every shot, or whether you want to let our photographer just do their thing at your event, we can help capture and make your event special.
Get in touch with us today to learn more about how we can help you!
OFFERING CHEAP PREMIUM PARTY PHOTOGRAPHY IN MELBOURNE
A wise man once said that a party is only as good as the photos that tell the story. Okay, maybe it was me who said that, but the sentiment is all the same. Do you know those one-of-a-kind nights that resonate in your memory for years? Those are always the nights there never seems to be enough photos of. Well, this is where our vigilant and ever-ready photographers come into play.
A common sight at Melbourne's liveliest engagements, weddings, birthday parties, and corporate events, our party photographers are affordable and well versed at snapping those happy memories. With a maximum seven day turnaround time on photos and a personalised touch that puts all others to shame, you need to look no further.
When it's countdown time to the big event, and you're still asking, 'where can I find professional photographers near me?' you needn't look any further than the experts at Party Photographers Melbourne.
Blue Planet Entertainment - Wedding Singers & Bands Melbourne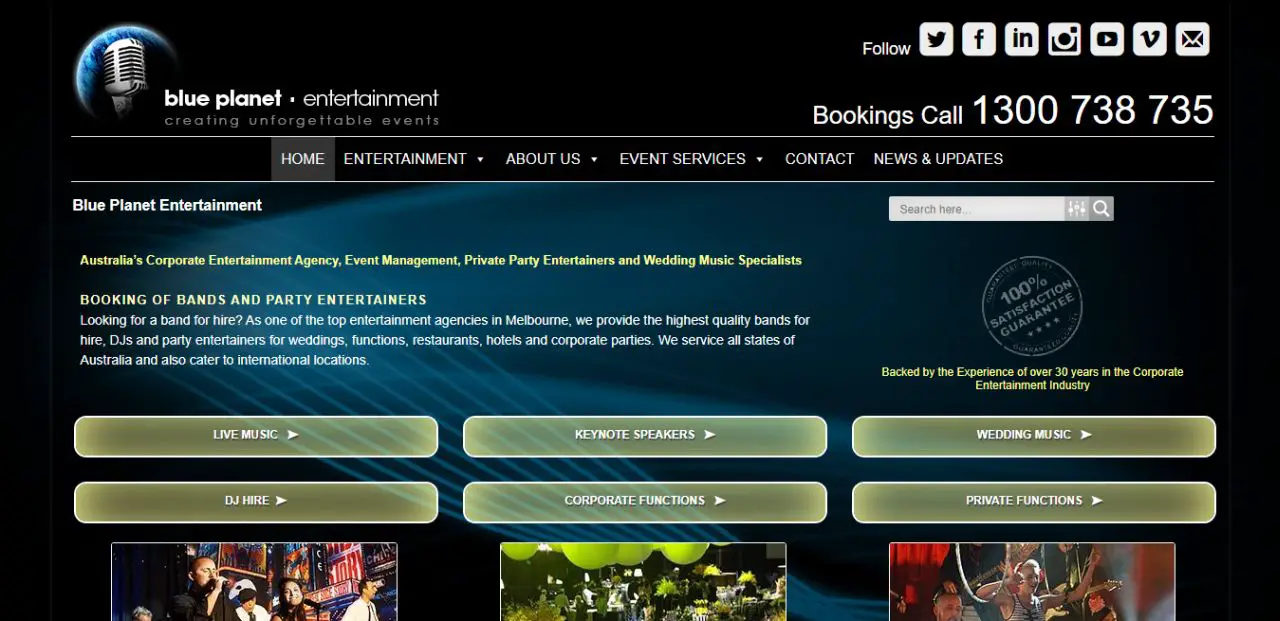 blueplanetentertainment.net.au
1300 738 754
Blue Planet Blue Planet Entertainment and EventsEntertainment and Events Management
Blue Planet Entertainment and Events is a company with the experience and expertise evolved over 30 years in the performance, entertainment bookings and event management disciplines.
Blue Planet Entertainment and Events deliver outstanding personalised service that ensures the highest quality level of service and satisfaction. Blue Planet Entertainment and Events have built successful ongoing relationships with companies including Coles, Pricewaterhouse Coopers, GlaxoSmithKline, ANZ, Linfox / Armaguard, Westpac, Qenos Australia, Corporate Express, Mercer Australia, and many more.
Engaging a team or an individual from Blue Planet Entertainment and Events to manage all the aspects of your event will relieve a lot of undue stress otherwise given to an individual or group in your organisation and individual that often have little or none of the skill sets required to run or organise an event.
Blue Planet Entertainment and Events Management have long standing relationships with specific production companies, venues and a myriad of suppliers and performers and can give you ideas you may not even know existed. Because they use their suppliers regularly, they receive more like a wholesale price, a bit like buying in bulk.
When looking for event management, you are more than likely looking for someone with whom you can communicate directly, Is the person you deal with on the phone and emails for weeks and sometimes months before the event will be there on the night? Are you dealing with the decision-maker or the 'Gatekeeper'?
Does your event team know who is operating all the different elements of the function on the night?
You need an event management team that has an intricate knowledge of your function's elements.
BOOKING OF BANDS AND PARTY ENTERTAINERS
Looking for a band for hire? As one of the top entertainment agencies in Melbourne, we provide the highest quality bands for hire, DJs and party entertainers for weddings, functions, restaurants, hotels and corporate parties. We service all states of Australia and also cater to international locations.
BLUE PLANET ENTERTAINMENT – EVENT MANAGEMENT and BOOKING AGENCY IN MELBOURNE
We take away the stress of organising your corporate event, wedding or private function. With more than 30 years of experience in entertainment and event management, Blue Planet Entertainment will ensure that the right calendar date, venue, budget, entertainment, experience, production come together to create a truly unforgettable occasion.
World's Best Wedding Band - Wedding Singers & Bands Melbourne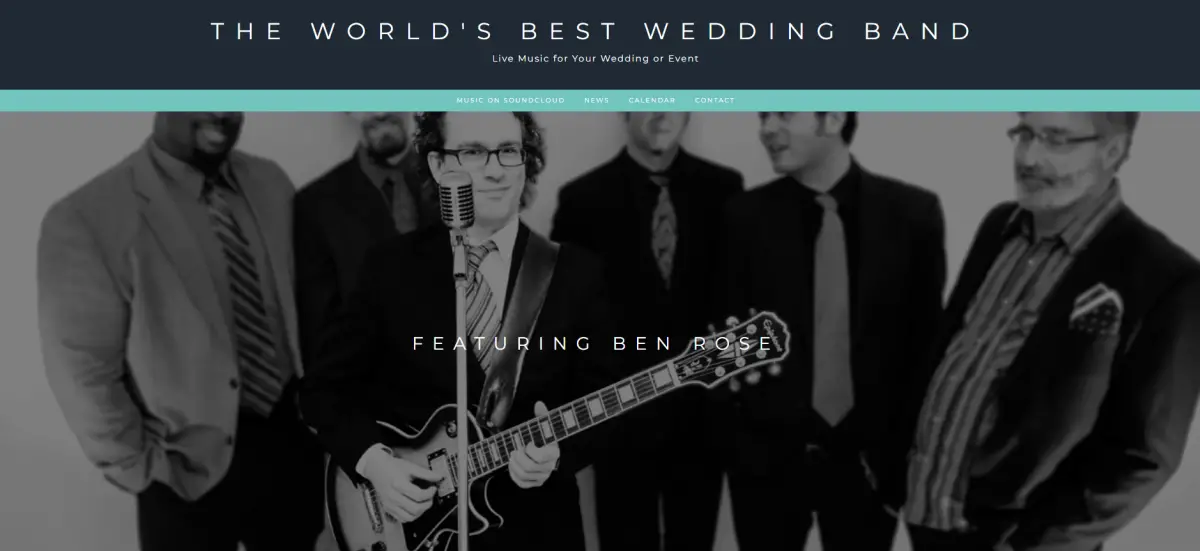 WEDDING MUSIC AND MORE FOR YOUR PARTY OR EVENT
Solo, trio, four-piece, or full band. The choice is yours. Boost your event's adrenaline with a band that knows how to get a crowd moving. Ben Rose has been singing and playing live music professionally for more than fifteen years. His experience working with wedding clients, event planners, and corporate events mean that he knows how to please a crowd while creating great memories. Get in touch, and we'll figure out the perfect fit for your venue, your budget, and your perfect day.
THE RIGHT MUSIC AT THE RIGHT PRICE
We feature some of the best wedding ceremonies and first dance songs. A solo "Somewhere Over the Rainbow" while the bride walks down the aisle? Not a dry eye in the house. A sultry and sweet "At Last" as the couple takes the dance floor for the first time as husband and wife? Melt. Have a favourite song you just have to have to express your perfect match? We'll learn it for you and make you look like the star you are on this perfect day.
With Ben Rose and the World's Best Wedding Band on the scene, you'll have one less thing to worry about. We make it easy for you to focus on the things that matter, and we'll make sure the soundtrack to your amazing day is just that.
Services.
The band is available in any configuration, from solo to the full six-piece with horns and background/featured vocalists.
Perfect For:
Ceremony
Cocktail/dinner music
Reception
You Get:
Tailored setlists
The option to have us learn a special song just for your event
Professional, respectful artists who look as good as they sound
We Bring:
Our sound system and accent lighting
Microphones available for speeches
Music for between sets
Post-show party music
Gabbinbar - Wedding Singers & Bands Melbourne

(07) 4602 9045
WELCOME HOME
Welcome to Gabbinbar Homestead – a magnificent and historic estate established in 1863. Set amongst 150-year-old gardens, towering ancient trees and expansive lawns, Gabbinbar Homestead is the perfect destination for your wedding.
Our estate is located high on the mountain range in the garden city of Toowoomba, South-East Queensland. Surrounded by gorgeous acres of magnificent established gardens, the historic Homestead is completely private and secluded.
AN HISTORIC ESTATE
HISTORY
Gabbinbar Homestead was the former home of Sir Hugh Nelson, the premier of Queensland in the late 1800s and the summer resort for Queensland's Governors in the early 1900s. It remained a private home until it was lovingly restored and available for weddings.
LOCATION
Gabbinbar Homestead is located in the garden city of Toowoomba, Queensland. Our estate has a country feel with city convenience at its doorstep. The Toowoomba CBD is only an 8-minute drive away, and the Toowoomba airport is located 25 minutes West of Gabbinbar Homestead.
THE ESTATE
When you choose Gabbinbar Homestead for your wedding, we give you exclusive estate use. You and your guests are free to enjoy the Homestead, our extensive gardens, the Stables, Old School House and much more.
GABBINBAR HOMESTEAD
For 148 years, the historic Gabbinbar Homestead was a private residence used by the governors of Queensland as their summer resort. In 2012, the Homestead began hosting weddings, offering a magnificent estate for couples to use as their exclusive home for their special day - complete with award-winning food, drinks, exceptional service, and breathtaking ceremony and reception locations.
Funkified - Wedding Singers & Bands Melbourne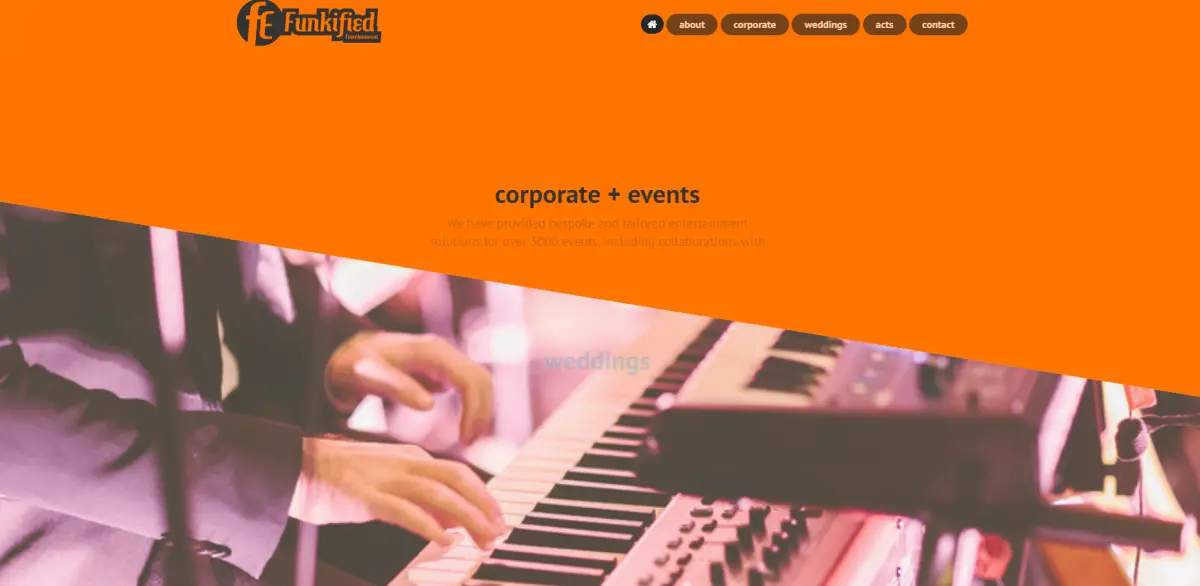 (02) 9043 5454
About
Who we are:
Formed in 2009, Funkified Entertainment is the brainchild of Australian musicians and event experts Gus Stephenson and Caitlin Benetatos. We have always focused on attracting the best people in the event entertainment sphere and now boast a team of 12 staff and 120 contracted entertainers.
What we do:
We provide elite quality entertainment, individually tailored to suit your unique vision. With a dedicated office team of event experts and a hand-selected stable of the most sought after live acts and musicians Australia has to offer, Funkified Entertainment is the premier destination for the ultimate in professional entertainment solutions.
Funkified Entertainment has worked on over a thousand high-profile events; for clients, including but certainly not limited to Facebook, Channel 10, BMW, Porsche, Channel 9, Amway, CommBank and Ferrari, to consistently excellent feedback. Combining a can-do attitude and a professional yet hands-on approach, we guarantee outstanding service and engaging, dynamic and polished performances for any occasion – no job is too big or too small!
Why we're different:
Funkified Entertainment differs from other agencies in that we focus on the quality over quantity approach. As a boutique agency, we represent a small and exclusive pool of bands. The strict requirement is that every artist contracted to us is tertiary trained with a minimum of 10 years of professional event experience. Additionally, every brand we work with operates as a consistent lineup instead of a collective, meaning who you see in the promo is who you'll see on the night! Subsequently, it's a guarantee that you're booking the best when you book with Funkified.
Where we are:
Funkified Entertainment has offices in Sydney and Melbourne, with a talent network stretching Australia wide. Internationally, we have delivered briefs from The Maldives to China, Spain to Hong Kong and London to New York – if you have a vision, feel free to get in touch. We're always up for a new adventure!
Wedding entertainment
Each wedding is a once in a lifetime event. , So naturally, you want everything to be perfect!
Whether you're after dance-floor fillers, laid back grooves, elegant strings or sophisticated jazz, Funkified Entertainment will help you find the right act for your big day, leaving you to enjoy the party stress-free!
Your wedding is such an important day, and a vital component of how the day pans out is the music. Not just the song that you walk down the aisle to, but also the sweet serenade of your first dance and the raucous music that fills the dance floor with happy guests.
You must choose wisely what songs go into your playlist, especially your procession down the aisle and your first dance.
Soul Nights - Wedding Singers & Bands Melbourne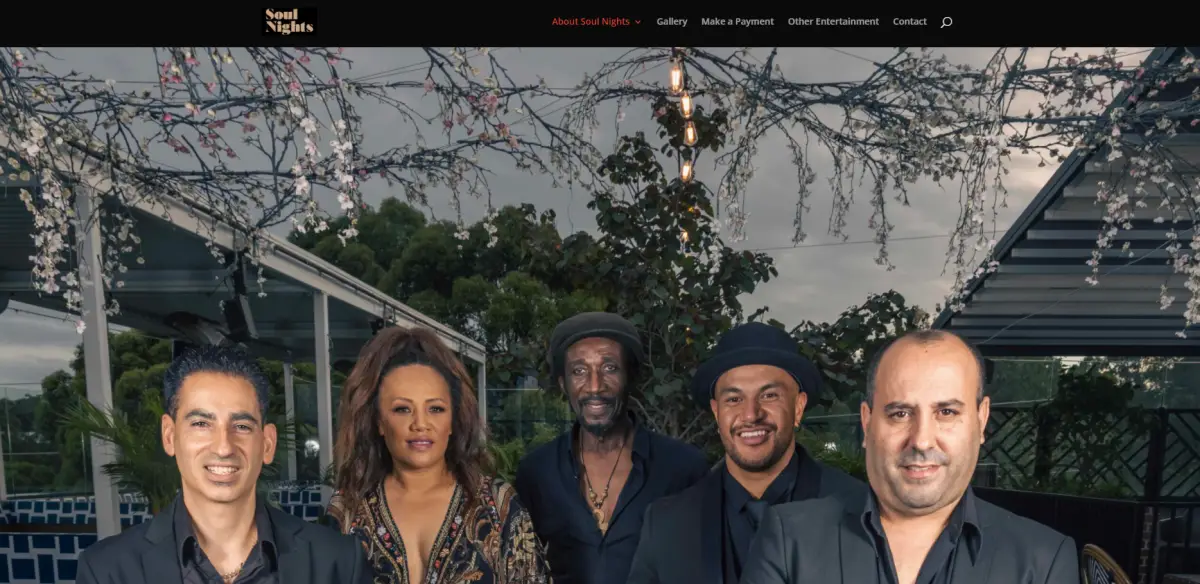 02 9807 1945
About Us
For over ten years, Soul Nights has been one of Sydney's leading live bands performing at top venues, weddings, and private events.  
Soul Nights Trio
For Any Occasion
If you don't have the budget but still want the live band at Your wedding or event, Soul nights trio will still cater for you.
Choose either our male or Female vocalist with the backing of Drums, Keys or Guitar.
With the Soul nights Trio, we will be able to Play your Favourite songs and get the guest up Dancing. Ideal for any small Rooms or small Functions.
One Fine Day Wedding Fair - Wedding Singers & Bands Melbourne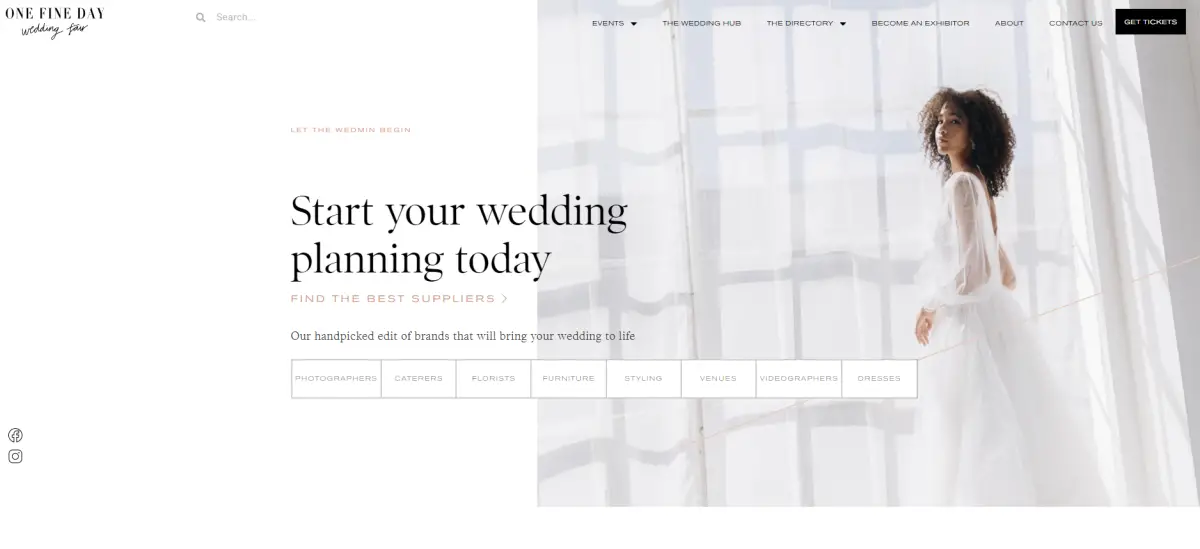 (02) 8072 0645
About One Fine Day
One Fine Day is a refreshing alternative to the traditional bridal fair, showcasing a handpicked collection of sought after vendors in the wedding field.
Not only is One Fine Day the perfect outlet for creative couples to gain inspiration from unique vendors in the planning of their big day, but most of all a fun way to spend time with your friends, family, bridal party or fiancé!
Sister Companies
Our events are highly aspirational while still being accessible. Our vision is also to grow One Fine Collective's position further so that we stay strong as the market leader in innovative lifestyle exhibitions – in Australia and beyond.
The White Tree Creative - Wedding Singers & Bands Melbourne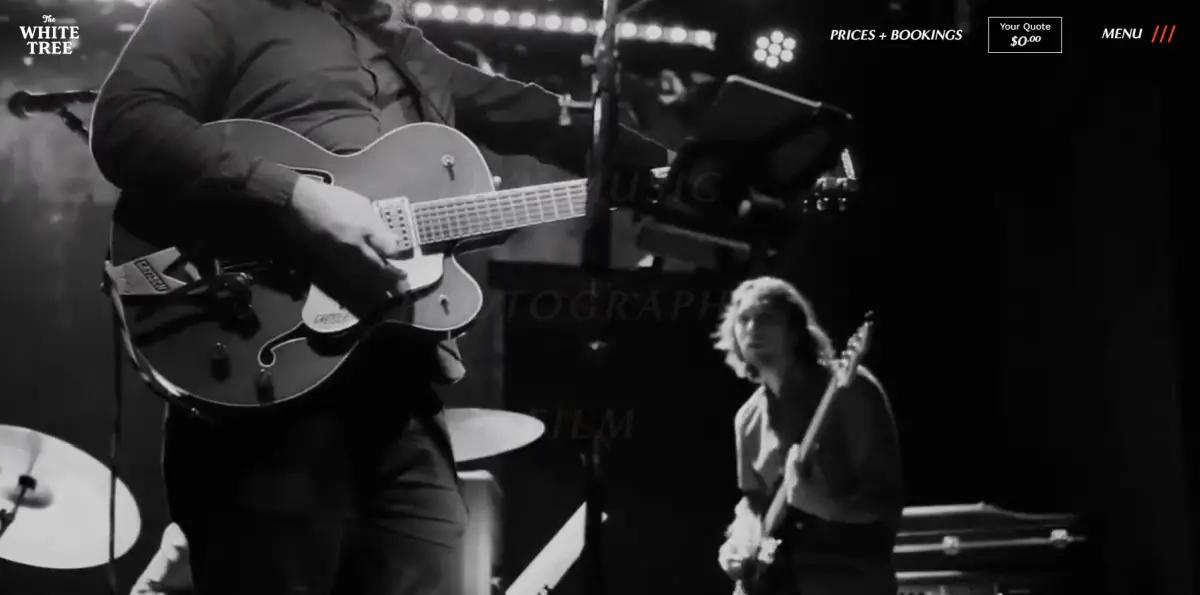 61 403 055 045
We connect event planners, wedding couples, festival organisers and party-goers with the best artistic talent!
We offer LIVE MUSIC, PHOTOGRAPHY and FILM for special events of all shapes and sizes. We're based in AUS + NZ but work all around the world.
Epic Memories since 2010
We launched The White Tree in Melbourne in 2010. We now have incredible musicians, DJs, photographers and filmmakers working with us right around Australia and New Zealand.
Tailored just for you
We're proud to have the best live music, photography and film talent for creative events. Our products are customisable, so you can book any combination to suit your event or private function.
Event Entertainers - Wedding Singers & Bands Melbourne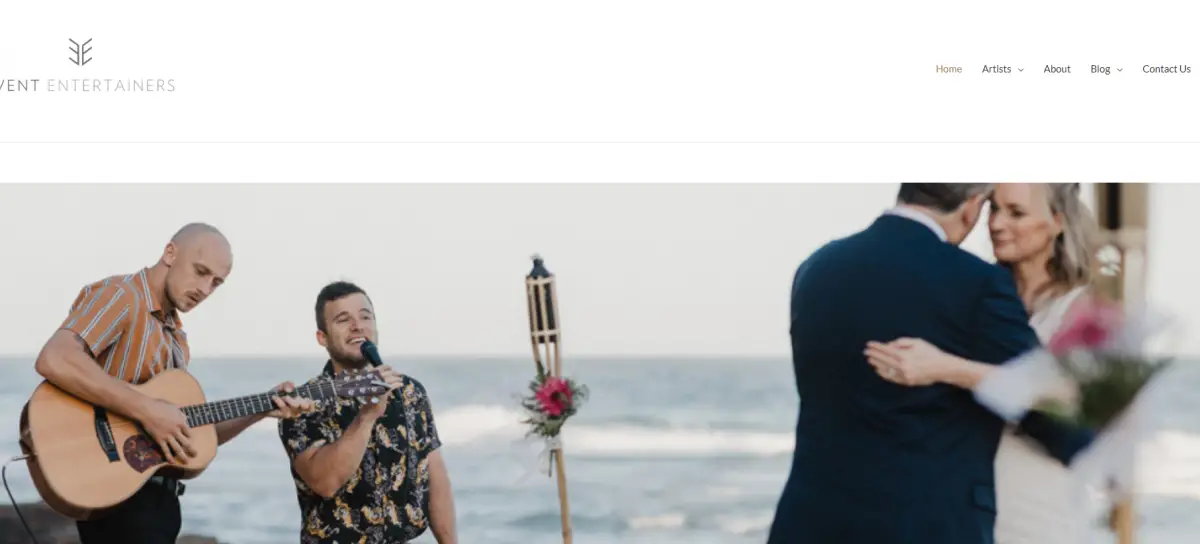 02 8283 7354
About Us at Event Entertainers
As an artist-forward entertainment agency, the Event Entertainers team love working closely with each client to match you with the best entertainment. Your entertainment should be as personal as you are. It's important to us that we tailor your entertainment to suit your ideas and plans understandably. We work with you to plan your event & entertainment to the highest level of detail and professionalism. Event Entertainers provide world-class musicians for weddings and corporate events, delivering outstanding performances.
Since our inception, Event Entertainers has grown from strength to strength. We are constantly building creative partnerships with talented artists, entertainers, and creatives. Our artists regularly perform at some of Australia's finest venues for clients like Qantas, Audi, Prospa, and Lend Lease. We are also a proud preferred entertainment supplier to venues such as; Park Hyatt Hotels, Grand Pacific Group, and The Boathouse Group. Event Entertainers are regularly featured as musicians for Weddings and Corporate Events across Sydney. We also provide entertainment for Melbourne events, Australia-wide (and soon also New Zealand). In addition, event Entertainers are recognised as a leading wedding and special event supplier of live music and entertainment in Australia.
We DON'T have is a rotating roster of faceless/nameless musicians who just do it for money. Nor do we have a big fancy office with lots of staff who don't know our clients by name. Together Tim and Josie are the lovely humans who answer all your calls and emails. We are a boutique team, bringing a wealth of knowledge and confidence. We are passionate about events, artists, and live entertainment at our core.
In addition to this, we're working hard to share our knowledge with our industry. For example, we continually work hard to help Brides & Grooms plan the perfect wedding by providing regular tips and advice on our blog. Along with supporting other aspiring artists by growing our library of educational resources to help grow their careers.
Tobi Tobi
Event Entertainers present the Tobi Tobi Duo, featuring the Double bass, Acoustic Guitar, and Vocals.
Melbourne-based musical Duo Tobi Tobi plays music for lovers worldwide with their incredible wedding music during Ceremonies, Canapés, First Dances and over Dinner.
Featuring the Double bass, Acoustic Guitar, and Vocals, They're pleased to learn your favourite songs to make your magic moments even more wondrous and enjoy playing various music from most genres old school to new school, Roy Orbison to Beyonce to Mumford and Son's.
Renee signed to Universal Records when she was 22 years old; Jamie attended VCA and had been writing and playing in various bands around Melbourne when the pair decided to collaborate soon after Tobi Tobi was created.
Together Renee & Jamie are the perfect balance of sound and creativity, equalling unsurpassable beautiful music. Travelling around the world whilst making weddings unforgettable is what makes their hearts go boom. They share a passion for travel and playing music, which brings them to love performing special music at weddings. We guarantee you'll fall head over heels for them.
Tobi Tobi aims to be in Europe around June and July every year. They can also head to your favourite location, anywhere, anytime.
Brightside Duo - Wedding Singers & Bands Melbourne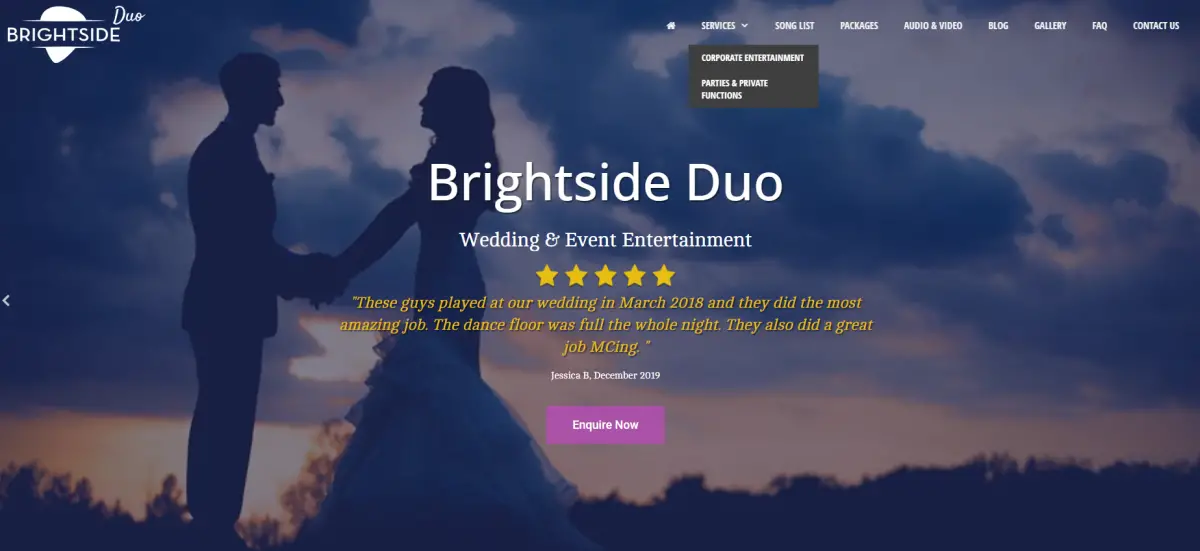 0438 345 245
Brightside Duo - Melbourne Wedding Band
Hi there! Mick and Dan are here from Brightside Duo. We are a Melbourne wedding band and would love to play at your wedding or event! We are on the preferred supplier list for many venues around Melbourne and are professional, friendly and easy to work with.
With many years of experience and hundreds of weddings under our belt, we have earned a reputation as one of Melbourne's best wedding bands. We pride ourselves on our professionalism, communication, and flexibility. But, above all, our ability to entertain and the sense of FUN we bring to events set us apart. Oh, and we sound great too! So rest assured that if you choose us for your big day, we will do everything to ensure that your occasion – large or small – is a success.
We offer various live music packages, including:
Acoustic Duo

Acoustic and Electric Duo

Four-five piece band
So, whether you're looking for an acoustic duo for background music or want to get the party started and fill the dance floor (or both), our mix of classic hits and modern favourites will make your event a huge success!
Our Live Music Services Include
Wedding Band Melbourne
Brightside Duo is a wedding music expert. We offer a full wedding service from the Ceremony to Reception and everything in between, including MCing and Canapé Music.
Party Band Melbourne
Need some entertainment for your party? We offer a variety of great packages for parties large and small and will work hard to ensure we make your event one remember!
Corporate Band Melbourne
We have played countless corporate events, and the consensus is clear: Live music makes it better. As a result, we offer a variety of great packages for all types of events, large and small.
Wedding Band Collective - Wedding Singers & Bands Melbourne

0418 110 845
ABOUT
Hi everyone, I'm Ben & I am the owner/director of Wedding Band Collective.
I am a professional musician, and since studying music at university, I have been playing in & managing bands, and now I DJ too!
A few years ago, when I was fresh out of university, I was lucky enough to join a couple of bands that took me overseas, touring and recording around Australia, NZ, and Europe. While on tour, I met the love of my life at a gig in Germany, and luckily for me, she decided to move to Australia. Since then, I have stopped touring and focused on playing and booking gigs in my hometown of Melbourne.
My wife and I got married a few years ago, and our wedding was truly amazing. The best part was having an incredible live band that had people on the dance floor the entire night. Since then, I have spent my efforts providing that same experience to brides & grooms on their big day. I love playing weddings with my bands and helping couples plan their big day, whether it is my band playing or one of the other great acts I look after.
Choosing music for your wedding can be a daunting task. We represent many great artists that have been vetted for their professionalism and excellent talent. Based on the style of your occasion, the type of music you desire, the date & location of your wedding, we will help you find the perfect wedding entertainment for your special day.
Dj Band Melbourne - Wedding Singers & Bands Melbourne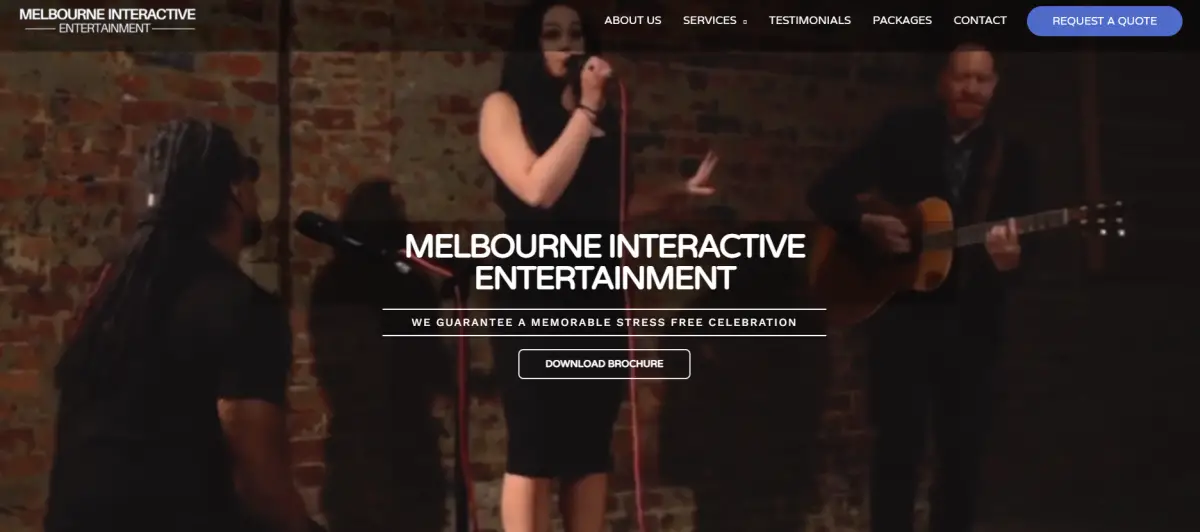 0418 957 145
ABOUT US
We provide unforgettable entertainment for weddings, corporate, and private events – fantastic DJs or a unique combination of DJs and live musicians. Our DJs can play a limitless number of the songs you know and love, whilst the live musicians bring along a live band's interactive, visual and engaging experience.  
We'll take you and your guests on a musical journey so that each stage of your event has just the right musical style and atmosphere.
Since 2007, we've been committed to providing highly versatile entertainment in Melbourne and its surrounds, country Victoria and interstate.  
We aim to go above and beyond expectations to create memorable wedding, corporate and special event celebrations through our dedication, professionalism and personable approach. Our service extends from your initial enquiry to our detailed, friendly consultation and planning process for your special day. And we look forward to your "wow" when you walk into the event space to your smile by the close of the event.
DJ HIRE MELBOURNE
Guide to choosing the best DJ for your wedding
Choosing a DJ for your special day is tricky and can feel overwhelming with so many options in the marketplace. There are so many vendors and operators who offer DJ and MC solutions, and there are many important factors that you'd likely add-in. 
Choosing the best DJ to suit you
Our study showed that the three most important elements that guests remembered on the night were (apart from the dress and the couple) … drum roll… was the venue, the food and, last but not least, the entertainment.
Music sets the mood, creates an atmosphere, and is always on the mind of guests and their hosts. One guest recently commented at a wedding, "what would this night be like without music?". So Choosing the best DJ in Melbourne is important.
Best Wedding MC Guaranteed
The question is always, who should lead a wedding – whilst the answer is the MC, there is a lot of pre-work that comes from working with an event planner, the entertainment and the venue to ensure that each moment in the event is planned out. Whilst there is always timing changes on the night of the event, there is a concept of goals. A good MC will guide the event in the right direction and even suggest possible changes to keep the energy and momentum flowing through. Choosing an MC that understands your goals for the event and is happy to take control is imperative to a great event like a wedding.
On the day, we'll ensure everything runs smoothly so that you can focus on enjoying your day. We include our pre-wedding consultation, where we will give you specialised attention. We'll optimise your running order to work for you. We want your special day to be the best it can be!
We'll include many opportunities for you to personalise the music, and we love taking your guest's requests. Our friendly DJs can also MC your wedding and offer a lot more than just introductions…
Our DJ/MC will perform seamless transitions between key moments, ensuring everything goes to your plan. We apply the perfect combination of enthusiasm and guest engagement that will lift the room's energy.
Newcastle Wedding Bands - Wedding Singers & Bands Melbourne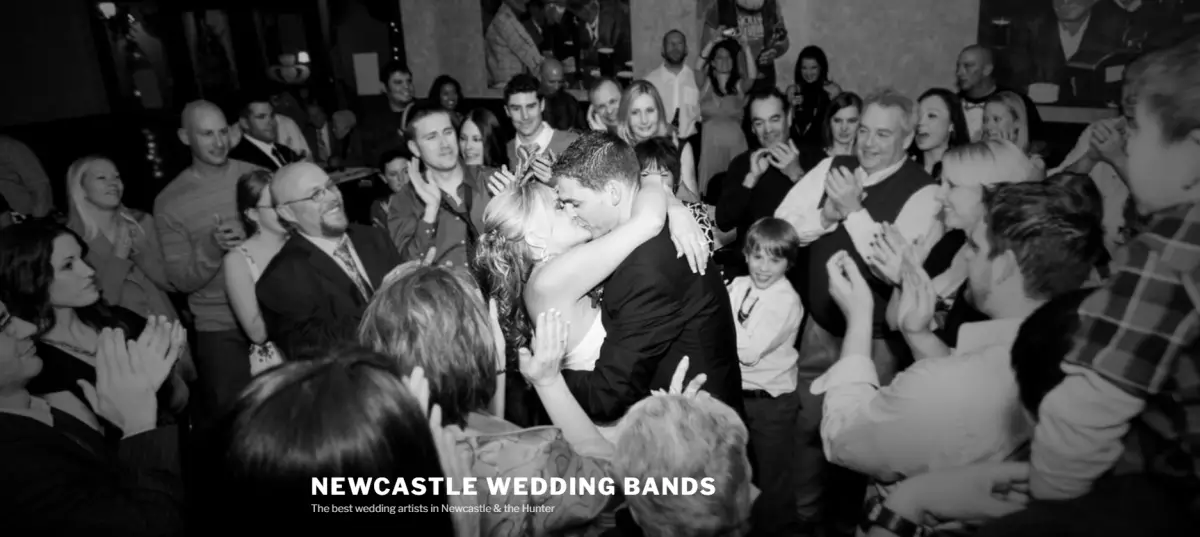 02 4962 1844
ABOUT
As they say, "Music Makes The Moment" is especially true for your special day. Whether it's a string ensemble for the ceremony, lounge music for the canapés, a pianist to accompany dinner or a funky ensemble for you and your guests to dance the night away, EAO Entertainment can help.
We know love, music, and it's not just a song; it's YOUR song...
The After Party
4 Guys, Great Music and Good Fun! In a nutshell, that is "The After Party". These men have one goal: to entertain with a list of songs representing everything from Pop, Rock, RnB and even Rap, from the 1960s right through to today. These guys take their 90's rock-influenced style, strong 3-part male vocals and witty stage banter to the next level. A wide and versatile range of music and adding a drummer to the line upon request make The After Party a truly versatile act to suit any Venue or private/corporate function.
Guitar/Vocals – Luke Brooks has played and performed since he was 11 years old and brought all that knowledge and technical guitar experience to this project. Also, the current Lead Guitarist of local originals band Surmiza and former member of several popular covers and originals acts such as Gravity 12, Keloid, Flight Risk and Service 30, Luke has no shortage of experience. With his smooth, rhythmic and percussive style of acoustic guitar playing, he is the glue that brings all the elements of this Trio together. Luke's talent and passion, and the combination he has with the other members, make for a truly enjoyable experience.
Lead Vocals: Russel McDonald is the ultimate frontman. Realising he could sing at the age of 13, Russell had an early interest in RnB before branching out into Rock and deciding he loved it. Also had experience in the industry as the lead singer of former Newcastle band Gravity 12 and helping establish local originals band Surmiza before moving on to other projects. Russell, an extremely capable guitarist, chooses to put down the axe and take centre stage in "The After Party" to deliver a dynamic and always engaging performance upfront. With his versatile range, charismatic style, and loveable personality, Russell will be sure to leave any crowd entertained and wanting more!
Bass Guitar/Vocals – Leighton Smith, has played music in some shape or form since he was six years old, starting in choirs and brass bands. Currently, lead singer of local originals band Surmiza, Leighton has also performed as a session musician, Lead Singer, Guitarist and Drummer in covers acts around Newcastle and The Hunter Valley such as Norma, Service 30, Flight Risk, One Night Stand, The Bartenders and Project X. He brings with him to The After Party a wealth of experience and enthusiasm along with the drive always to be looking to add something new and interesting to the show.
Building their combinations over years of playing in bands and jamming together, The After Party gives you everything you're looking for in a fresh new act with all the experience and vibe of a band that have been together forever!
Sure to be perfect for your next event!
Calibre Entertainment - Wedding Singers & Bands Melbourne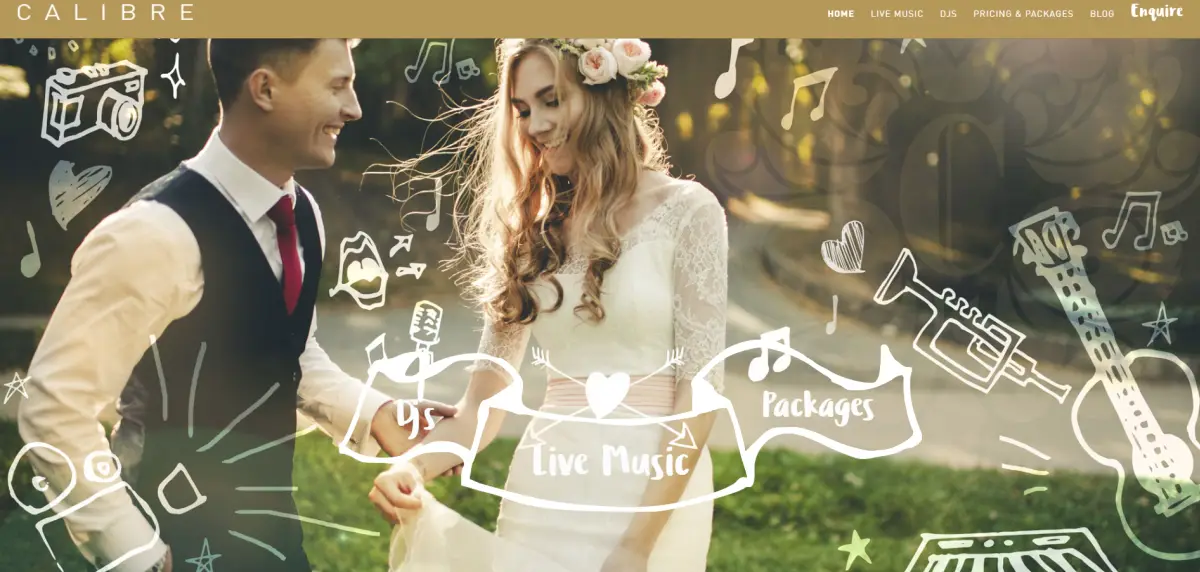 61 410 748 845
CUSTOMISED TO YOU
Calibre Entertainment consultants can make the seemingly impossible become a reality. All band and DJ services are fully customised to accommodate even the quirkiest of event parameters.
WE CARE
Your special event is not just one in a never-ending list of special events. As a boutique Melbourne company, we have a passion for providing the highest care for our Wedding and corporate entertainment clientele.
UNIQUE TALENT
No weekend warriors or cheesy tribute bands here. We represent a small select group of talented, experienced and creative musicians; only the best for your special event.
Featured Package
CLASSIC PACKAGE
Get the best of both worlds when you combine Live Music and a DJ. Not only does this save you money compared to booking two separate acts, but you have the incredible live music element added to your event supplied by an acoustic duo as well and the dance floor impact of the DJ later in the evening… so there is no need to decide between the two.
Melbourne Club Band - Wedding Singers & Bands Melbourne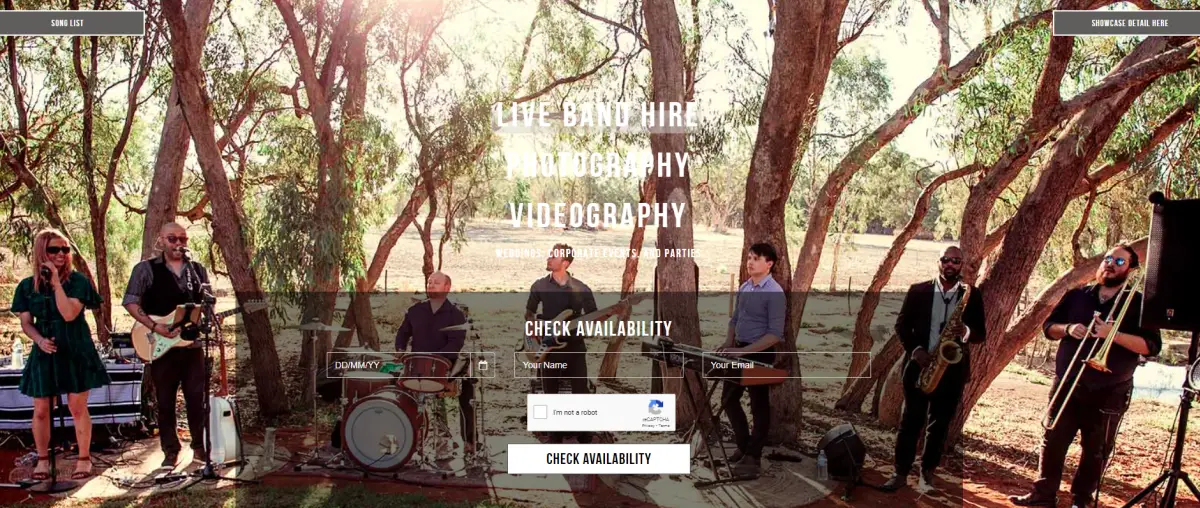 0402 405 945
ABOUT US
Rocking Your Dance Floor
If you decide we're the right band for your wedding, you can book us and relax knowing we've covered your entertainment. Being full-time musicians, we're available anytime, day or night, when you have questions or just think of some great ideas; we love this stuff! And of course, if you're too busy, we'll make sure we're in contact with you to make sure every detail is covered. So you'll get fast, professional service all the time.
Melbourne Club Band are proud to represent the best music Melbourne has to offer, right here in the world's most livable city. The musicians in the band have been carefully auditioned and curated to combine a mix of youthful energy and professional experience. Many of us are conservatorium graduates and jazz enthusiasts, and all of us are passionate, full-time musicians and entertainers.
Some of the guys have played and toured overseas with ridiculously high profile acts. They have shared stages here in Australia with John Butler Trio, Powerderfiger, Sia, John Farnham, the Dancing With The Stars band, and Australian Idol. We've also played stages at Bluesfest, A Day On The Green, St Kilda Festival, Big Day Out, Brunswick Music Festival and the Melbourne International Jazz Festival. Just another day in the office! We're incredibly fortunate to be full-time in an industry like this. We treat each of our bookings as unique and special – we'll make sure that the music at your event is unforgettable and exactly how you want it.
5 PIECE BAND
The smallest of our ˜Big Bands", this wedding band has a classic sound and huge party energy. It looks and sounds amazing. It has the wow factor without breaking the budget. Add another brass and make it a six-piece for a bit more edge.
SERVICE TO MAKE IT EASY
Service is something we take very seriously. This is your wedding, and you must get the best. Being full-time musicians, we are available anytime, day or night, when you have questions or just want to talk over some great ideas! And of course, if you're too busy, we'll stay in contact with you to make sure every detail is covered.
WE KNOW WHAT TO DO!
With literally thousands of weddings under our belt in and around Melbourne, we know how to get everyone up and dancing at your event. All of our musicians are young full-time session musicians local to Melbourne. Our collective experience means we know what to play and when. We've earned our reputation because we always make an effort!
WE TRAVEL TO YOU
We love a road trip and can travel out from Melbourne anywhere! We're completely mobile from Ballarat to Bendigo, Geelong, Bright or anywhere in the state. You might be pleasantly surprised how affordable having us travel long distances can be! If your event is outside VIC, simply let us know, and we'll find a way to make it work.
Entertainment Bureau - Wedding Singers & Bands Melbourne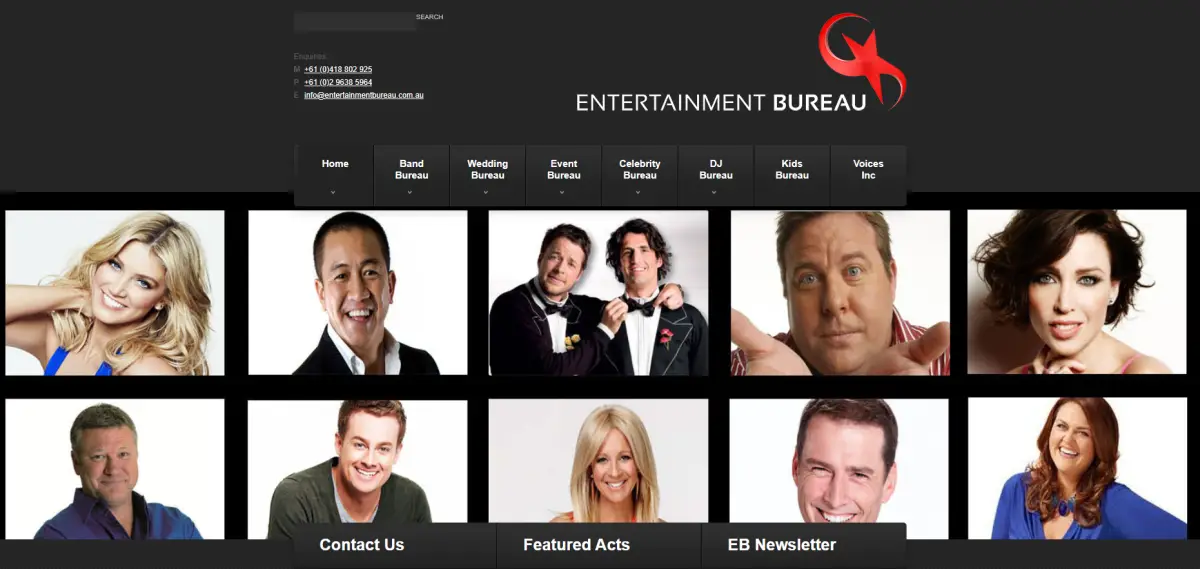 61 (0)2 9638 5945
Wedding Bands & Singers in Melbourne
To book Melbourne bands and Wedding entertainment, look no further than Australia's home of Entertainment – The Entertainment Bureau. Having the right band at your function, event, wedding, or party is the most important ingredient for a successful night. The Entertainment Bureau can supply any function event & wedding cover band currently performing in Australia, including the best function event & wedding cover bands in each state. Here at the Bureau, we pride ourselves in creating entertainment and events for all budgets and requirements. With more than 20 years of experience in corporate and special event entertainment, our staff can assist you in selecting the perfect band for your next event.
Finding the right wedding band for their special day is one of the main concerns of any bride or groom. So how do you decide which brand is good? Sure, you can ask them to audition for you, but playing at an audition in front of a couple of people and playing in front of a huge audience are two completely different things! Therefore I'm sure you would not want to take the risk of hiring an amateur to play at the most important event of your life. So to book the best wedding bands Melbourne has to offer, the best and easiest option is to contact the Entertainment Bureau, pioneers when it comes to the supply of entertainment in Australia.
Our Band Bureau specialises in booking the most talented and experienced wedding bands in Australia. We can offer you a vast variety of wedding singers, ranging from contemporary pop, rock, and reggae to laid back dinner and swing music. Some of the brands available are Chunky Jam, Big City Beat, Afrodescia featuring Angela Librandi, The Vibes, Matt Hetherington, Tim Campbell Band, Funky Film Express, Dale Ryder Band, La Gold, Marmalade, Soda Nation, Fresh, Room 7 and Scat. If you are a couple that is more into Oldies, we can even offer you bands that specialise in the music of the 70s and 80s. Whatever your preference is, we will do our best to provide it. We have over 20 years' experience in the business, so we know exactly how to make your wedding a success. Rest assured, you receive the best service, and we work with you exclusively to produce the wedding of your dreams!
How Wedding Singers in Melbourne Can Make a Difference
It's your special day, and you want everything to be just right. You have been planning for months and know the wedding theme you want, the flowers and decorations that are just right, the food and all the other arrangements are in place- but what about the music? Have you given it enough thought?
If not, it's time to think about the tone you want to set by organising the music to accompany your event. Having a perfect wedding is about having every aspect in place- including the music. The music you have will dictate the mood for the event and make it even more personal. Many wedding receptions end up lack-lustre only because not enough attention was paid to the music.
Making the right Choice
Don't make the mistake of underestimating the power that music can create. We know you are busy, and the best way to handle this is to contact the Entertainment Bureau for our full listing of Wedding Singers in Melbourne. We are the experts in this field, and the bands and singers we have listed are highly sought-after. The only way to ensure you have the singers you want at your wedding is to contact us well in advance. This way, we can help guide you on getting the professional singer that suits both you and your wedding guests.
Rutherford Entertainment - Wedding Singers & Bands Melbourne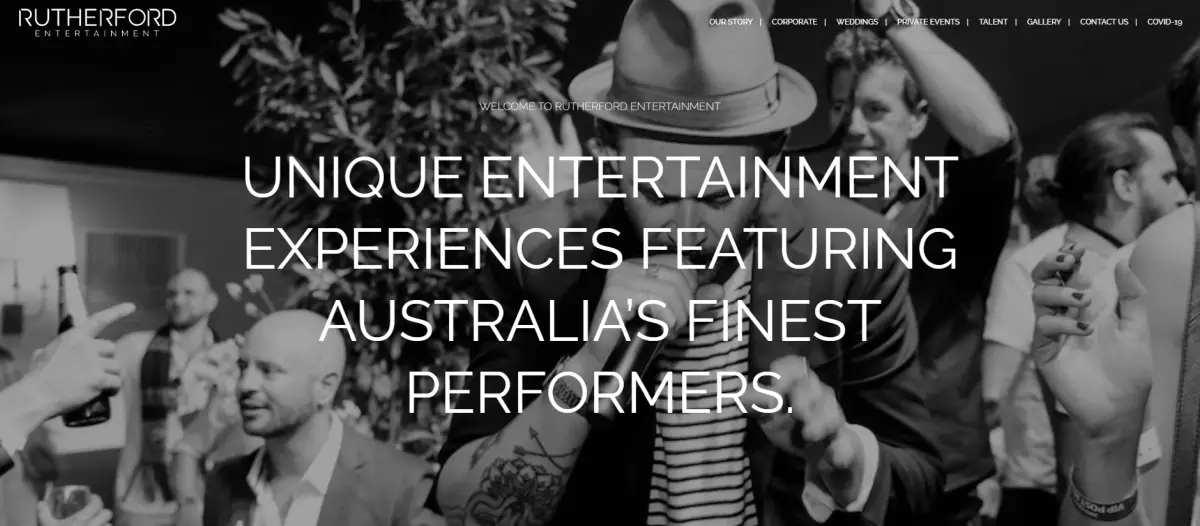 rutherfordentertainment.com.au
1300 736 645
OUR STORY
Founded in 2011 by founding director and DJ Nick Rutherford and partner Nicki, Rutherford Entertainment was born out of the couple's shared passion for music and their strong belief in providing custom-fit entertainment experiences for their clients.
Today, ten years on, Rutherford Entertainment has grown to deliver tailored, premium entertainment experiences globally while continually expanding our talent base to deliver Australia's finest entertainment to our clients.
Although we've undoubtedly grown from our humble beginnings, we remain boutique at heart and still share
Nick and Nicki's passion for music and custom-fit entertainment.
Let one of our Rutherford bands strike a chord with your guests: jazz, rock, pop, big band, and everything in-between. Whether a polished main stage performance, cool background jazz, or a barnstorming dance floor, our elite calibre performers will inspire and dazzle your guests.
With a Rutherford signature, our DJ bands are in high demand. Starting with a strong DJ base, add live elements to create a unique, engaging, and inclusive live show that will ignite any dance floor. Sax, Percussion, Vocals, Strings – You are limited only by your imagination. Let's talk about creating a bespoke DJ band that is perfectly tailored to you.