Planning your wedding day can be overwhelming, but you don't want the details of your entertainment to get left out. After all, you must dance the night away with your new spouse.
Choosing the right wedding entertainment can help your wedding day run smoothly and stress-free. Will you choose a live band or DJ? A wedding DJ isn't just someone who spins records, plays music from CDs, or puts on a light show. In addition to being the Master of Ceremonies, a skilled wedding DJ knows how to transition from one part of the wedding to the next and how to draw the guests out onto the dance floor if they're stuck in their seats.
So you're planning your wedding and you're wondering who to hire as your DJ or MC? Look no further! We've compiled a list of the best wedding DJs and MCs in Brisbane, so you can rest assured that your big day will run smoothly.
So what are you waiting for? Start browsing our list of the best wedding DJs and MCs in Brisbane today!
Add a header to begin generating the table of contents
Ultimate List Of Wedding DJs & MCs In Brisbane
Melbourne Entertainment Company - Wedding DJ and MC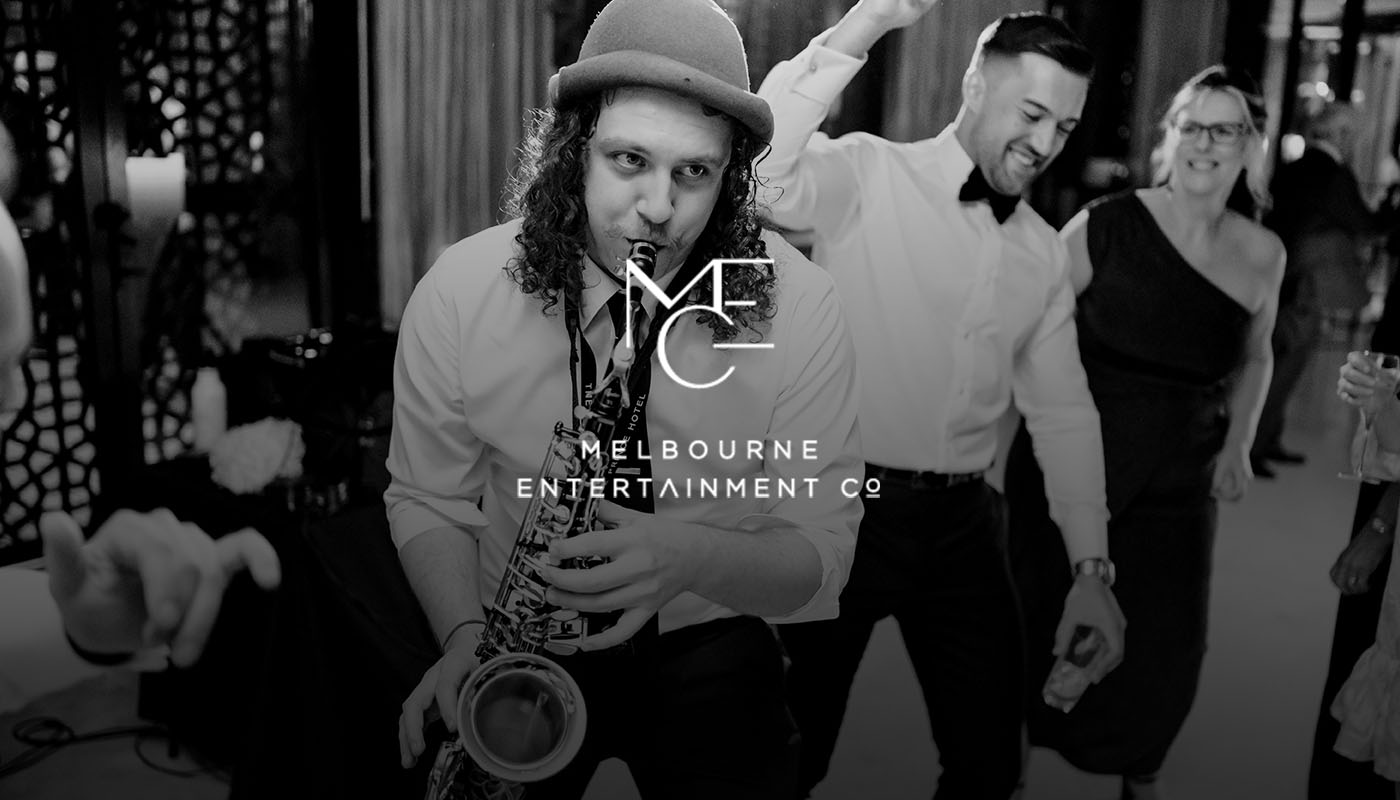 melbourneentertainmentco.com.au
1300 858 981
THE MOST PROFESSIONAL DJS MELBOURNE HAS FOR HIRE
OKAY, SO YOU'RE ON GOOGLE LOOKING TO HIRE A DJ IN MELBOURNE
NOT SURE WHERE TO START? WHAT TO LOOK FOR? WHO TO CHOOSE? HOW MUCH TO SPEND?
When it comes to looking for a DJ Melbourne Entertainment Company has some of the best and most experienced DJs Melbourne has on offer. Our elite selection of professionals know how to read a crowd and above all, play the perfect music for every occasion. Don't book an old out-of-touch, has-been DJ hire a young, fresh and cool professional that fits inside your budget.
ABOUT
The Melbourne Entertainment Company is a comprehensive wedding & events entertainment supplier. We deliver a refreshing, personalised service to each client for every event. We are highly active in the Melbourne wedding/event market delivering over 700 events last year. With a more than a decade of experience, we understand the need for a bespoke, memorable and premium service.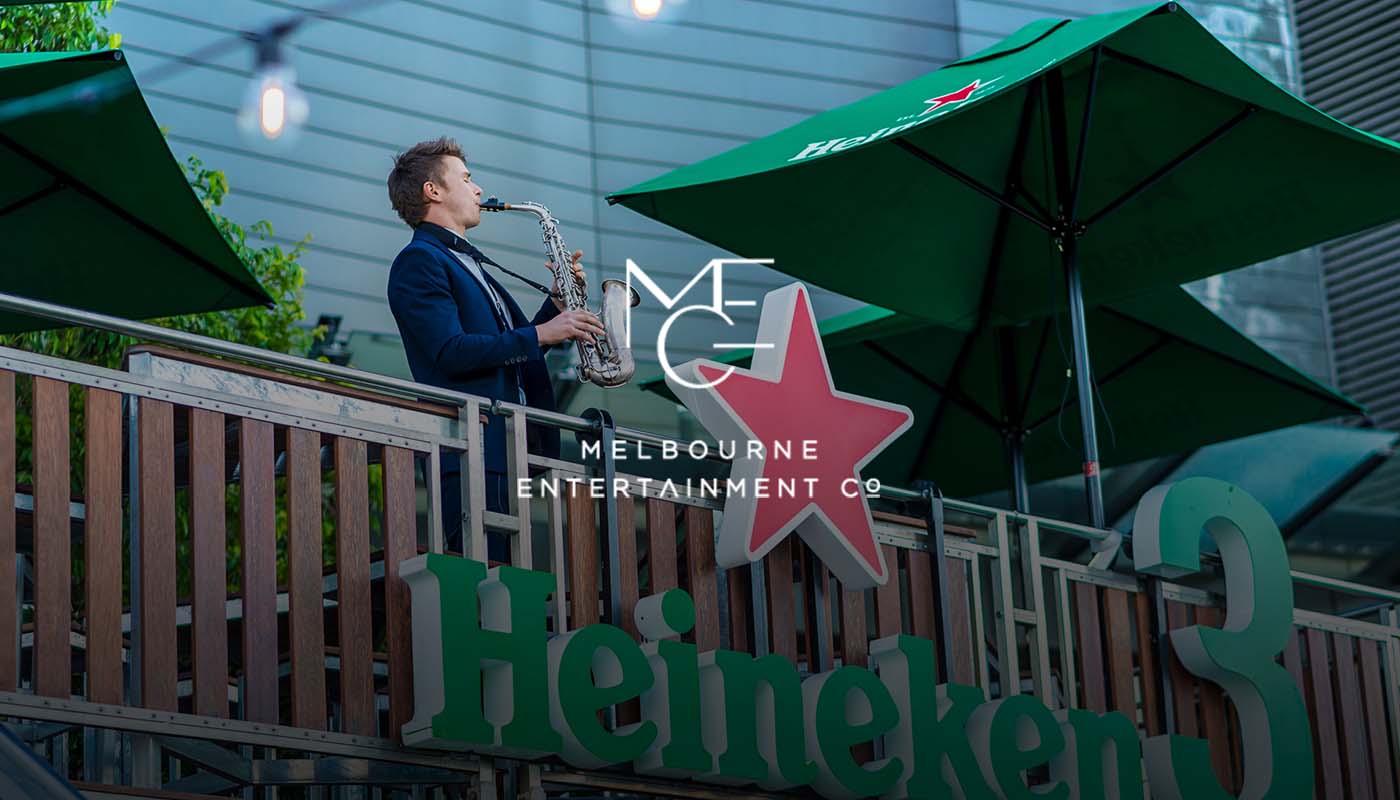 Offering elite DJs, DJ-Sax, Acoustic Solos, Duos, Trios, Bands, Singers, Guitarists, Saxophonists, Percussionists, Photographers and Roving Performers. MEC is your friendly, reliable and knowledgeable go-to provider for seamless corporate, wedding and function entertainment.
Between The Covers Music Wedding DJ In Brisbane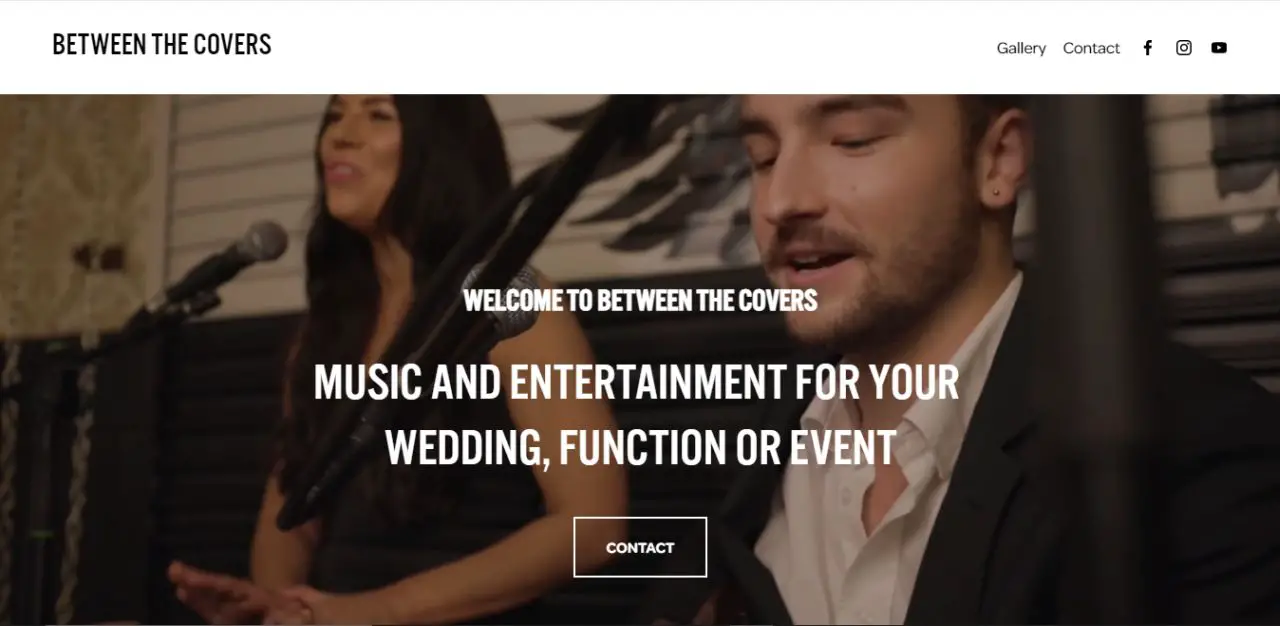 0458 180 264
Between The Covers are the Brisbane based cover band and entertainment agency led by Becky Rhodes and her high-calibre musicians. Available in Soloist, Duo, Band and DJ form - Between The Covers is available for weddings and events across Queensland.
If you're looking for an all-inclusive music package for your special day, then look no further… Who wouldn't want to get Between The Covers?
Get Everyone Dancing
Our DJ is guaranteed to get your dance floor pumping with a wide selection of tunes at their disposal. We can customise your playlist to include your favourite songs—with everything from disco and R&B to 90s classics and the current hits; we're sure to have all of your guests dancing by the end of the night.
Saxophonist Wedding DJ In Brisbane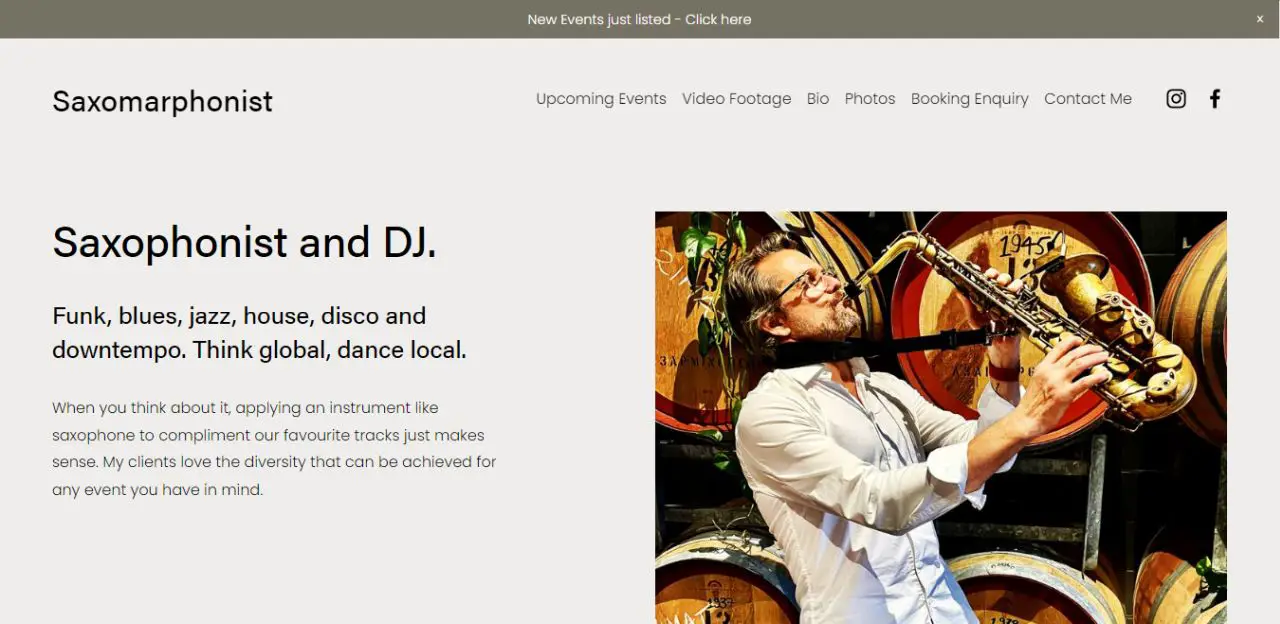 0404 878 8456
Ever since Brad first started playing the Organ at the age of eight, his musical journey was mapped out for him. "It's just taken me a while to manifest this as my true destiny", claims Brad. Brad's love for the saxophone was influenced by a musical family that also had a connection with this instrument. Brad claims picking up sax was a stage of his musical career that everything seemed to make sense. Brad is well known within the Brisbane music scene and states, "Brisbane is very fortunate to have the talented musicians in this community".
Saxophonist And DJ.
Funk, blues, jazz, house, disco and downtempo. Think global, dance local.
When you think about it, applying an instrument like the saxophone to compliment our favourite tracks just makes sense. My clients love the diversity that can be achieved for any event you have in mind.
FAQs About Wedding DJ & MC
Yes. We do multiple sound setups often at weddings when the ceremony location is 100 feet or more (or in another room) from the reception, or your event is an indoor/outdoor combo. At many venues, the cocktail hour is held in a different spot altogether, resulting in sound setups essentially being needed in 2-3 areas to cover your entire event seamlessly. We can handle all of your sound system needs and offer a generator, too, when needed.
Absolutely. Our artists are pleased to offer you their services by learning and performing your special songs for special moments on the day. We can also send you a list that we know our artists can perform well and sound amazing. Need help choosing your songs? Or want to know the moments you should pick a song for on your Wedding Day. 
We kindly ask for some chairs or low stools to be provided for our musicians to perform at your Ceremony (which your stylist will usually be happy to provide), and we ask that they're in an undercover or shaded area. (read below to find out what happens if it rains) If you've booked a DJ, we kindly ask that there's a table provided for their DJ equipment (which your venue or stylist will usually be happy to provide). 
If you're booking a band or DJ for your Reception, they will need access to power. Ideally, the power for your Band or DJ should be separate from any catering equipment or lighting to avoid any power outages. Please speak to us about any specific questions you may have. Usually, for any artist performing at your Reception, we ask that they're also provided with a crew meal and refreshments. This is typically a standard request by most wedding vendors across the industry.
Music can make or break a party —so if you've opted to hire a band for your big day, it's crucial to choose a group that'll make your celebration one memorable. Entertainment is often one of the most engaging elements of a wedding reception, so it's important to find pros who understand (and can execute) your vision. 
As you begin to plan, dedicate time to brainstorming wedding entertainment ideas. You might want to hire another form of entertainment in addition to a live band or DJ —while music is an important component of the big day, it's not the only way to keep guests occupied.
As you begin to plan, dedicate time to brainstorming wedding entertainment ideas. You might want to hire another form of entertainment in addition to a live band or DJ —while music is an important component of the big day, it's not the only way to keep guests occupied. Your wedding playlist is just part of the equation for a fun wedding.
We R DJs Wedding In Brisbane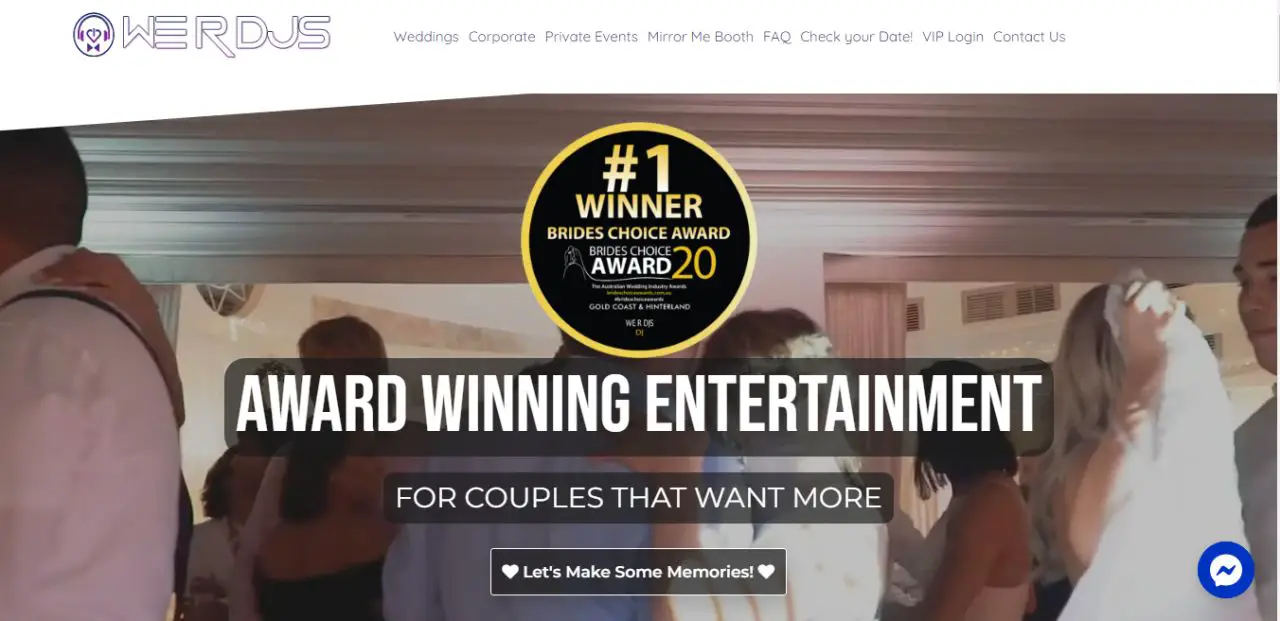 0402 862 7634
We create amazing wedding celebrations. We believe that no two weddings should be the same, and our goal is to provide our couples with a personalised, stylish and incredible celebration that they will remember forever. We aren't your run-of-the-mill DJs. We have died instead, waiting for wedding entertainers. Described often as Energetic, Engaging and Fun, our charismatic DJ & MC style will help you create the perfect flow, spotlight your special moments and make your celebration reach awesome heights!
Producing perfect celebrations for couples is why we LOVE what we do. Your guests will leave your event smiling and with many fond new memories of the fun they had and the music they danced to from start to finish. Together, we'll create a stress-free entertainment experience
that will make your wedding a total success.
Wedding Packages
Our wedding packages range between $950 – $2999. So whether you are planning a small intimate party or a lavish wedding celebration of epic proportions, we've got packages to suit. Every Wedding Package Includes No Time Limits – We'll be there for your whole reception!
Dedicated Expert DJ – To keep your dancefloor full. Canapes Music – Setting the mood for your celebration. Outstanding Included MC service – We promise to make it lively and fun!
Stellar Dance Floor Lighting – To make it sparkle. Elegant & Chic DJ setups – We'll match in with your styling. Access to our V.I.P. Planning & Music Portal – Easy for us, Easier for You. Planning Meetings – Meet your DJ & plan for success! No hidden costs – Perfectly designed all-inclusive packages.
Wedding Music Queensland MC In Brisbane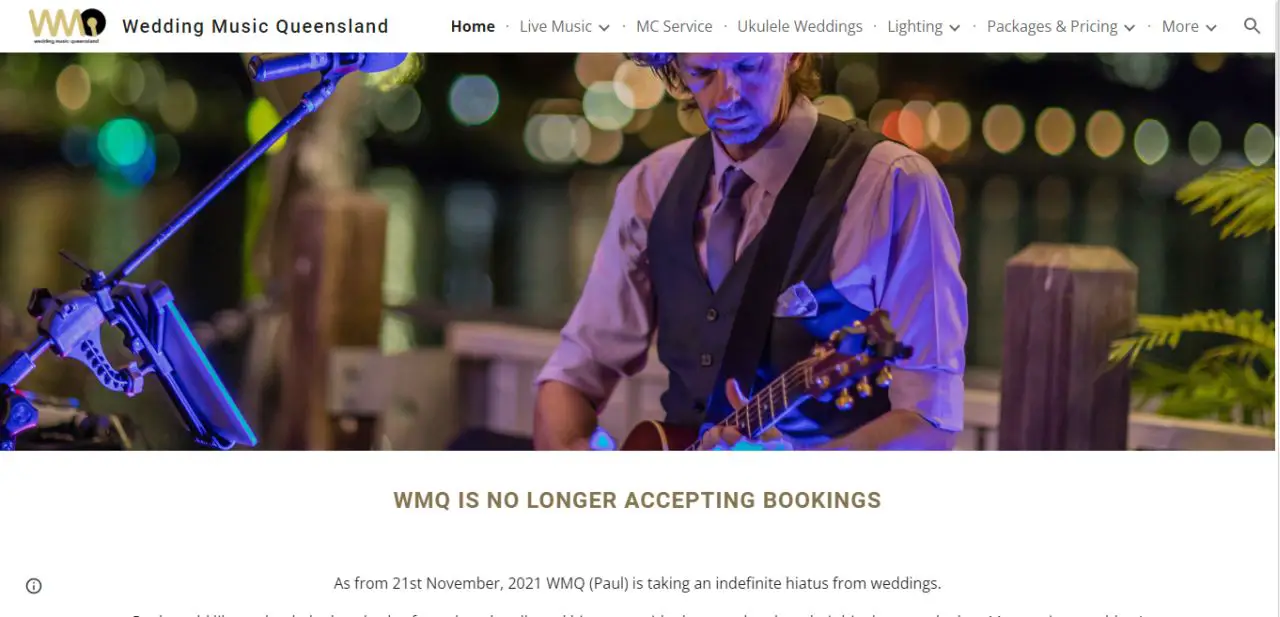 0417 000 0927
As of 21st November, WMQ (Paul) is taking an indefinite hiatus from weddings. Paul would like to thank the hundreds of couples who allowed him to provide the soundtrack to their big day over the last 11 years. It was a blast!
MC Service
Why not let Paul do the talking at your wedding while your family and friends relax and enjoy themselves. Paul can take all the stress out of the occasion by taking care of all the formalities.
Using a cordless microphone (included), Paul can easily move from table to table for those guests that get a little shy in front of a crowd. With his sharp sense of humour and ultimate professionalism, Paul will have your reception running like clockwork.
Lark Music Wedding DJ In Brisbane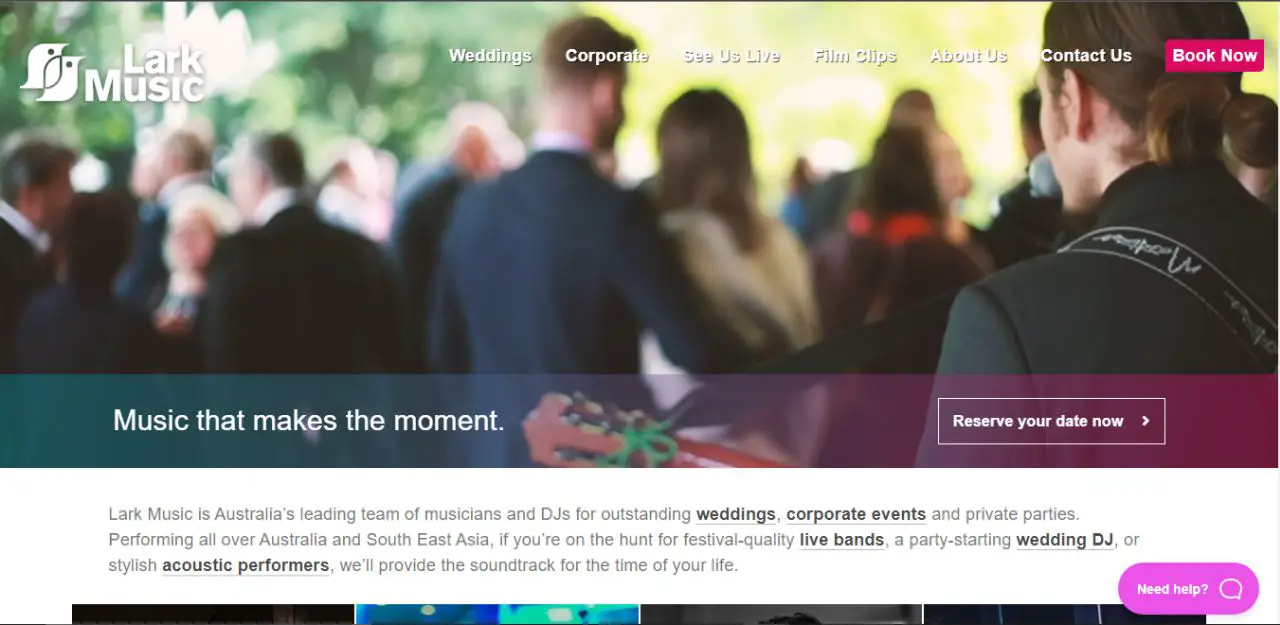 0404 878 5543
Lark Music is proud to offer you prime, chart-topping, best-in-biz wedding music in Brisbane. So whether you're looking for awesome live music, club-quality DJs for weddings, or the best party band in Brisbane, we've got you sorted 'til the clock strikes some ungodly hour of the morning.
Live Bands And DJs For Epic Weddings.
When life lands you someone amazing, you play your finest cards. But, great musicianship aside, what sets us apart is our knack for turning those life-changing moments into something truly memorable. From a stunning acoustic feature at your ceremony to our live band energising that dancefloor or a pumping DJ set at the afterparty, every moment of your wedding is safe in our hands.
Put simply, and we just get it. You'll love the unparalleled energy, world-class skills, and whip-smart professionalism of Lark's live bands, DJs and acoustic artists. We arrive primed and ready to deliver moments your guests will be reliving for years to come: "Remember that? What an incredible wedding!".
Our Services
Acoustic Duo, Trio or Solo

Wedding DJ

Wedding Band Hire

Corporate Entertainment

Concept acts

DJ + Band

Acoustic + DJ

Live Band
Benny Hanna Music Wedding DJ In Brisbane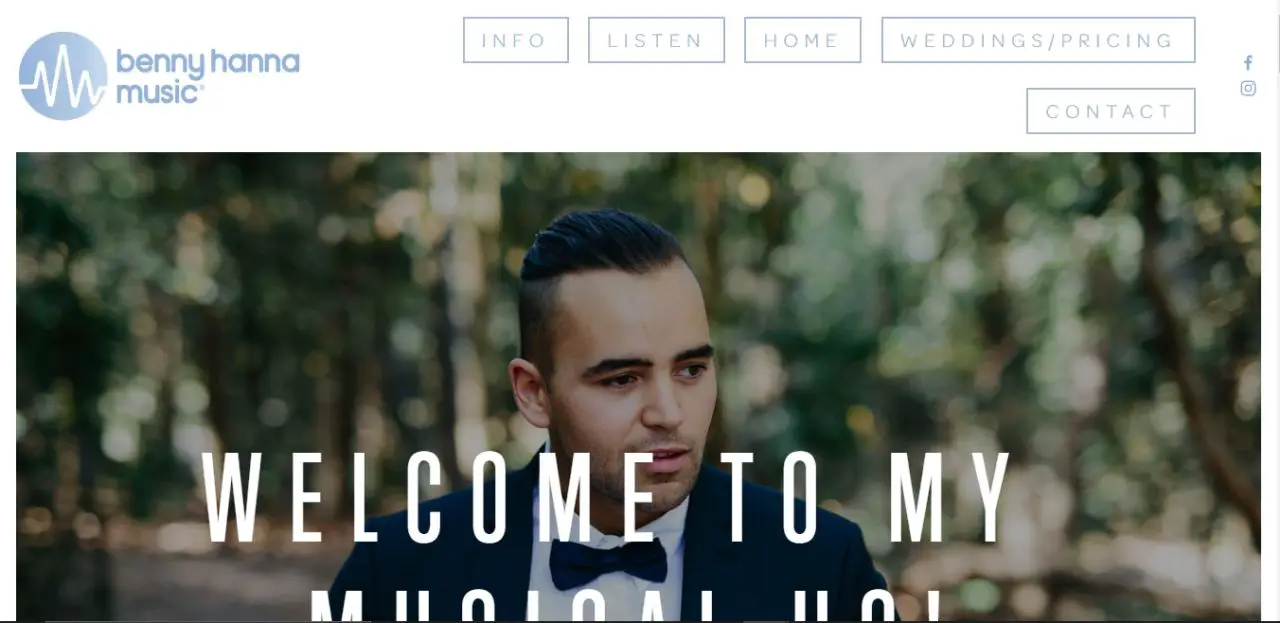 +61 487 059 300
LOOKING FOR WEDDING CEREMONY SINGERS IN GOLD COAST, BRISBANE AND BEYOND? Since before vibing was even a word, I've been "Vibing Up '' Weddings. It probably still isn't a word, but creating VIBES is what I do. I'm here to set the atmosphere for your entire day, from the ceremony until Dj time, so that you and your love can be at ease, not a care in the world! I will take your wedding on a journey of soft loving music… to upbeat Rnb mash-ups, Michael Jackson highs and Dj bangers! I pride myself on giving you a unique wedding vibe that you & your guests will be talking about for the rest of your lives.
Live DJ
This is where my professional DJ takes over; with a seamless transition from my live version of your first dance, he will drop a banger that will rip the roof off and turn your that cute first dance into an epic dance floor knee-deep in party vibes with Dj lighting, a professional sound system and banger after banger played to keep you, your family & mates pumping all night!
Premier DJs Wedding In Brisbane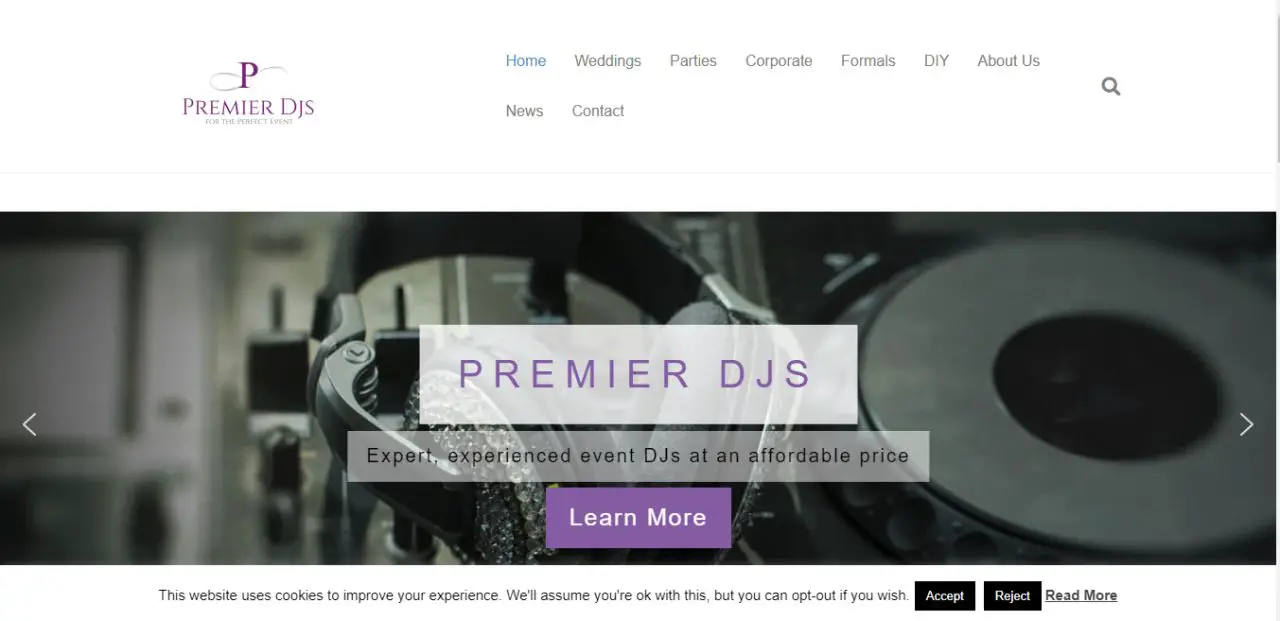 0444 878 5648
Premier DJs originated with a solo operator trading under the name of Gold Coast Premier DJs. The original owner decided he wanted to leave the DJ world to pursue other business opportunities and sold the business to a collective group of business owners, including joint venture capitalists and those already working in the entertainment industry, to come together to create something new and exciting.
Wedding DJs
In a recent survey done by a bridal magazine, the single biggest regret of most brides was not taking enough time to choose the right entertainment for their wedding. Don't let this happen to you! Wedding guests remember the entertainment more than anything else, so make sure you choose the right entertainment for your day. Remember: It's your day, and we can't stress that enough. We at Premier DJs want it to be the best day of your life, not only for you and your fiancé but also for everyone who attends your wedding. So let our expertise, professionalism and passion make your day wonderful.
We pride ourselves on providing a clean, stylish look in our equipment and our team. We dress ready for a wedding. Not in jeans and a T-shirt like we have heard some other wedding DJs do! We respect you and your day and want to provide the best service we can for you at an affordable price. We look forward to speaking to you about how our team of wedding DJs can help you on your wedding day.
Cliffhangers Entertainment Wedding DJ & MC In Brisbane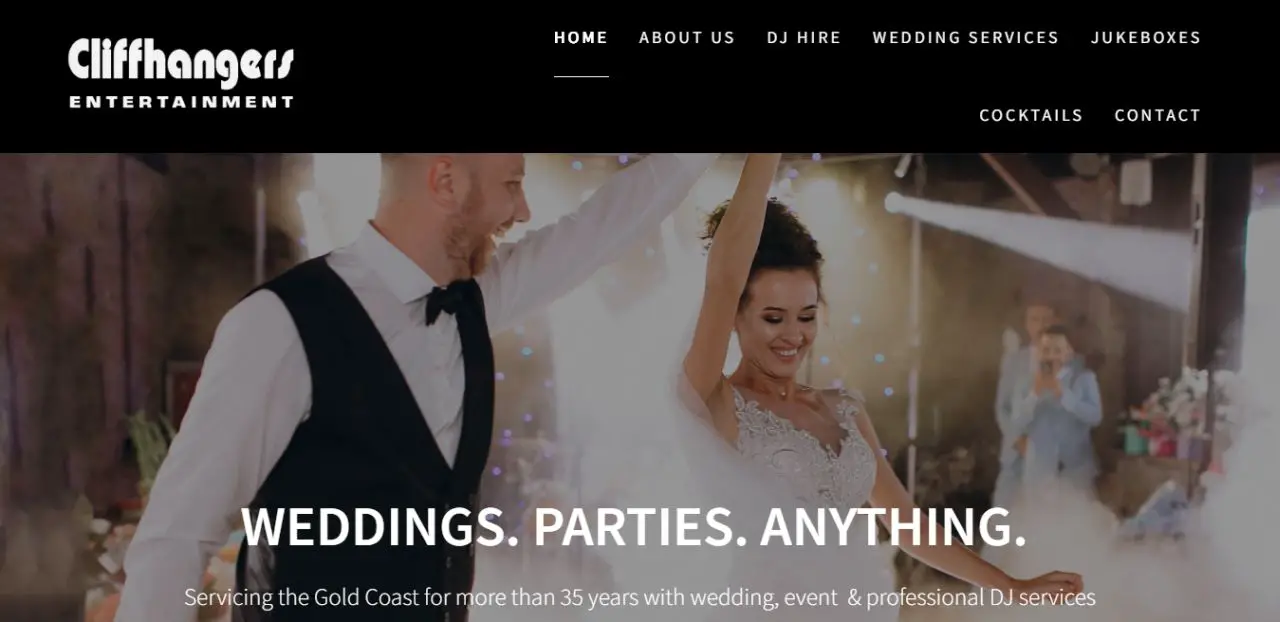 0414 5191777  
2021 has been a busy year with various functions including many Weddings as well as being Swimming Australia's Qld based preferred DJ hire with Cliffhangers engaged for over 140 hours of Cliffhangers DJs for The Aust Swimming Championships on the G.C. in April as well as the Bond Super Sprint and also the Aust Open Waters Swimming Championships on the Sunshine Coast in March.
Cliffhangers Karaoke jukeboxes have had a resurgence in popularity because of Covid, and our hires have gone through the roof. The Retro look that no other Jukebox hire has. The huge amount of great songs included and the ease of use of the machine make it a winner, and Cliffhangers' service and adaptability to work with our clients give us a leading edge.
Professional Wedding MCs On The Gold Coast
Our professional Wedding MC service has been increasingly in demand. Couples are realising the benefits of hiring a professional MC for their special day. Our 2 Wedding MCs are professional speakers who are highly dedicated to ensuring everyone at the wedding has a great time and help to keep the reception running smoothly and enjoyable...and fun!
Couples meet with their MC prior to the wedding, where many important (and often overlooked) aspects of the reception are covered. We clarify important details such as entry times, order of speeches, who will we introduce for certain speeches, the response from those speakers, housekeeping, plus some fun wedding facts to suit the evening.
We DJ At Gold Coast Events, Big And Small.
Cliffhangers Entertainment is Queensland's longest-running DJ Hire …no one has done more functions than Cliffhangers! We know what to play and when to play the right music… and pride ourselves on service excellence for all our clients. 37 years experience!
Soul Collective Wedding DJ In Brisbane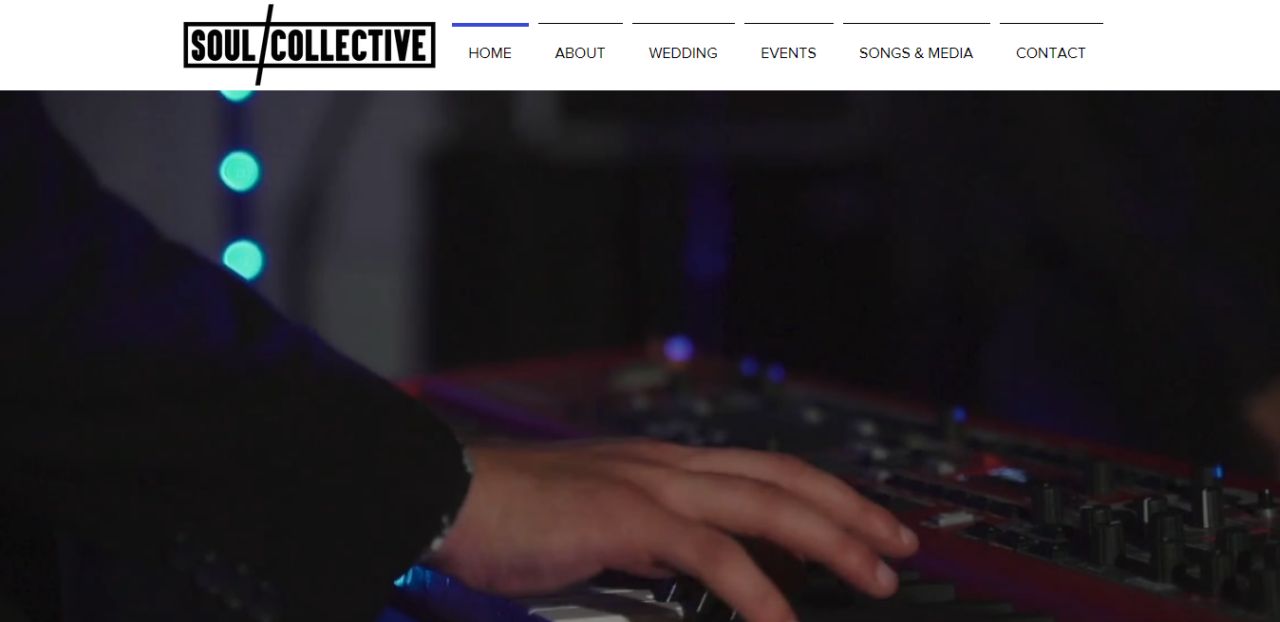 0407 271 886
Soul Collective offers a wide selection of wedding entertainment in Brisbane and corporate events, special events, private functions and festivals. We cater to our client's needs and customise our set according to what you would like to hear. Based in Brisbane, our wedding musicians excel at bringing you the live entertainment you require to liven up your wedding reception. We include Jessica Mauby, Dame Edna, The Veronica, Kylie Minogue, Pink, Ava Max, The Neville Brothers, and many more on our playlists. Of course, we are comfortable adding the songs you love.
Wedding Music Services In Brisbane
Our wedding band from Brisbane knows how to get your guests to come to the dance floor and have a fun time.​
As your Brisbane wedding DJ, we can customise our style whether you want it traditional or classic or a bit more acoustic. We are incredibly versatile based on your needs.

There is nothing like listening to smooth jazz or soft acoustics during canapés. We'll add feel-good music in the background for your guests to sit back and enjoy.

The reception is where the real fun begins. This part of the wedding is where we go all out, and your guests start taking their shoes off. We create high energy with your choice of music and ensure your guests have the time of their lives.
Roxy Wedding MC In Brisbane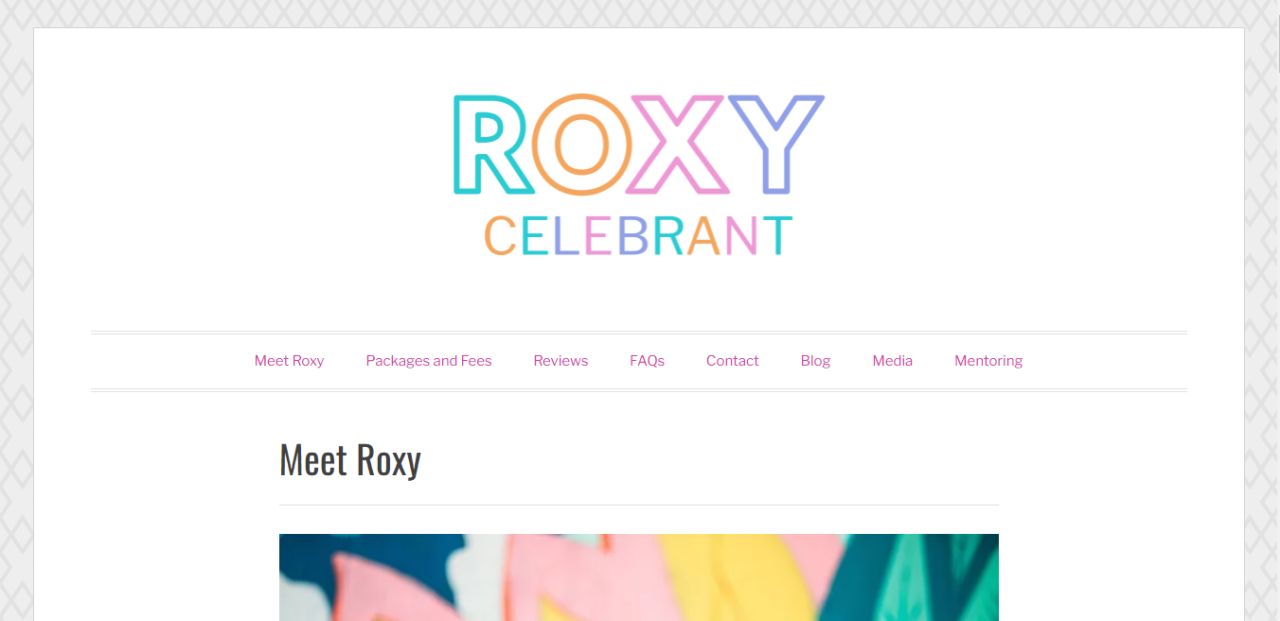 0478041999
I'm Roxy, a dog-loving, wine-sipping authorised marriage celebrant, wedding MC, and celebrant mentor based in Brisbane. I'm fully vaxxed and travel and deliver wedding ceremonies in south-east Queensland, northern New South Wales and beyond.
Packages And Fees
A perfect wedding ceremony option for those wanting their story written and delivered by me, therefore ensuring something very unique and memorable

Ideal for those who believe their ceremony should be one of the most important parts of their wedding day

It can take place any day, anytime, anywhere. I'm always happy to travel near and far and can provide a quote for this.

Takes approximately 25 to 35 minutes

Fees listed below

Reception MCing is also available.

For those who want a memorable wedding but are happy with a standard ceremony

Perfect for elopements, smaller ceremonies, surprise weddings or renewal of vows

It can take place weekdays (anytime), Saturday or Sunday mornings and evenings, anywhere within 70kms of Brisbane CBD.

Fees listed below

Takes approximately 15 to 20 minutes
G&M Event Group Wedding DJ & MC In Brisbane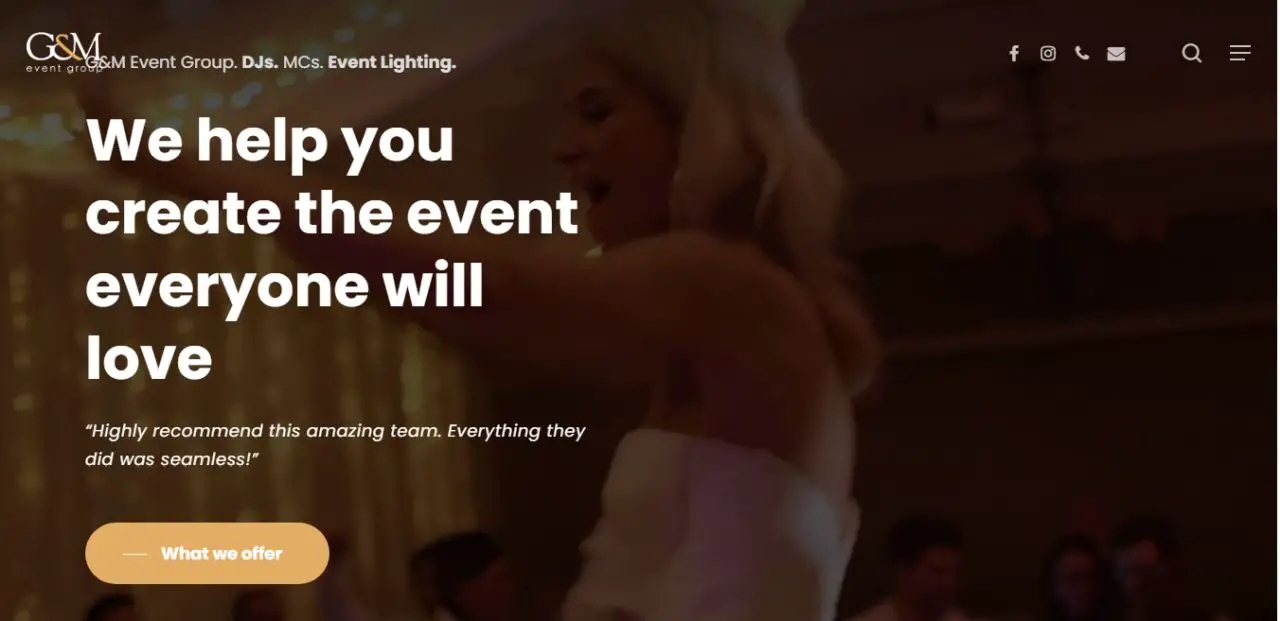 1300 736 244
Have complete peace of mind with an exceptional team of Wedding DJs and MCs who understand the importance of getting things right on your wedding day. Reliable entertainment helps you create fun, stress-free, unique, & memorable.
Wedding DJ Packages
How much does it cost to hire a Wedding DJ?
Prices range between $845 to $2500, and all our options can be easily personalised to help you create an extraordinary and memorable experience for everyone at your wedding.
Wedding MC + DJ Packages
How much does it cost to hire a Wedding MC + DJ?
Prices range between $1200 to $4500, and all our options can be easily personalised to help you create an extraordinary and memorable experience for everyone at your wedding.
Brisbane DJ Wedding Entertainment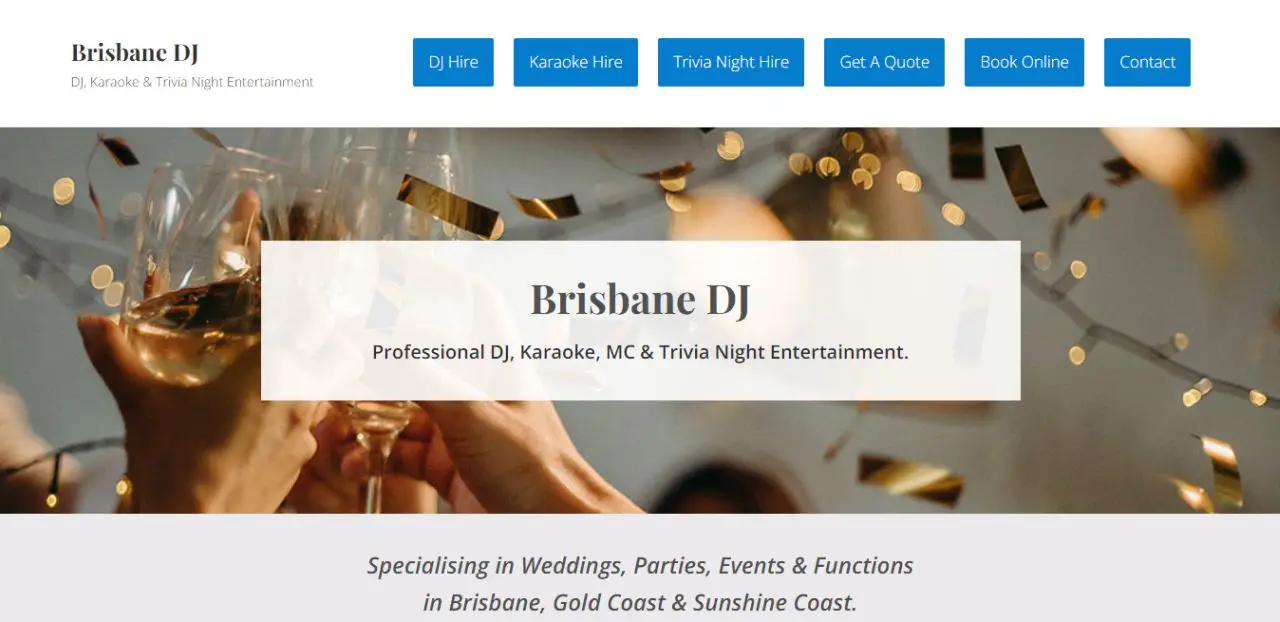 0467 524 983
Music is essential if you want a good event, but you need the right music if you want a great event. Music to set the tone of your party or function and get people out on the dance floor or smoothly transition to the formalities of the evening. To connect the generations and allow everyone at your function to have a good time. A great DJ can only achieve this finesse.
What Can I Expect At My Event?
High-quality sound and lighting equipment

Adaptability to all circumstances

Strong music repertoire

High standard of professionalism

Excellent communication with you – DJ Jade will call you a week before the event to arrange all the finer details

Experienced and willing to MC your event for a small extra cost or will work seamlessly with who you've chosen to MC.
​Mr Bojangles Wedding DJ In Brisbane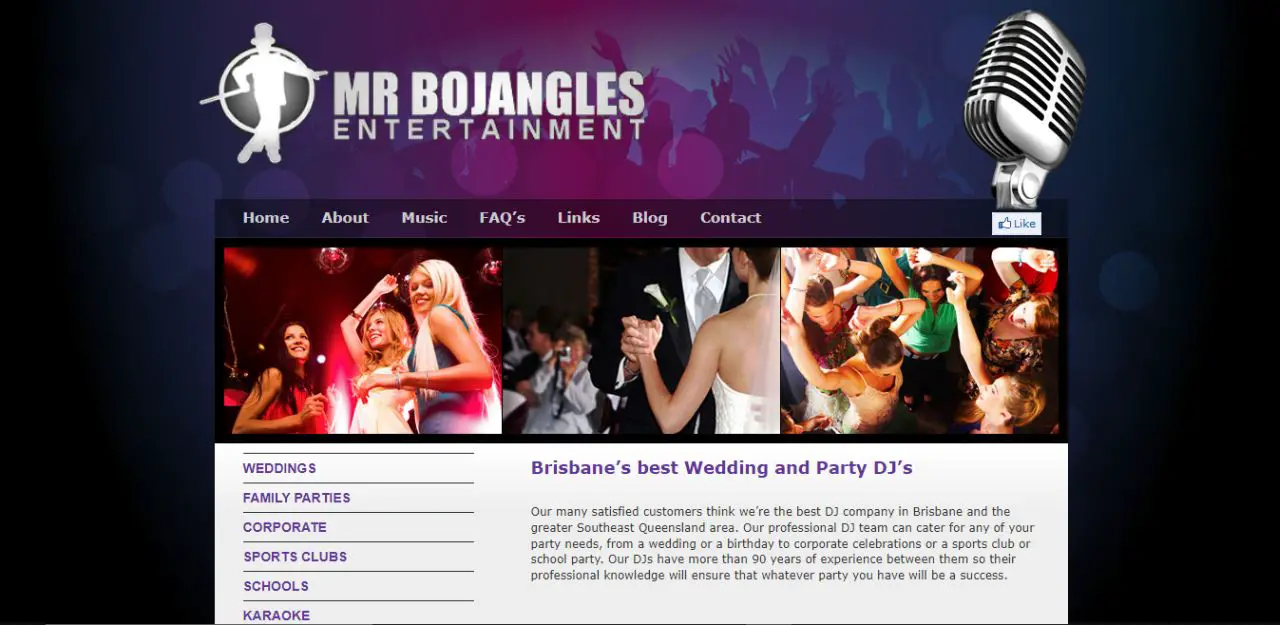 mrbojanglesentertainment.com.au
0417 60 20 888
Looking for a DJ for a wedding, family or a corporate function in Brisbane or SE Queensland, be it an awards night or staff party? Look no further! Our DJ services include supplying the music, equipment, and lighting, emphasising the high quality, reliable and professional evening entertainment for you and your guests.
Brisbane's Best Wedding DJ's
At Mr Bojangles, we believe ourselves different from any other wedding DJ company in Brisbane, Ipswich, the Gold Coast or Sunshine Coast. We're different in the way we help plan your reception, communicate with you, our client, and the ideas and attitude with which we play the entertainment on your wedding day.
Mr Bojangles DJ Entertainment believes that your wedding day is the most important day of your life. So, naturally, we will work with you in the planning stages to ensure that our contribution to your wedding reception is all that you want it to be.
Elliot Goblet Wedding MC In Brisbane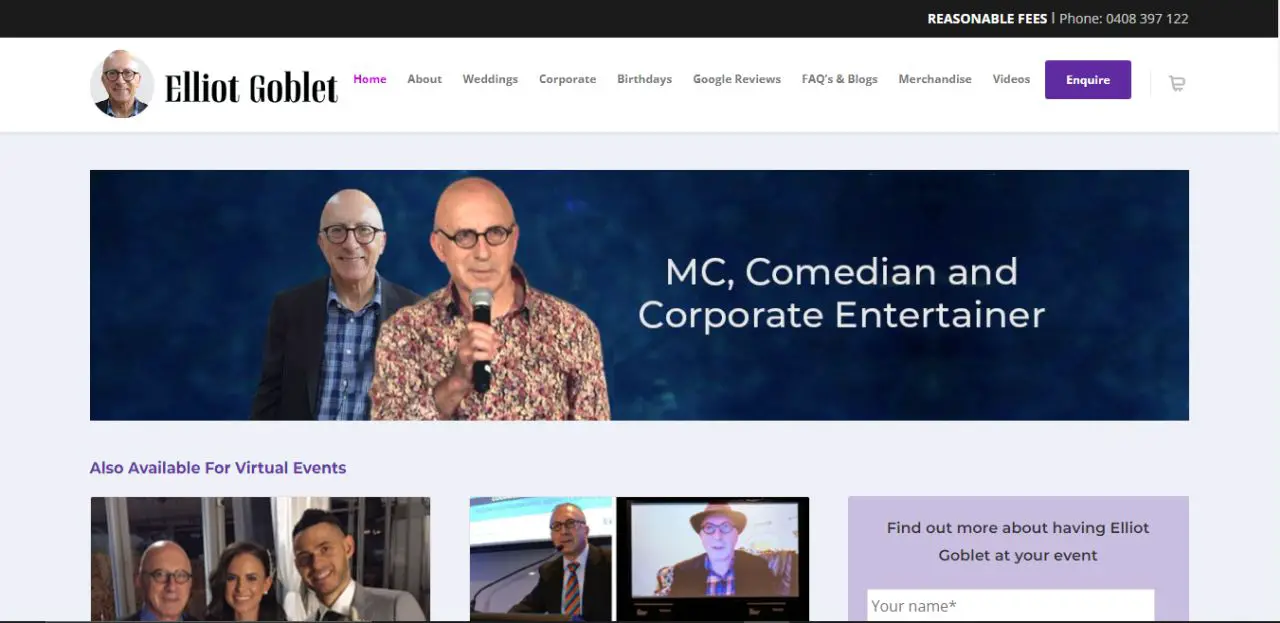 0408 397 100
Elliot Goblet (real name Jack Levi) first performed in mid-1981, and in his early days, he worked mainly in the comedy clubs of Melbourne, Sydney, Brisbane to develop a unique comedy identity. Fortunately, it was ten months later that he was discovered by Daryl Somers and started getting regular exposure on national television variety shows to become one of Australia's best known & favourite comedians.
If You're Looking For An Engaging, Reliable, Funny And Original Wedding Mc In Brisbane, Elliot Goblet Will Help You Create The Perfect Day.
The proper role of an MC (Master Of Ceremonies) at a wedding is to entertain your guests while managing the flow of formalities, and it's one of the most important – and hardest – roles to get right. As an experienced wedding MC, Elliot Goblet knows how to get it right and help create the perfect day.
When you hire Elliot as your Brisbane or QLD wedding MC, you're guaranteed an MC who provides you with a stress-free and enjoyable wedding day. Apart from adding appropriate humour around the formal duties, he'll also add to the wedding entertainment by including tasteful, funny material about the bride and groom (or same-sex couple) for that personal touch.
Elliot gets involved with the running sheet before the wedding day, so he is well prepared. Then, at the wedding reception, he ensures the night runs smoothly from the introduction of the bridal party right through to the end.
He is engaging and reliable, knows how to properly interact with everyone involved and injects his brand of comedy into the formalities to make your wedding even more memorable and refreshingly different. And finally, for those family and friends who recognise Elliot Goblet from his television stand-up comedy spots.
Decibels Wedding DJ In Brisbane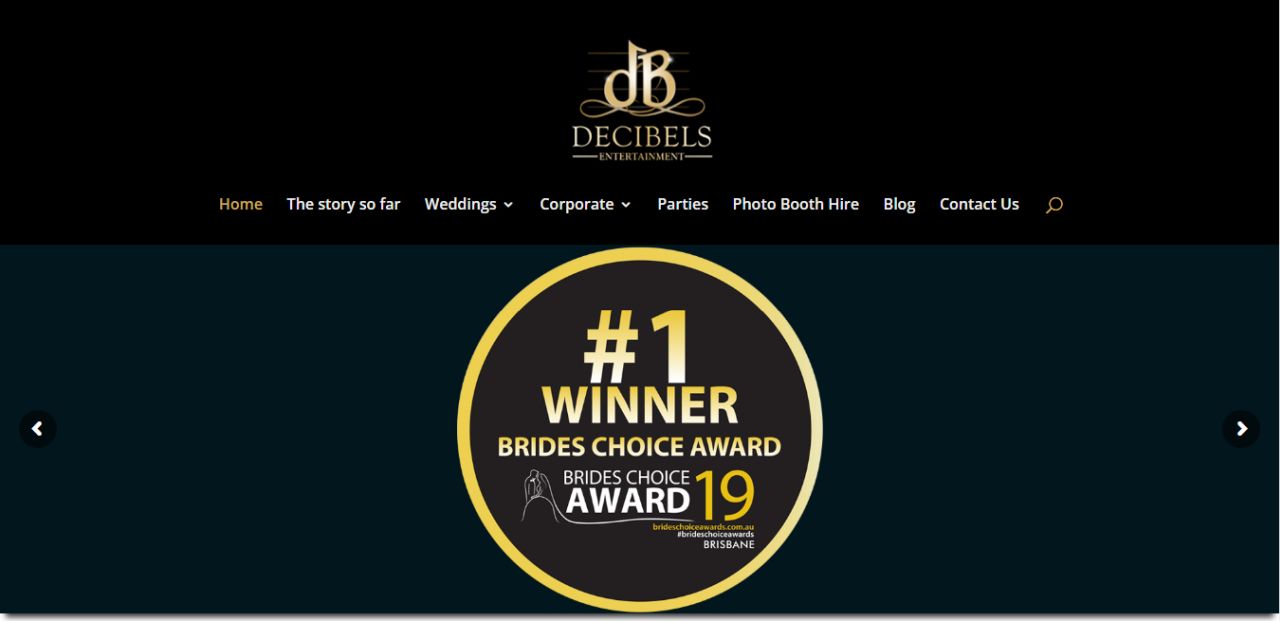 0418 724 555 
As a Decibels client, you will have access to our online planning system, where you can input all of the important information about your event and access our 250,000 song database. Be entertained by a professional suit and tie DJ with overhead LED lighting effects included at no extra cost. Decibels Entertainment can play a highly important role in making your wedding day spectacular.
Find Out More On Our Wedding DJ/MC Page.
Use Decibels DJ Hire for your party, and make sure it's a night to remember!
Find out more about our DJ Hire on our Party DJ info page.
Let us add something special to your wedding or corporate event with a live guitar/vocalist to entertain your family, friends or clients.
See the difference it can make on our Guitarist/Vocalist page.
Take a look at our video preview.
All Functions – Weddings are our specialty!

Up to the Minute Top 40 music

Internationally trained Master of Ceremonies

Guitarist/Vocalist

Overhead Coloured LED lighting package included at all events.

Full Back-up Support and $30m P.L. insurance

Off-Peak Discounts

All Areas of Brisbane, the Gold, Sunshine coasts and Toowoomba

Friendly, personal service guaranteed.
Star DJ Wedding In Brisbane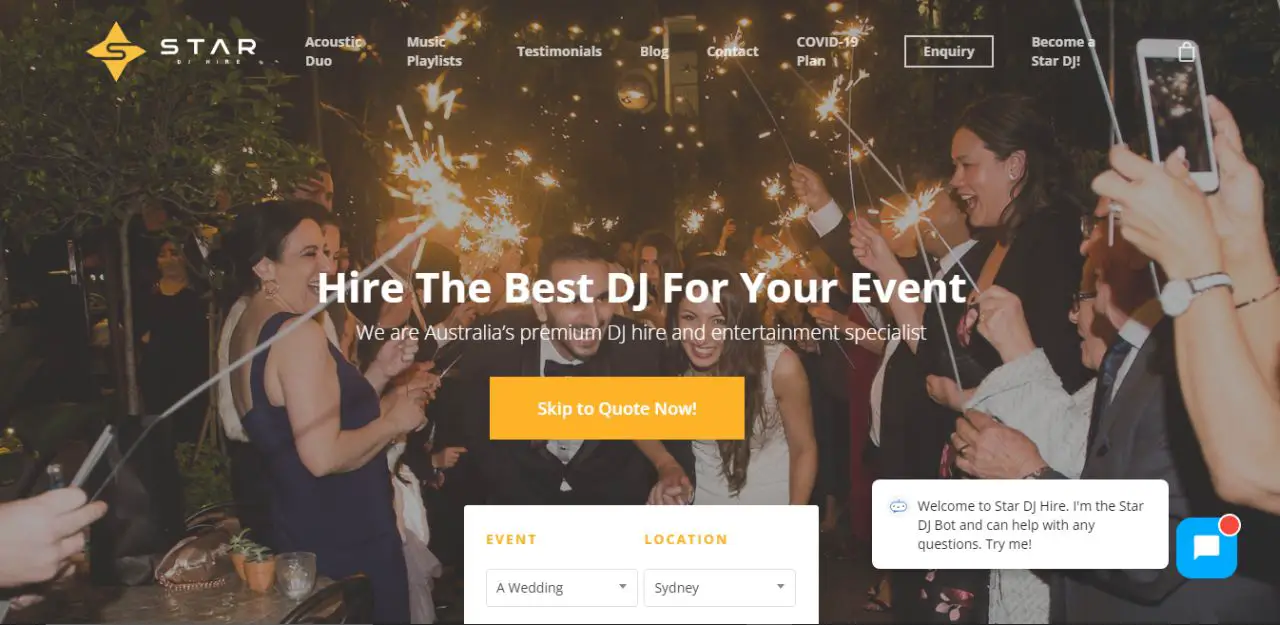 1300 30 4234
Star DJ Hire is a leading DJ and entertainment brand nationally, and this level of service is prominent in all capital cities, including Brisbane. We are a leading DJ supplier in Brisbane because of our commitment to you. Right from the moment you contact us, we demonstrate a passion for bringing your vision to reality. We'll ask questions about what you plan the big day to look like and provide professional advice and recommendations to you.
Let's Explore Some Facts To Gain Some Insight Into The Importance Of Having The Right Brisbane Wedding DJ:
Brides said they would have spent more time choosing their entertainment in 72% of cases;

A staggering amount, almost 100%, said they would have allocated a larger budget on entertainment;

During wedding planning, 78% of Brides say their highest priorities were wedding dress, venue and caterer. After the wedding, almost 78% had different views, with their perspective shifting to entertainment as their highest priority;

81% of guests say the most memorable part of the reception was the entertainment.
Looking at these stats, it's clear that we often underestimate the importance of having the right wedding DJ.