As a tourist with an eye for eco-friendly products, you have probably noticed that most swimwear is made from materials like nylon and polyester. However, there has been a move towards sustainable swimwear made of natural fibres such as cotton and hemp in the last few years.  
The list of benefits of this type of material is long: not only are they better for your skin but also the environment! So if you're looking to purchase some new sexy bikinis or one-pieces, I recommend checking out these brands that use sustainable materials in their garments. 
Add a header to begin generating the table of contents
Ultimate List of Eco-Friendly Sustainable Swimwear, Melbourne Australia
Bombshell Bay Swimwear - Sustainable Swimwear Melbourne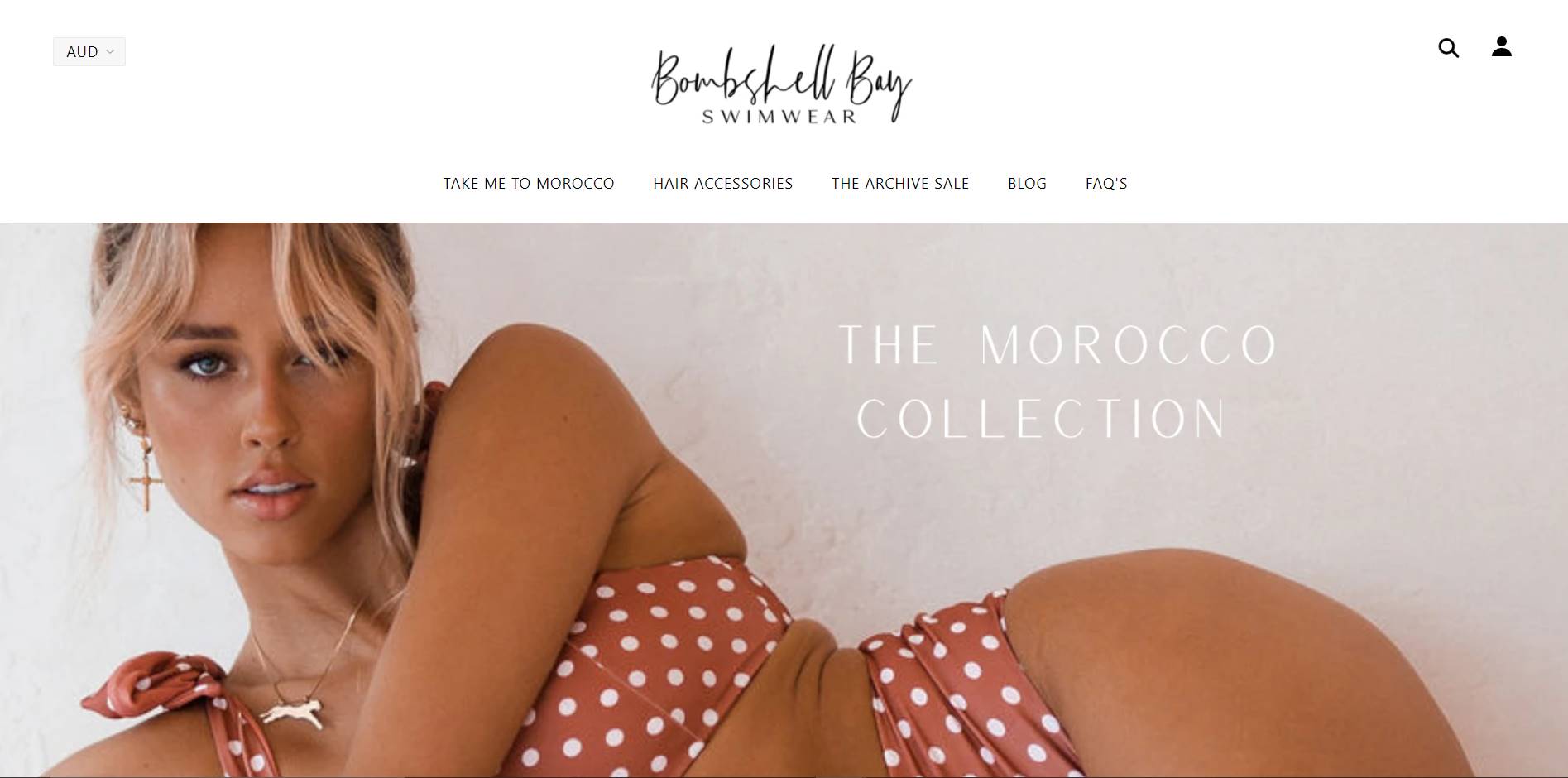 hello@bombshellbayswimwear.com
Bombshell Bay Swimwear is an eco-friendly Melbourne label that designs and creates sustainable eco-luxe swimwear out of floating plastics and other misplaced synthetics sadly found in our oceans.
We only use Italian Carvico Vita recycled fabric to ensure the highest quality of swimwear is produced. Carvico Vita is made with 78% Recycled Polyamide with 22% Elastane. Not only is our fabric known for helping clear our seas from plastics and ghost netting, but it also has key benefits such as Excellent UV Protection, pilling resistance, incredible shape retention, Resistance to sunscreen and oil and ultra-chlorine resistant too. Did we mention that it has 2-way stretch, and it's SUPER soft. The Italians defiantly know what they are doing, that's for sure.
We have a small dedicated team; we like to call our magicians who create our swimwear offshore in beautiful Bali. By doing this, we only create small amounts of each collection, which makes them not only exclusive pieces but it also really allows us to be a truly sustainable swimwear brand. We are a small but proud Australian owned label helping to do our part in making our oceans a cleaner place for our marine life while we continue to make only the best quality swimsuits for you, our beautiful customers.
Seapia - Sustainable Swimwear Melbourne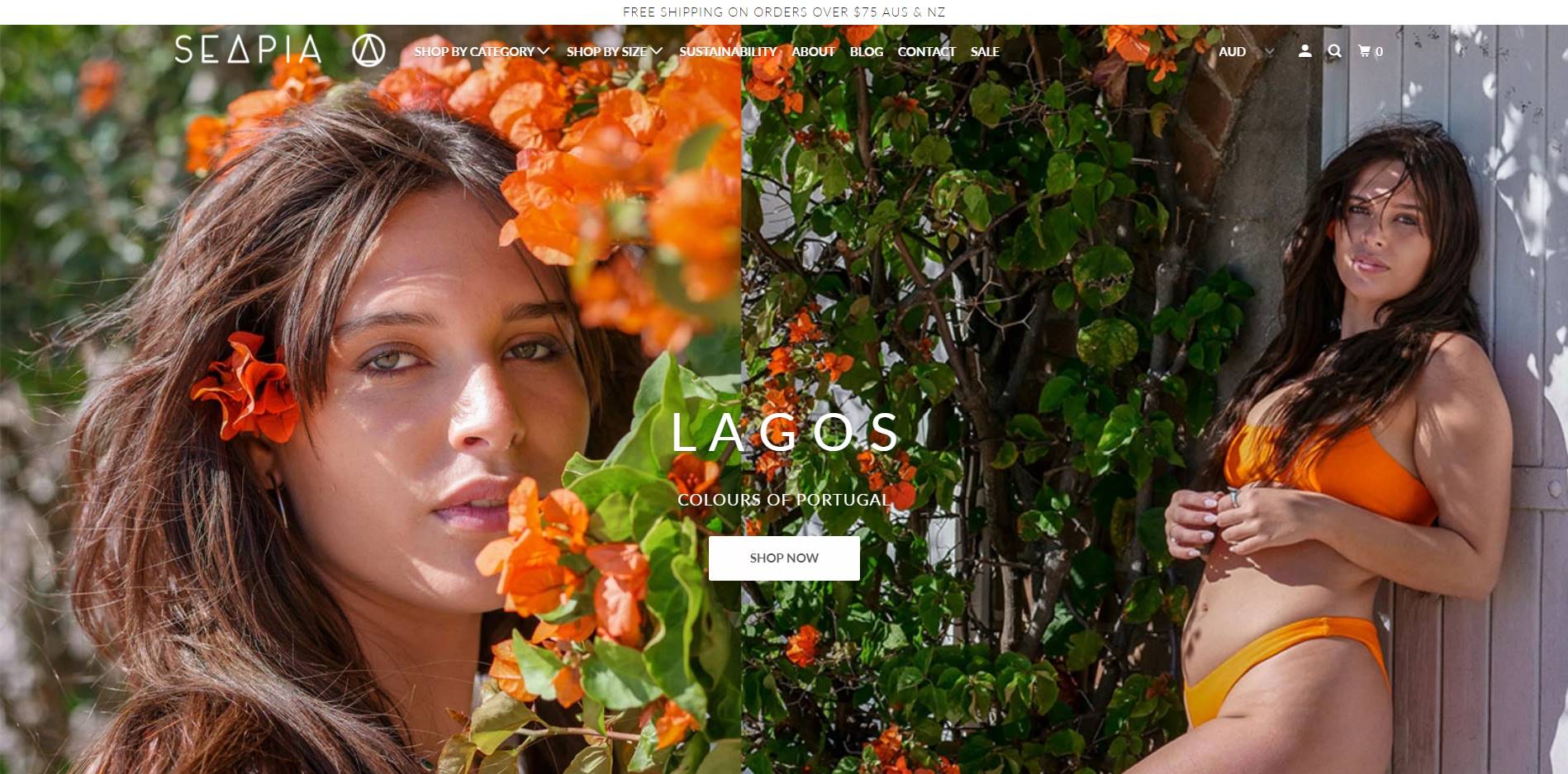 Our Sustainable Way
One of the biggest improvements in fashion these days is transparency and accountability – what price are we paying to look and feel good?
From the labour used to make the product, the fabric that it's produced from, the distance it travels to reach us, and the packaging it comes in, there's usually a heavy price on the environment to make us feel good on the beach or in the pool.
Our brand philosophy is that looking good in swimwear shouldn't be at the expense of the world. We can look and feel great in sustainable swimwear that is durable, that doesn't cost the Earth and reduces our carbon footprint.
Seapia is a mindful brand with the welfare of the oceans at its heart and the spirit of adventure in its soul.
We use sustainable fabrics produced from recycled fishing nets and other post-consumer plastic waste. Our ranges are designed and manufactured in small quantities in Sydney. All our packaging is made using organic and sustainable materials.
Our hope is to create awareness in our community towards improving the health of our planet.
About
Seapia is a brand with respect for our planet at its heart and a celebration of beauty in its soul.
Seapia reflects the tropical style of Costa Rica, the birthplace of the brand's founder Fiorella Castro. Fiorella's diverse fashion background and love of nature have given her a unique perspective on life, leading to this iconic range of swimwear with a Latin American heart and high tech, low-impact structure.
We see swimwear as an all-year-round proposition, perfect for both hemispheres.
Seapia loves all things nature and all things fashion. A pretty hard combination to do right. We use a beautiful fabric called Econyl®. It is produced starting from pre and posts consumer plastics, otherwise destined to landfill, which are transformed into a new polymer first and then into brand new yearn, ideal for the creation of high-performance fabrics.
So by using materials carefully selected for their low impact on the environment, we can give back to the world without compromising on beauty and style, which provides a unique and rewarding experience for the wearer. 
TREAD LIGHTLY - we minimise waste and recycle to lower our carbon footprint.
CONNECT - we are nice and treat everyone with respect.
TRANSPARENCY - we have nothing to hide from our supply chain to our manufacturers.
THE CHANGE - life is not a dress rehearsal. It's a stage for all of us to create change.
Aquadiva - Sustainable Swimwear Melbourne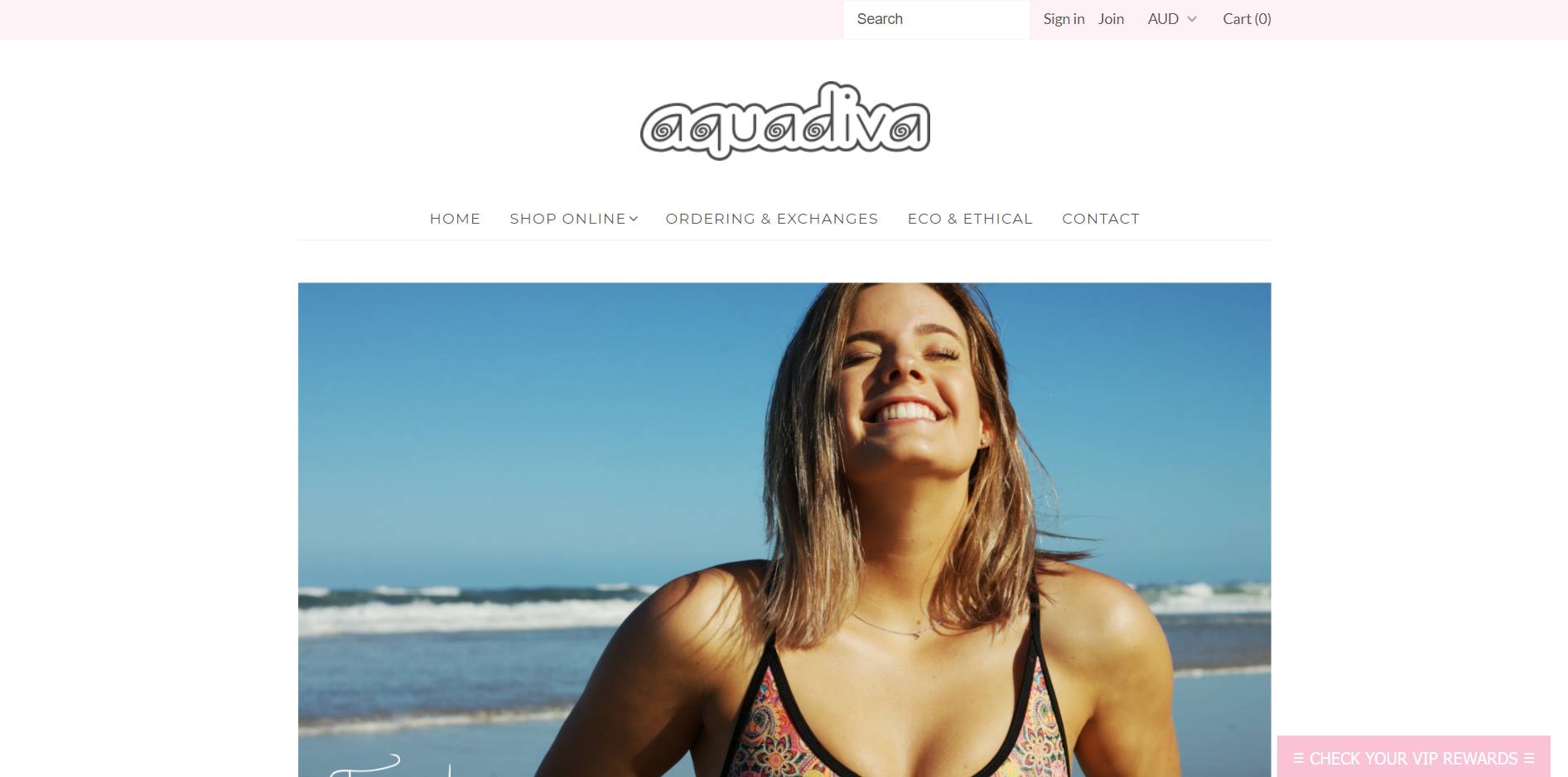 designs@togzaustralia.com
Eco & Ethical
Aquadiva takes inspiration from our favourite season, summer, and the essence of hot days, starry nights and the feeling of wanderlust. We aim to create swimwear that not only looks magical but feels magical to wear!
The beauty of the natural world is also very inspiring to us, so it makes sense to look after it as best we can! Our environmentally conscious swimwear is not only designed to last and reduce the need for consumption but is produced with as little waste and environmental impact as possible. We are totally committed to running an environmentally and socially responsible business to ensure the health of our planet for future generations to come.
Only the best product quality - no cheap junk here! 
We choose our material for two main reasons - not just for their beautiful feel, fit and finish!
Firstly, they have to be of the highest quality possible. We believe in slow fashion, not disposable swimwear! When you buy an item, you should be looking to make good use of it, not throw it away after a few swims. In fact, many of our customers have full collections of Aquadiva pieces from seasons past. 
The second reason is that they are the most technically advanced fabrics available. Meaning they will last as long as possible because they're made out of the best stuff we could get our hands on! The side benefit is that they're also 100% chlorine proof. 
Recycling - Waste Not! 
All of the waste products created in our manufacturing process are recycled. Even the inks that are used in the Aquadiva fabric printing process are earth and human-friendly. We also pay to have all waste paper taken to a recycling plant while scrap fabric is donated to local community projects. 
100% Australian Made 
When you buy Aquadiva, you are buying a product that reflects the hard work and passion of many talented Australians.  
Our team of dedicated artists and craftspeople produce Aquadiva right here on the sunny Gold Coast, in Queensland - not in a foreign country. We believe in providing Australians with a means to live and prosper, not taking advantage of cheap labour in developing countries to maximise profits. Be wary of brands that produce cheap quality items and pocket the price difference - success should not be at the expense of others.  
We pride ourselves on what we do and do it to the best of our ability! 
Solar Powered 
The Aquadiva studio is completely solar-powered. 132 solar panels cover the entire roof, providing 30KW of clean, earth-friendly power. The panels generate enough energy to more than cover our energy needs, so extra power is put back into the grid. You can wear your Aquadiva's with peace of mind. Knowing the same sun that lit up today helped give you a beautiful swimsuit!
Giving to Charity
You may know that Aquadiva is crazy about animals! Each year a considerable amount of money is donated to environmental and animal welfare groups both in Australia and overseas, such as the WSPCA, Sea Shepherd, Green Peace, PETA, SOI DOG and numerous others. We also choose to only stock and promote vegan brands which do not test on animals and share the same ethical outlook.
Eco-Friendly Sustainable Swimwear FAQs
What Material Are Swimsuits Made Of
The last thing you need in a swimwear fabric is your bikini or swimming shorts to turn see-through underwater. A fabric that shrinks when wet can also cause a few embarrassing problems.
Weight
One thing you don't want in a swimwear fabric is anything too heavy. Lighter fabrics will look and feel like comfortable underwear. Most swim-quality material is made from lightweight synthetic fabrics. An ideal weight would be between 180-200g per square meter of material.
Look and Feel
Swimwear fabric needs to look good and help you feel confident. It should be soft, flexible, and have an attractive design or print. Let's face it. Most modern-day swimsuits leave little to the imagination. What's on show needs to look fantastic, so you don't feel anxious wearing the garment. The fabric should enhance your assets, not detract from them. Avoid neon colours if you are at all body-conscious.
Comfort
An uncomfortable swimming costume is going to hamper your enjoyment severely. As well as your freedom of movement. A swimwear fabric needs to be flexible enough to allow your body to move. It also needs to be soft enough to prevent rubbing and chaffing. When it comes to swimwear, the softer the material, the better.
Figure-Flattering
Everyone likes to look good at the beach or the side of the pool. Unfortunately, today's swimwear fabrics contain elastane, which is figure-hugging. Able to control and contain those areas of our bodies we'd all rather hide, the best swimwear material will make us look thinner with more of an athletic silhouette.
Fibre Content
When it comes to swimwear, the best fibre content for your fabric is stretchy synthetic. Created by blending either polyester or nylon with elastane, swimwear fabrics are naturally durable, water-resistant, and quick-drying. A polyester/elastane mix will also give protection from UV rays and be resistant to chlorine.
Colourfast
The last thing you need is the colour from your swimsuit coming out in the pool. Ensure your fabric is colourfast before diving into the deep end. Materials known to fare badly when it comes to colour retention include nylon. Not only does it fade quickly, but any printing or ink on the material is also likely to bleed into the water. If you want a logo on your swimming shorts, play it safe and stick to polyester-based fabrics.
Quick-Drying
Particularly important, if you are taking the plunge daily, you need a material to be quick-drying. There's nothing worse than having to carry a soggy swimsuit around with you after your morning swim. Most synthetic fibres have a water-resistant quality making them ideal for regular-use swimwear. They'll not only dry quickly but can also be rinsed out, dried, and ready for your next trip to the pool in no time.
Stretch
Swimsuits are designed to be close-fitting. The closer the fit, the less likely they'll accidentally fall off underwater. To be figure-hugging, the fabric has to be flexible and stretchy. Unfortunately, many swimwear is made with negative ease, meaning there isn't much space available when you're wearing it. Make sure your fabric has the necessary stretch to accommodate both you and your need to breathe. Try to find fabric with a four-way stretch with at least a 60-70% stretch in any direction.
Durability
Swimwear fabric needs to be durable and resilient. It comes into contact with pool chemicals and UV rays, and both can cause degradation. A key element for any fabric used in swimsuits is the ability to resist damage caused by chlorine, sunshine, and other abrasive substances like sea salt.
Anti-Pilling
For a long-lasting, durable swimsuit, try to pick a fabric that contains anti-pilling properties. Nylon is known to pill over time as it lacks resistance to chlorine damage. The best fabric for resilience to harsh chemicals is polyester. If anti-pilling is important to you, choose a material with polyester content.
Ease of Care
Any time you have a fabric coming into regular contact with harmful chemicals like chlorine, you need to wash it. The great thing about synthetic fibres is they are easy to care for. A quick dip in a cool wash, followed by a drip-dry, is all it takes to get the smell of bleach out of your swimwear. So make sure your swimming fabric has a wash-and-go element built in.
Sustainability
This is a hard box to tick when it comes to swimwear. The best fabrics are synthetics due to the resilience, durability, and flexibility inherent in the material. Unfortunately, synthetics are also the least sustainable of all fibres. Many are petroleum-based and rely heavily on fossil fuels. All is not lost, though. By considering recycled materials, you can go a long way to counteracting the environmental impact of your swimsuit.
Cost
Fabric for swimwear can vary in price. The choice is down to your budget, from the inexpensive polyester-based materials to the slightly higher cost of a nylon garment. The ideal fabric for your swimwear should be the best quality you can afford. Ensure the material has longevity, and the investment you make in your swimsuit will repay you with a garment that will look good after multiple swims.
The amount of fabric needed for a swimsuit depends on the style of suit you are making. There are a couple of things to consider when calculating material amounts. First, do you want to line your swimwear and a full suit or a two-piece bikini? For this example, let's make a bikini.
Commercial swimwear is made with negative ease, meaning it's cut smaller than your measurements. This creates the tight-fitting, figure-hugging silhouette swimwear is known for. As a rule of thumb, it's normal for an amount of up to 2 inches to be deducted from your size. This figure will change depending on how tight you want your bikini.
The next thing to do is measure your bust and hips and decide how much coverage you want. For example, do you want a low-cut top with tankini briefs? Or full bust coverage and low cut briefs?
The actual fabric needed will be determined by your measurements, but between ½ to ¾ of a yard in a 60-inch wide fabric should be ample. Remember to purchase the same amount for your lining!
When thinking of bathing suits, the one-piece swimsuit springs to mind. Because more of the body is covered, fabric needs for this option will be slightly higher than for bikinis, tankinis, and briefs.
Bathing suits or one-piece swimsuits are made with negative ease. Measurements for the one-piece option will need to include coverage for your stomach and back. A yard of fabric measuring 60-inches wide should give you enough material for an all-in-one bathing suit.
Two Sparrow - Sustainable Swimwear Melbourne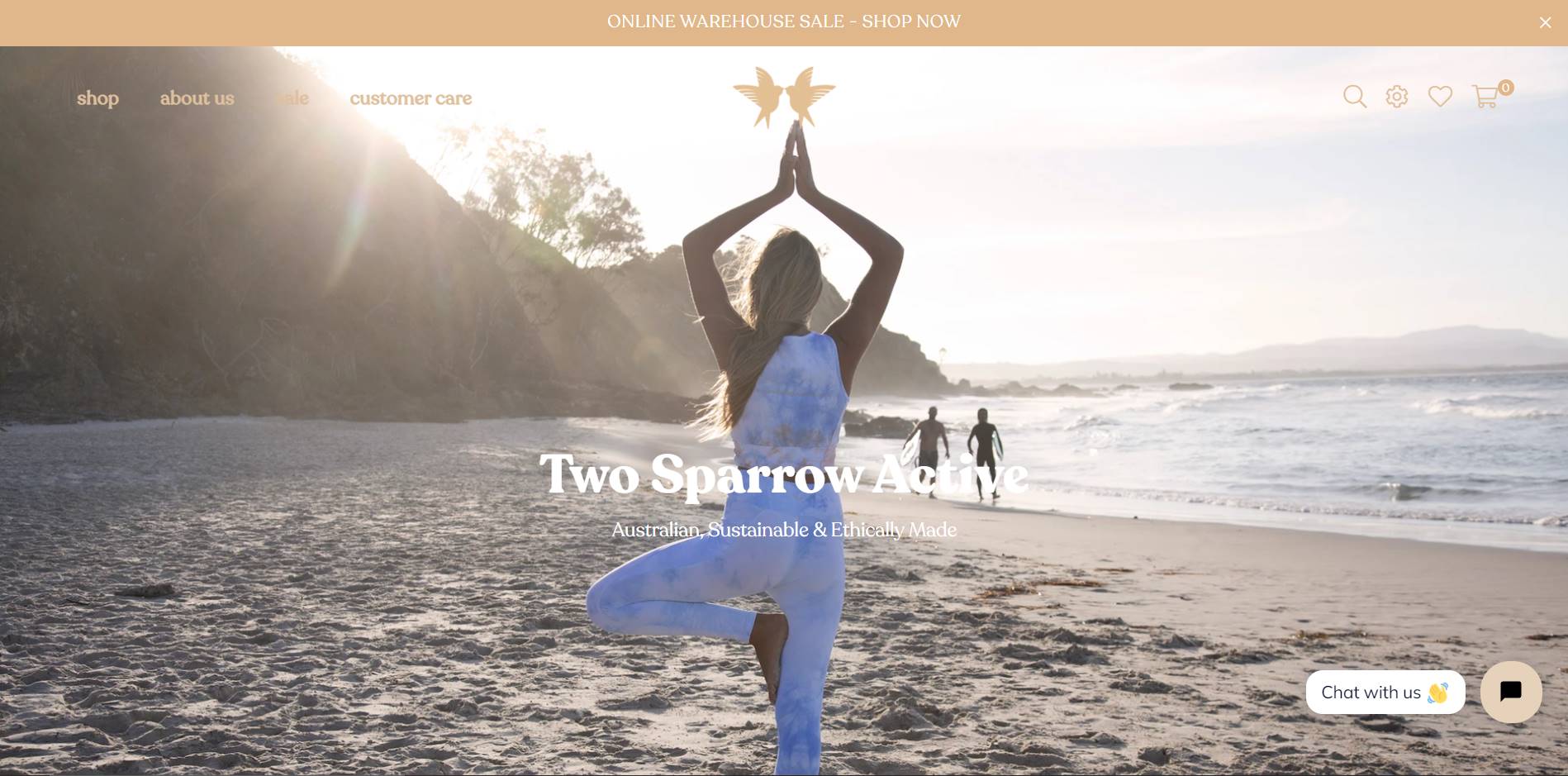 hello@twosparrow.com.au
Australian, sustainable & ethically made.
We are committed to ensuring our garments are made in an ethical manner in Australian factories.
Having our products manufactured locally, we are able to first-hand manage quality, ethical working conditions and ensure fair wages.
In doing so, we are able to create quality pieces that align with our values and ethos, using sustainably sourced fabrics.
Feel good doing the things you love, do good wearing Australian made.
About Us
 Two Sparrow Australia is from a town along the Surf Coast in Victoria called Torquay, Australia. 
The Surf Coast is known for its beautiful wilderness, joyful inhabitants and, of course, great waves.
Two Sparrow Australia focuses on creating high-quality, ethical and Australian made apparel and swimwear using sustainable, recycled materials. Our aim is to create long-lasting garments that are made to fit and are transient through seasons.
All Two Sparrow Apparel is made in an ethically accredited factory in Melbourne, Australia, from 100% natural materials.
All our swimwear fabrics are made of recycled plastic bottles and fishing nets, aiming to reduce the fast impact fashion has on the earth and designed and distributed locally in Torquay, Australia.
There's a two-part mission to Two Sparrow: 
1) We want to be a part of the change in making all fashion sustainable, including materials, manufacturing and packaging
2) We dedicate our designs to creating high-quality, well-fitting pieces that encourage confidence when wearing them
At the end of the day, we know that the best purchase is no purchase at all and will always encourage that. We make pieces that are high quality and transient through seasons, so if you are to purchase, you can do so sustainably and ethically from natural or recycled materials without encouraging waste.
We are fully focused on reducing the fast impact fashion has on the earth by ensuring the right fit and style to encourage confidence wherever in the world you may be. 
We guarantee that you will not only love your Two Sparrow pieces, but you will be happy with the fit. If you are not completely satisfied, you have 60 days to return your items, and we will send you out the exchanged size free of charge, guaranteed or return them for a 110% voucher.
SNDSTNE - Sustainable Swimwear Melbourne
info@sndstne.com
Saving Our Oceans
ONE BIKINI AT A TIME
At SNDSTNE, we are passionate about creating timeless garments that withstand fast fashion trends and last a lifetime.
Billions of plastic bottles go into landfills and our ocean every year. But now, we are doing something about it! 
We transform recycled bottles into amazing luxury swimwear - our process embeds properties like wicking, adaptive warming and cooling, water repellency, and more at the fibre level for reliable, durable quality.
We are committed to our sustainability efforts. And we will continue learning, developing and researching to bring you luxury garments you can love and stand behind for their ethical roots.
About
Designed and made exclusively in Sydney, Australia, swimwear label SNDSTNE is the creation of a mother and daughter team.
Whose mission is to provide quality garments using only recycled and recyclable elements.
'From a metaphysical point of view, SANDSTONE is a stone of creativity, helping to build and strengthen the cohesiveness and solidarity within relationships, encouraging truth, promoting clarity, ease of movement and change.'
Liandra Swim - Sustainable Swimwear Melbourne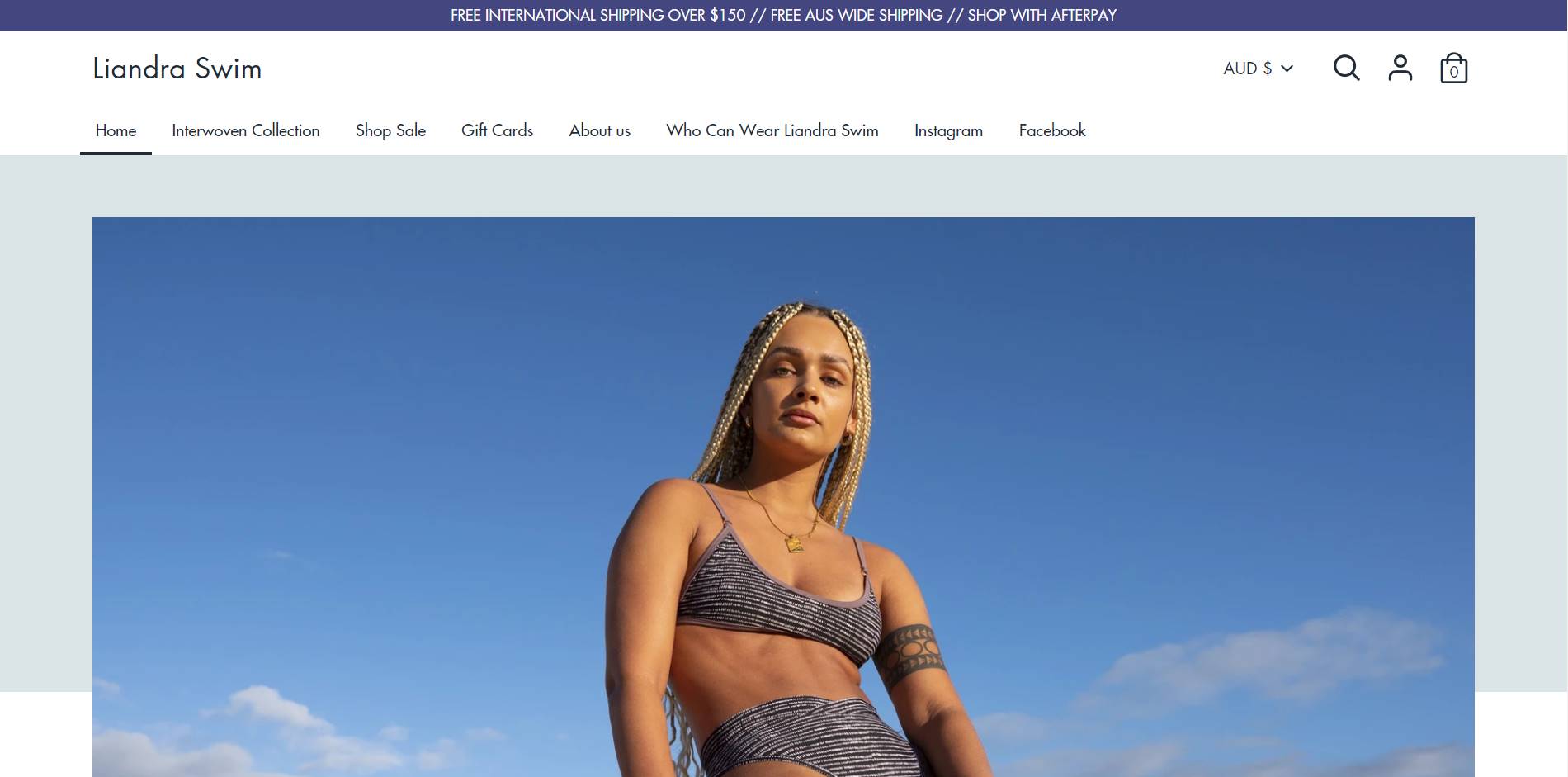 hello@liandraswim.com
Sun, Surf & Culture
We are always looking to expand our knowledge of sustainable and ethical practices. Our fabrics are made from regenerated plastics. We use eco-friendly fabric dyes. Our hygiene stickers are safe for home-compost disposal.
Liandra Swim is a sustainable ode to Indigenous Australian culture and people. We use swimwear fashion to showcase our rich culture through our signature prints.
All our pieces are limited edition. Our pieces are unique in every sense of the word.
We highlight the achievements of Indigenous women through our swimwear. Each of our pieces is named after a different ground-breaking Aboriginal or Torres Strait Islander woman.
Our purpose goes beyond the visual aesthetic.
Creating New Ways to Connect With Culture
Liandra Swim fuses Aboriginal Australian Culture with on-trend premium designer swimwear. Our swimwear includes seamless designs and striking prints. All our bikinis are sold separately to allow you to mix-n-match styles, prints and sizes.
Our signature prints are inspired by our Aboriginal Australian culture. Our dream is to give you the opportunity to exhibit a slice of culture that has been tens of thousands of years in the making! Each collection we launch represents a unique story, with each of the prints delving deeper into that narrative. 
The stories and prints we create are inspired by our livid experience and individual journey. Our prints are also a contemporary representation of our culture and how we identify with our heritage. Our Community Collection prints have been hand-drawn and are inspired by the landscape of location of Milingimbi, in North-East Arnhem Land (NT). 
We pride ourselves on creating quality swimwear through ethical practices, from our prints to our designs and to our fabrics. This is important to us, as we represent and share such an intimate part of who we are. We hope to create only positive and lasting experiences when you share in Indigenous Australian culture and wear our swimsuits. 
Liandra Swim is an eco-conscious brand. Our fabrics are made from regenerated plastics and recycled elastane. Our mailer bags are home-decomposable, and our plant-based packaging is made from cassava. With our packaging being non-toxic and biodegradable within months (3-6 months dependent on the environment).
We always want to do better and be better throughout all aspects of our brand. 
HAKEA - Sustainable Swimwear Melbourne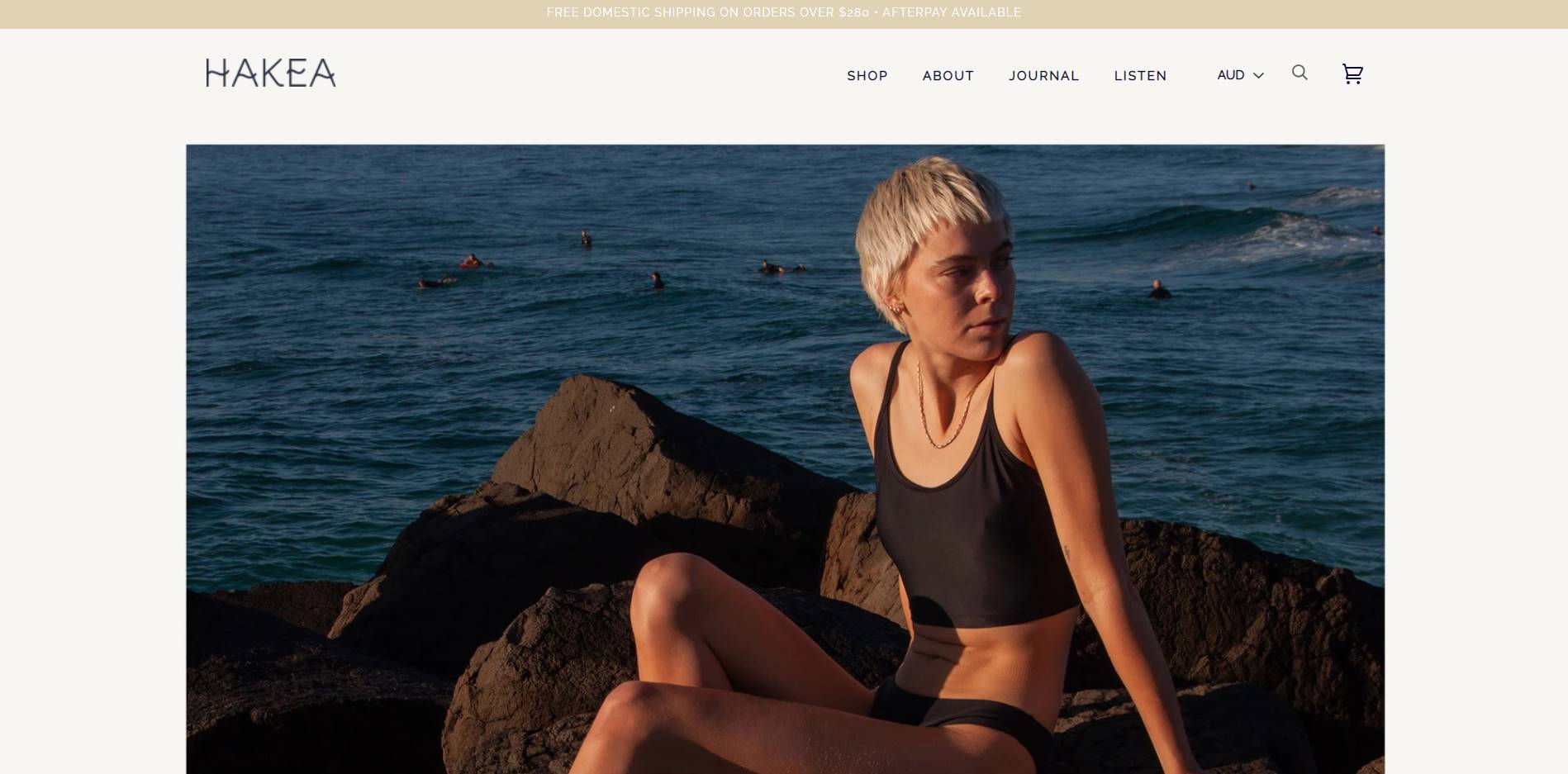 Our Approach
Hakea is for the water women.  
It's for those who relish feeling the cool ocean current on the heel of their hand, the sting of salt and the sun-warmed sand. 
It's for those who know the gift of bright mornings, long evenings and idle hours in-between. 
It's for making space for discovery, embracing the elements and daring to reclaim one's time.
Hakea is for a life that celebrates leisure and adventure. A minute, an hour or a day – taken to slowly peel an orange, steal away to surf or cook an elaborate meal and eat it al fresco. Inhaling the moment with the shoulders dropped, eyes smiling and mind at ease - Hakea is for that state-of-being – most fleeting and precious – of feeling uninhibited and free.
Inspired by Australia's arid coastlines and desert landscapes. Our timeless designs in earthen colour palettes are produced in limited runs, removing the emphasis from the acquisition of material and towards a connection to the things that really matter.  
Our Story
Before creating Hakea, I was a graphic designer and spent the rest of my time travelling to warm places in search of swell and adventures. Finding something I felt confident to wear in the surf that wasn't either stylishly impractical or ill-fitting was next to impossible. After a long time searching for a brand with practical and comfortable swimwear that reflected my style, I decided to start my own.
Hakea is my answer to a simpler lifestyle. I wanted to make sure Hakea was inherently sustainable from the beginning by focusing on versatility, quality and timeless cuts. One-piece can save space in your wardrobe or suitcase and allow you to roll from the sea to the coffee shop with ease. I seek out the best quality fabrics I can find that are sun protectant and stand up to the elements to last many sun-drenched summers.
I spend a lot of time in nature and by the ocean, so naturally, we aim to limit Hakea's footprint as much as possible (you can read more about that here) and have begun making our swimwear from recycled ocean plastics.
My ultimate intention with Hakea is to make swim and surfwear you can rely on and feel confident wearing in all circumstances — so you're free to focus on what matters, whether it's running around with the kids at the beach or building a full and adventurous life on your terms.
SAINT SOMEBODY - Sustainable Swimwear Melbourne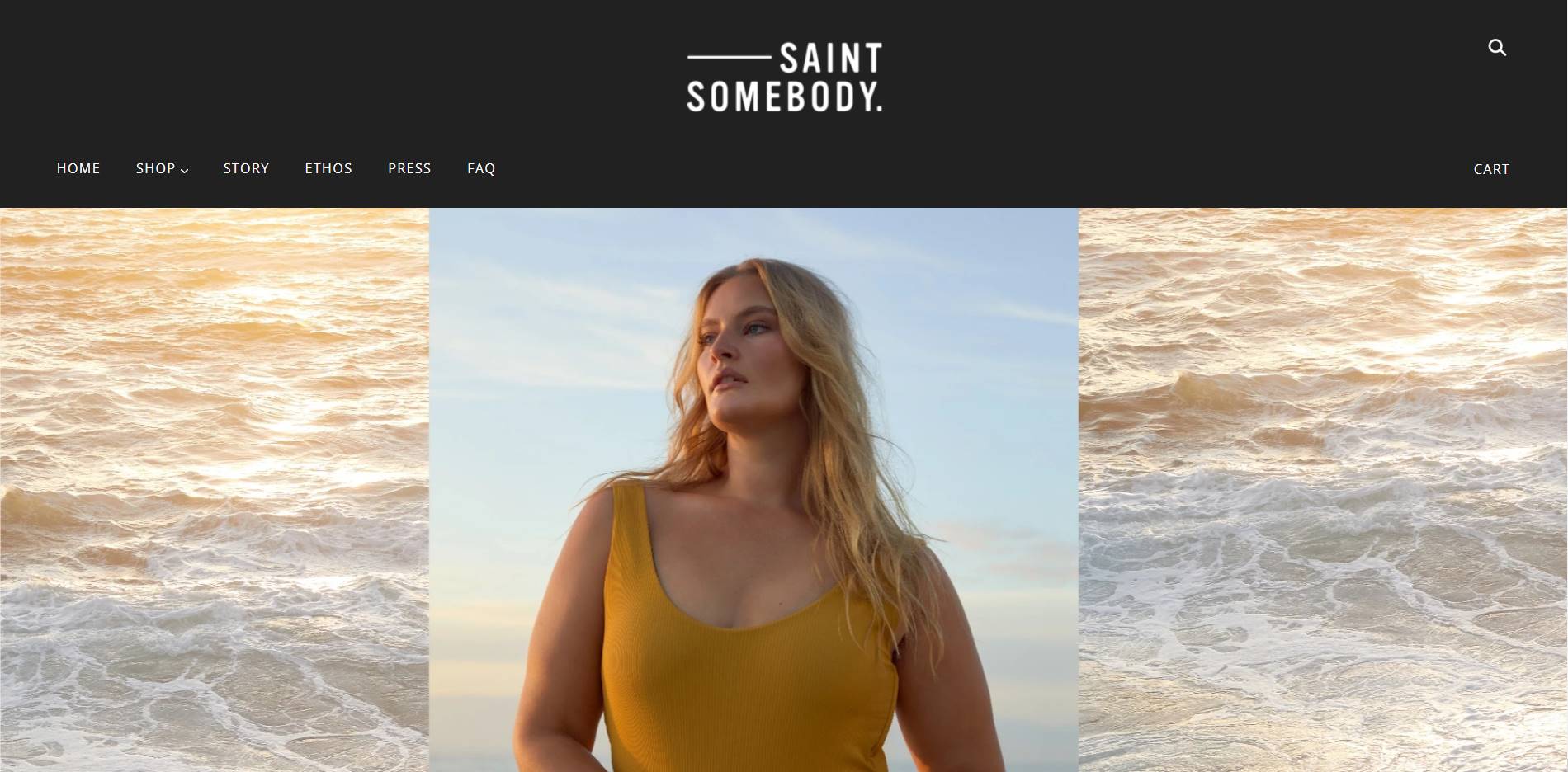 What's the Story?
SAINT SOMEBODY is Australian designed luxury swim + ready to wear in minimal, sophisticated designs. Everything is created with the curves of a woman's body in mind. 
The first thing you notice about the pieces is the quality. You can see it and feel it. Seamless, ethically handmade swimwear that is flattering, comfortable and made to last. The fit is focused on women in the average size range with designs in sizes 12-22 to suit busts both small and large. 
The label was founded in 2018 by Sophie Henderson-Smart, a mum and beach dweller from Manly Beach, Australia. Sophie, although falling in the majority' average size' category, would browse store after store both at home and abroad, searching for high-quality designer swimwear made specifically for her shape, but it was fruitless. As the summers went by, she became increasingly body-conscious and frustrated with the lack of options and eventually avoided the beach altogether. Sound familiar? This is the story for far too many women.
Since its inception in Australia and subsequent launch into the United States, there has been worldwide praise for the brand by media, retailers, and most importantly, the customer with a newfound sense of confidence in swimwear. The label has been featured in US Harper Bazaar, Marie Claire and The Zoe Report to name (drop) a few. 
SAINT SOMEBODY is creating a new world, bringing luxury fashion to curvy women and making space for women to feel incredible in swimwear, as they should. 
Ethos
SAINT SOMEBODY is a movement of body positivity with authenticity and purpose at its core. Quite simply, we exist to make the world better by gifting confidence to women with luxury swimwear designed for curves and through our global giving to people in need.    
Less is more. We like to take it slow, ensuring quality is of the highest possible standard. Everything is finished by hand in small batches and designed to last.
We care about the talented people who make our garments. They are part of our extended team and a significant part of our success. This is reflected in both conditions and pay. 
Love flows through every thread in our company, and we are committed to being a 'business for good' by sending the love to where it is needed most. To date, we have created thousands of impacts for a range of causes close to our hearts via Buy 1, Give 1.    
SKYE & staghorn - Sustainable Swimwear Melbourne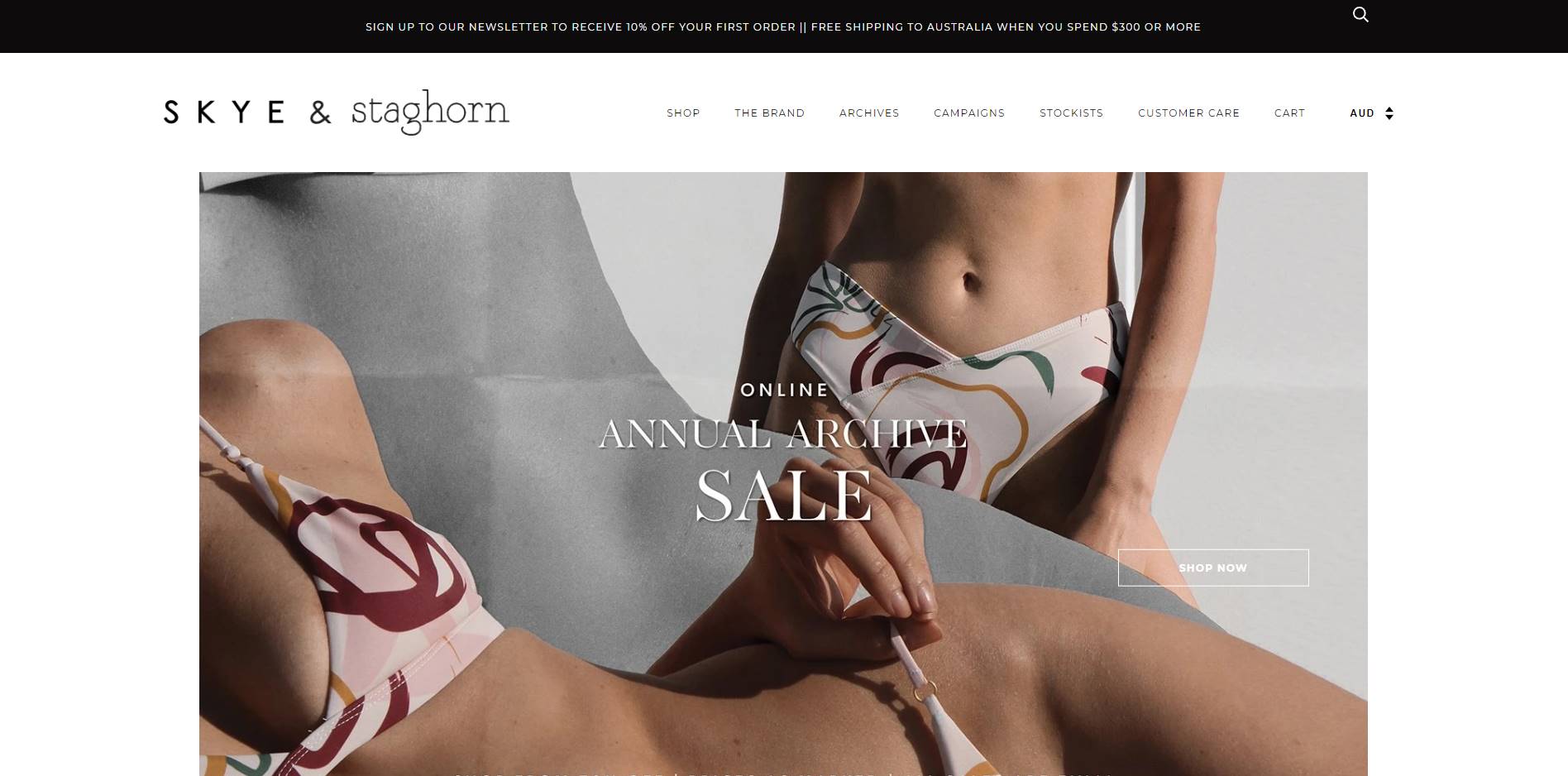 About the Brand
Our vision since SKYE & staghorn took form has always been to design a premium product using the highest quality materials and workmanship.
At SKYE & staghorn, we aim to curate a classic and thoughtful closet. We consider the lifespan of our garments by designing our pieces to not only transcend seasonal trends but to be made with purpose and longevity in mind.
Our pieces are made for today's modern women, with bold design and unique detailing that epitomise the female form. We believe in a slow fashion approach and investing in that perfect timeless piece to be worn for endless summers to come.
Each garment is designed in Australia and carefully sourced and produced by our team in Indonesia, who have over 30 years of experience in the industry. We work closely with our manufacturers and pattern makers to ensure that each design is not only aesthetically refined but functional.
All swimwear styles are sold as separates and designed to mix and match. Each women's style and body shape is different, providing you with the freedom to choose the pieces and sizes that work best for you.
Skye and staghorn are available at our Online E-boutique and in boutiques worldwide, including Shopbop, Revolve, Beymens and Planet Blue.
EACH GARMENT IS THOUGHTFULLY DESIGNED IN AUSTRALIA AND CAREFULLY SOURCED AND PRODUCED BY OUR TEAM IN INDONESIA, WHO HAVE OVER 30 YEARS OF EXPERIENCE WORKING WITH LEADING AUSTRALIAN BRANDS
WE BELIEVE IN FAIR TRADE AND HAVE A CLOSE RELATIONSHIP WITH OUR TEAM THAT WE HAVE WORKED WITH FOR OVER 8 YEARS.
TJ SWIM - Sustainable Swimwear Melbourne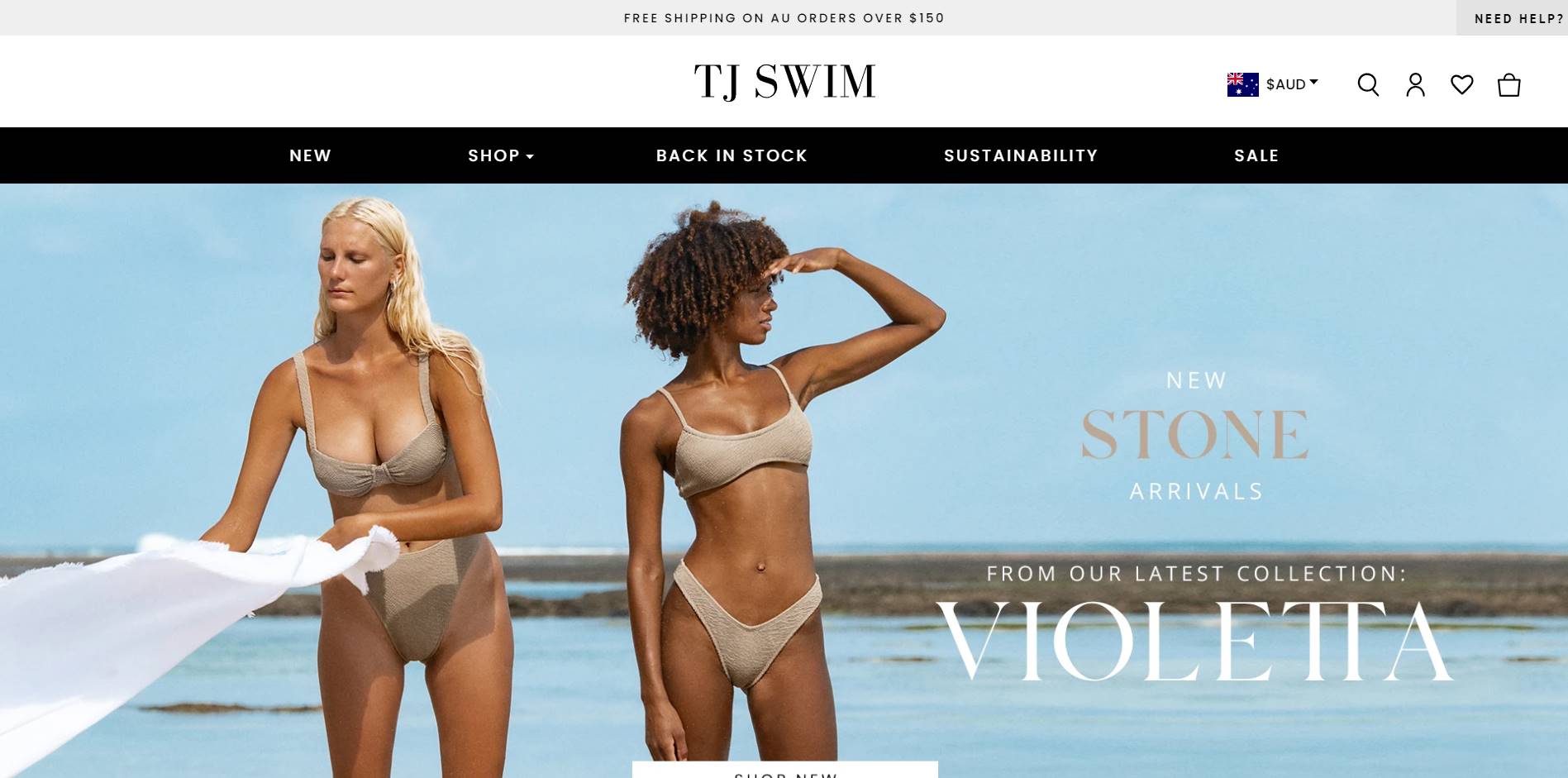 info@tjswim.com
Sustainability
Our journey to sustainability is one we hold dear.
At TJ SWIM, we are continuously striving to reduce our overall carbon footprint and environmental impact. With conscious consumerism at the forefront, we have been taking active steps towards sustainability, including researching and sourcing environmentally friendly packaging materials, reducing our overall use of plastic and implementing sustainable practices within our business and supply chain. We may not be perfect, and there is still room for improvement, but we value our planet and are committed to contributing to a better future. We look forward to sharing this journey with you.
Premium Quality That Lasts
With conscious consumerism at the core of our company values, our mission is to create premium swimsuits that you will look and feel your absolute best in. We work closely with our manufacturing team to ensure that each bikini is delicately hand made to ensure a unique standard of sophistication, longevity and optimum quality. Our suits are designed to be worn comfortably and proudly for an eternity of summer. With TJ SWIM, you are investing in quality suits that last!
Compostable Materials
Compostable materials are an important part of our journey towards reducing our carbon footprint and contributing to a sustainable future. Orders are shipped in our compostable mailing satchels. Our compostable hygiene stickers contain a high % of renewable materials, and our compostable branded stickers are made from FCS Certified paper and printed with soy-based inks.
Recyclable Packaging
In our efforts to be a more sustainable brand, we are taking steps to ensure that our packaging is recyclable, reusable or compostable! We've switched our laminated boxes for a more environmentally friendly option. Now both our tissue paper and branded boxes can be recycled. Just remove the magnets, and you're good to go!
Minimising Waste
Not only do we take waste management seriously at our HQ, but we also work closely with our supply chain to minimise as much waste as possible. Off-cuts or leftover fabric is minimised through smart production techniques; however, when off-cuts do remain, our manufacturers aim to repurpose them towards the creation of hair scrunchies or, more recently, face masks. We consistently evaluate our stock levels and production orders to ensure that we are not over-ordering. When stock remains, we donate it to organisations such as the Red Cross to assist those in need.
Fair Working Conditions
We continuously liaise with our manufacturing team in Bali to ensure that their working conditions are inclusive, fair and ethical. Pre-COVID, we would make regular trips to visit the workplace to ensure that the working environment was safe and comfortable. As we cannot travel to Bali during COVID, we have instead been checking in with the team via video calls to monitor working conditions and ensure that they are happy and healthy.
Conscious Office Practices
At HQ, we aim to REDUCE wastage, REUSE and RECYCLE wherever possible. We've switched to environmentally friendly cleaning products, recycled stationery and compostable bin liners. We recycle everything that can be recycled and have worked with our manufacturers to significantly reduce plastics in our workplace. 
About Us
TJ SWIM is an Australian designer swimwear label brought to you by Tara Jane.
Inspired by her love for minimalistic high-fashion, Tara Jane launched TJ SWIM at the age of 21 from her parent's laundry. Today, TJ SWIM is one of Australia's leading swimwear labels with an extraordinary global following and strong online presence. The label has successfully captured the hearts of numerous social media influencers and celebrities such as Kylie Jenner, Kim Kardashian, Khloe Kardashian, Kourtney Kardashian, Rosie Huntington-Whiteley and Chrissy Teigen.
The label's cutting edge designs are bold yet timeless, featuring cheeky Brazilian coverage and 80's inspired high cut styles that compliment the curves of the female body. Each suite is delicately hand made with premium quality fabrics to ensure a unique standard of sophistication. TJ SWIM is known for its fashion-forward bikinis and swimsuits that cater to all body types, empowering its customers from all around the globe to look and feel their absolute best.
Burrows and Co - Sustainable Swimwear Melbourne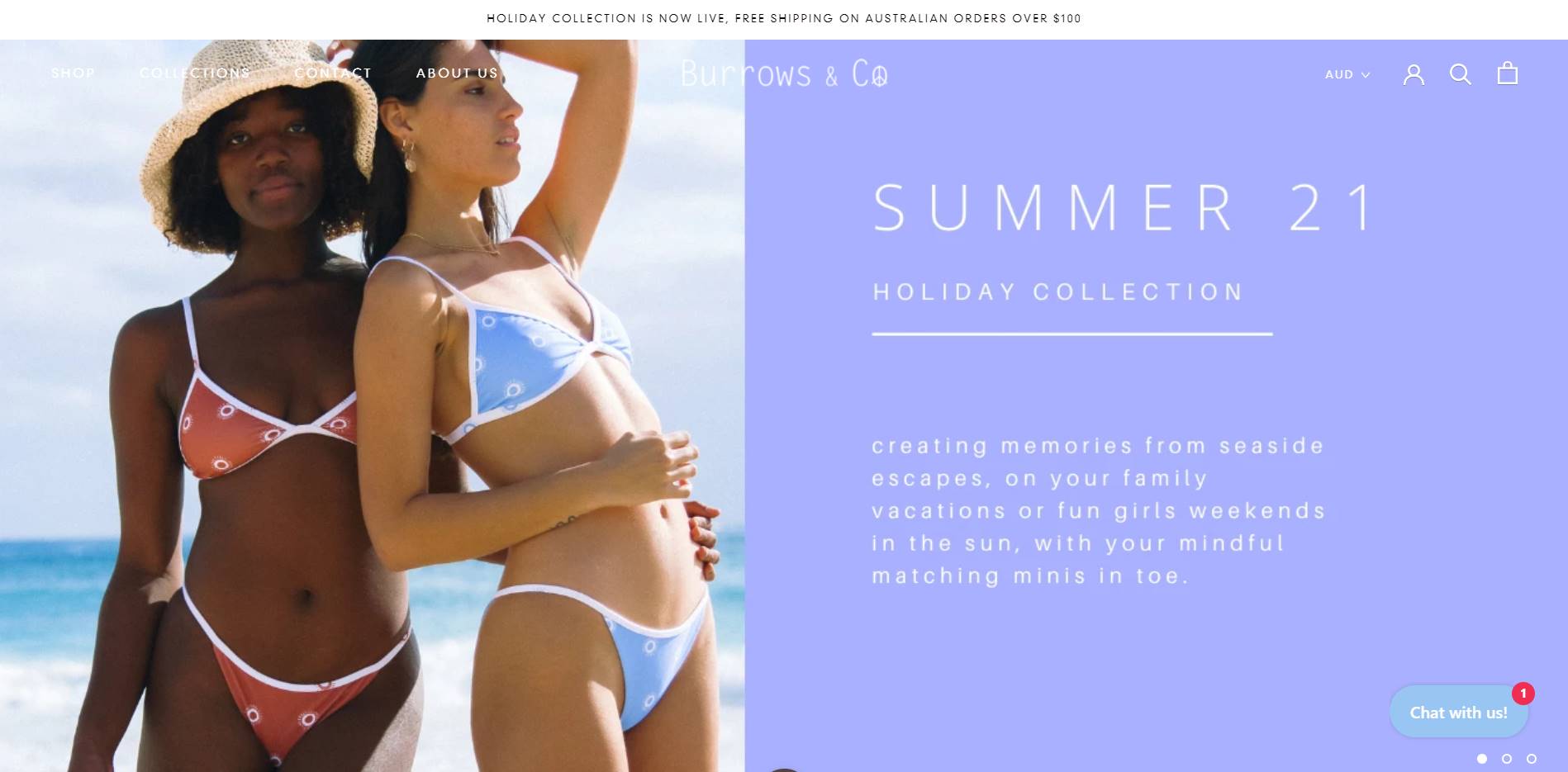 info@burrowsandco.com.au
Welcome Minis
Our Minis range! Burrows and Co are for the girls who are carefree and living it up in the sunshine, it's for the girls and her four-legged soul mate to love match with, and it's for the women stepping into the beautiful journey of motherhood. We are excited about launching our Minis range. 
We are proudly an eco-friendly band. Each piece is a sustainable product without compromising a high-quality finish. We choose @Vita Lycra for our swim due to its eco ethics and its extra soft luxe feel, we are also 100% ethically produced, and each piece is made with love & designed with a whole lot of soul too! 
About Us
Burrows & Co was founded by Treena. A self-confessed salty soul that loves nothing more than laying on the sand next to crystal clear water and enjoying the sunshine kissing her skin with her fur babies in toe. Treena established burrows in 2015 and had the vision to create a swimwear brand that creates memorable seaside escapes in comfy cuts with stand out timeless prints but most importantly is a sustainable Eco brand that alines with the slow fashion movement, with pieces that reflects the true beauty and freedom of the Australian coastal lifestyle.
Over the past six years, Treena has turned her vision into a reality and fostered a brand that makes women feel confident and beautiful in their bikinis. Burrow's is all about our community and growing with our women as they move through life. Burrows and Co are for the girls who are carefree and living it up in the sunshine, it's for the girl and her four-legged soul mate, and it's for the women that have stepped into the beautiful journey of motherhood.
With this in mind, the new collection is designed with the same passion for effortless, timeless and sustainable designs. This collection will inspire you to escape to the seaside and make memories, be that on your family vacation or fun girls weekends in the sun with your mindful matching minis in toe.
At our core, we are all about women supporting women and aim to partner with our customers on their individual path to enjoy our slow fashion style of times designs for many seasons to come.
As a Brand, we recognise our responsibility to minimise our impact on the environment. We constantly strive to reduce our waste and our carbon footprint on our beautiful planet, which includes sourcing products that line with our values of sustainability. We source Textiles of organic cotton and natural linens, Carvico Vita, which is made with ECONYL®, is regenerated from nylon wasted. Our packaging is biodegradable and Eco friendly. We hope you adore your mindful piece as much as we enjoyed creating it.
Burrows and co will be giving back from a percentage of profit from sales of our Minis dogs collars to Bali Street dogs to help improve the life of island stray dogs, as this is a course we are deeply passionate about from finding our own fur babies on the streets and giving them a chance at a life full of love.
Cleonie - Sustainable Swimwear Melbourne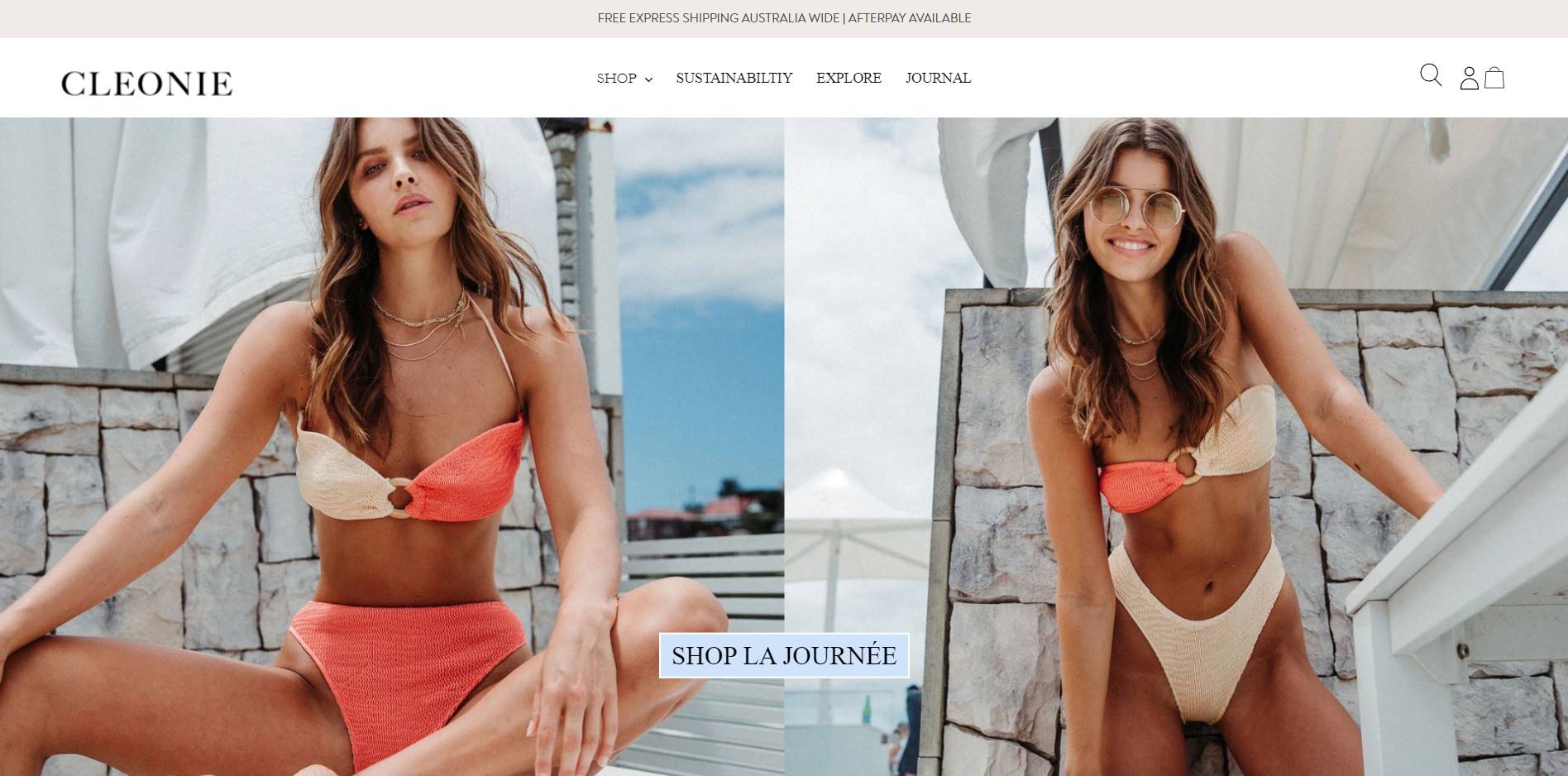 info@cleonie.com.au
Our Conscious Approach
Cleonie, meaning 'Goddess of the Water', and for this, we strive to protect mother nature and her oceans by using materials made from yarns that would have otherwise ended in a landfill.
We are an independent label, family-owned and operated on the beaches north of Sydney. We are constantly seeking our new best standards to lower the impact made on mother nature.
With every product sewn, each piece is cut and created to order from our eco selection of materials. Conscious crinkle fabric, made in Australia, is our base cloth for the La Journée collection.
We cut and sew everything to order, lowering the amount of waste in materials and excess stock. Our products are made with consciousness, love, understanding and completeness only independent labels can offer.
We are focused on supplying sustainable, and ALL Australian made products to the world. We believe in SLOW FASHION.
Share Love
Because we can all feel a little blue sometimes, we will be donating 10% of all sales of our SKY BLUE range to BEYOND BLUE. An organisation determined to help fight mental illness and suicide prevention.
Amongst these tough times we are all facing, Cleonie is sending you all love and strength. Be there for your friends and loved ones. Together we can make a difference.
Our online store will continue to serve you from near or afar. We are remaining hopeful and grateful for what we have during this time.
Vacay Swimwear - Sustainable Swimwear Melbourne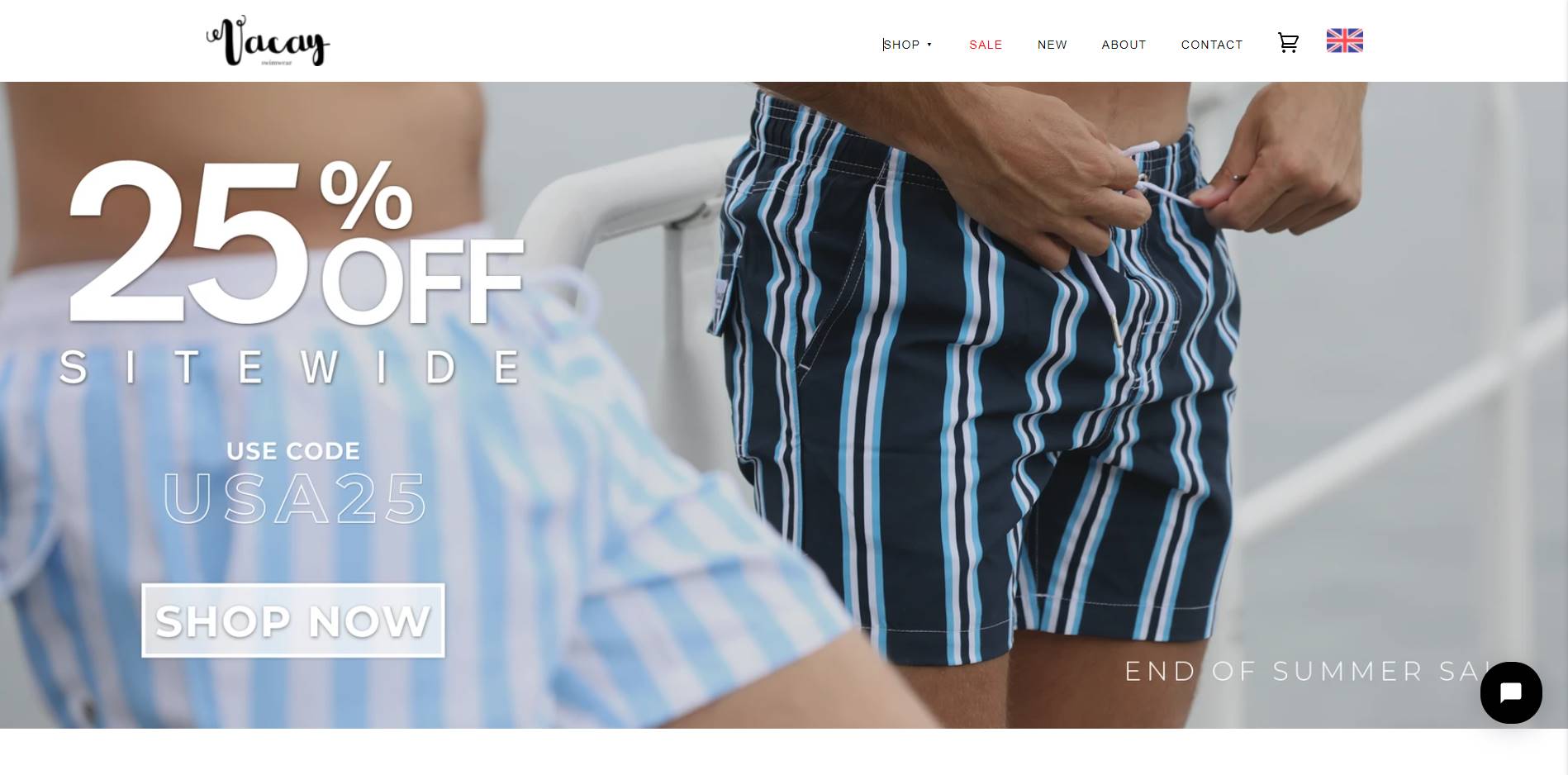 customers@vacayswimwear.com.au
About Us
In 2016, two long-time mates felt the need to fill a large gap in the male swim & resort wear market. The idea came about while sitting on the beach in Mykonos - noticing a very narrow window for guys to show personality through their holiday fashion. 
It was there and then that Vacay Swimwear was born - an Australian brand that meets the highest standards of style and comfort through the creation of unique male swim & resort wear. The bespoke pieces embody the playful essence of the man who loves to travel, with an artisanal sense of European style and refinement.
Our collections take swim and resort wear fashion to a new dimension, with iconic prints that give you the confidence to go from the beach to the bar with your head held high. Whether the Vacay man is strolling the shores of Bondi or sailing the isles of Capri, Vacay Swimwear offers a contemporary twist on summers favourite styles.
Vacay Swimwear began from a simple idea to allow our customers to experience the beauty our world has to offer. By purchasing our products, we hope you too can escape reality and gain a stylish all-access pass to some of the world's most exclusive holiday destinations.
Chasing an endless summer.
Vege Threads - Sustainable Swimwear Melbourne
info@vegethreads.com
We do things a little differently.
Vege Threads make clothes for everyday wear.
We care about the world we live in, and as such, we try and tread lightly, keeping things simple and made local.
Our collections are manufactured 100% in Australia using organic and eco-friendly materials and dyes in limited numbers.
We believe that business is a work in progress, and we continue to re-invest to make it better for our customers and the planet.
This commitment to transparency and an ethical supply chain means we have again gained accreditation from Ethical Clothing Australia and, in addition, pride ourselves in working with local knitting mills and dye houses.
VT embraces the shift towards slower living and aims to provide our customers with long-lasting, practical, yet beautifully designed garments.
We seek to bring together a community that share the same values and are interested in sustainability as well as good design and style.
Young Squad - Sustainable Swimwear Melbourne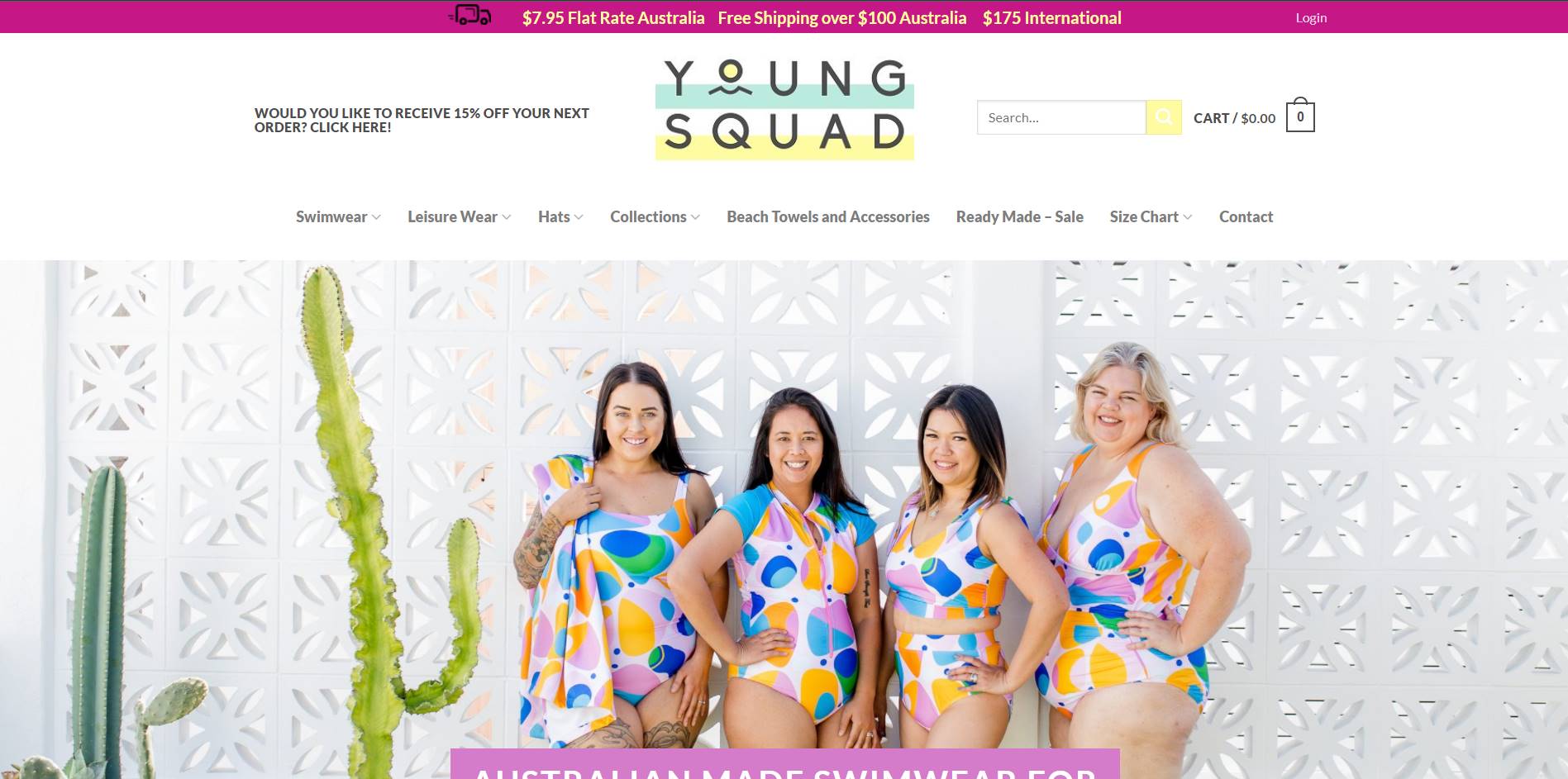 For the Young and Young at Heart
Young Squad is an ethical fashion label specialising in unique, limited edition designs. My products combine beautiful fabrics with fabulous patterns to create gorgeous clothing and swimwear that is comfortable and versatile. The Young Squad brand has recently branched into small scale women's fashion and swimwear production as well to coincide with the increased desire for Mums to match their daughter's fashion. Young Squad is a brand that makes "fashion with a purpose." This concept is realised by the fact that all products are hand made locally, the swimwear utilises lycra made from recycled plastic, and my kids pocket pal range aims to help kids cope with their big emotions in a positive way. Look at our range to see why people are raving about our gear. Find out what our customers love about Young Squad.
The Starting Point
I remember it was June 2014 when I started designing these unique prints in photoshop one day. I had an idea to have them printed and made into Swimwear.
At the time, there weren't many brands locally printing and hand sewing swimwear. We became popular; I hired a few more high-end seamstresses to join the team as more and more customers grew to know, like and trust our brand.
We hand make and print all our swimwear and custom pieces on the Gold Coast. Our fabric accessories are from the Gold Coast. Our premium recycled fabric is made in Italy and supplied through our long term Brisbane Supplier.
Why People Love Our Brand
When people buy our swimwear, we get a lot of messages after their purchase saying, "I love it, it's stunning, or I feel so good in it."
It's because there are so many people, including myself, that feel okay about our bodies but recognise that there are these troublesome areas.
They feel a bit self-conscious; big bums and tummies, especially in swimwear, they feel like they want to cover up or don't want to go out unless they're covered all over.
Our brand is about designing quality swimwear to be flattering and fun, despite problem areas. You look good. It fits nicely and flatters different areas. It just makes you feel better about yourself.
For example, one of the BEST SELLERS is our Women's one-piece swimsuit that hides the 'Mum Tum'! It feels comfortable, and you can go to the beach and not feel totally self-conscious!
Kids Swimwear
There's not a lot of brands that make kids 8-14yrs swimwear, let alone eco-friendly locally handmade.
We make 8-14yrs swimwear because I have a 12-year-old daughter. I know it's important for her to feel her age, whether it be 10, 12 or 14yrs. A lot of bikini shapes and colours is probably still not quite age-appropriate for her.
Our Girls Long Sleeve One-Piece for 8-14yrs has been with the brand for 3 years now and is still one of our most loved pieces today.
All our kid's swimwear is handmade, high quality, 50+ chlorine resistant fabric.
This means that kids wear these for as long as they can fit them, and the fabric hasn't faded, worn out or become stretched in the wash.
Our brand is very SunSmart conscious. Kids don't realise how easy it is, how very little amount of time you need in the sun before you get burnt.
To appeal to the young ones, we design limited edition, fun and bright prints like Iced Volvos, Tiny Teddies and Biscuits!
Most importantly, our price point is far more affordable at $58 than what is currently on the market for the same handmade (non-recycled swimwear) for $60-$120. 
The quality and sheer comfortability of them are out of this world! Even after dozen of wears and washes, they still look brand new! I also love the various prints and designs that are available. Unique, standout pieces that receive comments wherever I go! – Marayna – mum of 2, South Australia
Uniquely Designed Swimwear
What makes our swimwear special
Each piece is handmade by professionals in our team, someone who is a mum, who is our age and knows exactly what needs hiding, what makes a flattering shape and cut.
Each piece is crafted so you feel sexy without having to feel self-conscious.
Currently, swimwear for mothers or women in the early '40s is daggy, almost grandmary and come in plain block colours. Our unique prints are bright, bold, and fun.
We offer something that other brands don't;
"Not only do we make high quality, recycled swimwear with unique prints, we also receive custom orders because we are small scale and locally produced."
For example, I can cater for those who need a size 10 top and size 12 bottom, or we recently altered a one-piece swimwear that was a bit tight around the thighs. Now it's a perfect fit specifically for that customer's body shape.
ZAZI SWIM - Sustainable Swimwear Melbourne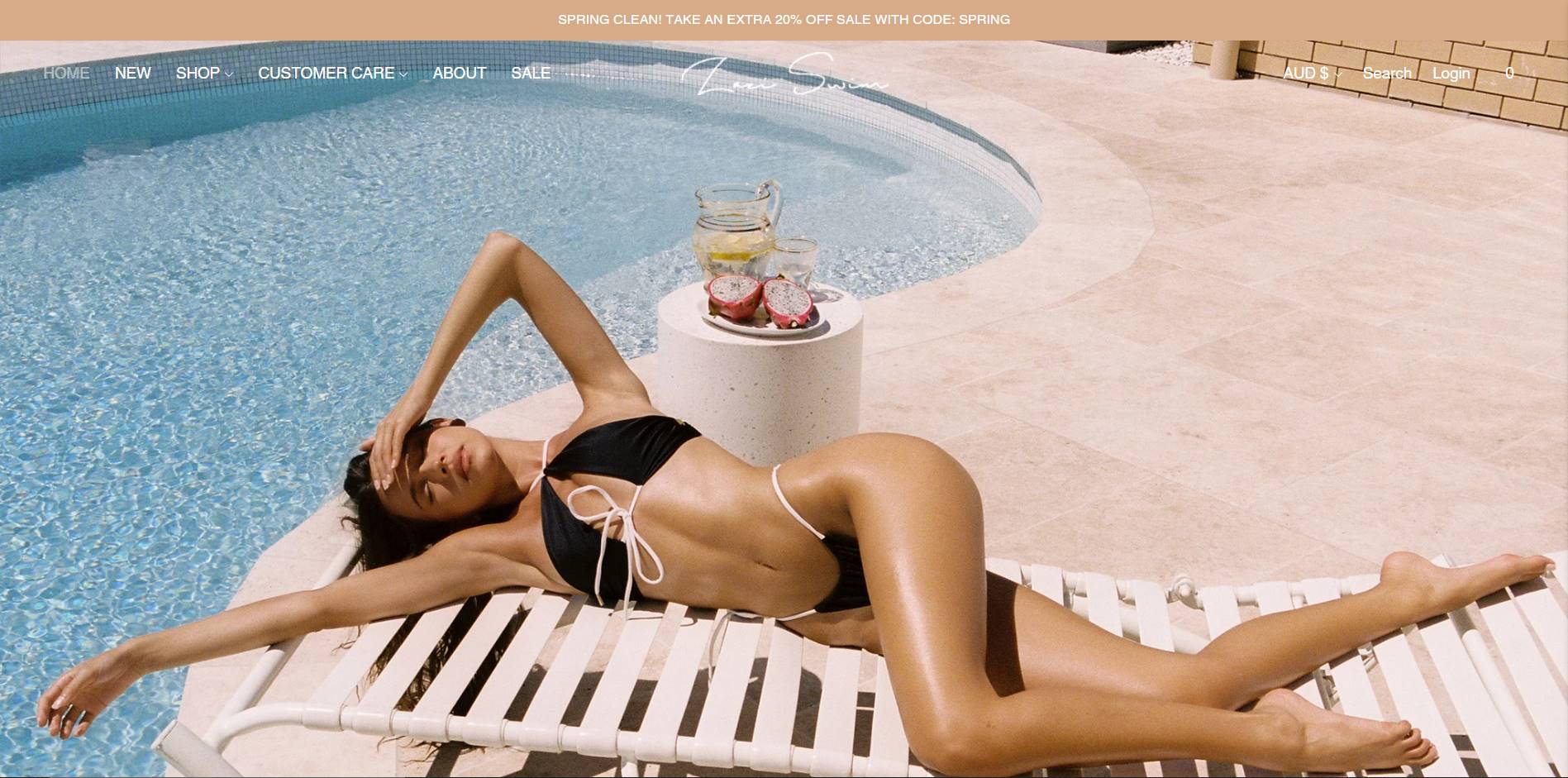 zaphra@zaziswim.com
Zazi Swim was created in 2019 by four sisters, who all share a passion for sustainability within the fashion industry. We are an Australian swimwear and resort label focused on making luxury pieces that don't cost the earth.
Designed to make you stand out and turn heads. While also ensuring your impact on the earth is minimal. We are fully committed to consciously creating sustainable and beautiful pieces to accentuate the female form.
Sustainability Made Sexy
Our swimwear material is made from ECONYL, which is regenerated nylon made from waste such as fishing nets and other post-consumer products. For every tonne of fishnets being regenerated, over 10,000 swimsuits will be made. This saves natural resources and reduces the global warming impacts of nylon by up to 80 per cent.
Our resort wear is made from natural fibres such as sustainably sourced linens and organic cotton, which use less water and have a reduced impact on the Earth while maintaining a luxury feel.
 All of our packaging including garment bags are made from compostable and recycled materials so will break down in landfill and can go into your compost.
We care deeply about the planet and creating a business that gives back to nature. That's why we're thrilled to share that we're partnering with One Tree Planted to plant a tree for every order. 
Trees clean our air and water, create habitats for biodiversity, contribute to our health and wellbeing, and create jobs for social impact. We're honoured to have reforestation through One Tree Planted as an integral part of our business model. To learn more, visit- https://onetreeplanted.org/. 
Join the movement and purchase with care.