It's true, you don't make friends over salad. So here's to Melbourne, the (unofficial) official city cutting it on the proverbial cake floor and serving up some king towers of the sweet stuff.
Whether you need that picture-perfect birthday bundle or you're craving a big fat slice of sponge and cream cheese, this list has you well and truly covered.
Located in Oakleigh, Melbourne, and on the hunt for your dream cake? Look no further! To get you started on your cake hunt, we have compiled a list showcasing the best cake shops in Oakleigh, Melbourne.
Ultimate List of Cake Shops in Oakleigh, Melbourne
Limonium Cake Shop Melbourne
1300 282 598
Large cakes, small cakes, pies, tarts, corporate functions & sweet tables
Limonium is a family-owned business, founded in 2021. We have been passionate about baking delicious desserts ever since we could remember, and our dreams of opening a baking business came to life amongst the hardships of COVID-19. Large cakes, small cakes, corporate functions, or sweet tables, we would be honoured to lovingly create your unique dessert dreams.
Vanilla Lounge Cake Shop Oakleigh Melbourne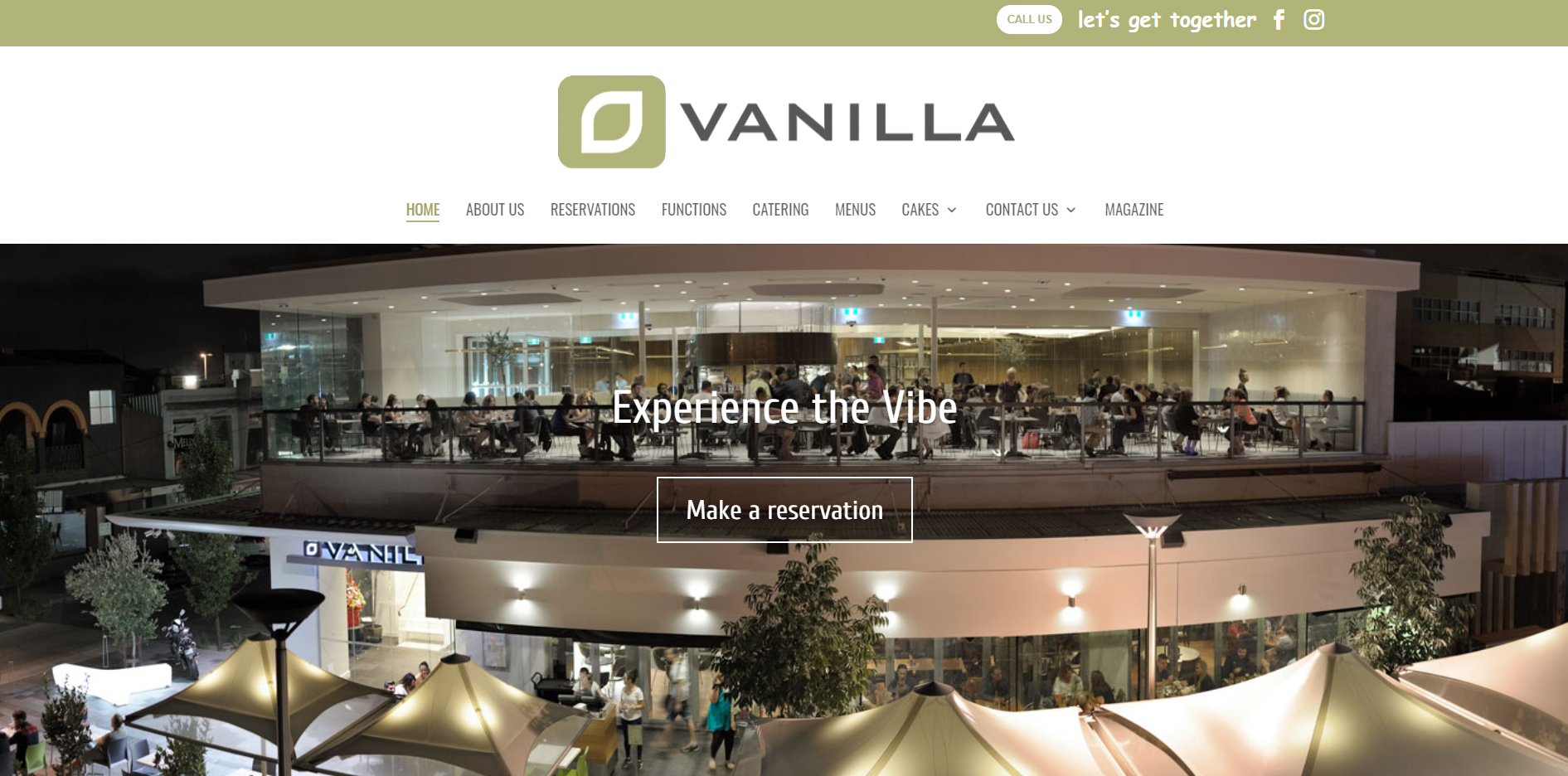 03 9568 3358
Welcome to Eaton Mall, a hidden gem located in the heart of multicultural Oakleigh.
Amongst the hustle and bustle of this amazing hub is Vanilla Lounge. In August 2008, we opened our doors and our hearts to the community and everyone gave their love back. Being a coffee and dining lounge, Vanilla has something for everyone. It is a family place, a meeting place, a place where you can come and experience a unique European vibe right here in Melbourne.
The family behind Vanilla have been innovators and pioneers in the hospitality industry for over 45 years. With the opening of Vanilla Lounge, Oakleigh saw a new dining culture emerge. What is particularly exciting for Melbourne is that it now boasts another leading patisserie that truly celebrates the greatest qualities of its cosmopolitan heritage. Vanilla was praised as one of the Top 10 Patisseries in The Age Good Café Guide 2012.
We are committed to enhancing our patron's experience by providing our boutique coffee brand, Dukes, our extraordinary music acts on Thursday nights, our extensive menu made with local and fresh ingredients and without preservatives or additives, our world-class standard of cakes and biscuits and our latest venture, Vanilla Upstairs which has amazing pan-Mediterranean cuisine and invites people to come together and share in the simple pleasures.
"Calling the crowds that gather in Eaton Mall, Vanilla Lounge in Oakleigh is a popular family-run venue specialising in Mediterranean fare and mouth-watering cakes. Boasting a large alfresco area to observe the shoppers in action, this ever-bustling venue is well renowned for its generous community spirit and warm welcome.
With an extensive selection of Mediterranean and Greek fare on offer, Vanilla Lounge dishes out an array of delicious options like warm pan-fried sweet chilli calamari with homemade dressing, as well as lamb souvlaki with salad, chips, tzatziki and pita bread.
For those looking to linger, pair a choice from the well-crafted wine list with the meat platter for two, or indulge with one of Vanilla Lounge's specialty desserts, made daily on-site by talented pastry chefs."
Australian Good Food and Travel Guide
Baked daily with the finest ingredients
Our sweet treats are made on-site with the best ingredients, from traditional Greek biscuits and specialties to popular classics, signature treats, whole cakes, and celebration cakes. We invite you to browse the galleries below. You can enjoy our cakes at Vanilla, or you can purchase them over counter take away – the perfect treat when you visit family and friends or even at work! If you are after a celebration cake, our experienced cake consultants will be thrilled to help.
Miss Ladybird Cakes Melbourne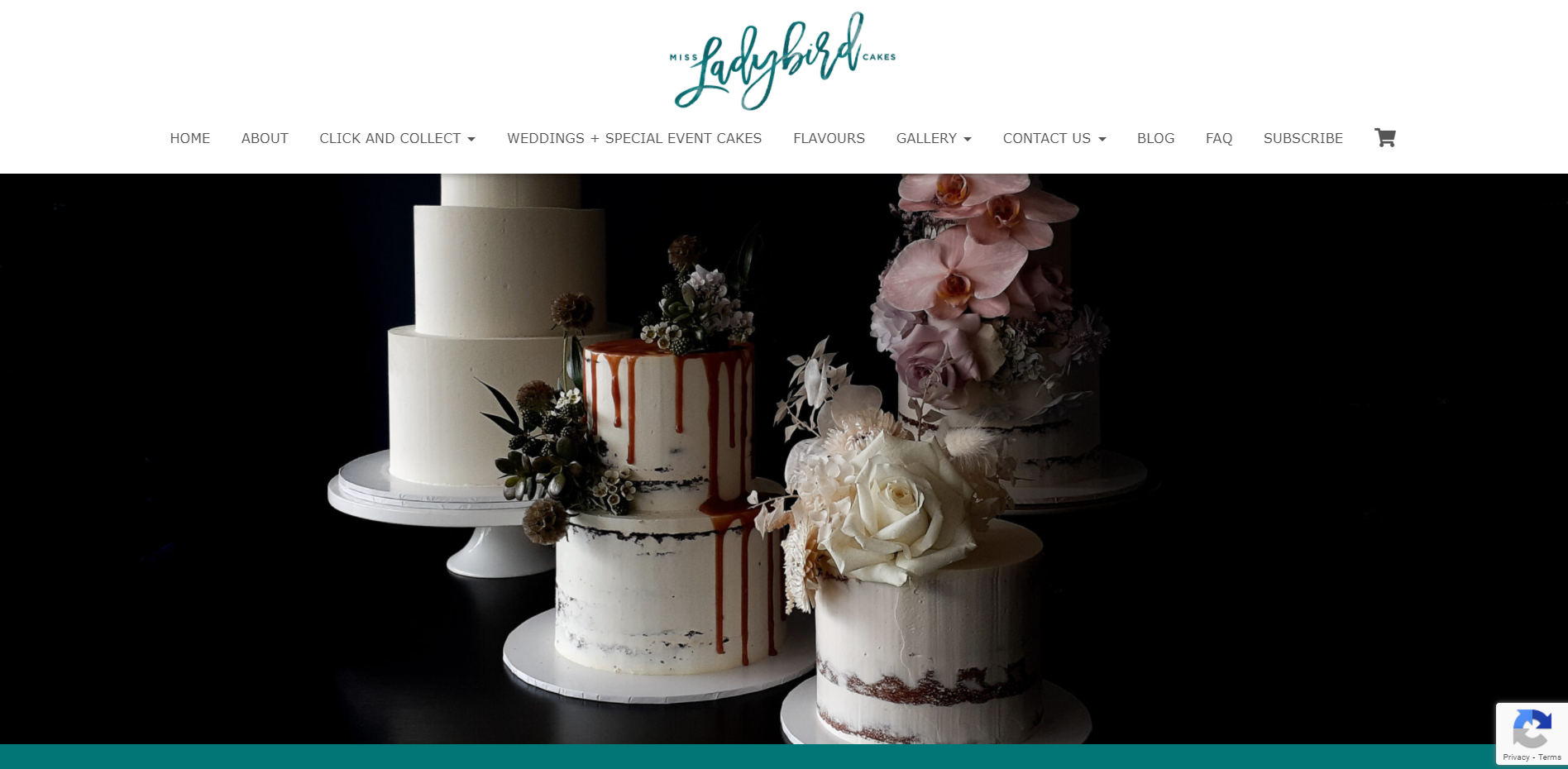 03 95788486
Miss Ladybird cakes is about having a beautiful cake for your event that looks amazing and tastes great!
We pride ourselves on having a large range of event cakes available, whether it is for a small intimate event, a family birthday, or a large wedding.
Miss Ladybird Cakes has opened the doors to a stunning cake shop, affectionately known as The Little Shop, in Elsternwick.
This gorgeous cake shop and café is the new retail home for Miss Ladybird Cakes.
Offering a wide selection of our most beloved cakes, cupcakes and treats. Stop in for our delicious cakes, grab a takeaway coffee and enjoy!
With 12+ years of experience in creating beautiful cakes, Miss Ladybird Cakes aims to make something that is both beautiful to look at and beautiful to taste. If you'd like to discuss your catering, dessert or designer cake needs, please don't hesitate to get in touch!
"From as early as I can remember, I have spent my time creating things" – Gina (aka Miss Ladybird)
As a child, my mum kindly showed me the many ways of creating beautiful things out of nothing. Our room was always full of trinkets, paintings and objects, made from anything we could find. Living in the country was a great treasure trove of creativity.
This naturally led me to the kitchen, where creating sweets became like second nature, consuming most of my weekends before working at the local bakery at the age of 15.
I then went on to complete my studies as a qualified chef, working in award-winning restaurants in my home country of New Zealand. Hearing stories of London, Edinburgh and Melbourne from fellow chefs inspired me to travel.
I worked in Edinburgh, soaking up as much as I could from being in a larger city with so many different styles of food and cuisine right at my doorstep and travelling around Europe, eating, learning and consuming as much information as I could. I went from baking hundreds of scones inside the kitchens of Edinburgh Castle to learning management skills from one of the top hospitality groups. This formed relationships that led me to beautiful Melbourne.
Here, I worked at a reputable patisserie for one of the top restaurant groups in Melbourne, making tarts, eclairs and macaron's, gaining as much experience as I could. I've always made sure that I experienced as much of the industry as possible, from silver service catering in Edinburgh, wine service in New Zealand, to café management in Melbourne. These are the makings of what I believe is the knowledge to successfully run my own business.
Those relationships I built so long ago while travelling led me to work for a highly reputable catering company. Running their pastry section, making the cakes for their cafés and supplying the canape sweets for Melbourne's most elite functions.
During the 8 years of travelling and working, I was always making cakes for friends in my existent spare time. Weddings, events, and catering for family and friends. Cakes for everyone whenever I could. I think there is barely a week in well over a decade that I haven't been in the kitchen baking. It's all I do, and it's all I've ever done.
I take great pride in my experience and am grateful for all the knowledge I have learnt from those I have worked with.
Miss Ladybird Cakes – the business:
This "small" business of ours has been running for 8 years now. During our time working in the wedding industry these past years, we have made valuable relationships with other Melbourne wedding suppliers; photographers, venues, florists, printers, to name a few. I believe this helps us to provide a high standard product for our clients. Whether it's the logistics of accessing a venue to organising the flowers for decorating, we believe our clients are in good, experienced hands.
We love to use locally sourced produce and bake everything on site from scratch in our studio production kitchen in Mckinnon. We do not believe in pre-mixes. We take pride in creating a product which has been solely made by us, from the cake batter to the buttercream, to the jams, to the fruit essences.
"Our main aim is not to be the best, but to make a product we are proud of. A product which interprets the love we have for an industry we have spent our lives immersed in".
Get in touch with us here.
MCakes Melbourne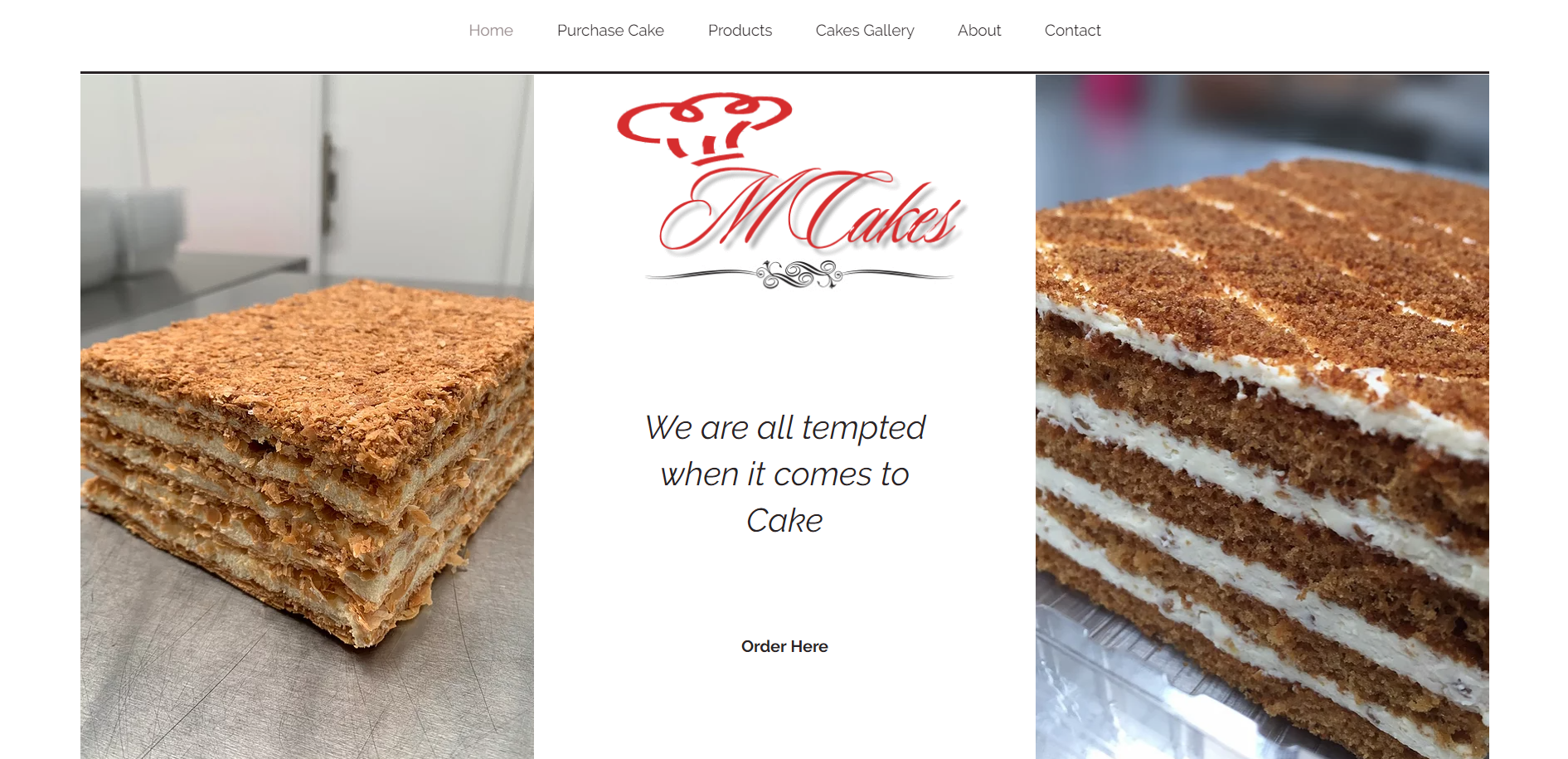 MCakes is Melbourne based cake business specialising in creating delicious cakes for every day or special occasions. Our delicious cakes are created specifically to meet your requirements.
Each cake is made from scratch using the freshest possible ingredients. So you can be assured of a cake that not only looks beautiful but tastes fantastic too.
Whether you have a cake design in mind or you would like some ideas for that perfect creation, we will work with you to come up with a fantastic finishing touch for your special day.
We produce Honey Cakes, Tiramisu, Napoleon, Éclairs, Chocolate Cakes and many more.
Please contact us to discuss your next cake!!!
You can purchase MCAKES products at the following stores:
Russian Tidbits · 113 Koornang Rd · Carnegie · Victoria · Australia | phone: (03) 9572 3911

Fine Gourmet DELI · 465 Centre rd · Bentleigh · Victoria · Australia | phone: (03) 9557 8965

European Flavour · 823 Glen Huntly Rd · Caulfield · Victoria · Australia | phone: (03) 9523 8005

Balaclava Deli · 267 Carlisle St · Balaclava · Victoria · Australia | phone: (03) 9527 2202  

Hugo's Donuts · 2 Shannon Street Mall · Frankston · Victoria · Australia | Phone: 0409 575 853

Sinners Family Restaurant · 3/797 Plenty Road, South Morang · Victoria · Australia | phone: (03) 9436 6900

Eurofood Shop · 57 Station Str · Nerrang · QLD · Australia | phone (07) 5502 1259

European Deli Skazka · 16 Kingdon Street, Newmarket, Auckland · New Zealand | phone: (09) 523 1453

Q Liquid · 232A Neilson St, Onehunga, Auckland · New Zealand | phone: (09) 636 7730
Muffin Break Cake Melbourne
+61 3 9569 0044
Nothing beats freshly baked food or coffee made using the freshest beans. That's why every Muffin Break has its own kitchen, baking throughout the day, so everything we serve is as good as it can be.
Good Food. Good Coffee. Good Times.
IT'S WHAT WE'RE ALL ABOUT.
HAPPINESS IS HANDMADE
Good Ingredients
At Muffin Break, we're all about fresh and always have been. We work hard to carefully select and source the freshest ingredients and the finest coffee beans, giving you all the more reason to enjoy every last mouthful and every last drop.
Good Products
We bake daily in all of our stores and freshly grind your coffee to order. Our kitchens may be pocket-size, but they're expertly designed, giving us the capacity to hand make all of your favourites and something a little special each and every day.
Good People
Our bakers are hard at work from 4 am daily, ensuring freshly baked muffins are out of the oven before you arrive as well as preparing other savoury delights such as our classic bacon and egg roll and famous handmade carrot cake.
We're a family-owned and operated business. Each of our stores is locally owned and operated by our franchisees who are proud of the communities they serve and love nothing more than to see you leave with a smile on your face.
The Muffin Break Story
Muffin Break first opened its doors in Coolangatta, Queensland, in 1989.
From humble beginnings, we now have over 210 stores in Australia. You'll find us predominantly in shopping centres, but we continue to innovate and evolve into other locations such as airports, train stations as well as children's play centres more recently, through our licensed partnership with Crocs Playcentres.
Our overseas footprint also continues to expand with bakery-cafes in New Zealand and the United Kingdom, too, taking our total store count over 300 internationally.
Wiltons Cake Melbourne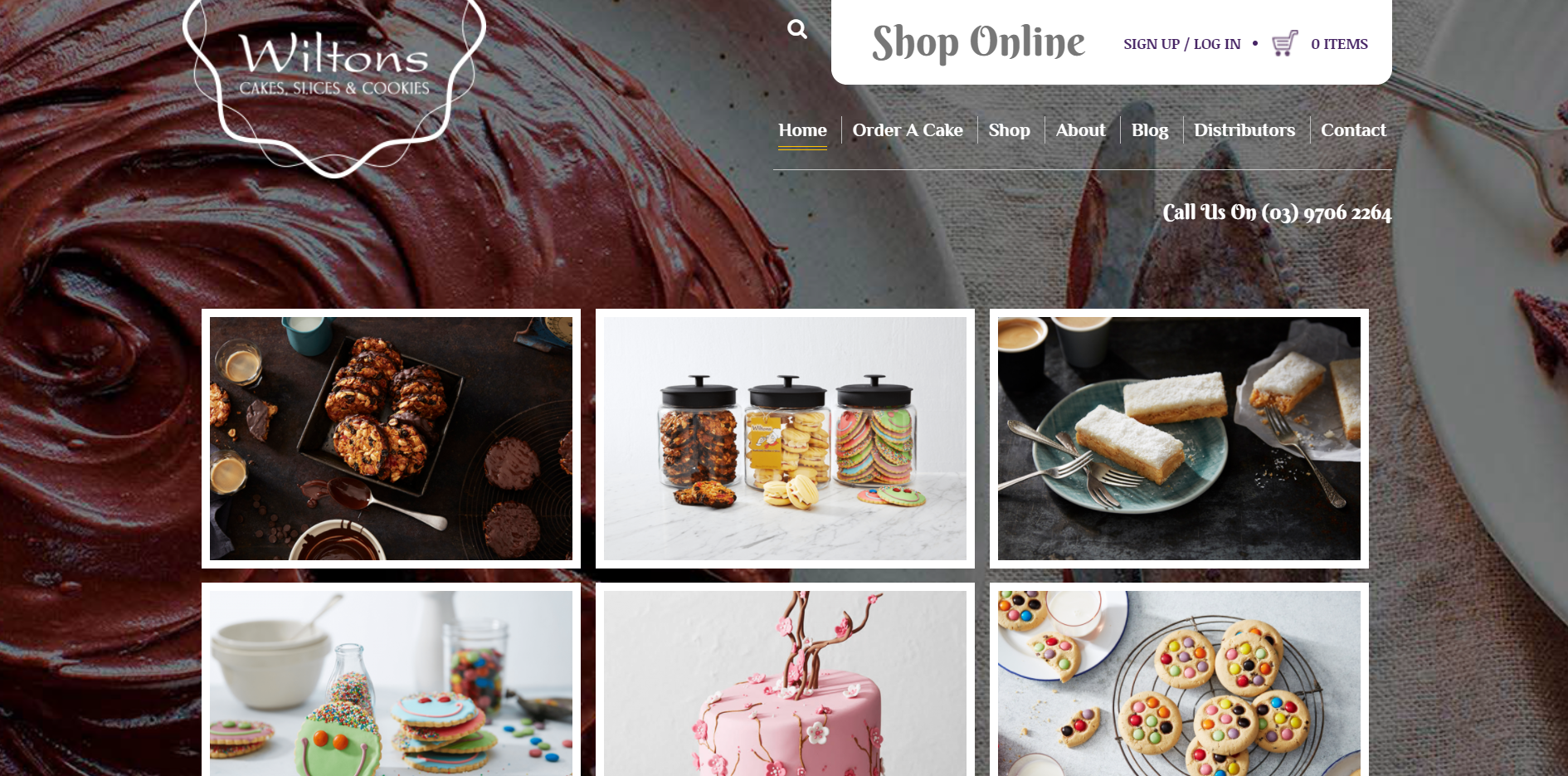 (03) 9706 2263
Wholesale handmade gourmet cookies, slices and cakes
Wiltons are wholesalers with a difference; artisans of handmade cookies, slices and cakes made with real ingredients, supplying to over 400 cafes & distributors Australia wide.
Wiltons is a family-owned Australian business supplying quality cookies, cakes, shortbreads and slices to the hospitality industry for over 10 years to over 400 businesses.
Wiltons cookies, cakes, shortbreads and slices are all:
Hand made in Melbourne

Made with only the finest quality ingredients

Made with real butter
Additional important information:
Our cookies have an approximate 5 month, best before date

Our slices have an approximate 5 week, best before date

All prices include GST

No minimum order

Free delivery

We deliver Monday to Friday only between 9 am – 5 pm

Please specify any special delivery requirements at the time of order

Please allow up to 48 hours for completion of delivery

Distributors may inquire at the office (03) 9706 2264
Memory Lane Cookies Melbourne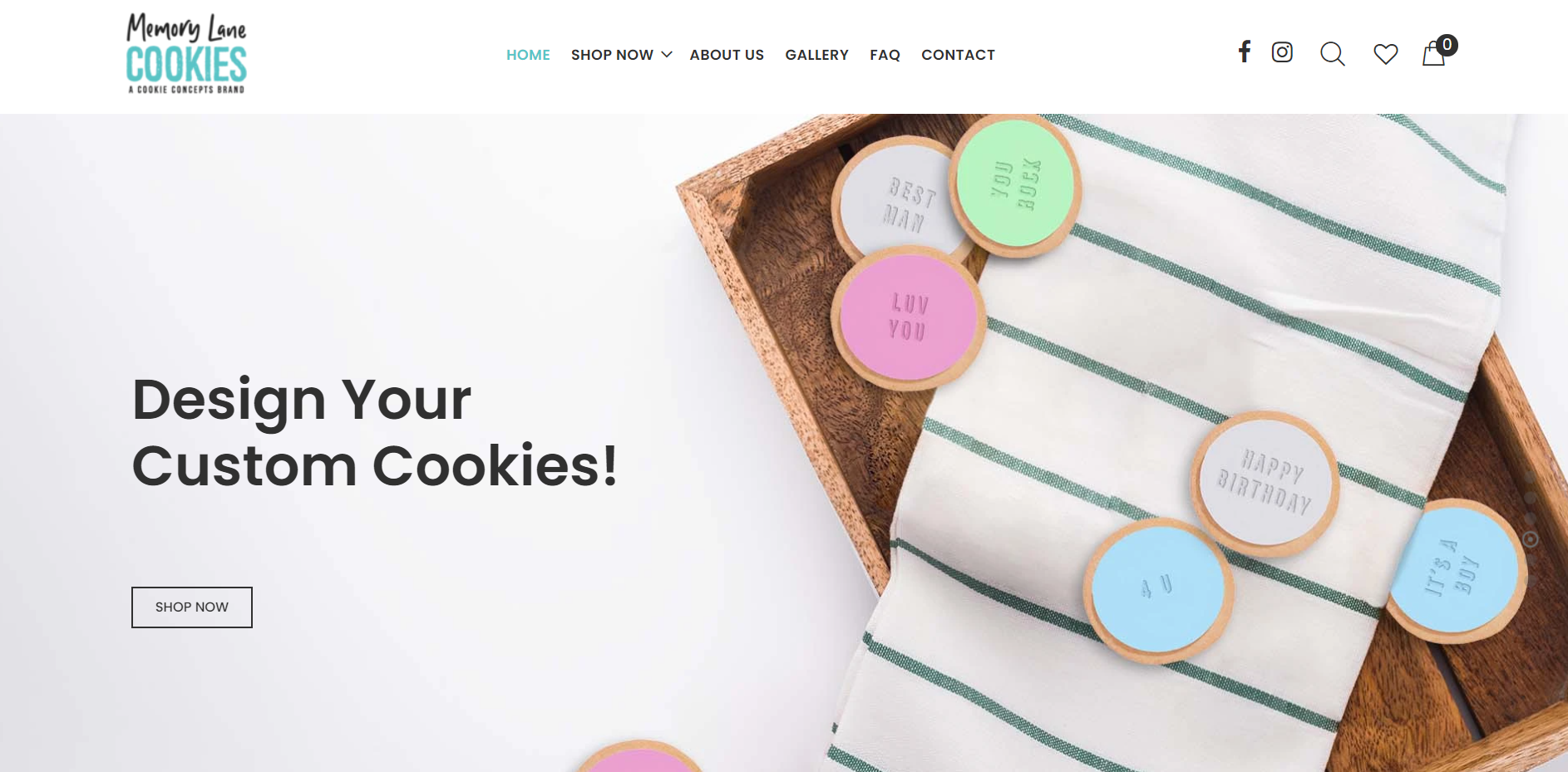 +613 9543 9150
Welcome to Memory Lane Cookies! We are a family-owned cookie boutique based in Melbourne, specialising in hand-designed cookie gifts and catering for all occasions.
Our parent brand, Cookie Concepts, was founded in 1997 by husband and wife Harold and Lindie Donsky and has gone on to become a leading supplier of gourmet cookies and biscuits to hundreds of Australian cafés, including Starbucks, Gloria Jean's, and Legoland.
With over 20 years of experience in handcrafting cookies, Harold and Lindie saw the need for a wow-factor custom cookie gifting brand, leading to the creation of Memory Lane Cookies in March 2020.
At Memory Lane Cookies, our team of cookie-makers are passionate about putting smiles on faces through unique offerings, such as our giant 12" cookies, custom cookie gift packs, and cookie cakes.
Backed by Cookie Concepts, we handcraft all our cookies in a commercial kitchen using the finest natural ingredients available.
With our HACCP accreditation, you can rest assured that all our practices meet even the most stringent of food safety laws and standards.
In fact, our Huntingdale kitchen has been consistently awarded the highest rating available of 5 stars in City of Monash's "Golden Plate Award" program since first participating ten years ago.
While our kitchen is located in Huntingdale, that doesn't mean you have to come to us for your cookie fix!
We deliver our cookies Australia-wide and offer same-day delivery in metro-Melbourne on select items such as our giant cookie range.
Whether it's for a birthday, anniversary, wedding, or corporate event, we want to be a part of those special moments and help you create a tasty memorable experience.
No request is too big for our team, don't hesitate to contact us for any questions or custom cookie requests.
We hope you enjoy our cookies as much as we do!
At Memory Lane Cookies, we are all about creating memorable moments. As a Melbourne-based family-owned cookie gifting and catering service, we specialise in custom, gourmet, and hand-designed cookies for all occasions.
The hero cookie in our range is an Australian first GIANT Cookie - the perfect gift idea for him, for her, or to send to a group. Trust us, it's big enough for everyone to share!
The gift ideas don't stop there - our entire range has been carefully chosen to give you a one-stop cookie gift shop that caters for all your possible needs.
Whether you need personalised cookies with a custom message, themed cookies for an event, or even branded cookies for corporate gifting, we've got you covered!
No request is too big for our team; please don't hesitate to contact us for any questions or custom cookie requests.
We hope you enjoy our cookies as much as we do, and we look forward to holding a place in your memory lane!
PS If you're in a real pinch, our custom cookie gift boxes are the gift to give when you don't know what to give!
PPS. Did we mention we offer same-day delivery in Melbourne?
Isher Eggless Bakers Melbourne
 
(03) 9543 5479
Welcome to Isher.com.au
Based in Clayton and serving the eggless and vegan cakes nearby, we are one of the best cake shops in Melbourne for all your special occasions. To us, a cake isn't just a simple dessert. It's a symbol of happiness, love, and celebration. We believe in creating the most delectable, unique and splendid cakes for people in Melbourne. And serve you with customised gorgeous cakes that will simply melt in your mouth.
At Isher Eggless Bakers, we take pride in serving our customers with the best. Our custom-designed cakes range from one-of-a-kind cakes for birthdays to traditional wedding cakes. We offer cakes for all types of celebrations, including corporate events, promotions, anniversaries and baby showers. For the next event, treat your guests to a wonderland of all-things-sweet for a unique and memorable experience.
We are here to make all your egg-free cakes fantasies come true!
Baking is an art, and the delicacies of our kitchen will melt in your mouth!
No matter what the occasion is - a birthday, a wedding or a cake to celebrate your moments of sheer joy, we'd serve our customers with the best Vegan cakes in Melbourne.
Our Special Range:
Egg Free: A tempting egg-free cake with an amazing taste is everyone's favourite. Looking for a cake shop near me to order egg-free cakes in Melbourne? Discover a range of beautiful egg-free cakes at Isher Eggless Bakers. Our cakes are 100% egg-free and perfect for people with egg allergies. Try our rich, sweet and scrumptious egg-free cakes to make a change from the usual egg cakes. We make sure to not miss out on any flavour. Our delectable dessert limits the ingredients while delivering taste and innovation. Order Today!
Vegan Cakes: From a fancy dinner party to any special occasion, impress the vegans at your next party with the best vegan cakes in Melbourne. They are the perfect solution to all your vegan dessert cravings. From healthy to tasty, we offer the best vegan cakes. We are a vegan bakery offering you varied options to customise your vegan cake design for every special occasion. You can get these cakes frosted with your favourite vegan buttercream frosting or can personalise them in whatever flavour tickles you. Order today from Isher Bakers.
Allergy-Free: If someone at your party has an allergy sensitivity, you need not worry! We have the best allergy-free cakes in Melbourne. At Ishers, we bake the cakes according to your requirements. Our allergy-free cakes come in different and decadent flavours that will wow the crowd with their impressive presentation. You can choose from our options or let us know your design. They are the perfect treat to serve at a birthday party or special celebration. Our Allergy-free cakes are the best of celebrations at schools and kindergartens.
So, whether it is a baby shower cake or birthday cake, anniversary cake or corporate cakes, we have got the best eggless and vegan cakes for all your special occasions. We specialise in melt-in-your-mouth moistness and a flavour to remember. All our cakes are baked fresh and customised according to the customer's requirements.
In search of the best bakery near me?
With Isher Bakers, you don't just eat, and you feed your senses with great flavours and taste. We ensure that every baked dessert strictly adheres to the baking norms and standards. You can customise your cake in any shape, colour, design or flavour and create beautiful memories for a lifetime.
Here's where you will get exactly what you were searching for. From recipes for skillet cakes floating around to the melty treat for a cozy afternoon, we have everything at one place to take your love for cakes to a new level. We believe in delivering an experience that makes you proud of choosing us as your cake shop.
Not only do we deliver delectable flavours, but we ensure to maintain constant hygiene and deliver fresh products every time. We take pride in beautiful packaging and crafting every cake with our love.
Explore our website to choose the perfect cake for any occasion. Here's where you will get exactly what you were searching for. We'd love to turn your imagination into our cakes.
Gula Gula Cakes Melbourne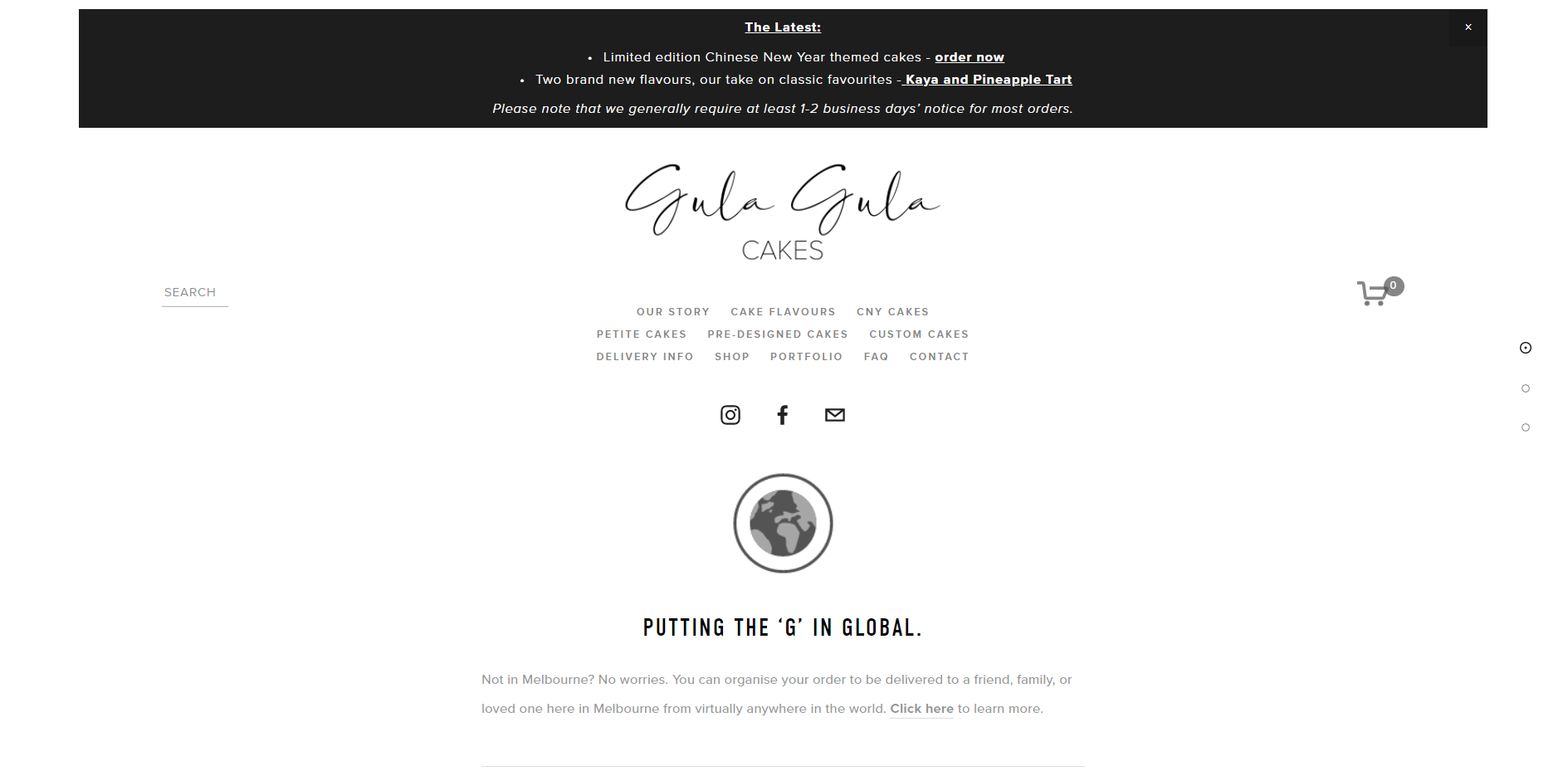 Not in Melbourne? No worries. You can organise your order to be delivered to a friend, family, or loved one here in Melbourne from virtually anywhere in the world. Click here to learn more.
THE LATEST.
Limited edition Chinese New Year themed cakes - order now.
Two brand new flavours, our take on classic favourites - Kaya and Pineapple Tart
We're a boutique bakehouse specialising in a premium line of on-demand, made-to-order cakes and treats for all occasions. We're 100% Australian-owned - by Melburnians, for Melburnians. 
"Connecting heritage with contemporary cake culture" - our motto and what inspired us to build this brand from the ground up. Click below to read more about the brand, as well as the journey that brought us to where we are today.
FROM HUMBLE BEGINNINGS.
Gula /ˈgoo-la/ 
noun "sugar" (Bahasa - Indonesian/Malay)
The name "Gula Gula" owes its name to the brand's founders, who, above all else, share their connection through their ethnic heritage, as well as a passion for sweets and artistry. Interestingly enough, both founders are fully qualified professionals (one in Health, one in Finance) who, prior to this venture, grew up without a background in baking or hospitality! So how did they get here?
The journey of Gula Gula started out as a conversation about showcasing an infusion of elements influenced by heritage and the familiarity of contemporary cake culture. This sparked an idea that was ultimately conceived with the goal of achieving this result by incorporating the brand's core design language - creating products that were clearly inspired by nature and art, all the while complemented by a curated range of traditional and classic flavours to match. 
As the concepts and ideas started to grow organically over time, so did the brand's vision. Gula Gula has now evolved into something that essentially celebrates every creation produced as edible art forms. The founders have always had a firm belief that these creations weren't made just to satisfy taste buds; the craftsmanship and professionalism that goes into each and every product and service should ultimately leave a lot to be admired and desired.
"CELEBRATING HERITAGE, ART, AND CAKE CULTURE."
We pride ourselves on being able to offer our clients the ultimate flexibility in tailoring their product exactly the way they want it. From birthdays to baby showers, to wedding cakes for that one big day, we ensure that our clients will always receive an immaculate and equally delectable work of art for any occasion, precisely the way they've imagined it to be.
So now that you're familiar with our story, we want you to be a part of it.
Learn about how we can cater to your special day here, or browse our shop for a range of premium, seasonal products.
Laurent Cake Shop Melbourne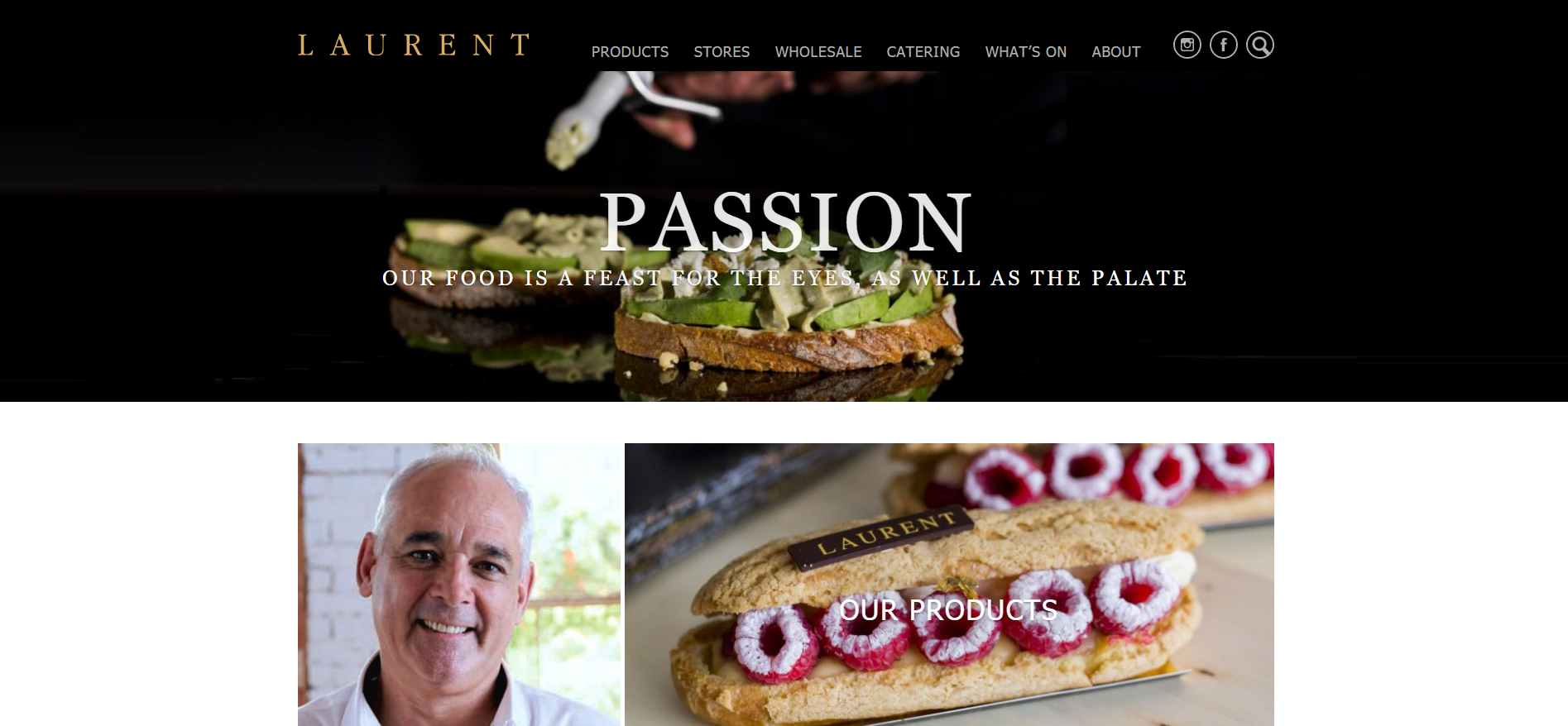 +61 3 9568 8799
AT LAURENT, THESE ARE THE VALUES WE LIVE BY EVERY DAY.
QUALITY
Quality is our life, and without this, we are nothing. As a customer, it means you can come in time after time and get the same quality in our food, whether this is an old favourite or a new exploration. You'll feel the same professionalism, warmth and welcoming ambience in all of our bakeries.
INNOVATION
For us, innovation is a way of looking at the world, of waking each day with a restless passion for being better while staying true to taste and integrity. For you as our customers, that means our desire to take you to new flavours and new specialties in the universe of French artisan baking.
AUTHENTICITY
Laurent has always been driven by love and respect for the craft of French artisan baking and exists as a homage to the values of a village bakery. When you taste our food, you can know that every part of this – from the finest ingredients to time-honoured rituals of preparation are authentic.
PASSION, OPPORTUNITY AND MELBOURNE'S LOVE AFFAIR WITH FRENCH BAKING
In a market where many new food trends are increasingly here today and gone tomorrow, it's unusual for a food business to be celebrating 25 years of success. To find out more, I'm talking to Laurent Bouillon, the man who started it all.
"When I first came to Australia, I was struck by the openness of the space, the clean air and thought almost immediately, and this was a great place to make good food. Baking was my craft and my love, but it was clear Australians back then really had no idea of traditional high-quality French baking. Still, I was confident that they would embrace this once they had a chance to experience it, and many had already done that on trips to France."
In 1993 Laurent opened his first boutique bakery at the Como Centre in South Yarra, which is still there today. Behind every man is an extraordinary woman, and right from their first vision, his Australian wife Julie was also deeply involved, especially in creating the unique ambience that has become our trademark.
For the first time, Melbournians could savour the true tastes of French artisan baking without having to travel.
There were crusty golden loaves, slender baguettes crisp on the outside and fluffy on the inside, a dizzying array of cakes, pastries, quiches and filled baguettes. All could be taken home to devour in private and or eaten in-store at little round tables on chic white chairs.
The young Laurent grew up in the south of France, in sunny Aix-en-Provence. After honing his craft at the prestigious Lenôtre school in Paris, he returned to his childhood dream and learned how to make bread. His speciality and first love was levain – sourdough allowed to rise naturally, made without added yeast, shortcuts or compromises.
"As the years went by, we developed recipes that were authentically French, but with a modern twist for Aussie appetites and over the journey, we have seen the Australian palate become much more sophisticated," says Laurent.
While today Laurent is respected worldwide for the quality of its baking, our method, like our heart, remains steadfastly traditional.
Eat Freely Cake Shop Melbourne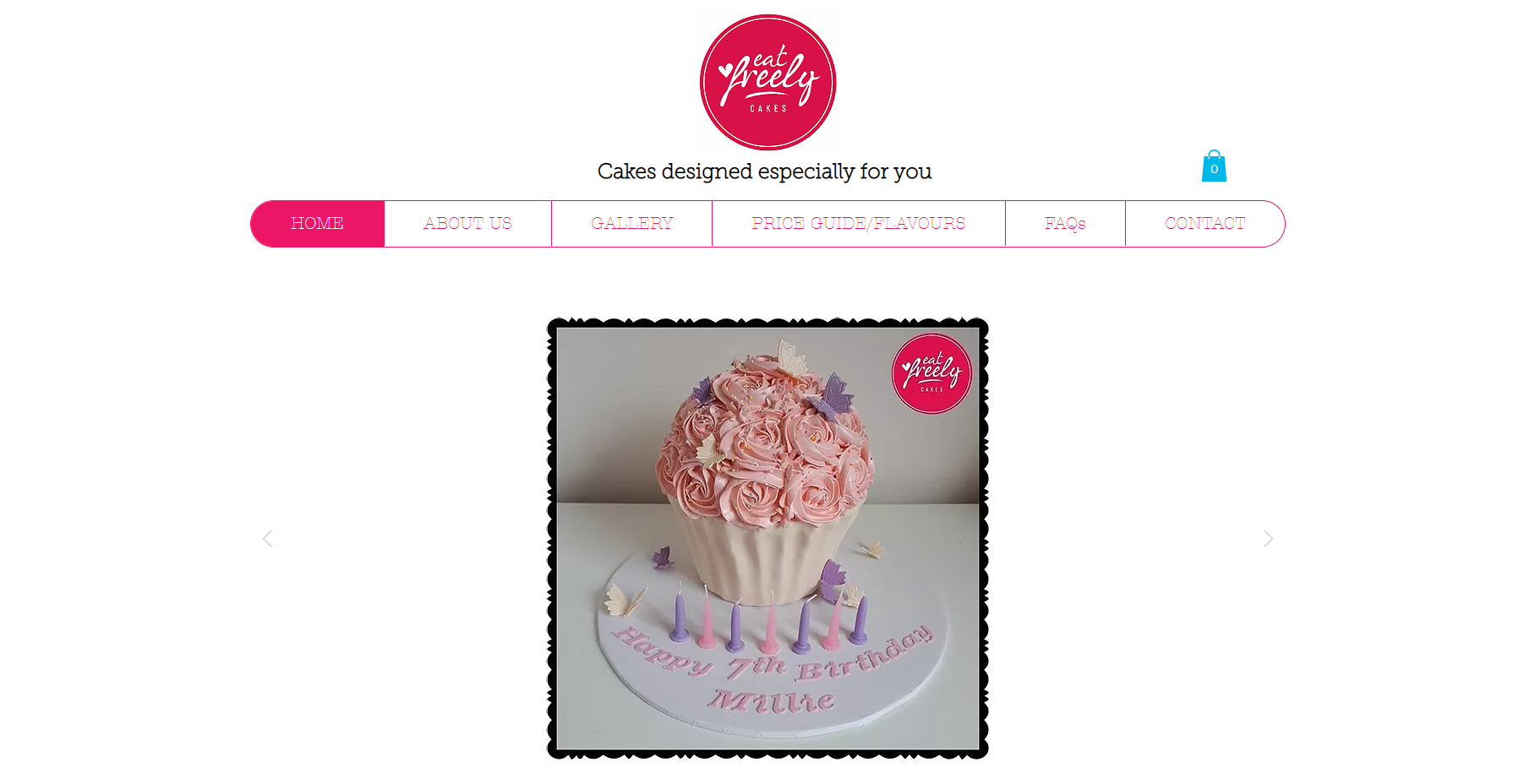 0407 543 599
OUR STORY
I have always enjoyed making cakes and throughout the years have learnt many varied techniques in decorating.
In 2001 I found myself having to modify any of my recipes in order to cater to my husband, who had developed fructose malabsorption. A few years later, we also discovered our son had allergies to nuts and eggs, amongst other things. Again, I found myself modifying recipes and searching for cakes that tasted and looked as good as "normal" cakes that all my family could eat.
We believe that everyone deserves to eat celebration cakes - even people with special dietary requirements.  
This is why our range includes gluten-free, dairy-free, allergy-friendly, vegan, fructose friendly & Low FODMAP options. 
Danny's Pastries Melbourne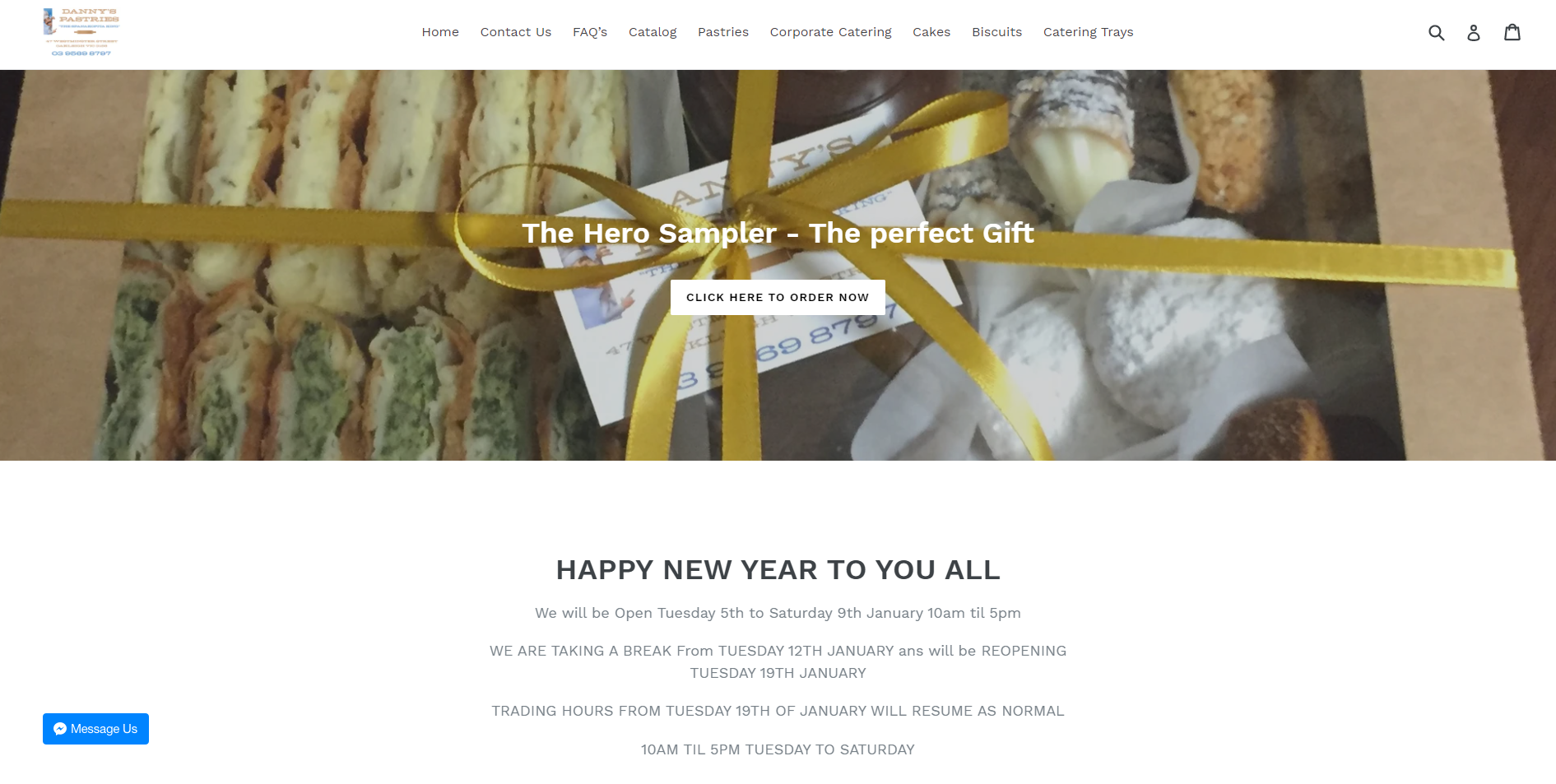 03 9569 8791
Welcome to Dannys Pastries
A FEW IMPORTANT ANNOUNCEMENTS 
***WE ARE NOW OFFERING HOME OR WORK DELIVERY AS WELL AS PICK UP FROM OUR MANUFACTURING PREMISES.
Please visit our FAQ's Page if you would like to know any information regarding Pick Up or Delivery And the further safety measures we are taking during the Covid 19 Lockdown Restrictions***
***WE REQUEST THAT YOUR ORDERS ARE PLACED AND PAID ONLINE FOR MINIMUM NEXT DAY PICK UP OR DELIVERY TO ENSURE MINIMAL CONTACT.***
***Please note we are not a retail store. All our products are made to order and are not available direct to the public walking in off the street.
We wish you, your family and our country good health, faith, and patience during this difficult time.
GOD BLESS YOU ALL XX
Please call us on 95698797 if you have any enquiries. 
Floriana Cakes Melbourne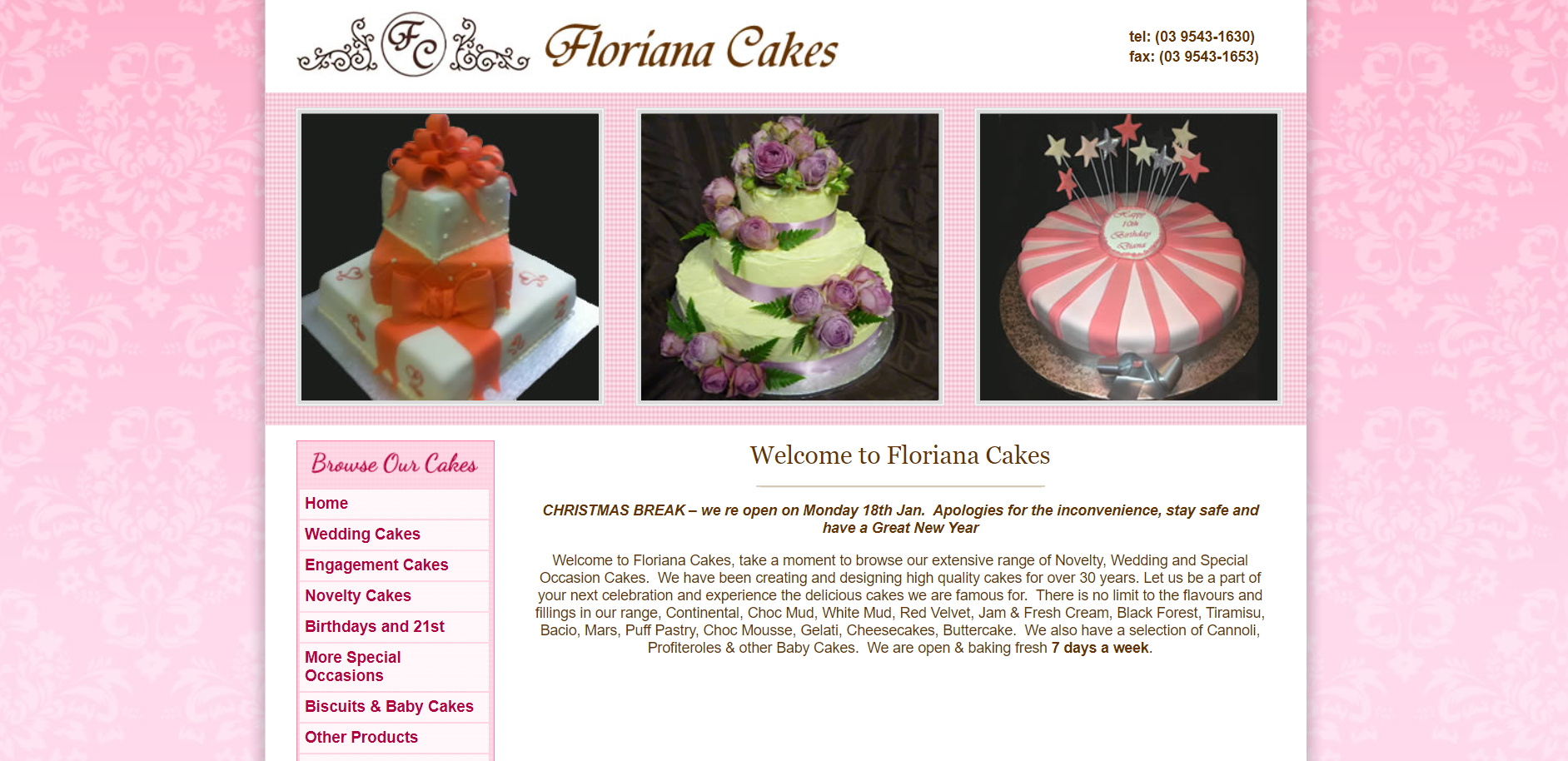 03 9543 1639
Welcome to Floriana Cakes
CHRISTMAS BREAK – we reopen on Monday 18th Jan. Apologies for the inconvenience, stay safe and have a Great New Year
Welcome to Floriana Cakes; take a moment to browse our extensive range of Novelty, Wedding and Special Occasion Cakes. We have been creating and designing high-quality cakes for over 30 years. Let us be a part of your next celebration and experience the delicious cakes we are famous for. There is no limit to the flavours and fillings in our range, Continental, Choc Mud, White Mud, Red Velvet, Jam & Fresh Cream, Black Forest, Tiramisu, Bacio, Mars, Puff Pastry, Choc Mousse, Gelati, Cheesecakes, Buttercake. We also have a selection of Cannoli, Profiteroles & other Baby Cakes. We are open & baking fresh 7 days a week.
Chantilly Cakes Melbourne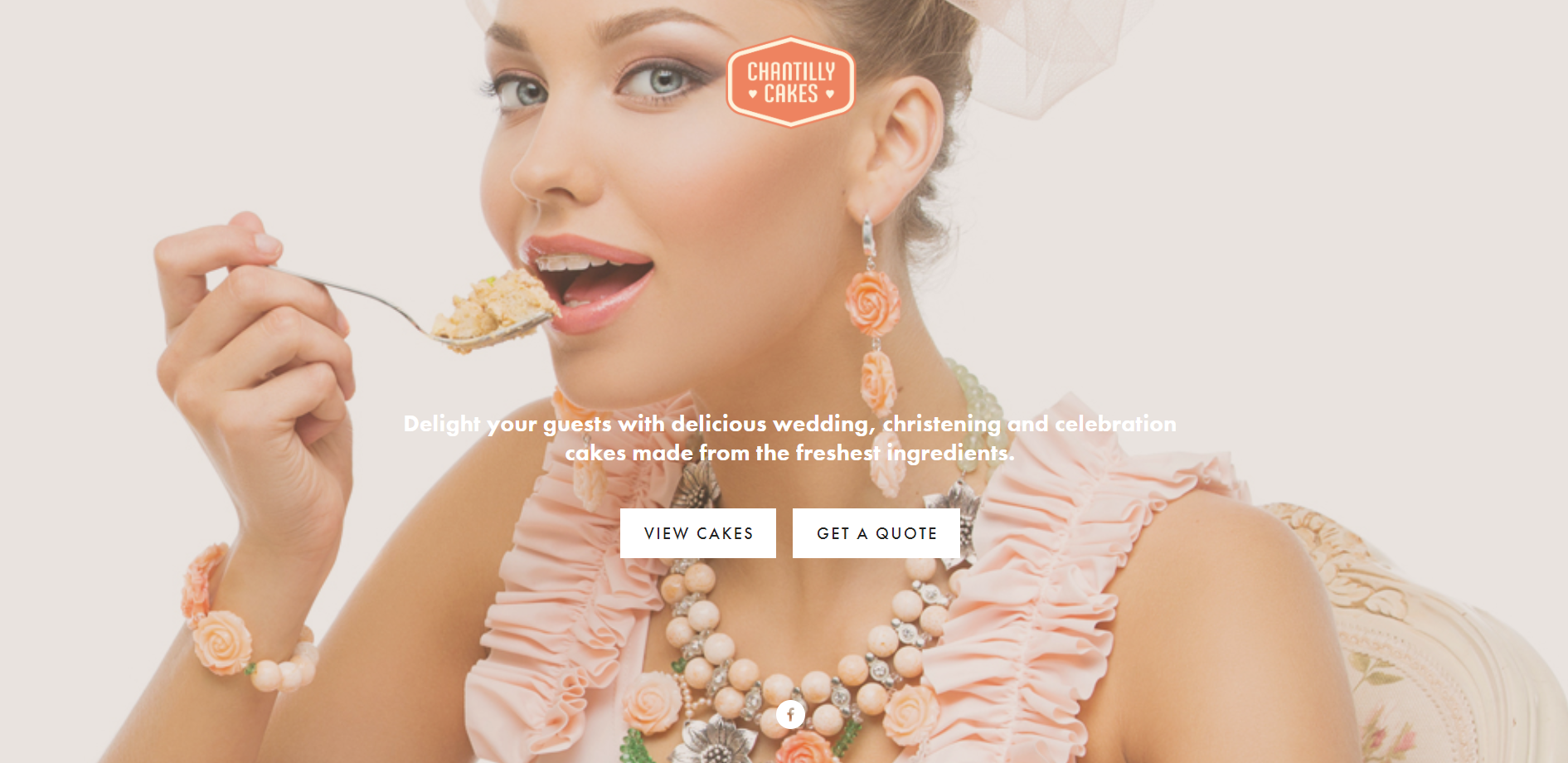 421 061 709
At Chantilly Cakes, we aim to make your special occasion a memorable one with a stunning and delicious work of art. We cater for all types of decorative styles, including traditional, modern, novelty and character designs. We offer a range of cakes varieties to suit all tastes.
Always Fresh. Always Good. 
Our cakes taste delicious and are made from local Australian ingredients in our Melbourne based kitchen. We offer a range of varieties, including:
Caramel Mud

Chocolate Mud

Jaffa Mud

White Mud

Chocolate Cake

Vanilla Cake

Vanilla Butter Cake

Fruit Cake
If you require assistance, we are more than happy to work closely with you to create a design that meets your expectations.
A Little Bit Fancee Cake Designer Melbourne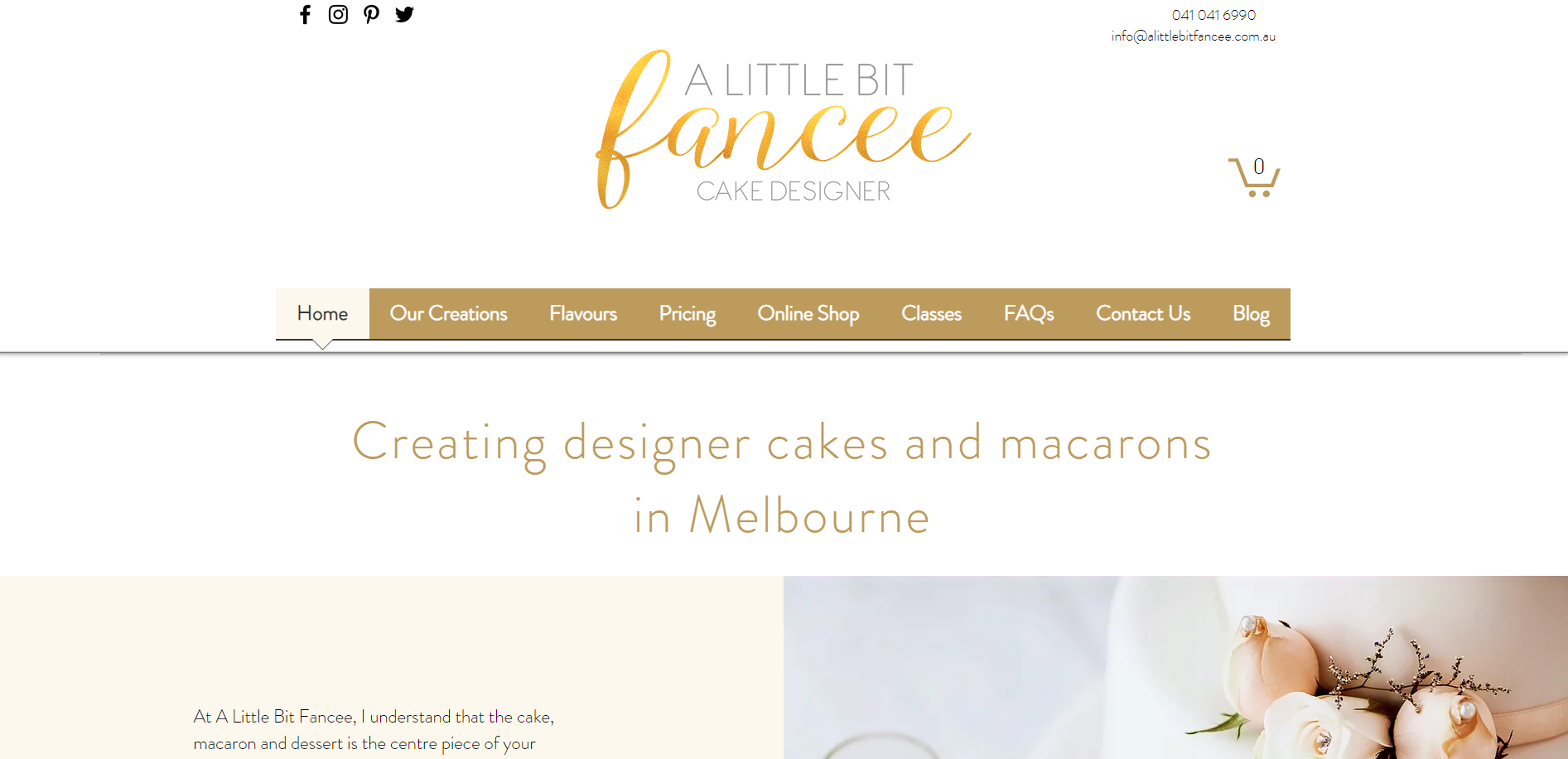 041 041 6999
Creating designer cakes and macarons in Melbourne
At A Little Bit Fancee, I understand that the cake, macaron and dessert is the centrepiece of your celebration, whether it be a birthday, a wedding, a baby shower, or a corporate function- your moment is paramount. I will work closely with you from design to delivery. Rest assured that when you order from A Little Bit Fancee, you are receiving high-quality ingredients, amazing flavour, expertise and experience.
About Me
Founded in 2009 by Cristina Cvetkoski, A Little Bit Fancee is a busy Melbourne-based studio producing highly regarded and sought-after cakes, macarons and desserts.
I specialise in wedding cakes; however, I have a deep-seated love of everything to do with special events, birthdays, christenings, baby showers - and that has helped garner my reputation of immaculate care and attention, not only to my work but to the clients I work for.
My aim is to ensure you have a wonderful experience, and it all begins with the first consultation. With only a few simple questions, I will work with you to design a unique and special cake for your event. I then ensure your cake, macarons and desserts are baked to perfection and delivered immaculately. You will receive my expertise throughout the whole process.
All of my desserts are constructed of high-quality ingredients and finished in immaculate detail, memorable for you and your guests. 
Drawing inspiration from nature, fashion, photography and travel, I offer completely customised service and can tailor a design specific to your personality and event styling. I know how important your special day is and strive to provide an unparalleled experience at every step in order to make your vision a reality. Browse my designs and contact me today. 
Kat's Cake Melbourne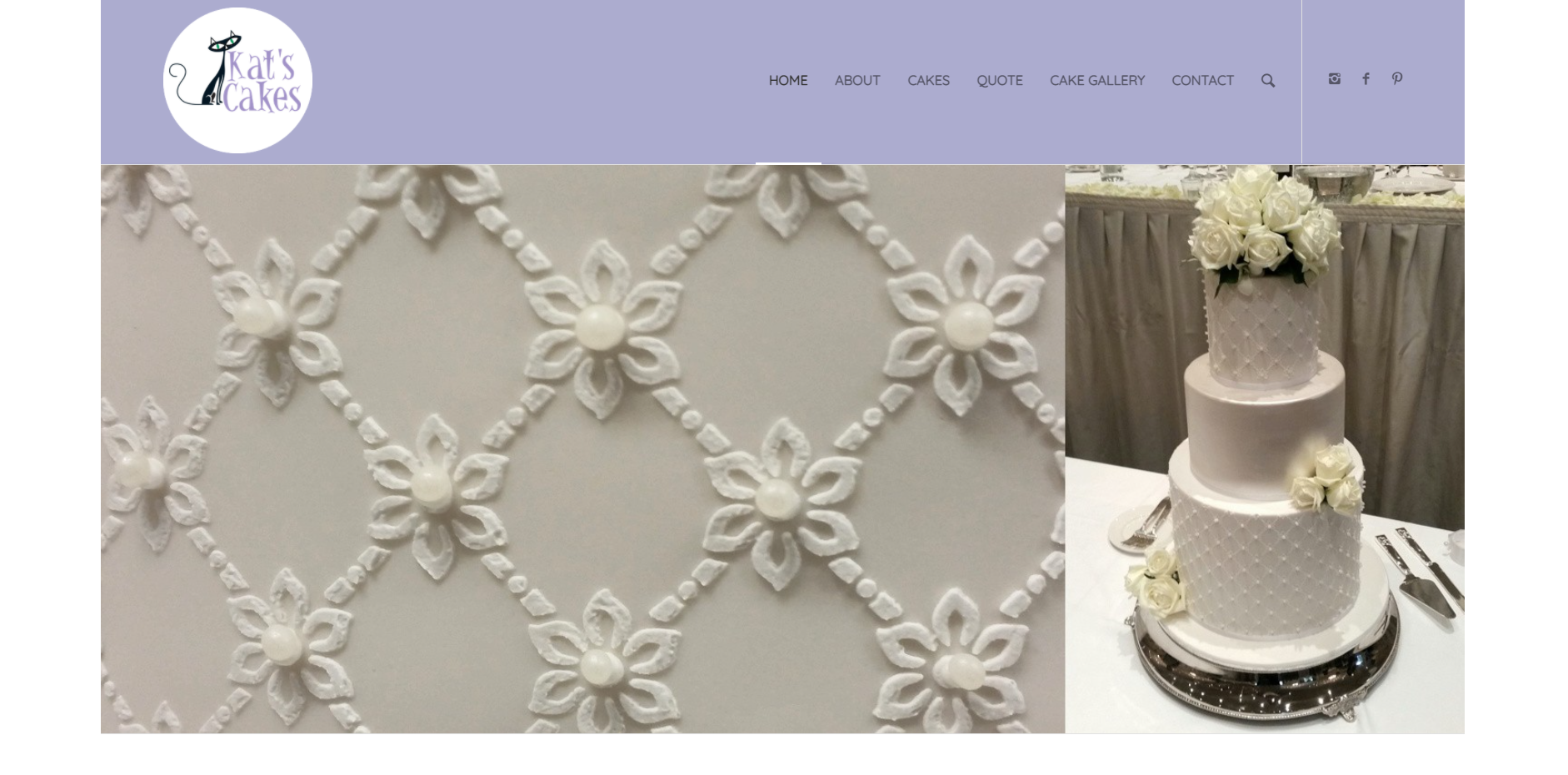 0409 421 504
Kat's Cakes is a Melbourne-based small professional business specialising in custom made cakes. Kats Cakes was created in 2002 by Katrina, who turned her love of baking and making people happy into a successful business. With over 20 years' experience and over 10,000 cakes made, Katrina has become a leader in the Melbourne cake industry through hard work and dedication.
After many successful years building a quality reputation in Fitzroy north, Kat's Cakes relocated their studio to Doncaster. Katrina and her team offer a fresh and artistic approach to custom cake design. Her experience enables her to be flexible with design style; she is personal yet professional and takes much pride in making sure all cakes are individually perfect.
Kats Cakes prides itself on creating not only wonderfully looking cakes but cakes that also taste amazing.
WEDDING CAKES
A lot of planning goes into preparing for a wedding, so too your handcrafted wedding cake. Our handcrafted wedding cakes are planned from the beginning with you to ensure it looks as good as it will taste.
Why are cakes important in celebrations?
Every occasion calls for a cake. A small cake has the power to light up the party and make things extra special. Cake cutting ceremony is one of the most important activities for celebrating a birthday, anniversary, wedding, farewell, success parties or festivals. We have several sweet treats available in the market, but cakes hold a special place in every heart. But, have you ever wondered why cakes are special?
Many festivals are coming, and with that, they also bring our desire to have sweet good-looking stuff – especially cakes. Be it a birthday party, an anniversary or a regular party — there's one thing usually common — a cake. We all love enjoying cakes on such occasions, right? Sometimes we are occupied with so many other things on such days. Isn't it? What do we want on that special day? A beautiful cake which is readymade and can be delivered to the venue. Won't you agree?
Adds More Happiness
When you organise a party, it shows the depth of your happiness. An ordinary menu will be like other days that include a starter, food, dessert and some drinks. But, by including a cake, you can make your celebration more special, delicious, and joyful.
A Good Way Of Celebration
Cakes are taken as the best way of celebration as it hangs around the people until the cake cutting ceremony completes. A person who is the main star of the party gets the attention of people. It allows people to eat, sing and play, which makes the environment more enjoyable and fun excitement.
Cake For Any Occasion
Everyone has their own special day, which they celebrate using a cake. Nowadays a cake is not limited only to a birthday celebration. It has taken place on many occasions, like wedding parties, anniversary celebrations, christening, etc. It just adds a new flavour to your way of celebration.
Different Types Of Cakes
Traditionally, the cakes were available only in round shape with limited flavours. Currently, cakes are available in numerous flavour and shape like heart, rectangle and specialised with name, etc. Even for children, cakes are designed in a particular cartoon shape. Now, you can buy various cakes distinct on the basis of ingredients, taste, design and colour.
Symbol of love
In ceremonies such as weddings, cakes play an important role in symbolising partners' love towards each other. The cutting of the cake shows the willingness of the partners to share and take care of each other in their marriage, while feeding each other symbolises their willingness to provide and be there for each other in times of need. On birthdays, cakes symbolise the love of the birthday person towards their family or friends. The bigger the cake, the bigger the love!
Sharing and Generosity
Cutting the cake and distributing it to the attendees is a show of generosity in certain ceremonies, and occasions that involve acts of charity usually have this important centrepiece to symbolise their generosity.
A Present or Gift
Cakes are a cuisine usually associated with affluence and prestige. Giving out a cake as a present is a sign of appreciation and shows the commitment you have towards the recipient of the gift. Cakes are sweet, meticulously prepared, and thoughtful. However, it doesn't have to break the bank, and you can easily research all cake prices online. To that end, they act as a valuable gift to a loved one, especially on occasions such as valentine's day, graduation, or even career promotion celebrations.
Life milestone
Cakes are used to mark milestones made in someone's life. For instance, birthday cakes are used to indicate the beginning of a new year in someone's life. Wedding cakes indicate a marriage's beginning; graduation cakes denote a new milestone in the education space. In contrast, baby shower cakes show the beginning of a new life as a parent.
Symbolises climax of the ceremony
Most celebratory ceremonies wouldn't feel complete without the cutting of a cake or the sharing of one. The sharing of the cake symbolises that the ceremony has reached the climax. In most cases, it is the sweetest of the foods in the ceremony, the best looking of them all, and the scarcest. To that end, all events in the ceremony leading up to the cutting of the cake. The birthday is not complete until the cake is cut and shared, the same with a wedding, a baby shower and a plethora of other ceremonies.
Cakes are significant on any occasion they're served. They show the generosity of the providers, their love, the cyclical nature of life, act as present or gift, and are the main show of climax of any event. It would almost be taboo not to have this precious gateau in your celebrations!
Red velvet cake tastes like very mild cocoa with a slightly tart edge. The cream cheese frosting is the most forward flavor. Perhaps even more important than the taste is the texture: smooth, soft, tender and light with creamy icing.
It's unclear who exactly made the world's first cake. However,
the ancient Egyptians
 are thought to have created the first cake. Egyptians often made honey-sweetened dessert breads, which were likely the earliest version of cakes.
Depending on how special and elaborate clients want cake details to be, it can increase the cost because
it is labor intensive and it may require new tools necessary to create intricate designs
. Clean edges, perfect lines, realistic flowers, figurines, and color matching require artistic skill and time.
The history of chocolate cake goes back to 1764, when Dr. James Baker discovered how to make chocolate by grinding cocoa beans between two massive circular millstones. A popular Philadelphia cookbook author, Eliza Leslie, published the earliest chocolate cake recipe in 1847 in The Lady's Receipt Book
They not only aid in digestion, but also help to tickle your taste buds. The delicious flavors of the cake make them the perfect companion of any cuisine. People do not mind indulging into this yummy dessert after any meal,be it dinner or lunch.
Frequently Asked Questions About Cakes