Moving your family to Melbourne but not sure which school to send your children to? We'll give you a rundown of the best schools in Victoria's capital to help you make that choice.
Moving to Melbourne with your children to a new life in a new land is incredibly exciting, but can also be a little scary. 
How can you safeguard your children's education in an unfamiliar country, and how do you know that your children will be able to settle into a new school?
Luckily Melbourne has plenty of high quality schools, and Australia ranks among the highest in the world for education standards.
We've put together a list of the top-rated private schools in Melbourne based on the all-important factor of academic performance, price of tuition, teaching standards, as well as things such as the range of co-curricular activities on offer. 
Let's be clear on one thing: this is not a ranking of Australia's best private schools based on pure academic metrics. We think that is ridiculous, as this doesn't consider co-curricular activities, location, or very importantly – the price of the school!
Going to a good school does not have to send you broke. Here's a list of the best private schools in Melbourne, as well as links to detailed information about how much they cost (after all, "Best" needs to consider price!).
Add a header to begin generating the table of contents
Best Private Schools in Melbourne, Victoria
Oakleigh Grammar Private School Melbourne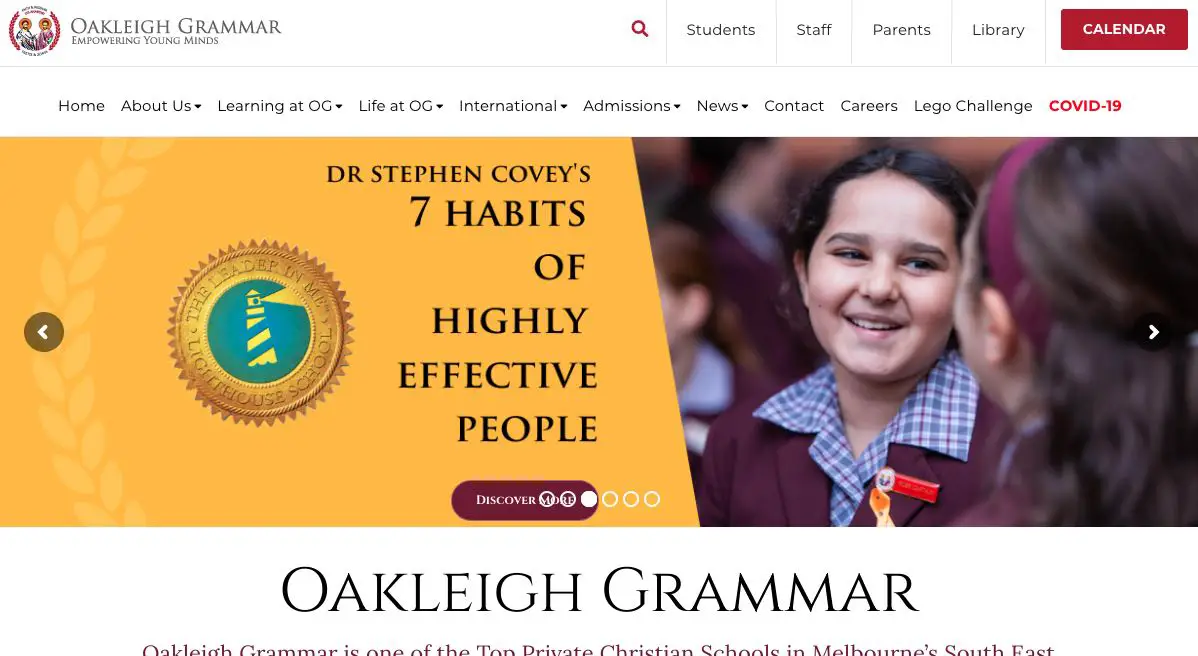 https://www.oakleighgrammar.vic.edu.au/
Admissions Phone Number: (03) 8554 0014
General Contact Phone Number: (03) 9569 6128 
Early Learning Centre

Yes 

Primary School

Yes 

High School

Yes 

Course Range

K-12 

Main Gender 

Co- Education  

Boarding School

No 

Estimated No. of Students

900 

School Fees

Low 

Link To School Fee Page: https://www.oakleighgrammar.vic.edu.au/fees/
Oakleigh Grammar strives to create quality learning opportunities for every student to reach their full potential.
Our dedicated teaching staff work collaboratively and embrace opportunities for professional development, ensuring that our educational programs remain at the forefront of contemporary education. Small class sizes and additional teaching support ensure that each child's learning needs are met through challenges for those who are talented, and additional support for those who have areas of difficulty.
Our School ensures that every child is known personally and places the utmost importance on student welfare and safety. Oakleigh Grammar is a multicultural environment with Christian values, where diversity is celebrated and inclusion is encouraged.
Together, we provide our students with a strong sense of belonging to the Oakleigh Grammar School community.
The Oakleigh Grammar Advantage
Reggio Emilia philosophy
At the heart of the Reggio Emilia approach, our state-of-the-art Early Learning Centre has the belief that children are full of curiosity and creativity, and that they have the powerful potential to gain a life-long passion for learning and exploration.
The Leader in Me Program
From Prep to Year 5, students learn skills for academic and social success in the 21st century through The Leader in Me process, a schoolwide leadership framework based on Dr Stephen R Covey's internationally acclaimed model 'The 7 Habits of Highly Effective People'.
International Baccalaureate
The Middle Years Programme is an internationally renowned framework of learning which encourages Year 6 to 10 students to become creative, critical and reflective thinkers. It fosters the development of skills for communication, intercultural understanding and global engagement, qualities that are essential for life in the 21st century.
Technology for Learning
The newly renovated Science Wing provides the latest equipment and learning technology for our students to excel in science studies. Students develop the appropriate use of technology as a learning resource through initiatives such as iPad programs and multimedia projects.
We Provide:
A nurturing community
Our School ensures that every child is known personally and places the utmost importance on student welfare and safety. Oakleigh Grammar is a multicultural environment with Christian values, where diversity is celebrated and inclusivity is encouraged.
A global perspective
Oakleigh Grammar honours its commitment to cultural diversity by providing countless opportunities for students to develop global citizenship. With close to 40 different cultural backgrounds represented in the student body, we continue to add new celebrations to the School Calendar so that students can share their stories with peers through traditional customs, song, dance and cuisine. The Chinese (Mandarin) language program provides for sister-school partnerships in China. Travel abroad and cultural exchange programs allow students to enhance their intercultural Understanding in preparation for life in an increasingly global society.
Sport
Students participate in Physical Education as a core subject and often continue into VCE studies. Oakleigh Grammar participates in several inter school sporting competitions in a range of sports. Facilities include a full gymnasium and multipurpose sports complex, rock climbing wall, outdoor futsal court and basketball/netball courts.
Camps
Camps begin at Year 3 and focus on experiential learning, teamwork and the development of character and independence. Destinations include rural and coastal Victoria and interstate. New Zealand ski trips and international tours to Europe and Asia are also available.
'9Ways' for Year 9 Students
9Ways is a classroom and experiential learning program designed to meet the unique needs of Year 9 students as they approach early adulthood. The experiential component of 9Ways includes a series of themed experiences throughout the year such as Community Service, Outdoor Education and Cultural Diversity. Students are given 'ownership' of the 9Ways Centre which provides them with a social and collaborative learning space.
Co-curricular enrichment
Students explore their interests and talents in the Visual and Performing Arts, Sport, Debating, Music Ensembles, Chess Club, Multimedia and social leadership initiatives such as the Student Representative Council and Peer Mediation.
Learning Enhancement 
Learning Enhancement Services exist to identify students who may require further assistance with areas of difficulty, or further challenge with areas of talent. Although Learning Enhancement aims to cater to each student's needs within the classroom environment, various programs are offered to students to ensure that their individual needs are met.
Child Safety Commitment
Oakleigh Grammar is committed to the protection and safety of all students under our care. All professional, support and administration staff must maintain a current Employment Working with Children Check.
Annual Fees & Charges Instalments
Levies & Other Charges
The Careers Levy in Year 10 covers the cost associated with guiding students to reach appropriate career goals. 
The Technology Levy is charged to cover the cost of providing students with computers and other Information Technology facilities for various educational purposes. The Middle Years Levy covers students' access to iPads and other programs.
New Families
New families commencing in 2020 will pay their fees in advance.
Term 1 – 30 November 2019

Term 2 – 21 February 2020

Term 3 – 6 May 2020

Term 4 – 4 August 2020
Additional Fees
Camps, certain excursions and some extra activities attract additional fees.
Additional Programs
International Student Total Fees:
$28,810 (including books)
Arrowsmith Program Total Fees:
$27,360 (including Arrowsmith Program fee, Homework Club and school fees)
Discounts
Pre-Payments
4% discount on the current year's tuition fees, if the full amount of all fees owing are paid by 28 February 2018. This discount does not apply to those who have an outstanding debt to the School.
Siblings
The following discounts will be given to families with more than one child attending the School in the current year.
2nd Child – 20%
3rd Child – 30%
4th or more child attending at the same time as 1st Child – No Charge
Sibling discount does not apply to students in the Early Learning Centre.
Payment Options
BPAY/Direct Deposit (Refer to the front of the statement for your BPAY details or direct deposit details.)
Cash, Cheque/Money Order (payable to Oakleigh Grammar).
EFTPOS, credit cards and direct credit deposit facilities are also available.
Direct Debit is available. Please ask at the School office for details.
Fees are due within 21 days of invoicing. If there are difficulties paying the fees on time then contact must be made with the Accounts Department to discuss the situation. The school can refuse to allow the pupil to continue his/her education while fees remain unpaid. All outstanding fees may be forwarded to the school's debt collection agent. A fee of $100 per family per month will be charged if fees are not paid when they are due.
2020 Schedule of Fees
| | | | | | | | | |
| --- | --- | --- | --- | --- | --- | --- | --- | --- |
| YEAR | 1st Instalment | 2nd Instalment | 3rd Instalment | Final Instalment | Total Tuition Fees | Technology Levy | Careers Levy | TOTAL Annual Fees |
| | 21 February | 6 May | 4 August | 27 October | | | | |
| PREP | $1,994.00 | $1,994.00 | $1,994.00 | $1,991.00 | $7,973.00 | $420.00 | | $8,393.00 |
| YEAR 1 | $2,116.00 | $2,116.00 | $2,116.00 | $2,114.00 | $8,462.00 | $420.00 | | $8,882.00 |
| YEAR 2 | $2,192.00 | $2,192.00 | $2,192.00 | $2,191.00 | $8,767.00 | $420.00 | | $9,187.00 |
| YEAR 3 | $2,326.00 | $2,326.00 | $2,326.00 | $2,325.00 | $9,303.00 | $420.00 | | $9,723.00 |
| YEAR 4 | $2,373.00 | $2,373.00 | $2,373.00 | $2,371.00 | $9,490.00 | $420.00 | | $9,910.00 |
| YEAR 5 | $2,407.00 | $2,407.00 | $2,407.00 | $2,406.00 | $9,627.00 | $420.00 | | $10,047.00 |
| YEAR 6 | $2,443.00 | $2,443.00 | $2,443.00 | $2,440.00 | $9,769.00 | $420.00 | | $10,189.00 |
| YEAR 7 | $2,465.00 | $2,465.00 | $2,465.00 | $2,465.00 | $9,860.00 | $420.00 | | $10,280.00 |
| YEAR 8 | $2,519.00 | $2,519.00 | $2,519.00 | $2,517.00 | $10,074.00 | $420.00 | | $10,494.00 |
| YEAR 9 | $2,548.00 | $2,548.00 | $2,548.00 | $2,546.00 | $10,190.00 | $420.00 | | $10,610.00 |
| YEAR 10 | $2,577.00 | $2,577.00 | $2,577.00 | $2,575.00 | $10,306.00 | $420.00 | $160.00 | $10,886.00 |
| YEAR 11 | $2,667.00 | $2,667.00 | $2,667.00 | $2,666.00 | $10,667.00 | $420.00 | | $11,087.00 |
| YEAR 12 | $3,543.00 | $3,543.00 | $3,543.00 | | $10,631.00 | $420.00 | | $11,051.00 |
*Year 10 includes an additional Careers Levy.
2021 Early Learning Centre Fees
* Oakleigh Grammar is an approved provider under the Child Care Subsidy (CCS) scheme
| | | | |
| --- | --- | --- | --- |
| ELC Level | Days / Week | Days | Annual Fees |
| Toddler Program (2yo) | 1 | Mon | $4,954 |
| 3 Year Old Kinder | 2 | Mon-Tue | $5,150 |
| | 3 | Mon-Tue-Wed | $6,734 |
| | 3 | Wed-Thur-Fri | $6,734 |
| 4 Year Old Kinder | 3 | Wed-Thur-Fri | $6,734 |
| | 4 | Mon-Tue-Thur-Fri | $8,318 |
| | 4 | Tue-Wed-Thur-Fri | $8,318 |
| | 5 | Mon to Fri | $9,901 |
Mentone Grammar Private School Melbourne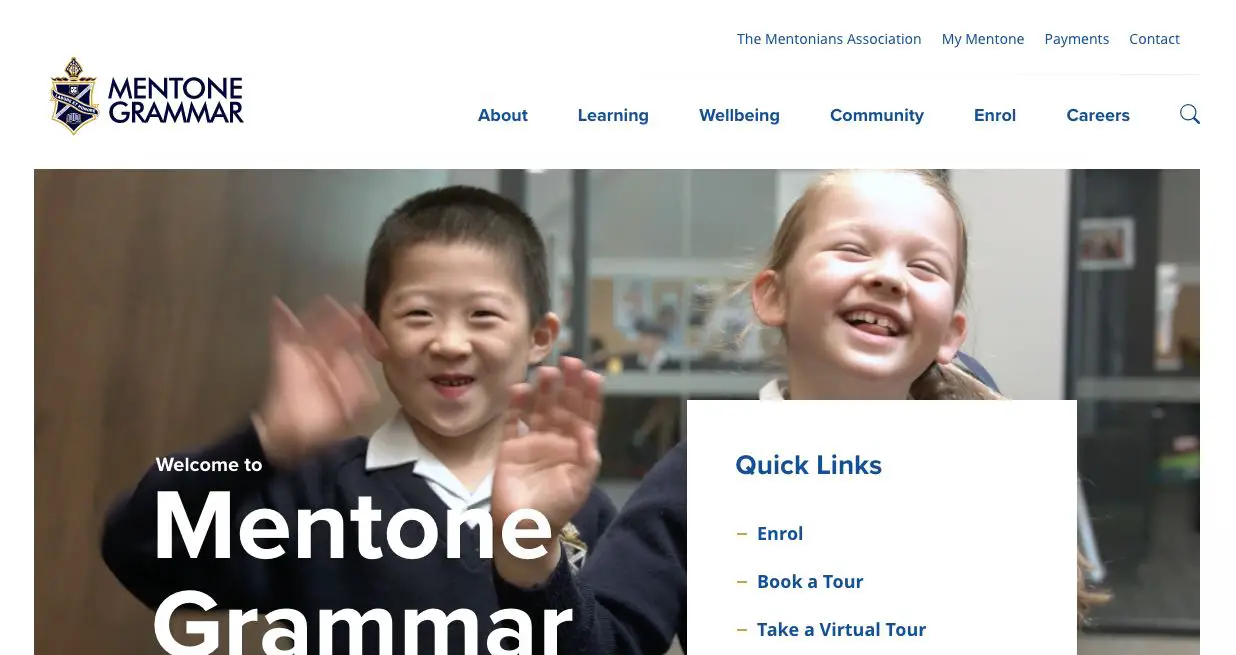 01395844211 
Early Learning Centre

Yes

Primary School

Yes

High School

Yes

Course Range

K-12

Main Gender 

Co-Education 

Boarding School

Yes 

Estimated No. of Students

1548

School Fees

Fair 

Link To School Fee Page: 
Discover 
Mentone Grammar is the benchmark for outstanding coeducation in bayside Melbourne from our Early Learning Centre through to Year 12.
Mentone Grammar is renowned for its successful learning model of Together-Apart-Together, where girls and boys in the Middle Years (5-9) learn within a coeducational environment in gender specific classes. In Early Learning through to Year 4 and in Years 10-12, students learn in a fully co educational environment.
We are ideally located by the beach and close to public transport. In addition to our Mentone Campus our School also provides 17 hectares of lush playing fields at Keysborough and a beachside camp at Shoreham on the Peninsula.
Welcome to Mentone Grammar. I hope you enjoy finding out about our School and seeing the images which capture the happy, healthy and high achieving environment that we work hard to provide our Community with.
We embrace the holistic development of all members of our School Community. We do so within our highly acknowledged Together-Apart-Together coeducational model. From the Early Learning Centre through to Year 12 we provide age and stage appropriate programs designed to engage the modern learner in a dynamic environment. We do so with some of the most outstanding Teaching and Learning resources in the country. All of these resources acknowledge the importance of everyone's well being as well as providing them with the opportunity to learn to the highest level.
It really is a great time to be a member of this School Community – we have so much to be proud of. We have all of the traditions of a great School whilst being highly contemporary in our practice. 
Students graduate from Mentone Grammar with a broad range of skills designed to ensure they lead meaningful lives into the future. Our School Values of Integrity, Discipline, Endeavour, Resilience, Caring, Respect and Service provide young people with a strong, safe framework to live by both at School and outside of it.
This School is a very genuine community-based school. We don't just talk it – we live it!
I hope you enjoy your journey through this website and I look forward to welcoming you to our vibrant community.
The philosophy of Mentone Grammar's Teaching and Learning program is for no child to be left behind - whatever their interests or level of skill. Students are given the opportunity and support to pursue their own definition of excellence.
Teaching and learning
Our teaching aims to be learner-centred, flexible and relevant. We recognise that each learner comes to learning with their own understandings, assumptions and motivations.  
Our Mary Jones Early Learning Centre offers an inclusive play-based program where children learn by actively engaging, participating and exploring within a safe environment.
By design our program is a collaborative approach between the child, the family and the Centre staff, who all have input into the program and its policies. The children's interests are reflected in the program so that the learning inspires them and meets their individual needs. 
Based on thorough research, our School has chosen to draw on a range of perspectives to offer a proven program that truly reflects our inclusive, caring philosophy and offers the best program possible. Underpinning all our planning is the Mentone Grammar Teaching and Learning Framework, the Victorian Early Years Learning and Development Framework and the National Early Years Learning and Development Framework.
LEARNING
In Eblana, we celebrate the uniqueness of each child, challenge them to reach their potential, and encourage them to become confident decision-makers who are prepared to take risks and explore their independence.
During these vital five years from Foundation to Year 4, our students are supported and guided through a broad range of learning opportunities. With a primary focus on laying solid foundations in literacy and numeracy, our Teaching and Learning program is designed to inspire learning, encourage curiosity, questioning and age-appropriate risk taking. In support, the Campus follows the RULER program of monitoring and articulating social and emotional intelligences.
Bayview is home to our unique, gender-based Middle Years Program and the start of an exciting journey for our students. During this stage in their learning, they begin to develop a sense of who they are and how they contribute to their community. 
Our academic program is designed to engage, focus and sustain the interests of our students as they grow in confidence and take increased responsibility for their own learning. At each year level, we focus on developing the different traits of a lifelong learner, including problem solving, collaboration, creativity and higher order thinking skills. Students build connectedness to their world, establishing links between disciplines and deepening their knowledge. Classrooms are dynamic spaces where teachers set clear learning intentions for students, monitor their progress using formative assessment and base future teaching on their findings. This enables each learner to feel challenged, stimulated and engaged, promoting a willingness to take risks and respond to feedback. 
Our dynamic Greenways Campus is a successful model of diverse and interactive engagement. In keeping with the School's Together-Apart-Together model, we provide separate gender classrooms, with the exception of some selected co-curricular activities.
Independence and creativity are key skills to support their transition both through and beyond school. Our strong academic program includes a broad offering of academic subjects along with a Personal Project imperative; a long-term multimedia project that allows each student to research, develop and present a body of work on a chosen passion. Students select one Focus Area, which includes Entrepreneurship, Health and Social Education, Community and Service or Environments, to develop greater global awareness, international understanding and an appreciation of cultural diversity.
The academic program is supported by exciting Learning Journeys that develop personal growth and resilience. These, often profound, journeys are designed to challenge our students and take them out of their comfort zone to keep all of our Year 9s developing and learning to their full potential.
2022 Scholarship Program Now Open
Mentone Grammar is delighted to offer a small number of Academic, General Excellence and Performing Arts (Music) Scholarships to highly talented young people entering Years 7, 9 and 10 in 2022. Students will have the opportunity to join our happy, healthy and high-achieving environment.
Applications Open: 9am Thursday 1 October, 2020
Applications Close:  5pm Friday 29 January, 2021
The Learning Enhancement team help to ensure Mentone Grammar students are socially connected and academically supported at School. 
Highly able students, who meet the program criteria, are presented with a range of academic challenges through our Dare 2 Dream! program. This program focuses on general extension in Literacy, Science, Mathematics, Technology, Public Speaking and Philosophical Thinking. Weekly classes are run for highly able students in Years 2 - 10, with specialised Mathematics Extension for students at Years 5 - 9. These students have opportunities to participate in inquiry based competition projects with the guidance of mentors.
Our mentoring sessions provide a process model for students, regarding how to approach investigative research from the initial idea, to asking the right research questions, to project completion. Team competitions include Tournament of Minds, Da Vinci Decathlon, Aurecon Bridge Building, GATEways Challenge and numerous Mathematics competitions.
In Year 12, our highly able students work with a teacher Mentor to focus on goal setting, progress checking, troubleshooting issues, building social and emotional strength and resilience, reviewing student data or working on skill development.
ENROL
We appreciate that a private school education is an investment for families. Our fees enable Mentone Grammar to continue to provide excellent facilities and resources, rich and diverse opportunities and recruit expert staff to deliver our outstanding curriculum for all students.
Please download our Schedule of Fees which includes more information about our business regulations and inclusions. 
Caulfield Grammar Private School Melbourne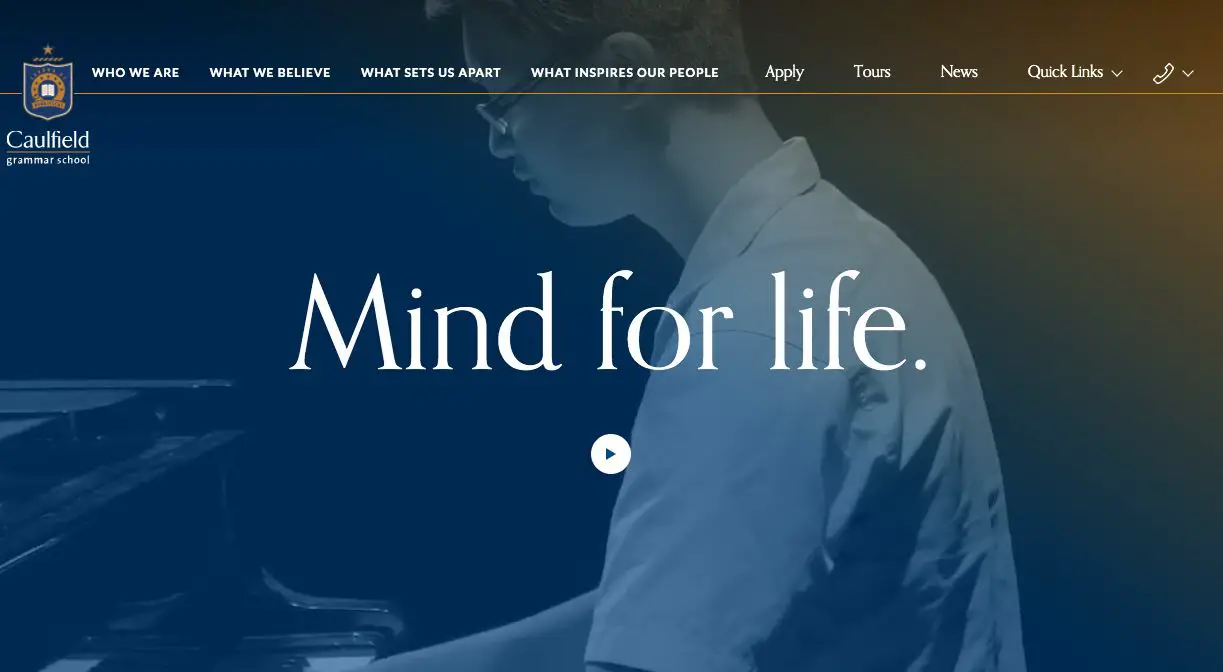 0395246300
Welcome to Caulfield Grammar School
We are a five-campus school with 3320 students, 700 full-time and part-time employees and over 400 sports coaches.
Our size and scale allows us to provide a vast range of broad and balanced programs for our students. And yet, because students are spread over multiple campuses, we don't feel 'too big'. We have all of the benefits of scale, without students ever feeling like a small fish in a big pond.
Day-to-day school takes place at a choice of three Melbourne campuses: Caulfield, Wheelers Hill and Malvern. Our campuses in Yarra Junction and Nanjing offer specialist education programs for our students. One school, five campuses
Wheelers Hill Campus
Co-educational school based in Wheelers Hill, offering 3-year old Kindergarten to Year 12.

The spacious campus has an Early Learning Centre (ELC), Junior School and Secondary School.

Broad learning programs available for VCE studies, with more than 50 subjects offered in Year 11 and 12 and university subjects available.

Established in 1981 and home to approximately 80 students in early learning, 350 in primary school and 1020 in secondary school.
Caulfield Campus
Co-educational secondary school in Melbourne's inner suburbs (St. Kilda East), offering learning from Year 7 to Year 12. 

Broad learning programs for VCE studies, with more than 50 subjects offered in Year 11 and 12 and university subjects available.

On-site boarding house for students in Year 9 to 12.

Established in 1881 and home to approximately 1450 students.
Malvern Campus
Co-educational junior school located in a beautiful national trust classified mansion in Glen Iris, offering early and primary learning with 3-year-old kindergarten to Year 6.

Reggio Emilia inspired Early Learning Centre (ELC) on campus 

Commenced as a junior school in 1980 and is currently home to approximately 70 students in ELC and 360 in primary school.

Students transfer to the Caulfield Campus to complete secondary school.
Yarra Junction Campus
This unique campus is home to our immersive Education Outdoors Program.

Yarra Junction provides a natural learning environment where students are challenged to consider the effect of their actions and lifestyle on the world around them.

Established in 1947, the Experiential Learning Programs are provided across various year levels from all campuses.
Nanjing Campus
Fostering responsible global citizens is a fundamental part of our school's vision and our campus in Nanjing, China is the heart of our Internationalism Program.

Each year, around 400 Year 9 students are given a unique opportunity to study abroad, spending five weeks immersed in overseas life and Chinese culture.

The Nanjing campus encourages a global perspective amongst students and builds practical skills associated with living, learning and operating in an unfamiliar environment.
Our purpose
To enable quality learning every day in every experience for every learner for life.
Our vision
To be a leading, internationally recognised, co-educational school fostering responsible global citizens.
Caulfield Grammar School prepares open minds for open horizons
We nurture our learners not just to become capable and highly skilled, but also emotionally aware.
In order for students to chart their own course in life, they must develop character, creativity, compassion and connection. These competencies are nurtured through a number of ways at Caulfield Grammar School – in the way we teach, the breadth of co-curricular offerings and our commitment to every learner's wellbeing.
We believe in developing a mind for life, so that learners are equipped with the mental, emotional and academic capabilities they need to follow whatever path they choose.
We are preparing for unwritten future
The future of education and the future needs of our learners are ever changing.
We live in a rapidly-changing world and can't predict what the future holds for our learners. To equip students for unwritten futures, we support them to develop the competencies, self-confidence, and resilience skills required to cope with and overcome life's changes and obstacles. It's what we like to call 'a mind for life'.
We are committed to helping our learners observe their individual mind and its ability beyond its mental state – reflecting on social, physical and humanitarian qualities.
Focus on the whole person
We want our school to be the leader when it comes to mental health outcomes of young people.
Academic excellence will always be important. We have a strong history of academic achievement and are committed to exceptional results for our students. However, we recognise that this is only part of a person's learning journey. Caulfield Grammar School prides itself on focusing on the whole person. We provide broad and balanced programs that inspire all learners to find their pathway.
In nurturing minds for life, we strive to ensure we can enrich the life of every individual in this community. In particular, for learners to:
Find meaningfulness through developmental reflection, exploration, deep learning and individual encouragement.

Develop mindsets that help them as learners define who they are.

Understand their place in the world.

Feel better equipped with self-confidence, resilience and self-belief.
We believe it is equally important to equip our learners with the emotional and cultural intelligence tools to build the life that's right for them. We want our school to be the leader when it comes to mental health outcomes of young people.
Caulfield Grammar School maintains a commitment to collaborative partnerships and community contribution.
Our learners are empowered to give valuable feedback on their learning, taking ownership of their education.
Learners can safely discover who they are, and who they can become.

Learners take risks, realise their potential and retain a sense of balance.

Co-education reflects an equitable life, regardless of gender.

Experiential learning challenges students to consider the effect of their actions and lifestyle on the world around them.

The community can examine, explore and feel empowered to set goals with optimism.

Learners can anticipate their future directions with confidence, courage and capability.

We think innovatively, ask questions and pursue passions.
We are a connected community
Our holistic approach to growth and nurturing humility is invaluable in building self-worth.
Pursuing Excellence

Inspiring Creativity

Thriving Together

Embracing Diversity

Living Wholeheartedly
Our values
Inspired by our Anglican tradition of faith, hope and love, our values drive our behaviour, inform our decisions, shape our perspective and underpin our culture.
We prepare learners for life
Our learners engage with a rigorous learning program to prepare them for whatever the future brings.
Caulfield Grammar School is highly regarded for offering a thriving learning environment that supports our learners to feel empowered, deeply engaged and encouraged to become people of character and contribution.
We have a passionate vision for innovation in education, with a globally-focused curriculum that prepares students with skills for life.
We have a passionate vision for innovation in education. Offering state-of-the art technology and learning facilities.
Our campuses offer a modern and flexible learning environment with state-of-the art technology and world-class facilities. We foster a teaching team invested in improving their knowledge so that they can anticipate and plan for emerging skills and careers. Our curriculum is constantly adapting to suit today's world. 
Caulfield Grammar School has always looked to leading schools around the world, actively seeking out examples of best-practice and innovation in education from which the school can learn. 
We evolve and adapt to empower our learners. 
We enable quality learning every day, in every experience for every learner
Caulfield Grammar School's teaching and learning differences:
Co-education that reflects life: We focus on academic and social needs, regardless of gender.

Mind for Life learning: We provide a curriculum that allows learners to engage academically whilst also exploring new skills, concepts and relationships, helping to develop a sense of self-efficacy and independence.

IB World School: We are an authorised school to deliver The International Baccalaureate® (IB) Primary Years Programme (PYP) and we are a candidate school for the Middle Years Programme (MYP).

Experiential Learning: We offer immersive learning through real-world experiences, with outdoor education and sustainability programs at our Yarra Junction campus, and cultural immersion for Year 9 students at our Nanjing campus in China.

Learning and Community Projects in Year 9: Students are prepared for VCE by taking control over their learning and skills development based on an interest or passion that appeals to them.

Learning Mentor for Years 7 and 8: Quality teaching focused on academic and pastoral care.

Focused Learning Framework: Research-based approach to teaching ensures all educators at Caulfield Grammar School teach in a consistent and contemporary manner. 

Tailored Learning in Senior Years: Year 10 students can choose a range of VCE units to suit their interests and abilities, with the option to spread VCE over three years rather than two. This allows students to tailor their own individual learning journeys, helping prepare them for entry to the tertiary course or career of their choice. 

Global Connections and Culture: We equip learners to engage with and in the real world, developing a long-term interest in language, culture and world views.
We equip our students with the skills for life.
Caulfield Grammar School students are:
Respectful and reflective

Confident and courageous

Curious and enterprising

Tolerant, knowledgeable and broadminded about world affairs

Compassionate and compelled to give back

Energetic and expressive

Ready to thrive in a changing world
Our Learning Programs
Learning programs are designed for each learner's developmental stage. For example, the Reggio Emilia philosophy is drawn upon at kindergarten and pre-preparatory level, where Year 7 learners undertake an extensive orientation program that includes developing study skills and an investigation of each individual's learning preferences.
At Year 7 and Year 8, the broad core-curriculum further seeks to ensure a strong foundation for success in the senior years. The Learning Journeys at Year 9 level engage learners in a holistic, experiential approach that is designed to engage with real-world learning experiences. Learners may begin their studies for the Victorian Certificate of Education in Year 10.
Explore more about our Learning Programs:
Caulfield Grammar School has always looked beyond Australia to similar schools around the world.
We actively seek out examples of international best-practice and innovation in education from which the school can learn. We evolve and adapt to empower our learners.
We foster enterprise energy and collaboration
Our lessons are designed to stimulate student engagement through active and challenging learning.
Our learners are investigating new ideas, exploring their place in the community, developing practical skills and applying what they are learning to projects they are inspired by.

Our learners are confident innovators, using creativity and logic, and learning from a healthy dose of project failure and mistakes.

Our learners take full responsibility for what they are learning as they discover new pathways to progress in studies and life.

Our learners lend their voices to conversations that matter, to causes and calls for skills that impact across the world.
We capture attention and build yearning to learn
Success is seen through the sense of ownership our learners take.
Our learners absorb moments that form their education so that they continue to become lifelong learners. Our school does not just focus on successes, we also value the lessons that come with making mistakes.
For our learners, mistakes are an opportunity to take stock, overcome frustrations and re-focus for success. This helps them contextualise their learnings through relatable experiences.
We are an engaged and active contributing community
We maintain a commitment to collaborative partnerships and community contribution.
It is the connections we make as a school community that help nurture children to become adults who can realise their full potential.
Our teaching teams are passionate, hard-working, brilliant and focused individuals who are committed to our learners.
We are committed to maintaining pace with the world our learners live in today and the world they will work in tomorrow.
World-class teaching faculty.
Guided by world-class teaching faculty, our learners learn to make their own unique way in the world, valuing authenticity while thinking audaciously.
Every learning day provides our learners with support to encourage their intellectual curiosity, problem solve with confidence, achieve compassionate perspectives and become independent contributors in an ever-changing world.
We know that children learn best when they feel secure about themselves and know they are engaged in their school and community.
We foster global friendships
We are a school that equips our learners to engage with the global community.
As the learning landscape alters, we support our learners in making confident connections, building their personal and social competences and inter-cultural understanding. Cultural immersion provides an unparalleled learning experience of different cultural practices, social mores and traditions while providing a context for learners to appreciate and reflect on their own way of life.
Our learners use what they discover in the real world, they exchange ideas, express themselves and communicate with confidence. Our learners are challenged personally through being exposed to the unfamiliar and needing to adapt to a different way of living within a diverse cultural context. Our learners became more astute in interpreting cultural diplomacy and international issues through language and culture immersion studies. Our learners foster long-term interest in language, culture and worldviews.
We are always learning to provide an exceptional education
Few schools can match the range of ways in which Caulfield Grammar School provides quality teaching and learning.
We set high expectations for our educators and learners with challenging programs that include leadership development and an international perspective. Informed by eminent education theories and innovative practice, our acclaimed program supports learners to broaden their perspectives, take risks and reach their individual potential.
Our highly qualified and knowledgeable educators draw upon a world of current and emerging expertise. As lifelong learners, they undertake weekly professional development with a focus on evidence-based, quality teaching and learning.
Our extensive professional development program and specialist teachers approach, ensure our teachers understand how children best learn and how educators can best teach them.
Committed to professional development
We set high expectations for our educators and learners with challenging programs that include leadership development and an international perspective.
We foster a teaching team invested in improving their knowledge so they can anticipate and plan for emerging skills and careers.
Shelford Girls' Grammar Private School Melbourne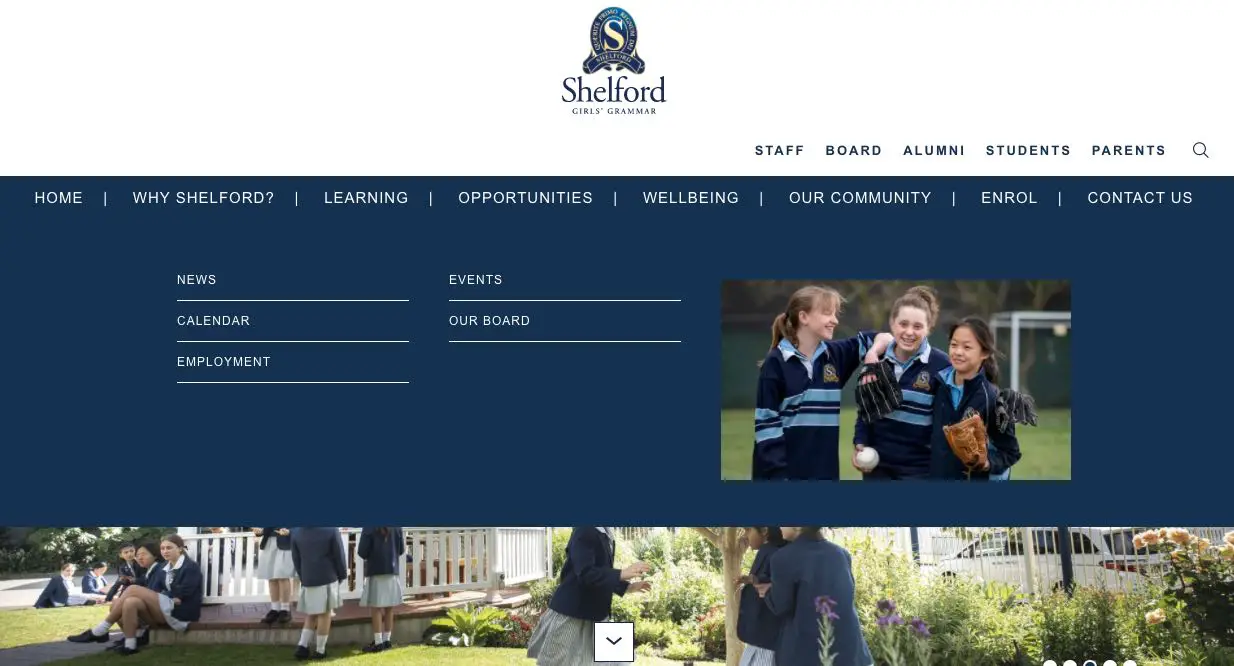 01395247413
Early Learning Centre

Yes 

Primary School

Yes

High School

Yes

Course Range

K-12

Main Gender 

ELC - Co-Education 

Primary to High School - Girls 

Boarding School

Yes 

Estimated No. of Students

515 

School Fees

High 

Link to the school fee page: 
Why Shelford?
With a rich and proud history of educating girls, we are a small, inclusive school with a wonderful sense of community.
For over 122 years, Shelford has been a strong advocate for girls' education, preparing girls and young women for a complex and changing world.
Our School has an outstanding academic tradition and offers a wide range of subjects for our Junior School students, right through to VCE level. Shelford has exceptional Visual and Performing Arts programs, extensive sporting opportunities and a strong co-curricular program that includes study tours and camps, debating and a unique Year 9 Challenge program.
Nurturing and challenging
Our students flourish because they learn in a community that nurtures, stimulates and challenges them, and in which they are encouraged to be courageous. Our girls are able to explore, to be curious and to try out new things in a supportive, positive environment, where high standards and the pursuit of excellence are part of the historical fabric of the School.
From Foundation, students are encouraged to harness their passions and develop lifelong interests. Small class sizes allow our teachers to really know each student and individually nurture them, so they develop to the best of their potential.
Preparing girls for the future
Academic ability is important for future success, but the challenges of the 21st century mean students must acquire a variety of skills and capabilities. There is a growing demand for innovation, creativity, communication, empathy, adaptability and social skills. Education has a vital role to play in helping young people build lives that have meaning and purpose, in an ever-changing and unpredictable world.
Learning
Shelford is proud of its tradition of academic achievement, understanding and care. Talented, perceptive and sensitive teachers – working closely with parents and ancillary staff – design personalised programs to meet the needs, abilities and interests of each child.
Students are placed in learning groups according to their social and cognitive readiness. Vertical grouping allows students to work with 'like minds' and academic progress is not determined by chronological age.
All administrative structures, resourcing policies and staffing practices support our youngest child to our Year 12 students – and beyond.
Students aspire to the highest levels of achievement in everything they do. They are encouraged to 'dare to dream' and to experience the exhilaration of discovering talents and abilities which they didn't know they possessed.
A feature of Shelford is its small class sizes. While many of Shelford's students are exceptionally able some of our students have specific learning needs and individual programs are designed for them also.
All students participate enthusiastically in the co-curricula activities and consequently a strong sense of community pervades the school. The Pastoral Care program underpins and enhances the broader educational philosophy.
Opportunities
Shelford offers a wide range of co-curricular activities and students are encouraged to make the most of the opportunities available. Participation levels are very high in the Performing Arts and Sport, exchange programs and overseas study tours.
Shelford provides a rich academic curriculum and there is a huge breadth and depth to the education we offer.
Enrol
At Shelford we understand that choosing a school for your child's education is one of the most important decisions you will make. We invite you to contact our Registrar Ms Marie De Sousa to find out what a difference Shelford could make for your child. Overseeing the enrollment process, Marie is available to answer any queries you may have, send you information or arrange for you to have a personal tour of the School. She can be contacted through the details below.
Telephone:+61 3 9524 7413
Email: mdesousa@shelford.vic.edu.au
We love welcoming new families to our community and know your daughter will thrive in our school environment.
Impressive VCE results year after year
Congratulations to the Class of 2019. Your commitment to your studies and your leadership and contribution to a wide range of endeavours has been impressive.
At Shelford, staff and students work together in a supportive environment where students are encouraged to achieve their best.The School community is very proud of the Class of 2019 and the teaching staff, and wishes every student continued success in the future.
The Dux of the School is Isabel Greenslade (99.35)
The Proxime Accessit to the Dux is Alyssa Davies (99.30)
Local admissions
We warmly invite you to contact our Registrar, Marie De Sousa.
Telephone: 9524 7413
Email: mdesousa@shelford.vic.edu.au 
Marie will send you a prospectus pack (with fee schedule), be able to answer any questions you have and arrange for prospective families to attend a personal tour of our School.
Outside of COVID-19 social restrictions, prospective parents can also book online for a school tour.
Firbank Grammar Private School Melbourne

0395915188
Why Firbank?
For more than 110 years Firbank Grammar has provided exceptional education and outstanding opportunities to its students. Students consistently achieve academically and in their co-curricular pursuits and are a part of a strong community that supports excellence.
Firbank Grammar School is an independent, Anglican day and boarding school for students from ELC to Year 12.  We have three campuses located in Melbourne's bayside suburbs.
We have two campuses in Brighton.  Our girls Junior School for students ELC to Year 6 is located in Middle Crescent and our girls only Senior School for students Year 7-12 is located in Outer Crescent.
Firbank Sandringham Co-ed Campus ELC to Year 6 is our co-educational Junior School located in Royal Avenue, Sandringham. Girls have guaranteed entry into the Firbank Senior School and boys have guaranteed entry into Brighton Grammar School.
We encourage student voice and opinion.  Our students have a voice and make active contributions to the School every day through their work in the classroom or the community. We provide them with the right balance of educational and real life experiences so they can forge ahead on their own path. That's the Firbank way.
Firbank Learning Journey
Firbank Grammar's three Campuses offer a seamless learning journey for students. From Playgroup and ELC through to Year 6 at our two Junior Campuses and then to our Brighton Senior School for girls.  For boys their Journey at Firbank finishes in Year 6 with the option to attend Senior School at our brother school Brighton Grammar School (BGS) for Year 7 and beyond.
Payments, Fees and Donations
Firbank offers the opportunity to pay fees and make donations online at any time and from anywhere in the world.
Secure electronic payments may be made via Credit Card. Firbank Grammar School accepts Visa, MasterCard and American Express.  Payments and donations may also be deposited directly into the School's bank account. Credit card details submitted by users are not collected by Firbank.
WHY FIRBANK GRAMMAR EARLY LEARNING CENTRE?
We understand the significance of choosing the first school for your child. By bringing your child to Firbank, you join a community with shared high expectations and one that promotes the potential of all children. Sandringham Campus Early Learning Centre offers a co-educational experience and the Turner House Early Learning Centre is part of the Brighton girls campus. The two vibrant campuses share common approaches, with each learning space reflecting the care and dedication of the highly qualified educators to make school a special place for your child.
PROGRAM OPTIONS AND LONG DAY MODEL
Flexibility for families lies at the heart of our program offerings, with two-day, three-day and five-day options for 3 year olds and a five-day program for 4 year olds. We also provide a 'Stay and Play' Playgroup opportunity for families with younger children (0+ months to 3 years) to connect with the School community, develop relationships and explore all areas of the Early Years curriculum. We appreciate the demands of modern life and, from 2019, will support our families by providing a convenient Long Day Education model commencing at 7.00 a.m. and finishing at 6.00 p.m.
Our Long Day Education model allows for the transitioning of the children from the Long Day option at 8.45 a.m. to the ELC program in a seamless manner, and similarly at the conclusion of the program at 3.00 p.m. This model supports opportunities for critical planning, programming and reflection, and promotes collaboration in ways that seek to strengthen and support each child's continuous learning journey.
Prep to Year 6 Sandringham Junior Co-ed Campus
The Sandringham Campus provides specialist learning spaces for STEAM (Science, Technology, Engineering, Arts and Multimedia), Music, Mandarin, Art, Physical Education and Information Literacy.  Our boys and girls from ELC3 to Year 6 enjoy a caring and nurturing environment and expansive playground areas.
Each classroom teacher uses the framework of the International Baccalaureate's Primary Years Programme (PYP) to plan explicit and inquiry teaching lessons that are engaging and personalised for each child.
Prep to Year 6 Brighton Junior Campus
The Firbank Learning Journey continues at our Brighton Junior Campus.
We have four key beliefs at Brighton Junior Campus:
Every student is important

Every lesson is critical

Every encounter is valued

Every opportunity should be taken
These beliefs together with the extensive Teaching and Learning program develop the natural curiosity and thinking skills of the students in a caring and inclusive environment. Specialist teachers, high academic standards and a diverse range of curricular activities help our students build confidence, resilience and a love of learning.
Through their educational journey at our all-girls school, our students are encouraged to develop their individual talents. We pride ourselves on being a family school with Christian values, where parents are encouraged to be involved in School life.  Our aim is to enable all students to contribute and to develop a sense of responsibility in their relationships with others.  We believe it is important to promote tolerance and understanding of individual differences, other cultures and the diversity of views in the world.
The learning and personal development programs we offer help our students cultivate essential skills for the contemporary world, including social skills, oral communication, problem-solving, teamwork and creativity.  To learn more about our enrolment process or to book a tour of our Melbourne girls' school. 
Brighton Senior Campus
Firbank Senior School is instrumental in your daughter's journey into adulthood. From Year 7 to VCE, our private girls high school in Melbourne offers an array of choices that arm Firbank students with the necessary tools to progress and transition into a life full of learning and discovery. At Firbank, we give students the opportunity to shape their own destinies through the expert guidance of dedicated and experienced staff, real life experiences and world class facilities. We don't shape minds, we give girls the tools, skills and confidence to shape their own.
The learning and personal development programs at our girls' high school help students cultivate essential skills for the contemporary world, including problem-solving, communication, teamwork and creativity. Through these programs, our girls grow up to be articulate, eloquent, well-rounded members of the community.
Firbank offers a range of options for our students to excel in their area of passion.  We believe that students who come together with common interests is a great way to learn, socialise and grow confidence. Some of the Club activities we offer include: Chess, Writers Club, Drama, homework club, debating, philosophy and more. View our Year Level information booklets for more detail.
Presbyterian Ladies' College Private School Melbourne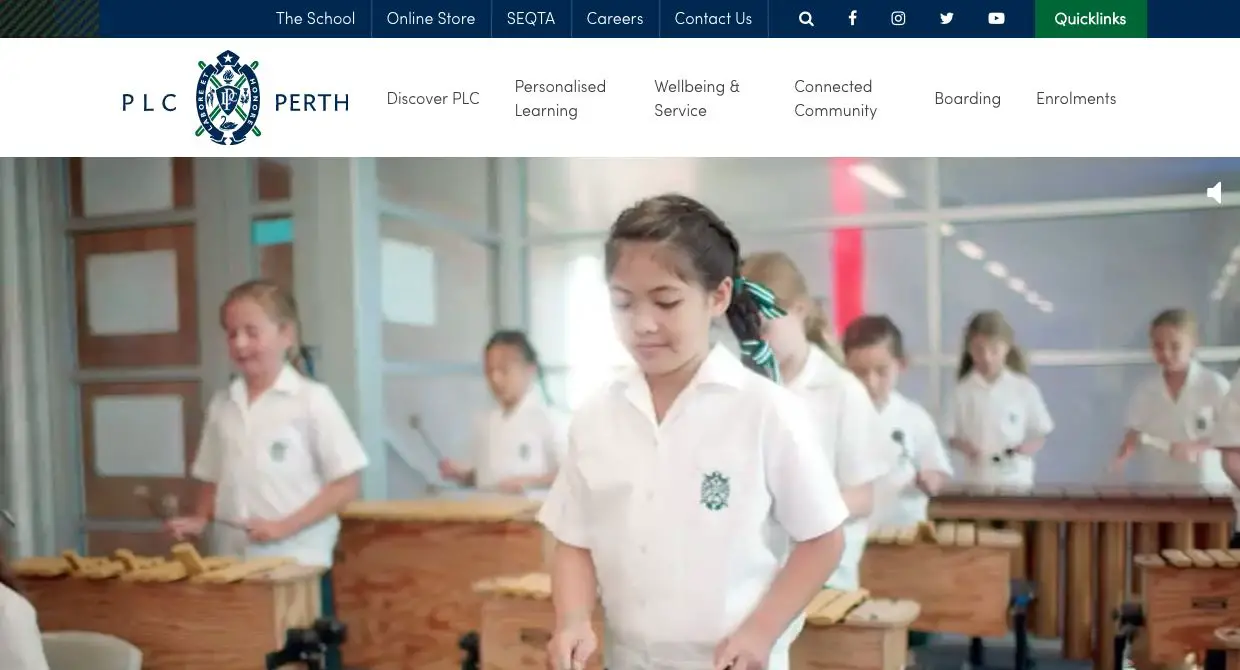 plc.wa.edu.au
0894246555
Presbyterian Ladies' College was founded in 1915 and has since sustained an international reputation for academic excellence and outstanding success in preparing young women to lead active, purposeful lives.
Evidence of our Scottish heritage is apparent throughout the beautiful Peppermint Grove campus as well as in the distinctive Blackwatch tartan uniform and PLC Pipe Band. However, perhaps the most significant legacy of our Scottish tradition is a belief in educational excellence, combined with a whole-of-person approach to intellectual, social, emotional and spiritual development.
Today this continues to be the philosophical foundation on which a PLC education is based.
At PLC, every girl is given the opportunity to:
Develop an appreciation of intellectual challenge and a love of lifelong learning

Gain the confidence to question, challenge and be creative

Give and receive warmth and human understanding

Belong to a community in which to experience the beauty and joy of life itself.
PLC students are encouraged to become critical and compassionate thinkers, to assume responsibility for their own learning and to be informed and engaged participants in local and global issues.
Underlying these precepts is the conviction that women can, and should, make a difference in the world.
At PLC we measure our achievements through theirs.
Discover PLC
A PLC education is infinite; it's an attitude and approach your daughter will take with her for the rest of her life. Our aim is to ignite her curiosity where she will discover her unique passions and strengths across a broad curriculum. At PLC we care for each girl and give her the abilities, skills and confidence that empowers her to become an inspiring young woman.
Personalised Learning
Ensuring each girl feels known and valued provides the strong foundation of what makes PLC so special. Our dedicated and highly qualified teachers provide a world-class education, inspiring and developing each student's individual gifts and talents. PLC girls are encouraged to take risks in a safe and supportive environment, to develop resilience and discover their strengths.
Wellbeing & Service
A personalised approach from the Wellbeing and Service team, research based programmes and PLC's emphasis on supporting the community through extensive service learning programmes, enrich our holistic approach to education. The Wellbeing team has developed a culture of inclusivity and understanding that supports our girls' growth, providing them with the confidence to lead others in positive and meaningful ways.
Ruyton Girls' Private School Melbourne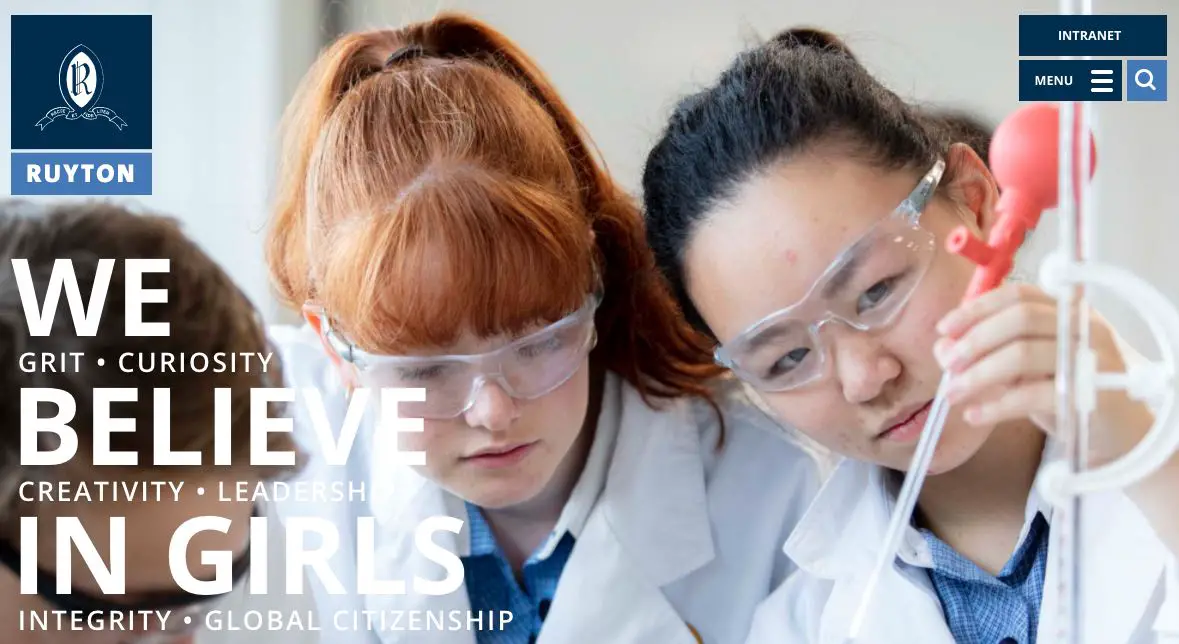 1398192422
Our School
As an independent, forward thinking girls' school we are committed to preparing girls for a lifetime of learning, leadership and engagement in our global community. We believe in girls.
At Ruyton we foster the individuality of each girl in a caring and safe environment, nurturing her intellectual, physical, social and emotional qualities essential to flourish.
Powerful learning is central to the Ruyton culture, building on our strong academic reputation. We focus on advancing the learning of every girl through the engagement of intellectual curiosity, building knowledge and skills about how to learn and supporting them to achieve their personal best and be exemplary citizens. We believe in real world learning beyond the classroom, collaborating with the wider community to promote growth, discovery and sustainability.
We empower our girls to lead lives of purpose with courage, character and compassion. Through the development of values and action-focused learning they are inspired to pursue equity and justice for self and others. By embracing diversity and raising their voices our girls effect positive change and make a difference.
Build a customised prospectus for your daughter.
Why a Girls' School?
Girls' schools specialise in girls' education. Research indicates that all girls' schools have the ability to educate the girls of today to become the leaders of tomorrow.
Through a tailored curriculum and a focused culture, all girls' schools can inspire and nurture girls to grasp diverse opportunities to develop and excel. Academically, girls in a single-sex environment produce stronger results. All leadership roles in a girls' school are filled by girls. Girls meet the challenges of adolescence without fear of ridicule from boys in a single sex environment and girls have the confidence to 'have a go' at a wide range of co-curricular opportunities.   
At Ruyton we are committed to preparing girls for a lifetime of learning, leadership and engagement in our global community. We seek to inspire our girls to be bold. We educate them to live lives of impact and purpose.
The Ruyton community lives by the values of Character, Citizenship, Endeavour and Integrity, providing support, role models and a sounding board for our girls as they make their mark in the world.
We are proud to be a member of Alliance Girls Schools Australasia and an international member of National Coalition of Girls' Schools
Listen to why the student leaders of Australasian girls' schools believe in girls' schools.
Vision, Values and Strategic Direction
As an independent, forward thinking girls' school we are committed to preparing girls for a lifetime of learning, leadership and engagement in our global community.
Vision
Inspire girls to be bold. Educate girls to live lives of impact and purpose.
Values
Our values shape and define the Ruyton woman and the way she leads her life
Character to be resilient and to act with confidence and compassion

Citizenship to effect positive change through civic and environmental action

Endeavour to be curious, creative and courageous learners seeking to achieve personal best

Integrity to live a life with honesty and virtue
The Ruyton community lives by these values, providing support, role models and a sounding board for our girls as they make their mark in the world.
At Ruyton we embrace diversity and value the enrichment it brings to our learning community. We are committed to fostering respectful relationships and endeavour to create a culture of justice and fair treatment that extends to our broader community. This culture is central in preparing our students to be respectful and socially aware global citizens.
Camberwell Grammar Private School Melbourne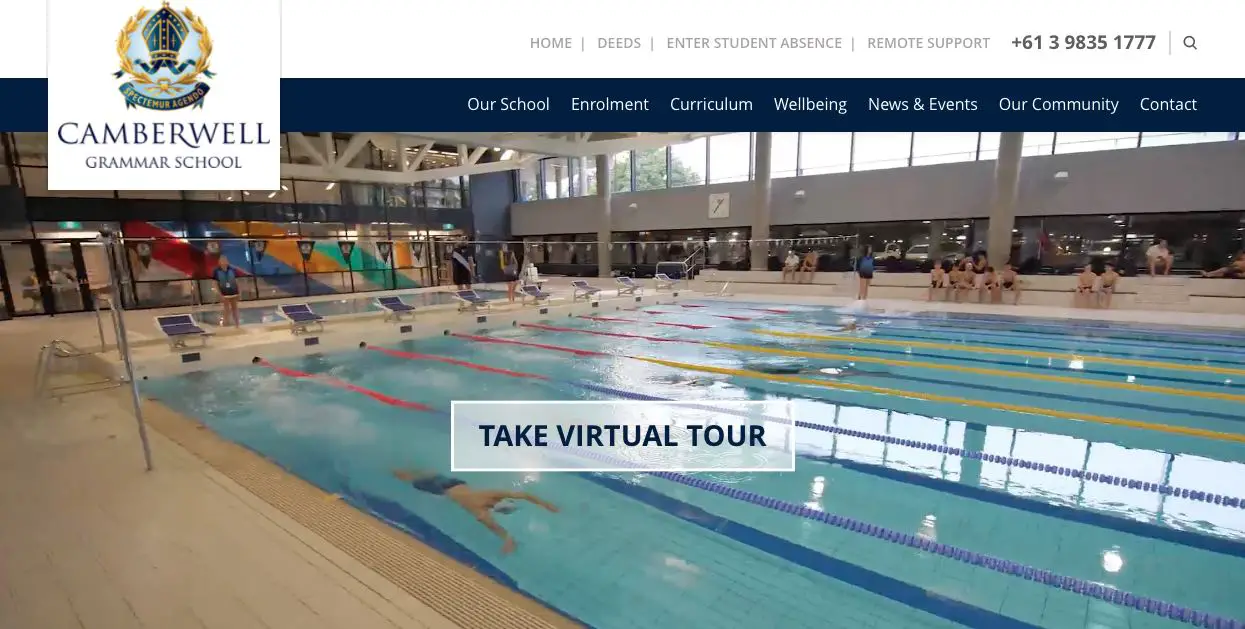 0139835177
Early Learning Centre

Yes

Primary School

Yes

High School

Yes

Course Range

Prep to Year 12

Main Gender 

Girls Only 

Boarding School

Yes 

Estimated No. of Students

1450

School Fees

Low 

Link to the school fee page: 
Enrolment Process
Join the Camberwell Grammar School community here by enrolling your son. Student admissions are processed through our Admissions Office, which runs regular tours and information mornings throughout the school year.
Join Our Community
Join the Camberwell Grammar School community here by enrolling your son. Student admissions are processed through our Admissions Office, which runs regular tours and information sessions throughout the school year. It also administers the school's scholarship and overseas student enrolments. The School Prospectus outlines the opportunities that await new students while the Enrolment Booklet has detailed information on curriculum, VCE results, the Pre-Preparatory Centre and travel to and from the School.
Intake Years
The key intake years are those years where extra classes are added. Our main student intake years are at four-year-old Pre-Preparatory*, Year 4 and Year 7. There are also some places available at other year levels, for example Year 9, but these are dependent on individual vacancies as they arise. We usually have an indication of vacancies at non-intake years by the October prior to the year of entry. Please contact the Admissions Office for details.
Haileybury Private School Melbourne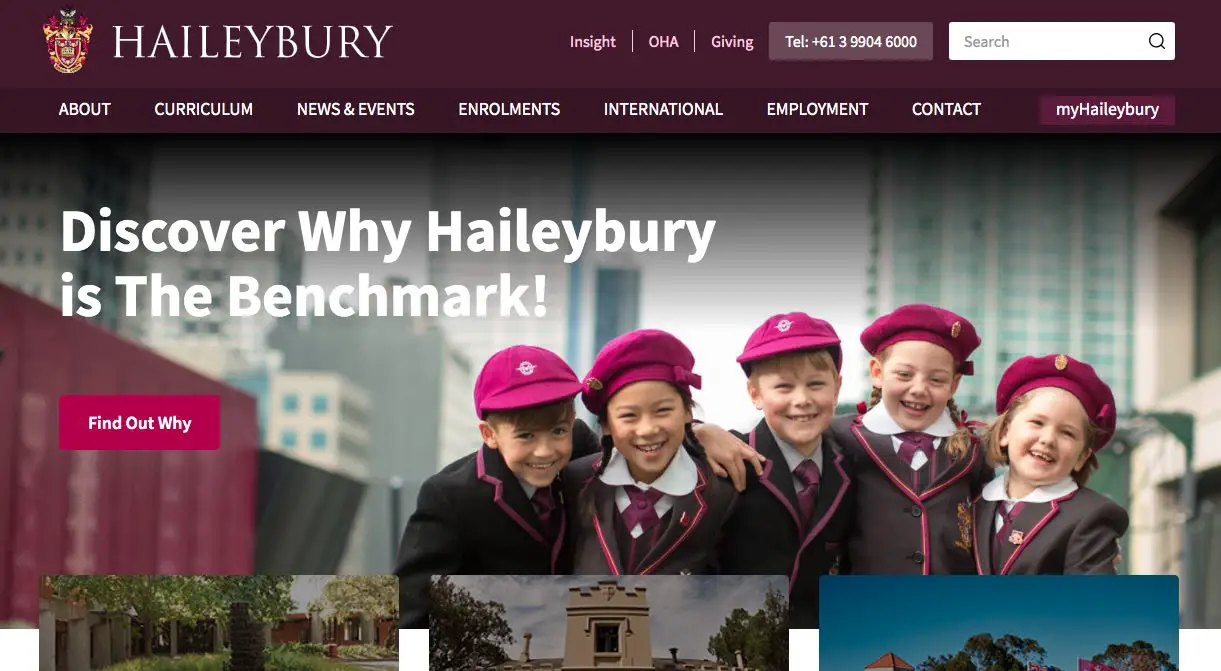 haileybury.com.au
01399046000
Early Learning Centre

Yes

Primary School

Yes

High School

Yes

Course Range

K-12

Main Gender 

Co-Education 

Boarding School

No 

Estimated No. of Students

3,927

School Fees

Medium 

Link to the school fee page: 
Haileybury is acclaimed as a great world school.
The acclaim stems from our remarkable academic results achieved through the highly successful parallel education model, outstanding teachers, small class sizes and an unmatched level of individual attention – and over 125 years of history and achievement.
Haileybury was named Australian School of the Year at the 2018 Australian Education Awards and ranked by the Australian as the number one primary school for boys and girls in Victoria and the number two secondary school based on national academic testing results.
Haileybury has high expectations for its students and teachers. In the Senior School, we expect that 45% of boys and girls should be placed in the top 10% in Australia, 75% in the top 20% in the country and 90% should be in the top 30%.
We believe that graduating students should have strong core academic skills, a broad analytical thinking ability and be capable of operating in a rapidly changing world. Haileybury offers a wide range of international engagement opportunities for students from Melbourne including spending time at the Haileybury International School, Tianjin (China) or visiting partner schools in Timor Leste, The Philippines, Japan, France, the UK and the US.
At Haileybury learning starts at an early age through flexible and creative programs in our Early Learning Centres. The core literacy and numeracy skills are developed through the use of explicit, direct instructional learning in the Junior Years. In the Middle Years a combination of explicit instruction and student-centred learning is used to broaden analytical thinking and problem solving. An exciting Year 9 development program develops independence and resilience. The three-year VCE Program in the Senior Years, coupled with a wide range of subject choices available, ensures that there are programs to suit all students' interests and abilities.
Our academic programs are enhanced by Haileybury's commitment to a strong social education program that includes fulfilling potential, supporting individual resilience and the development of personal character values. I believe in the principles of social justice and am committed to the School developing our students accordingly.
Haileybury is one of the most entrepreneurial and enterprising schools in Australia. The development of Melbourne's first vertical school, extensive operations in China and the opening of Haileybury Rendall School Darwin are all examples of this. In 2017 Haileybury became the first Australian school to have students launch an experiment on to the International Space Station. To be a Haileybury student is to be immersed in an enterprising institution.
We look forward to showing you our School - an institution of which we are very proud.
Haileybury Curriculum
The Haileybury Program offers an exciting and enriching Melbourne private school curriculum and experience for all students. Our academic programs are enhanced by Haileybury's commitment to a strong social education program. We aspire to a lifetime love of learning and the complete development of a person.
At Haileybury, we develop the core literacy and numeracy skills through the use of explicit, direct instructional learning in the Junior Years. In the Middle Years, a combination of explicit instruction and student-centred learning is used. An exciting Year 9 program develops independence and resilience. The three-year VCE in the Senior Years, coupled with one of the widest ranges of subject choice, ensures that there are programs to suit all students' interests and abilities.
The Haileybury Program
Curriculum Learning
Every stage of learning is equally important at Haileybury right through from the Early Learning Centre to Senior School.
Haileybury's curriculum uses the Australian Curriculum as its framework and provides extension and supplementary programs at all levels.
In response to the different learning styles of students and to individual requirements reflecting gender, age, interests and potential, our teachers embrace both student-centred approaches and explicit instruction.
Explicit instruction is a research-based methodology that ensures Junior School students engage and master core skills and produces exceptional student results.
Following a lesson Warm Up, classes follow a sequence of 'I Do, We Do and You Do'. This is the teaching and learning process that scaffolds learning. This sequence moves learning from modelling, through guided practice to independent practice.
In Junior School, the explicit instruction approach to Literacy and Numeracy, supplemented by a thinking and problem-solving approach.
Learning needs are paramount in Middle School, with an emphasis on developing a deeper understanding of issues and higher level learning outcomes.
Our unique Pre-Senior and Senior Programs are designed to nurture resilient, independent learners.
These are all directed at creating the resilient, independent learner.
Technology
Technology is increasingly becoming a key enabler and driver of education. Information and Communications Technology skills are developed progressively from the Early Learning Centre to Year 10.
Computer access is via multiple laboratories at all teaching sites, computers in the classrooms and mini-labs, as well as by home computers connected to the School's Intranet through go2.
Haileybury was a leader in implementing iPads in Middle School and offering a BYOD (Bring Your Own Device) program in Senior School. The School continues to take proactive steps to ensure we prepare our students to succeed. In recent reviews of how we engage, teach, facilitate and encourage learning within our school, benefits were identified in providing our students with devices that will enhance and improve their educational experience.
Effective for the 2020 academic year, Haileybury Years 5–12 students will be able to purchase a laptop that is completely supported by the School through our Managed Device Program, allowing for the best possible device experience.
Sport and Physical Education
Health and Physical Education are part of the curriculum from the Early Learning Centre to Year 12.
The breadth of sports offered is very wide, with 30 sports ranging from football, cricket and athletics to aerobics, touch and martial arts for boys and netball, softball and athletics to aerobics, touch and rowing for girls.
Interschool sport with other Associated Public Schools (APS) is played from Years 5–12 for boys and with the combined Associated Public Schools and Associated Grammar Schools Victoria (AGSV) for girls.
All students participate in intra-school House sport and interschool sport with provided training and coaching for each student. The Learn to Swim Program is also provided.
The Outdoor Experience Program includes a Camping Program, beginning with a two-night camp in Year 3 through to 10-day expeditions in national parks in Year 9. The Adventure Club provides additional opportunities in hiking, kayaking, rock climbing, surfing and other activities through to Year 12. There is also a Health and Fitness Program.
Welfare
Haileybury provides a safe and supportive learning environment and a Pastoral Care Program appropriate for each stage of schooling.
Each student is under the guidance of a homeroom teacher (Junior and Middle Schools), a tutor (Pre-Senior) or a tutor and Head of House (Senior School); and is supported by psychologists, chaplains, and other expert staff.
There is also a Health and Wellbeing Program from Prep to Pre-Senior and a Personal Development Program at Senior School.
Leadership
Leadership development is part of the program for all students, and leadership training is provided for those who take advantage of the vast opportunities for leadership provided at Haileybury. Leadership opportunities are available at all levels of schooling and all students are encouraged to participate.
In the senior years, Haileybury has a vast number of leadership roles for which students can apply, whether it is captains of sports, clubs or Houses, the Student Representative Council (SRC) or School Captains in Year 12.
Extensive Co-Curriculum Activities
Students from Year 5 are involved in debating, public speaking, chess and competitions such as Tournament of Minds, Future Problem Solving and the Human Powered Vehicle. There are specific academic extension activities, which are enhanced by the special Classics Program and various academic clubs.
In the Arts, the opportunities for students extend beyond the curriculum and include dramatic and musical productions, concerts and the visual arts.
Participation in the Pipes & Drums involves students in both competition and concert performance.
Programs with a community focus include Amnesty International, a student newspaper and magazine, archives and social service activities.
There is also strong involvement in the Duke of Edinburgh's Award Program.
Social Education
Haileybury provides a program to develop the social competencies of its students at each stage of learning. Of particular importance are gender-related social competencies, which are developed within the context of parallel education.
While students benefit from learning in single-gender classrooms from the middle to senior years, common areas of the School are designed to promote a social atmosphere between the two genders.
Social Justice
Social justice is a cornerstone of the Haileybury Program. For students it creates awareness of their community, as well as their own self-worth. We all benefit from living in a just society—one that supports the law and human rights, where each individual is valued as an equal member of that society.
Students can join a range of campus-specific activities that focus on human rights and equal opportunity. Each of the School's campuses supports a range of fundraising initiatives for charities. Over 30 charities benefit from the Social Justice Program each year.
Cultural Program
Dance
Our Dance students learn choreography, performance, technique and physiology, providing a solid grounding for creativity development. Students have the option of joining many of the Dance Teams from Middle School onwards.
Many of our Dance Teams have won state and national dance titles. Dance also forms part of the School's major productions, such as the musicals and Tattoo spectaculars.
Drama
Our students can enjoy Drama in first-class facilities throughout their schooling. The Drama Program is integrated into all year levels. Through drama and movement, Junior School students are encouraged to become creators, makers, producers, performers, presenters, audience members and critics.
Drama is a core part of the Middle School Curriculum and becomes an elective in Year 9. Middle and Senior School students can join large-scale productions, and choose from a range of theatre and drama studies at VCE level.
Music
An exceptional Instrumental Program underpins Music at Haileybury. We offer individual and group tuition in all orchestral elements, including piano, pipe organ, voice and guitar as well as the bagpipes. Each campus boasts an orchestra, concert band, and a range of choirs and smaller ensembles.
In Year 2, students learn violin, viola, cello or double bass in small groups. In Senior School, they may choose Music as part of their VCE Program and broaden their experience through performances and concerts.
Visual Arts
Art is integral to a complete education. Our Visual Arts students learn to foster critical skills and an understanding of aesthetics, while developing an appreciation of visual thinking, cultural change and the importance of art and design in a multicultural society.
From Year 1, compulsory arts elements encourage students to explore their talents and passions. They can continue Visual Arts in VCE, through mediums such as Studio Art, Visual Communication, Media, Product Design and Technology. We also offer VET subjects such as Creative and Digital Media.
Fees & Payments
We understand that a private school education is a large investment for most families and we thank you for considering Haileybury for your child/children. In addition to our scholarships, we also offer the following opportunities to help support our families.
Sibling Discount
We will reduce the tuition fee payable by full-time students attending Haileybury concurrently where there are siblings or step-siblings living predominantly at the same address. The applicable reductions are:
5% of tuition fees for the second sibling

10% of tuition fees for the third sibling

20% of tuition fees for the fourth or subsequent siblings
However, we will not make this reduction where any of these students have been granted other forms of fee assistance (such as bursaries or scholarships).
Payment Methods
Fees and charges may be paid via:
Australia Post

BPay

Electronic Funds Transfer

Credit Card

Phone

Online
Melbourne Grammar Private School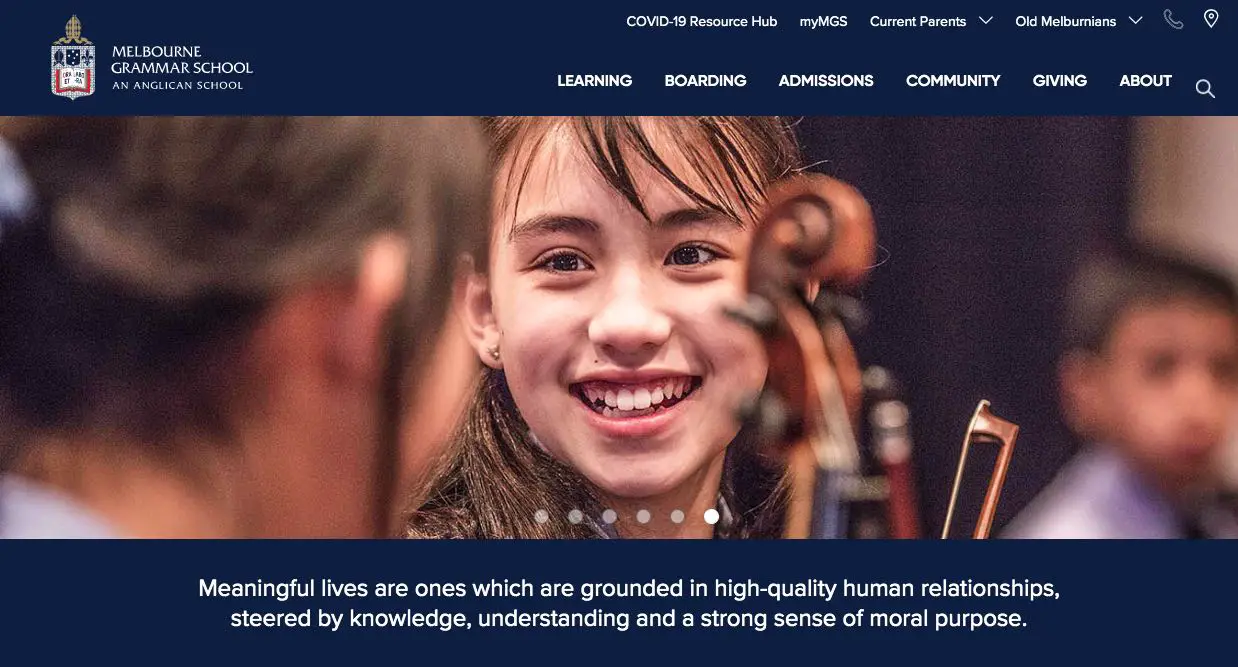 01398657555
LEARNING
Melbourne Grammar School offers a distinctive learning culture. We are focused on instilling a fundamental passion for learning in every student.
We believe this motivation to learn should come from a curiosity that surpasses the desire for external reward. We want our students to look at the world with wonder, question current paradigms and challenge themselves to reach beyond their current understanding.
THE ROLE OF IDEAS
Our ability to question received knowledge is part of what makes us human. Our goal is to develop this quality in those who are part of Melbourne Grammar School – our students and our teachers – and this requires us to push the boundaries of our thinking.
This approach takes us much further than building the ability to complete tasks and recite facts. It means that in each new learning task we must ask ourselves: what can this student truly achieve? How much further can we go toward reaching new knowledge and ideas?
THE ROLE OF SERVICE
Along with recognising the potential of our students, we are also interested in what each student does with that potential. How will their knowledge, skills and passion for understanding contribute to the lives of those around them?
This question is at the heart of our idea of service. To us, service encompasses everything from supporting an individual or community, to the service of contributing to the knowledge base of the world.   
Our campuses
Grimwade House (Prep - Year 6)
Wadhurst (Year 7 - 8)
Senior School (Year 9 - 12)
ADMISSIONS
We are delighted you are interested in joining the Melbourne Grammar School community.
We look forward to welcoming your child into our School.
Melbourne Grammar School has a rich history of success and achievement. However, it is
our values and the quality of the human relationships within our School that define us. We
aim to guide our students to become productive, responsible and caring global citizens of
the future who are conscious of their responsibility to society and have the capacity to make
a real contribution to it.
ENROLMENT INTAKES
Our main entry points for new students are Prep and Year 7. We also offer a small intake at
Year 3 and additional places at Year 9, with places occasionally available at other year
Levels.
We enrol a relatively even mix of boys and girls into Prep to Year 6 at our primary school –
Grimwade House – in Caulfield. At the end of Year 6, boys move on to secondary education
at our middle school Wadhurst and (then) Senior School campuses in South Yarra, while
girls continue their secondary education at a school of their choosing.
We provide strong orientation and transition programmes for students entering the School,
and for girls departing at the end of Year 6.
PLACES FOR DAY STUDENTS AND BOARDERS
We offer places for day girls and boys from Prep to Year 6 and both day and boarding boys
from Years 7 to 12. Our boarding precinct is a close-knit family of boys from regional
Victoria, across Australia and overseas.
SCHOLARSHIPS AND BURSARIES
Our scholarships seek to recognise the talents of very able students. Bursaries provide
additional opportunities for students who may not otherwise be able to attend the School.
We welcome your enquiries about our School and application process.
ABOUT
Melbourne Grammar School is one of Australia's leading independent schools, with a tradition of excellence extending over more than 160 years.
We believe in the holistic development of young people: intellectually, physically, emotionally, psychologically, socially and spirituality.
Ours is an inclusive, community-focused culture in which both student effort and achievement are recognised and celebrated.
Our culture is further enhanced by an involved network of staff and parents, the knowledge and experience of our alumni, and the depth of our connections with the broader communities around us.
OUR SCHOOL STRUCTURE
Melbourne Grammar is an Anglican school founded in 1858 by the first Bishop of Melbourne, Charles Perry. Today, we remain proud of our Anglican heritage and retain our strong Anglican traditions, while also warmly welcoming families from diverse religious and cultural backgrounds.
From Prep to Year 6 we provide co educational classes at our Caulfield Junior School, Grimwade House.
Year 7 and 8 boys attend Wadhurst, our Middle School based at St Kilda Road in South Yarra. Students in Years 9 – 12 learn at the adjoining Senior School.
Our Year 7 - 12 students attend as both day students and boarders.
Every student's learning is supported by dedicated pastoral care programmes along with our exceptional learning facilities.
TUITION AND BOARDING FEES
The following fees have been ratified by the School Council and apply for the 2020 school year.
Melbourne Grammar School fees are levied four times per year for Prep to Year 11 and three times per year for Year 12.
LOCAL STUDENT TUITION & BOARDING FEE SCHEDULE
Tuition

Fees per term

Fees per annum

Year 12

$11,880*

$35,640

Year 11

$8,910

$35,640

Year 10

$9,550

$38,200

Year 9

$8,910

$35,640

Years 7 - 8

$8,360

$33,440

Prep - Year 6

$7,145

$28,580

Boarding

Year 12 

$9,300*

$27,900

Years 7 - 11

$6,975

$27,900
*Levied Terms I, II and III
OVERSEAS STUDENT TUITION & BOARDING FEE SCHEDULE
Tuition

Fees per term

Fees per annum

Year 12

$17,540*

$52,620

Year 11

$13,155

$52,620

Year 10

$13,795

$55,180

Year 9

$13,155

$52,620

Years 7 - 8

$12,610

$50,440

Boarding

Year 12 

$13,260*

$39,780

Years 7 - 11

$9,945

$39,780
*Levied Terms I, II, III